10 Free Knowledge Base Software: Choosing a Digital Library in 2023
Read our digest of 10 free knowledge base software with the main features explained.

As the old proverb goes: "There is no such thing as a free lunch". That's fair. However, not always the case. In the business ecosystem, freebies of all kinds are beneficial.
The progress is non-stop, so more and more businesses are finding the best way to empower customers and streamline internal operations. One powerful tool that's stealing the spotlight is free knowledge base software.
In this post, we are diving headfirst into the world of wikis, help centers, and 10 other helpful resources your team would find top-notch. They redefine how companies organize, share, and access information. Let's get the ball rolling! 🤝
What is knowledge management software?
Knowledge management software refers to a specialized tool that helps you keep, collect, organize, and share information. In fact, it can be used to manage miscellaneous types of data, such as:
Documents (presentations, reports, articles, etc.);
Media (images, videos, graphics, GIFs, etc.);
Expertise (skills of employees, customer feedback, community databases).
Generally, such software may take many forms, from small team-wide wikis to giant text corpora. Today, I would like to focus your attention on the knowledge base software that you can enjoy for free! But first, let's look at the reasons why you should actually grab one.
Why does your business need free knowledge base software?
Before we proceed, it's key to highlight an important caveat: so that your company provides professional, evergreen, and substantial knowledge, it should first realize its ultimate purpose:
Which type do you want your help hub to be: external – for customers or internal – for employees? Do you need a multilingual feature to communicate with international audiences?
With that in mind, let's comb through four clear-cut reasons why your team needs a steady knowledge base solution:
Cost-efficiency: let's face it – a startup or a small-sized business will rejoice at such a thing as a free piece of software. For much more giant corporations, this might be an excellent addition and a powerful backup to its main toolset.
Customer empowerment: as clients are now tech-savvier than ever, the ability to dig for information on their own only adds to their overall satisfaction. They can find the answers independently, without waiting for an answer, which reduces the workload on your team.
Streamlining support operations: as soon as the thought of creating a knowledge base flounders in your mind, organizing and centralizing data in the company will be inevitable. These actions lead to faster troubleshooting and problem resolution, minimizing ticket volume significantly.
Continuous improvement: free knowledge base software often comes with analytics that help you track user interactions and behavior. The insights you gain after a customer leaves feedback about an article or shares their thoughts in the chat open numerous areas for improvement and mark the gaps in your content.
Must-have features of free knowledge base software
The universal truth is that a knowledge base should be scalable and have an easily digestible structure. But then again, will it be enough for a fancy, big-sized business? Or for a small company just starting its journey but wanting to be up in arms?
For that, one should get a birds-eye view of the functionalities a piece of software presents. I mean, this is directly linked to the way you lead the documentation! Thus, let's elaborate on the must-have features such software should obtain:
Search functionality – when a user can't find what they are looking for, the chances are they bid farewell and switch to another solution. To minimize that, make sure your help center has advanced search features to quickly discover the answers. Use keywords, phrases, and other mark words so that customers won't stumble.
Information hierarchy – who likes a mishmash when it comes to a knowledge base? A strict and branch-like structure makes it easier to navigate the content and locate answers on specific topics.
Integration options – multiply your efforts with integrations. For instance, you can enhance your resource center with a live chat or a chatbot for better self-service, streamlined support processes, and overall customer satisfaction. Speaking of, I know THE solution for that, stay tuned 😏
Multimedia support – walls of text have never been entertaining. To attract users and explain the ropes of your product or service to the fullest, add some images, GIFs, or pics. In other words, do everything to boost comprehensibility and engagement levels.
Analytics & insights – if you have built-in analytics, count your blessings! Today's market is brimming with solutions that provide such a feature. Thanks to it, you have valuable data on user behavior, search patterns, and article performance.
Export & import opportunities – suppose you are switching from one platform to another. So as not to fool away all your customers' data, important articles, and stuff, make sure free knowledge base software is able to migrate and backup the content hands down.
10 free knowledge base software & free trials to sign up for
Finally, we are approaching the most exciting part of the article: 10 knowledge base tools that won't put a dent in your pocket (at first). For those who like TLDR, there is a convenient comparison table that highlights all the key aspects:
Solution
Main features
Free trial/plan
Upgrade starts from
G2 Rating
HelpCrunch
Keyword-specific search,
Rich text editor for content creation, Multimedia support,
Chat widget integration,
Knowledge base analytics & reports,
AI-driven functions coming soon
14-day free trial
$15/month
4.7/5 ⭐⭐⭐⭐⭐

Documize
Collaborative document creation, Version control & history tracking, Role-based access and permissions, Advanced search functions,
Markdown & decent text support
14-day free trial
$9/per user/year
4.4/5 ⭐⭐⭐⭐

Guru
AI-powered knowledge suggestions,
Analytics for content engagement, Seamless content verification,
Robust search box
Free plan available
$6/user/month after 3 users

4.7/5 ⭐⭐⭐⭐⭐

Stonly
Interactive knowledge base,
Guided walkthroughs
Chatbots,
Analytics,
Reporting
14-day free trial
$249/month
4.8/5⭐⭐⭐⭐⭐
Tettra
AI-powered content creation,
Team collaboration,
Versioning,
Templates and checklists
Free plan available, 30-day free trial
$10/month
4.6/5 ⭐⭐⭐⭐⭐
eXo Platform
Collaboration and communication, Document management,
Social intranet and knowledge sharing
Free plan available
$5/user/month
4.3/5 ⭐⭐⭐⭐
Zendesk
Multichannel support integration, AI-powered ticket triaging and routing, Advanced reporting and analytics, Self-service portal and community forums
30-day free trial
$19/per agent/month
4.3/5 ⭐⭐⭐⭐
Gleap
Collaborative content creation,
Interactive cards and templates,
Visual content organization and sharing
14-day free trial
$30/month
4.5/5 ⭐⭐⭐⭐⭐
Zoho Desk
Multichannel support, AI-powered ticketing and automation, Customizable workflows and SLAs, Customer self-service portal,
Social media integration
Free plan available
€20/per user/month
4.4/5 ⭐⭐⭐⭐
Outline
Easy content organization,
Tags and folders for content,
Collaboration and sharing,
Slack integration
30-day free trial
$10/month (Cloud)
Free (Self-managed knowledge base)
4.4/5 ⭐⭐⭐⭐
HelpCrunch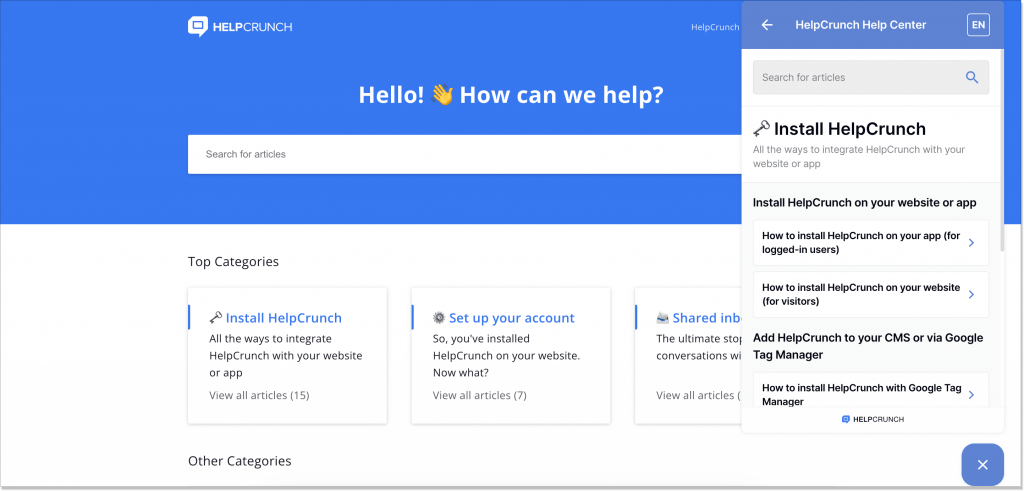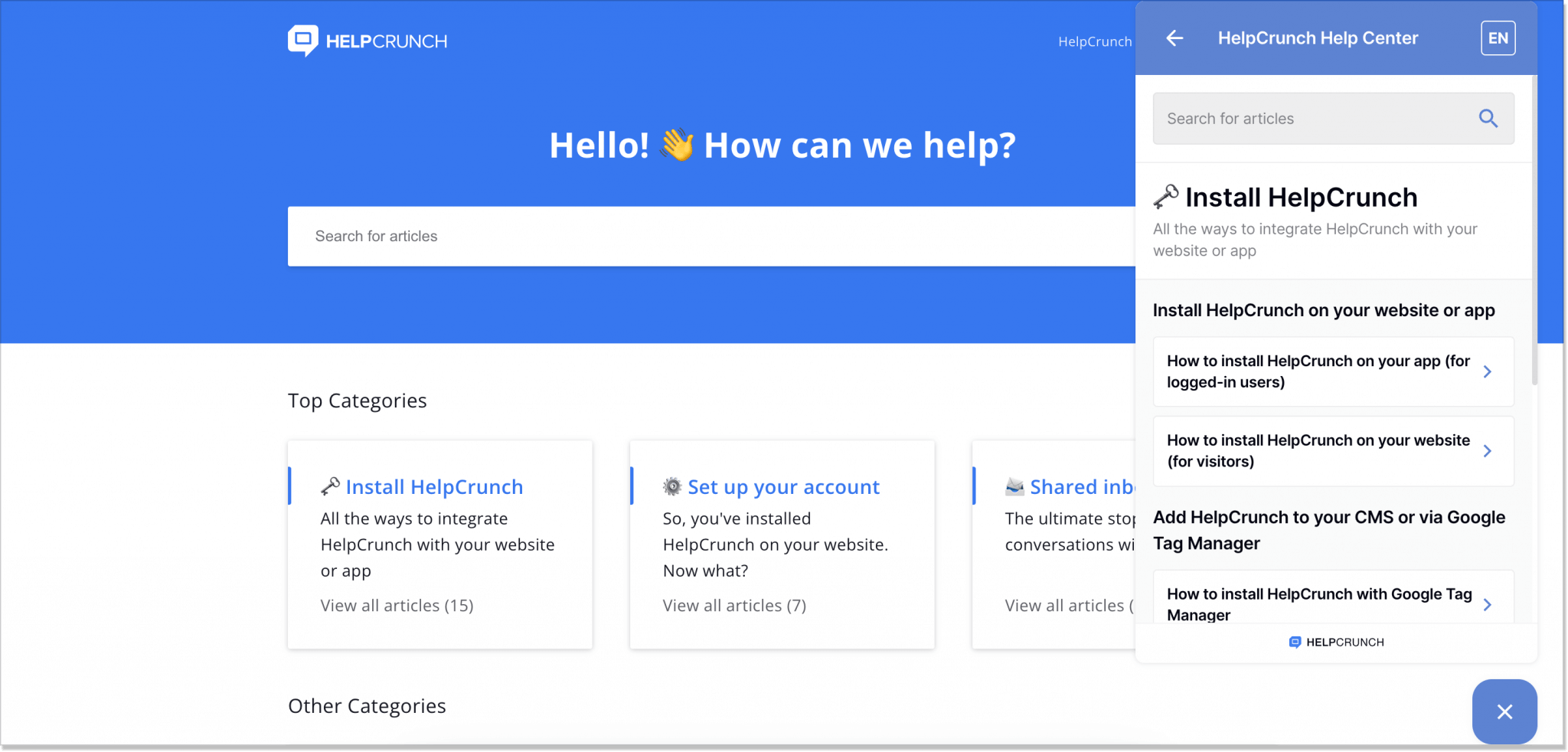 HelpCrunch represents a customer service platform that houses all the tools for blazing-fast support, marketing, and sales. A fully customizable live chat, a no-code chatbot, a shared inbox, and a popup builder for targeting the audience better yet. Even though these specs are worth your utmost attention, I'd like to plunge into the current agenda – the HelpCrunch multilingual knowledge base.
Before I elaborate on this, could you answer this question: What's the stellar and most crucial feature/functionality of any knowledge base software? You guessed it right, a user-intuitive editor that makes it possible to build a definitive structure. Thus, among the strong points of this tool, there are:
The WYSIWYG editor allows you to compose, manage, and assemble your knowledge base articles into one system with categories, subcategories, and sections. Plus, you have the freedom to embellish your resource center with images, videos, and GIFs, to name a few.
SEO compatibility that paves the way for your Google appearance. You can add meta titles, descriptions, and tags to every article and section.
Chat widget integration for a more contextual and faster 24/7 self-service. Now, your users won't flood your inbox to ask any type of question – they can find the answers on their own right in the chat widget!
Multilingual feature for your international audiences. Just come up with a translation to an article, copy it, and paste it into the editor – you are all set.
Smart search that helps users strike the right info in a matter of seconds. Only personalized, relevant, and real-time suggestions.
Metrics & reports so that you can always keep your finger on the pulse and detect the gaps in your content. You can easily check failed searches, articles to review, and translation reports.
Pricing. Whatever plan you choose, you can enjoy our 14-day free trial and the knowledge base available in all three of them. Basic – $15/month, Pro – $25/month, and Unlimited – $620/month. The prices are shown if billed monthly. If I were you, I'd totally sign up for a 2-week free trial with HelpCrunch and see the knowledge base in full swing!
Documize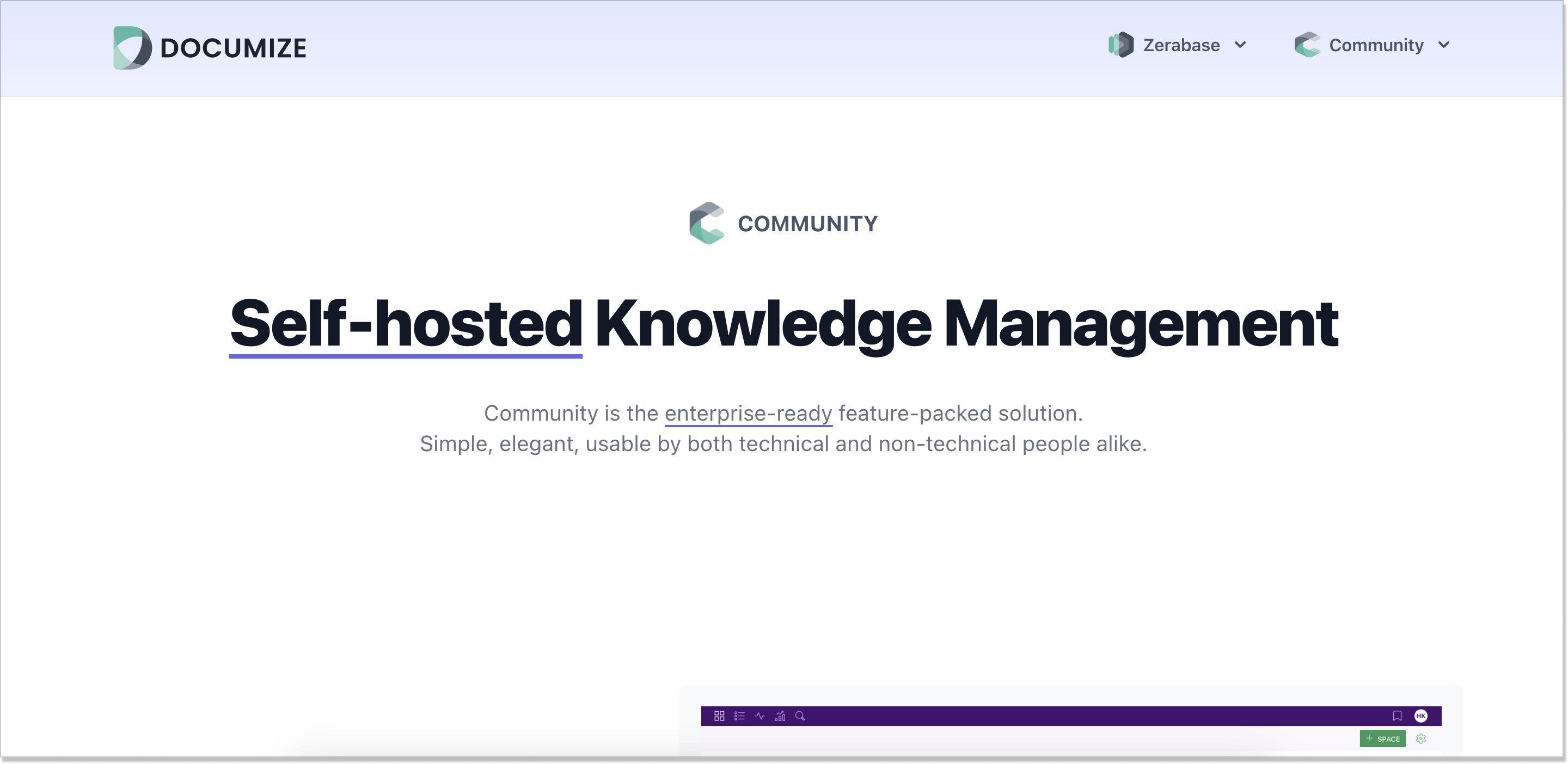 Documize is a good choice for businesses that need a knowledge base solution for documentation and process flows. It is divided into two main products – Zerabase and Community. The former is created for project management teams. It helps you prioritize and align workloads and helps set the right direction for a case. While the latter fits perfectly into our today's story.
Community by Documize is a self-hosted knowledge management solution. With it, you can:
Organize technical, software, and sales documentation with labels, spaces, and categories.
Create content using powerful templates as well as snippets, no writer's deadlock. Do I need to tell you there are composable content blocks you can shuffle?
Team up with your coworkers, play around with requests, grant approvals, and revise the docs the way you like it.
Pricing. Documize prices start from $9/per user/year. To go for more, you need to splurge at least $900/year/up to 100 users.
Guru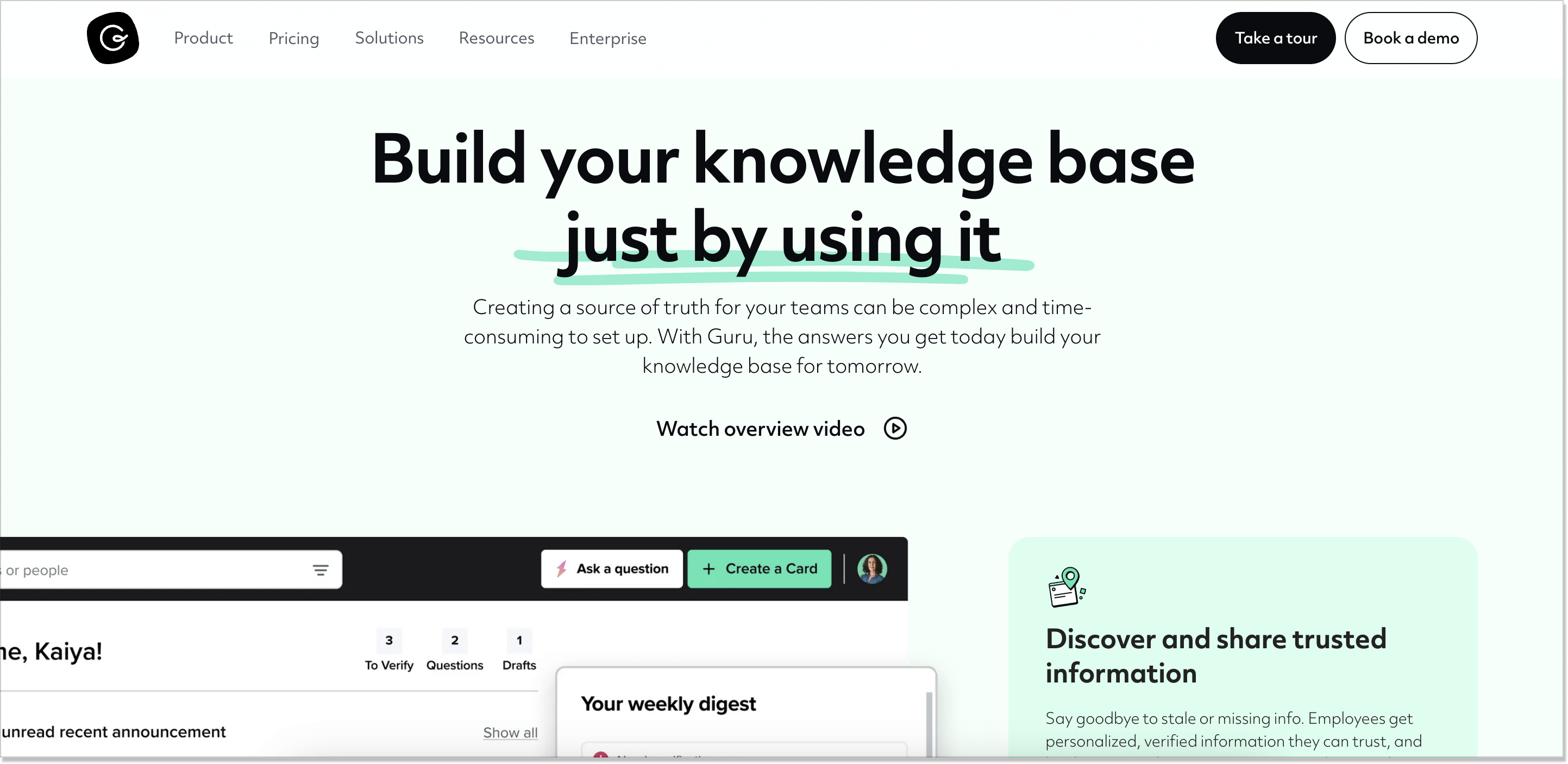 Over the past few years, Guru has upped its game significantly. The software allows you to set up articles directly in the program or sync them from internal wiki tools, employee intranet, and other third-party integrations.
Looking for a way to combine your external knowledge base with an internal one? Guru lets you do just that. Thanks to its modern technical ground, you can keep all your data and content under one umbrella without losing critical nuggets of information.
Let's comb through Guru features so that you have a broader picture of what solution to go for:
Performance reports – the tool helps you identify and continuously monitor your content, check the knowledge base usage, and baffle the possible gaps (dupe detection).
Intuitive search box – the words AI and powered are now scattered across the Guru's website, and for a good reason! Its search engine can offer you suggestions based on keywords and phrases in the nick of time.
Consolidated approach to capturing knowledge – Guru can collect info from Google Docs, Slack, and other apps, you just have to point in the right direction.
Verification – bearing stuff in mind is daunting. Here is when Guru enters the game. Thanks to its smart knowledge verification features, you are warned every time some article or another material needs to be brushed up.
Templates – if technical writing is not your cup of tea or you're just out of words, have Guru's templates do their magic. No blank slates anymore!
Pricing. With a free plan available, Guru also provides two more packages – Builder for $12/user/month and Enterprise (contact sales).
Stonly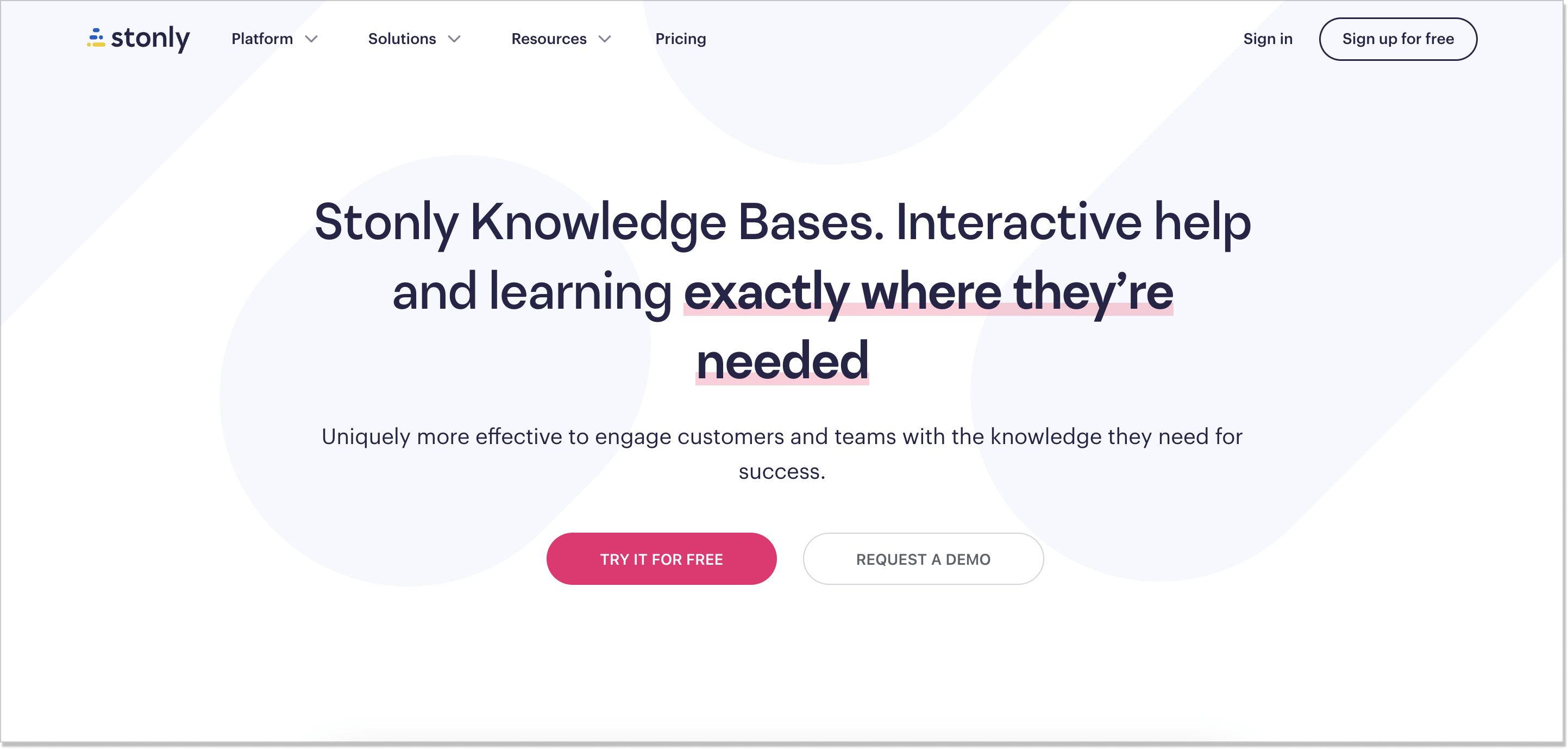 Of all options we've gone over today, I would call Stonly pretty simplistic. With a simple user interface, this software yet suggests interactive help centers to match the users' demands to the best extent.
On top of it, Stonly is designed to help businesses create guides and tutorials, making it easier for users to find solutions and navigate through complex processes.
Ready for the feature digest? Dive in:
Interactive structure – Stonly allows you to replace static, dull, and lifeless content with interactive and dynamic guides to resolve users' queries more efficiently.
Powerful search – the software has the ability to palm off solutions in fewer clicks than they would using some other competitor.
Versioning and modular design – keeping knowledge base materials evergreen might seem a tough call. But Stonly can take it!
Full customization – do you have a shop? Or a wedding salon? Make sure your resource hub perfectly fits into the brand's style. Customize the dashboard, add some images, etc.
Embeddable widgets – guides created with Stonly can be embedded directly into your website or application, providing users with instant access to information without leaving the page.
Analytics – even if the software is free, it doesn't have to be operated on a roll of the dice. You can check the audience range, omit bounce rate, and see the exact moment when users seem to leave.
Pricing. With a free 14-day trial, Stonly also offers rather straightforward pricing models. There are Small Business, starting from $249/month, and Enterprise with custom pricing.
Tettra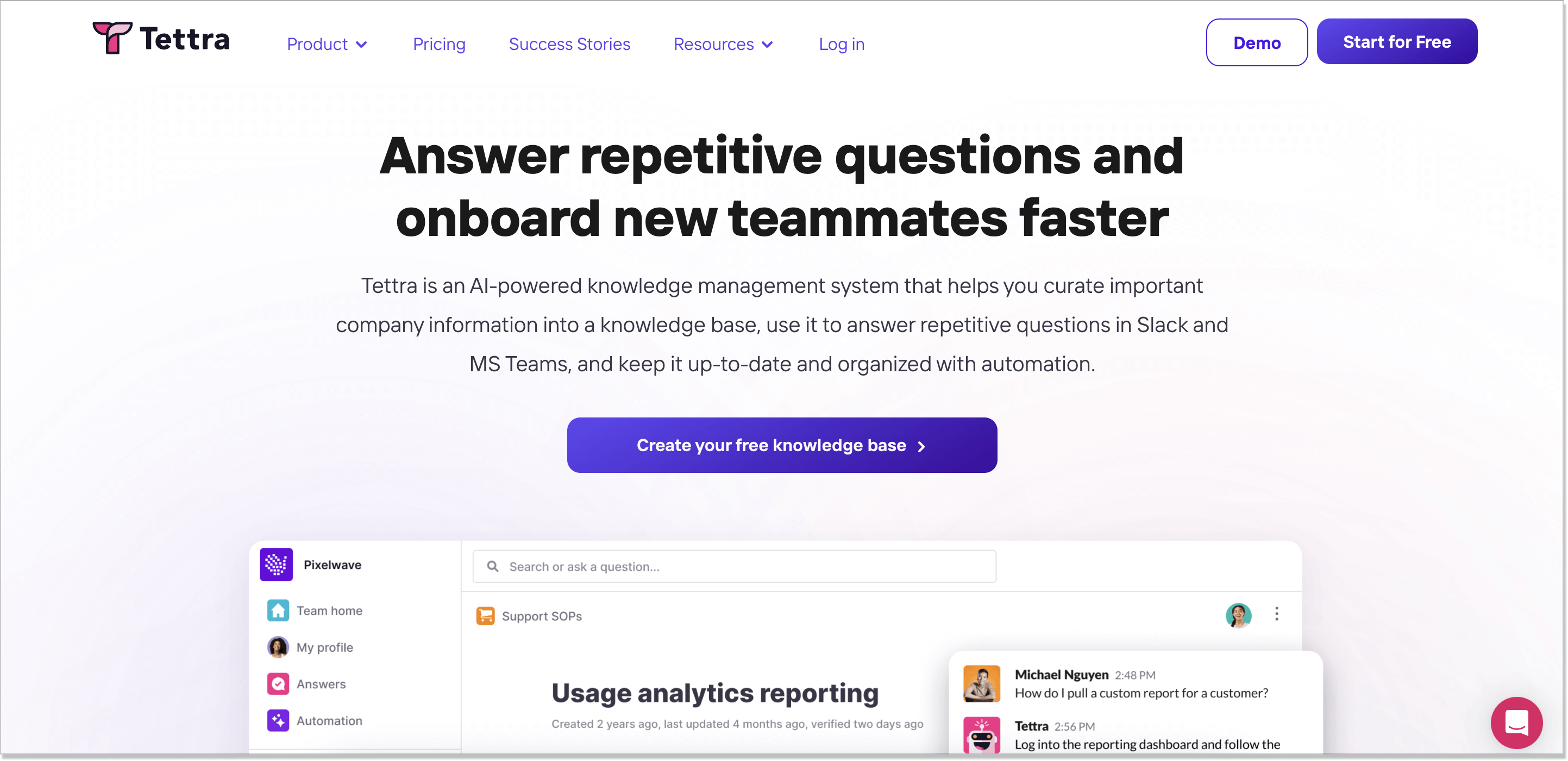 Tettra is an AI-fuelled knowledge management platform for organizing and curating company-wide information. As they say, you can develop one in no time without much effort. Speaking of its functions, Tettra involves:
User-friendly content creation – the platform supports rich text formatting, enabling users to add images, links, and other multimedia elements to their articles.
Team collaboration – Tettra focuses on enhancing team collaboration by allowing multiple users to contribute to the help center. Team members can unite for articles, share insights, and ensure that information is accurate and up to date.
Search and navigation – the knowledge base created with Tettra features powerful search functionality, making it easy for users to discover the information they need fast. There are also tags and categories for efficient content organization.
Version history – Tettra maintains a version history, allowing users to track changes, revert to previous versions, and ensure that the information remains accurate over time.
Templates and checklists – Tettra offers pre-designed templates and checklists to help users create structured and consistent articles, ensuring that information is presented in a clear and organized manner.
Pricing. Tettra is free for up to 5 users. For more, you have to pay at least $10/month. There is a 30-day trial available.
eXo Platform
Alongside its core collaboration features, eXo Platform offers knowledge management tools that help businesses centralize information, improve internal communication, and foster a culture of knowledge sharing. Here is how eXo Platform can reinterpret your company's knowledge:
Document management – a robust document management system allows users to create, upload, share, and collaborate on various types of documents. They can be organized into folders, tagged, and categorized for easy retrieval.
Wiki pages – it enables you to create and edit wiki pages collaboratively. They are commonly used for building a knowledge base, centralizing information, and providing reference materials.
Blogs – users can create and publish blog posts, which can be used for sharing insights, best practices, tutorials, and thought leadership content.
Search functionality – eXo Platform features a powerful search engine that helps users quickly find documents, wiki pages, blog posts, and forum discussions.
Mobile accessibility – The platform is accessible from various devices, ensuring that users can access knowledge and collaborate on the go.
Pricing. eXo Platform has a free plan – Community, Enterprise for $5/per user/month, and Ultimate, which quote-based.
Zendesk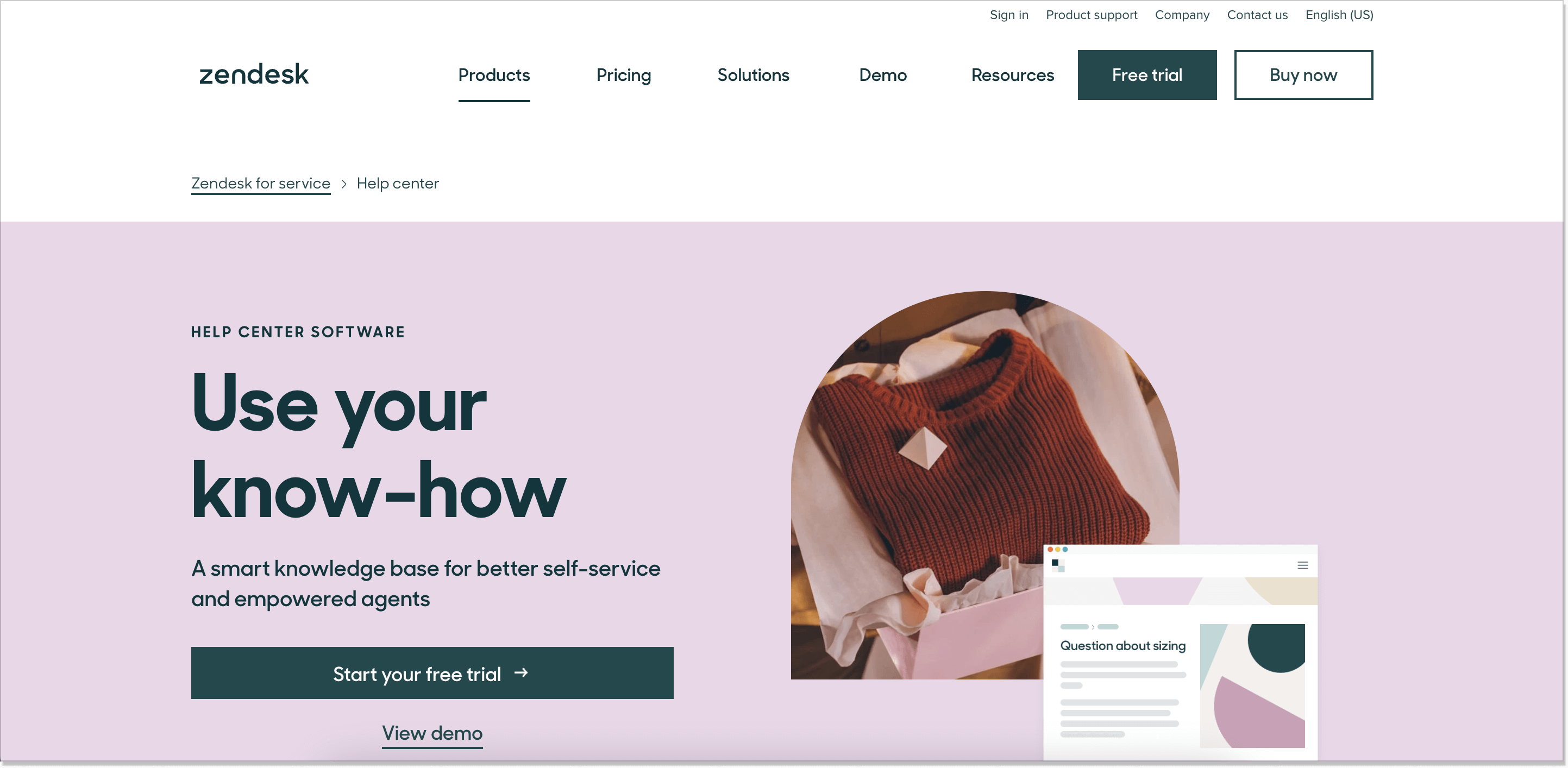 Zendesk is barely free knowledge base software. Notwithstanding, we couldn't but mention it in our compilation. Being a perfect match for big enterprises and corporations, the company provides a help center feature:
Team Publishing – this functionality allows you to keep the content fresh while your agents walk through the working routine. They are the ones who are on the frontline every time a user comes up with a question. So Zendesk gives the power to support teams in updating the content.
Customization options – you can design a help hub according to your liking using miscellaneous colors and even localize it in 40 different languages.
AI-powered knowledge article suggestions – customer support agents are able to use smart recommendations inside tickets, flag old content for improvements, and let agents draft new knowledge base articles.
Content Cues – this feature highlights the content that clients like best and, vice versa, detest the most.
Content Blocks – Zendesk allows you to build articles with reusable content blocks that live across multiple pieces.
Pricing. Basic plans start at $19/month, AI add-ons – $50/per agent/month. You can also leverage a free 30-day trial.
Gleap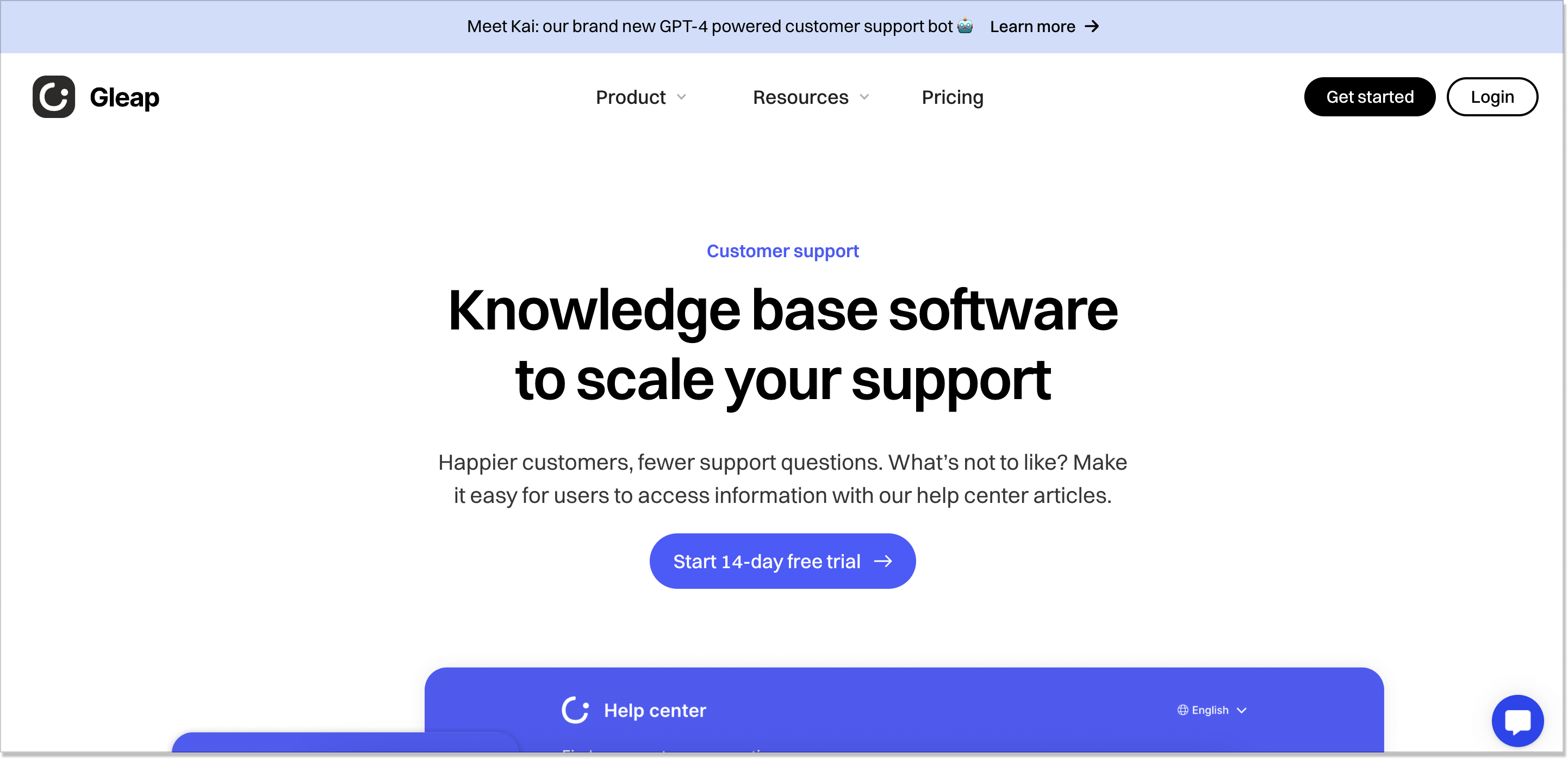 Front of mind, Gleap is a relatively new feedback software with the head to strengthening customer relationships. Among its robust toolset, which includes live chat, product roadmaps, and an AI chatbot, there are also knowledge bases.
At first blush, Gleap has a really scanted arsenal of features. However, this doesn't prevent the company from expanding. Let's see what this free knowledge base software is capable of:
Ease of use – just like many of the solutions from our list, Gleap has a low-key learning curve and search-optimized articles you can enhance with images, videos, and stuff.
Chat widget integration – Gleap allows you to search the knowledge base right in the widget, solving all the immediate questions in a matter of seconds.
On-brand options – customize your resource hub with logo and company colors so that it stays in the whole picture.
Custom domain – make the knowledge database truly yours by setting up a custom domain.
Pricing. Gleap offers a free 2-week trial as well as three pricing tiers – Hobby for $30/month, Team for $150/month, and Enterprise (contact sales).
Zoho Desk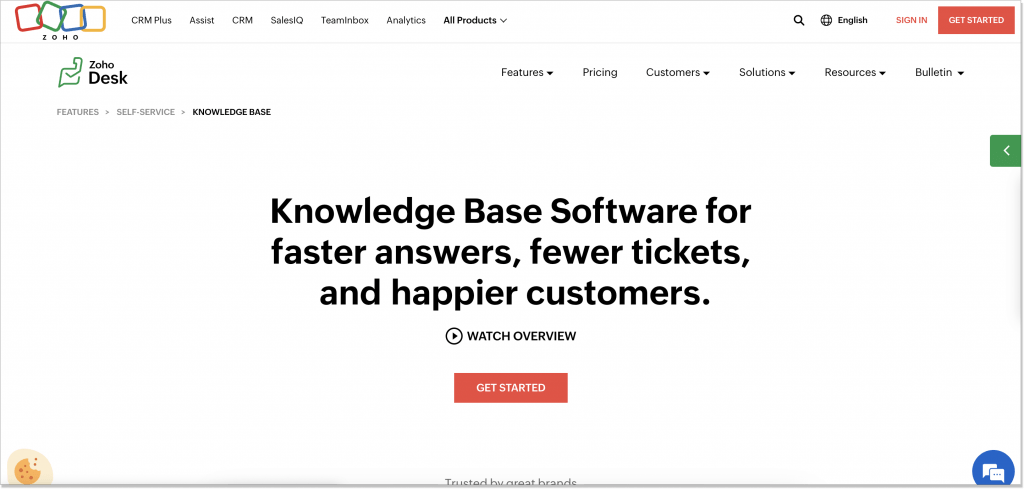 Zoho Desk is customer support and, obviously, help desk software operated by Zoho Corporation, a well-known provider of cloud-based business applications. It will become your lifesaver if you are looking for something more in-depth, analytical, and fundamental.
SEO-friendliness – Zoho Desk allows you to use meta titles, meta descriptions, and tags for an easier search engine location.
Help center reports – with built-in reports, you can check customer self-service patterns, read/unread articles, like&dislikes, and their engagement levels.
Auto-suggest – this feature pulls relevant articles from a KB based on keywords in the tickets and helps support reps handle requests faster.
Forums and communities – you can enable your users to engage themselves in discussions on forums so that they can find common solutions.
Article repository – thanks to it, users can be calm when they require immediate answers. They can simply look up the FAQs or article sections for that.
Pricing. Zoho Desk has a free plan for minimal support needs. Plus, the upgrade prices start from $9/month (Zoho Desk Express) or $20/month (Standard).
Outline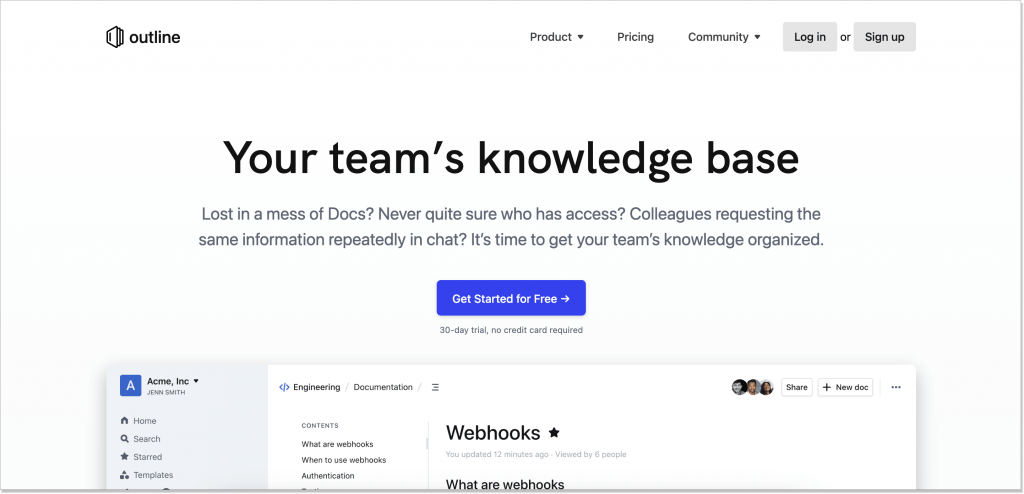 Outline is an open-source knowledge base and wiki with markdown support that aims to increase the support team's productivity. This means you can install and manage it on your own server. It can organize your internal documentation, operations manuals, handbooks, and more.
Collaboration and commenting – stay on track of what's happening in the docs and team up with your colleagues.
Slack integration – search and share articles without leaving a Slack chat.
Public sharing – share documents publicly with a link or privately with a team. Use your own brand colors, logos, and domain.
Public log – Outline is updated with new features and fixes regularly, so you can actually see their public changelog to see how things are progressing!
Pricing. A 30-day free trial is available. To upgrade, you need to pay at least $10/month for the Cloud solution. The self-hosted one comes for free or for $4/user/month (Enterprise).
Final words
Choosing the right free knowledge base software shouldn't be a fine point. I have no doubt that after you have read this article and ended up here, your mind has a definitive solution. Always remember, though, that the go-to software should, at the very least, allow for clear structure and SEO functions.
FAQs
Is the knowledge base free?
Yes, it can be free, and there is lots of such knowledge base software on the market. While a solution that doesn't cost a dime isn't a rare case, it still may be limited in functionalities.
For instance, if you have a multinational company, you probably serve diverse audiences. They need their demands catered to. If you provide them with only one language in the knowledge base, the chances are they will be confused and feel underrated.
To solve this problem, you should have a multilingual knowledge base (preferably integrated into the chat widget) which sometimes comes in Pro/Enterprise/Premium packages.
How to know which free knowledge base tool or free trial is right for you?
There is no better way to know which free knowledge base tool or free trial is right for you than just signing up for it and giving it a proper go.
Sure thing, you can just surf the Internet and compare the options. And it's almost definitive that you will stumble onto companies promising you pie in the sky. Surprisingly so, the majority might not be the case for your business for several reasons: 1) they lack proper features, enough to meet every need, and 2) they aren't keeping up with the times and lagging in development.
After you're all set, and your free trial is coming to an end, make sure the team behind the preferred solution is transparent about their upgrade options. There should be no hidden fees, no pitfalls, and some new, negative surprises as soon as you pay your first penny.
Does a free knowledge base deliver an omnichannel experience?
A free knowledge base itself doesn't inherently deliver an omnichannel experience, but it can be a component of an omnichannel strategy. So there are several ways for that:
Consistency – By maintaining consistent and accurate information across all channels, including the knowledge base, you ensure that customers receive the same answers regardless of where they seek help.
Self-Service – A knowledge base allows customers to find answers on their own, reducing the need to contact customer support through various channels. This can be especially useful for straightforward queries.
Availability – A knowledge base is accessible 24/7, providing customers with immediate help outside of regular business hours.
Channel Integration – Some knowledge base platforms offer integrations with other customer support tools, like live chat, ticketing systems, and email. This enables customers to seamlessly transition from self-service to a live agent when needed.
What is the knowledge base used in AI?
As the AI era sets in, knowledge bases stand a good chance of becoming more powerful, feature-packed, and sophisticated. They can take various forms, ranging from structured databases to unstructured text corpora. Currently, businesses all across the globe already use them to enhance their understanding, reasoning, and decision-making capabilities.