7 Best Wiki Software to Try for Splendid Knowledge Management
It's time for organizing all the knowledge efficiently with the wiki software.

Do you want to finally organize a gigantic array of information about your company, product, team culture, and more? Or, maybe, you already have your knowledge hub but aren't happy with it and looking for a better solution? Whatever reason has brought you here, we are delighted to share our insights about the best wiki software and help you choose the right tool.
Often businesses don't pay enough attention to knowledge management, putting development, sales, and marketing tasks upfront. The information is usually stored wherever – Google Docs, Slack, Notes, etc. We always think that it's not a priority and can be handled some other time.
But as your company grows, it becomes more difficult to accumulate all the useful knowledge specialists gained in one single place. And then when someone decides to leave the team, it might feel like an apocalypse… How are you going to educate the next person without a proper knowledge-sharing system?
A good wiki tool is an answer. Keep reading this article to learn what wiki software is and how to choose the best one for your company.
May the knowledge be with you!
What is wiki software?
When I first heard the term wiki, I assumed it had something to do with Wikipedia, a worldwide known encyclopedia, or, maybe WikiLeaks, a source of news leaks and classified media. So if you thought the same when encountering this term for the first time, don't worry, you are not alone. Moreover, you are right to some extent, because all of these notions have something similar at their core indeed.
Basically, wiki is a website that allows efficient information sharing and simple collaborative editing thanks to categorization and cross-linking features. It seems like nothing special and yet holds a lot of potential within (especially for knowledge sharing). That's exactly what Wikipedia and WikiLeaks have in common.
Let's have a look at what Wikipedia has to say about wikis: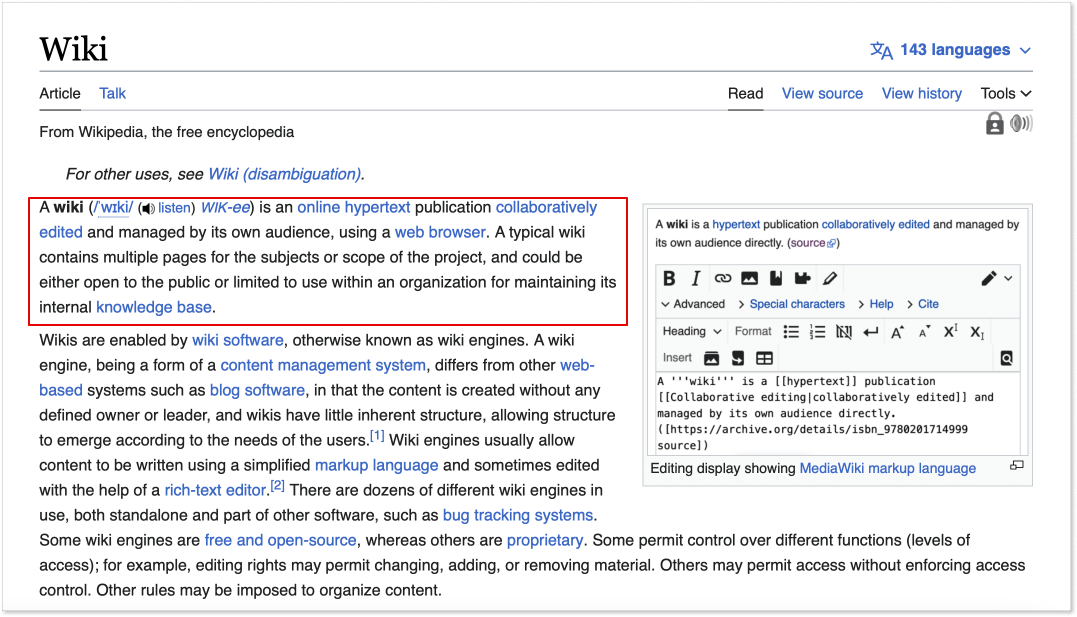 Types of wiki software
Before choosing the best wiki software, let's figure out its types and which one you might need for your business.
Depending on how the program is developed and managed, you can find wikis that are:
Self-hosted wiki software implies full control over the tool and allows storing information on a private server. While it gives you flexibility and each possible customization opportunity, the cost of developing and maintaining the program is high. You will need ongoing IT-team involvement to update the wiki and ensure its security.
Cloud-hosted wiki software makes it easy for those who are looking for a ready-to-use solution. This kind of program uses software as a Service (SaaS) providers that offer pre-built software that you can adjust to your needs and use as a knowledge base hub. It's still you who is updating and managing the content, but the tech side is covered by your provider.
Depending on who has access to the knowledge base, there are public wikis and private wikis:
Private or internal wiki software suggests that only a limited number of users have access to the content of the knowledge base. It's convenient when you want to share information internally within your team, particularly if the wiki contains confidential data.
Public wiki allows everyone to use the website and a good example will be mentioned before Wikipedia. This software doesn't have any restrictions and is available to all users with a laptop and internet connection.
Key characteristics to look for in the best wiki software
When looking for the best tool, it's important to know what to look at. Pricing? The number of features, assuming that the more, the better? Simple design? The number of integration options? What's the most important defining thing?
In this paragraph, we want to answer these exact questions and help you choose the best wiki software for you. So, while each business indeed has its own requirements and needs, there are fundamental characteristics that make a wiki a helpful knowledge management tool.
Take a pen and paper, and tick the boxes below when choosing the best software. We suggest going straight to the product page of the chosen tool to see if they offer these options or contacting live chat support directly.
Good wiki solutions should provide:
An option that allows creating, editing, removing, and cross-linking content with a click of a mouse.
A function that allows adding texts, tables, images, and videos inside your wiki posts.
A History section to view all the changes that have taken place on that page.
A Revert button to go back to an earlier version of the wiki page before particular changes.
A commenting option, thanks to which contributors of the wiki can collaborate.
A powerful search engine that allows to quickly find any information within the knowledge hub.
Easy creation of categories and subcategories to keep all the information efficiently organized.
There are the core characteristics that a good wiki software can't go without, but you also might want to add rich customization and advanced analytics features to the list above.
Customization allows you to adjust the look and feel of your wiki to match your branding voice and design. For instance, here are some of the settings that you can customize at the HelpCrunch knowledge base tool.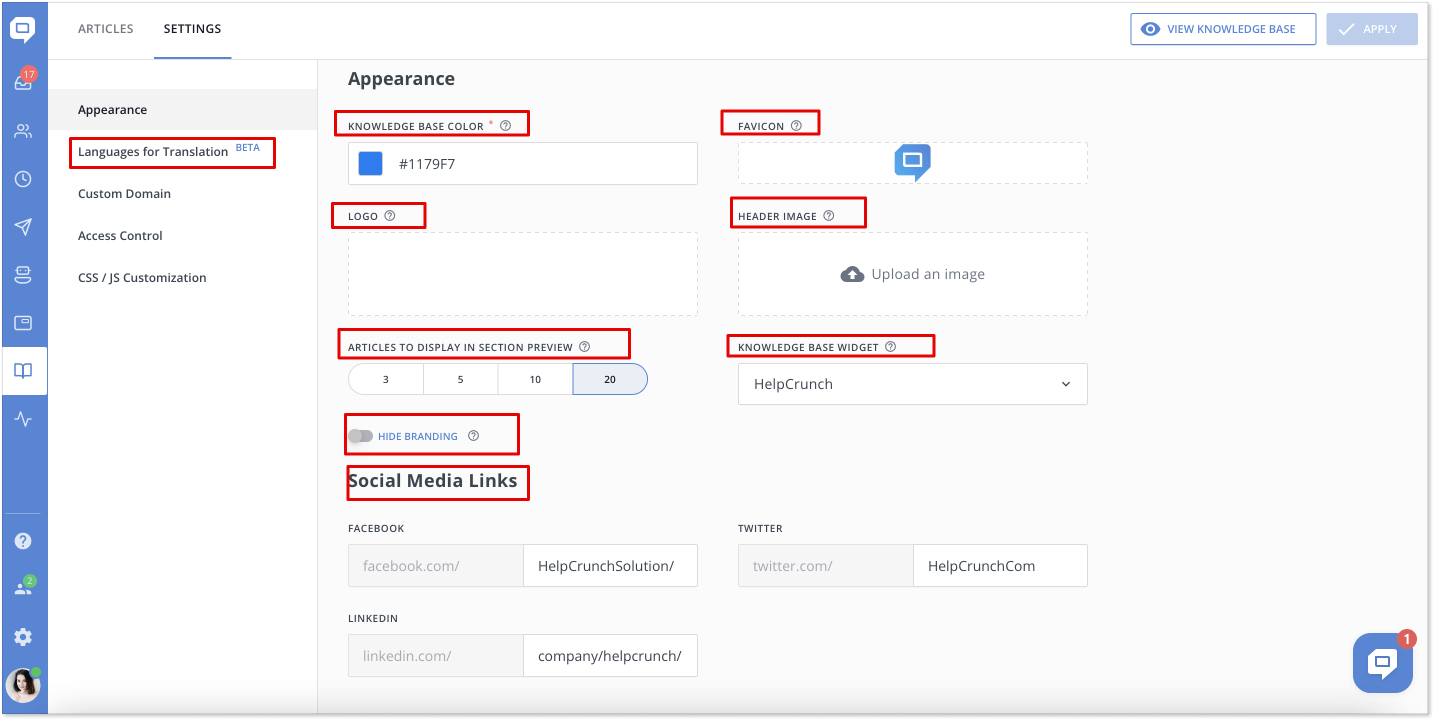 In turn, analytics functionality will help you track the performance of your articles. How useful is the content? Is there something missing? Based on this information, you can update and improve your wiki hub for the sake of effective knowledge sharing. In the end, building your online library is a continuous process and there is always room for improvement.
How to know if you need a wiki?
Probably, if you ended up here researching this topic and reading this far, you've already found your reasoning. But just in case you are still hesitating and looking for the firm 'Why' to bother and adopt a wiki solution, it might be useful for you to have a look at this paragraph.
Without further ado, you need a wiki tool if:
Essential information is not being shared properly. You often find that a part of the team knows about the updates/upcoming changes/peculiarities of working with the system, while others are in complete or partial ignorance. And there is no way to quickly and systematically keep everyone on the same page. Adopting a wiki will fix this problem and offer a unified common space of knowledge.
Employees spend too much time looking for the right information or waiting for help from other colleagues. You might be surprised, but the average employee wastes over 5 hours each week waiting to get vital information from their colleagues. On top of that, large US businesses lose $47 million in productivity each year as a direct result of inefficient knowledge sharing.
Below you can find a few more statistics from a study that proves the point. Try to fight this tendency with the help of a great wiki software.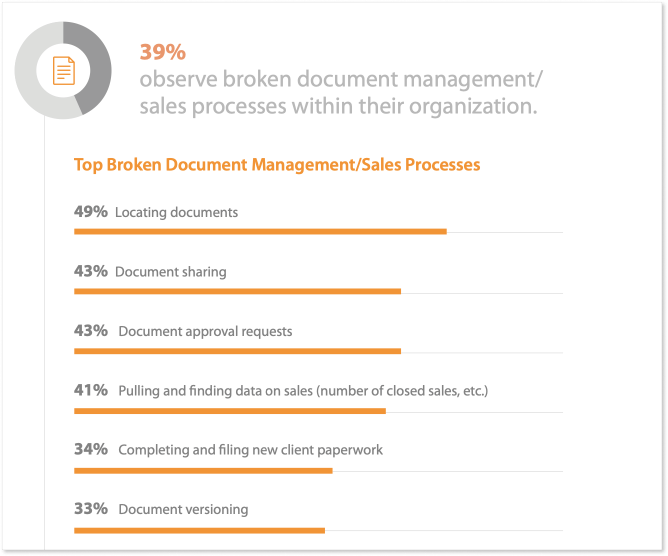 Shared information is not up-to-date. Say, you shared the how-to guide with your coworkers, but time went by, and the process has changed by now. Employees keep using the old doc, fail to complete the action, and text you asking for help. Again, you lose time (read, money).
On the contrary side, the very concept of the wiki is collaborative editing, which means that it's created without a defined owner or leader. While the knowledge hub can have one curator, the assignee to update the document could be anyone from a developer to a customer success manager.
The onboarding process is bumpy and takes way too much time. Are your team leads winging that it takes too much energy teaching and integrating a new hire into the team? Give them a hand with a good wiki tool. While a supportive colleague is vital, offer newbies a written guide. People love solving issues on their own, so being able to find answers independently will only improve the new hires' motivation and belief in their own abilities.
What are the best wiki software tools?
Just like there can't be one Mr. Right for everyone, there is no such thing as one best wiki software for every company. Depending on your unique requirements and expectations, you can choose the best option for you. No worries, there is more than enough software to choose from.
We have conducted research of our own and put together a list of the 7 best wiki software tools that we think are leading the niche. Most of them are cloud-hosted ready-to-use solutions that you can install and start using in a few simple clicks without any technical knowledge. So, let's have a look at the list of wiki software:
HelpCrunch – all-in-one customer service tool with a knowledge base feature
Confluence – convenient wiki software for large enterprises
Notion – our beloved wiki tool to create, edit, and store content
ClickUp – collaborative wiki tool to integrate with your workflows
Document360 – reliable knowledge base software for internal and external use
Guru – universal wiki software to educate and engage employees
Wiki.js – a modern self-hosted wiki software
For your convenience, here is a quick comparison table that highlights the most important information about the wiki tools:
Software
Category
Pricing
Rating
HelpCrunch
SaaS;
external knowledge base for customers;
offers other useful tools like live chat, chatbot, etc.
Free trial for 14 days;
Starts at $15/mo per user
4.8 / 5
⭐⭐⭐⭐⭐
Confluence
SaaS;
a comprehensive tool for internal use only with loads of templates
Free;
Starts at $5.75/mo per user
4.4 / 5
⭐⭐⭐⭐
Notion
SaaS;
knowledge base for internal use with a sleek design and a number of templates
Free;
Starts at $10/mo per user
4.7 / 5
⭐⭐⭐⭐⭐
ClickUp
SaaS;
wiki software for internal use that offers other tools for effective project management
Free;
Starts at $9/mo per user
4.7 / 5
⭐⭐⭐⭐⭐
Document360
SaaS;
internal and external wiki software for effective knowledge management
Starts at $199/mo per project
4.7 / 5
⭐⭐⭐⭐⭐
Guru
SaaS;
internal wiki software with a feature that allows capturing info from Slack and web and adding to help center
Free;
Starts at $6/mo per user
4.6 / 5
⭐⭐⭐⭐
Wiki.js
Self-hosted open-source;
wiki software that can be set up for internal or external use
Free
4.2 / 5
⭐⭐⭐⭐
1. HelpCrunch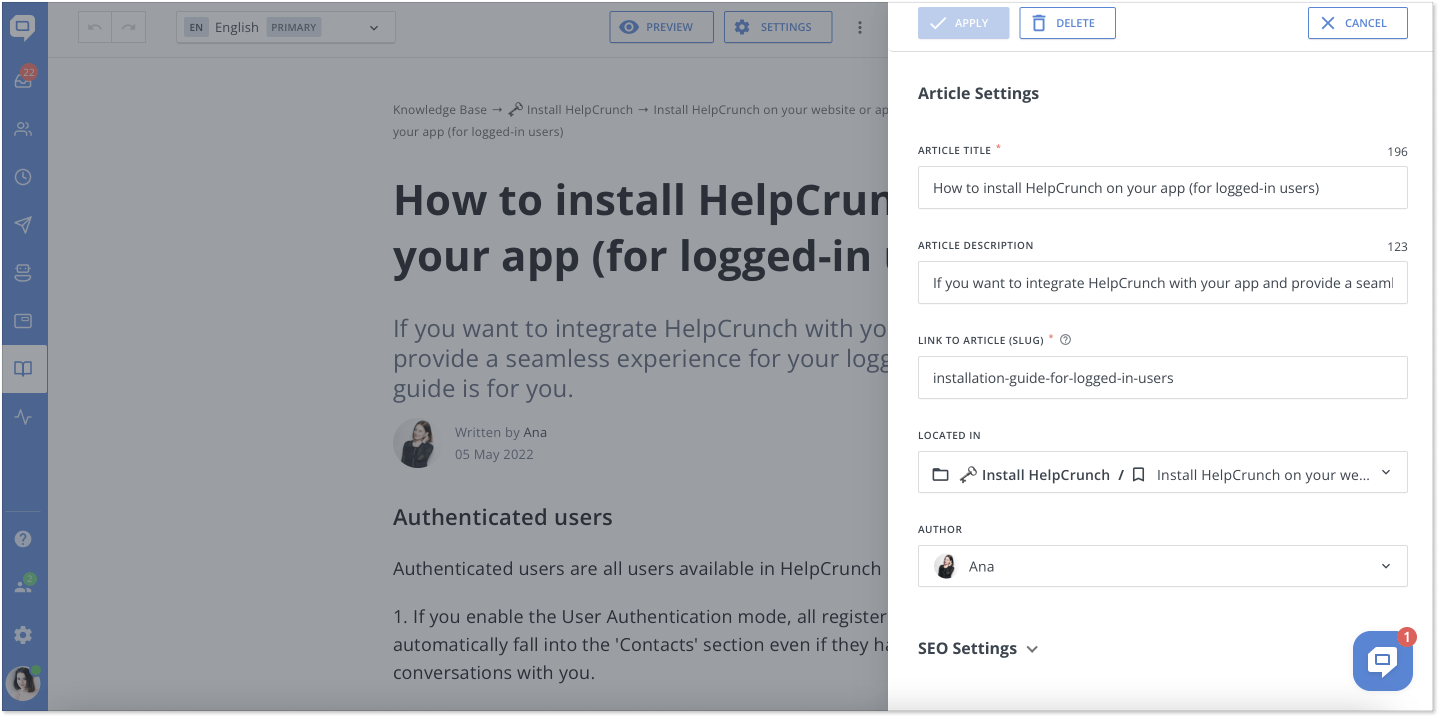 HelpCrunch offers a very well-designed knowledge base that is particularly good for external use. If you are looking for a wiki to share with customers and improve the quality of the self-service experience for users, this software is your best shot. You can create a knowledge hub that answers all clients' frequently asked questions and guide them through the onboarding process.
What makes it especially great is that you can integrate the help center into the live chat widget, providing users with easy access to your wiki and letting them search the database on both web and mobile devices. Also, you can optimize your helpful articles for SEO to increase traffic and give users one more way to find your knowledge hub online.
At the same time, if you look to create an internal wiki, you can do that as well by limiting access to articles through IP or password.
In fact, HelpCrunch is more than just a knowledge base, it's an all-in-one customer support tool that encompasses a whole set of different features for communication with users, such as live chat, chatbot, email automation, and popups. If interested, you can try it for free for 14 days.
Handy features:
Easy to build and adjust the structure of your wiki
Simple SEO optimization of your articles
Rich customization options
A multilingual feature means that you can set up a few languages for your wiki and allow users to easily switch between them
Smart search engine to quickly find whatever topic you are looking for
Pricing: starting at $15/mo per user
Capterra rating: 4.8/5
2. Confluence (Atlassian)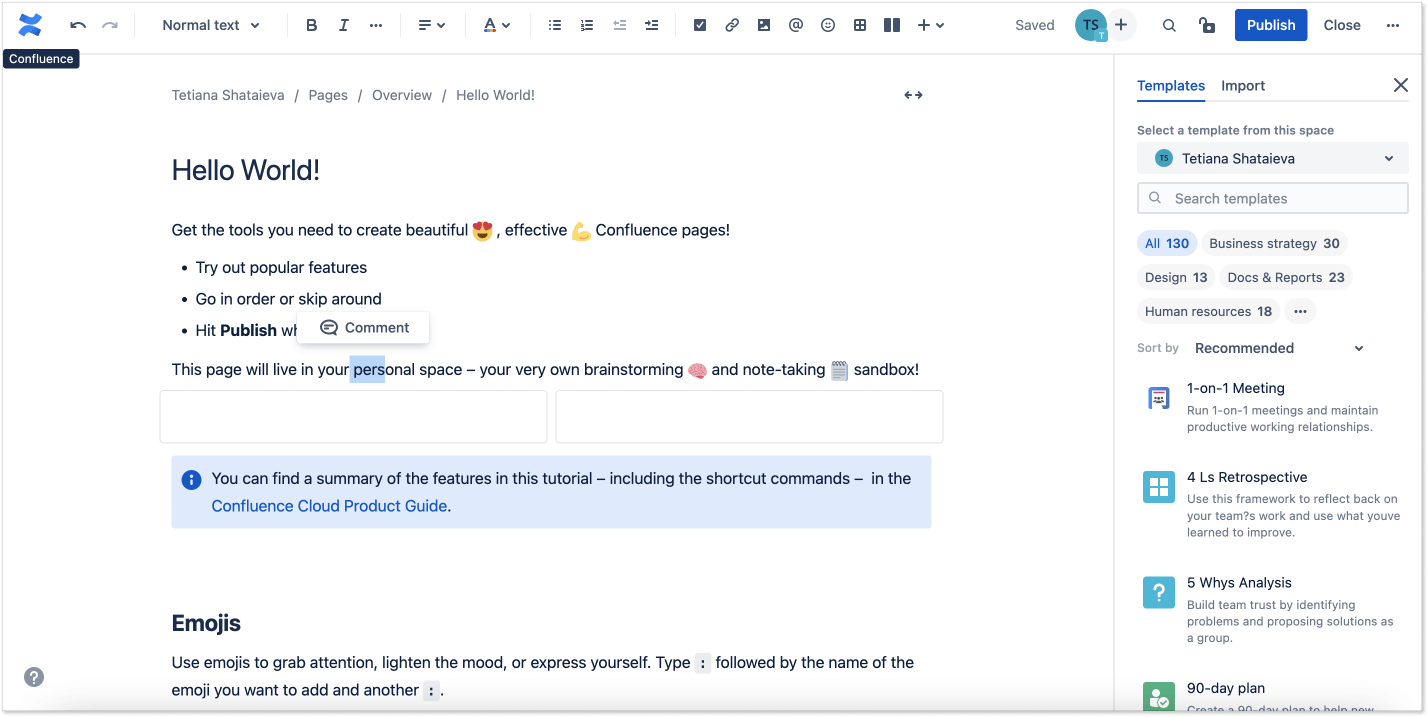 In 2004, the Australian software company Atlassian first released its web-based corporate wiki tool Confluence. As of now, it's one of the best wiki tools for big enterprises to store, share, and collaborate on different types of projects (not blog posts only). It offers a wide range of templates (Brainstorming, Career development plan, Competitive analysis, etc.) and integrations with other tools.
I've registered on a platform and given it a try to provide you with a more first-hand impression. Its user interface is convenient to use, so it was pretty easy to register and get going, but compared to the HelpCrunch platform, it's a tool for internal use and collaboration within the team only (not for your customers). So you won't find an SEO feature or other useful functions that users love.
Handy features:
Loads of templates for every purpose
Easy collaboration with your team members on any blog post or other material
Commenting and mentioning features in the editor
You can view every change in the document, who/when made it, and go back to the previous version
Archiving and unarchiving pages when needed
Pricing: starting at $0/mo for up to 10 users and 2 GB file storage. Paid plans start at $5.75/mo per user.
Capterra rating: 4.4/5
3. Notion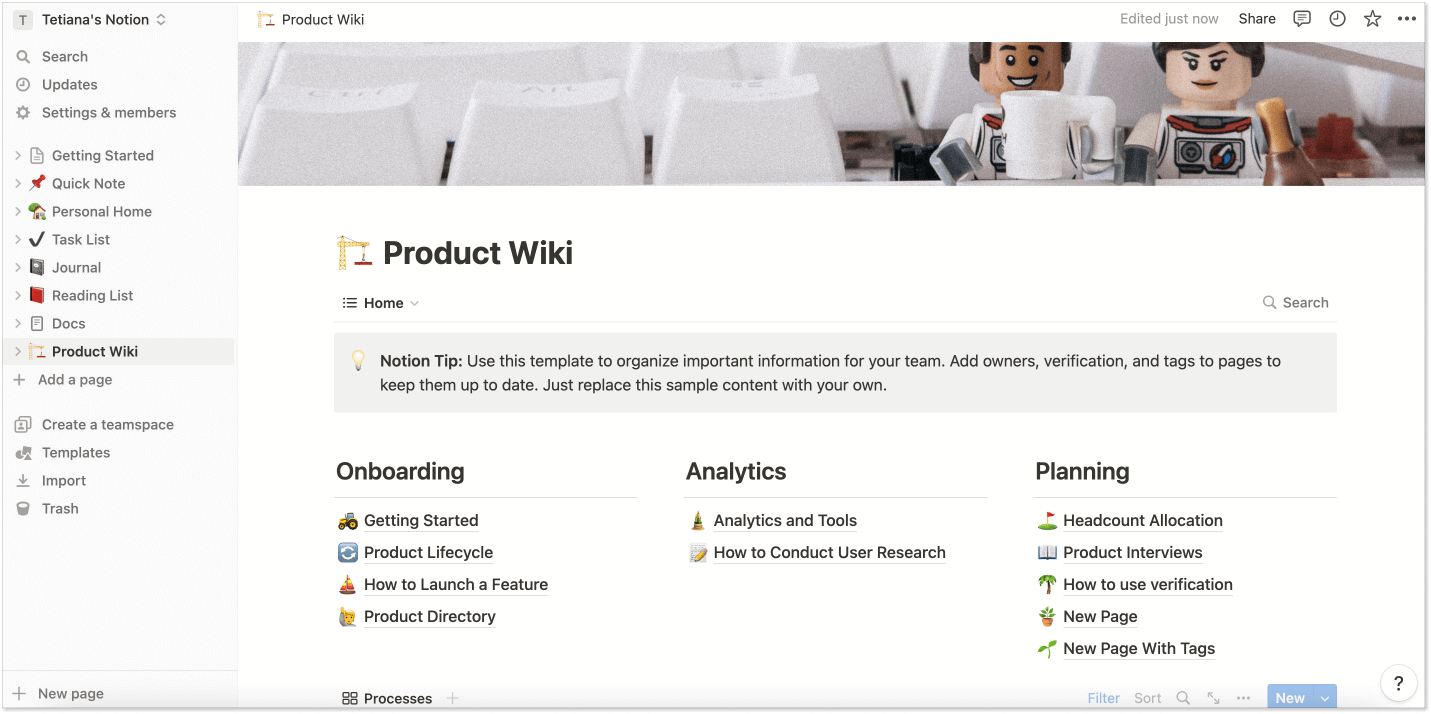 We love Notion for its simple design, ease of use, and emojis, obviously. We leverage this software daily to create content, manage to-do lists, and editorial calendars, or keep track of the roadmap of our product.
In terms of wiki functionality, this is a great tool that offers templates and allows creating, managing, and working collaboratively on any piece of content. Above you can see a Product wiki template (you can find other ones if you need them).
Handy features:
Useful templates that help you structure all the information you have (Company home, Brand guidelines, Employee onboarding, Engineering wiki, etc.)
Powerful filter that allows finding any material easily
Easy drag-and-drop organization of the structure
Simple import from other tools like Google Docs or Confluence 🙂
Design, design, design!
Pricing: free; paid plan starting at $10/mo per user
Capterra rating: 4.7/5
4. ClickUp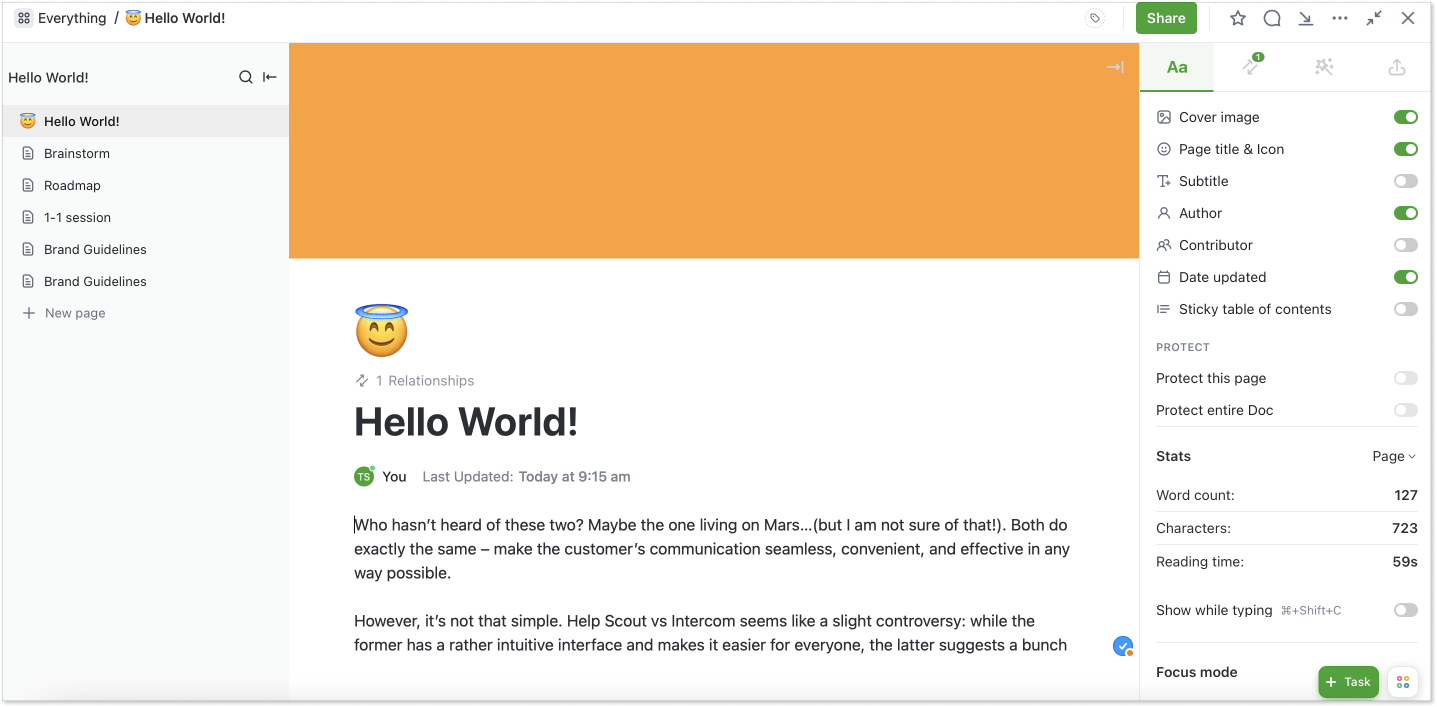 ClickUp is a project management tool that offers many features for collaborative work, and can be used as a substitute for Asana, Jira, and other similar solutions. Among other things, it provides Docs feature that allows creating documents, or wikis, and then connecting them to tasks.
Once I registered on the platform and went to Docs section, I couldn't help but notice how much alike its interface reminds me of Notion. But hey, it's not a bad thing, we all get inspired by something 🙂 Within the tool, you can categorize docs, work together on articles, and edit the text the way you want to.
Handy features:
Page details option showing word count, characters, reading time, and much more
Relationships feature that allows connecting the current doc to other docs or tasks
Doc tags for more effective management
Focus Mode that makes other content of the document pail, highlighting the part you are working on the minute
Pricing: free with limited functionality; paid plans starting at $9/mo per user.
Capterra rating: 4.7/5
5. Document360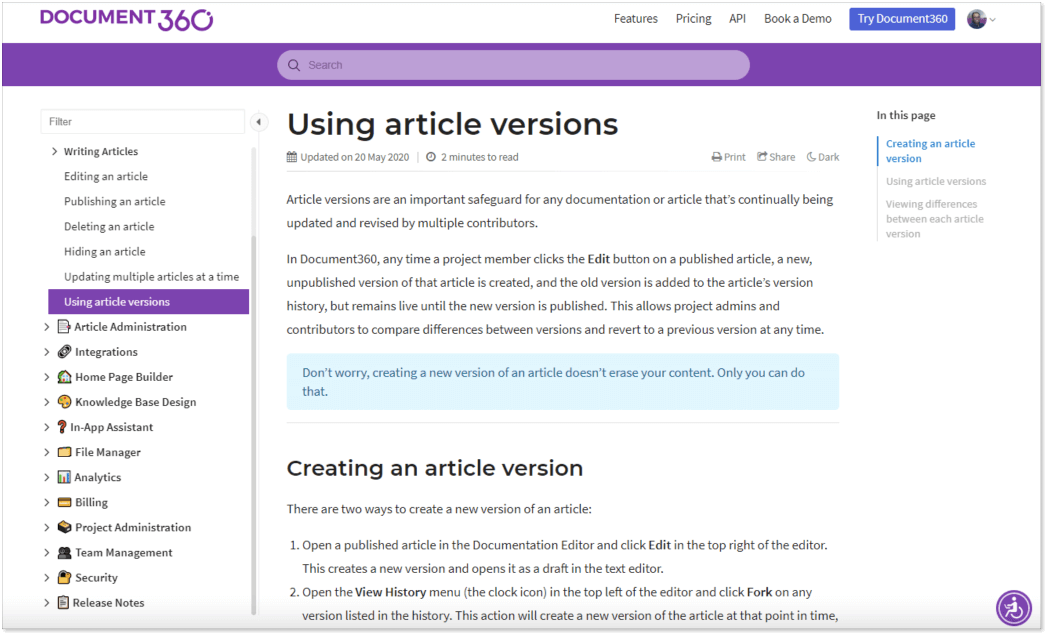 Document360 is probably the best tool for knowledge management solely in the market up to date. So, if you have a big company or one that grows rapidly, and require software to organize all documentation – it might be your best shot.
The program offers solutions for internal and external knowledge bases, and even a feature for technical documentation, allowing the creation of tutorials, release notes, and more. As for me, the UI looks a bit outdated and clunky, or maybe I am just a spoiled user with the sleek design of Notion, HelpCrunch, and other modern tools 😄.
Handy features:
First, it's useful that you can create an internal knowledge base portal and a help center for customers within the same software
Creation of up to 6 levels of categories and subcategories to organize your knowledge effectively
You can use Markdown or Visual editor to create content
Comprehensive analytics feature
Pricing: starting at $199/mo per project (3 team accounts)
Capterra rating: 4.7/5
6. Guru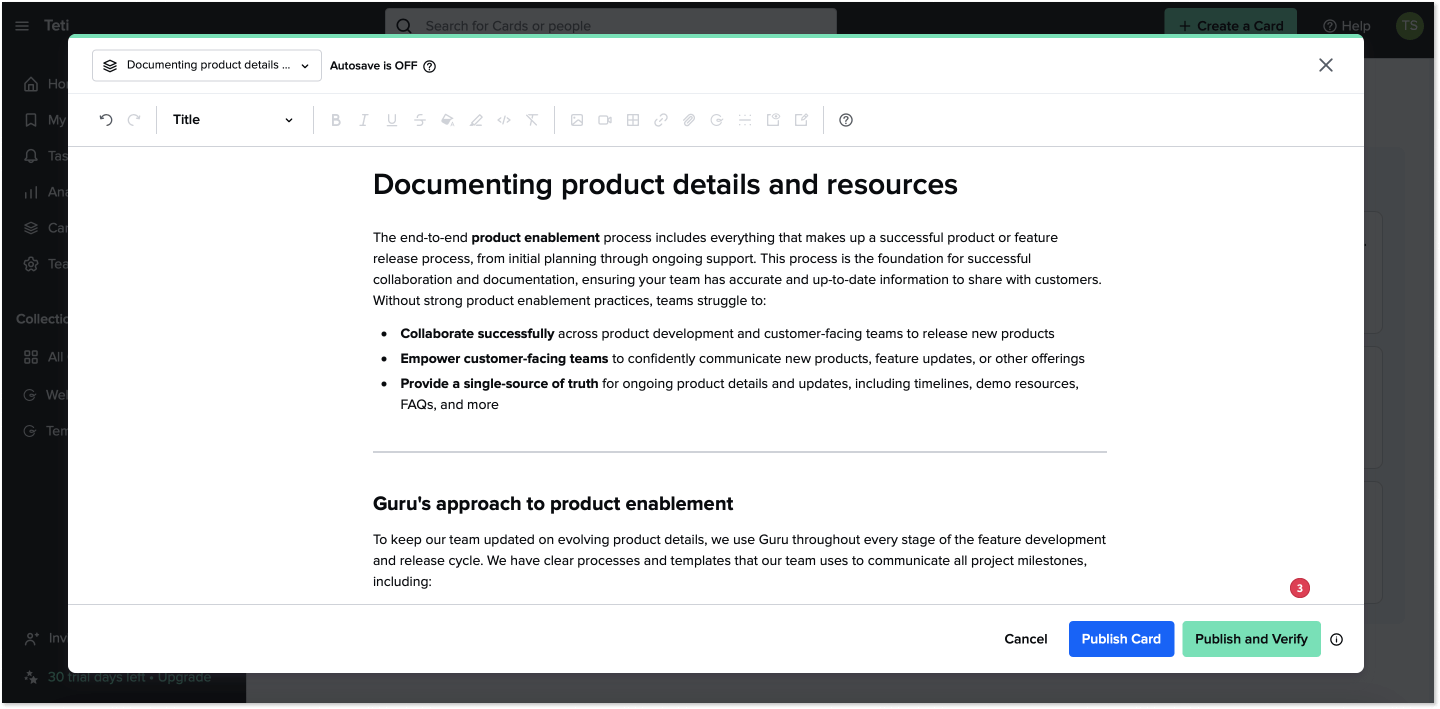 Guru is yet another good wiki software for knowledge management inside your team. You can create, what the company calls, cards (helpful content), categorize, and organize them for your convenience.
You might need some time to master the tool as at first sight, it's not that obvious. For instance, wiki content you add in cards, and I'd prefer to work in the document on the full screen, couldn't find an option to do so. Nevertheless, it has many handy features, and everything else is a matter of habit.
Handy features:
You can capture knowledge from Slack or even the web and add to cards
Duplicate detection feature spots repeated content and helps you clean it if you want
Software suggests tags based on the content in the card
Comprehensive analytics feature
Pricing: free with limited functionality; paid plans starting at $6/mo per user.
Capterra rating: 4.6/5
7. Wiki.js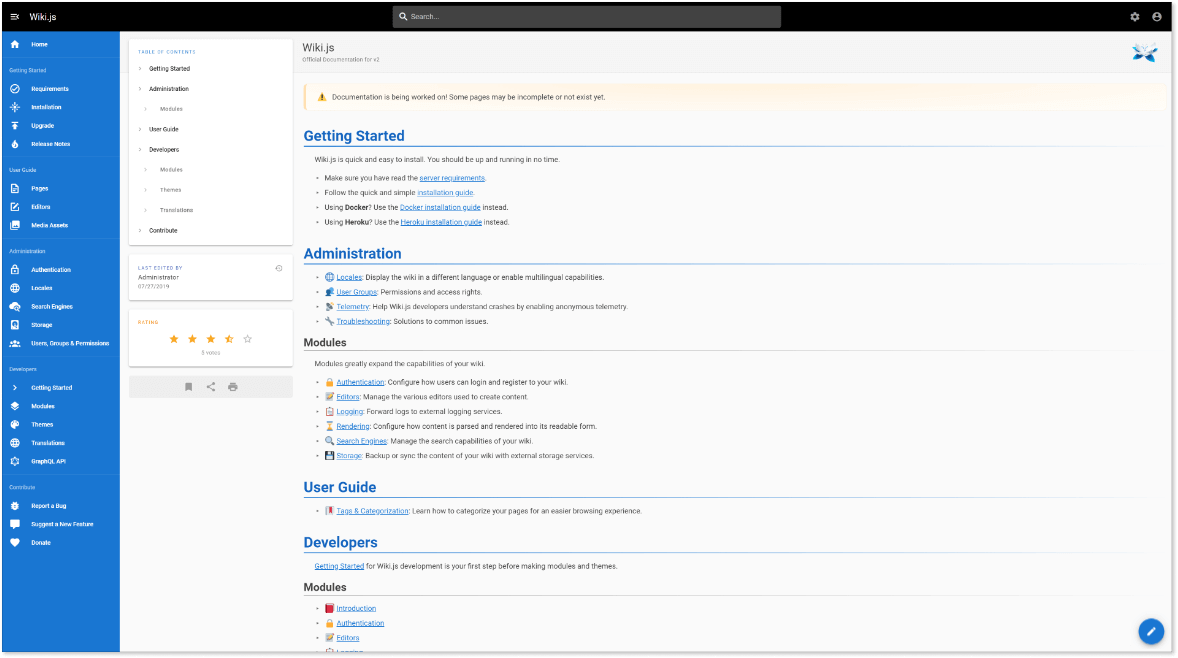 Welcome our first and only open-source free wiki software on this list. Just in case you are looking for a self-hosted tool, Wiki.js is the one. You can run it on any platform, and it's also compatible with PostgreSQL, MySQL, MariaDB, MS SQL Server, or SQLite.
Since basically, you program it yourself, you can fully customize its appearance and add light or dark modes. I'm not gonna lie, this software is difficult for those who have little or no technical knowledge, but if you are a techie, go for it!
Handy features:
As your company grows, it's easy to scale the wiki
Full customization of the tool
Powerful built-in search engine
The software translated into 40 languages
Pricing: free
G2 rating (not presented on Capterra): 4.2/5
Pick the best tool for you
Once you defined your goals and end-recipient – employees or customers – you are ready to choose the best wiki software for your business. Hopefully, our article can help you make the right decision. But more importantly…
Be brave like Ukrainians and just try a few options before paying for anything or sharing your card details. Most tools are offering free trials or even free limited plans, go for it and start improving your knowledge management today!