Adjusting SEO for a Knowledge Base: Optimize Your Articles in 5 Steps
Have you already performed knowledge base SEO activities? If not, we've got you covered. See how your help center can rank high on the SERPs.

Did you know that 89% of customers are more likely to make another purchase if they have a positive customer service experience on your website?
However, delivering excellent customer support that nets more sales may be difficult, especially if you spend endless hours digging through tons of emails, customer support tickets, and company files.
But here's the good news.
By creating a knowledge base, you can achieve business goals and avoid the overwhelm or delay in responding to customer queries.
To turn your self-serve library into an effective problem-solving tool, you must take an extra step after creating it — making your knowledge base search engine optimization-friendly.
That'll help you rank in the search results, making it easier for your audience to spot the content you crafted for them.
How do you drive traffic, solve customer problems, and build your brand through knowledge base SEO? Keep reading to get the answers.
What is a customer knowledge base?
A knowledge base is an online self-service system that empowers your customers and employees to find the information they need when they need it. That way, you can hand off queries and focus on your zone of genius. Your customers can find instant information about a company's product, service, mission, or specific terms there.
It's of paramount importance for a knowledge base to appear in the search engine when a customer is looking for the info. And as shown in the pic above, 93% of ALL web traffic stems from search engines. Now, think of what happens if your resource center doesn't appear there.
What do you need for creating and managing a knowledge base?
Building a knowledge base is a practical way to provide an excellent, actionable customer experience for your audience.
However, to successfully create and manage an online knowledge base that helps solve problems, you need to consider the following:
Concept – this is the idea stage where you highlight the issues you want to address with your database;
Design – this is the architectural stage where you build the user interface (UI)/user experience (UX) design;
Content creation – this is the stage where you create knowledge base articles, frequently asked questions (FAQ), and videos that speak to your customer persona;
SEO – this is the stage where you optimize the content for search engines.
Benefits of keeping your knowledge base content SEO-optimized
Even if it provides customers with crucial information, a knowledge base is of no use if those who need it can't find it. For that reason, SEO is essential to make your knowledge base searchable.
Studies show that 91% of people would prefer using online knowledge bases as long as they meet their needs. That means your brand's existing and potential customers are constantly out there looking for answers to their specific queries.
What often happens is that people go straight to their preferred search engine and type their questions there, instead of going to the brand's site to look for the knowledge base. Their goal is to find a solution ASAP, and search engines are great at surfacing the best matching results. If your knowledge base is well-optimized, people will find you easily.
Now, imagine what would happen if your competitors — and not your knowledge base — topped the search engine result pages (SERPs).
Well, you don't have to. Here are the advantages of optimizing your knowledge base for search engines:
Improved productivity
Keeping in mind that 68% of consumers are more likely to favor a brand if it offers proactive customer support tools like knowledge bases, live chats, ticketing systems, and CRMs, it's a good idea to let customers solve problems on their own.
All you have to do to let your employees focus on more pressing tasks and revenue-growing activities is improve your knowledge base with SEO.
If interacting with customers is necessary, though, making your resource hub optimized for search engines will help expedite the process. Besides, such a single point of reference would empower your employees to gather the information they need effectively and efficiently.
Increased customer acquisition and retention
When your brand ranks in the top results of the SERPs for a knowledge base search, it shows target customers that your brand is:
Credible
Established
Socially recognized
A master at high-quality content
This way, customers can also discover your brand through general inquiries, niches, services, or product-related searches. Search engine optimization also attracts the right traffic, helping you generate new customers and gain the loyalty of existing clientele.
Reduced team workload
According to McKinsey, employees spend 20% to 28% of their time sorting emails, including customer queries and internal information.
Having a knowledge base and improving its online performance helps your company organize its messages and information, empowering employees and customers to search and access what they need at any time quickly.
That reduces your team's workload in two ways:
Administrative executives will not have to comb through a sea of files and emails
Customer support agents will have ample time to respond to fewer queries
Ultimately, improving your resource hub's SEO equals a reduced workload and more time for better task management.
5 knowledge base SEO best practices to propel your hub to the top
After you've created your company's digital data hub, the next step is getting it seen by as many people as possible on the SERPs. You want your audience to find instant responses to their queries in your self-serve library, don't you?
With that in mind, here are five ways you can streamline your knowledge base articles for SEO to reach more prospects and existing customers:
1. Find out what your customers and prospects are searching for
You should look for keyword opportunities in content related to your niche and the questions your customers are asking online.

After all, commonly used search terms are excellent keyword ideas to include in your content. Here are some helpful keyword research tools you can use to your advantage:
Use these tools to find the volume of searches and search intent for specific terms, which will help you create an SEO-friendly customer knowledge base.
Here are some tips to keep in mind while doing keyword research:
Look for variations of the terms your customers searched for;
Check your brand keyword and related terms, as they may contain some valuable ideas;
Go through customer feedback for content ideas they'll want to see;
Use long-tail keywords for better performance;
Choose primary keywords you want to rank for and related semantic keywords;
Include keywords in your meta tags (title tags and meta descriptions), ALT text, meta video, and image descriptions.
You can also draw keyword ideas from Google's Autocomplete, People Also Ask, and Related Searches sections.
2. Look at your competitors' knowledge base for content gaps

Doing your SEO research will help you find content gaps you haven't covered yet. Dropbox's knowledge base has several drop-down categories with popular topics, which can serve as inspiration.
Here are some practical hacks for content gaps:
Make a list of keywords you want your knowledge base to rank for;
Use any of the keyword research tools above to analyze your web page and see the keywords you're currently ranking for;
Analyze your competitors' websites as well to see the keywords they are ranking for;
Mark the keywords for SEO you are not using yet;
Learn from your competitors' strong points and take advantage of their weaknesses to improve your keywords;
Check your existing content to see if you can optimize it for knowledge base search with target keywords.
In addition, you can research user-generated content to find potential keyword-friendly topics that provide value to your audience.
3. Optimize existing content
Optimizing your existing articles for knowledge base search is another effective way for improvement. Refreshing old content can quickly help you fill in the gaps and top the SERPs.

When done right, historical optimization is a game-changer. That's why, if you have old blog posts or other articles on a highly searched topic, you should optimize them by following these steps:
Identify the old pieces that are worth updating;
Refresh the article content for accuracy, freshness, and readability;
Optimize using keyword research principles — adding keywords reasonably in article titles, throughout the post, metadata, ALT text, meta descriptions, and URLs;
Publish an updated article as a new post in your knowledge base and promote it to social media, email subscribers, forums, and other promotion channels.
4. Make sure you are linking internally and externally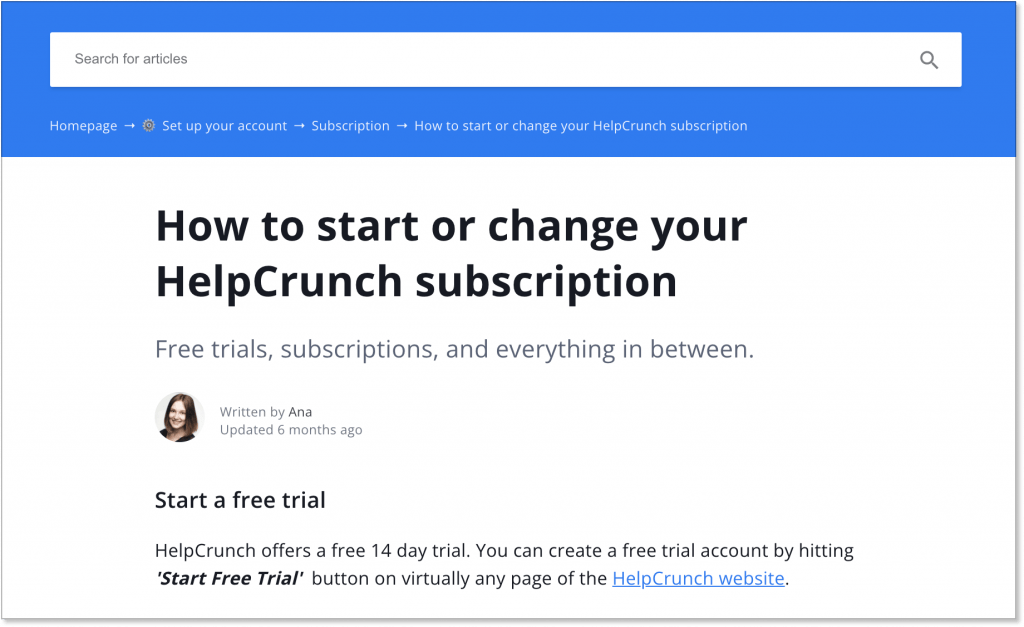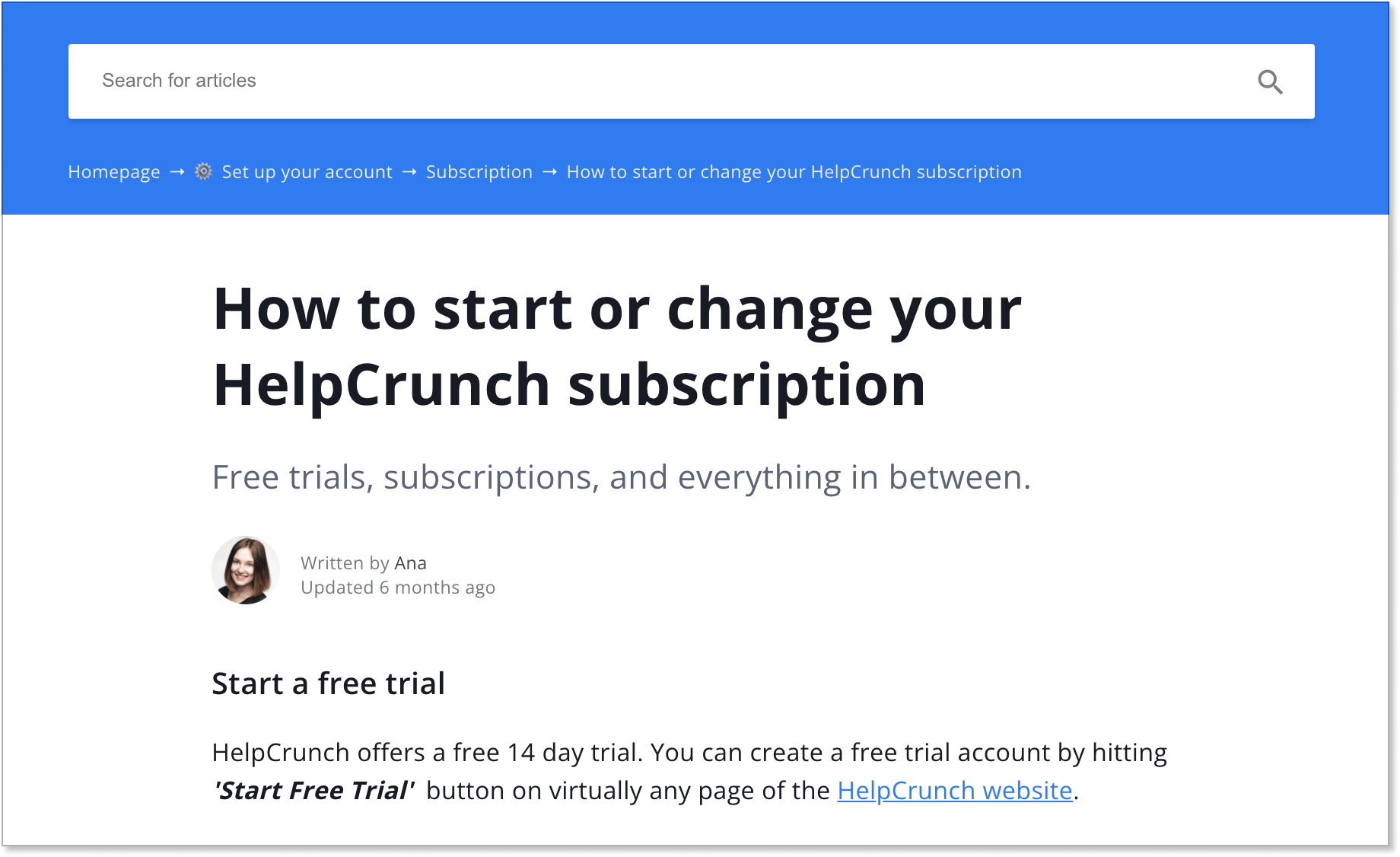 HelpCrunch is set up for knowledge base SEO, with internal links in its help articles.
So, when you build them throughout your website, here is what happens:
Search engine crawlers, like Google or Bing, can crawl and index your website better;
Your target audience can consume your content more effectively;
You can retain customers on your page for longer, reducing the bounce rate;
Your website ranks higher on SERPs.
Also, when you link to external sources and get backlinks from other websites, especially top domain authority websites:
You build up domain authority. The higher it is, the better brand establishment you experience;
You increase your social proof and credibility;
You'll find opportunities for networking and collaboration.
Link building goes both ways. Not only does it help expand your knowledge base content by linking to related concepts, but it also helps boost your SEO ranking and brand reputation.
5. Optimize media
Another effective technique here is optimizing videos and images for search engines. Search engines like content that contains well-optimized videos and images. Therefore, your self-serve library has a higher chance of topping the SERPs in a knowledge base search for your keyword if you include search engine-friendly media.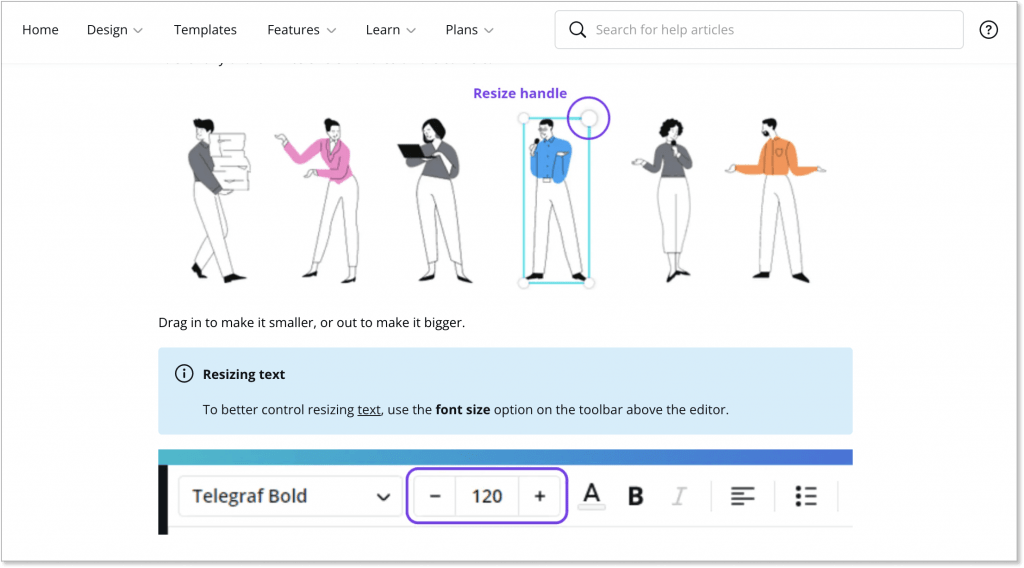 Moreover, your images and videos may appear in the corresponding Google section and bring you additional organic traffic. People aren't always eager to read a wall of text to resolve a small issue. So they go straight to the video tab, and that's where your visuals may and should appear.
Here are some tips to optimize media for search engines:
Use your keyword as the screenshot or image name in your computer folder. If your primary keyword is "attract your audience," don't upload the image file "pic21.JPG" to your content management system (CMS). Instead, rename the image file "attract-your-audience.";
Include descriptive ALT text to images; 
Add subtitles to your videos and mention keywords several times to help search engine algorithms understand your content;
Write ALT text and descriptions for your videos;
Compress the image file size to a few kilobytes. 
3 Examples of companies that have an online knowledge base
Here are a few examples of companies you can use as references for your knowledge base and SEO activities:
HelpCrunch
HelpCrunch has an organized, easy-to-navigate knowledge base search center. It offers top category picks with a list of other sections you might want to check out.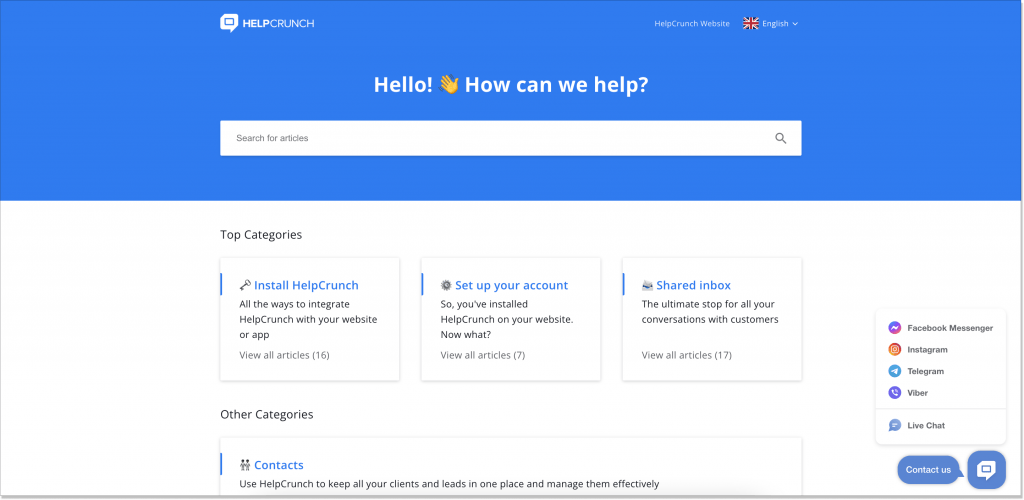 HelpCrunch appears on Google's first page of results for "Squarespace chat help" which gets around 100 searches per month (source: Ahrefs.com).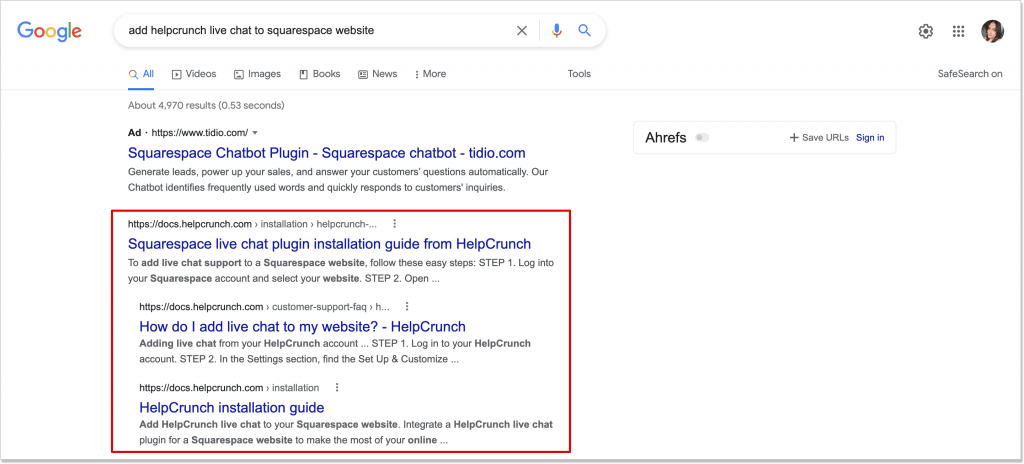 HubSpot
HubSpot's knowledge base search center is organized and attractive. Customers can find instant answers to their questions with several internal links to the top articles and topics to choose from.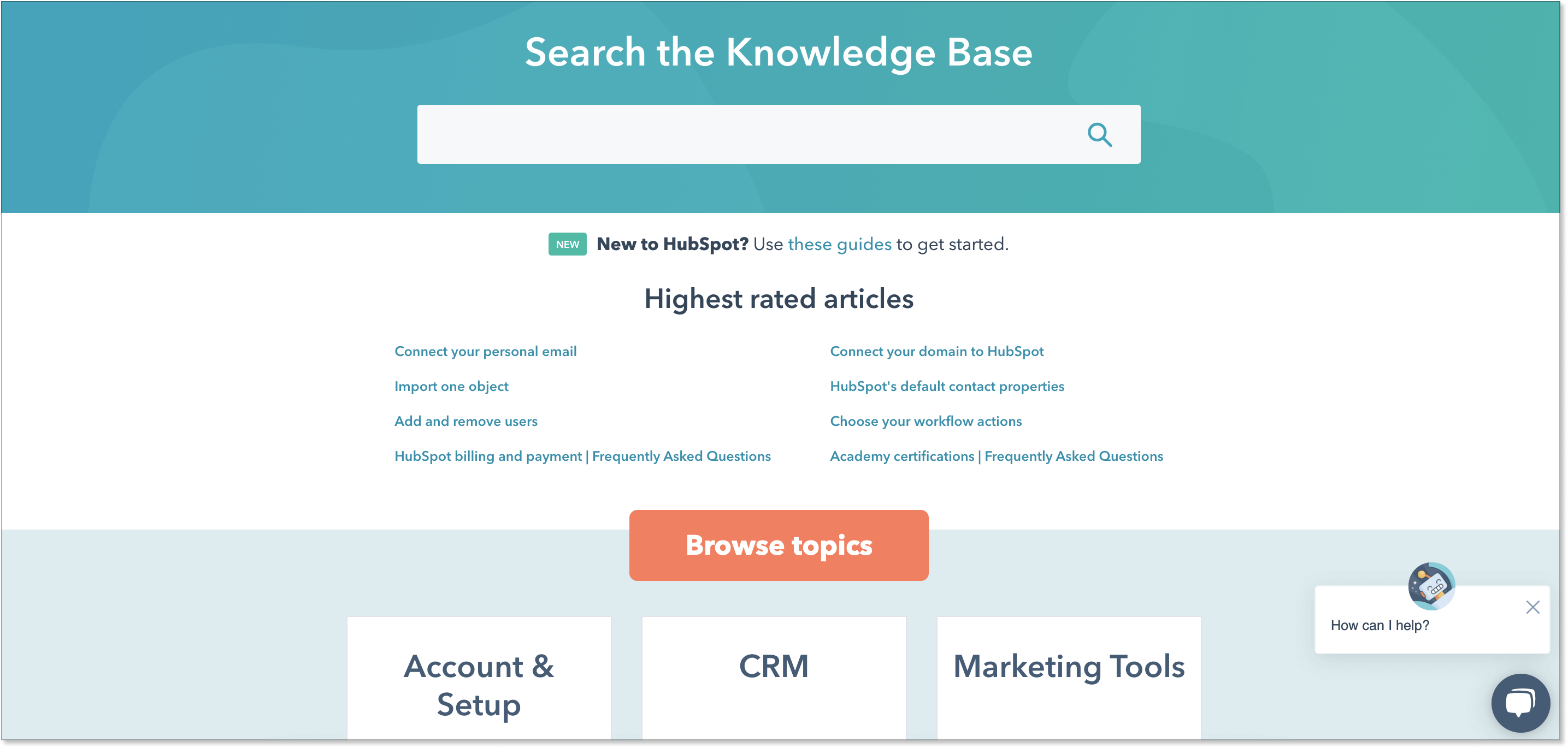 When someone has a question about HubSpot, and they type it into Google, oftentimes their first result is a HubSpot knowledge base article. This means that the user gets their answer straight from the source.
For example, when someone is using Google to find how to connect HubSpot to Outlook (e.g. "hubspot for outlook" has 100 searches/month according to Ahrefs), the first result they see is a Knowledge Base article about how to install HubSpot Sales.

Canva
Canva, being a graphic design platform, has a knowledge base that stands out in terms of aesthetics. Moreover, its well-arranged categories and top articles will provide quick answers to customer queries.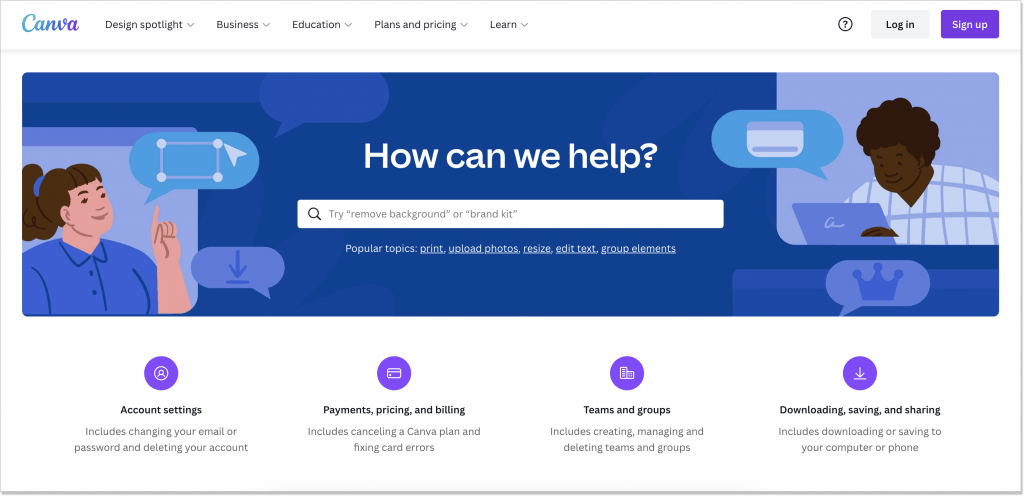 Aside from that, Canva is also a great example of a well-optimized for SEO knowledge base. In fact, according to Ahrefs, their help center gets around 5700 organic visitors per month coming from people using search engines to get answers to questions like: how to search Canva layouts, how to upload a font to Canva, etc.
Final thoughts
While creating a knowledge base for your business to help prospects and existing customers find instant answers to their queries, you need an effective SEO strategy to make it visible online.
Not only will implementing these tricks generate traffic, but it will also increase customer acquisition and retention rates. Ultimately, knowledge base searches will boost your company's revenue.
If you follow these tips, you'll get your brand seen in more knowledge base searches. However, if implementing these tips seems a little daunting, don't fret.
HelpCrunch offers 24/7 knowledge base software, as well as other customer service functionalities that'll help you stay on top of clients' expectations. Sign up for a free 14-day trial today.