Scan 10 FAQ Page Design Ideas and Awake Your Inner Artist
Designing a killer FAQ page is tough stuff. Luckily, we discuss here 10 design ideas to inspire you. Go for them and decide whether you have to rethink your own page layout.

How do you usually imagine an ordinary FAQ page? Well, it has some questions followed by answers. There's no catch at all.
But your website visitors would always want something more. It goes for everything from the page copy to its overall design. Here, you can't make away with dry phrases, callous images, and an as-a-kitchen-table-effort layout. Luckily, we've written this post with you and your customers in mind.
To give you a little nudge in creating your own page with frequently asked questions (or redoing one), we've compiled 10 design inspiration ideas worth your attention. Enjoy!
What is an FAQ page?
FAQ means "Frequently Asked Questions". That is, an FAQ page depicts the set of questions users usually ask and answers on a website about a product or service. The content is versatile: from the company's history to shipping details to return and refund policies.
10-15 years ago, FAQ formatting was something kinky. Nowadays, it's a powerful tool that helps you arm your website visitors and customers with solid knowledge. Let me provide you with reasons why a well-designed FAQ page layout can yield great results:
It's good for SEO, as you can create such a page and link other website pages to it that answer certain questions in more detail.
It helps omit negative feedback, as your users can almost surely find all the answers on their own, avoiding endless chats or phone calls with a support team.
It saves time both for your shoppers/website visitors and your squad.
Today, there is a maze of decent FAQ software worth speaking of. HelpCrunch, HelpJuice, Tettra, TypeForm, Flowlu – they all have a laudable feature set that can help you design a frequently asked questions page easily and top it up with the sought-for content.
By the way, take a closer look at HelpCrunch – a full-house customer communication platform. It provides not only a whole arsenal for customer support but also offers powerful tools for sales and marketing. Sign up for a free 14-day trial to see for yourself.
10 FAQ page examples to scan before designing your own
Now that we've scratched the surface a little, time to dive deeper into the world of the FAQ page design. Here you'll find 10 examples from various brands and niches. All of them do something right. Ready to see what's that exactly?
1. Instagram for Creators – for modern audiences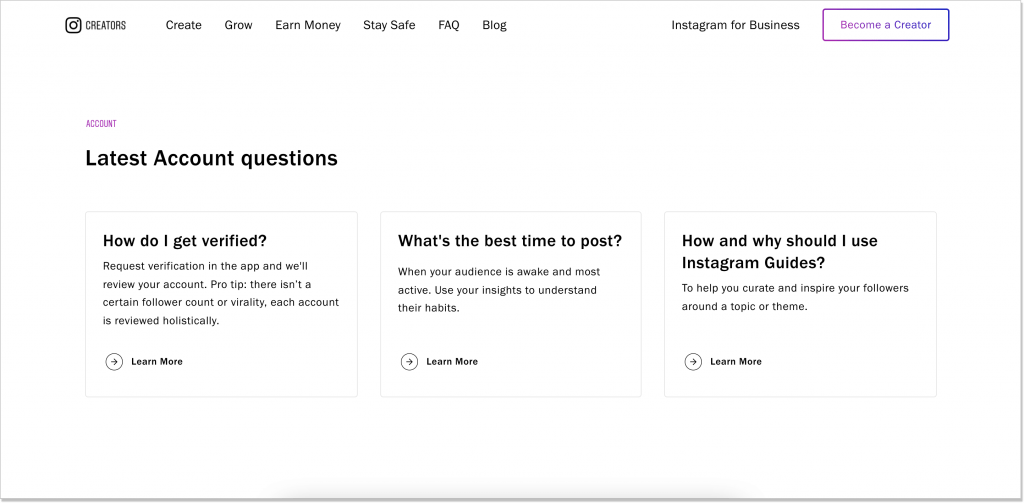 I didn't mention the good old Instagram we all use here because it has only a help center page. Instagram for Creators is a different story. Its FAQ page is uncluttered and straightforward, including only up-to-the-point questions a user might come up with.
However, there is a fly in the ointment. This frequently asked questions page could have been more vibrant (though, the upper part of the page is stylish). At the end of the day, Instagram is a creative space.
What I definitely like in this design is the way the guys name this section: Your questions answered. Nice copy! This is an unusual way of putting a trivial "FAQs" and calling it a day.
2. Etsy – for true old-timers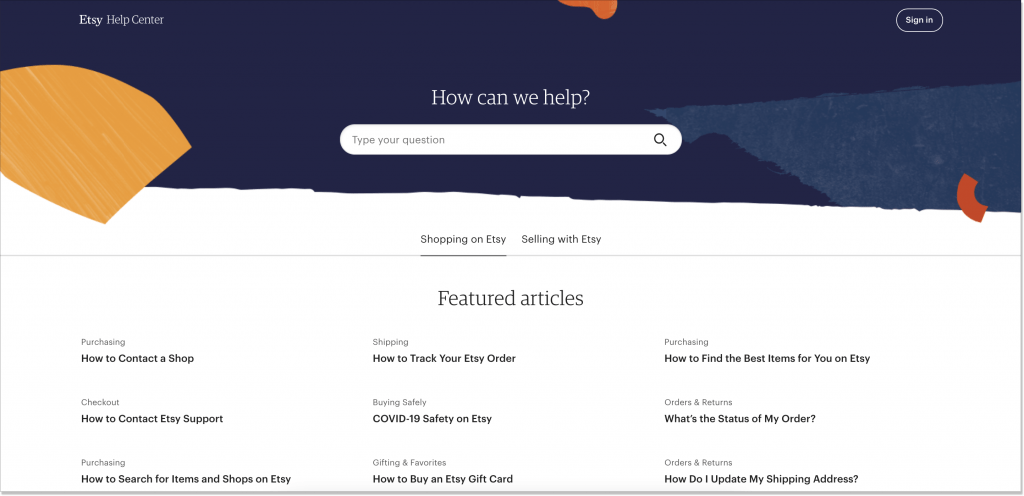 The second FAQ section in my list is the one from Etsy, an eCommerce platform.  In fact, it's designed as a knowledge base and includes the questions consumers generally ask, for example, about different types of Etsy fees and how to calculate them.
The navigation is pretty easy: the content is divided into two main categories – for customers and for sellers. Another pro point is that the names of the articles aka questions are depicted with the category name on top. When you click on the article, you see other pieces on that topic in the left column.
Sure, there is a common search box at the top of the page and certain CTAs you can use to contact support when you fail to find the info down below.
3. Malt – for tech-savvy enthusiasts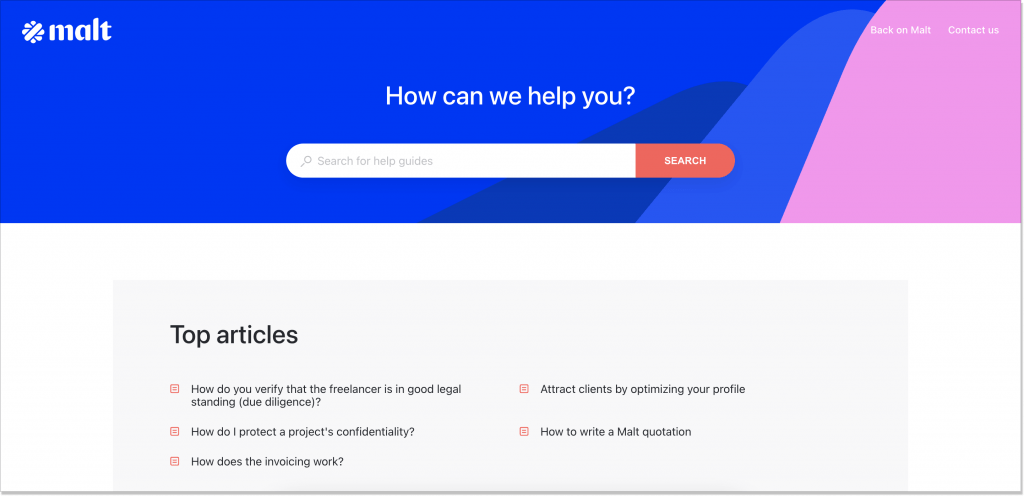 Malt helps both companies and freelancers cooperate together. Their FAQ page is designed in a smart way, maintaining a clean and simple interface, bringing out the search box. So, at first sight, this example is pretty similar to the others we described. But not so fast.
A hallmark feature of this FAQ section is the so-called Guides that you can start any time you click the question of your interest.
There, you have interactive content, a progress bar, and minimum information (I mean without the fluff). All of it goes hand in hand with illustrations, graphics, and other visuals. This is, probably, one of the out-of-the-box FAQ pages I've seen for that matter.
4. Walt Disney World – for those who still rely on magic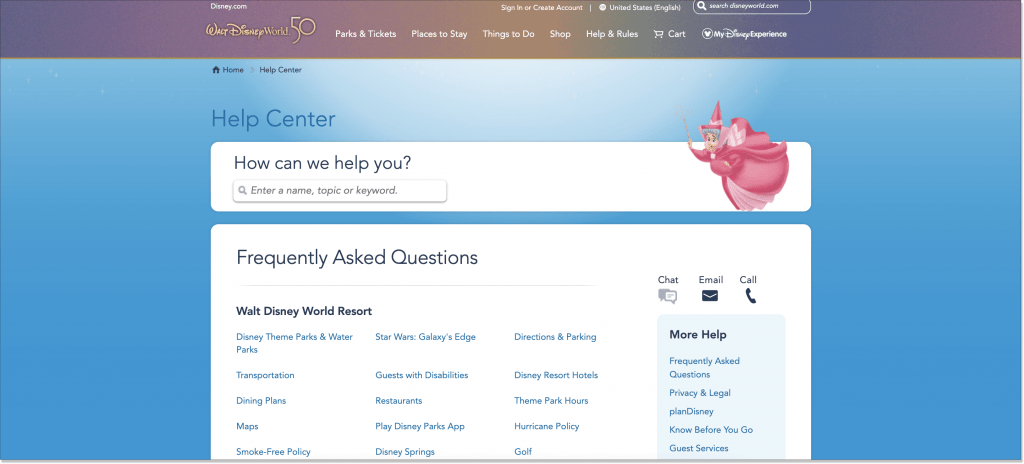 Long time, no see, Fairy Godmother! Taking a trip down a memory lane, I adored the magical kingdom back in my childhood (who am I kidding? Today too!). Will it help me answer all the questions now?
The FAQ page design from Walt Disney World strikes the balance between being just Disney and too in-your-face Disney. They don't put the brand aside by including one character illustration.
All the proper frequently asked questions section's cues are here as well: a search bar, an easy-to-digest structure, as long as contact links on the right and at the bottom of the page.
5. Cards Against Humanity – for crying out loud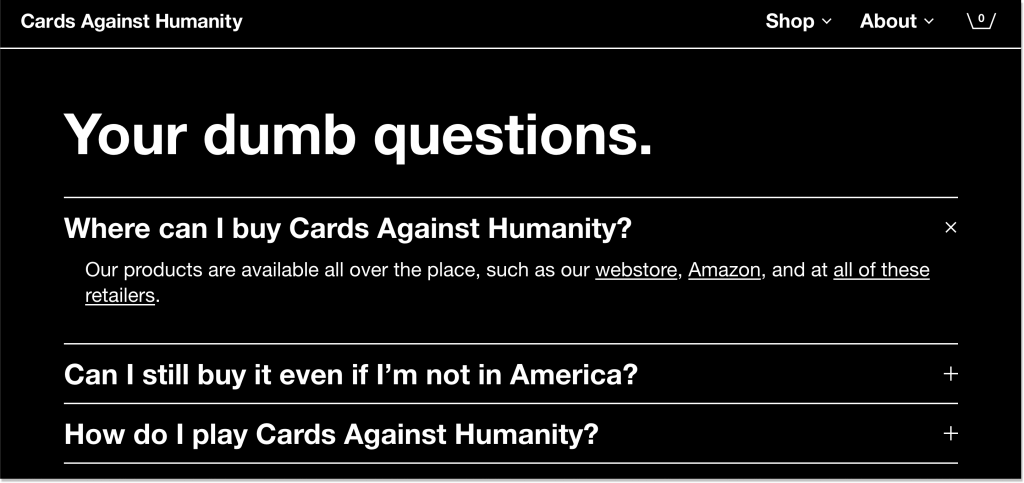 And the Oscar for the most caustic page of all FAQ pages goes to…Cards Against Humanity. It's a fill-in-the-blank party card game where players are supposed to use typically bitter words. The title refers to the statement "Crimes against humanity".
The brand image calls for a rather sarcastic tone itself. Their website FAQ design starts with "Your dumb questions". Who would let oneself pull off such jokes with customers? Add here a black and white color scheme, a user-friendly drop-down list, large fonts, and a not-so-delicate speech style.
However, I'm in for a good laugh. Cards Against Humanity chooses short answers, minimum fluff, and a pinch of humor. So, if you want to do the same with your FAQ page, go for it! There is nothing criminal in comic communication with customers (but know when enough is enough).
6. Shopify – for small companies and start-ups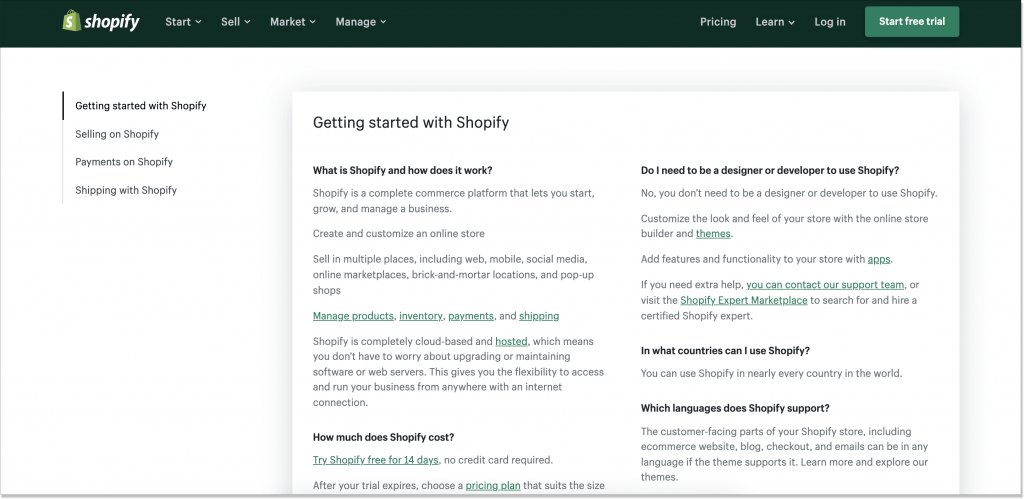 An FAQ page from Shopify wins with its compactibility. I calculated the overall number of questions – there are only 14 of them. It is a kind of page that doesn't really need a search bar.
Shopify has only four main categories, a single-page layout, and the content that is straight to the point, as it should be. The categories are shown in the left-hand menu, so you can just click the category and jump to it.
This simple FAQ page can be a good role model for small businesses that don't have bulk information, and that's why can allow for placing it ​​densely.
7. Kleenex – for those who appreciate their company's branding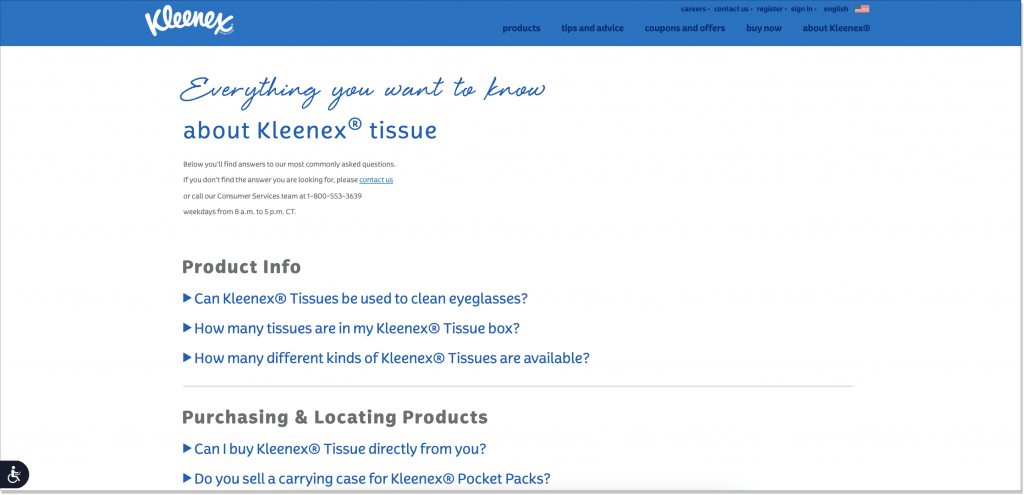 Just like Disney, Kleenex developed its FAQ page with its brand on the front burner. By the way, the guys made the following wise decision (probably, unconsciously?).
The Kleenex's color is green-blue. As it is known, such shades bring about the feeling of serenity, calmness, and peace. Besides, they positively affect our mood. Is it just me, or using a Kleenex tissue when, let's say, you're ill can positively impact our overall body state making you feel better?
Another thing I want to earmark about Kleenex's FAQ layout is that the information is structured and has these easy-to-digest drop-down menus. Notwithstanding, everything is not that cut and dried. The questions depicted on the page are readable. But the answers are given in such a teeny-tiny font I, for one, wouldn't notice without my glasses. That's a serious misstep FAQ pages shouldn't make.
What I do like about this example is that Kleenex provides the customer support contact details on top of the page. Just to be sure you have alternative means of communication if you failed to find an answer on this FAQ page.
8. Headspace – for catching some zen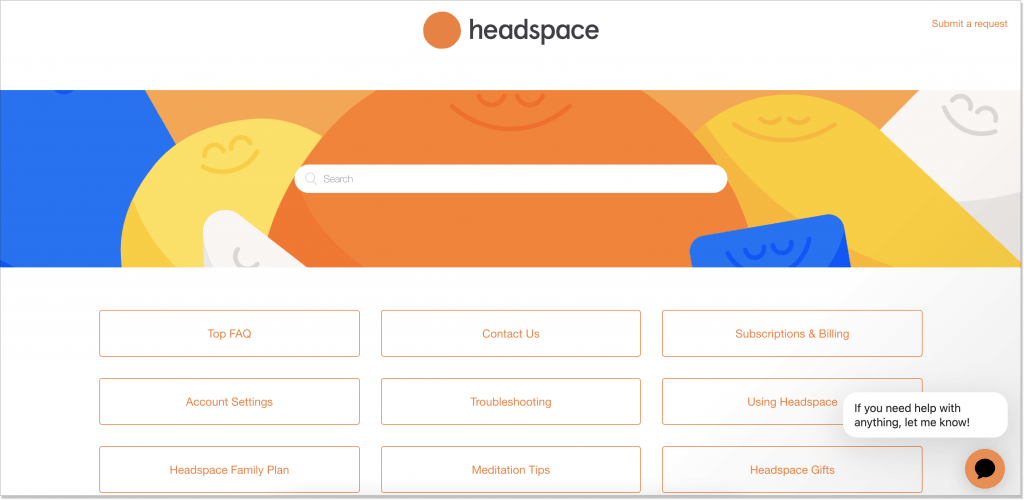 Now comes a really good FAQ page that totally falls in line with the brand's general idea. Being a meditation app, Headspace decided to add some tranquil, smiley faces on top of its frequently asked question section. So, when you land on it, you get the zen feeling instantaneously.
Plus, the team behind Headspace has these unimposing categories graphically placed across the page. This way, you have no diverted attention and can easily grab the category you're looking for.
Inside the categories, there are in-depth articles regarding such topics as insomnia, fatigue, meditation tips, to name just a few. Besides, there are YouTube links with complementary material inside some articles. That is also a great way to promote additional content and provide more value to clients.
9. Pinterest – for those who like the ease of use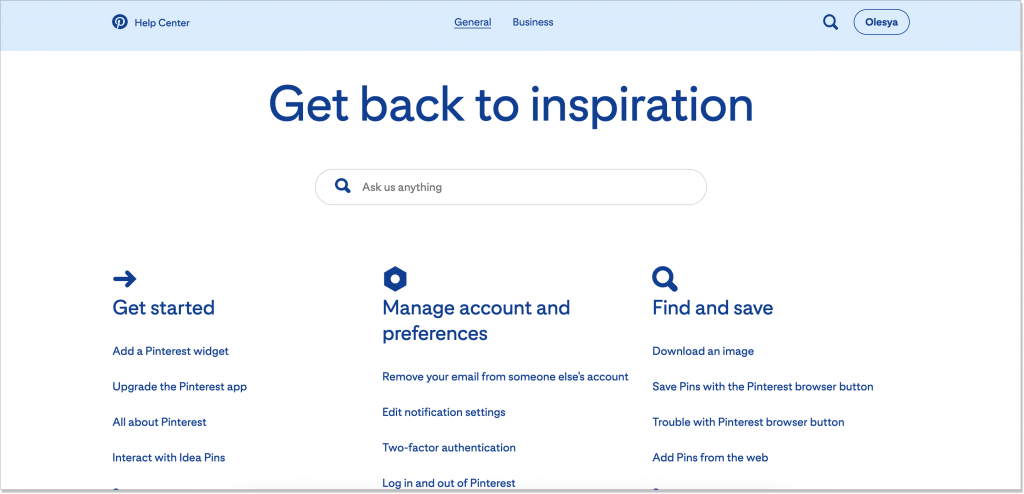 Has anyone seen the search bar on Pinterest's FAQ page?
All jokes aside, these guys really want you to notice their search bar by placing Get back to inspiration (or Get back to business) in a big and bold font on top of the screen. Nifty trick.
Anyway, the given FAQ format is favorable for a couple of reasons. First, while many businesses have different tabs or even websites for their general and corporate content, Pinterest makes just two tabs on one page – General and Business – animation-like, no fluff.
Second, when you switch between those General and Business sections, the content changes too. Hereby, you can read on some casual or business Pinterest tips. That's smart enough.
10. Airtable – for those who want to make it 2-in-1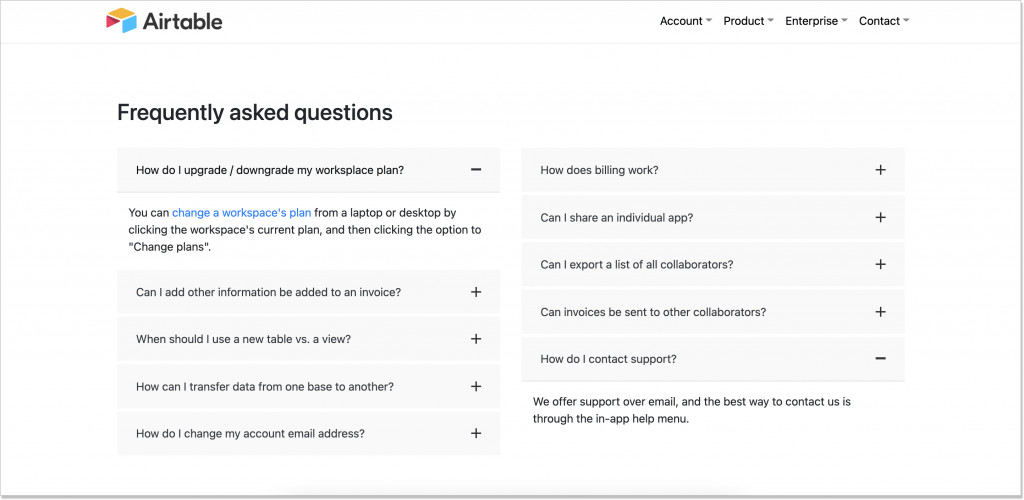 Airtable, a cloud collaboration service, places its FAQ page alongside its larger knowledge base. This section is designed in a common drop-down list, and almost every answer there contains links to some extra resources.
Airtable tries to increase the accuracy of finding the sought-for info by having numerous video materials, profound guides, featured topics section, and the Ask Community CTA. In doing so, they can be sure that a user won't contact a customer rep given half a chance.
Sum it up
A well-oiled FAQ page is a good call for encouraging customer self-service. Just keep thought-out content and catchy design in mind. Rethink some examples we've presented today. Maybe, you'll create something of the kind so as not to kiss a customer goodbye?