How to Write an FAQ Page and Strike the WOW Effect: 8 Tips [+References]
The question 'how to write FAQs' is finally answered! We share 8 zero-fault tips on the ways to do that as pros do. Besides, we include some cool examples. Have you already seen them?

You know what they say: haste makes waste. This goes for everything but is especially true when you do business. I feel like I need to move this point further.
Сreating FAQs or explanatory content for customers isn't that easy. Something that you think is totally clear might be a thick forest for them. Even something as obvious as "log in to your account and press this button in the right corner". That is why you should think hard when shaping a help center for clients.
From here, we arrive at a logical question: how to write FAQs so that customers are pleased with finding what they are looking for? This is the kitchen table issue we explain today. Let's get going!
What does FAQ stand for?
FAQ stands for frequently asked questions on the website's self-service page. They aim to solve the most common and burning queries customers come up with. The key FAQ feature is that it should start with a question and proceed with a straight answer 👇🏻
For instance, How to get into your cinema school? → To become a student, you should register on our website before the admissions campaign kicks off and take entrance exams. Oh, and have a Tom Cruise-like talent. Drop us a line if you have any questions.
The unspoken rule says that if you know how to write a good FAQ, then you will definitely have a perfectly shaped help hub for encouraging customer self-service along the way.
By the way, do you KNOW how to do that as pros do? I thought so. Let me break that down for you.
How to write an effective FAQ page: 8 tips you should follow ASAP
I always vote for consistency 🙋‍♀️ With that in mind, we broke down the tips into several corresponding categories—Layout, Content, Optimization & Further upgrades—so that you can start creating an FAQ page with ease:
Layout: the overall FAQ section style
1. Dedicate time to the page's design
As the old proverb goes, bread is the staff of life. True, but I offer its modern version: organization is the staff of life. Exactly! It's an indispensable part of everything you do, from sorting things out on your desk to folding the clothes in the dresser. Once you decide to know how to write an amazing FAQ page, the first step in this adventure is its thorough organization.
This may be a slippery slope: not all FAQ pages look like two peas in a pod. Depending on a company and its customers' needs, the layout and the whole informational hierarchy may vary. Some might include a single-page design with just a list of questions, others might enjoy a multi-tier formatting.
From where I am standing, one of the must-have elements of an FAQ page that simplify the total layout is a drop-down menu. As a clear example, here is the page with frequently asked questions from Airtable. Once you land on its FAQ page (which is part of the whole knowledge base, by the way), just scroll down to see the section. Here, all the questions are piled up into a drop-down menu and provide straightforward answers, no lyrics.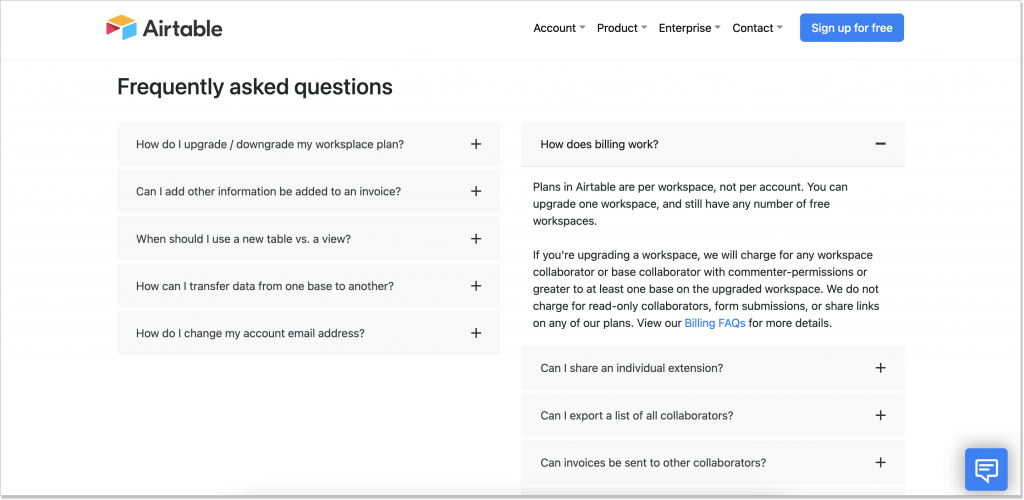 2. Organize your FAQs with simplicity in mind
Users don't visit your FAQ section to read yet another Harry Potter volume. They strive for plain structures and readable texts. That's why you should keep stuff to the point and as brief as possible.
It's allowed to lop off wordy sentences, break up long answers, and create small paragraphs. By the way, this hack is also good for the users' eyes, as walls of texts have never been beneficial.
Look at the FAQ page done by Shopify. The guys definitely know the ropes in writing FAQs. They did their categorization homework coupled with internal linking, and it looks awesome! The paragraphs are logically (and visually) divided.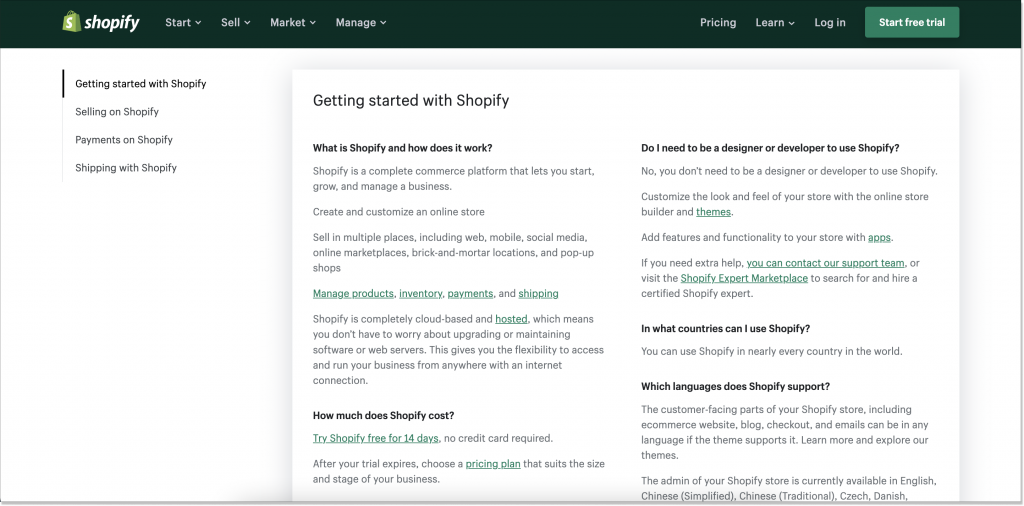 Even though the whole page seems to be packed with info, the sentences are easy to digest. What's also cool about this example is that Shopify doesn't prey on multiple fonts, excessive images, and other stuff that might distract the reader. This is the point worth thinking of.
Content: what language to use in FAQ communication
3. Answer the real FAQs (and know when to fill in the gaps)
It might seem a little too obvious, but if you include some questions that don't relate to whatever it is you're doing, the whole endeavor is useless. Read on to find a few tips on how to write an FAQ page with relevant content 👇🏻
First and foremost, talk to your customer support team. Yeah, no surprises here. Consider hosting special meetings or sessions where service agents can share real customer queries and pain points with the rest of the team. This way, you kill two birds with one stone: get the insights needed and fill the FAQ page with the content your audience will scour for.
Next, take advantage of the software you're using. If it allows, you can understand what keywords customers look for on your website generally or how many articles/FAQs need to be reviewed. For instance, we at HelpCrunch offer knowledge base reports. They let you check content performance and fill in the gaps if need be.

Then, keep close tabs on social media. This is where customers are the most communicable. Listen to their comments about your business, be responsive in direct messages, and track mentions. Speaking of, you can do that with such tools as Mention, Talkwalker, or Social Searcher. Once you gather enough questions, write your FAQ page!
4. Go for a unique tone of voice
If every brand had the same communication style, consumers would have had a hit of the blues. That's why having a unique character is worth gold today. Think of the way you could translate that unique character into written form, and how you would like to sound.
Now that we bring up uniqueness, examples should correspond as well. When I first saw this FAQ page, I was like 'WOW! Nicely done!'. This is 40/40 creative agency and the naming totally matches up. Everything is done with creativity – the Q&As, the language, and the wording – no one could be left ignorant after reading this section.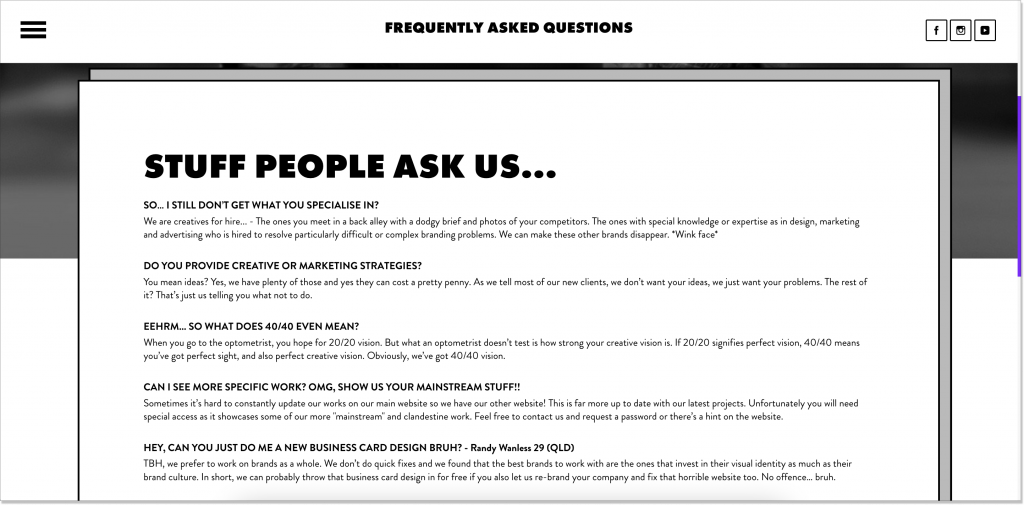 Despite the jokey tone the agency uses, it's possible to get the answer you need. Plus, this FAQ section is literally packed with text. However, these big and small font sizes are only for the better.
The FAQ page header says a lot, too. It's the picture from this famous "Dumb and Dumber" film that only adds up to the brand's humorous tone of voice. So, if you want to see how to write a good FAQ page, take your cue from this example.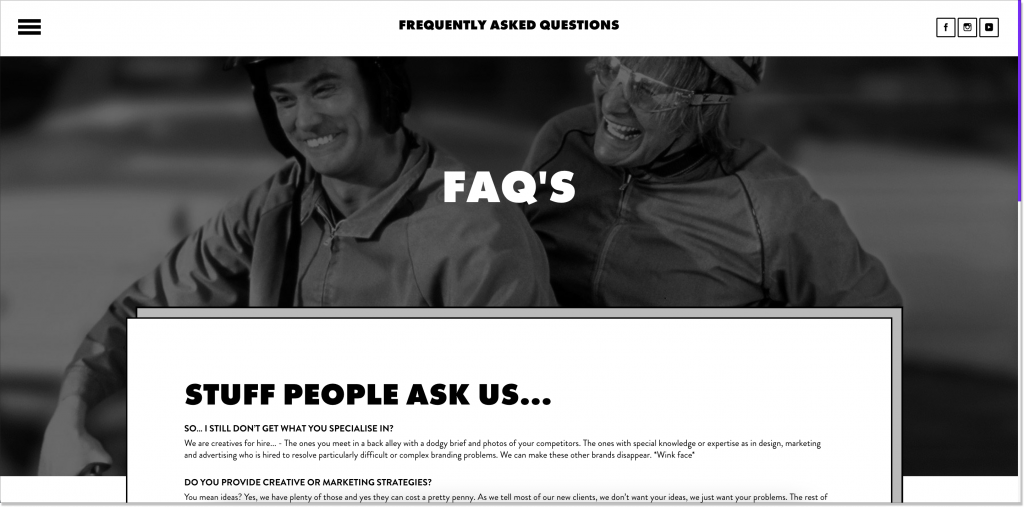 5. Mind language and grammar
It happened several months ago. I was looking for a return policy on a clothes store's website. I did find their FAQ page…but it was as clear as mud! Full of unnecessary bank restriction details, extracts from the company charter and God knows what else. Consequently, I let it all hang out.
The bottom line: keep the content as understandable as you can for users.
The whole point is in being on the same page with clients and speaking their language. For instance, if you operate in banking and write a Q&A on ATMs, formulate your thoughts simpler:
You are allowed to carry out funds withdrawal using the ATM that is located … → You can withdraw cash from the nearest X company ATM;
Remittance of funds is restricted if your card is in the loan period → Credit funds transfer is forbidden
Now that we touched upon banking, let's stick to it. Here is a proper example from Bank of America. Not only is its FAQ page structured but they also chose transparent language in instructions so that you don't tie your tongue in knots while reading it. What's great about this is that before entering the page, you can choose the state of residence. Based on this info, you can get related answers.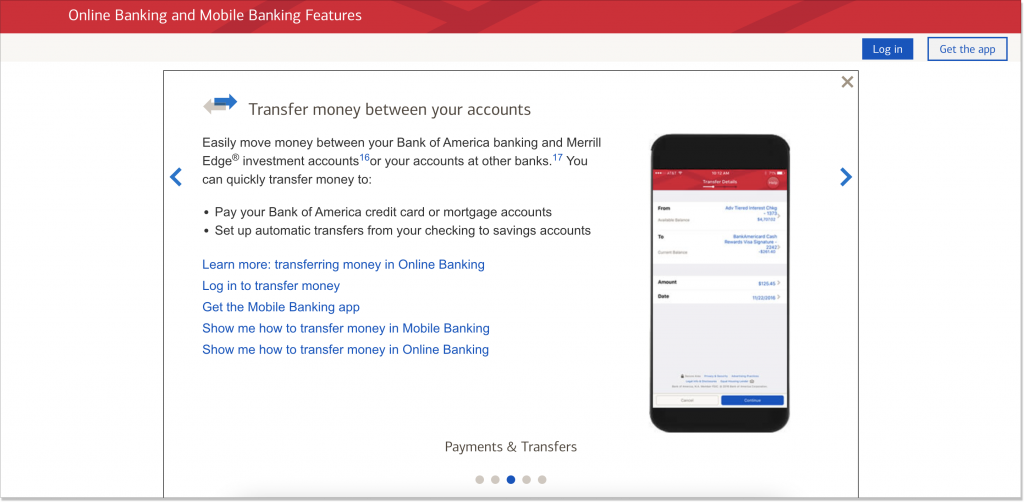 Optimization & further upgrades: additional steps for improvement
6. Optimize content for SEO
For writing FAQs that strike that WOW effect, go on the SEO path. The thing is that when you optimize your FAQ content for relevant keywords, the chances are it will rank high in search engines and attract valuable organic traffic.
Where do you start? Here is your likely action plan:
Gather the most common questions users come up with: we've talked about this before. Interrogate your teammates to find out what it is clients usually ask for, carry out audience research (surveys/interviews), analyze chat logs or site search data, comb through Reddit/Quora, and consider People Also Ask section in Google.
Check popular keywords on your topic with SEO tools: some keywords can match users' questions as that's how they tend to google information. You can do that with such tools as Semrush, Moz, and WordStream, to name a few.
Provide clear answers: the clearer you will be in your formulations, the faster and better clients will get the sought-after answers. To succeed in it even more, make answers 2-3 sentences tops and leverage internal linking to nudge users to specific content.
Optimize the meta title and description, specify the keywords: this info lets search engines understand what the whole page is about and customers see what content they will get there. You can easily set these criteria and optimize the on-page SEO with your software. For instance, if you're a HelpCrunch user, go to Knowledge base → Settings → SEO Settings and fill in meta title, description, and keywords when you write an FAQ page.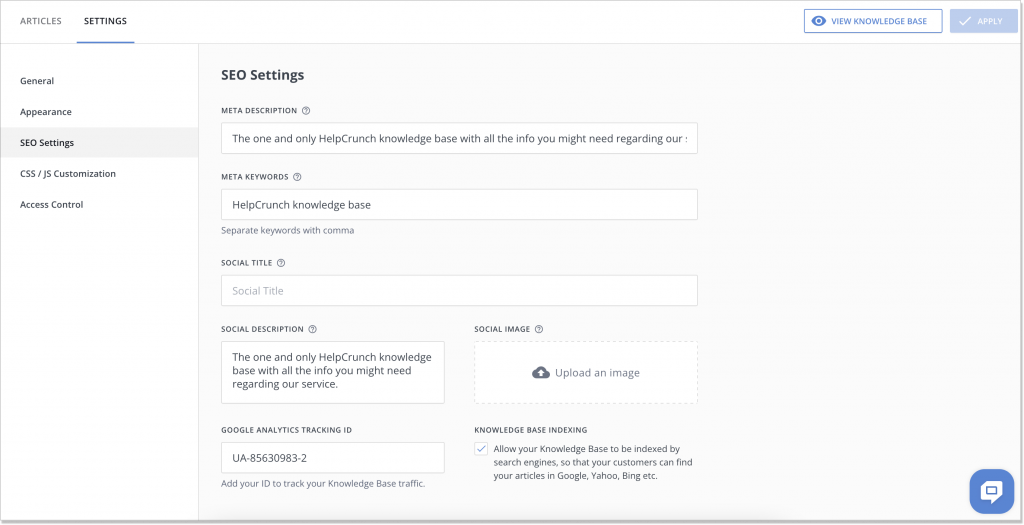 7. Add live support options
A well-built informational hierarchy is great. However, how to write a good FAQ page and still remain close to the audience? Provide them with additional sources of communication. Let me elaborate on this.
Even though 92% of clients claim they would choose a knowledge base for self-service support if possible, not all of them find the answers. To back them up, offer alternative ways of contacting you, such as:
Live chat;
Email;
Phone number;
Another contact form.
For instance, we at HelpCrunch thought up front and integrated our knowledge base into the chat widget. Now, if a customer can't find what they are looking for, they just drop a line to a support team and talk to a live person.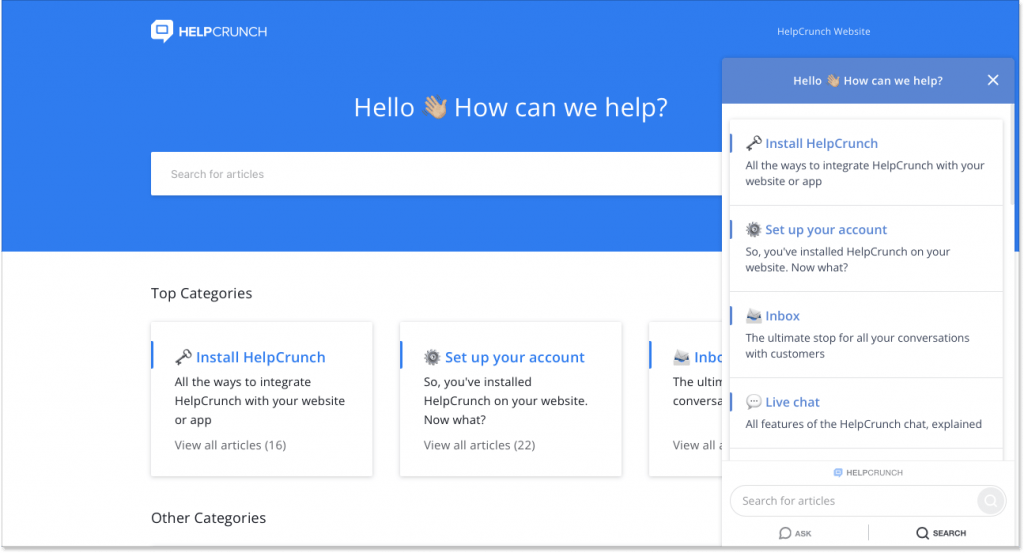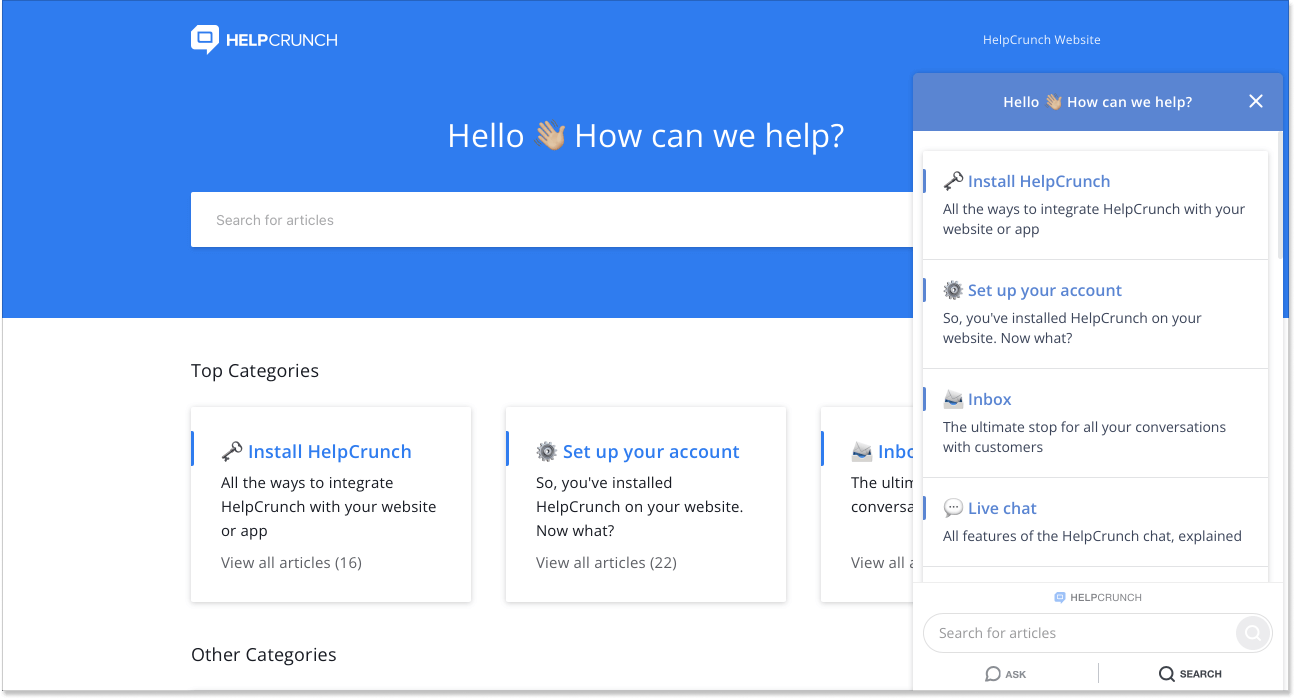 8. Update the FAQ page regularly
The job is done. You're ready to hit that 'Publish' button. However, don't celebrate just yet. Find your to-do list and write in bold: keep my FAQ always updated and refreshed. That's it.
You should constantly revisit your resource center to see if the content needs to be reviewed or deleted. Don't forget to add new customers' questions as they pile up.
To do everything right, schedule monthly or quarterly check-ups for content updates. If it helps, you can even set up a reminder on your phone to be on the safe side.
As a wrap-up
Obviously, it's you who decides how to write FAQs for your customers. You can make them short or long, constantly updated or evergreen, leave them as it is or add extra contacts for more effective communication.
However, there should be one name of the game: provide only those answers the audience is interested in.
By addressing clients' pain points on an FAQ page, you build more trust, reduce support tickets, and even drive sales. Follow our tips above and create your own helpful resource center your customers will love.