We live in the era of virtual Instagram celebrities, self-driving cars, and even commercial flights into orbit (well, this one isn't happening right now, but will be very soon).
Like it or not, this technical progress concerns every aspect of our lives — and customer service is evolving, too. With all its AI-powered chatbots and big data, it's becoming more and more complex while expectations are rising.
One thing stays unchanged, though. At the core of every success story and every positive review, there's one customer support team member who did their job just perfect. People are still the most important aspect of excellent customer service, which is why it's so important to build an all-star customer support team right from the beginning.
Why invest in building an effective customer service & support team?
The moment you launch your product or start selling stuff at your online store is the moment people start having all kinds of issues and troubles with your business. What is your delivery process? Do you have a refund policy? Is there any chance I could get a discount?
At first, you'll probably try to handle everything on your own. But very soon, you'll see you need a designated team of people who will do just that — helping your customers and making them a little bit happier. If you still have doubts about whether or not you need a fully equipped customer support team, here's a few of thoughts and facts:
1. Customer service representatives are the only humans having a two-way dialogue with customers after the sale
After the sale is done and the deal is sealed, customers are usually left alone with their purchase. No annoying sales reps in their inboxes, no calls from strangers asking if they have a minute to discuss a new revolutionary product — only occasional semi-automated emails from marketers (like those I regularly send myself).
Support team members are the only human beings that customers can really talk to and have an adequate dialogue with. Imagine the kind of pressure it puts on your team!
Unsatisfied customers, those who detected a glitch, those who just can't understand your product on their own — all these people immediately go to the tech support department to render their frustration. And they all expect to get advice, help, and a meaningful conversation.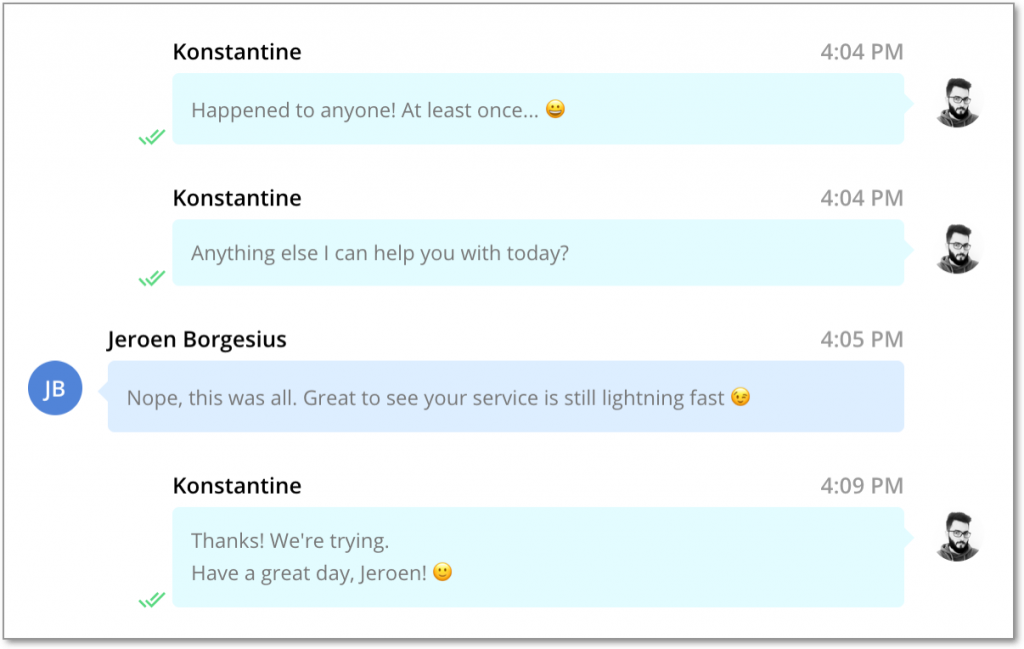 2. Customers drive your business forward through customer feedback
Let's reflect on things for a while.
How do business owners even know if they're moving in the right direction or creating something people really need? They ask. They base their development on hard research, statistics, data. They don't just assume.
Customers are at the heart of every business decision, every new feature, every strategy and every campaign that we do. Customers drive things forward by sharing their feedback with a customer support team, rating their experience, and just being with us.
Collecting that feedback is crucial though. And your customer service team serves as an intermediate between you and that feedback.
Every single complaint and every single compliment they receive is what drives your business forward. Tech support employees should be able to collect all the common pitfalls people fall into, analyze them and report to the corresponding department.
If users get confused about how to do something or can't find some button they need, this is the problem that should be resolved by designers. If they see to many glitches, then your developers should take this situation under their control. But people don't fo directly to designers or developers — they contact your support team. That's why it's crucial for everybody within your company to have an honest dialogue at all times and to always listen to customer service reps 🙂
3. More of 4.5+ star reviews
According to Yelp study, restaurants that have 4-star reviews sell out about 19% more frequently than restaurants which have 3.5-star reviews. The difference is only half a star!
Public reviews can make or break a company's reputation. To tell you the truth, customers are quick to express their frustration on all review websites if they had a negative experience. Positive reviews? Not so much. But how do you think companies actually earn them anyway?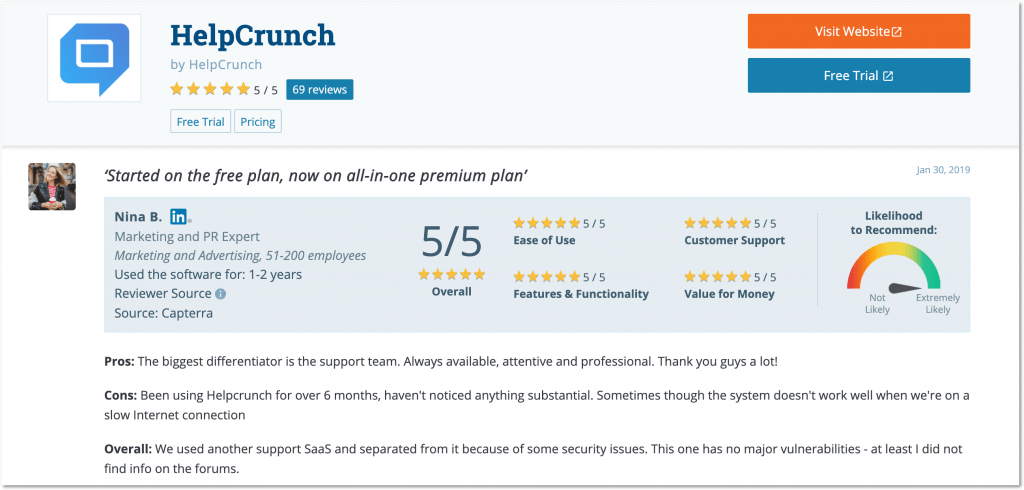 You've probably seen those 'please rate our mobile app' banners that constantly pop up whenever you install a new piece of software on your phone. That's one way to earn more reviews. But there's no actual way to control their quality if you do it on autopilot.
The alternative is excellent customer service as it is the only channel that lets you establish strong ties with loyal customers and, what's also important, directly ask for positive reviews.
If someone wrote they had 'time of their life using your product or communicating with support team', it's your wake-up call. Customer service representatives should detect such things and act upon them immediately — show relevant review websites, ask customers to leave their honest feedback on them, even offer a discount or an upgrade in return (if it doesn't violate any policies). You'll see this method works like a charm.
FUN FACT
Negative 1-star reviews can also be fun.
In 2014, Davide Cerretini posted the following sign at his restaurant: 'Give us a one star review on Yelp and get 25% off any pizza! Hate us on Yelp.'
He felt that Yelp treated his restaurant unfairly by hiding positive reviews and pumping up all the negative stuff in an attempt to make him buy ads. So, he decided to fight back.
A few days after the sign appeared, his restaurant attracted people and journalists' attention, more visitors than in an entire month and 2,300+ one-star reviews
Turned out small businesses were pissed off as well and people decided to support his initiative, which evolved into Cerretini's huge success. Today, he gives private cooking classes and events which can sometimes cost up to $3,000.
Too bad that such a trick can only be pulled off once in a lifetime.
4. Upselling and cross-selling
While it's true that upselling and cross-selling belong to the world of sales reps, it's not exclusively so. Your customer service team can play a crucial role in the average check increase, too. I'll tell you more: many companies choose these two criteria as additional KPI's for their support team members.
Upselling means selling customers a more expensive or feature-rich version of a product they already have.
Cross-selling means selling customers additional products or services that are directly connected to those they already have.
So, how exactly can a customer support team have an influence on upselling and cross-selling rates? More than anyone else, they stay in touch with customers and their everyday problems. They know of all the issues people have with your business and know how to fix them.
But what if a more expensive subscription or some additional features could be the answer to some of those problems? Like, for real.
Customer service representative could then genuinely offer such an upgrade as a solution and help people this way. That's your upsell right there.
For instance, we at HelpCrunch offer a live chat tool as our core product. It's great and all, and we really believe that live chat is the future of customer support because of its convenience and speed.
But we also know that sometimes, customers can be impatient or the workload can be too big to handle everything in real time.
That's why we offer our email automation tool as an additional goodie to some of our users. This way, the customer support team can send manual replies via email, follow up on those who left a chat message outside of their working hours or even automatically resend messages that stay unseen in the chat thread for a set period of time.
Most of such cross-sells happen while our customer support reps speak to our users and see exactly whether they need email tools or not. Our end goal here is to increase customer satisfaction and customer retention, not to sell a few extra emails for the sake of it.
Steps to building and managing an effective support team
Now that we know why you need an effective customer service team, let's talk how's. It's not that you can just hire people and call it a day. Building a customer support team starts with you and includes everything from tools in use to KPI's you set. Let's delve.
1. Create a customer service philosophy for your company
What image of your business do you want to translate to the rest of the world? How do you want to be perceived by people? What is your global message?
Your customer service team should be perfectly aware of your company's values and translate them in their communication with customers. That's where a customer service philosophy comes in hand. There's nothing complicated about it. You just outline the basic rules and values of your company and make sure everybody knows them.
You'll see very soon that when you articulate your values and expectations clearly, it's easier for employees to see the bigger picture.
2. Build your all-star customer support team
So, you have your rules and your values, what's next? You need people. You need to hire all the right people for your customer service team.
2.1 Look for the right customer service skills in people
When you hire developers or QA engineers, you know exactly what skills they should have in order to fit a specific position — like programming languages they use, professional training they had, technologies they're qualified to work with. All of these hard skills are strictly professional.
For customer service team members it's actually quite the opposite as their soft skills like social or communication abilities, understanding of human psychology are more important for this kind of work. Support reps should be good with people in the first place.
I'd say the most important customer service skills are the following:
Empathy – for feeling people's mood and being able to show genuine compassion;
Active listening – for resolving conflicts fast and to everybody's benefit;
Attentiveness – for paying attention and noticing even the smallest details in order to address issues in the most effective way;
Proactivity – for addressing issues before they even arise or escalate;
Patience – for both having a thick skin about unsatisfied or rude customers and being able to get to the bottom of every issue.
But how do you actually make sure that a person is empathic? It's not like there are interview questions that could show you someone's patience. Well, it's all very subjective and depends on your own feelings.
You can give job applicants some test assignment where they need to talk with real customers (if you dare to) and see how they're doing there. But the most important thing is to ask questions that matter to you personally. And see if the answers resonate with your mindset.
2.2 Define your customer support team structure
Every team should have a team lead — customer service is no exclusion. So, it all starts with a customer service team leader who then should manage customer service representatives.
Support team lead responsibilities include:
Training newcomers.
Managing the whole team and distributing their responsibilities.
Tracking customer service team effectiveness.
Doing much of customer success jobs like following up on high potential leads, managing refunds and complicated cases.
Reporting to higher management about progress and common pitfalls that need to be resolved.
For me personally, everything begins with customer service team leaders as they're responsible for the order inside their teams. After that, you can decide on the hierarchy. For instance, Aircall defines two common ways of structuring a customer service team:
A two-tiered system, where some members deal with a day-to-day simple routine, while the others handle more difficult issues.
A customer support team divided into departments with different narrow specializations.
Whatever way you choose, it's important to effectively distribute duties and make sure everybody knows exactly what they're doing.
2.3 Provide effective training for every support team newcomer
Just when I started writing this article, HelpCrunch has hired a new customer support team member Artem and started training him. So, I was lucky to see it firsthand and can now tell you about battle-tested stuff only:
We start with product demos. We show newcomers every single feature inside our software and explain what it does and why it's there. It takes most of our training time during the first week or so. We want our reps to know all the in's and out's of the system, because how else would they be able to help others?
Sometime in the middle of the second week, we start giving newcomers their first real chats. Obviously, newcomers start with simple offline cases that are all carefully hand-picked by a team lead.
Everything happens under careful supervision. Our customer service team lead constantly reads all the answers, leaves private notes right in chat threads, and double-checks all the statuses and tags.
By the end of the first month, newcomers require less and less supervision. At this point, they only need help with billing and technical issues. So, it's time to start doing some customer success training as well. They start sending follow-ups, pinging those who canceled or failed to pay for some reason while also training for their first test demo for a customer service team lead.
By the end of the second month, the training should be completed. A newly-born customer service team member should be able to handle chats of any level of difficulty, provide demos for customers, do customer success job as well as be able to upsell and cross-sell.
That's basically it. I'd call our training approach a trial by fire. We mostly concentrate on resolving live chats at any point and do the rest of the duties in between.
2.4 Build customer service oriented culture for your whole team
There's this approach called customer service orientation, which basically means that you focus on your customers, their requirements, and needs in the first place and put them before everything else. Everything.
I might mean that you should sideline things like sales, upselling, maximizing revenue, increasing sales and concentrate on customers instead.
Sounds kind of terrifying, doesn't it? Well, the idea is that if you really try to bring value to the table, customers will appreciate it more than tough sales. True customer service oriented businesses get higher reviews and customer loyalty which results in positive word-of-mouth recommendations and endorsements.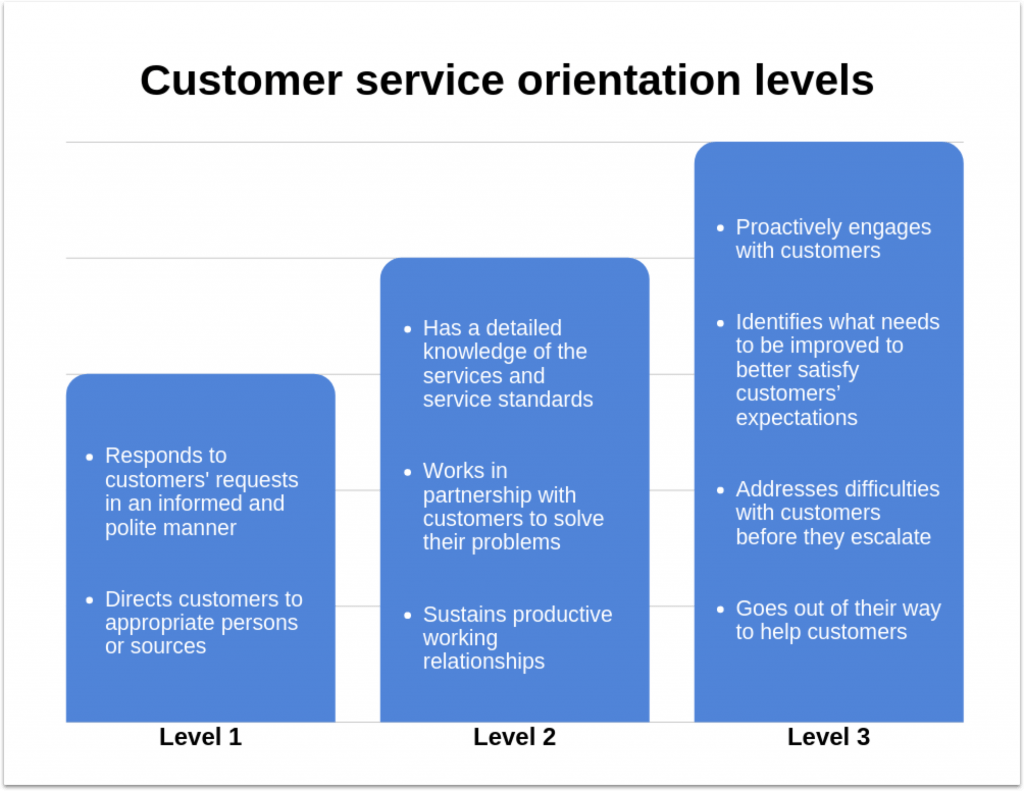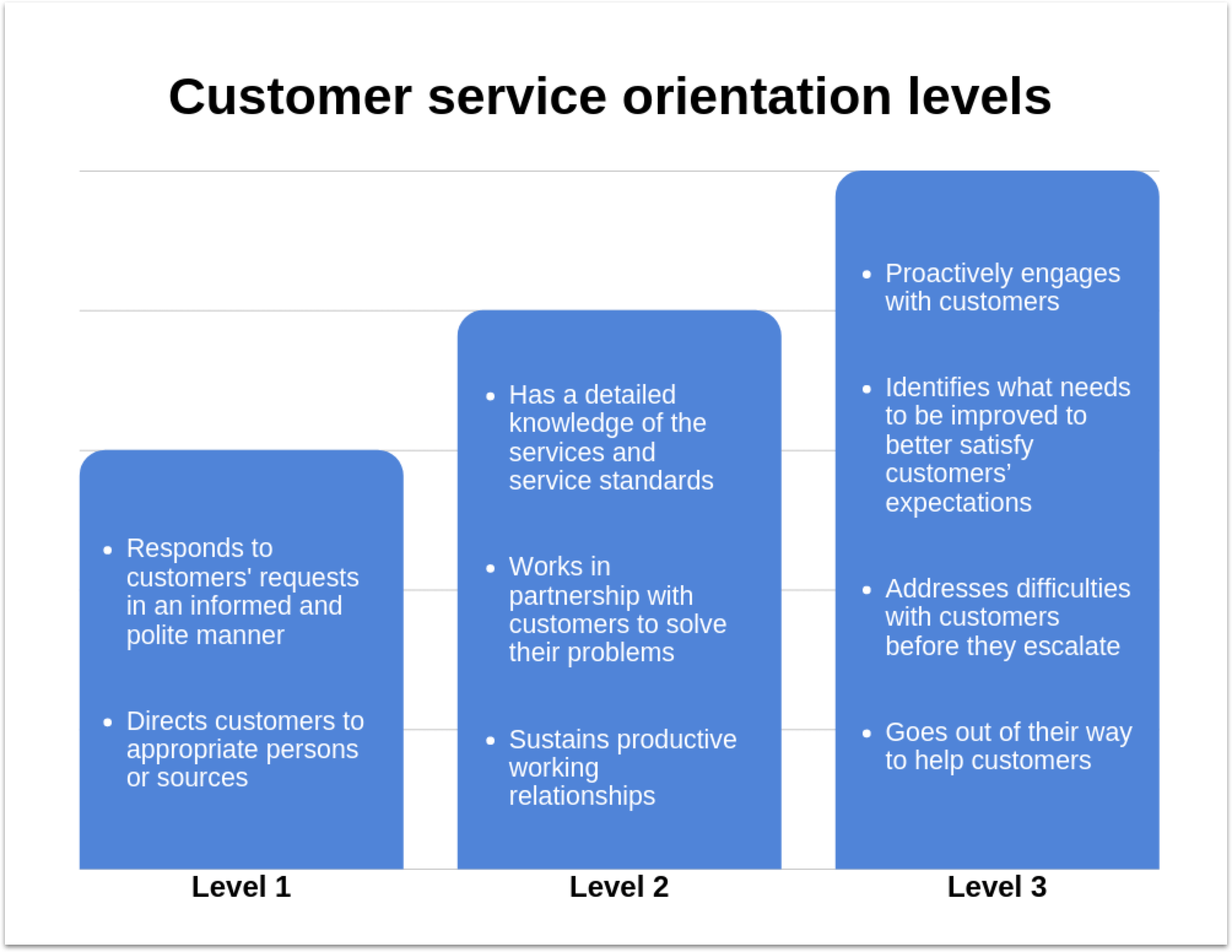 According to CustomerThink, this whole customer service oriented culture should concern every employee of your company, not just customer service people:
Hire service-oriented people, not only for the front-line positions but for every position within the company. Front-line employees will not be able to compensate for decisions made elsewhere within the organization, that are not in the clients' best interests. Who you hire within your organization will be the single most important factor in determining whether or not you successfully achieve a service culture.
Only this way you can be sure that every single member of your team has the same goal in mind.
3. Define the right support channels, tools, and processes
In 2019, it's not really a choice between customer service channels, but rather a question of handling all of the channels at the same time. You can't dictate customers how to contact you — the ball is in their court.
As Shep Hyken put it:
There're multiple ways a customer can connect with you. But the customer doesn't care how many ways there're to connect with you. They only care about the 1 way they want to connect with you. There must be a seamless customer experience, regardless of the channel of engagement.
Now that we have determined that any modern customer service should be omni-channel, let's talk about specific channels. Here are some absolutely necessary customer service channels that you can't miss out on:
Live chat as it's preferred by many customers for its convenience;
Email because it's been there for ages and isn't going anywhere;
Knowledge base (aka self-service) because people actually refer to it more often than any other channel.
These three customer service channels are an absolute must for any modern business. I'd also recommend taking care of all the main social media because it's where people go if they couldn't reach you anywhere else. But from my experience, they are not the most popular customer service destination out there. It's more like you'll receive one or two requests in social media every month and that's it.
If you have the resources and stomach for it, you can add a call center and a community forum to it, but they are rather extra.
Now, you're probably wondering: 'How on Earth is it possible to manage all these channels? How many people would I have to hire for this?'
Luckily, it's not a problem at all. Most of the modern support tools have all the functionality for handling omni-channel customer service from one dashboard.
Let's take HelpCrunch as an example. You can set up a shared inbox in HelpCrunch so that all the support emails and chats will land into one dashboard, where you can manage them correspondingly. It also provides the Knowledge Base tool which you can easily integrate with your website. Everything is becoming very easy if it's unified under one dashboard.

4. Set customer service KPI's
Values are good, but you need to set very specific tasks and be able to expect certain results so that you could measure everything and optimize the process if necessary. That's what they call KPI's.
A Key Performance Indicator (KPI) is a measurable value that demonstrates how effectively a company is achieving key business objectives. – Klipfolio
I actually asked around to find out what KPI's are the most common for customer service teams to give you a wider view of the industry. According to SE Ranking's support team lead Anna, their team has four main and one additional criteria when it comes to performance evaluation:
1. Customer satisfaction rate. They track this rate with the help of HelpCrunch reports and it depends on the percentage of closed and rated chat. SE Ranking's end goal is 98% satisfied clients which they successfully achieve.
But this is rather an extraordinary thing as the industry's golden standard for live chat support is around 73% while other channels show even poorer results. Well, it doesn't mean you should settle for less. What I'm saying is that you should set realistic goals for your team.
Every month, SE Ranking check their reports and analyze all the answers that got 'Poor' or 'Average' ratings in order to understand what went wrong and what should be fixed.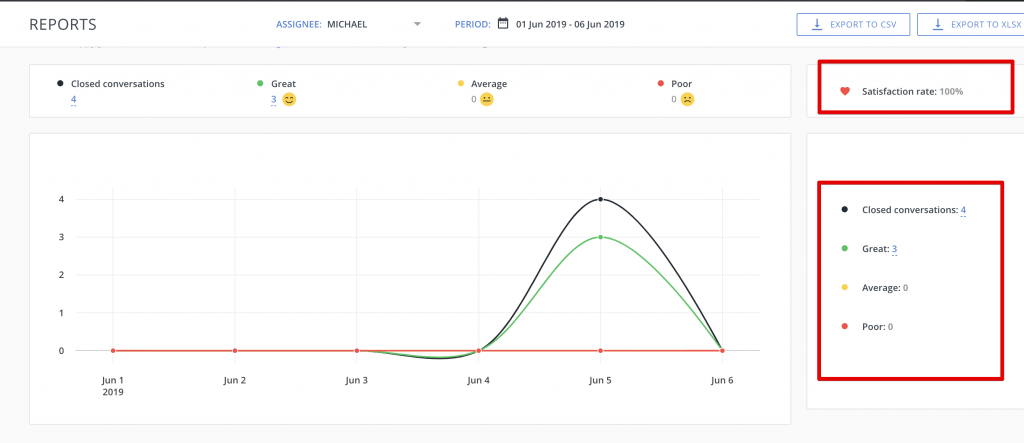 2.1 First response time. If you provide live chat support, you should keep your first response time during working hours under 1 minute (yep, you heard it right). Customers usually expect real-time communication from live chat support as opposed to emails and ticketing systems.
Call centers are more complicated. Even though it is the fastest way to get in touch with businesses, most of the time people end up listening to some generic elevator music while waiting for the first available agent. It's just that call centers are much harder to maintain and scale compared to live chat and tickets.
2.2 Average response time. If your customer support team is offline or you provide ticket-based support, you should aim to keep your average response time under 24 hours. Ticket or email response cannot be sent later than 24 hours after you've received an initial message from a customer.
3. A number of reviews. As I've mentioned above, customer service is the main force for getting reviews. At SE Ranking, their customer service team is obligated to attract at least 10 reviews on G2Crowd and other review websites every month. This number is also very subjective for every business, but making it the core KPI is always a good idea.
4. A number of demos. Demos are essential for attracting and converting high-quality leads because they're able to showcase all the benefits of your business right there. That's why it makes sense to specify the number of demos per month as well as the conversion rate from demo to subscription based on your overall number of customer service requests.
5. A number of upsells (optional). You can pay something extra for some extra work. Even though upselling is not a direct duty of your customer service team members, you can encourage them to do it. For instance, if they do 5-10 upsells per month, reward it in some way.
5. Provide proactive customer support
These days, reactive customer service is a bare minimum that people expect from you. But it's definitely not enough anymore. Proactive support means knowing your service/product's common pitfalls and resolving them for customers before they even notice.
For instance, if you know that some advanced feature of your SaaS product is often skipped by your trial users or if something about your cart checkout process can be unclear, you shouldn't wait until people start complaining. You should act instead.
Many customer service tools including HelpCrunch allow setting proactive chat and email messages based on people's behavior. Like, if someone has stayed on a specific page for a long time, our system registers this and lets you use this behavior pattern as a message trigger. This way, you'll be providing proactive help which will result in higher product adoption and customer satisfaction rates.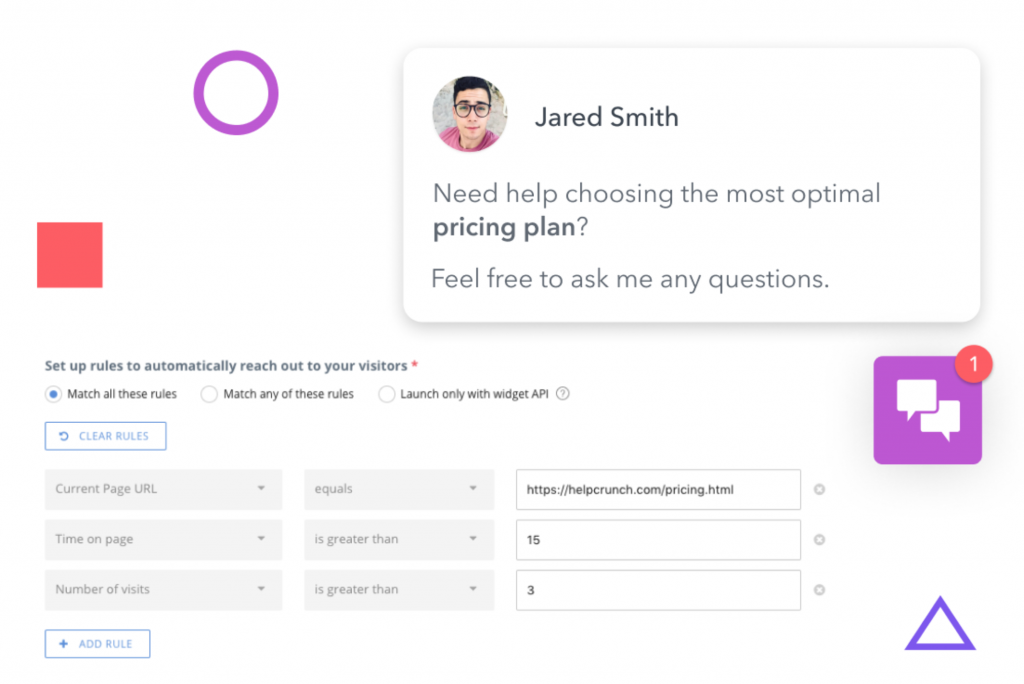 I mean it's easier for most of us to just drop something complicated or unclear than to contact a customer service representative. But you can be proactive and save everybody a lot of time.
6. Support your support team
At this point, you should have an all-star team of highly motivated people, an effective customer service philosophy to follow, all the right tools and channels for them to do their job, and a clear understanding of how everything should work.
Sounds like you have it all.
Well, almost. Now, you need to make the most positive environment for your customer support team so that they'll feel safe, empowered and, well, happy at work. Building an effective team is now your ongoing full-time job.
People feel their most confident only when they are well trained in all aspects of their work. Professional and personal training is a great way to make your employees grow and evolve, which will instantly make them better at their job. You know it's hard to be nice to others and genuinely want to help them if you feel unfulfilled and underestimated yourself.
It's also a good practice to do some regular customer service role plays based on typical support scenarios.
A customer service scenario is a schematic script with a bunch of pre-made answers to some common questions or issues. It can be visually presented in the form of a flowchart: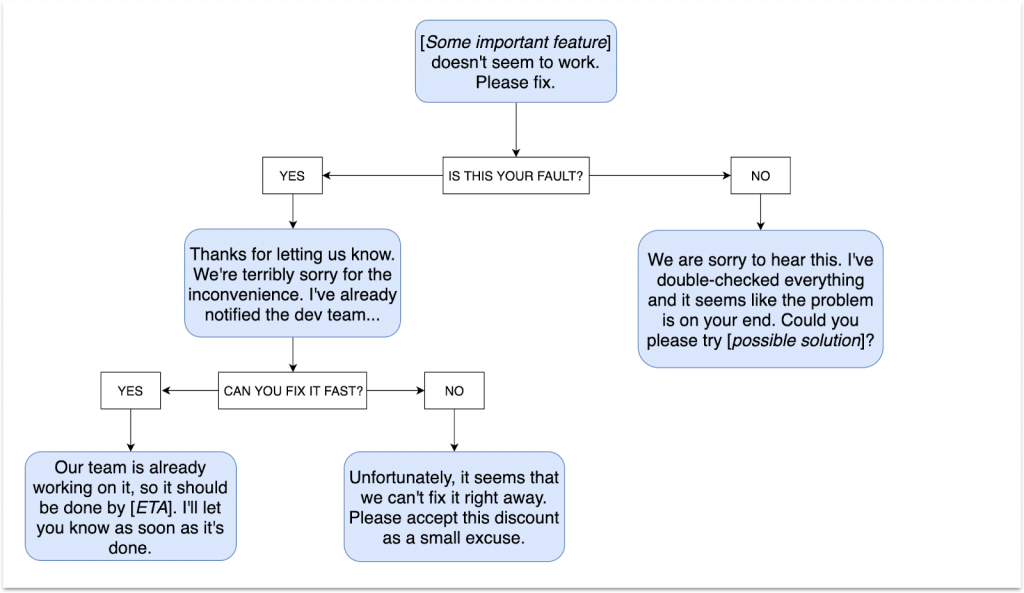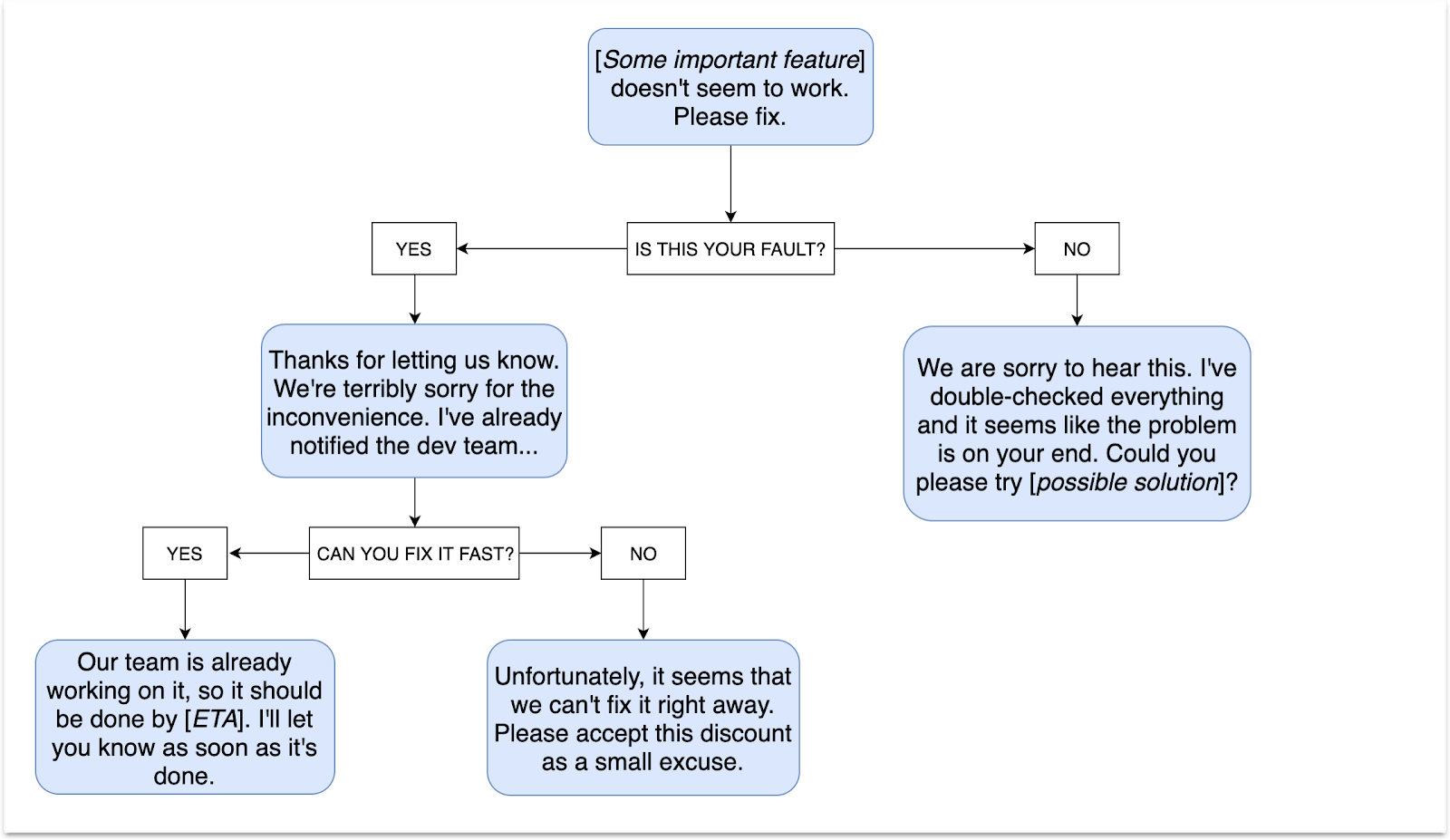 So, how do you use them for training your tech support team? Role plays are some training situations where one member of a team plays the role of an angry customer while their colleague should come up with an effective solution — find the right words and resolve the situation to everybody's satisfaction.
Such role plays are not just great customer service team building activities for the workplace, but can also prepare everybody for difficult situations and incidents.

Bottom line
Customer service is a long game which only gets better in the course of time. At first, it's just the way to help your customers, but later it's becoming the main instrument in enhancing customer satisfaction and retention, converting more subscribers, increasing sales and becoming a true customer service oriented company.
And all this is only possible thanks to people that work for you and their will to be there for your customers. So, start investing in your support team right from the beginning.

Read also
Customer service
To shape a stellar customer first strategy, you need a powerful team, advanced software, and what else? We've prepared a useful guide on that point you're going to enjoy.
Customer service
Cultivating customer relations can be a baffling problem. But not after you read this piece! This fresh article features 7 vetted tips on how to build customer relationships and make progress.
Customer service
What does customer service mean to you? Customer service representatives are often asked this question during their job interviews. Read this article to discover the right answers.