How to Build a Robust Customer Service Team: 7 Foolproof Tactics
Are you looking for top-tier recommendations on how to build your customer service team? We, like nobody else, know how important it is to keep clients happy. Have a look at our article and get some valuable tips right away.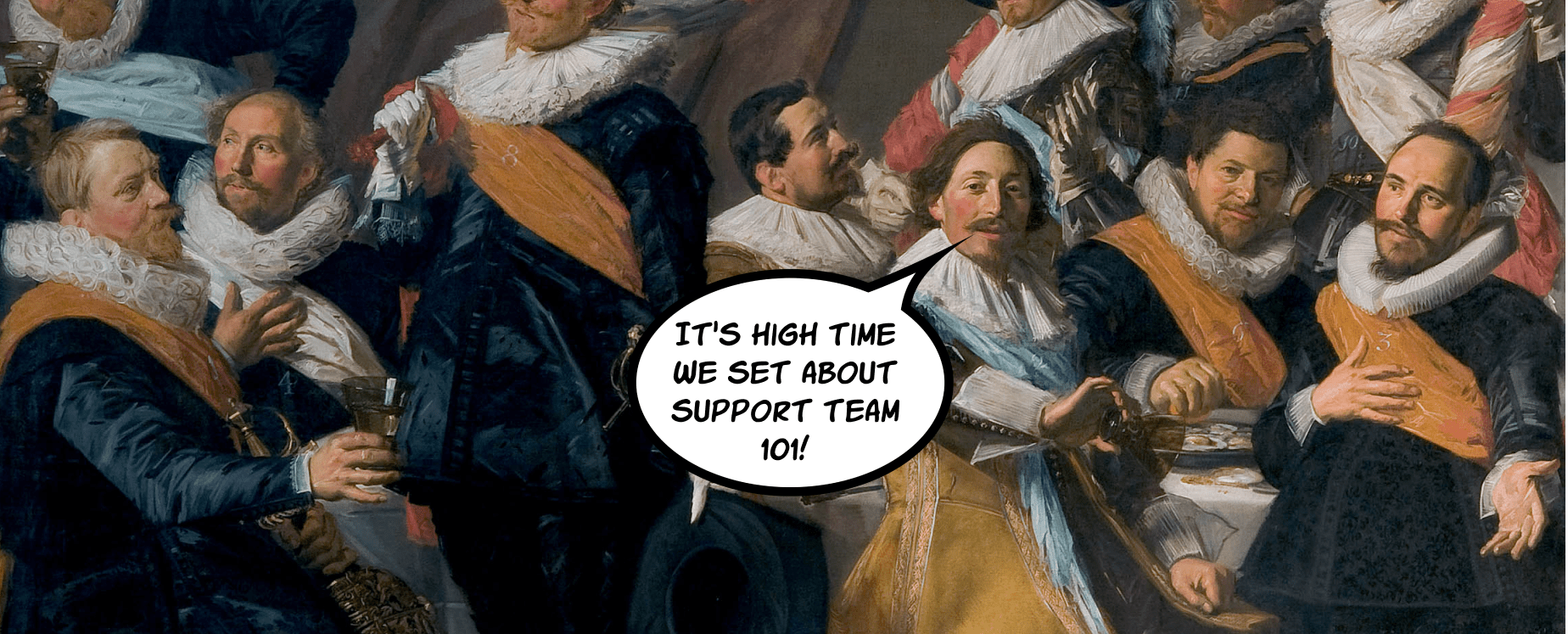 What are the key bottom lines of any business? Attracting new customers, closing as many deals as possible, making clients happy, and, consequently, retaining them. Marketing and sales teams usually handle the first two. But when it comes to users' happiness, that's where a customer support department takes the stage.
Think about your customer service strategy. Does it work like clockwork? Do you think it needs improvement? My guess is that if you landed here, you definitely want to make your customer support better. And you are not alone. Approximately, 72% of businesses claim that fine-tuning their customer support is a top-of-mind priority.
A strong customer support team is at the heart of every success story. Who can help clients make the most of a product? Who can address their questions and concerns no matter what? That's right — a highly trained support rep.
Following a certain plan is best if you want your customer service team to be special. Don't have any yet? Fear not — this is a crash course on how to create a seamless customer support department.
What is a support team?
A customer support department consists of people who strive for an excellent customer experience. It's a sympathetic team that puts each client's concern first and is dedicated to helping customers achieve their goals.
What's more, this is a powerful squad that offers assistance with onboarding, troubleshooting, or upgrading processes. When successful, a stellar support team nurtures customer relations even after a deal goes through.
If you think that a customer support department remains uninvolved in the company's decision-making processes, it's not true. A perfect support team is a part of the whole unit today. By joining other departments (marketing, sales, or developers), it's possible to increase efficiency, save each other time, and deliver holistic customer service.
What support team structure should look like?
When building a support team structure, remember that there is no one-size-fits-all solution. What your department will look like depends on the type of your business, the size of the company, and the tricks that work best for you.
However, there are some common practices that I'm happy to share with you.
For startups and small businesses, a customer support team structure will be quite versatile and can include just three people:
Customer Service Manager. They manage, organize and provide support to clients.
Customer Service Specialist. Their main job is to answer users' non-technical questions like billing, onboarding, product use cases, or setup issues.
Technical Support. They are the ones who deal with the most difficult technical questions when something is not working quite right.
These few reps that you hire must be skilled in various areas as they may need to wear many hats. Usually, in small teams, support agents heavily rely on automation tools, like chatbots, online forms, auto messages, etc. 
For mid-sized companies, you might want to hire more members to make sure each customer gets enough attention. In this case, the support team structure may consist of five or more people:
Director of Customer Success. The one who is in charge of the department.
Customer Success Manager. This person is the right hand of the Director, they help to organize the process while also taking care of customer inquiries and guiding other reps.
Account Development Manager. This person is responsible for the sales plan.
Onboarding Specialist. They make sure that each user has everything they need to onboard successfully.
Customer Operations Coordinator. They ensure that the customer service team complies with the policies and procedures of the organization.
If you have a number of different products, you may think of building a sub-team around each of your products. Some companies split the team according to the geographic region. Others choose to divide them according to different stages in the user's journey.
For enterprise-level companies, the customer service team structure may vary from business to business. But here is a quick graph to illustrate what it may look like as a whole.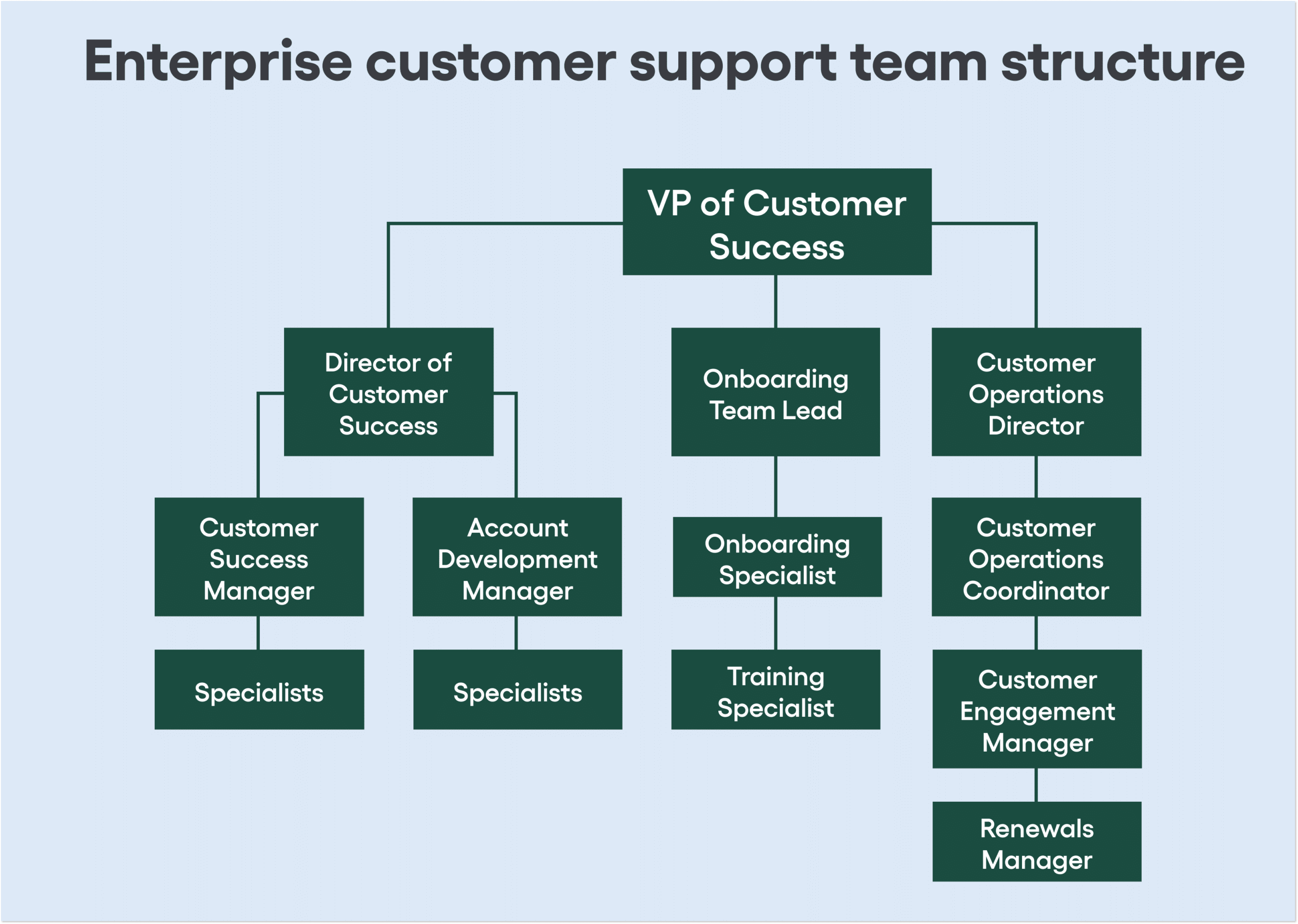 Here the approach might be similar to mid-level ventures where structuring is organized around specific products, sales channels, or geographic regions. However, big companies can go even further and make the structure more granular.
What makes a good support team?
Creating an effective support team requires all team members to have a proper set of qualifications to perform to the best of their abilities. These are our TOP 6 characteristics describing the very best support team:
Proactivity: by delivering proactive customer service, you can show your willingness to help clients before an issue even pops up. Such an approach ensures clients feel appreciated and heard.
Patience: if you as a customer service agent react to some customer questions with impatience or frustration, nothing is going to work out. At the end of the day, a customer support department is a place where people are supposed to be assisted with understanding and respect.
A problem-solving ability: whether it's a management issue (identifying budget priorities, proving ROI, etc.) or a tricky customer question that needs to be handled right now, a seasoned expert should be able to cope with all of it. Customer support problem-solving techniques are what a support team member should practice from time to time.
Teamwork: combining forces for your customers to get the greatest service develops critical thinking, promotes easy knowledge sharing between employees and boosts productivity.
Pleasant interaction: a chatbot or any other computer might deal with some common requests just fine. But when it comes to more complex issues, human communication is a must-have. Be nice and friendly to demonstrate an element of trust and the readiness to go the extra mile for a customer.
In-depth knowledge: your staff can do special customer service training (personality tests, educational videos, role plays, etc.), but sometimes there's a need for additional details on a subscription process or a simple timely apology. Ensure your support team members know all the ins and outs of what you offer. Otherwise, irritation is around the corner.
7 steps on how to create a thriving customer support team
Here you are, all set to build a support team from scratch. Take a look at these 7 building blocks that make for a solid foundation.
1. Set the core metrics
Before the very start, you should ask yourself a question about what great customer service means to you. This is a crucial pivot point to get everyone on the same page in the support team. Plus, it's an opportunity to work out your customer service philosophy.
When you're breaking new ground, define the quality of service you're going to provide. Once you're done with this, you'll have a set of KPIs to measure your team's performance.
We've researched that matter, and according to SE Ranking support team leader Anna, their team has four criteria when it comes to performance evaluation:
1. Customer satisfaction rate. They track this rate with the help of HelpCrunch reports and it depends on the percentage of closed and rated chats. SE Ranking's end goal is 98% satisfied clients which they successfully achieve.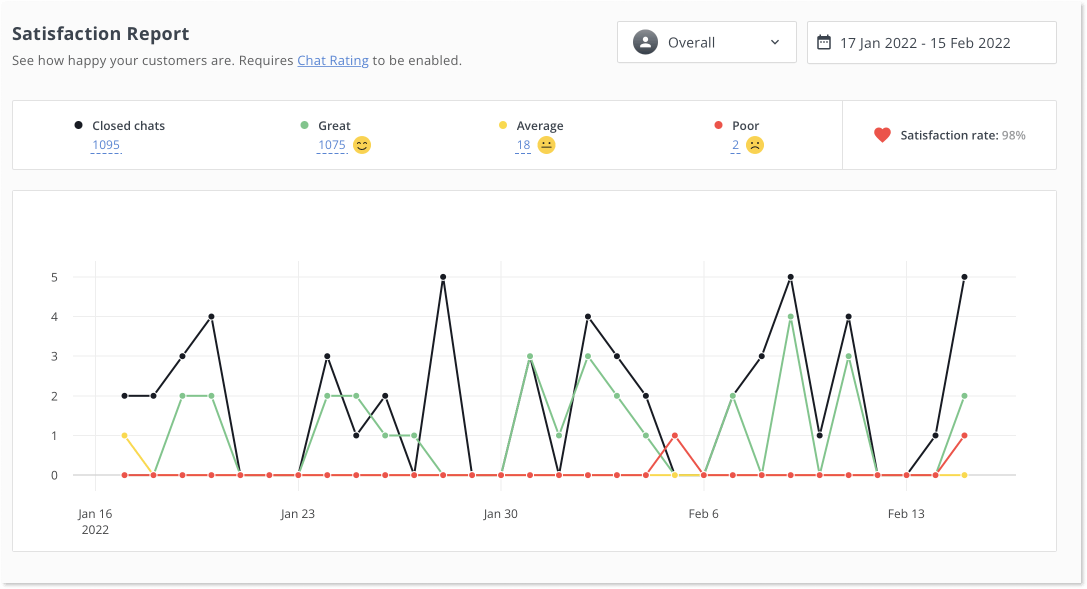 2. Reviews. At SE Ranking, their customer support team is obligated to attract at least 10 reviews on G2 and other review websites every month. This number is also very subjective for every business, but making it the core KPI is always a good idea.
3. Demos. Demos are essential for attracting and converting high-quality leads because it's a great opportunity to showcase all the benefits of your business right there. That's why it makes sense to specify the number of demos per month as well as the conversion rate from demo to subscription- or payment-based on your overall number of customer support requests.
4. Upsell activities. You can pay something extra for some additional work. Even though upselling is not a direct duty of your customer support team members, you can encourage them to do it. For instance, if they do 5-10 upsells per month, reward it in some way.
2. Empower your team
When you hire new people, don't put limitations on their capabilities. Let them express creativity, feel their impact, and make decisions when interacting with customers. Training a support team that has the authority of decision-making and influencing the business image directly can make a huge difference between just okay customer support and five-star reviews.
Provide your customer service staff with a proper toolset so that they perform their tasks sufficiently. Speaking of customer service tools available right now, you can choose whatever suits your needs: live chat, chatbot, email, or knowledge base.
HelpCrunch, an omnichannel customer communication platform, is perfect for a busy support team and involves all the necessary tools. Interact with your clients via live chat, chatbot, or email, and store valuable info under the same dashboard.
Given that users are tech-savvier today, self-service will be easier for them with a knowledge base software solution (and as a bonus, you can lessen the load off your customer support). Plus, the knowledge base is integrated into the chat widget now. So, finding the solution is a snap.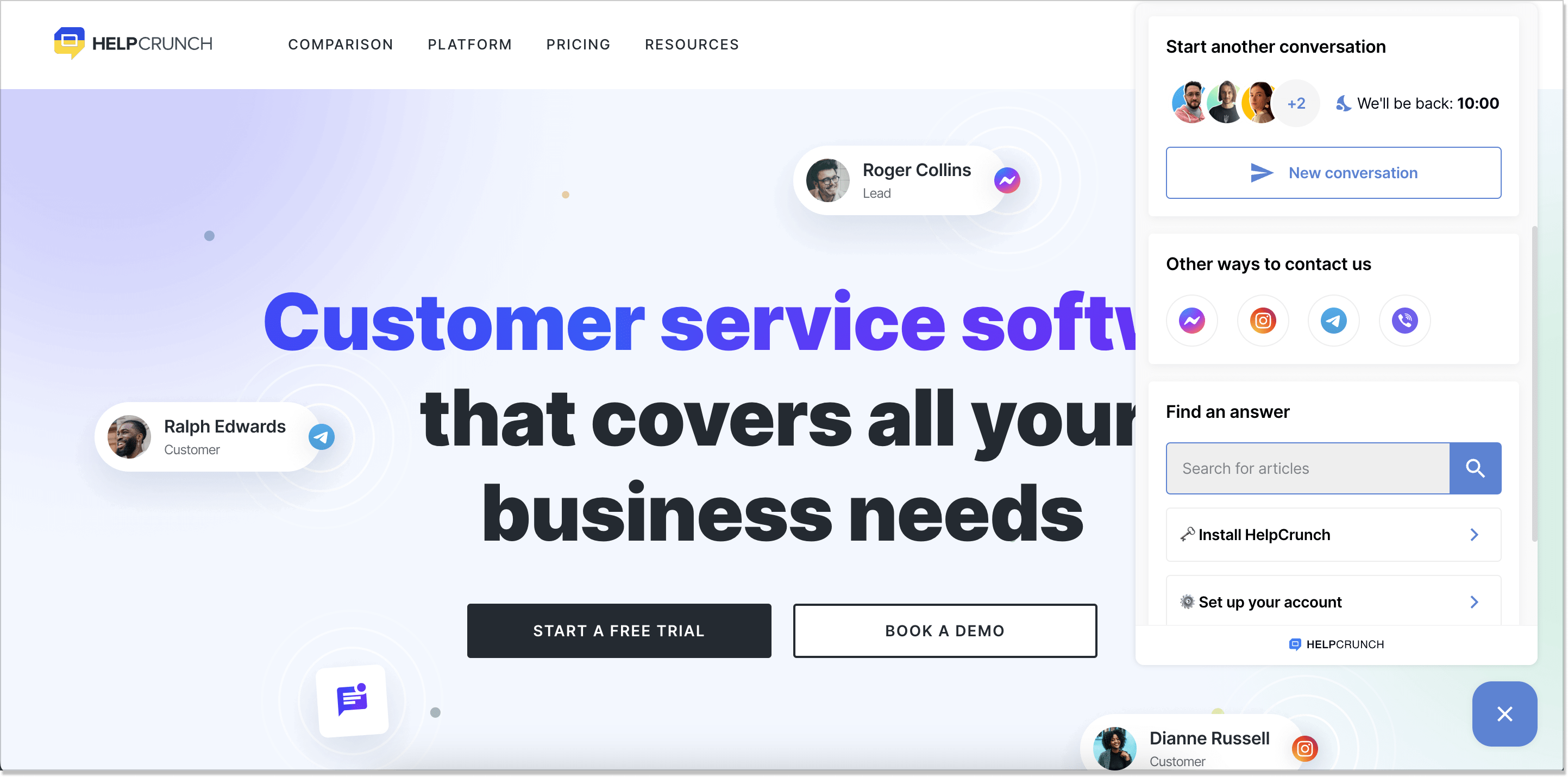 3. Become a motivator
Happy customer support reps lead to happy customers. More than 70% of clients say they will share a good customer service experience with others. So, why don't you move in this direction by encouraging your support department first?
There are a dozen ways to motivate your team members and make them arrive to work in positive humor:
Provide real-time customer feedback: take advantage of what your clients are saying and use their reviews as positive reinforcement throughout the day. Let your customer support team know they do a great job.
Corporate events and team-building activities: try to arrange those get-togethers somewhere outside your office, wear casual clothes, and come up with some fun stuff. This will help your support team unwind a little, boost employee morale, and just break the ice.
Create an incentive program: offer higher wages and promotions, set up awesome perks for an amount of successfully finished chats by the end of the day, or ideal performance. Plus, be okay with unlimited sick leaves, a week off at the end of December, etc. There can be as many options as you can think of.
Explain how to make amends after a negative interaction: a customer support position isn't a piece of cake. People have different backgrounds and tempers. And a support team absorbs the negativeness like a sponge. As a manager, tell your staff how to make this right after a bad experience with a client. This can serve as a strong motivation to achieve a better result next time.
Build a friendly competition: gamification can turn hard work into fun. For instance, incorporate various skill levels for support agents to shoot for and compete. Give a 'Speed King' trophy for the fastest issue resolution and a 'Customer Guru' badge for an excellent customer satisfaction chat rate.
4. Mind quick responses
Who wants to waste time listening to on-hold music or waiting for a message from a customer support team? Nobody. About 53% of users claim they become irritated if they don't talk to a real person right away.
While email support isn't as prompt as we wish it to be, going for a live chat option can be a way out. A service team can use canned responses to save themselves much time and assist customers timely (as we do, you can check the image below).
Thanks to the enhanced capabilities of HelpCrunch live chat, one customer support agent can handle up to 5 conversations simultaneously. It's better to choose speedy replies to satisfy clients rather than cry over their leave.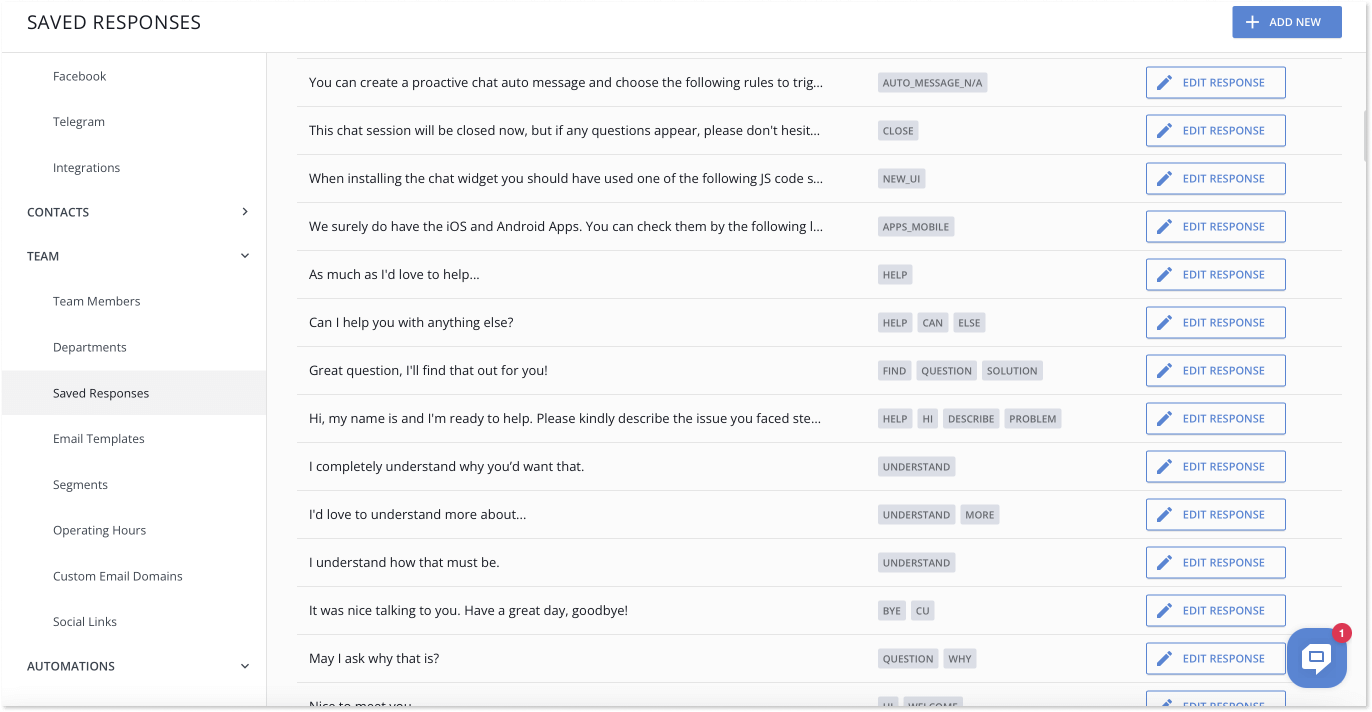 Here's when practical experience won't hurt. To take your support team's speed typing skill to the next level, try the typing speed test. It's not only fun but also productive. Train customer support agents so that clients receive answers faster. Moreover, consider various both online and offline workshops or even special literature to read.
5. Listen to your customers
Though this statement may seem a little bit obvious, many businesses disregard it. However, understanding your clients and being aware of what they want is always beneficial.
First of all, you can tune up a customer-first strategy according to their wishes. Clients can even serve as beta testers of your product or service and find bugs to fix. Second of all, your support team will learn how to gather feedback and turn it into an advantage. Their opinions are a valuable source of data that can help you realize how they feel about your stuff.
Besides, you can utilize those reviews to guide your business and marketing processes. Last but not least is customer appreciation and, as a result, massive word of mouth. All of it is worth giving it a shot, isn't it?
An online travel agency Booking.com has already given it a try. They use these methods to catch up with customers and find out what they think of the services:
Usability tests
Online surveys
User research
Street-level user testing
6. Promote cross-departmental collaboration
A support team needs a complete picture of the customer's journey. They face only one side of the coin without getting to see the decisions a client makes before the final purchase. Sales and marketing departments handle other equally important aspects of your client's buying process instead. Should a support team partner up with them? Sure!
Make knowledge sharing and learning a part of your daily routine. It will help your support team cooperate and transfer positive vibes to customers. Clear internal communication will set the tone for how staff and management should treat each other.
It's always possible to recommend an upgrade option, but catching the right timing is more important. If customer support reps work together with marketing and sales experts, they will know what to cross- or upsell enticingly.
On the flip side, marketing and sales can learn stuff from a support department. Let your customer support team highlight the most current clients' needs and coach the others on how to format their content.
We at HelpCrunch prefer working as one strong unit. For instance, our customer success managers (CSM) usually transfer clients directly to the sales rep when they're interested in a demo or upgrading. Besides, our developer team helps a lot. They added a Slack integration which means that customer messages get right into the Slack channel where sales, marketing, devs, and CSMs can see them and act accordingly.
7. Turn advanced technologies to your advantage
Take time to know your clientele. Showing them you care is even better than offering something for free. Sure, people like to be remembered. And your task is to document every interaction, feature request, or anything else so that you can cultivate great customer relations.
An awesome example of a company that cares for its customers is IKEA. This Swedish furniture brand stands out with its forward-thinking approach and innovations. One of their mind-blowing products is a specially designed app IKEA Place. Owing to AR technologies, it lets people see how a piece of furniture can fit within the interior of their living space.
IKEA utilizes this technology to better understand what items drive purchase behavior so that they can promote the greatest product benefits. For instance, they can collect relative data to use for retargeting campaigns, and create segments for social media or email marketing.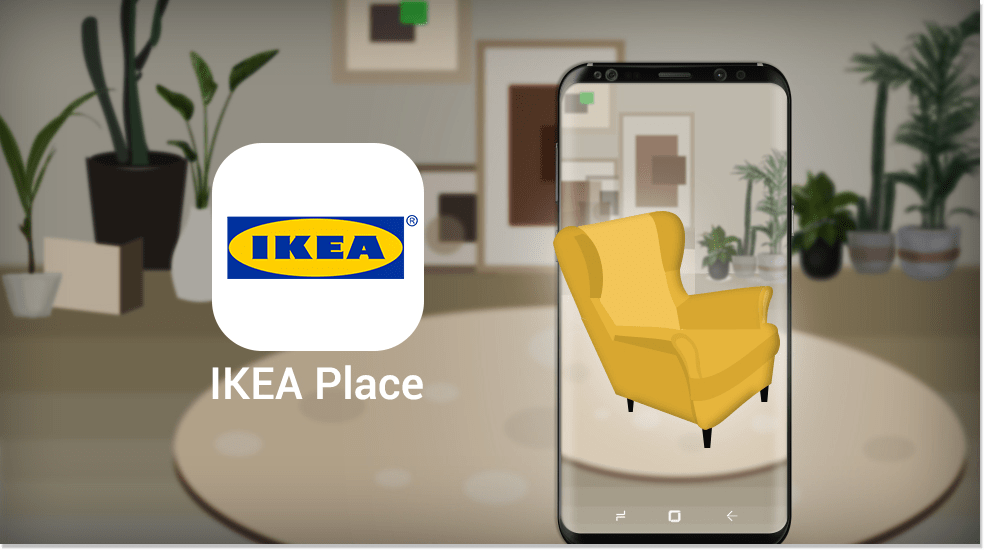 Final thoughts
Building a customer support team that can cater to the customers' needs efficiently might be a tough nut to crack. But if you put all the tips we've discussed today to work, you're bound to succeed. Just bear the key takeaways in mind: be proactive, motivate your team members, listen to your clients, be honest and transparent, and leverage the right tools.
Sign up for HelpCrunch, test its advanced features (a free 14-day trial is at your disposal), and create a support dream team.