How to Make Customers Happy: 10 Tried-and-True Tips
A happy customer is a loyal customer. Implement these 10 tips to increase your customer loyalty and improve business metrics.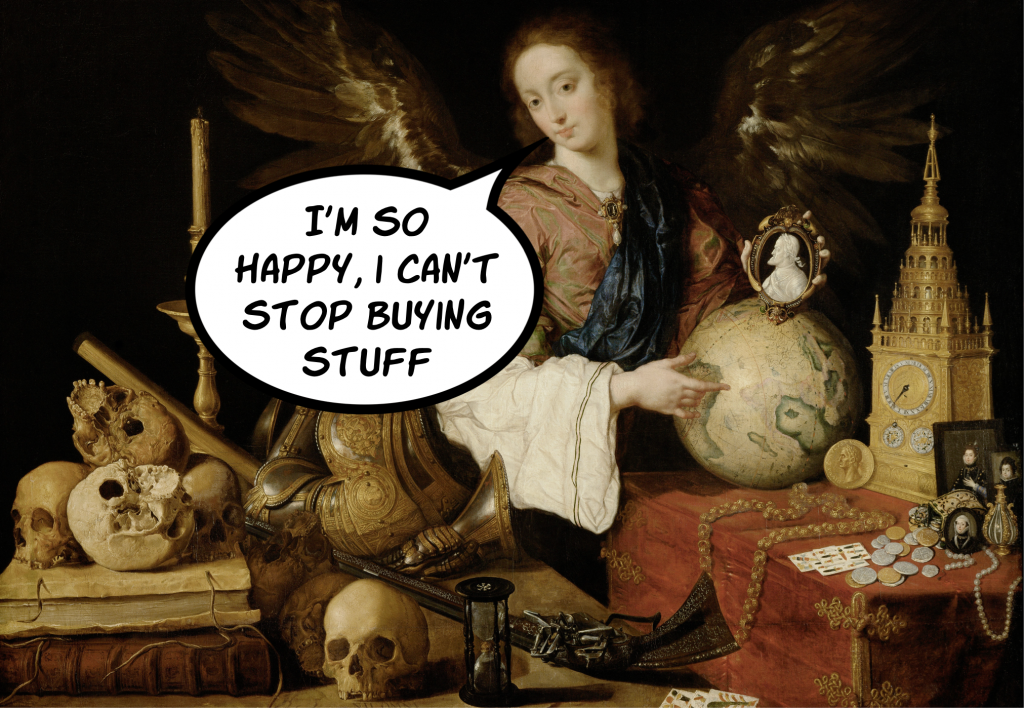 Business owners are hell-bent on happy customers. Everybody's talking about how to make customers happy, how to measure their happiness, and how to keep them this way.
There's nothing surprising or wrong about this. Marketers have been arguing about the importance of customer acquisition vs customer retention for as long as marketing exists.
And numerous researches confirmed that acquiring a new customer is five times more expensive than retaining an existing one. Moreover, every happy customer is a great source of positive reviews, valuable feedback and even new referrals.
So, how to make your every customer happy? You can start with the following 10 recommendations:
1. Create a customer-driven marketing strategy
There are two approaches to marketing strategies: product-driven and customer-driven. Do I have to tell you which one focuses on making customers happy? 
The difference between the two is that the first one creates a product first and then starts looking for its market. Usually, this can work for unique products that don't have any real competition yet. On the other hand, a customer-driven marketing strategy starts with no product at all. Instead, analysts try to get as much information about potential customers, their needs and pain points as possible. And the focus is on customers right from the beginning.
Basically, a customer-driven marketing plan consists of the following three elements:
Study your existing customers. Who are they and what do they want?
Look into your competitors to know who's using their products
Create a roadmap based on the data you've gathered from your customers
At the end of the day, both approaches can lead to a happy customer. A great unique and stable product will have little to no complaints. But, if you choose the customer-driven path, chances are you'll discover the exact formula of a happy client.
2. Provide timely omni-channel customer service
They say you can't make everyone happy. And that's the truth for almost every situation but customer service. Its job is literally making every single customer as happy, satisfied and fulfilled as humanly possible.
Naturally, there will be cases of unreasonable or unresolved issues. But support is your only way to communicate with your clients directly, so you better make it timely and helpful. 73% of customers stated that friendly customer service reps are a sufficient reason to fall in love with a brand and remain loyal.
So, what counts as high-quality customer service in 2020? Well, customers expect two things more than anything else:
Omni-channel communication. Customers want to use different channels to get in touch with businesses and receive consistent help everywhere.
Fast reaction. If Amazon can deliver a package on the same day, you sure can answer an email promptly. In 2020, customers expect nothing short of real-time communication and fast help.
3. Build detailed self-service resources
Another way to make customers happy is to give them all the resources they need for self-service: knowledge bases, FAQs sections, community forums, etc. An overwhelming 91% say they would use a single, online knowledge base if it were available and tailored to their needs.
Creating a useful detailed knowledge base shouldn't be a problem if you've already employed the previous recommendation considering omni-channel support. Many customer service tools offer knowledge base functionality as part of their toolset. Basically, customer service reps can collect common questions and problems on the go and create FAQ articles out of them.
Enhance your help center with handy navigation, divide content into categories and sections, add a quick search – and your help center is ready to make your customers happier.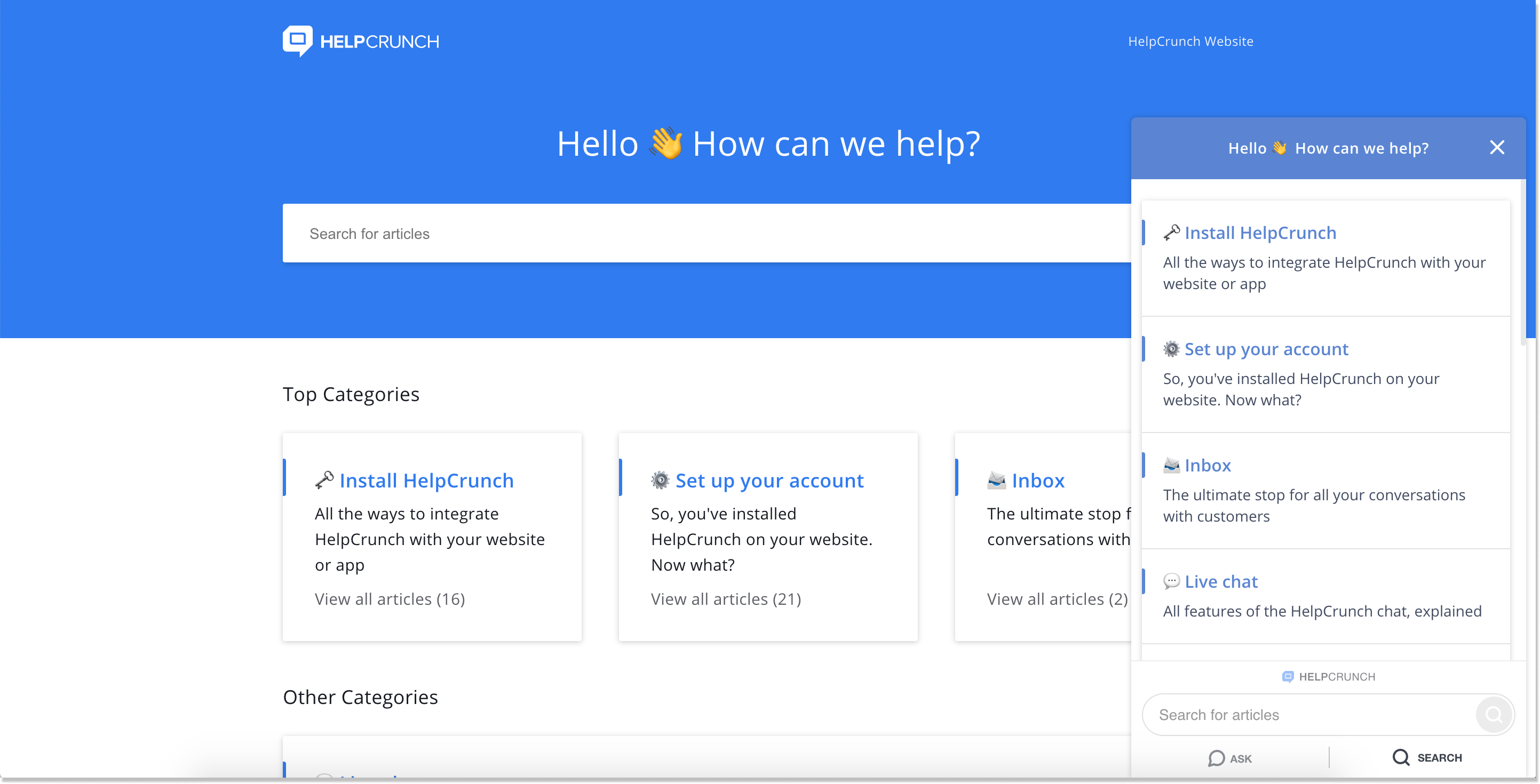 4. Be personal
In the modern world, a personalized approach goes a long way. Even more so, since modern technologies like dynamic content or account-based marketing allow business owners to automate personalization as much as possible.
Let's start with basics. Email marketing was one of the pioneer branches employing the power of personalization — from custom attributes to audience segmentation. Now, you can use tools like Mailchimp to send birthday congratulations or special offers to your loyal customers.
But this is only the tip of the iceberg.
There are tools like Influ2 that allow you to set personalized Facebook and Google ads targeting companies and specific decision makers within them. UseProof is a tool that changes your website's texts, images and buttons for specific visitors dynamically. And live chat tools like HelpCrunch will help you welcome new visitors and existing customers with automated yet personalized chat messages.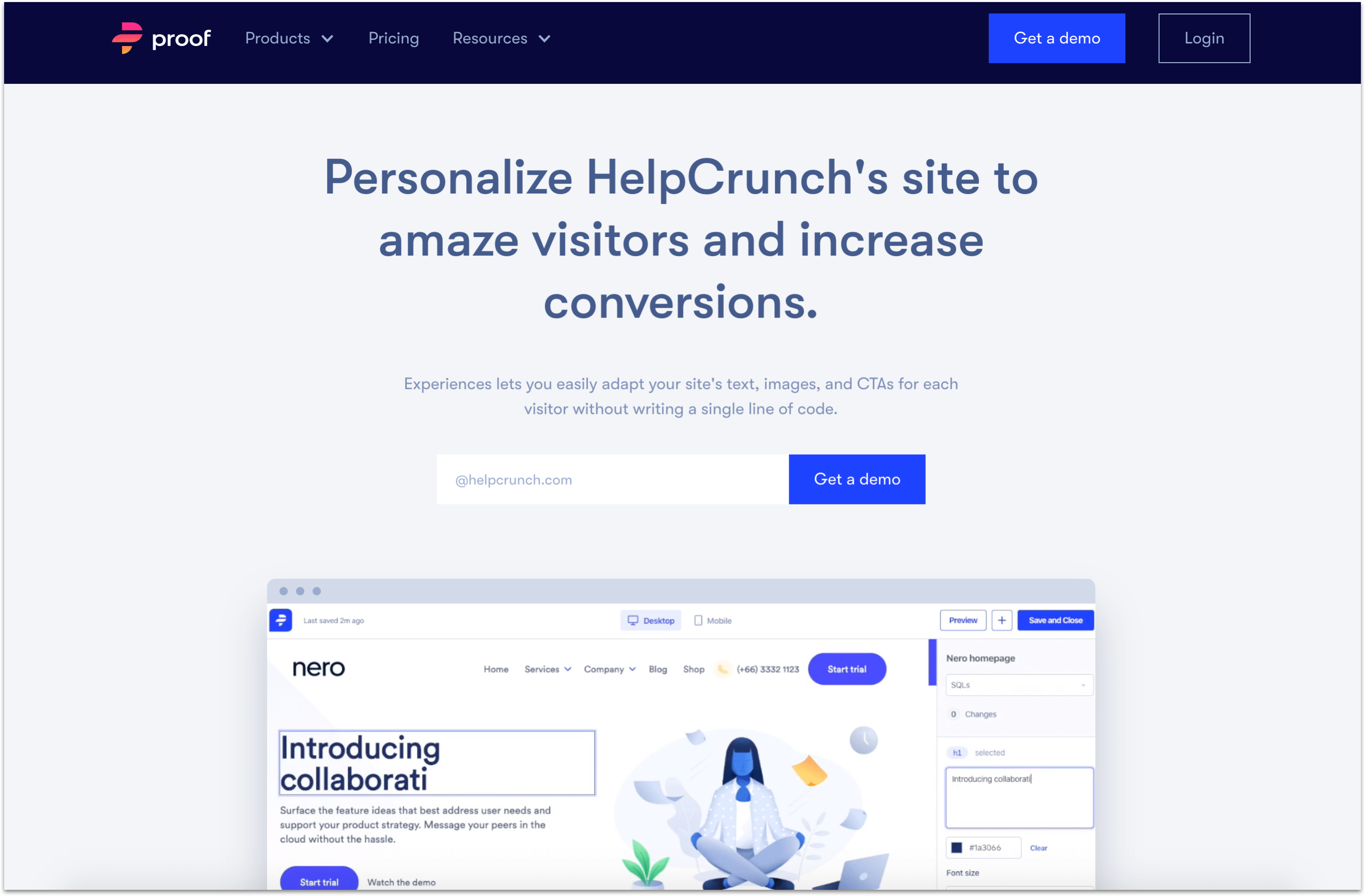 This way, every single visitor or customer will feel valued and appreciated.
5. Be proactive
If you want to make your customers truly happy, you have to take the first step in your customer communication — especially, in customer service.
Customer service can be either reactive or proactive. The first one means that you only answer direct questions from customers. Proactive support, on the other hand, implies taking initiative and helping customers even before they ask for it.
The short description of proactive service is doing something for your customers before they know they need it. For example, the server at the restaurant who refills your water glass before you have to ask. Or the customer service representative who calls to let you know your shipment is delayed before you check on it and find out yourself. (And, that rep also explains the reason for the delay and when you can expect delivery.)

Five Ways To Deliver Proactive Customer Service
Online businesses can be proactive, too. For instance, you can set up automated chat messages offering help or monitor user activity on your website. When you post an announcement on your social media about upcoming technical difficulties, that's a proactive approach, too.
6. Give away special offers
If you want to have truly happy customers, you should offer them something extra. Something that will create additional value and allow them to save a couple of bucks.
Sometimes, it can be a good idea to run special promotions for your existing customers — e.g. Black Friday deals, Christmas gifts, birthday offers. In its turn, offers can vary from good old discounts to free deliveries to additional gifts.
This technique is especially useful for attracting new customers, but can also increase customer loyalty and engagement. Here are some common types of promotions that proved their effectiveness over the years:
Direct discounts. The most obvious promo campaign is offering your customers discounts. Alternatively, businesses can add discounts on additional purchases or account upgrades.
Upgrade. If you're running a SaaS business, it might be a good idea to offer your loyal customers some free account upgrades. This promotion is great for dealing with frustrated customers.
Two for one. This is easy. You buy one product, you get another one for free.
Free stuff. You can throw in some additional stuff to your usual offer.
Free shipping. Just remember that free shipping might be a good promo only if your average purchase amount covers its price.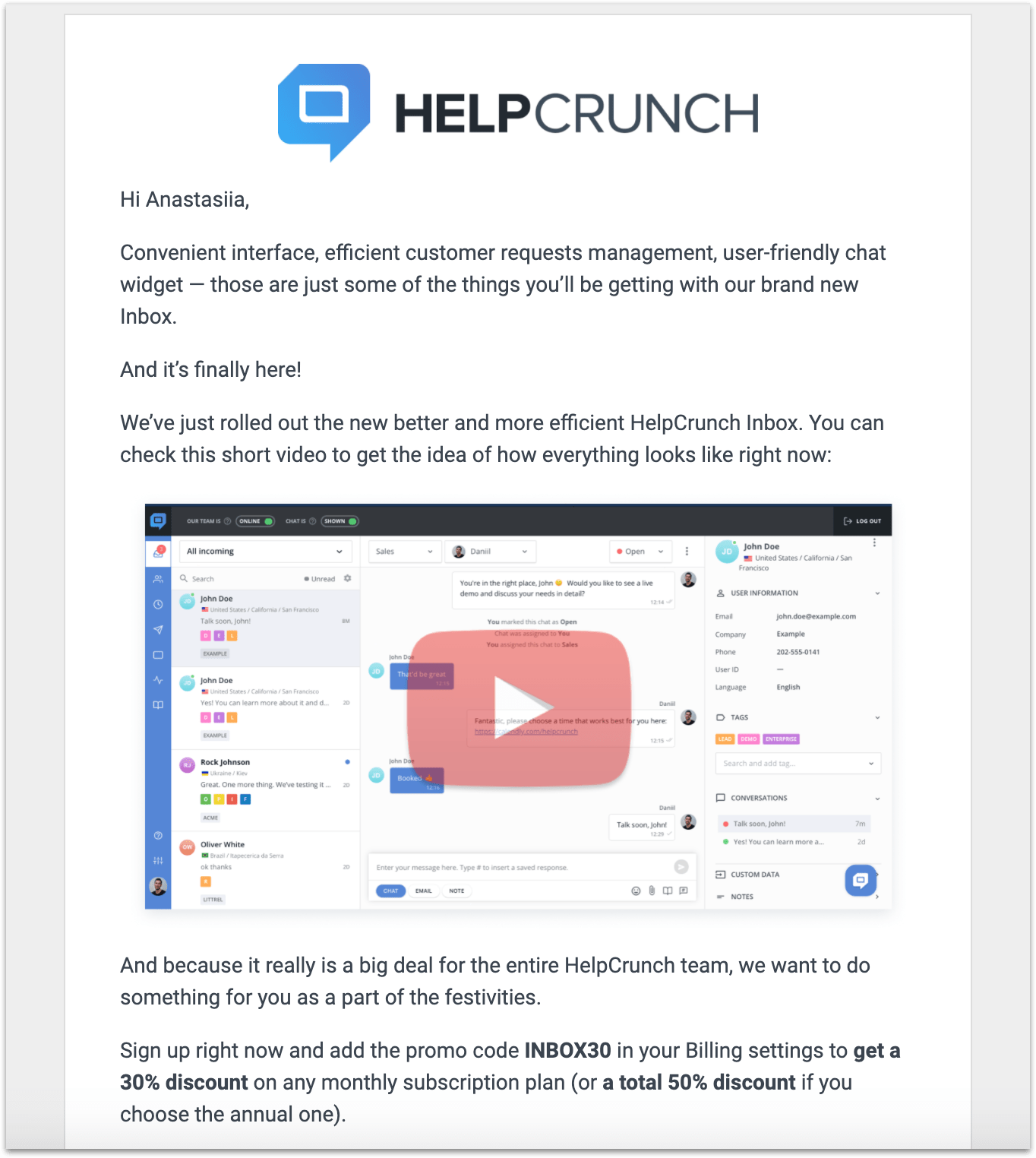 7. Create loyalty programs
Loyalty is something that you can only expect from truly happy customers. That's why loyalty programs come into the game only when you gave your clients everything they wanted — answered all their questions, engaged them proactively and built strong connections.
Rewarding loyal customers goes a long way. It builds even stronger loyalty, increases your chances of getting new word-of-mouth referrals, and leads to more upsells or cross-sells. Here are some ideas on how to arrange an effective loyalty program for your business:
Points. Customers can collect points for every purchase they make from you and then exchange them for goods.
Tiers. Based on the number of purchases or their amount, customers obtain different levels of loyalty. The more they buy, the higher the level.
Cashback. You can simply return some percentage of money spent on your services.
Charity. Just like with cashback loyalty programs, you can transfer a percentage of the amount spent on your services to some charity programs.
8. Manage referrals
Once you make sure that your customers are as loyal and satisfied as it gets, it's time to get advantage of this situation. Happy customers are more likely to recommend you to their friends and relatives, endorse you on social media, and, overall, leave positive feedback. Researches say that word of mouth is the primary factor behind 20-50% of purchasing decisions.
The very basis of every referral program is to encourage your customers to tell the world about your business and give them something in return. It can be anything from money reward to discounts for future purchases.
9. React upon customer feedback
This is probably the most important part of the whole 'making customers happy' deal. In most cases, customers will tell you what they want themselves. You just need to listen and react to their feedback immediately.

There are many ways customers can express their love or frustration — reviews, testimonials, social media posts, etc. Track every mention and don't hesitate to address them right away. If you deal with frustration, try to explain your situation and don't forget to apologize. And if it's something nice, just answer with a few nice words in return.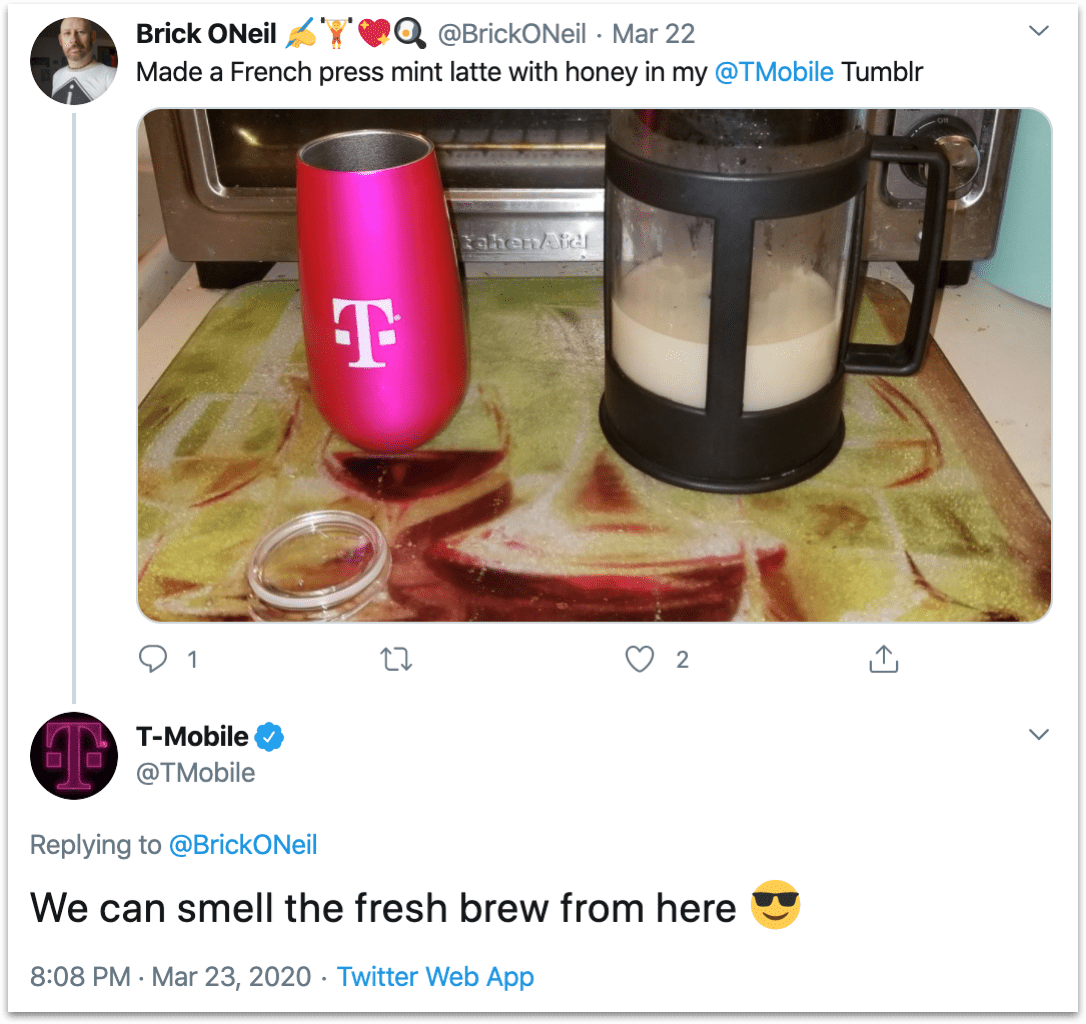 Moreover, a customer-focused business is always attentive to the feedback customers send directly via customer support. Every feature request and every glitch should be recorded meticulously and escalated to corresponding people or departments.
10. Follow up
All in all, timely and honest reaction is a key to making customers happy. It's important to follow up on every feature request, support ticket, complaint and whatnot.
I don't mean you should be overly pushy and harass your clients for no reason. On the contrary, follow-ups will only work if you have a good reason to send them. What I mean is that you should make them a permanent part of your customer communication strategy. This way, you can increase your user engagement and return those who had doubts or concerns.
Here are some reasons why you can send follow-ups to your clients:
Inform customers about new features you've added (especially, if they asked about those features).
Tell customers if you've fixed the issues they reported to you.
Ask for feedback or send customer satisfaction surveys after each conversation to measure how customers feel about your service.
Conclusion
All in all, a happy customer is a loyal customer. And loyalty comes hand in hand with increased sales, higher revenue, and even more referrals.
According to Accenture, 57% of consumers spend more on brands or providers to which they are loyal. It's as simple as that.
So, if you want to be among those companies enjoying customer loyalty, the recipe is simple. Be honest and transparent, listen and understand, provide memorable customer service and just be there for your customers.