To be completely honest, customer service is such a wide notion that it's quite difficult to see which tools count as customer service tools and which don't.

I mean I asked out customer success manager Konstantine about the go-to tools he uses at work every day. Suffice it to say, one of his favs is Spotify. Not quite what you imagine when talking about customer service tools, right? But then again, do you imagine your work without it?

So yeah, customer service tools are different for different businesses. Depending on what customer service means to you, there are live chat tools and help desk tools. There are call center tools (cause it's still a thing in 2019) and all-in-one tools that have them all. The choice is yours.

They all have different sets of features and tools depending on whether you prefer old school ticketing systems or more modern business messengers. But if we talk small business, I think I can safely assume the question of pricing is one of the most important here. So in this article, we'll focus on the money thing as well – to help you count your spendings.

So let's delve right in.
1. HelpCrunch – all-in-one customer service tool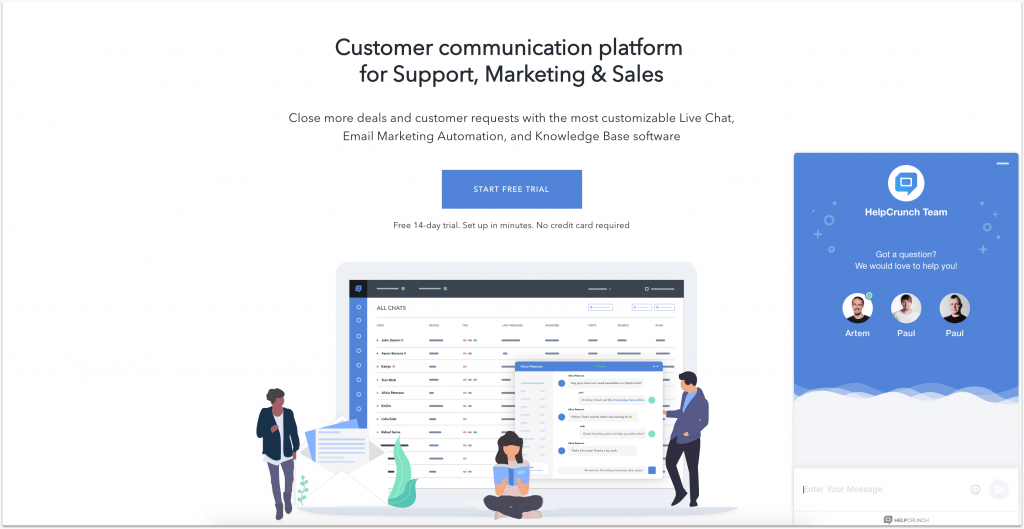 HelpCrunch is a classic case when the quality meets the price making it a great choice for a small business. It is a universal yet affordable customer service tool with a wide variety of functionalities included:

Modern live chat
Help desk tools
In-app messenger
Proactive auto messages
Email marketing tools
Pop-up builder
Most basic HelpCrunch pricing plan starts from $15/agent/month if billed monthly.

For this price, you'll get 1 agent seat and full chat widget customization (except for unbranding). You can also set up 3 concurrent auto messages, unlimited number of pop-ups and have access to your full chat history and contacts database.

Starting from $25/agent/month you can get yourself the Premium plan which will include… well, everything and without limitations. There are also custom plans available.

2. Zendesk – all-in-one customer service tool with a focus on a ticketing system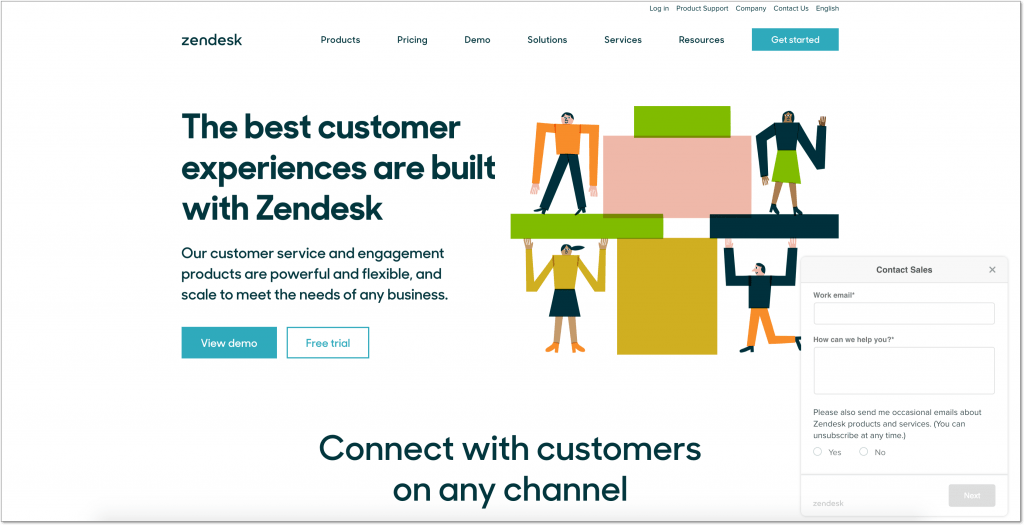 Zendesk is one of the oldest customer service tools on the market. They started back in 2007 as a ticketing system and it remains their most perfected tool to this day. But truth to be told, their target customers are bigger businesses and enterprises.

But it can be quite convenient for smaller businesses for one reason – you can buy their tools separately. If you don't need a live chat and only want their help desk tools, you can go and buy just it. This way you can construct your own customer service tool according to your needs and taste.

So you can either pay $109 each month for the Zendesk Suite (which will include everything from a live chat to a knowledge base to call center tools) or buy two of their core tools separately:

Support (aka help desk tools) – $9 per agent per month
Chat (aka, well, chat) – from $19 per agent per month
If you subscribe to Zendesk Support, you can also add such tools as Guide (knowledge base), Talk (call center), Explore (analytics) to it – all for additional fees.

3. Freshdesk – for help desk, or Freshchat – for live chat, or Freshcaller – for call center… I think you got it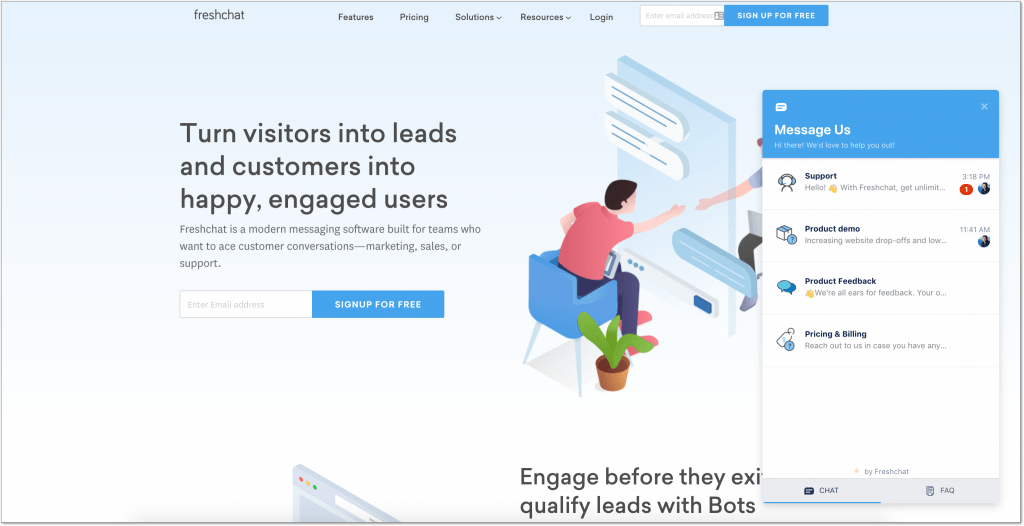 Freshworks is a family of all kinds of customer service tools. For each of them, you would need to pay separately, though.

Their basic live chat plan starts from $19 per agent per month and includes limited triggered messages, chat reports, and working hours.
Their basic help desk toolset costs $25 per agent per month and includes knowledge base, time trackers, and customer satisfaction surveys among other things.
Their basic call center toolset costs from $25 per agent per month, but there are also additional costs associated with calls.
Buying all these tools together can turn out to be quite costly. But if you don't need them all (and I don't think anybody actually does), Freshworks can turn out a nice customer service tool.

5. LiveChat – live chat tool with some minor ticketing features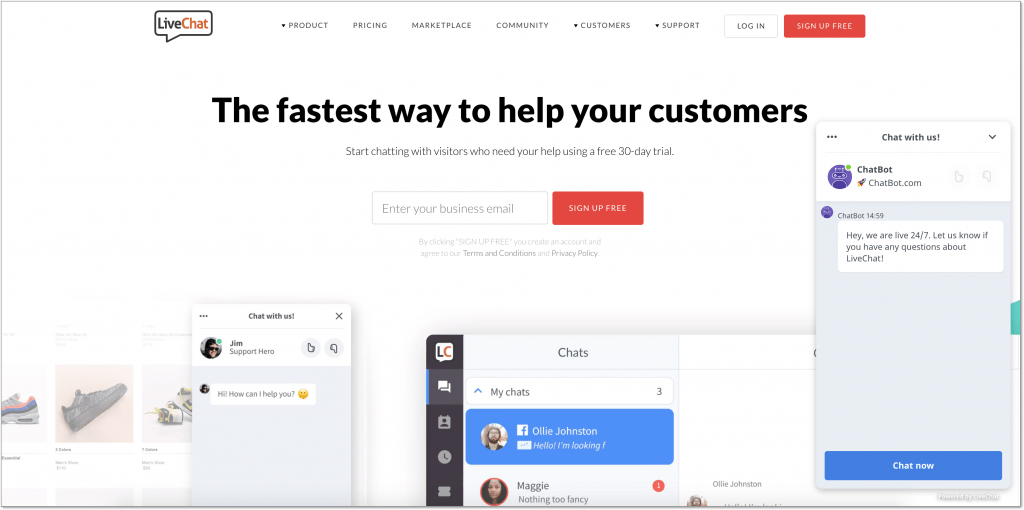 When a company names itself LiveChat, it's really difficult to add anything to it. So, as you may have guessed, it's about a live chat 🙂 Their live chat includes all the basic stuff like canned responses, automated greetings, chat reports and statistics, etc.

It's also enhanced by some ticketing and team management functionalities. For instance, you can tag your incoming chats, leave private notes as well as create agent groups and assign roles.

I'd say it's a very nice set of live chat features, which you can get for $19 per agent per month (the Starter plan). But what you'll get is a very limited set of features like 60-day chat history and basic chat customization. For more, you'll need to pay either $39 or $59 per agent each month. The most unlimited pricing plan costs $149 per seat and is only available as per annual subscription.

6. Crisp – customer messaging platform for small business (so they say)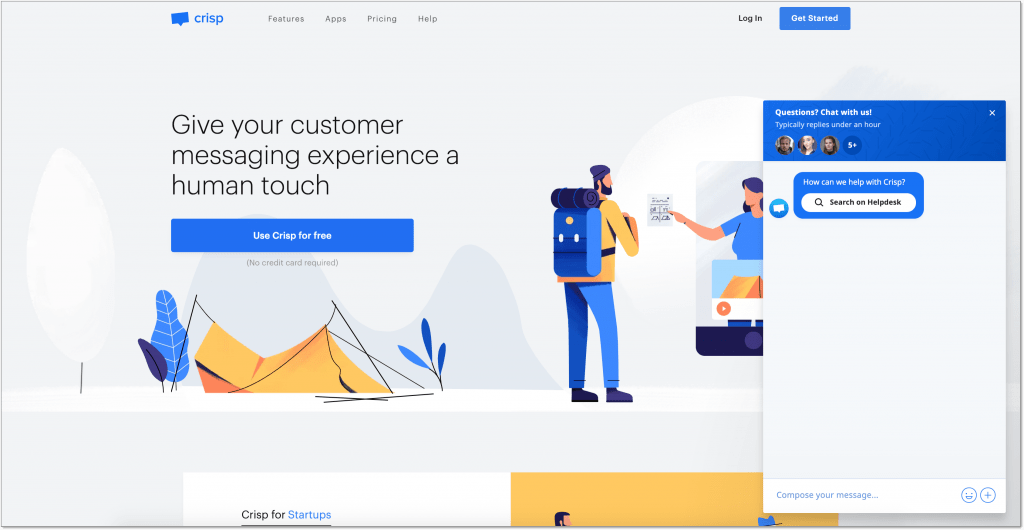 So… Crisp positions itself as a customer service tool for startups and small businesses. So let's see if it's really the case.

Crisp provides lots of useful or even vital customer service features like:
Live chat
In-app messenger
Email marketing tools
Knowledge base
Chatbot
The only thing is, most of these little nice features are only available starting from the Unlimited plan which costs $95 per website per month.

If you're not ready to pay that much, you can pay $25 monthly for the Pro plan. Be aware that it won't include the automation or help center features. Instead, you'll get access to unlimited chat history, triggers, canned responses and private notes among other things. It's not much, but the best thing about this subscription plan is that it includes as many as 4 agent seats.

Crisp also claims that they provide 50% for non-profits and students, which is quite nice.
7. Intercom – (costly) customer messaging tool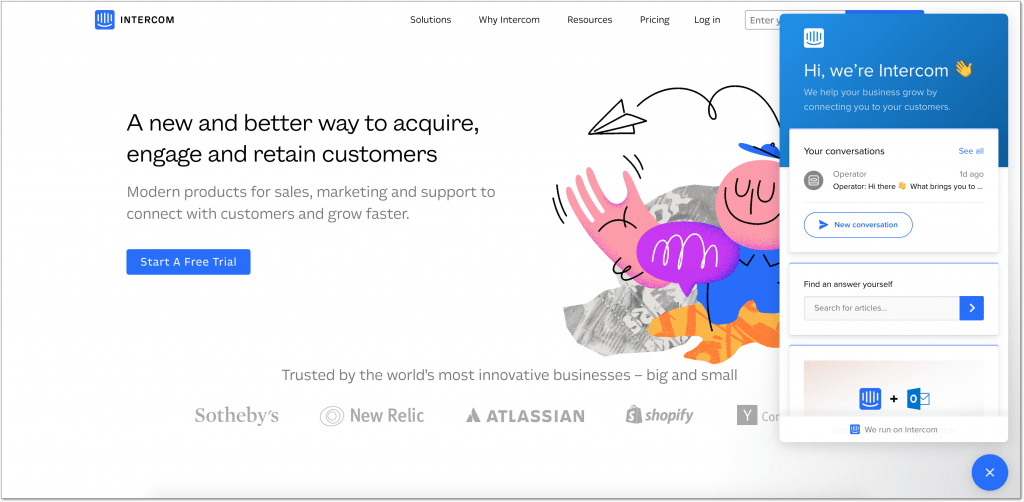 First of all, Intercom has a pricing model that is different from most of its competitors (and not in a good way). They charge for active contacts in your database, which usually makes Intercom, for the lack of a better word, very expensive.

That is why I can't even tell you how much you're going to pay at the end of the day, because it's impossible to predict these things with Intercom.

It can be a great fit for small business only if this business is so small that it has no contacts at all. Also, they have a 1-year subscription for early-stage startups that costs $49 per month.

For all the other cases, you better look into alternatives.

The toolset is great though. From in-app messenger to email marketing tools to bots – Intercom is one of the leading tools on the market.

8. Drift – all-in-one customer service tool for sales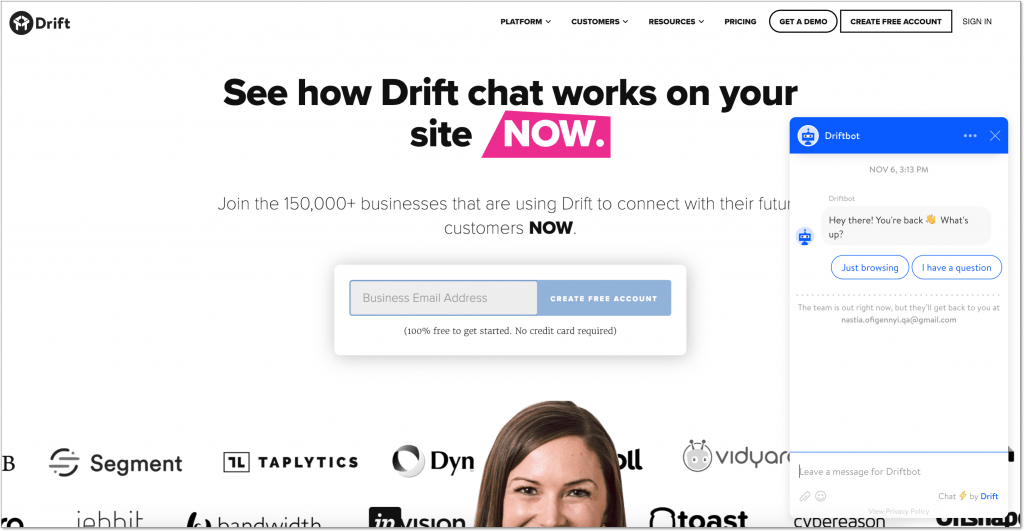 Drift's most basic paid plan (as extended as it is) costs from $50 for 2 agent seats per month. Each additional seat will cost you $25/month. But this subscription plan will include a live chat, 150 sales emails/day, unlimited marketing emails and a live view of website visitors.

Given they also charge for active contacts, I'd say Drift is not the first customer service tool that comes to mind when talking about small business. More than that, Drift's famous bots and conversational landing pages are included starting from the Pro pricing plan which costs $500/month.

Nevertheless, Drift also offers a free subscription plan, which is exactly why it made it into this list. Here's what's included into Drift's free account:
Live chat
100 active contacts
Unlimited chat history
Char reports
150 emails/month for sales sequences
No auto messages
9. ClickDesk – live chat and video chat tool for customer service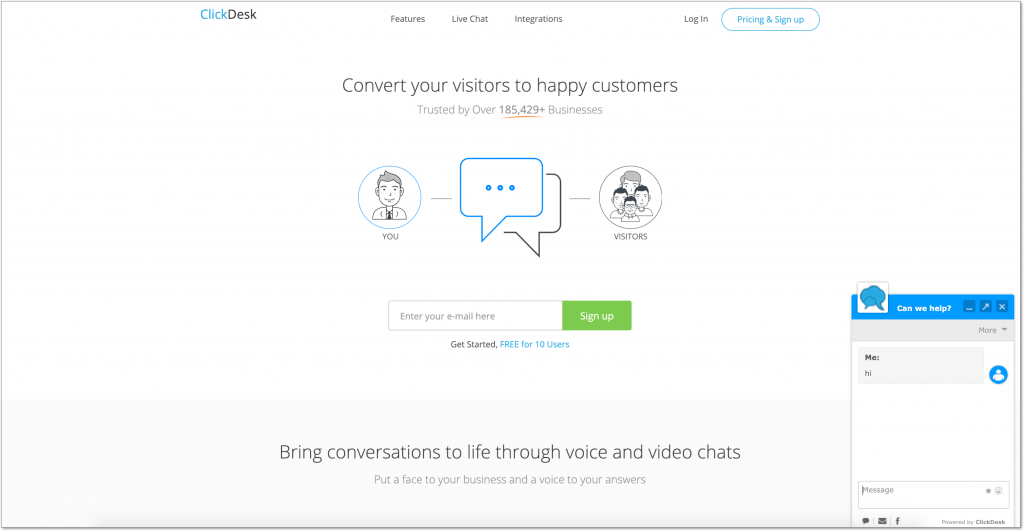 Though I'm not the biggest fan of the design decisions they made for their live chat widget, their toolset is definitely worth mentioning here. They have a free subscription plan that includes audio calls and 30 chats per month. Yes, 30 chats in total. Yes, it's crazy.

The most basic paid subscription which will allow you to have an unlimited number of chats costs $14.99 per month. But if you're here for its video chat features, you'll have to pay at least $24.99 per month for Pro plan. It will also include post-chat surveys, chat history and reports.
10. Acquire – live chat tool with co-browsing functionality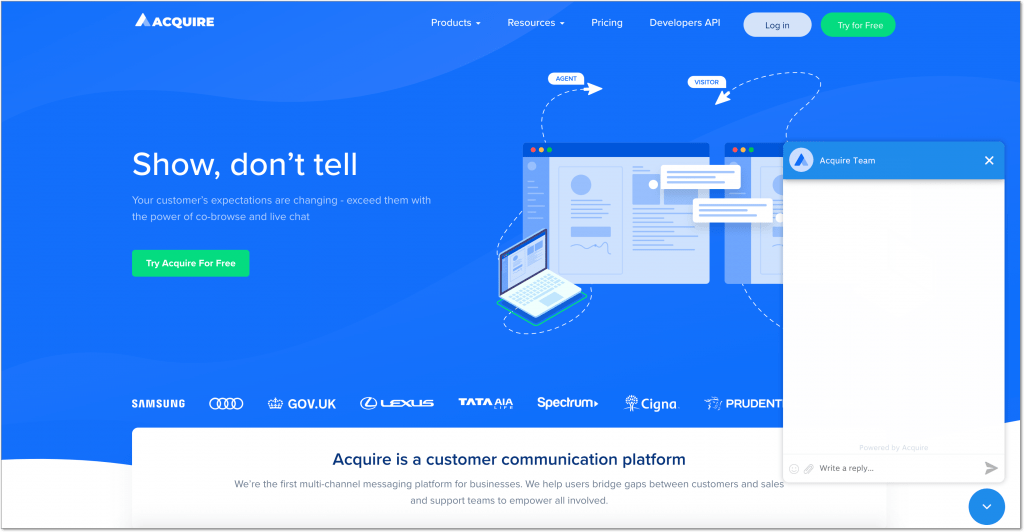 Acquire's most outstanding features is its co-browsing tool which allows your support agents to see and interact with your customers' screen in real time. Naturally, this can accelerate your customer service performance dramatically.

Other tools offered by Acquire include:
Live chat
Video and audio calls
In-app messages
SMS
Triggers and campaigns
All these tools and features are available on their basic pricing plan for $35/agent/month. And for as much as $250/month you can also get a chatbot with a knowledge base.
11. Aircall – a complete call center toolset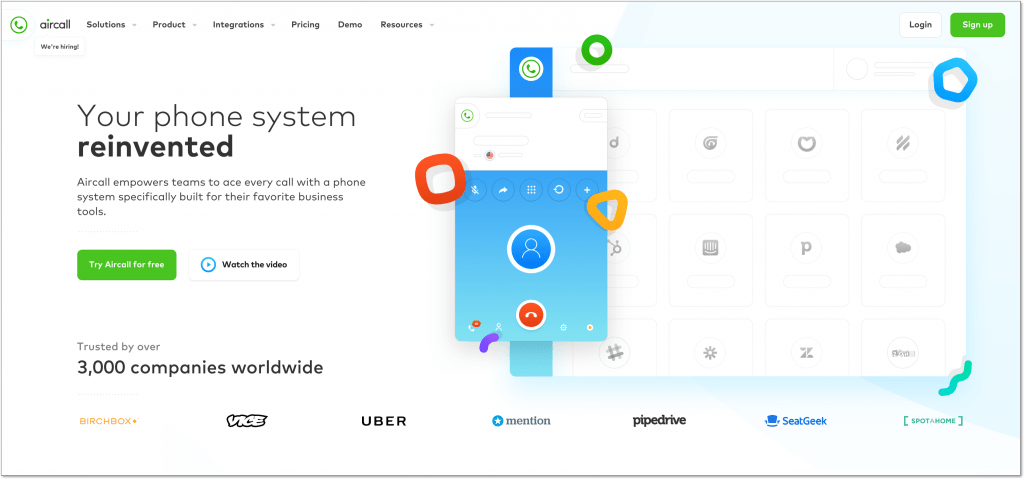 Aircall provides a complete set of tools for a cloud-based call center including business hours, call queue, and interactive voice responses. You can even add your custom music and record phone calls.

Their Essential pricing plan costs $40/user/month. Unfortunately, they have one condition for it – you need to have at least 3 users onboard. Outbound calls are priced per minute.

Bonus tools:
12. Calendly – for booking meeting and demos
As a customer service representative, you're gonna have lots of business meetings. So you'll need a nice place where people can come and book some demo meetings. Calendly is free and as convenient as it gets. Just share a link to your Calendly account with your customers, that's it.
If you need something free and convenient for doing your demos, there's always Google Hangouts.
14. Snagit – for screenshots
A nice tool for making screenshots which not only allows you to add all those nice arrows, squares, and stuff, but also has a function of a panoramic screen (with scrolling). You can scroll and make a screenshot of the entire page or video record it and make into a gif. Extremely convenient.

Bottom line
It's also worth mentioning that lots of customer service tools that I've mentioned above provide their limited versions for free. For instance, with HelpCrunch free account you get 1 agent seat and 1 concurrent auto message, while you'll be able to store up to 500 contacts in your database. The number of domains you can install its live chat widget is unlimited.

So you can start with them to save yourself a couple of bucks and see how it's going.

Read also
Customer service
Customer communication definition, types, and best practices. Check these 13 tips to improve your communication strategy.
Customer service
Check out these top 8 customer service books of all time: best selling books on customer service excellence, management, skills training, and more.
Customer service
Customer satisfaction and retention are correlated, but it's not that simple. Customer satisfaction is how customers feel, while retention is how they act.