12 Surefire Practices to Provide Good Customer Service
Good customer service is extremely valuable today. Do you want to assist your clients to the best of your abilities? Embrace these tried-and-tested practices and your customers will be satisfied for sure.

Is there something a business can do to reduce customer churn and increase sales? The answer is pretty obvious: to fine-tune customer support. No matter what product you have, how skilled your team is, the service a company gives always sticks to the client's memory.
One bad customer experience can backfire your business. But an impeccable one is likely to bring loyal brand advocates. How can companies win loyal clients and keep them coming back? By delivering good customer service and consistently delighting people.
To always stay relevant and make clients happy, you should continuously optimize and cultivate your customer support. But before we focus on some helpful practices, let's set a baseline for what exceptional customer service is.
What is good customer service?
No surprise that good customer service definition varies from company to company. It depends on its objectives, set rules, marketing, sales, and retention strategies. However, the key points stay the same: fast response, real-time assistance, personalized and proactive service.
Exceptional customer support means helping customers to exceed their expectations. Building strong relationships is also essential when it comes to the idea of good customer service. Simply put, thanking clients and promoting a positive and friendly environment will ensure they have a lasting impression after an interaction.
Think about the potential benefits you might have if your customer service is good. Increased sales, higher customer retention and satisfaction are worth your efforts. Let's elaborate on 12 ways that will help put your customer support at the top of the game.
#1 Promote customer self-service
Good customer service springs even before a client contacts a support rep. People are more demanding than ever and want to get their questions answered right away. You can give them an ideal chance to find fast solutions once they land on your website.
For that, build a knowledge base with FAQs, video tutorials, and other engaging content. Effective self-service can go a long way. It reduces operational costs, makes for greater availability, and ensures that all customers' expectations are met. Besides, it frees up customer service staff to handle more complex issues and have meaningful interactions.
Make the most of the knowledge base by integrating it with your help desk. So, once a client comes with a burning question, a service rep can send a related article right in a chat.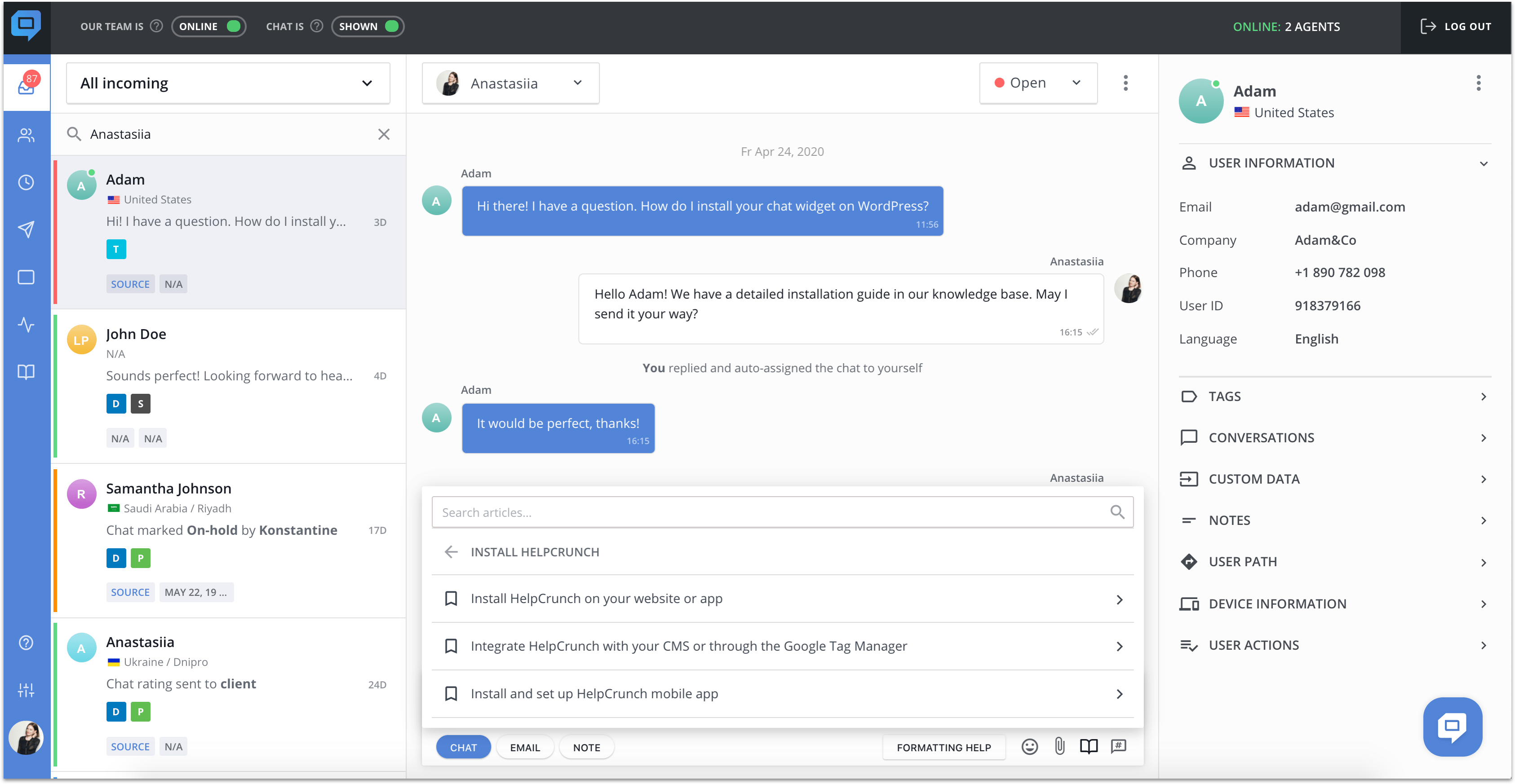 #2 Provide omnichannel support
Customers should have a chance to reach out to you no matter the medium they're using. You better choose a one-stop solution that will allow you to scale your customer service in the future without trouble. For instance, if you try an omnichannel customer communication platform that offers live chat, email marketing, and knowledge base tools in one dashboard, it'll help increase conversions and drive revenue.
There are loads of communication channels clients use these days. Social media, live chat, email, phone, you name it. However, you can't just choose one and call it a day. With quality customer service software, it'll be easy to manage all the channels and accelerate your team's work.
Such an approach is all about convenience and satisfaction for both support reps and clients. It boosts customer service rep's productivity and lets them cater to the client's needs in the best possible way.
#3 Offer loyalty programs
Framing a smart loyalty strategy might be a tough nut to crack given that there are different types of customers. They come from various backgrounds, have diverse tastes, contrasting interests, and so on. However, their intent is somewhat alike. People always look for a chance to save more money and receive more products. 84% of customers say they will rather stick with a brand if it offers a beneficial loyalty program. So, giving it a try might pay off.
A well-thought-out loyalty program can be a big draw for a business. It can boost profits, make customers feel appreciated, and foster communication with them. The better interaction you have with customers, the greater your service becomes.
There are dozens of loyalty campaigns backed by good customer service. For instance, Amazon is well-known for its Prime membership program. You can get access to unlimited free two-day shipping for a flat annual fee as well as other perks Amazon lays up to its Prime members. By rewarding your customers on a regular basis, you are about to experience massive growth in your business soon.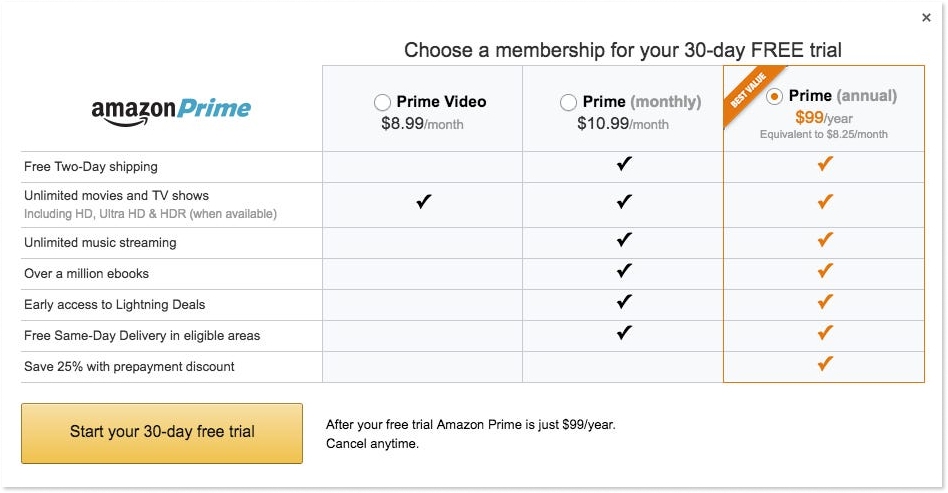 #4 Respond to customers quickly
Great customer service means answering clients' questions and addressing complaints as fast as possible. And resolving clients' problems upon the first request will put you in a good light. 66% of customers claim that the most important thing a company can do is value their time.
Quick response makes customers feel important. But if you keep them waiting, there are two scenarios: either a client contacts you via another communication channel doubling your workload or they switch to another company. It's you who decides which one to choose here.
In order to reduce customer response time, a service team should focus on efficiency and develop a workflow that streamlines different support functions. Consider adopting such a universal solution as help desk. It allows you to collect custom data, provide multichannel support, and track the service team's performance.
#5 Shape unique customer service philosophy
What is good customer service without certain values? It's even hard to say. Any business should think through the whole concept of customer support: what values to translate, what rules to follow, and how it should be perceived by others.
Create your own customer service philosophy — the values your company adopts and shares with clients. Start with defining the set of essential qualities you want your team to keep up with. For instance, HelpCrunch goes with the following:
Be honest about your wins and mistakes: being open about your ups and downs is simple. It's also important to fix mistakes before it's too late.
Stay genuine: every member of our team is equal as everyone brings their own personality into what we do. An impersonal business-like tone will never be among our core values. And that's one of our identities.
Put customers first: our product development strategy relies on customer feedback. For instance, if there's a feature request from you, you can be sure it will be processed and forwarded to the rest of the team. Eventually, a new feature will be rolled out and you'll be informed about it.
Customer service is everyone's job: each person in a company should be aware of what it's like to help people. So, it's not rare that our CTO jumps into a conversation whenever a client needs assistance in technical or other issues.
#6 Hire people with customer service skills
Knowing what your customer service will look like is half the battle. Look for those people who obtain customer support representative skills:
Problem-solving
Empathy
Time management
Patience
Attentiveness
Active listening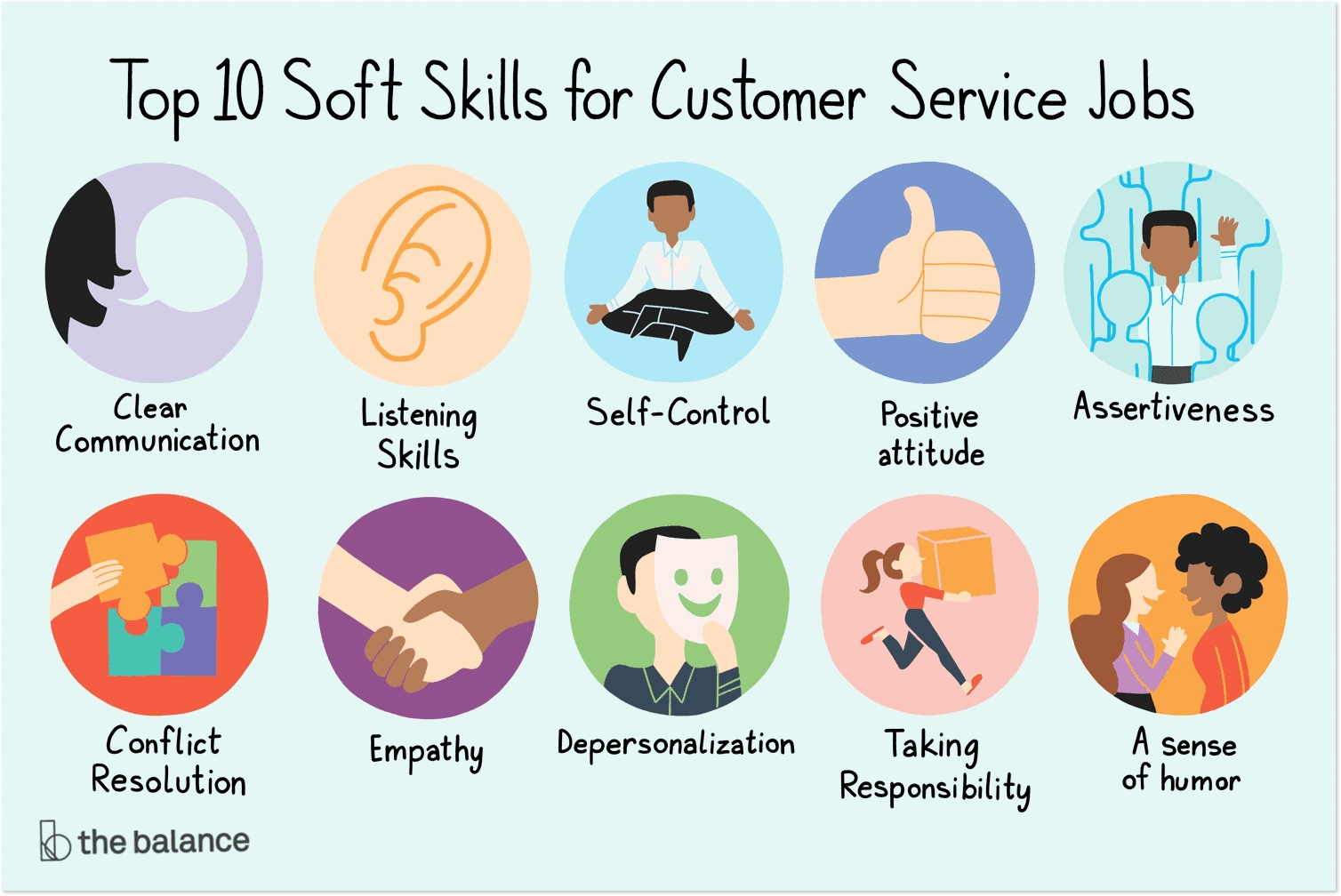 In addition, a person who applies for a support rep position should be customer service oriented. That is, focus on clients' needs and demands and value them over anything else.
When it comes to actual customer service rep's interview and assessment, we at HelpCrunch do it in three simple steps:
Interview. This part is the most important in hiring customer service reps. It lets a team lead see how a person communicates and handles stressful situations.
Assessment test through one of the customer service scenarios. Job applicants should install our live chat tool on their own first (this gives us an idea about their technical background). After they do, our team lead plays the role of a customer with some typical problem, and a candidate tries to resolve this problem communicating via live chat.
Bar raising with the rest of the team. This one helps us understand whether this person will fit in our team and shows us their communication skills in action. I think it can be quite stressful to try and charm a room full of strangers, but then again, it's what customer service representatives do every day.
#7 Build customer service team structure
We're slowly moving from hiring customer service reps to managing your assembled support team. Depending on its size and your priorities, you need to outline its structure, range of responsibilities, and measure its performance with specific KPIs.
Always start with a team lead. This person is responsible for everything from training newcomers to tracking the team's overall performance. After assigning a person that will manage the rest of the team, you can divide it into smaller departments.
There are two ways to structure a customer service team:
A two-tiered system, where some members deal with a day-to-day routine, while the others handle more difficult issues. This method is more suitable for smaller teams of 3 or 4 people.
A customer support team divided into departments with different narrow specializations. This is rather something for big companies with a greater workload.
#8 Specify customer service duties
So, what exactly is a customer service team doing? Here's a very brief list of customer service duties which your team should be able to handle:
Client onboarding
Responding to customers' questions
Collecting customers' requests and feedback
Reporting problems and issues to corresponding departments and monitoring their progress
Following up on users who canceled, unsubscribed or left negative reviews
Collecting positive reviews
Gathering knowledge base questions, topics and writing relevant articles
Providing demos
Checking customer service reports and improving them
Good customer service depends on the workload your team is dealing with. But in a perfect world, you need to hire enough people to cover ALL of these tasks. The key phrase here is 'enough' because you can't expect that one person will cope with all of them.
#9 Establish customer service KPIs
Only if you have clearly set tasks, you can expect people to accomplish them. But there's also a way to encourage your team members to live up to what you expect from them. Establish KPIs for your customer service team and don't forget to reward when those goals are achieved.
The most common customer service KPIs are:
73% of customers value a quick reaction over any other metric. It's difficult to give a definitive answer to how long users are ready to wait for an answer as different researches provide different results. Here are some common first response benchmarks for various channels:
For live chat support, it should be up to 1 minute.
For email support, it should be under 24 hours.
As to call centers, 53% of customers are ready to wait for 3 minutes on the phone.
Customer satisfaction rate
If you want your customer service to be good, measure customer satisfaction rate after each conversation. It should be at least 90% or higher. Our customer satisfaction rate never drops below 95%: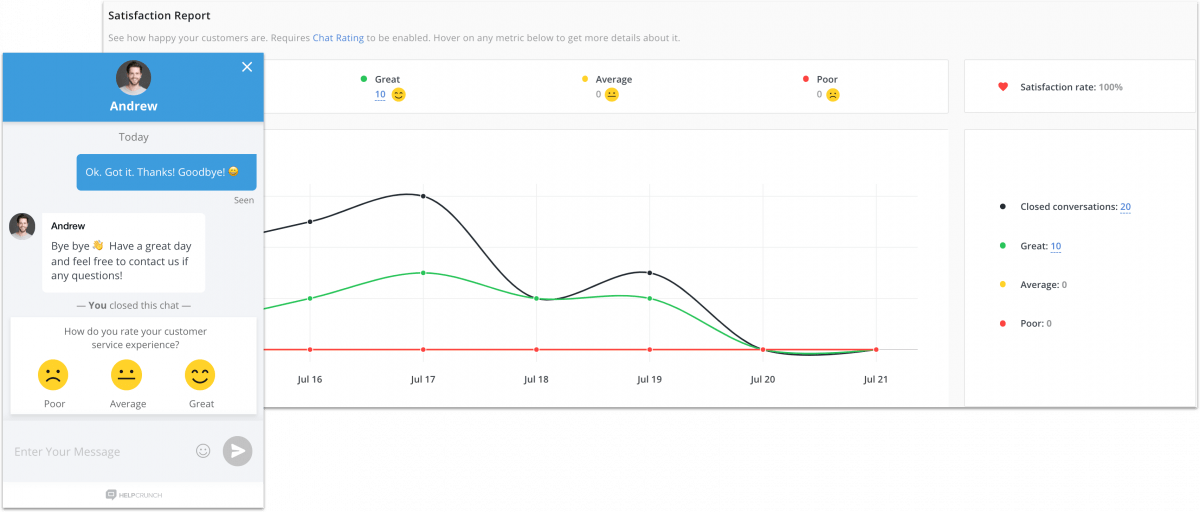 Demos are good for your sales, that's why your customer service team should be trained to pitch and perform them at a high rate. As to reviews, it's also easier for your team to collect them as they're closer to customers than anybody else. If they feel that a person is satisfied with the customer service they received, it's a good chance to ask them for a review as well.
#10 Invest in customer service training
You can't make your customers happy unless you make your team pleased with their work conditions and perspectives. Every employee wants not only to feel valued but also to be able to move up the career ladder. You have to give your colleagues an opportunity to pursue professional passions so that they don't quit.
The definition of quality customer service deals not only with theory. It also has something to do with practice. That's why it's important to help your customer service reps with all kinds of training, meet-ups, and conferences. 
Encourage your support team leads and representatives to attend customer service conferences.
Find relevant online and offline courses and offer your customer service team to complete them.
Do in-house training (e.g. role plays) within your team from time to time.
It's obvious that your business will only benefit from trained professional customer service representatives, so you shouldn't be afraid to push them in this direction as well as pay for the events you find useful. There are also great podcasts which can tell you a lot about customer service on the go:
#11 Personalize customer experience
72% of clients deal with brands that are personalized to their interests and likes. That is, people now get irritated when they're treated solely as ticket numbers and receive boilerplate responses. They also mind talking to a chatbot as it's only programmed to perform basic tasks. Sure, you can use automation in your work but it still lacks a human touch.
To deliver exceptional service, treat customers as individuals with unique tastes and needs. Get to know your clients better, catch up on their preferences to turn this information to your best advantage. For instance, find out what features they want to try and roll them out as soon as possible. Or send a gift card to a client on their memorable day: it'll show them that you care and bring them closer to your business.
#12 Keep your word
If you promise something to a customer, make sure you will deliver on that in time. Letting your clients down is one of the worst things that can happen in your efforts to build good customer service. Customers don't feel extra grateful when you outperform. However, they get grumpy when a business goes back on its word (and yes, you should then deal with angry clients). So, if you don't want to lose clients, don't do that.
For instance, if you say you'll get back on a client within the next 24 hours but you don't, offer something to make up for it. If your client's delivery goes awry, try to replace it and refund money for their time and trouble. This will make them feel better. You may lose some money in the long run. On the other hand, you're likely to win customer's trust.
Final Thoughts
Everything we've touched upon today combines to produce good customer service. Keeping your clients satisfied and making all their needs and demands come true is the best thing you can do. Moreover, adopt a customer-first approach and you'll become a force to reckon with.
When you focus on creating a tailored website, spending on marketing and sales tools, customer service is likely to become a second priority. You need to ask yourself a question: 'What is outstanding customer service to me?', bear our insightful tips in mind, and put them into action. Make your customer service outstanding and try HelpCrunch with all its helpful tools free for 14 days.