7 Ways to Improve Customer Service in Schools
High-quality customer service in your school can help you attract more students and improve the retention rate. To make it easier for you, we've selected the top seven tips with examples on how you can boost student satisfaction.

For years educational institutions didn't have to bother about such things as customer service (what nonsense, right?). Back then there was a single school in the area and just one university in the city. We called it a monopoly.
Parents simply trusted their kids to teachers and rarely had complaints. There was no commercial need to keep track of the student satisfaction rate.
As for today, the picture has changed drastically. According to the data from 2017-18, there are 137,432 educational institutions in America, including public, charter, and private educational institutions. Each establishment tries to do its best to woo students and come along with new funding opportunities. 
I know it might be challenging for teachers, secretaries, or school librarians to work on customer service improvement. And yet, that's what parents and students expect from you today. A survey has shown that over 30% of students see themselves as customers in higher education. 
Why is customer service important in schools?
Customer service in schools is a way to show parents and their children that you care. Whenever an issue or question pops up, it's important that educators engage, answer doubts, and help solve the problem. That's how parents know that you want what's best for their children. As time goes by, they begin to trust you and feel like your school is the best place for their offspring.
I could list for miles and miles the benefits of good customer service in schools, but to save you time, here are the most important ones:
Above all that, there is student achievement that goes hand in hand with customer service in schools. When satisfied with their at-school experience, scholars are more likely to open up, escalate, and achieve their life goals. Although, the current student satisfaction rate in the US leaves room for improvement. 
7 ways to improve customer service in schools
When it comes to customer service in schools, each staff member matters. A principal, secretary, teachers, librarians, cooks, guards, cleaners – they all create a special atmosphere. Since an average student spends half of their time at school, it basically becomes their second home.
So, start with making your students feel confident in your establishment.
1. Create a strong student community
Being a part of the community can make students feel safe and secure in your school. It gives them a sense of belonging as though they are part of something greater than themselves. And, that's exactly what you need to enhance the overall satisfaction rate and improve customer service.
If scholars are comfortable in their class, they perform better and engage more in the learning process.
When that sense of belonging is there, children throw themselves into the learning environment and when that sense of belonging is not there, children will alienate, they will marginalize, they will step back.

Says Dr. Linda Darling-Hammond, CEO of the Learning Policy Institute. 
While for some students it goes easy to feel at home in the class, for others it can take an extra effort. There can be many reasons for this like – race, nationality, gender, disability, to name just a few.
A survey of 528 educators has shown that 41% consider it to be challenging or very challenging to make their students feel like they belong in the classroom. Although, 80% of respondents report that a sense of belonging in the classroom is highly important for student success. 
Try implementing some of these tips to help your students feel more confident in the classroom. Those are not just good-to-have activities that are decided exclusively by a teacher. Ensuring them is a responsibility of the customer service department or other customer-centric personnel in your school.
Share your story. If you want students to open up, be ready to share your story as well. For example, tell them why you've chosen a teaching path. It might be an old story for you but for the class, it's a brand new revelation that helps them see you as a person first, not just a demanding teacher.
Highlight the importance of teacher-student relationships. You can schedule one-on-one meetings with scholars to discuss their personal needs and questions. It'll definitely enhance their feeling of belonging.
Emphasize the strengths of your students, not their weaknesses. Conduct a survey, like a CliftonStrength assessment to reveal the best traits of your class members. It can help students to feel unique and become confident with who they are. Next, use the result to maximize their potential in learning.
Create your special in-class traditions. Traditions help strengthen the bond in the community. It can be a Friday book club, open-air lessons on Wednesdays, or maybe a unique way you greet each other at the beginning of the day.
You've probably seen a heartwarming video of a teacher welcoming her students each in a different way. A scholar chooses what they need this morning, a hug, a handshake, or a little dance together. What would be your choice today?
2. Adopt a customer service mindset among your staff
Yes, parents and students are your customers. They pay you money (or the government does it for them) and expect quality service in return.
Adopting a customer service mindset means putting customers first on every level of the process: the awareness stage, first interaction, ongoing classes, or parent-teacher meetings. 
Start with an in-depth audit of the current situation in your establishment.
How easy is it to navigate through your website (it's literally your face in the online world)?
Can parents find any necessary information about your school instantly?
How easy is it for 'customers' to get in touch with you?
How fast are you with responses?
How complex is the enrollment process?
Once you spot the gaps, work on them and train your staff. Explain to everyone in the team, including a school cafeteria chef, how poor customer service might affect all of you.
Needless to say, losing funding along with a student might lead to job cuts and faculty closures. Look at the graph we prepared for you based on the data from the National Center of Education Statistics. There is a clear descrease in the number of US students enrolling in for-profit schools. Given the trend, it's more important than ever to keep students and their families satisfied with your school.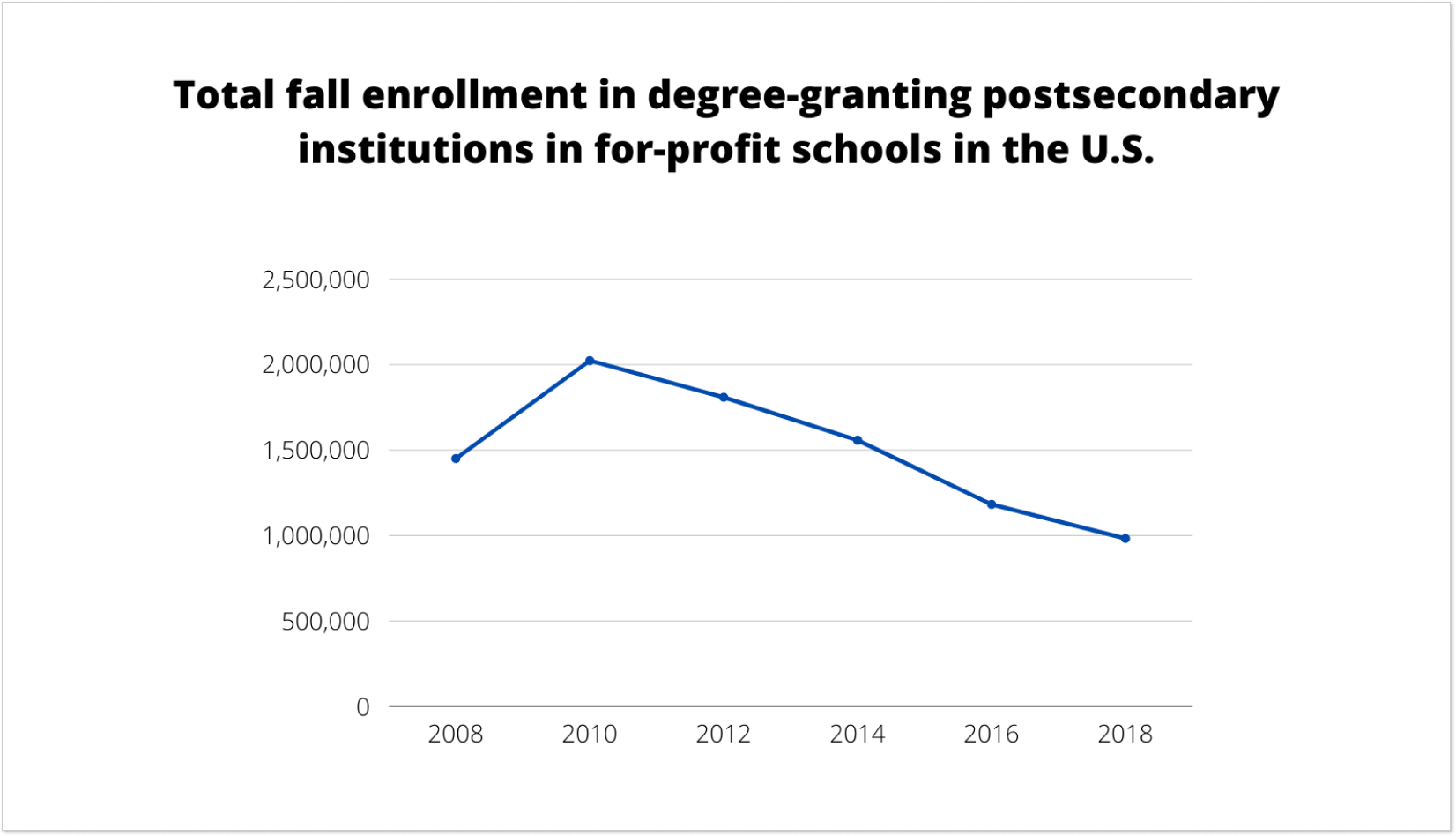 3. Ensure a self-help option on your website
The self-help option means students and their parents can find any information they seek with no effort from your side. We also call it a knowledge base, a one-stop resource that provides answers to the most frequently asked questions. 
Interestingly, 66% of customers start with a self-service option first before reaching out to an agent. Scholars will surely appreciate it if you create a place for them where they can navigate easily without your help.
In addition, a FAQ section can help you increase the online visibility of your school, boost the level of student enrollment, and improve the overall customer experience. 
4. Use the benefits of a live chat widget for school
What's a live chat? It's something very similar to a messenger app that your students use to chat with each other. Anyone can enter their question there and send it to you immediately. In turn, you receive a notification on a desktop or mobile application.
As live chat gurus who use it on a daily basis, we could devote the entire article to listing the merits of the tool. In short, live chat software allows you to reduce the feedback time and keep it within just 2 minutes, improve engagement, boost satisfaction rate, and eventually raise student retention.
Also, with a live chat, you can improve teacher-student communication. When schools turn to digital learning, it's important that scholars have a fast way to reach out to their instructors and get help immediately. 
5. Be present on social media
Social media is a must-have for schools that aim to increase customer satisfaction.
What do modern teenagers do when they are choosing a new school? Read college brochures? Very unlikely. They just turn to social media, go to the hashtag or location of a school on Instagram, and look at the feed to get a feel for the atmosphere.
Generally, there are three main goals of social media usage in education:
Marketing. To woo new students.
Informative. Update current students and their parents about upcoming changes.
Connectedness. To bring the community closer.
Let's start with marketing. It's not a surprise that 84% of people aged 18-29 use social media. And, the number goes just a bit lower with 81% when it comes to 30-49 years old users. These people are your potential customers who will be glad to learn more about your school's offer through Facebook or Instagram. 
Also, it'd be highly effective for your brand awareness to cooperate with social media influencers. Reportedly, 49% of users depend on influencer recommendations. So do the students. 
Find someone who truly supports your school and cooperate with them. Think, maybe there is someone among your scholars who managed to become a true influencer?
To give you a better idea, here's a dorm room tour created by Olivia Jade Giannulli, a social media influencer and former student at the University of Southern California. The video has reached 1.6 million views on Youtube.

6. Deliver tailored experience to parents and students
Tailored experience means a flexible and personalized approach to each stakeholder.
Especially in the educational segment, there are different sets of customers that come from extremely diverse backgrounds. It's impossible to provide high-quality customer service in private schools unless you implement a personalized approach.
It makes me recall the times when I was a scholar myself in a for-profit establishment. We had an issue with my class teacher.
When I just joined the private school, I noticed that the teacher was emotional and rude quite often. One time I came home and told my mother about the accident, and that the tutor shouted at me again, even though I didn't do anything wrong. My mom called my teacher immediately. She told her that they are paying money for a personalized approach to every kid.
"My daughter is not the one to shout at. It causes her huge stress, as a result, she doesn't want to attend school and her performance is dropping." After this conversation, (thank you, mom!) the teacher has changed her approach. She has never yelled at me ever again. We've even become really close!
It might be a pain in the as* for educators, yet this example clearly illustrates what parents expect to get for their money.
To deliver a personalized experience to students, try:
Get to know your class better. Who they are, what families they come from, what piques their interest, how they act in stressful situations.
Adapt the curriculum to the child's needs and abilities.
Seek other teachers' feedback on students you struggle with the most.
Offer personal consultations to parents or students themselves.
In the digital era, it becomes easier to offer a personalized experience. Using a visitor's past search terms you can offer more relevant content. Think about it, can you use a student's enrollment history to proactively suggest offerings that are relevant to that individual?
7. Ask for feedback
Feedback gives valuable information about how good your strategy is working. It's the best way to find out if your students and their parents are satisfied with their experience. And, if not, what exactly makes them feel uncomfortable.
Make surveys a part of your monthly or quarterly routine. This way you will know if something goes wrong and will be able to act on it immediately.
"We all need people who give us feedback. That's how we improve," says Bill Gates. And, I couldn't agree more.
Also, take time and search for the reviews your customers leave about your school. Don't be afraid of them. The best strategy is to respond kindly, say "I'm sorry" and actually work on those gaps. 
Examples of good customer service in schools
Basically, any improvement that can boost students' or their parents' satisfaction is a good idea. And, after massive research, I must say that there is definitely room for improvement for customer service in public schools.
The majority of educational institutions don't offer instant communication channels and the only way to ask them anything is to send an email. As you know, it can take ages to get an answer.
On the other hand, it can be good news for you. Just a convenient website, a fast live chat widget, and a comprehensive knowledge base can make a huge difference for prospective students.
University of Findlay, Ohio
In 2020, the Oiler mobile app was recognized as the best student engagement app. The tool helps scholars to stay connected with the University wherever they are. 
Besides, the app allows scholars to:
Check their grades
Post on discussion forums
Download assignments
View announcements
Find the contact details of any educator
Watch educational videos
Listen to the student radio
In addition, there is a section for parents on the app. "Once you download the app, choose the "Parents" persona. You'll have quick access to events, campus information, athletics information, campus videos, news, and so much more," the university website states. 
It's highly important to address your innovations to both customer groups: parents and students. 
The British School of Paris, France
It's a secondary school that accepts pupils from 3 to 18 years old. Arguably, more than 90% of its pupils move on to their first-choice universities. It seems that the admission does their best not only for quality education but also for high-level customer experience. 
On the school's website, you can find a nicely structured FAQ section. It's divided into general and academic question parts. 
Sometimes if you have a good knowledge base there is no need to add a live chat feature. On the other hand, with HelpCrunch you can have both — a live chat and a 'search' option within one widget.
The University of Information Technologies and Management in Rzeszow, Poland
When I started my education at the UITM, I was truly amazed at how smoothly all the processes were organized. On my first day, the secretary gave each of us a student plastic card with a unique personal number. To check the schedule, room, grades, or access the knowledge base, it was enough to put that card in one of the machines located throughout the campus.
If I needed to borrow a book from a library I could do it online. After that, I went to 'biblioteka' and put my card into the reader. The librarian would immediately see who I was and what books I ordered.
In addition, each freshman had a curator — a senior student from the same faculty. We could ask them any questions at any time, even those not related to the university. At the end of the semester, we filled up a survey to assess our curator's job. Patrons who got high scores received points for scholarships. So it's a win-win.
For students who are looking for information about the university, there is a messenger on the website. Apart from a self-help option, prospective scholars can personally ask their questions in a chat and get answers immediately.
All these little details enhance the student satisfaction rate.
Bottom line
The educational market becomes more competitive and schools must adopt new ways to attract customers, students, and their parents.
In general, to do that, you can apply the same strategies as traditional businesses do. Start with the improvement of customer service and overall student experience.
At HelpCrunch, we offer you a one-stop communication platform that would scale your support and bring more scholars to your school. Begin a 14-day free trial today.