A customer service position goes way beyond fielding clients' questions and complaints. For many people, it's longer associated with a chatbot that gives generic answers. Despite technology development, customer service equals human interaction. And now that clients appreciate an emotional bond with a brand, it's crucial for a customer support agent to know how to build it and what skills to master.
If you think it's enough to just be a people person for providing excellent customer support, think again. Throughout your career, you're about to face different tempers and clients' needs.
Whether you are a newbie or a seasoned expert, keeping your cool will come in handy. To succeed, you have to hone good customer service skills. Before we get to the ins and outs, why don't we discuss why customer service skills are important?
Why are customer service skills important?
Customer support staff is usually thought of as the face of a company. They form the first impression when a client reaches out. A skilled professional will organize a positive dialogue fostering loyalty and a flawless brand reputation.
As Jim Rohn, an American entrepreneur and motivational speaker, once said, "if you just communicate, you can get by. But if you communicate skillfully, you can work miracles". This quote just hits the nail. Learning and developing essential customer service skills should be an indispensable part of your workflow if you want to move up the ladder.
15 Sufficient Customer Service Skills to Master
As you're in the customer service, you should know this industry requires hard (that you can learn) and soft skills (the so-called 'interpersonal skills'). Luckily, we've covered both groups as well as some valuable tips on how to develop them in this post. Here we go!
Top 10 Customer Service Soft Skills 1. Clear communication
When hiring customer support experts, communication skills should be tested first. These come in both written (we'll get to that later, stay tuned) and verbal forms.
If you're a phone customer support agent, your major principle should be 'no mumbling'. You need to explain the solution to a client's issue in a clear and concise manner, avoiding jargon and technical terms. Otherwise, people will switch to a brand that is on the same page with them. Improve customer communication and it will definitely pay off.
Speaking of practice, there is worthwhile literature on mastering communication skills for bookworms. You should also consider watching some engaging TED Talks to bolster up your speaking. I enjoyed this video produced by TED and Institut Le Rosey on the 'art' of communication.
2. Proactivity
Proactivity is at the top of a customer service skill set. Clients appreciate it when a support rep shows the initiative in order to solve their issue ASAP. Don't take my word for it and look at the stats. 87% of customers prefer to be reached proactively and 68% say that their perception of a brand increases when they receive proactive customer service notifications. 
You might ask why helping people proactively is better than reactively? Everything is simple: by initiating a conversation, you take a step forward to amaze a client. This way, you can catch all the customer pain points before they grow into something bigger. You don't have to wait for a person to get irritated. Plus, a proactive approach saves much time for customers as they don't have to waste it searching for a solution.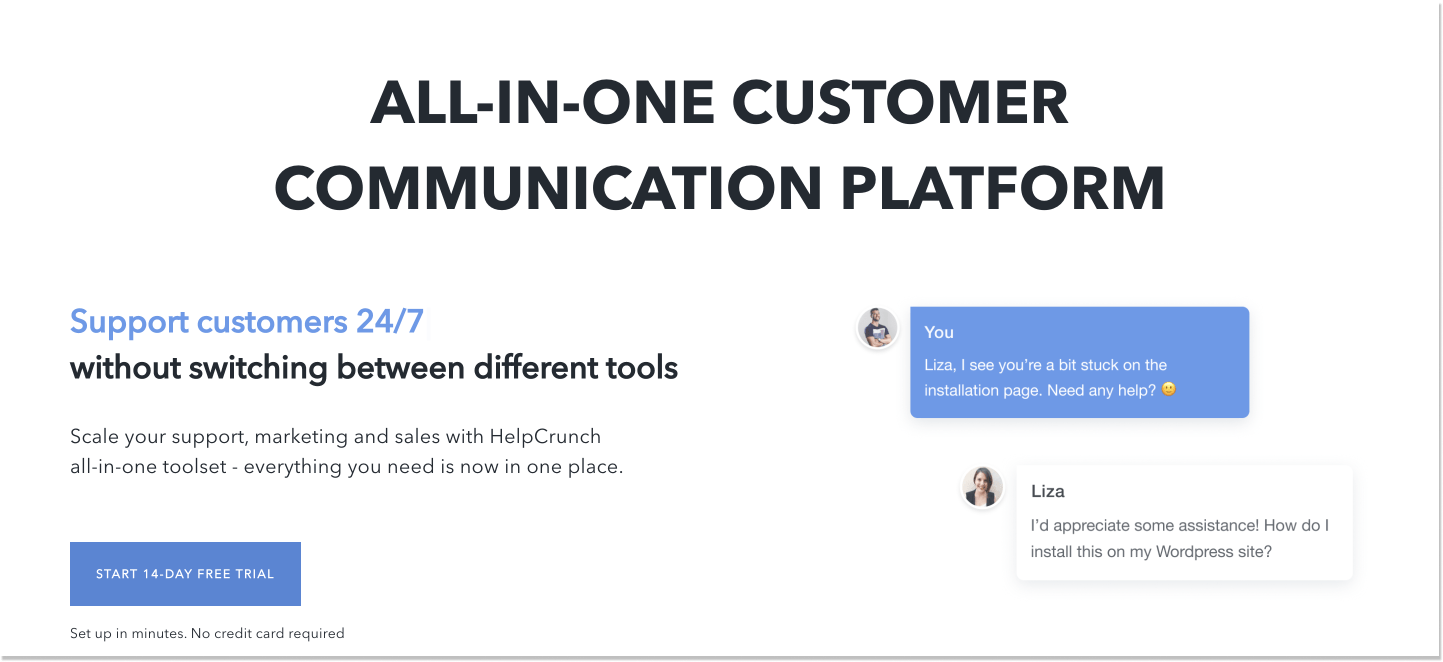 3. Patience
Staying cool even when you deal with angry customers or those who just have a rough day might be daunting. However, the key skills for customer service also include patience, so you have to work it out. As soon as you take it easy, you'll notice how fast you alleviate customer frustrations.
Numerous studies have shown that patient people tend to be more healthy and happy. So, how do you develop it? Jane Bolton from Psychology Today gives a piece of sound advice:
Realize the nature of anger and irritation
Upgrade your attitude towards discomfort
Pay attention to when irritation starts
Mind your self-talk
Patience is one of those advanced customer service skills that are hard to reach. But with a bit of practice and tenacity, it will be a snap. Make small breaks during your day, read an interesting book, or just go for a quick stroll. By the way, communicating with your clients having the zen mind can be an excellent way to avoid customer service burnout.
4. Empathy
Customers can be initially attracted to a company's product. But what can make them long-term? That's right: empathy and help. According to the statistics, 53% of consumers will choose another brand if they feel underappreciated, and 42% switch due to rude or unhelpful service.
Imagine how you would feel when chatting with an unempathetic support rep. Probably, not in the mood. Try to put yourself into the customers' shoes and not jump into defending yourself or your company when a client argues. This will rile anyone up. Take a step back and imagine, let's say, a friend and what you would say in this case.
Before solving an issue, apologize for the inconvenience: 'I am really sorry for the situation and totally understand your frustration'. Assure your customer that you're doing your best to change the situation for the better: 'I am checking all the details right now to help you as soon as possible'. Remember to sound and act like a human: clients will feel your empathy and ease up a little.
5. Stress management
Stress is an old friend for all customer service reps out there. But to be honest, it's everywhere. For instance, developers who need to deliver projects meeting the deadlines. HR-managers who search and interview different applicants. Or office managers who have to organize the team's work process properly. But with decent planning and a pinch of rationality, stress will simply vanish.
You have to take stress for granted as it's an integral part of a customer service position. Customers may drop in all at once: some might be disgruntled, others may be hard to understand. But everything is manageable.
A health psychologist Kelly McGonigal urges us to see stress as a positive emotion and introduces a stress-reduction mechanism: reaching out to others. Check out the full video below:
Stress management is one of those customer service skills that are worth gold. Next time you fill in your CV, don't forget to add this skill to the set.
6. Coolness
There are lots of idioms describing this customer service skill: 'be at peace with the world', 'be as cool as a cucumber', 'easy come, easy go'. All of them share the same bottom line which is the ability to stay calm even when things get a little topsy turvy.
I've had some situations when customer support agents prevent me from pulling my hair out owing to their unflappability. To be honest, it had to do with hosting providers. To my surprise, customer service reps always found the words to comfort me and kept calm at the same time.
The best support agents should be the 'rock' for clients who think that the sky is falling. If it's not about you, well…then you're going to lose customers (just kidding!). Learn how to reach better customer relations, develop your nonchalance, and you'll be good to go.
7. Flexibility
If you're a live chat support agent, you know how tough it is to handle multiple conversations at a time. A phone service expert often looks up some info when a customer is still talking. You might say these tasks require multitasking.
Anyone can build a skill of multitasking. You just need to keep the basics in mind:
Offload easy tasks
Develop multitasking abilities
Stay active even in idle hours
Know your multitasking limits
In chat support, it's a common thing to communicate with several customers simultaneously. A lot of progressive companies, like HelpCrunch, have already made the lives of their service agents much easier.
Take the feature-packed customer service software with a shared inbox and a bunch of other valuable specs that allow processing customer requests faster. Besides, the custom data needed is always at your fingertips.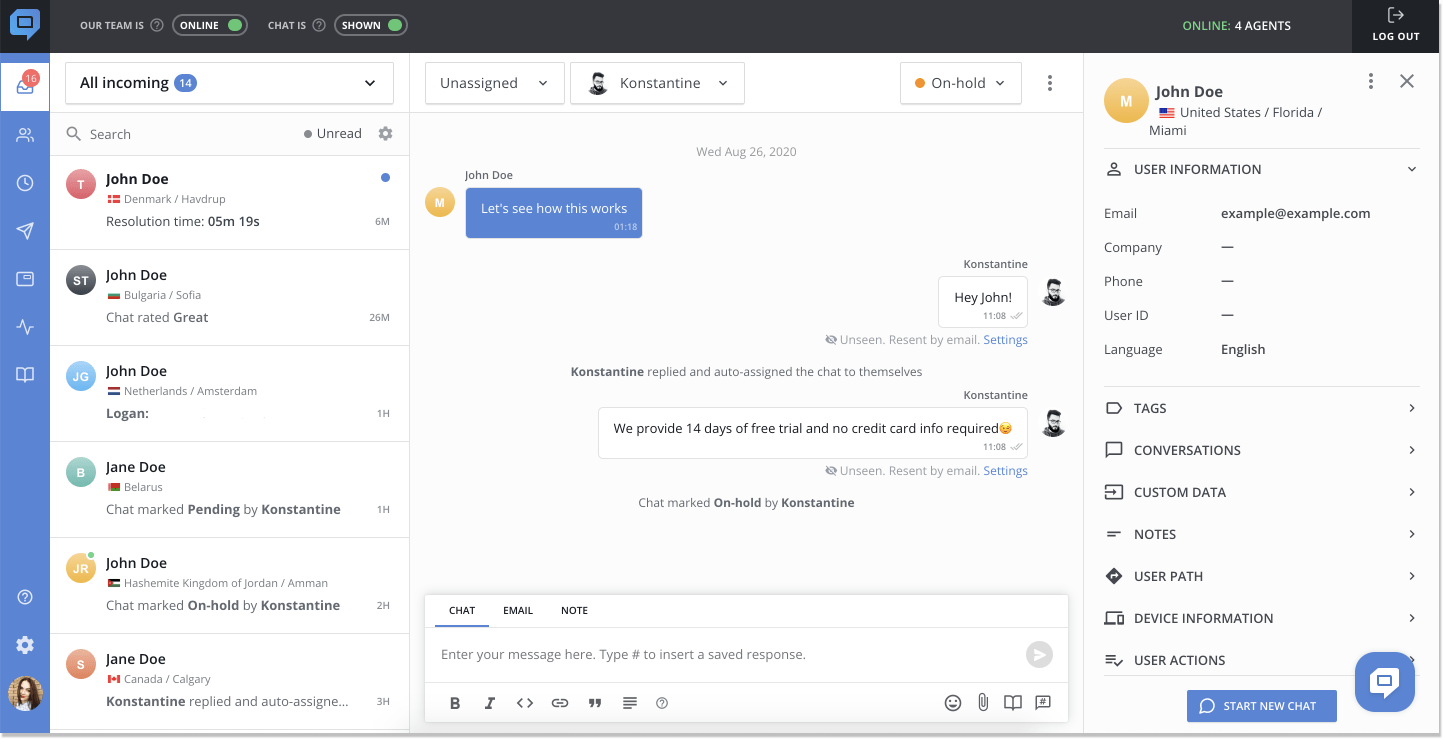 8. Emotional intelligence
Emotional intelligence means the ability to read people's emotions and react to them in a constructive way. This customer service skill is extremely vital for support agents because not all customer problems are product-related.
These issues stem from external factors preventing clients from achieving their goals. Emotionally intelligent service reps can identify these factors and reduce their impact on the customer's experience.
Let's say, you're on a phone call with a frustrated client who has this trouble with a subscription. You can hear the kids screaming in the background while the client tries to stay focused.
If you're an emotionally intelligent support agent, you can detect this pain point and easily make a joke about children taking part in your conversation. To put it simply, you should provide good customer service.
9. Desire to improve
You can't master every customer service skill that's been said and written about. But you can think of the sides that could require improvement. That's why a sincere desire to learn and be a better version of yourself is valuable.
Customer service training is one of the handy ways to enhance your key customer service traits. But traditional learning techniques are a bit old-fashioned. In the Internet era, there is some cool stuff.
I mean, you shouldn't exclude customer service scenarios or some team building activities, too. But what about webinars or online courses? Here are suggestions you could take advantage of:
10. Persuasiveness
All the above-mentioned customer service skills might not be enough to get the job done. From my perspective, it's persuasiveness that helps make a skeptical customer sign up/buy a product/choose another pricing plan.
It has something to do with how to 'read' your clients. This can be simply achieved by listening more than talk. In this article, the author presents a company that teaches its service reps to quickly detect a client's personality and provide them with decent help.
Sure thing, being persuasive doesn't mean being rude or dishonest just to please a customer. Your aim is to be confident of what you're telling and persuade a person to make a positive decision.
Top 5 Customer Service Hard Skills 1. Perfect writing
Basically, every position involves writing. Being a customer support agent, you're supposed to communicate with clients via live chat or email tickets day by day. Messages filled with typos and grammatical errors will not reflect well on you.
Plus, unprofessional writing can set a poor tone for the whole interaction. You can omit those errors by checking your spelling and grammar via such digital language tools as Grammarly or Hemingway Editor. Smart writing assistants give in-depth feedback so that your content is clear and comprehensive.

Given that people are more demanding than ever today, they will expect an instant response from you. That's why a skilled customer service rep should type at a fast clip. Some believe that it's imperative to keep a typing speed of at least 40 WPM. But this is an average recommended level.
To take your support team's typing skill to the next level, try the typing speed test. It's not only fun but also really productive. You or your customer service team can spend 15 min per day practicing to deliver faster support.
2. Proficiency in languages
'The more languages you know, the more you are a human'. This saying fits the list of customer service skills as a fiddle. Since customer service is now more of a human attitude, the knowledge of numerous languages can set you apart from your competition and provide a massive plus in your job.
The importance of speaking your customers' language is paramount. Here's why:
Increase in sales: 75% of consumers prefer customer service in their native language. That's pretty obvious. Who wants to chat with a Google Translator instead of a live agent with perfect language skills?
Access to a wider market: getting international audiences interested in your product is always a good idea for company growth.
Enhanced brand loyalty: a customer will realize there's someone to understand their needs (especially when a problem pops up).
No miscommunication: when an unhappy client reaches out to you, they have an opportunity to express themselves more easily. Besides, any bit of information will be lost due to translation.
To stand out from the crowd, hire multilingual customer support specialists. They could also help you build a helpful knowledge base in many languages for your product or service down the road. Such a resource center could be perfect for storing valuable onboarding information, materials, and other documentation.
3. Computer skills
Are you not a tech-savvy person? Well, the sky isn't falling here. You still have to know some basics, though: how to fill in a Microsoft Word document, create an Excel table or a PowerPoint presentation, and be familiar with Google Drive.
When it comes to advanced customer service skills, you might need to have a clue how such software as Jira or Trello works. These are helpful tools for managing teams' tasks. A lot of businesses also use a help desk feature as it makes support agents' lives much easier:
Multichannel support
A shared inbox for managing customer data
A faster customer request processing
4. Product knowledge
Product knowledge often stays in the shade of a customer service skill list. How is it possible to assist a client if you lack the most important: product knowledge? Your readiness to listen and an excellent customer service mindset won't do much good when you're not able to answer a client's question.
If you're a business owner, consider a client onboarding checklist as the number one thing to present when a newbie arrives. Don't forget to teach your new employee the ropes as well. For instance, we at HelpCrunch are serious about our new hires (that's why we rock!), so everyone should pass a 3-day onboarding process. Believe me, it's really helpful.
5. Time management
Making optimal use of your time is a customer service skill that most of the service experts lack. Effective time management requires employees to analyze their workload, set priorities, and stay concentrated on productivity. Do you have problems with this skill? Cheer up and read on to know how to develop it:
Prioritize: make a list of all your tasks for the day and decide which one you will do first, second, etc.
Schedule: is a demo with a customer around the corner and you totally forgot about it? Use some scheduling software like Google Calendar and relax.
Write a To-Do list: prepare for a team meeting – check, provide a customer with a solution – check, have a snack – check.
Have a rest: your job is one of the most exhausting ones. So, put your phone aside and have a good 8-hour sleep.
Delegate: can Jim from a sales department help you with this pile of chats?
Final Thoughts
WOW! We've discussed 15 of the most essential customer service skills today. Keep in mind that everything is based on your organizational skills and empathy for people. And of course, many of these skills can go hand-in-hand.
For instance, it's tough to stay patient without empathy or deliver excellent service to a foreign customer without proper language knowledge.
Now that you know the basics, your goal is to hone them to the best of your abilities. Why don't you sign up for HelpCrunch to mix business with pleasure?
HelpCrunch articles delivered straight to your inbox 🚀
All the latests posts. One email per month
No strings attached
Read Also
Support
Read the article to learn more about the main types of chatbots out there and how to choose the best one for your business today. Examples included!
Support
Have you ever used live chat for lead generation? If not, you have to change the situation right here, right now. Check out some tips on how to take advantage of this tool and drive lead gen efforts.
Support
No secret that an online help center has its perks. In this post, we're featuring 7 clear-cut knowledge base benefits you can't miss out on. Check them out and build a structured resource hub to your best advantage!