Think of the best customer service experience you ever had as a customer. If you really can recall one, you're in the lucky few. More often, customer service comes across as something routine and not at all memorable. You have a question, you get an answer and that's it.
Now, imagine you've reached out to some company's customer service and got the following answer: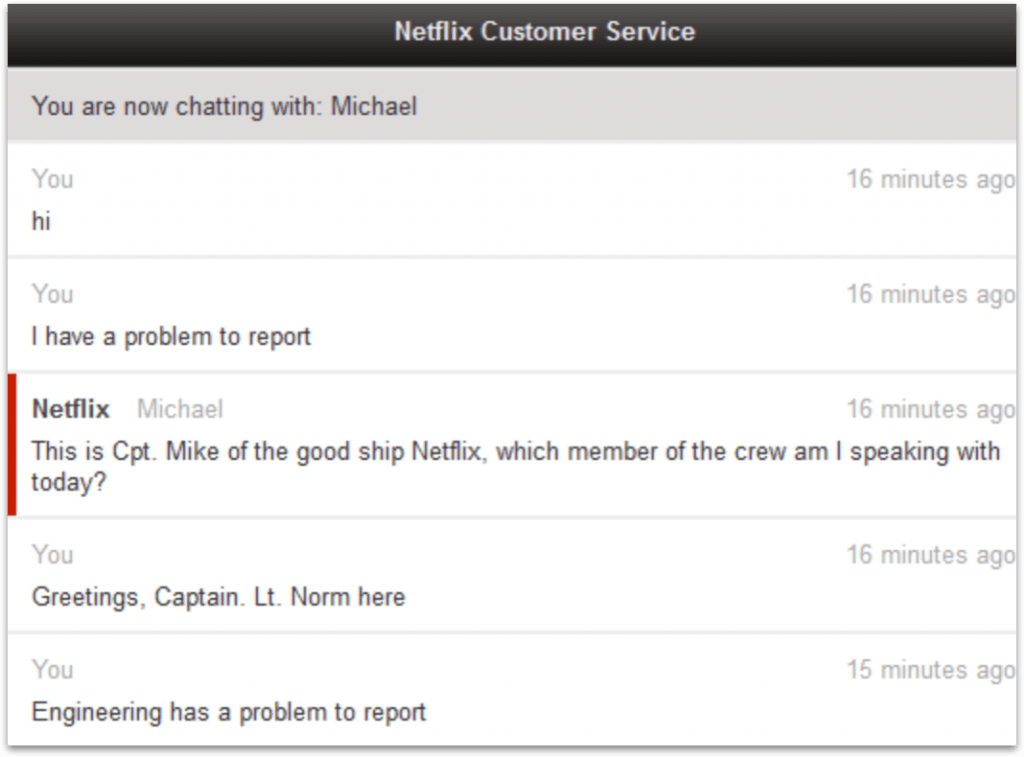 I bet you would remember this one.
Well, this conversation did actually happen when a live chat representative from Netflix and a big Star Trek fan decided to mix business with pleasure and talk to a customer as a character from his favorite movie. The story got popular on Reddit which led to a trip to Netflix headquarters, a TV interview, and a meeting with William Shatner, who played Captain Kirk in "Star Trek."
Really, how cool is this? A person working for a video streaming company takes on a persona from a movie and provides the most memorable live chat experience. "We really allow support agents to be themselves," Brent Wickens, Netflix's vice president of global customer support, told The Huffington Post.
Say what you will about Netflix, but the company is as customer oriented as it gets. They build their entire service on collecting customer preferences and personalizing your feed of movies and series as much as possible. And their customer service follows this philosophy, too.
I told you this story because I think it vividly illustrates how a creative, open customer service oriented culture can make a huge difference. If you put your customers at the head of the table, if you truly care about them before anything else, you can be sure you're in the right. Companies that do so are called customer oriented or customer service oriented and they benefit from such mindset big time.
So, let's talk more about what customer service orientation means and how you can adopt a customer service oriented mindset as a business.
What does 'customer service oriented' mean?
A customer service oriented culture means that a company focuses on its customers and their requirements and needs, values them over anything else and responds to them quickly and efficiently.
Isn't it always about customers, you might ask? Well, yes and no. While positive attitude and respect towards our clients is something we're all trying to do, most of the time our main focus is our own business. We think about attracting more leads, maximizing sales, upselling, and stuff. While these things are crucial, a company with a genuine customer-first approach will care about customers and their needs and only then about its own benefit.
In practice, it might mean that you won't upsell your products or won't encourage to upgrade a subscription if you don't think your customers will benefit from this. Sometimes, it even means letting them go if your solution is not the best for them.
I know that these things might shock you as a business owner or a team lead. We've been taught a completely opposite mindset – attract, convert, upsell, drive revenue, don't sweat it. I'm not saying this is somehow a wrong strategy. What I'm saying is there's an alternative.
One of my favorite publications on this matter (which is just one page long, so why don't you check it?) divides customer service orientations into three proficiency levels. On the basic level, support representatives should be able to 'know the profiles of customers and respond to their requests in an informed, knowledgeable and polite manner.'
I mean it's what other companies might consider as perfect customer service right there, a true customer service oriented business will take as just a bare minimum. Something you do effortlessly without giving it a second thought.
On higher customer service orientation level, you actively cooperate with customers on resolving their issues and know all the ins and outs of a product/service. The highest level of customer orientation means engaging customers proactively and making the necessary changes to your company before problems even arise.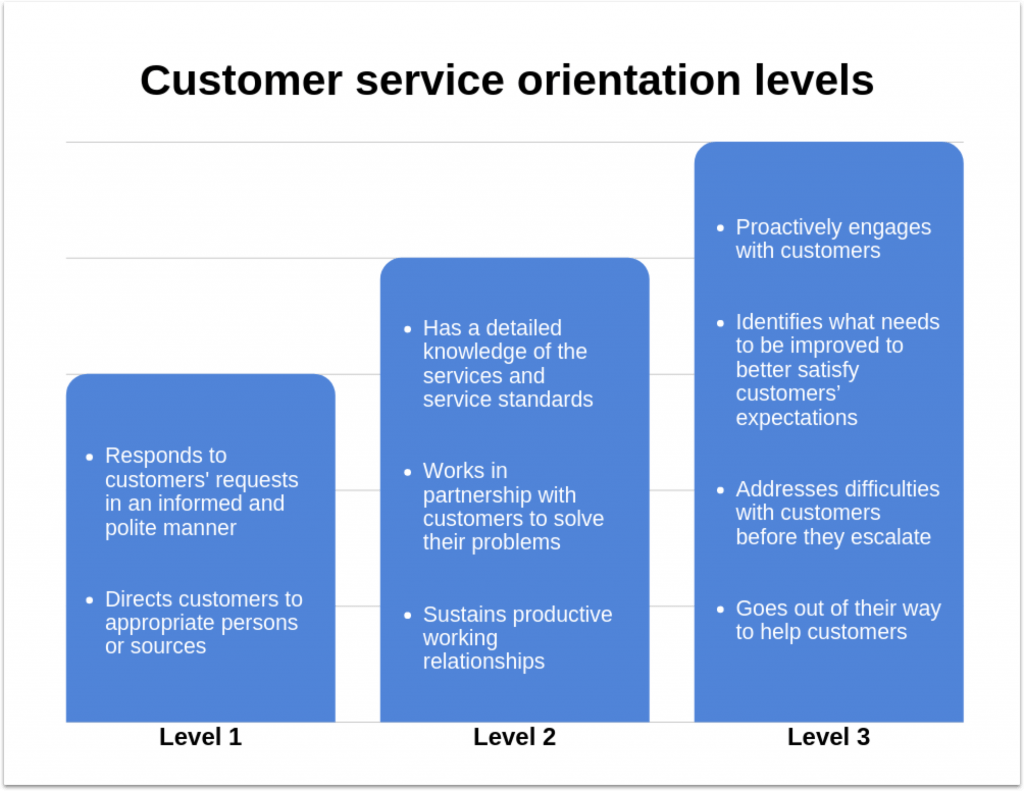 Why should you shift your focus to being customer service oriented?
Let me ask you one question before we proceed. What does customer service mean to you?
Earlier this year, we've published the article where CEO's and customer service representatives gave their best answers to this very question. One answer stuck with me:
Customer service to me means serving the customer and making sure they have good experience with your company at any single point. Not just from the customer service department but throughout the entire company from website's user interface and user experience to delivery man sending the goods to the customer.

Jun An, founder of Eezee.sg
What I want to emphasize with this quote is that customer service is not just how you answer your customers' emails or talk with them in live chat. Customer service should be consistent, distinct and embedded into your company's DNA.
You'll see very soon that concentrating on customer service and customers, in particular, is bringing great results:
1. More loyal customers
The thing is, people like being treated nicely. People like memorable experiences. And they like their problems and issues resolved quickly. A customer service oriented culture is exactly about this. Your team should be willing to build something more meaningful than just business-customer relationships.
Also, don't forget about the basics and technicalities of any high quality customer service – it should be fast and convenient. No friendly answer can save your face if a customer had to wait for it for too long. The best way to make sure everybody's happy and satisfied with your customer service is provide an omni-channel support with the main focus on live chat.

I don't mean to brag, but I can recall more than one cases when our customer success manager at HelpCrunch Konstantine struck up a friendship with our customer – he knows when they have a vacation, how they spent it and if they liked everything about it. The guy's just natural 🙂
When all is said and done, customer service is something that gives you an edge over the competition when nothing else does. You'll be surprised to see how many flaws your customers are willing to forgive and forget if you provide them with A-rate support. For instance, our customer satisfaction rate never drops below 95% – because we do care.

2. Word of mouth
Loyal customers are great just as they are, but they can also be extremely beneficial for your business.
If you ask marketers and business owners what marketing channel is the steadiest and most reliable, you won't hear about Facebook ads and Quora answers. Word of mouth is what everybody wants to master these days (and only a few really did). People trust recommendations from their friends and family more than the most creative ad in the world.
The tricky part is that you can't just launch a word of mouth marketing campaign, because it doesn't work like this. Genuine recommendations and endorsements are something only LOYAL customers are willing to do.
A great product is a good start (duh), but you can't achieve this level of loyalty without investing in a customer service oriented culture. Customer will recommend your company if they feel like it's a good reliable business, but you can only leave a lasting impression with your stellar customer service.
3. Lots of 4,5+ reviews
If you ever read reviews of anything, you've probably paid attention that most of them mention customer service in one way or another. It's just that good products are memorable, but good distinguishable customer service is something that sticks in the memory and often makes you leave that review in the first place. Exactly as in this whole Netflix situation.
Do I even need to mention that positive reviews impact your sales and revenue in the most direct way possible? 57% of customers won't use a business that has fewer than 4 stars, while are likely to spend 31% more on businesses that have excellent reviews.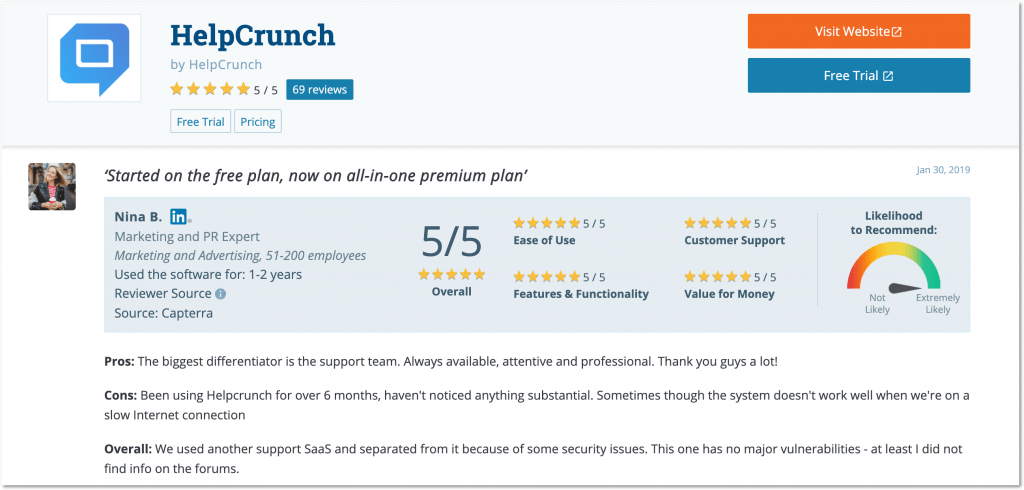 Customer service oriented companies don't just leave those reviews to the mercy of fate. They actively encourage customers to leave their thoughts and more often than not specifically ask for reviews. And that is totally okay. Because that's what customer service does – gives you a direct channel to communicate with people, help them, and get something in return, too.
How to adopt a customer service oriented culture at your company
Then again, I don't suggest you should completely forget about pricing, conversions, sales, and stuff. What I suggest is to do all these things but with customers and their needs in mind. At the end of the day, your goal is to help them and help them reach their goals, right? So here you have it – being customer service oriented should be natural.
Here are a few suggestions about how you as a company can become a little bit more customer service driven:
Look for people with customer service oriented skills
It looks kind of obvious, but in order to be customer service oriented you need to have people with very specific customer service oriented skills onboard. The funniest thing is that these skills have little to do with professional training or qualification, they are rather personal qualities and understanding of human psychology.
Top 5 skills you should be looking for in every customer service representative are as follows:
Empathy – for feeling people's mood and being able to show genuine compassion;
Active listening – for resolving conflicts fast and to everybody's benefit;
Attentiveness – for paying attention and noticing even the smallest details in order to address issues in the most effective way;
Proactivity – for addressing issues before they even arise or escalate;
Patience – for both having a thick skin about unsatisfied or rude customers and being able to get to the bottom of every issue.
All in all, a customer service oriented person is someone able to listen, ask all the right questions, clarifying everything that's unclear, and respond to everything promptly. It's also crucial your employees have a deep knowledge of your product or service.
CustomerThink even suggests that you should be looking for customer service oriented people not only for positions directly connected to customer service but for every position at your company.
Hire service-oriented people, not only for the front-line positions, but for every position within the company. Front-line employees will not be able to compensate for decisions made elsewhere within the organization, that are not in the clients' best interests. Who you hire within your organization will be the single most important factor in determining whether or not you successfully achieve a service culture.
What I'm trying to say here is that you need to let your customer service representatives just be themselves and show their best qualities in their work. Being friendly and open towards your customers is the first and foremost foundation of customer orientation if you ask me. I've always preferred an informal approach to seriousness, jokes and goofiness to business tone. Honestly, I would choose to speak to Captain Mike of the good ship Netflix any day of the week.
I know this is rather subjective and I don't recommend overdoing it, especially with really frustrated customers. But adding a pitch of informality, a bit of genuine interest – and you'll build a long-term relationship with anyone who's ever contacted your customer service team.
Just let your people build stronger connections with clients and encourage creativity in every aspect.
Create a customer service oriented philosophy at your company
A customer service philosophy is a set of values that you as a business share with your employees and encourage them to share with customers. It's how you work with people and it's how you want your business to be perceived by them.
If you want your company to be customer service oriented it's better to make sure that everyone knows it's your focus. To be on the same page, you need to create this system of values and preach it on every corner.
This philosophy should be implemented from top to bottom and start with a business owner, manager or team lead. Yes, it's great practical training to talk to customers on your own and be aware of what's going on in your customer service first-hand.
Give them the most powerful tools
People are a crucial part of the whole customer service orientation success. But they can't do much without powerful reliable tools that make communication with customers easy and seamless.
Live chats and emails are preferred by an overwhelming majority of people, so that's where your customer service focus should be.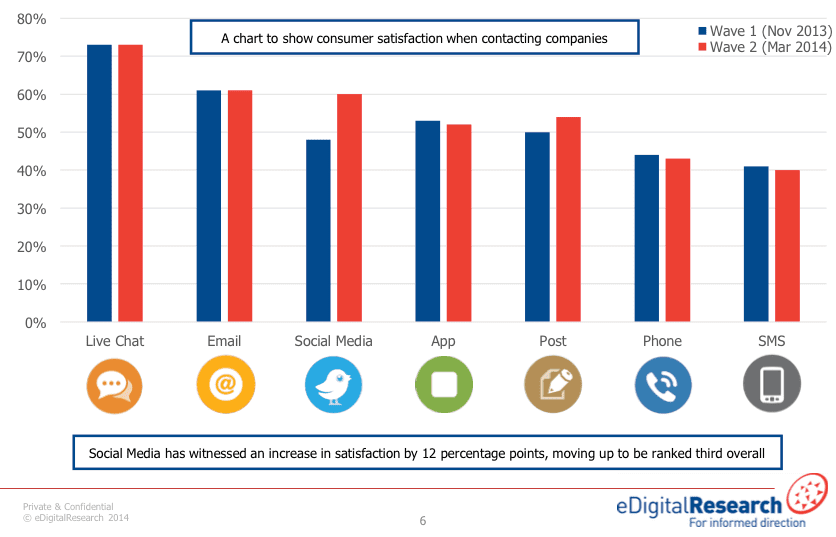 With an all-in-one tool like HelpCrunch, you can handle both from one dashboard. Its live chat is easily integrated with any website or app and you can set up a shared inbox for all incoming emails and chats. This is the most effective way to keep and manage everything in one place and always stay in touch with customers.
The most important thing about all this is that HelpCrunch allows you not only support customers as a true customer-oriented company, but to handle all communication with customers (including email marketing campaigns, in-app messenger, etc).
Engage and help customers proactively
The highest level of customer service orientation is to not only help customers when they need it, but be ahead of the others and help them before they ask.
This may sound like some kind of voodoo magic at first glance, but a true customer service oriented team knows their customers better than they know themselves. They know exactly what should be changed about their product or services in order to make clients happier and more satisfied.
For instance, HelpCrunch allows you to set up proactive campaigns that are based on certain behavior. If you feel like some part of your services/website/product might seem complicated or unclear, just shoot an automated chat message based on a current page, time spent on a page or whatever else you need.
This is what they call 'proactivity' and it's the major league of a customer service oriented culture.
Final words
I know that half of the stuff from this article might come across as obvious, while the other will seem totally counterintuitive. Duh, we all must love and deeply care about our customers, but does it mean we should completely forget about our own interests?
What I was trying to deliver is that a customer service oriented company lies somewhere on the intersection of people's interests and its own benefits. I'm convinced that genuine care and interest will never go unnoticed and will eventually pay off. So, why don't we try to shift our focus on customers, just for a day or two?
Read also
Customer service
Technological progress made every aspect of our life and work way more convenient. Customer service is no exception. Check these 6 hot customer service trends to jump on the hype train.
Customer service
Check these 7 elements of topnotch customer service management to make sure you're nailing it.
Customer service
Next time you feel frustrated at your job, just check these 12 all-too-familiar customer service memes and see that you're not alone.