What Does it Mean to Be 'Customer Service Oriented' and How to Make It Work?
Check out our article with some practical ways to become customer-oriented.

Think of the best customer experience you ever had as a client. If you really can recall one, you're in the lucky few. More often, customer service comes across as something routine and not at all memorable. You have a question, you get an answer and that's it.
Now, imagine you've reached out to some company's support team and got the following answer: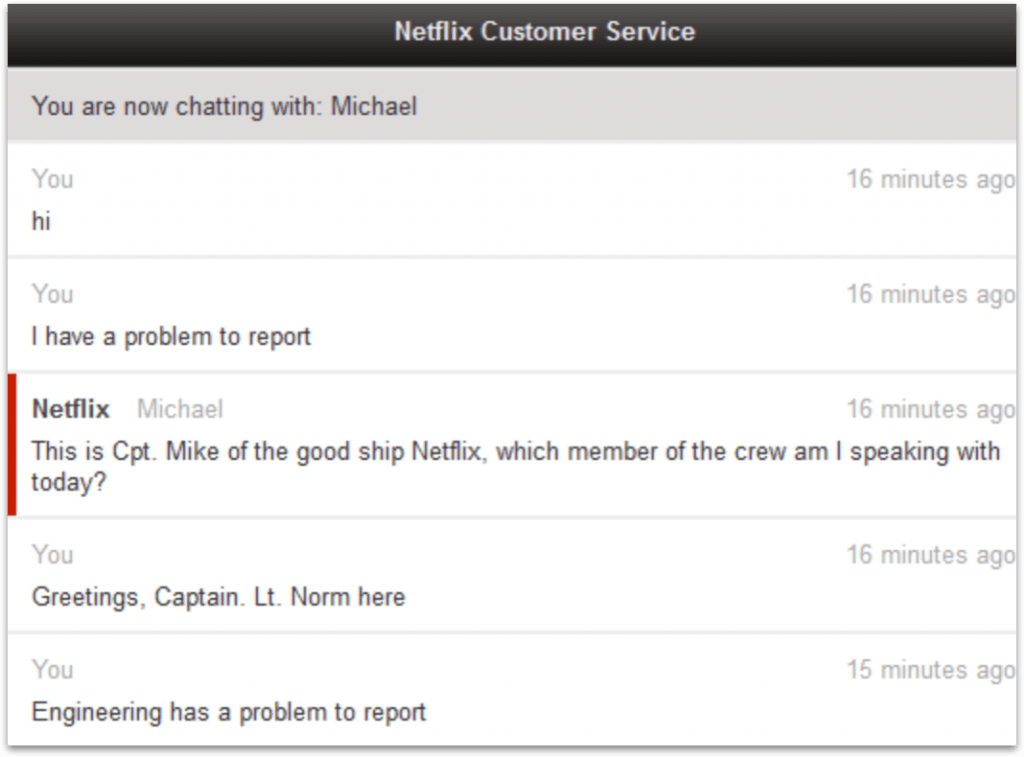 Well, this conversation did actually happen when a support representative from Netflix, and a big Star Trek fan decided to mix business with pleasure and talk to a customer as a character from his favorite movie. The story got popular on Reddit which led to a trip to Netflix headquarters, a TV interview, and a meeting with William Shatner, who played Captain Kirk in "Star Trek."
Really, how cool is this? A person working for a video streaming company takes on a character from a movie and provides the most memorable live chat experience. "We really allow support agents to be themselves," Brent Wickens, Netflix's vice president of global customer support, told The Huffington Post.
Say what you will about Netflix, but the company is as customer oriented as it gets. They build their entire service on collecting customer preferences and personalizing your feed of movies and series as much as possible.
This and other examples of customer service orientation vividly illustrate how a creative and open culture can make a huge difference. If you put your customers at the head of the table, you can be sure you're in the right.
Companies that do so are called customer-oriented or customer service oriented.
So, if you are looking for tried and tested customer service solutions, this post will be of use to you. Let's talk more about what customer service orientation means and how you can navigate your way to a customer service oriented attitude.
What does 'customer service oriented' mean?
A customer service oriented culture means that a company focuses on its current and future customers, their requirements, and needs. It values them over anything else, and responds to them quickly and efficiently.
While a positive attitude and respect towards our clients is something we're all trying to do, most of the time our main focus is our own business. We think about attracting more leads, maximizing sales, upselling, and stuff. With these things being crucial, a company with a genuine customer-first approach will care about customers and their needs and only then about its own benefit.
In practice, it might mean that you won't upsell your high-quality products or won't encourage a customer to upgrade a subscription if you don't think they will benefit from this. Sometimes, it even means letting users go if your solution is not the best for them.
I know that these things might shock you as a business owner or a team lead. We got used to completely opposite ideas – attract, convert, upsell, drive revenue, don't sweat it. I'm not saying this is somehow a wrong business strategy. What I'm saying is there's an alternative.
Customer service orientation can be divided into three proficiency levels. On the basic level, support representatives should be able to 'know the profiles of customers and respond to their requests in an informed, knowledgeable, and polite manner.'
I mean it's what other companies might consider a true customer service oriented business. Something you do effortlessly without giving it a second thought.
On a higher customer service orientation level, you actively cooperate with users to resolve their issues. The highest level of customer orientation stands for engaging people proactively and making the necessary changes to your company before problems even arise.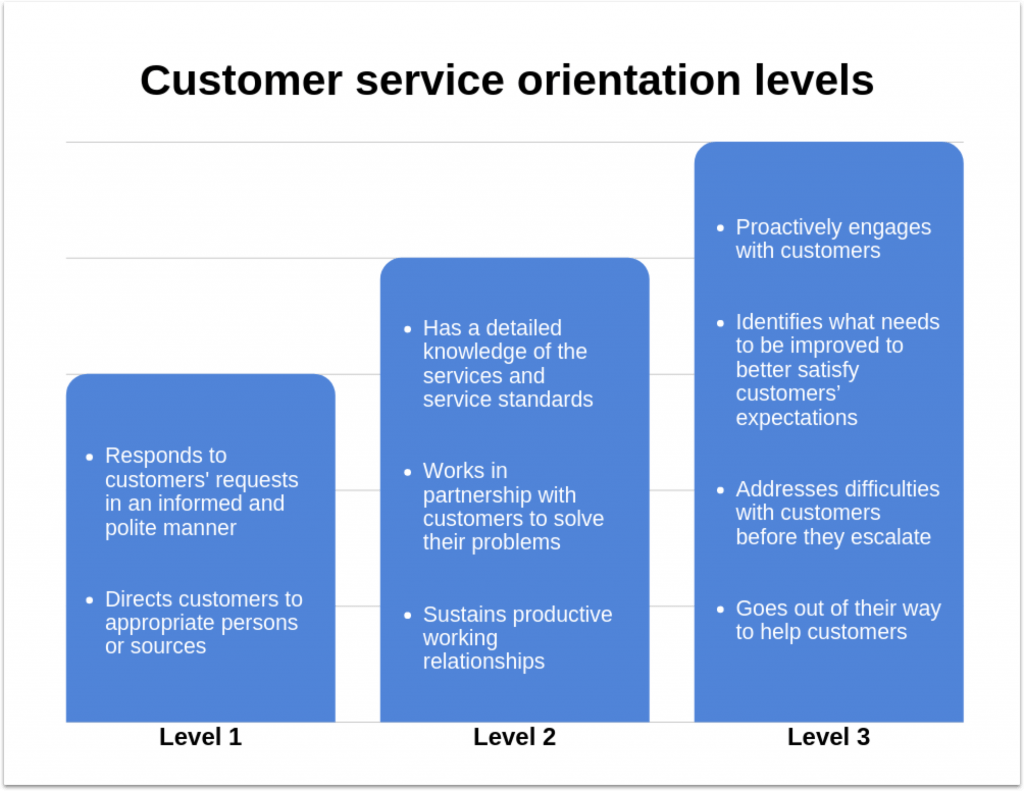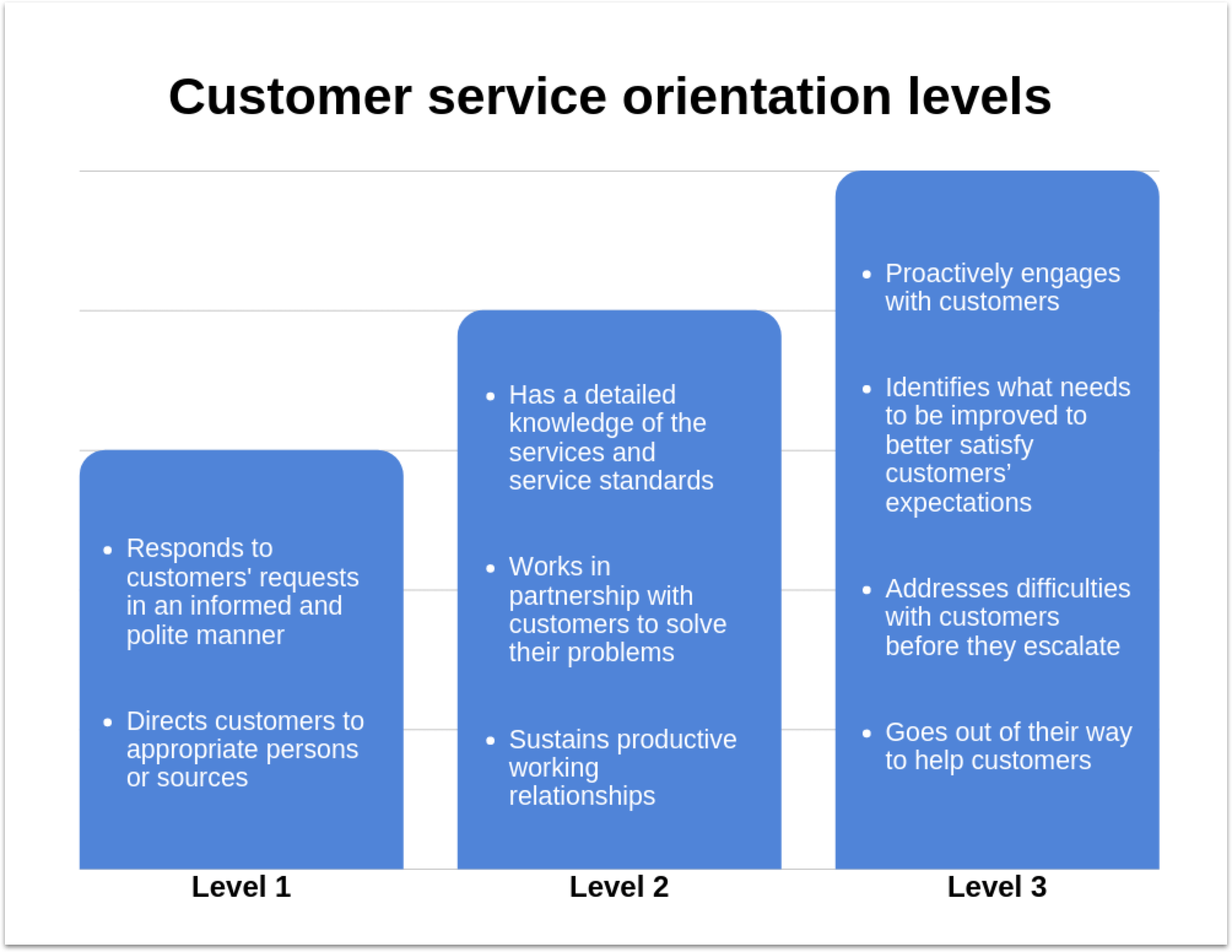 Why is customer service orientation important?
A customer-oriented approach can go a long way than just boosting client satisfaction. When a company provides an A-rated service, high customer retention rates are around the corner. In fact, 58% of customers will switch to a competitor after one negative experience. No one wants to deal with poor customer service.
Moreover, a frustrated client can leave bad customer feedback, scaring off other potential buyers. However, customer-oriented businesses have a high chance of turning users into loyal clients by treating them as a priority.
Therefore, it's not rocket science that brands that center around their customers are more profitable. The happier a client is with a company, the more they tend to purchase. When you know what your clients are or aren't satisfied with, goal-oriented improvements can be achieved.
Think over your customer complaints and questions, and provide them with their sought-after information as quickly as possible: you'll see that a happy customer will convert in no time.
Why should you shift your focus to being customer service oriented?
Earlier, we published an article where CEOs and support representatives gave their best answers to this very question. One answer stuck with me:
Customer service is serving the customer and making sure they have appropriate experience with your company at any single point. Not just from the customer service department but throughout the entire company from the website's user interface and user experience to the delivery man sending the goods to the customer.
Jun An, founder of Eezee.sg
What I want to emphasize with this quote is that customer service teams are not just about answering their customers' emails or talking with users via live chat. It's about being consistent, distinct, and embedded into your company's DNA.
You'll see very soon that concentrating on clients in particular is bringing great results in the customer service challenges of the future:
1. More loyal customers
The thing is people like nice treatment. They like to acquire memorable experiences. And they want their problems and issues resolved quickly. A customer-oriented culture is exactly about this. Your team should be willing to build something more meaningful than just business-customer relationships.
Also, don't forget about the basics and technicalities of any customer service – it should be fast and convenient. No friendly answer can save your face if response times are too long. The best way to make customers happy is to provide different communication channels for support with the main focus on live chat.
I can recall many cases when our customer success managers at HelpCrunch struck up a friendship with our customers. He knows when they have a vacation, how they spend it, and if they like everything about it. The guy's just natural?
When all is said and done, customer service is something that gives you an edge over the competition. It might come as a surprise to you how many flaws your customers are willing to forgive if you provide them with A-rated support. For instance, our customer satisfaction rate never drops below 95% – because we do care.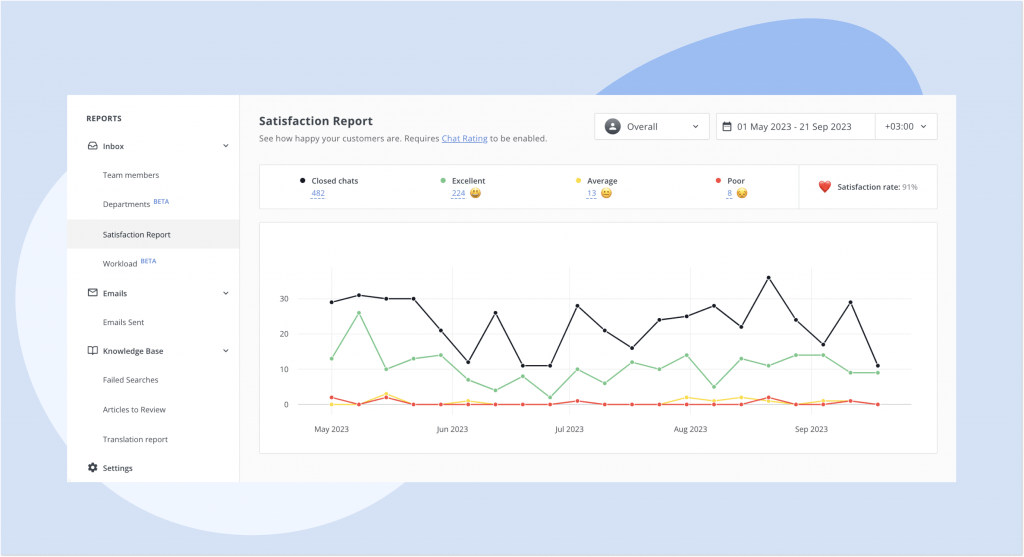 2. Word of mouth
Loyal customers are great just as they are, but they can also be extremely beneficial for your business.
If you ask marketers and business owners what marketing channel is the steadiest and most reliable, you won't hear about Facebook ads and Quora answers. Word of mouth is what everybody wants to master these days (and only a few really did). People trust recommendations from their friends and family more than the most creative ad in the world.
The tricky part is that you can't just launch a word-of-mouth marketing campaign, because it doesn't work like this. Genuine recommendations and endorsements are something only LOYAL customers are willing to do.
A great product is a good start, but you can't achieve this level of loyalty without investing in a customer service oriented culture. Customers will recommend your company if it's a good reliable business, but you can only leave a lasting impression with your excellent customer service.
3. Lots of 4,5+ reviews
If you ever read reviews of anything, you've probably noticed that most of them mention customer service in one way or another. It's just that good products are catchy, but good distinguishable assistance is something that sticks in the memory. Exactly as in this whole Netflix situation.
Do I even need to mention that positive customer service experience and good reviews impact your sales and revenue in the most direct way possible? 57% of customers won't use a business that has fewer than 4 stars. At the same time they are likely to spend 31% more on businesses that have excellent reviews.
Customer service oriented companies don't just leave those reviews to the mercy of fate. They actively encourage customers to leave their thoughts more often than not specifically ask for reviews. And that is totally okay.
How to become a customer oriented person?
As you probably guessed, being customer service-oriented means helping people regardless of challenges along the way. But in order to assist clients, there's a point in starting with yourself and cultivating a certain frame of mind.
First and foremost, define the set of values you promise to your customers. If done right, you'll get customer loyalty in return. What's more, a well-versed team that is passionate about what they are doing is also indispensable here. Invite customer-friendly people to work together, invest in their training, and help them develop their soft skills.
Empathy, communication, and problem-solving abilities should be the key traits for a customer support agent. It's required at a company's every stage, from product development to sales and support. If a client feels understood, they feel valued and will stick around. Plus, listen to what customers are saying. This can be achieved by surveying or collecting clients' comments. And this data will be helpful in fine-tuning your products or services according to customer expectations.
How to adopt a customer service oriented culture at your company
Then again, I don't suggest you should completely forget about pricing, conversions, sales, and stuff. What I suggest is to do all these things but with customers and their needs in mind. At the end of the day, your goal is to help them reach their goals, right? So there you have it – customer service oriented behavior should be natural.
Here are a few suggestions about how you as a company can become a little bit more customer service driven:
Hire people with customer service oriented skills
It looks kind of obvious, but in order to be customer service oriented you need to have customer service professionals, people with very specific skills onboard. The funniest thing is that these skills have little to do with professional training, they are rather personal qualities.
The top 5 skills you should be looking for in a customer-oriented person are as follows:
Empathy – for feeling people's mood and being able to show genuine compassion;
Active listening – for resolving conflicts fast and to everybody's benefit;
Attentiveness – for paying attention to even the smallest details in order to address issues in the most effective way;
Proactivity – for addressing issues before they even arise or escalate;
Patience – for both having a thick skin about unsatisfied or rude customers and being able to get to the bottom of every issue.
All in all, a customer service oriented person is someone able to listen, ask all the right questions, clarify everything that's unclear, and respond to everything promptly. It's also crucial your employees have a deep knowledge of your product or service.
Look for customer service oriented people not only for positions directly connected to front-line positions but for every position at your company. Front-line employees will not be able to compensate for decisions made elsewhere within the organization that are not in the client's best interests. Who you hire will be the single most important factor in determining whether you can successfully achieve a service culture.
You need to let your customer service representatives just be themselves and show their best qualities in their work. Being friendly and open towards your customers is the first and foremost foundation of customer orientation. It's always a great idea to rely on customer service golden rules and keep that fine balance in interactions with clients. Honestly, I would choose to speak to Captain Mike of Netflix any day of the week.
I know this is rather subjective and I don't recommend overdoing it, especially with really frustrated customers. But by adding a pitch of informality and a bit of genuine interest, you'll build a long-term relationship with anyone who's ever contacted your customer support team.
Just let your people build stronger connections with clients and encourage creativity in every aspect.
Create a customer service oriented philosophy at your company
A customer service philosophy is a set of values that you as a business share with your employees and encourage them to share with customers. It's how you work with people, and it's how you want your business to look.
If you want your company to be customer service oriented, it's better to make sure that everyone knows it's your focus. To be on the same page with clients, you need to create this system of values and preach it on every corner.
This philosophy should be implemented from top to bottom and start with a business owner, manager, or team lead. Yes, it's great practical training to talk to customers on your own and be aware of what's going on.
Provide colleagues with the most powerful tools
People are a crucial part of the whole customer service orientation success. But they can't do much without powerful tools that make communication with customers easy and seamless.
Live chats and emails are preferred by an overwhelming majority of people, so that's where your exceptional customer service focus should be.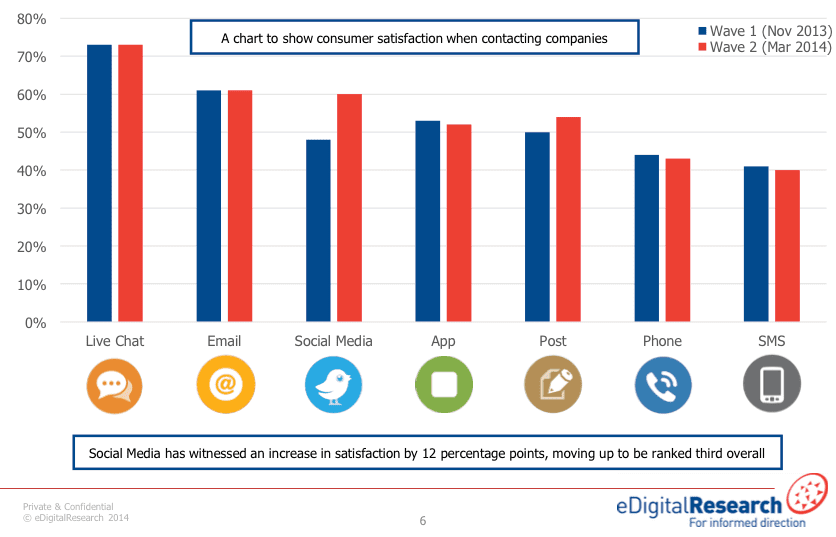 For instance, with an all-in-one tool like HelpCrunch, you can handle both from one dashboard. Its live chat is easily integrated with any website or app, and you can set up a shared inbox for all incoming emails and chats. This is the most effective way to keep and manage everything in one place and always stay in touch with every potential and current customer.
HelpCrunch allows you not only to support users as a truly customer-oriented company but also to handle all communication with customers (including chatbots, email marketing campaigns, in-app messenger, etc).
Engage customers proactively
The highest level of customer service orientation is to not only help customers when they need it but also be ahead of others and assist them before they ask.
A true customer service oriented team knows their customers better than they know themselves. They know exactly what should be changed about their product or services in order to make clients happier and more satisfied.
For instance, you can set up proactive auto messages that are based on certain behaviors in HelpCrunch. If you feel like some part of your service might seem complicated or unclear, just shoot an automated chat message relying on such triggers as a current page URL, time spent on the page, or whatever else you need. This is what 'proactivity' entails and it's the major league of a customer service oriented culture.
Final words
I know that half of the stuff from this article might come across as obvious, while the other will seem totally counterintuitive. We all must love and deeply care about our customers, but should we completely forget about our own interests? Of course not.
A customer service oriented company is somewhere at the intersection of people's interests and its own benefits. Genuine care and interest will never go unnoticed and will eventually pay off. To become a customer service-oriented person, put yourself in your client's shoes, develop soft skills, and go for cutting-edge software.
So, why don't we try to shift our focus on customers, just for a day or two? Create an account with HelpCrunch, make avail of its handy tools, and let your customers know your company is always there to help them.