7 Commonly Accepted Customer Service Standards to Live Up To
Find out what customer service standards are there and how to measure them to be sure you make everything right.

These questions might pop up in your head from time to time:
What is good customer service?
How can I be sure that my team has the necessary tools?
Are there rules to follow to be the best in client interaction?
Ready with the answers? Hold that thought.
Being involved in customer service and everything that comes with it, you should know that the sky's the limit. It isn't enough to be just good. The more you hone practice and invest in business development, the better you and your service become.
It's time to go ahead with your answers. One fact that bunches them together is the customer service standards you have to meet and exceed to ensure the clients get what they wish for. That's the agenda for today.
What are customer service standards?
Customer service standards refer to the performance a client can expect from a service rep during their interaction. It can be everything from next-day delivery to chats, or calls answered within 20 sec. The overall result acts as evidence of the fact that customers' expectations are met to the full extent.
You might ask why you need to even think of service standards and what the impact is. Your business' success directly depends on them. And lots of people are influenced by them, too:
Clients with a clear idea of what they want
Prospects who just came across your product or service
Your staff knows what standards they should follow
Managers who can measure the progress
If you aim at keeping the bar high and constantly working on the standards of service, the chances are you can build greater customer intimacy. Everyone is at an advantage here: clients who feel appreciated and a brand that anticipates clients' needs and caters to them.
Odd as it may sound, service standard doesn't stand for just a personal ideal viewpoint of your work. There are official policies and documentation that help you define whether you meet all the standards for your country. You can find them on the European Commission website.
According to this body, standards for services can help Europe's service providers and their customers by raising the quality of the services provided. This can be in terms of safety or improved communication between a service provider and its customer. Service standards can also give consumers and clients more confidence, reduce costs, and open up markets for businesses. – EN Service Standards
7 customer service standards to meet
What are the customer service standards building blocks? Fast replies to customer inquiries, friendliness, and flawless expertise are in my TOP 3. But this list is way longer. Let's dive in.
Quality

Yes, quality is one of THE standards of service that are worth gold. You're bound to end up on the bench without proper quality assurance and estimation. And this is probably the worst-case scenario.

Providing exceptional service makes clients satisfied, which can result in referrals and recommendations. And that leads to higher profits. This is the exact message John Boccuzzi Jr. shares with the TED audience: 

"Customer experience isn't necessarily about the product or service that you offer. It's about how you make someone feel during the buying journey and frankly after the purchase has been made"

Anyway, how to realize your customer service is of high quality? There are dozens of ways and hacks. You can start small. Have your team discuss burning cases (and hear client feedback), focus on the entire customer journey, build your approach based on data, and invest in a win-win customer service tool.   

But I think you can also rely on big data. The metrics customer support teams can use to measure quality are: 

– SERVQUAL: this is a set of questions you can ask to see if customer expectations align with the service you deliver. Take a look at the SERVQUAL questionnaire example here.

– Customer satisfaction scores (CSAT): how a client feels after the interaction with a service rep. Calculate CSAT based on the replies you get from post-service surveys where you scale the experience from good to bad.

– Social media performance: the number of customers that give positive mentions about your business on social media. You should aim at 100% good comments. 


Speed 

I wouldn't surprise you with this, but still: a quick response means a lot to people these days. The faster you answer client queries, the more convenient your service is for them.

Clients demand speed. 33% of clients would recommend a company that provides a fast first response. Even if it didn't resolve the issue, consumers prefer their queries to be processed as quickly as possible.

One study showed that the average response time to respond to customer service requests is 12 hours and 10 minutes. That's too long! And it varies. For instance, the optimal response time for emails should be 15 mins or less, for social media – within 60 mins, and for live chat – 2 minutes. 



By the way, a customer communication channel goes a long way here. If you want to bolster customer satisfaction and make clients happier, give live chat software a shot. The research has found that the fastest response time for this channel is only 7 seconds. Imagine how you can streamline your customer service processes just by installing this powerful tool. 

Metric to measure speed:

Time to resolution (TTR): keep track of speed and measure the average time that it takes a customer service rep to handle a ticket. For that, use the time to resolution metric. 

What is "good" TTR? You might want to keep that average duration before an issue is handled to a minimum. But the best customer service standard example will be your own reports. Review the TTR, and if possible, look at different slices of that data. For instance, what is the TTR for clients who are on trial? How about your largest clients compared to your smallest?
Efficiency

Just like speed, efficiency is one of those service standards you should comply with to be top-of-the-list. Think of it from this perspective: does your support team operate with a sense of urgency or just wear out the time?

Here is another hunch: do you have a shrink in profits because of wasting money, energy, and other resources? Your answers will be directly connected to how efficient your customer service is.

To find the golden path, bear these metrics in mind:

– Answers per ticket: have you ever calculated the number of answers your customer service representatives need to resolve a ticket? Well, you should, as it shows the efforts your reps undertake to make the interaction flawless. The customer service standard here might be zero because you need to solve the issue right away. However, the value may vary from industry to industry.

– Average occupancy: the average time your team deals with a consumer. The time when they take care of a client after the conversation has ended matters, too. It's hard to say what occupancy rate you should look up to, as it's different. The call center customer service industry standard is 83% of calls in half a working day, 80% of chats in 20 min, and 100% of messages in 24 hours for email.

– Underperformance: the number of tickets received and opened compared to the number of those resolved. If it's rising, your team isn't big enough, and, apparently, you need to invite more experts. The service standard is that at least half of the tickets are processed by the end of the day (you'd better break even though). For that, grow your team and delegate authority wisely.
Accuracy

Picture a situation. A client comes with a technical question and wants answers in the finest detail. A customer support rep goes above and beyond to get it over with: asks fellow developers, flicks through a company's knowledge base, googles at the very least, and makes it FAST.

Eureka! The answer is sent. But the client comes back again, saying something like: "Hey! You assisted me wrong! This feature still doesn't work!". Your move?

On the one hand, fast isn't always lifesaving. Accuracy and expertise are standards in customer service that clients expect from you first off. On the other hand, however, a slow but correct answer might give you some customer loyalty.

Metric to measure accuracy:

Customer success ratio: the number of clients who got lucky and left with an answer, compared to that of clients who didn't. No matter how incredible your service is, you might get the latter. Only this metric tells you how often and under which circumstances. You can identify what "customer success" is, the numbers will then be added. A higher rate means successful clients.
Honesty

Honesty is the standard of customer service that is all about trust. It helps eliminate any anxieties your clients might have about the value of your offer. By telling the truth about your products and services, including their possible glitches, you prove that there's nothing to hide.

Ways to measure honesty and trust:

Check website traffic: the number of visitors on your website over some period of time is a perfect indicator of how they treat and deal with your brand. An excellent tool for that is Google Analytics. Log into your account. From the drop-down menu, choose Audience, Behavior, and New vs Returning. You can also choose the time period here to make the stats more precise.

Monitor the share of voice (SOV): see if there's a buzz around your business (mentions in social media, comments on your blog, etc.). It's precisely the way you can find out what potential customers think of you as a brand. Check out the tools to measure SOV.

Check brand search volume: keep track of traffic that comes to your website via branded keywords from a search engine over a period of time. This is an amazing option for monitoring your brand awareness (this is the next stop). Google Analytics is probably the most convenient tool for that.

Brand (consumer) awareness ratio: always have a finger on the pulse and measure brand (consumer) awareness ratio.

One of the surefire ways to get to the bottom here is through surveys and polls. For instance, include a questionnaire in your next email newsletter. Add such questions as:

How have you heard of our service?
When was the last time you used the product?
How familiar are you with the brand?
How has your perception of our brand changed in the past [time period]?

Look at the perfect example of Survicate and its brand awareness survey questions to measure customer feedback and honesty: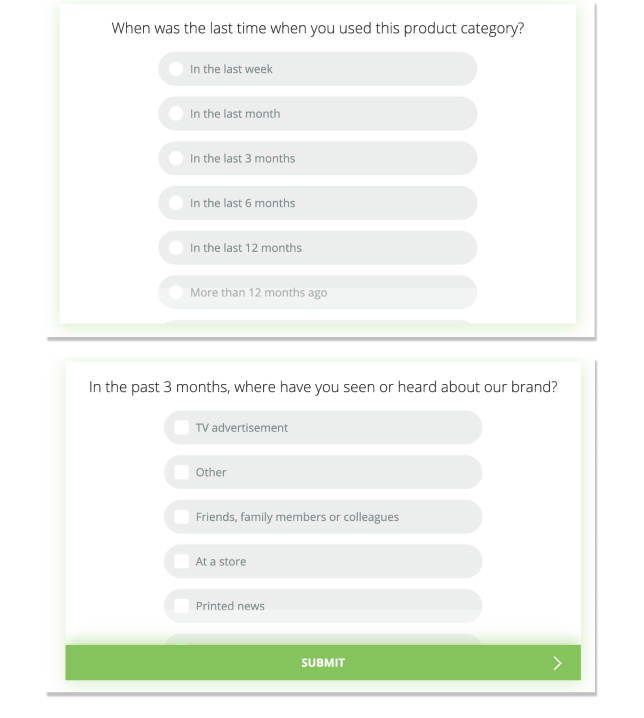 Availability

Here is my story that perfectly fits that matter. I am all but certain you've experienced situations like this surfing the net and looking for the contact info of your service provider or bank.

The second one is my case.

Being a bank client, I had trouble finding a "Contact Us" button or any relevant link to get in touch on the bank's website. It was scarcely in sight.

Once I succeeded, I was twitchy, ready to write a long complaint about the bank's horrible experience and switch to their competitor.

The bottom line: of all customer service industry standards being as accessible for your clients as possible should be front and center.

This is actually the case when proactive customer service might be of use. I'll be there for you song should become your motto if you want to nail it. That is, reach out to a client before they get irritated.

How to check whether you cope with availability? Follow my lead:

Escalation tickets: the number of tickets that can't be resolved in the first place and should be escalated. Divide the number of escalated tickets by the total number of issues. Your goal is zero, of course.

Number of bounces: the number of clients who leave during waiting. All it takes is waiting on hold for one minute, and almost 60% of external customers will hang up or close the chat. Keep the waiting time to a minimum (30 min max) and have enough reps on the line if you want to reduce customer churn.

Customer effort score (CES): CES is a type of customer satisfaction survey aimed at measuring client experience. It helps find out how much effort a client has to exert to get an issue resolved, a request fulfilled, a product purchased/returned, or a question answered. Reducing CES increases repurchase rates. Ask clients on a scale from 1-10. The average standard is 3 or lower.
Amiability

Do I even need to tell you that being nice is one of the primary standards for customer service? Sure, we all know that it's better to start a conversation with a simple Hello and, after that, jump to issue details.

A friendly tone helps you sound likable and credible. Too bad that you can't mirror the client's tone when chatting, though take a good note if you are a call center service rep. In live chat interactions, though, you can even use a little bit of humor. It won't go amiss.

All in all, people face your support or sales team first. Help your staff polish not only chat etiquette but also use metrics to see if their friendliness is no harm.

Metrics to measure amiability:

Follow-up survey: if you think that the job is done right after you hang up on a client or close the chat, it's not. Send a follow-up survey to get much input from the client and understand what can be improved. Ask different questions, like whether a service agent was friendly enough and if they are professional.

Net Promoter Score (NPS): it measures how likely a client can refer your brand to others. NPS is a (post service) survey, with a scale from 0-10. To calculate the NPS, take the percentage of Promoters (10 – 9) and subtract the percentage of Detractors (0 – 6). The excellent customer service standard examples here would be Tesla, with an NPS of 96, Netflix – 68, Amazon – 62, and Starbucks – 77.

Chat ratings: Let your clients rate what's done right after the interaction. Ask them if the assistance was friendly and include the classic scale, from 1 to 5, where 1 is perfect, and 5 is lame (though mind the cultural differences), or use emoticons. We at HelpCrunch use an in-built chat rating option that helps us draw conclusions and tweak the service accordingly.
Bottom line
Is your team up to scratch with the examples of customer service standards we covered today? Hopefully, we provided you with the food for thought so that you can mull them over.
Remember, though, that to build an ultimate customer experience, you have to pay attention to at least parts of these guidelines. If you think that speed is the most important value for you, don't shrug off amiability, too.
Give your support reps incentives to operate above the standards to deliver unprecedented service and a positive experience. Have all-around advanced software under your belt and equip the team with it. Sign up for HelpCrunch to do just that.