How to Create a Customer Intimacy Strategy in 8 Effective Steps
Customer intimacy isn't some fictional term. The proof is in the pudding: it's real and totally reachable. Have a look at 8 practical steps you might want to take to achieve it and win your client's favor right away.

What concepts do spring to your mind when it comes to building bridges with your customers? I'm all but certain you picture this: nice talks, smiley faces, and "Have a good day!" message tails. However, there's more to it.
Customers usually expect insightful relationships with brands. What is the basis for that? Trust is the clients' top-of-mind priority while dealing with businesses. But that sense of trust doesn't rise out of the blue. It comes with deep communications and an understanding of the customers' needs.
You might have heard the approach of putting your customer first. That is, walking in their shoes and meeting expectations so that they are satisfied. Well, this idea goes hand-in-hand with one more thing: customer intimacy.
Aligning your company with this concept might be time-consuming without knowing the drill. Read on to find out how to connect with your clients on a deeper level using a perfect strategy and turn them into your loyal brand advocates.
Customer Intimacy Definition, Explained
What is customer intimacy? Let's elaborate on it before we get down to bedrock.
Customer intimacy is a marketing strategy where the supplier of a product or a service wants to get closer to the customer to understand their needs and wants better.

MBA Skool Team
This concept is one of the three components in The Values Discipline Model described in the early 1990s by strategy experts Michael Treacy and Fred Wiersema. Those three elements are:
Operational Excellence: providing clients with reliable products and services at competitive prices. Such brands deliver a mixture of quality, price, and ease of purchase. Their operational processes are streamlined, standardized, and aimed at efficiency. Great examples here are McDonald's, IKEA, and Walmart.
Product Leadership: delivering fine-tuned products and services through innovation. Product leaders usually focus on invention, market exploitation, and constant development. Their culture is all about out-of-the-box thinking and result-driven. Apple, Nike, Microsoft, and Rolex are perfect candidates for a product leadership model.
Customer Intimacy: tailoring products and services to meet clients' needs to the best extent. A company that delivers value based on this concept also builds bonds with clients like those between good old friends. Customer intimate companies provide their stuff in a way that they can offer the "best total solution". Home Depot, Amazon, and Salesforce are among those organizations that show that level of understanding.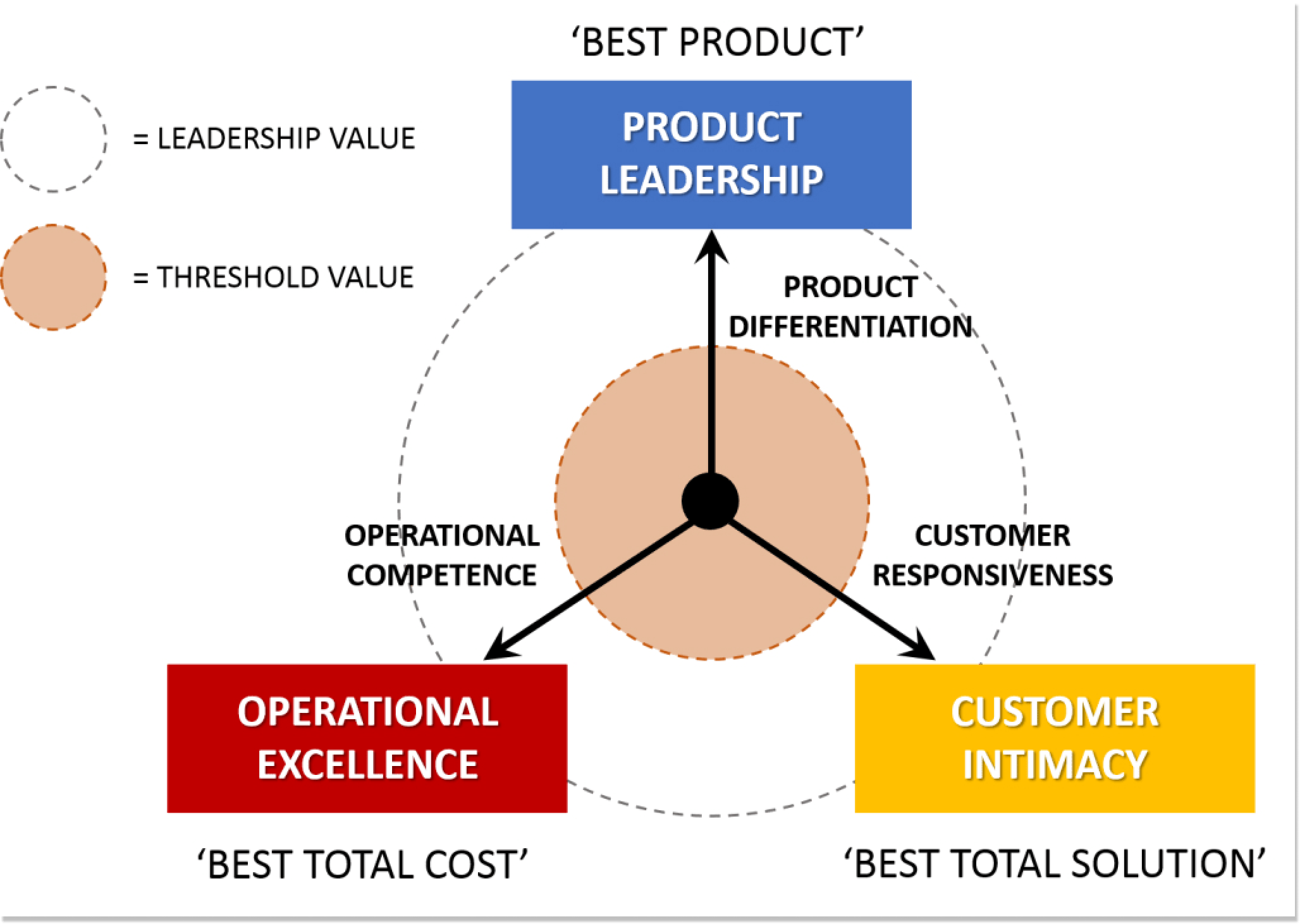 Is Customer Intimacy Important for You?
If you realize that your products are popular and budget-oriented, though your relationships with clients leave much to be desired, going all out on a customer intimacy model might be just the ticket. Ask yourself the following questions to be 100% sure:
Are you taking advantage of social media to boost your bottom line and get your message out there but keeping in touch with buyers isn't your cup of tea?
Is your data not helpful, though you have full access to it?
Do you think that impeccable customer service isn't enough for building a powerful brand?
Do your clients want a more comprehensive solution operating steadily instead of those working half the time?
Do you want to offer more value but don't know why?
Does everything come down to a single "YES"? Then you're ready to go with a customer intimacy strategy (and it's actually more than just nailing down customer satisfaction and retention).
How to Build a Customer Intimacy Strategy in 8 Steps
You might think that having conversations with clients is a no-brainer. Well, not a bit of it. To have long-lasting and deep customer relations that bring the positive word of mouth and feedback in the long run, you should follow a certain plan. Let's dive into the steps you should take to get it off the ground:
1. Be a customer-centric company
Have you ever thought about why you do your business? Because of your five-star products? It is only partially true. Your client base is what makes your brand thrive. The research shows that 60% of customer centric companies are more profitable as compared to brands that don't focus on their buyers.
No surprise that such companies as Amazon or Zappos exist with their clients at heart. For instance, organizing meetings to discuss each and every client got into the habit of Amazon, and Sephora in its turn uses artificial reality to create an unforgettable experience. Check out the "Sephora Virtual Artist" app: a product try-on option allows you to see how lipstick, shadows, or lips will look like with makeup on. This way, all of the guesswork is taken out.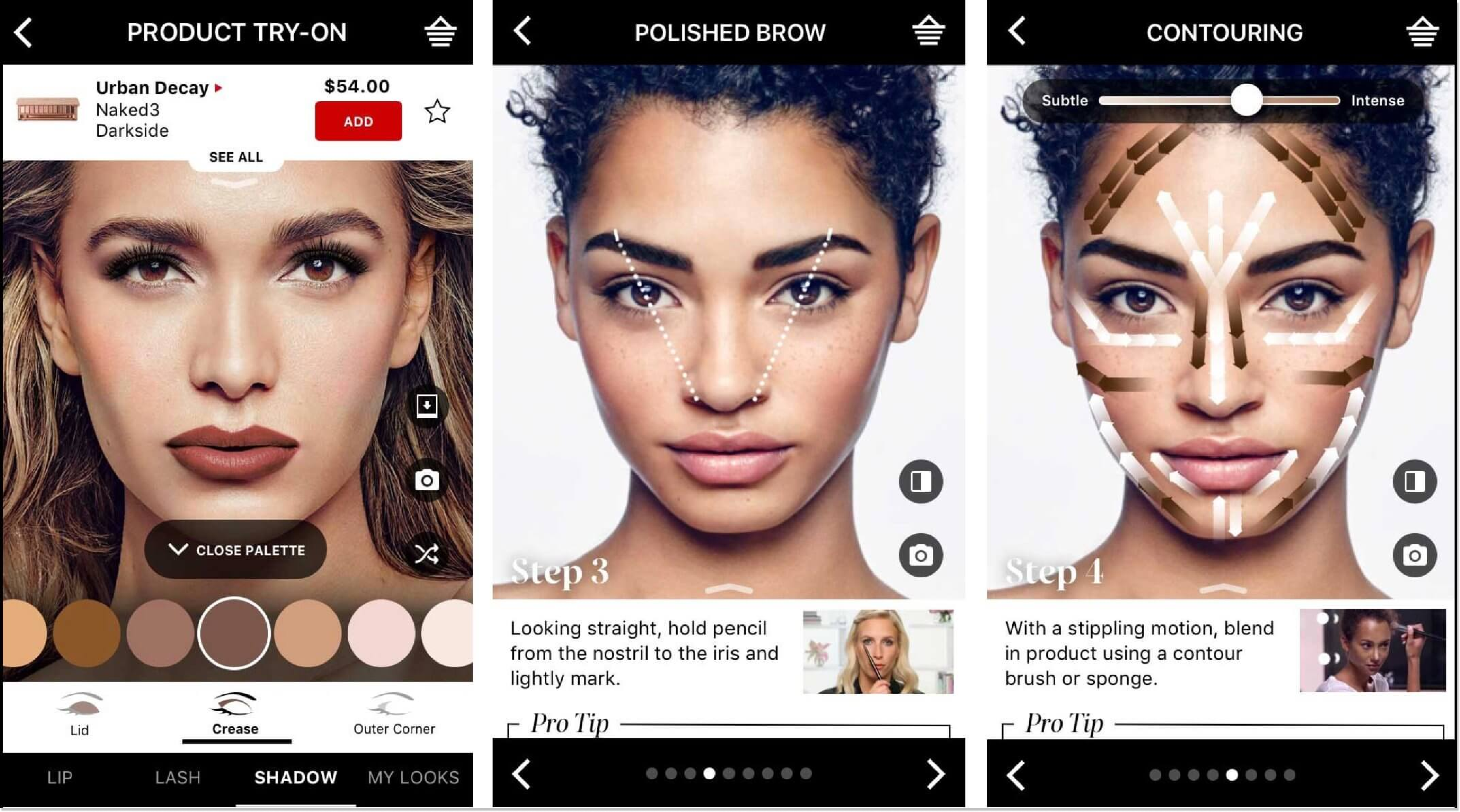 Honestly speaking, customer intimacy has no boundaries. Not to lose it, design your office space with your client's pics and testimonials, their success stories, or photos from your mutual events (don't forget to ask for permission). This is a perfect reminder of why and whom you run this business for.
2. Make yourself accessible
Maintaining customer intimacy means leaving the door open when people seek assistance. And not from time to time, but always. Besides, it's all about anticipating the hierarchy of needs and providing the solution as quickly as possible.
Speaking of, customer service is a game-changer here. If a potential client lands on your website, they want to be assisted timely and professionally. Without any unsolved issues. The most effective way to achieve this is by choosing an all-in-one customer communication tool that can bring new value and vision to clients.
Such companies as HelpCrunch help you hit the mark by offering integrated solutions. With their help, you can cater to the clients' demands in different ways. Do they want to talk in real time and 24/7? Take advantage of a powerful live chat. Do your customers prefer self-service rather than chatting with a real support rep? Go with an intuitive knowledge base. Whatever the case, make sure you're visible to your audience any time day and night so that they can receive their answers fast.
3. Leverage custom data
Customer intimacy isn't something you can leave to accident. Eventually, you'll need specific data to measure your clients' behavior and see all their pain points. Your every interaction should end with utilizing this information.
Many companies use custom data that involve most viewed pages or purchase history. This can uncover buying patterns, interests, user type, or a subscription plan. Create a plan for getting this kind of info and leverage it in your attempts to identify who your highest value clients are.
4. Try all-hands support
Without complete buy-in from your staff, it's impossible to achieve that connection with people. A big part of it is aligning your strategy with empathy. No matter if it's a CEO who addresses peoples' complaints or a VP of (insert a job position here), the overall involvement is worth gold. Everyone should be on board and lend a helping hand to clients when they need it.
Sure, you already have a skilled support team. So, have them educate your non-support staff. Arrange customer service training activities and workshops that will empower your coworkers to be proactive in what they do. All in all, showing the initiative is the first step to customer intimacy.
Get creative and discuss customer service scenarios all together so that your support team gets a bird-eye-view on tricky and offbeat cases. Explain how to behave with impatient, short-witted, or dissatisfied clients. Such companies like HelpCrunch have already made all-hands support their central focus. At the end of the day, shared practical knowledge is worthwhile when it comes to communicating with people from various backgrounds and with different tempers.
5. Offer lucrative customer policies
Try to do anything you can to let up on your clients. Free shipping, flexible return policies, or favorable deals: everything you can come up with is perfect. For instance, we at HelpCrunch are OK to give an extra trial period if they didn't manage to get to the bottom of the product in time. Such policies express your commitment and willingness to make advances.
There are a myriad of customer intimacy organizations out there. Check out the tweet about IKEA's return policy and the surprise they have for every client. Follow this example and the positive buzz about your brand will spread across the community.
6. Host special events
God bless modern technology. iMessages, Zoom, Skype, and counting. Their continuous development can work for your benefit. Whether you connect with people in an instant with a feature-packed communication tool or via a simple messenger, the bottom line remains unchanged.
A customer intimacy strategy implies finding a fair chance to reach out to clients. For that, coordinate and arrange online webinars to get to know your buyers better and express your support. These down-to-earth events are a great way to inform everyone of your recent product updates, collaborations, or news. Plus, this is your client's opportunity to meet the faces behind-the-scenes and ask questions. That's how we at HelpCrunch invited our users to the webinar: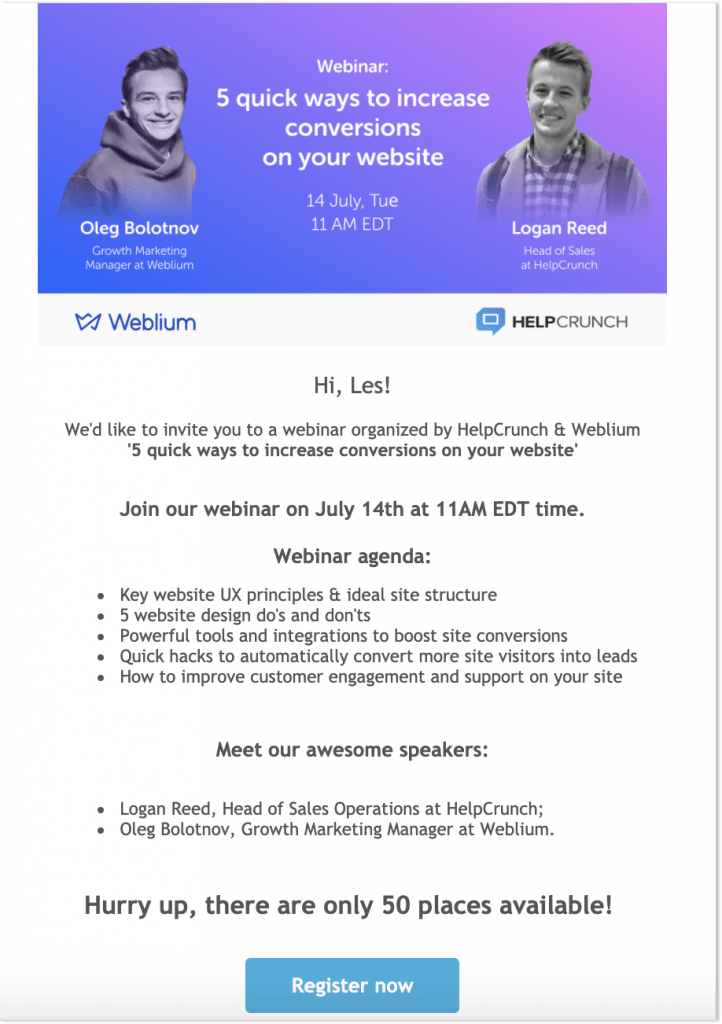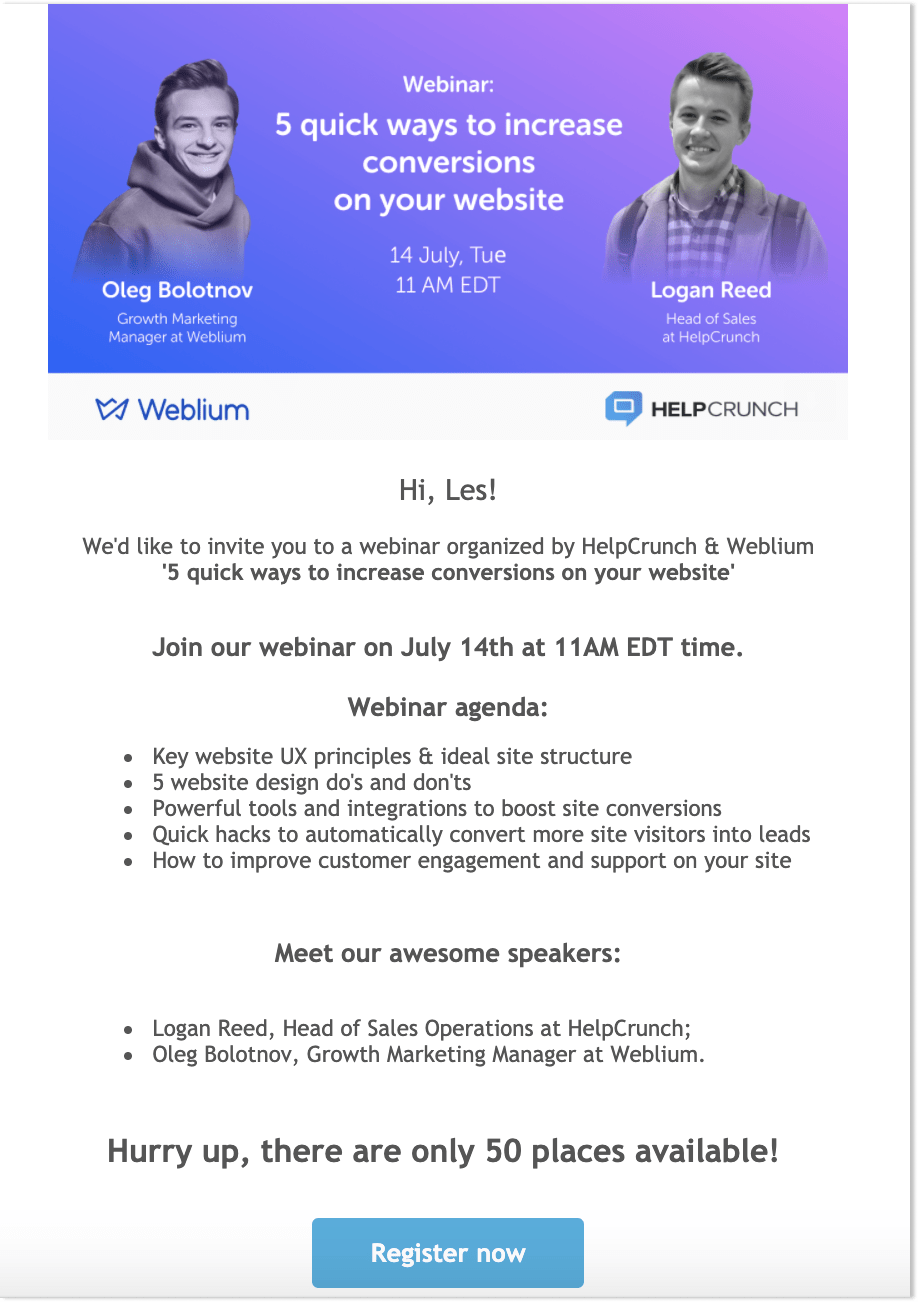 I would also recommend you to encourage your customers to take their friends along. Firstly, these could be potential clients. Secondly and lastly, word of mouth marketing is a powerful tool: 72% of people get news from friends and family. Our ideal case.
7. Lean on personalization
75% of clients expect companies to deliver personalized experiences and provide relevant suggestions. Your product is polished, so you can enjoy the result. Take it slow though as it's not enough. It's important for customer intimacy companies to ensure that everything you do lives up to your clients' expectations.
This is when your creativity and personalization hacks bubble over. For instance, Coca-Cola has created a brilliant campaign "Share a Coke" and printed names on the bottle labels. A spokesperson from Coca-Cola claimed: "This campaign taught us that personalization can only be highly engaging and effective if it can be shared with a wide audience." I would personally buy a coke with my name on it and share it on my social media. Isn't it genius?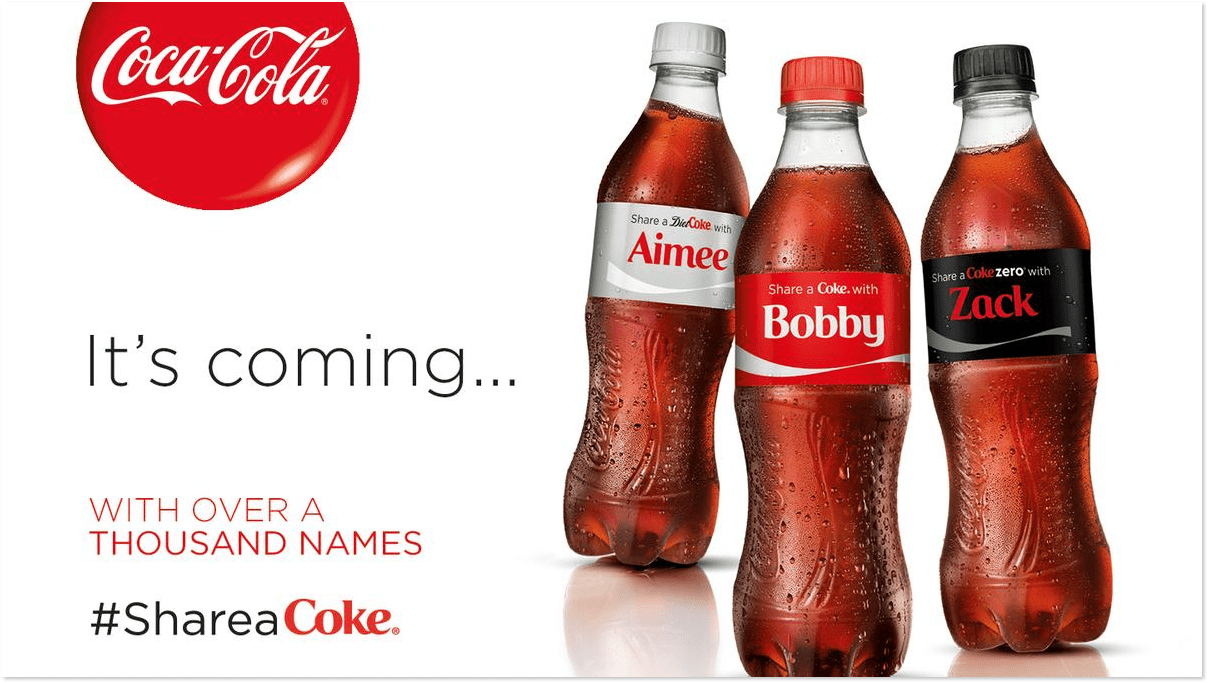 One of the customer intimacy examples here is also Amazon with its product recommendation engine which contributed to 30% of the eCommerce behemoth's revenue in 2015. Something tells me that this technique has evolved now and when you surf Amazon's website, you can't go empty-handed at all costs.
8. Adopt the "empty chair" technique
Your buyers can easily fall through the crack if you're in an online business and don't see them personally. In this case, customer intimacy dies, too. Why don't you try the "empty chair" technique? The credit here goes to Jeff Bezos who leaves the chair empty during important meetings.
You might have guessed that this trick symbolizes the most important person for any brand: the customer. The benefits of these techniques are ultimate:
New products and services are developed from the client's perspective.
Not requested and not popular features among your client base won't be put in.
A more unique value is going to be produced and delivered.
The "empty chair" technique is a great way to improve employee engagement and prove all your clients' interests are taken into account in strategic decisions. Plus, it prevents you from making wrong decisions that will hurt your customers (and their retention).
How can Customer Intimacy be Monitored?
Now that you're halfway to creating that special bond with your clients, let's have a closer look at how to measure your efforts. The three core metrics here are:
Customer churn: this one refers to how long a new client uses your product or service. If you're in a SaaS business, offer helpful client onboarding to reduce the churn rate. This way, you can spend more time with your clients and improve a customer intimacy approach.
Product adoption: it shows a particular interest of people to your product. If you have long-term and friendly relationships with them, you'll see the adoption of something new you create just out of loyalty.
Net promoter score: this metric requires you to find out how customers got to know about your product or service. For that, use various surveys and questionnaires (for instance, "How did you like the quality of our service?") and include a related question. Maybe, your client base will grow bigger this way.
Bottom Line
No matter what niche you're in, a deeper understanding of your clients' needs and pain points is essential. And that's what a customer intimacy model is all about. Prioritize the relationships with clients and uncover new approaches to engage them. Take my word for it: those companies who stay closely connected to their customers succeed.
Still having doubts about whether or not these strategies are the right move for your business? Let's cross a bridge when one comes to it: create an account with HelpCrunch, test the whole range of features, and take your customer communication to the next level.