Knowledge Management System: Benefits, Types, and Examples
Ever wondered how to keep all this information on your website neat and structured? Our guide on knowledge management systems is the real deal. Have a look! (some extra examples are attached, too).

What do you usually associate with a system? A clear mechanism, perfection, or precision (choose all that apply). In the business world, for that matter, a system is something a brand would strive for at any cost.
Here, a brand grasps at any straw so that its users receive more structured and meaningful information once they land on their websites. That is why they fall back on knowledge management tricks with all that implies.
What is this knowledge worth without a solid "engine"? Imagine your school years lesson-free, with no appropriate systematic approach at all. It's hard enough, I know. The same goes for businesses. Where would customers dig up information if it hadn't been for the brands' corporate libraries – knowledge management systems?
That's exactly what I am going to elaborate on today. Scroll down to discover all the basics on the topic. Fingers crossed you'll also find an example of a knowledge management system to your liking in this material 🤞🏻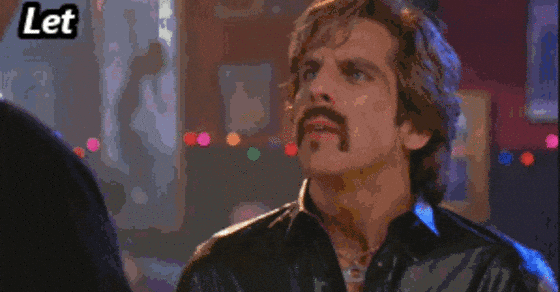 What is a knowledge management system?
A knowledge management system (KMS) is a platform that stores and retrieves information for better understanding, processing, and collaboration between various teams within a company. That is, instead of using multiple resources, such as the internal company's network, emails, or saved files, you can rely on one unified resource as the go-to hub for shared info.
Such a system allows you to keep different documentation, FAQs, presentations, videos, tutorials, audio files, and whatnot. What is its purpose in a broader sense? Helping people leverage knowledge to win a variety of tasks. Take it as a customer success proactive aspect: you can handle clients' queries in real time and refer to your database for adding more context.
If you have a decent platform for keeping all your company's expertise, it'll make finding and reusing relevant information and resources across your business a snap. This, in turn, can help you to:
Create better products and services
Improve profitability
Reuse existing skills
Increase operational efficiency and staff productivity
Recognize market trends early and stand out from the crowd
Leapfrog your competitors
Knowledge management system benefits
When done right, a knowledge management system can become a powerful resource for collaboration. I am talking both about users and employees. Users have all the chances to perfect customer self-service and collaborate with each other, while staff could streamline support in a company. So, here are the ultimate benefits:
More time-effective solution
No one has fun searching for information over and over again. When you know there's an opportunity to find what you or your users are looking for much faster, why reinvent the wheel? A well-oiled KMS can help in so many ways: your staff has documents and other valuable materials always at their fingertips, and customers don't waste precious time waiting for an agent.
Trouble-free staff training
Let's face it, you might have stressed over your onboarding routine at least once? To factor out such a state of mind, a good knowledge management system is what you need. If it's intuitive, an employee can get training materials in one central location without fuss and get into the swing of things quickly. Which makes a team lead as nervous as a brick wall.
Retained knowledge
Think back to that colleague of yours you used to drink coffee with during lunch breaks. They already left your company? See, nothing lasts forever. The same goes for knowledge. The stats say employees tend to switch jobs every three years, which means they will take everything they know with them. With a shared KMS, you can document the info and preserve it even if employees come and go.
Better customer experience
Expert staff usually leads to a better customer experience. When employees have quick access to a trusted hub of information, they can deal with many types of customers without effort. Clients, in their turn, can spend less time communicating with a service representative in live chat or via phone. Thanks to such positive experiences, customers will be more loyal and confident about your brand.
What are the types of knowledge management systems?
Before starting off this journey, you have to set clear goals. What's your main name of the game? Is it to serve clients or manage your own departments? Once you terminate this process, pull up your socks: here are the types of knowledge management systems to choose from.
Knowledge base
We are all pretty familiar with a time-honored knowledge base – a helpful, structured platform where you can store essential data for your customers and employees. That is, this information hub can be either external (for users) or internal (for staff).
For you to have a bird-eye-view on the matter, we explained all the ins and outs in this helpful video on our YouTube channel. Feel free to watch and comment! 🙌🏻
Knowledge bases provide an ample range of pluses, such as increased customer satisfaction and retention, reduced average time to resolve client issues, and more efficient service reps' work. They can be multi-tiered, multilingual, and even embedded into the chat widget for better DIY service (which is a common best practice nowadays, by the way).
FAQ content
Being the second most frequent type, FAQs pages are all about speed and efficiency. They help customers comb through the content and meet their needs quickly. A well-thought-out FAQ knowledge management system educates, informs, and guides a user through a website in an intuitive way.
Moreover, it drives internal pageviews to other valuable pages, covers a broad range of intent, and fuels blog creation by providing better context.
Though you have to tell the difference between an FAQ page and a simple knowledge base:
An FAQ page is usually designed for potential customers with rather straightforward questions, while a resource center is a hub with a steady set of questions.
While a knowledge base can store visuals, glossaries, and answers in a textual form, an FAQ page covers the main aspects of your brand in text only.
The FAQ page's and knowledge base's function differs, too. The former clarifies the basics about your product, and the latter is a tool that aims at reducing incoming tickets volume.
Look at how YouTube developed its FAQ page: two categories (for creators and viewers), lots of questions, a clear structure, digestible copy, though minimum visuals.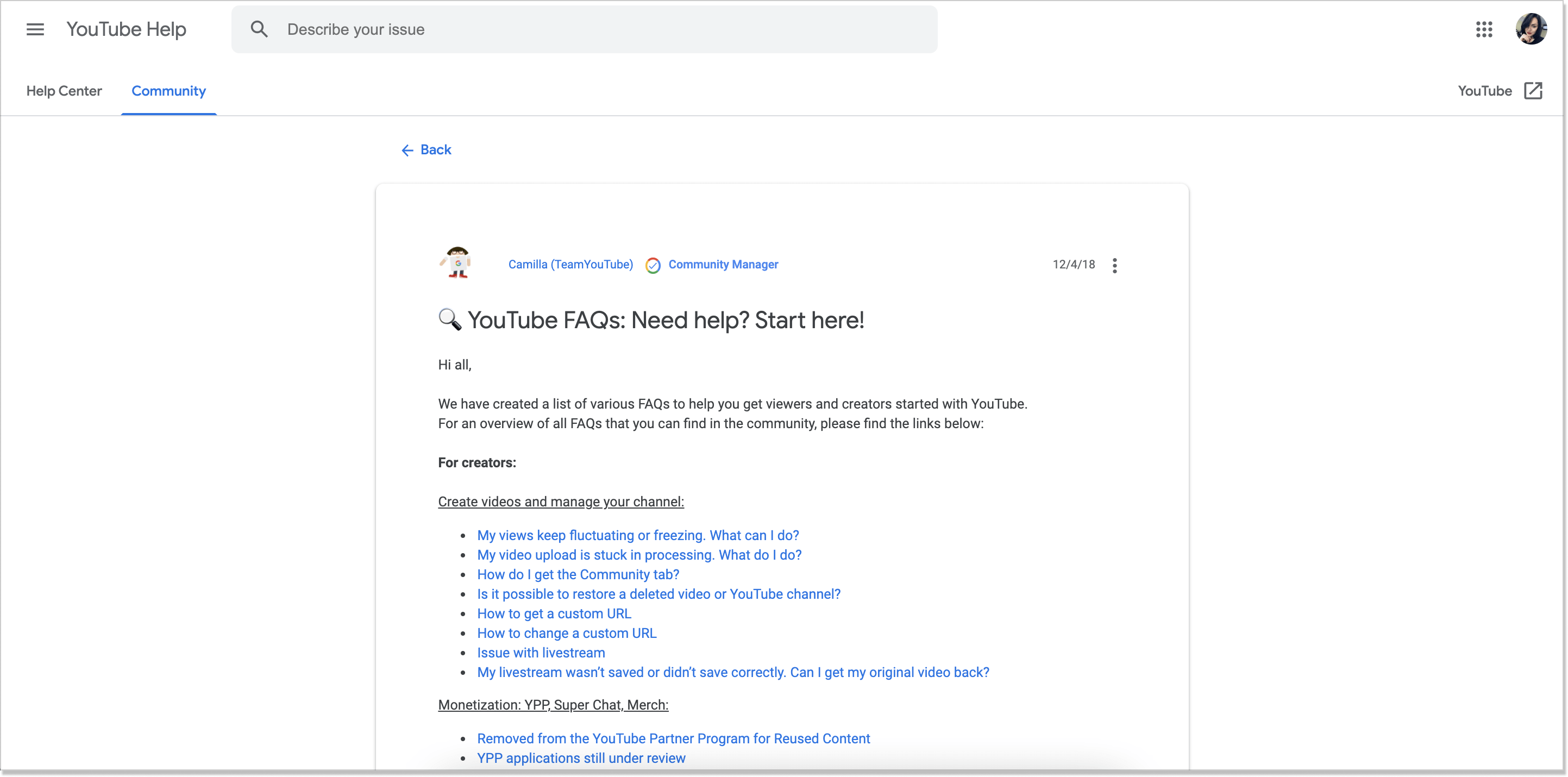 Wiki and forums
Here comes a more conversational knowledge management system. A wiki or an online community forum are usually websites where users with mutual interests can discuss topics, express their thoughts, or ask and answer each other's questions. In some cases, brands create an online forum for their customers or fans to network and provide peer-to-peer support.
Such resources keep users engaged and happier, generate content from brands' biggest advocates, help you carry out market research, and innovate on business' products based on user feedback. Take a look at the Airbnb community center: don't you get the feeling of a true blog?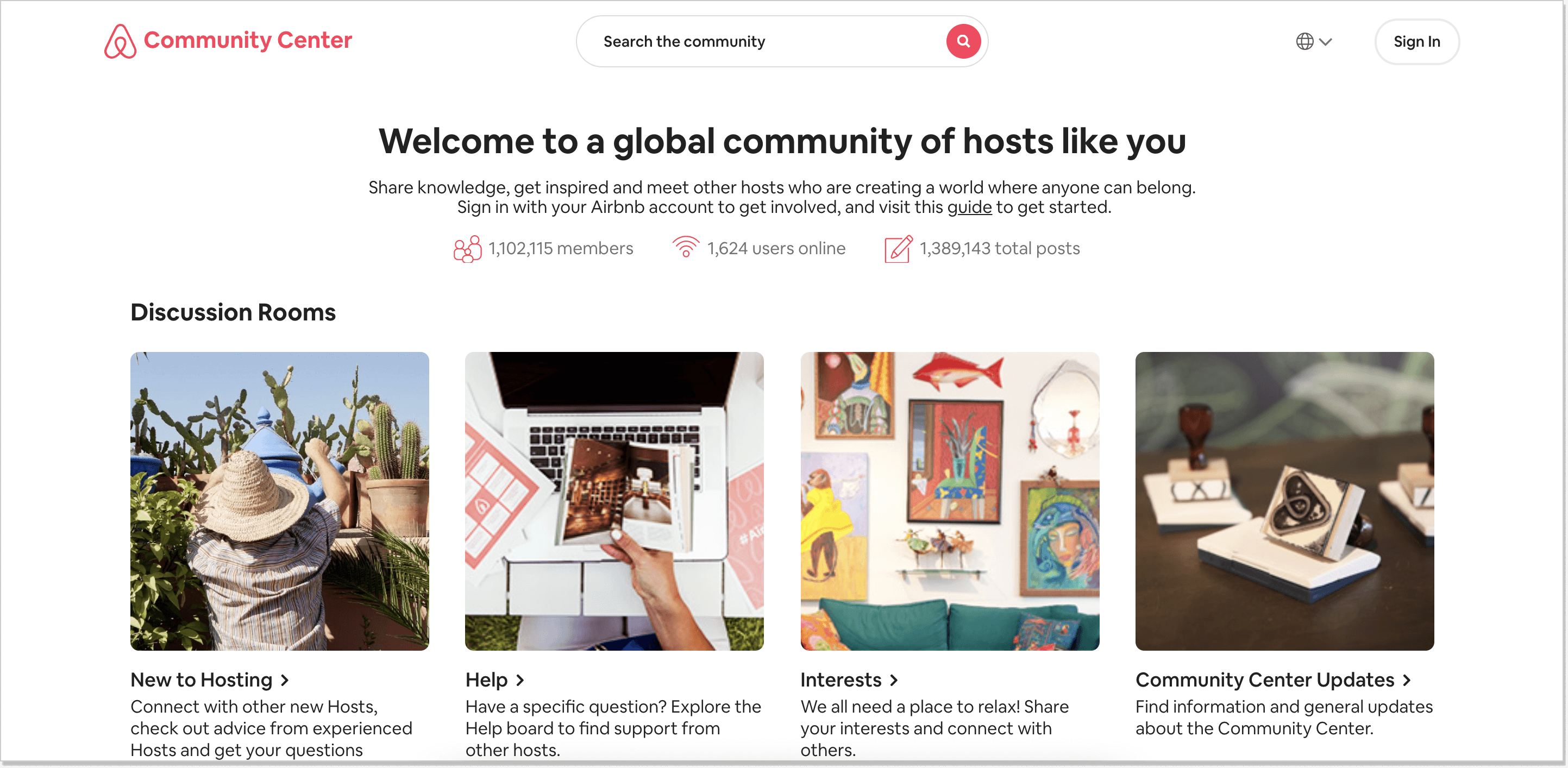 Case studies
When we talk about knowledge holding, what can be better than real-life customer success stories? They are yet another great source of wisdom that you can provide in a skillful way.
Interview your clients, write in-depth case studies on how they reached new heights with your company, and then showcase them on your website so that others can see what they might be missing out on. And don't forget to include some success story parts in your pitches for stakeholders and investors. It should do its magic.
Learning management systems (LMS)
As the name suggests, an LMS is a knowledge management system with a focus on storing, managing, and tracking engagement with learning and training materials. It usually lets employees access such troves from anywhere and on demand.
An LMS involves quizzes, tailored learning paths, course creation possibilities, to name a few. The benefits of an LMS are miscellaneous: upskilling staff, onboarding new hires, and holding employees up-to-date with the company's life.
How to develop a well-oiled knowledge management system?
I am going to provide you with a quick crash course on how to create an effective info database and keep your shirt on.
1. Decide on the data to store
The first step here is to know what knowledge you want to store. Research your audience, find out what their common problems are and what questions they usually ask while communicating with a support agent. Your action plan is to:
Comb through your help desk software and ticketing system to review tickets and get contextual insights;
Talk to your team and have them share ideas for knowledge management system articles;
Use some social listening tools to "eavesdrop" a little on what your customers say online (check some of them, like Sprout Social, Buzzsumo, or BrandMentions). To narrow down those talks, react proactively to their issues and address them in your database.
2. Organize the information
Informational hierarchy is always a good idea. Just like you organize a workspace on your desk, do the same with your resource center. Chunk articles into categories, build sections, identify the most frequently-used elements on the homepage (like the most popular articles and the search bar), add a feedback mechanism so you can measure the response to articles, and don't forget about visuals (images, videos, gifs, pics). Consider also interlinking in your articles so that customers could transfer to other pieces easily and with a proper context, just by clicking on a link from a text.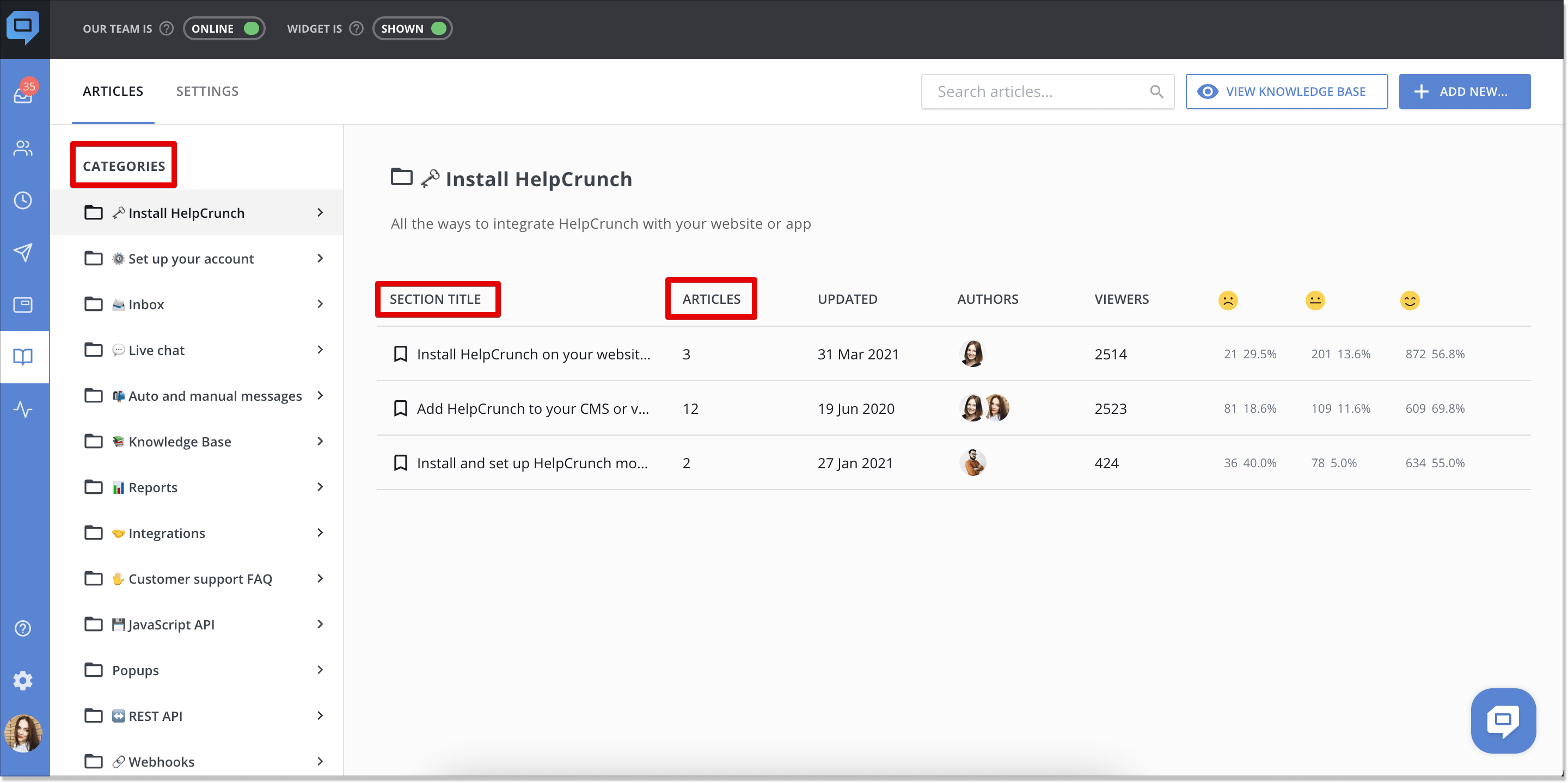 3. Analyze the data
Not every article will make a user clap their hands. So, how do you know what piece gains traction? One of the options is to look at some knowledge management system examples your competitors have and see how they monitor the success.
Some brands simply insert a feedback bar at the end of each article with a question "Was the article helpful? Yes or No". The same question might also be accompanied by emojis 🤩🙂😑 (or alike), instead of "yes" and "no". Though this feedback question may not help much, you can still determine a baseline and see which articles aren't very helpful. Set out to optimize those articles with better information.
4. Update your KMS gradually
Just because you've built a knowledge management system doesn't mean you can fold your arms. Constant development makes evergreen content a success among users. Never stop researching new topics, customer pain points, and stories to cover in your hub. Plus, keep close tabs on what issues your team fields day by day, things customers search for on your website, and possible roadblocks with your product.
4 knowledge management system examples to compare and adopt
Ta-da! We've finally made it to some outstanding knowledge management system examples that are definitely worth your attention. Go over them, inspire, and take a good note.
1. HelpCrunch
We at HelpCrunch don't cut corners when creating stuff. That is why the team crafted a knowledge management system suiting every taste. The HelpCrunch knowledge base is integrated into the chat widget, so digging up information is not torture anymore. No waiting time: just hit Search and sift through the help center without bouncing on other tabs.
But it's not its full potential just yet. A rich WYSIWYG text editor, SEO optimization, ability to build a house of information for self-service customers, article reports, and full customization: these are some goodies you can get. And this is the tip of an iceberg. In case you're interested, sign up for a free 14-day trial with HelpCrunch in a few clicks to test-drive it.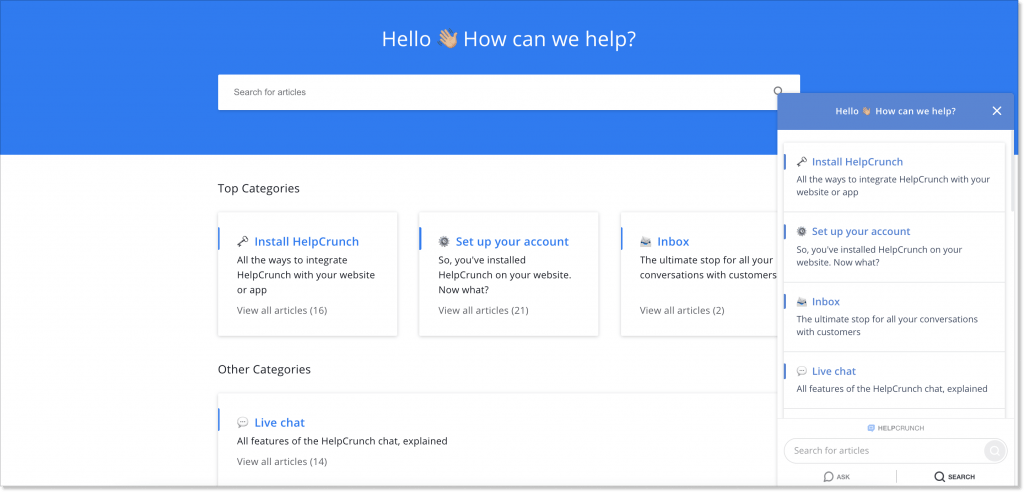 2. Google Analytics
This is probably the most "serious" option of all knowledge management systems we list here. It looks pretty much like that of YouTube with this drop-down menu and the overall well-defined structure.
The major Google Analytics punchline is, of course, its own predictive search engine. Just "describe your issue" by starting typing letters and the mechanism will show all the related materials where you can find answers. Besides, it depicts both help center reads and community forums.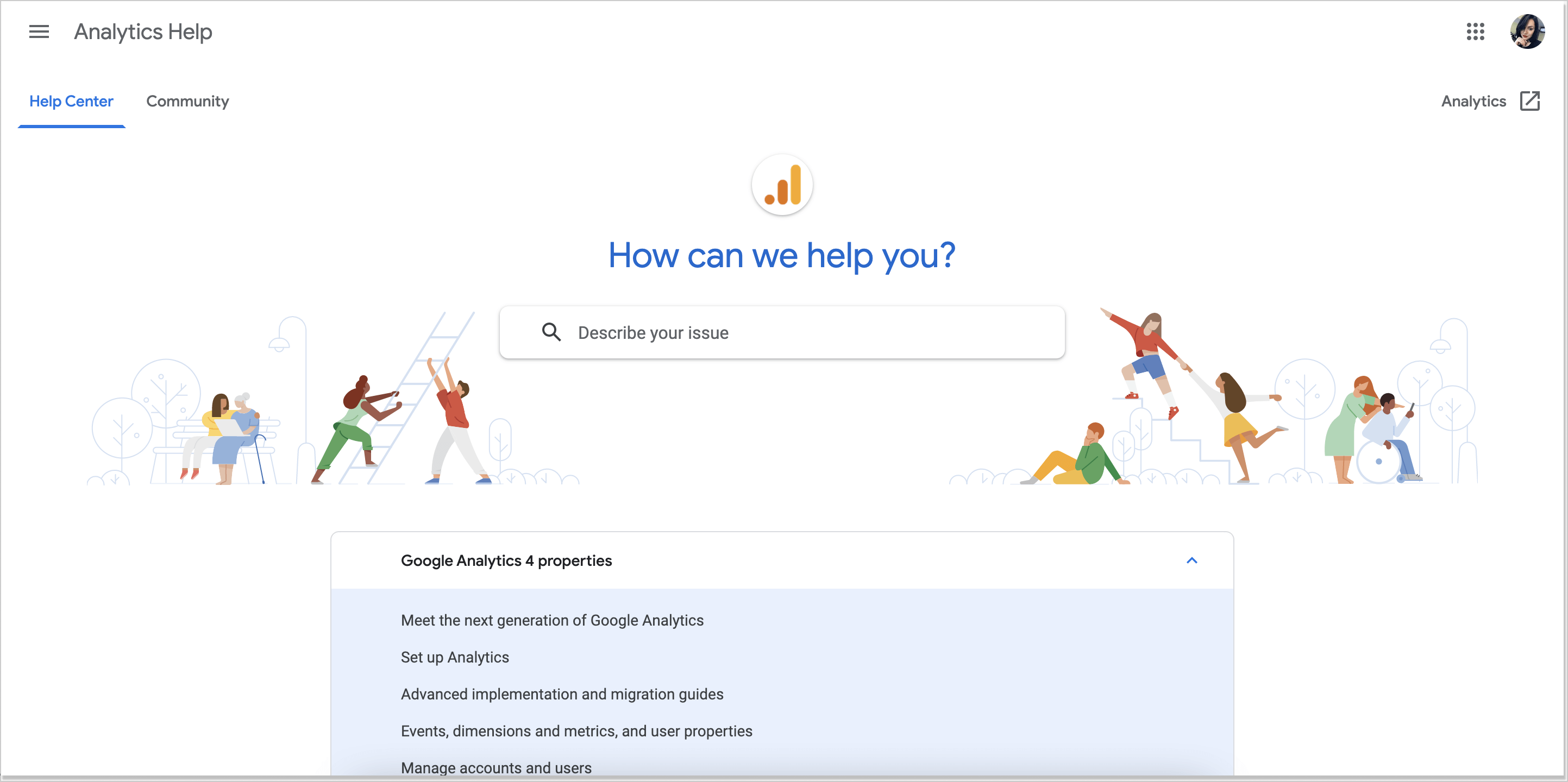 3. Canva
Of all knowledge management systems examples, this one is the most creative. And rightfully so! Being a graphic design platform, Canva clearly understands that customer interactions with its product and website are central to its overall success.
Its resource hub is bright, easy to navigate, and intuitive. Like its similar counterparts, Canva has smart search capabilities, Top Articles section, and a minimalistic design. Speaking of, this example does lack some visuals. So, get ready to read plain texts dotted with links.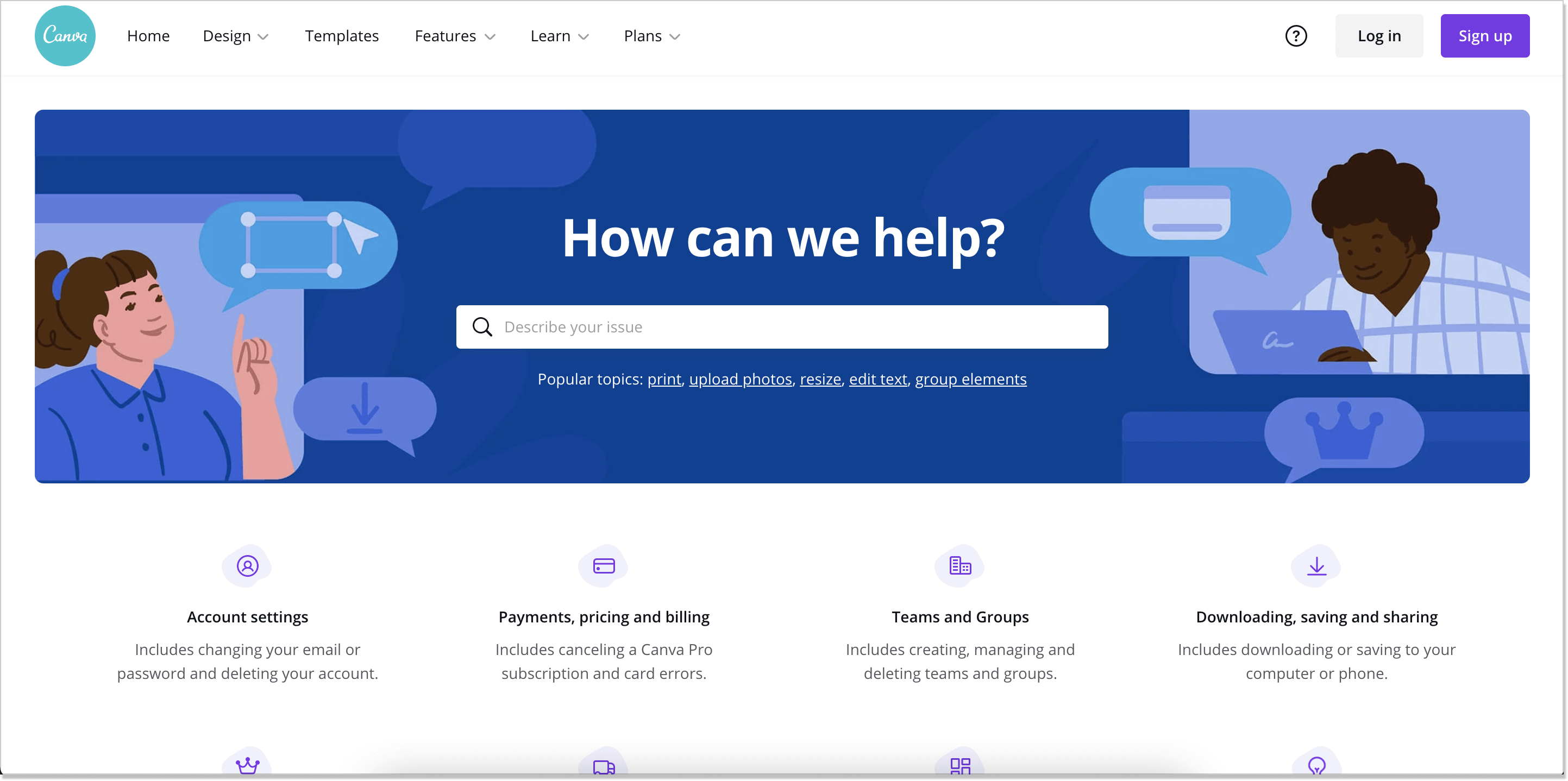 4. Lessonly
Among our examples of knowledge management systems here, Lessonly is the one for internal employee training. Its set of features is rich enough:
User-friendly dashboard, which is extremely helpful for beginners and seasoned content creators;
The intelligent and simple course builder that supports many functionalities, such as screen and webcam recording;
Coaching feature for giving feedback at scale;
Built-in analytics for tracking your performance;
Third-party integrations, such as Salesforce, Zendesk, Slack, Guru, and many others.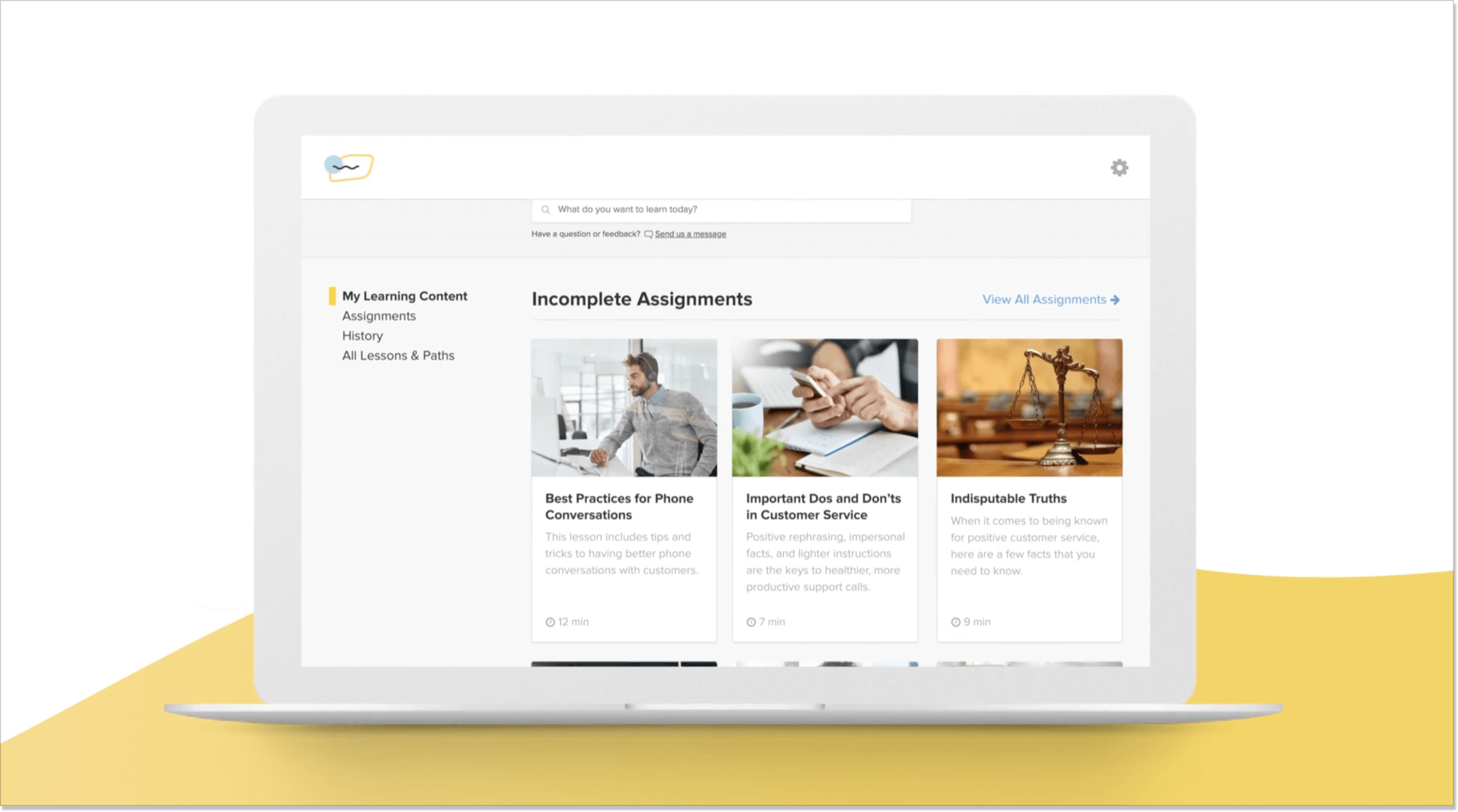 Final words
Having a knowledge management system isn't an afterthought nowadays. But it is a powerful and supportive mechanism for any business. As you see, there are a plethora of tools on the market to consider. Even though they share similarities, their discrepancies happen to be, too. Some are all about knowledge bases for customers only, while others provide great learning opportunities for employees as well.
A couple of friendly guidances before you make the final call: determine your business objectives, decide what type of a knowledge management system sits well with your brand, and see if it involves all the specs needed. Hopefully, our extensive guide has nudged you to the most optimal solution.