A Comprehensive Guide to SaaS Customer Success
Customer success in SaaS requires way more than just speedy and long-form replies. This guide comprises all the twists and turns every CS manager should know. Take a look!

In the world of SaaS, there is always an ongoing checklist of the things to do, strategies to implement, and customers to guide. In light of this, a SaaS business owner should realize that a lot depends on how your team communicates with clients.
To know exactly what people want, the questions they ask, and how your service can help them achieve their goals, you need to puzzle out customer success in SaaS from the get-go.
After reading this piece, you'll finally understand why SaaS companies need customer success and be able to lead your clients to tangible outcomes after they sign up for your service.
What is customer success in SaaS?
The definition of customer success in SaaS (software as a service) can be described as "a long-term, scientifically engineered, and professionally directed strategy for maximizing customer and company sustainable proven value". Let me put it in a more popular way.
SaaS customer success is helping your clients proactively untangle their issues and alleviate their pain points through your service or product. That is, you don't wait till a client's problem arises: the secret is stepping in and dealing with it first.
You may think that customer success and customer service are alike. But that's not true. These are two completely different approaches, though they do share the same goal – to help a client. Customer success in SaaS represents a certain exceptional mindset where assistance in the development, onboarding, product adoption, and fulfilling customer's needs takes the lead.
The concept of a software-as-a-service business is all about these things:
Making it a snap for users to sign up and set up their account;
Highlighting the value of the product in advance;
Collecting and processing feedback in real time and using it to fine-tune your bottom line;
Converting trial users into committed, paying customers;
Making these clients happy with your product or service;
Getting users to fall in love with what you do so that they join your brand ambassador's community;
Increasing revenue and reducing churn.
From my personal perspective, one of the key aspects of SaaS customer success is clueing customer's needs to ensure they gain maximum value. Because once they get it, they automatically succeed with your product or service, keep using it, and your business profits by all odds.
Why do SaaS companies need customer success?
The competition in the niche is constantly ramping up, so making customers successful either with your startup or mature SaaS company isn't just nice-to-have: it's an integral part of the game.
There are several reasons why your SaaS business should go for customer success:
Translate the immediate value: help customers get their desired outcomes from getting involved with your product step by step with a more effective client onboarding flow and make them see why you stand out from the crowd;
Stay ahead of the changing needs: as customers are now self-sufficient, their demands may grow bigger over time. Always be sure you motivate the users and adjust to their increasing demands.
Achieve negative revenue churn levels: as a SaaS business often based on a subscription model, there's a constant need for scoring MRR (Monthly Recurring Revenue). Hence, you have to work on the "expansion revenue" to get a negative monthly revenue churn (which allows you to increase LTV).
Nudge customer referrals: referrals won't come out of thin air. So one of your must-do things is creating a steady referral program offering a valuable reward in exchange for referrals.
Skyrocket viral growth: successful, pleased clients are an energy source for growth. Shoot for the stars for the sake of your users, and they, in turn, will only accelerate your SaaS business' growth.
8 laws of customer success in SaaS
Would it come as a surprise for you that there's no one-size-fits-all customer success strategy for SaaS brands out there? Probably, it would not. However, there are some secrets you might want to consider:
1. Create a dedicated customer success team
Breathe out! No rocket science is coming here. First, put a premium on your SaaS customer success from the offset. What is it for your brand? What outcome do you expect at the end? The answer might be having the right people behind the scenes. Think how many new hires it takes to build a customer-oriented company.
There are a million thoughts on that, but the most appropriate is the one expressed by Jason Lemkin. "You must hire your first customer success manager as a "single-digit" hire. For example, before you get to 10 employees."
This way, you won't spread yourself too thin on unnecessary managerial routines but invest more time, money, and energy in what your clients face. I mean, it's that simple: hire a team of humble but supercharged professionals and rock it.
Form a group of 5 employees or just 3, same difference. You can even transform your customer support into a customer success department if desired. What's more important is how staff will solve customer's issues.
HelpCrunch, for that matter, has 2 customer success heroes, Konstantine and Artem. It's them who hold the fort day by day in the chats and help users enjoy their way around the product. But the reality is that we're all in this together, as a unit 🙏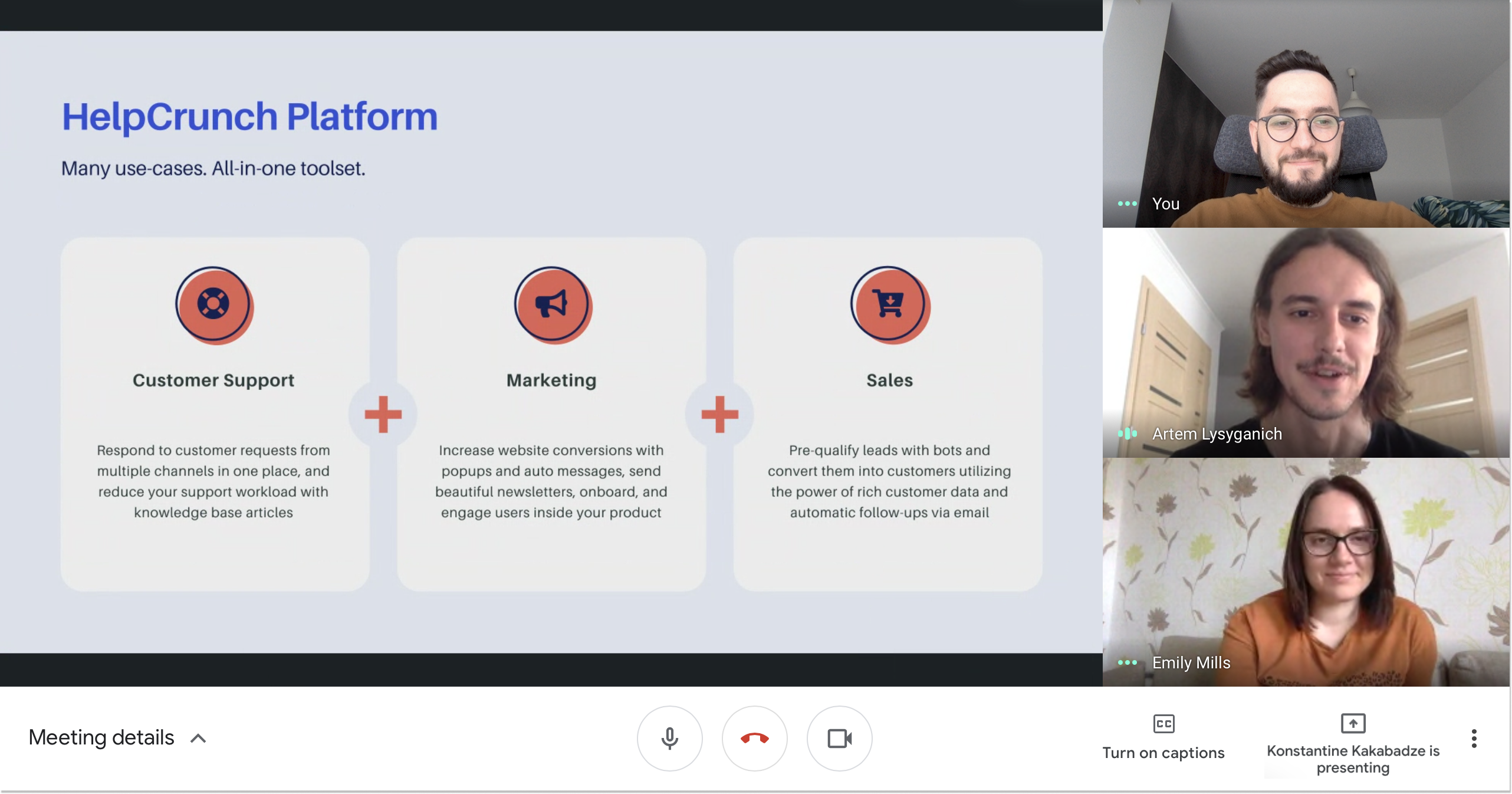 The biggest barrier to customer success is CEOs not making it an important part of the culture.

Nick Mehta, CEO of Gainsight
There's a delicate balance though. Don't throw your team under the bus. Cultivate a specific mindset that is shared across the company instead.
2. Understand what success means to your customers
What is success without your users' sincere thoughts, expectations, and demands? Exactly! It's nothing more than just a buzzword. If you're a business that exists not just for making money but for giving value to customers in the first place, your next step would be realizing what success looks like for them.
The best way to understand your clients is to ask them. You expected something crazier, didn't you? 😋 Seriously though, there are tools that can help you streamline this process a hundred times.
For instance, use live chat to quiz a client right after the chat and check customer satisfaction levels along the way. The questions here could be How satisfied are you with our service?, How did you find our product?, or What are your goals with our product?.
Gather clients' ideas via emails. For that, build a set of questions to understand success (current or future) from the eyes of clients, shoot them next time, or coincide them with a big yearly newsletter:
What were you looking for on our website when you first visited it?
Did you find everything that you were looking for?
What made you decide on our product?
Does our service meet your expectations?
Can you explain the weaknesses or challenges you've found in our product/service so far?
How did the adoption and internal use of our product go?
How willing are you to recommend us to your friends? (an NPS questionnaire)
Of course, the list doesn't wind up here. These questions depend on your business universe, its philosophy, and attitude to clients. The answers received will enable you to qualify what your users expect of you, their customer success in SaaS requirements, and specific needs.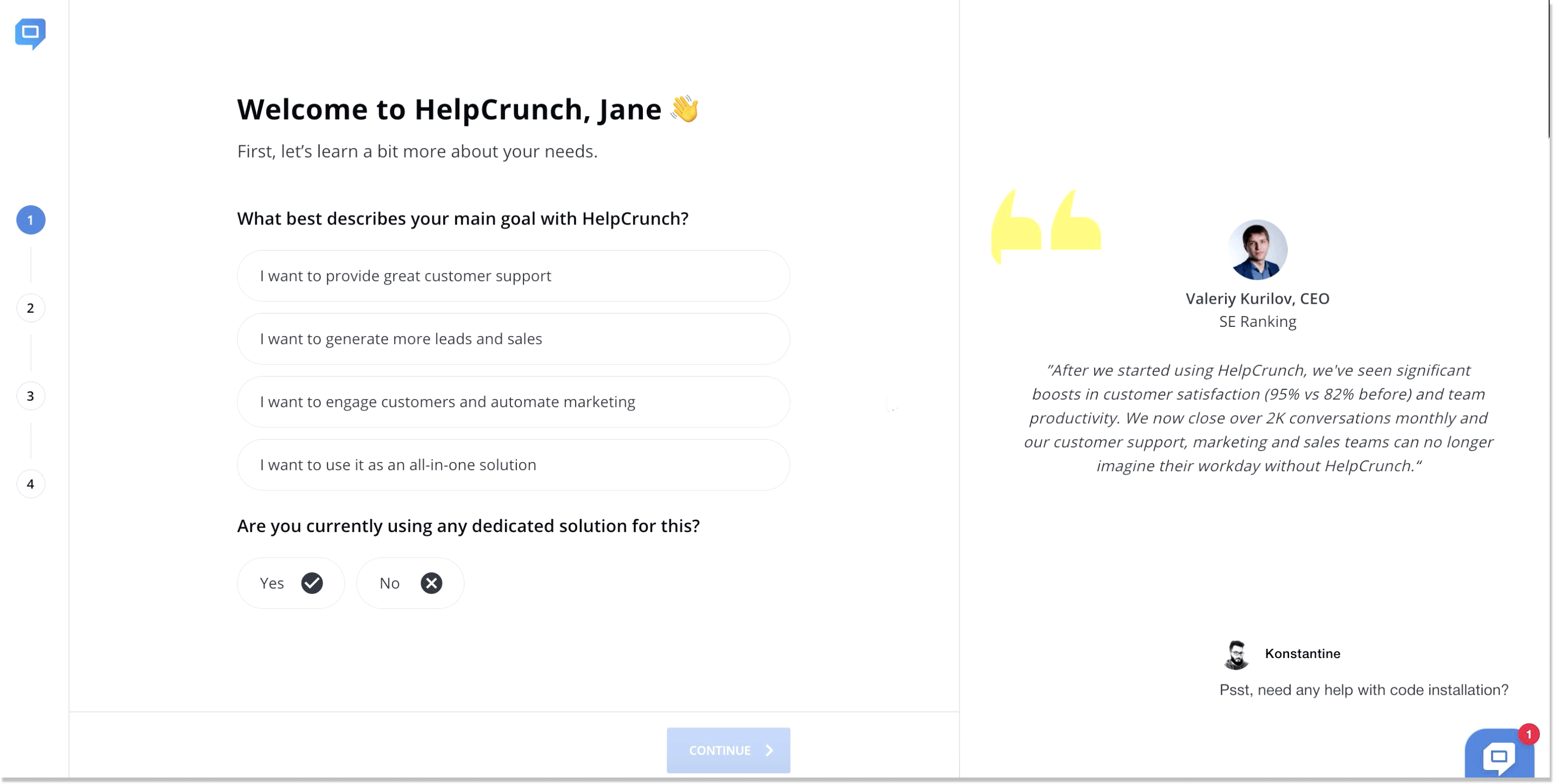 3. Refine your onboarding process
For the first little while, new signups will be on shaky grounds with your service. So, there's always room for a learning curve. It's in your best interest to lighten up the walk-through for the users.
Start with onboarding welcome messages to guide a client, show off your friendly approach, and earn trust. For instance, craft a letter from the company's CPO or CEO to get closer to people and break the ice a little.
Note! Some people skip through client onboarding and start experimenting. You need to make onboarding flexible and optional where practical.
Then proceed to your service's internal kitchen. We at HelpCrunch are serious about the importance of customer success in SaaS. That's why we put explanatory videos all across the service to help users navigate faster. It's better to watch an easily digestible clip than to dig up thousands of papers, isn't it?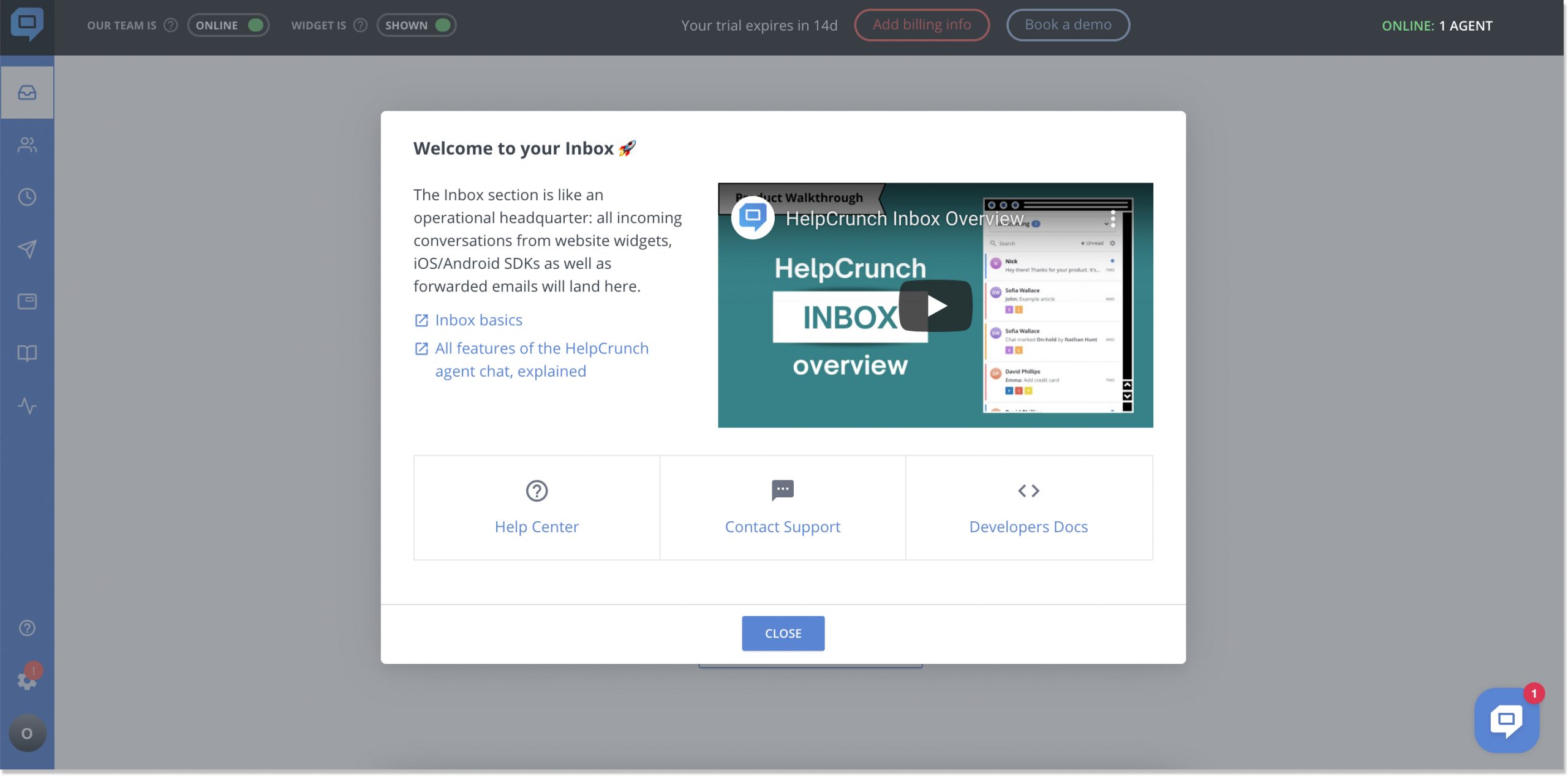 Whichever option you take here, it's important to develop a process that delivers value to your customers as early as possible to encourage them to keep using your product.
4. Take a proactive path
HelpCrunch is a one-stop communication platform for building meaningful customer relations. How could we NOT mention proactivity in the customer success SaaS context?
For instance, We at HelpCrunch reach out proactively to those who haven't customized a chat widget yet giving our personalized recommendations on how to add the chat widget to a website. Or if we know for sure that this new feature may be hard-to-digest, our customer success managers schedule a demo to clarify the details. This is what the whole concept is about.
How does customer success in SaaS businesses correlate to a proactive approach? Directly! The goal is to hear from your clients: "Wow! It is so much better than I expected". So turn the trick by helping a user when they have second thoughts about prices, struggle with setting up your product, or just say you're there for them. Be in the right place at the right time.
To deliver results (and mesmerize a user for good), prepare a solid tech base. Choose jam-packed customer service software that allows you to adjust chat triggers for offering instant help, build an eye-catching popup for driving users' attention, or set up in-app notifications for announcing new feature roll-out or update a customer. However, proactive SaaS customer success is more about an individual approach.
This is the example of the HelpCrunch popup inviting customers to schedule a demo with the company's expert on the website's pricing page.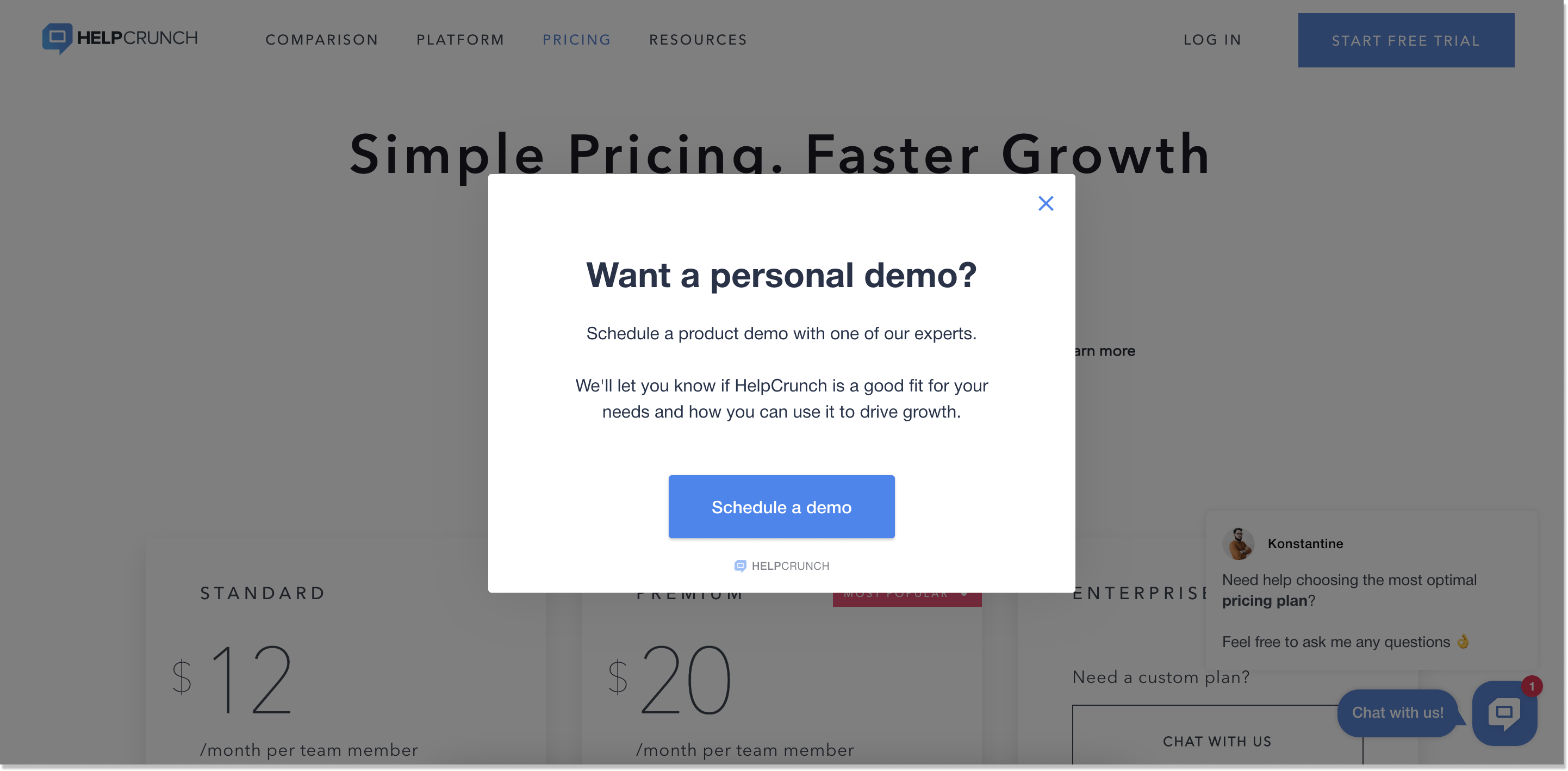 5. Keep in touch full-time
Customer success in SaaS companies should go by the motto: "Always stay in touch with clients, even after the deal is sealed". Given that it's human relationships we're talking about here, being constantly on the line with your clients should be a priority no matter how you slice it.
Here's a suggested plan for keeping in contact with customers during their whole lifecycle:
Create an onboarding system: each brand does it in its own way, but there's a conventional way to follow up with your users – choosing a 3-30-60-90 conversation guide. The thing is that you thank a customer for joining your company and send useful materials in 3 days, make sure they got those materials in 30 days, ask if a client enjoys your product in 60 days, and check in after 90 days.
Make a regular newsletter: stay fresh in your clients' minds by sending regular news about your company's new features and specs. HelpCrunch is constantly educating its users about the functionalities they took an interest in. Therefore, Konstantine and Artem send personal emails to everyone who was curious about this or that fresh feature we never had before.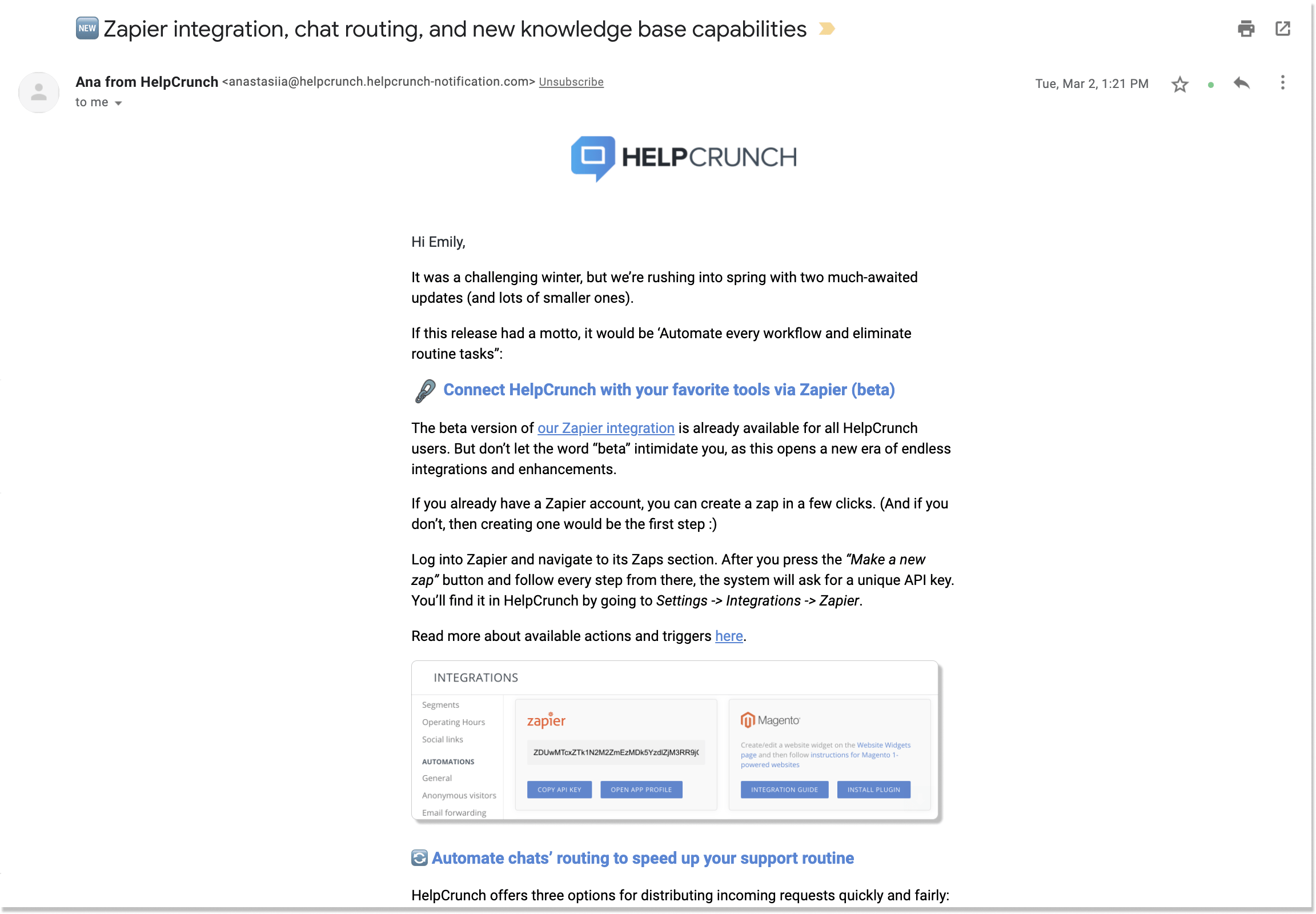 Use social media: be active online and actually talk to your customers on social media. The options here are manifold, from answering to polite feedback (and handling angry reviews, too) to providing advice where you can. Be friendly though don't be too pushy.
6. Gauge customer success metrics
There are many different ways to measure customer success in SaaS. Among this ocean of metrics, you need to turn attention to at least these key ones:
7. Come up with upselling opportunities
Happy customers may bring about upselling opportunities. And since you're asking, the term "upselling" shouldn't associate with some dirty word.
As time goes by, you will communicate with clients using your service regularly. Grab your chance to get to know their attitude to what you do and offer a better version of it. Explain why this is so beneficial and show some related features as a comparison.

The happier your customers are, the more pleased they are with your product or service, the more add-ons they are willing to purchase, and the more likely they will upgrade to a premium account, for that matter.
8. Provide customer success inside the product
Take customer success up a notch and infuse it right into your product. For instance, add a chat to your web application or integrate a helpful knowledge base with it. Have your customer success experts update the info in the resource hub, address customer queries in the chat regularly, or let them find the solutions by themselves. That's actually not just a whim, people love that 👇
More than 60% of US consumers say their go-to channel for simple inquiries is a digital self-serve tool such as a website, mobile app, or online chat. By the way, customer success is all about delivering a flawless experience to clients. That's why 86% of users will pay more for a product or service if they receive a better customer experience.
Final words
Success is different and unparalleled both for you as a business owner and your clients. But whatever vision the users have, keep an open mind, listen to what they say, and you'll find a perfect way for your SaaS customer success.
HelpCrunch can give you a little nudge in the right direction. Sign up for a free trial, use the ultimate set of features to lend clients a helping hand, and solve their issues like a pro. Let's ignite success together.