72% of companies say that improving customer success is their top-of-mind priority. For every complaining client, there are 26 who remain silent when they experience problems with a product and don't contact a support team. Let's stick with customer support and customer success correlation. Do they go hand in hand?
At first glance, both customer support and customer success seem to share the same objective: help clients achieve their business goals and provide a five-star experience. However, they do have different approaches. We are going to put VS between these two concepts.
Today, we're about to crack down on one burning question: how can you take a step forward from customer support to customer success? (And why should you do that?). Stay tuned to find out all the answers.
Customer Support vs Customer Success
Your job, if you're a customer success manager, isn't to make friends with your client. Your primary job is to challenge them and get them to think to make them more successful.

Don Peppers, American marketing strategist in the customer success niche
You may be thinking: "My customer support team is already doing its best to meet every client's need. Why should I aim at something else?". The main difference between customer support and customer success is that the first one is usually reactive and the second one is proactive. But there's more to it.
Everything is less than simple: if a client has troubles with a product or service, they contact a customer support rep asking for help. A customer success team, on the other hand, anticipates any issue and reaches out with fast solutions first.
Besides, customer support usually ends contact with a client once a problem is solved. A CSM (customer success manager) has no ending point: as long as a client stays a client, a CSM is in touch.
Speaking of money matters, customer success is revenue-generating. CSMs encourage the company's growth by upselling and cross-selling techniques, which reduces churn. A customer support team is usually thought of as a cost-center which is focused on operational efficiency.
At the end of the day, a qualified customer support team is only half the battle. If one client succeeds, it's a win-win for the whole business. So, customer success outweighs customer support.
How to Transform Customer Support into Customer Success?
Mashable highlights that "successful customers lead to a successful company", and as a business owner, you might want to pursue this goal. With that in mind, let's elaborate on the steps you need to take to transform your customer service into customer success.
Step 1. Form a company culture
It all starts with a company. If you wish your brand to be a pro in customer success, make sure the staff is involved in everything that's up. I'm talking here about a company's culture.
A healthy internal culture means that all teams are willing to work as a whole unit and achieve the standards you set. Evaluate your co-workers and ensure they have a proper toolset to assist your customers to the best of their abilities.
To foster your corporate culture, arrange training activities, discuss tricky customer cases, or attend online workshops. To put it simply, grow your customer service mindset and drive success together. A great example of corporate culture can be Zappos with its core values. They aim at being open-minded, wow customers with their service, and build a family spirit.
Step 2. Choose customer success pros
Every member of your customer success squad should prioritize the clients' needs. Just like support experts, your CSMs should work on a customer first strategy to realize what a client wants and how it should be achieved.
Qualified CSMs should understand that they will deal with constantly changing customers' behavior, demands, and even moods. Plus, looking for new ways to help clients even before they ask is a great idea. To succeed in this endeavor, every CSM should answer these questions:
Who is the customer? What do they need, how old are they, etc?
What is the current customer experience across the product or service?
What customer communication tools does the customer enjoy?
How does the business engage with customers?
By the way, without knowing who your clients are, it's next to impossible to put yourself in their shoes and have a better idea of how to deliver unrivaled success. Real-life customer service scenarios, online training, and numerous industry-specific workshops may come in handy for teaching your staff how to address clients' inquiries.
Step 3. Provide impeccable client onboarding
Clients can abandon a product in an initial stage of their customer lifecycle just because they're lost, get stuck, and don't see the product's value. 55% of clients claim they stopped at the very beginning as they didn't understand the way the cookie crumbles.
The most important point here is not just to answer the customer questions but to set clear examples. So, to narrow down the churn rate and show customers all in good time, smart brands focus on a client onboarding process.
You can build your onboarding flow using various options:
Setting expectations: by showing clients exactly where they are in the process, you make it easier for them to get started with your product. For instance, display a progress bar to say what your users should expect, and what step is the next.
Breaking things down: don't ask customers to do too much from the outset. Just make every step of the process easy and simple.
Calling attention to important elements: point your users in the right direction so that they see where to click this or that button.
Making onboarding skippable: what if a user doesn't want to set up an account right away? Don't make them go through an installation process if they don't want or need to. Include a "Skip" button so that they get back to it later.
Embedding visual materials: what can simplify the onboarding process even more? That's right, an engaging video. Put it right from the start or add it as a summary: your users will only thank you for that.
If you use HelpCrunch, you'll have a mixture of the hacks mentioned. For instance, when a user deals with our Installation Wizard, a proactive chat message pops up. This way, a CSM can answer all the questions and streamline the process.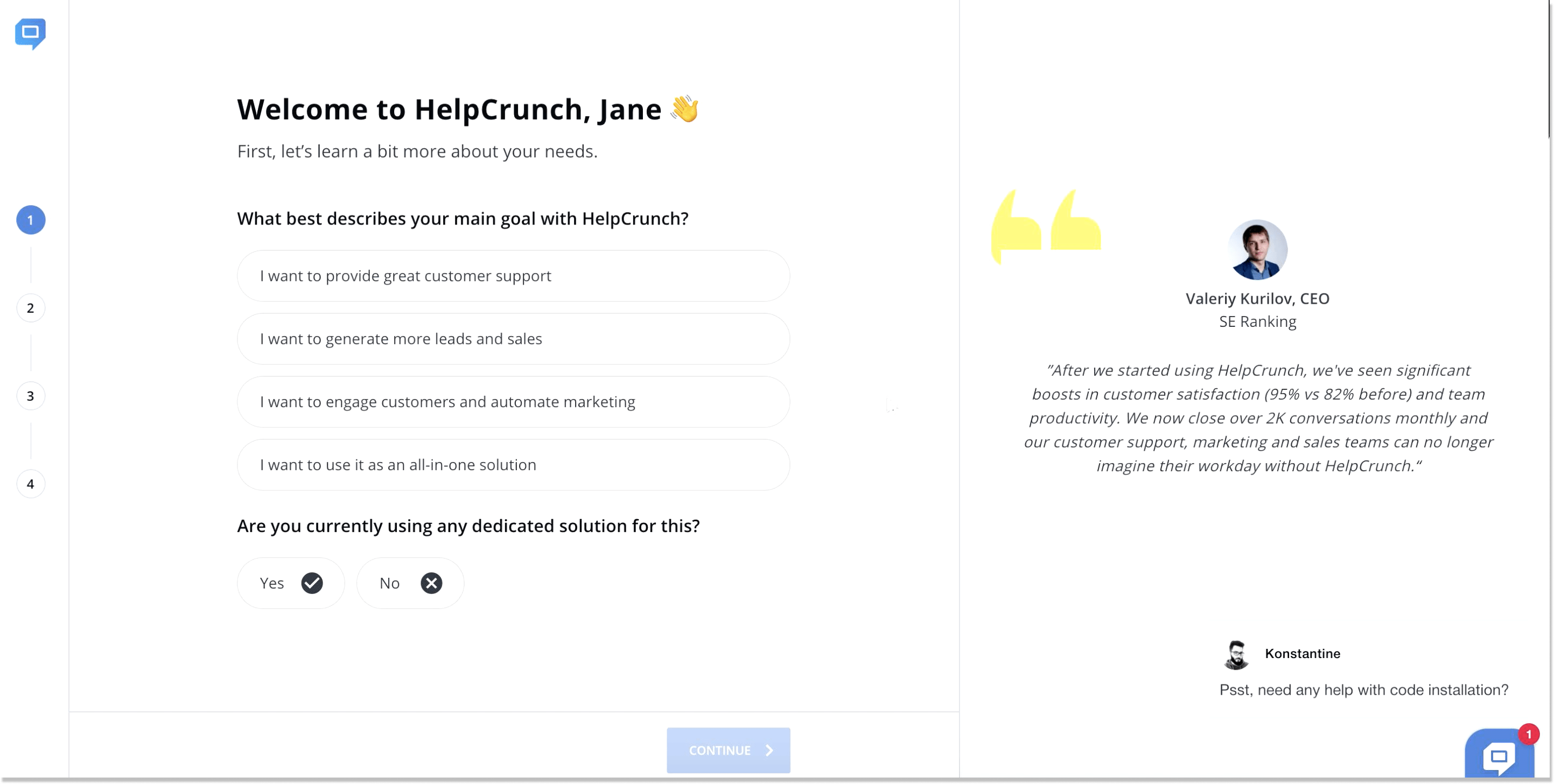 You can also send manual messages to different customer segments and email auto messages to welcome new customers. Besides, a CSM can use various channels to reach out to any customer in a contact list.
Step 4. Work on customer retention
Who doesn't want customers to stick with a brand? Keeping your client base full is no simple task. However, customer success and customer support teams could collaborate to develop a killer retention strategy.
To avoid the profit-dampening falloff of loyal clients and practice customer engagement, bear these tried-and-tested tips in mind:
Be proactive every step of the way
Proactive customer service can be winning if done right. Show the initiative and help your customers before issues pop up. But if you want to put your customer success in the foreground, be proactive in everything you do.

Imagine the situation: your customer's credit card payment is canceled due to insufficient funds or for unknown reasons. Some companies would leave this situation up to a chance. However, that isn't the way out.
Consider integrating your system with any team communication tool. Speaking of, HelpCrunch has a Slack integration. If a client is experiencing payment mishaps of all sorts, our customer success and support team get corresponding Slack notifications. This way, they can send a follow-up message to a customer and give a proper piece of advice on how to fix a problem.
Offer discounts, upgrades, and special rewards
One of the proven ways to increase customer satisfaction with your product or service is to surprise clients. The columnist Peter Economy says that "the secret to delivering great customer service is to wow customers with something they don't expect". What are those surprises you can provide your users with? Choose anything that is meaningful and more relevant to your company: free features, extra storage, or holiday discounts.
By the way, holidays are great to take advantage of in this context. For instance, we at HelpCrunch were 100% ready for this Halloween event. Our team has customized the chat widget so that it conveys the spooky atmosphere to the full: festive color scheme, themed agents' avatars, special proactive chat messages like "How spook-tacular to see you on our website! Enter this chat at your own risk" or a widget message "We only spook when spoken to" and others. Check out our Halloween materials to get inspiration for later.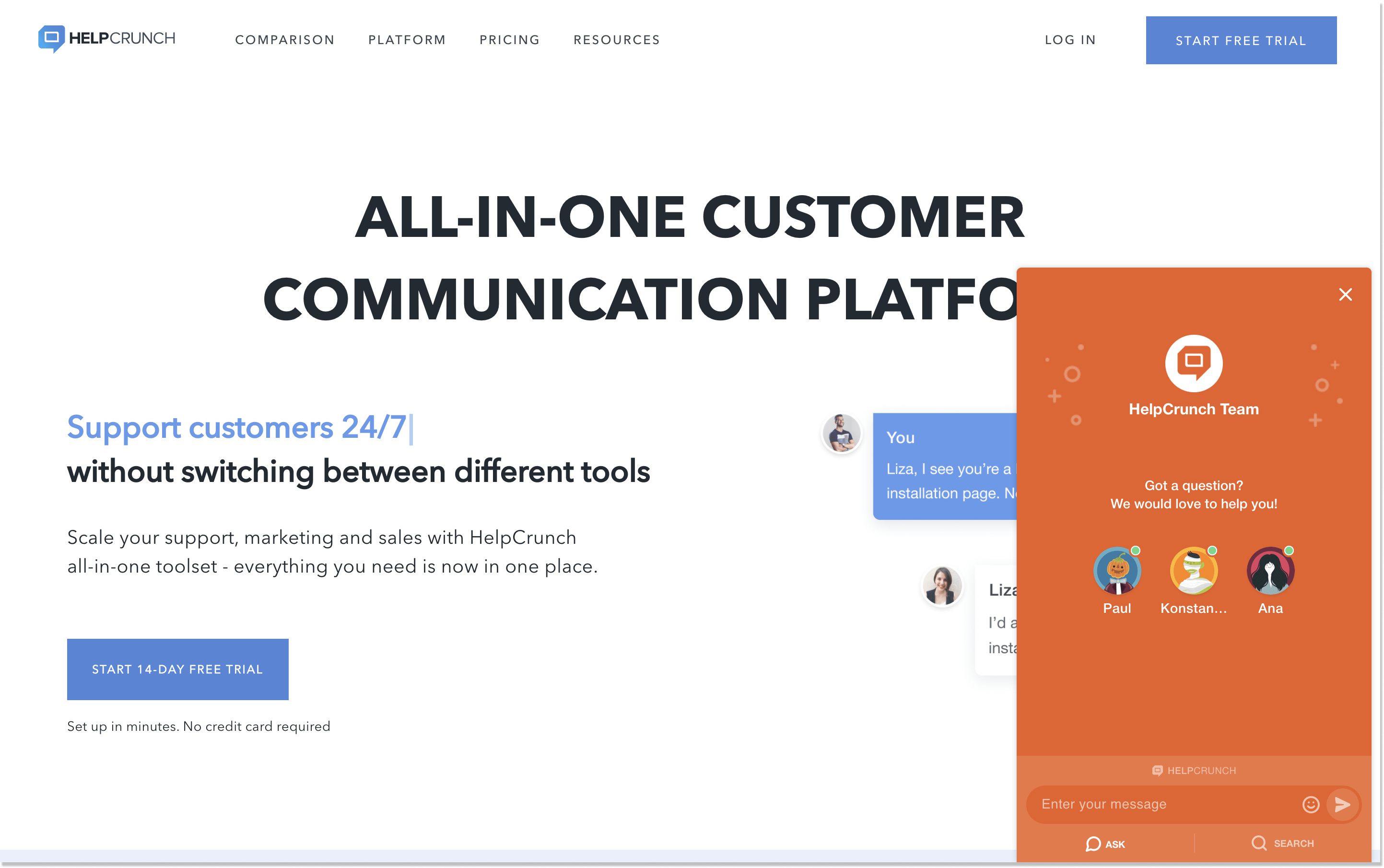 Be transparent
A lot of customers are remaining skeptical about subscription-based business models. Why is that? Many reasons. Some might think they are too costly, others claim they are hard to use and they lack security, anf some just happen to read unsatisfied customers software reviews. And so that when downtime happens, clients may be infuriated. Anyway, telling nothing but the truth is the least you can do. Here's when transparency comes in handy. 
For instance, when your company faces glitches all of a sudden, inform your users and appease them as soon as possible. If you know there's a great product release coming and your system may go south, send an email to your client base in advance. By doing so, you can omit unnecessary angry messages from unsatisfied customers.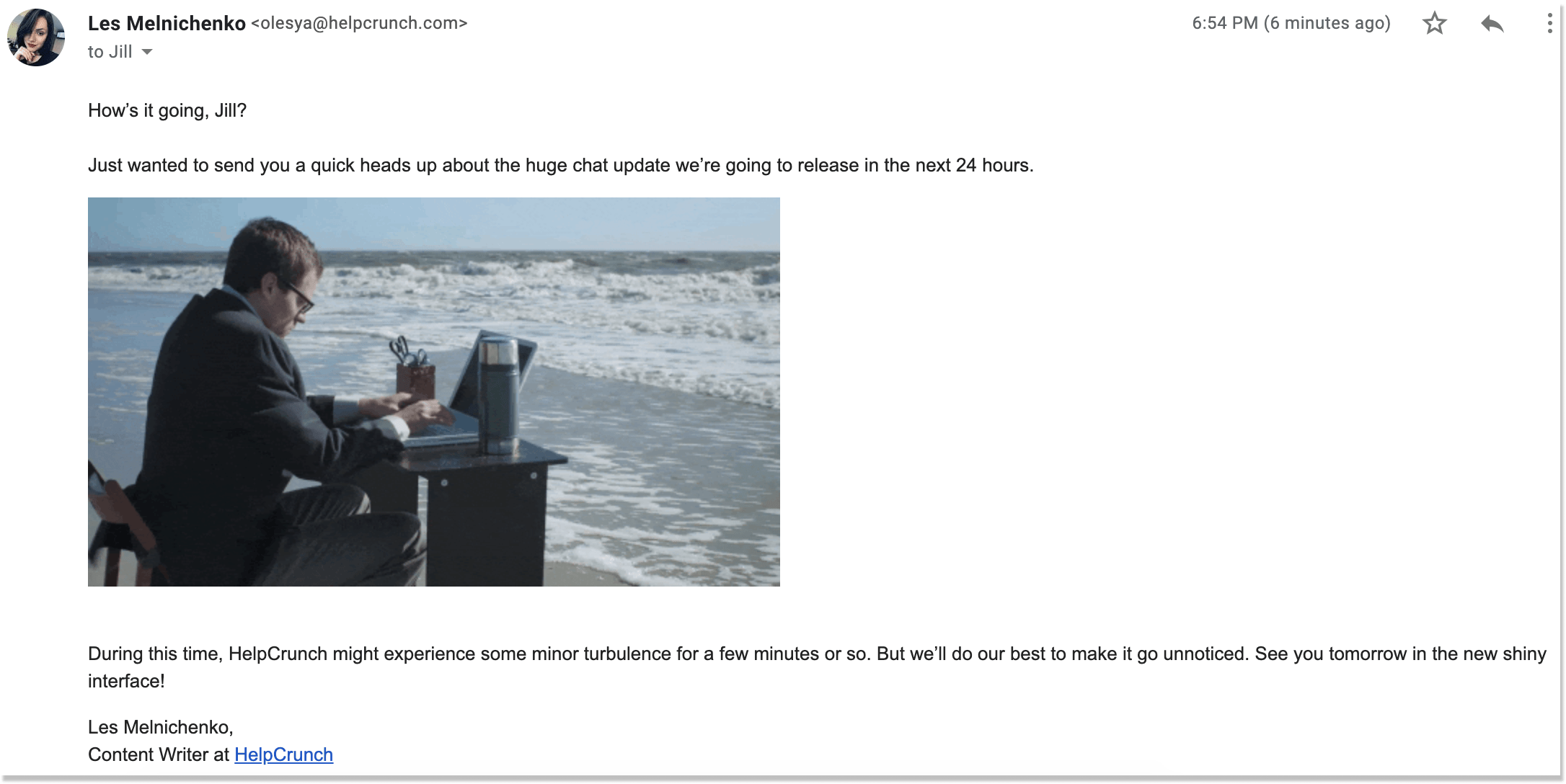 Step 5. Educate your customers
The pinnacle of customer success is empowering clients with valuable materials they need to get to the bottom of your product. Build a thought-through knowledge base and encourage your customers to self-service.
HelpCrunch users now have a great opportunity to use an integrated knowledge base. There's no need to sift through a knowledge database to find the answer for a client. Just send a related article right in the chat.
Besides, the knowledge base is embedded in the chat widget. This makes it easier for new customers to look for information without waiting for a service agent to reply.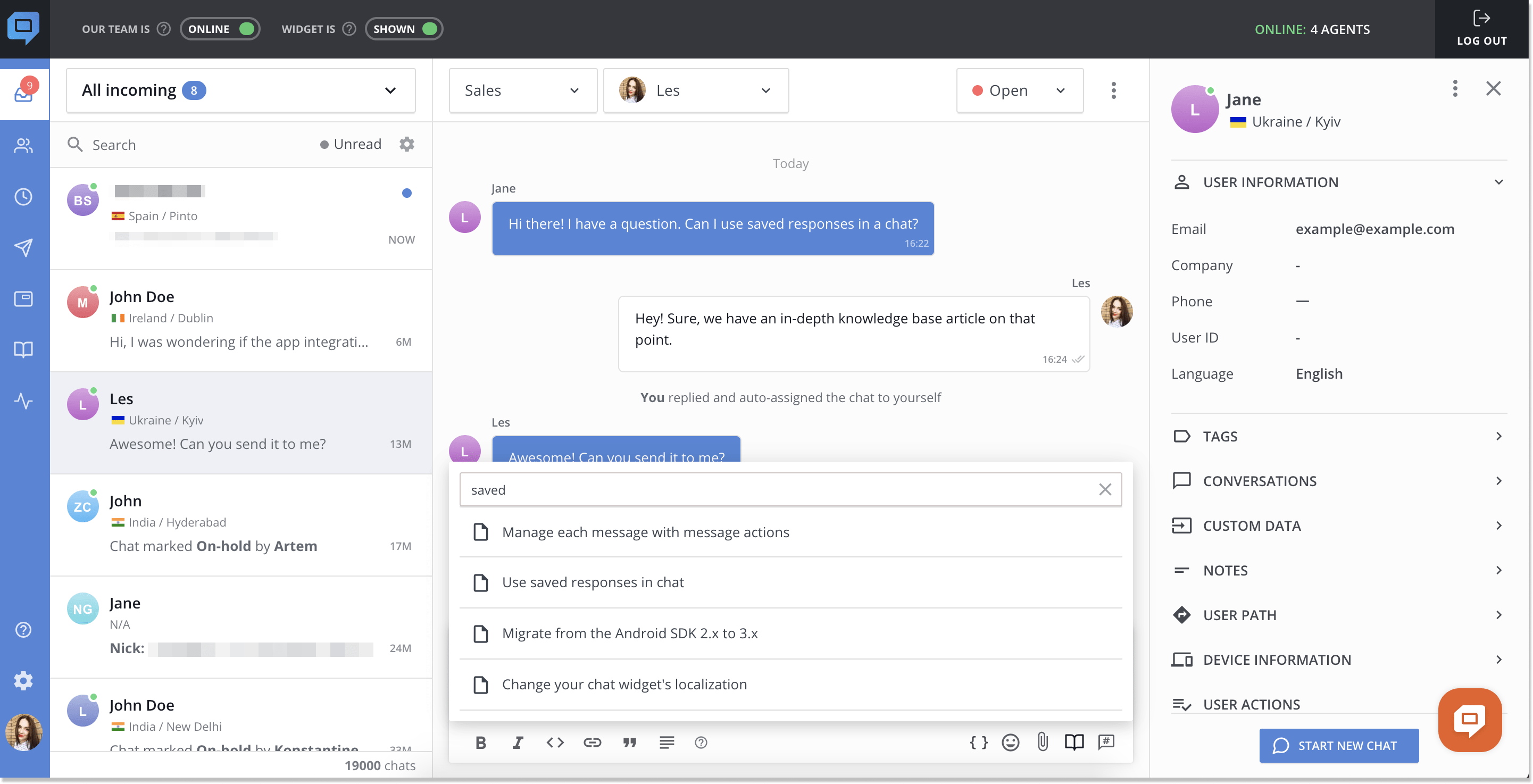 Step 6. Follow a customer success formula
Are you looking for specific customer success metrics, numbers, and equations here? Well, there are other things worth your attention except for churn rate, Net Promoter Score, or Customer Retention Cost. Though, they are also valuable for achieving certain business goals.
Customer success is about acknowledging possible mistakes and resolving them without losing customer's trust. Micah Solomon, an American customer service keynote speaker, once presented a vivid (and kind of funny) acronym "ARFFD", which can be thought of as the most appropriate formula for customer success:
A for Apologize: be sincere in your apologies and don't throw a fakey fake "Sorry" just because the rules say so.
R for Review: go over a complaint with your customer so that they explain the situation and express how they would like it to be fixed.
F+F for Fix: once you solve the problem, follow up to check with a client and see if everything is OK (to put it simply, show you appreciation and concern).
D for Document: write down the issue in detail to help other customers resolve their problems alike in the future.
Use this "formula" if you see customer success as your company's centric aspect. Sure, you can alter it so that it relates more to your bottom line. Point being: create an environment where your staff could thrive and transfer its helpful support to customers.
Let your clients succeed
Most prospering businesses are those who ensure long-standing happiness and success for clients. It can be achieved with your support team only, but there's more to it. Move your customer support to customer success and don't shrug off customer education, retention, onboarding, and the company's people-centric mindset.
If you're still scratching your head over how to grow sustainably and build long-term customer relations, just sign up for a free trial with HelpCrunch. You can take its advanced features for a spin and communicate with your clients helping them succeed.
HelpCrunch articles delivered straight to your inbox 🚀
All the latests posts. One email per month
No strings attached
Read Also
Support
Read the article to learn more about the main types of chatbots out there and how to choose the best one for your business today. Examples included!
Support
Have you ever used live chat for lead generation? If not, you have to change the situation right here, right now. Check out some tips on how to take advantage of this tool and drive lead gen efforts.
Support
No secret that an online help center has its perks. In this post, we're featuring 7 clear-cut knowledge base benefits you can't miss out on. Check them out and build a structured resource hub to your best advantage!