7 B2B Lead Generation Strategies (That REALLY Worked for Us)
Over the past six years, we've used every trick in the book trying to generate B2B leads for HelpCrunch. Learn about 7 lead generation practices that brought us great results.

B2B companies got it hard. Our sales cycles are longer and more complex. They involve numerous decision-makers that are way tougher and can't be lured with some immediate emotional triggers. All the while marketers beat their brains over the ultimate question that eclipses the rest: how to find B2B leads. They are not that easy to stumble upon, too.
So believe me when I say that B2B lead generation is not a piece of cake. How do I know this? Well, I work as a marketer at HelpCrunch, a B2B software company. Over the past six years, we've tried every trick in the book trying to pursue our precious B2B leads everywhere they go.
So yeah, we're not here to just talk the talk. We've walked the walk and are ready to share our ups and downs with you as openly as possible.
What is B2B lead generation?
B2B lead generation is short for business-to-business lead generation. The term refers to marketing strategies that businesses use to detect and catch other businesses that can be interested in their products or services.
The notion can be compared to B2C (business-to-consumer) lead generation where companies sell directly to individual buyers.
Selling B2B is different from selling B2C in a number of ways. The greatest difference is that you'll typically be dealing with either professional buyers or high-level executives when you attempt to make B2B sales.

The Balance Careers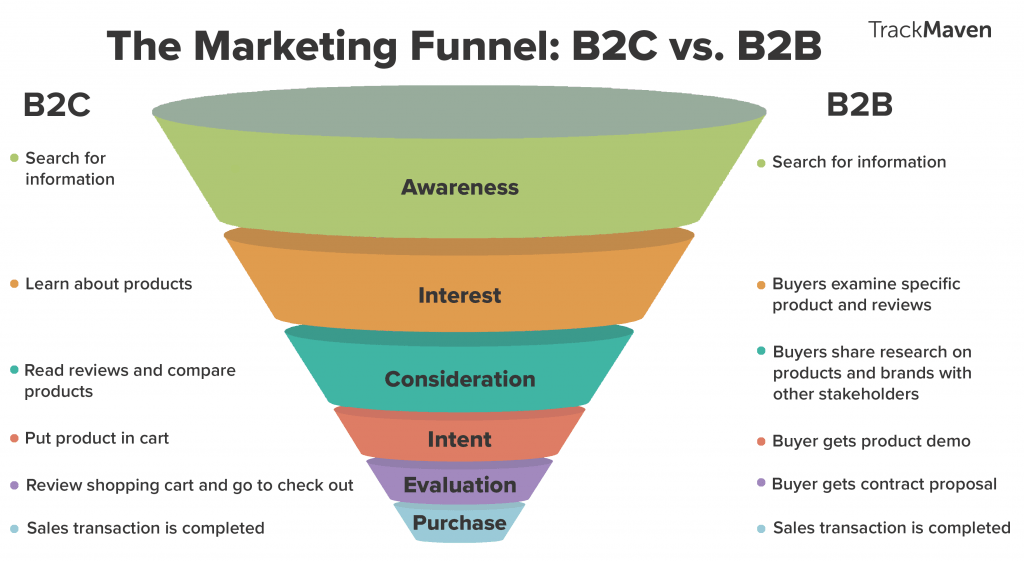 So, everything is clear with B2C leads. They are just regular buyers like you and me. Everytime you need to buy a new sofa for your apartment or subscribe to a music streaming service, you're not just buying stuff. You're being a B2C lead.
But, what counts as a B2B lead? Is it a company or specific people from that company? And how can someone target an entire company at once? (Spoiler alert! You don't target entire companies. Obviously.)
Who is a B2B lead?
The term 'business to business leads' usually refers to high-level executives and professional buyers that have the authority to make decisions about purchasing new software, services, or products at their company. And also have the option of ordering development from another country, for example, to make outsourcing to Ukraine or other countries.
Basically, a person becomes your B2B sales lead the moment you have their contact information in your possession — be it an email address, a phone number, a LinkedIn page, etc. It's just that you need some medium to get in touch with your B2B leads and nurture them towards the purchase. And there are two ways to get that information:
Inbound lead generation for B2B. You collect peoples' contact information once they land on your website through various marketing campaigns. Fair and square.
Outbound lead generation for B2B. You purchase a contact list from third-party providers or scrap them from third-party websites and social media.
Inbound B2B sales leads are traditionally considered more high-potential and upfront. Once they're on your website browsing for more information about your business, it's all fair game. Companies should be aware of outbound sales leads and double-check the reliability and legitimacy of the whole deal. However, it can also bring in some great leads if applied consciously.
As intimidating as the whole deal sounds, they are still flesh-and-blood people. It's just that in B2B sales, a decision is usually made by several people at once and they have completely different buying triggers than B2C buyers.
7 Most Effective B2B lead generation strategies and ideas
Our company was founded 6 years ago, and that's when our hunt for sales leads began. Right from the start, we tried to apply all kinds of lead generation strategies for B2B: at first, to test and prove the viability of our business idea and then to keep it afloat and growing.
No, I'm serious. You name the tactic, and I'm pretty sure we've tried it. Obviously, not all of them have brought equally great results. Some companies claim that Twitter is the best source of B2B sales leads for them, while others insist that video content is the only thing that matters in 2020.
I'm here to neither confirm nor deny every lead gen tip as there are thousands of them on the internet. What you see below is the list of all B2B lead generation tactics that have been tested by our marketing and sales departments and proved their effectiveness. They brought us some high-quality leads that ultimately converted into customers, and I hope they will help you achieve the same.
1. Use Quora for B2B lead generation
Founded in 2009 as a Q&A website for knowledge exchange, Quora is now reported to be getting 300M unique visitors each month. It's also claimed that people ask from 3,000 to 5,000 questions per day there. Just imagine. Every single day, millions of people gather together to discuss all kinds of issues with each other. What's more important for this article is that many business owners hang out there as well.
What are the chances they also want to discuss your industry and your niche?
Pretty high, as it turns out. Our own experience as well some other companies' results have confirmed that Quora is one of the most effective B2B lead generation channels. So, how does it work exactly?
Quora is all about authority and trust. So it all starts with creating a credible profile there and following all the topics that are relevant to your niche. Once you make yourself at home, you can start answering questions that are relevant to your business.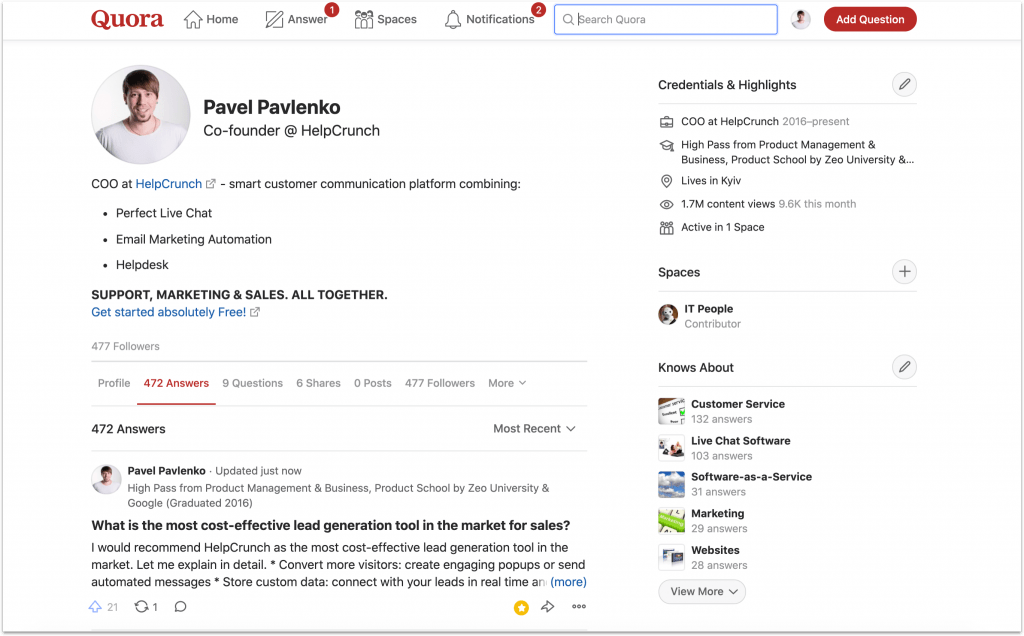 The rule of thumb is to always stay honest and transparent. Otherwise, your answers will either look pretty shady or even get collapsed. Don't overspam with too many links, but don't be too modest too. You're free to say good things about business as long as they're truthful.
Here are some basic steps that helped us generate some very high-quality business leads from Quora:
1. Write an informative and honest bio for your account. People should know you're affiliated with the company you're going to endorse on Quora.
2. Make a list of questions with high intent. Quora is blossoming with questions like 'Which software should I use for [GOAL]?' or 'What are some alternatives to [POPULAR VENDOR]?' or 'Where can I purchase [PRODUCT]?' So, it may be your product that is the best alternative serving all the goals other businesses have. You just need to recommend it there.
3. Answer moderately popular questions at first. Questions with hundreds of followers usually have very strict moderation rules. That's why it's easier to start with less popular questions and try to answer them recommending your B2B company. Over time, you might even become a Top writer in different categories.
4. Build your way up to the most popular questions in topics. Your answer will have more chances of being successfully published and taking high positions in popular threads once you gain authority. Answer on Quora on a regular basis and after a month or two you'll be able to compose a reputable answer to a question with hundreds if not thousands followers.
If you ask me, Quora is probably one of the easiest and most effective business lead generation strategies. B2B leads are literally asking to be found and converted there. They're ready to disclose their goals and pain points in order to find the best solutions, and your business can easily become one.
2. Work on your content marketing early on to get high-quality leads
Content marketing as a lead gen strategy is the oldest trick in the book. In fact, the Content Marketing Institute has found out that 80% of companies use content marketing for B2B lead gen with SEO having the biggest impact on their lead generation goals.
With this information in mind, our marketing team has put together a foolproof content marketing plan that is focused on SEO-enriched high-intent content that could bring us tons of B2B leads in the long run. And it paid off.
Ultimately, we've worked out 2 key components to effective business to business lead generation through content marketing:
Create high-intent content for your website
If you want to generate leads with your content, it should cater to their immediate needs. This is why creating high-intent content is virtually impossible without SEO. It starts with finding relevant keywords with the right intent and extends to enriching your articles with related keywords and optimizing it for search engines.
There are four types of keyword intent that people have in mind when searching for some information:
Informational — when people are searching for random information
Navigational — when people are searching for a specific website or brand
Transactional — when people are searching for specific items that they want to buy right away
Commercial — when people are searching for product comparisons or reviews of specific items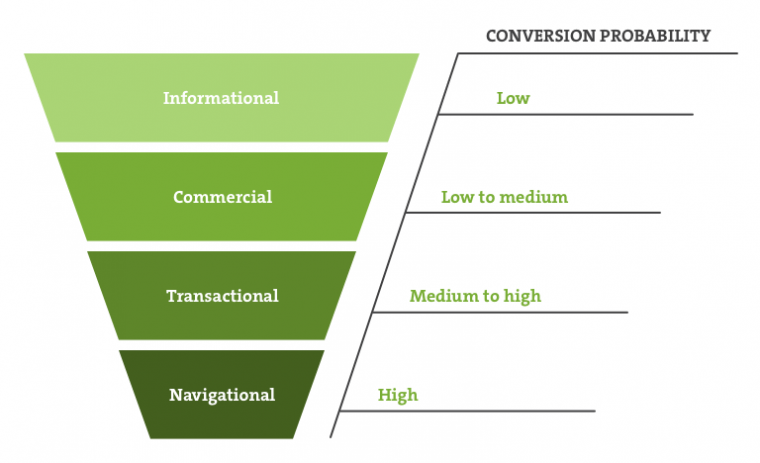 While all four types of search intent are important if you want to create a well-balanced content strategy for B2B lead generation, the latter two can bring you some quick wins. That's why we at HelpCrunch focused on two types of content at the beginning of our journey: list articles and detailed comparisons of our top competitors like the following ones:
After the publication, these articles became an inexhaustible source of business to business leads for HelpCrunch. People who land on these pages are already looking for specific solutions. So all we have to do is to create a transparent detailed content that caters to that immediate need.
Create lead magnets
According to Marketo, only 4% of website visitors are ready to buy right away. So once you've done everything in your power to capture every B2B sales lead with your high-intent content, you need to make sure that the rest 96% stay on your radar as well.
There are many ways to catch your B2B sales leads' attention and ask them for their email address in return. That's where lead magnets enter the game.
A lead magnet is an offer that you can promote to prospective customers in exchange for their email address and perhaps other forms of information (such as name and phone numbers).

Search Engine Journal
Hubspot recommends (and we agree on this one) to use the following types of lead magnets:
Ebooks
Courses
Cheatsheets
Guides
Original researches
Ready-made templates
Webinars
Even though creating these materials require some next-level resources and more time, they're very important lead generation strategies for B2B. As I've mentioned already, the B2B sales cycle is way longer than in comparison to the B2C sector. That's why catching people's email addresses is your best chance to get the conversation going after they leave your website. And the only way to do so is to offer some unique value.
3. Turn referral traffic into B2B sales leads
Referral traffic is Google's method of reporting a visit to your site that came from either another website or another web page.

SMA Marketing
Basically, you get your company mentioned on some popular blogs. If someone follows a link from there all the way to your website, you've got yourself a referral visitor. So, how can you get more traffic that can potentially become your leads?
Just as we've learned already from the previous section, high intent content works magic. Only in this case, your goal is to place it not on your website but on some third-party blogs. There are two ways to do so:
Publish guest posts on popular websites
Just like the content for your own website, there are some particular types of content that can bring you sales leads. Everything that caters to the user's urgent intent to find a solution to their existing problem will do.
All you need to do is to find relevant websites that have a lot of steady monthly traffic going on and pitch them your idea. Usually, bloggers don't say no to unique high-quality content relevant to their audience. So you might want to work on the quality part a little bit harder.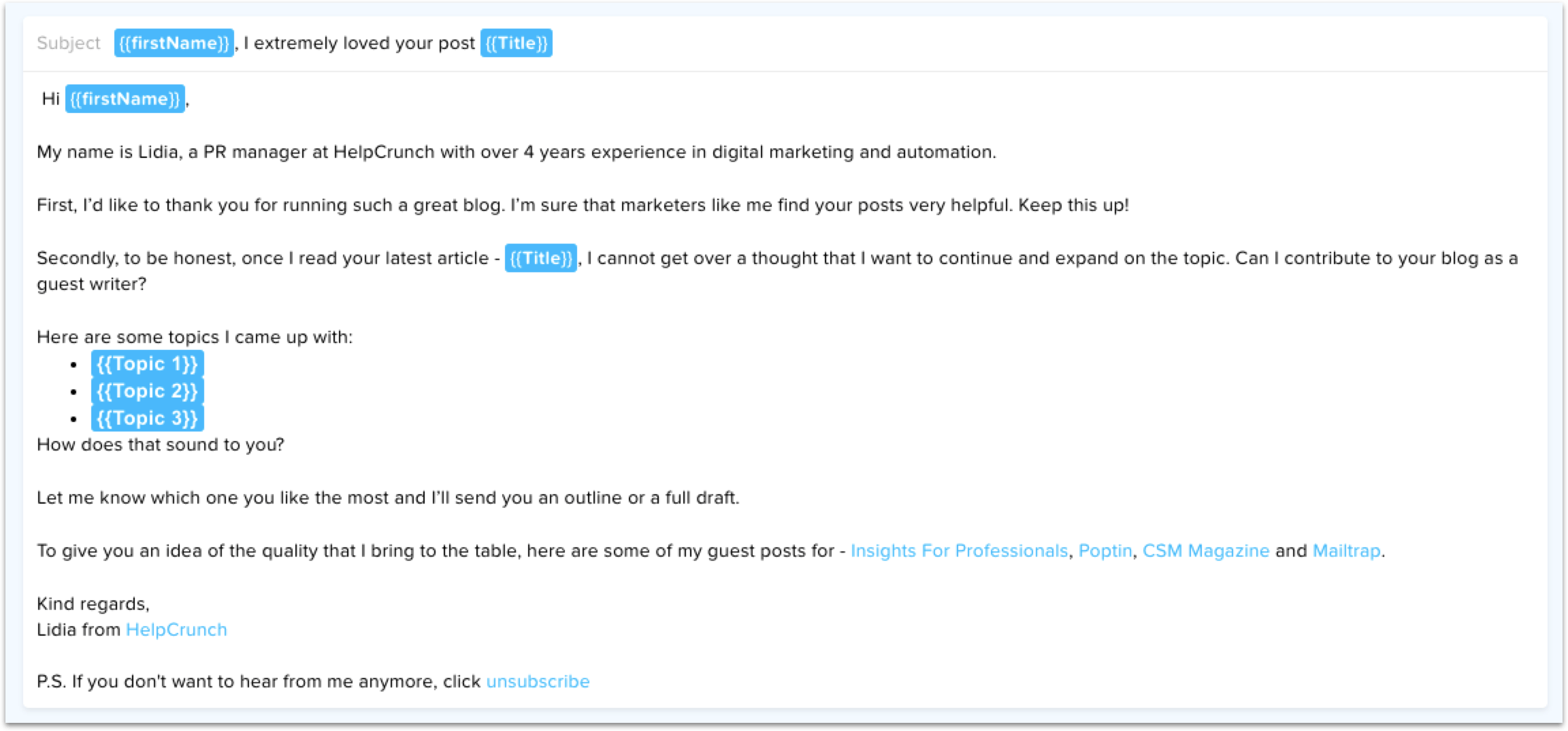 Getting featured in existing blog posts via blogger outreach
There's another way that may require less effort from your content writers but is actually harder.
Many websites have already published all the relevant list articles that your business can fit in perfectly. And they've already gained some high rankings in Google with corresponding keywords. So if your business is not featured there, you're seriously missing out on some B2B leads here.
There's one thing you can do, though. You can reach out to those website owners and ask them to add your business to their existing resources.
You see the tricky part here, right? It will require some efforts from those webmasters, so there should be something in it for them, too. They may ask for a backlink in return or want to post a guest post on your website, especially if you're targeting authority backlinks. That's the best-case scenario. The worst-case scenario is them asking for money or simply ignoring your outreach efforts altogether.
4. Build a strong presence on review websites
Now, another important B2B lead generation strategy is to have good reviews of your business on relevant websites. I know it's a no brainer. But you may not realize the full power of this channel. According to the G2's report, 92% of B2B leads are more likely to make a purchase after checking out trusted reviews.
Review websites are often used to compare businesses against each other or read articles listing top business by various categories. All these materials are valuable B2B lead gen sources, so your business needs to be featured there.
So, how does one collect trusted reliable reviews from real users? The answer is in the question itself. You need real users that are quite satisfied with your product or service and are willing to share this information with the world. We at HelpCrunch saw great results once we trained our customer support team to ask people if they could share their reviews after they had a pleasant conversation. People who received a high-level service won't usually mind.
There are numerous review sites for B2B companies out there: G2, GetApp, Capterra, TrustRadius, Software Advice, Finances Online, Software Suggest, IT Central Station, CompareCamp, etc.
However, there are three particular B2B lead generation services that worked wonders for us. They are G2, Capterra, and GetApp which occupy high positions in Google for high-intent keywords and offer different options for making your solution stand out from the crowd.
For instance, G2 offers this feature where you can select a few solutions that you're choosing between and compare them against each other based on user reviews. Once people begin to compare your software with other solutions, you'll appear on their page under the 'Comparisons' section. If your competitors are famous and expensive, you can be sure people will end up on your product while looking for some alternatives.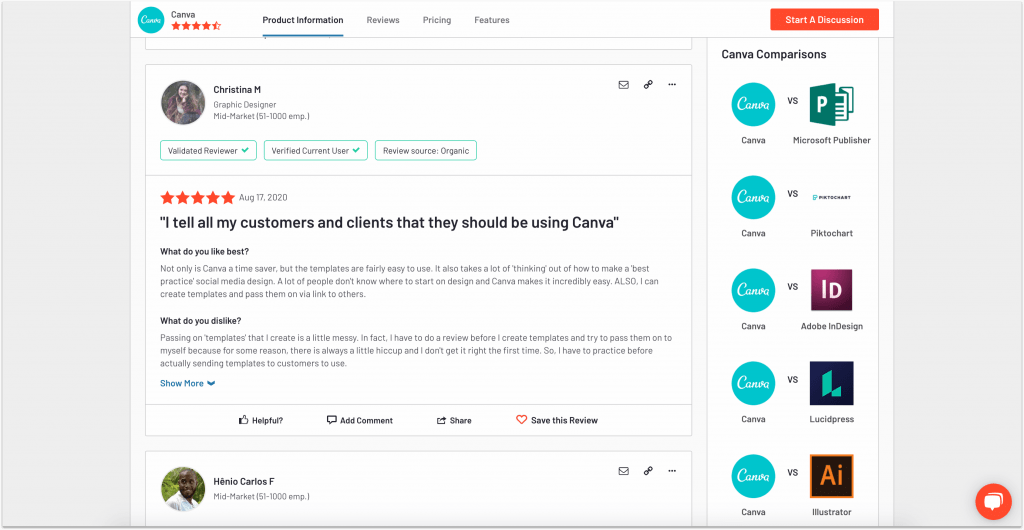 However, organic business to business lead generation from review websites is just the tip of it. Sources like Capterra or GetApp also offer some PPC campaign options which allow you to advertise your service on comparison pages. So, why don't we talk about paid B2B lead generation strategies now?
5. Embrace the power of PPC for B2B sales lead generation
PPC (pay-per-click) advertising model allows businesses to set up precisely targeted campaigns across different channels and pay for user clicks. The beauty of this lead generation strategy for B2B is that you can take all the materials from the first 4 sections of this article and repurpose them for paid ads. For instance, you can drive more views to your Quora answers by promoting it a little bit in other relevant questions or facilitate your positions on Capterra.
However, there' one stipulation that must be stated before we proceed any further. PPC only works for B2B lead generation if you drive those paid clicks to the carefully crafted landing pages that correspond to the intent in the most direct way.
Let's say you're running ads on Google targeting your competitors' branded keywords. In this case, visitors should land on a page comparing your tool to the one they were initially searching for. Otherwise, you're going to flush money down the toilet instead of generating leads.
Now, if we talk about the most effective channels, studies have indicated that both B2B and B2C businesses mainly focus on Google, Facebook, LinkedIn, and Twitter. We at HelpCrunch have witnessed great results with Quora, too.
Our top paid sources of B2B leads that bring great results are the following four:
Google. We run all kinds of PPC campaigns based on branded keywords, features, use cases, etc.
Facebook. Our main use case for Facebook ads is to retarget website visitors.
Quora. We pay to promote our top converting answers so that they can appear in various threads. Even though its ad costs may bite sometimes, it's steadily bringing us leads which convert to regular customers.
Review websites, especially Capterra and its lists of software.
Many companies also claim that LinkedIn ads are topping all the other PPC channels. We can neither confirm nor deny this fact for a simple reason that we didn't witness any astonishing results with LinkedIn for paid B2B lead generation. While it's true that it is the most popular place where all the big and small companies hang out together, their ad prices are just too unaffordable. All in all, we've postponed this channel for the time being.
6. Use live chat for engaging with leads on your website
This B2B lead generation tactic deals with the hard task of catching as many leads on your website as possible. Say, you've created some impressive high-intent content, set up ad campaigns in Google and on Facebook, written a dozen of insightful answers on Quora — and your leads started flocking to your website. But, how do you get the most desired information every marketing and sales manager craves — their contact information?
We might be a little biased here, but website live chat has shown great results in terms of website conversions and lead generation. But don't just take our word for it. According to the Forrester research, customers who use live chat prior to making a purchase show a 10% increase in their average order value and a 40% conversion rate.
So, how does this whole live chat deal work? Live chat tools offer a plethora of features that can help with generating leads:
Proactive chat messages. Engage with website visitors offering them proactive help on landing, pricing, and checkout pages. Sometimes, people need a little nudge to contact a business for the first time.
Pre-chat form. If you turn a pre-chat form on, you will be able to collect visitors' email addresses, names, or any other relevant information. Once they press a chat button, they'll be asked to enter this information.
Offline form. This feature does pretty much the same as a pre-chat form, but it's only active when your team is offline.
Chatbot. Many customer communication tools offer the chatbot feature. You can program it to repeat some typical conversations and scenarios. This way, they'll ask people for their contact information and do some basic lead pre-qualification.
However, using live chat for sales can be a great idea even without all the fancy stuff. Just being there and answering in real time when a visitor decides to contact you via live chat make a great difference, too.
7. Generate B2B sales leads through good old cold outreach
Now, to the underdog of all the B2B lead generation strategies, to the joker in the pack proclaimed dead too many times — to unpopular yet persistent cold outreach. People love to hate it. But it's not going anywhere any time soon.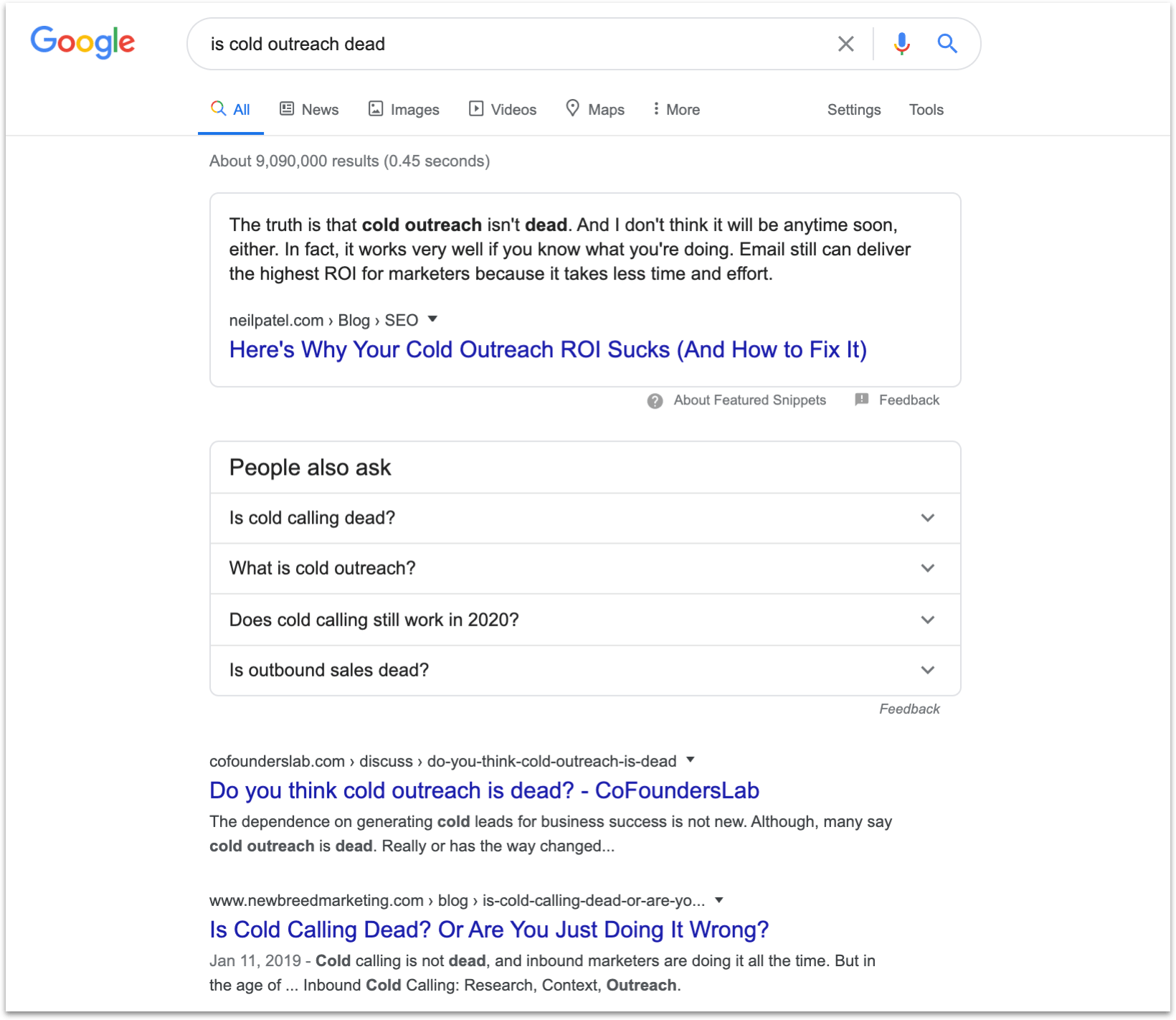 There are two most effective ways to generate quality outbound B2B leads that we tried at HelpCrunch — via email outreach and direct messaging on LinkedIn. I know, they are not some revolutionary new insights as emails and LinkedIn have been used for this purpose ages ago. But what can I say? These are indeed the best channels for cold sales outreach. They work even better in a bundle: you can reach out to a cold B2B lead on LinkedIn, then follow up with them via email.
So, how do you even find any prospects that will be great for your cold outreach? You might want to try the LinkedIn Sales Navigator tool. It allows sales reps to find and prospect leads based on any data you find relevant: industries, geographies, companies, roles within those companies, etc.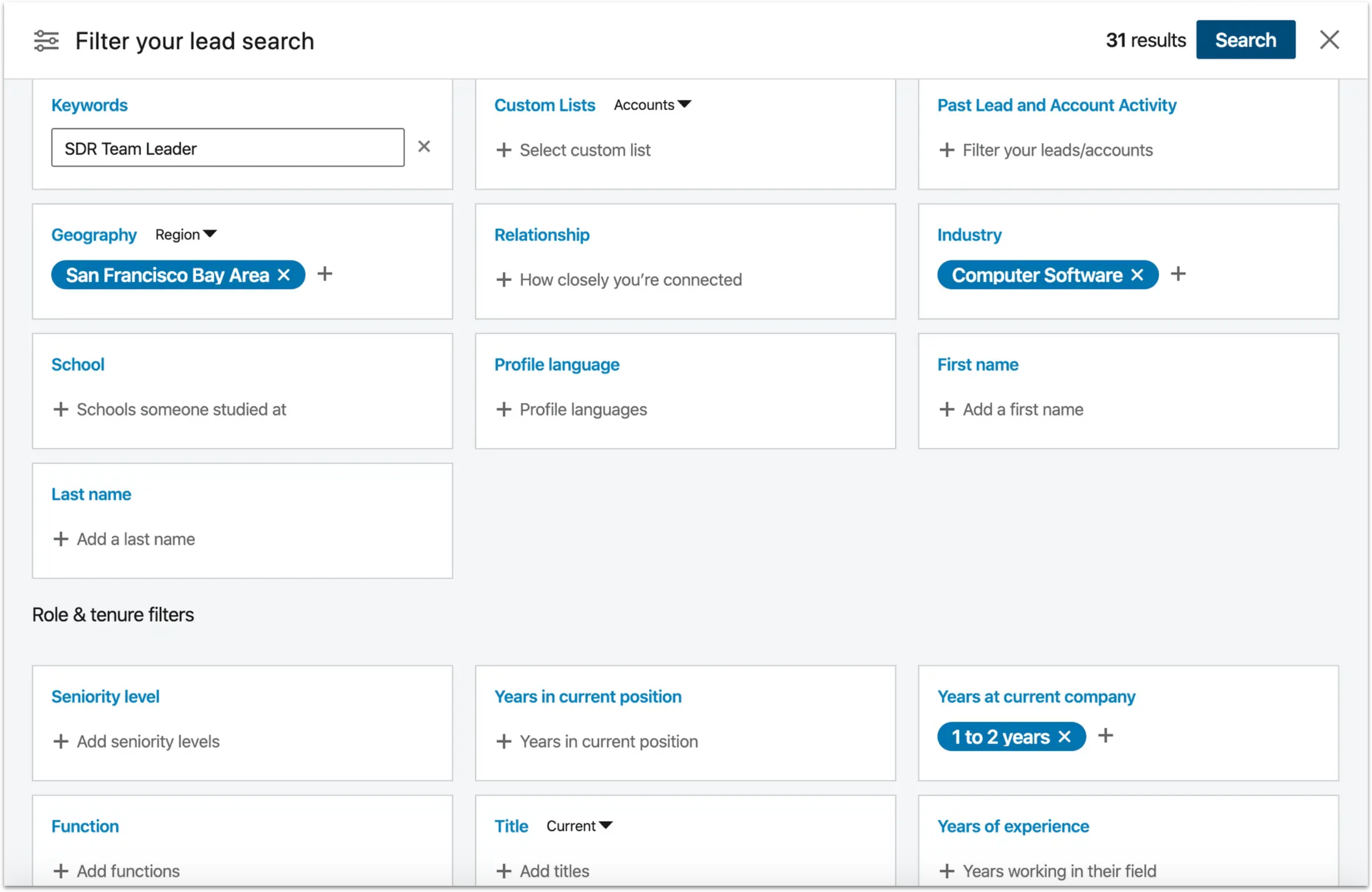 Once you've collected a list of relevant prospects, you need to craft a sequence of emails and follow-ups depending on the communication channel you choose. There two basics rules that you should always keep in mind:
Cold sales outreach only works for big groups of prospects. The more leads you generate, the higher your chances of success are.
As irritating as they are, you should send numerous follow-ups if you want to achieve real results.
Alternatively, you can go a DIY way with email lookup tools. They can help you out at any stage of lead prospecting you're at. If you know who exactly to target at some company, you can check that person's contact info by their name and corporate domain. If you don't, no worries. It's also possible to find all email addresses tied to that domain, along with employees behind them and their job titles.
To make things easier for yourself, use Chrome extensions integrated with these tools. Instead of switching back and forth between the app and other open tabs, you'll be able to check your leads' emails right on their sites or social profiles. Got a contact list with supposedly valid emails from God knows where? You'd better double-check how accurate that data is using a standalone email verifier. And thanks to the feature of bulk verification (and search), it won't take you long.
Here are popular email lookup tools to try, along with their main features compared. If you're on a tight budget, check out more email finders that are somewhat free, either provide a free plan renewed monthly or free credits to use once only.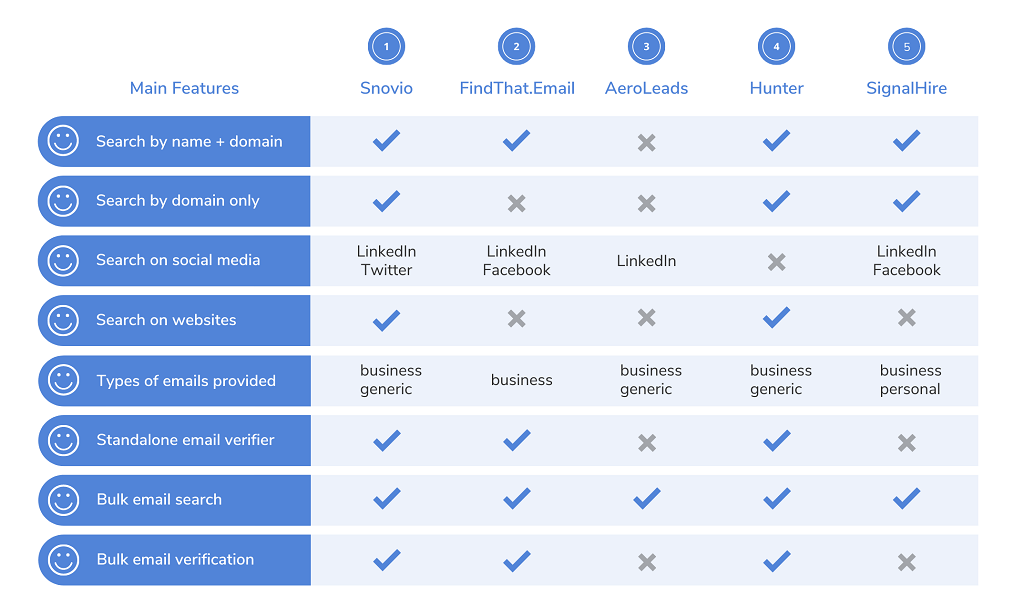 So, what's the best B2B lead generation strategy?
Content marketing! 🙂
Nuh, I'm just kidding here. All of the above-mentioned tactics can bring some great results when applied correctly. And I've only scratched the surface with them as there are far more can be said on the topic.
You can be sure of one thing, though. We at HelpCrunch have tried every of these 7 B2B lead generation ideas and they did bring us leads. Sure, some (like Quora, content marketing, and PPC) are working better for us, while others are less effective. But effective nonetheless. So start applying them consciously and it won't be long before you see results.