7 Cost-Friendly Intercom Alternatives in 2023
We've taken 7 best Intercom alternatives to a 14-day test. Check out which Intercom alternatives offer better value for money and will suit your business needs.

Are you a customer success superhero? Perhaps a sales or marketing executive? Maybe even a founder of your own business? Then you've probably tested, used, or at least heard about Intercom.
It's an amazing customer support platform that enables thousands of online businesses to engage with their customers in many different ways.
But Intercom is not perfect. There are things that thousands of Intercom's existing and potential users are having major problems with:
Extremely high prices
Unscalable & unpredictable billing (additional monthly charges for the number of reached people)
Inattentive and uncaring customer service that often ignores your requests or keeps moving them from one department to another
Buggy email automation tools
Some missing minor features and long-to-fix bugs.

That is why many users are constantly looking for more suitable and cheaper alternatives to Intercom. And that is exactly why you've ended up on this page, isn't it? Here are the top 7 of them we talk about in this article:
HelpCrunch
Zendesk
Drift
Tidio
Help Scout
Olark
Hubspot
I hear you, let's talk about Intercom first…
Before we start looking into its competitors more attentively, let's talk about what Intercom is. This will give us a clearer understanding of how to better judge Intercom alternatives.
Intercom features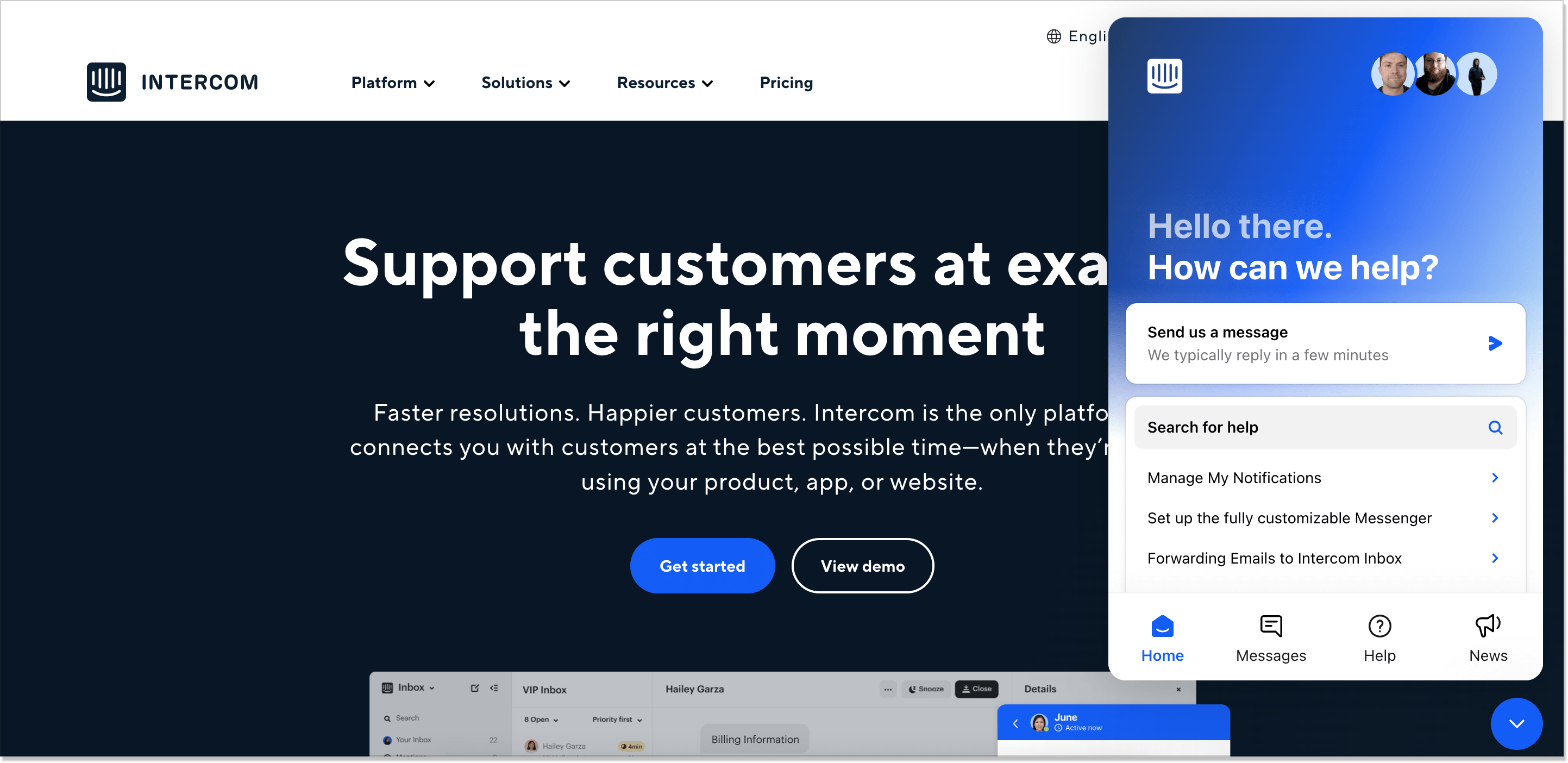 It's almost like Intercom is deliberately trying to make it complicated. They showcase different sets of features on different pages and also give them confusing random names, depending on whether you check it on their website or inside the tool's dashboard.
Nobody doubted Intercom kept up with the times. Recently, they've released their AI-backed features (beta) such as a conversation summary tool, smart Inbox composer, and article generator. These functionalities are a powerful backup to a list of main Intercom's features:
Live chat
Shared inbox
Knowledge base
Email marketing
Chatbot
Product tours
Banners
Series (something like a combination of all outbound messages including chatbot campaigns, email campaigns, product tours, etc)
It should be noted that some of these features (most of them actually) are only included in the expensive subscription plans that cost thousands of dollars, while others only come as add-ons. This brings us to the question of money (cheap alternatives to Intercom are closer!).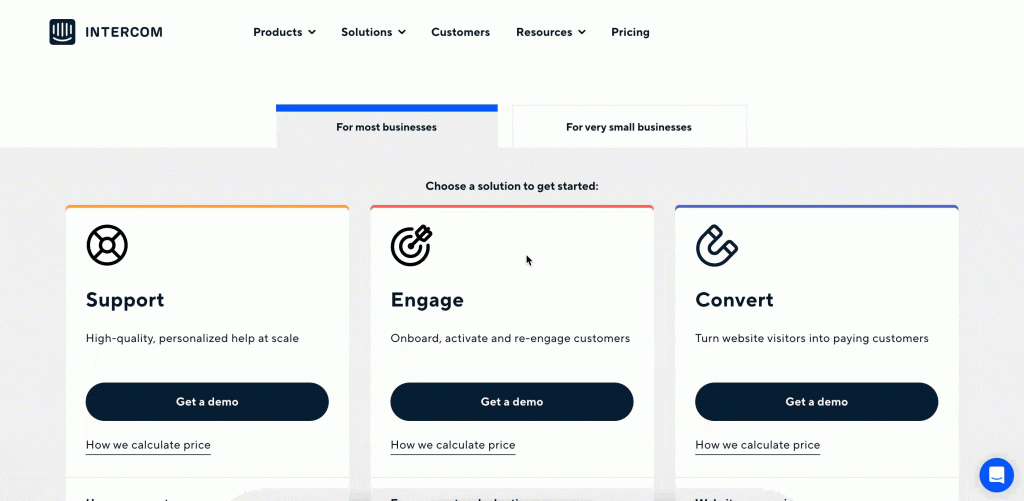 And the short answer to it is that the company doesn't disclose its pricing so easily. You can only see the actual prices after a demo from their sales team. Or you can try switching your browser to the Incognito mode and pasting the direct link to their pricing page into the address bar (but chances are different people will see different subscription plans there).
You see our best estimation based on different sources and Intercom's demo that we actually signed up for and went through.
The cheapest package with live chat, knowledge base, and a basic conversation routing chatbot costs from $74/mo and includes two seats.
Each additional seat will cost $19/mo.
But that's just the tip of it. The basic subscription only allows you to reach 1k people per month. If you exceed this limitation, you'll have to pay $50/mo for every 1,000 additional people reached.
If you need something more elaborate, you will have to take a look at Intercom's more expensive subscriptions, which will include live chat, team inbox, email marketing, banners, and advanced bots. These advanced packages start from around $499/mo and can reach a few thousand of dollars for bigger businesses. Product tours will add another $199/mo to this price since they're available as add-ons.
So, the biggest difference between this solution and the closest alternatives to Intercom is in these charges for contacts you reach with your campaigns. Most tools don't do this. Usually, you only pay a fixed price for the number of support agents you need, and that's it. With Intercom, you can't tell how much you'll pay. One month, it can be $74 and the next you'll pay a thousand.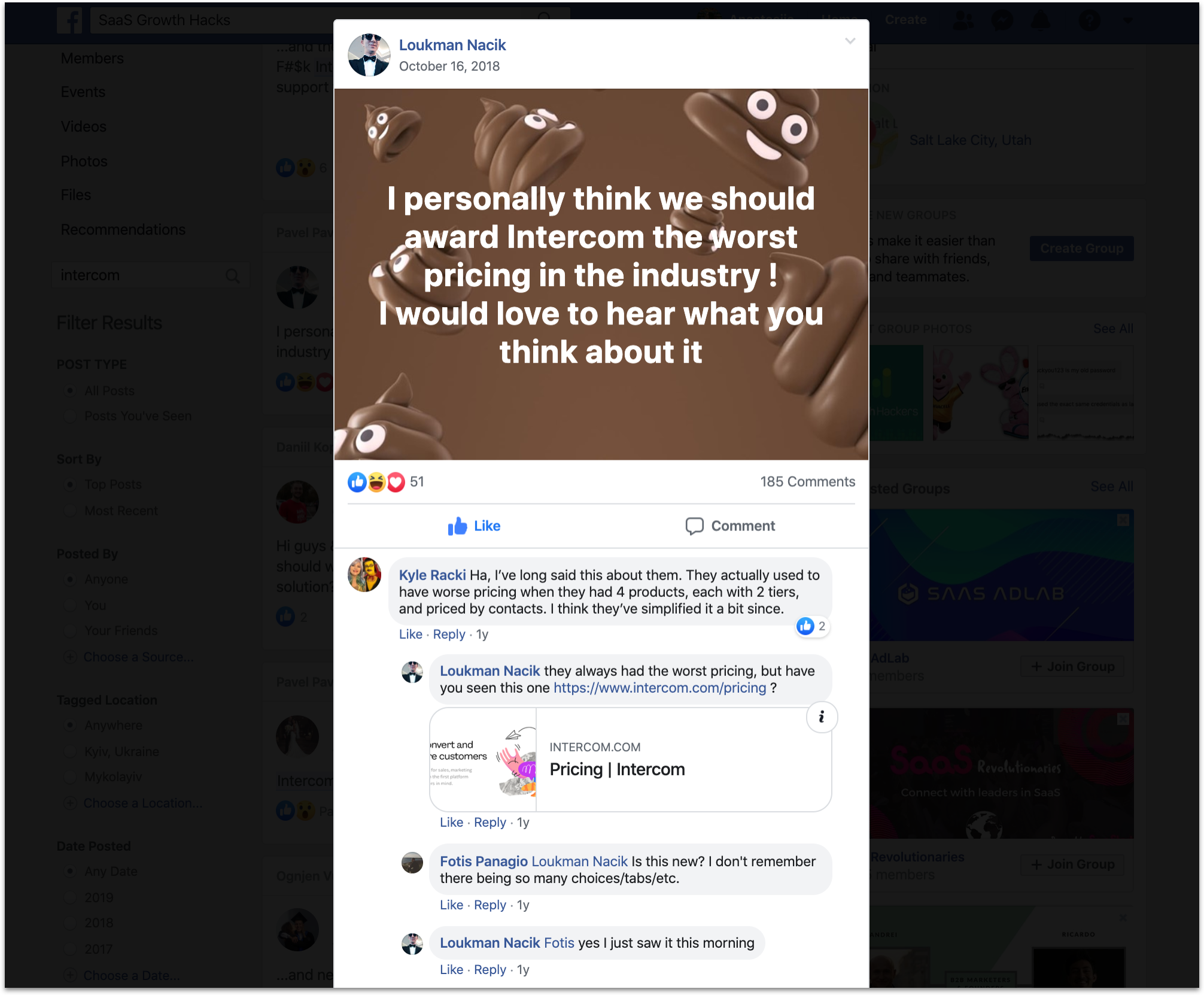 These are the main reasons why numerous businesses and startups end up searching for a better Intercom alternative. Some tools focus on customer support features, while others are trying to build powerful chatbots.
So, are there adequate, affordable, and equally powerful Intercom chat alternatives? There definitely are! 🤫
7 affordable Intercom alternatives in 2023
We've tested every solution listed above for at least 2 weeks, which gave us a good understanding of how each software may satisfy the needs of a typical Intercom user. After extensive research, we've chosen the 7 best Intercom alternatives:
Solution
Free plan
Free trial
Key features
Prices from
G2 rate
HelpCrunch
No
14 days
Live chat, chatbot, shared inbox, knowledge base, email marketing, popups
$12/mo
4.7/5
⭐️⭐️⭐️⭐️⭐️
Zendesk
No
14 days
Ticketing, case management, reporting
$49/mo
4.3/5
⭐️⭐️⭐️⭐️
Drift
Yes
No
Conversational features (live chat, AI chatbot, sales meeting calendar)
$2.500/mo
4.4/5
⭐️⭐️⭐️⭐️
Tidio
Yes
7 days
Live chat, chatbot, shared inbox, visitor monitoring, knowledge base
$19/mo
4.7/5
⭐️⭐️⭐️⭐️⭐️
Help Scout
No
14 days
Shared inbox (Mailbox), live chat, reporting, basic CRM
$20/mo
4.4/5
⭐️⭐️⭐️⭐️
Olark
Yes
14 days
Live chat, chatbot
$29/mo
4.3/5
⭐️⭐️⭐️⭐️
HubSpot Service Hub
Yes
14 days
Live chat, shared inbox, knowledge base, call tracking (beta)
$45/mo
4.4/5
⭐️⭐️⭐️⭐️
1. HelpCrunch
The best Intercom alternative with intuitive live chat, chatbot, knowledge base, and shared inbox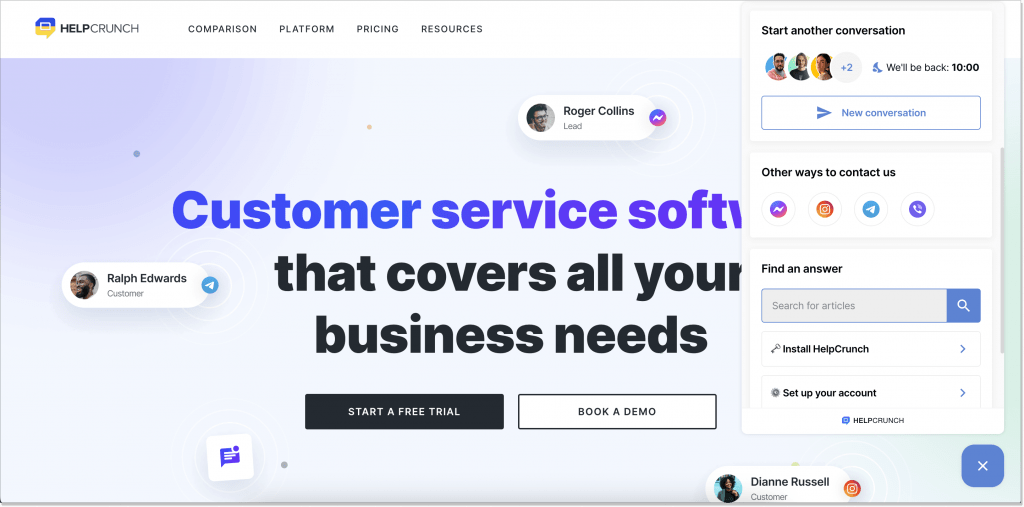 The story of HelpCrunch started back in 2014 as an affordable all-in-one tool for customer communication.
The premise was simple: support, marketing, and sales departments aren't some mysterious separate entities within a company. One way or another, they all have to do with customer communication, so it only makes sense to unify them in one place. Intercom was promoting a similar idea at the time, but it was expensive. That's how HelpCrunch, a more intuitive and cheaper alternative for Intercom, emerged.
Among all other alternatives, HelpCrunch is probably the closest you can get to Intercom in terms of customer service functionality:
Shared inbox
In order to be on the treadmill of what's going on with your conversations via live chat, chatbot, email, and messengers, HelpCrunch provides a much more convenient (and affordable) option that Intercom has ever had – a multichannel shared inbox.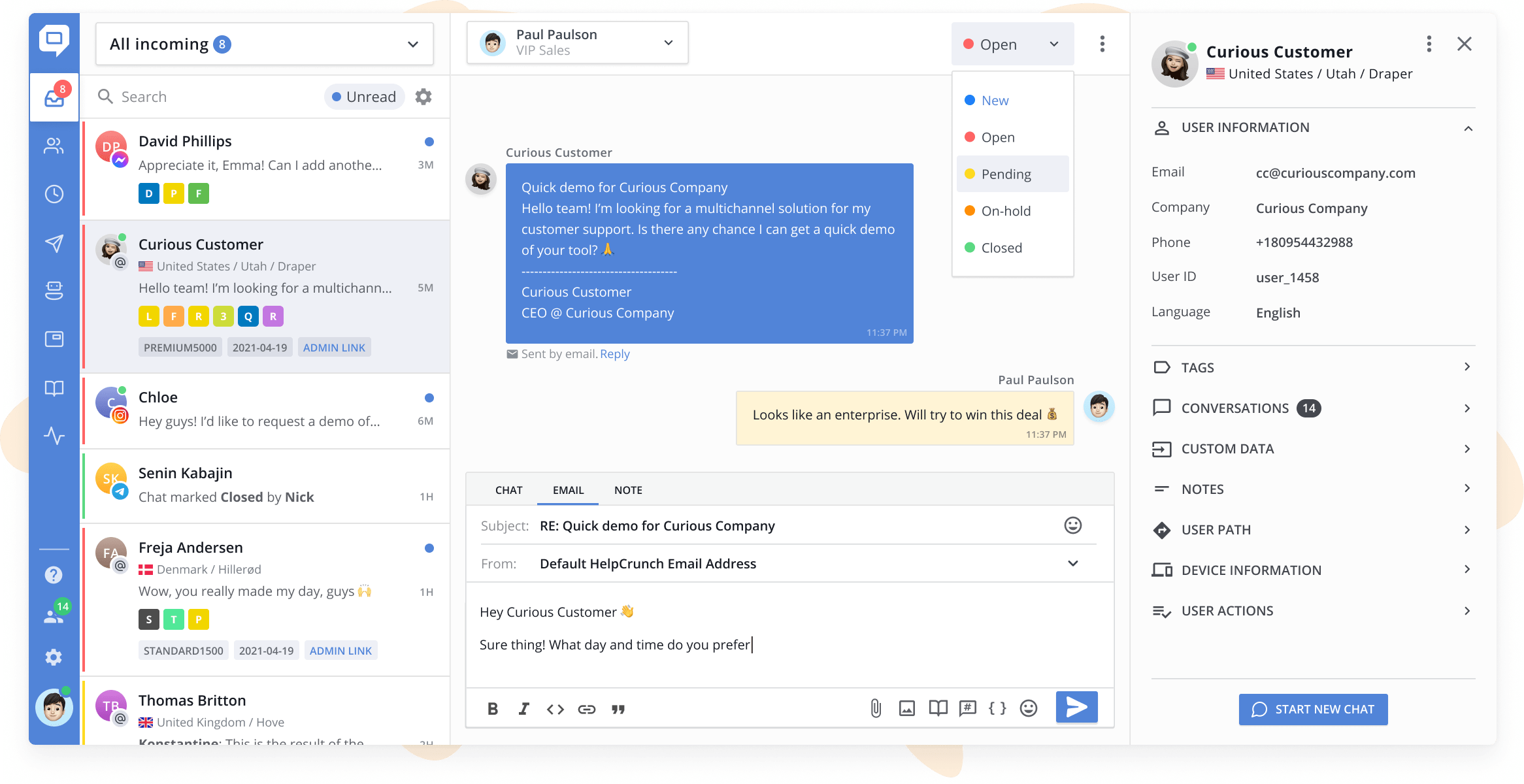 With it, you can keep your hair on: no dialogue will fall through the cracks because your correspondence lines up in one, time-ordered queue. Besides, there are numerous other cool functions the HelpCrunch shared inbox delivers:
Catching customer data in real-time;
Sending emails right from the inbox;
Routing messages to your teammates, assigning and merging chats; Leaving private notes for the team.
Live chat
Our hallmark feature – live chat – can't leave anyone indifferent. Thanks to one of the richest choices of customization options, you can make the HelpCrunch widget fit your brand style as precisely as needed. From localizing it for different markets to customizing its start screen, size, colors, and wallpapers to integrating a full-fledged knowledge base into it – it's easy to make it truly yours.
What's even more lucrative is that you can easily integrate a chat widget into your SaaS product and send targeted in-app messages to your active users or re-engage them with smart email blasts. This helps your team engage with customers and increase retention.
Chatbot
The HelpCrunch chatbot is rule-based and requires zero coding for creating chatbot scenarios. You can automate repetitive questions, qualify leads, encourage customer self-service, collect bug details, and whatnot.
The cherry on top is that you won't spend much on it unlike the rest Intercom alternatives (we'll talk about it later).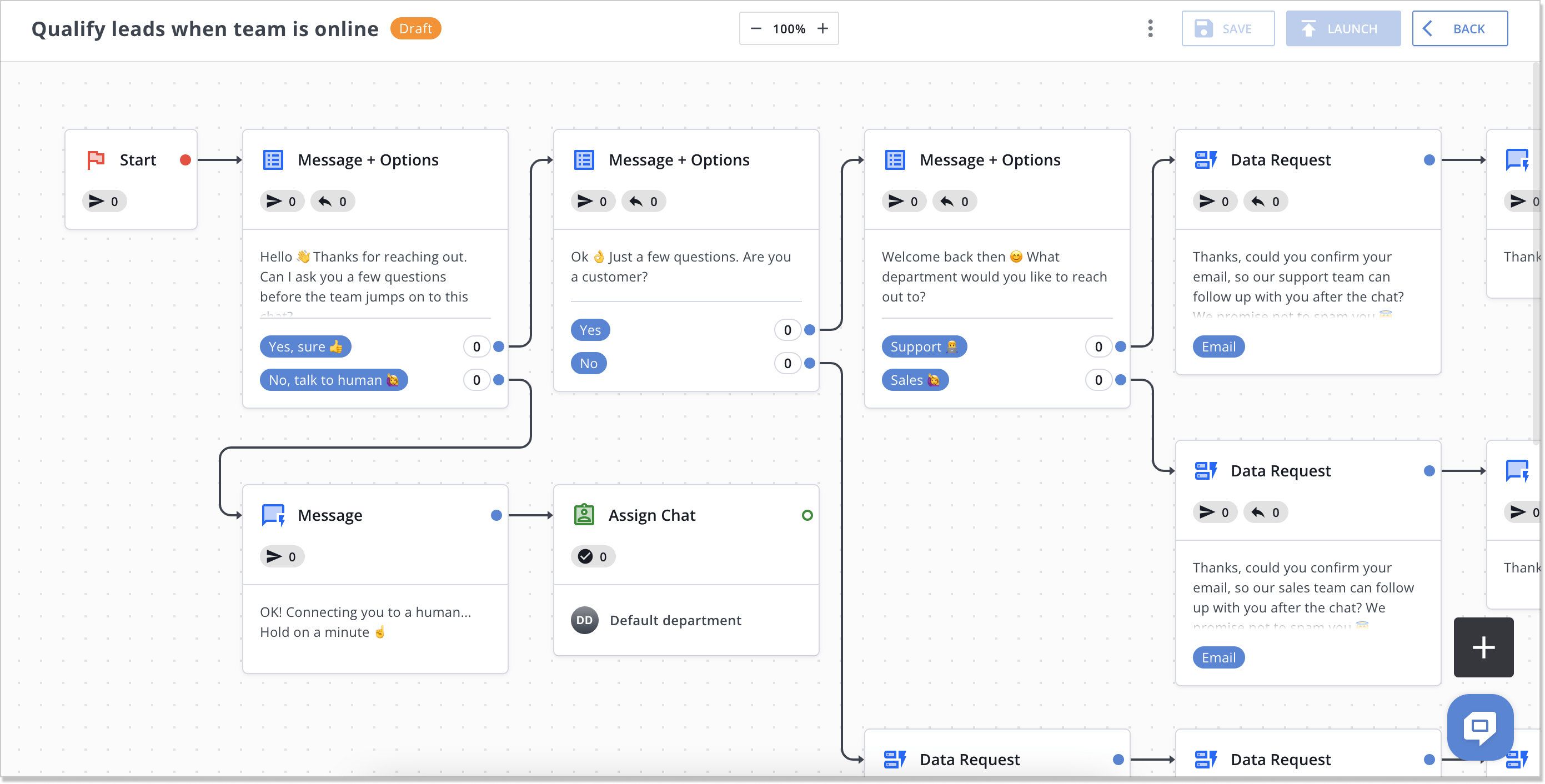 Knowledge base
In this Intercom alternative, you can integrate fully-featured knowledge base software which speeds up customer self-service manyfold. First, the audience can look up their answers right in the chat widget, without bouncing over other tabs. Second, your team can send the knowledge base articles while speaking to a client which eases the process significantly. Should I also mention that a knowledge base can be customized to your business identity?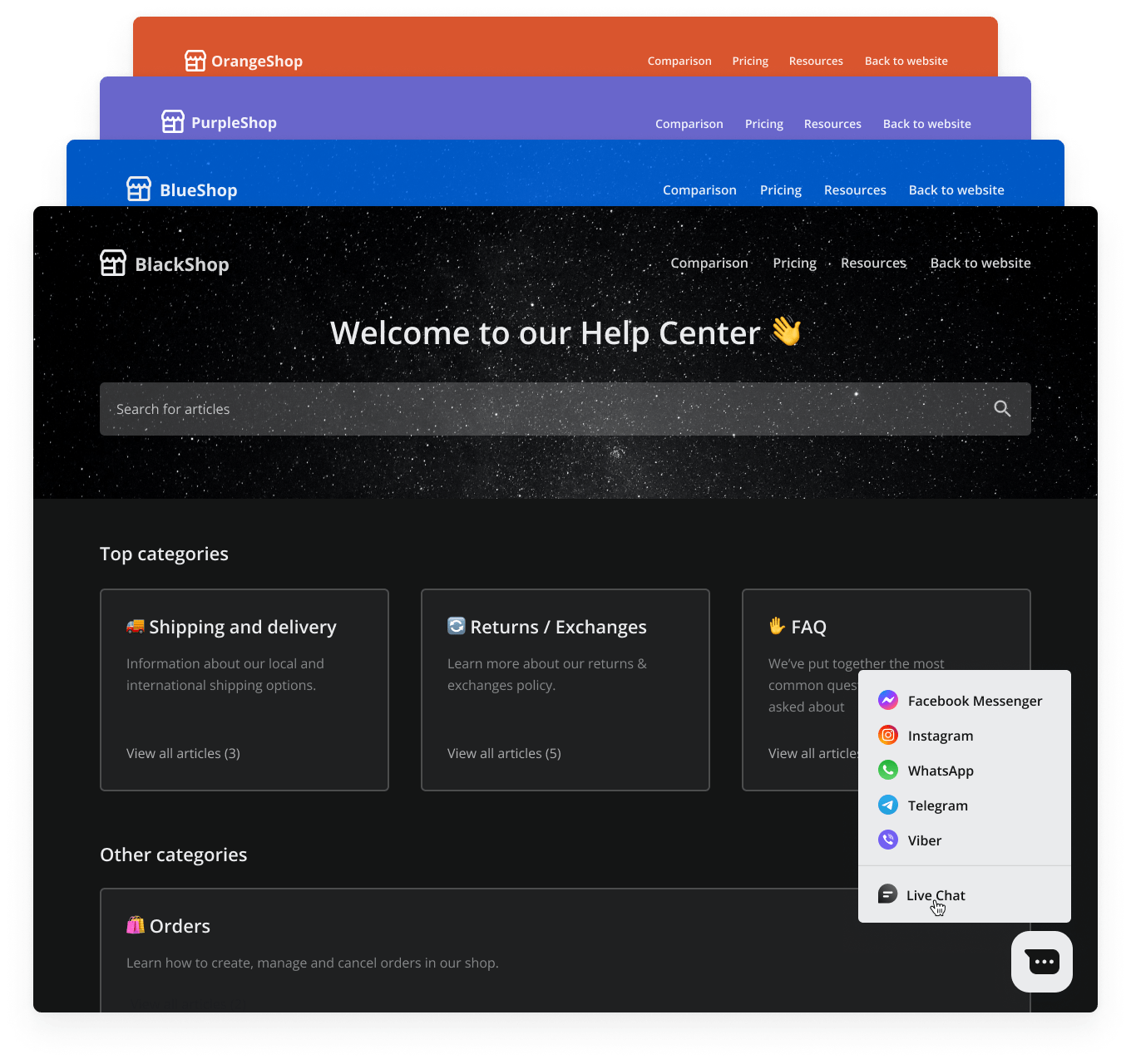 To sum up this HelpCrunch and Intercom comparison, the latter is a fantastic solution for large organizations with big budgets. In contrast, HelpCrunch is an excellent choice for robust customer service if you're looking for more affordable yet very similar alternatives to Intercom – without overspending and compromising on quality.
HelpCrunch pricing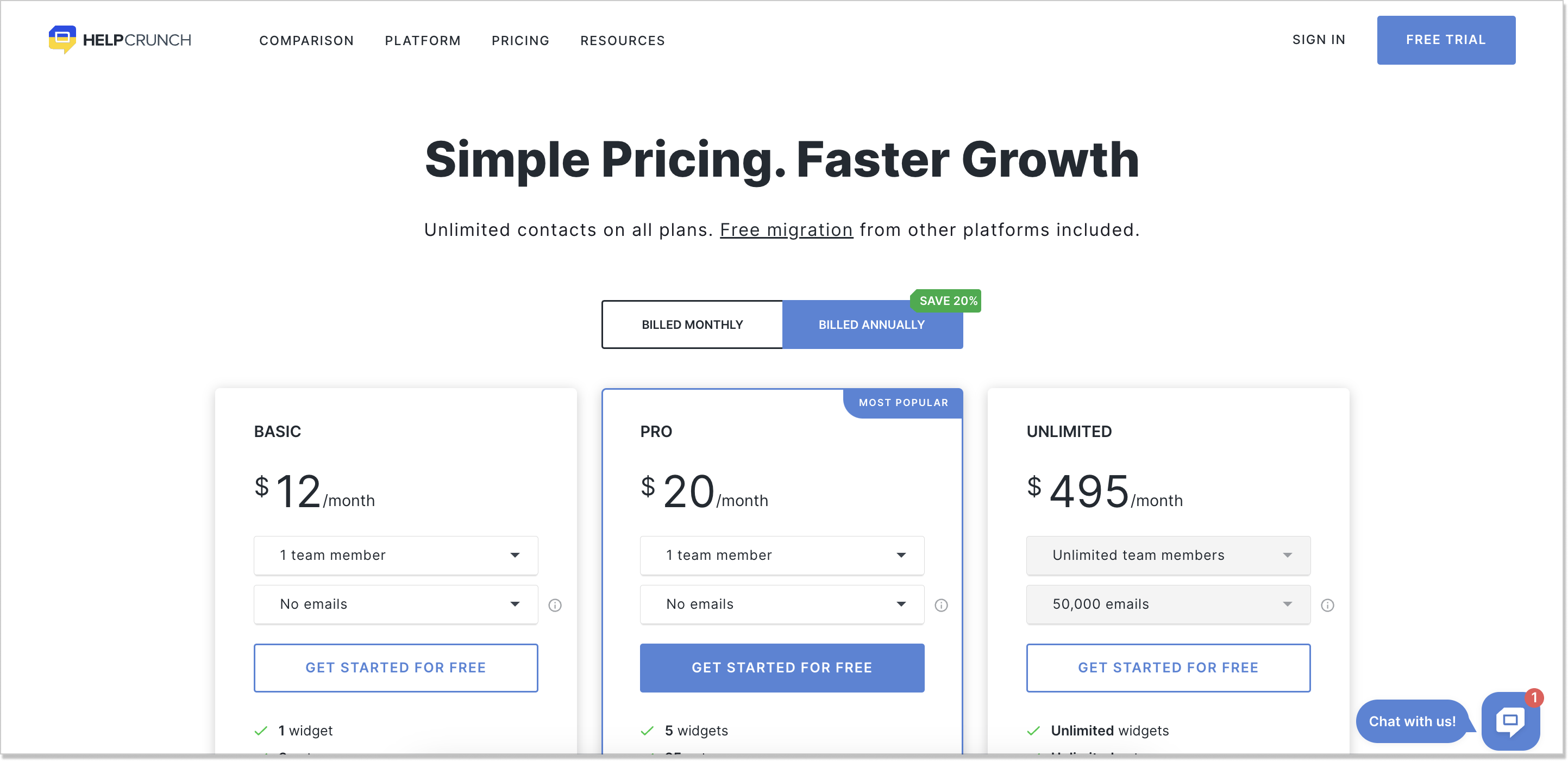 The HelpCrunch pricing depends on the number of agents you need and starts from $12/mo in Basic. The Pro plan will cost you $20/mo. There's also an unlimited subscription plan for $495/mo that basically has no feature limitations whatsoever. Try the HelpCrunch platform for free for 14 days – you don't have to leave your credit card details for this unlike in Intercom.
2. Zendesk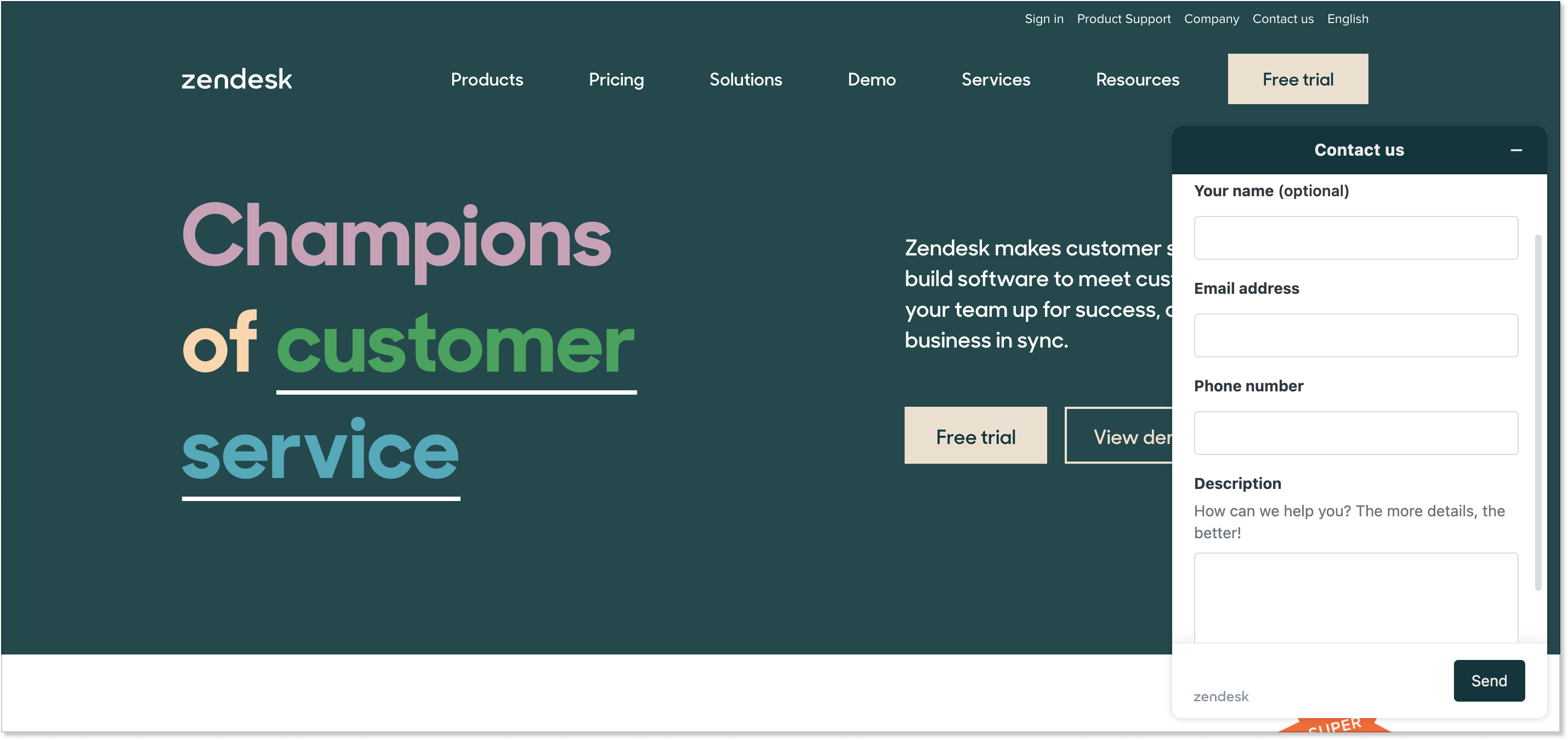 Zendesk is a mature customer support platform that offers a wide range of features. However, their ticketing functionality is at the heart of the whole toolset while live chat is dragging behind.
This solution also provides limited, rather outdated live chat and a shared inbox. Even other Zendesk alternatives always try to go with the tides and add something new from time to time. So if you want to receive, compartmentalize, and prioritize every customer request, go for Zendesk.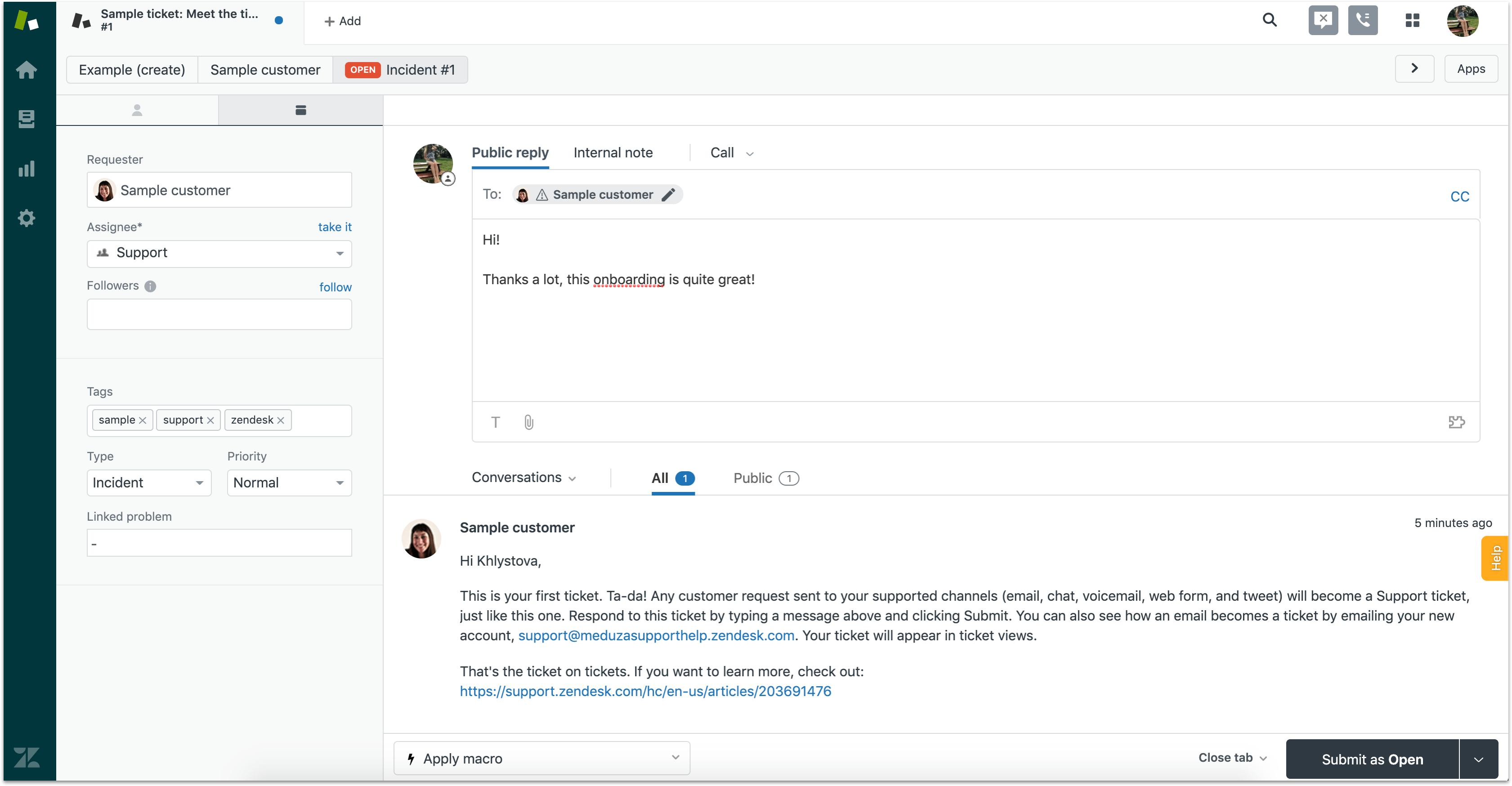 To be completely honest, both Intercom and Zendesk look reliable for any size of business. However, there is a "but". Compared to other prospects we present today, they show one of the highest complexity levels. Thus, they are doing their best to onboard and show you around from the start, the tools have a steep learning curve.
If you're a huge enterprise looking for a good Intercom alternative, then Zendesk might tick all the boxes for you. While testing the tools, we found Zendesk to be more customer service oriented as opposed to the main hero of this article which is awesome for marketing and sales.
Other core differences between Zendesk and Intercom involve 2 facts. 1) The former doesn't offer email marketing functionality which could otherwise enable you to send email campaigns to your customer base. 2) Zendesk is extremely powerful and reliable. It has way more features for customer support than Intercom does and provides detailed reports for any aspect you can think of.
Zendesk pricing
You'd better look for Intercom cheaper alternatives because Zendesk costs from $49/per agent/mo for everyone and can rise up to $199/per agent/mo for big enterprises.
3. Drift
An AI-oriented Intercom alternative for sales and marketing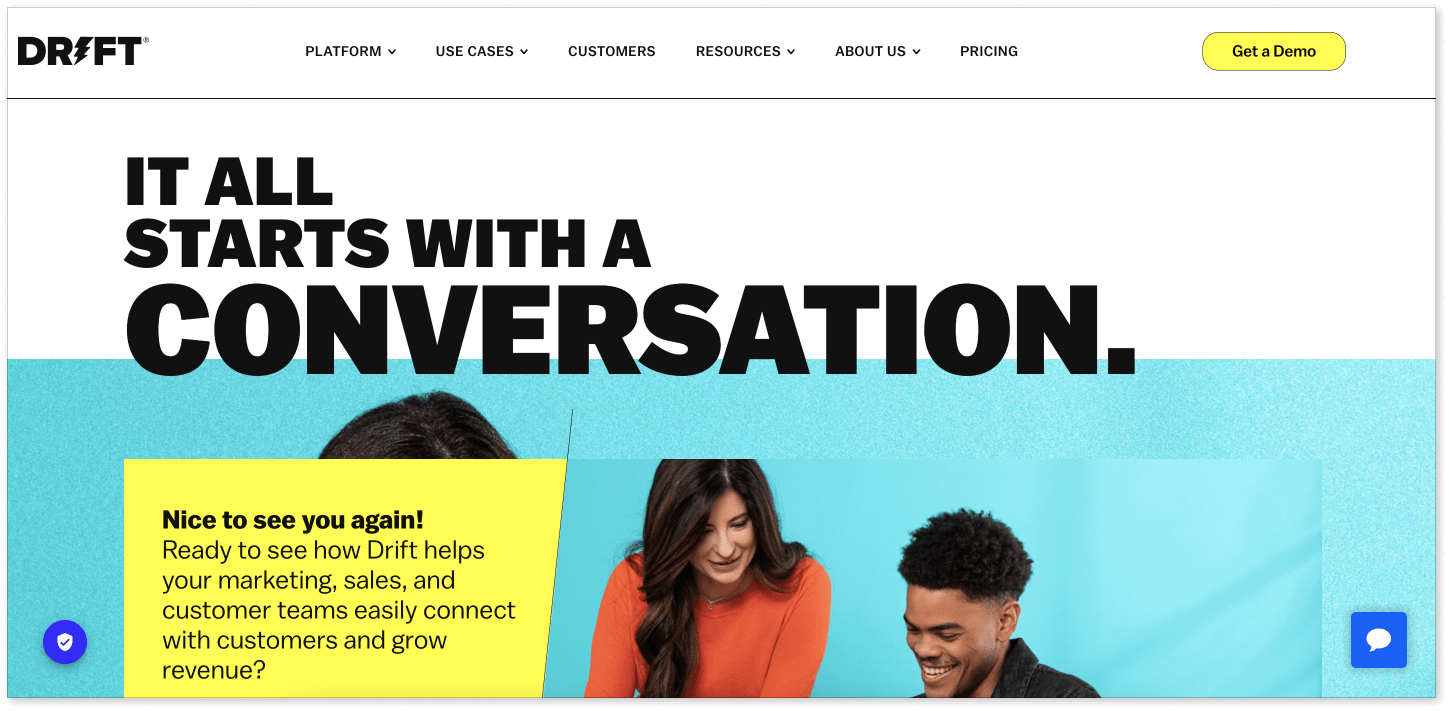 Drift is the best alternative to Intercom when it comes to sales features in general and AI chatbots in particular. In fact, this is what distinguishes this solution from its rival.
What can a regular business with basic SALES needs get from Drift?
If we stumble Drift and its corrival together, you will notice that the latter puts a great deal of value on their sales and lead generation features. It's manifested by such features as an integrated calendar for booking meetings or sales video recording tools. Besides, Drift allows you to get real-time notifications once a lead interacts with a website, clicks a link, etc.
The platform highlights several major product directions, all with the Conversational prefix: Marketing, Cloud, Sales, Service, and AI. The first one in this list is their most distinguishing invention if we run a parallel with the other candidates in this article.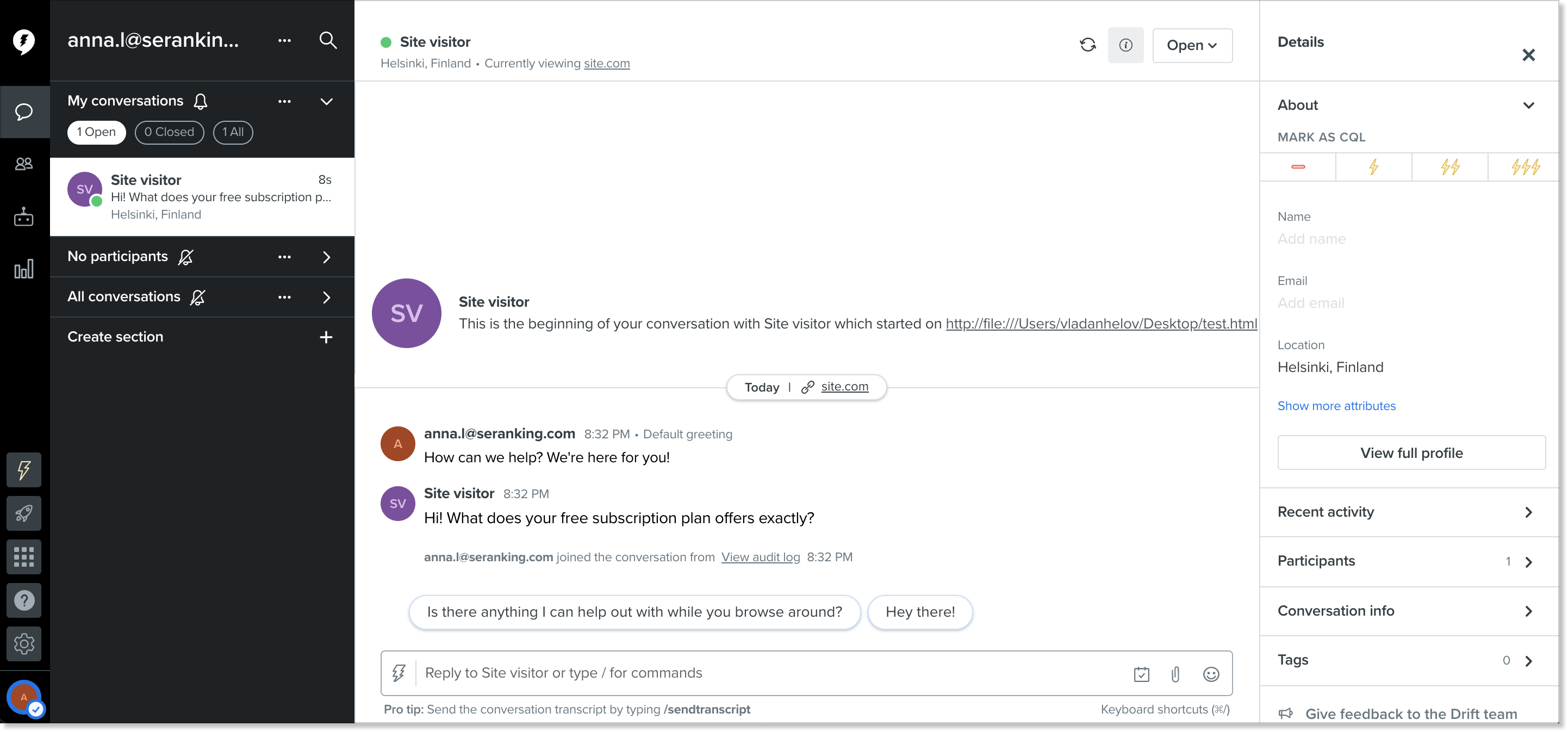 So what is the "conversational" part expressed in? The thing is that Drift provides an AI-powered bot that can automatically identify website visitors and engage with them on a more personalized level and a decent live chat. As a matter of fact, the one from Intercom can do just that as well. This is their common thread.
What about money? Well, Drift prefers to stay cryptic with this. If you take a look at its website, it's dotted with the "Let's chat" and "Get a demo" CTAs. However, there's one price they show 👇
Drift pricing
You can already look for cheaper Intercom alternatives as Drift's pricing starts from $2.500/mo (Premium plan) for small businesses. Some of the premium chatbot features are available in the free trial.
4. Tidio
A proper Intercom alternative with live chat and chatbot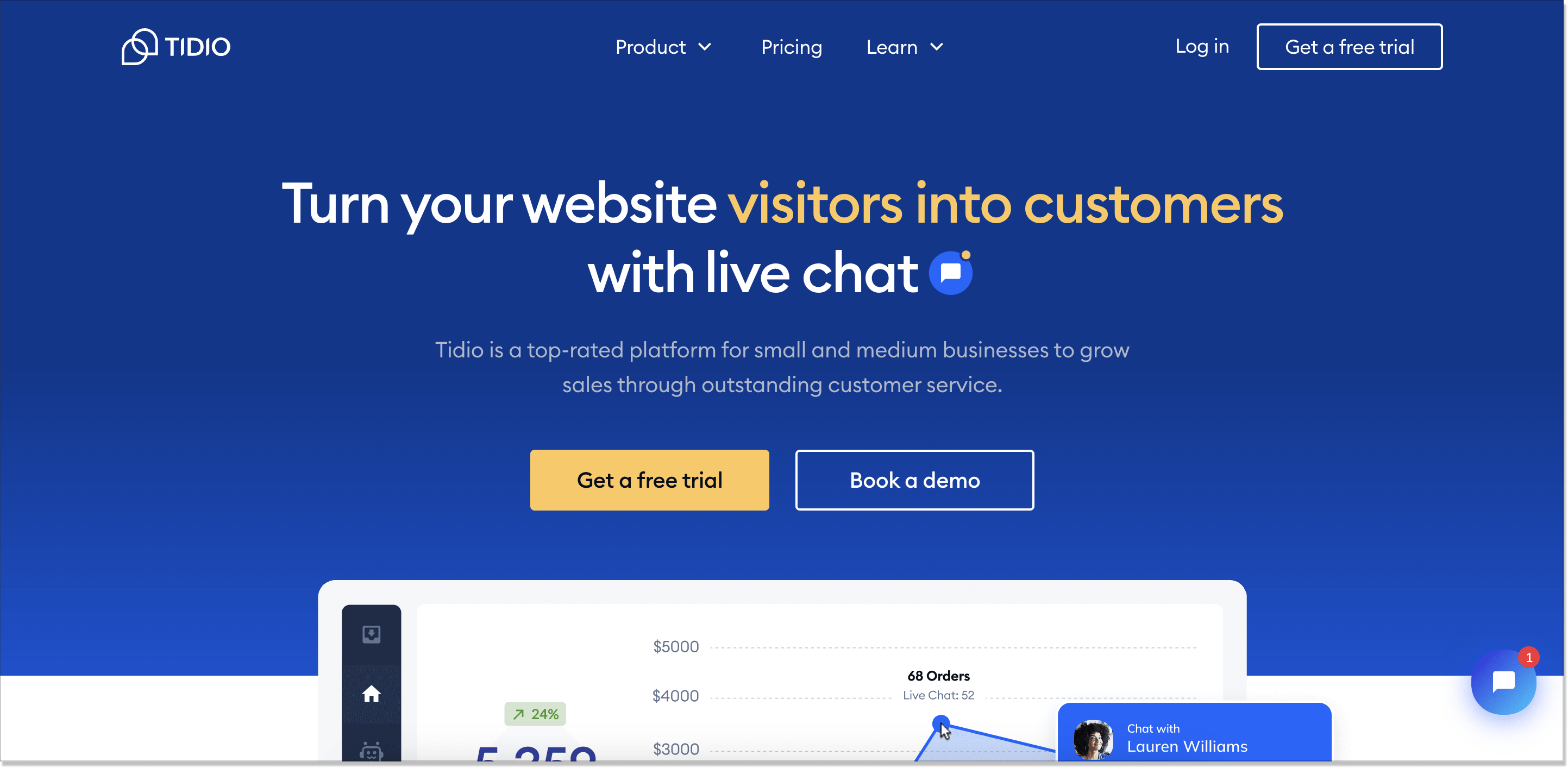 Tidio was founded in 2013. At first, they kicked off as an advertising agency but quickly switched to building online marketing tools. In 2022, the company raised $22M in a Series B specifically for the purpose of automating customer service (read: building their AI chatbot tool).
For a long time, Tidio has been a mono Intercom alternative offering only live chat features. With various third-party integrations like Facebook, Instagram, and emails, it is a perfect way to provide fast customer service. Plus, Tidio shared inbox is a potent dashboard for managing all of the requests in a convenient way.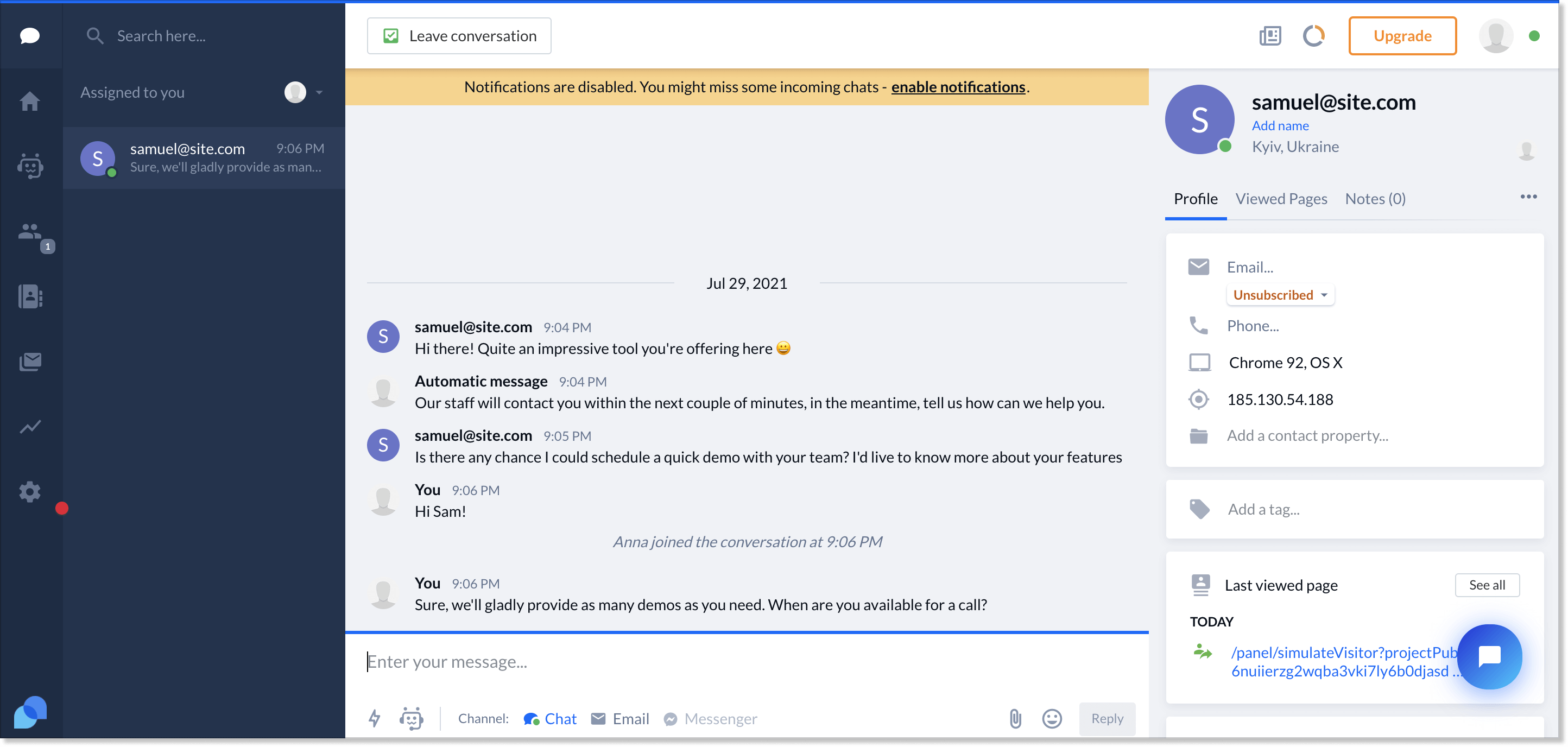 Recently, Tidio developed AI chatbots that analyze customers' requests and gradually learn from them (the things Intercom takes great pride in). I don't believe Tidio is already on the same level technology-wise, but it seems like they're moving in the right direction.
Furthermore, there are 35+ chatbot templates for different use cases and scenarios, so adapt them for your business and launch. Tidio's visual flow editor is a real treat for quickly setting up various actions and leading customers in the right direction. The same can't be said for Tidio's competitor, can it?
Another curious feature is real-time visitor monitoring. It will allow you to see all website visitors and reach out to them depending on their last visited pages and personal info.
So if you're overwhelmed by Intercom's extensive features, Tidio can feel like a breath of fresh air. An elegant live chat widget with potent chatbot automation and a simple knowledge base can be a perfect substitute for the same features Tidio's corrival has.
Tidio pricing
Tidio suggests a free plan as well as 3 more pricing tiers: Communicator – $19/mo, Chatbots – $39/mo, and Tidio+ – $289/mo.
5. Help Scout
The best Intercom alternative for email marketing but without a chatbot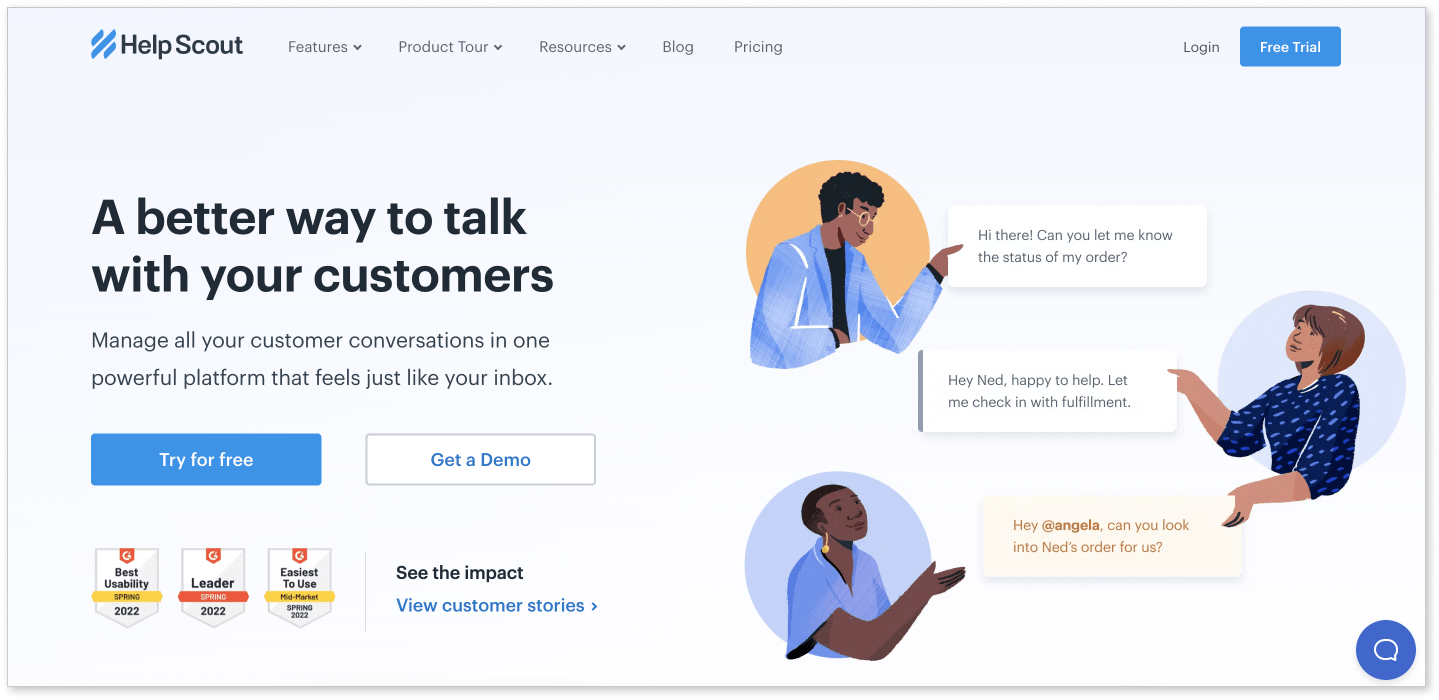 Founded in 2011, the Help Scout platform is the older Intercom alternative on the market. And it's also more focused on customer service rather than sales and marketing. So, what features does the tool offer in this regard?
A few years ago, Help Scout was more focused on email support, which is evident from their website and onboarding strategy. Right from the start, they suggest you set up email forwarding to manage incoming emails from their inbox dashboard. The rest of the features come second.
Their shared inbox (called Mailbox) is really great for managing emails and chats. However, social media and messenger integrations can only be added via Zapier, so they probably won't run as smoothly as one expects.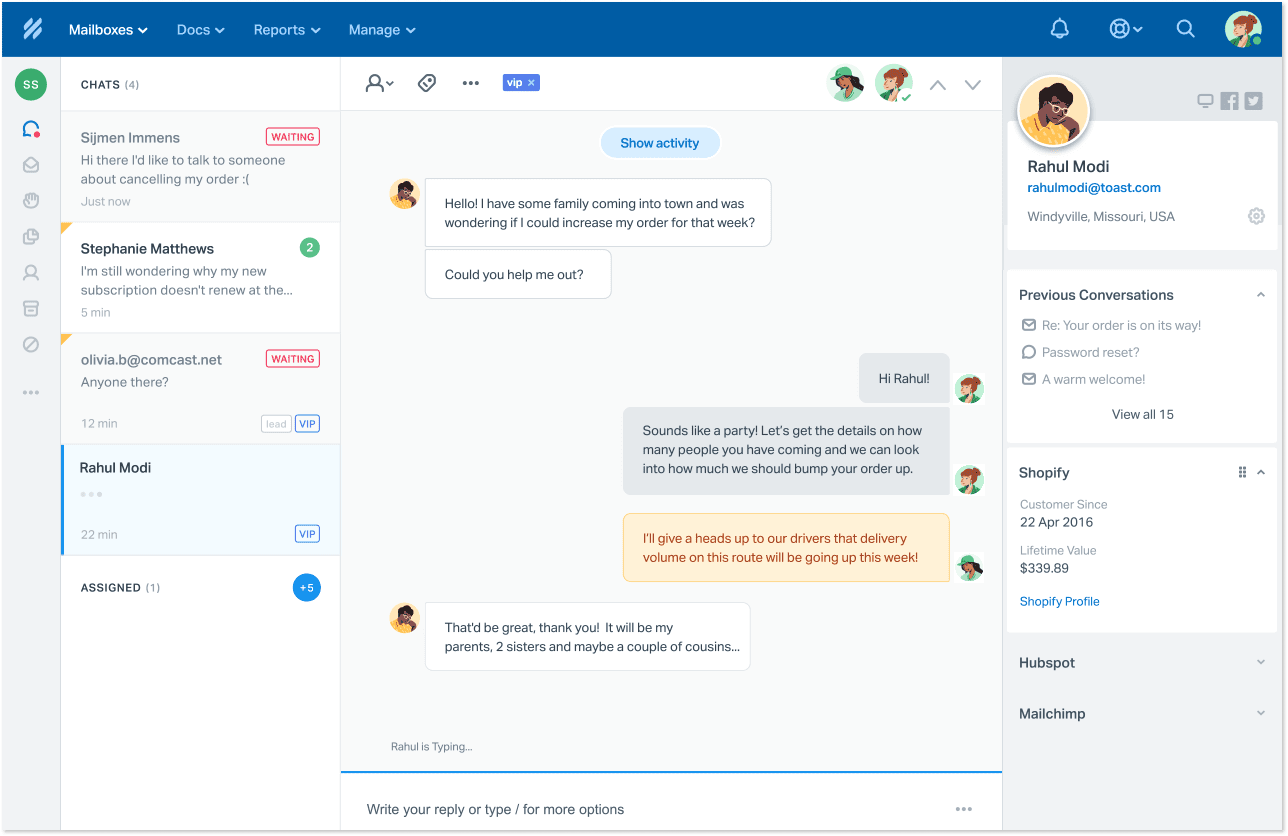 One of the difference makers for a business might be the fact that Help Scout doesn't have any chatbot functionality whatsoever. Even though some smaller businesses can do without it, at some point you're going to want to automate boring repetitive tasks, and Help Scout just doesn't have the feature.
Even though Help Scout doesn't have ALL the features that Intercom does, it is a powerful and wholesome tool for very specific tasks. If your business wants to create a customer service oriented atmosphere and deliver top-notch assistance, the tool is great. It also offers a convenient integration between a knowledge base and a live chat, which is something Intercom lacks.
Help Scout pricing
There are 3 pricing plans available: Standard – $20/mo, Plus – $40/mo, and Pro – $65/mo.
6. Olark
Basic Intercom alternative offering a standard live chat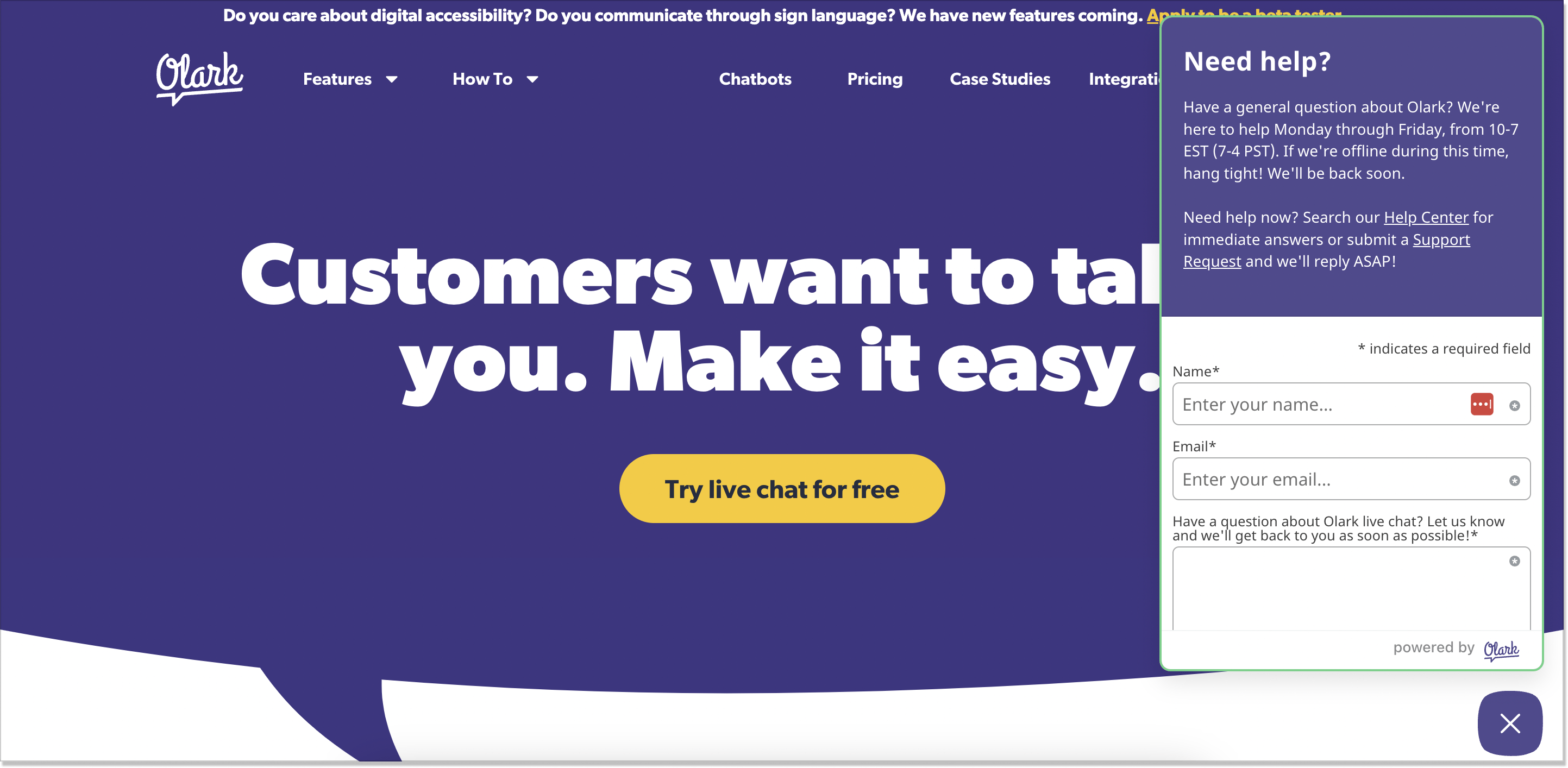 Not everyone needs fancy add-ons to be content, some businesses are looking strictly for an Intercom chat alternative. Olark with its live chat and relatively new chatbot features can be an excellent solution for them. Honestly, it's not the most feature-rich tool on the market, but it's a worthwhile Intercom alternative with only one live chat functionality.
When I say "only one", I really mean it. It's a nice reliable live chat tool. Olark has all the standard things like pre-chat and offline forms, shortcuts, and chat rating. Plus, the tool offers some unique PowerUps that are hard to find in any other Intercom live chat alternatives like chat translation and visitor co-browsing.
If we compare Olark against its rival, there is no way the former can be a full replacement for the latter. Everything boils down to the fact that Olark is missing some vital customer support features. This way, if you want a better live chat in all respects, your candidate is HelpCrunch, choose Zendesk for ticketing, and for email marketing – HubSpot.
Olark has recently released its first chatbot (or rather its beta version). Even though the feature is only available for Olark Pro users, it is still worth testing. Probably, your company will make do with less.
Setting Olark up is very straightforward. There are also a bunch of chat widget customization options. But unfortunately, you can not upload your company's logo, change widget wallpaper, or anything else to make it look and feel truly yours. Well, this is a free Intercom alternative in all its glory.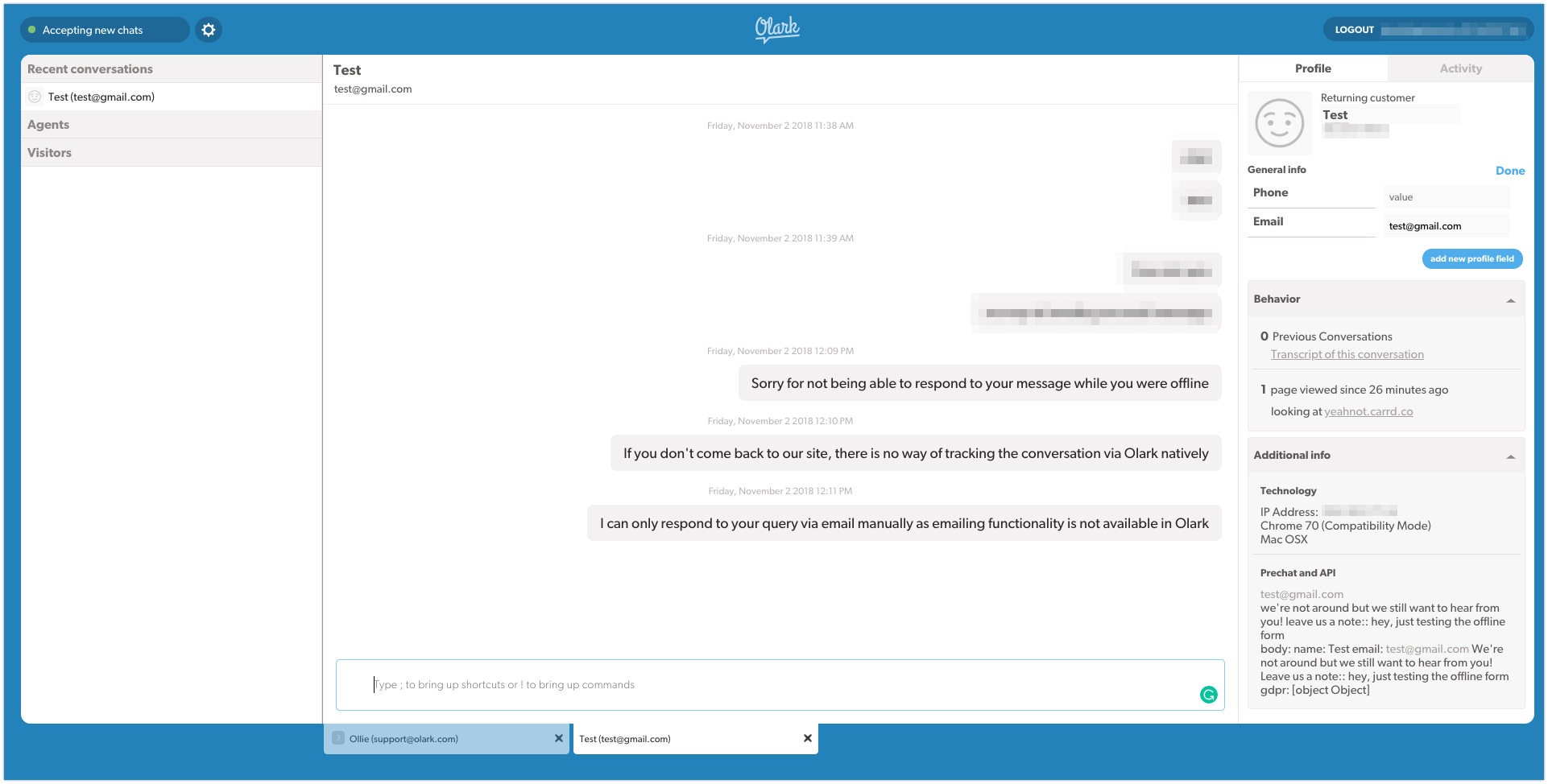 Olark pricing
Olark offers a fully-featured live chat for $29/mo and Olark Pro for custom pricing.
7. HubSpot
Free Intercom alternative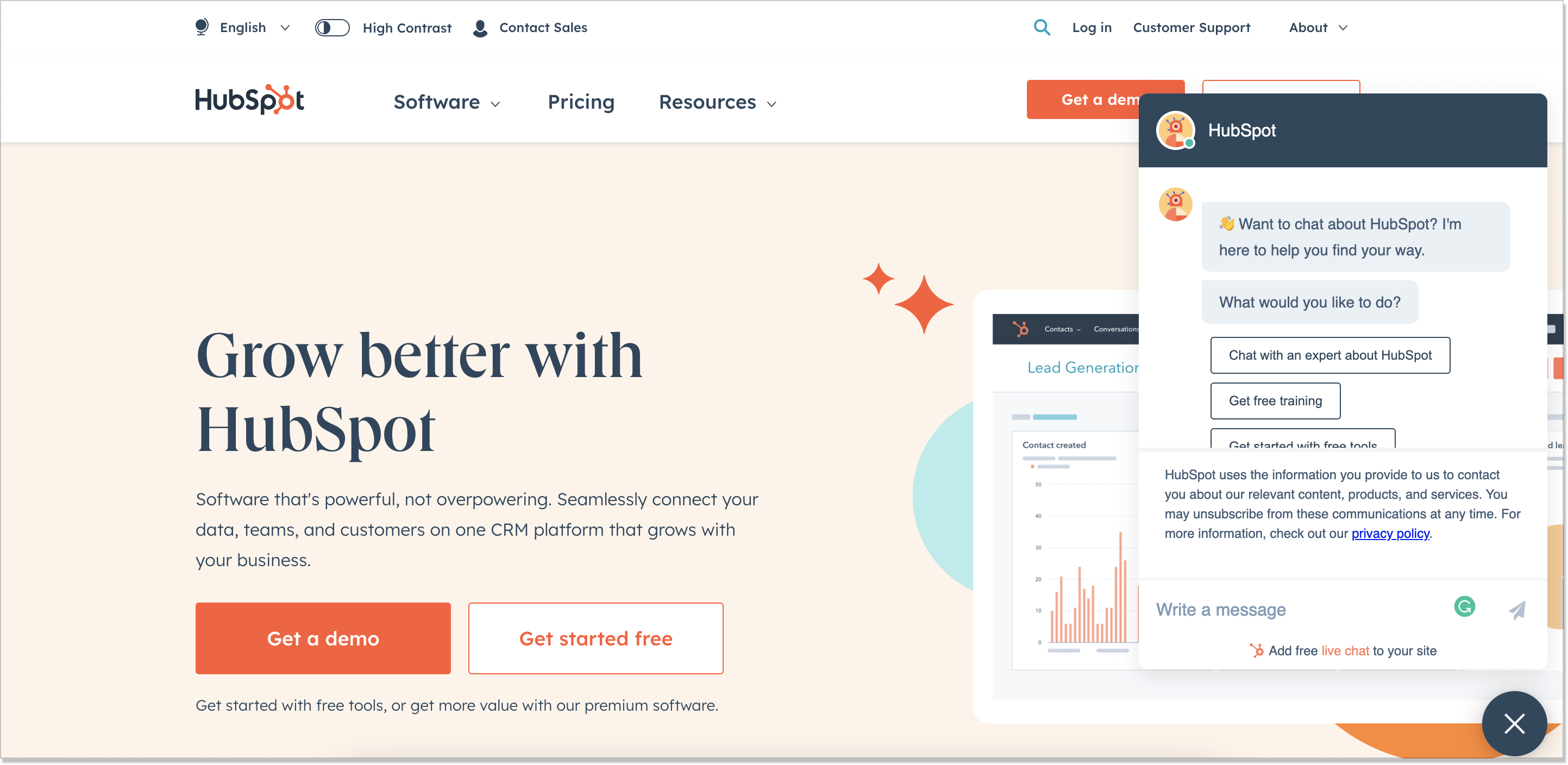 HubSpot is a deep-seated Intercom alternative for inbound marketing, attracting quality leads, and seamless content management. It is a CRM platform that could easily beat its competitor in terms of diversity in the toolset.
Apart from the all-too-familiar specs this option provides (I am talking about a live chat, chatbot, shared inbox, and knowledge base), HubSpot's Service Hub offers even more in the bundle, with customer surveys, feedback, and playbooks. Another bellwether of the Service Hub is customer portals where you can keep the overall company profile, chat directly with clients, and minimize repetitive tasks.
HubSpot also provides some other packages besides their Service Hub. They are called Marketing Hub, Sales Hub, CMS Hub, and Operations Hub. Therefore, if you're a marketing enthusiast, your hub will encompass such features as Ad Tracking & Management, SEO tools, video hosting, and whatnot.
Sales Hub includes a fully-featured CMS, sales engagement tools, quote, and CPQ functionality. As part of the CMS Hub, you can use drag-and-drop page editing, dynamic content, membership, and much more. Their Operations Hub deals with data sync, data curation, and programmable automation.
Compared to Intercom or HelpCrunch packages, HubSpot's "hubs" are not interrelated. They serve as standalone units. In short, it provides everything a rather cheap Intercom alternative wouldn't.
HubSpot pricing
This alternative to Intercom provides free tools in its Service Hub. The Starter plan will cost you $45/mo. And be ready to pay $450/mo while on the Professional plan.
Which Intercom alternative will be your winner?
There are tons of great live chat software solutions available on the market. But when it comes to picking an alternative to Intercom that does more than just live chat, you need to dig deeper. Here comes the bonus! Watch our YouTube video where we cover this material in a more interactive manner:
You can roll the dice and sign up for all Intercom alternatives from our selection or for the one you liked the most and see what happens. Didn't like it? Move to the next one. I'm sure there's one winner for you somewhere and you will find it very soon.