10 Cost-Friendly Intercom Alternatives in 2023
We've compared the best Intercom alternatives, who shall win?

Are you a customer success superhero? Perhaps a sales or marketing executive? Maybe even a founder of your own business looking for the best Intercom alternative? Then you've definitely landed on the right page.
It's a fantastic support platform that enables thousands of online businesses to engage with their clients in many different ways.
But Intercom is not perfect. There are things that thousands of Intercom's existing and potential users are having major problems with:
Extremely high prices
Unscalable & unpredictable billing (additional monthly charges for the number of reached people)
Inattentive and uncaring service that often ignores your requests or keeps moving them from one department to another
Buggy email automation tools
Some missing minor features and long-to-fix bugs.

That is why many businesses are constantly looking for more suitable and cheaper Intercom alternatives. And that is exactly why you've ended up on this page, isn't it? Here are the top 10 of them we talk about in this article:
HelpCrunch
Zendesk
Drift
Tidio
Help Scout
Olark
HubSpot
Zoho
Freshdesk
Front
I hear you, but let's talk about Intercom first…
Before we start looking into its competitors more attentively, let's talk about what Intercom is. This will give us a clearer understanding of how to better judge Intercom alternatives.
Intercom features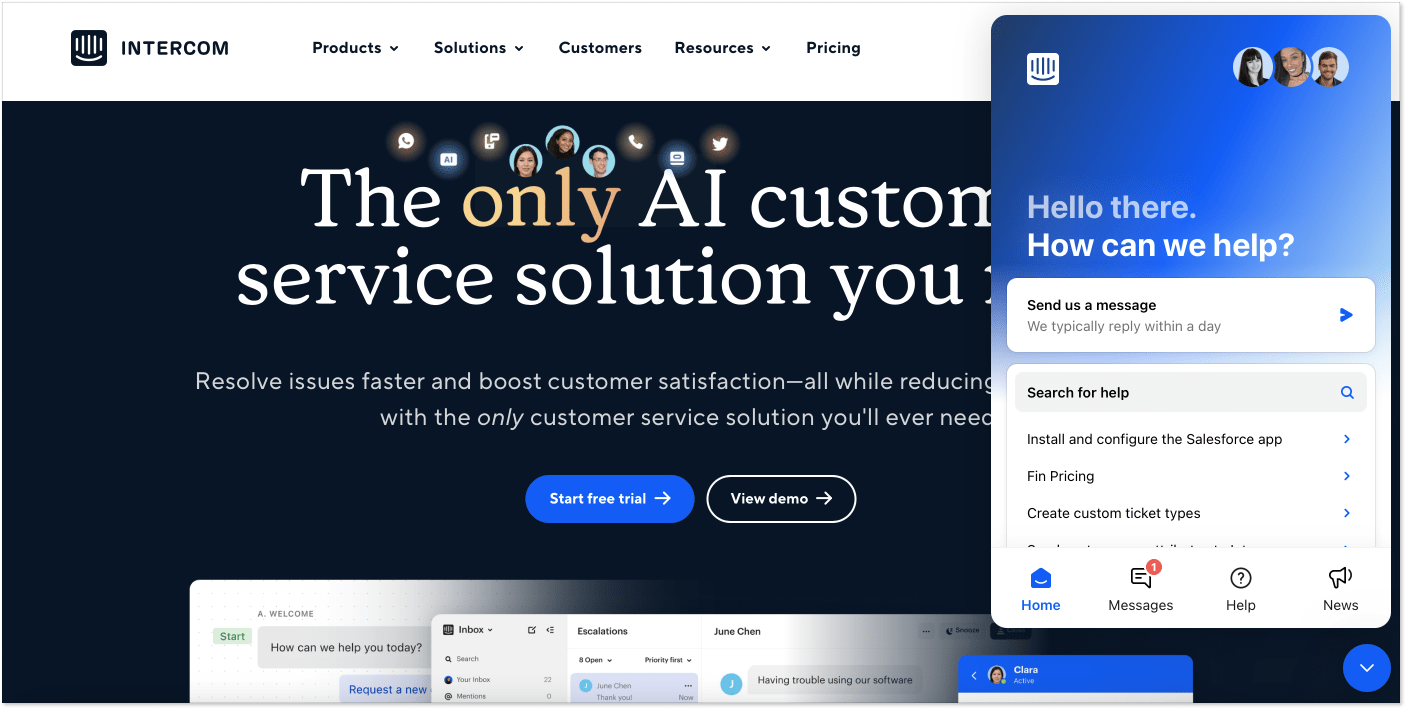 It's almost like Intercom is deliberately trying to make it complicated. They showcase different sets of features on different pages and also give them confusing random names, depending on whether you check it on their website or inside the tool's dashboard.
Nobody doubted Intercom kept up with the times. Recently, they've released their AI-backed bot named Fin which is supposed to solve half of all visitor queries, is it so? These functionalities are a powerful backup to a list of main Intercom's features:
Live chat
Shared inbox
Knowledge base
Email marketing
Chatbot
Product tours
Banners
Series (something like a combination of all outbound messages including chatbot campaigns, email campaigns, product tours, etc)
It should be noted that some of these features (most of them actually) are only included in the expensive subscription plans that cost thousands of dollars, while others only come as add-ons. This brings us to the question of money (cheap alternatives to Intercom are closer!).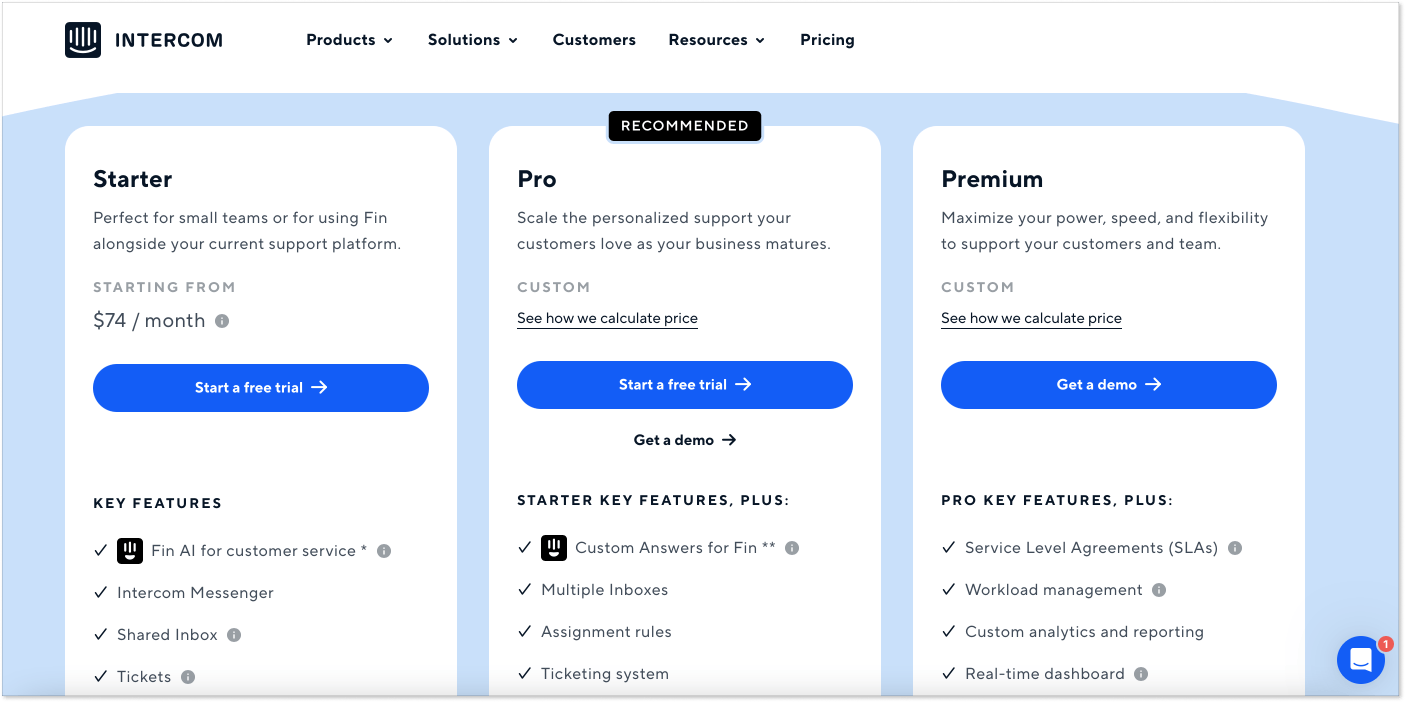 And the short answer to it is that the company doesn't disclose its pricing so easily. You can only see the actual prices after a demo from their sales team. Or you can try switching your browser to the Incognito mode and pasting the direct link to their pricing page into the address bar (but chances are different people will see different subscription plans there).
You see our best estimation based on different sources and Intercom's demo that we actually signed up for and went through.
The cheapest package with live chat, a knowledge base, and a basic conversation routing chatbot costs from $74/mo and includes two seats.
Each additional seat will cost $19/mo.
But that's just the tip of it. The basic subscription only allows you to reach 1k people per month. If you exceed this limitation, you'll have to pay $50/mo for every 1,000 additional people reached.
If you need something more elaborate, you will have to take a look at Intercom's more expensive subscriptions, which will include live chat, team inbox, email marketing, banners, and advanced bots. These advanced packages start from around $499/mo and can reach a few thousand of dollars for bigger businesses. Product tours will add another $199/mo to this price since they're available as add-ons.
So, the biggest difference between this solution and the closest alternatives to Intercom is in these charges for contacts you reach with your campaigns. Most tools don't do this. Usually, you only pay a fixed price for the number of support agents you need, and that's it. With Intercom, you can't tell how much you'll pay. One month, it can be $74 and the next you'll pay a thousand.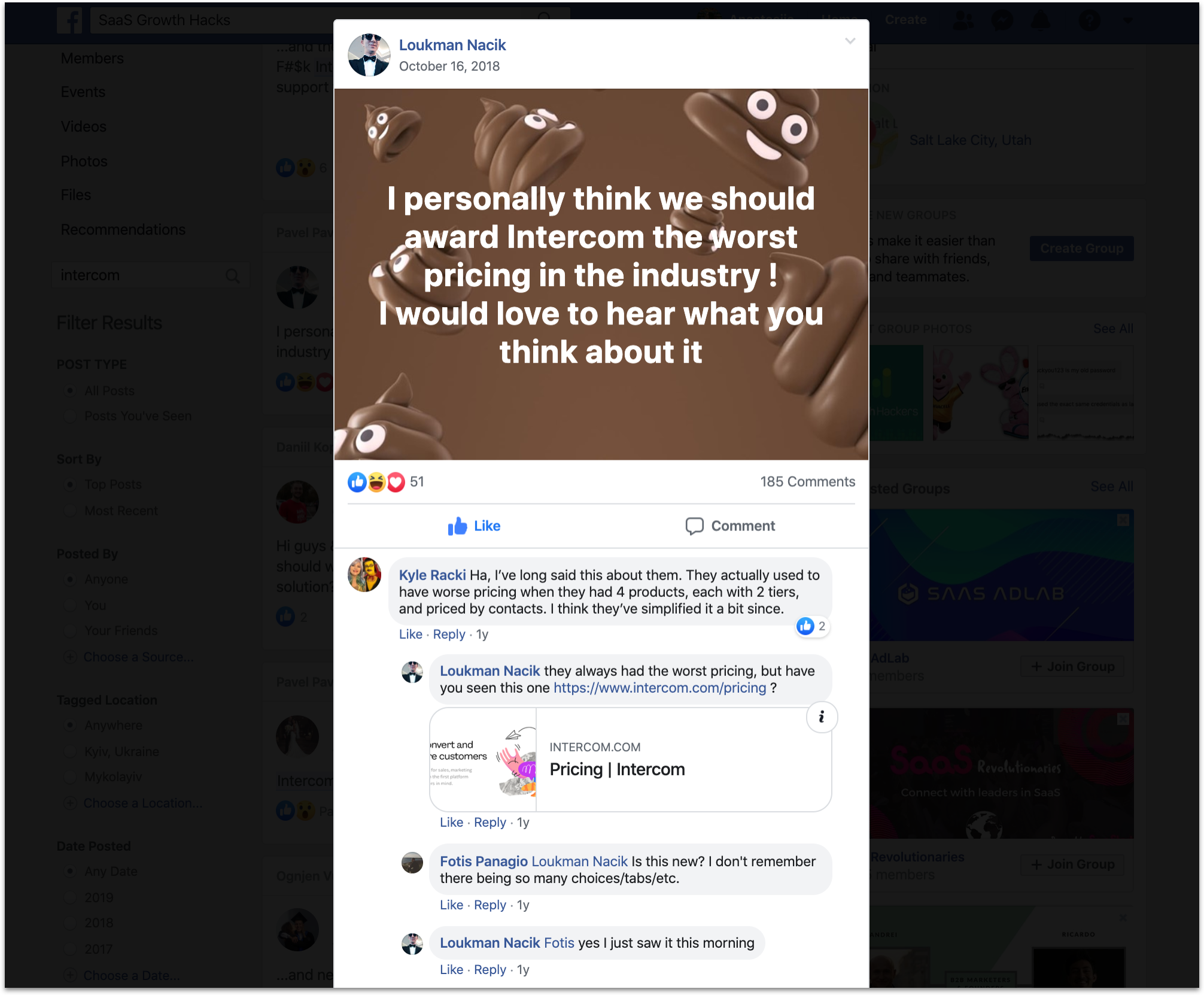 These are the main reasons why numerous businesses and startups end up searching for a better Intercom alternative. Some tools focus on customer support features, while others are trying to build powerful chatbots.
So, are there adequate, affordable, and equally powerful Intercom chat alternatives? There definitely are! 🤫
10 excellent yet affordable Intercom alternatives in 2023
We've tested every solution listed above, which gave us a good understanding of how each software may satisfy the needs of a typical Intercom user. After extensive research, we've chosen the 10 best Intercom alternatives.
1. HelpCrunch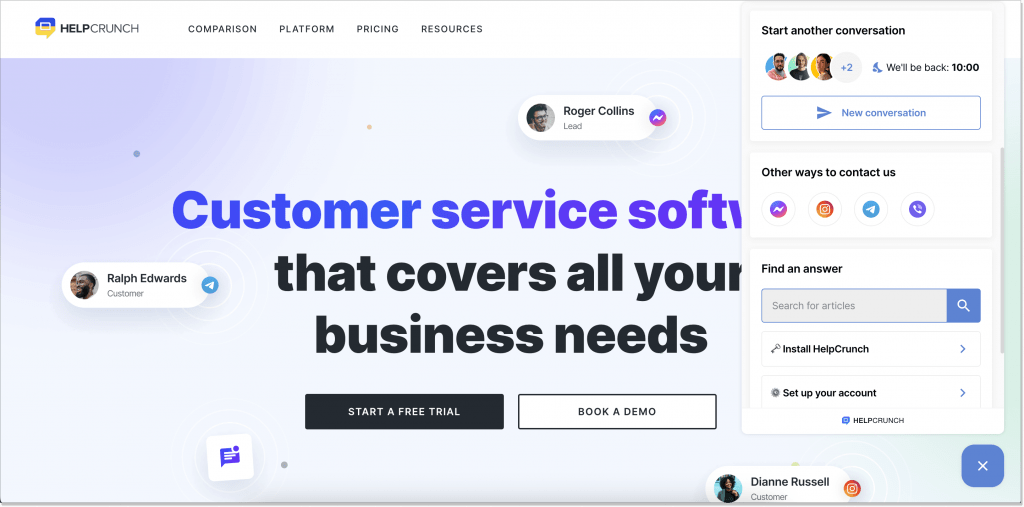 Managing customer relationships
What is excellent customer service? We know all about it! HelpCrunch is the best Intercom alternative whatsoever as it offers a nifty shared inbox for different customer service channels like live chat, email, and social media. This way businesses can manage communication with customers from a single platform, reducing the risk of overlooking inquiries or synchronization issues. The installation process is very easy, and you can start using the benefits of the tool in minutes.
Another powerful HelpCrunch feature for world-class customer service is customer profiles that ensure user data collection like user path, purchase history, and personal details. With user data always at your fingertips, your customer support agents can offer personalized communication, which clients appreciate the most. A newly introduced chatbot can handle user queries on its own or transfer issues to a live agent when needed.
At the end of the day, you can always take a look at reporting dashboards to see how your team is performing.
Live chat and messaging feature
Ask anyone, what's better than a good chat experience when you need assistance? Nothing! Our hallmark feature – live chat – can't leave anyone indifferent. Thanks to one of the richest customization options, you can make the HelpCrunch widget fit your brand style as precisely as needed.
As a support agent, you can easily edit your reply (manually or with an AI editor that's coming soon!), use canned responses, share knowledge base articles, and insert images and GIFs to make communication more lively. But it's just the tip of the iceberg as reps can also leave notes visible only to their colleagues and see what a user is typing before the message is sent.
With HelpCrunch you get access to the unlimited chat history and can keep all chat transcripts in one place. Want to work on the go? No problem, just install the app on your smartphone and get notifications about new messages from clients instantly.
Email marketing automation
With HelpCrunch, you can design and send personalized emails to specific user segments based on various criteria, such as user behavior, location, or preferences. Let clients know about your exciting special offer, send product updates, and launch blog newsletters to keep readers engaged.
The platform also allows email automation which means you can set up automated email sequences triggered by specific events or user actions like sign-up, for instance. Thus, a welcome email can be automatically sent to new subscribers or a follow-up email can be scheduled after a user's first purchase.
Knowledge base
In this Intercom alternative, you can integrate fully-featured knowledge base software which speeds up customer self-service manyfold.
First, the audience can look up their answers right in the chat widget, without bouncing over other tabs. Second, your team can send the knowledge base articles while speaking to a client which eases the process significantly. Should I also mention that a help center can be customized to your business identity?
Help desk and ticketing system
HelpCrunch is all about modern spirit and a user-friendly interface, hence you won't see boring ticketing, instead, the platform offers something called Shared Inbox. It's a tool that keeps all your conversations via live chat, chatbot, email, and messengers under one hat and offers all necessary help desk capabilities.
With this software, you can keep your hair on: no dialogue will fall through the cracks because your correspondence is in one, time-ordered queue. Besides, there are numerous other cool functions such as: catching customer profile data in real-time, sending emails right from the inbox, routing messages to your teammates, assigning and merging chats, etc.
To sum up this HelpCrunch and Intercom comparison, the latter is a fantastic solution for large organizations with big budgets. In contrast, HelpCrunch is an excellent choice if you're looking for more affordable yet very similar alternatives to Intercom – without overspending and compromising on quality.
Drawbacks
Even though HelpCrunch is the best option for an Intercom alternative, there are features that are not delivered yet. For example, the team is working on the development of new AI functionality, and it might take up to a few months until the release. So you'd better stay tuned and watch out for the updates!
Also, the chatbot doesn't have a proactive functionality, so it can't send messages to users first (yet!). But a rule-based bot combined with auto messages does the trick just as brilliant 💁‍♀️
Pricing
The HelpCrunch pricing starts with a Basic plan – $15/mo per seat. The Pro plan will cost you $25/mo. There's also an unlimited subscription plan with no feature and team members limitation for $495/mo if billed annually, and $620/mo if billed monthly.
Try the HelpCrunch platform with a 14-day free trial – you don't have to leave your credit card details for this unlike in Intercom.
2. Zendesk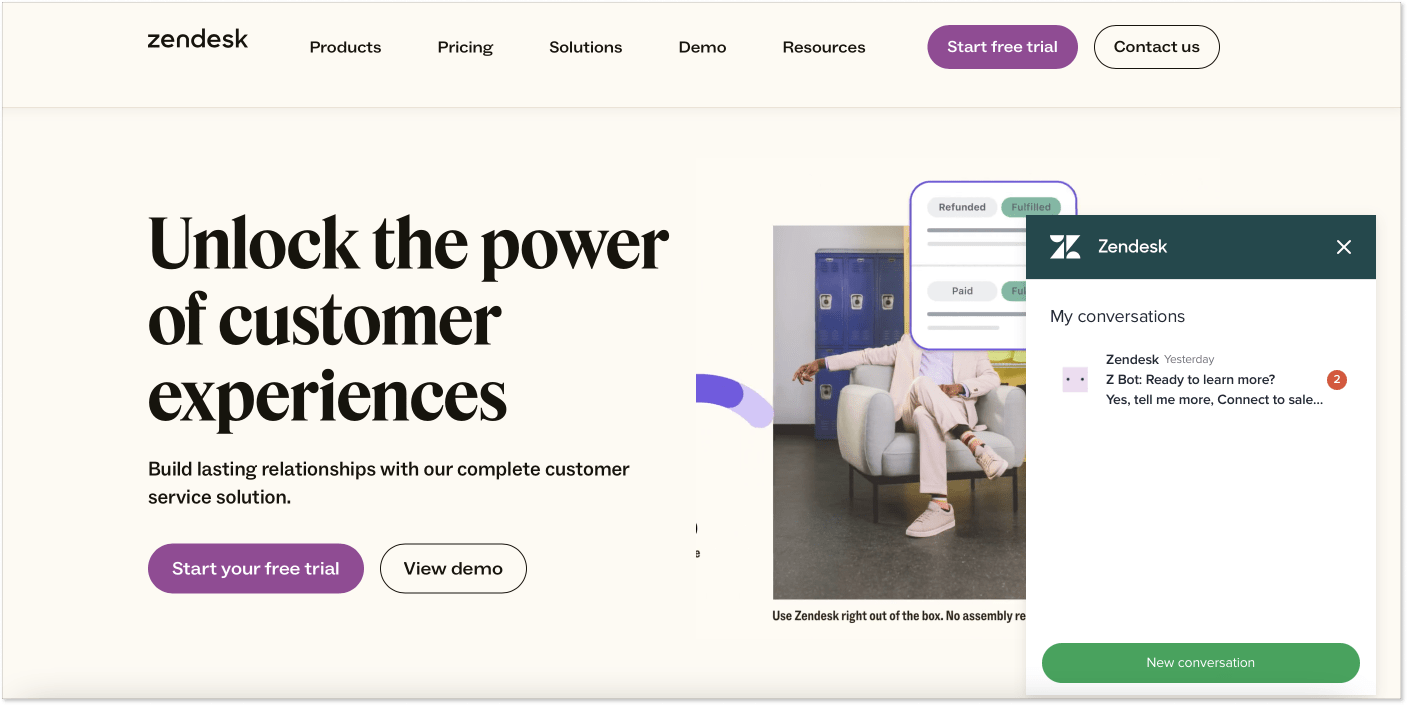 Managing customer relationships
Zendesk is another Intercom alternative for communication with customers. You can engage users more effectively with auto messages in live chat, and ​outbound notifications on WhatsApp and SMS.
All chat transcripts are saved in the inbox for different customer service channels, giving support agents full access to customer profiles and conversation history for personalized service and timely follow-ups.
Besides, Zendesk, as a world-class customer service platform, provides advanced reporting, collects user feedback by sharing customer satisfaction surveys, and shows you trends and areas of improvement.
Live chat and messaging features
The platform offers a live chat feature for instant communication with customers and better engagement metrics. You can easily customize a live chat widget to match your brand colors, get access to unlimited chat history, and format direct messages the way you like.
For efficient interactions with clients, Zendesk provides an Answer Bot that can answer user queries around-the-clock and keep chat transcripts for revision. Other Zendesk alternatives are also doing their best to introduce custom chatbots and automate routines for businesses.
Email marketing automation
Zendesk can process inquiries that clients send via email, however, it doesn't have a native email marketing functionality for launching newsletter campaigns. Knowing the importance of conversational marketing, Zendesk allows you to integrate the software with various third-party email marketing tools and services like Mailchimp, Campaign Monitor, and others.
Knowledge base
Zendesk enables businesses to create a knowledge base or self-service portal where clients can find answers to common questions and troubleshoot issues on their own. With advanced search functionality, this feature reduces the dependency on support agent performance for routine queries. The platform also allows you to translate articles into over 40 different languages to provide a localized experience.
Help desk and ticketing system
Compared to other popular help desk apps, this Intercom alternative is the most known one. It's particularly famous for its great help desk capabilities, keeping all inquiries from across different channels in a centralized workspace.
Zendesk, an all-in-one help desk solution, assigns each request with a reference number that can be addressed in a timely manner by support agents. For speedy assistance, the team can use canned responses and a chatbot tool for repetitive queries.
If you are a striving business with annual revenue exceeding $1 million, you might want to take a look into the Enterprise plan for a robust unlimited ticketing tool.
Drawbacks
If you go through Zendesk reviews, you will see that their main drawback is poor customer support which is impossible to reach or get any assistance whatsoever. Others say that it's difficult to optimize the platform according to specific business needs and requires technical skills to do that.
Pricing
You'd better look for Intercom cheaper alternatives because Zendesk costs from $49/per agent/mo for everyone. The price can rise up to $150/per agent/mo for big enterprises.
3. Drift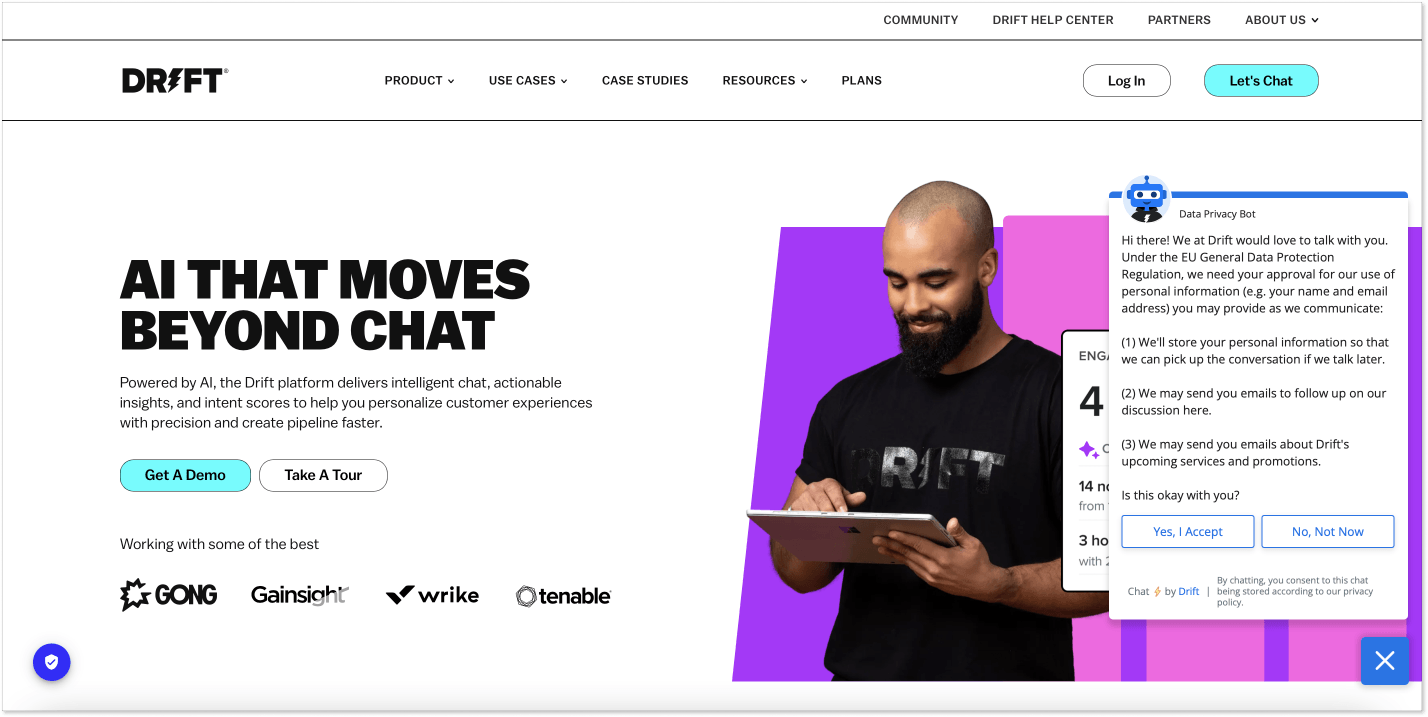 Managing customer relationships
Drift is one of the best conversational customer service platforms focused primarily on sales and marketing. At the same time, this alternative to Intercom still includes all the features your customer support agents need for effective communication with customers like live chat, custom chatbot flows, and lead generation capabilities.
By offering real-time engagement with website visitors and automating client interactions, Drift enables businesses to provide prompt support, capture and qualify leads, and nurture potential clients. On top of that, you get access to advanced reporting capabilities and customizable workflows.
Live chat and messaging features
Drift empowers businesses to engage with users in real-time chat conversations. You can initiate chats proactively or respond to incoming inquiries, providing immediate assistance and personalized support. Leverage chatbot capabilities to automate responses to FAQs and route more complex queries to human agents when needed.
Email marketing automation
Drift doesn't offer native email marketing automation tools within its platform as its core features revolve around real-time engagement with website visitors through live chat and chatbot interactions. However, integrations with HubSpot, Marketo, or Mailchimp are available for businesses that prioritize conversational marketing.
Knowledge base
If you want to build a knowledge base while using Drift, you will have to integrate the software with a third-party tool like HelpDocs or Document360. This move will definitely pay off as people love finding answers to their questions independently.
Help desk and ticketing system
Drift collects requests in a special dashboard, from where you can chat with clients, review My conversations, etc. The software doesn't have a proper ticketing system with all help desk capabilities, as the one Zendesk has, but you can still integrate Drift with Salesforce, HubSpot, and others to manage and track client inquiries effectively.
Drawbacks
Basically, the main drawback of Drift as an Intercom alternative is the lack of native email marketing, knowledge base, and help desk features. So think of it as a sales and customer engagement tool with live chat, chatbot, appointment booking, and real-time dashboard features only.
Pricing
In the Intercom vs Drift comparison, the latter offers rather expensive pricing plans. They start from $2.500/mo (Premium plan) for small businesses. Some of the premium chatbot features are available in the free trial.
4. Tidio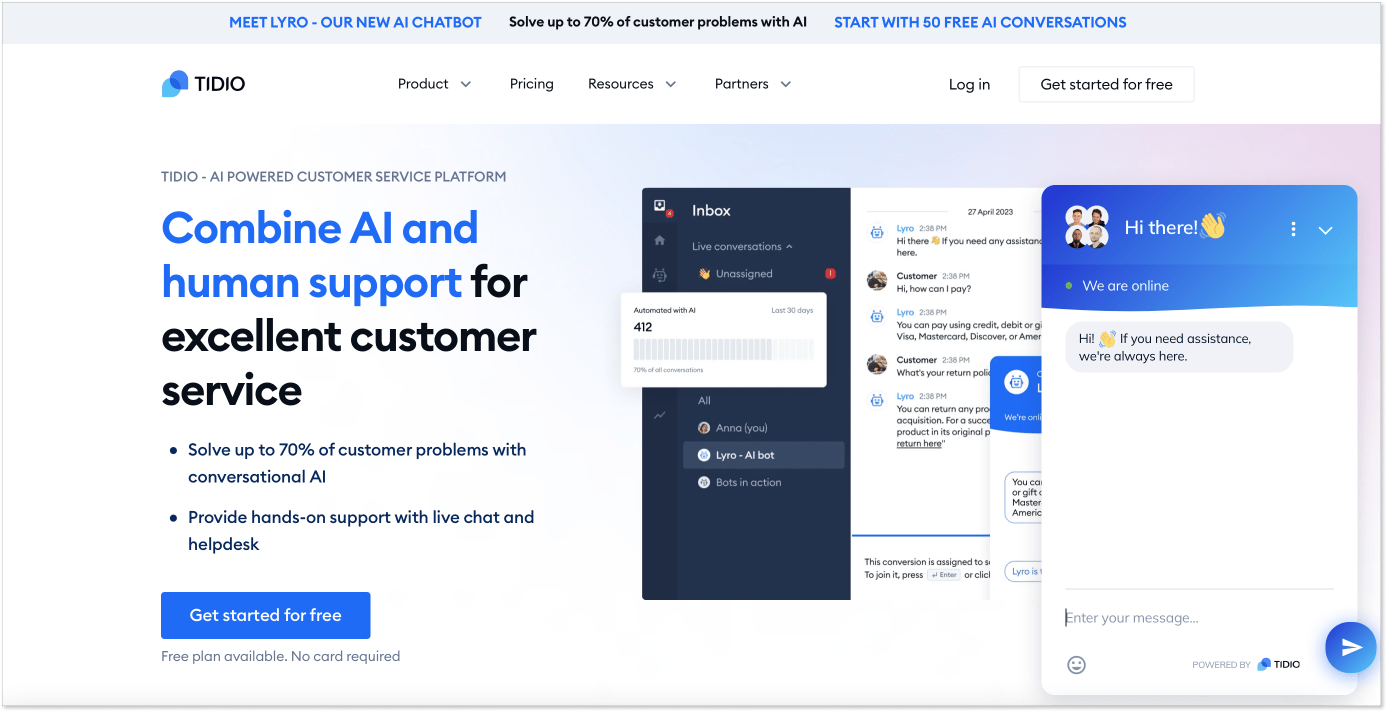 Managing customer relationships
Tidio is another world-class customer service platform that enables real-time communication with customers thanks to a robust live chat feature. It allows customer support agents to address user inquiries promptly, offer personalized assistance, and enhance satisfaction.
The platform's chatbots automate responses for efficient interactions with customers, qualify leads, and guide visitors to relevant information. Additionally, this customer service tool integrates with popular e-commerce platforms, CRM software, and email marketing services for full-scale customer relationship management. You can also leverage advanced reporting and automation workflows.
Live chat and messaging
With Tidio, you can manage all your unlimited chat history across email messages, live chat, and social media chat apps in one place, and respond quickly to every user query. The canned responses feature allows for speedy assistance to FAQs and can contribute to better first response time metrics significantly.
Businesses also leverage a live typing feature to see what users are responding to before they hit the "Send" button. And yes, all chat transcripts are securely stored within the platform at all times.
Email marketing automation
Tidio offers well-polished marketing automation tools for quick newsletter launches, product updates, abandoned cart reminders, and whatnot. You can use a drag-and-drop email builder to create personalized email campaigns or use one of over 500 templates provided by Tidio.
Knowledge base
The platform doesn't have a native knowledge base tool, but it allows businesses to integrate Tidio with third-party help center platforms.
Help desk and ticketing system
This help desk software turns client queries from live chat, chatbots, email, Messenger, and Instagram into tickets and helps support agents keep track of each communication under one roof.
Tidio also provides other help desk capabilities such as access to conversation-related metrics, sales data, and user ratings for the help desk features. By presenting results on charts, the platform lets you make informed decisions and act accordingly.
Drawbacks
One of the main Tidio drawbacks is the lack of native knowledge base features and the pricing plans that are somewhat too expensive for small businesses. Some users also report that setting up a chatbot and email campaigns is rather confusing.
Pricing
Tidio suggests a free plan as well as 3 more pricing tiers: Starter – $29/mo, Communicator – $25/mo, Chatbots – $29/mo, and Tidio+ – $394/mo.
5. Help Scout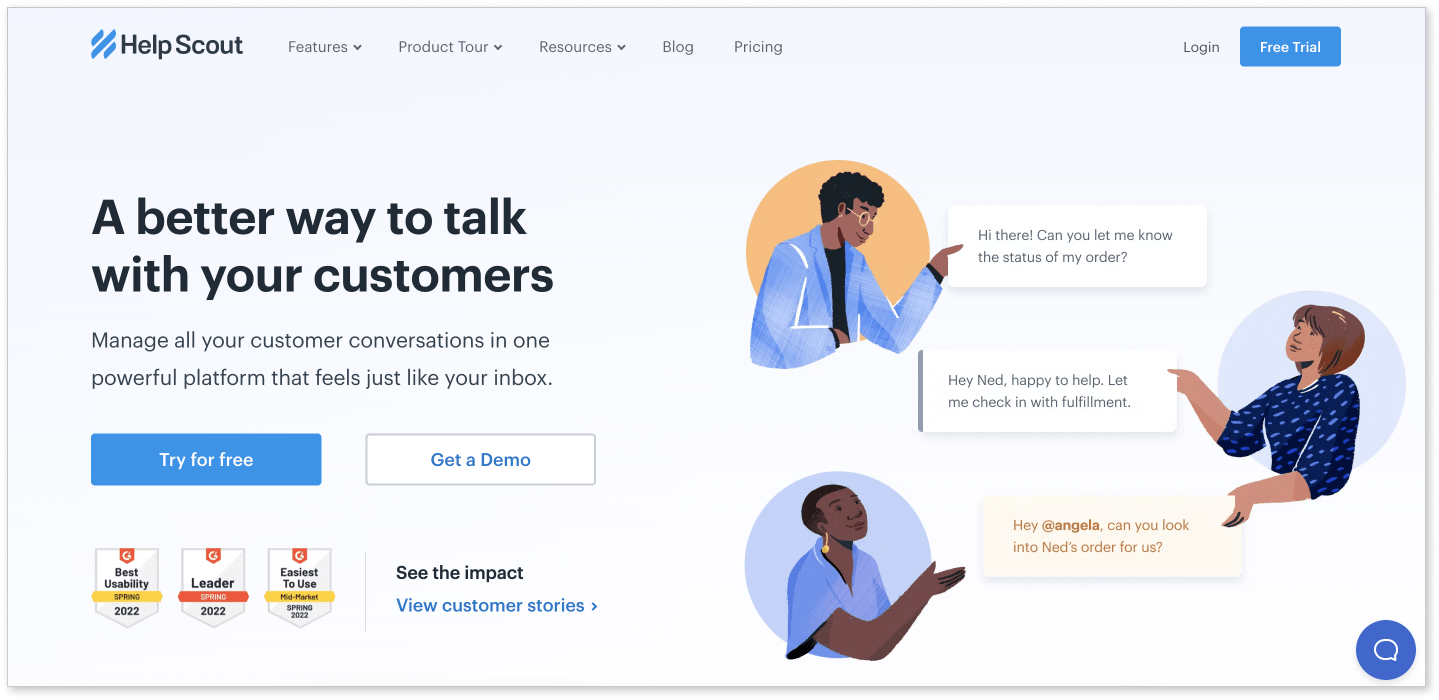 Managing customer relationships
Help Scout, a well-known customer support software, is one of the best Intercom alternatives. It provides an inbox for different customer service channels, allowing support teams to collaborate effectively. Besides, all user data, like chat history, and app activity is always shown alongside every support request for more personalized world-class customer service.
Help Scout's automation and customizable workflow features help route tickets to the right agents, ensuring efficient ticket resolution and better communication with customers. Leverage reporting dashboards to see the result of your work and how happy the clients are.
Live chat and messaging
This Intercom alternative focuses more on the knowledge base integrated into the live chat widget than the live chat itself. So when people visit the website, they can choose either to contact live chat support or try to find the answer in the helpful materials independently. Design options to support clients the way you like. What's interesting is that if there are no available agents, Help Scout will never show a live chat option for customers.
Email marketing automation
Help Scout doesn't provide a native email automation feature within its platform.
However, businesses can integrate the software with popular tools for email marketing campaigns (Mailchimp, Campaign Monitor, etc.) to sync client data and provide personalized email communication.
Knowledge base
If Help Scout wasn't a live chat and shared inbox platform as well, it would definitely be a knowledge base software, as it's their primary focus. Businesses can easily create articles with images, hyperlinks, tables, and videos, and then optimize them for SEO. After that, you can place your help center basically anywhere on the website – live chat widget, popup, sidebar, and whatnot to help people find relevant content on specific pages.
Help desk and ticketing system
All emails and live chat messages from clients end up in the same shared inbox and allow support agents to effectively manage them. Your team can use help desk capabilities like assignments based on if/then rules, leave private notes visible only to fellow agents, and tag client conversations to automate workflows.
Help desk ticketing is useful as it enables efficient and organized handling of customer communication channels, issues, and requests, leading to timely resolution and improved customer satisfaction.
Drawbacks
Help Scout can be a great alternative to Intercom for small businesses. But as you keep growing you will find certain limitations like poor customization opportunities, lack of chatbot, or email marketing automation. Also, some of the must-have features like Facebook Messenger integration are available only in a Plus pricing plan.
Pricing
There are 3 pricing plans available: the cheapest plan, aka Standard – $25/mo per user, Plus – $50/mo per user, and Pro – $65/mo per user (available only for an annual subscription). You can take the software for a 14-day trial period.
6. Olark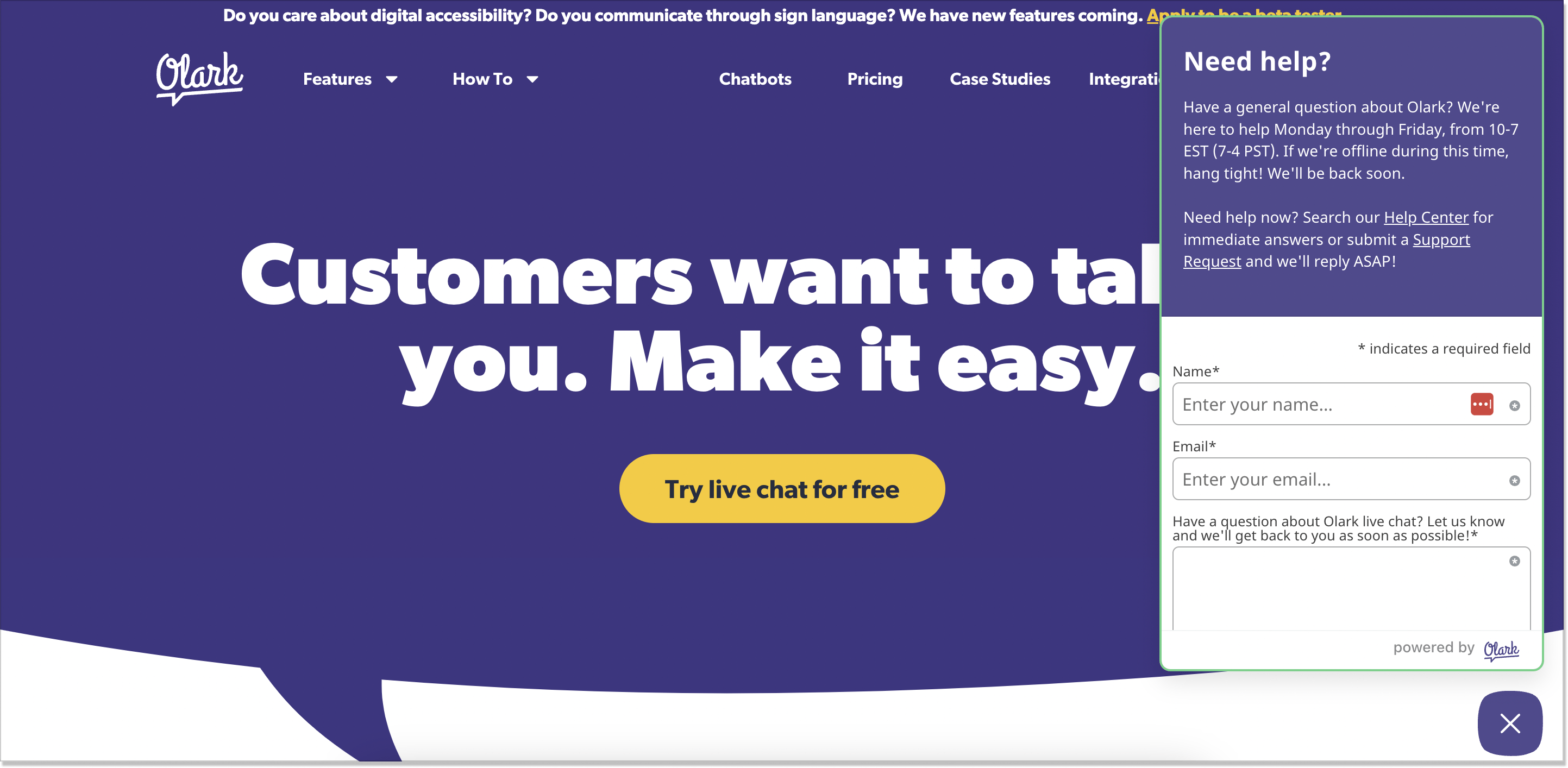 Managing customer relationships
Olark contributes to effective communication with customers by providing businesses with a powerful live chat and user engagement platform for world-class customer service.
Through real-time chat interaction, businesses can engage with website visitors, offering immediate support and personalized assistance. Live chat enables efficient interaction with customers, ticketing, and routing, ensuring that user inquiries are addressed promptly and by the right customer support agents. How to check the effectiveness? Just take a look at reporting dashboards for more insights.
Live chat and messaging features
With live chat, businesses can initiate proactive conversations or respond promptly to incoming inquiries, providing immediate support and personalized assistance. Olark's chat widget has a rather minimalistic design but can be customized to match the brand's look and feel, creating a seamless user experience. The platform also supports message automation in chat, enabling businesses to greet visitors or collect information without agent intervention.
Email marketing automation
This is yet another tool on the list of alternatives to Intercom that doesn't offer an automation tool for email marketing campaigns. At the same time, it gives you full access to integrations with Mailchimp and other software for targeted email campaigns.
Knowledge base
Unfortunately, Olark doesn't have a native help page feature, however, it does provide you with an opportunity to integrate the software with ProProfs, for instance.
Help desk and ticketing system
On the one hand, Olark doesn't have a dedicated ticketing system for processing support tickets with lots of help desk capabilities. On the other hand, it does allow you to integrate its software with the Zendesk suite for better query resolution management.
Drawbacks
At this point, Olark drawbacks seem obvious. While it offers live chat, automated messages, and a few Power-Ups (like live co-browsing and live chat translation), it's definitely not the most features-packed Intercom alternative. It doesn't have email marketing, a knowledge base, or even ticketing system features.
Pricing
Olark offers a fully-featured live chat for $29/mo and Olark Pro for custom pricing.
7. HubSpot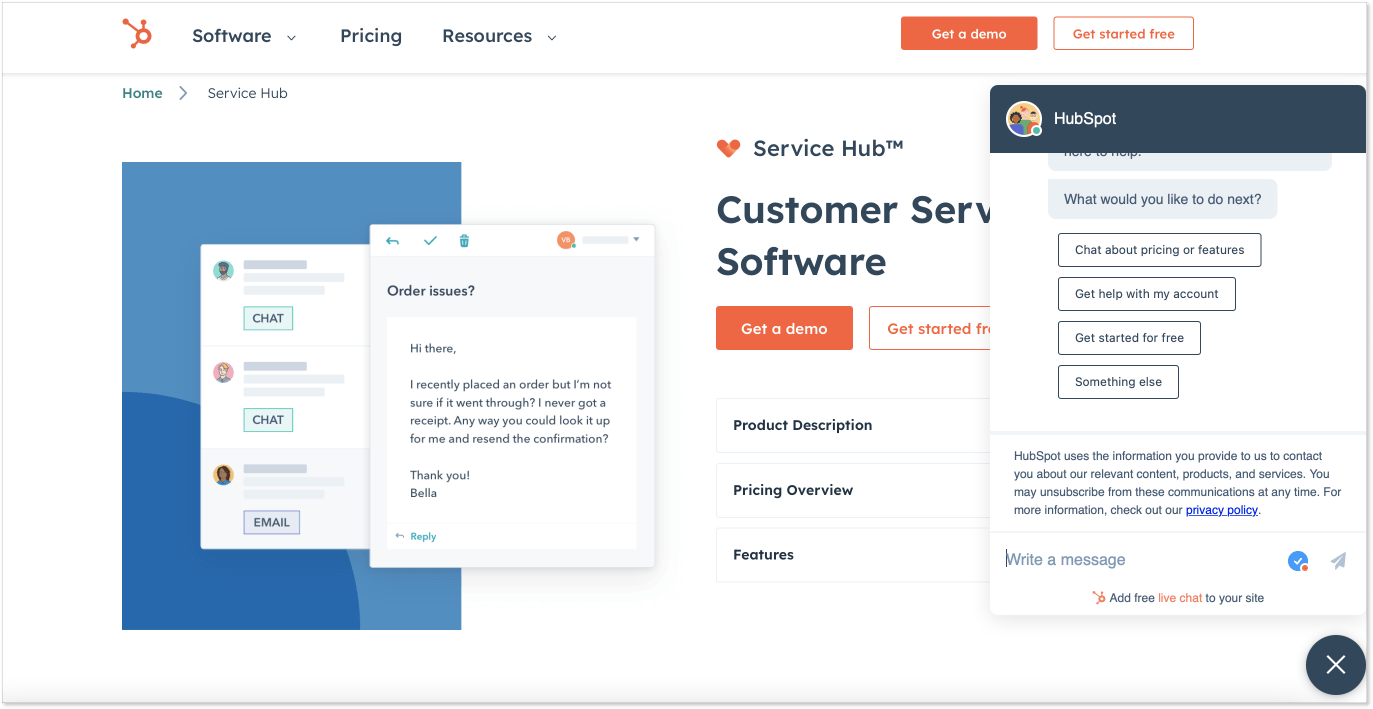 Managing customer relationships
Among all customer service platforms, HubSpot definitely offers all possible ranges of features and free access to many of them. Customer service software is an all-in-one customer relationship management tool that helps businesses improve communication with clients significantly.
Businesses can benefit from advanced reporting and tracking of user interactions, leads, and deals to have a full picture and ensure world-class customer service.
Live chat and messaging features
HubSpot provides a free live chat solution for real-time communication with website users. You can easily customize the live chat widget design to match your brand's identity. The platform also gives you access to chatbot message automation to streamline your support.
Email marketing automation
This Intercom alternative offers a separate tool for email marketing campaigns that empowers businesses to send targeted newsletters. You can use one of the templates to craft a beautiful letter and write text with an AI.
Knowledge base
Probably, there is no customer service tool that HubSpot doesn't offer, knowledge base software is not an exception. You can compose help articles, organize them into categories or subcategories, and tag them with relevant search terms. For better performance, businesses can search-optimize helpful content and let users find the documentation more easily.
Help desk and ticketing system
Yep, HubSpot also provides a lot of help desk capabilities and it's free. With this all-in-one help desk solution, companies can keep track of user requests in a single inbox. The software also empowers businesses to set up workflows with if/then rules to automate support.
Drawbacks
One of the main drawbacks, it's almost impossible to reach HubSpot support when it's needed. Another thing is limited customization opportunities and not enough formatting and template options when it comes to helpful documentation.
Pricing
This alternative to Intercom provides free tools in its Service Hub, but this is a limited plan. The Professional plan will cost you $500/mo. And be ready to pay $1,200/mo for Enterprise.
8. Zoho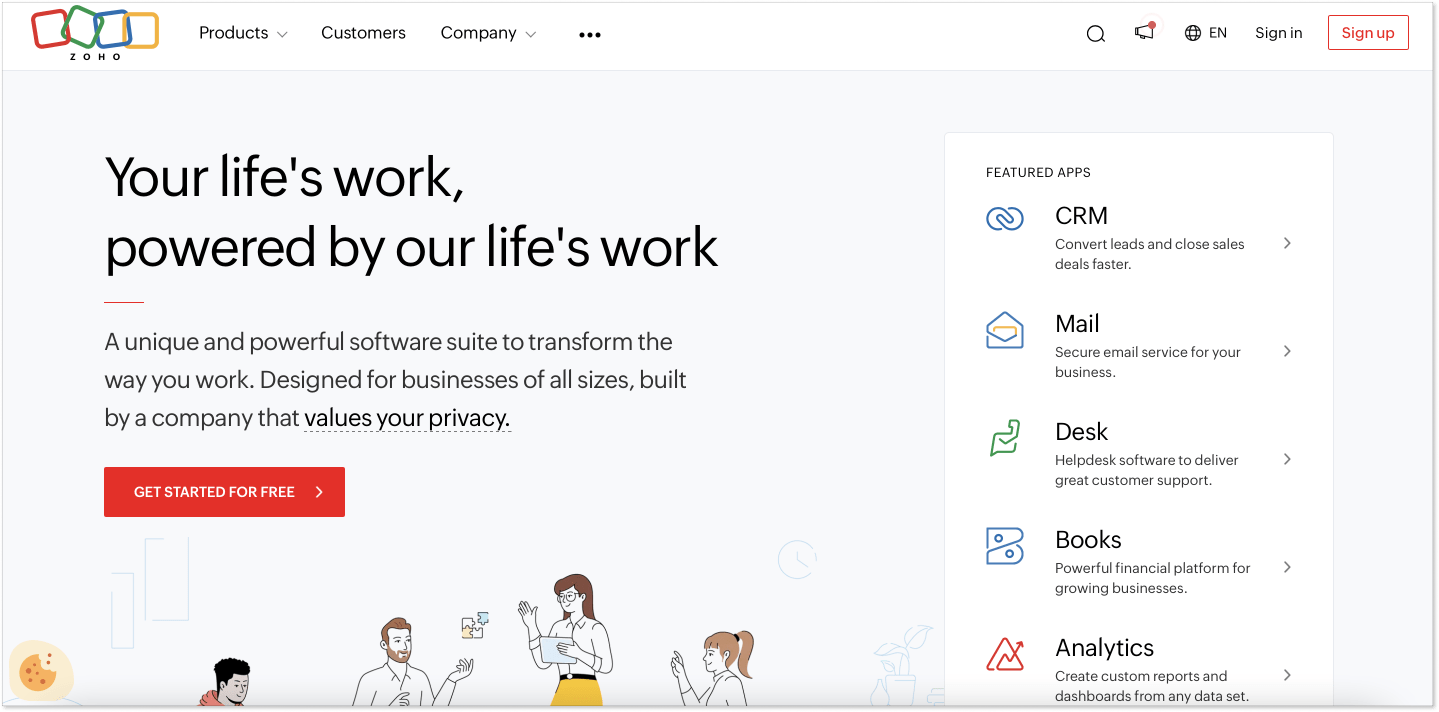 Managing customer relationships
Zoho offers a comprehensive suite of customer management features like Zoho CRM (customer relationship management), where businesses can use one inbox for different customer service channels and organize user data and interactions.
The platform allows businesses to improve communication with customers, track leads, manage sales pipelines, automate repetitive tasks, and streamline workflows, thereby enhancing sales team productivity and offering world-class customer service. To see how well your team is performing, the software provides detailed reporting.
Live chat and messaging feature
With Zoho Desk live chat solution, businesses can embed chat widgets on their websites or web applications, allowing visitors to initiate instant conversations with support agents. You get access to unlimited chat history and can integrate your live chat with popular chat apps like WhatsApp Business Chat, Facebook Chat, Twitter, and more. For message automation, companies can leverage the advanced features of AI chatbot ZIA.
Email marketing automation
Zoho Desk doesn't have an in-built email functionality, however, the brand provides another platform called Zoho Campaigns, which is designed specifically for email automation. This functionality allows users to create and send targeted email campaigns, segment contacts, and automate email workflows based on customer behavior. While Zoho Desk and Zoho Campaigns can be integrated to some extent, they are separate products with distinct functionalities.
Knowledge base
Zoho Desk's KB feature is a powerful tool designed to help businesses create and maintain a centralized repository of information, documentation, and self-service resources. The platform's help center tool is fully customizable, allowing businesses to brand it according to their style and integrate it seamlessly with their websites or helpful portals. Additionally, the tool offers analytics and insights, enabling businesses to track the performance of their helpful articles and identify areas for improvement.
Help desk and ticketing system
Speaking of popular help desk apps, you've probably heard of this one. With Zoho Desk, another Intercom alternative, you can leverage a bunch of help desk capabilities. All customer interactions, whether they come through email, phone, chat option, or social media, are centralized in one unified interface, ensuring that no query falls through the cracks.
Zoho Desk, an all-in-one help desk solution, allows support agents to categorize, prioritize, and assign tickets to the appropriate customer support teams, enabling faster and more efficient resolution. Moreover, Zoho Desk offers automation capabilities, including ticket routing and predefined responses, to reduce manual efforts and enhance response times.
Drawbacks
Users usually report a steep learning curve that takes a long time to accomplish. Some people complain about poor customization opportunities and the lack of third-party tools for integration.
Pricing
Standard pricing plan starts from $20/mo per user, Professional will cost you $35/mo per user, and Enterprise €50/mo per user if billed monthly.
9. Freshdesk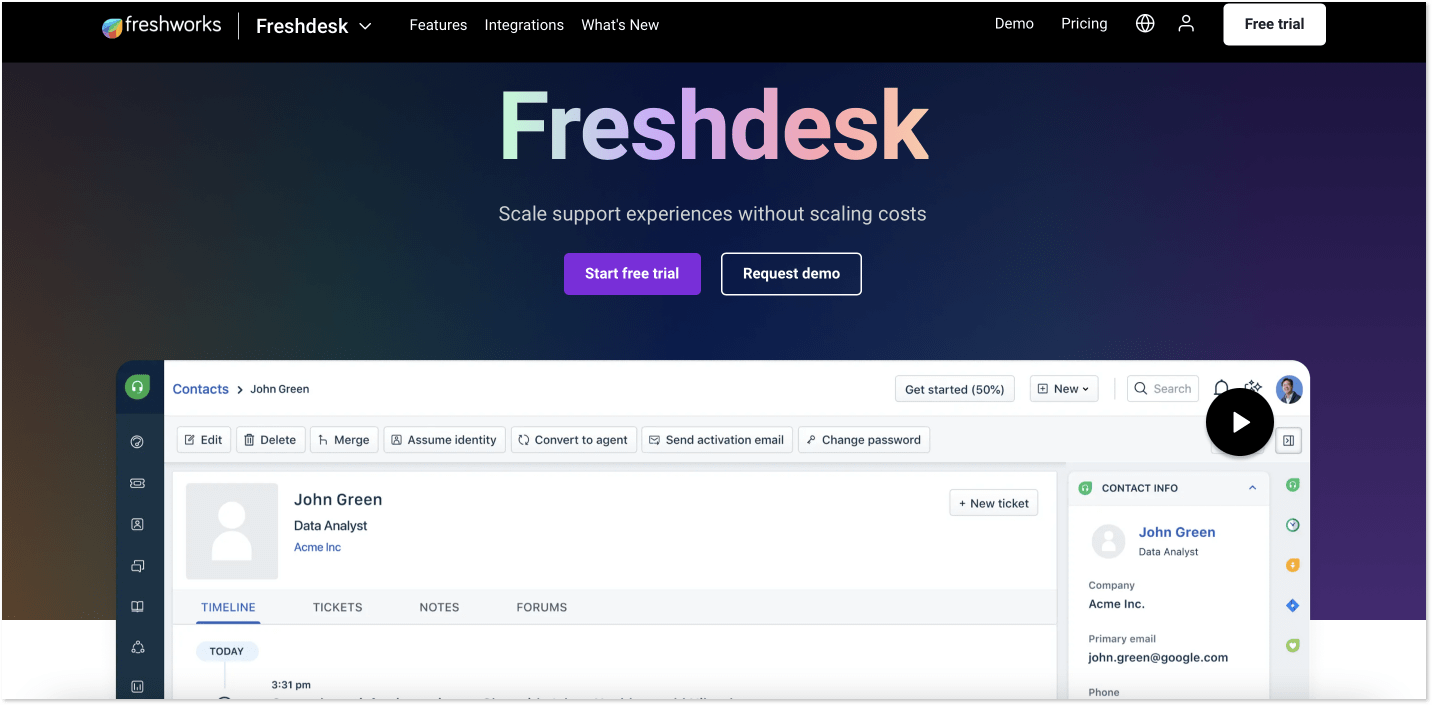 Managing customer relationships
Among all customer service platforms, Freshdesk is one of the most popular solutions. It enables businesses to efficiently handle visitor inquiries and improve communication with customers via various channels, such as email, phone, chat, and social media, all in one unified dashboard.
This customer service tool's automation features, including ticket assignment, escalation, and predefined responses, expedite question resolution and reduce manual effort for support agents. Through robust reporting and product analytics, Freshdesk provides advanced reporting and valuable insights into support team performance as well as user behavior, enabling data-driven decisions for world-class customer service.
Live chat and messaging features
This Intercom alternative's live chat feature allows support agents to interact with website visitors in real-time, enabling instant responses to inquiries, troubleshooting, and personalized assistance. Freshdesk also offers message automation thanks to chatbots, which can be set up to handle routine queries, freeing up agents for more complex issues.
Moreover, the messaging feature extends support beyond the website, allowing clients to reach out through popular chat apps like WhatsApp, Facebook Messenger, and more.
Email marketing automation
One of Freshdesk's products is created for user success specifically, and that's where you can find an email automation feature. It allows you to provide conversational marketing, schedule personalized email campaigns, or automatically trigger messages based on clients' behavior and lifecycle events.
Knowledge base
Freshdesk gives you a wide range of opportunities to create a help hub, format and optimize it, and integrate it into the live chat widget. But this is just scratching the surface. The software also provides the Freddy Answers bot, powered by your knowledge base feature, which helps users get the best answer any time of the day.
Help desk and ticketing system
Looking for more popular help desk apps? Here is another one! The platform is a great ticketing system software with a good deal of help desk capabilities. It allows businesses to manage user inquiries from various channels in a single inbox.
Freshdesk, an all-in-one help desk solution, enables support agents to categorize, prioritize, and assign tickets to the right teams, facilitating faster and more effective issue resolution. Automation features, including ticket routing, escalations, and predefined responses, help improve response times and streamline repetitive tasks. Comprehensive reporting and analytics provide businesses with valuable insights into support team performance and client satisfaction.
Drawbacks
People mark the complexity of the tool and that it takes rather long to train a team to use the software. Many suggest that you will need technical help to set up the platform properly in a way that meets your needs. Some clients also complain about high prices for small businesses and startups.
Pricing
It starts from a Free limited plan with basic functionality and can reach $59/mo per user for Pro subscription, or $95/mo per user for the Enterprise package.
10. Front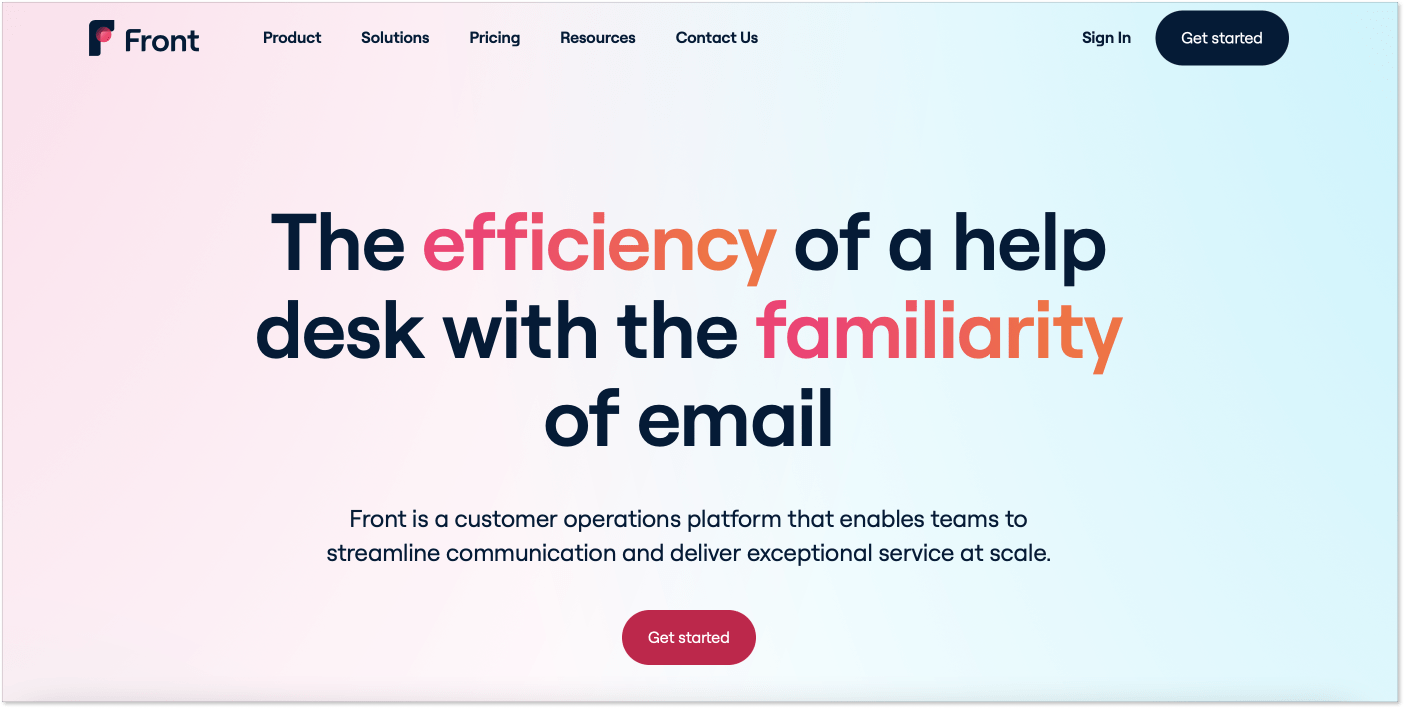 Managing customer relationships
By providing one inbox for different customer service channels such as email, and social media chat apps, Front contributes to better communication with customers and ensures a sleek customer relationship management process.
This customer service tool enables teams to collaborate seamlessly, share insights, and assign tasks, fostering a cohesive approach to client support. Front's automation capabilities streamline repetitive tasks, such as ticket routing and predefined responses, optimizing response times and helping you to provide world-class customer service.
Live chat and messaging features
With this Intercom alternative, businesses can integrate popular messaging channels like WhatsApp, Facebook Messenger, and SMS, along with traditional live chat, into a single platform. Automation features, such as chat routing and canned responses, expedite response times and maintain a personalized touch.
Furthermore, Front's live chat solution and messaging features come with real-time monitoring and reporting, providing valuable insights into chat volumes, response times, and client satisfaction.
Email marketing automation
Front doesn't have extensive email automation features, however, it offers some basic email automation capabilities, such as predefined canned responses and automated ticket routing based on certain criteria. These features can help teams respond faster to user inquiries and manage incoming emails more efficiently. For more advanced email automation, businesses might need to consider integrating Front with dedicated email tools like Mailchimp or HubSpot.
Knowledge base
This Intercom alternative doesn't have a native knowledge base management software for client self-service. On the other hand, it does offer integration with help center platforms to enhance user satisfaction.
Help desk and ticketing system
Front offers an alternative to conventional help desk software, by creating a collaborative hub for user queries. It's easier to master and ensures a personalized approach when people are not treated as number tickets but as individuals.
At the same time, it does have desk capabilities as the platform offers a shared inbox with support requests from any channel – email, SMS text, live chat, and more.
Drawbacks
Almost everyone who tried the software admits that it's difficult to learn how the tool works. Some very simple functionalities like setting up a vacation responder can be very difficult to find. But once you master the platform, you can enjoy better user satisfaction metrics.
Pricing
The pricing starts at $19/mo per seat, for the Growth subscription you will pay $59/mo per seat, for the Scale package (which is the most optimal solution) you will have to pay $99/mo per seat, and finally for Premier – $229/mo per seat.
We've prepared a quick comparison table of tools similar to Intercom, so you can easily spot the best software and take it for a spin.
Solution
Free plan
Free trial
Key features
Prices from
G2 rate
HelpCrunch
No
14 days
Live chat,
chatbot,
shared inbox,
knowledge base,
email marketing,
popups
$15/mo
4.7/5
⭐️⭐️⭐️⭐️⭐️
Zendesk
No
14 days
Ticketing,
case management,
reporting
$49/mo
4.3/5
⭐️⭐️⭐️⭐️
Drift
Yes
No
Conversational features
(live chat,
AI chatbot,
sales meeting calendar)
$2.500/mo
4.4/5
⭐️⭐️⭐️⭐️
Tidio
Yes
7 days
Live chat,
chatbot,
shared inbox,
visitor monitoring,
knowledge base
$29/mo
4.7/5
⭐️⭐️⭐️⭐️⭐️
Help Scout
No
14 days
Shared inbox (Mailbox),
live chat,
reporting,
basic CRM
$20/mo
4.4/5
⭐️⭐️⭐️⭐️
Olark
Yes
14 days
Live chat,
chatbot
$29/mo
4.3/5
⭐️⭐️⭐️⭐️
HubSpot Service Hub
Yes
14 days
Live chat,
shared inbox,
knowledge base,
call tracking (beta)
$500/mo
4.4/5
⭐️⭐️⭐️⭐️
Zoho Desk
No
15 days
Ticket management,
AI bot,
live chat,
knowledge base
$20/mo
4.4/5
⭐️⭐️⭐️⭐️
Freshdesk
Yes
21 days
Ticket management,
live chat,
knowledge base,
reports
$18/mo
4.4/5
⭐️⭐️⭐️⭐️
Front
No
7 days
Shared inbox,
automated workflows,
live chat,
analytics
$19/mo
4.7/5
⭐️⭐️⭐️⭐️⭐️
Which Intercom alternative will be your winner?
There are tons of great live chat software solutions available on the market. But when it comes to picking an alternative to Intercom that does more than just live chat, you need to dig deeper. Here comes the bonus! Watch our YouTube video where we cover this material in a more interactive manner:
You can roll the dice and sign up for all Intercom alternatives from our selection or for the one you liked the most and see what happens. Didn't like it? Move to the next one. I'm sure there's one winner for you somewhere, and you will find it very soon.