Have you ever tried playing tennis with that devilish tennis ball machine that keeps shooting balls at you while you have to return them really fast? Now, imagine doing all that while balancing on a monocycle. On the edge of a mountain. With your eyes shut.
Working in customer support requires tremendous effort, concentration, and time management skills as customer requests are just coming from everywhere. You log into your company's Facebook page and see 2-3 new messages there. You go to Twitter, and someone has already complained about your service there. You open your inbox, and it's stuffed with inquiries from your customers, business partners, parents, cat and whatnot.
Got that suffocating little feeling already? That overwhelming feeling of not being able to keep up with the pace?
Well, you don't have to feel that way if you choose the right help desk tool for your support team. These solutions take all these communication channels, unite them under one dashboard and give you everything you need to handle incoming requests effectively. And two most famous help desk tools out there are Zendesk and Freshdesk.
Note! If you're looking for a seamless all-in-one support tool, HelpCrunch can be a great alternative to both Zendesk and Freshdesk. Just sign up for a free 14-day trial and see its live chat, shared inbox, knowledge base, and email automation features in action.
Companies that decided to switch to ticketing systems often face this 'Zendesk vs Freshdesk' conundrum. Both tools are extensive in their customer service features, have affordable pricing plans for different budgets, provide pleasant onboarding experience and, overall, are quite great in what they do.
So how does one make a choice in a situation like this? There are no two ways about it. Let's compare Freshdesk to Zendesk in detail.
TL;DR
Freshdesk feels simpler and easier to use while costing less if you choose to buy the full package. Zendesk, on the other hand, wins by integrations and in rare cases by features, but feels a bit disconnected. Huge support departments would be better off with Zendesk.
If you need an all-in-one customer service solution, Freshdesk might feel simpler, easier, and more wholesome. Its live chat is also more advanced if compared to Zendesk. However, Zendesk wins by the number of third-party integrations and, in rare cases, by features. But it feels a bit disconnected with its live chat widget looking a bit behind the time.
All in all, corporations with big support departments would probably be better off with Zendesk and its robust ticketing options. Freshdesk is more suitable for smaller businesses.
If you're looking for something equally powerful yet more affordable, why don't you try HelpCrunch? It offers shared inbox, live chat, and knowledge base functionality with help desk features like custom inboxes, email forwarding, customer profiles, tags, etc.

Looking for all-in-one customer
communication tool?
Freshdesk and Zendesk Comparison
Zendesk vs Freshdesk: Intro
If customer service tools were Italian mafia, Zendesk would be its godfather. It's one of the oldest and most comprehensive help desk tools on the market. Founded in 2007 in a small loft somewhere in Copenhagen, Zendesk is one of the oldest customer service tools on the market. The very idea of it arose from the complicated old school ticketing systems. They worked like a mess back then, and Zendesk's mission was to fix all that was wrong about them.
Fast forward 12 years, and Zendesk is one of the most extensive help desk tools and is still going strong.
And what about Freshdesk? According to the CEO of Freshdesk, their story was actually inspired by Zendesk itself. It was 2010 and it was the mafia-esque story:
I was reading this article on Hacker News. This article was about Zendesk raising their prices 60 – 300% and how their users were unhappy about it. That comment was like a slap on my face. Here was an opportunity sitting right in front of me.

Girish Mathrubootham, CEO @ Freshdesk
So basically, Zendesk gave rise to its nearest competitor. Isn't it a nice little plot twist? And also, what a pretext to talk about pricing right away.
Freshdesk vs Zendesk: Pricing
Freshdesk offers some of its tools for free. Sure, they are limited in many ways, but heck it, it's free stuff. Good news for all money-saving fellows out there. Until 2021, Zendesk also had free versions of their products, but the company has discontinued them as of now.
You can go and sign up for their free trials and test any of the paid subscriptions. Zendesk offers a 30-day trial (which is rather a long trial period for SaaS companies), while Freshdesk's plans are available for a 21-day trial (not too bad as well).
But what if you're willing to pay for tools you use?
Zendesk pricing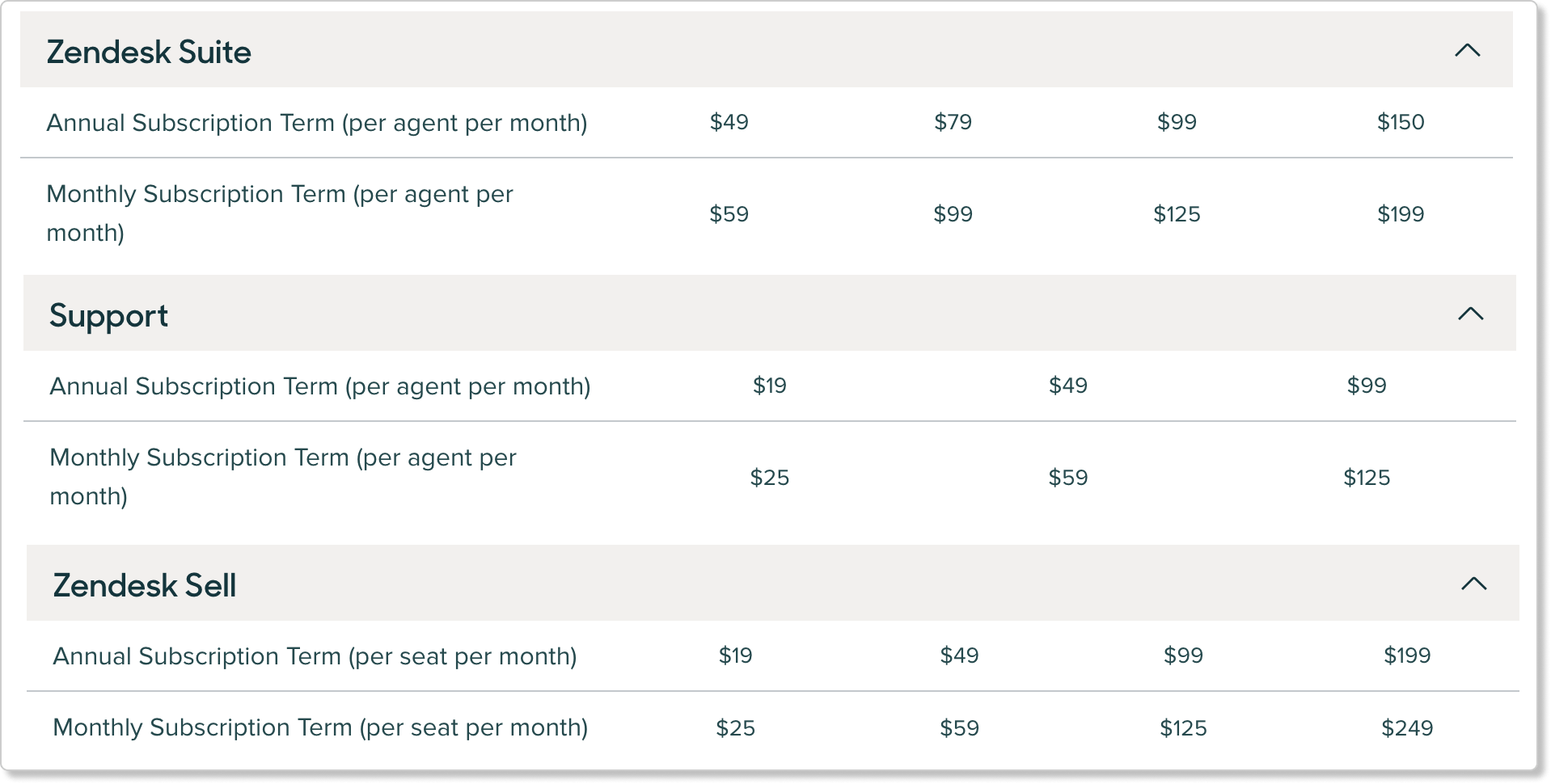 If you choose the Zendesk Suite, it will cost you at least $59/agent per month for the Team subscription. More advanced packages can cost up to $199/agent. Or, you can pay annually and save 35% on them.
Every Zendesk Suite covers the following channels:
Ticketing (helpdesk tool for collection, prioritizing, and solving requests)
Voice support (aka call centers)
Live chat
Social media
Knowledge base
Even though these channels are covered by all Zendesk Suite subscriptions, they have quite different set of other features. For instance, multiple knowledge bases are available starting from the Growth plan that costs $99/agent/mo. Setting operating hours in your live chat widget will cost you at least $125/agent/mo. And if you want to remover the Zendesk branding, you better have $199/agent/mo.
Alternatively, you can go with one of Zendesk's Support packages. It offers email and social media ticketing and costs discernibly less. The basic support plan starts from $25/agent per month.
Freshdesk pricing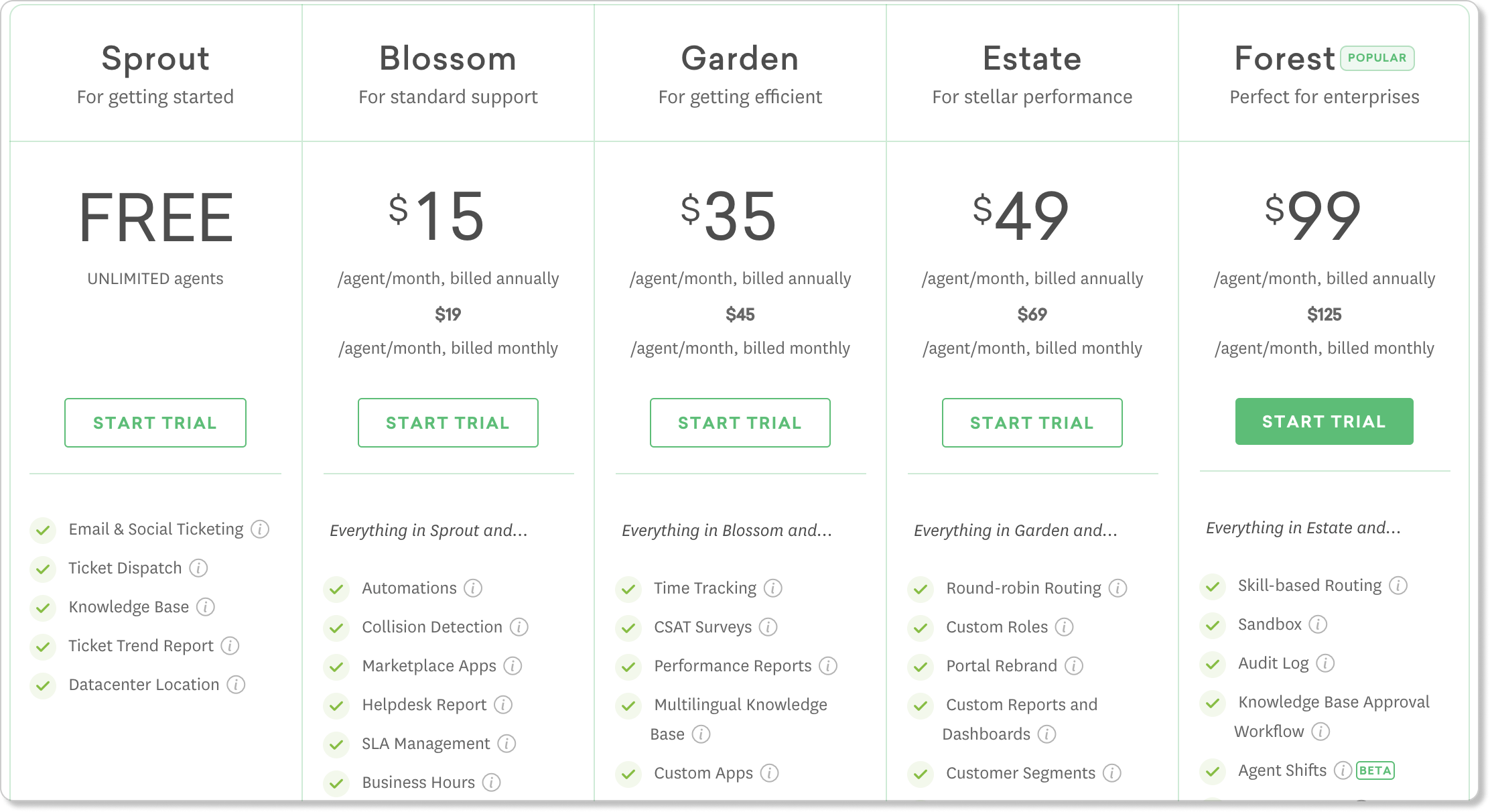 When bought as a ticketing service, Freshdesk can be a little more affordable than Zendesk. Their most basic subscription plan costs only $19 per agent per month if billed monthly, while most expensive plan is $125 per agent per month. Zendesk Support's pricing plans start from $25/mo and don't include knowledge base integration.
However if we compare Freshdesk and Zendesk's all-in-one subscription plans, Freshdesk's omnichannel packages are way more expensive. They start from $99/agent/mo if billed monthly.
Zendesk vs Freshdesk: Features
I'll be honest with you. If I had to choose between Zendesk and Freshdesk right this moment, I wouldn't know which one is better. It is widely thought that Zendesk is the most comprehensive help desk tool out there. They have everything a customer support team needs and more. But the thing about Freshdesk is that it's every bit as good a tool. The Freshdesk vs Zendesk problem is real. What a clash!
Zendesk features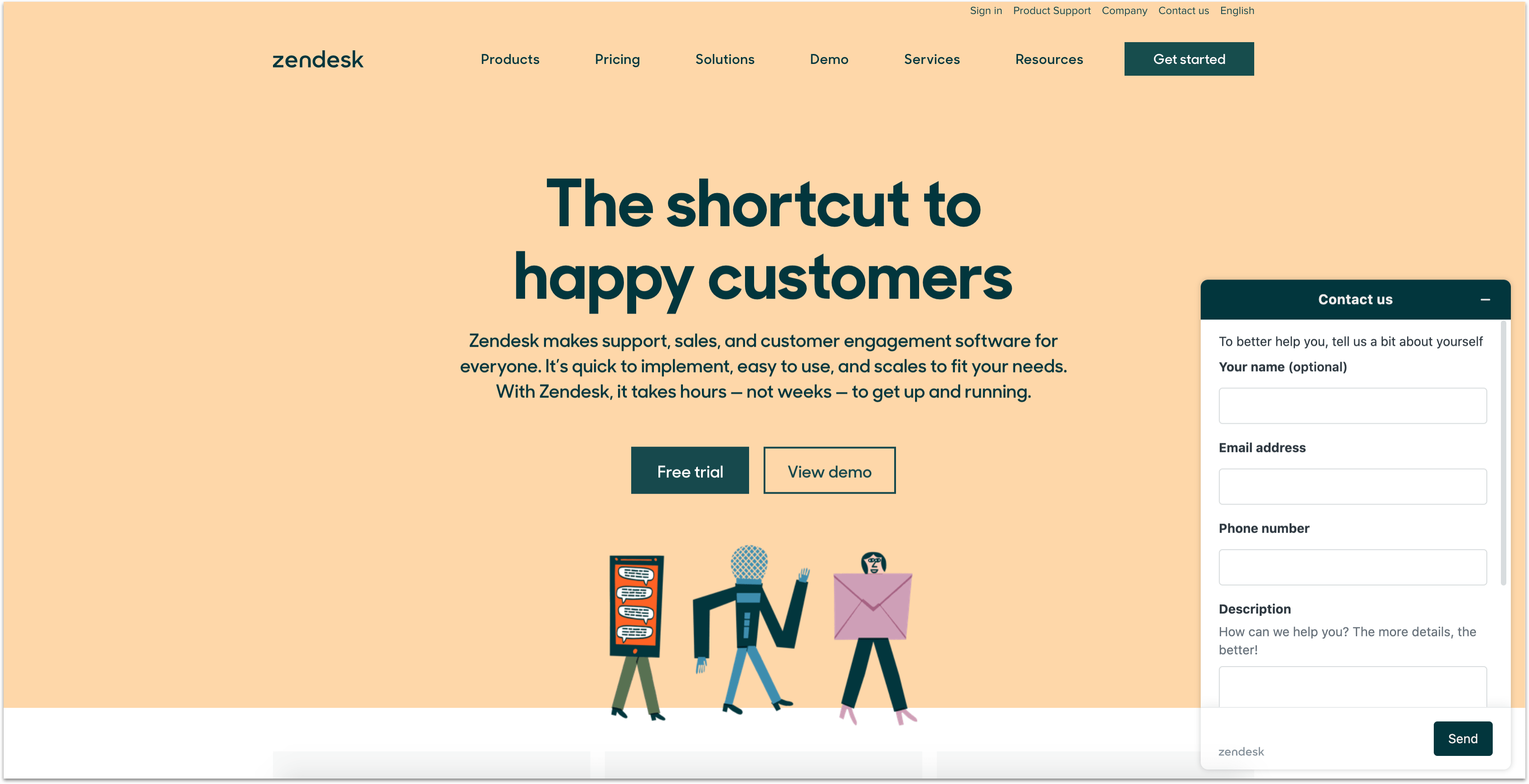 Zendesk help desk features
As I've already mentioned Zendesk is the godfather of help desk tools as we know them. Their ticketing features are the richest on the market and work wonders. (Though I must say their dashboard may feel overwhelming at first glance.)
The tool converts all phone, chat, email, social media requests from customers into tickets which are easy to manage, resolve, and collaborate on. Zendesk helps customer support teams gather all issues from disconnected channels and centralize them into a prioritized and actionable list.
There's a plethora of features to help bigger teams collaborate more effectively. Customer service teams get a real-in time view of how each particular issue is being resolved with an easy issue tracking system. For instance, they can see the activity log and the name of the agent handling it.
What also makes Zendesk stand out from the competition are their reports. They provide the most detailed reports on everything – like how quickly service representatives resolve tickets and the development of a ticket's status from open to close.
Zendesk chat features
To be honest, I'm not the biggest fan of Zendesk's chat widget because of its limited customization options and outdated design. Still, in terms of functionality, it has most of the necessary features like shortcuts (saved responses), automated triggers and live chat analytics.
Zendesk knowledge base features
The Guide tool from Zendesk is very rich in features – from localizations to bot integration to feedback forums. Basically, you can create new articles, divide them by categories and sections – make it a high-end destination for customers when they have questions or issues.
Zendesk also offers the Answer Bot, which can take your knowledge base game to the next level. The Answer Bot automatically suggests relevant articles to customers reducing the workload for your support agents. And it's multilingual, too.
Freshdesk features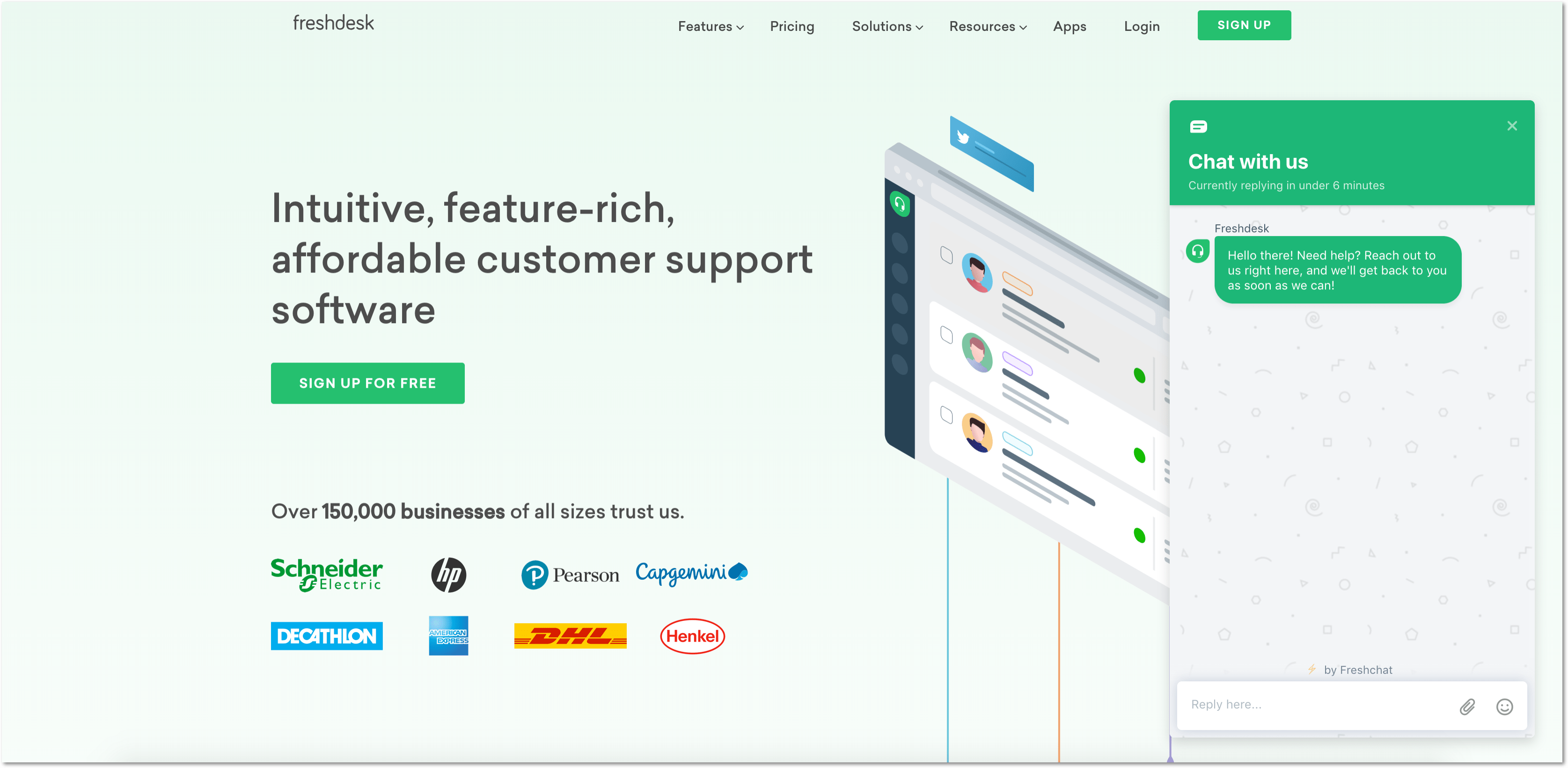 Freshdesk help desk features
It is the very core of Freshdesk's functionality. Its ticketing system works like a charm and is really pleasant to deal with. Basically, every email, chat, or call is converted into tickets, where they can be prioritized, assigned or grouped. It's also possible to integrate your Twitter and Facebook pages with Freshdesk and receive customers' requests from there, too.
And yeah, all this can be done automatically. You can automate the routine tasks in your help desk such as setting priorities, following up on tickets and other operational tasks that help you run your support.
Freshdesk likes emphasizing on its Team collaboration features – like auto assigning tickets to the right person or real-time insight into who's already managing a given ticket, etc.
All in all, I was pleasantly surprised by how easy it was to work with Freshdesk's ticketing tools.
Freshdesk chat feature
It goes like this. Freshdesk is actually just one tool (or rather a set of help desk tools) from the Freshworks family. So if you want a live chat for your website, you should sign up for another tool called Freshchat (or choose an expensive all-in-one plan). Its pricing varies from $0 to $99 if paid monthly.
If we compare the looks of Freshdesk and Zendesk chat widgets, I like Freshdesk much better as it looks simpler and more modern. Freshchat allows triggered and in-app messages inside its chat widget as well as tracking user events (e.g. last visited pages) and properties (e.g. location, browser language). You can also connect your knowledge base with the chat widget and display an FAQ section there.
Freshdesk knowledge base features
As knowledge management software, Freshdesk provides a nice and clean help center feature. And it's multilingual, too (meaning you can provide a translation of your articles in any language you need).
Probably, the nicest thing about their self-service tool is that it includes some search engine optimization features to help you prepare your content for indexing by Google.
Except for that, I didn't find anything particularly outstanding about their self-service tool. It's nice and clean, but not as well-developed as the Zendesk Guide.
Freshdesk vs Zendesk: Review
Freshdesk scores 4.5 / 5 stars on Capterra based on 2,185 reviews and 4.4 / 5 stars on G2. Numerous users mention the ease of configuration and usage as major pros of the tool. However, some customers complained that their support team can be almost unreachable at times while the tool is not always as reliable as they wish.
Zendesk is not far behind with its score of 4.3 / 5 stars and 2,388 reviews on Capterra. More than two thousands of G2 reviewers have rated it with 4.2 / 5 stars. The tool has got many loyal customers sticking to it for many years. They often mention that Zendesk is easily scalable because of the number of features and subscription tiers it offers. However, its strongest side can sometimes be its most annoying feature as users mention the complexity of the tool.
Zendesk vs Freshdesk: Customer Support
Zendesk's own customer support is what I really liked about them. I asked them a question in their live chat and got an instant reply – nice and right to the point.
When you leave a message in Freshdesk's live chat, you can always see an indication of how fast you can expect their answer. When I was leaving mine, it said 'Currently replying in under 15 minutes'. 3 hours later – and I'm still waiting for someone to get back to me.
Zendesk vs Freshdesk: Overall Impression
Let's put it straight. I liked Freshdesk better right after I signed up for their toolset and they gave me access to the dashboard. And here's why.
You need time to understand Zendesk. While it's true that Zendesk offers a great onboarding process and provides you with numerous helpful tips on every step of your journey, I'd still want to get started right away rather than struggling to understand how things work there. Also, while working with Zendesk dashboard, you find that you need to open their tools in separate browser tabs. That is definitely not the best solution for smaller customer support teams.
On the other hand, Freshdesk is shouting from the housetops that their interface is more intuitive and easier to set up and dive right into it. And in all honesty, that was my impression, too. I liked how Freshdesk is built and how they onboard newcomers. When you sign up for their tool for the first time, you'll get to see a small welcome video from their CEO and then will be offered a 20-minute demo where their team explains the basics of Freshdesk. And this video is more than enough to get you started.
All in all, I've settled the Zendesk vs Freshdesk dispute in favor of the latter. Freshdesk is actually cheaper, more intuitive, and unified. However, my understanding is that bigger businesses like Zendesk exactly because of its complexity and lack of coordination.
Zendesk vs Freshdesk: Final words
If you ask me, I'd go with Freshdesk. It's just that I liked their dashboard the minute I logged into it. And I can't dismiss this feeling. It's also cheaper making it a more obvious choice for smaller companies.
Zendesk can be a great choice for bigger (read: huge) companies with all its tools, departments features and stuff.
Zendesk's pros:
more integrations
more advanced bots
more features to a help center tool
cheaper when bought in package (for basic packages)
way better customer support of their own
Freshdesk's pros:
nicer overall interface
cheaper when bought in package
live chat is cleaner and more advanced
reporting features with a grain of gamification
However, I'd recommend you to look into more unified alternatives – like HelpCrunch. With HelpCrunch, you get a modern fully customizable live chat backed by help desk features like assigning tags and statutes, adding private notes for your colleagues, re-assigning customers' requests from one agent to another, etc.
Test any of HelpCrunch pricing plans for free for 14 days and see our tools in action right away.

HelpCrunch articles delivered straight to your inbox 🚀
All the latests posts. One email per month.
No strings attached.
Read also
Tools
Do you want to build your own well-orchestrated messaging hub? This list of the best chat APIs and SDKs available on the market is what you need to do just that without much hassle.
Tools
Intercom pricing is super confusing with its high prices, additional fees, and unpredictable invoices. We decided to figure it out once and for all.
Tools
Even if your business is just on its way to success, it still needs a helpful tool to be the best. Check out 15 low-budget customer service software for a small business and choose something that fits the bill.