7 Best Zendesk Alternatives to Give Your Support a Boost in 2023
Zendesk is one of the most widely known help desk tools out there. But it has its flaws, too. Check these 7 Zendesk alternatives that will help you improve your customer support, sales, and marketing.

Zendesk is an old, solid tool that has been on the market for over a decade. The company holds more than 72% of the help desk market and almost 15% of the live chat market. And it's used by such companies as Airbnb, Squarespace, and Vimeo for their customer service needs.
Long story short, Zendesk is huge. But, what makes it such a popular customer service solution?
First of all, it offers a comprehensive set of tools for every use case: live chat, ticketing, knowledge base, call center support, CRM, etc. Their reports are extensive and detailed, which gives Zendesk's users many insights into their performance. And just the fact that the tool has been on the market for so long implies that it must be very secure and stable.
Those are great arguments in favor of Zendesk. But no tool is perfect, and businesses are looking for Zendesk alternatives because of some major flaws.
Why look for an alternative to Zendesk?
Zendesk has over 5K reviews on G2 as of today and 83 heated customer discussions about the brand. Its rating is 4.3 out of 5 stars, with many users praising the tool for its reliable and feature-rich ticketing system.
However, there's some dissatisfaction, too. Before we dig into the top Zendesk alternatives, comb through these complaints that come down to the following five issues:
Chats, emails, and other channels are managed separately. The biggest downside is that Zendesk separates chats and email tickets, so there's no way to answer customer requests in one queue.
Outdated interface. Zendesk's overall interface looks very outdated and overloaded if compared to modern tools.
Limited email automation functionality. You are allowed to launch automated email sequences and provide support only if you purchase two separate subscriptions. So, is it an all-in-one solution after all?
No out-of-the-box features. Many tools are offering some advanced features like custom chatbots, product tours, or video support. But it seems like Zendesk wants to stay a good old ticketing system and is not interested in customer service innovations.
Gets pricey. Zendesk offers many great tools and features for customer service, but if you want to enjoy its full power, Zendesk costs bite.
7 best Zendesk alternatives that meet your every need
1. HelpCrunch — a one-stop Zendesk alternative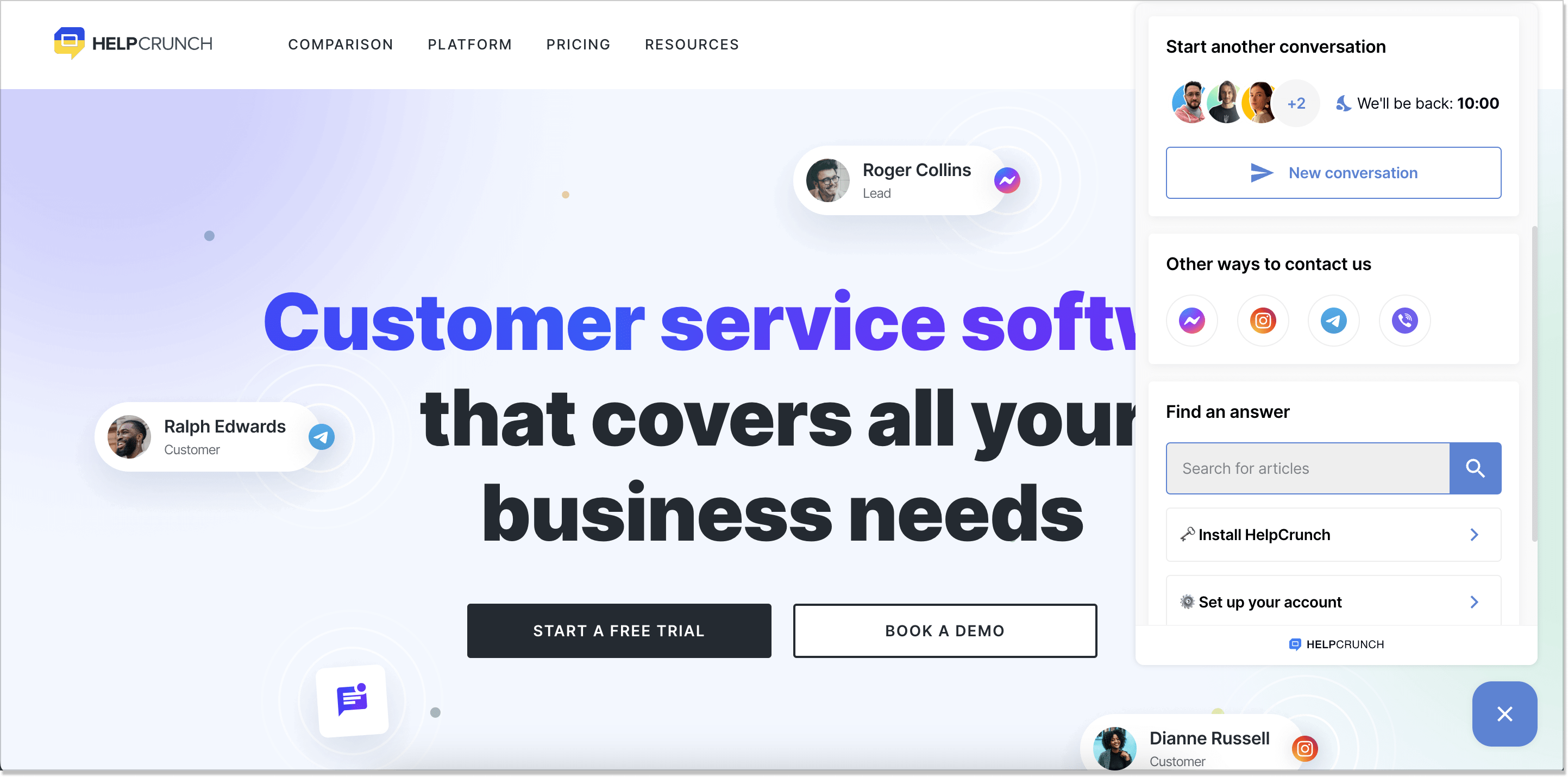 HelpCrunch is just the right Zendesk alternative if you've decided to shift away from a traditional ticketing approach and move to something more versatile.
Being a one-stop platform for building customer relations, HelpCrunch offers not only a shared inbox for all your chats and emails but also a chatbot, knowledge base, email marketing features, and tools for customer engagement.
HelpCrunch features
Live chat
HelpCrunch offers 100% customizable live chat. Tweak its start screen, choose what modules (aka blocks) you would like to see on it, change its position, and even transform it with custom CSS or remove the HelpCrunch branding. The chat will automatically change from online to offline modes and back based on the operation hours you set.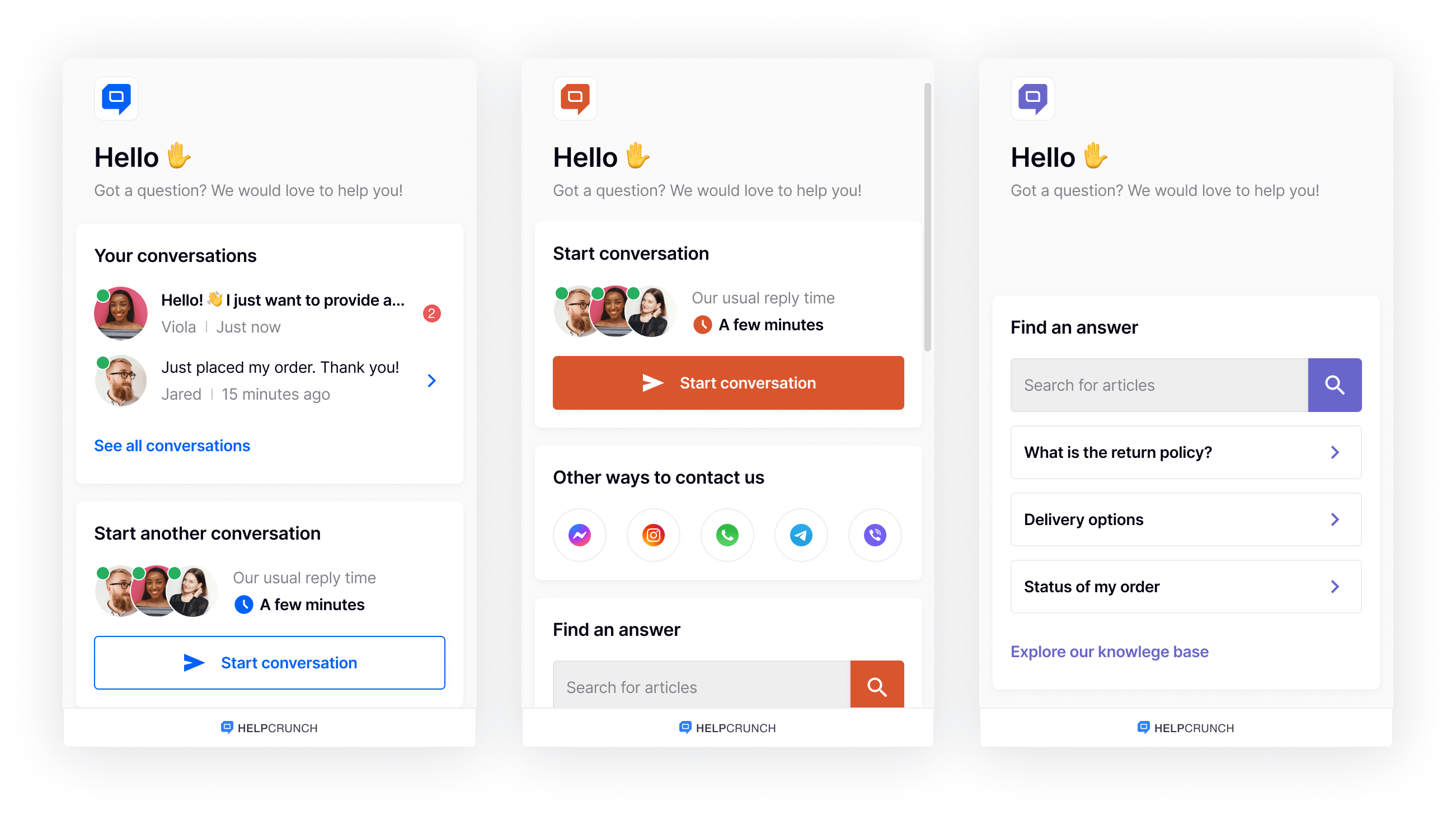 Support agents will find all the necessary features for managing customer requests as effectively as possible — private notes, saved responses, departments, and prioritizing based on a chat status. Besides, even after you've sent a message to a customer, you can edit or delete it. File attachments and emojis are also at your disposal.
The user information is always in the sidebar of the chat window. It provides your team with a timely context, so no need to bombard clients with redundant questions. Support reps can assign any dialogue to themselves, another teammate, or a corresponding department.
As the work on a request continues, agents will change its status from New to Open, Pending, On-hold, or Closed. Additionally, you can use your chat widget for engaging your customers proactively by sending them auto and manual chat messages.
Chatbot
Plus, HelpCrunch has this awesome, user-friendly chatbot feature – HelpBot. As of now, it is reactive, which means it can only respond when a user starts an interaction first. But it's definitely not a problem at all as you can set up proactive messages within the platform and invite visitors to chat with your brand. Once a user replies to an automated message, the bot will take over the conversation.
What can it really do? Well, a lot of things. HelpBot was designed to:
Automate your customer support;
Handle FAQs by sharing canned responses, links, and knowledge base articles;
Qualify leads;
Gather issue details.
Apart from fast 24/7 support, the bot from HelpCrunch offers you a well-thought visual editor to create chatbot flows. Build the bot steps with a few clicks, move them around, remove or change connections between them, and enjoy the process along the way. No coding skills are required.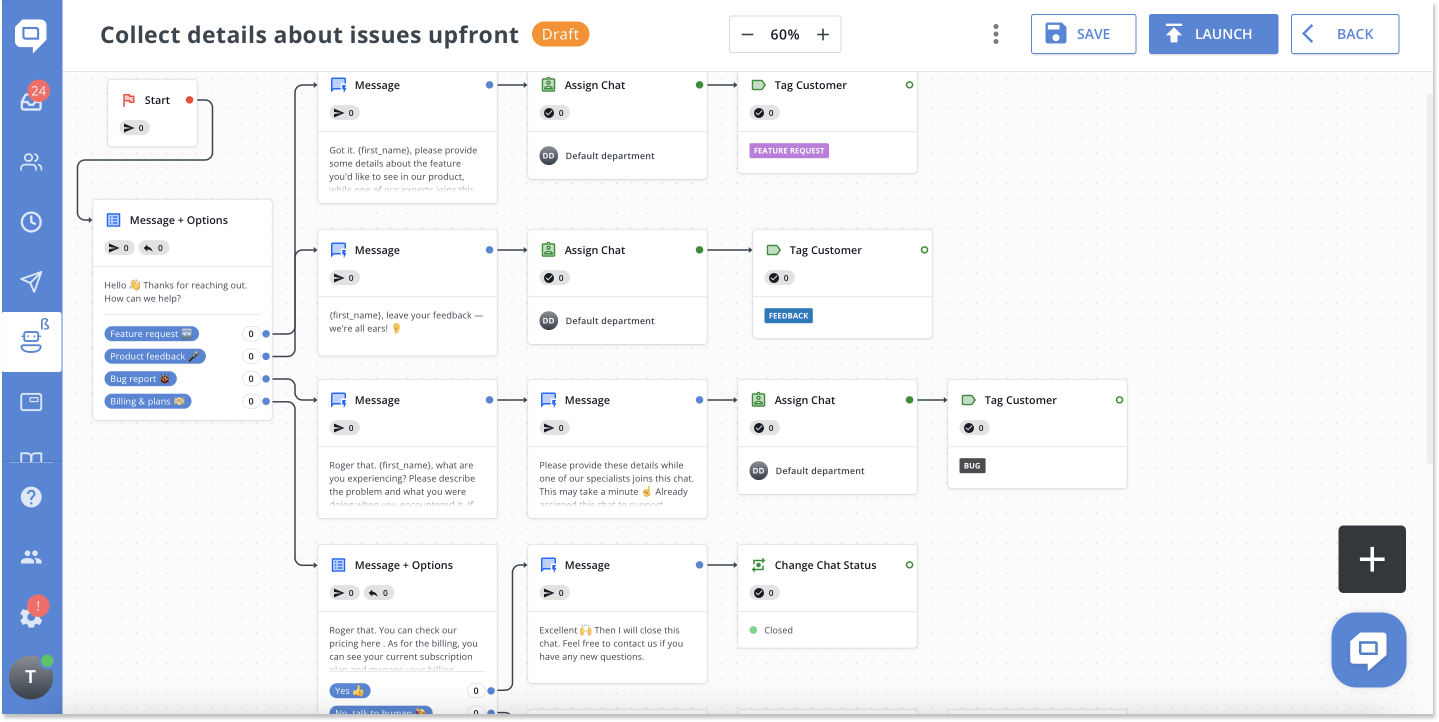 Email marketing
The email support feature is what especially differentiates HelpCrunch from Zendesk.
On top of running email support with our platform, you can send an email follow-up after you've had a live chat conversation with your customers (that is, if they've left their email address to you). It's easily done by simply switching between the corresponding tabs in the chat window. And every message that a customer hasn't read in a chat is automatically forwarded to their email address. How many best Zendesk alternatives do that? I guess not much.
Shared inbox
The HelpCrunch shared inbox is everything you would want for clockwork-like customer communication. All correspondence lands in a single dashboard in the form of conversations. Basically, you have a chronological queue of all conversations, no matter the channel (Viber, Telegram, Facebook Messenger, WhatsApp, Instagram, live chat, emails).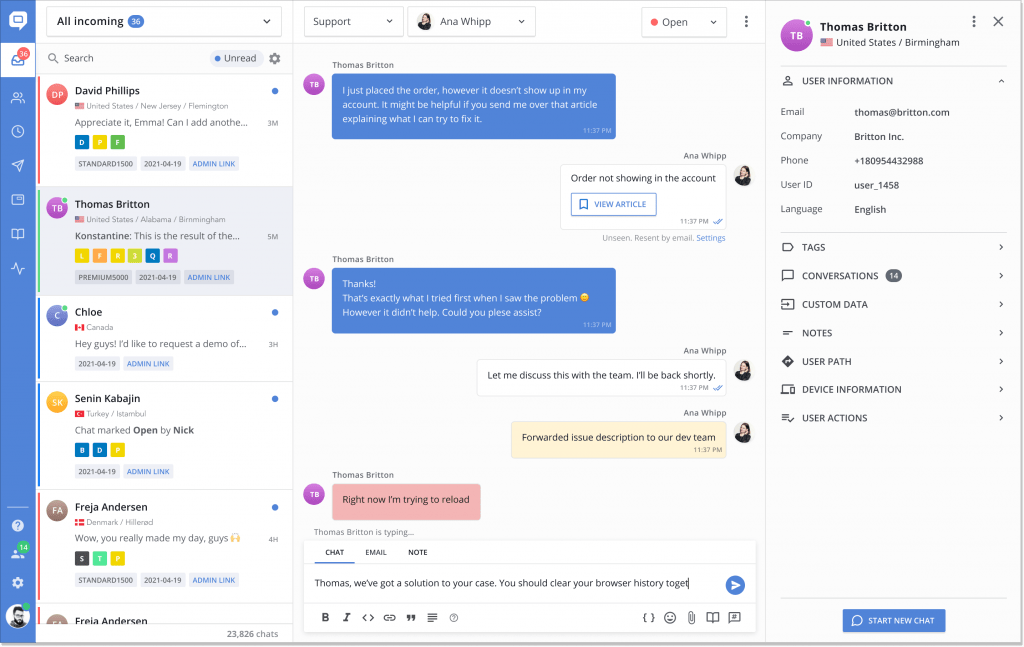 Knowledge base
Build a well-oiled help center that is integrated into the chat widget with articles, optimize content for search engines, and divide it by categories and sections. Thanks to the WYSIWYG text editor, your pieces will never be patchy as it lets you:
Embed visual content such as videos and images
Structure your texts with lists of all kinds
Set up SEO settings for articles
Save articles as drafts and make them public or private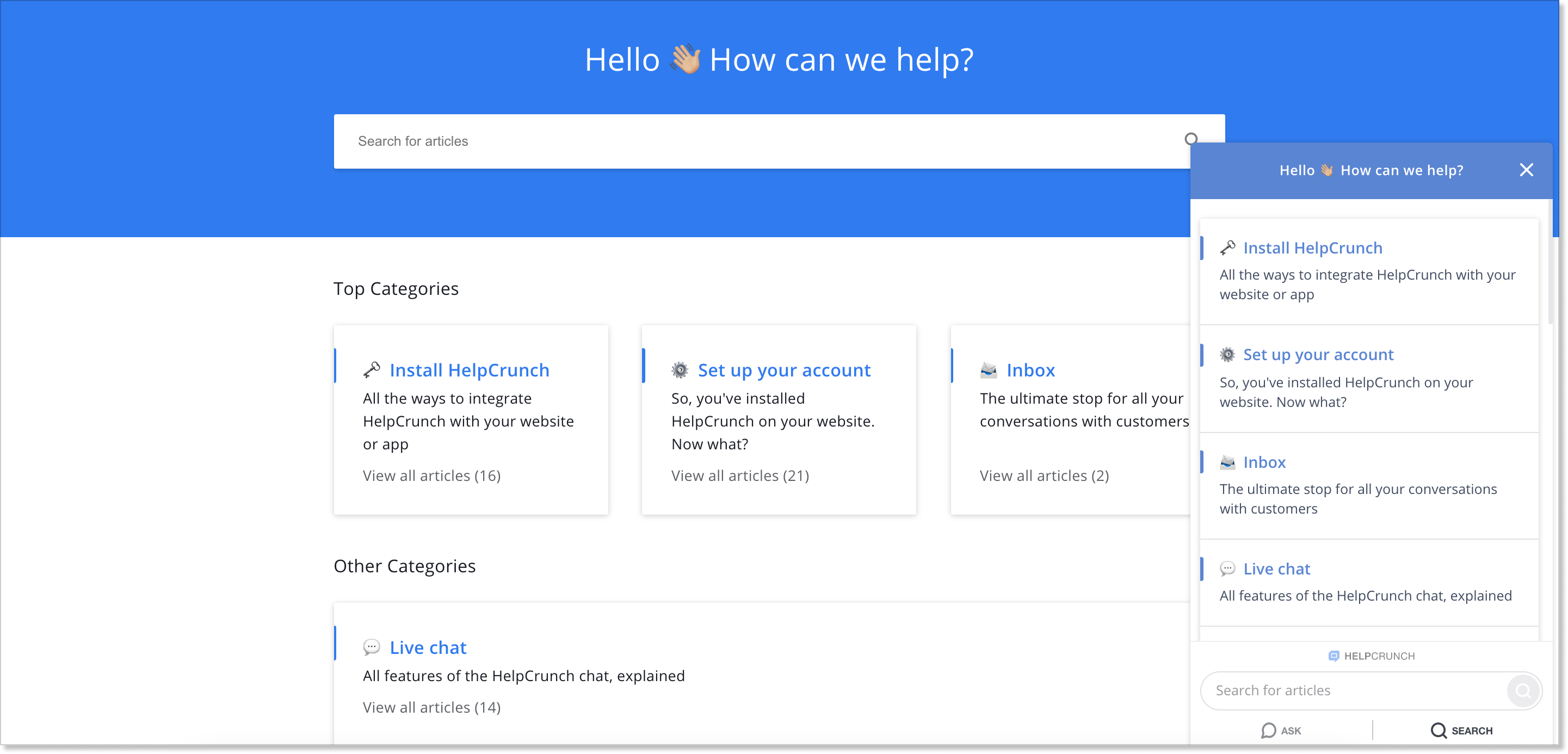 Popup builder
There is one more important and unique feature that HelpCrunch offers and Zendesk doesn't – popup functionalities. Many companies have already tried the HelpCrunch popup feature in full play and boosted customer engagement levels.
HelpCrunch allows you to set popups on your website based on visitors' personal information and behavior. Choose between 6 popup templates, change button color, come up with an eye-catching CTA and heading, add animations, and set up popup display rules.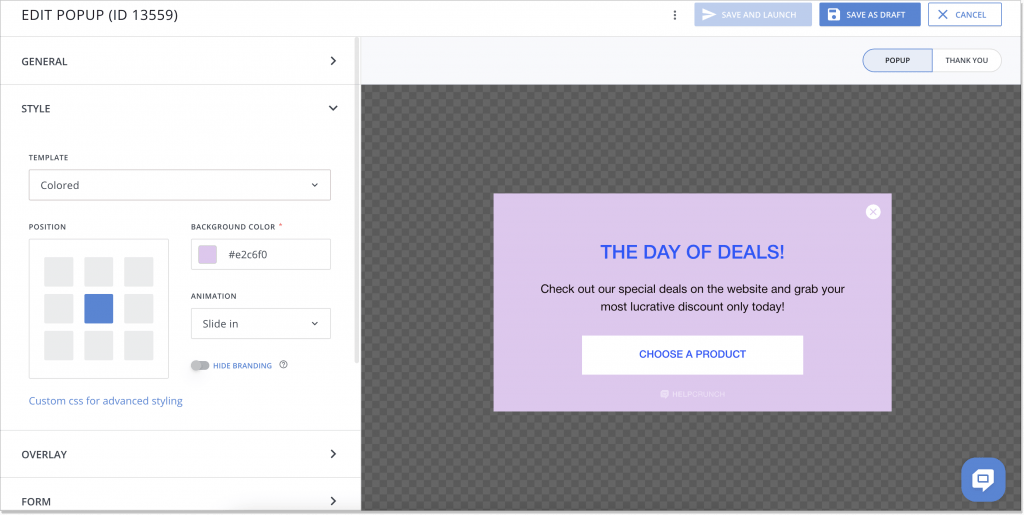 HelpCrunch pricing
Basic: $15/mo/per team member
Pro: $25/mo/per team member
Enterprise: the price is up for discussion
HelpCrunch Pros
Customizable chat widget
Offers a chatbot feature for customer support automation
Emails and chats land in one queue
Modern interface
All features are well integrated with each other
Has email marketing functionality included
Affordable startup-friendly pricing
HelpCrunch Cons
Not applicable as a big ticketing system
No call center feature
Poorer reports
To see that all the above-mentioned is not lip service, give the one-stop solution a shot! Sign up for a free 14-day trial with HelpCrunch now and test its features in all their glory.
2. Intercom — expensive yet powerful Zendesk alternative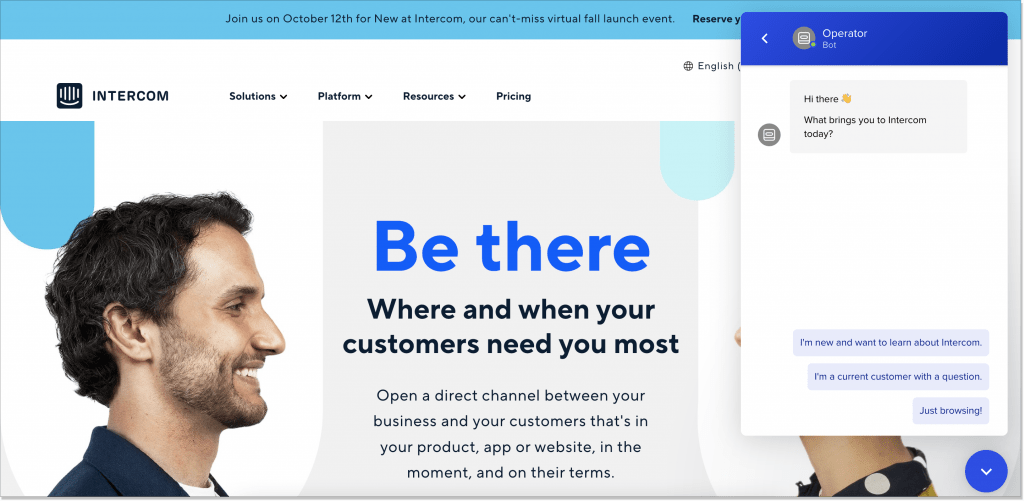 Intercom is a more flexible alternative, offering many innovative features not only for support but also for sales and marketing. That's something that Zendesk lacks since it's almost entirely support-oriented.
Some Intercom features include custom bots, targeted product tours, advanced email marketing functionality, etc. Almost no other tool comes even remotely close to the level of innovation that Intercom sets. But those features also cost a lot — sometimes, thousands of dollars.
So, for the sake of simplicity, I won't talk about them here and rather concentrate on three core Intercom features — live chat, shared inbox, and help center.
Intercom features
Their Business Messenger (the same as live chat) is quite feature-packed, with a built-in knowledge base and announcement integration. Once you install it on your website, it becomes a universal destination for all customer support.
It can also be enhanced by automations. The Resolution bot can help you with a self-service routine, automatically recognize similar questions from past conversations and serve up the best answer, and respond to repetitive questions so that your team can focus on their performance.
Intercom's shared inbox has such help desk features as tags, office hours, smart suggestions, public help center, snooze conversations, and a lot more. So, it's a handy tool for email campaigns.
Unlike many Intercom competitors, the help center feature here is easily adjustable from the dashboard. You can set up the basics to start your hub, localize articles, and style the knowledge base. To provide customers with their answers, use the system that automatically suggests articles from your resource center.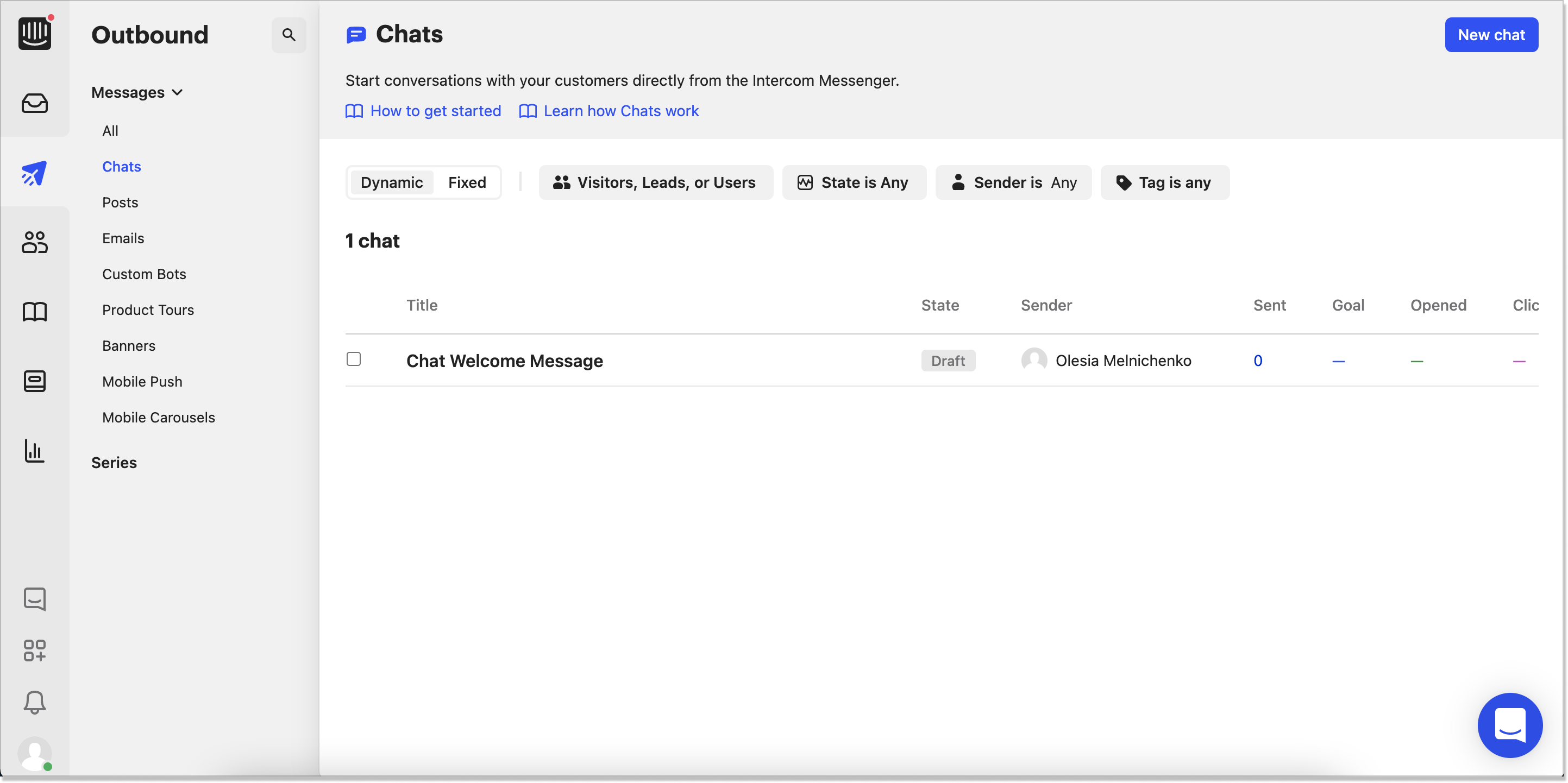 Intercom pricing
Intercom pricing is, in fact, a very unstable thing. They've reconsidered it recently, so now it looks like this:
Starter for small businesses: $74/mo with 2 seats
Support, Engage, Convert for most businesses: the prices are discussed individually
Intercom vs Zendesk
Intercom Pros
Modern interface
Feature-rich Business Messenger
Shared inbox for emails and chats
Innovative features like custom bots and product tours (for additional costs)
Intercom Cons
Not applicable as a big ticketing system
Prices are changing fast
Hectic fees
Additionally charges for active contacts
Limited reports
3. Freshdesk — almost identical Zendesk alternative for ticketing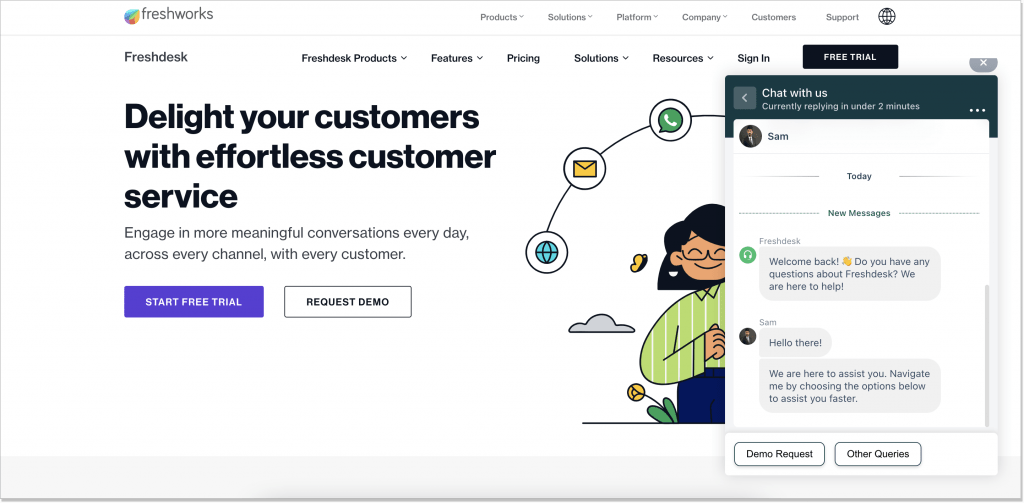 If you want to exchange Zendesk for something 100% identical, Freshdesk is an obvious front-runner.
Freshdesk is a help desk part of a customer support suite of tools called Freshworks. It includes products for live chat, analytics, CRM, etc. So, what's the deal here?
Freshdesk features
Freshdesk is a perfect replacement for Zendesk's 'Support' subscription if you only need a help desk for email and social media support. Optionally, you can add other Freshworks products to your dashboard.
The four core functionalities the tool covers starting from the free subscription are:
Help widget
Email ticketing
Twitter, Facebook, and WhatsApp integration
Knowledge base
There are all the basic, Zendesk similar ticketing features available like canned responses, ticket merging/splitting, tags, etc. Working in a shared inbox might be difficult for bigger teams, that's why Freshdesk offers numerous collaboration features like agent collision detection or Omniroute — a ticketing routing system that allows you to balance workloads in one place.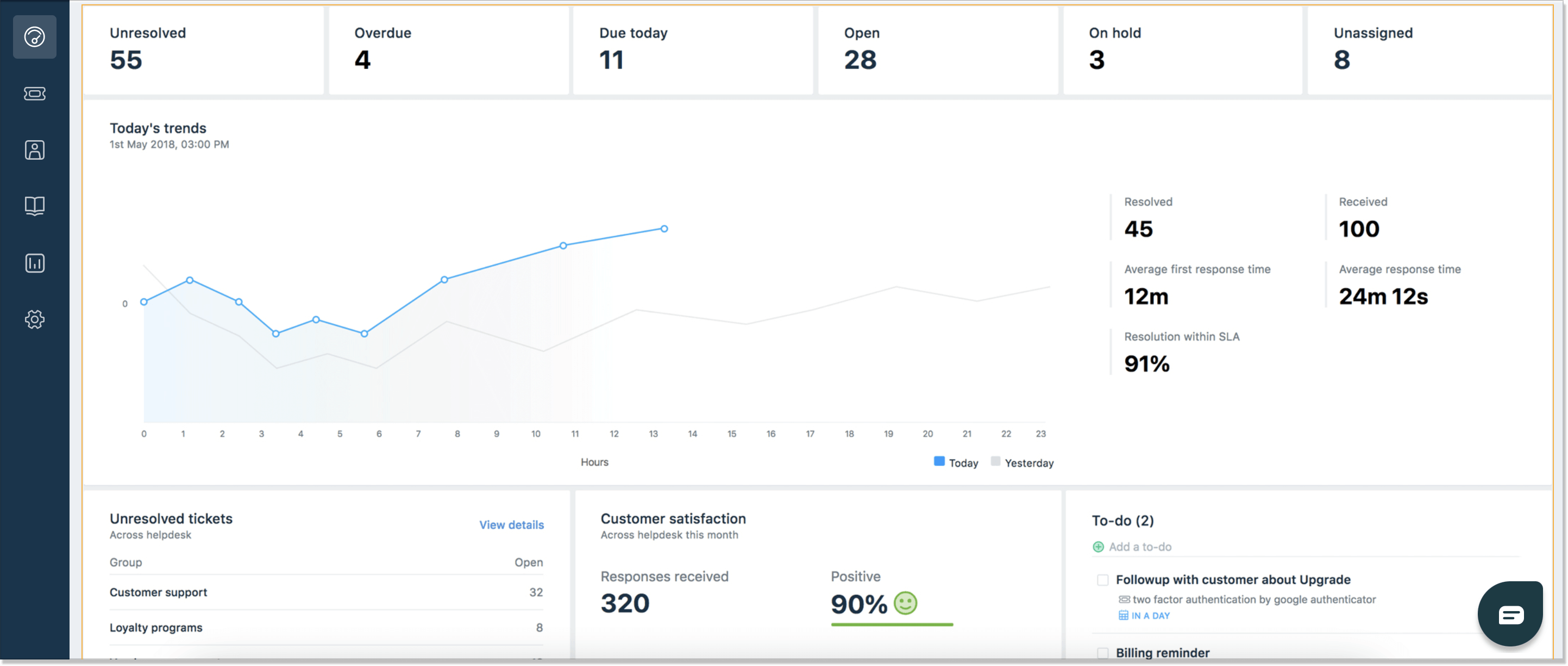 One of Freshdesk's main selling points is its customer service automation. You can automate virtually anything — from reminders to following up to prioritizing and assigning. For instance, there are three different ticket assignment techniques — skill-based, load balancing, and round-robin. They ensure equal distribution of tickets between available support agents.
With the knowledge base feature, you can convert agent responses from tickets into knowledge base articles. In stark contrast to Zendesk competitors, Freshdesk has all the necessary settings for multilingual content, SEO optimization (but HelpCrunch has that, too) as well as comfortable work with the text editor.
Freshdesk pricing
There are 4 subscription plans this Zendesk cheaper alternative offers (plus 3 omnichannel packages):
Free: $0 up to 10 agents
Growth: $18/month/agent
Pro: $59/month/agent
Enterprise: $95/month/agent
Freshdesk Pros
Modern and more intuitive design
The live chat widget by Freshchat is more advanced and feature-rich
Advanced workflow automations
Freshdesk Cons
Disintegrated compared to all-in-one solutions
Poorer analytics
Unclear distribution of features among subscription plans
4. LiveAgent — best Zendesk alternative in terms of money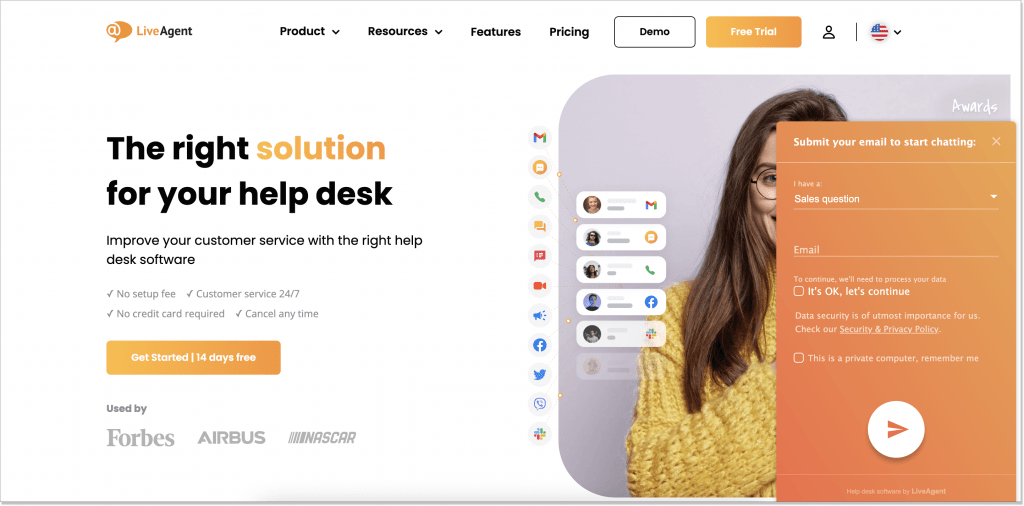 LiveAgent is a classic, cut-down alternative to Zendesk and a help desk tool for receiving and handling customer requests from different channels — e.g. email, live chat, social media, and phone calls. And it seems like the tool strikes the perfect balance between a feature-rich ticketing system and a simple interface.
LiveAgent features
LiveAgent's flagship feature is a help desk. Its interface looks like the older version of Gmail and is handy for receiving and managing email requests from customers. Once you buy additional communication channels (live chat, social media, calls), they'll also appear in the LiveAgent universal inbox.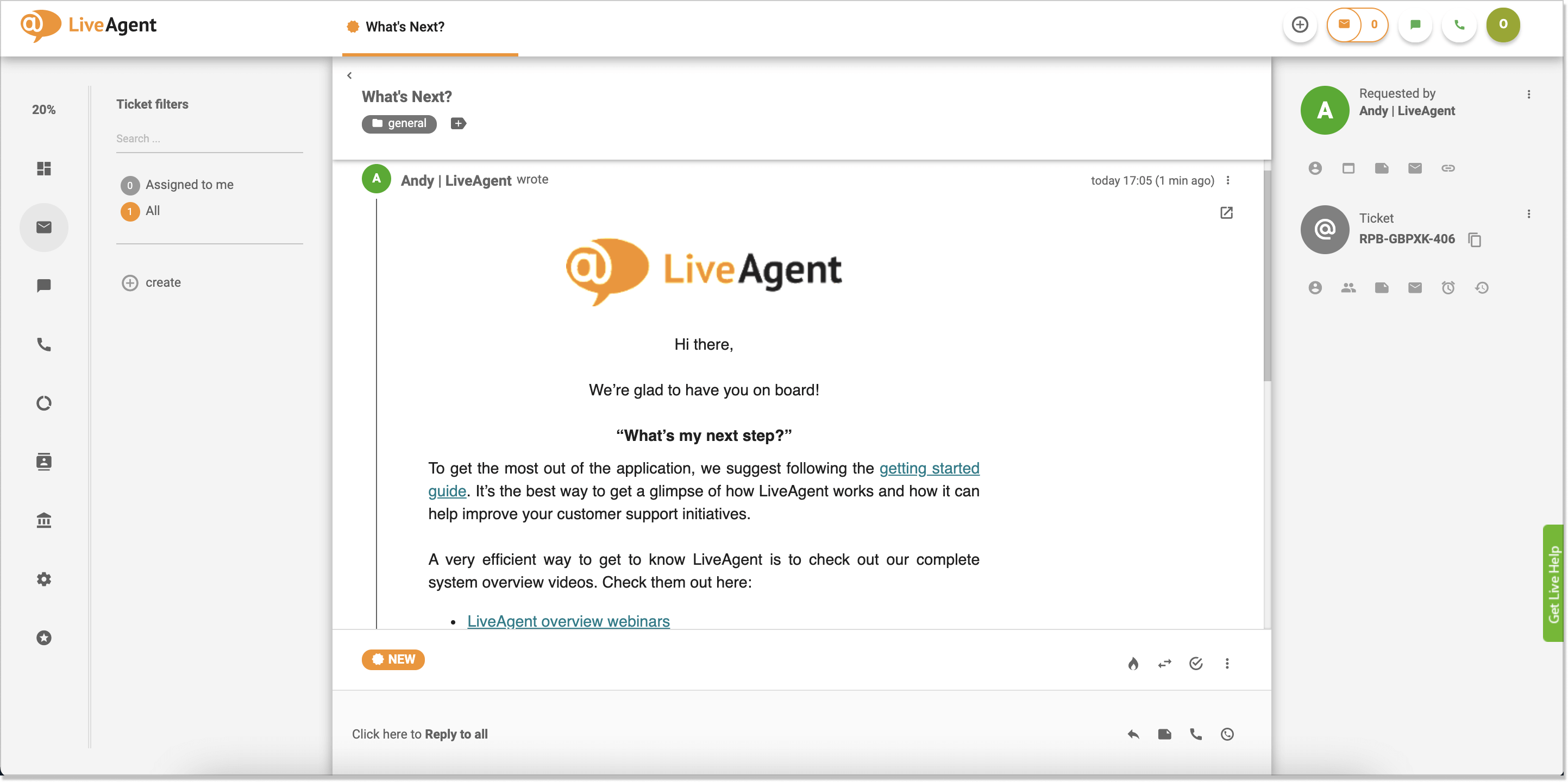 Help desk features include things like merging/splitting tickets, canned responses, business hours, and whatnot. Plus, you can create a knowledge base or provide customers with community forums and portals, even being on a free 14-day trial.
The brand offers rather basic compared to chat-oriented Zendesk-like software. But it does have all the necessary features like chat forms, satisfaction surveys, chat routing, etc. Like HelpCrunch, LiveAgent also makes it possible to set up proactive chat invitations to engage website visitors and invite them to start a conversation.
LiveAgent pricing
Ticket: $15/agent/month
Ticket + Chat plan: $29/agent/month
All-inclusive: $49/month/agent
LiveAgent Pros
Simpler and more intuitive Zendesk alternative
More affordable as an all-in-one solution
LiveAgent Cons
Chats, emails, calls, and social media requests are under separate tabs
No email marketing feature
Outdated interface
Basic live chat functionality
5. Kayako — the oldest Zendesk alternative with limited functionality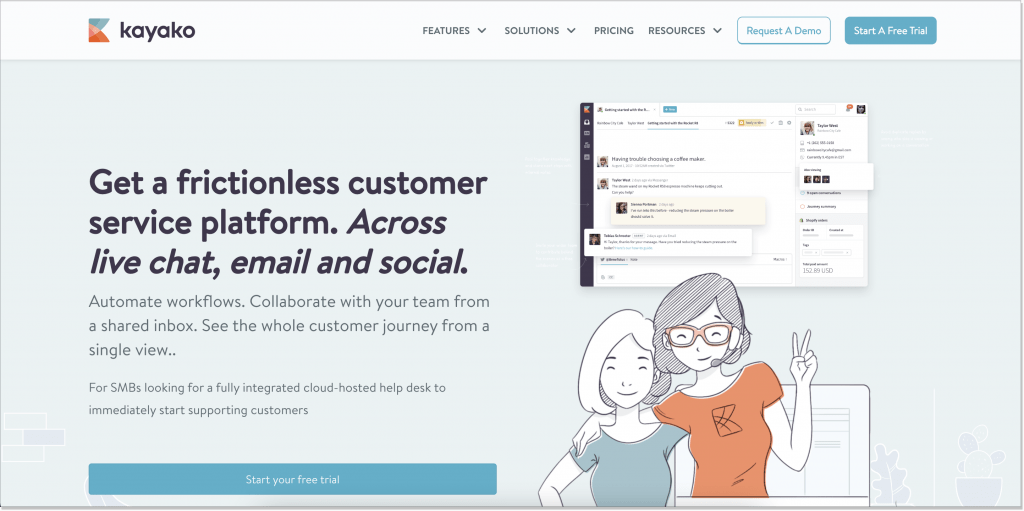 Kayako is 22-year-old bootstrapped help desk software. They did a huge shift in 2016 when the tool became omnichannel and unified customer data from different channels under one dashboard.
As of today, it's an all-in-one tool that looks and functions like a ticketing system, where you receive all customer requests in a shared inbox (which is something Zendesk lacks).
Kayako features
Kayako's functionalities are rather primitive for a full-fledged Zendesk alternative. But if you're a small business owner, they'll probably be enough for a two- or three-person customer support team.
The live chat by Kayako can be integrated not only with your website but also with mobile apps through mobile SDKs. The widget is basic and doesn't cover anything other than some very run-of-the-mill color scheme customization and proactive chat invitations.
As for the main help desk option, there is nothing irregular with this solution. Once a customer leaves a message in your live chat, it lands in the unified inbox together with emails and social media messages. Agents can see user information in a ticket's sidebar.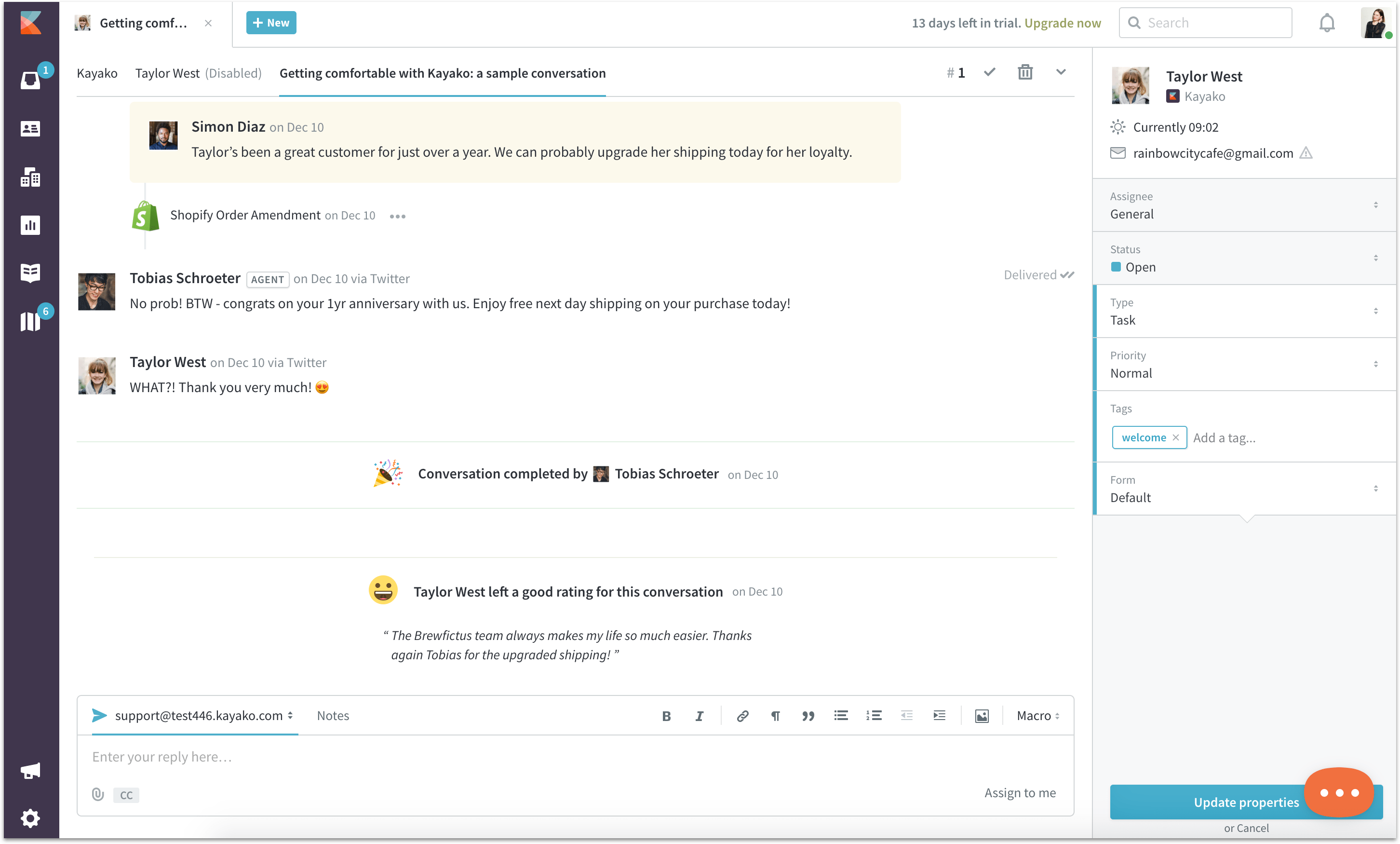 Additionally, every ticket shows a complete log of every activity a customer performed with your website or app before/during/after contacting you. This gives some additional context and can help you eliminate a couple of redundant questions.
Customer agents will enjoy collaboration features like:
Private notes
Collision prevention
Assignment rules
Macros (canned responses)
Plus, there are only three statuses for each ticket — open, pending, and completed, but it's possible to mark them with custom tags.
Speaking of the knowledge base feature, it's entry-level. You can create articles in a simple text editor, tag them, and distribute them between categories. To top it off, there are no SEO settings.
Kayako pricing
The Kayako pricing is now agent-based. The minimal number is 5 agents – $60/month/per agent.
Kayako Pros
Complete customer journeys in a ticket window
Shared inbox for all customer service channels
More affordable as an all-in-one solution
Kayako Cons
Poorer help desk functionality and reports
Agent-based pricing
Basic live chat widget customization
Basic knowledge base functionality
6. Help Scout — Zendesk alternative for effective email management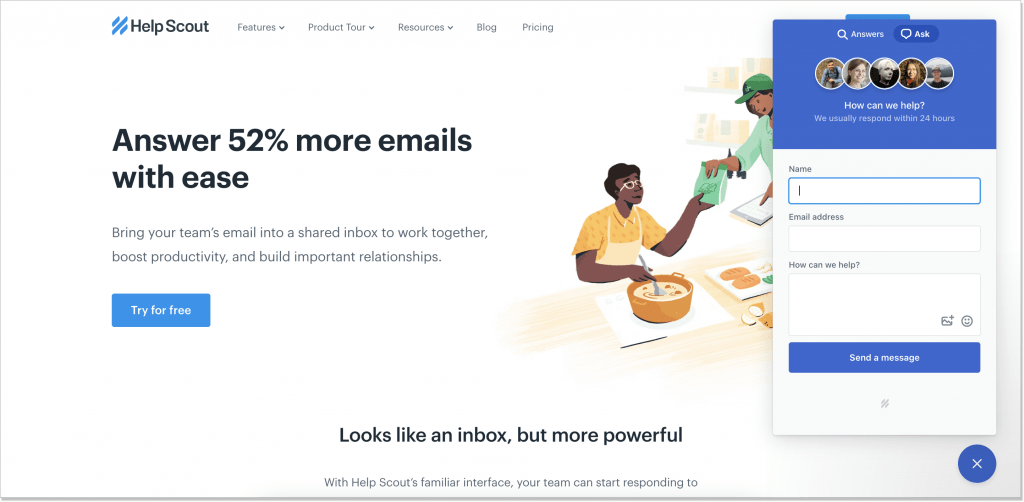 Among other alternatives to Zendesk, Help Scout is quite a small customer service and help desk solution. It is accessible and widely used by freelancers and small businesses in a variety of industries.
Help Scout features
The Help Scout's help desk is called Mailbox. It is a pretty standard help desk solution: from the messages that are marked as Unassigned, Mine, Assigned, Closed, and Spam to the reports section. What is similar to Zendesk here? Well, not much. Help Scout named their satisfaction report "Happiness". Compare that to Zendesk's colorless "Satisfaction rating".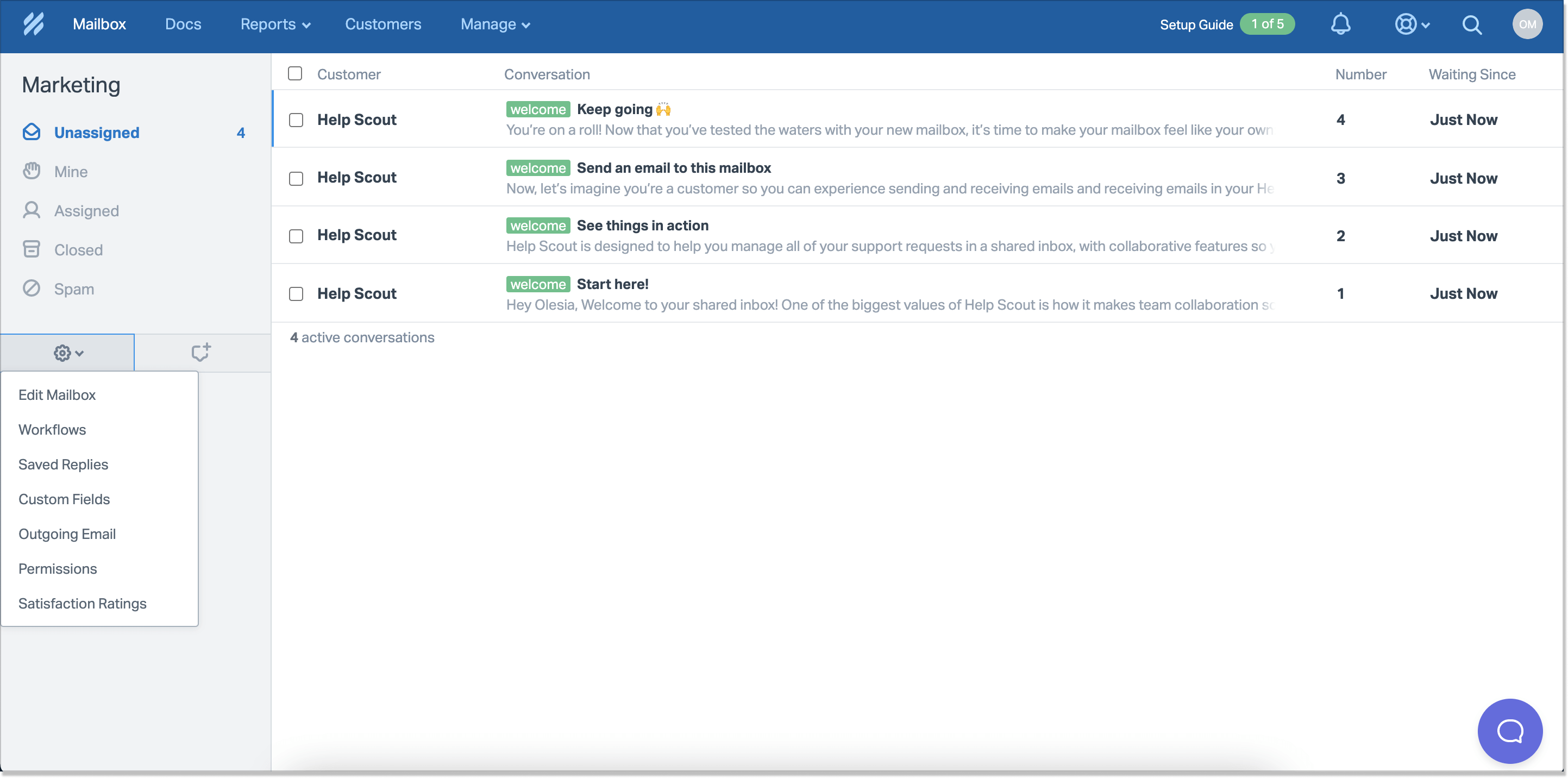 Such a shared inbox and collaboration functionalities will let you:
Process all customer requests in a jiffy and keep them in a single queue;
Create multiple mailboxes for different teams to prevent clutter;
Monitor Beacons (aka live chat conversations);
Send teammates private notes to discuss clients' issues faster;
Create a searchable library of answers to FAQs and insert them into replies in two clicks;
Avoid duplication with real-time indicators showing when someone else is viewing or replying to a request.
However, Help Scout is not the best alternative to Zendesk because its knowledge base installation and configuration is a nightmare. Numerous unnecessary tabs, illogical UI, and narrow SEO optimization. And this is 2022 already.
The most striking is Help Scout's new Properties feature. It means you can monitor important customer relationship data in the dashboard's sidebar. Zendesk, for one thing, had this long before that, which makes the tool more progressive.
Help Scout pricing
Standard: $25/user/mo
Plus: $50/user/mo
Pro: only if billed annually, $65/user/mo
Help Scout Pros
Easy-to-digest mailbox UI
Effortless reporting features
Incoming emails tracking
Help Scout Cons
The tagging feature is a bit intricate (could be more in-depth also)
Clumsy and hard-to-edit help center
7. ThriveDesk — a nice Zendesk-like option for bootstrapped startups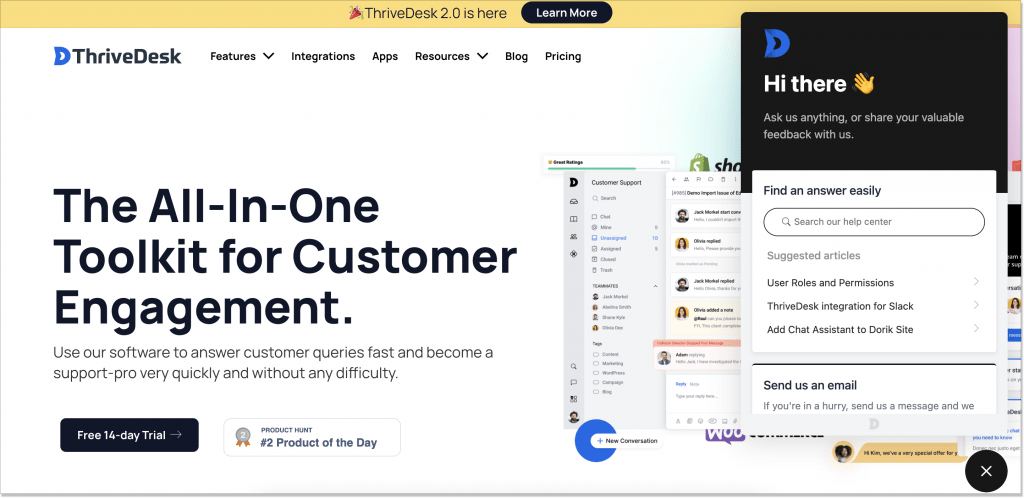 ThriveDesk is a new help desk solution for small and medium-sized businesses. Its niche is mainly SaaS and WordPress brands. Now that they released the ThriveDesk 2.0 version, their motto differs from the previous one a lot –"The all-in-one toolkit for customer engagement". Compare it to "Where teams connect to thrive customer support".
ThriveDesk features
This Zendesk-similar solution is all about ease of use and minimum fuss. This point is totally better than Zendesk. ThriveDesk's set of features comprises:
Shared inbox. Once you log into the dashboard, there is a 4-step setup process, a zero learning curve, and just the key highlights you need to consider. Clearly, this is one of the alternatives similar to Zendesk, offering an easy installation.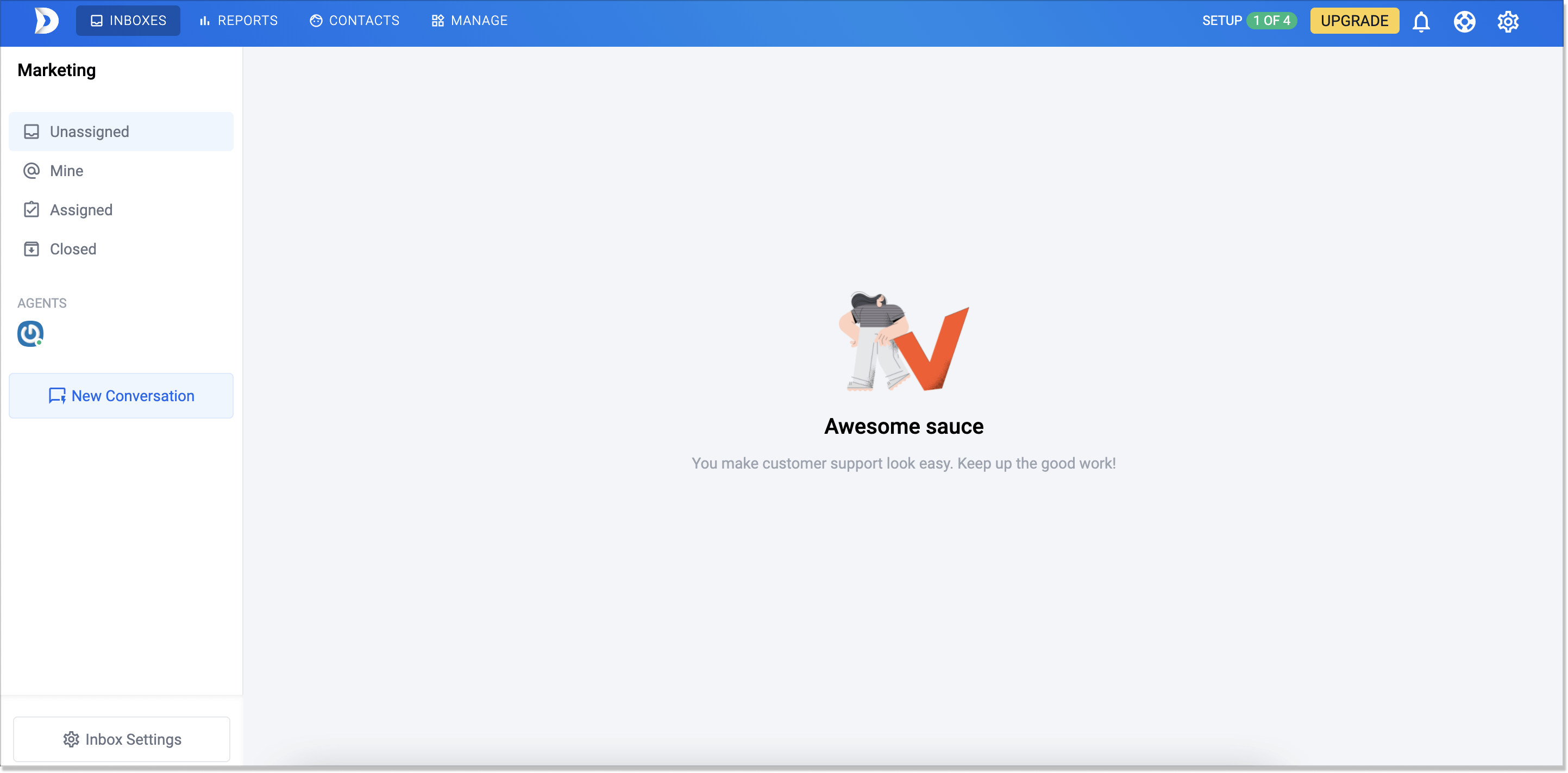 This is a dime a dozen. All your conversations happen under the same roof, automations for redundant tasks are at your disposal, and credible reporting and live chat are in place, to name just a few.
You can easily keep track of your team's performance with reporting features, assign conversations to individual team members, filter spam, use an email signatures generator, build pre-defined canned replies, add assistants (aka support agents), manage tags, and much, much more.
Community. This is a rare case among other products on this list. ThriveDesk lets you develop your own space for driving user engagement, increasing customer LTV, and connecting on different ideas. Comment and reply to posts, share attachments, and embed your own content: in other words, build social trust.
The use cases here are miscellaneous, from membership and topic-related to product and newsletter communities. Plus, you can host webinars, which is something new compared to Zendesk. Think of it as a quirky knowledge base. But with real people in the driver's seat.
WordPress integration. The ThriveDesk plugin for WordPress can be up and running in minutes and comes with features like live chat, reporting, and a lot more. Besides, clients can access their current and past ticket history on the WordPress dashboard, or you can create a ticket using the ThriveDesk form builder, and add any field you desire to your ticket.
ThriveDesk pricing
Free: $0/mo
Basic: $8/user/mo
Pro: $15/user/mo
ThriveDesk Pros
A set-up process is not an issue
Affordable price
Innovative features
ThriveDesk Cons
No mobile app yet
Still, some tweaks are in the roadmap
Let's total up
Basically, there are two kinds of Zendesk alternatives — those that are still more ticketing-oriented and all-in-one solutions. If you're looking for something exactly like Zendesk, then Freshdesk, Kayako, LiveAgent, or ThriveDesk are ideal options to a certain extent.
Want to adopt software similar to Zendesk for shifting your approach to customer service completely and making it more modern and accessible? In this case, you should definitely go with one-stop innovative solutions like HelpCrunch or Intercom. This way, you'll be able to provide real-time help and manage all your customer communications in a single tab. So, it's your call now!