Zendesk is an old solid tool that has been on the market for over a decade. The company holds more than 72% of the help desk market and almost 15% of the live chat market. And it's used by such companies as Airbnb, Squarespace, and Vimeo for their customer service needs.
Long story short, Zendesk is huge. But, what makes it such a popular customer service solution?
First of all, it offers a comprehensive set of tools for every use case: live chat, ticketing, knowledge base, call center support, CRM etc. Their reports are extensive and detailed which gives Zendesk's users many insights into their performance. And just the fact that the tool has been on the market for so long implies that it must be very secure and stable.
Those are great arguments in favor of Zendesk. But no tool is perfect and businesses are looking for Zendesk alternatives because of some major flaws.
Why look for Zendesk alternatives?
Zendesk has 1,800+ reviews on G2 as of today. Its rating is 4.2 stars with many users praising the tool for its reliable and feature-rich ticketing system. However, there's some dissatisfaction, too. Most of the complaints come down to the following five issues:
Chats, emails, and other channels are managed separately. The biggest downside is that Zendesk separates chats and email tickets, so there's no way to answer customer requests in one queue.
Outdated interface. Zendesk's overall interface looks very outdated and overloaded if compared to modern tools.
No email automation functionality. Unlike many other similar tools, Zendesk doesn't offer any email marketing functionality. There's no way to set automated email sequences for onboarding or send one-off emails to your customer in the tool that should cover your customer communication in full.
No out-of the-box features. Many tools are offering some advanced features like custom chatbots, product tours, or video support. But it seems like Zendesk wants to stay a good old ticketing system and is not interested in customer service innovations.
Gets pricey. Zendesk offers a great many tools and features for customer service, but if you want to enjoy its full power, the price for premium plans bites.
HelpCrunch — wholesome Zendesk alternative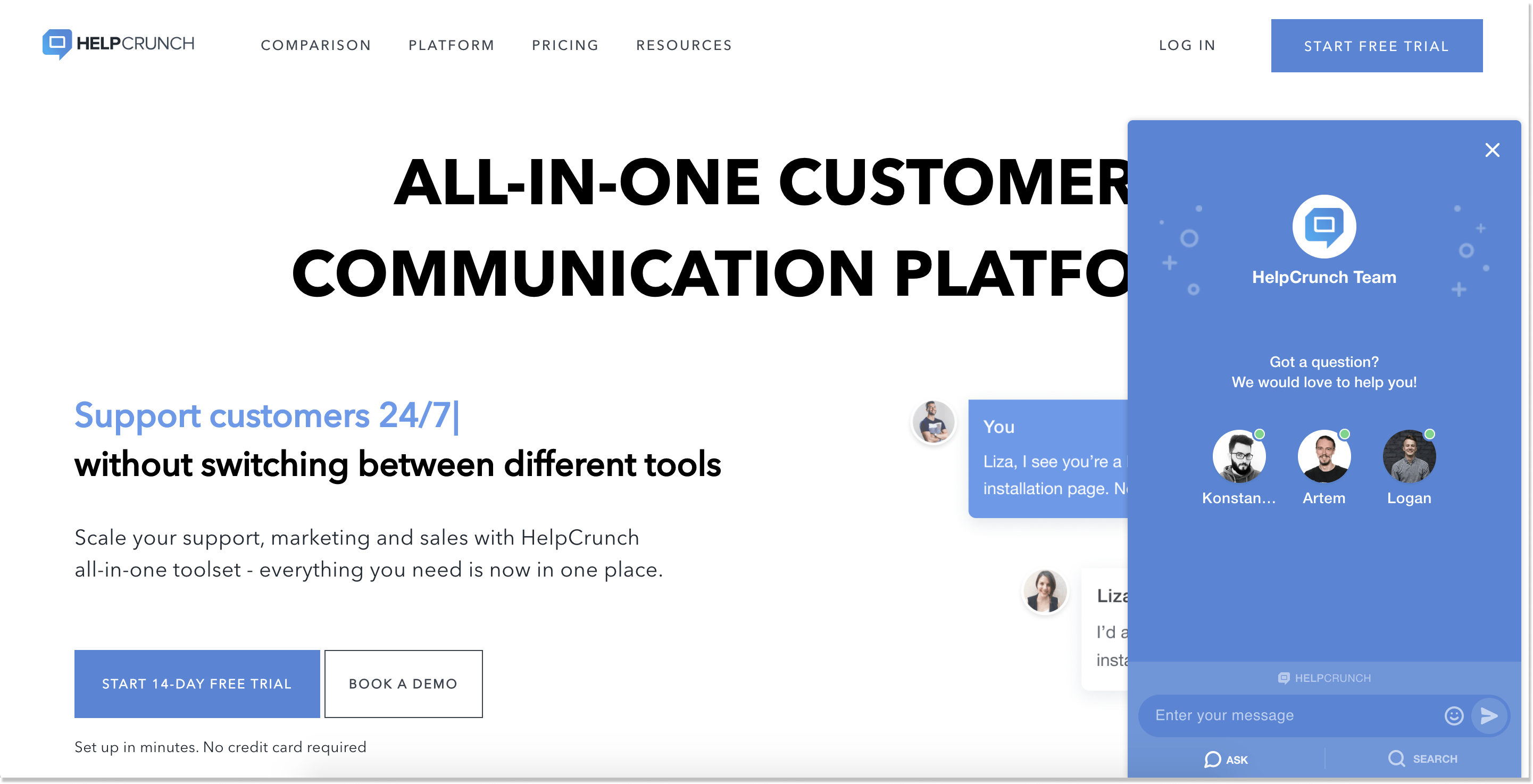 HelpCrunch is a great Zendesk alternative if you've decided to shift away from a traditional ticketing approach and move to something more versatile.
First and foremost, it immediately solves the problem of disconnected chats and emails. Being an all-in-one customer communication tool, HelpCrunch offers a shared inbox for all your chats and emails. This way, you have a single queue of customer requests and can prioritize and manage them in any way you want.
And the pricing is very affordable, too.
HelpCrunch features
HelpCrunch offers a state-of-the-art live chat. The chat widget is 100% customizable. Once you install it on your website or app, you can tweak its color, wallpaper, button's style and position and even transform it with custom CSS. The chat will automatically change from online to offline modes and back based on the operation hours you set.
Support agents will find all the necessary features for managing customer requests as effectively as possible — private notes, saved responses, departments and prioritizing based on a chat status. The HelpCrunch agent chat functions as any modern messenger you're used to. Even after you've sent a message to a customer, you can edit or delete it. File attachments and emojis are also at your disposal.
Support agents can see user information in the sidebar of the chat window which helps them have timely context without having to ask redundant questions. They can assign any chat to themselves, another teammate or department.
As the work on a request continues, agents will change its status from new to open, pending, on hold or closed. Additionally, you can use your chat widget for engaging your customers proactively by sending them auto and manual chat messages.
The email support feature isn't something separate in HelpCrunch. All emails land into a single dashboard in the form of conversations. They appear in the same window and can be managed in exactly the same way as chats. Basically, you have a chronological queue of all conversations, no matter the channel.
On top of running email support with HelpCrunch, you can send an email follow-up after you've had a live chat conversation with your customers (that is if they've left their email address to you). It's easily done by simply switching between the corresponding tabs in the chat window. And every message that a customer hasn't read in a chat is automatically forwarded to their email address.
Once you sign up for HelpCrunch, you can create knowledge base articles, optimize them for search engines and divide by categories and sections. The feature is included in all subscription plans. Plus, it's now integrated into the chat widget: customers can solve their questions much faster and search for articles right off the bat.
There are two other important and unique features that HelpCrunch offers and Zendesk doesn't. Those are email marketing and popup functionalities.
Basically, HelpCrunch allows you to set popups on your website based on visitors' personal information and behavior. It's an effective way to collect contact info of your potential leads and store it in HelpCrunch for further use.
And this further use can and probably will include email marketing. It's possible to use HelpCrunch not only for receiving messages from customers but for sending them on your own initiative, too. Set automated email campaigns or send occasional one-time emails based on all the information that HelpCrunch collects and stores in its database.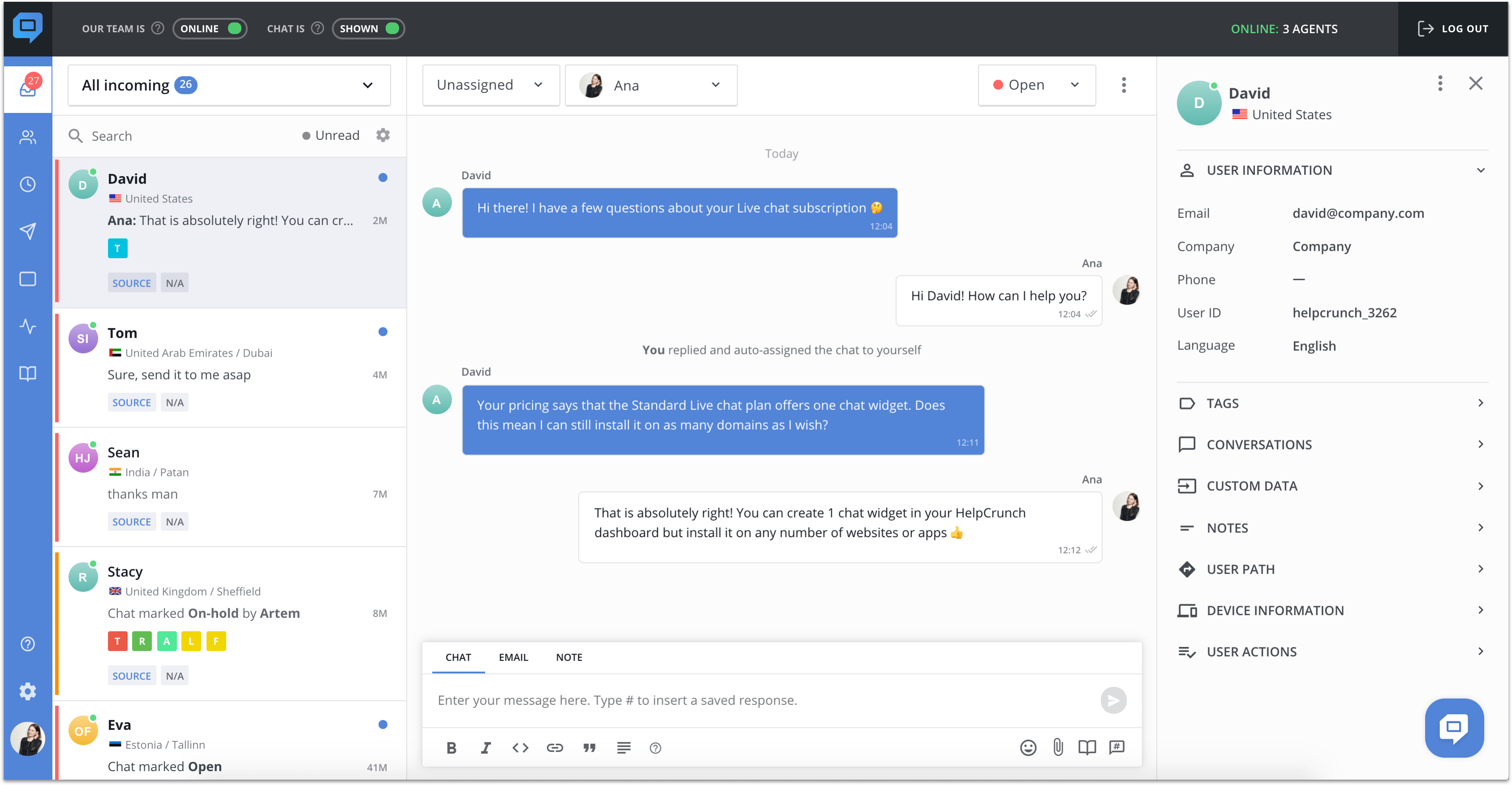 HelpCrunch pricing
HelpCrunch is one of the most affordable solutions on the market. Its Standard 'Live chat' subscription costs $15/mo per team member and includes full live chat and knowledge base functionality as well as popups.
What it lacks are all email features. If you want to enjoy all the email features, you should go with the 'Live chat & Emails' package.
HelpCrunch vs Zendesk
As a Zendesk alternative, HelpCrunch feels more like a one piece software where everything can be run in a single tab. Zendesk positions its chats, emails, and calls as separate apps, which can only be convenient for big support teams.
HELPCRUNCH PROS
Customizable chat widget
Emails and chats land into one queue
All features are well integrated with each other
Has email marketing functionality included
Affordable startup-friendly pricing
Modern interface
HELPCRUNCH CONS
Not applicable as a big ticketing system
No call center feature
Limited integrations with other tools
Poorer reports
Looking for all-in-one customer
communication tool?
Intercom — expensive yet powerful Zendesk alternative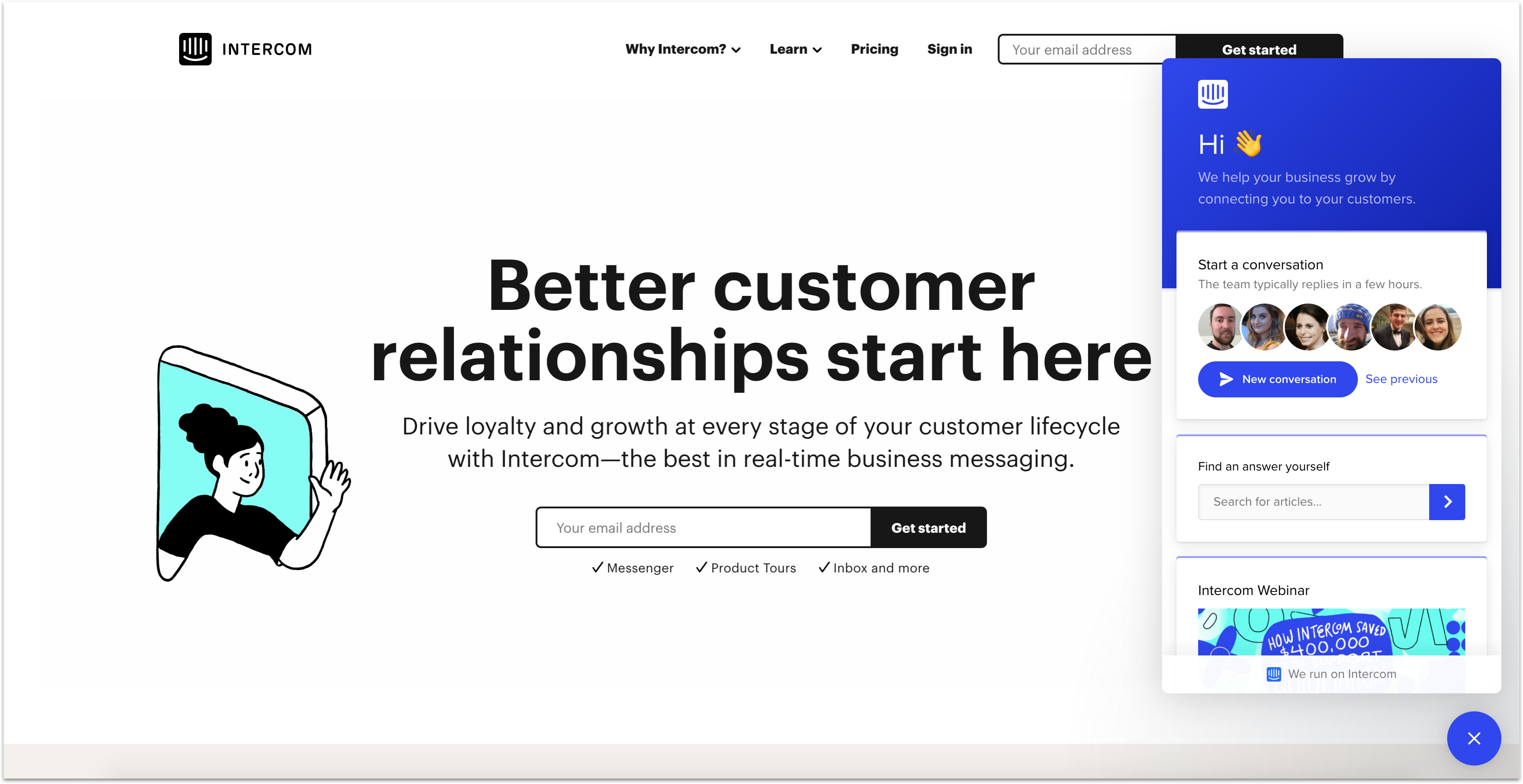 Intercom is a younger and more flexible Zendesk alternative which offers many innovative unusual features not only for support, but also for sales and marketing. That's something that Zendesk lacks since it's almost entirely support-oriented.
Some of the most prominent Intercom features include custom bots, account-based marketing, targeted product tours, advanced email marketing functionality, etc. Almost no other tool comes even remotely close to the level of innovation that Intercom sets. But those features also cost a lot — sometimes, thousands of dollars.
So, for the sake of simplicity, I won't talk about them here and rather concentrate on three core features that make Intercom a great Zendesk alternative — live chat, help desk, and knowledge base.
Intercom features
On top of creative out-of-the-box features, Intercom offers standard functionality packed in a modern interface. Their live chat is also quite feature-packed with a built-in knowledge base and announcements integration. Once you install it on your website, it becomes a one-stop destination for all customer support.
It can also be significantly enhanced by two kinds of automations. The lead qualification bot can ask some basic questions before the chat is transferred to a corresponding department while the article suggestion bot finds relevant information in your knowledge base on the go.
Agents will enjoy working in a shared inbox for all chat and email conversations. It has very basic help desk features like tags, office hours, and saved replies. The system will automatically suggest articles from your knowledge base so that you can send them right away in a few clicks.
Advanced features like smart assignment rules or team performance reports are only available in the 'Accelerate' subscription plan that costs at least $499/mo. Cheaper plans will only show basic reports about your chat volume and the number of leads.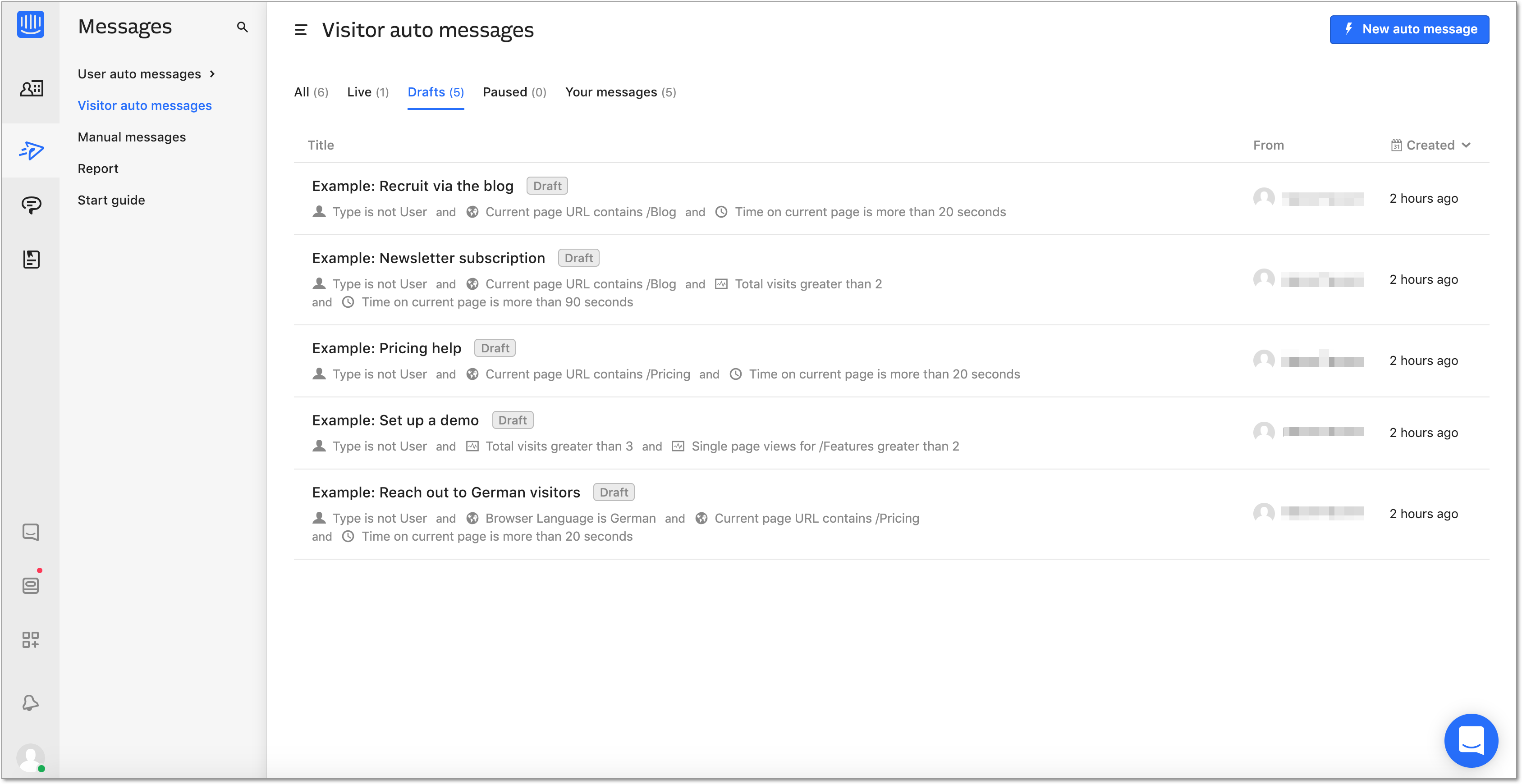 Intercom pricing
If we put aside the Product tours which cost at least $199/mo or custom bots that are only included in subscription plans from $499/mo, there are only two options left:
Basic live chat subscription for $39/mo. Doesn't include any email or knowledge base functionality. The plan includes one agent seat and each additional one will cost $9/mo.
Live chat, email and knowledge base subscription for $99/mo. The plan includes 5 seats with each additional seat costing $19/mo.
Also, note that Intercom charges not only for agent seats but for contacts that you had communicated with during the month. If you've reached more than 2,000 contacts, you'll have to pay $50/mo for each 1,000 additional people.
Intercom vs Zendesk
It's actually quite difficult to compare Zendesk vs Intercom as they serve different goals. Even though Intercom has some great customer support features, its full potential becomes apparent only when you choose one of the expensive plans and use it for sales and marketing. It's definitely not your ordinary help desk tool.
But that's exactly why people like Intercom. Old help desk tools are becoming more and more outdated and tools like HelpCrunch or Intercom bring omni-channel support to the next level.
So, if you're not worried about how much Intercom costs, it can make a great Zendesk alternative for your business.
INTERCOM PROS
Modern interface
Feature-rich live chat
Shared inbox for emails and chats
Has many innovative features like bots and product tours (for additional costs)
INTERCOM CONS
Gets very expensive once you need advanced features or detailed reports
Additionally charges for active contacts
Twitter and Facebook integrations are only included in expensive plans
Limited reports
Freshdesk — almost identical Zendesk alternative for ticketing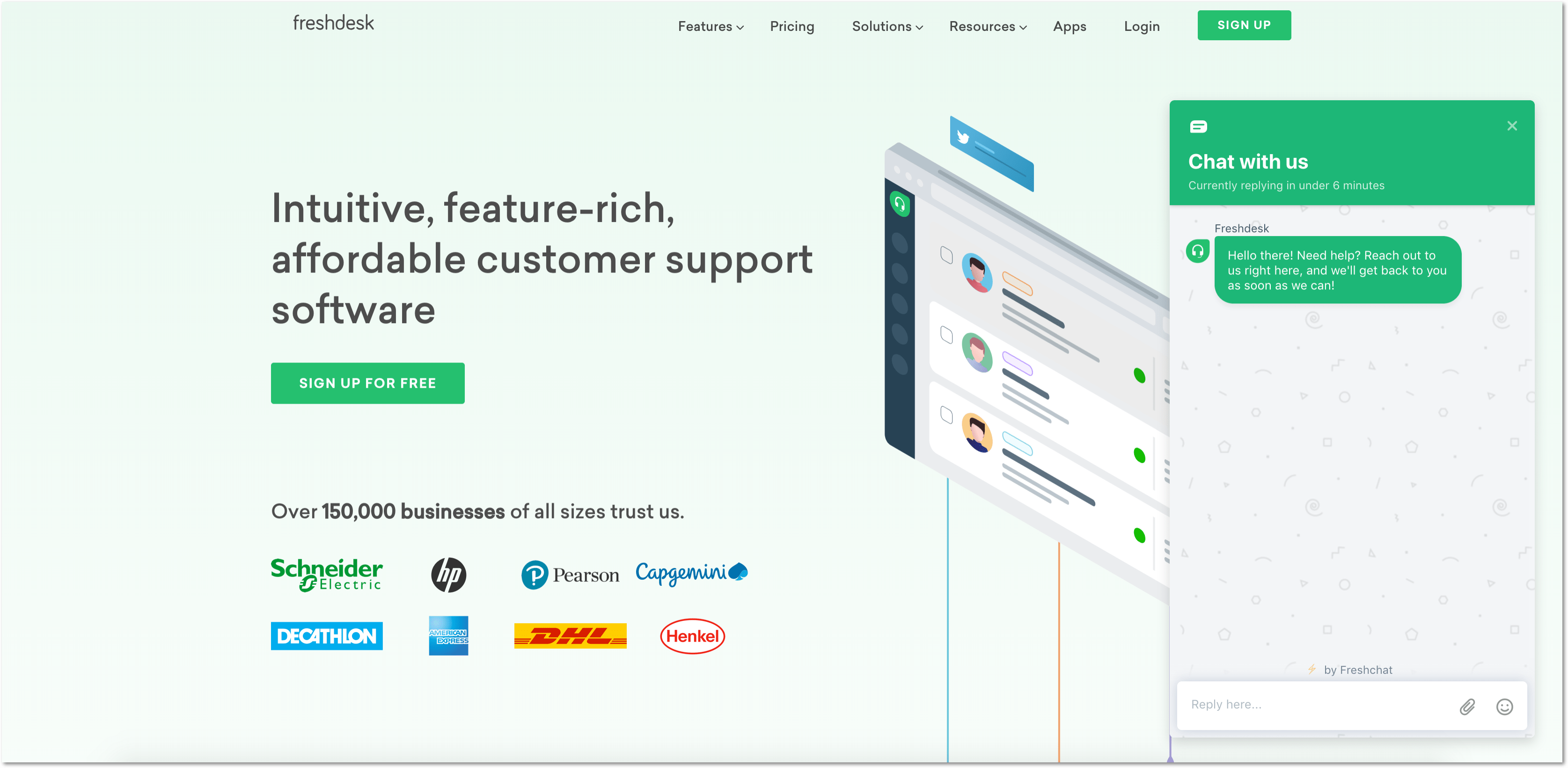 If you want to exchange Zendesk for something 100% identical, then Freshdesk is an obvious frontrunner. It has all the same features and even their pricing systems are quite similar. You can purchase their products one by one. Free versions? Yes, they're available, too.
Freshdesk is actually a help desk part of a bigger customer support suite of tools called Freshworks. It includes products for a live chat, call center, CRM, etc. So, what's the deal with Freshdesk? How is it better compared to Zendesk? Let's look at this issue closely.
Freshdesk features
Freshdesk is a perfect alternative to Zendesk's 'Support' subscription if you only need a help desk for email and social media support. Optionally, you can add other Freshworks products to your dashboard, which is also similar to what Zendesk does with its separate apps.
So, what does Freshdesk offer in terms of functionality? Well, a lot.
There are three core tools that the tool covers starting from the free subscription — email ticketing, Twitter and Facebook integration, and a knowledge base. Depending on your subscription plan, those tools will have more advanced features.
There are all the basic ticketing features available like canned responses, ticket merging/splitting, tags, etc. Working in a shared inbox might be difficult for bigger teams, that's why Freshdesk offers numerous collaboration features like agent collision detection.
One of Freshdesk's main selling points is their automation features. The system can perform any action with a pending ticket based on the rules and workflows you set. You can automate virtually anything with Freshdesk — from reminders to following up to prioritizing and assigning. For instance, there are three different ticket assignment techniques — skill-based, load balancing and round robin. They ensure equal distribution of tickets between available support agents.
With the knowledge base feature, you can easily convert agent responses from tickets into knowledge base articles. Freshdesk has all the necessary settings for multilingual content, SEO optimization as well as comfortable work with the text editor.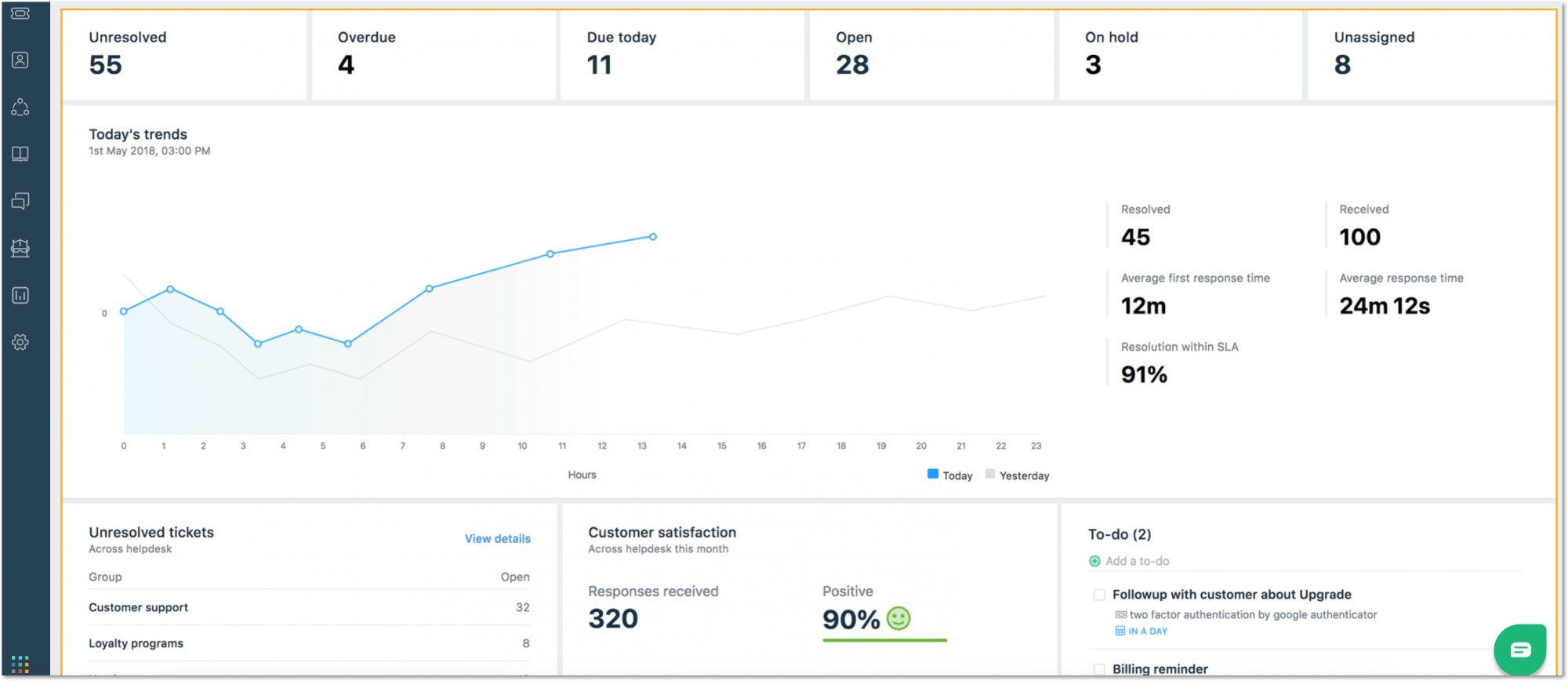 Freshdesk pricing
You can choose from 5 subscription plans including the free one for email ticketing and knowledge base functionality. Some of the important features are randomly distributed between plans, so it's really difficult to see which one will suit your needs better.
For instance, some basic automations are available starting from the 'Blossom' plan for $19/agent/mo. However, it doesn't have customer satisfaction surveys and performance reports as these features appear in the $35/mo plan.
If what you need are advanced ticket-assignment automations and enterprise customer service analytics (aka very detailed insightful reports), be ready to pay at least $65/agent/mo.
Freshdesk vs Zendesk
As I said, Freshdesk is probably one of the most similar Zendesk alternatives that offers such an extensive set of features for ticketing. They have vast collaboration features, detailed analytics, and all kinds of features for ticket management. To my subjective taste, their interface is also more modern and intuitive.
However, it's still a ticketing system that can be handy only for big enterprises. As a small business, why would you want something as heavy and disconnected in 2020?
FRESHDESK PROS
Modern and more intuitive design
The live chat widget by Freshchat is more advanced and feature-rich
Advanced workflow automations
Other Freshworks products are available and can be integrated for free
FRESHDESK CONS
Can still feel disintegrated compared to all-in-one solutions.
Poorer analytics
Unclear distribution of features among subscription plans
Limited dashboard customization
LiveAgent — simpler and more affordable Zendesk alternative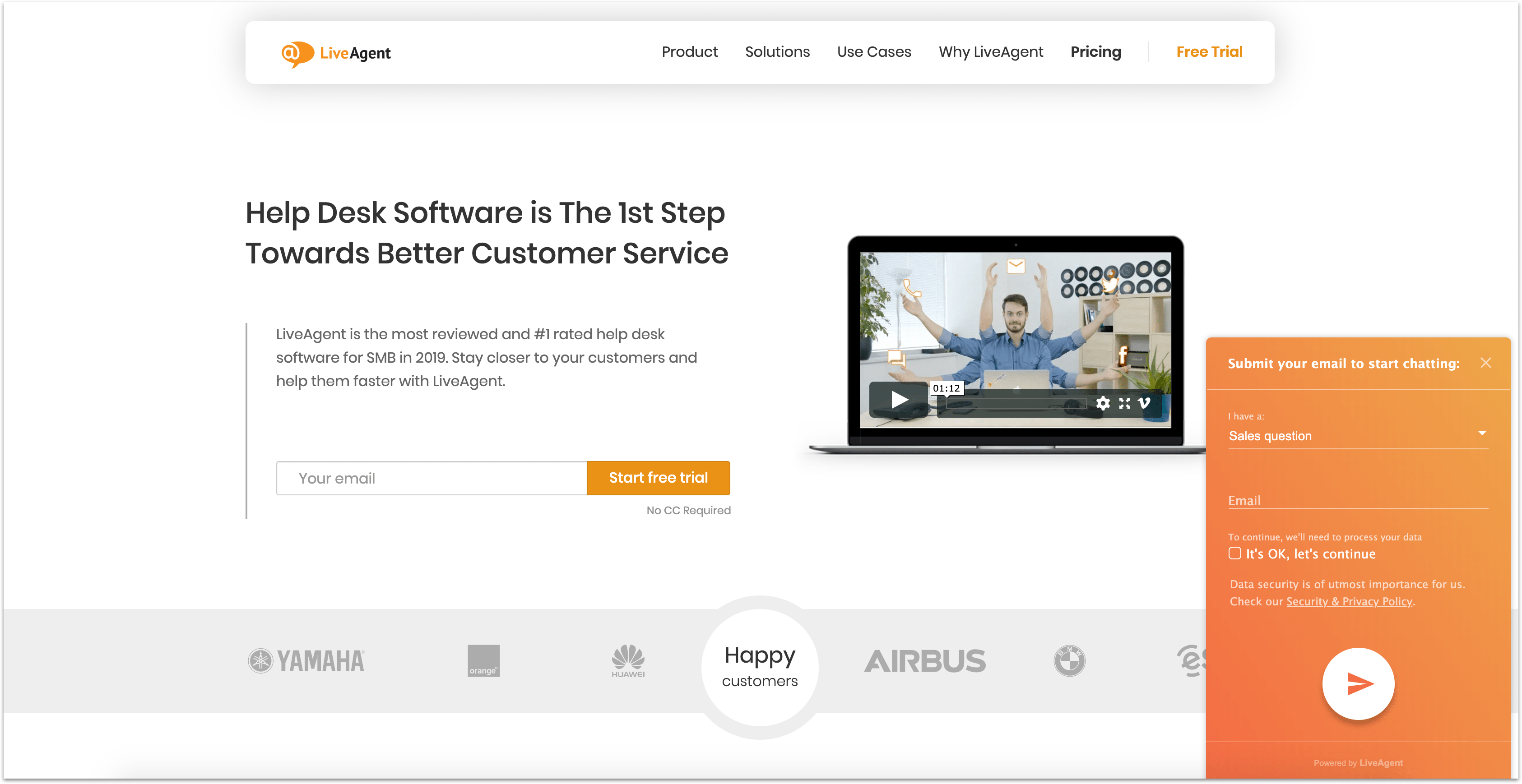 LiveAgent is a help desk tool for receiving and handling customer requests from different channels — e.g. email, live chat, social media, phone calls. And it seems like the tool strikes the perfect balance between a feature-rich ticketing system and a simple and clear interface.
The company is actually three years older than Zendesk, so yeah, you won't find any modern solutions there. It's a classic ticketing system for enterprises and big customer support teams.
LiveAgent features
LiveAgent's core feature is their help desk. Its interface looks like the older version of Gmail and is handy for receiving and managing email requests from customers. Once you buy additional communication channels (live chat, social media, calls), they'll also appear in the LiveAgent universal inbox.
Help desk features include things like merging/splitting tickets, canned responses, business hours, and departments. There are two kinds of rules available for automating routine tasks — action-triggered and time-based. Action rules are useful for transferring tickets to certain departments, tagging and resolving them, marking malware content as spam, etc. Time rules are great for sending reminders or performing certain actions with tickets after a certain period.
LiveAgent offers three different options for customer self-service, which are all included even in the free subscription plan. You can create a knowledge base or provide customers with community forums and portals.
Live chat is rather basic compared to chat-oriented solutions. But it does have all the necessary features like chat forms or satisfaction surveys. If you want, you can set proactive chat invitations to engage website visitors and invite them to start a conversation.
Advanced features offered by LiveAgent include call center (with interactive voice responses) and social media integration making it a one-stop ticketing solution for all kinds of communication with customers. On top of that, you can make video calls to assist with complicated issues faster.
LiveAgent pricing
LiveAgent has a free subscription plan for creating contact forms on your website and basic ticket management. Self-service options like a knowledge base and community forum are also included.
The 'Ticket' subscription for $15/agent/mo gives some advanced ticketing features like automation rules and more detailed reports. The 'Ticket + Chat' plan costs $29/agent/mo. On top of a live chat, it has real-time visitor monitoring.
Call routing and social media integration are only available on the 'All-inclusive' plan which costs $39/mo for each agent you add to your account. This plan also allows support reps to make video calls right from the ticket window.
The $125 plan is probably great for huge technical teams or medical organizations since it offers skill-based ticket assignment and all the necessary HIPAA Compliance features
LiveAgent vs Zendesk
If I had to sum everything above up, I'd say that LiveAgent is like a cut-down alternative to Zendesk. And this is by no means a negative thing. Zendesk can feel overwhelming with all those features and pricing packages to choose from.
So if you want a similar yet simpler Zendesk alternative, LiveAgent can be a great choice. They have only four subscription plans and each of them offers a very clear set of features. Obviously, it won't beat Zendesk in the feature department, but maybe you don't need some of those numerous features after all.
LIVEAGENT PROS
Simpler and more intuitive set of features
More affordable as an all-in-one solution
LIVEAGENT CONS
Chats, emails, calls and social media requests are under separate tabs
No email marketing feature
Outdated interface
Basic live chat functionality
Kayako — the oldest Zendesk alternative with limited functionality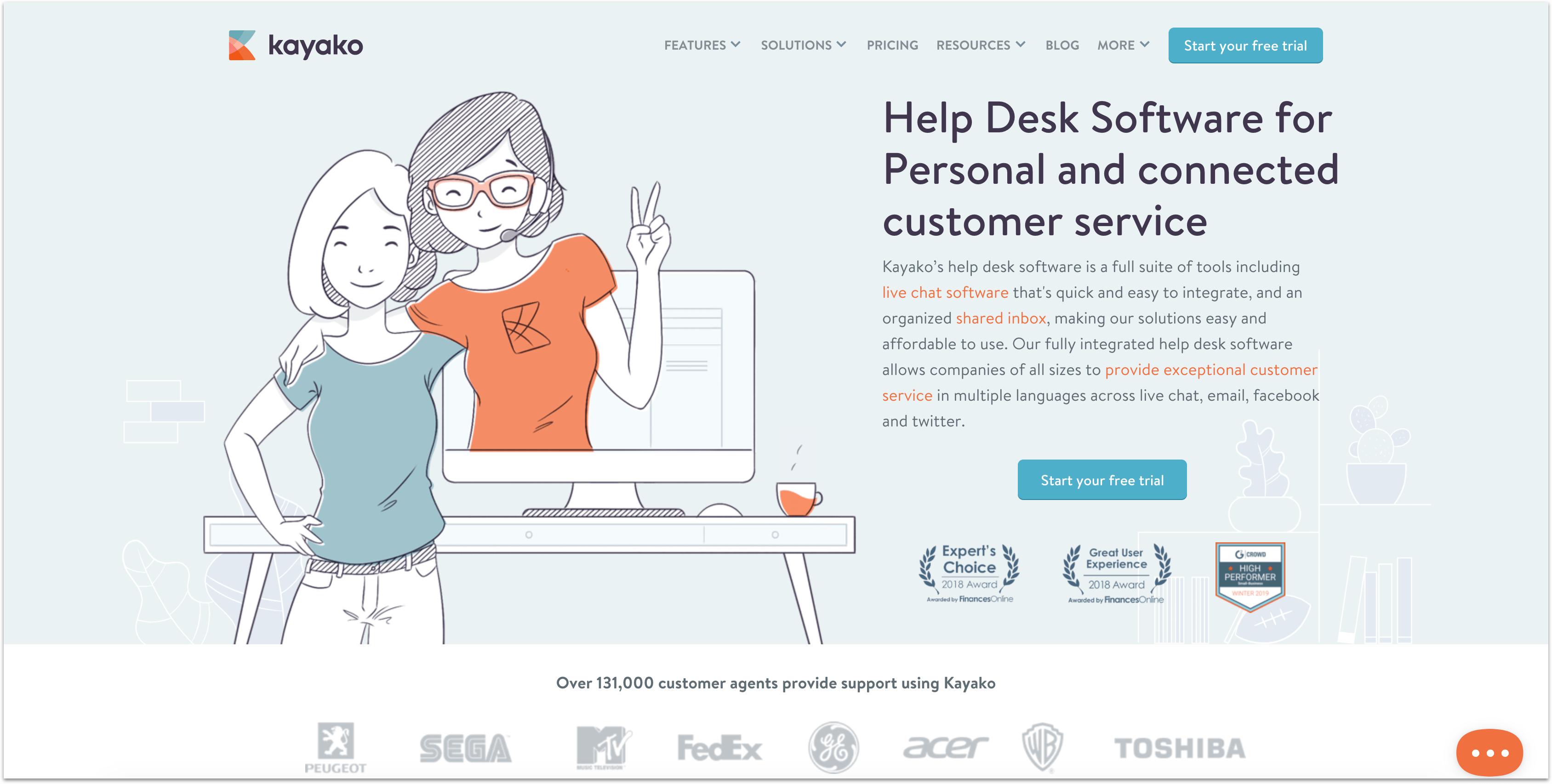 Kayako is 19-year old bootstrapped help desk software. And yes, this makes it the oldest solution on this list. So there's no wonder that it's also yet another helpdesk-first tool. However, they did a huge shift in 2016 when the tool became omni-channel and unified customer data from different channels under one dashboard.
As of today, it's an all-in-one tool that looks and functions like a ticketing system where you receive all customer requests in a shared inbox (which is something Zendesk lacks).
Kayako features
To be honest, Kayako's set of features is rather primitive for a full-fledged Zendesk alternative. But if you're a small business owner, they'll probably be enough for a two- or three-person customer support team. So, what does Kayako offer?
The live chat by Kayako can be integrated not only with your website, but also with mobile apps through mobile SDKs. The widget is rather basic and doesn't offer anything other than some very basic customization of its color scheme and proactive chat invitations.
Once a customer leaves a message in your live chat, it lands into the unified inbox together with emails and social media messages. Agents can see some basic user information in a ticket's sidebar. Additionally, every ticket shows a complete log of every activity a customer performed with your website or app before/during/after contacting you. This gives some additional context and can eliminate a couple of redundant questions.
Customer agents will enjoy collaboration features like private notes, collision prevention, assignment rules, and macros (canned responses). There are only three statuses for each ticket — open, pending, and completed, but it's possible to mark them with custom tags.
The knowledge base feature is also cut-down to the basics. You can create articles in a simple text editor, tag them and distribute between categories. On the downside, there are no SEO settings. However, it's possible to specify certain search terms that customers might use to search for each article.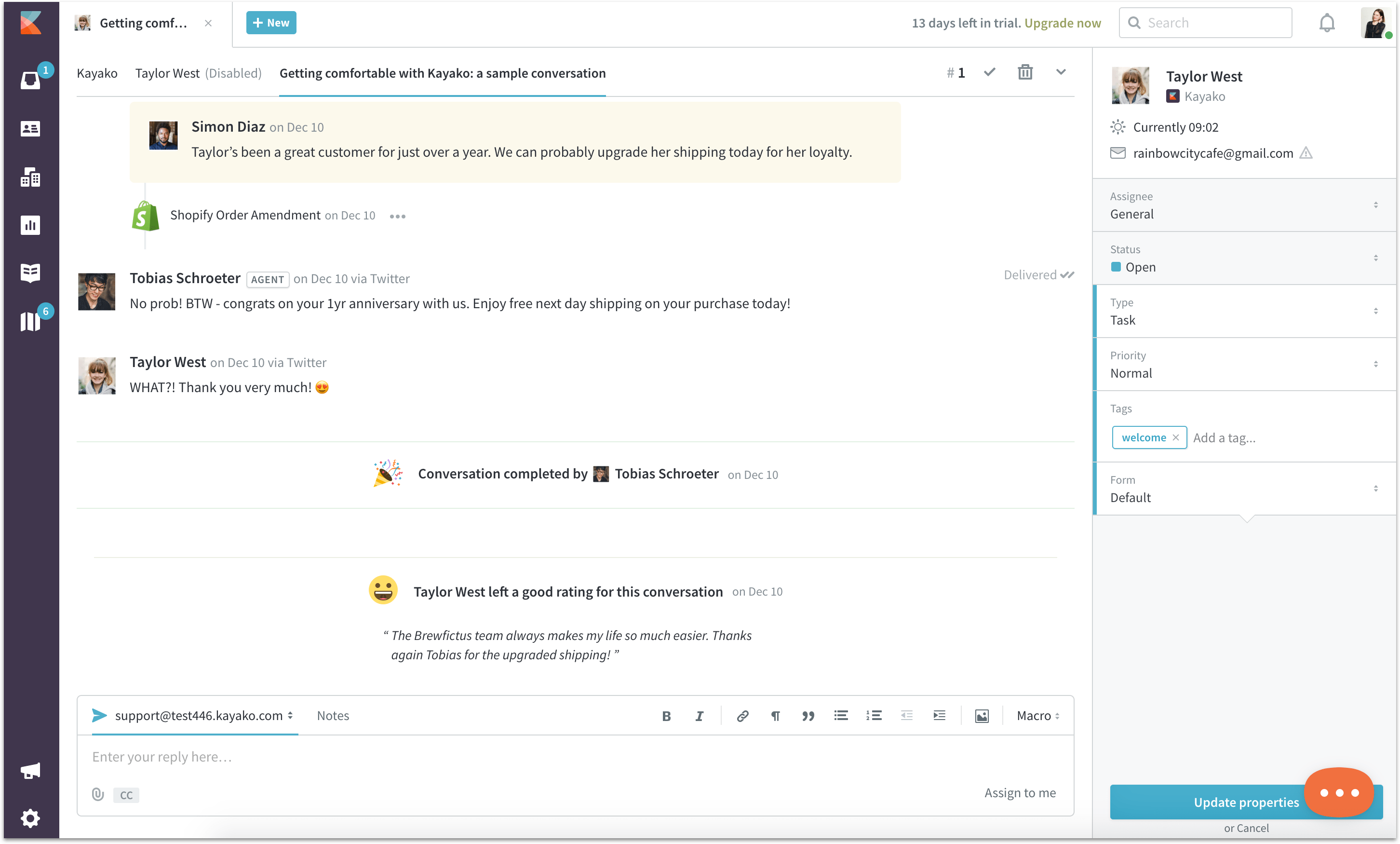 Kayako pricing
Kayako offers three subscription plans with prices varying from $15 to $60 per agent per month. Unfortunately, they only list their prices for annual subscriptions.
The most basic plan offers a shared inbox for live chat, email, social media requests, a knowledge base, and some collaboration features like assignment rules or collision prevention.
On the plus side, you can add up to 5 free collaborators to your Kayako account if you choose the Growth ($30/mo) plan or the Scale ($60) plan.
Kayako vs Zendesk
Among all the other Zendesk alternatives, Kayako isn't remotely as feature-rich as Zendesk. But then again, no tool is. So, you're looking for a simplified help desk solution with no redundant features, then Kayako may be for you. Some of its outstanding advantages include customer journeys and the fact that you can add support collaborators for free. That's it, that's the whole deal.
KAYAKO PROS
Complete customer journeys in a ticket window
Shared inbox for all customer service channels
The ability to add collaborators for free
More affordable as an all-in-one solution
KAYAKO CONS
Poorer help desk functionality and reports
Basic live chat widget customization
Basic knowledge base functionality
Conclusion
Basically, there are two kinds of Zendesk alternatives — those that are still more ticketing oriented and all-in-one solutions. If you're looking for something exactly like Zendesk, then Freshdesk, Kayako, or LiveAgent are great options to a certain extent.
But maybe you're looking for Zendesk alternatives because you want to shift your approach to customer service completely and make it more modern and accessible. In this case, you should definitely go with all-in-one innovative solutions like HelpCrunch or Intercom. This way, you'll be able to provide real-time help and manage all your customer communications in a single tab.
Sign up for HelpCrunch today and you won't come back to the old approach ever again.

HelpCrunch articles delivered straight to your inbox 🚀
All the latests posts. One email per month.
No strings attached.
Read also
Tools
Do you want to build your own well-orchestrated messaging hub? This list of the best chat APIs and SDKs available on the market is what you need to do just that without much hassle.
Tools
Intercom pricing is super confusing with its high prices, additional fees, and unpredictable invoices. We decided to figure it out once and for all.
Tools
Even if your business is just on its way to success, it still needs a helpful tool to be the best. Check out 15 low-budget customer service software for a small business and choose something that fits the bill.