7 Tips on Using Live Chat for Sales
Live chat is a powerful communication channel hugely loved by customers and businesses. Learn how to use live chat for sales, catch more inbound leads, and shorten your sales cycle.

Selling via live chat doesn't differ from more traditional channels like emails or phone calls. Sales reps ask preliminary questions, keep a conversation going, find out prospects' pain points and lead them carefully through the sales funnel from one stage to another. Not to mention the whole 'be helpful, be personal, don't be too salesy' deal.
All these things are as important for live chat communication as for any other channel. However, there are some peculiarities that you need to keep in mind when using live chat for sales.
For one thing, live chat is perfect for prospecting and lead pre-qualification. But, it doesn't exist in a vacuum as you'll need to back it up with other communication channels along the way, especially in the later stages of the funnel. Everything is multi-channel these days.
Secondly (and most importantly), live chat doesn't give sales reps much room for dwelling. Once you've committed to it, walk the walk and talk the talk. Keep the conversation going, answer immediately, be fast and to the point.
But, at the end of the day, there's nothing better than live chat for inbound lead generation. I mean, those people are already on your website, they're already on the consideration or decision stage of their journey. Incorporate the following 8 techniques and live chat will become your top sales channel:
1. Generate prospects proactively
When having questions or facing difficulties, some people will immediately contact your sales team via live chat and get them answered. But, let's be honest, many website visitors need a little nudge to start a conversation. There's a solution, though, and it's called proactive chat messages.
Proactive chat messages are a great way to let everyone know that you have a live chat and it's available at the moment. If a person has a question, your team is ready to lend a helping hand right away.
You can use as many proactive chat messages as you wish. You can even go as far as setting separate messages for each page of your website for better targeting (just make sure you don't bombard every person with all of them).
Write contextual messages, choose corresponding chat triggers and you're good to go. By engaging visitors proactively, your sales team will be able to capture more hesitating prospects on autopilot.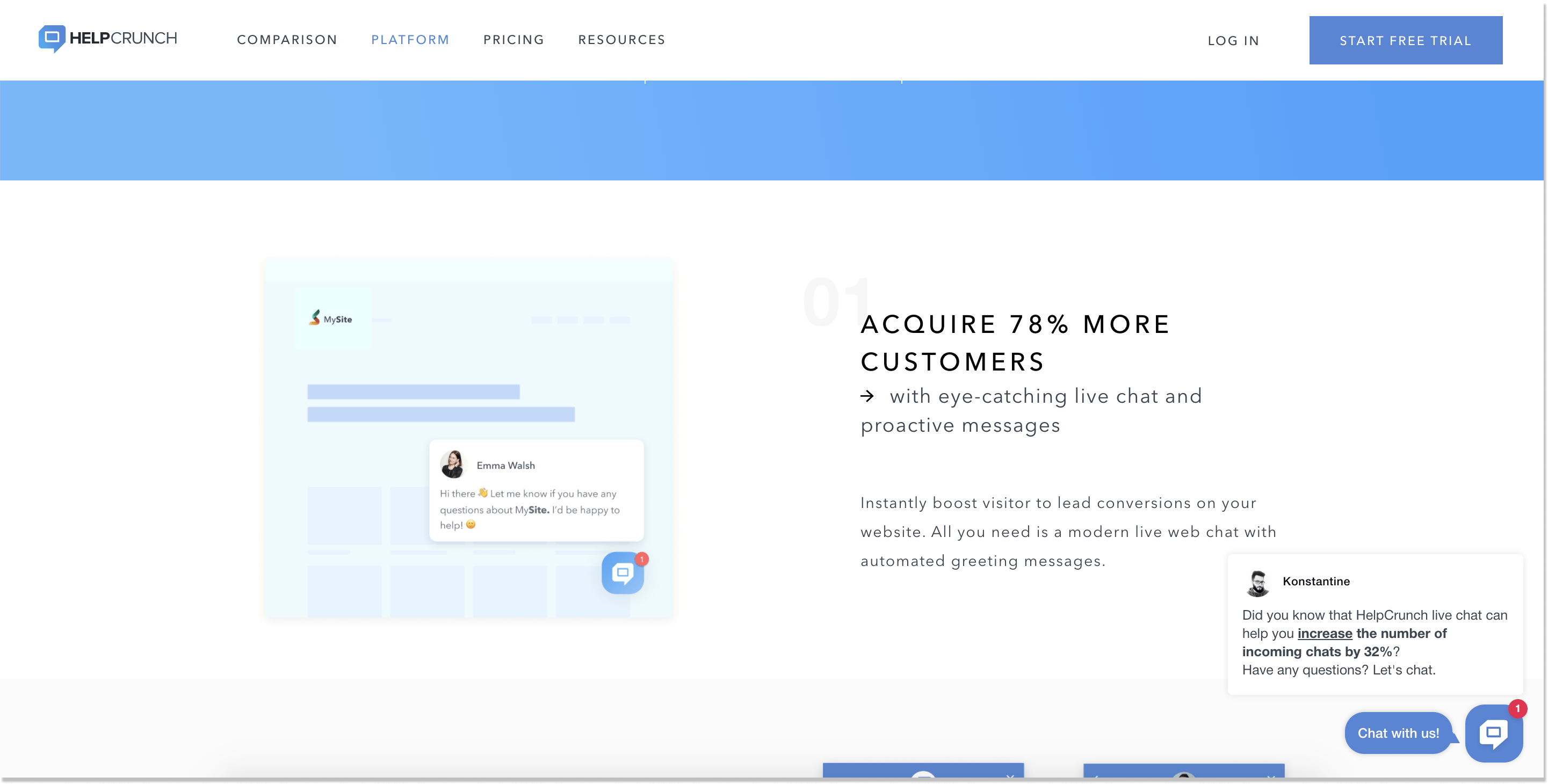 On top of automated chat messages, some live chat tools offer live visitor monitoring. This way, your salespeople can monitor who's viewing your website at the moment and engage every likely prospect manually. It takes more work and the chances to miss on many lead opportunities are high, but visitors will appreciate your personalized approach.
2. Pre-qualify prospects with chat forms and chatbots
Ask anyone — what is one single most important piece of information that every salesperson wants to know about their leads? Is it the size of their company? Their goals and pain points? Sure, those are all very important things for lead pre-qualifying and picking the ultimate solution for every lead. But, you won't get much use of them unless you have a prospect's email address.
Even if you use live chat for sales, you need prospects' email addresses for following-up and keeping in touch. The longer your sales cycle is, the more important email addresses are.
Fortunately, live chat tools understand the importance perfectly and offer vast functionality for collecting leads' contact info.
For instance, you can enhance your live chat with different chat forms. This way, every visitor who wants to start a conversation with your team will have to fill in their contact information before. You can choose which information you want to get — e.g. name, email address, phone number, company.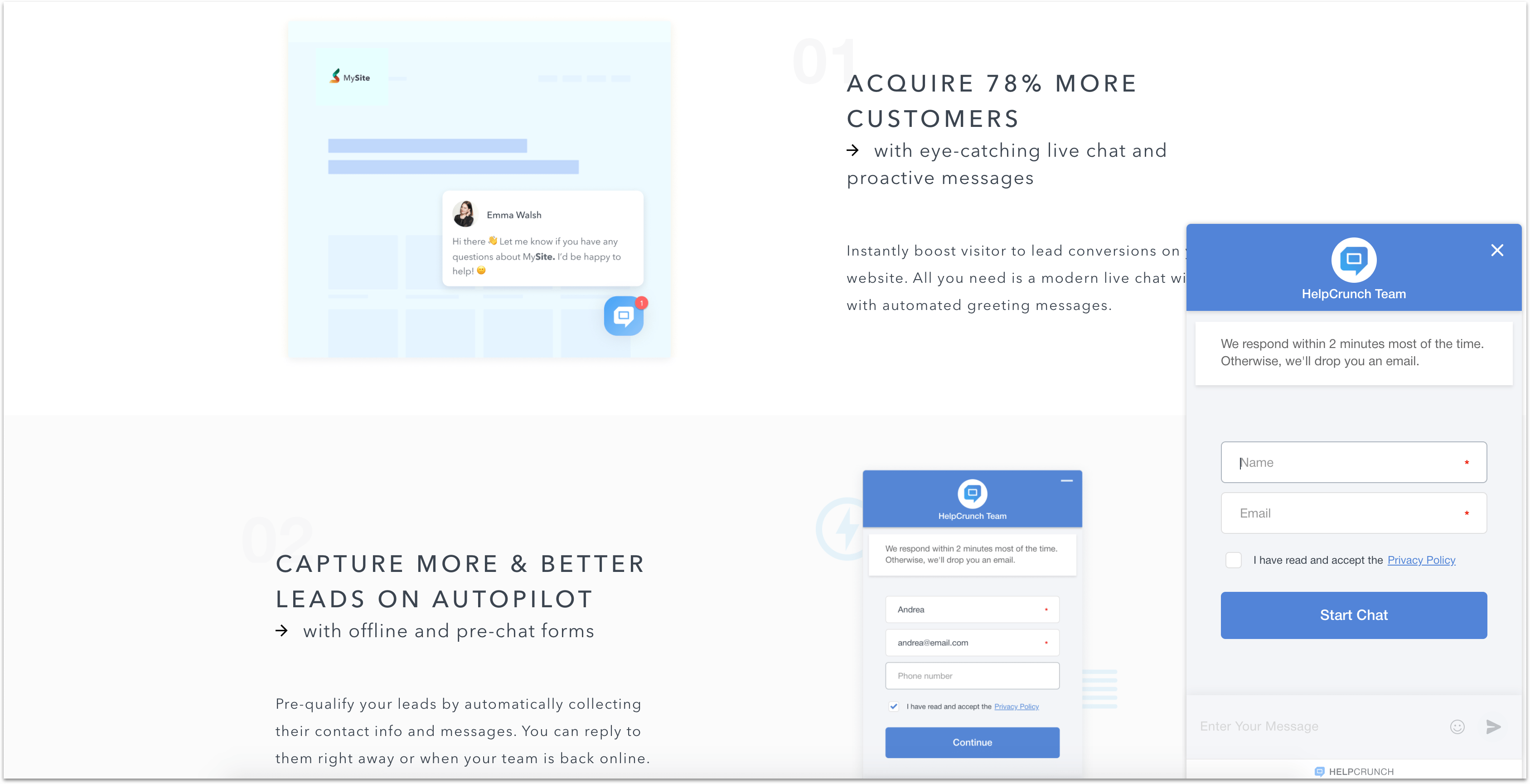 Or, you can take your sales game to the next level and incorporate a chatbot into the lead pre-qualifying process. Basically, chatbots are doing the same thing as chat forms but in a more casual way. They imitate human conversations by asking all the pre-qualification questions about prospects' businesses, needs and goals right in a chat window.
Is it more engaging and natural? Sure, but be careful with this. If someone wants to talk to a real person immediately, they can get easily frustrated with automated useless responses from a chatbot.
Which brings us to the golden rule of using live chat for sales…
3. Be human
No matter the communication channel, the worst enemy of every salesperson is staying cold and indifferent. You won't be able to sell a thing unless you know your leads' pain points and genuinely want to help them.
People are more likely to trust a salesperson if they feel the commitment. However, it's easy to sound robotic and untouched in a live chat conversation. That's why it's important to add a few "human" touches to your live chat persona. At the very least, you should upload real agent avatars and show who's currently online and available to chat.
Moreover, live chat representatives shouldn't be afraid to add their wonderful personalities to their work — use informal phrases, emojis, gifs. These things will help people feel that they're talking to a real person. Even typos can sometimes add a nice human touch.
Another important factor in building emotional connections with prospects is personalization. From the first proactive chat message to the last email follow-up, everything should be personalized for each particular person. Use names, ask friendly questions, even switch to a person's native language if possible.
How do you get information like this? Well, it is easily accessible in almost any live chat tool. Once a person initiates a conversation, you'll instantly have their data like a browser language, time zone, device and latest actions they've performed on your website.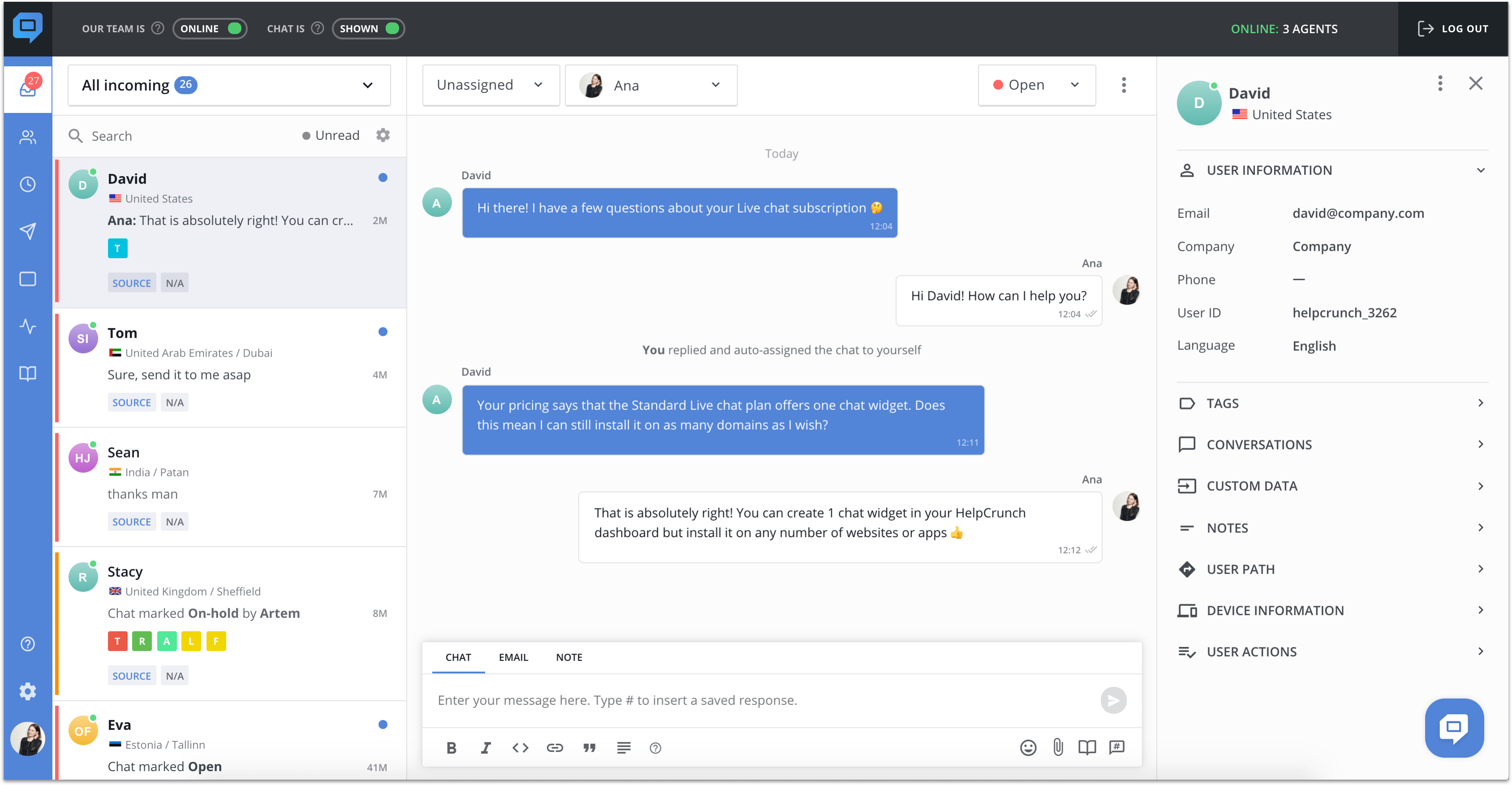 4. Be short and fast
As I've mentioned shortly before, live chat requires an immediate reaction from salespeople. So, if you want to use live chat for sales to its fullest potential, you should start with optimizing your first response time and the average resolution time.
Live chat implies real-time communication just as much as good old phone calls. 79% of those who prefer a live chat for getting in touch with businesses say that they love it so much because it's fast. Immediate, even.
But, don't get intimidated by these high expectations. It's also in your best interest to react upon prospects' questions while they're still on your website actively looking for a solution. Once they leave, it will be way harder to prospect and sell.
Moreover, one live chat representative can handle 4-5 chats simultaneously, unlike phone operators which have to concentrate on one person at a time. Numerous add-ons can help salespeople be more productive while chatting — e.g. canned responses, FAQ integration, customer data.
And talking about those enhancements…
5. Have necessary materials at your fingertips
The biggest advantage of using live chat for sales is that you have everything you need at your fingertips at any given moment. You can use any materials, pages, and tools to provide a seamless experience to every visitor.
Prospects want to read more about your features? Well, our knowledge base tells all about them and here's the corresponding landing page.
They're more interested in a live demo? Here's the link to our Calendly, just pick a date.
Not sure how our product will help you? We've got you covered, just read a couple of our use cases and maybe a few more blog posts.
So, make sure you prepare the following materials and tools if you want to use live chat for selling effectively. Just chatting is great, but not enough.
Detailed and integrated into the chat widget knowledge base explaining all your features and pricing
Dedicated landing pages for every feature
Software for booking demos and making demo calls
Video explainers
Pages with detailed comparison of your product vs competitors.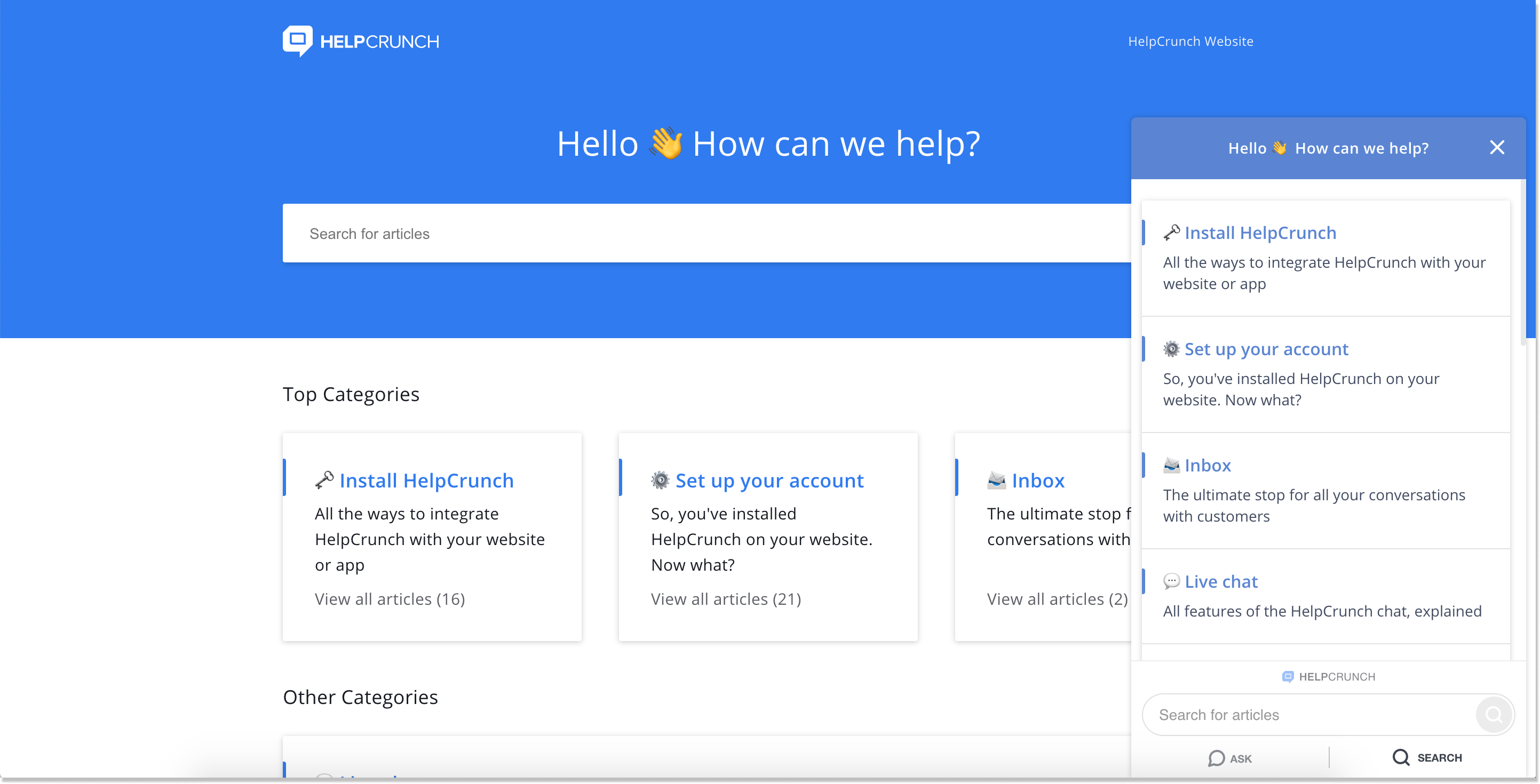 6. Train your customer support to sell
Say what you will, but I believe that selling should be everybody's job. Even more so if you work in customer support and interact with customers directly every day.
At the very least, customer support representatives are the best people to upsell or cross-sell to your existing customers. They talk to them every day and know their pains and goals more than anyone else at the company.
Now, if ALL your live chat agents are well trained in sales art, they can easily offer additional services and goods on the go. The best thing about this is that they're going to sell things that customers will benefit from — and you're going to get more upsells/cross-sells without even trying. Everybody wins.
So, how does one achieve the desired synergy between support and sales teams? Establishing seamless communication between all departments should be the first step. Additionally, you can arrange collaborative training for support and sales reps, where you set some roleplay scenario and they resolve it together.
7. Use emails for following up
All in all, live chat can be a powerful sales channel for initial lead pre-qualification. Sales representatives can answer customer questions about features, pricing tiers and define goals and challenges. But, it's only going to close you more deals if integrated well into the entire sales process, which should include other channels as well.
The golden rule of every live chat conversation should be collecting prospects' email addresses. No matter how you do it — via chatbots or by asking directly — you should end up with a database of high-quality prospects that you can send follow-ups to.
Email follow-ups are where sales representatives close deals:
Always send email follow-ups after demos.
Keep track of every feature request and complicated issue and send follow-ups when they're added or fixed
If someone talked to you via chat and they suddenly left, you can resend your chat message via emails to keep the conversation going.
Follow up to ask about visitors' overall satisfaction with the service you provided.
You can always find a reason to drop a message to your prospects. Just make it a point to ask if they won't mind receiving a quick follow-up. This way, you'll make sure you don't irritate them and follow all the privacy and GDPR rules.
Conclusion:
Utilizing live chat for sales brings endless benefits to any business. It shortens a sales cycle, increases sales and conversion rates, and improves customer satisfaction. But all these wonderful things will only happen if you manage to answer fast, be proactive, and use a personalized approach.
An all-in-one customer communication tool also plays a crucial role in establishing an effective sales process and collaboration between departments. When all customer requests land into a unified dashboard, every team member can check any ticket, assign and re-assign it, tag other teammates, and leave private notes inside. Choose software like HelpCrunch and you'll be able to automate numerous sales tasks right away.