7 Advanced E-commerce Live Chats: Best Practices and Benefits
In this post, we talk about TOP 7 e-commerce live chats you might want to take for a spin. See what benefits you can reap with them and boost your online marketplace in no time.

If you're running an online business, you know firsthand that making every visitor a returning one may be a back-breaker. In a brick-and-mortar store, you can do that easily by adding a few human touches such as greeting at the door, giving valuable pieces of advice on style, or recommending extra products. Oddly enough, it's also possible in the online space, too.
It's estimated that 95% of purchases will be made online by 2040. Given that the number of people who tend to get stuff through the web is rising, your competitors are going to grow as well. This means that in order to outperform everyone, you have to understand the best practices for boosting sales and engaging customers. Here's when an e-commerce live chat comes into the picture.
Live chat software is game-changing if you want to deliver uncompromising support and increase sales. In fact, customers who interact with a brand via live chat are almost 3 times more likely to finish a purchase. Besides, live chat has the highest satisfaction level (73%), compared with 61% for email and 44% for phone.
Today, we're breaking down various live chats for e-commerce and discussing how you can benefit from them if chosen right.
Top 7 Noteworthy E-commerce Live Chat Software to Use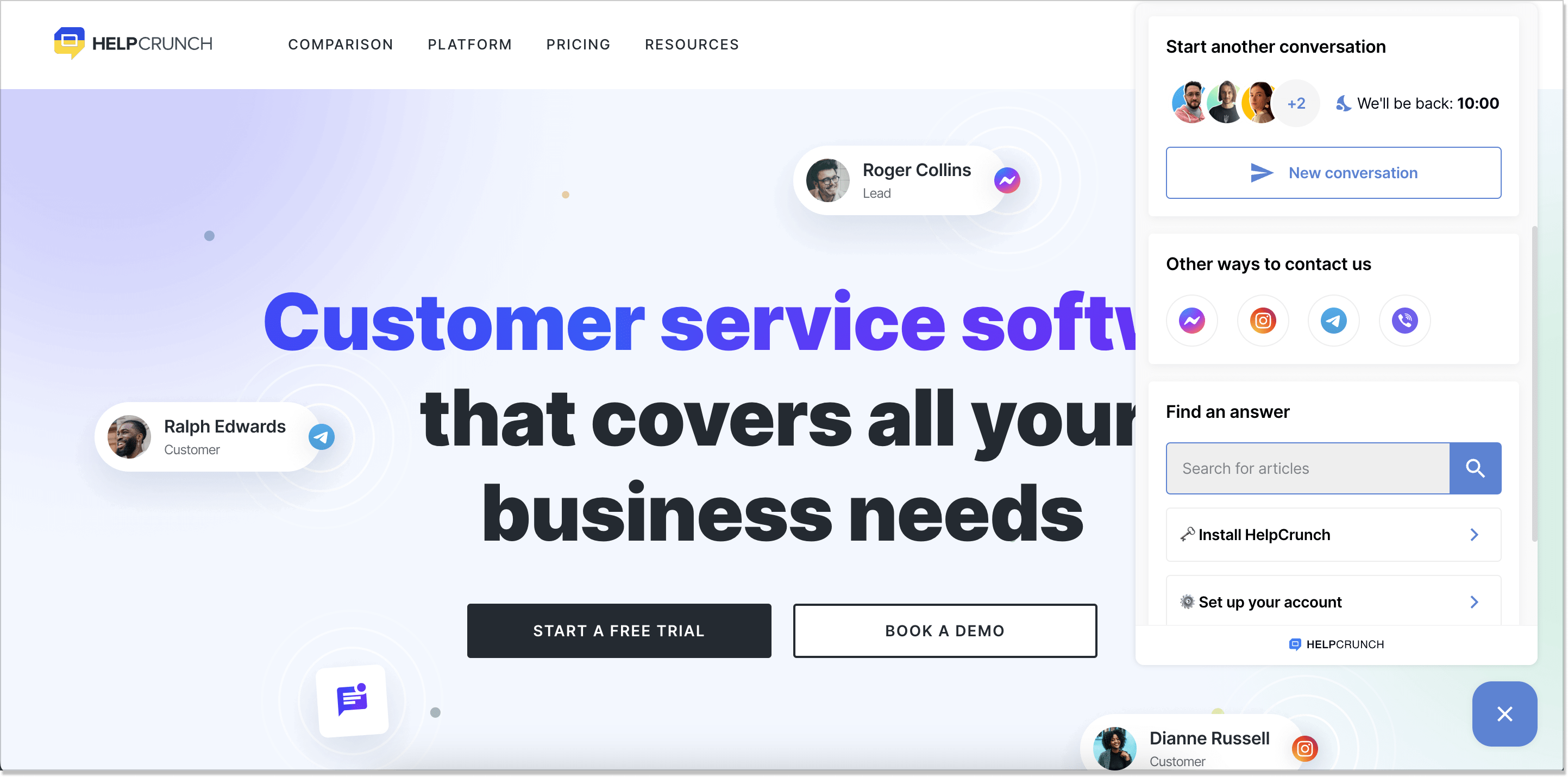 If you're looking for an all-in-one solution where customer support, sales, and marketing are combined, HelpCrunch may fit the bill. Together with live chat and chatbot, you can try in-app messenger, email automation, help desk software, and knowledge base under the same cover.
With this live chat for e-commerce, you can deliver proactive customer service in real-time and close deals effectively. Create canned responses in advance to reply to your clients' queries faster, collect user info with offline and pre-chat forms for future activities, and use a shared inbox with quick agents' actions like tagging, assigning, or merging conversations.
Don't forget to set up a chatbot tool so that you never leave any customer's query without a response. The bot will help you to automate your support and sales flow thanks to the rich feature pack. Qualify leads, collect users' contact details and solve repetitive questions – all with the HelpBot.
An e-commerce live chat widget from HelpCrunch is fully customizable, so you don't have to worry about your brand awareness. With a myriad of options, you can choose a style, tweak colors, or change the button: everything that's needed for a business that wants to attract customers' attention.
Pricing: HelpCrunch suggests Basic and Pro plans. The pricing starts from $15 a month and $25 a month respectively. There's also an Enterprise plan if you want a tailored experience. So, take your pick.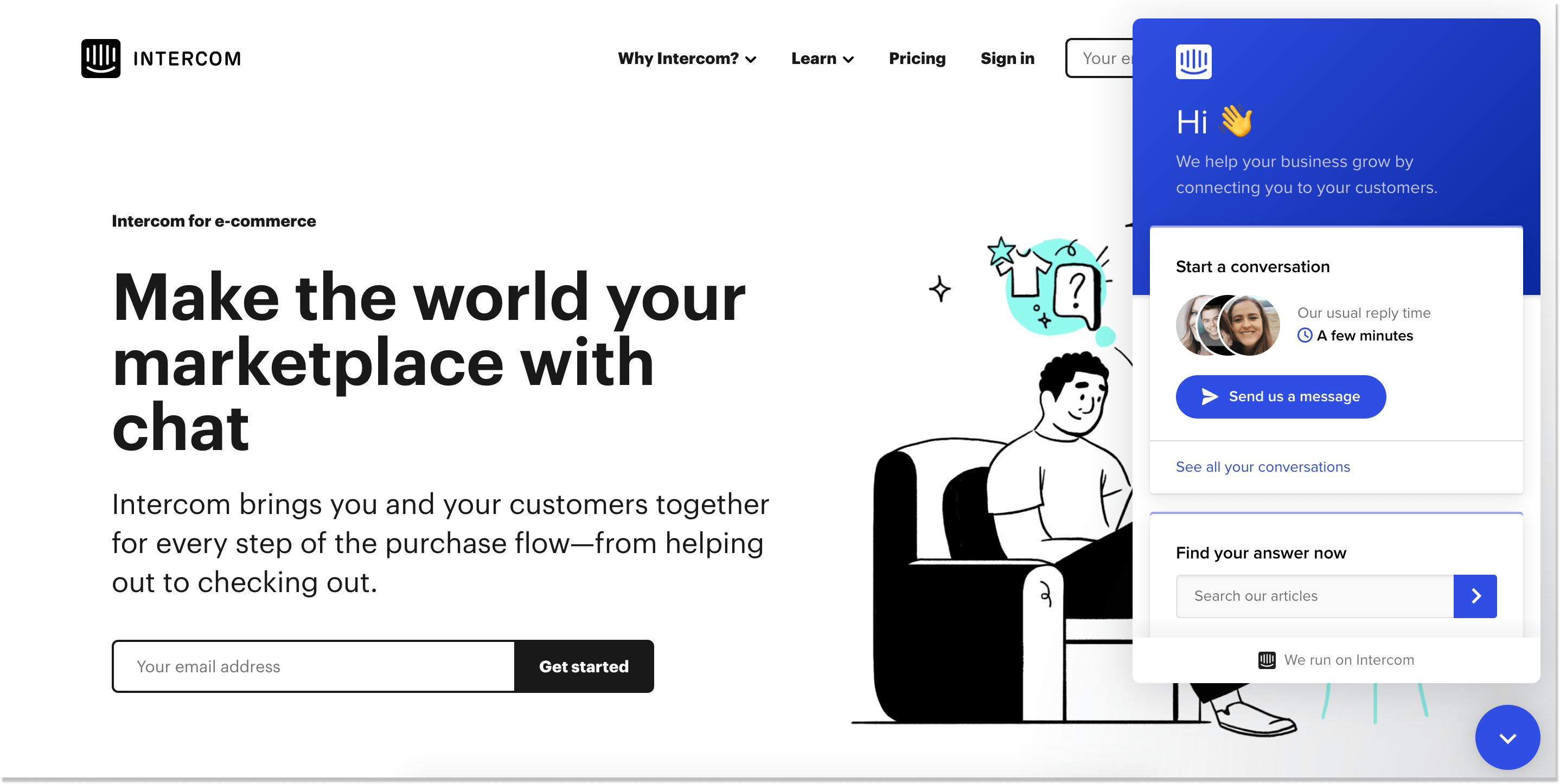 Intercom's e-commerce live chat solution helps you drive more sales and engagement. It offers a round-the-clock messenger so that customers can get their much-needed answers faster. You can actually install it in no time and have your team up and running from anywhere.
If you're more into automated customer service, a chatbot feature might be just the ticket. Set it up the way you like with no code needed to save your time and energy. A chatbot can ask the right question to capture high-intent leads, transfer the conversations to the right departments automatically, and offer a proactive chat to engage with visitors better.
Pricing: Intercom pricing starts with the Conversational Support plan which is $38 a month for an Essential package and $78 a month for a Pro package. You can also get a Premium package with a whole feature set and a lot more.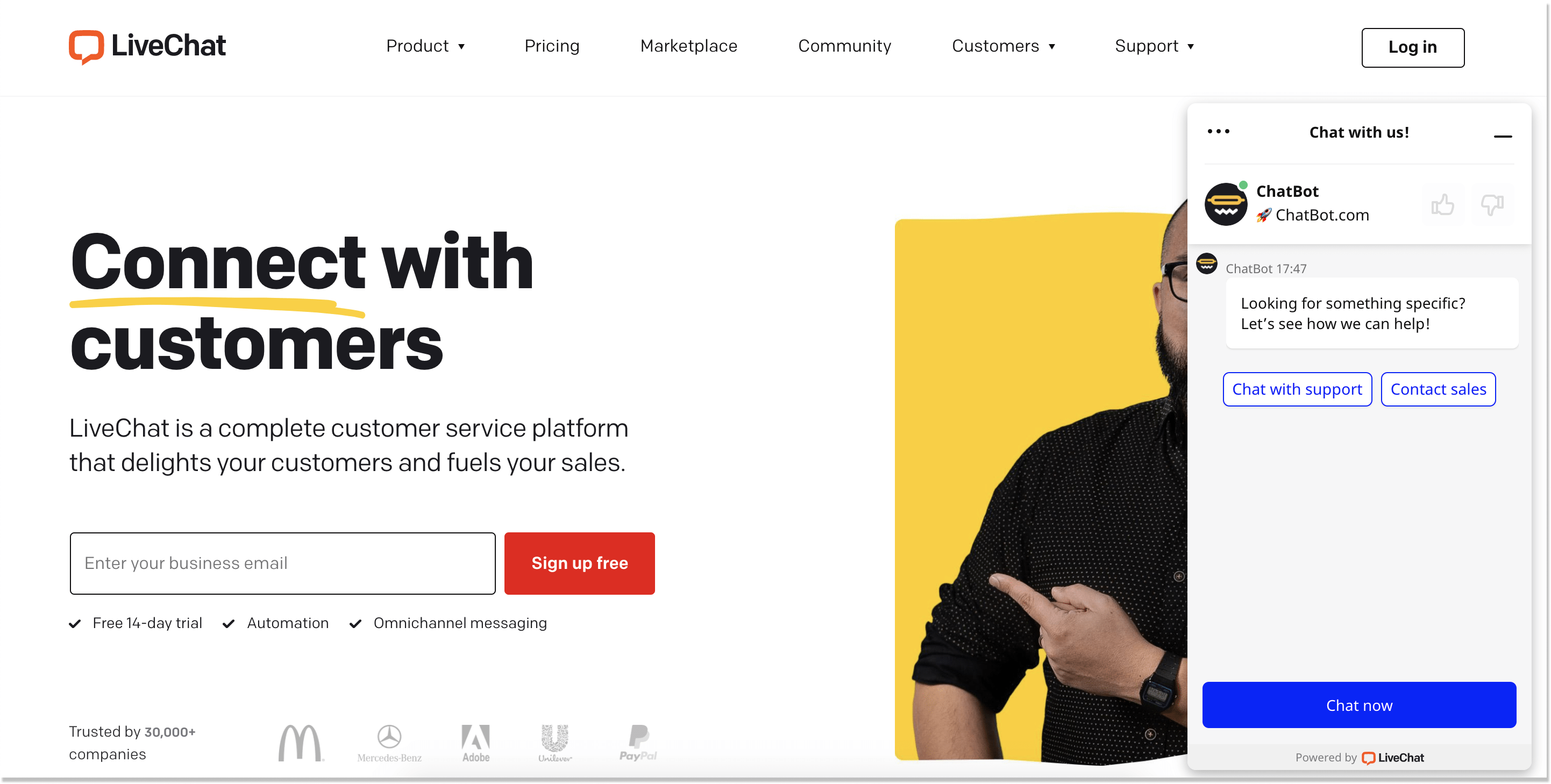 Being one of the most popular and feature-rich live chats for e-commerce, LiveChat has a lot to offer when it comes to customer service and marketing. It has over 170 integrations which will be useful for your business operations: Shopify, UPS Delivery Status, Magento, Google Ads, to name just a few.
This e-commerce live chat can help you step up your game with two main features available: Goals and Sales Tracker. By using the first one, you can set up unique business goals like attracting new customers or making more sales in a month. The latter can help you add order information to a chat whenever it leads to a purchase. This way you can track how much value you're getting with LiveChat and see the Sales Tracker reports.
Everything you might want for providing good customer service LiveChat involves: adding tags to conversations, file-sharing, and creating archives. You can also use customization to change the look of your chat and push long conversations to tickets.
Pricing: A Starter plan is available for $19 a month, whereas Team and Business plans jump to $39 a month and 59$ a month respectively. There's also an Enterprise pricing plan with special terms.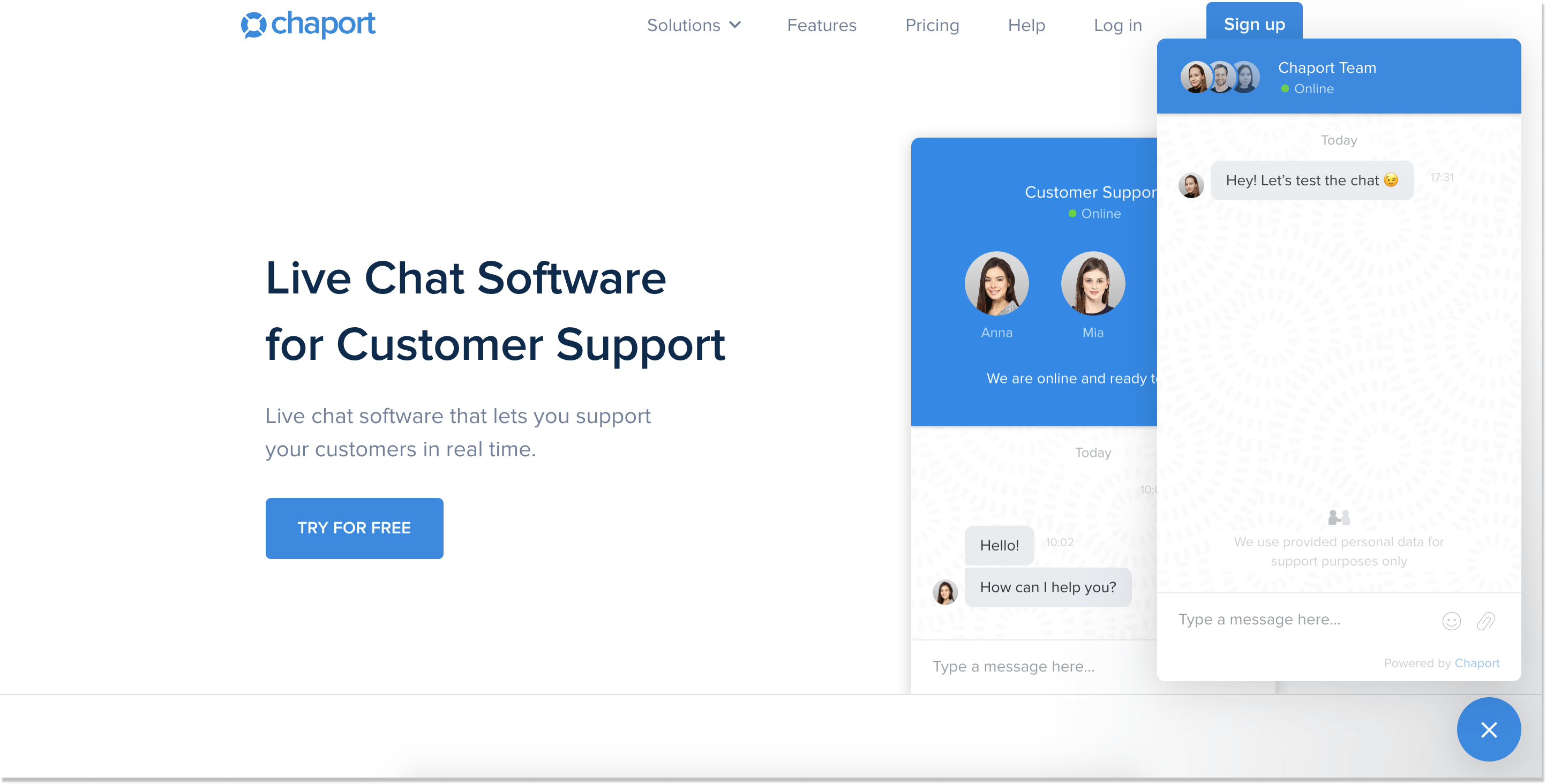 Chaport offers a live chat for e-commerce to boost sales, reduce cart abandonment, and build trustworthy customer relations. One of its peculiarities is the compatibility with a wide range of platforms and apps. For instance, WordPress, Facebook, Zapier, Google Analytics, and others.
With Chaport, you can assist your clients 24/7, reach out to them by using automatic chat triggers so that they come to their final buying decision, and gain their trust with timely answers. Another important point here is that you can always be online not to miss a valuable message. Work in a browser, install a Chaport app for Windows or macOS, and get an app for Android or iOS.
Pricing: You can sign up for a Free plan with 1 customer support agent, unlimited chats, and basic reports. There's also a chance to get a Pro plan for $14 a month with a whole lot more options at your fingertips.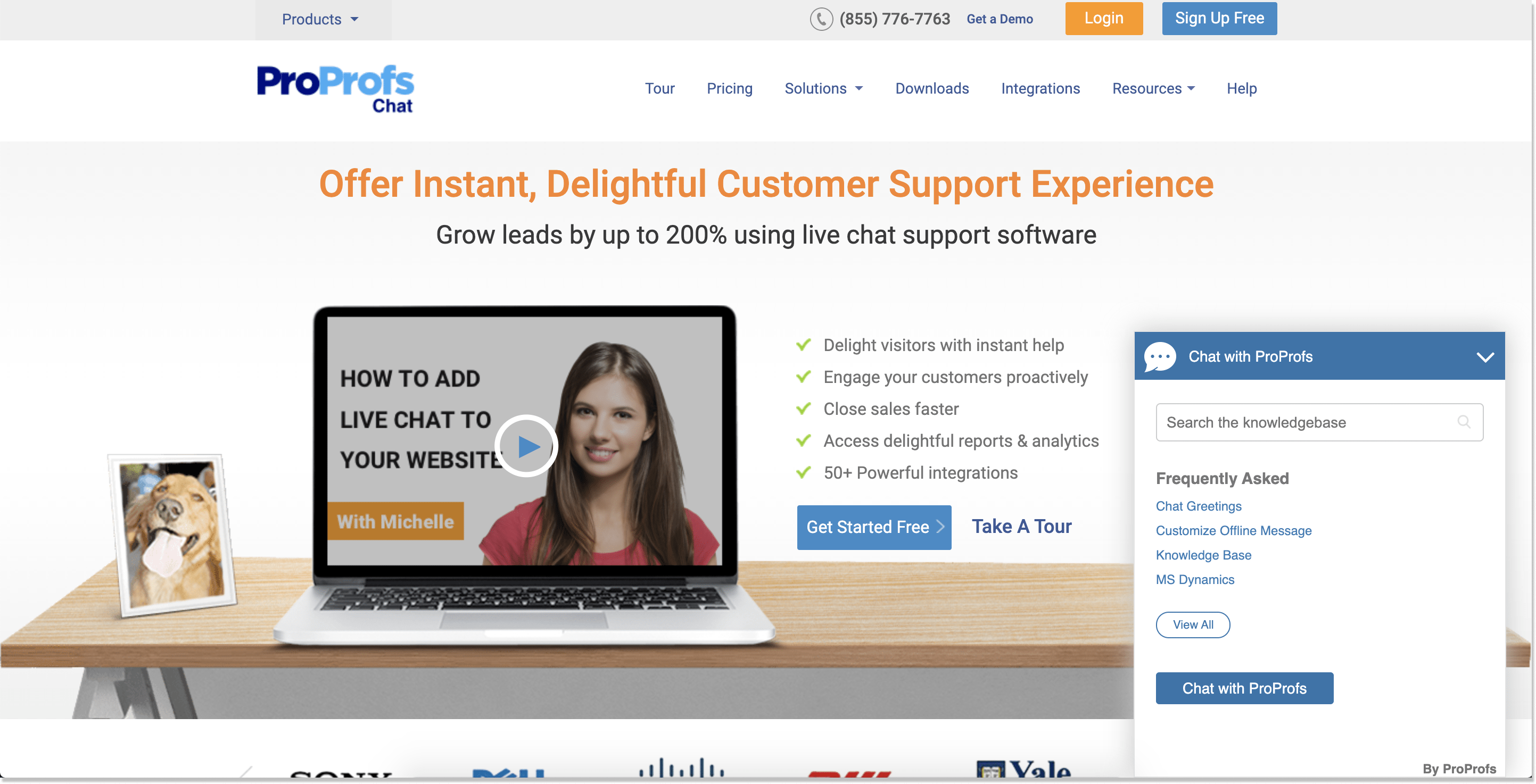 ProProfs covers all the features needed for your e-commerce website. For instance, they offer chat routing, ticketing, co-browsing, and integrations with such platforms as Shopify and Magento. Anyway, let's dive deeper.
An e-commerce live chat option from ProProfs allows you to gather valuable customer insights in real time. Store all the information in order to come back to your customers with a well-thought-out marketing plan later on. At the end of the day, it's better to know your client's intent before initiating a chat with them.
With ProProfs live chat for e-commerce, you can make new product announcements to keep customers engaged. Such an approach allows customer service agents to upsell and cross-sell successfully. Moreover, ProProfs offers a knowledge base solution for customer self-help and automated trigger messages at checkout pages.
Pricing: The pricing plans at ProProfs start with $15 a month per operator (Essentials) and $20 a month per agent (Premium). But you can always try a 15-day free test for every plan.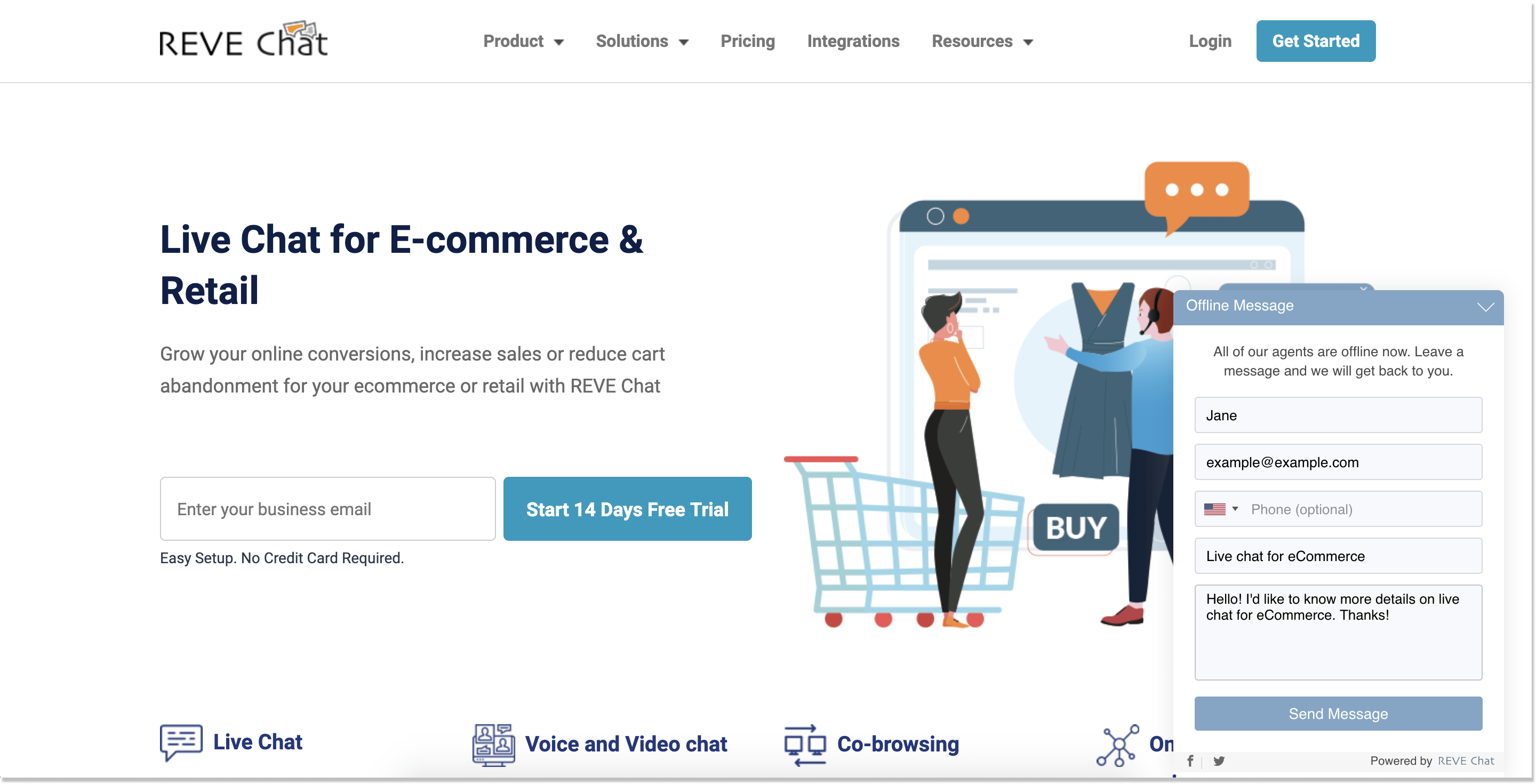 REVE Chat is a customer communication platform with a nice live chat for e-commerce in its arsenal. Except for this standard feature, REVE Chat also includes voice and video chat, co-browsing, and omnichannel messaging. Thanks to such a toolset, you can handle customers' queries much faster.
As follow-up activities are an integral part of sales processes, you can use a Notes feature here to streamline your conversations. And by combining a Facebook Messenger with live chat, attracting new clients will be much easier. Plus, you can also greet your visitors with personalized messages and support them throughout their entire journey (it's a perfect way to know their pain points).
Pricing: Decide between three pricing plans, Standard ($15 a month), Advanced ($25 a month), or Enterprise ($50 a month).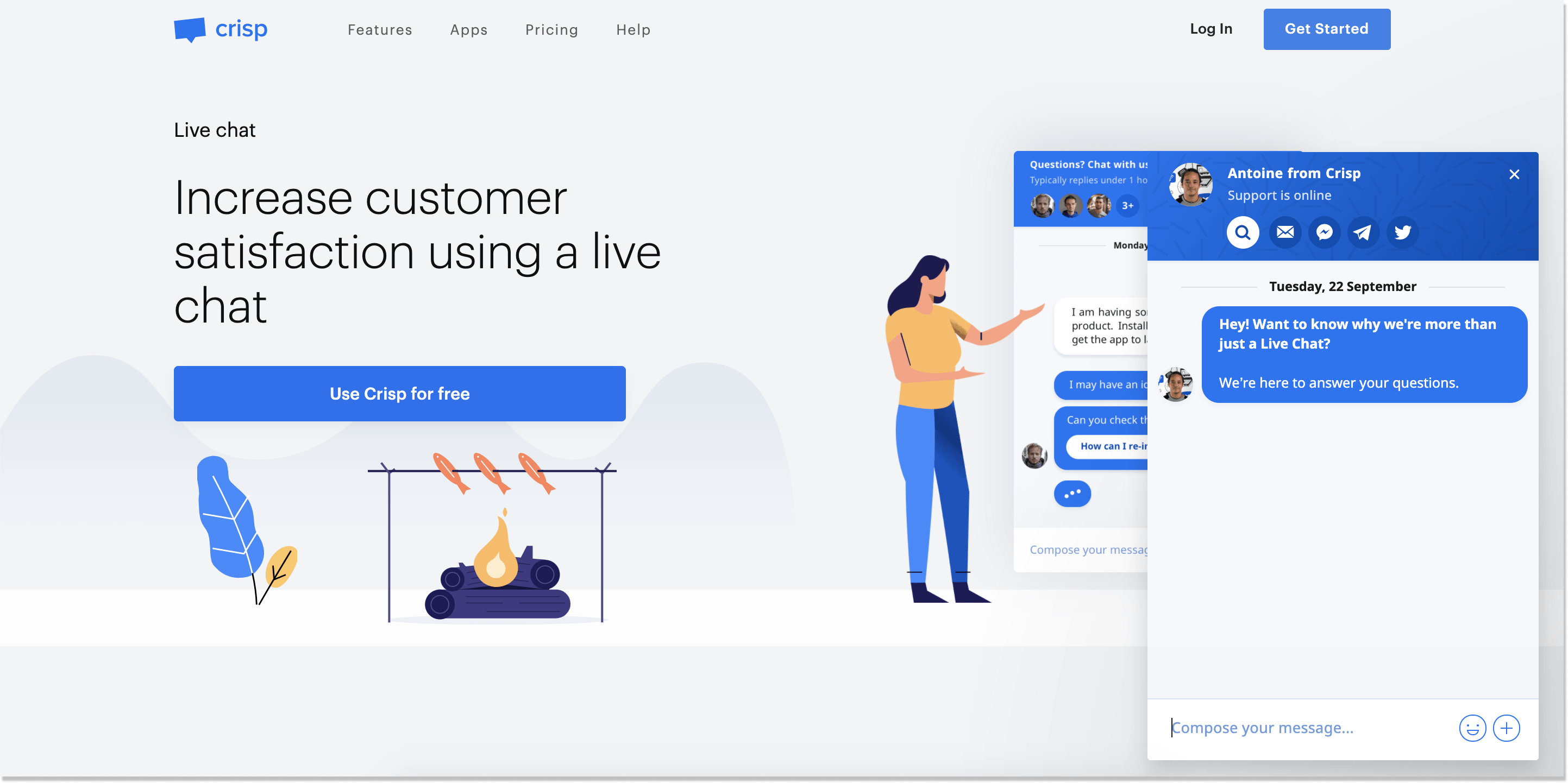 As the name suggests, Crisp's e-commerce live chat is sleek and modern. Sure thing, it has it all when it comes to customer satisfaction and retention:
Automated messages for showing the initiative proactively
Integrated knowledge base for a seamless self-service
Advanced chatbots for client onboarding
Improved file sharing (documents, images, etc.)
Crisp takes a step further with an uncanny game called CrispBird. If a user comes when your team is offline, they can not only ask their questions but also have a little fun with it (and not feel abandoned).
Like any other live chat for e-commerce solution we've covered here, Crisp is fully customizable. You can tweak the widget colors, change its position, or choose a language. You name it.
If you're an international brand, a LiveTranslate feature might be exactly what you need. It allows you to translate messages in real time (and you don't have to tinker with Google Translate). What's more, there's a built-in video chat that helps create a human experience without any third-party software.
Pricing: Crisp has three pricing plans to choose from: Free (it's free for good), Pro ($25 a month), and Unlimited ($95 a month).
Top 6 Undeniable E-commerce Live Chat Benefits
If you're not yet convinced that you need an e-commerce live chat solution, I'm going to change this situation. Here are unbreakable reasons I'm sure you're going to resound with:
1. It's cost-effective
Live chat can be cost-effective in so many ways: for instance, if you're a startup or a small enterprise that can't sacrifice customer experience and invest a lot. In fact, live chat is thought to be 50% cheaper than phone customer support.
Besides, live chat for e-commerce allows you to multitask, whereas it's not always possible in a call center. This is only a plus for the effectiveness of a support team.
2. It humanizes the brand
What would you choose for more human customer service: email support or live chat? The second option is gaining traction as a friendly chat box provides customers with instant support from a real person.
In addition, live chat for e-commerce can be programmed for 'How may I help?' query, imitating the approach in traditional brick-and-mortar stores. By the way, consider customer service training so that your support team has genuine conversations: people don't like it when support agents sound like robots.
To top it off, 52% of customers view a brand as more favorable when the customer service is personalized to them and their interests.
3. It's time-saving
73% of clients say that a brand valuing their time is an intrinsic part of great customer service. Yes, it's not about free shipping or return policy — it's all about not wasting clients' time.
With a proper live chat for an e-commerce website, you can be sure people won't leave you because of boring on-hold music or unanswered email requests. Plus, live chat saves your company's time, too. Customer service reps can handle more than one conversation simultaneously, making their work efficient.
If you use live chat software like HelpCrunch, you can serve everyone even faster by providing instant replies from an integrated into a chat widget knowledge base. In some cases, customers don't even have to wait for a support agent to get the answers they're looking for.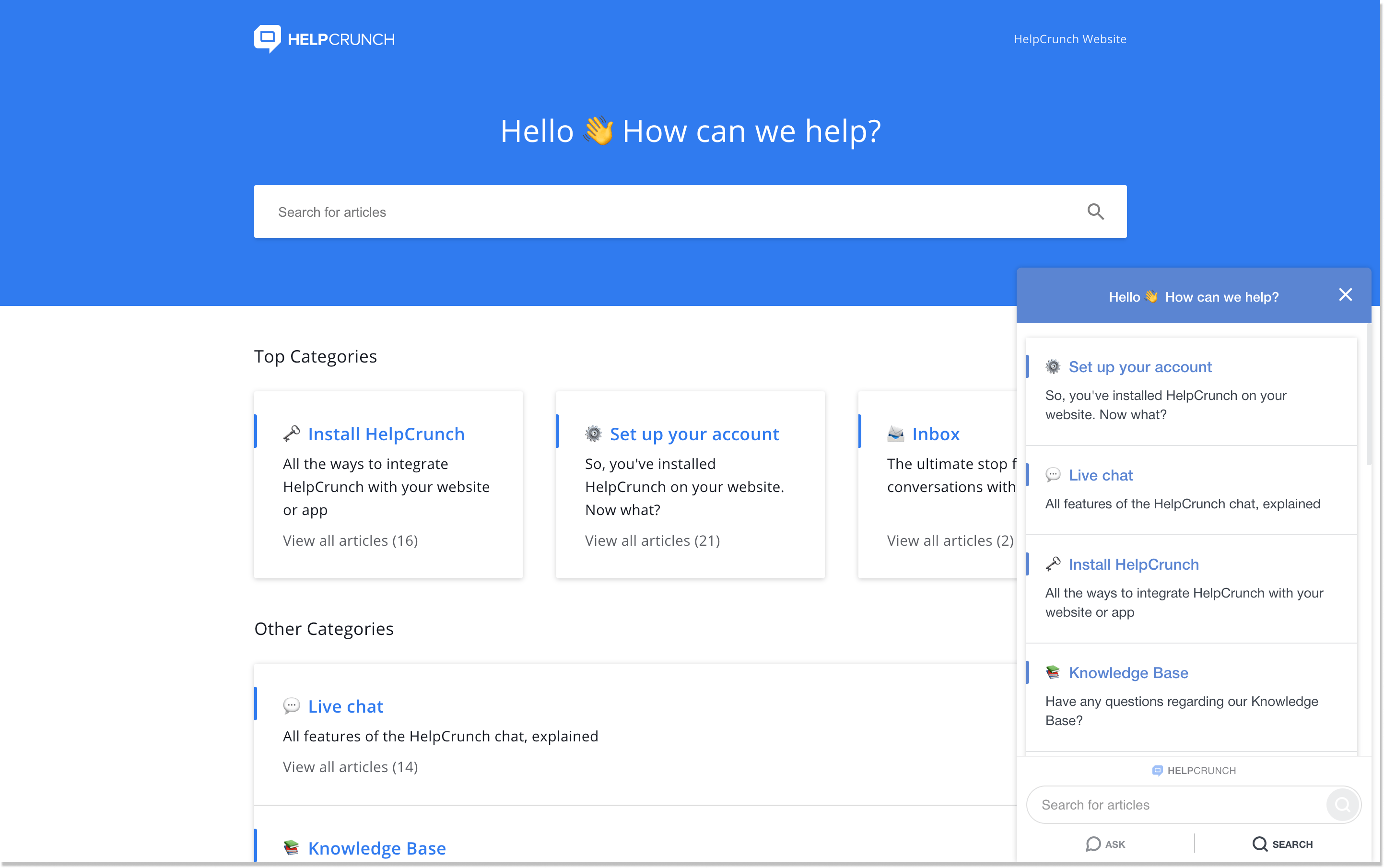 4. It increases conversions
If you lend a helping hand to your customers and solve their product- or service-related issues ASAP, they won't hesitate to come back. Actually, 40% of buyers who use live chat are more likely to make online purchases once again.
Another factor that may encourage customers to buy more from you is an easy-to-understand support system: clients will ask their queries instantly and boost conversions.
5. It reduces bounce rate
Bounce rates not only backfire the hard-earned traffic but also adversely affect the search engine rankings. There are many ways to optimize and reduce bounce rates, and one of them is through an e-commerce live chat.
For instance, create a pop-up message with a friendly 'May I help you?' to give clients a second chance when they're about to leave your website. Besides, you can add a live chat button on essential website pages (FAQ, blog, a home page, etc.).
You can also use Google Analytics to see which pages have a high bounce rate so you can create an auto invitation to pop up. Any location where your visitors may come up with burning questions will do.
6. It increases the average order value
Live chat for e-commerce allows you not only to increase the average order value (AOV) but also to help a client with shopping processes. Now, what is AOV exactly?
AOV is the average amount of money a company generates from a transaction. With live chat, you can boost customer engagement by proactively reaching out to your site's visitors, communicate with them on a human-to-human basis, and master upselling and cross-selling techniques.
Bottom Line
An e-commerce live chat can help you close the gap in the customer journey from being an ordinary window shopper to a loyal client. Once you adopt it, don't compromise on either money or time: it's worth investing both of these aspects. Now it's your turn to decide on an option that suits your business needs best.
Let me just help you a little. To make great headway in your industry, sign up for HelpCrunch to get a live chat for e-commerce with all the bells and whistles. By the way, check out our list of Integrations with such e-commerce stores as Shopify, PrestaShop, 3DCart, etc.