6 Ways to Make Product Improvements That Everybody Loves
Upgrading a product or a service off and on is a recipe for success. So, if you're dreaming of product improvement but don't know where to start, these 6 proven ways will come in handy.

Frankly speaking, there's no ideal product or service in the world. And the reason for that is simple: our community is constantly changing at lightspeed, brand-new technologies are popping up, and the customers' needs are evolving. That's why all thriving companies strive for upgrading their products and services to withstand the competition and cater to customers' demands.
Today customers expect brands to continually wow them with new products or product features. Actually, 63% of consumers like it when a company offers something advanced from time to time. But in the rush to be the leader in the market, brands often overlook the essential.
It happens because the majority of business owners tend to think about the technical side of a product first. Sometimes they disregard the future impact a newly implemented feature will have on customers. Moreover, they don't understand if a team is able to put intended product improvements into practice.
So, let's step up to the core of product improvement and some impactful ways on how to make it without losing the main aspect.
What is product improvement?
Product improvement is aimed at bringing about significant changes with the purpose of getting new clients, retaining existing users, and recapturing lost customers. In fact, there are two ways of improving products: adding fresh features and upgrading existing ones.
New specs and updates make a current product more advanced. Such a solution enhances the value proposition and expands the target audience base. Plus, it drives value for existing customers, diminishes churn rate, and contributes to building brand loyalty.
Bringing already existing features up to date is another story. You have three different opportunities here:
Intentional improvements: simply make a product better when you know why people use it and what value they see in it;
Regular improvements: tweak features so that customers avail of a product more often and gain real benefits;
Introductory improvements: change features you think will make the lives of new clients much easier.
Innovations can be risk-taking. All in all, you never know how your business will look like after and what results you are going to achieve. However, if you shape a product improvement plan the right way, you have all the chances to hit the mark.
Go behind these 6 beneficial product improvement ideas that will help you gain you a greater understanding of the whole product upgrading process.
#1 Embrace effective customer communication channels
Communication can make or break a business. Being able to interact with clients no matter the context, can result in increased sales, higher satisfaction rate, and positive referrals. In fact, by talking to your customers, you can gather valuable feedback, ask potential leads for feature requests, and understand their demands better. A support team can be the one who does that and reports all the data to a product manager. The latter processes it and decides what features should be added or how to upgrade already existing ones. As a result, you can develop a complete product improvement plan.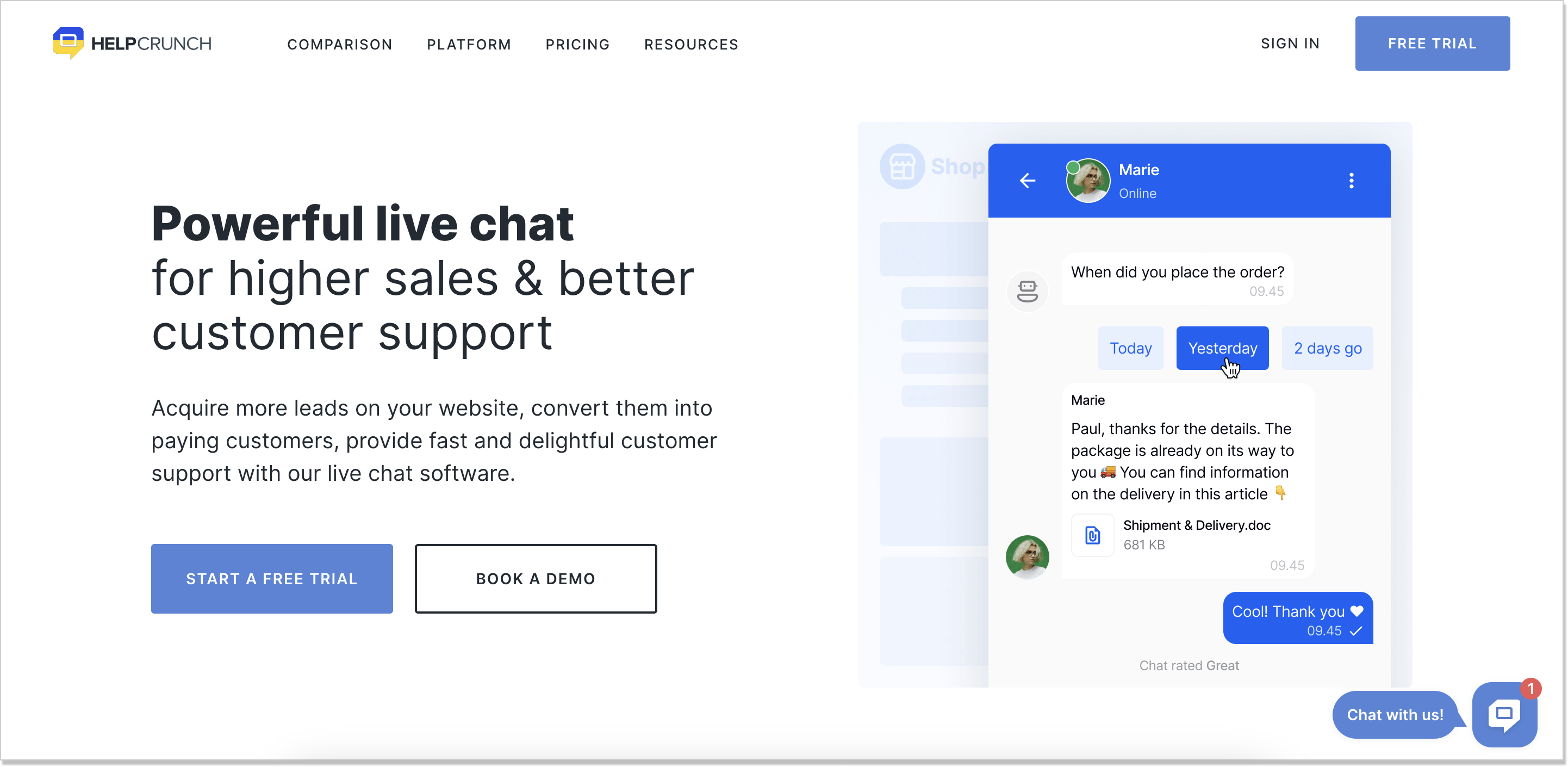 An omnichannel customer communication platform may be the right solution to interact with clients better. It provides consistent and on-brand interactions across multiple customer touchpoints. An omnichannel communication strategy helps create a seamless customer experience and achieve marketing goals faster. By choosing this approach, you can serve customers in a variety of ways, boost your brand image, and credibility.
There are a great number of tools you can take advantage of when going omnichannel. We, at HelpCrunch, prefer to use live chat for gathering essential data. Our support agents mark every 'feature request' chat with a tag and add everything to a special table. This helps us see what client asks for what improvement and how often they do that. When everything is done, a support expert informs customers so that they check the newly added features.
#2 Identify pain points
The real triumph of a product centers around its ability to solve customers' particular problems. Such pain points are diverse and can be grouped into categories: financial, related to productivity, the buying process, or support. That is, pain points are the situations when prospects waste too much time using their current product, want to improve internal processes, or don't get their sought-after assistance. In order to stay on top of the game, crack all of them before it's too late. And here is what you can do:
Create surveys with the right questions
Pose the survey questions in the right way and keep them on-topic. For that, you can choose an option that works best for you: an in-app, email, a pop-up survey.
For instance, instead of asking 'How often do you change the settings in your account?' with such options as 'Extremely often', 'Quite often', or 'Not so often', provide some accurate data: 'I change the settings in my account..' with options 'At least once a week', 'Once in a month', 'Once in 6 months', or 'Never'. By doing so, you can get some quantitative insights and take further steps.
Provide some detailed open-ended questions for those who are eager to help with thorough answers. Let your creativity out and ask what problem a customer was trying to handle before coming across your company, what product a customer would rather use if yours was unavailable, or what holds a user back from using a product.
Let your sales team talking
Behind any deal hides a set of issues that a prospect wants to solve. And this can be everything from a pricing-related problem to some missing feature. To meet your prospects' needs, let your sales experts find out the ways that can help them close a deal. The following question may be of use:
– What does a prospect name as pain points?
– What does a prospect like or dislike about a product?
– Does a prospect make a comparison with another product?
Check out your competitors
No matter your best efforts, there could be buyer personas that are beyond your reach. However, you can still win their attention. Think, maybe your strategies need to be reconsidered. Here is when your competitors' approaches might work for you too.
Assess their landing pages, check their recently implemented features, or compare their pricing with yours. See if there's something that you might have overlooked and how you can incorporate it into your product using your own marketing tactics.
Besides, doing Google research of their ads might be helpful as it's the ads that aim at defining customers' pain points. That's not to say that you should strive to offer a copycat product; a healthy amount of product differentiation is important as well.
#3 Connect vision to practice
In their efforts to understand future success, most teams simply track some key events to see how the numbers change on a weekly or monthly basis. This often results in team vulnerability to blind-spots or gaps.
To avoid such mishaps and truly realize why people take advantage of a product, identifying how each feature is used isn't enough. A better way is to reveal the purpose and develop a high-level product vision to prioritize product features.
If you can articulate a clear vision of your product, you're more likely to earn customers' approval. Plus, being able to share your enthusiasm makes it more possible for others to play a crucial role in the whole product improvement process. Communicate with marketing and sales teams, or developers to express your thoughts and bring about changes. With that in mind, your upgrading process will get a strategic basis.
#4 Specify the metrics
Once you've defined your features' goals, work out the metrics for tracking them. The Internet is brimming with essential KPIs of all kinds a business should test. However, there's no one-size-fits-all approach.
Take Airbnb or Booking.com services: if their value were only measured by DAU (daily active users), they would vanish. And yet, these companies are used several times a year and are still on a roll. Everything depends on your niche and products you're engaged with.
For instance, if you design an app, consider the DAU metric. If you run a SaaS product, take MAS (monthly active subscribers) into account. And if you own a marketplace business, find a correlation between supply and demand.
To identify your north star metric (NSM) correctly, you have to understand your customers, the value your product gives them, and how they use your product to gain benefits. With that in mind, you can develop a product that will help increase customer lifetime value, decrease churn rates, and boost your revenue.
Go into the following questions that can help you define your NSM:
– What do I want to learn?
Focus on a user and not on certain events, prevents false proxies that only looked right on a paper.
– What actions should customers take?
Think through every step from opening your app to using the exact feature and possible frictions.
– When clients will find value in a feature?
Set the expectations for frequency of usage, the adoption rate, and see if your feature helps retain customers or drive engagement.
Defining the metrics can be a starting point in eliciting bugs your product might have. As a result, you have time to fix them and improve your product.
#5 Build a dedicated team
Product enhancement can't be imagined without a team that will do its work at scale. If you want to have a squad that will be passionate about the product they're currently developing, keep in mind these three concepts:
Data-drivenness: product improvement should start with setting clear goals and preparing in-depth reports using current data. Consider including such components as questions your team wants to answer, analyzed data, unexpected findings, and next steps. Arrange regular meetings where you can discuss these points with team members to improve their reasoning and drive better data-driven conclusions.
User-centricity: it's all about customer interactions here. First of all, if your staff is familiar with a client onboarding checklist, the customer journey can be much easier. And then, you can let your team create usability tests, do customer development sessions, or solution-focused surveys. These simple tactics will help see, for instance, if a feature works well, what drives conversions, or if a proposed solution suits a client.
Experimentation: experiments should present a learning goal that is aligned with your boldest assumptions. Plus, make sure that you embrace several test types. It can be Concierge, Wizard of Oz, and other powerful techniques.
Remember that product improvement should be always based on balance. Don't leverage only one of the aspects mentioned above, but mix them and your end product will be head-turning.
Besides, the solution can be also seen in collaboration at different levels. A product owner or an CEO should connect stakeholders, developer, sales, and marketing teams to build a shared vision and purpose of the product together.
#6 Gather feedback after launch
Once you've been through your product improvement plan and all your fresh features are out in the open, don't miss out on the chance to know what customers think. While all the numbers can help realize what users are doing, talking to them is a surefire way to understand why they're taking certain actions. To get what you want, bear these key points in mind:
Provide the reason why you contact a client
Ask yourself what you want to know and what results you want to achieve after the conversation.
Reach out to the right users
No matter how you pose a question, if it gets to the wrong person, you're likely to receive no reply. Make sure you choose the right user segment based on its feature usage. That is, don't send an email saying 'If X feature works well' to a user who hasn't been with your product for at least several months.
Unlike multiple-choice or Yes/No questions, open-ended questions help you see more details: how a feature was used, what the context was, etc. This way, you're informed about what customers like or dislike and if there's a point in further improvement.
Product improvement example at HelpCrunch
Chatbot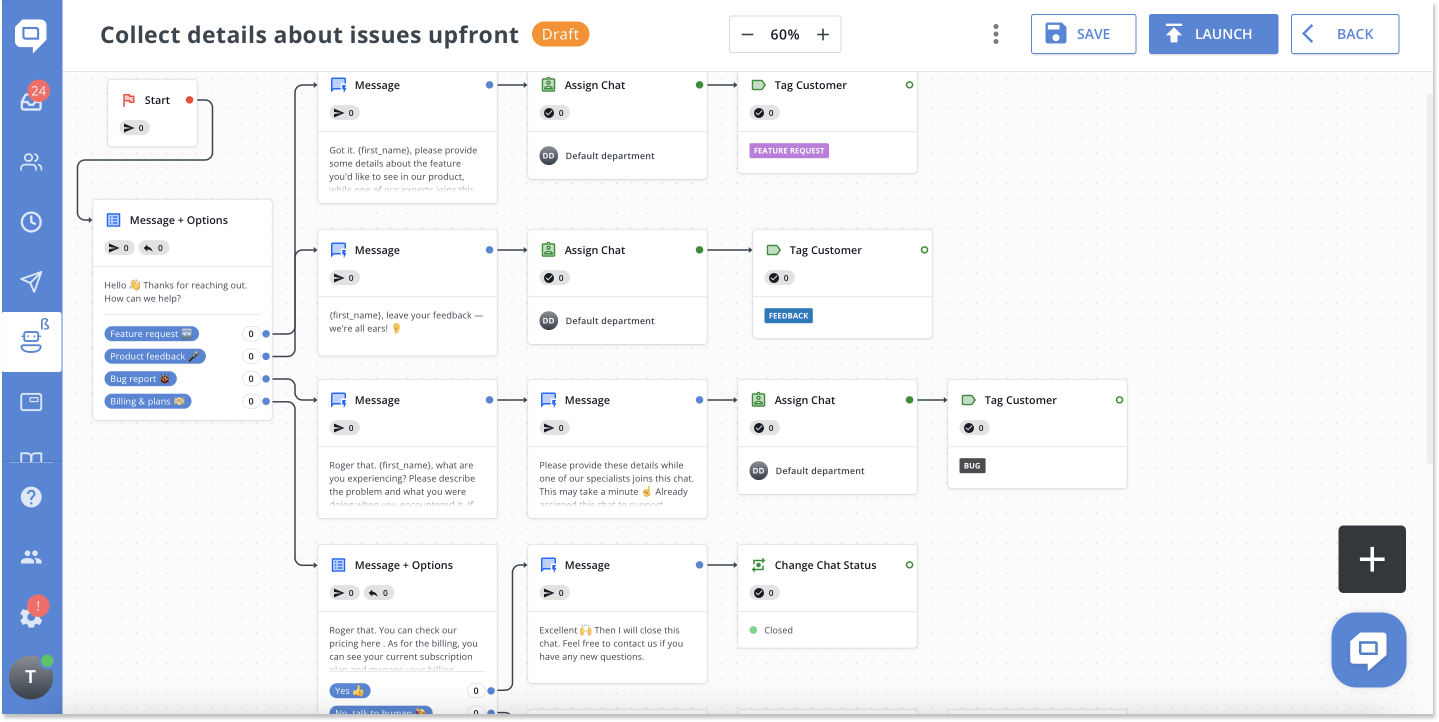 One of the recent product improvements at HelpCrunch is our chatbot functionality. It's a relatively new and really long-awaited upgrade. As automation is an important part of online business, we wanted to provide our clients with more opportunities for that when they use HelpCrunch.
We went the extra mile and gathered our existing clients' feature requests. Plus, we've done comparative research on our competitors and analyzed the market. After that, we reached the conclusion that chatbot improvement was really worth it.
Our chatbot is a reactive (for now) bot that allows businesses to handle frequently asked questions, qualify leads, collect contact information, and much more. Users can leverage one of the carefully prepared chatbot templates or create their own bot flow from scratch.
Besides, we offer a visual no-code chatbot builder which makes it super easy to create and edit various chatbot scenarios. Just come up with an idea of how you want your bot to communicate with users, add bot steps, and then click Launch.
Final Thoughts
When you think that product improvement is finished, you don't just want to see the number of features your team pushed to production, but to know how these new features moved the needle for your business.
Catching the purpose of what your improvements are meant to bring, having the right metrics, and being armed with customer feedback is a formula for success. It's also vital to gather a team that is ready to produce a product that will be beneficial for customers. At the end of the day, you strive for delivering value and keeping them happy. Sign up for HelpCrunch and make your product improvements using advanced tools.