Knowledge Base vs Wiki: How to Choose What's Right for You?
Wiki vs knowledge base? We connect the dots in this article. Dive in!

At a certain point in time, businesses start to think about ways to organize, manage, and retain the knowledge that has accumulated over years. Not only does it help to keep better control over the ways knowledge is stored and shared within the company, but also can boost productivity by as much as 40%.
The initial decision of implementing a knowledge-management system quickly breaks down into a number of smaller, more practical ones: where to store the knowledge? How to update it? How to maintain it? And who is going to do all this?
These questions will lead you to another fork in the road: a knowledge base or a corporate wiki? Both help companies manage knowledge, and both are rather popular – so how to choose what's best?
Corporate wiki vs knowledge base: what's the difference?
Now, answer the question – what's the difference between Wikipedia and Merriam-Webster dictionary? Quick, what's the first thing that comes to mind? Of course, Merriam-Webster creates and publishes its own content, while Wikipedia can be updated by anyone out there.
That's it, and this is also the difference between a corporate wiki and a knowledge base. A knowledge base is run and maintained by a dedicated team, while in a corporate wiki, anyone can contribute whenever they wish.
The knowledge base meaning describes it as a "centralized self-service collection", with an emphasis on "centralized", while a wiki is a content platform allowing users to make updates and contributions. Sounds very similar, but the main distinction of "centralized vs collaborative" is what defines the specifics of knowledge base and wiki usage.
Knowledge base and wiki: pros and cons
Both approaches have their pros and cons, and both can be practical in your particular case, but let's dive deeper into the specifics of a knowledge base and corporate wiki to make well-informed, smart choices.
Knowledge base pros
The advantages of an internal knowledge base stem from its centralized method of management.
Higher content quality
A knowledge base is usually managed by a dedicated team of content creators and editors. As a result, it can be relied upon to have good grammar and style, be free of errors and typos, and have a clear structure. Professional content creators produce texts cleverly supported with images, videos, infographics, and other media that can emphasize the topic.
As a result, a knowledge base becomes a collection of highly readable and useful content that readers can easily process. Check out these internal knowledge base examples to see how content can be organized for the best results.
P.S. This one is just an inspiration from Notion: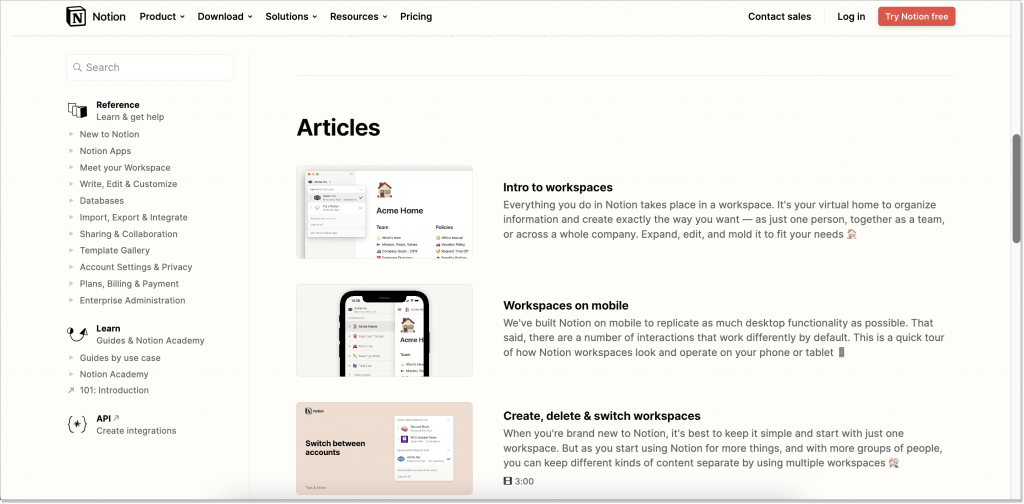 Consistency and uniformity of style
Again, since knowledge base articles are produced by the same team, they are mostly similar in style and layout, which gives them a solid and consistent appearance. The team creating the knowledge base usually has a set of rules, or even a complete style guide, that they follow while building textual and visual content.
For example, such rules can include the following:
Language standards
Branding guidelines, such as corporate logos, colors, fonts, etc.
Image and video requirements, for example, size, resolution, and file formats.
Often, an internal knowledge base is built according to the generally adopted knowledge base article format, which ensures consistency of style and layout across all the KB pages. For example, HelpCrunch's platform allows you to build articles following a uniform layout that can be customized based on your preferences.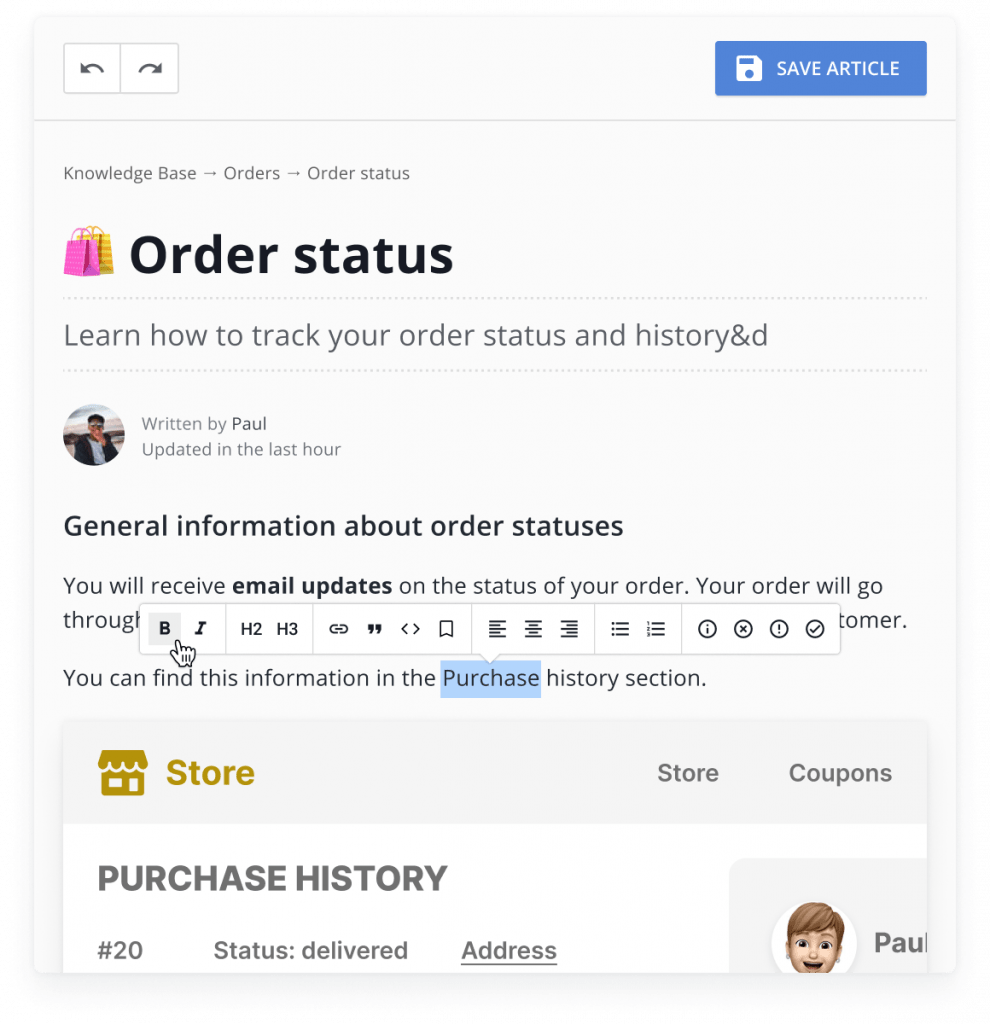 Easier search
A knowledge base typically has a clear structure and hierarchy, which enables intuitive and transparent search. You just add keywords and phrases to your articles so that they rank higher in Google. such tools often include an effective search engine. As a result, users do not need to browse tons of pages looking for the info they require but find the right articles quickly with just a couple of mouse clicks.
Usually, all of it is possible thanks to the knowledge base management software. It allows you to assemble your internal "encyclopedia" in the way that is most usable for your teams.
Centralized management
In addition to the uniformity and consistency of the knowledge base content, it being run from a single control center has other benefits:
Quick and timely updates across the whole set of articles.
Company-wide notifications of important updates.
Regular content review and verification
The team managing the company's knowledge base keep their hands on all its controls and know how articles are related and dependent on each other, which cross-references need to be updated, and how to search for a particular term or phrase across the whole content. Therefore, they can always keep the company's knowledge storage up to date.
Support by most communication tools
Nowadays, hardly anybody runs their communication, marketing, and content management on different platforms. Instead, businesses use comprehensive systems that support multi-channel customer communication, marketing activities, and various content creation tools under one roof. The great thing about such systems is that everything is in the same place and in sync.
Many of such platforms support knowledge base creation and management, too. This way, KB articles are always built with corporate branding and are integrated into various customer-relation flows – marketing, service, and support.
For example, the knowledge base tool by HelpCrunch is a component of a multi-featured customer support and communication system, where you can create rich content enhancing the experience of your both internal and external users.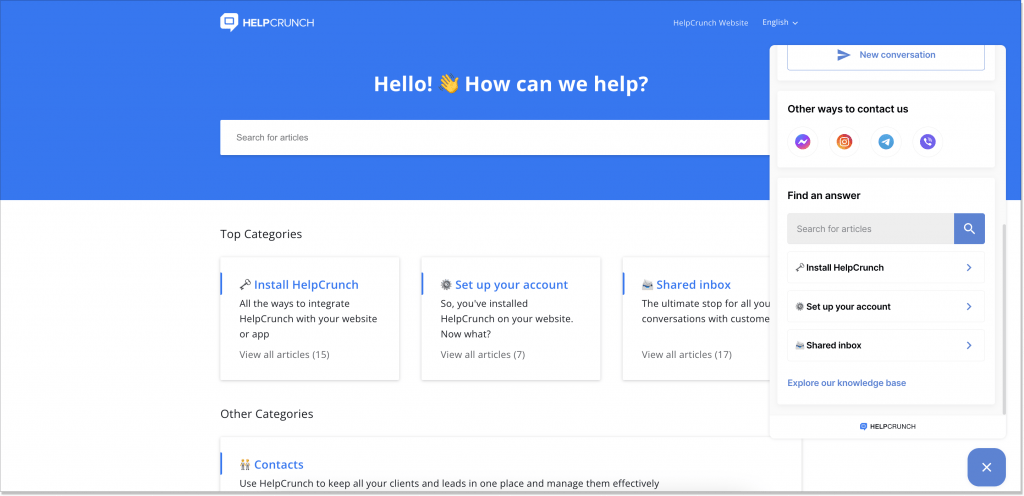 Integrated analytics
Most knowledge base tools include analytical options allowing you to monitor your content performance. You can learn which articles are popular, which are not, and which content readers find helpful and useful.
You can also implement a feedback feature that will give you deeper insight into how users perceive the knowledge base you maintain. Based on their ratings and suggestions, you can plan further improvements.
Knowledge base cons
With all its advantages, a knowledge base has a couple of things you need to pay attention to.
Need of a dedicated content management team
Yes, I mentioned it among the benefits, but a separate team means a chunk of your budget, in the form of both an initial recruitment investment and ongoing costs. Start small with just one or two people running your KB, but as you and your corporate knowledge grow, that team will need to grow as well.
You should plan to invest in a professional content writer/editor to create and manage your texts and, maybe, a graphic designer to draw those stylish infographics that can become your signature images. Also, if you are maintaining both an internal and external knowledge base, you might need a marketing expert to weigh in with their suggestions on keywords, titles, and other SEO magic.
Such a team might seem a bit heavy on your budget, but it's totally worth it. Statistically, content is the main factor in marketing success in both B2B and B2C sectors, so your investment might bring considerable returns.
Significant initial knowledge-building effort
You cannot launch a knowledge base with just a couple of articles. It's called a "base" for a reason, so you need to create one.
At the initial stage, it's going to be quite an investment of both time and resources. You will need to research what to write about, create the content, and organize it in a logical structure (preferably, in categories). When you have the core of your content ready, you can release it and then add new articles and update existing ones, as necessary.
In addition, the initial investment into a tool that supports knowledge base management may seem high. Although, such tools are usually multi-featured and offer lots of other options.
Corporate wiki pros
The collaborative nature of corporate wikis lies at the heart of their benefits for businesses.
Encouragement of collaboration
Collaboration is the main concept of a wiki. There is usually no central management, and employees are free to contribute to the wiki content as they find reasonable. Such things as "likes", comments, peer reviews, and edits are common for any corporate wiki.
Many wiki tools, for example, Confluence, offer a great variety of collaboration options. You can not only work together on content creation but also plan and track activities, mention other people on pages, prepare joint reports and presentations, as well as enjoy lots of other features. In other words, a wiki can become not only your knowledge resource but a complete collaboration platform.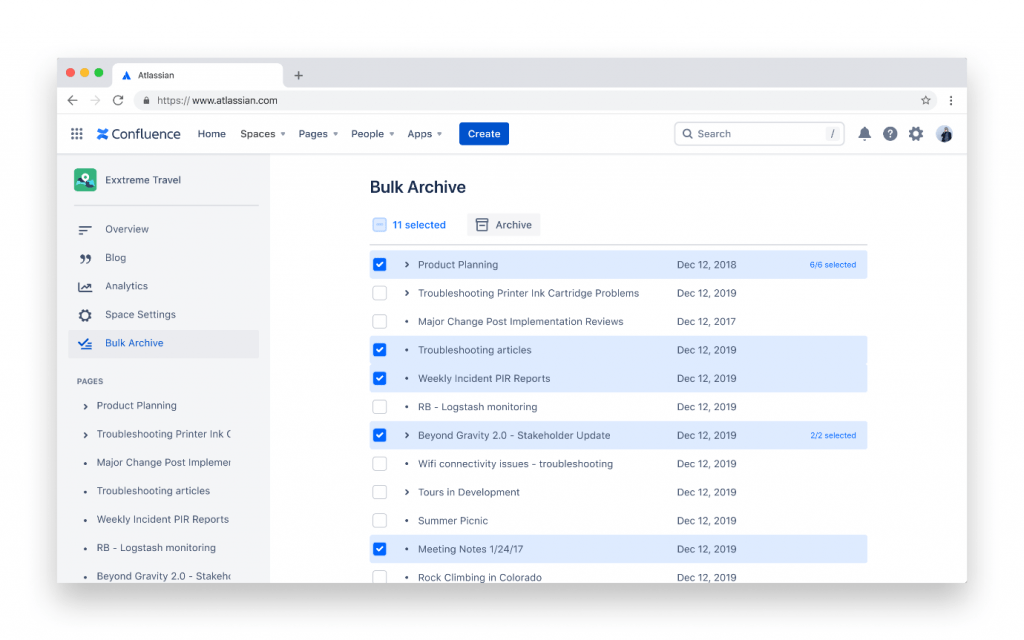 Better knowledge retention and accumulation
In a wiki, content is usually created by subject-matter experts. In other words, whoever knows the subject best writes the documentation on it. This way, the company can count on the first-hand knowledge and experience stored in wiki articles and shared between the employees.
A wiki is also a great platform to retain the knowledge gathered by people who left the company. If they write to the wiki, their colleagues will be able to benefit from their expertise even when they have moved on to pursue other career opportunities.
Organic growth
When the company has a healthy knowledge-retention culture, employees do not need to be pushed to contribute to the wiki. They will document their experience as it occurs and update previous articles if they become outdated.
These processes happen organically as part of the usual daily routine. Any product enhancement or improvement will naturally include an update to the wiki content.
Lower time consumption
Filling up the wiki can be quicker than setting up a knowledge base, mainly, due to its collaborative nature. When many people write wiki articles on the subjects they are experts in, they can produce quite a sizeable reference resource rather soon.
Similarly, updates can be quicker, too. Instead of assigning a task to the content management team who might place it in their backlog, the person can modify the corresponding wiki page immediately.
Corporate wiki cons
There are no pros without cons, and corporate wikis have them, too.
Inconsistency of style and poor structure
The collaborative nature of wiki creation often backfires in the form of major differences in style between articles. When you hire engineers, code developers, housing architects, or interior designers, content creation skills are usually not on the requirements list. As a result, when all these people contribute to the wiki, you get a Noah's Ark of styles, layouts, and terminology.
You might remedy the situation by running periodic wiki reviews by content professionals (if you hired them, of course). However, chances are that a wiki remains a loose collection of articles that lack consistency.
For the same reason, the structure of your corporate wiki may be not too intuitive. Different people responsible for different sections might have different views on the content hierarchy and interrelations.
Less intuitive search
Sub-optimal wiki structure may affect the search quality. There is usually no clear starting point and a rather vague categorization.
Especially when a corporate wiki is maintained by multiple teams through several spaces, search becomes a challenge. You can improve the situation by introducing tags with keywords.
Potentially outdated content
Collaboration is great but its flip side is that content might get a low priority. With people mainly engaged in their primary tasks, updating the documentation may be pushed to the back burner. This results in outdated wiki articles.
The same thing may happen to wiki articles authored by colleagues who left the company. When no one is explicitly assigned the task of maintaining them, they may become old over time. A good idea may be to include wiki management in a new employee onboarding procedure, so that the new person takes over these tasks, too.
Limited analytics
Some wiki tools provide certain feedback options, such as "likes" on pages or articles, however, in general, analytics in a corporate wiki is rather limited. You have scarce opportunities to monitor how content is used, which pages require improvement, and if any information is missing.
As a result, planning wiki updates becomes somewhat difficult, because in order to improve, you need to know what exactly needs improvement. The corporate wiki structure leaves little room for that.
Need for a separate tool
While most customer support and CRM platforms include knowledge base building features, for a corporate wiki, you usually need a separate tool, such as Confluence or Slite. The main requirement of a wiki tool is the support of team collaboration in content creation and management.
Needless to say, a separate tool means additional costs, which you should take into account when planning to implement a corporate wiki as your knowledge management system.
Corporate wiki vs knowledge base: choose the right solution
OK, we've looked at the strengths and weaknesses of both approaches but are we now closer to answering the main question: which to choose for your business, a wiki or a knowledge base?
The answer depends on the main reason why you want to implement a knowledge management system and who your target audience is. Think of the following use cases:
Corporate wiki, if you are more focused on maintaining product documentation and organizing smooth employee onboarding, and providing them with a collaborative pool of company knowledge. If your new employees have access to the information created by their colleagues from day one, they will get started easier. Besides, a wiki is a great collaboration booster, so if your focus is on your employees, it may be a good choice for you.
Look at this Notion-based wiki template. This is how HelpCrunch marketing team keeps everything sleek and in order. We can use this resource as an information storage, activity tracker, and onboarding material for new colleagues.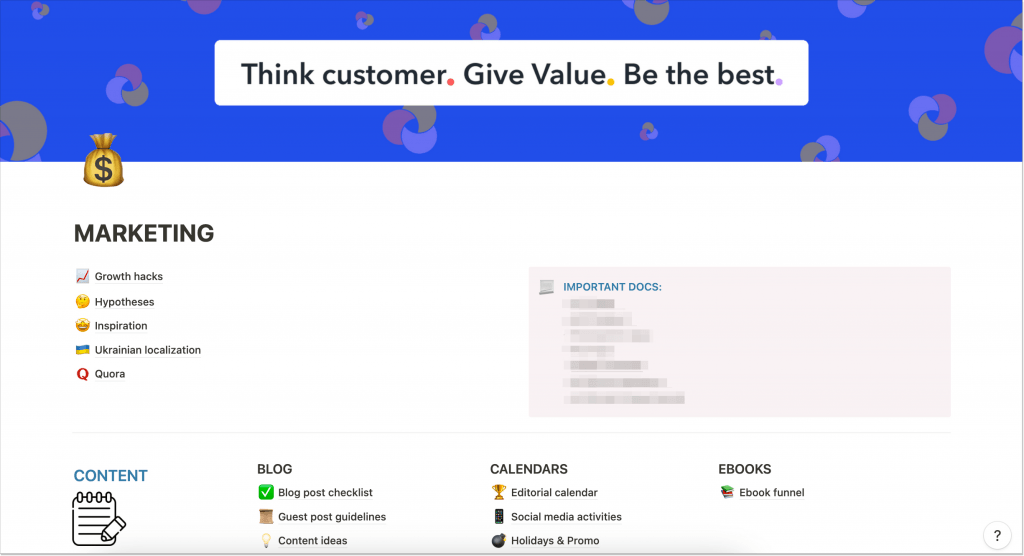 Knowledge base, if you are centered around customer service and self-service in particular. Plus, a well-oiled resource hub can be ideal for product onboarding. In customer communication, it is vital that all content is carefully drafted and edited, that the style and branding consistency is verified, and that all information is correct and up to date. In such cases, it's better when corporate knowledge is managed by a dedicated team that produces high-quality content for both internal and external use.
The same reasoning applies when you choose a knowledge base as an internal reference resource. Even when your "customers" are your employees, the knowledge base still needs to be up-to-date, clear, searchable, and well-written.
Check, for example, this HR knowledge base template by Airtable. It can serve as a complete human resources handbook that the team can use on a daily basis.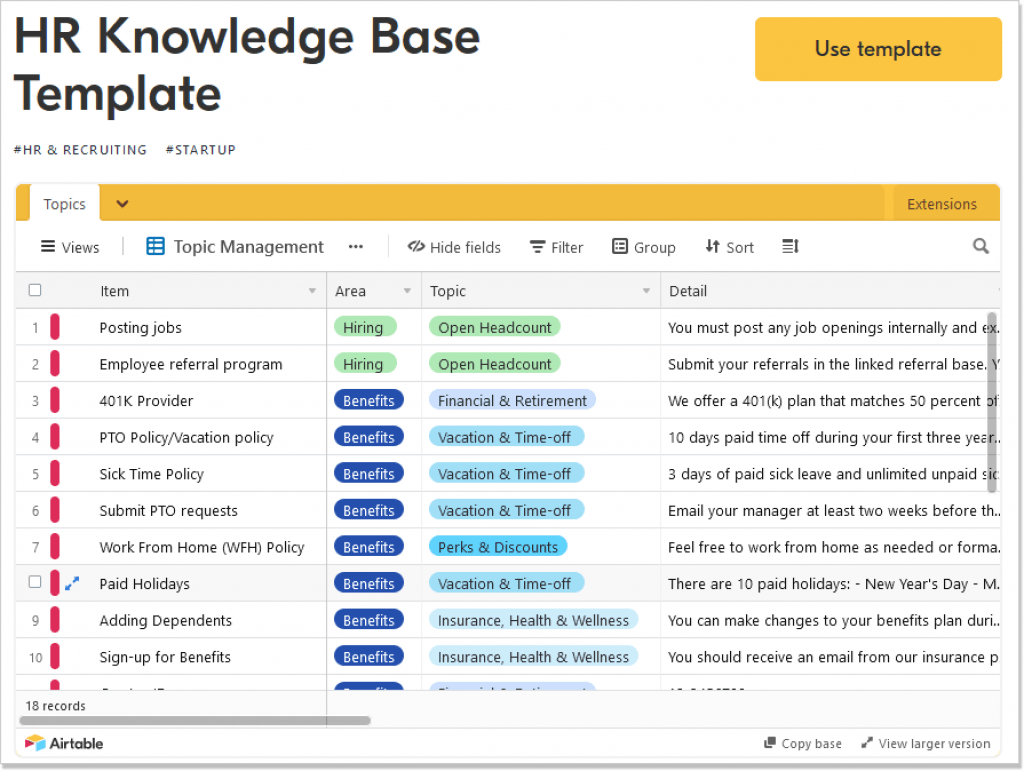 Both, if you are trying to cover all bases. You can run a knowledge base to provide customer service and at the same time, gather corporate information in a wiki. Besides, some wiki material can turn into knowledge base articles after the content team has worked on it. Of course, such a setup is more suited for larger businesses that can invest in the appropriate tools and professionals to retain company knowledge.
I hope this knowledge base vs wiki comparison helped you see their advantages and drawbacks and make an informed decision about what to use to store and manage the wealth of your corporate knowledge.