What's the Difference between FAQs vs. Knowledge Base? Everything You Need to Know
Both solutions allow you to explain more about your product to customers. But what's the difference between the tools and which one is more efficient? We are here to answer just that. Click and let's get started!

Sometimes you are crawling around Google to find the answer regarding the tool you are using for business. Some links are bringing you to regular commercial pages where, to be honest, nothing is clear. Brands just list their benefits and explain nothing.
But other links that have a format of something like 'help.brandname.com' lead you exactly to what you were looking for, actionable articles with lots of screenshots.
More often than not, the latter turns out to be a knowledge base, aka help center. At the same time, if the link leads to a brief text that directly answers your question, then it might be an FAQ page.
"Aha!", you probably think. "Now it's clear. The knowledge base is about long articles, while FAQs are just quick direct answers." But I assure you it's just the tip of the iceberg. The difference between FAQs and a knowledge base conceals many details and pitfalls that we are just about to reveal.
Forward we go!
How do businesses use FAQs pages?
FAQ, or frequently asked questions page, is the first solution that comes to mind when trying to answer the most basic customer questions. You just gather all popular requests from users and provide short direct answers to them.
Usually, this is the source of information for potential customers who are just considering buying your product or service.
There are three main ways businesses use FAQs.
1. As part of an existing webpage (usually, just above the footer)
Imagine, a visitor lands on your website. They scroll through the homepage, click on 'Pricing', scroll again and see a quick list of questions that unleash all peculiarities of pricing policy at your company. Here is an example of what such an FAQ list can look like.
By clicking on the question accordion, a user opens up a quick direct answer.
In other words, this is the way to answer users' questions before they even pop up in their heads. Learning everything a client should know about your product immediately helps them be more decisive and choose your offer. 
2. As a separate FAQs page 
If you've got a lot of customer requests to cover or just want to provide quick answers to the most popular questions separately, you may want to create a dedicated FAQ page.
This is a less popular use case today, as its effectiveness brings many concerns. People come to your site to learn more about the product, so they usually click on a 'Product/Features' page, but not an FAQ category.
Besides, FAQs are often not user-friendly and look like a long list of random questions. To find the right one, visitors have to scroll down or use the 'Command+F' shortcut. And when they do find an answer, in most cases the information is poorly described in just a couple of sentences, which doesn't help much. 
That said, many businesses still create separate FAQs to cover basic customer requests. If you also want to create one, make sure to structure the topics properly and add a search bar for easier navigation. And with a beautiful eyes-pleasing design, an FAQ page can become your next advantage.
3. As part of the knowledge base
Before we continue, you should know that one solution doesn't exclude the other. People need both, quick answers to basic questions and detailed explanation articles. Thus, a FAQ can be a central part of your knowledge base.
You can add the most popular questions about your product to the help center and let visitors see them immediately as they land on your help page. Along with brief answers, you can provide comprehensive step-by-step instructions.
This way you get two in one, a useful FAQ and a comprehensive knowledge base, which allows you to meet the needs of each and every client. See the example below, where FAQs are placed in the center and more detailed information split by topics is just beneath them. 
What's a knowledge base for?
In turn, a knowledge base is used to explain much more complex issues that can't be described in just a few sentences. It represents a single directory of actionable information about your product and how it works. Usually, the knowledge base embraces a number of helpful articles, video materials, and screenshots organized by different topics and subtopics. 
This type of help page serves the needs of new and existing clients, providing instructions for use.
Yet, it's not the only way businesses leverage the knowledge base. In general, there are two main knowledge base use cases in business.
1. For internal use among employees
That's when a company creates a centralized database with all the information employees might need to do their job right. And it's quite a good idea to create one since an average employee spends 20% of their time searching for internal or external knowledge. You can improve productivity by making that knowledge more available to them.
Such a document usually covers employment packages, troubleshooting help, organizational structure, process materials, instructional videos, new learning opportunities, announcements, marketing guidelines, and company policy. In general, there are no rules on what the internal knowledge base should look like and what it has to include. The one and only advice – make it helpful 🆘
There are many benefits that it can bring you: smoother onboarding, improved productivity, increased employee retention, and a better knowledge transfer process to name a few.
And if we are talking about customer support employees, you surely need to build a knowledge base for them. It will help agents kick-start your company in the best way possible. 
2. For external use among customers
This help center is created for customers' usage. It captures information that clients need in order to properly use a product or service, solve possible issues, and get the most benefits you can offer.
Building an external knowledge base is not a question to consider but rather a necessity if you aim to meet clients' needs. Approximately 91% of customers prefer an online knowledge base for information search rather than calling a consultant. And 51% of respondents claim that they would like to solve technical issues through a knowledge base. Ask yourself, wouldn't you?
Moreover, a well-thought-out knowledge base can streamline the customer support process. First, users will have a choice whether to look for information by themselves or contact an agent. Second, support representatives can use detailed knowledge base articles to help clients solve their problems quickly. 
A good help center includes as much information as possible and leaves no questions or potential pitfalls unanswered. In addition to being up-to-date and clearly presented, all information should also be well organized by topic. In this case, the client will be able to quickly find necessary information. 
The difference between FAQs vs. knowledge base (+comparison table)
Showing is better than telling. So here is a quick comparison table that briefly and clearly describes the main differences between knowledge bases and FAQs.
| | |
| --- | --- |
| FAQ | Knowledge base |
| The main goal is to answer basic questions and lure leads to make a purchase | The main goal is to help new and exciting customers to make the most out of your product or service |
| Quick direct answers | Comprehensive step-by-step helpful materials |
| FAQ can either be custom-built, or FAQ software can be used for it | A knowledge base is usually built with the help of dedicated software in order to quickly and conveniently update the information at any time |
| In the case of an FAQ is a part of a website, it's challenging to add new information or update answers as it involves several steps and may even require help from other teammates (just like any webpage update) | Simply add any changes to the knowledge base (just a few clicks in the editor) |
| Usually, not very convenient to use for visitors due to the search difficulties, poor design, and gappy information | User-friendly with design templates, search bar, categories, and full information availability |
| Limited reporting that does not provide information on whether the answers were helpful | Built-in reporting and metrics that allow you to see which articles are missing and whether the information helped the user. |
Now, let's go through some of these points which require clarification to really understand what differentiates FAQs from a knowledge base and vice versa.
1. Separate software
FAQ can be a part of your website or a part of your knowledge base. In the first case scenario, you build it like any other content on your site. But if you want to create this section with the help of a dedicated tool or make it a part of your knowledge base, then pick FAQ software and enjoy easier management. 
At the same time, a knowledge base is always created with the help of dedicated software, since it is a separate holistic tool for user self-service. A good knowledge base software allows you to create categories, add as many articles as you want, place a search bar, and generate reports on customer satisfaction, as well as failed searches.
2. Analytics
It's not for me to tell you how important it is to evaluate the performance of every tool and product you use. FAQs built as part of a website generally can be analyzed only by some software like Google Analytics and Hotjar. They can tell you a lot about how interested customers are in a given page and where they most often click, but they won't tell you how much your answers help users. Isn't that the main purpose of creating such a page?
On the contrary, FAQ tools and knowledge base software utilize analytics so you can understand how visitors are interacting with your content. Some tools offer users to evaluate the usefulness of content in the article. Later, you can monitor which articles are performing well, and which of them require improvement.
Besides, you can also see a failed search report. It's the keywords that customers typed into the search bar and couldn't find any information on the topic. This is your source of new helpful article ideas.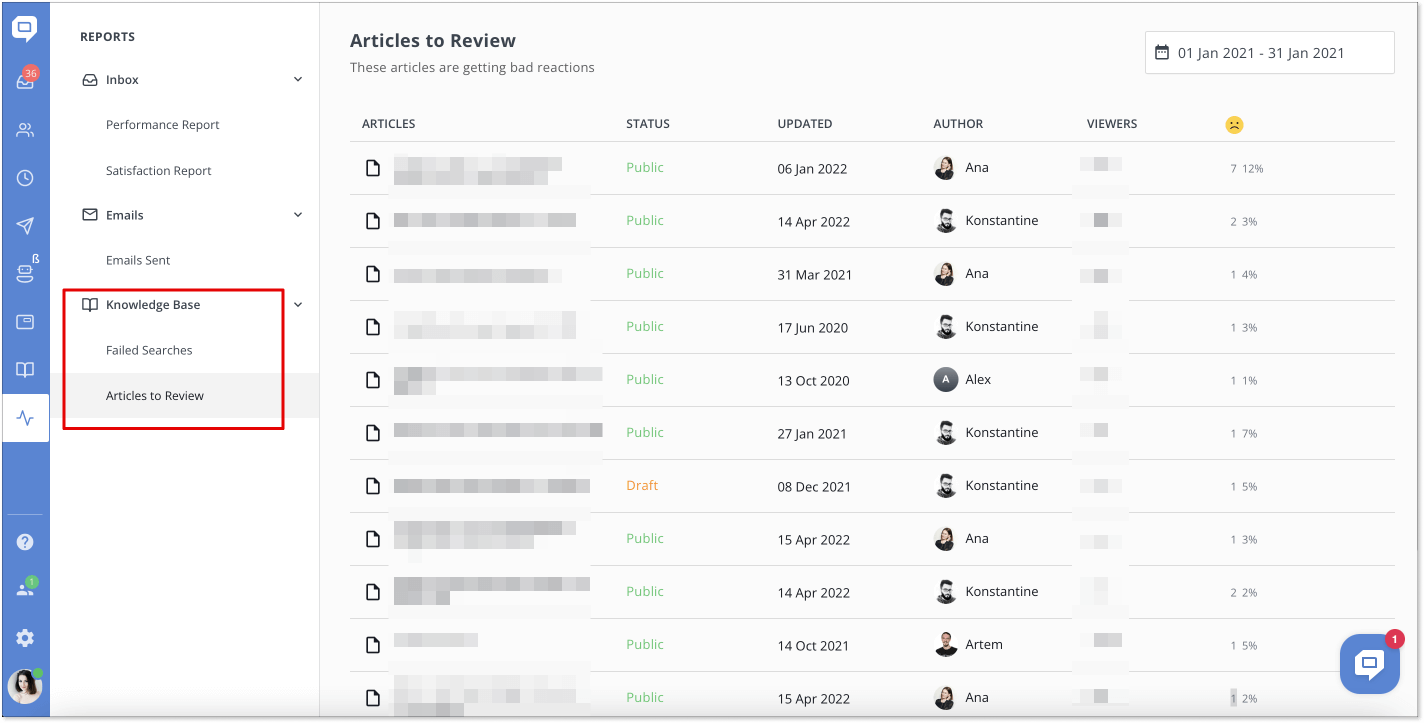 What solution to choose?
If I were a business owner making my choice, I'd definitely create a knowledge base or an FAQ page with the help of dedicated software. It'd allow me to mix repetitive questions and brief answers with actionable articles, educational infographics, and videos categorized by topics. In parallel, I would monitor users' satisfaction with my helpful information, update existing materials and add new ones with ease.
If you agree that this is the most effective approach, then you need to decide on software for a knowledge base and FAQs. As a content manager at this company, I full-heartedly recommend the HelpCrunch platform, which is an awesome tool for communication with customers. It includes a live chat, chatbot, knowledge base, and even email automation functionality. 
The knowledge base is truly one of our team's best creations. A very simple and easy-to-use program that will delight your customers.
Create, categorize, or update articles in a what-you-see-is-what-you-get editor that enables previews. It literally takes seconds to provide any changes to the knowledge base to keep it relevant. Moreover, you can easily optimize your content for search engines right in the editor.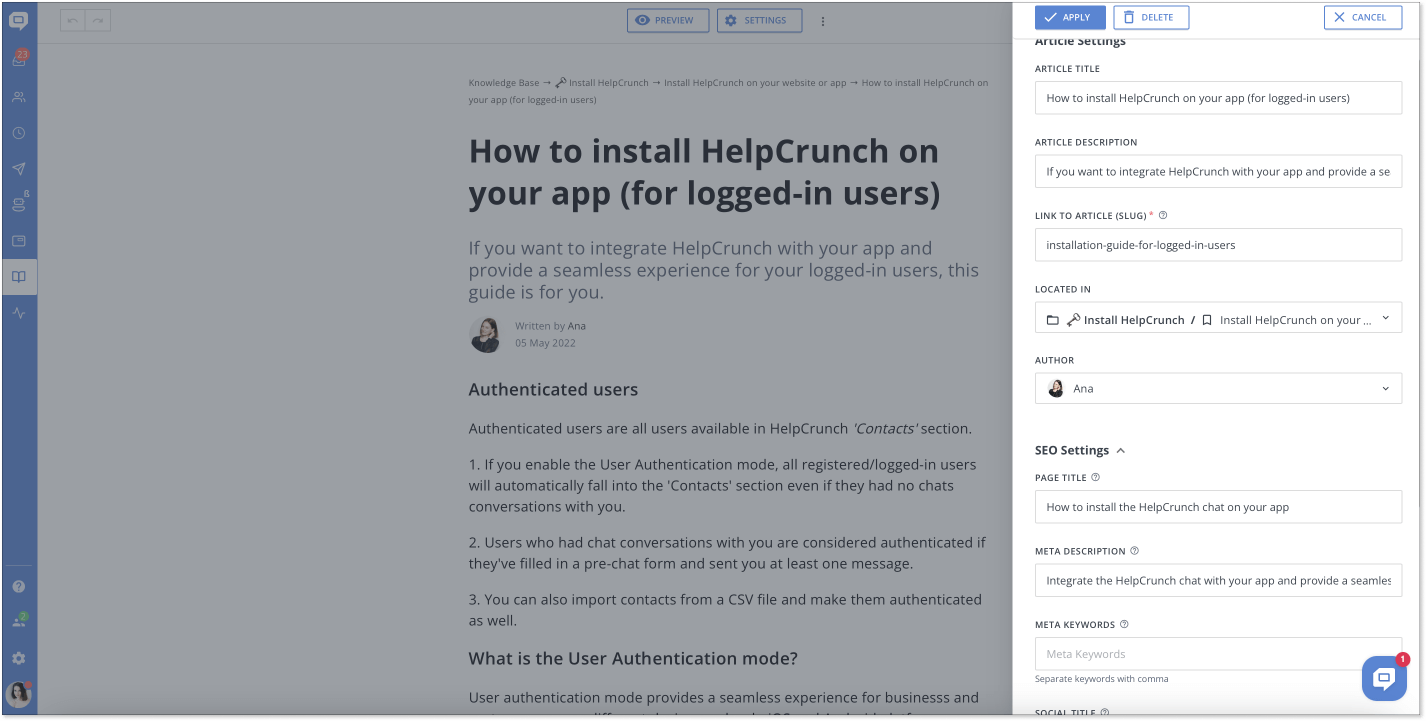 The benefits do not end there, the program provides the ability to add a knowledge base to your chat widget. After all, users need to have quick access to your help center and be able to choose the self-service option instead of communicating with a live support agent.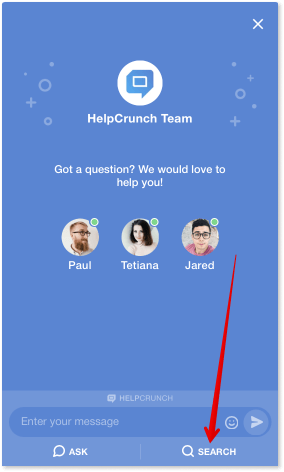 So if you want to have a great knowledge base that can also become your best friend when communicating with customers through other channels, this is your top choice! For those who are willing to give it a shot, sign up for a 14-day free trial today and let me know if you like it as much as I do 😃.
Conclusion
In short, a FAQ is a more simplistic solution, focused on brief direct answers while the knowledge base tends to explain complex things in detail.
There are other peculiarities that differentiate these two notions. They have different target audiences, tasks, formats, designs, and information architecture. But if you ask me, "Who eventually wins?", I say, "Beautiful design!" Yes, FAQs usually look boring with their never-ending list of questions and plain look. However, it's up to you to make it nice and pleasing for visitors' eyes, taking care of user-friendliness as well.
The story is the same with the knowledge base. Nicely organized by topics, helpful and relevant information, and an amazing user interface can make your help center the best knowledge hub for users.