With autumn nipping at our heels, the HelpCrunch team only keeps its momentum going and unveils the awesome product update…The WhatsApp and HelpCrunch integration! 👏
This collaboration empowers companies to handle WhatsApp messages directly inside the HelpCrunch inbox providing personalized and effective support. Streamline your customer service routine, reach out to broader audiences, and get business communication into high gear.
How to integrate WhatsApp into HelpCrunch?
Note! The WhatsApp integration is available only in the Pro plan and above.
While we are working on integrating the native WhatsApp Business API at full steam, you can connect your WhatsApp account via our partner, 360dialog. For that, you need to come through several stages:
Stage 1. Create a new 360dialog account
If you already have a 360dialog account, go to the "Connect a phone number from 360dialog to HelpCrunch" section.
1.1. Register your phone number in 360dialog
To get started, simply sign up for a 360dialog account and proceed to add your phone number: https://docs.360dialog.com/docs/account-setup/creating-new-waba/embedded-signup.
Note! Please ensure that you have Cloud API hosted by Meta in your phone number settings in 360dialog for Hosting Platform Type. If not, please use this documentation to change the setting.
1.2. Use the existing WhatsApp phone number for business
If you're already using your phone number for WhatsApp Business, there are two ways to do this:
Besides, you have the option to use a phone number that's already registered on Android, iPhone, or Business versions of WhatsApp. However, if you wish to register this same number on the WhatsApp Business Account, you must first delete the WhatsApp Business App account linked to that phone number.
Note! Please be aware that this process will not transfer or retain the chat history.
To delete, follow these steps:
Move to "Settings" in your WhatsApp Business App
Click on "Account" and select "Delete my account"
Confirm the deletion
Do you use your WhatsApp Business Account phone number with another provider other than 360dialog? You can migrate it! Check out this article to find out how to implement it.
Stage 2. Connect a phone number from 360dialog to HelpCrunch
It's as easy as pie! Here is the 4-step instruction:
2.1. Sign in to your 360dialog account in a browser and go to the list of your phone numbers:

2.2. Click "Manage" for a phone number you need to connect to HelpCrunch.
Note! If you don't see the phone number settings page when you click on Manage, try opening it in another browser.
2.3. Click "Generate API key" to get the access token key. Copy the key and save it somewhere where you can find it down the road: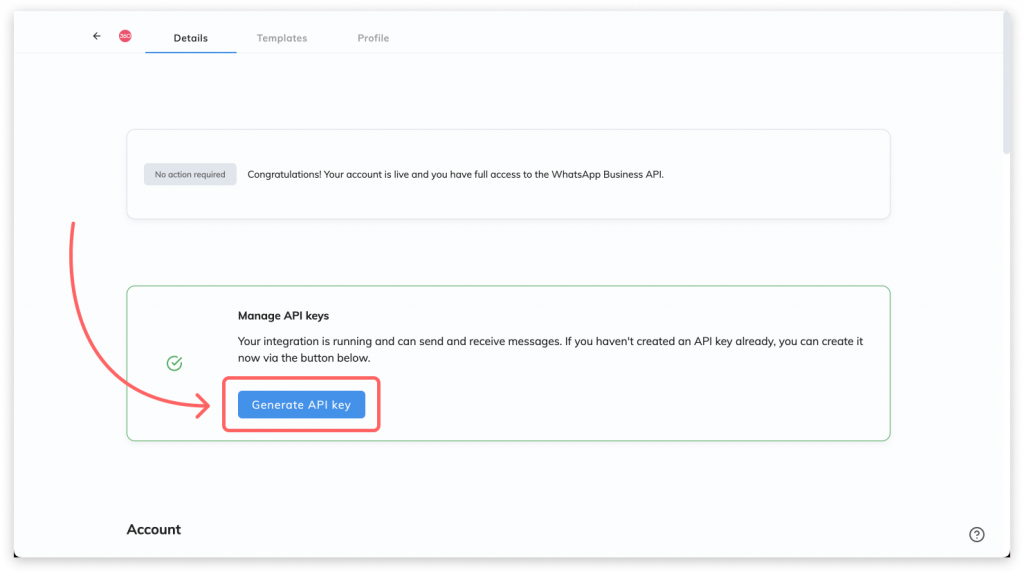 2.4. In your HelpCrunch account, go to Setting → Channels → WhatsApp and click "Add phone number".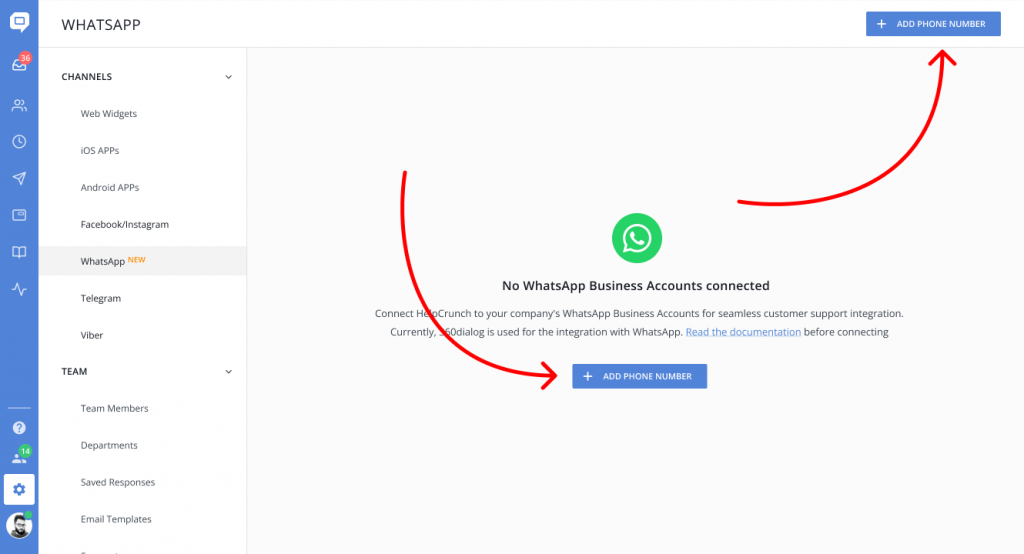 2.5. After that, paste the token key you just copied and hit "Add phone number":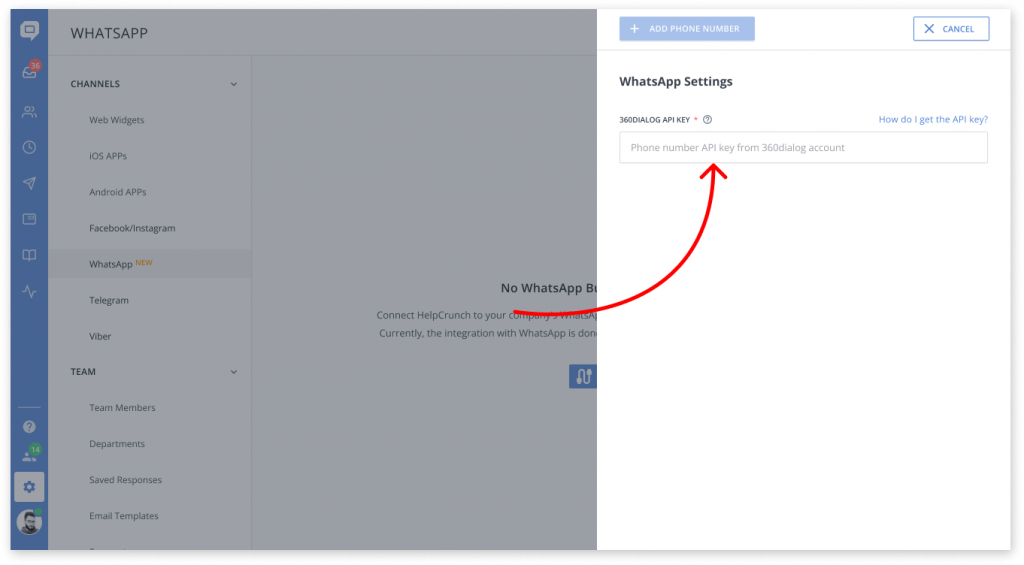 You are all set! The WhatsApp integration has been a success! You are ready for the third stage.
Stage 3. Manage your WhatsApp correspondence
As it runs in the HelpCrunch inboxes, all your WhatsApp messages trickle down and pile up in one unified place chronologically – the WhatsApp inbox. You can assign them to your team manually or automatically, change their status, send files and knowledge base articles, etc. Plus, you can easily differentiate WhatsApp chats from the others as we mark them with related icons: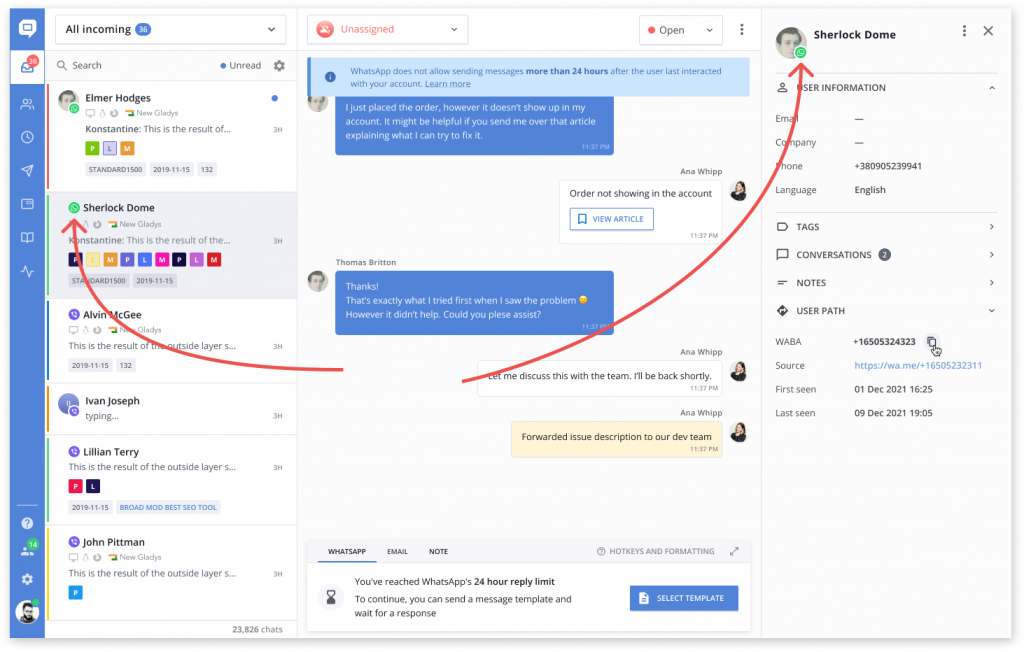 Note! WhatsApp Business Account uses 24-hour sessions. This means that after a user's WhatsApp message, you will have 24 hours to respond.
We have also compiled all the information about the Meta policy, the usage of WhatsApp templates, and WhatsApp billing in this comprehensive knowledge base article. Feel free to read it!
Other HelpCrunch product upgrades that merit your attention
Since the last time we talked, our team has enhanced the saved responses functionality! Bid farewell to scrolling through countless saved replies or clicking numerous times.
Simply type in # and a keyword to immediately find the desired saved response. The response tags come first in the list. Below, there will be the saved replies containing the specified keyword. Happy responding!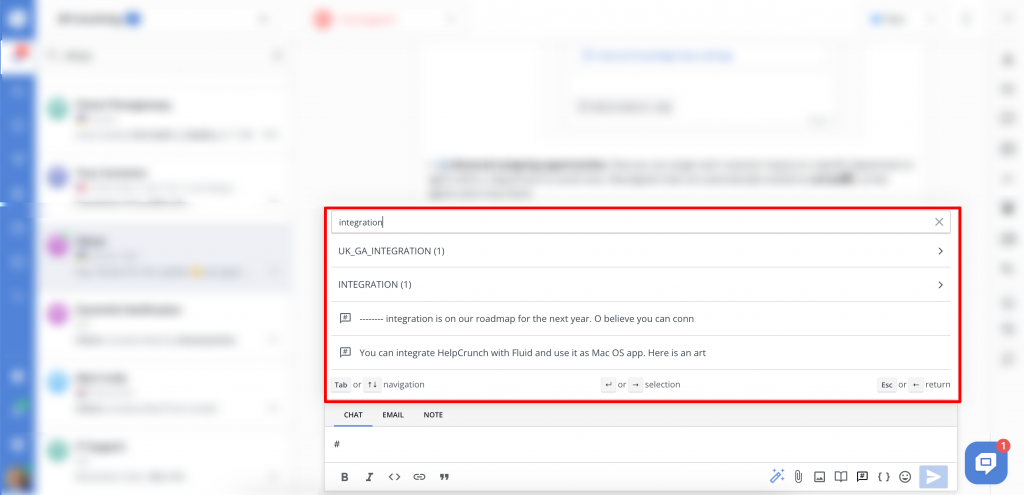 Read Also
Introducing our new AI-powered feature, the AI Editor for Knowledge Base. This tool will allow you to speed up the writing of articles and documentation. Grab new possibilities!
We are introducing new chatbot features to improve your productivity. Now, you can set up a waiting time for response in a chatbot editor, and merge bot flows. Read for more details!
Do you want to track the workload on your support reps to balance their work and improve performance? Now, you can do just that with the help of the HelpCrunch tool. Read to learn more!