Did you know that HelpCrunch is on a mission to deliver the most valuable AI features to its customers with utmost priority? And the first tool powered by artificial intelligence is already in Beta!
Welcome to HelpCrunch's AI firstborn – AI Editor for Inbox Beta!
What is AI Editor for Inbox?
AI Editor for Inbox is a tool that can process custom text entered by the support agent in a chat or email window in Shared Inbox and format responses to enhance the quality of the message. But most importantly, it saves a customer service team lots of time, streamlining simple actions.
Here is a quick list of what AI Editor can do with entered text right in the Inbox:
✅ Rephrase the message
✅ Translate text
✅ Check grammar
✅ Change the tone to a friendly or more formal one
✅ Make the message provided longer or shorter.
Look at the GIF below to see how our AI Editor can turn one short sentence into a proper, sophisticated reply that you can send to a customer in seconds.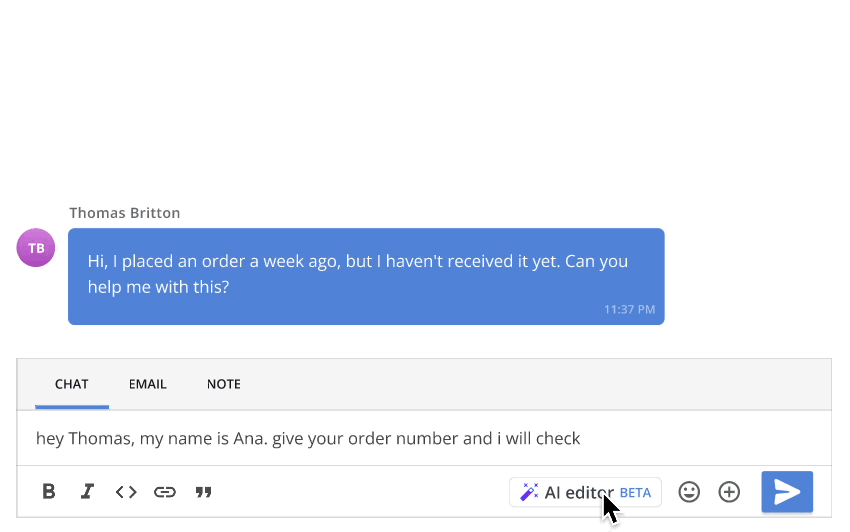 *Follow the magic wand in the chat/email window in your Shared Inbox to access all the AI Editor functionality and craft a perfect response to your customers.
How to take AI Editor for Inbox Beta for a Spin?
Be among the first HelpCrunch users to lay their hands on AI Editor and experience the benefits of smart message creation in the Inbox.
How to start using a new AI tool? First, you need to have an active HelpCrunch account. If you haven't created it yet, you can do so right now, and get access to a 14-day free trial. 
To get started, go to your "Inbox", open any customer chat, and start typing. That's where you'll see the "AI editor" button 🪄. Feel free to click on it and test the possibilities of the new functionality! For more details about the AI Editor, read the link.
All that we ask in return is your feedback on the user experience with AI Editor for Inbox so that we can keep improving it!
In case of any questions, please feel free to contact us in a live chat. HelpCrunch is always at your service 💁‍♀️
Thank you for staying with us, and happy AI-editing,
Enjoy!
Read Also
Introducing our new AI-powered feature, the AI Editor for Knowledge Base. This tool will allow you to speed up the writing of articles and documentation. Grab new possibilities!
We are introducing new chatbot features to improve your productivity. Now, you can set up a waiting time for response in a chatbot editor, and merge bot flows. Read for more details!
Do you want to track the workload on your support reps to balance their work and improve performance? Now, you can do just that with the help of the HelpCrunch tool. Read to learn more!