Knowledge base is the new customer support favorite.

Believe it or not, customers love it when they can serve themselves. Given a choice between a complex rigmarole of "for technical issues, press one, for financial matters, press two…" and finding the answer on their own, most customers will prefer self-service.
When the issue is not too complicated or when they only need information, customers tend to use self-service channels increasingly often.
The statistics are in tune with these observations. American Express found that over 60% of customers prefer self-service options for minor issues. Microsoft offers another insight – only 22% of Americans were unable to find the information they needed through self-service. Other regions show a similar trend.
Why do customers prefer self-service? The reasons are quite obvious – it's fast, it's convenient, and it gives them control. So, sorry, service agents, it's not you, it's human nature, and we should learn to live with it.
What does it mean to you as a customer-facing business? It means that you need to maintain a comprehensive knowledge base for your customers. That would be a place they will go to when they need information.
Knowledge base definition
Before we dive deep into the workings of knowledge base, let's note that there are two main categories of them – knowledge base for customers and knowledge base for staff. While coming from the same company, they may differ vastly in the content and structure. In this post, we will deal with the knowledge base for customers.
You surely have come across dozens of examples of knowledge base on various websites. It is not always called that – you can find it under the name Help Center, Knowledge Management System, or just plain FAQ.
Some companies use the name "knowledgebase".
Others refer to it as just KB. Anyway, no matter what it is called, its concept and purpose are mostly the same – to provide a resource for customers to help themselves.
What is a knowledge base?
In a very broad sense, a knowledge base is a central database where information can be stored, managed, and shared.
The internal (employee) and external (customer) parts of the knowledge base may overlap slightly but usually they have different purposes, use cases and require different knowledge management software.
Internal knowledge base: a library of guidelines, instructions, practices, policies, and rules. An internal knowledge base describes the company's product and explains how to manage, maintain, develop, offer, sell, and service it.
External knowledge base: a collection of the most common use cases and issues that the customers might face while using the product and their solutions. An external customer base gives answers to the most frequently asked questions that the customers might have.
Knowledge base structure
Of course, the content of the knowledge base is important but the key factor is its structure. Customers want information, and your first task is to help them find it. No matter how clear, illustrative, relevant your KB articles are, if your structure is poor, all your great writing is as good as wasted.
In most cases, a customer knowledge base is organized with the following hierarchy:
Category – the highest level of the knowledge base structure. Categories divide the knowledge base content into logical groups usually representing a certain area to which a customer's question may belong, for example, "Billing", "Services", "Getting started".
Section – the unit describing a particular topic within a category. For example, under the category "Services" you can have sections called "Messaging" or "Live chat".
Article – the smallest unit of your knowledge base where you actually store your content. Articles deal with specific issues, questions, use cases and are aimed at helping the customer find an answer to a specific problem.

An example of a well-structured knowledge base is the Knowledge Center of Amazon Web Services. With dozens of products and features, AWS must maintain a knowledge base to help its users find their way.
The KB content is split into categories representing the main areas where AWS offers its products. Each category is further divided into sections describing particular services. Sections contain articles in the Q&A format clearly explaining a specific problem and its solution.
Each business is unique, and its specifics will determine the structure of your knowledge base. Your KB articles may be short and precise or broad and detailed. It is up to you to decide whether to include graphics, screenshots or videos.
However, no matter how you create your content, there are some common guidelines:
Build your knowledge base looking at it through your customer's eyes
Make it intuitive, easily navigable, and discoverable
Update it on a regular basis, so that the content follows your product development
Use consistent terminology across the entire knowledge base
Do not require customers to log in to use the knowledge base
Benefits of maintaining a knowledge base
Having a comprehensive – and useful! – knowledge base carries a wealth of benefits both for the customers and the business.
Higher customer satisfaction. Statistics show that 81% of customers try to help themselves before they finally throw in the towel and contact a service agent. A smartly built, intuitive knowledge base allows them to keep the situation under control and resolve their issues as quickly as possible. Besides, some people are just plain introverts who would rather sift through your help articles than call a live person.
Reduced load on your support team. Admit it, how many times can you answer questions like "I forgot my password, what should I do?", "How can I check my balance?" or "What are your trial period conditions?" At the same time, these are perfectly valid questions to which you should have standard answers. Why not put them in a knowledge base? This way, you will relieve the resources of your support team to take care of matters that, indeed, require individual handling.
Convenience and short resolution time. Customers browsing a knowledge base do it at their comfortable pace with no pressure that is always present in a phone call. On the other hand, looking up an answer in a knowledge base is usually faster than calling support. Of course, the answer must be there.
Easy maintenance. Among customer service tools, knowledge base is one of the most straightforward. It mostly consists of a regular written content that can be updated quickly.
Additional channel of customer support. You surely offer different customer communication lines – phone calls, live chat, email; why not add one more? A knowledge base is a great means of presenting your product, explaining its functionality, educating and onboarding customers. Just don't try to sell in your KB, there are other ways to do it. Your knowledge base is to inform, not to sell.
Better SEO, brand visibility and awareness. Your knowledge base may be searchable exposing you even to those who are not your customers yet but are just "shopping around".
Knowledge base examples
Many companies have invested time and resources in creating a knowledge base to be proud of. We have selected a couple of the most significant examples of great knowledge base organization.
Mailchimp
This email marketing platform has an outstandingly convenient knowledge base that is easy to navigate and search. It is organized according to the same "category-section-article" principle allowing to find answers to most questions.
Mailchimp's knowledge base literally walks you through the most common use cases including step-by-step instructions of all processes. Moreover, the instructions are illustrated with screenshots and sometimes accompanied with a video tutorial. With such detailed content, customers will need to contact service representatives only with non-standard matters.
Dropbox
Dropbox calls its knowledge base the Help Center which is exactly that – a central storage of all possible information that can help users get the most out of Dropbox functionality. Here we again find the same hierarchy of categories, sections and articles with all help topics grouped by their subject.
Each article is as detailed as it can possibly get. If the article is on file formats, you will get a long list of supported formats. If it explains how to do something, there will be step-by-step instructions, screenshots, animations, and videos. All help articles offer multiple cross-references to related subjects so that the user can get a complete picture.
What is also worth noting is that each page of Dropbox's knowledge base contains a feedback field. Each user can rate their knowledge base experience, thus helping the company to improve and optimize it.
HelpCrunch
Among other services, HelpCrunch allows you to create a knowledge base for your website. The most awesome thing is that it has a knowledge base on building knowledge bases. Did you think it was easy to build a perfect knowledge base? Well, it is if you know how.
HelpCrunch's articles on building a knowledge base give a full explanation of how to approach this task. You will find information about creating articles, adding images and videos, grouping content into sections and categories. Of course, each topic includes screenshots and images for higher clarity.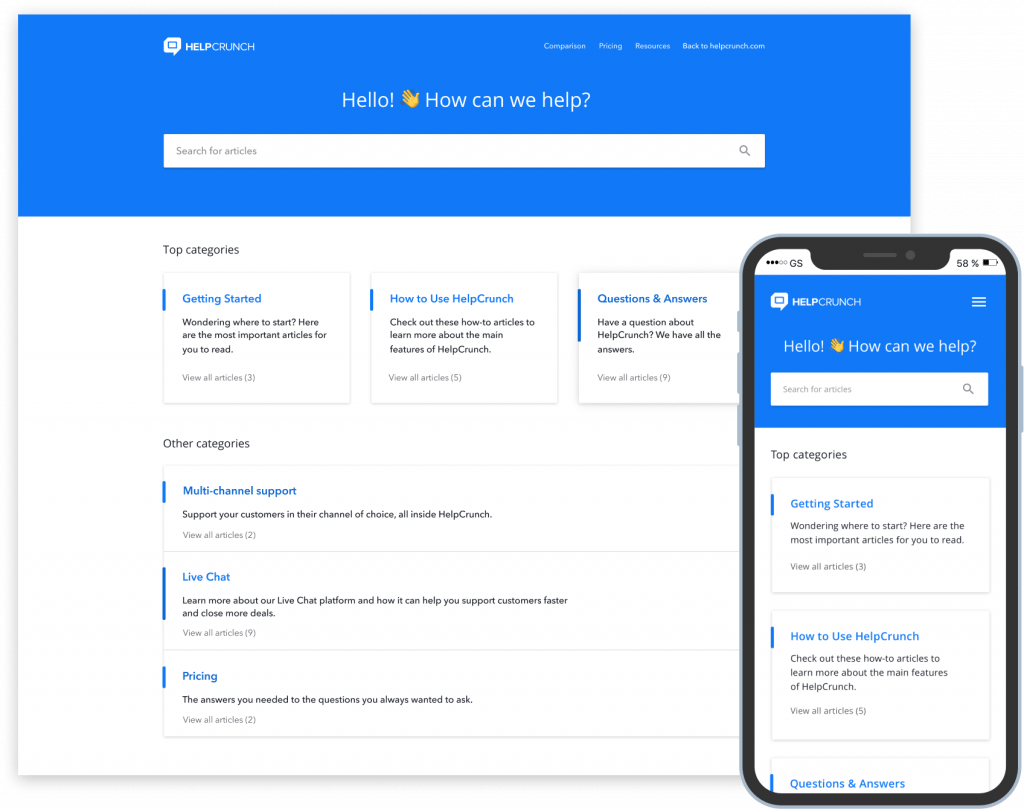 Creating a knowledge base
Creating a knowledge base is, in fact, much easier than you think if you invest some time in proper planning and preparation. From our experience, taking the following steps may be a good start:
Determine your knowledge base requirements. Your industry, manner of operation and business requirements are the key factors here. Before you start putting together your knowledge base, think about the functions it should perform and the features it should have. For example, will you need integration between your help desk suite and your knowledge base? How should you organize search in the KB content? Will you include the live chat feature? Or a chatbot?
Use knowledge base software. Of course, you can build your knowledge base structure from scratch but you can save lots of time and effort if you build it on a ready-made "scaffold". Browse the review of the best knowledge base tools on the market and choose the one that fits your purposes.
Assign a knowledge base owner. As with any product that is being developed on the market, a knowledge base needs someone who will first decide what should be in it and then sign it off. When choosing a person for the role of the KB owner, look for experienced subject-matter experts who can lay down the specific requirements for the knowledge base content – they may be in the format of user stories – and then review it.
Build your knowledge base. Create a basic structure and start adding content. You will see how the empty "skeleton" of the KB hierarchy gets filled with useful, clear and relevant content, finally forming a comprehensive knowledge base your customers are going to appreciate.
On a final note
Don't create your knowledge base on the leftover principle. It is an important piece of your customer service and deserves attention. Through a knowledge base, you teach customers using your product in the format that is the most convenient for them. A solid knowledge base is definitely going to win points for you, so give it your best.
Choose an effective tool – check, for example, HelpCrunch knowledge base software – and before you know it, you will have a knowledge base your business deserves.
HelpCrunch articles delivered straight to your inbox 🚀
All the latests posts. One email per month.
No strings attached.
Read also
Customer service
Our ultimate guide to customer service is what you need to deepen your knowledge. Read on and take your customer care to the next higher level!
Customer service
What knowledge is essential for a seasoned customer support expert? In this post, we describe the TOP 15 crucial customer service skills. Read on and learn how to master them!
Customer service
A question 'why is customer service important?' is no longer rhetorical. We've compiled everything you need to know on this point and created a list of 7 undeniable reasons (with a bonus tip inside!).