The way you treat your clients determines the future of your brand. Client or customer relationships are one of the most critical factors that define the success (or failure) of a business. Not only will building relationships with your customers make them happy, but it is guaranteed to bring in revenue and more customers.
Statistics show that 55% of consumers are willing to pay more in exchange for a superior experience while 91% of unhappy clients will leave your company.
So what exactly do client relationships mean and what can you do improve them?
This article is all about client relationships, practical steps to improvement, and tools that will make your life easier.
The basics of client relationships
The client relationships are not much different from any other ones. You have to communicate, stay in touch, empathize, and more. Same goes for client relationships.
Client relationships refer to any practice that you use to build or strengthen relationships with your clients. It involves analyzing, understanding, and anticipating your client needs and interpreting data to provide a superior experience to your clients and increasing your revenue.
It is a two-way process.
When you invest in these relationships, it makes your clients happy and they're more likely to stay with your brand and become loyal clients. Why care about existing clients and why try to convert them into loyal clients?
Statistics show that acquiring new clients is 5 to 25 times more expensive than retaining existing clients.
More of theory, how to do it practically? Below are a few practical techniques to improving client relationships.
1. Communicate consistently
If there is one thing that has the potential to make or break your brand's relationships with your clients, it is communication.
Communicate. Communicate. Communicate.
There is no better way to build and grow relationships without timely and clear communication. There are multiple avenues of communication.
But nothing beats email marketing.
Sending regular informative emails that actually deliver value will improve this relationships. It will tell your clients that you aren't always interested in selling rather you're trying to help.
When I say send regular emails, it doesn't mean spamming or sending a list of recent blog posts or top-selling products. Don't do this.
In fact, never ever do this.
Deliver valuable content via email. This will build trust. And once your clients start trusting you, they will buy from you even if you don't cross-sell.
You have to be patient and should have a strategic plan.
It isn't like sending irregular emails here and there.
Remember, every email that you send to your client reminds them of your presence and that's what builds relationships.
And then there comes a point when your client starts considering you as its partner. As much as 54% of businesses are of the view that their clients don't consider them their partners.
Communication is the only factor that will push your brand to a place where your clients will view you as their elite business partner.
You have to earn it.
Here are a few tips on using email marketing to build client relationships.
2. Understand your clients
Don't underestimate it.
Understanding your clients means you should know them inside out. The starting part is none other than data collection and building buyer personas.
Understanding your clients has two major benefits:
It will provide you with actionable data and insights that help with decision-making.
It helps you offer highly customized services that your clients cannot say no to.
Not to mention, when you're engaged in understanding your clients, it sends positive signals. Your clients feel privileged. It gives them the feeling of being taken care of.
Understanding your clients means the collection of data across all variables. The more data you have, the better. For instance, if you know the birthday, anniversary, and other important days of a client, you can send a card and an email.
Similarly, if your client hires a new employee, you can send your best wishes.
And so on.
You have to have as much information about your clients as possible to understand them.
The real game begins when you start analyzing data. That's where you can predict and surprise your clients.
Here is an example of a customized email by Spotify.
This type of email will impress your clients and they are more likely to take action.
3. Initiate a loyalty program
A loyalty program is perhaps the best way to reward your clients and to improve relationships with your existing clients. This eventually helps you grow your business by partnering with several clients.
A client loyalty program is a reward program for loyal clients that offers them with freebies, reward cards, exclusive offers, and more. The reward could be anything based on your company's strategy.
Having a loyalty program has multiple benefits:
It improves client relationships.
It encourages new clients to stick with your company.
It grows your company by developing relationships with several clients.
It reduces marketing cost significantly.
It provides you with actionable data about clients.
A loyalty program is the best thing you can do to improve client relationships. Statistics show that an average consumer is a part of up to 14 loyalty programs which means it is something that both brands and customers are into.
If you receive this type of personalized email and special gift, would you ever part ways from such a company?
This guide is where you should begin to create a killer loyalty program.
Tools for client relationships
There are multiple tools that you can use to improve client relationships. Right tools can make your work a whole lot easier.
Here is a list of best tools that you shouldn't ignore.
1. Emojics
You cannot build and improve relationships with your clients without understanding them and understanding begins with smart data collection. That's where Emojics can help.
Emojics helps you collect user feedback online without making it boring for your clients. Website visitors, subscribers, and clients can share their feedback via reaction buttons. All it takes them to share their views is to choose a relevant emoji.
Once you get the feedback, you can figure out what makes your clients happy (do more of it) and what makes them angry (do less of it).
Real insights without any hassle.
2. HelpCrunch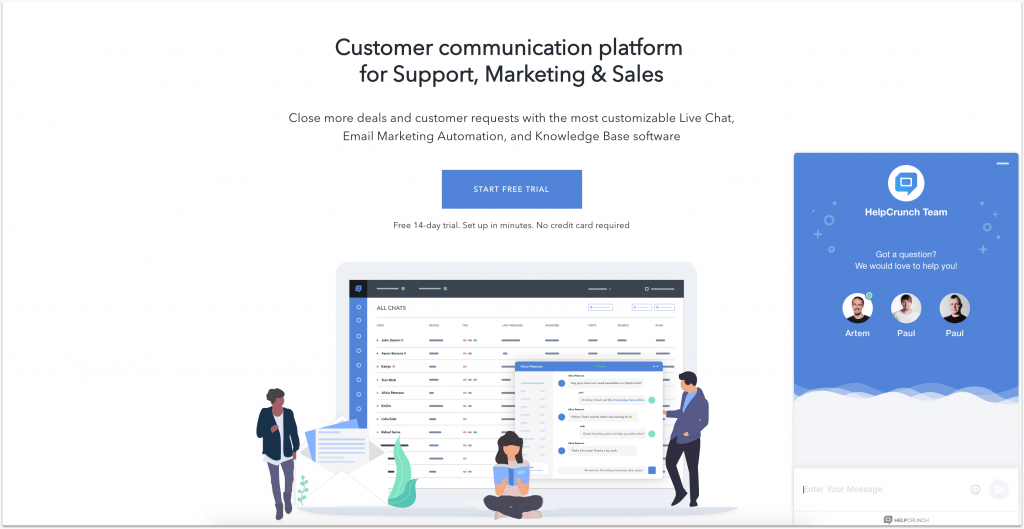 HelpCrunch is your all-in-one client relationships management tool that has a lot to offer ranging from live chat to ticketing system to auto messages to email automation and more.
It makes it easier for businesses to connect and engage with their clients via multiple channels. It doesn't just provide businesses with useful insights but it helps them take relationships to a whole new level.
3. Mention
Not all the clients will get in touch with your brand especially if they have had a bad experience. Most of them are likely to post on social media and your job is to monitor social networking sites for the mentions of your brand. Mention lets you do exactly that.
Monitor feedback, respond to client queries, and impress everyone. In today's time, you cannot improve client relationships without monitoring social networking sites.
It is a must.
Final words
Managing and improving client relationships is an essential component of your business and it should be your top priority. When you give importance to your clients, they start giving importance to your brand.
And that's how the equation works.

HelpCrunch articles delivered straight to your inbox 🚀
All the latests posts. One email per month
No strings attached
Read Also
Engagement
Looking for how to create an effective video popup? Follow our easy 5 steps guide and create the best popup to improve conversion rates on your website.
Engagement
Customer relations can help you boost sales and improve the overall brand's performance. To spare your time, we've listed everything you need to know about the concept, its benefits, and key strategies.
Engagement
Make sure you catch up with your clients the right way. Tracking essential customer engagement metrics is what it takes. Check out 8 all-important criteria here.