Olark vs Intercom: The Ultimate Showdown
Ready, set, fight! Olark vs Intercom battle is unfolding right in this piece. Will there be an ultimate winner? I tell you for sure: there is a one-stop alternative in case you're about to consider the options.

I had the luck to visit Greece this summer and compared two worlds mixed in one city: Athens. It's breathtaking in its own way but…
Everything has its silver lining. Whereas the suburban streets in Athens are barely designed for tourists, the historic city center is immaculate and inspiring. The logic goes that such a tendency happens to be in one and the same country.
What's my point? There are always two sides, pros, and cons even if we talk about things connected by one general concept. The same goes for the world of customer support.
No matter how long you are in hot pursuit of the software to assist your clients. There's always a list where you weigh everything about the options you dug up, place their specs against your boldest business goals, and decide on the best bang for your buck.
If you're reading this piece, you are probably torn between these two customer service tools — Olark vs Intercom – or just looking for the best alternatives to Intercom. On the one hand, there's the household name of Intercom with its bunch of features. On the other hand, there's Olark with a no-sweat installation process and simple as it is.
By bumping two rather controversial industry giants' heads together, I am going to put your rights or wrongs to an end. Olark vs Intercom comparison is starting right off!
TL;DR
Just like HelpCrunch, a one-stop communication platform for enhancing customer relations, Intercom also offers everything a business owner would ever crave for effective customer support, marketing, and sales. Olark is for those who want to focus on live chat communications and not pay through the nose.
How about stop deciding between just a live chat, or a knowledge base, or a help desk? The HelpCrunch platform offers all of these functionalities Intercom and Olark have (even a little bit more). The biggest difference is that the HelpCrunch pricing system is transparent and budget-oriented.
NOTE! I can absolutely feel your pain. How about breathing freely and taking advantage of an all-in-1 customer service option with easy-to-digest pricing packages based on the number of seats? Sign up for a 14-day free trial with HelpCrunch and you will see the world of difference!
Olark
Intercom
Key features
Live chat
Chatbots

Live chat
Help center
Chatbots
Outbound chat messages
Basic CRM

Tailor-made features
Team management
Live chat translations
Visitor insights
Visitor cobrowsing
Account-based marketing
Mobile carousels
Product tours
Visual campaign builder for banners, emails, chatbot messages, mobile push notifications, etc

Trial period
a 14-day trial
a 14-day trial
Prices start from
$19/month per agent
$59/month per seat
Overall perspective
Affordable, conventional, and easy-to-understand customer support specs, but additional fees for add-ons
Too pricey, but lots of advanced customer service features
G2 rating
4.3 out of 5
⭐️⭐️⭐️⭐️
(214 reviews)
4.4 out of 5
⭐️⭐️⭐️⭐️
(1,605 reviews)
Capterra rating
4.5 out of 5
⭐️⭐️⭐️⭐️⭐️
(458 reviews)
4.5 out of 5
⭐️⭐️⭐️⭐️⭐️
(772 reviews)
Olark vs Intercom: Origins
Back in 2009, Olark was founded as a straightforward live chat platform for customer communication with the help of Y Combinator. At first, there was a team of four friends having big dreams about how a conversation between a brand and a customer should unfold.
We realized that there was an enormous opportunity to build a beautiful, easy-to-use product that felt and operated more like the chat we were using to talk to our friends online, like GTalk. Our hope was that by making live chat easier to use, we could unlock the value of talking directly to your customers for every business that sold online. Then, Olark was born.

Ben Congleton, Olark's Co-founder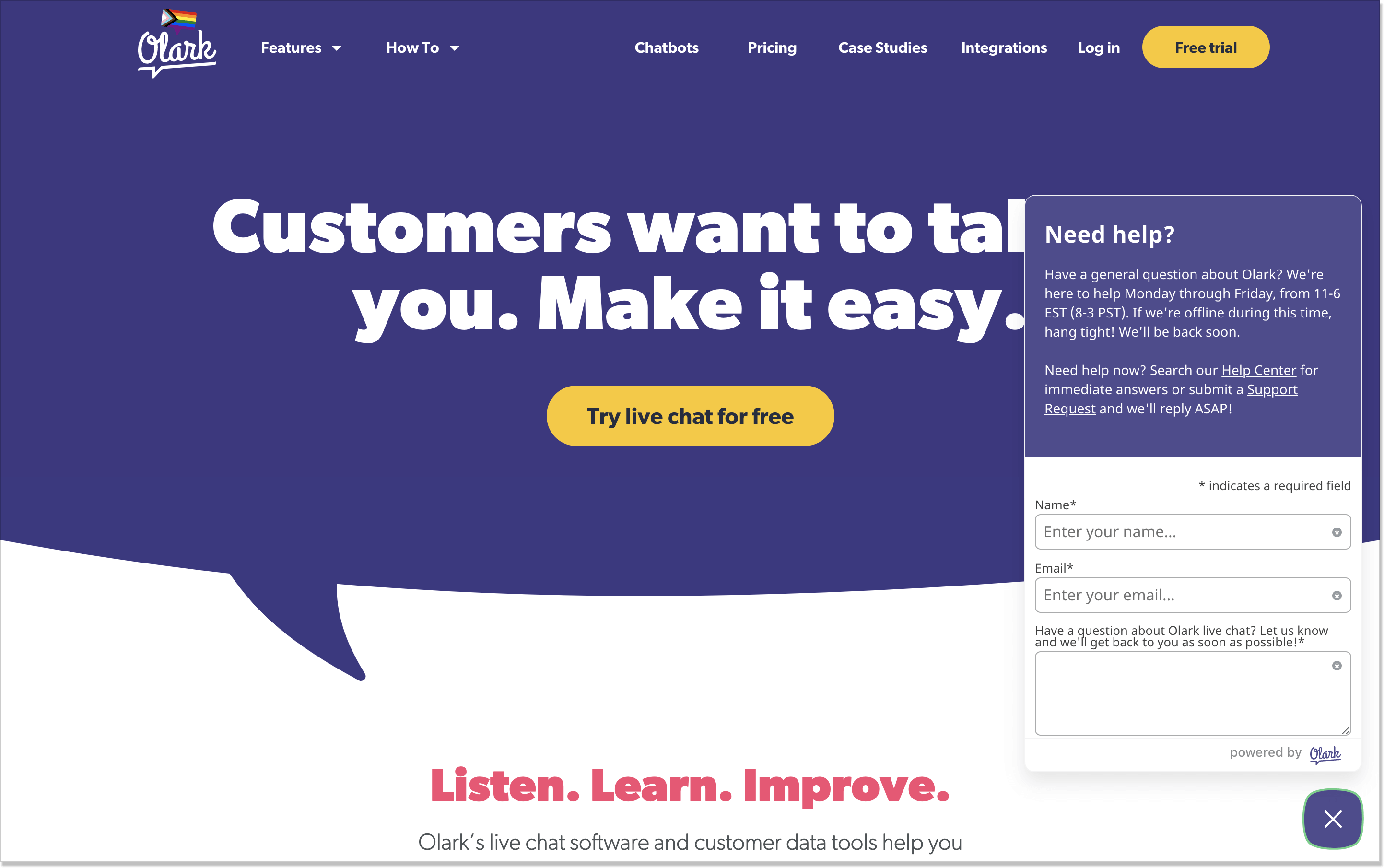 Now, Olark has grown into a serious company with thousands of clients in 170 countries under its belt. They help businesses increase sales, jumpstart their support, and boost close rates. I mean, aren't these the things that are involved in a standard wish list for any brand at a certain point in time?
Time to introduce another equally impressive candidate. If I were to come up with a synonym to a conversational platform that is on the market long enough, I would mention Intercom. These guys have transformed into a behemoth business messenger that offers solutions for huge enterprises, small brands, and early-stage startups.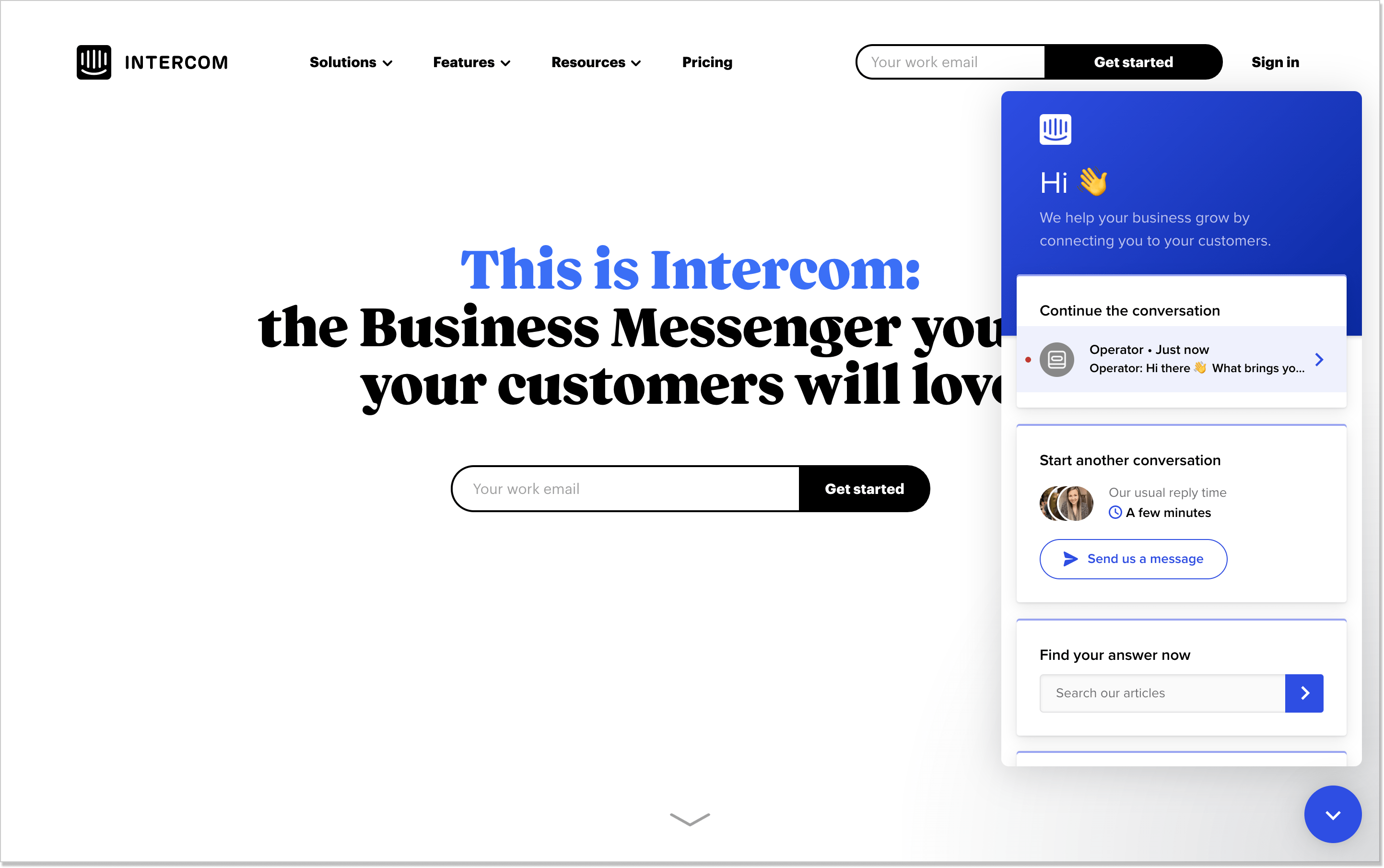 Intercom was founded in 2011 (2 years later than Olark) in the sunny city of San Francisco, California. Its creation was the work of four friends, Irish designers Eoghan McCabe, Des Traynor, Ciaran Lee, and David Barrett. They previously ran an Irish software design consultancy Contrast but after selling off its branch project, the idea of Intercom was initiated.
By the way, this company was virtually the first one to engineer a chat box that would say hi to website visitors and then help you sell products. Back then, the concept was rather half-baked. Now, in 2021, machine learning for conversation processes automation, power-ups, or AI bots are no longer breaking new grounds (and no wonder Intercom has those things).
Simple is good, but we don't want to be just that. Simple is good at one end of the market. But at some point, people don't want simplicity. They want power; in fact, they need it. It's rare that you can see simplicity and power in the same product. Usually, when that is the case, something else is being hidden somewhere else.

Des Traynor, Co-Founder of Intercom
Olark vs Intercom: Pricing
Before we dive deeper into this huge Intercom vs Olark feature set ocean, I would like to discuss something that is important enough. Prices, of course! You can sign up for both Intercom and Olark and give these tools a shot. But what if you want more? That's our next stop here.
Olark pricing
After seeing a variety of solutions in the niche, I would say that Olark's pricing is one of the simplest. Don't just take my word for it.
For $19/month per seat, you get a full-fledged live chat with the possibility to add power-ups when you need them. By the way, if that thought does cross your mind, it will cost you:
$99/month for cobrowsing
$59/month for the non-branded chat box
$29/month for live chat translation
$59/month for visitor insights (social)
$99/month for visitor insights (social & professional)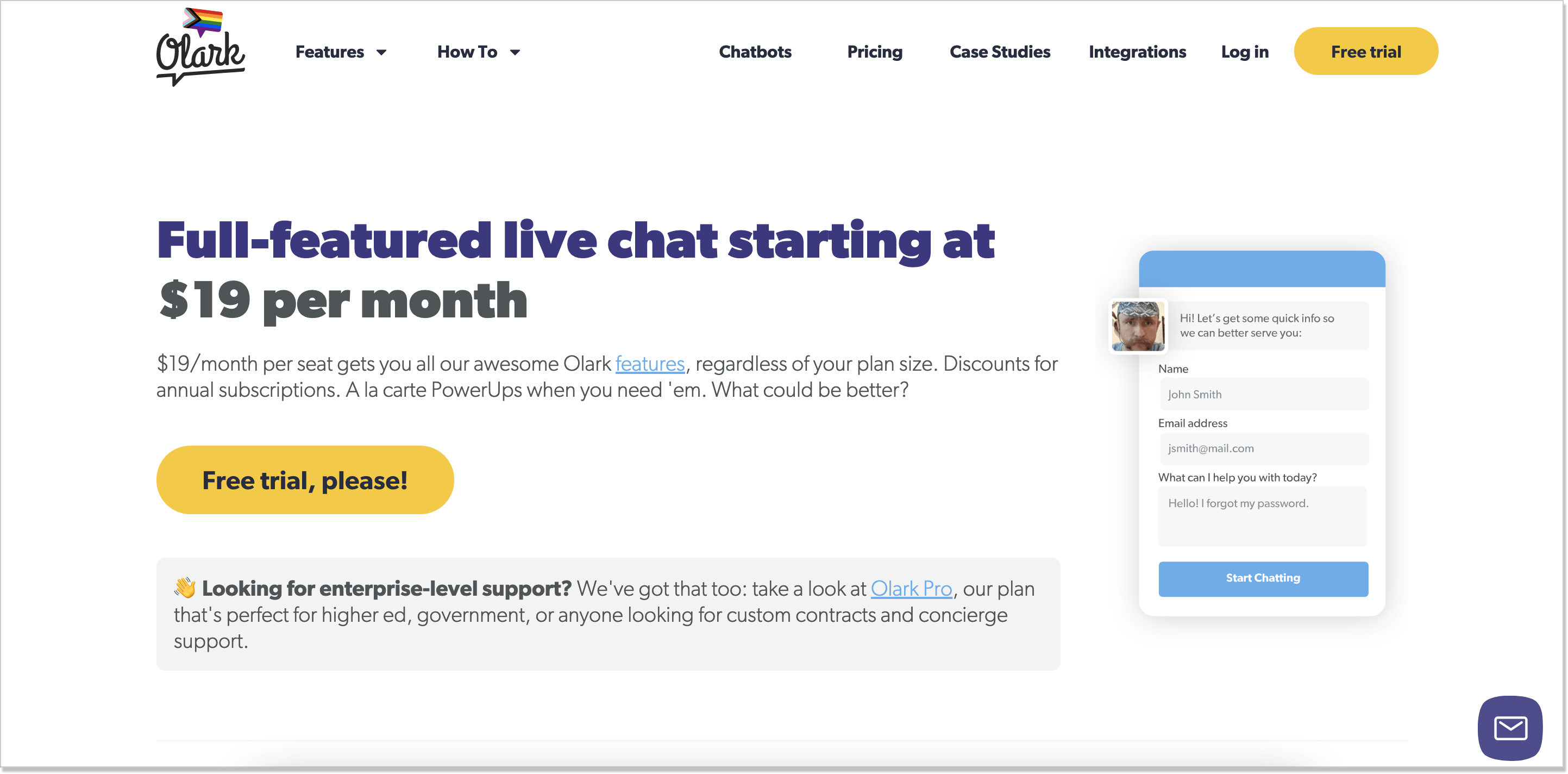 For big enterprises, there is one more plan: Olark Pro. Everything from support team training to a personal account manager, priority service, and a chatbot is available within this package. All it takes is to set up an introductory call and clarify the price tailored to your unique wishes.
Pretty simple, doesn't it? In fact, Olark vs Intercom pricing has lots of discrepancies. You just saw how easy the first one was. The latter one is going to bring us some surprises.
Intercom pricing
Like many Intercom competitors, the company offers a free 14-day trial. But for what price? (pun intended). Here is the catch: you click "Get started" on their website, enter your email and stuff, land on the dashboard…but it's more of a preview. 
The basic features are in plain sight, everything seems fine though to use all of them at a full scale you need to upgrade your account. This brings us to inserting billing details and then choosing a subscription plan. And only after that, you're able to enjoy your trial period for 14 days.
Anyways, Intercom pricing is a multi-tiered system with a myriad of traps and pitfalls. However, it involves 2 basic plans for support, marketing, and sales for that matter (these are shown in case your browser is on Incognito mode):
Starter – from $59/month (1 seat) basic live chat ONLY
Grow – from $119/month (5 seats) live chat, emails, knowledge base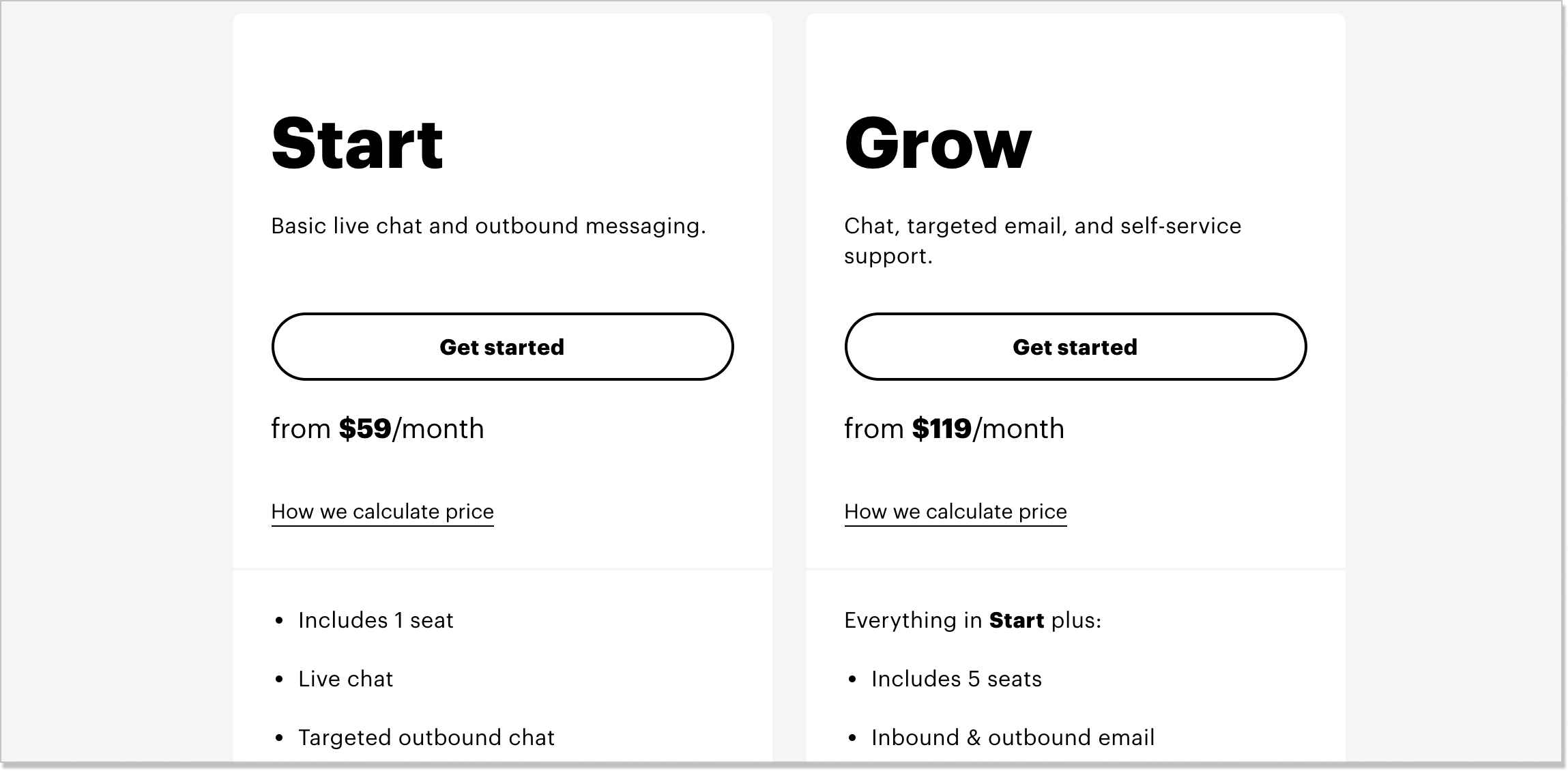 All of the above is just the tip of the iceberg. Try to switch off the Incognito mode, and you will see that Intercom suggests only one Starter plan but the precise is higher — $79/mo.
The whole nonsense is that Intercom tends to update its already intricate pricing labyrinth every couple of months. Plus, there are additional unclear fees for the number of contacts. This is exactly the reason why you won't be able to predict the grand total to pay to Intercom. Your invoices will snowball the moment your traffic is on and leads appear on your website. So, everything depends on what goals you pursue. C'est la vie! 🤷‍♀️
Whether you want that or not, you have to keep up with the guys and write down the changes not to stump up. Is it just me or the Bermuda Triangle does not seem so tangled and mystical compared to Intercom's tariffs?
Olark vs Intercom: Features
Enough with the money matters. Let's break down the bread and butter of any customer support business – its robust functionalities. Is Olark's CoPilot chatbot option a full replacement for a human support rep? Can one actually call the Intercom pricing system "a well-tuned system"? The answers are below.
Olark features
Live chat
Olark provides a live chat option just like any other competitor does. It lets you engage and communicate with website visitors in real time, gather chat transcripts, store chat notes, send automated chat messages, and analyze data with reporting.
What strikes me the most is that Olark has an accessible live chat as compared to Intercom. It means that people with disabilities are also able to use and enjoy it:
Live conversations are available via only a keyboard
Screen readers adjustable communication
Compatibility with screen magnifiers and web browser zoom settings
To be honest, I have rarely experienced something of the kind. Well done!
Though to feel the beat from the tool to the fullest, you will have to insert payment information. And after that, you will proceed to the next routine.
Chatbot
"Chatbots for people who hate chatbots, custom-made by people who hate chatbots." Do you feel like adding one "chatbot" word? 🤪 Other than this much of muchness, I do love such puns.
As you could've guessed, the team behind Olark provides you with an assistant who is able to take the wheel whenever you want to streamline the dialogue with a client.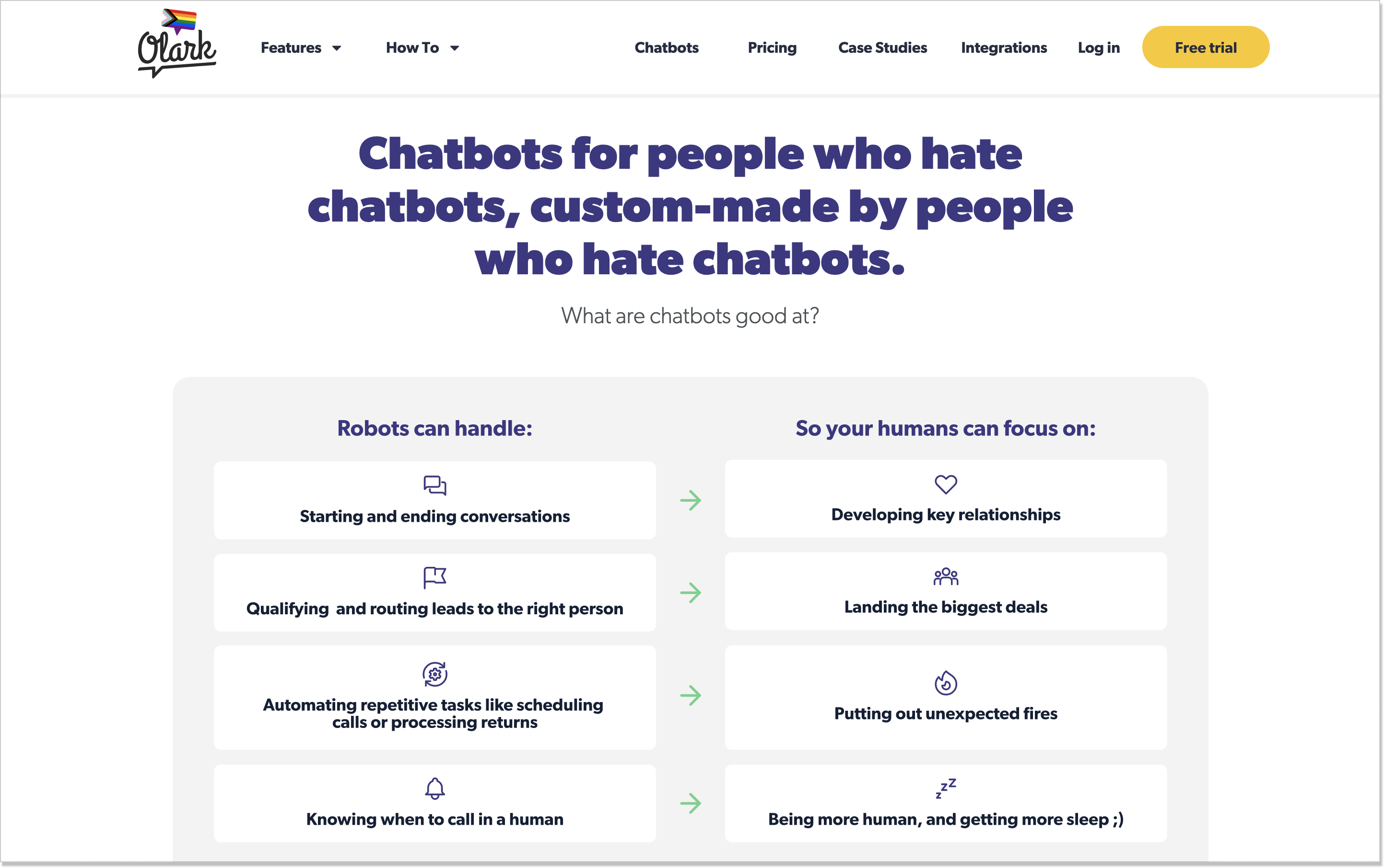 The CoPilot option (that's how this chatbot is called) can be set up in your account. It helps greet incoming clients with proactive chats, choose the best solution for them thanks to specialized routing, and ease customer self-service.
I have to mention one important thing though: CoPilot doesn't fully replace human customer support agents, it just backs them up. It isn't a stand-alone option that you can just turn on and have your afternoon coffee. You can leave it running and take over whenever you need instead. Besides, it's available in beta on the Olark Pro plan for now.
Intercom features
Live chat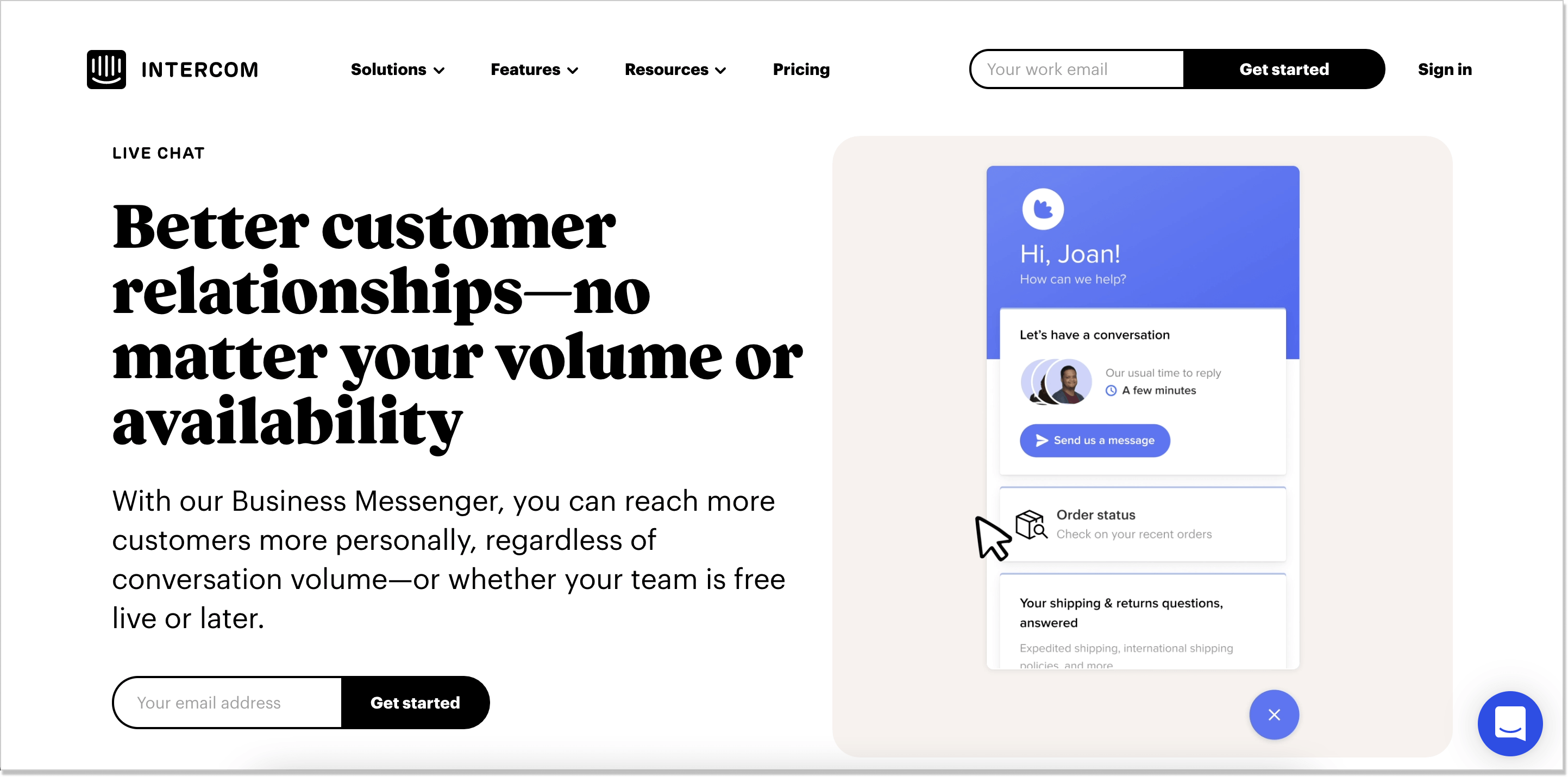 To tell you the truth, Intercom's live chat option is more intricate than that of Olark. This intricacy is expressed in the chat widget with cluttered info in it, a multiple-step customization process inside the product, and quite a heavy dashboard.
Intercom's Business Messenger helps you perform real-time customer communication, save chat history, and deliver in-app support. Customer self service is also possible with this feature: clients will be able to find information much more quickly.
Shared inbox
This company, as opposed to Olark, made it a snap for service squads to work as a whole unit. Intercom's help desk system is a shared inbox for managing and processing all sorts of conversations with your teammates. You can connect with clients wherever they are, get back to them via email, chat, or social channels.
Moreover, there are ticketing workflows, convenient rules engine for time-sucking tasks, canned responses available. That is, you can gather all the customer info upfront, then prioritize dialogues and route conversations to take care of pain points much more efficiently. Olark doesn't have anything like this functionality.
Chatbot
Intercom doesn't skip the shortcuts naming its features. Their chatbot assistant for automated conversations is called Resolution Bot. As the name suggests, it is aimed to instantly handle customer queries 24/7 owing to machine learning.
It works this way. Resolution Bot analyzes your chat history and suggests the questions your customers ask most frequently. You can then create answers to those queries from scratch and train the Resolution Bot so that it recognizes when to send these answers. If you don't have existing conversations in Intercom, you can manually add some of them as examples.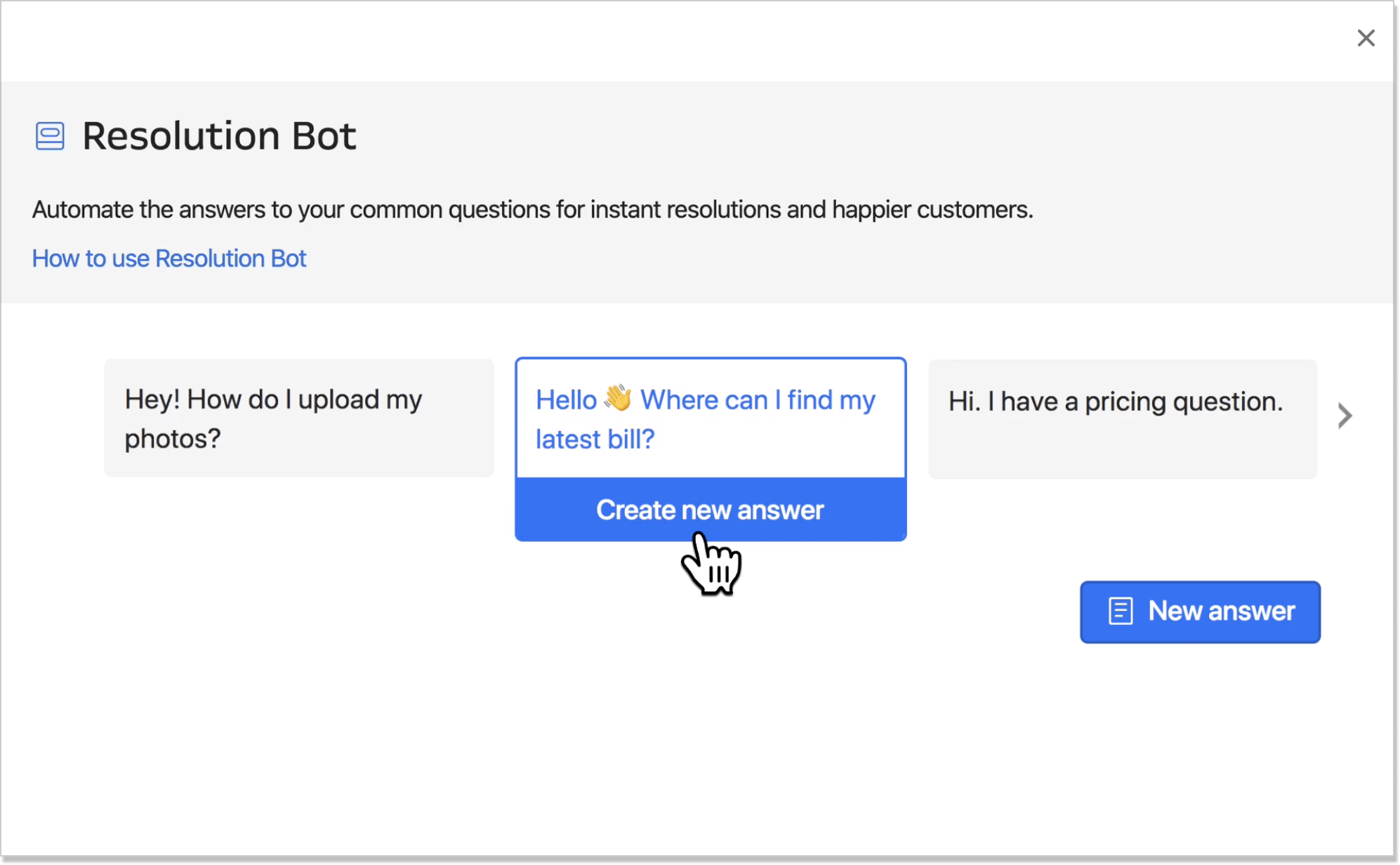 Call me old-fashioned, but even though automated customer service is a big deal and makes lives easier, it won't replace real human-to-human support and long-term meaningful client relationships.
Product tours
Here is when Olark vs Intercom's specs comparison takes a swing. The latter offers product tours for guiding new customers, spotlighting rolled out features, and targeting the right audience. How did Intercom implement it? With the help of proactive contextual notification, audio, and visual content.
But…you guessed it right. Everything has its *additional* price: the Product tours are available as an add-on to any plan.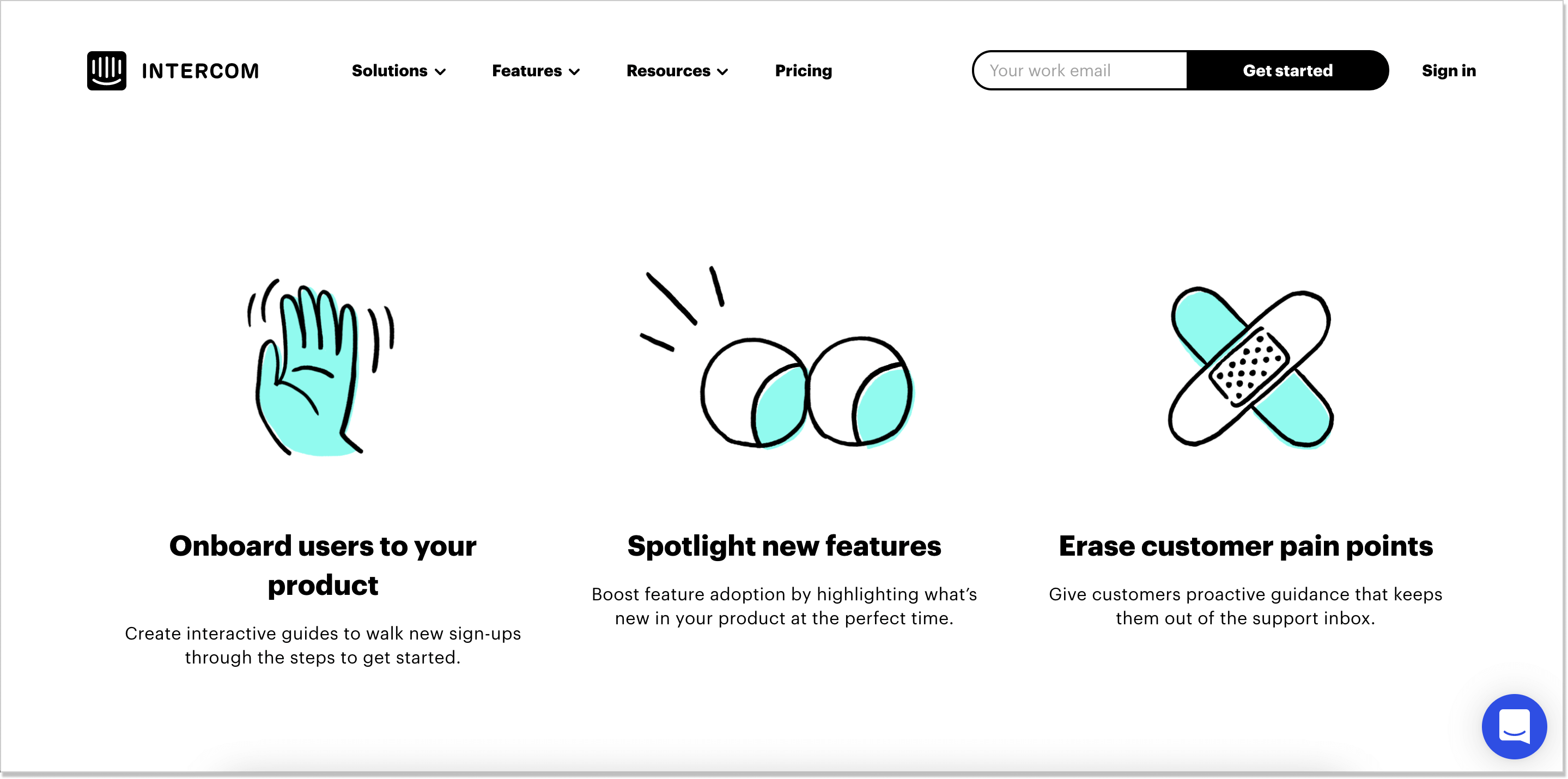 Campaign builder
Series—again, a not-so-obvious naming game from Intercom—is a visual behavior-based campaign builder that can connect and orchestrate numerous channels:
In-product messages
Email
Mobile push notifications
Product tours
Mobile carousels
Banners
This functionality lets you map out a well-oiled customer journey just like you would on a whiteboard, welcome new users with a personalized email, highlight fresh product tweaks with interactive tours, warn customers about downtimes, and more.
Olark vs Intercom: Installation and overall impression
Comparing Olark vs Intercom live chat installation processes, the former is definitely simpler. Olark's customization was a maximum pleasure when I checked it for the first time. And it still is. Minimum steps to design your chat box (namely 4), sleek UI, and a convenient dashboard.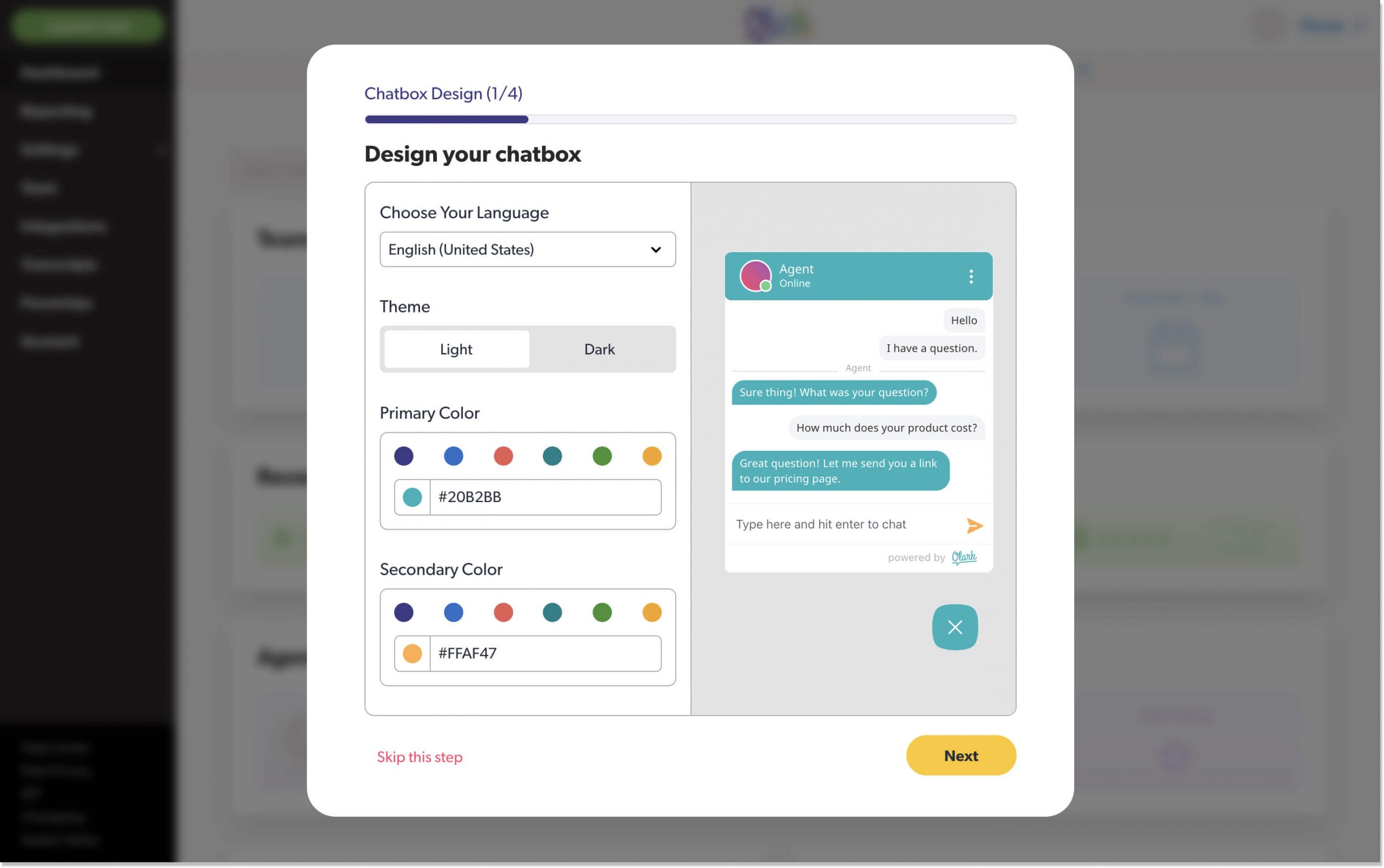 When you land on your Intercom account the very first time, there's the "Home" section. One thing that I loved the most is this personalized greeting from Phil, Intercom's customer engagement manager.
Then comes the "quick start guide". C'mon! 9 blocks and steps with audio and visual material would take me more than an hour to get through. Not so quick to me.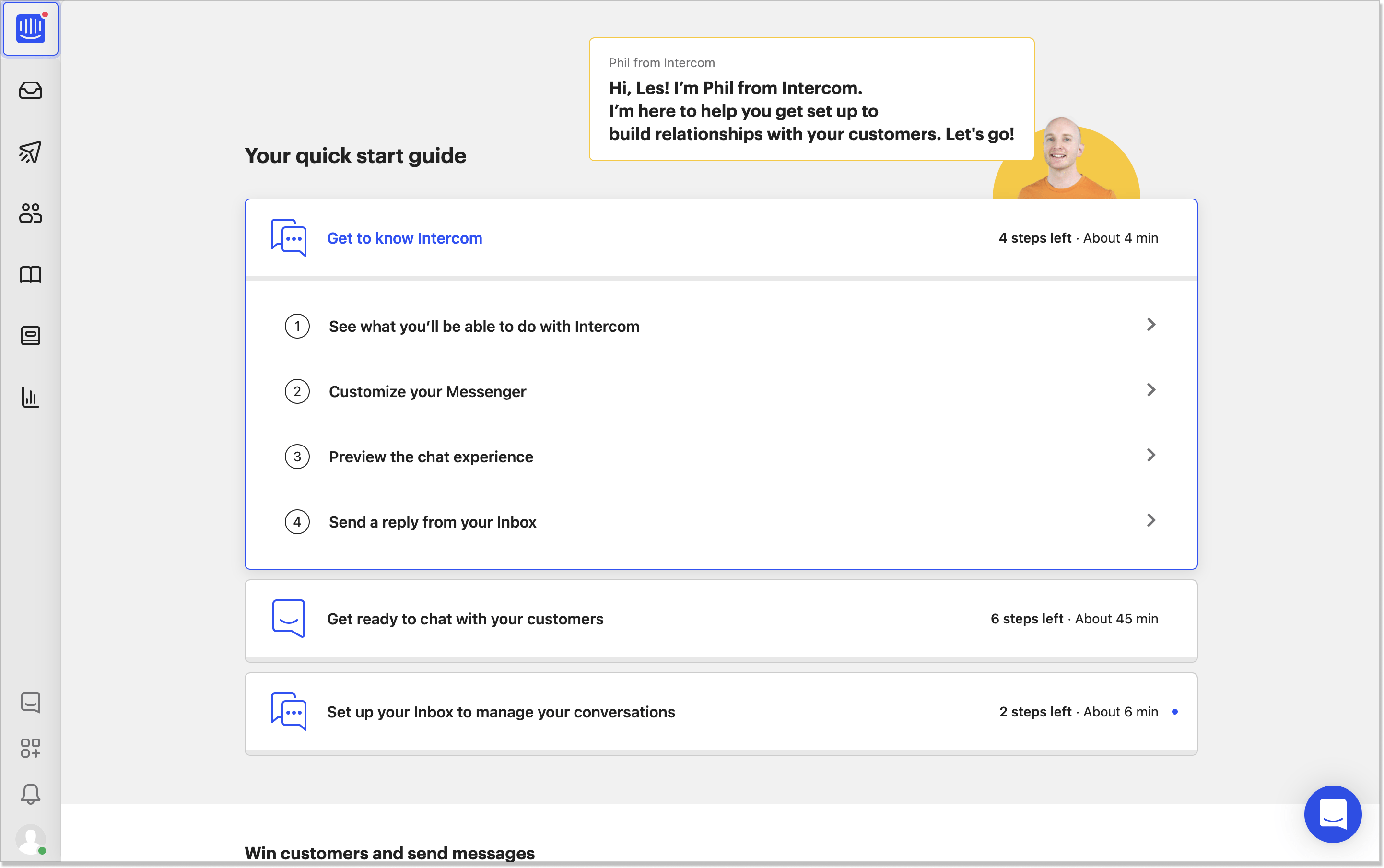 My patience was wearing thin when I saw Intercom's Business Messenger dashboard. There is a huge long read with customization instructions and other guidance when you click "Learn how".
Besides, the UI is clumsy. To set up your messenger and process first conversations, you have to get through these massive blocks and make tweaks there. I mean, let people have what they were looking for, without superfluous movements. By the way, other Intercom alternatives have the same routine but user-friendlier.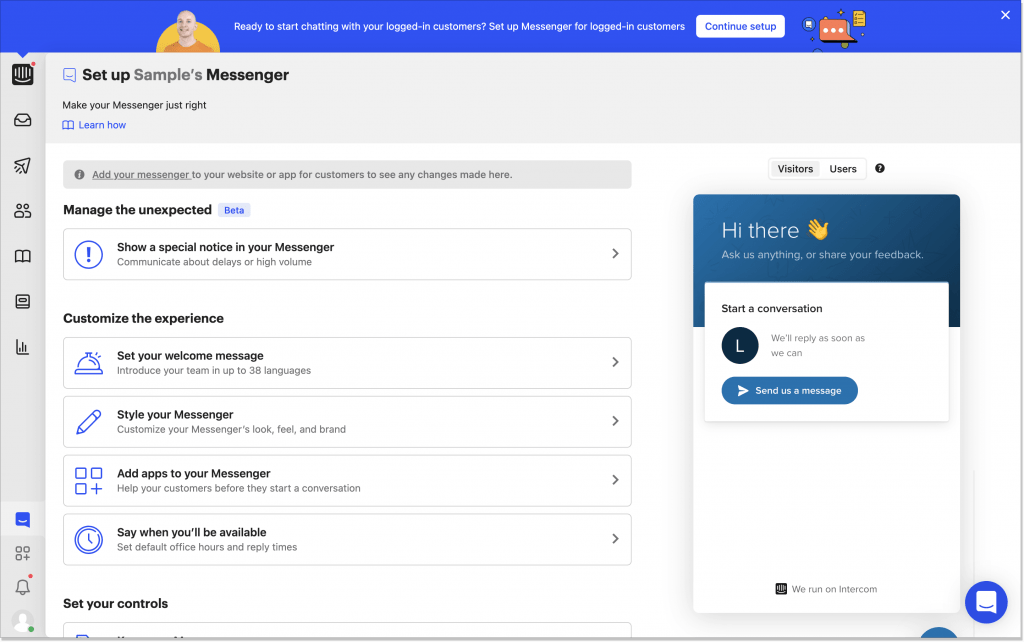 Intercom vs Olark: Customer reviews
Olark vs Intercom showdown brings us to this paramount block – customer reviews. The driving force of any business, whether you like it or not.
According to the G2 platform, Intercom has achieved 4.4 out of 5 stars and 1,613 reviews total. Olark settles for 4.3 out of 5 stars based on 214 reviews.
Capterra platform shows that Olark vs Intercom battle has scored equal points: 4.5 out of 5 stars both.
Basically, users find Intercom's UI and the reporting feature handy:
Easy to initiate with the business customers, User Interface, and the reporting feature which helps to identify the response time of the team members and their CSATs.
The interface is intuitive and easy to understand.
Intercom's reporting is informative, specifically for tracking response times segmented by chat or email, or both.
When people talk about Olark, they say its simplicity and ease of use outweigh:
The instant notifications and simple design help me stay in touch with clients; answering questions, communications and sales are made easier with a platform I can rely on.
It's a simple tool and it lets us interact with customers at a very important step in the buying process.
One would think a customer support aspect should be the key thing companies usually nail. However, this is not the case with our today's heroes. Users notice that Olark's and Intercom's customer service is far from perfect. Plus, Olark often feels "outdated". Is it the time to pause for thought? 🤔
Over the past year or so, their support leaves much to be desired. It's been over one month since I raised a billing-related query with the support team, and I'm still waiting for answers, despite numerous follow-ups.

One of Intercom's customers
It felt a little bit outdated oftentimes. I wish as well it came with a feature to make the users wait until an agent is available. I recall as well it didn't have a high contrast option.

One of Olark's customers
Conclusion
All in all, Intercom is way more feature-packed as compared to Olark. I mean both offer customer service automation and real-time support. But Intercom boasts about a dime a thousand features—both small add-ons and quite advantageous stand-alone specs.
At the same time, one can get lost in Intercom's pricing. They charge additional costs for everything from their cool add-ons to the number of contacts in your database, Olark, in its turn, has only two central functionalities at affordable costs.
If I were to choose, I would probably go with Olark. It has all the basic things a brand needs for providing customer support without rip-offs. But again, what if I want to upgrade for something more? This is a two-way street.
The main doubt is that both Intercom and Olark do have trial periods, but to test them to the fullest, you still have to use your credit card details.
Another more attractive option is to give HelpCrunch a shot. This platform has such core features as intuitive live chat, an SEO-friendly knowledge base, and a unified help desk. And no hidden fees! A free 14-day trial with HelpCrunch is just a click away, don't miss out on it.