10 Most Reasonable Freshdesk Alternatives & Competitors
Your search for Freshdesk alternatives ends right now! We've crafted the list with 10 options that are totally worth your attention. Comb through it and choose the best one to achieve your business goals.

Freshdesk is customer service software that has already gained momentum among hundreds of businesses, big and small. But there's always something more to add, isn't there?
If you're reading these lines, you're probably thinking of switching to another solution because Freshdesk fell short of your expectations. Maybe their customer support squad isn't strong enough or they bombed you with unexpected prices all of a sudden. For what it's worth, you're not alone. And you're exactly in the right place.
We've compiled the list with the most advantageous alternatives to Freshdesk and described their main qualities. Now, it's your turn to pick.
Freshdesk alternatives: comparison chart
Jumping a bit ahead, an in-depth and simple customer service arsenal, transparent and affordable pricing are the things that all of the candidates lack here. HelpCrunch, in its turn, is a one-stop platform for building customer relations combining all of it. The solution involves a help desk feature, superb live chat, chatbot, knowledge base, email marketing, and a popup builder. Did I mention in-app messaging?
Among Freshdesk alternatives we discuss here, Kayako, Front, ProProfs Help Desk, and GrooveHQ seem less pretentious and budget-friendly. That's why these solutions might be ideal for small and mid-sized brands that are just kicking off.
Zendesk and Kustomer may not offer the most affordable pricing but have rather extensive features for medium and large businesses such as rich ticketing or a complete CRM. With these options, you will be able to provide customer support with no additional tools.
Software
Main functionalities
Prices start from
Free trial
G2 rating
HelpCrunch
Live chat
Chatbot
Knowledge base
Shared inbox
Email marketing
Popups
$15/month per agent
14 days
4.7 out of 5 ⭐️⭐️⭐️⭐️⭐️ (158 reviews)
Kayako
Live chat
Help desk
Knowledge base
CRM integration
$15/month per agent
14 days
4.1 out of 5 ⭐️⭐️⭐️⭐️ (201 reviews)
Zendesk
Live chat
Ticketing system
Knowledge base
Call center
$49/month per team member
14 days
4.3 out of 5 ⭐️⭐️⭐️⭐️ (2890 reviews)
ProProfs Help Desk
Ticket management
Team management
Help desk automation
Multi-channel support
$15/month per user
15 days
4.7 out of 5 ⭐️⭐️⭐️⭐️⭐️ (15 reviews)
Dixa
Live chat
Shared inbox
Call center
upon request
No
4.2 out of 5 ⭐️​​⭐️⭐️⭐️ (237 reviews)
GrooveHQ
Shared inbox
Live chat
Knowledge base
$15/month per agent
15 days
4.3 out of 5 ⭐️⭐️⭐️⭐️ (41 reviews)
Front
Shared inbox
Help desk
Email management (email routing, team inbox, message template)
$19/month per agent
7 days
4.6 out of 5 ⭐️⭐️⭐️⭐️⭐️ (883 reviews)
Kustomer
Live chat
Knowledge base
Chatbot
CRM
$89/month per agent
No
4.4 out of 5 ⭐️⭐️⭐️⭐️ (315 reviews)
SysAid
Help desk
Knowledge base
Routing
upon request
30 days
4.5 out of 5 ⭐️⭐️⭐️⭐️⭐️ (466 reviews)
Re:amaze
Help desk
Live chat
Chatbot
Knowledge base
$29/month per agent
14 days
4.6 out of 5 ⭐️⭐️⭐️⭐️⭐️ (125 reviews)
Freshdesk's quick overview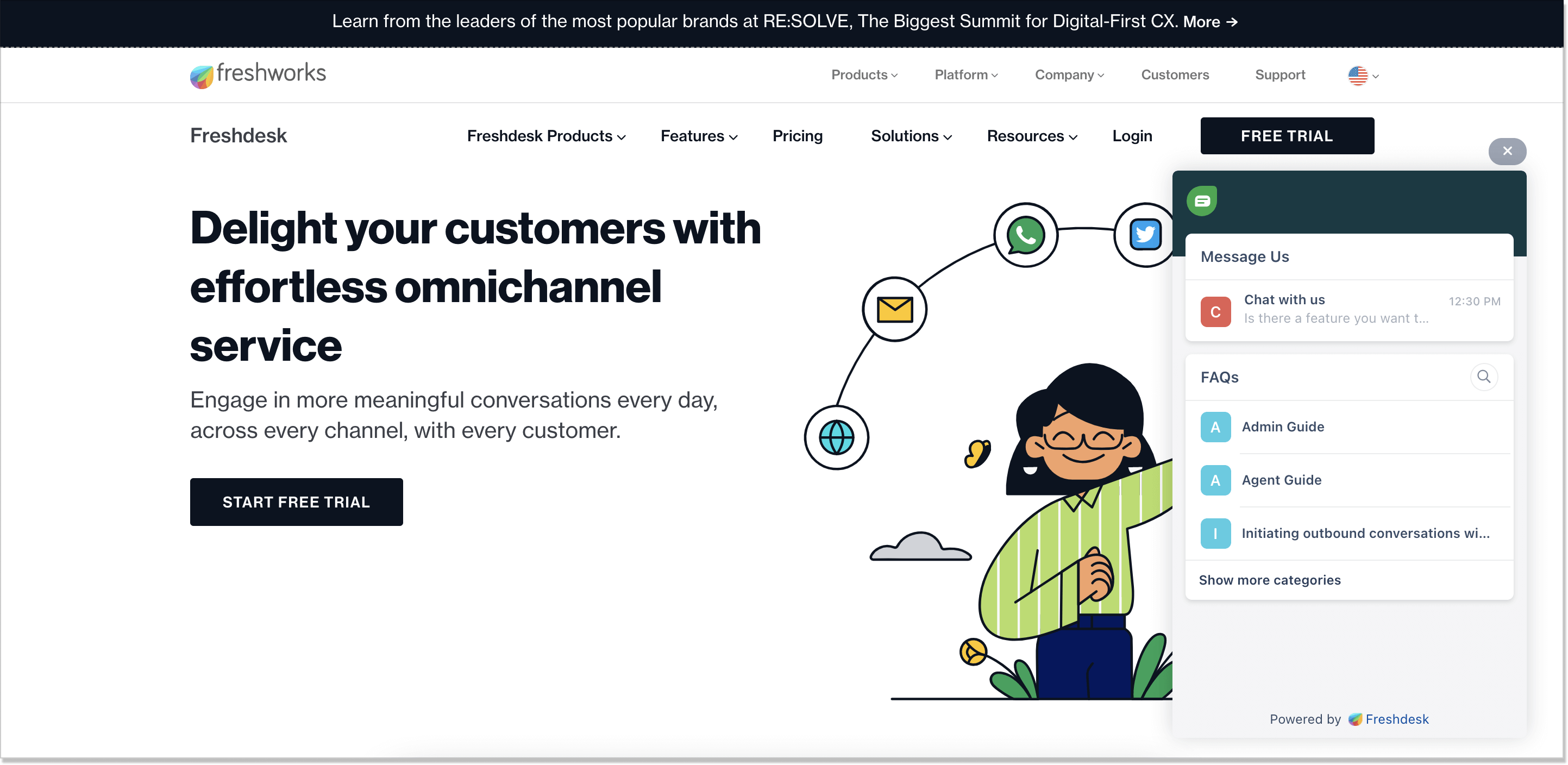 Being a part of Freshworks, Freshdesk has grown into omnichannel customer support software with a bunch of helpful features. Among its toolset, there are help desk, ticketing, team collaboration, AI-powered chatbot, and field service operations.
Freshdesk main functionalities
To understand what your business lacks when it comes to alternatives to Freshdesk, you should have a closer look at its range of features first. Which of them would you like to adopt or maybe replace with your next solution?
Ticketing: prioritizing, categorization, and assigning tickets through a ticketing system;
Collaboration: Creating collaborative customer support with linked tickets and team huddles;
Field service management: better scheduling, service tasks for tickets, field tech groups;
Automations: automating repetitive tasks with time- and event-triggered rules;
Reporting: measuring and improving efficiency using reports;
Self service: creating self service experience for customers with knowledge bases and community forums.
Freshdesk pricing
Freshdesk Support Desk package involves 4 options for ticketing, self-service, and reporting (I'm telling you though, there are way more affordable solutions out there):
Free with unlimited agents, email & social ticketing, knowledge base, team collaboration features;
Growth for $18/month per agent + automation, collision detection, custom ticket view, and more;
Pro for $59/month per agent + round-robin routing, customer segments, knowledge base versioning;
Enterprise for $95/month per agent, + sandbox, skill-based routing, email bot, Robo Assist.
Freshdesk customer reviews
Users won't sugar-coat. Especially when it comes to their frustration and dissatisfaction. Sure, there is positive feedback and most of the users are pleased enough to use Freshdesk. But recent customer reviews indicate the opposite.
Not only these reviews are basically long reads but they're also replete with the words of disappointment: "buyer beware", "typical poor service", "cumbersome to use". So, this is what Freshdesk users say:
Support is slow and unhelpful. I tried to change my billing currency…it turns out I can't do it in the app, even though the support docs said I could.. After chasing them up with ten emails backward and forwards (which took a total of 37 days!)…they have finally changed my billing currency. All I got was an insincere "apologies for the inconvenience."
I DO NOT recommend FreshDesk due to their terrible customer service and their bait and switch. e.g. super easy to sign up and plug in your credit card but you can forget about customer service because there is none!
I really don't like anything about freshdesk since they brought us a lot of problems and waste of time and money. Their technical support never solves anything and I had problems with the caller ID and my database is completely messy. I do not recommend them at all.
10 Freshdesk alternatives for every business need
From help desk software for small businesses to compact CRMs ideal for early startups and mid-sized companies and big enterprises: you name it, we got it here. Here is the broad overview of Freshdesk competitors worth your attention.
1. HelpCrunch
If you're looking for a Freshdesk alternative that won't leave you on the rocks, HelpCrunch is your best shot. Not only does HelpCrunch involve a shared inbox for managing all customer interactions in one place, but it also offers a powerful live chat that you can embed into the widget, intuitive knowledge base, a chatbot, popup builder, and email marketing functionalities. But let's elaborate on the shared inbox for now.
HelpCrunch help desk is an affordable option with top-notch opportunities and specs that will definitely accelerate your workflow:
Intuitive shared inbox UI: all chats coming from the chat widget on your website or email land in the admin panel so you can see what's happening clearly and react accordingly;
Real-time customer data in the side dashboard where you can see such information as client's email, company, unlimited chat history, user path, and more;
Custom data, namely type of subscription, purchases' value, registration data, to name a few;
'Resend if unseen' feature in case you missed a message from a customer: just set up the time after which unread chat messages should be resent via email;
Zapier integration as well as dozens of other fruitful integrations.
Custom inboxes and chat list settings that can help you tailor your inbox and show the info needed in the chat list.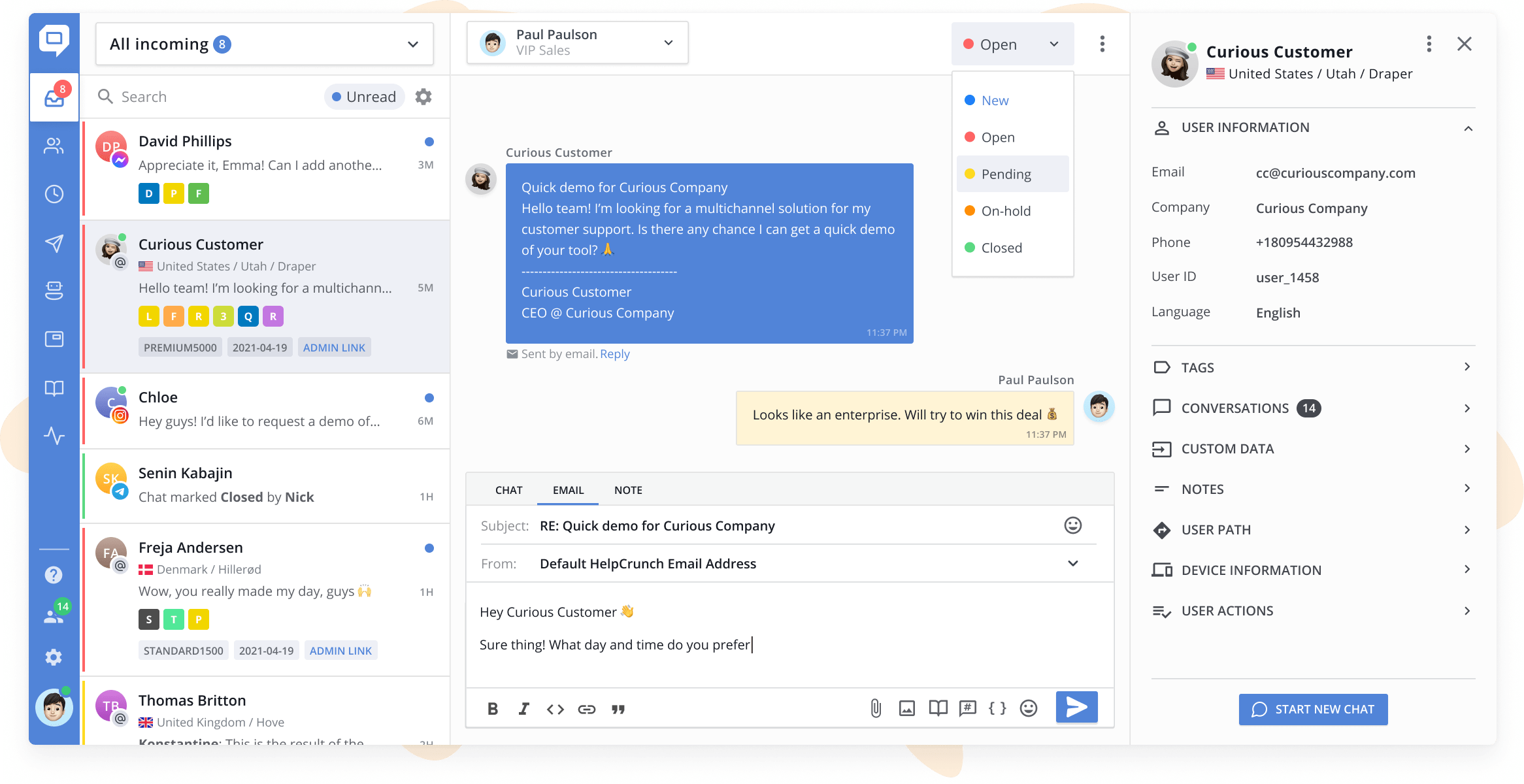 As I mentioned above, HelpCrunch encourages customer self-service and provides a user-friendly knowledge base. Customizable SEO settings, categorization, advanced WYSIWYG text editor – that's what tags along. Besides, this alternative to Freshdesk makes it possible to send a knowledge base article as an answer to a customer right from the chat and integrate the knowledge base into the chat.
By the way, HelpCrunch offers a fully customizable, modern live chat. With its help, you can engage with website visitors proactively and embed it into your SaaS product or mobile application to send target chat messages to active users.
One of the most recent updates introduced by the company was a chatbot feature. From now on, HelpCrunch users can set up a bot on their websites and assist customers even faster by automating the routine. HelpBot can manage FAQs, tag users, assign chats, collect contact information, qualify leads, and much more.
HelpCrunch has a free 14-day trial so you can take it for a ride. Speaking of the pricing, it is more than reasonable. The Live chat package with the knowledge base and popups functionality will cost you $15/month per team member, while the 'Pro' plan, which includes the chatbot, is $25/month per team member. That's it! No unnecessary fees or tricky parts. You always stay in the know of the next payment.
So, why wait? You can have it all just by signing up for a free 14-day trial with HelpCrunch! A balanced experience, solid help desk software, and only happy customers: aren't these the things you've been wishing for?
2. Zendesk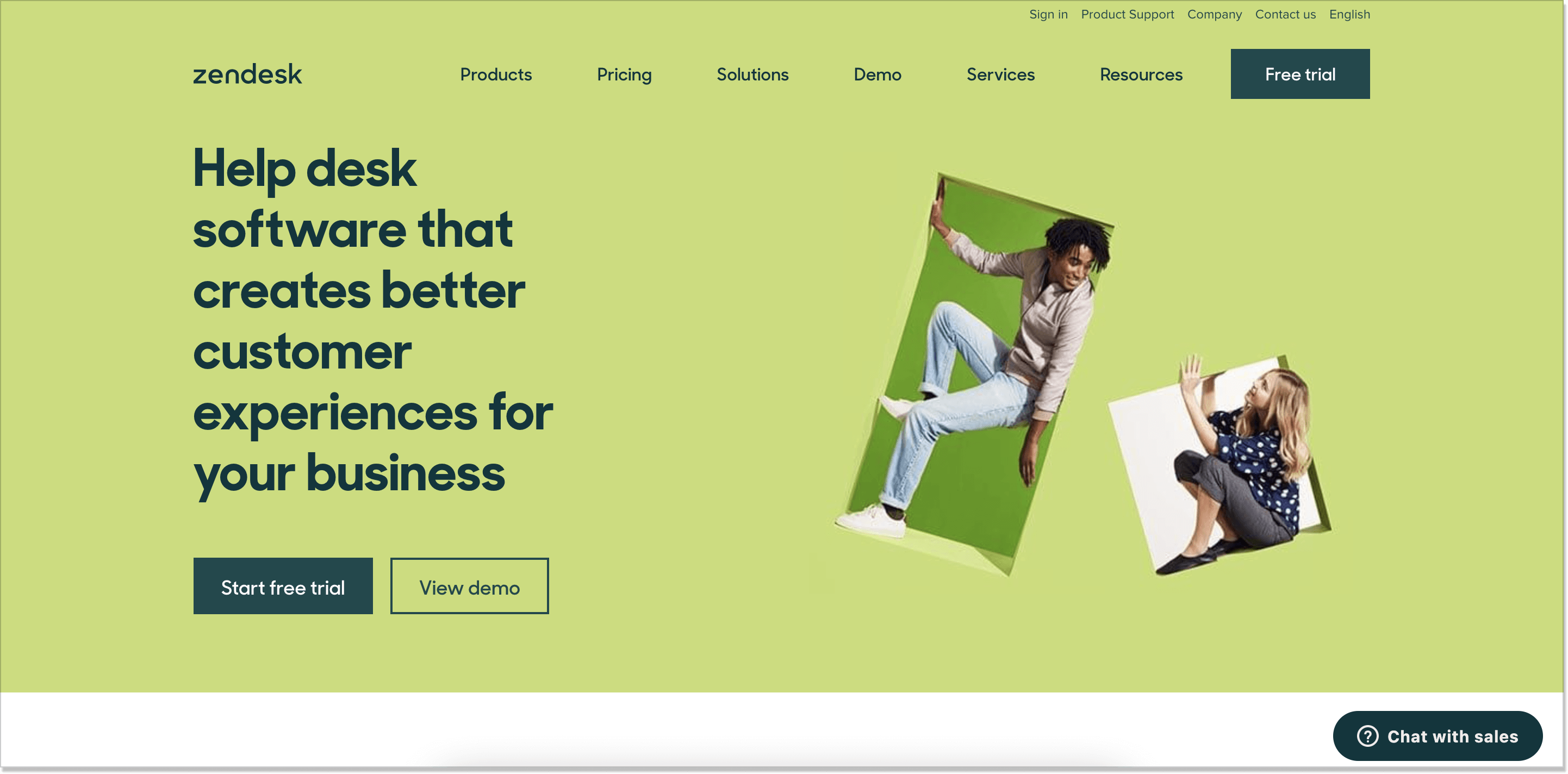 Zendesk is known as one of the most similar to Freshdesk alternatives but way more profound. It's a CRM-first brand with a web-based IT help desk, self-service options, and live chat features.
The brand claims to help teams collaborate with a robust set of features. Is it really so? Zendesk's arsenal involves:
Custom views let agents see their queue filtered by ticket status, assignee, group, or other conditions;
Live chat and messaging for interacting with users seamlessly and provide proactive support;
Analytics and reporting for measuring and improving customer experience;
Automated built-in routing for getting tickets to the right agents in one click to prevent workplace chaos;
Help center functionalities for encouraging customers to help themselves and fostering mutual support with community forums;
Integrated voice system for those clients who still prefer good old phone customer service;
Multi-language support for reaching a wider audience.
With such software, you can rest assured your support is immaculate. But at what cost? Zendesk is among the most advanced solutions on the market, though the pricing leaves much to be desired. Moreover, it seems their live chat is not as well developed as the help desk features. Their prices start from $49/month per agent, not to mention a dozen of other numbers and unnecessary add-ons. Can you afford this if you're an entry-level brand, for that matter? It's your call.
3. Kayako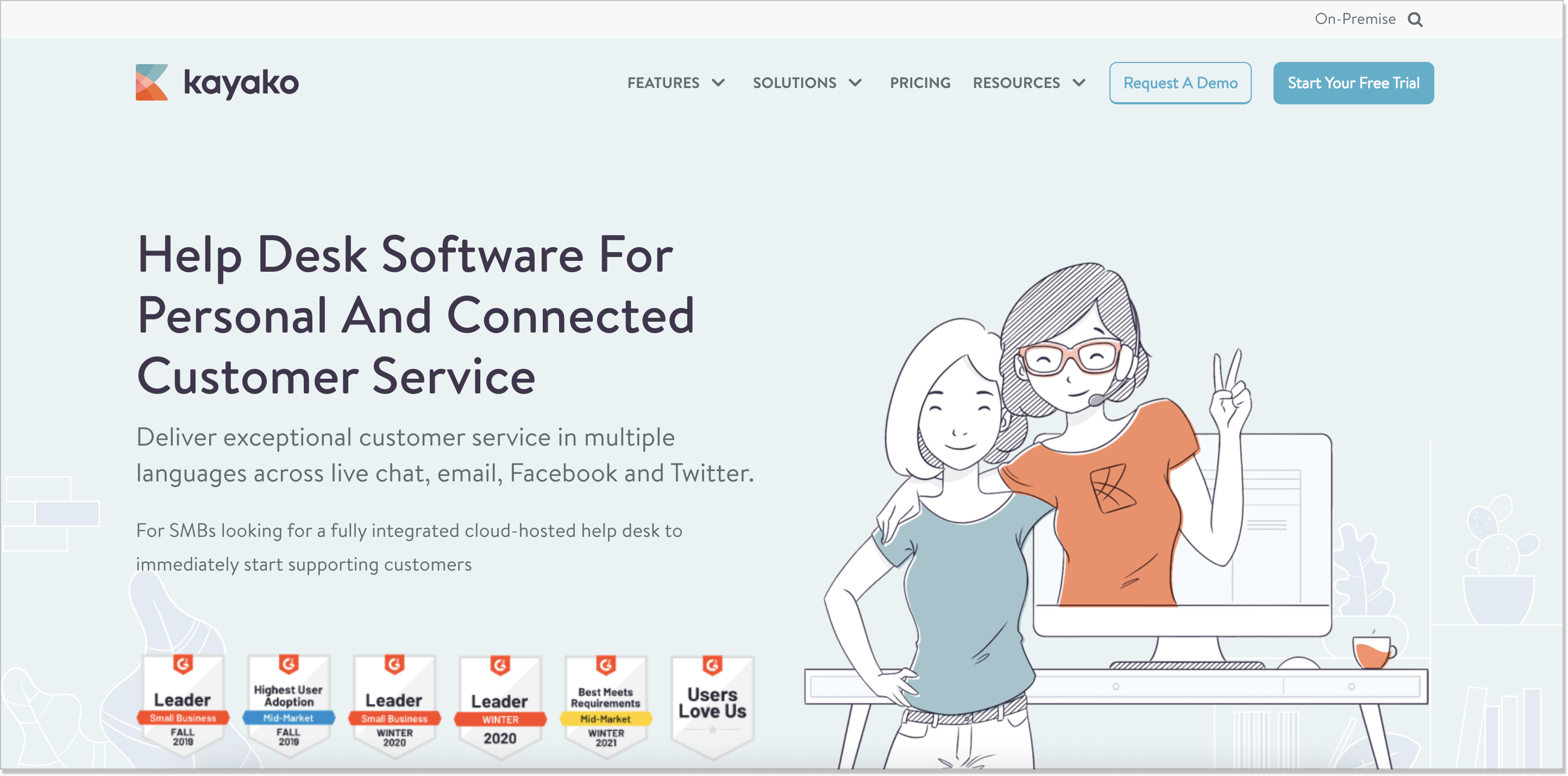 Among other alternatives to Freshdesk, Kayako can be a great fit for SMBs. It connects the dots between the channels such as Facebook, Twitter, live chat, email, or real-time messenger. There is a unified dashboard where your customer service agents can process multiple requests without sacrificing the quality. Take a closer look at the range of Kayako's functionalities:
Leave internal notes for fostering team collaboration and making communication with a client gap-free;
Ability to see who is viewing a ticket which prevents duplicate replies;
Check user actions history to understand what sections or pages a customer previously looked at on your website and provide proactive customer support;
Sure thing, Kayako has everything from automations and tagging to frustration-free collaboration and canned responses. That's a dime a dozen. But still, if we compare this solution to others discussed here, it has limited functionalities, not enough integrations, and troublesome reporting. Is it really an all-in-1 tool?.
As for the pricing, it'll take you $15/month per agent to get an omnichannel inbox for small teams, $30/month per agent for a growing team, and $60/month per agent if you're a large business. Apart from the fact that Kayako's pricing is rather loyal, the company still needs some revamping and more in-depth features. I mean, it's the 21st century, the competition is stiff.
4. Dixa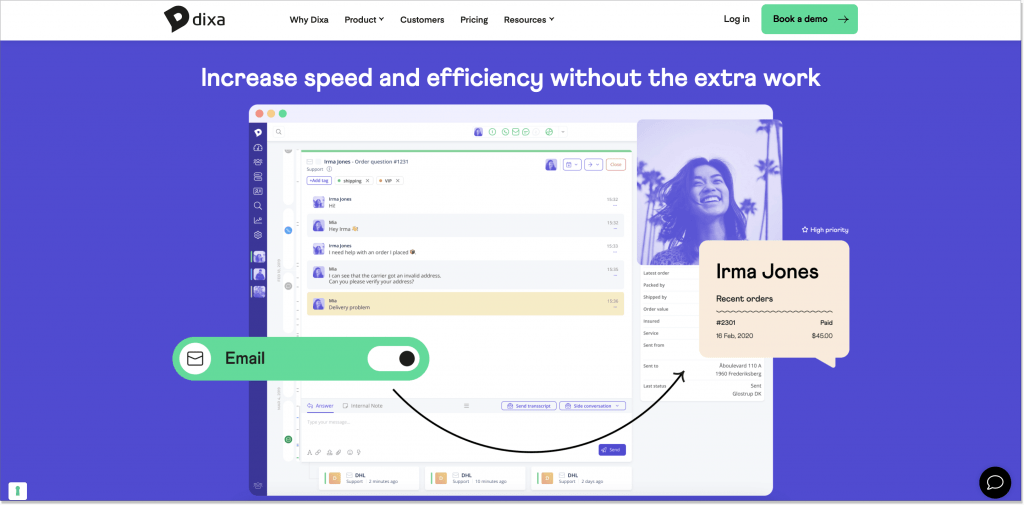 Dixa is robust customer service software where you can find phone support, emails, live chat, Facebook, and WhatsApp integrations. It's a "channel-neutral" solution that enables continuous friction-free communication and lets support agents provide personal responses to each client on a channel they wish.
This alternative to Freshdesk provides you with a single view dashboard. This way, service agents have a bird-eye-view of the customer journey and are able to assist users quickly and in a more personalized way.
What Freshdesk is actually lacking is minimized switching between thousands of apps and direct routing. Dixa went further and implemented these specs which have become its main specialties. The platform directs your request to the ablest agent in the field available to fast-track the support process.
On top of it, Dixa has intelligent omnichannel routing that ensures customer conversations continue without interruption as they move between channels or agents. With a data-driven approach, the system recognizes customer journeys and segments clients.
Everything was fine before we got to this point: prices. They start from $99/month per feature. For more, you'll need to pay up to $179/month. And no free trial.
5. ProProfs Help Desk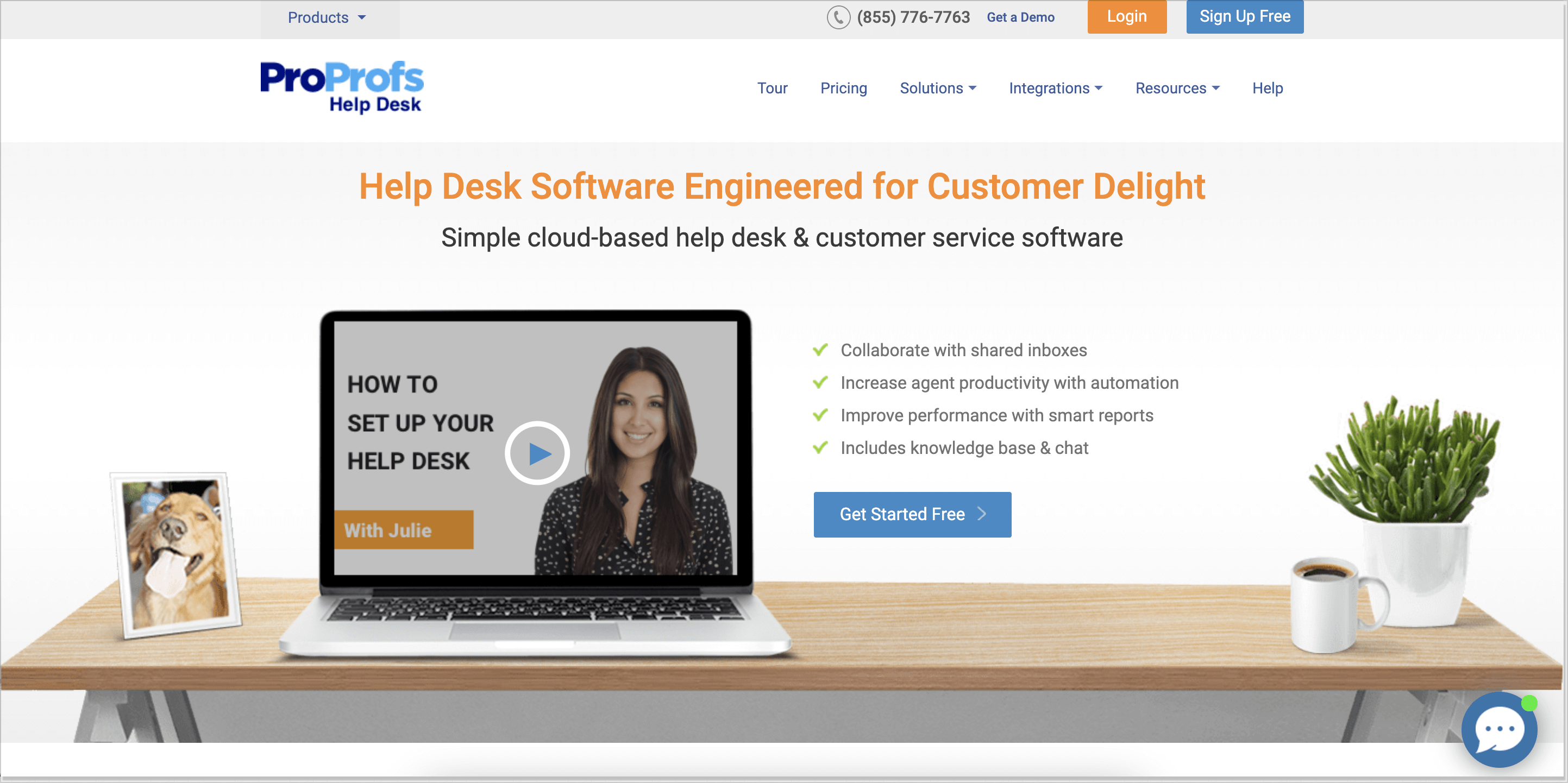 Like many other alternatives to Freshdesk, ProProfs has this all-in-one software potential. The platform covers live chat, knowledge base, and a survey maker (which is a rare case here). You're already familiar with the logic: once a customer asks a question over one channel, be it email, chat, or a help center page, you can easily manage it right from your shared inbox.
Collaborate to solve challenging issues together with your colleagues, share internal notes, prioritize urgent conversations, and track the progress of every support ticket – all from a common dashboard.
The ProProfs help desk feature can help you:
Use agent collision detection to avoid sharing multiple tasks
Popularizing self-service, build your own knowledge base, and create surveys for gathering valuable customer feedback
Take advantage of smart reports to gauge team performance and monitor key customer service metrics (such as CSAT or NPS)
Customize workflows to adjust to the way your team operates
Send automated email notifications to staff and customers on new ticket creation, ticket assignment, customer response, and more
You can try each ProProfs plan free of charge for 15 days, which is great. But if you feel like upgrading, there are two packages so that you can take your pick: Essentials ($15/month per agent) with shared inbox and basic help desk features, and Premium ($20/month per agent) with a complete help desk solution, ticketing routing, API, and more.
6. GrooveHQ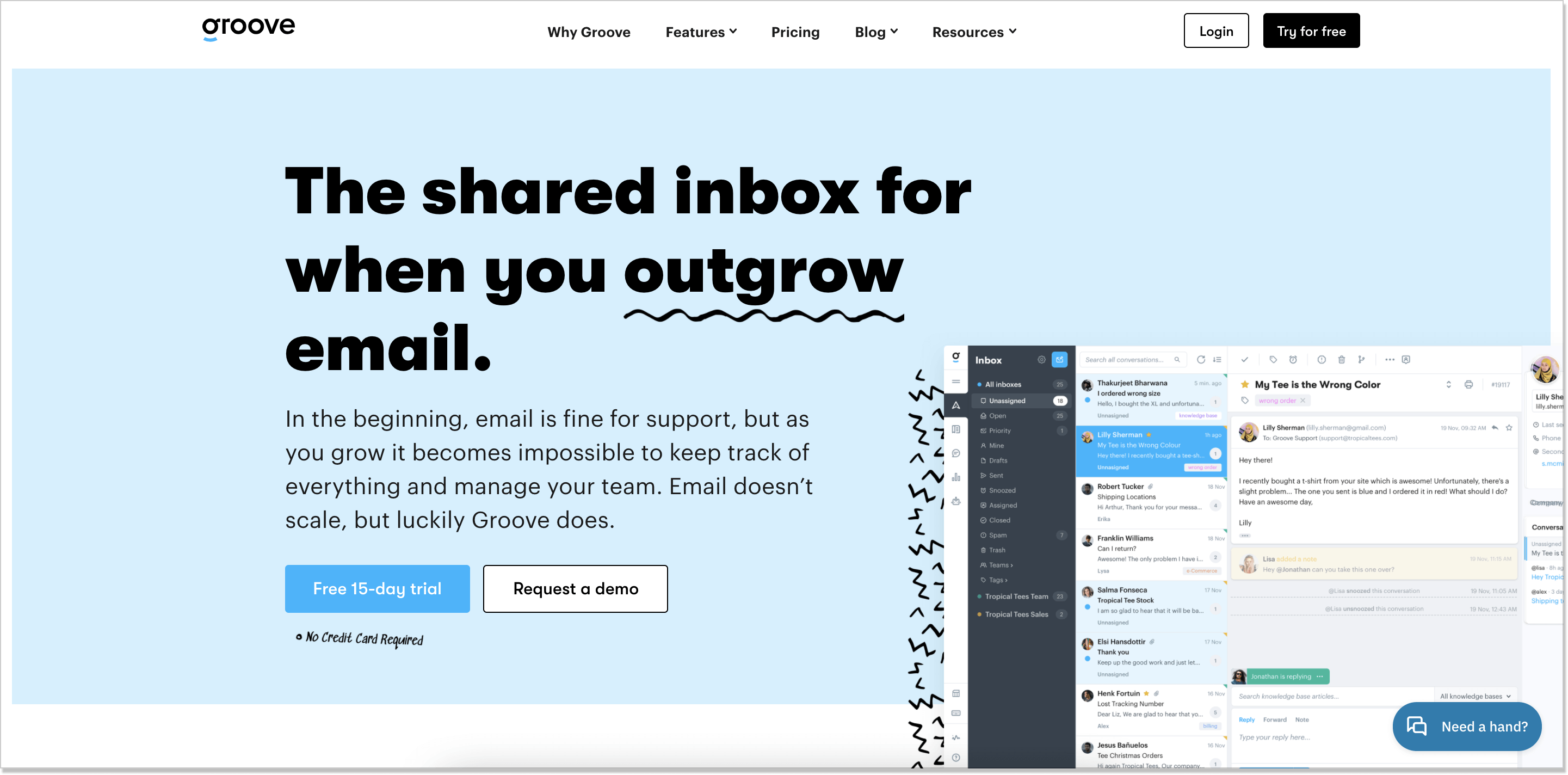 GrooveHQ is an all-in-one customer support platform that involves everything from live chat to knowledge base and, of course, a simple but intuitive help desk. Its dashboard is really one of the most easy-to-digest thanks to its non-intrusive design.
Let's have a better look at what GrooveHQ has to offer:
Monitoring customer history to add more context to conversations;
Leaving private notes for teammates so that they always have hints and additional information;
Handy automations to manage such features as Rules, Tags, Canned Responses, and Folders;
Keeping track of metrics (average resolution time, customer satisfaction, to name a few) to take the guesswork out of the workflow;
Ability to assist customers in a mobile app (only iOS for now) on the go.
This alternative to Freshdesk is apparently worth the money. There are three pricing packages at GrooveHQ: Starter ($15/month per user), Plus ($25/month per user), and Pro ($40/month per user). Besides, they offer an Early Startup plan for those brands that have less than 10 employees. Compare that with the prices Freshdesk has and make your decision.
7. Front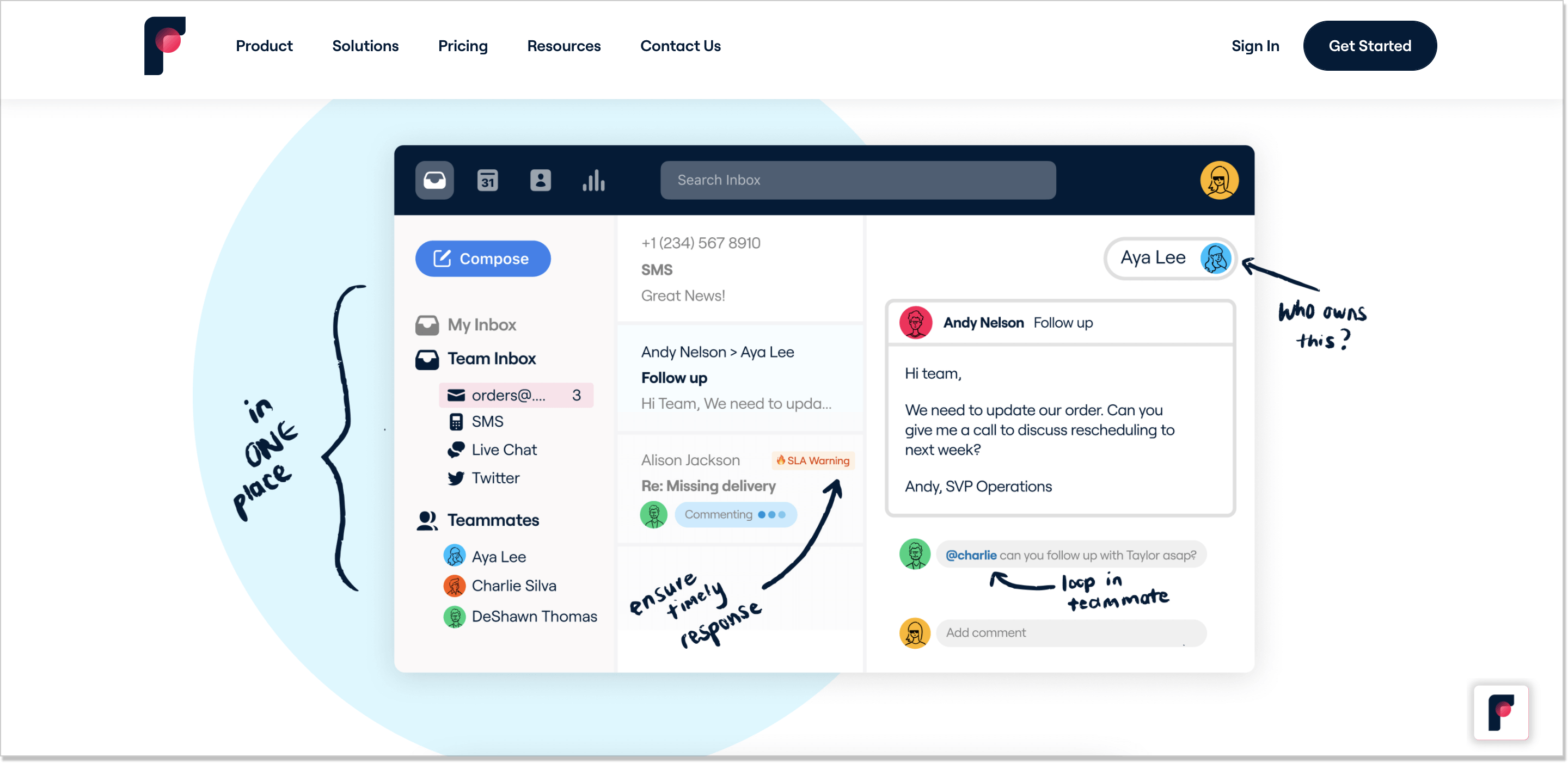 Front is a customer communication platform that makes it possible to interact with users and combine emails, apps, and team members into a single view. They combine the simplicity of an email inbox with the automation and insights of a CRM.
When you're hunting for sites similar to Freshdesk, all this analysis and comparing may drive you nuts. Stop for a moment here and see what key features Front provides:
Centralized view. All your incoming messages, be it email or chat, or phone, can be managed from this unified help desk panel.
Increased team collaboration. Your staff can leave internal comments, manage shared drafts, and use collision detection so that they never make a bad shot.
Better team productivity. Thanks to keyboard shortcuts, follow-up reminders, special message templates, and email management, your team can operate circles around.
Full control. The Front console lets you manage permissions, access rights, and more.
As for the prices, Front has this Starter package for $19/month per person, which includes basic rule templates, most integrations, assigning, and more. To upgrade for the Prime or Enterprise package, you have to contact their sales department. These prices aren't shown on the website.
8. Kustomer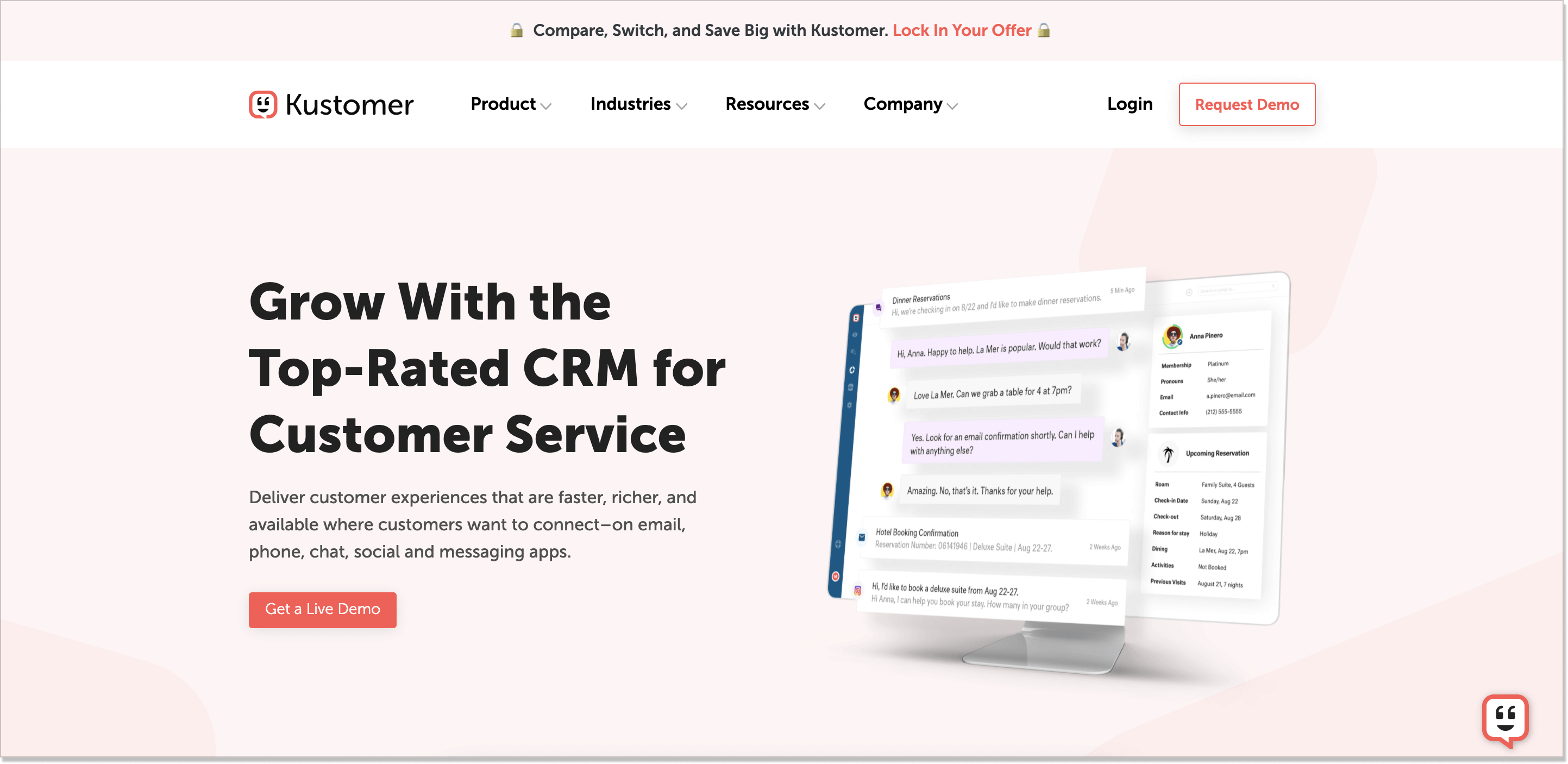 Kustomer is a customer service CRM that offers omnichannel support, self-service, and intelligent routing, with data-driven AI. With this CRM system, you're able to:
Merge customer data across your relevant platforms and channels into one workspace;
View the entire customer experience at a glance with a single thread of all client interactions displayed in an actionable timeline view;
Find, share, and act on information across your team from a central place;
Manage all your chats across all channels, seamlessly switch between them to understand what customers' needs are;
Leverage historical customer data to orchestrate personalized engagement;
Take advantage of in-depth reporting and monitor your team's performance.
Well, it is a way more comprehensive pack of features than that of Freshdesk, isn't it? However, with these two options compared, Kustomer is pricier.
There are two main packages – Enterprise plan costs $89/month per user (Email, Chat, SMS, Social, WhatsApp, Self-service, Sentiment Analysis, Satisfaction Measurement, and Reporting, etc.), while Ultimate is $139/month per user (plus enhanced routing, real-time dashboards, live agent auditing, etc.).
All pricing plans include one-year contracts and 8 seats minimum. Besides, you'll have to pay extra for numerous add-ons (by the way, no free trial is available, too).
9. SysAid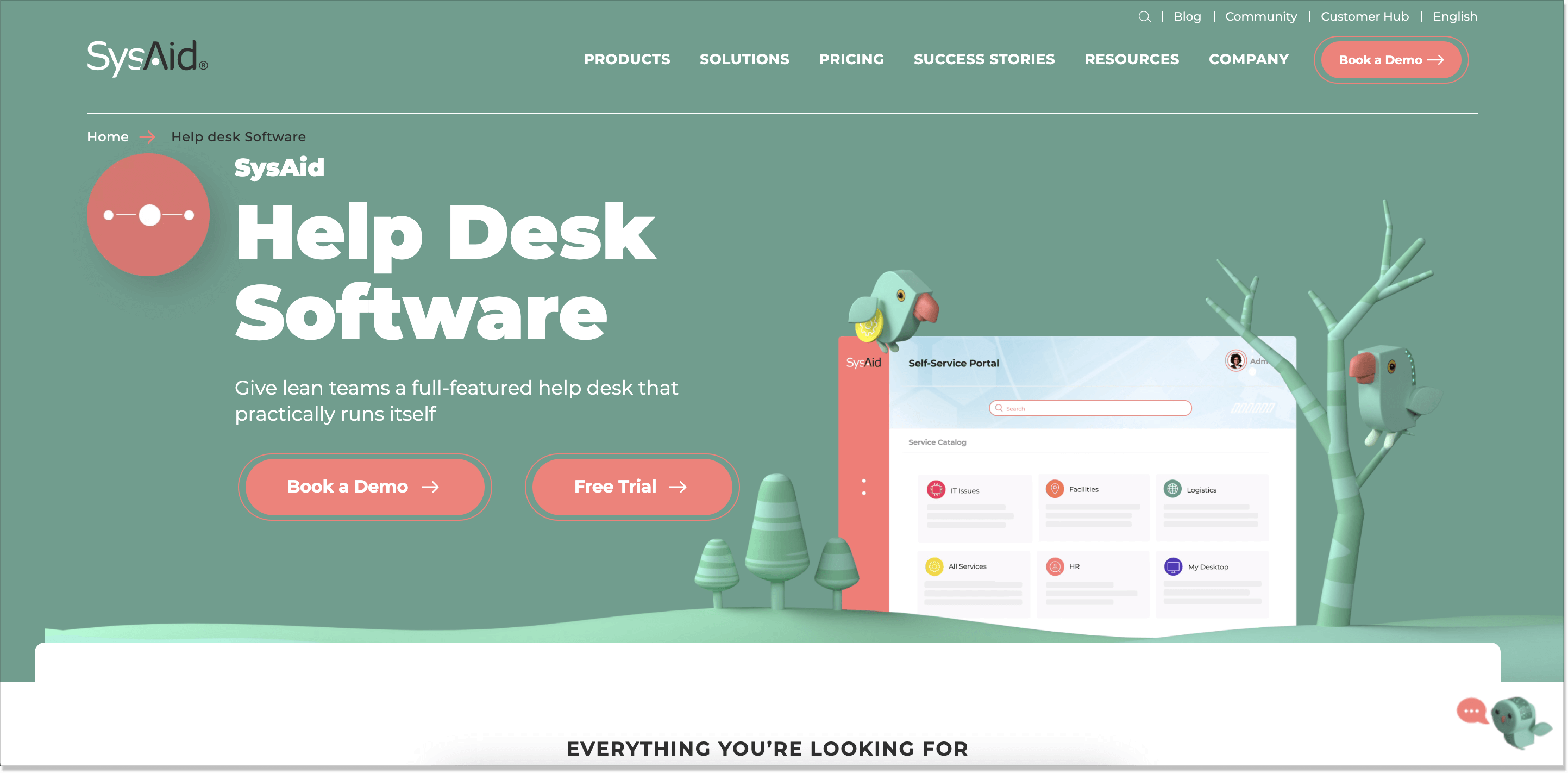 In my personal point of view, SysAid is a non-trivial customer service automation software that is a good alternative to Freshdesk. And, probably, the oldest among candidates in our list: it was created in 2002.
Obviously, SysAid's key specialty is to automate a bunch of your day-to-day tasks, such as sorting and routing tickets, taking care of repetitive tasks, or answering constant customer questions. So, this solution has several functions that can alter the way you support:
Ticket automation. No more tickets piling up, each of them is directed to the right department;
Task automation. This feature deals with your repetitive tasks so that you won't spend time doing everything over and over again;
Self-service automation. Now, you can provide your users with round-the-clock opportunities. They can submit a ticket via a customizable form automatically, use a self-service FAQ database with the answers to common questions, access the self-service portal by pressing a hotkey assigned to SysAid, etc.
Remote control. With remote in-built control capabilities, you connect directly to users' machines and resolve issues, whether they're working from their sofa or car.
Just like Freshdesk, SysAid offers a free trial. To dig some info about their pricing, you should book a demo or chat with the company's representative. Which can be quite disturbing for some people.
10. Re:amaze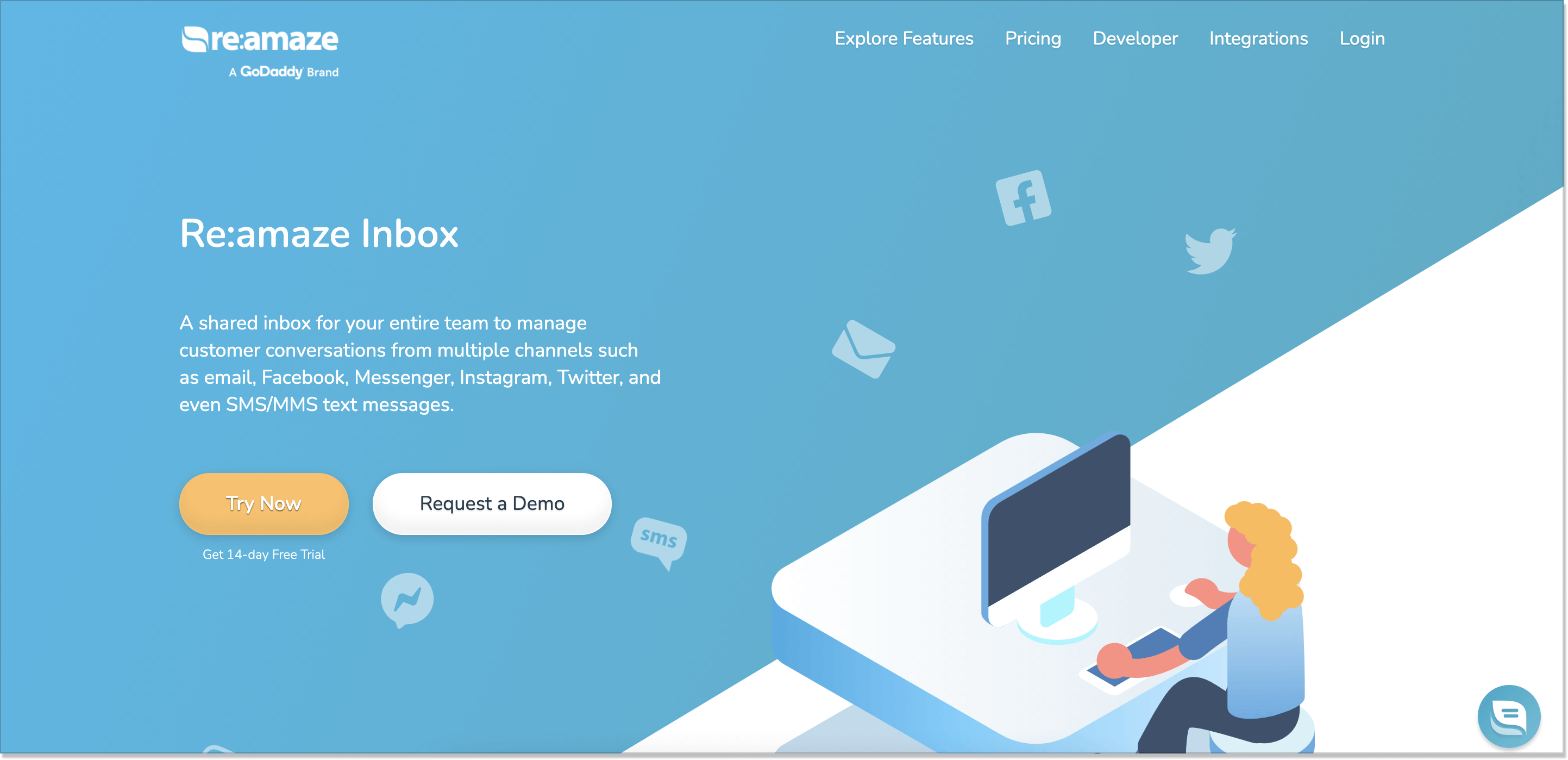 Last but not least is Re:amaze — a help desk and customer messaging platform. With multi-channel support for all of your conversational channels like chat, email, social media, and mobile, Re:amaze helps your team be in sync with users in a shared inbox so no conversations fall through the cracks.
Here, you won't find any extra functionalities. The company's feature set is common:
Shared inbox for responding to users in one place
Collision detection opportunities to see what other teammates are doing and prevent embarrassing moments
Workflow to reply to customers automatically
Advanced reporting with reports about ticket volume, customer appreciation, satisfaction, average thread size, and more.
Re:amaze may not be such an attractive Freshdesk alternative, though it has pretty affordable pricing. Apart from a 14-day free trial, the brand offers 3 main tariffs and 1 additional for startups ($59/month). For $29/month per user, you can take the Basic plan (unlimited email inboxes, live chat, response templates, etc). The Pro and Plus plan will cost you $49/month per user and $69/month per user respectively.
Final thoughts
Phew! This is what I call a thorough comparison. Though deciding on the most decent alternative from this ocean might be a tough call for you, I do hope our list has helped you succeed.
Remember this thing: overpriced software doesn't always equal quality. What's important is its "inner kitchen", the features it provides, and how your business can benefit from them and scale in the future. Major criteria are a unified workspace, basic customer service functionalities, and a trouble-free installation. So, choose smartly for the sake of your customers and team.