7 Customer Service Problem-Solving Techniques with Examples
Solving problems in customer service is hard enough. So, to make it easier for you, I've organized a list of 7 actionable techniques that will help you with troubleshooting. Check them out!

Problems themselves are not scary. What really makes our blood freeze is the lack of frameworks in mind of how to solve them. Lists, step-by-step instructions give us a roadmap to troubleshooting and reducing the barriers to success.
Scary situations stop being such if you have the tools to solve them, believe in yourself and in what you are doing.
Ok then, let's assume it's not your first day in customer service and you know how to act in case of clients' complaints. How to stand out from the crowd? How to solve problems more effectively?
Well, that's where the list of 7 customer service problem-solving techniques can come in handy. I've selected the most original and efficient examples. But first things first.
What is problem-solving in customer service?
Solving customers' problems is more than just fixing the bugs or providing detailed instructions. It's about being prompt, patient, polite, and staying by their side all the way through. Basically, you need to say what consumers want to hear while not instilling false expectations.
In customer service, clients expect something more meaningful than just a financial solution if the issue has occurred. Survey results suggest that only 43% of respondents are satisfied with refunds. And 50% said they enjoyed the feedback that involved an apology, empathy, or other compensation unrelated to money. Unsurprisingly, 60% stated that they were happier when received both.
How does bad customer service damage your business?
Poor customer service is like an illness that, if left untreated, affects all parts of the business until complete destruction.
Let me elaborate here. Imagine, a client faces a problem with a product, turns to customer support, doesn't get proper help, gets annoyed, leaves a bad review, and discourages people from buying from this specific company. Slowly but surely the brand loses its reputation, fewer leads convert, employees leave for competitors, loyal customers also switch to alternatives, and eventually, revenue decreases irretrievably. Pretty grim scenario, isn't it? But it's exactly what happens if you provide poor customer service and do nothing to improve things.
To make it a lot simpler to understand, here is an infographic.
Basic customer service problem-solving steps
Acknowledging the importance of good customer support, some companies provide special training to their agents. What they learn among other things is a four-step process of solving problems. It's 4 simple steps that a representative should follow.
Listen to a customer. No doubt, this step is the most crucial one. Ask all the questions about the unpleasant situation to give a complete answer that matches the problem. Don't interrupt the customer and let them express their feelings if they need to. Be that empathetic ear we all strive when being sad or angry.
Acknowledge a client's pain. This step implies agents being understanding of the client's struggle and admitting it. It's also a time to paraphrase the problem back to a user to show that you understand it. It proves to the customer that you both are on the same page.
Offer alternative solutions. "It's not a desperate situation and we can fix this". That's a message you have to convey to a client. Offer an efficient solution and make sure it fits the customer's needs. It'd be a nice practice to offer some compensation in form of a voucher, discount, or free item.
Follow-up. It's the step you can't go without in customer service otherwise all previous steps may lose any sense. So, make sure that the customer ended up happy and satisfied with the solution. If they still feel unhappy, find a way to gratify them (that's your job in the end!)
7 customer service problem-solving techniques
In the race for happy, and therefore loyal customers, creativity and the ability to think outside the box will help a lot. Here are some original customer service problem-solving examples that you might want to apply at your company.
1. Don't argue, simply start with an apology
It's a natural instinct to defend ourselves when someone insults us. But fighting with customers is a 'red flag' that results in an even bigger brawl.
In most cases, angry clients will be annoyed with something that is not even your fault. However, this won't stop them from blaming you for all the issues they are facing. In fact, you would often come across clients who have troubles because of their own fault.
But you cannot point it out directly. Otherwise, you will shake their faith in your brand. The best problem-solving technique is to apologize first and ask for more information to investigate the problem. Because it doesn't really matter whose fault it is if it's your responsibility to fix it and reduce possible negative consequences.
When apologizing, try to be creative. Instead of using a canned response "Sorry for the inconvenience", send a more human reply.
Brief first-response phrases to extinguish the fire:
"Thank you for reaching out! I totally 'feel' for you. Here is what I'm going to do to turn things around"
"Wow, I am so sorry to hear that. No wonder, you feel this way. Let's get things right asap"
"I appreciate you letting me know about the issue! I definitely will make sure that it gets sorted"
"Ohh, it sounds like a serious issue. I am so sorry you have to go through this. But you've come to the right place to get this resolved."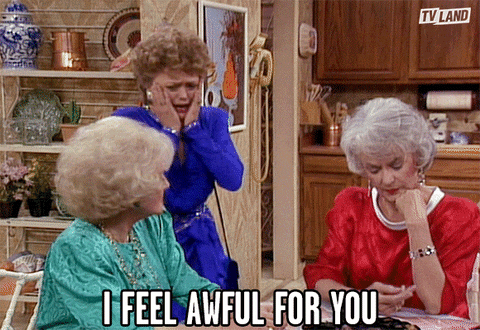 2. Send a lightning-fast response to the complaint
Our First Aid Basics school teacher used to tell us that in most cases a fire can be dealt with with a cup of water during the first 1-2 minutes. If the moment is missed, only a troop of firefighters can save the situation.
I feel like this principle applies also to customer service problem-solving. Once you get a complaint, there is a small window of around 2-5 minutes to reply. If you miss it, it's going to take much more effort to calm down an angry customer. Because with every minute of your silence, they get even more irked.
There are a few ways to provide speedy customer service.
Add live chat software to your website. It's a communication tool for instant messaging with users. Some platforms like HelpCrunch, for instance, also offer tagging, assigning, sneak peek, and whatnot features on top of that. This way customer support agents can handle up to 5 chats simultaneously.
A complaint we often saw, as consumers, about online stores was the lack of help that is easily available to you. When we created our e-commerce website, we wanted to resolve that issue by incorporating a live chat directly on our site. Live chat is great because it gives consumers accessibility straight from your website without having to abandon to seek support elsewhere.

© Shares William Schumacher of Uprising Food.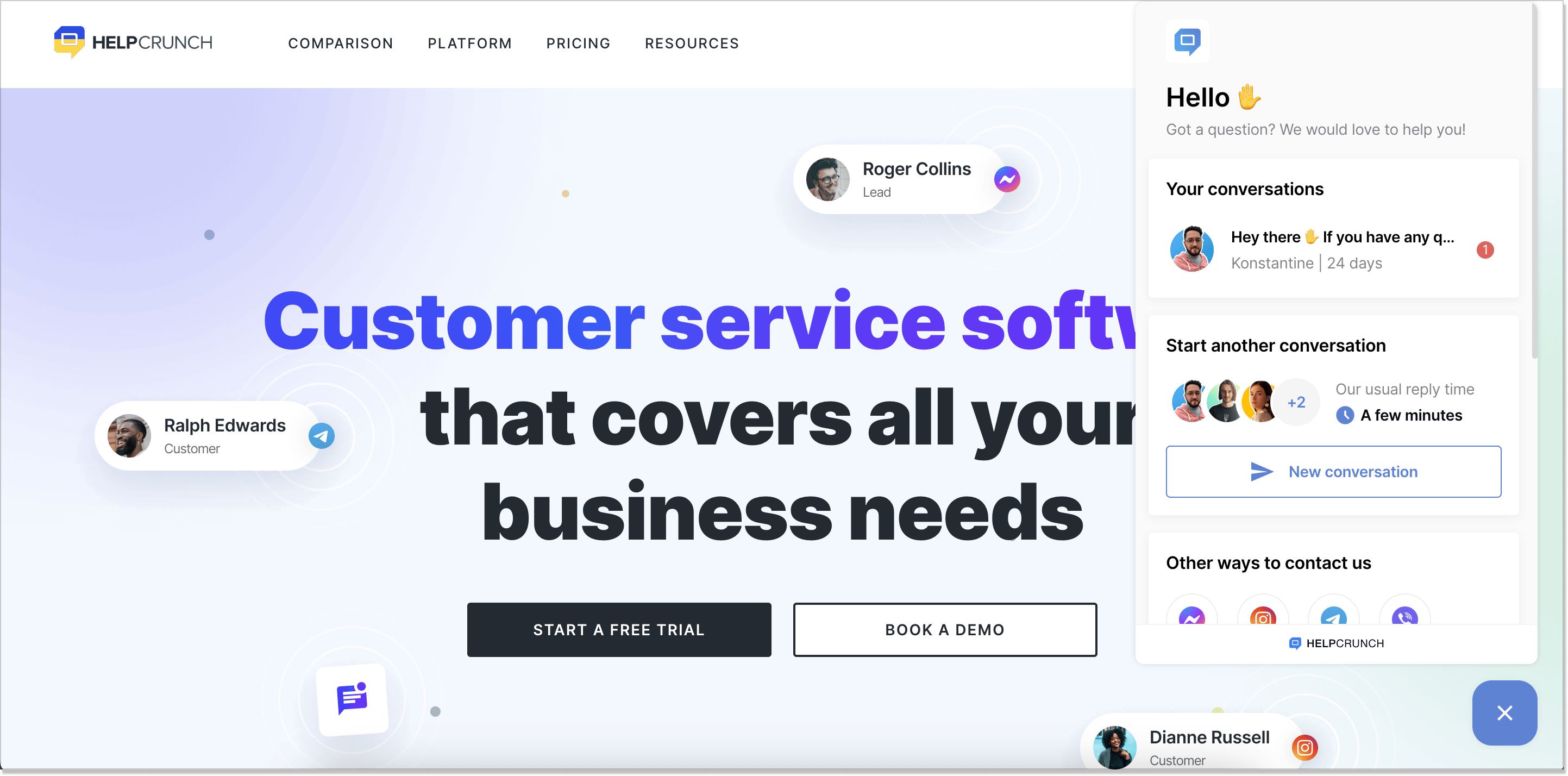 Leverage AI chatbots. Bots can significantly reduce the chat load on agents. Besides, this way you will be able to keep assisting your visitors even after office hours. Prompt responses are also an important benefit that comes with chatbots. But be careful, if a client experiences massive issues, they might not be in the mood to talk to a robot. Considering that in some complex cases they are not very helpful.
Hire more staff. To deal with a growing number of customer queries, you might want to add more people to your team. Once newcomers master the guidelines policy (it might take up to a few months), they would be able to respond promptly. I suggest using the best tools to reduce wait time while gradually increasing staffing.
One quick and polite reply can save the day. Even if the issue will take longer to fix, don't worry. Your immediate reaction calms the user down because they know "you are on it".
3. Use visual content to win back customers
Why are images more trusted than text?
As studies suggest, humans can process images up to 60,000 times faster than plain text. It means that with a single picture you can convey more information than with 100 words for that matter. In fact, images have the ability to transmit abstract notions such as facial expressions or emotions.
Since we are visual creatures by nature, why not take advantage of this to enhance data processing and communication effectiveness?
So, when you send a message to a client saying "We are on it", add an image to your reply. It can be anything depending on the product/service you sell. For instance, a selfie from the back-end developer fixing the issue or a screenshot showing that you added this task to the team's to-do list with high priority. This way your reply looks more trustworthy.
Especially if it comes to problem-solving on social media, pictures are extremely effective. They increase audience engagement, draw attention, and help users to remember your message. On average, Tweets with photos receive a 35% boost in Retweets.
You can also use visuals when sharing step-by-step instructions with customers. At HelpCrunch, we rely on images frequently to educate our users on how to make the most out of the platform. Recently one of our clients turned to us asking for help with the Zapier integration. We included a screenshot with notes to our reply which helped to resolve the issue faster.
4. Add a pinch of humor to the reply
As they say, "Laughter is the closest distance between two people".
If you want to close the distance and become more human with the client, try to add a little humor to your answer:
–You made me really sad I must say.
–Yes, John, we are very sad too. Hopefully, we will be able to return you to a better shape soon.
But with jokes, you need to be on the alert. While some clients appreciate the humor, others may perceive it as disrespectful to themselves.
Let's talk about Skyscanner's sarcastic response in customer service that I personally found hilarious and quite brilliant.
James Lloyd, a company's user, got a suggested itinerary from the app saying he would have a layover in Bangkok lasting 413,786 hours, or 47.2 years. He immediately complained about the glitch and wanted to reproach the brand with this.
But the customer service agent was not taken aback and responded quite creatively, which made the answer memorable and viral.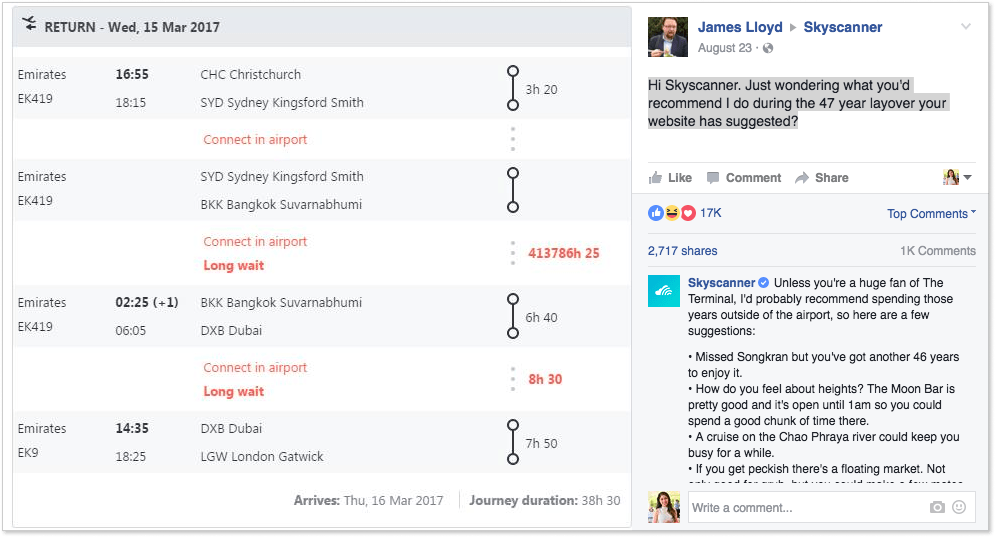 Don't forget about funny gifs and memes that could definitely turn things around and make your customer smile.
5. Offer a generous compensation
I'd say this is the most intuitive technique. When we make someone feel bad, the immediate reaction is to compensate for the damage and give something in return. This approach immediately defuses a potentially problematic situation.
Discounts, free items, or other bonuses direct the customer's attention to the benefit they've just received. So instead of being angry about an issue, they feel happy with the gift you've given them.
However, there is a downside of such a tactic – it doesn't guarantee that a client will return. They can just take a free item and never come back.
If you want to attract a customer to use your service again, then consider offering a coupon or voucher for the next purchase. This way it's more likely your unhappy client will return, giving your company the chance to earn back their trust and loyalty.
Not for nothing, KFC gives vouchers to dissatisfied customers (because it really works magic). Let's say, a client ordered delivery from the restaurant, receives a package, and realizes that a caramel milkshake is missing. The customer went furious because this milkshake has been the most wanted item. They text the support department with a complaint. A friendly support representative apologizes sincerely, makes a refund, and offers a voucher for a free milkshake. The customer's anger has gone away. Now they are calm and satisfied again.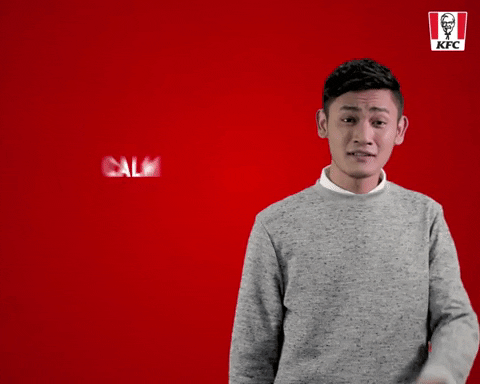 6. Take your apology offline
There are those customers you just can't lose because they form the backbone of your revenue. In such circumstances, it might be necessary to take your apologies to a new level namely offline. Such a technique allows your unhappy clients to feel special and appreciated.
For instance, invite the customer to come to your office and talk properly about the issue and what you can offer them as a better solution. It shows that their complaint is being taken seriously.
I can think of another more creative way to say sorry – send your angry customers a gift in a branded packaging. Include some things that most people enjoy like sweets, tea collection, branded stationery items, etc. The gesture is what counts the most here.
There are some firms (Sorry As A Service, for instance) that can help you with that. When your company fails the client in any way, you turn to such a company for help. You list what your "sorry" package should include and the guys take care of the rest.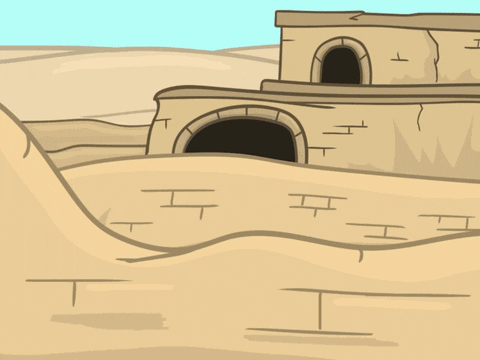 7. Empower your customers to help themselves
If you had two options, either resolve an issue by yourself or with the assistance of a customer representative, what would you choose? Interestingly, 67% of respondents go for self-service instead of communication with a support agent.
That's why we cannot fail to mention this problem-solving technique since it's the most preferred way for many users. It's especially true if you target millennials, a tech-savvy generation who got used to research answers online. Human interactions are only necessary if all the existing ways of troubleshooting failed.
In case young users feel that it's too complicated to find the answers online, they will complain. And, most probably, they won't text your support agents about their displeasure. Instead, they will go to social media directly to share their negative experience. Twitter, Facebook, Instagram, and now Tik Tok are today's users' weapons against your poor product quality or service.
How to ensure a self-help option for your customers?
Deploy a knowledge base feature. It's a 'help yourself' functionality that allows users to find answers without a hint of your assistance. If a customer wants a refund, they can chat with your agents and ask 'how to' for the thousandth time. Or, they can read a step-by-step help article in your knowledge base.
If you decide to go with the HelpCrunch software, you can in-build the knowledge base feature into a live chat widget so that customers don't have to look for it across the website.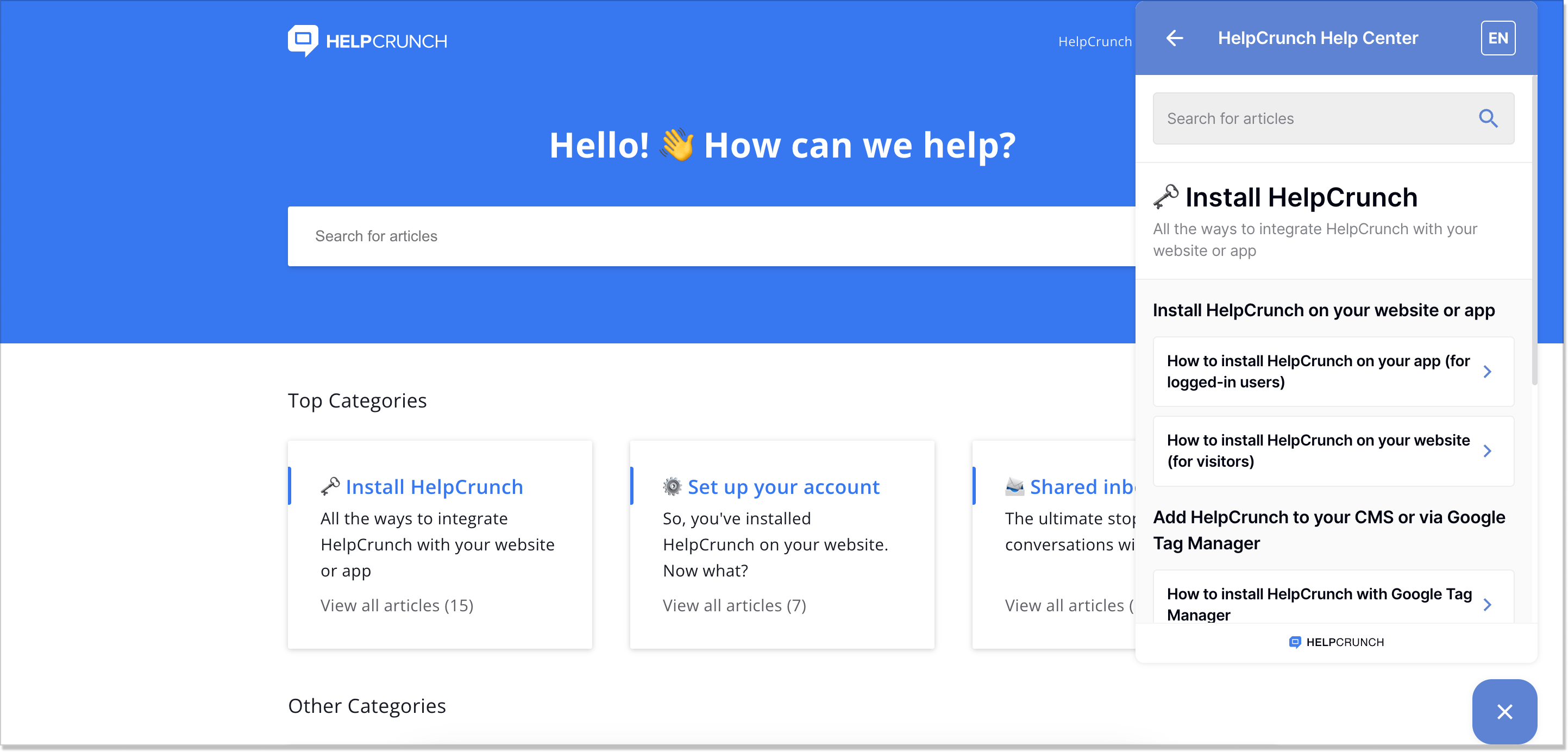 Conclusion
Prompt and empathetic responses are the key factors for high-quality customer service. Once users know you are taking care of their issues, they can get back to their daily activities. While the most damaging thing in problem-solving is silence. In the long term, it can ruin your brand and the company as a whole. Try to reply with an apology message during the first 2-5 minutes after the complaint has been sent.
The question is how to ensure high responsiveness? For that, savvy companies usually leverage special communication tools, like live chat, chatbot, or knowledge base. And I happen to know the one that might be just the thing. Thanks to its rich functionality, the HelpCrunch software allows your agents to handle up to 5 chats simultaneously. You can test the tool for free for 14 days now.