14 Best Customer Service Blogs to Follow in 2023
Finding just the right source of information is never an easy task. So we decided to give you a hand and do research of our own. Meet a full list of the best customer service blogs that can definitely give you food for thought. Enjoy!

Learning is crucial to our very existence. Just like our bodies require food to nourish, our minds need information and continued learning to stay nutrient. That is why, even when we become more experienced, we should keep learning and gaining new insights from other experts.
Besides, if we are talking about the customer service niche, there is simply no magic formula to providing perfect service to clients. And no matter how long you work in the field, it's always a good time for experiments and fresh ideas on how to amaze your customers. I'm sure you all are well aware of why customer service is important, and why you should never stop exceeding your clients' expectations.
Boost your knowledge and skills with the teachings and findings of the industry's influencers. You don't have to pay any money for that, just pick the customer service blogs you like and start feeding your mind with new amazing thoughts and revelations. 
We are glad to help you with the task! In this post, you can find the top 14 customer service blogs to follow in 2023. Feel free to subscribe to one or all of them, so you can keep up to date with trends and practices in customer service.
To avoid confusion, we decided to break down all blogs into two categories: personal/consult agencies' blogs and corporate blogs provided by tech companies selling customer service software (just like ours 😉). While all blogs deserve your attention, we've put a special emphasis on personal blogs run by thought leaders in the industry.
Off we go!
Best personal customer service blogs worth your attention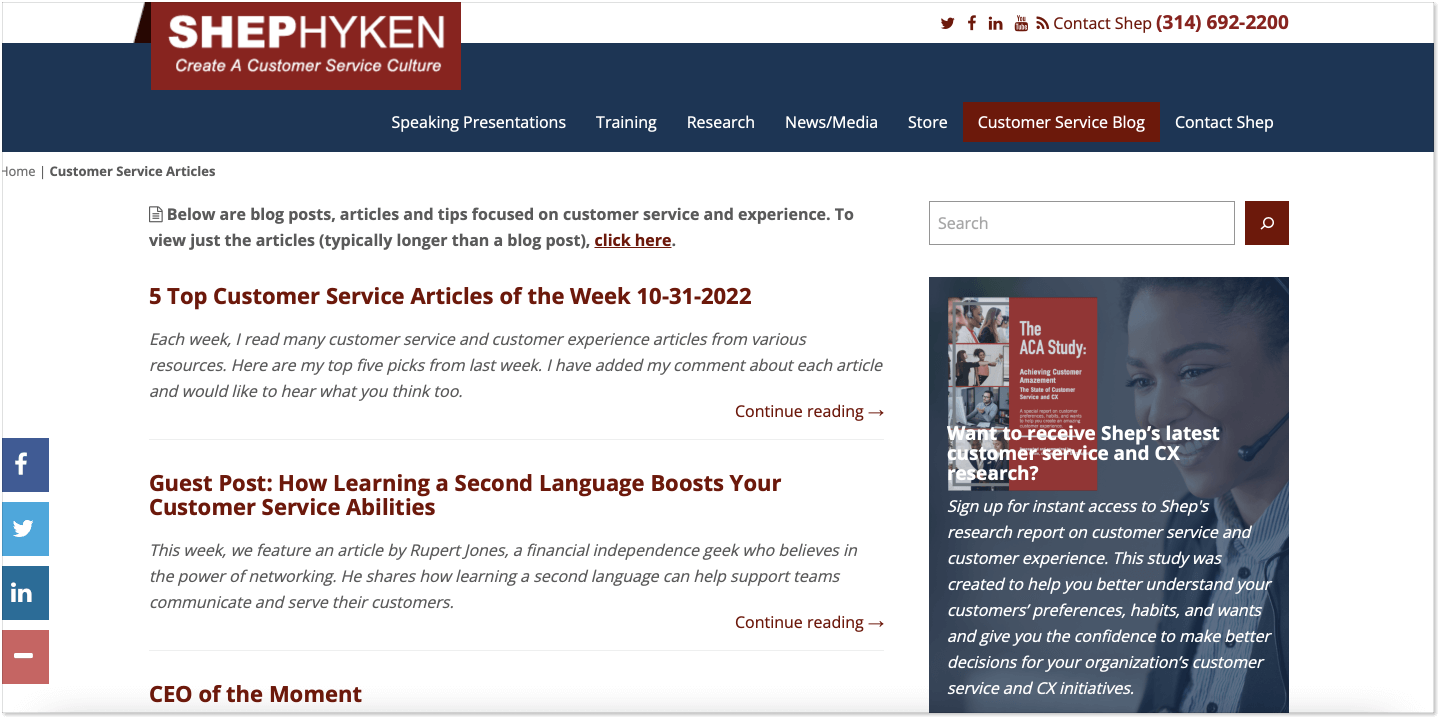 Shep Hyken, a customer service expert and speaker, opens our list of the best customer service blogs. The expert helps companies and organizations to create outstanding customer service experiences for their clients and employees. On his blog, you can find profound articles about customer service written by Shep and guest writers.
Once a week, an NYT best-selling author publishes a quick post about the top 5 customer service articles from across the web and his thoughts on each of them. Quite insightful, I must admit! Also, you can find amusing illustrations and interview podcasts on Shep Hyken's website.
We reached out to the expert and asked him to name just one thing that is often overlooked while building a customer service strategy. Here is what he said:
Just one thing? Let's start with crafting a short, concise, easy-to-remember customer service vision. The Ritz-Carlton is an excellent example. Their vision (they refer to it as their Credo) is: "We are ladies and gentlemen serving ladies and gentlemen." These nine words describe exactly what they want to achieve. It's their "north star." It must be simple and short enough for everyone to understand and remember. Furthermore, it's not a page or a paragraph, it stands alone. Then, once we define the customer service vision, we determine the non-negotiable standards and behaviors that drive that vision – and from there we create the strategy to roll it out and bring it to life.
One other thought. Too many times, we see a customer service strategy that is focused almost exclusively on the front-line employees. Customer service is not a department. It's a philosophy to be embraced by every employee, from the CEO to the most recently hired.
Top picks: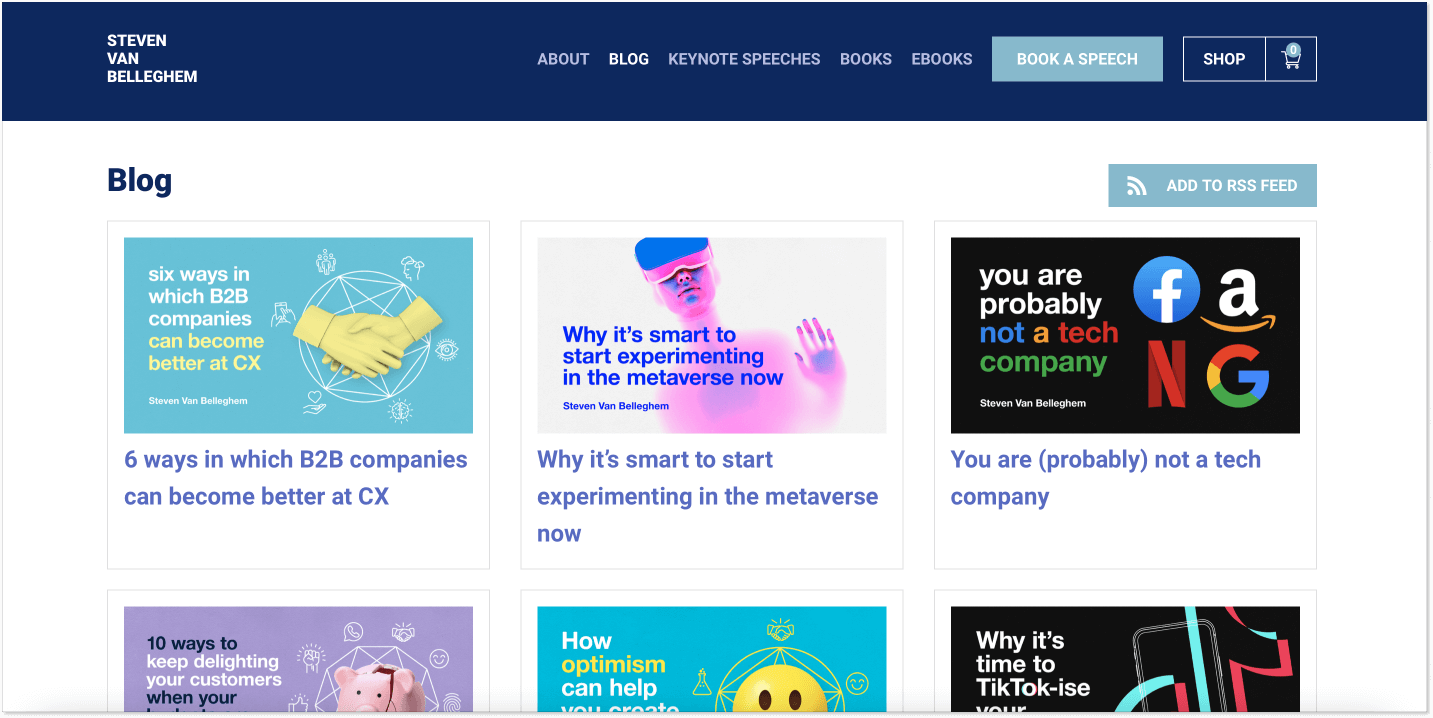 Steven is a keynote customer service speaker, who has given more than 1,250 presentations at events in over 45 countries. The expert usually focuses on the future of customer experience. In his stories, he introduces the combination between customer-centric thinking, the latest technologies, and the human touch as the guiding principle.
Steven Van Belleghem commented on what customer service truly is:
[customer service]… is about truly understanding the humans behind our customers, making sense of their lives. That's very different from optimizing the customer journey. It's about investigating how our brands can have a positive impact on the life of our customer.
Top picks: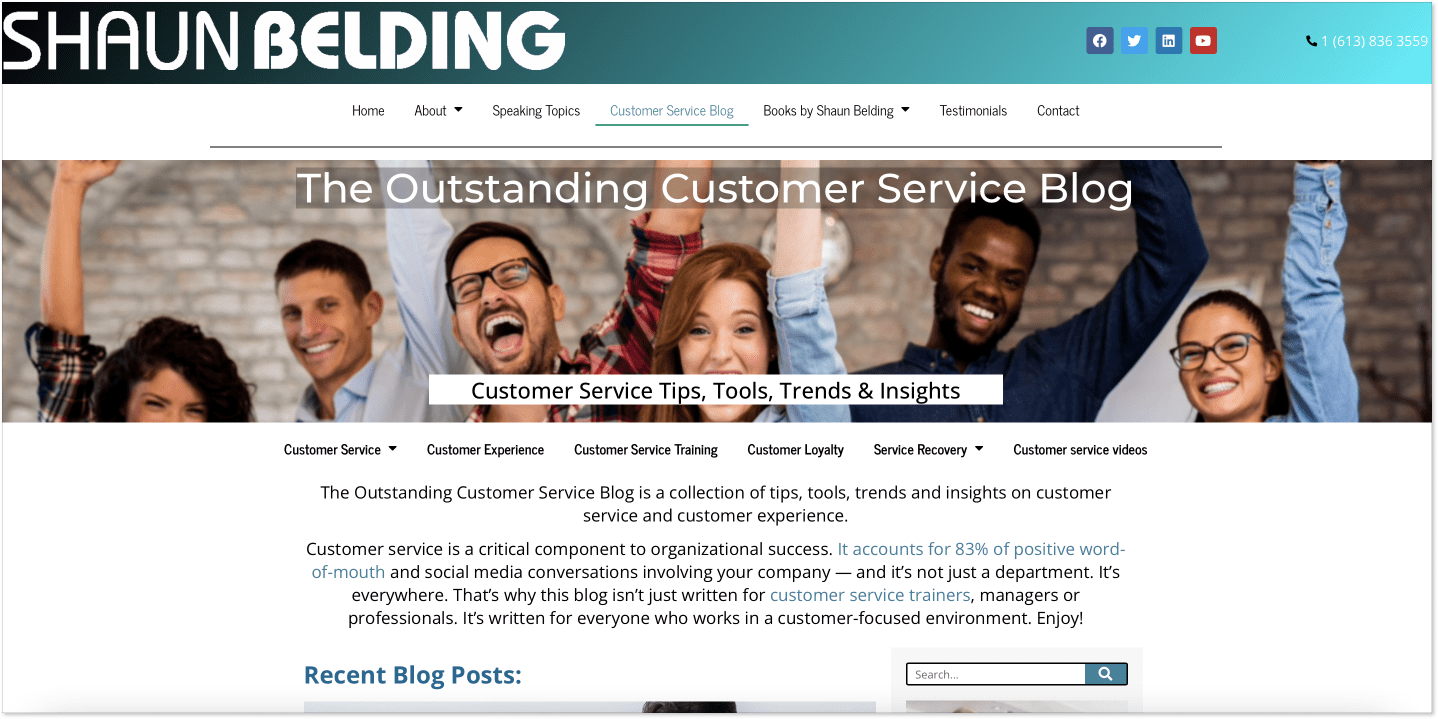 The author of The Journey to WOW (Amazon's bestseller) and 5 other books, Shaun Belding is an expert in customer service. He also manages a consulting company, helping businesses solve their problems, build more positive, productive workplaces, create better customer experiences, and enable leaders to lead more effectively.
This blog is a collection of tips, tools, trends, and insights on customer service and customer experience. It's written not only for customer service trainers, managers, or professionals but also for everyone who works in a customer-focused environment.
HelpCrunch contacted Mr. Belding and asked about his best practices in customer service:
Regarding best practices, I have two – one for individuals, and one for organizations.
For individuals: After each interaction, ask yourself this one question: "What specific thing did I do that would send the message to the customers that I genuinely cared about them." If you can't think of anything, you missed an opportunity to shine.
For organizations: Complacency is the enemy. The moment to stop focusing on customer experience is the exact moment you begin the insidious descent to mediocrity.
Top picks: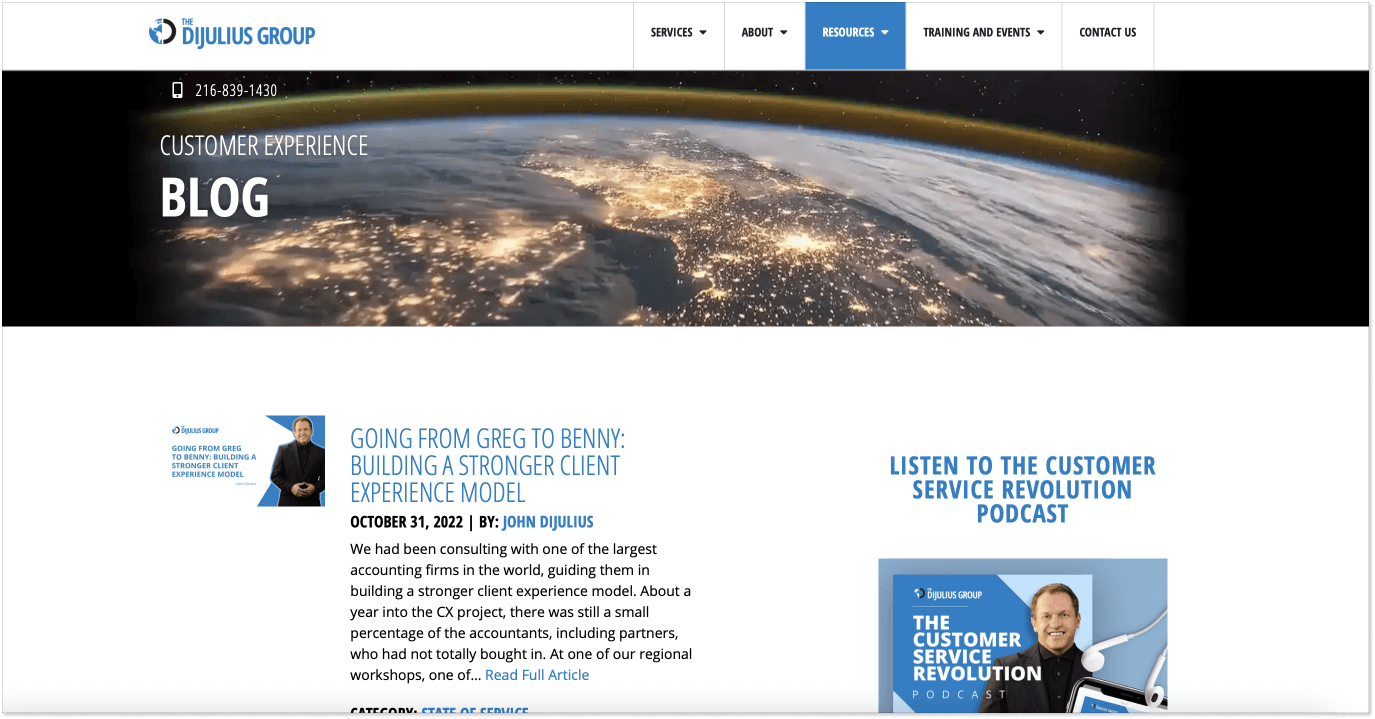 John Dijulius, the CEO of The Dijulius Group, is a customer service consultant and keynote speaker. An entrepreneur himself, John worked with worldwide known brands such as The Ritz-Carlton, Lexus, Nordstrom, Starbucks, and others.
His consulting firm has repeatedly been named one of the top 20 salons in the US. They are focused on changing the world by creating a customer service revolution.
Generally, articles on the Dijulius blog aim to help you create, develop, and improve your customer service systems resulting in a healthier corporate culture, lower employee turnover, and higher customer retention. Sounds good, huh?
Top picks: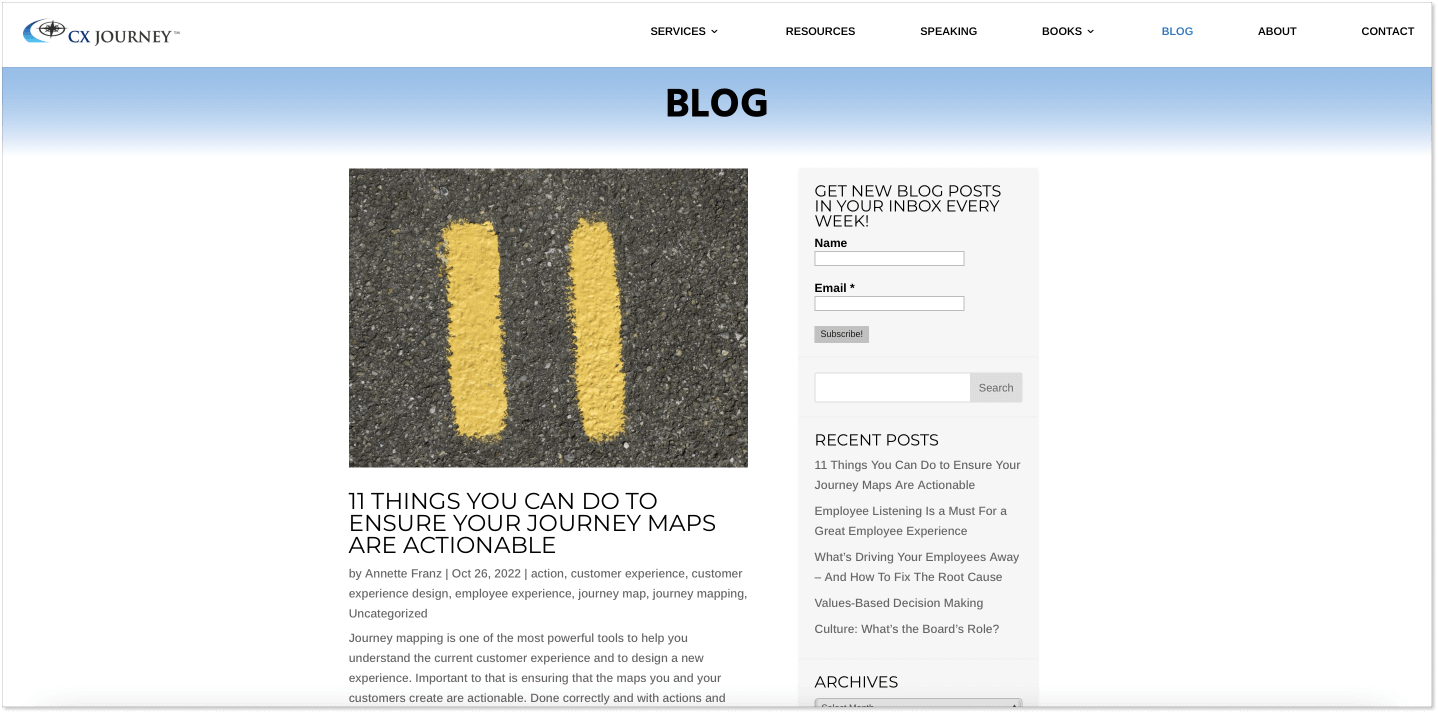 CX Journey is a consulting firm that helps companies establish a CX roadmap and strategy to drive their culture transformation efforts and ensure that the customer is at the center of all they do. The firm offers coaching, consulting, workshops, speaking, and thought leadership/content services.
The CX Journey blog is provided by Annette Franz, CEO of CX Journey Inc. Having started her career in 1992, she's got 30 years of experience helping companies understand their employees and customers and identify what drives retention, and satisfaction.
We turned to Annette to ask about the most important things that companies should understand about customers:
The most important thing we need to understand about customers is, well, customers. Who are they? What are their needs and expectations? What are their pain points, problems to solve, and jobs to be done? How can we add value to their lives?
Top picks: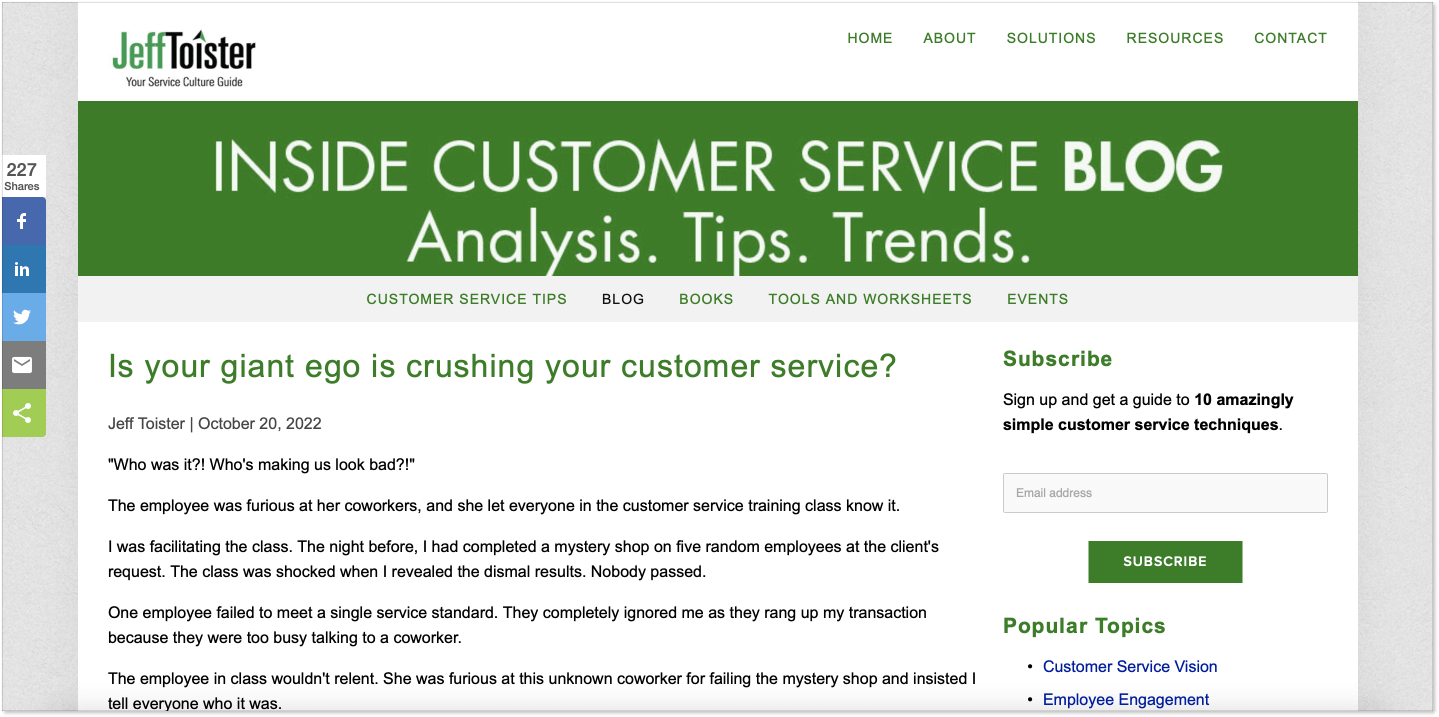 Jeff Toister, an author, consultant, and trainer who helps organizations develop customer-focused cultures, packages everything he learns into books, blog, and newsletters. Moreover, his Inside Customer Service blog has been recognized as a top customer service blog by Customer Contact Central, Credit Donkey, and Feedspot.
Apart from that, the customer service professional holds a President position at his company Toister Performance Solutions, Inc. which helps customer service teams improve their performance. Services include developing customer service cultures, implementing customer feedback programs, and training employees.
We asked Jeff to reveal his opinion on what's the most important thing that is often overlooked when building a customer service strategy. His answer was as follows:
The most important part of building a customer service strategy is creating a customer service vision. This is a shared definition of outstanding customer service that gets everyone on the same page. The vision guides all of your strategic decisions. Without one, customer service leaders can find themselves creating strategies that conflict with one another, are poorly defined, or are just random.
Top picks: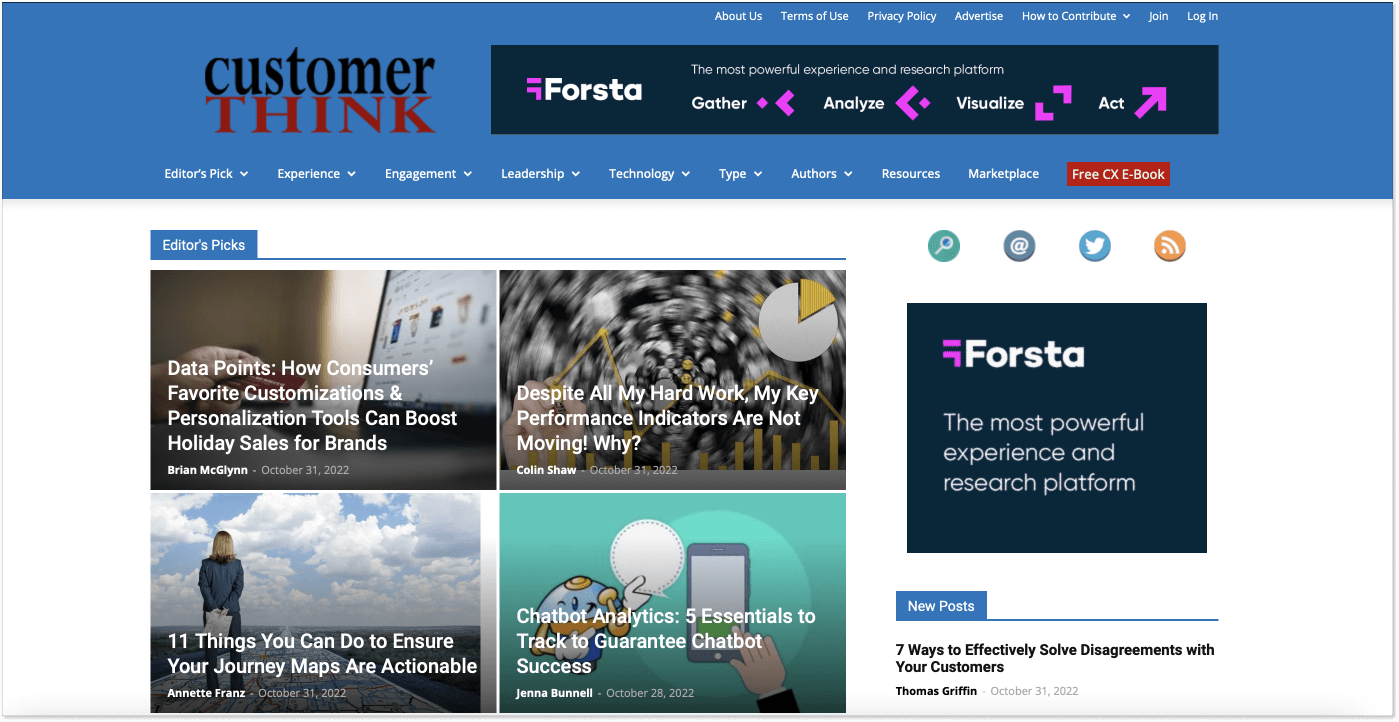 If you are working in customer service for a while, then you've probably heard of the CustomerThink Corp, an independent research and publishing firm focused on customer-centric business management.
On their website, you can find numerous articles on all kinds of topics such as customer experience, engagement, leadership, technology, etc. It's more like a news blog authored by a bunch of writers. You can always find thought-provoking useful articles there as they publish a few per day.
It's a great base to keep up to date with the latest industry tech, news, interviews, and tips on team development.
CustomerThink.com is arguably the world's largest community dedicated to customer-centric business. Bob Thompson, the CEO of CustomerThink, is a popular international keynote speaker, blogger, and author of Hooked On Customers: The Five Habits of Legendary Customer-Centric Companies.
Top picks: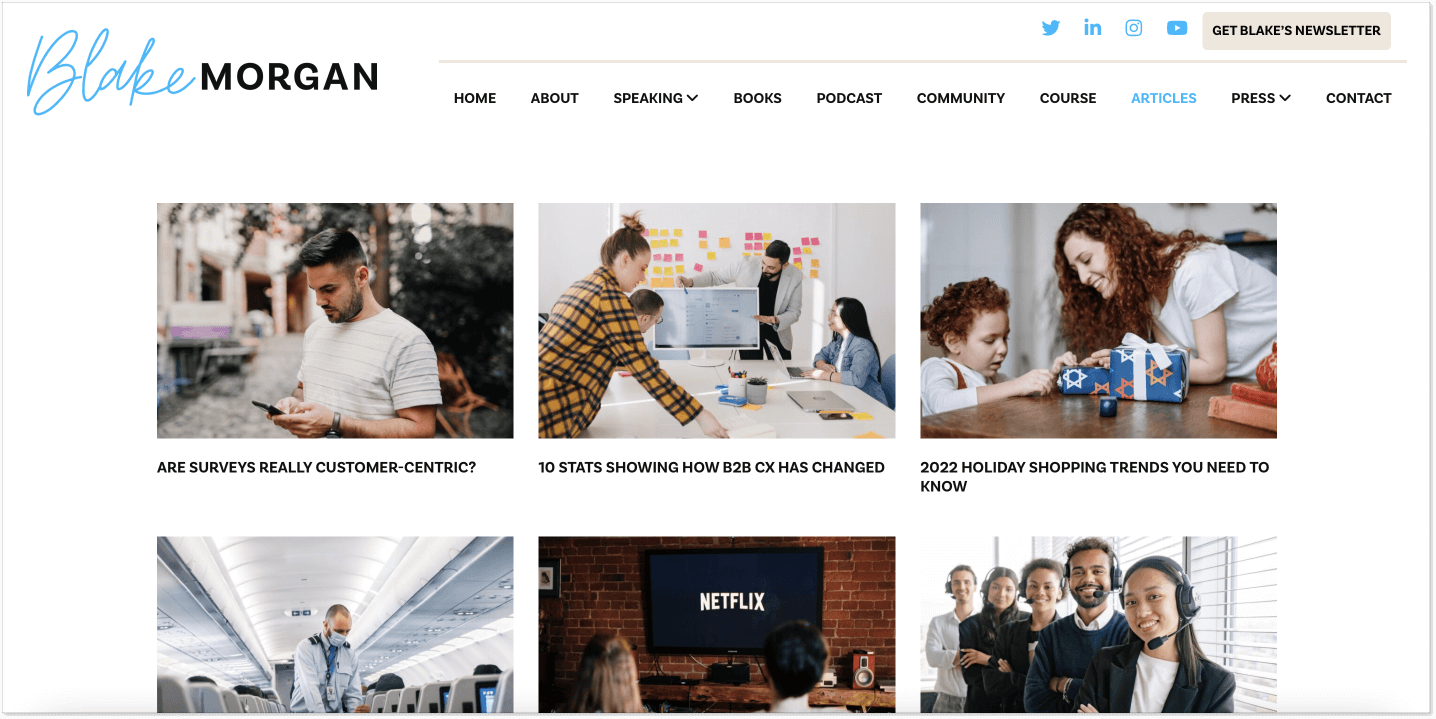 This blog is provided by a customer experience futurist, Blake Morgan. Apart from being a keynote speaker, she is the author of two books on customer experience. Her recent book The Customer Of The Future was identified by Business Insider as one of the top 20 books executives are reading to deal with COVID-19. This book has also won a top 5 spot on Book Authority's list of the "Top 100 Future Of Technology Books of All-Time."
On Blake's blog, you can find a new article every three days. Most of the materials cover various aspects of customer experience. So by reading it, you can learn a lot about how customer experience is changing in B2B, what are the ways to improve CX at your company, and what the future holds for customer service.
Top picks: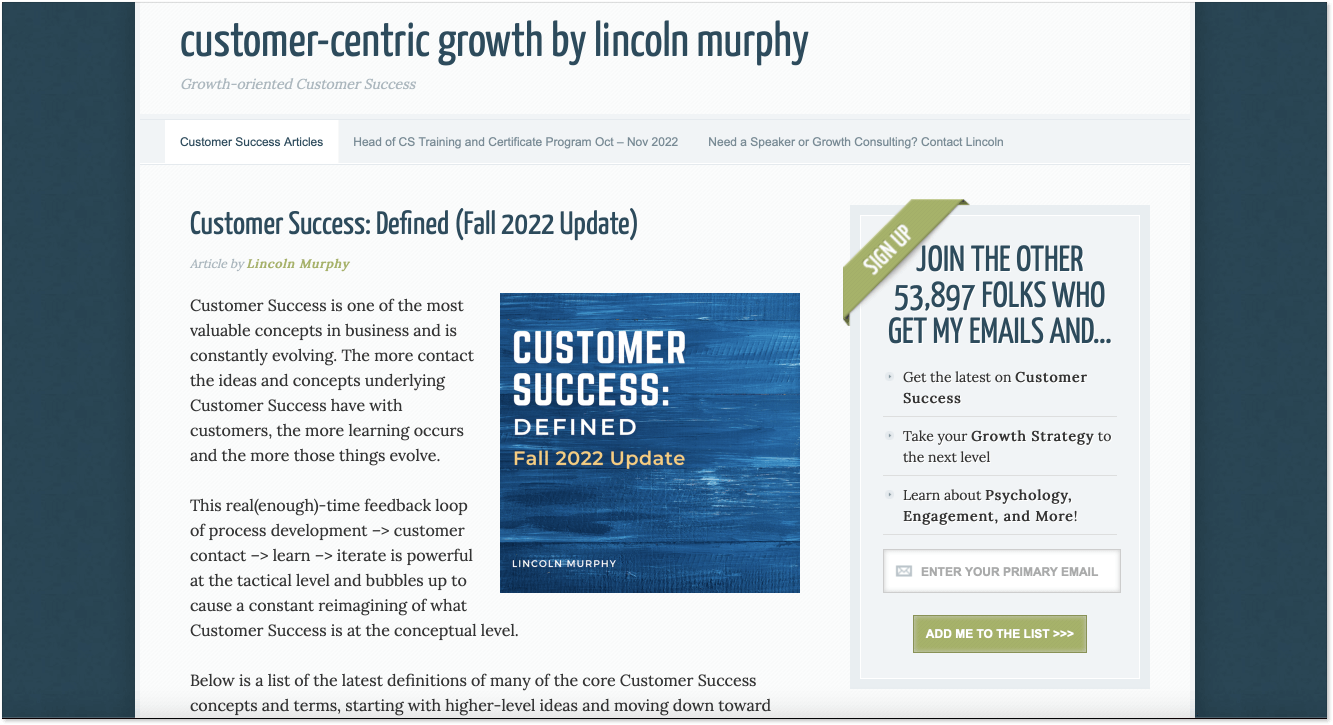 In case you are looking for customer success recommendations, this blog is for you. Authored by Lincoln Murphy, a customer success growth expert at Sixteen Ventures, the blog offers articles on everything customer success related.
On a daily basis, the expert ​​helps companies accelerate growth by optimizing the Customer Lifecycle, from customer acquisition to retention to account expansion and advocacy.
If you are building a customer-centric business and looking for ways to make your customers successful, do have a look at the Sixteen Ventures blog.
Top picks: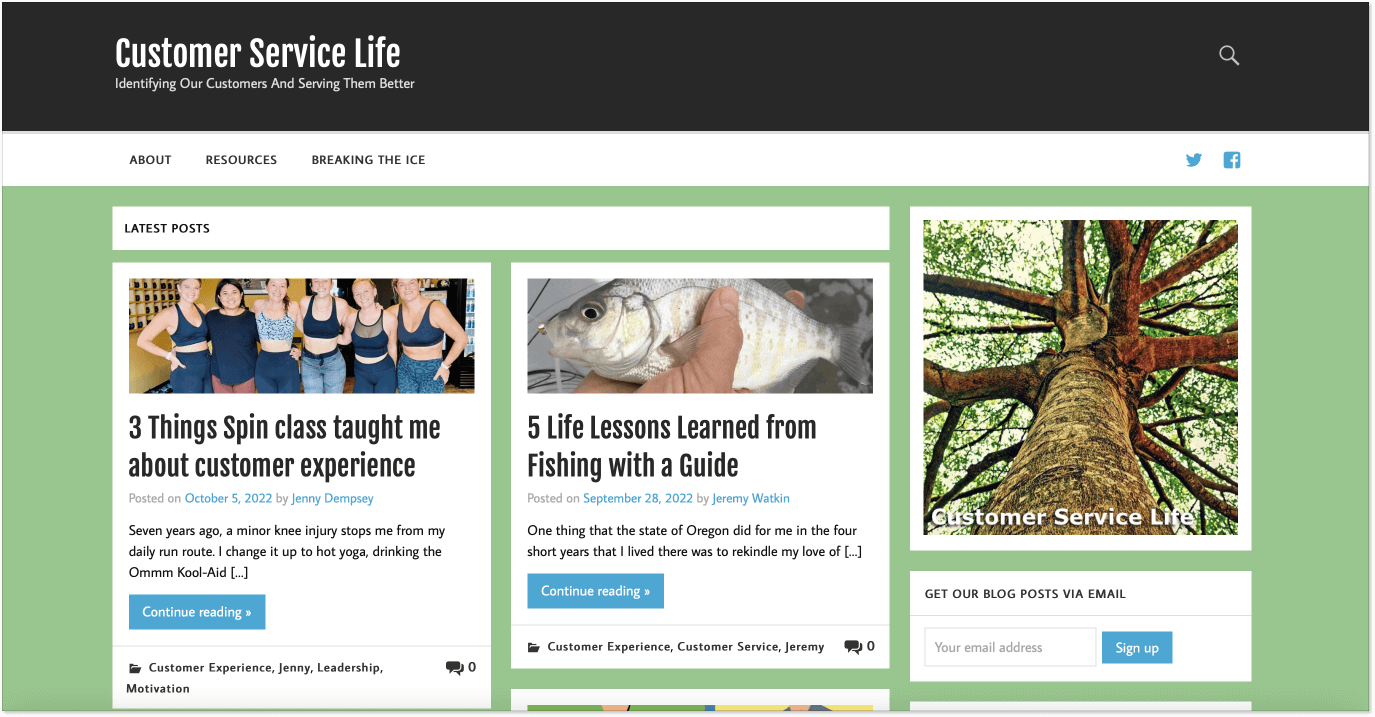 To be honest, this is my favorite blog on the list. A nice read provided by two cheerful customer experience specialists – Jenny Dempsey and Jeremy Watkin. Writers are using simple language to describe things they learned from their own experiences.
For example, one of the post's titles says 3 things spin class taught me about customer experience or Why I've remained loyal to my hair stylist. In short, on this blog, you can find life stories that are not just interesting to read but can also teach you a lesson.
Jenny, a consumer experience manager at Apeel, and Jeremy, a director of customer experience and support at NumberBarn, usually publish one article per month. Do go check them!
Top pick articles: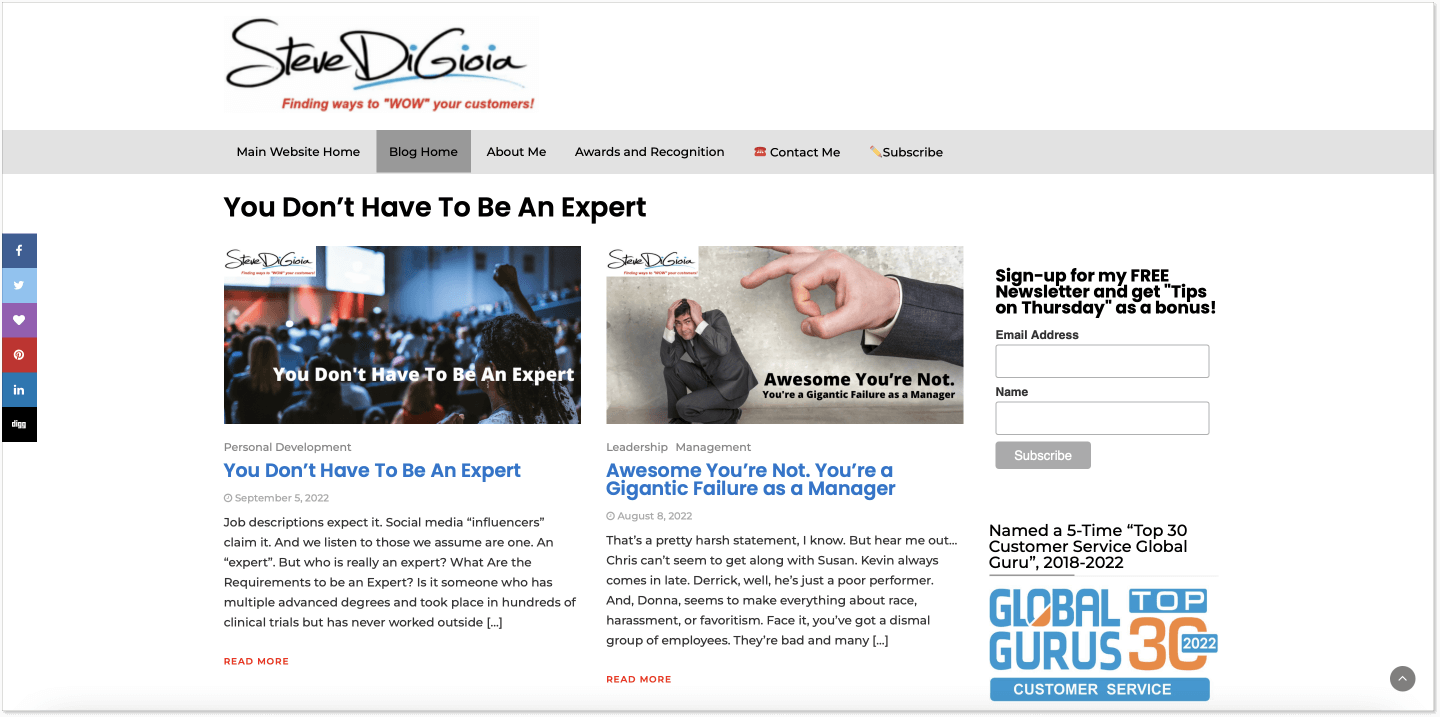 This one completes our list of personal blogs. Meet Steve, a customer service crusader, author, and trainer. On his customer service blog, the expert shares time-tested tips and actionable tactics based on his 20+ years in the hospitality industry and a lifetime of customer service experience.
Steve lives by the mantra presented below and helps other specialists build customer service on these principles:
Only by making your customers feel special and that THEIR enjoyment is YOUR primary concern, will you create the "WOW" experience they long for.
The author insists that the primary focus should always be the customer, your guest, otherwise, you will never reach the heights of service or profitability you desire. The needs of the customer must come before our own.
Top picks:
Best corporate customer service blogs you must give a read
Now, it's finally time to introduce you to our blog, which we create with an enormous passion for better customer service. Here you can find pieces on the best customer service tools, tips to amaze your clientele, and recommendations to boost your performance. Plus, we love humor, so you can always count on little jokes inside the posts and hilarious feature images inspired by art and love for memes.
Who are we? Except for being just a speck of dust in the galaxy, we are also mature enough to create a platform for communication with customers. In short, our team offers the tools you need to interact with clients, such as live chat, chatbot, email automation, knowledge base, popup builder, and more.
Read our blog for insights on great customer service, and sign up for our 14-day free trial to give a try to our amazing customer communication software.
Top picks: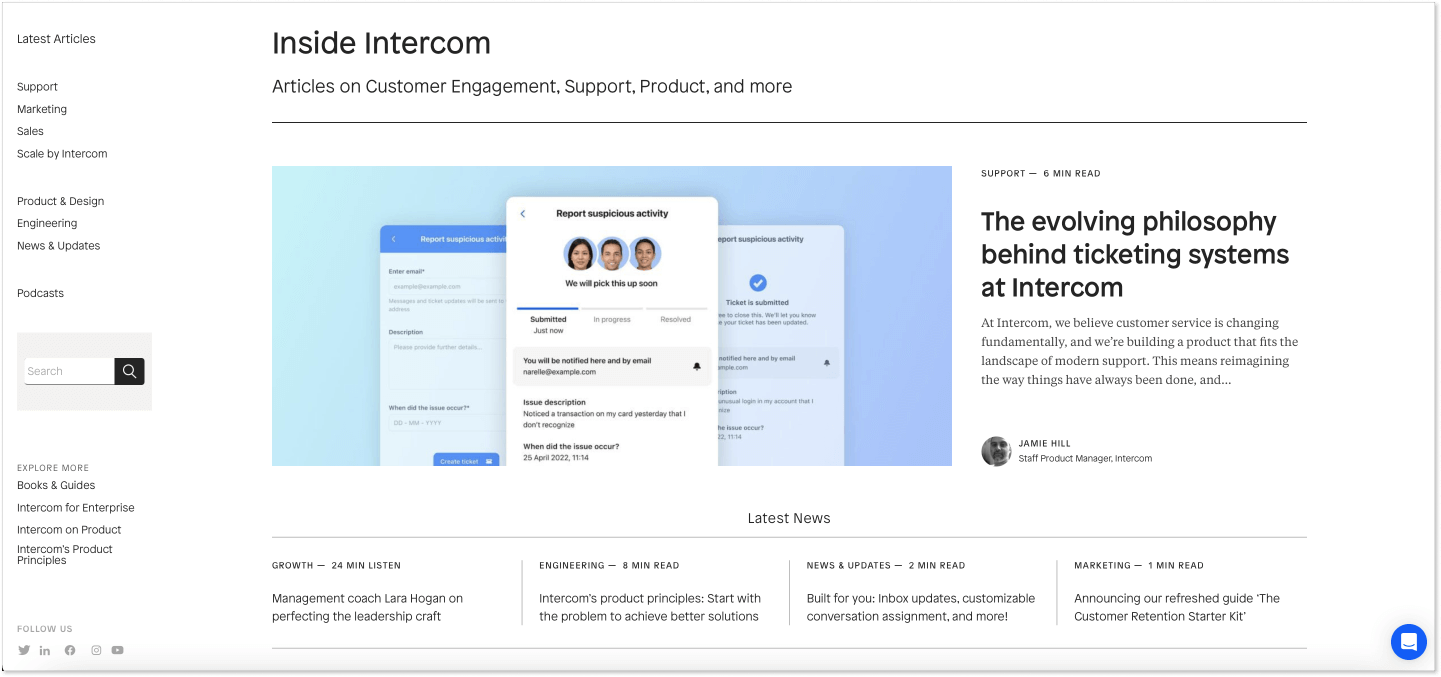 Intercom is yet another customer communication software, similar to HelpCrunch in many ways, but less affordable. Even though not every business can bestow the tool, you most certainly can get lots of insights and tips from the company's customer support blog.
The blog shares content about customer service, management, career building, best practices, and updates on their product. Apart from the articles, you can also find podcasts and videos created by the brand's content team.
Top picks: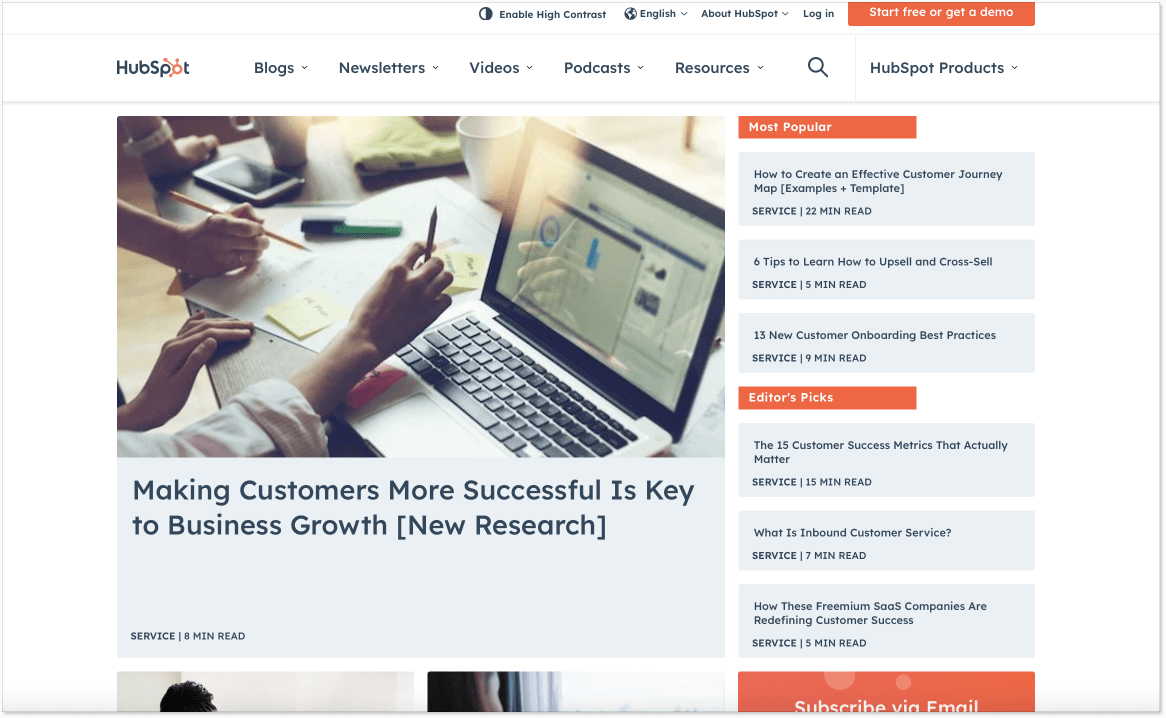 The HubSpot Service blog offers a good deal of useful information like original research, thought leadership content, and best practices in all aspects of customer service, support, experience, and success. By reading the blog, you will understand how investing in customer happiness and retention is a sustainable way to grow your business.
HubSpot itself is a customer service software platform that includes a customer portal, knowledge base, live chat, customer surveys, etc.
Read the blog to get real-world strategies you can implement to accomplish your brand's customer success goals.
Top picks:
Wrap up
As in any other business, the most important thing is desire. If you want to grow professionally and be aware of all the trends in customer service, then be sure to find and subscribe to your favorite blogs. The good news is that there are dozens of them.
Hopefully, our subjective compilation surprised you and inspired you to learn more about customer service and how to become a pro in the industry. Enjoy your reading and see you soon 😉