Top 9 Chatbot Templates to Launch on Your Website Today
Are you looking for the best chatbot templates in business? We are happy to assist you. In this post, you can find the top bot templates for customer support, sales, and marketing, plus some quick recommendations on how to use them. Enjoy!

Stats say that chatbots can now handle 68.9% of conversations from start to finish. Pretty cool, right? But such an ideal state of affairs is only possible if the bot flows you launch speak to your audience and cater to their needs.
Creating a bot flow from scratch can be a huge challenge and a time-consuming activity, which you can easily skip. And the savior here is chatbot templates.
In this article, we will explain to you everything about bot templates and introduce you to a number of them for the most popular use cases. So stay tuned and let's get going!
What is a chatbot template?
A chatbot template is a customizable ready-made chatbot script that you can edit the way you like and then launch it. Usually, they are created to cover the most widely-spread use cases like lead generation, FAQs, contact details collection, and much more. 
As a company, you can pick and set a few chatbot flow templates in motion to deliver to the needs of different customer groups. And that's the most tricky part – picking the right template. So before we move any further, take a moment to answer the following questions:
What do you need a chatbot flow for? Sales, marketing, or client support? (mix and match is also an option)
What questions should a bot ask your users?
Does this conversation flow template allow you to customize it easily?
Once you have your answers, it will help to choose the right template for your business.
Why do you need a chatbot template?
It's like asking why you need to buy a bicycle when you can assemble it yourself. Of course, if you have all the spare parts and enough time, assembling a bicycle can be a lot of fun. But more often than not, we just want to jump on the bike and go on business right away.
Chatbot templates are made to give you this opportunity in the field of automated customer communication. You register on the platform, go to a chatbot section, choose a template, and launch it immediately. In a few days, you can analyze the effectiveness of this particular template, make adjustments, and keep improving your customer experience.
Okay, let's be more precise, here is why you need a bot template:
It will save you time and nerves. Creating your first chatbot flow from scratch might take a few days, as it requires research and strong knowledge of the platform for bots creation. While working hard on that, try not to go crazy 🤪
It's an opportunity to know your users better. If you are new to the world of chatbots in customer service, then templates can help you a lot in learning the tool and clients' preferences with it. While some bot flows attract users, others might push them away.
They show you the most popular use cases. Again, if you are just starting with chatbots, you might wonder what scenarios are the most popular in business. Usually, providers create chatbot templates that have been effective among their customers.
You can easily edit the templates. While enjoying all the benefits listed above, you can change the flow however you like to fit your business case perfectly.
Create your own templates to save time. What's great, you are not limited to the pre-built templates offered by your provider, instead, you can create your own chatbot template to use now or save for later.
As you see, there are many ways in which a chatbot conversation flow template can benefit your business. And now, when you are ready to dive right into a new adventure with bots, there is just one question left – what are the best chatbot templates?
If you are looking for free chatbot templates, sign up for HelpCrunch, a customer communication platform, and get a 14-day free trial to test the bot flows and see how they benefit your company.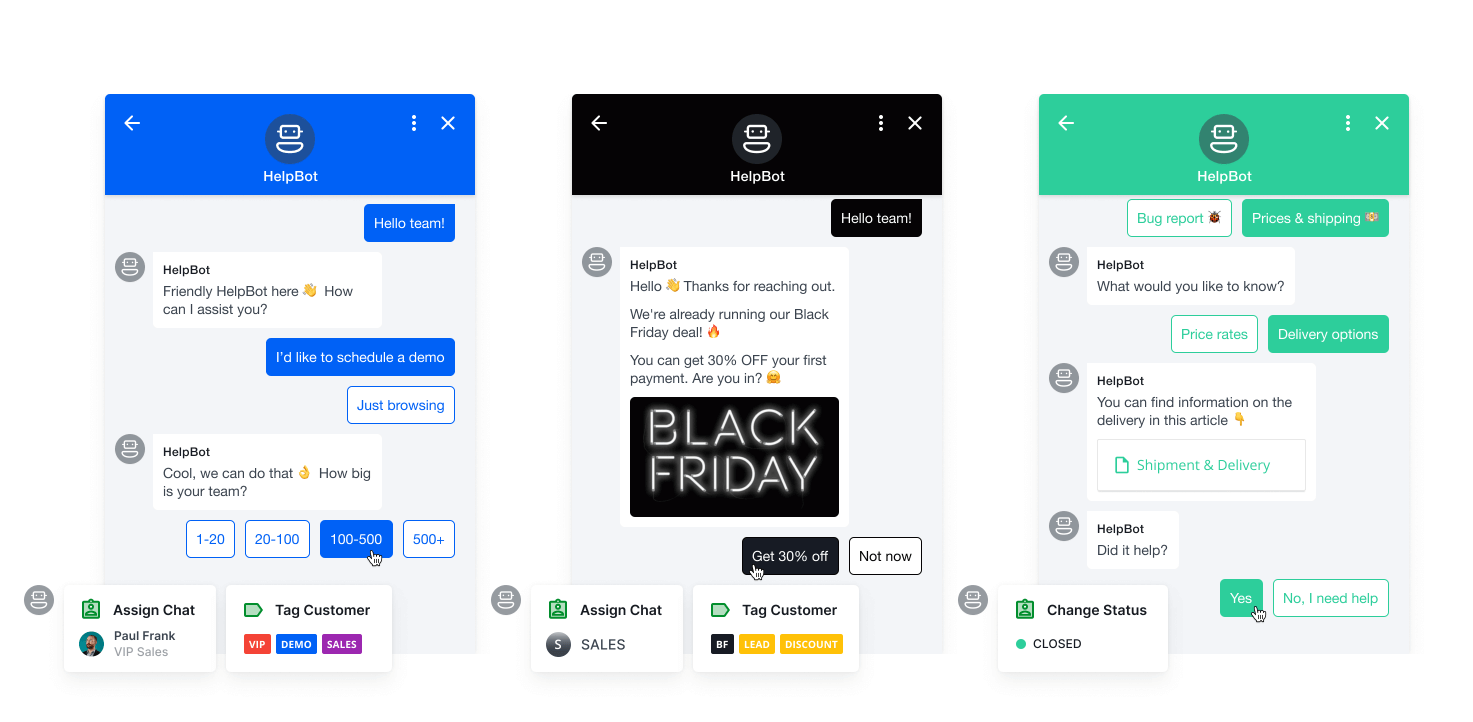 9 best chatbot templates
Let's go through the list of the best chatbot templates for business and choose those that fit your needs. Once the decision is made, just edit and launch the pre-built chatbot script in a few minutes.
In the following cases, we will explore the templates provided by the HelpCrunch platform and its smooth chatbot builder.
1. Collecting contact details bot template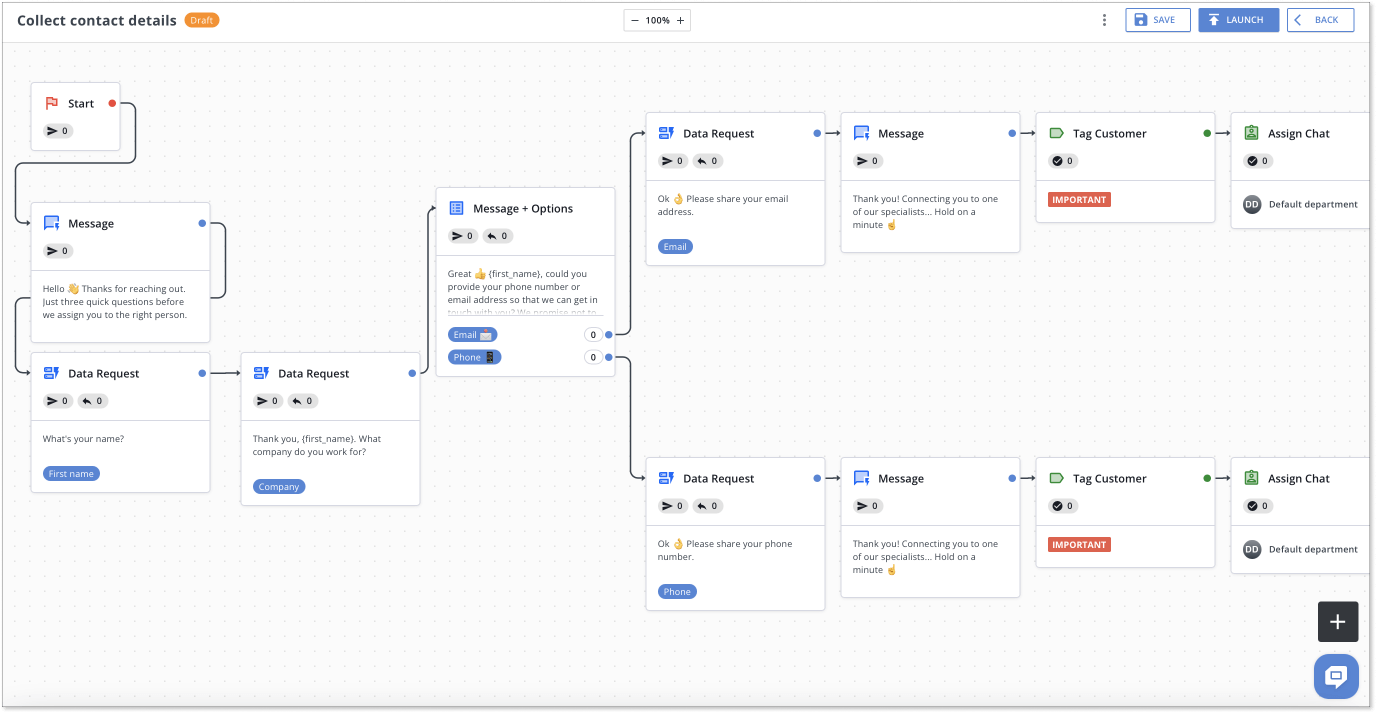 You can use this bot template to grow your lead contact base.
Imagine, a website user reaching out to you in a live chat. But before you proceed with an answer, a bot comes up and asks a potential customer to share their contact information.
The HelpCrunch chatbot template can get you a user's name, their workplace, and phone number/email address in a nice conversational manner. After the information is provided, the bot tags the customer and saves the details in your database. Later, your team can reach out to users proactively and try to finish the sales deal.
But keep in mind, you can easily change the flow to adjust it to your needs. For example, you can skip the 'company' question, add a different tag, and change the text of the message. What's really valuable about the HelpCrunch chatbot editor is its flexibility, which allows editing any part of the flow the way you like.
2. Offering a special discount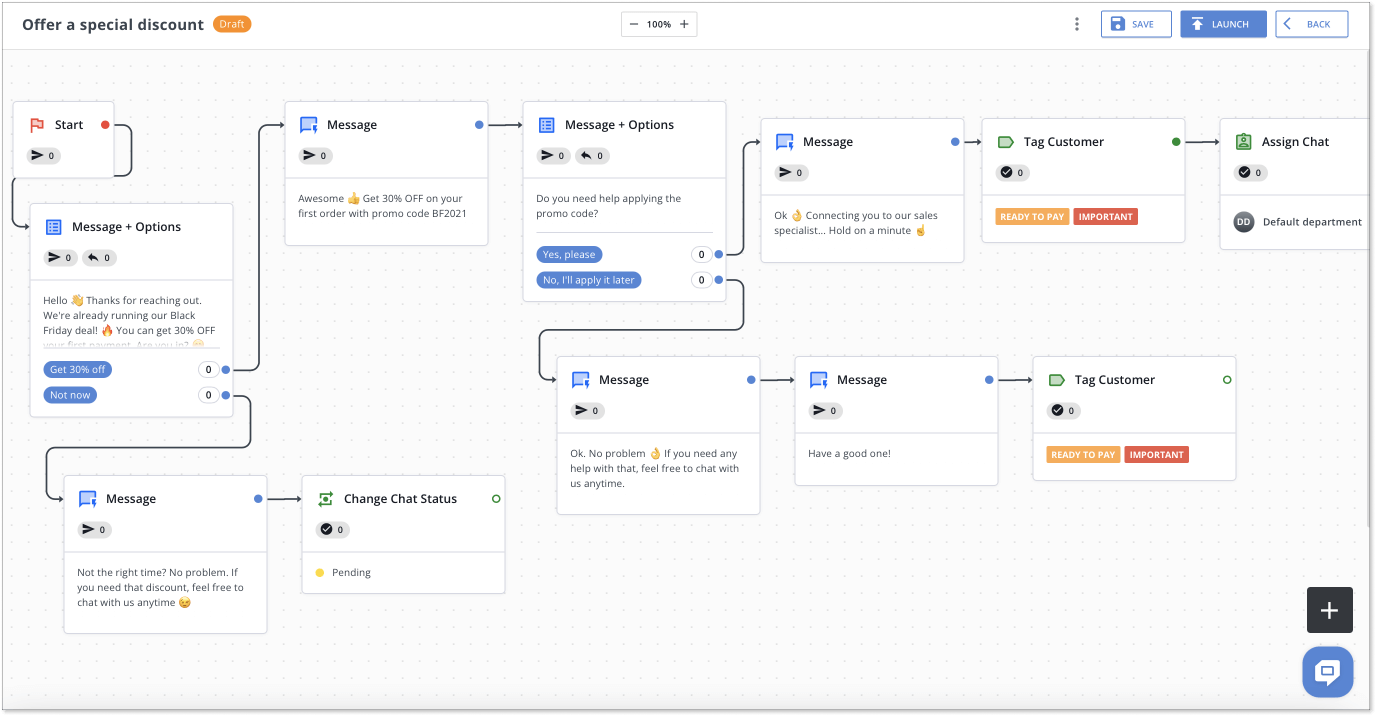 You can use this bot template to provide a limited-time offer to your leads or customers.
This conversation flow is especially useful during Black Friday, Christmas, and other sales seasons when you are looking to lure more leads with irresistible offers. Say, a customer texts you in a live chat and then suddenly receives a discount opportunity. It can definitely soften their attitude and turn to act in your favor.
The HelpCrunch chatbot template is designed to increase your customer engagement, not to push clients away. That is why the first message in the bot flow allows users either to accept your offer or refuse it.
If the person doesn't want to continue with a discount, they will be automatically transferred to a support agent. But if this brilliant deal is what they are looking for, then they can proceed and get it in a few simple steps already pre-written for your chatbot.
3. Qualifying leads when a team is online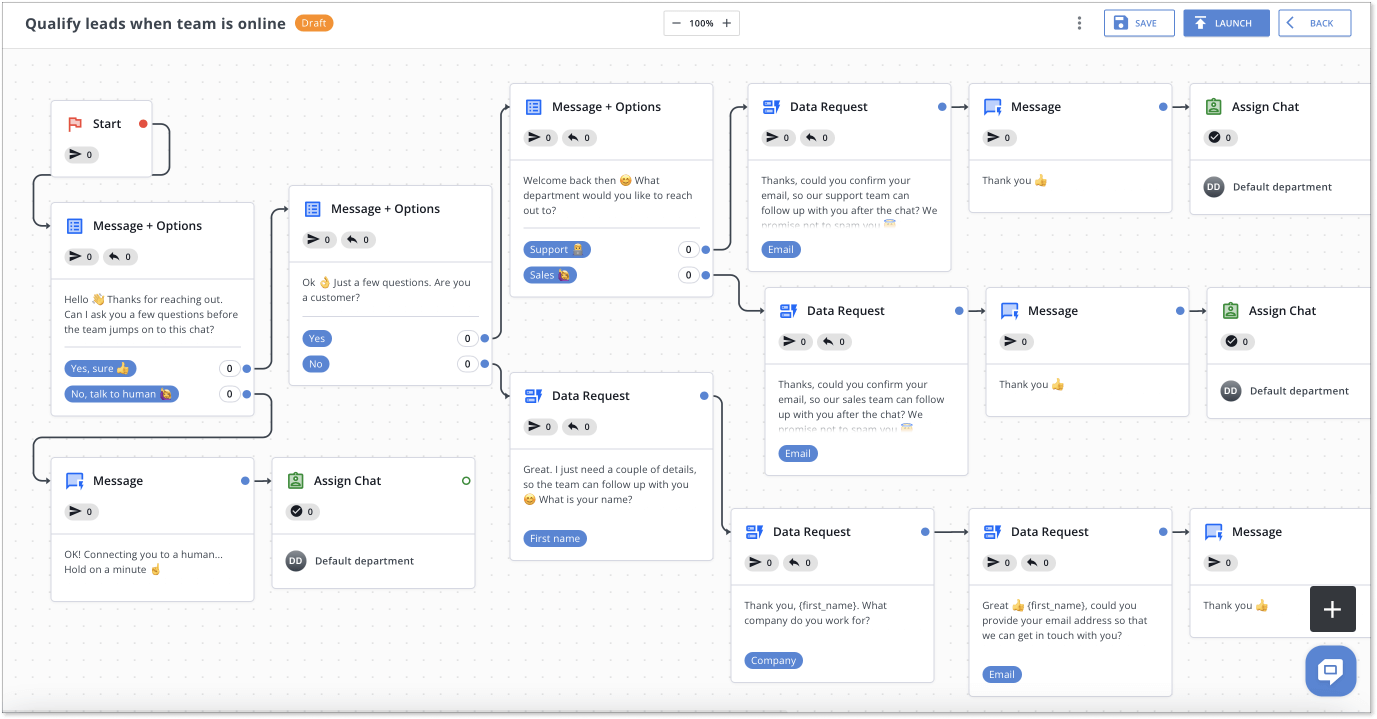 Leads qualification chatbot template is one of the most wanted bot flow in any business.
How cool would it be if you could segment website users on autopilot and get the list of potentially interested customers in the end? This could be a big leap forward towards automation and faster customer acquisition.
This chatbot template was created to do just that. First, the bot sends a message and asks a user to answer a couple of questions. Second, if a customer is in the mood, they can click "Yes, sure" and share a couple of details like their email address and their interest in the product.
In case a user wants to contact a support agent immediately, the bot will assign the chat to the right agent.
What's cool is that the HelpCrunch chatbot also offers a conversation flow template for offline situations. It means that your bot can keep qualifying leads automatically, even after hours.
4. Sharing your reply time with users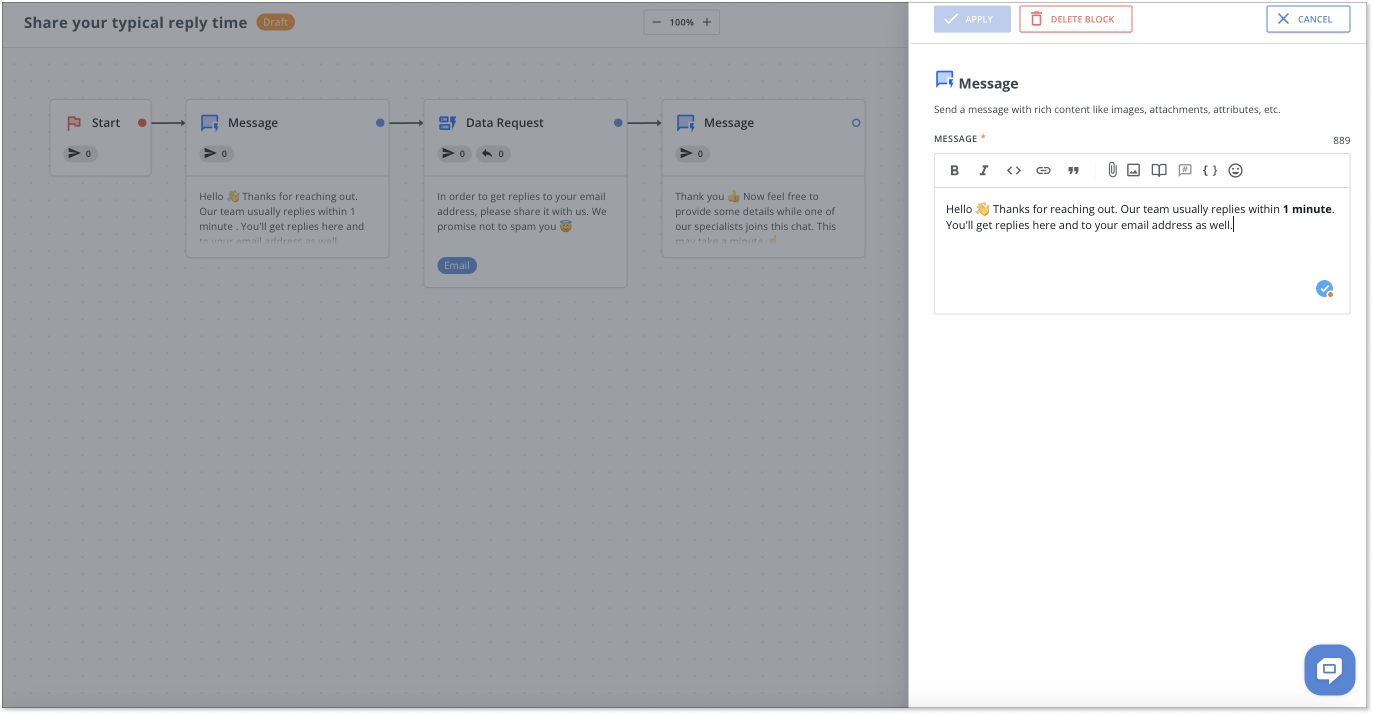 This conversation flow template is great to reduce your first response time.
When a user texts you, they usually expect to get a reply within 47 seconds. Do you manage to stick to that expectation? Let's be honest, this benchmark is nearly impossible to achieve with every user every day of the week. Unless, of course, you have an excessive number of support agents or a chatbot.
Use this chatbot template to speed up your customer service. This way, once a user reaches out to you, they will get a reply from a bot immediately informing them about the approximate amount of waiting time.
The conversation flow is also helpful if you have a lot on your mind right now, and response time increases, then letting your customers know about the waiting time is the best thing you can do.
5. Collecting details about issues upfront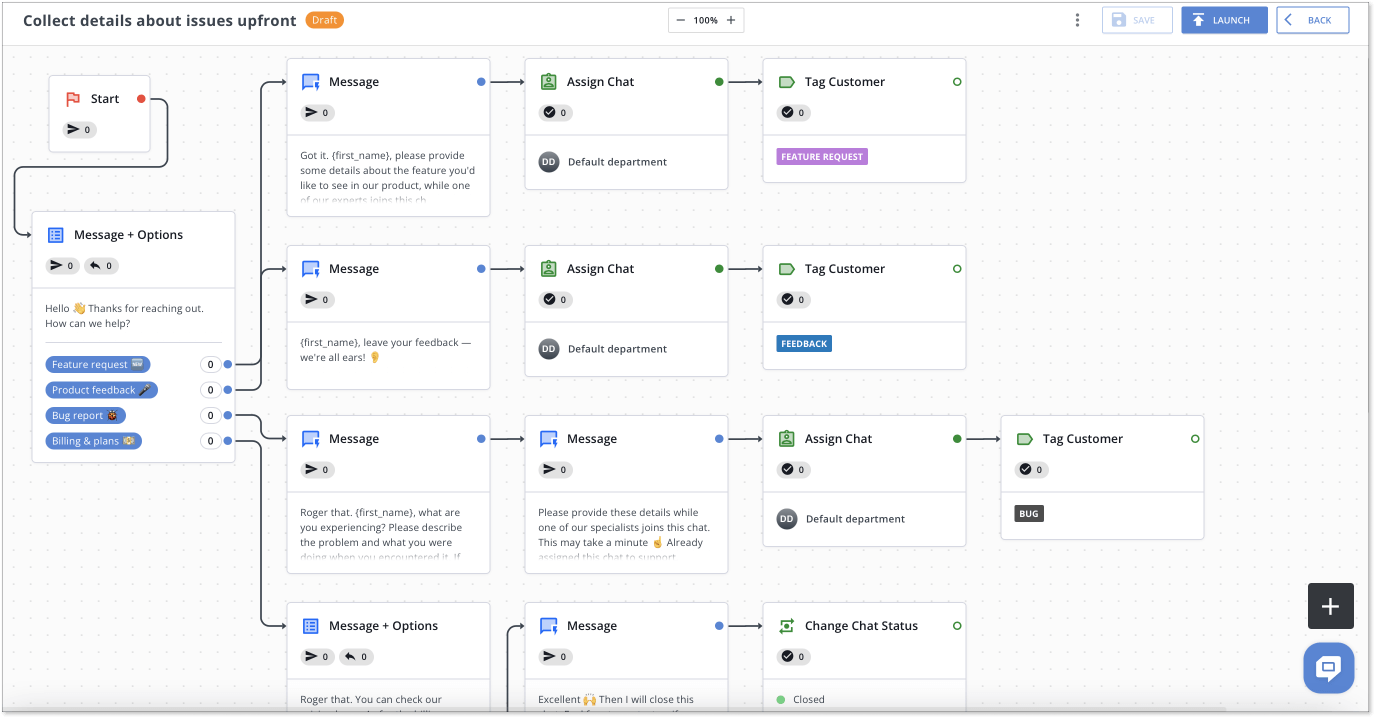 Finally, one of my favorite chatbot templates in propria persona. It can help you handle the users' queries more effectively.
Let's say a user texts your team, and the bot immediately takes over and offers a bunch of possible options that a customer can get assistance with. Usually, people reach out to ask about the pricing models, report billing issues, or complain about something. So this bot script is here to pre-qualify the issues, collect necessary information, then tag a chat, and assign it to the right support agent.
This template can be a massive help, but first, you need to understand the most popular issues your users face. Once you know the answer, adjust the pre-written script represented above and launch it.
6. Routing new chats to support agents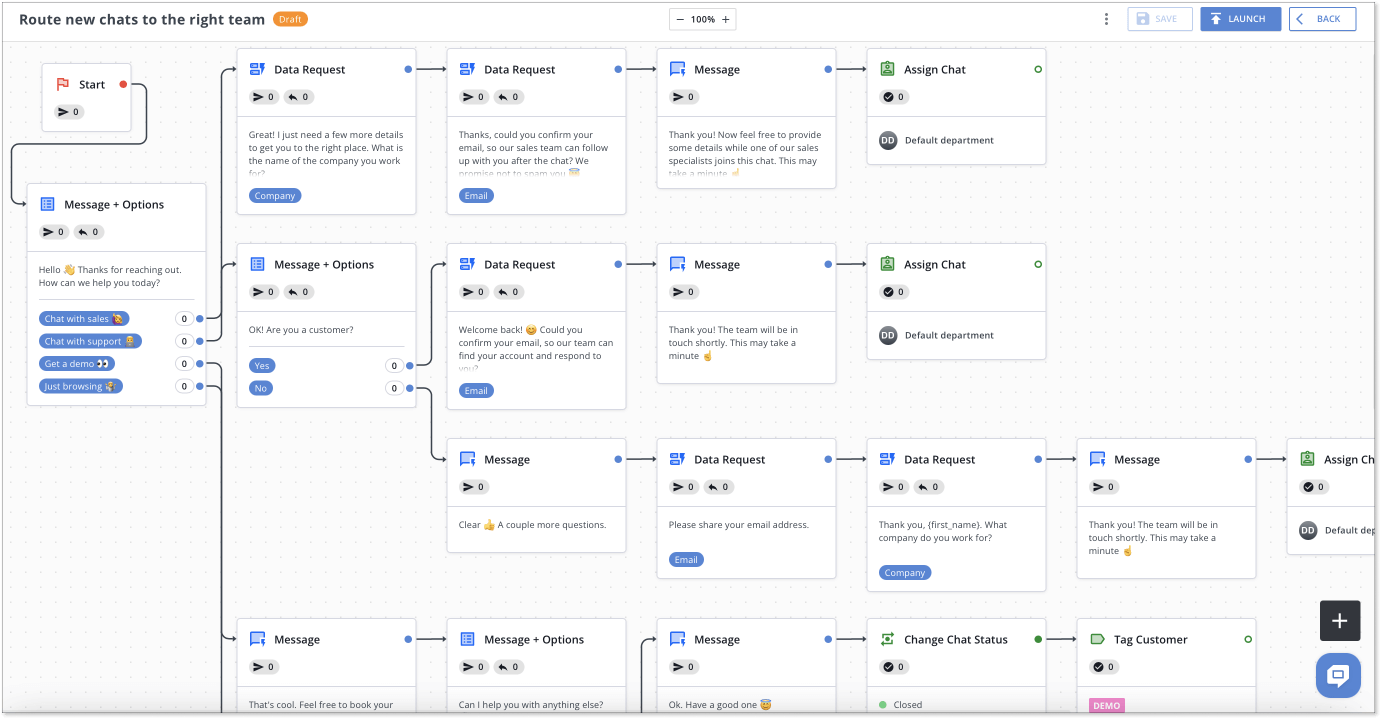 Use this chatbot template to forward customer queries to the appropriate team.
One of the ways to speed up your customer service is to make sure that the right team is dealing with the right user requests. And the rest of the queries can be handled by the bot.
This conversation flow template will assist you in routing chats to the right departments. Once a user sends the first message, they get a bot reply with a few options to choose from, like "Chat with sales", "chat with support", "get a demo", or "just browsing". Depending on the reply, the bot flow will go on with different scenarios.
Easily edit the message text or reply options to cater to the needs of your target audience and enjoy the effects of chatbot automation.
7. Handling FAQ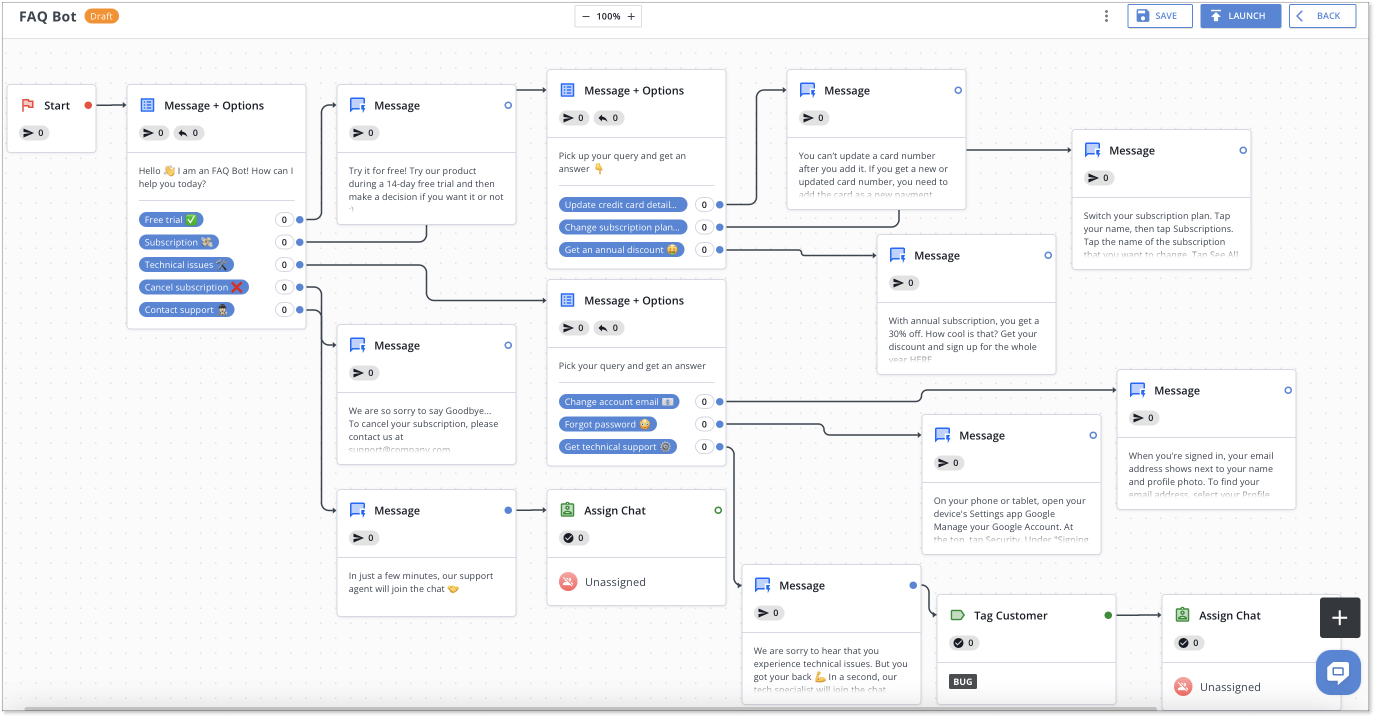 You can leverage this template to deal with frequent users' queries.
Once a customer turns for help, the FAQ bot can take the wheel and offer the most popular topics of concern for clients. In our example, you can see such reply options as a free trial, subscription, technical issues, cancel subscription, or a contact support button.
Depending on what customers are dealing with, you can offer help and send saved responses to popular questions like "how to change your email address", "how to restore the password", or "how to start a free trial". You can also add links to knowledge base articles into your bot's messages to help clients find the full information on the subject.
What's really important is to offer a "contact support agent" button as well, if you don't want to be cursed by your users once and for all.
Note! This one and the following examples in the list can't be found among pre-saved bot flows on the HelpCrunch platform. But you can easily create the scenarios yourself by leveraging the bot editor.
8. Requesting an opinion
Use this chatbot template when you want to collect users' opinions on your product or a newly released feature.
When looking for customers' thoughts, chatbots can become a great help. Once users send a message in a live chat, they receive a quick question that first qualifies their status as a customer or non-customer. Then those who choose the reply option "customer" are offered to fill out a short survey. Non-customers are immediately connected with a support team.
Since it's you who creates a template, feel free to adjust it the way you like. For example, you can ask users to share their feedback in a reply message instead of going through the link to fill out a survey. Also, you can coin a questionnaire for those users, who are not your customers yet. Be creative 🧚
Moreover, HelpCrunch lets you collect users' feedback on your customer service automatically. Every time when a chat is closed, the chat rating request is sent to users so that they can assess the quality of the assistance just provided.
9. Live chat after-hours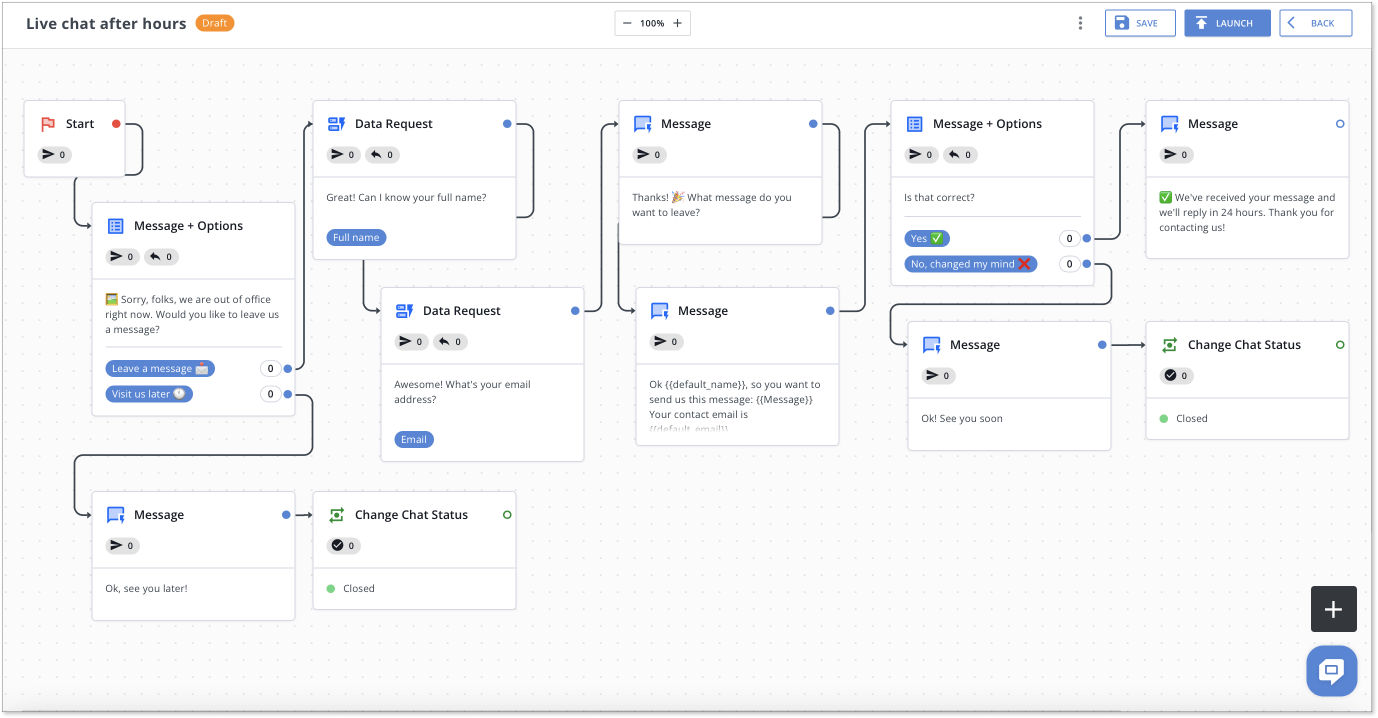 You can launch this chatbot template to collect users' contact details and requests when your team is offline.
This is a perfect way to show customers that you are still taking care of their requests even during off-hours. Once a client reaches out to you via a live chat, the bot will reply with a funny GIF and a message, "Sorry folks, we are out of the office right now. Would you like to leave us a message?".
Then a user can either share their contact information and leave a message or contact you later. It allows your company to keep collecting users' details and inquiries around the clock.
How to kick off with chatbot templates?
There are a few steps to take before you can launch your first bot templates. Let's go through each of them with a little explanation. Yay! You are so close to becoming a happy bot flow template user 😃
Check chatbot UI examples to better understand how to work with chatbot builders. Since there are hundreds of different chatbot solutions available on the market, there are hundreds of builders designed for various use cases. You need to make sure that your chatbot builder lets you create even the most advanced scenarios without having to learn how to code.
Decide what you want your chatbot to help you with. As we described in the beginning, there could be a few tasks that include sales, support, or lead generation. After that, pick a template that works for the goal you set.
Adjust the template as you like. Each business has its peculiarities, vocabulary, and tone of voice. Try to keep the voice of the bot's messages in the same manner your support agents talk to clients. This way, you will be able to preserve the human touch.
Set up triggers and conditions to show the bot to the right audience. If you decide to go with the HelpCrunch chatbot, you will have an opportunity to choose one of the triggers: customer starts a new chat; customer replies to chat auto/manual message; customer creates a chat or replies to chat auto/manual message.
Save and launch the bot! After you are done with the bot flow, save it and then launch. To make sure everything works perfectly, go to your website and try to chat with the bot. If all is good, the last thing to do is to monitor customers' reactions and benefits for your business in the long run.
Pick the best chatbot provider for your business. Truth be told, it's the most exhausting part of the task, but to make it simpler for you, I can full-heartedly recommend HelpCrunch customer communication software. It has a smooth chatbot editor, live chat, knowledge base, and other features to build strong relationships with clients.
Choose a template you want to launch. Once you've picked your chatbot provider, go to the chatbot templates section and choose a template. We suggest you start with one bot flow and then mix others as you learn your users' reactions better.
The bottom line
All in all, chatbot templates are ready-to-use conversation bot flows that cover the most popular use cases in business. Each template can be changed to any extent to meet your company's needs.
The main benefit of these pre-designed templates is that they can save you a bunch of time. Instead of building a new bot flow all over, you just reach out to a ready-made one, edit it the way you want, and launch it in minutes. It's also a great way to test different flows on your target audience and see what works better for them.
Come on! It's time to move from words to actions 🙂