8 Best Chatbots for WordPress to Engage Your Website Visitors
Looking for a WordPress chatbot? The list of 8 options that could easily fit the bill awaits you.

Hey! 👋 I am your assistant for today. I dare you to ask me anything – all the answers are around the corner.
I bet you've seen such a message (or alike) at least once in your life. You click on the chat box in the corner of the website and get assistance with your issues. Off the top of my head, it was sent by a customer service chatbot about 50% of the time – an automated system that can cope with clients' queries 24/7 and ease a customer service agent's burden.
But how is that even possible? Broadly speaking, a chatbot is shrewd, fast, and doesn't get tired at all. If you're only dreaming of providing such a means of communication for potential customers and current clients, you're in the right place. After reading this piece and the list of the best chatbot WordPress plugins, you will find a perfect chatbot to help your website visitors like a pro. Let's get going!
What is a WordPress chatbot? (And does it differ from a regular chatbot?)
A chatbot is an automated system that can engage with website visitors and answer their questions automatically, even after business hours. Well, that's a boring answer.
These days, you can hardly surprise anyone with a live chat on a website. Many businesses are now integrating advanced chatbot services into their customer support systems to improve efficiency and user experience. And where there's a live chat, there's also a chatbot. These programmed assistants became an integral part of client-business communications.
The software can process all incoming messages, send a first reply, and then either help a customer or route a conversation to a support agent.
Want to ask a question about a store's delivery policy?
First, explain your request to a chatbot, and it will decide whether a corresponding knowledge base will suffice.
Have you encountered a glitch in the software?
Leave your email address with a chatbot, and maybe someone from a support team will get in touch with you later.
Just casually browsing a website?
An ever-present chatbot is ready to greet you and offer its help on every page – just tell it about your business and company's size, choose a department you want to talk to, and then wait.
Chatbots are good not just for assistance but also for user engagement, as they can send marketing messages, exit-intent messages, welcome messages, and other types of action-provoking texts. This approach gives you one more communication channel that might complement your email marketing activities.
It's almost impossible to imagine a website without a little chatbot in its bottom right corner. And WordPress, being one of the most popular website builders out there, is not a stranger to this exciting trend.
The only difference lies in the installation process.
How to add a chatbot to WordPress
It would be a vast understatement to say that WordPress operates an army of native plugins that are quick and easy to install. And chatbot plugins are no exception.
However, the choice of WordPress chatbot plugins can be both a blessing and a curse. Before even thinking about plugins, you need to set your priorities straight and decide what type of chatbot you want and which features you need to pay attention to.
AI chatbots
Artificial intelligence has been the buzz of the town for the past few years (and the mega buzz) after the public release of ChatGPT. Everything is AI now, and that's totally understandable. A chatbot with advanced machine learning capabilities that can analyze human language, learn from it, and imitate a real conversation. Isn't it a dream?
In reality, not everything people call AI has anything to do with real artificial intelligence. Moreover, small and mid-sized companies rarely need AI-powered chatbots that require tons of data to process for correct work.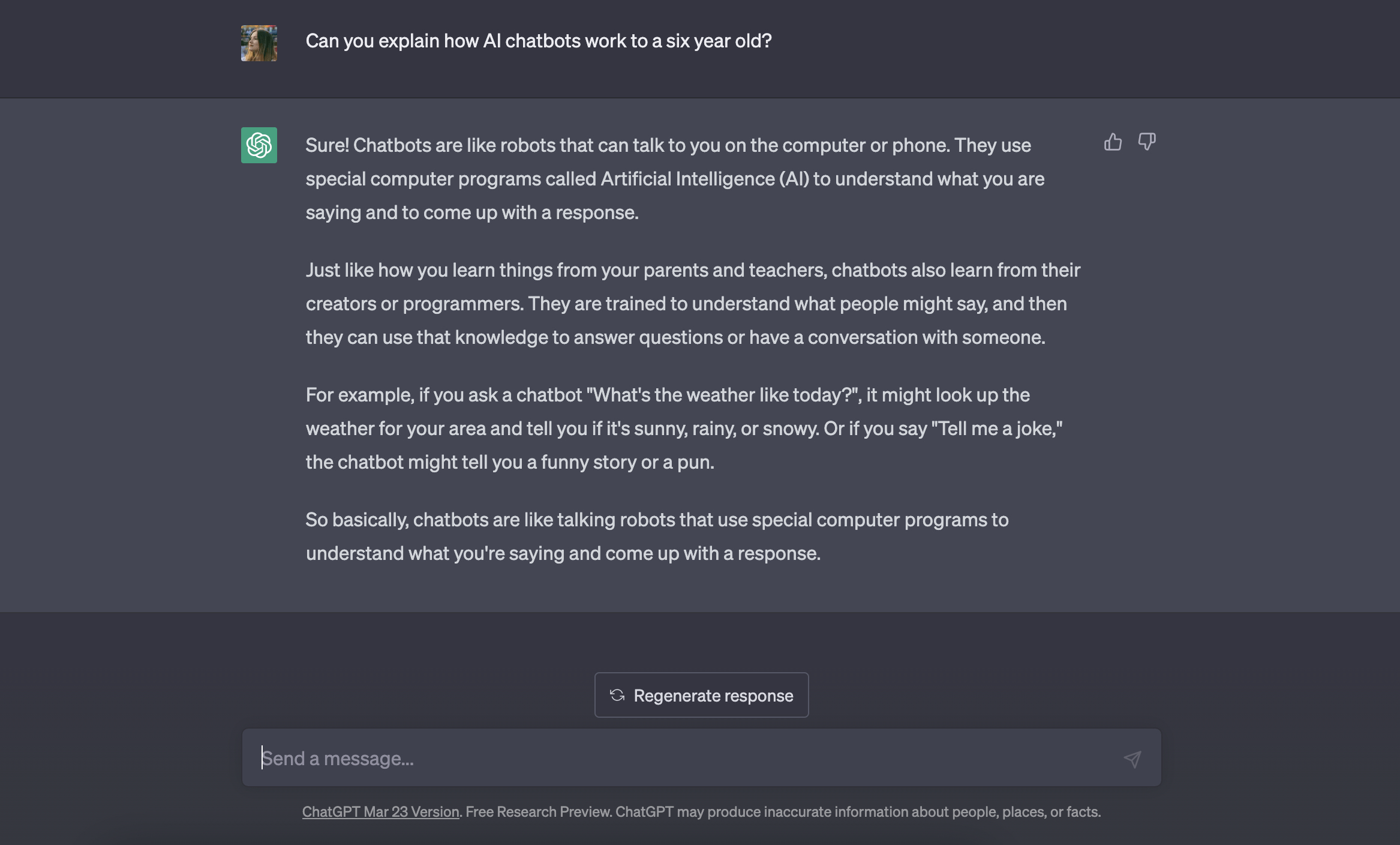 Scenario-based chatbots
This is a basic chatbot. If you have a few hundred chats per month, you can easily manage them via a scenario-based WordPress chatbot. All you need is a list of repetitive questions from customers and pre-written answers to them. A chat with such a bot looks like a small quiz. It sends people a few consecutive multiple-choice questions. Based on their choices, a chatbot then generates a suitable answer or a knowledge base article.
You can create various scenarios based on this information in a visual chatbot builder. This way, a chatbot can send contextual messages or knowledge base articles in rich responses to common inquiries.
It may occur to you at first that scenario-based chatbots are too simplistic or even dull when, in reality, they can be way more helpful and straightforward than AI assistants. For one thing, a WP chatbot shouldn't be rocket science. It should engage with your website visitors, be able to ask them a few preliminary questions to get to the bottom of their requirements, and then send a corresponding knowledge base article or schedule a demo call.
And there are only five key features it should possess to complete these important tasks:
Visual dialog flow builder where you can easily create, manage, and change even the most complicated scenarios
Chatbot integrations with messengers (e.g. Facebook Messenger, Instagram, WhatsApp)
Integration with a knowledge base for creating a simple FAQ bot
Data collection forms
The ability to transfer a chat to a human customer support representative when needed.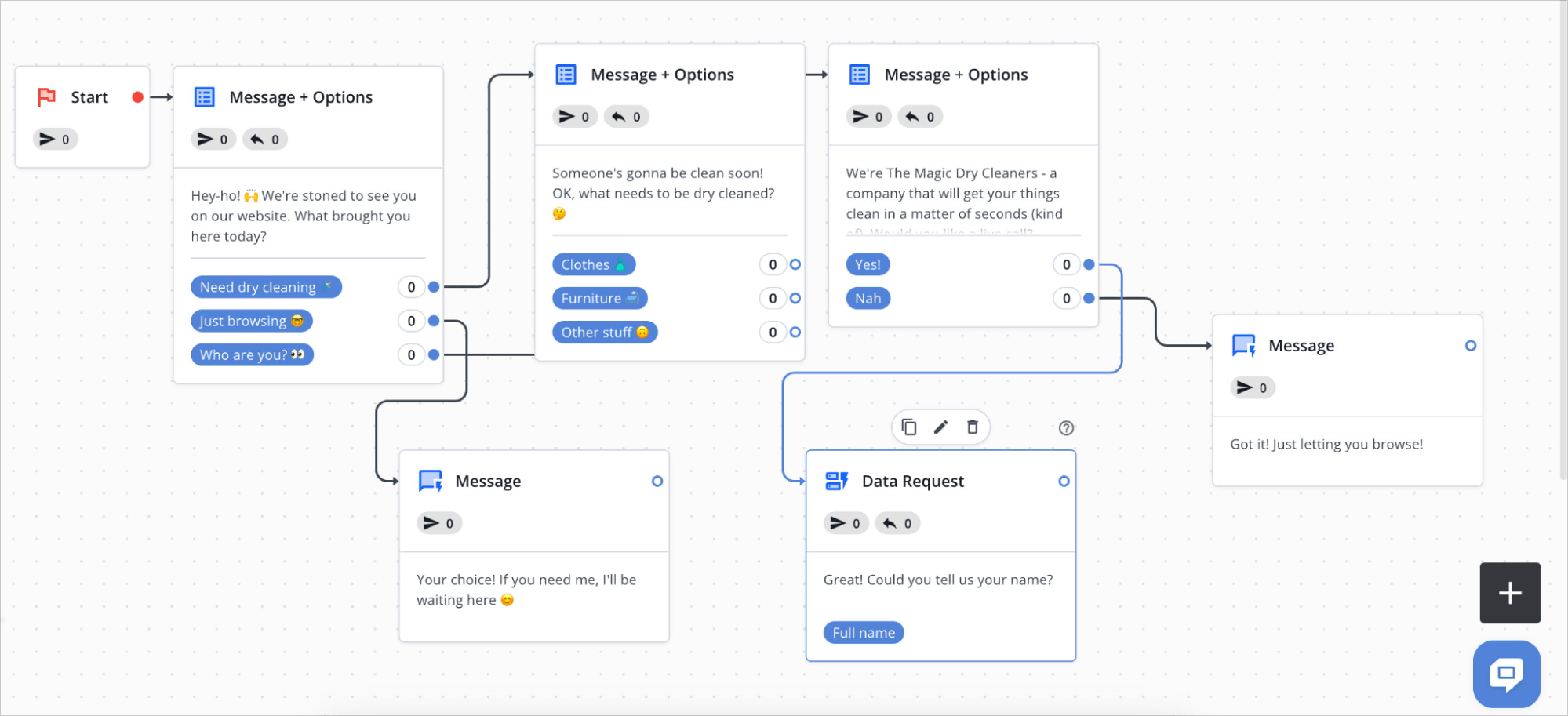 So, how to install a WordPress chatbot – either an AI or scenario-based one?
While the steps may vary depending on the chatbot settings, however, the general steps will be as follows:
Go to Plugins -> Add new and find a WordPress plugin for a chatbot that suits your needs best (we will review a few popular solutions in the next section of this article).
Once you find it, click on "Install Now," and then "Activate."
Some advanced features of chatbot plugins for WordPress require additional configuration: e.g. you may need to copy a short snippet of code from a chatbot provider and navigate to plugin settings to insert the code.
After activating the plugin, you will need to configure your chatbot. This typically involves setting up your chatbot's name, welcome message, basic scenarios, and integrations.
The specifics of installing and configuring a chatbot on WordPress will depend on the plugin you choose, so it won't hurt to check out the plugin's documentation for more detailed instructions.
8 best chatbots for WordPress
Below, you can find a list of the best chat platforms that offer WordPress plugins and reliable chatbots for faster and trouble-free communication with website visitors. Choose the right powerful tool for you!
1. HelpCrunch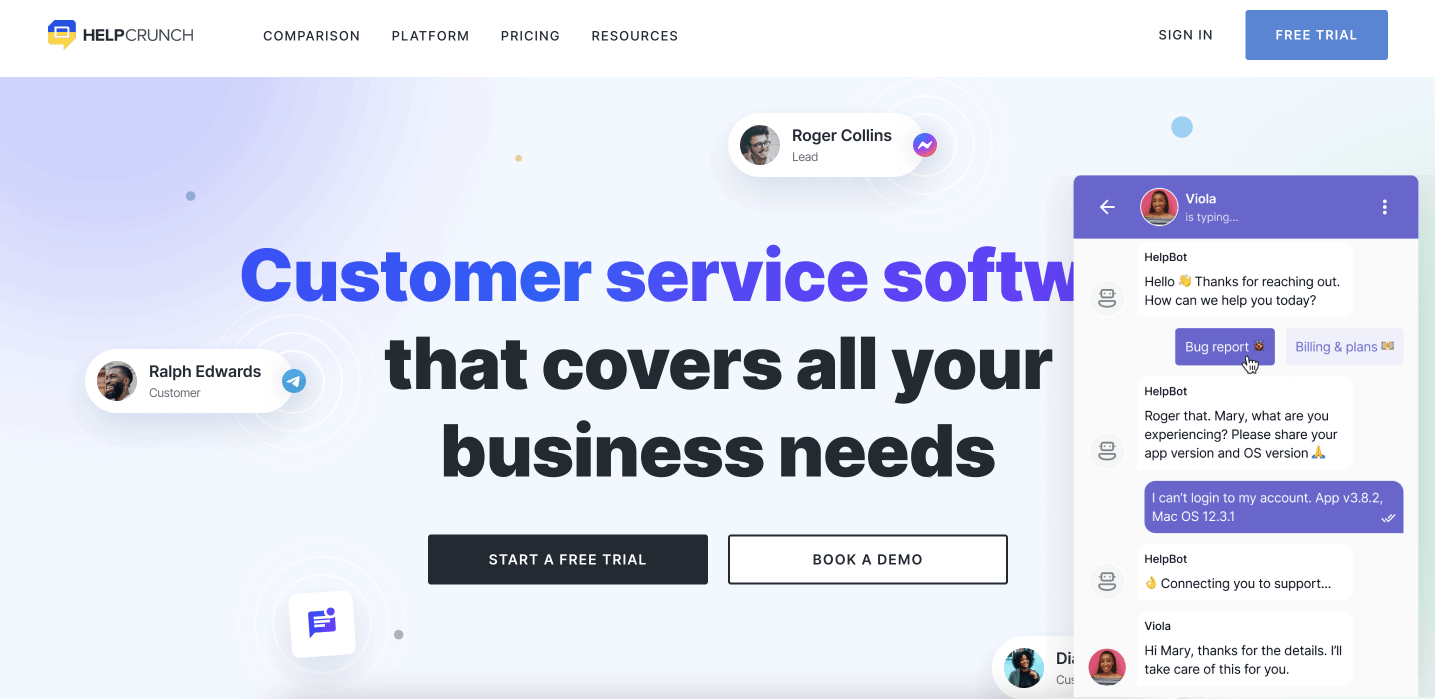 HelpCrunch is a full-cycle customer communication platform where live chat is in the driver's seat. The company offers a cool chatbot that you can set up on your WordPress-powered website and is already working on developing AI features for customer service.
This is the best WordPress chatbot as it's armed with the essential functionalities a business might require for seamless communication with visitors. The tool offers rich customization options so that the chat widget design corresponds with your brand style. Easily create chatbot flows and decide how the conversation will unfold – with the special editor, you can do that in minutes.
Depending on the message template you choose, a chatbot can do the following:
Collect contact details to always know who your audience is;
Promote special offers/discounts to catch the user's attention at the right moment;
Qualify leads (when a team is online or offline) so as not to miss out on the most valuable leads even when you're asleep;
Share typical reply time to inform a user what to expect beforehand;
Collect details about typical issues to troubleshoot them as fast as possible;
Route new leads to a sales or support rep when the issue takes a new spin;
Route customers to VIP support, where they can ask questions in person.
Plugin's pricing
HelpCrunch offers the most transparent pricing. The chatbot feature is included in the $25/month Pro subscription plan. For this price, you can create 15 chatbot flows for different purposes and use cases.
Just recently, the company introduced a new annual subscription plan for $495/mo that allows you to create unlimited chatbots, live chat widgets, popups, auto messages and so much more.
2. Tidio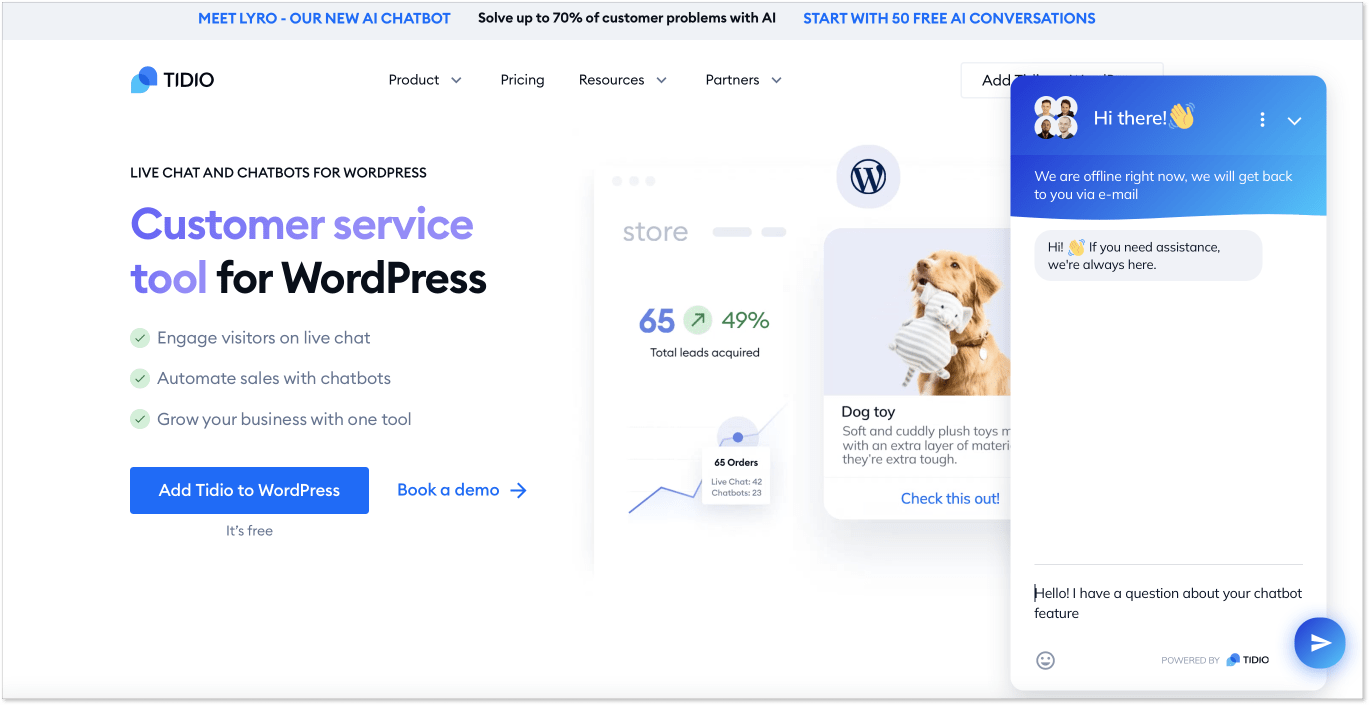 Tidio claims to be one of the feature-packed WordPress chat plugins available on the market, including new AI chatbot functionality. It also offers an appealing chat widget with a simple yet sleek design.
Among Tidio's functionalities, you can find:
Simple chatbot templates for lead generation and customer support (e.g. help with order placement, upsell opportunities, and FAQ assistance, to name just a few);
Trouble-free installation process;
The intuitive creation process for industry-specific chatbots;
Drag-and-drop editor to create a chatbot from scratch;
Mobile Android and iOS app that keeps you in the loop of the website's visitors' conversations.
Plugin's pricing
As for the money matters, Tidio sure offers a free package and other plans. You'll need to dish out $29/month for "Starter", $25/month for "Communicator", $29/mo for the "Chatbots" plan, and $394/month for "Tidio+".
3. LeadBooster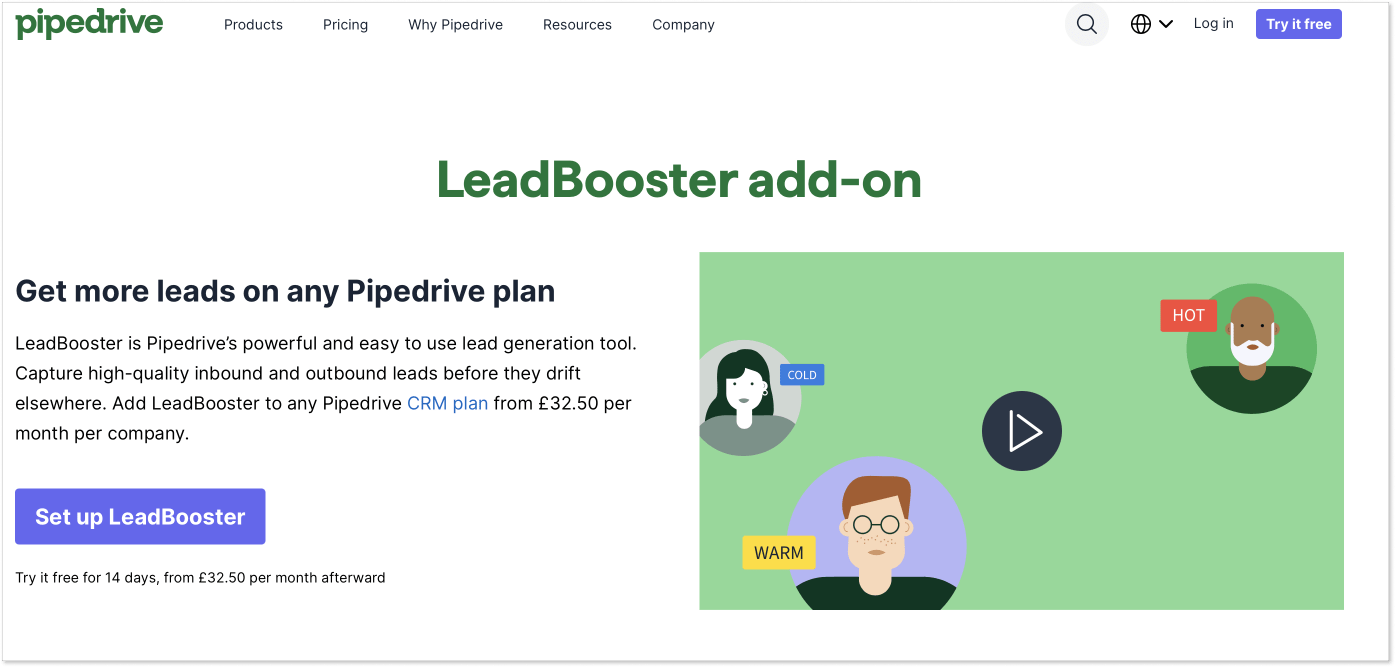 If you have a WordPress-powered website and are in pursuit of an ideal chat solution to convert and communicate with leads, then LeadBooster chatbot from Pipedrive might be just the thing.
This chatbot for WordPress is mainly geared to lead nurturing, as the name suggests. But is this the end? Here are some bullet points of what this candidate is capable of:
Faster qualification of web visitors
Automatic meeting booking thanks to Scheduler, also one of the Pipedrive's products
Routing leads to the right department or agent
Easy chatbot customization process so that it matches your brand's identity
Plugin's pricing
Pipedrive suggests four pricing plans: "Essential" for $14.90/month, "Advanced" for $27.90/month, "Professional" for $49.90/month, and "Enterprise" for $79.90/month if billed annually. A 14-day free trial is also in force. That's pretty much it for this chatbot plugin for WordPress. Nothing serious, but it can really skyrocket your sales activities.
4. Collect.chat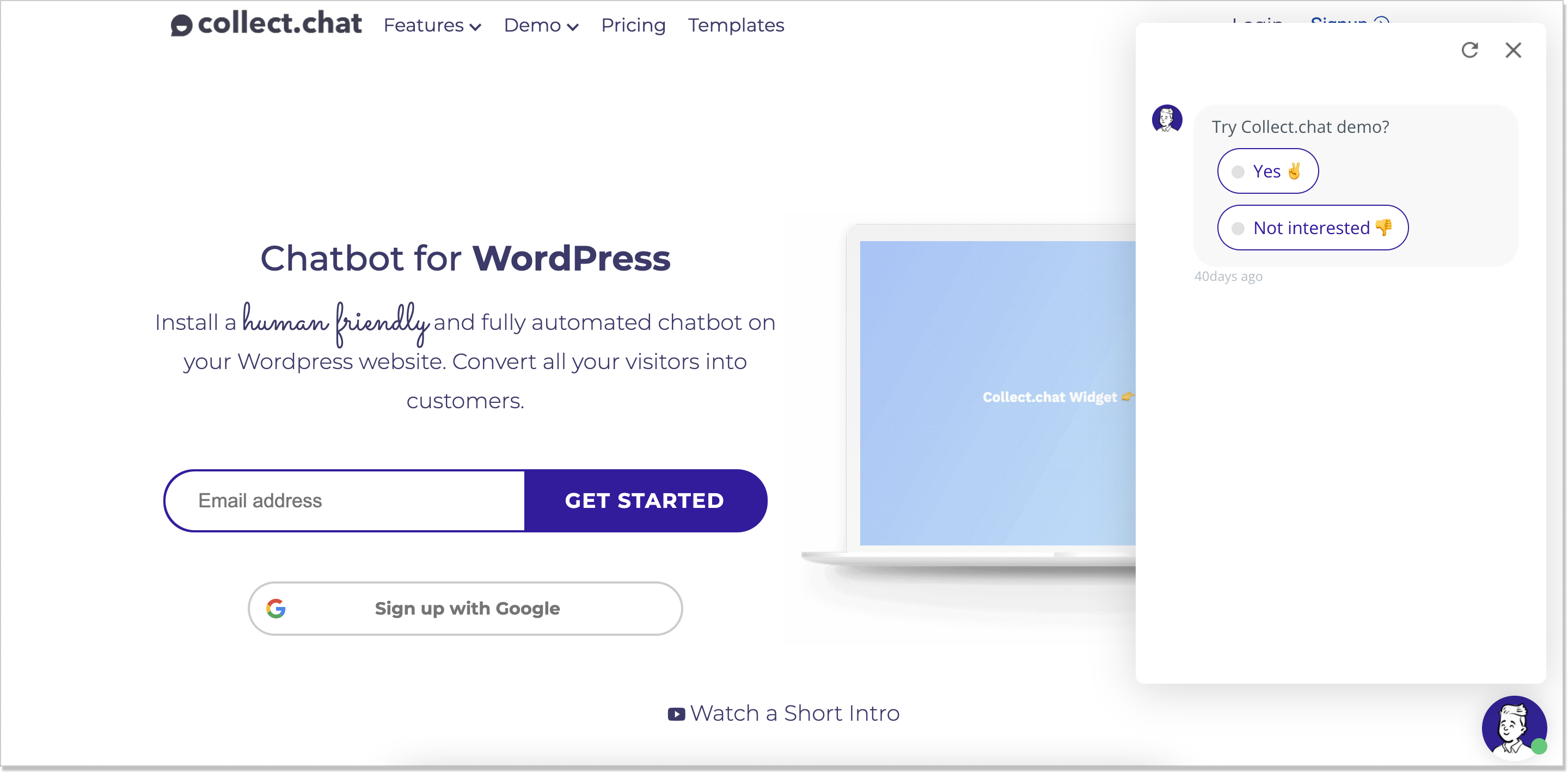 Collect.chat is another great chat software. It has this fully automated, humanly friendly WordPress chatbot that helps you get higher conversions and save heaps of money on acquisition. 
Its features might seem a little low-key. However, they are able to perform everything business owners might need:
Professional lead generation with a clever chatbot WordPress plugin that routes a conversation the right way;
Schedule appointments in the customer's timezone;
Survey and feedback collection;
Automating data collection with integrations (Google Sheet, Hubspot, Mailchimp, Freshdesk).
Plugin's pricing
The company provides three months free, but on one condition: it's valid if you only pay annually. Other packages include "Free" – $0/month, "Lite" – $24/month, "Standard" – $49/month, and "Plus" – $99/month. So, this is not the worst option among other chatbot plugins for WordPress.
5. Kommunicate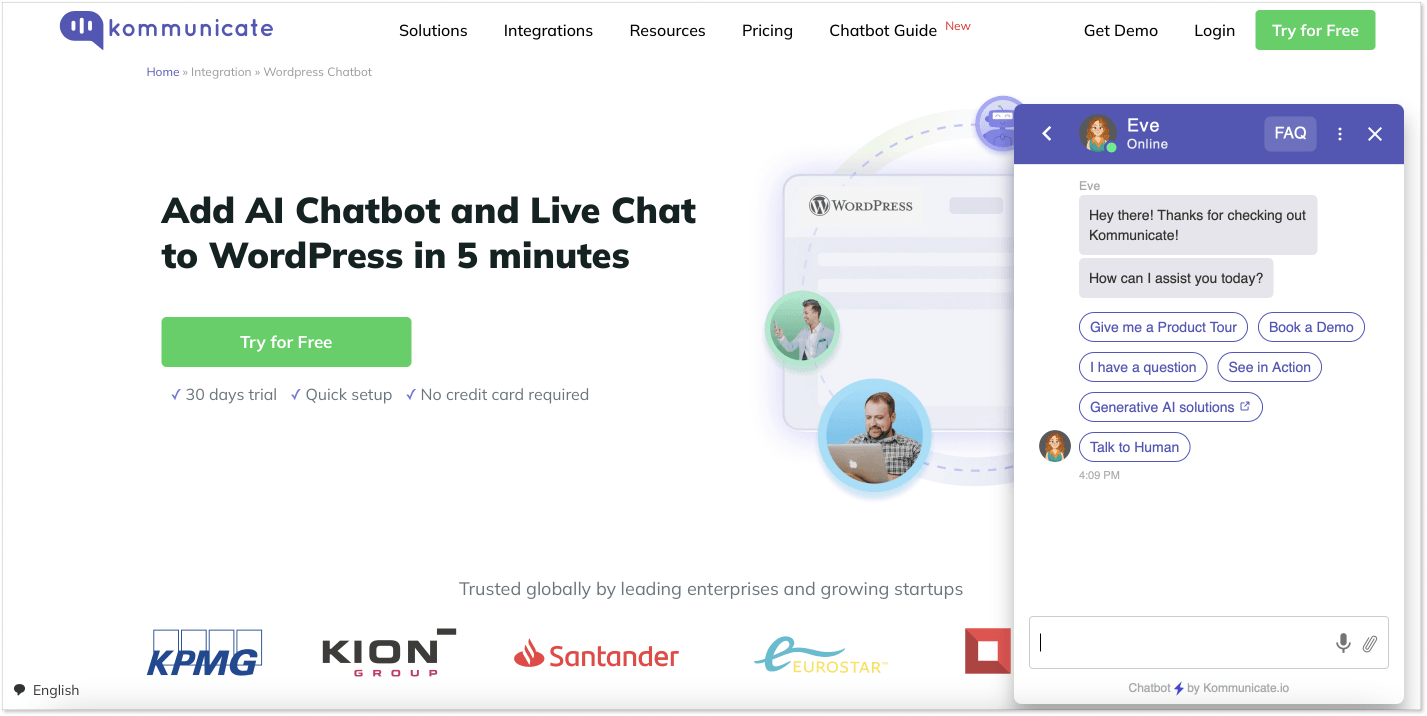 This is one of the best options on the chatbots for the WordPress list – Kommunicate. It provides a codeless WordPress AI chatbot that guarantees troublesome chat with visitors. The pun, as you can see, is totally intended. This human-like platform also offers a live chat for customer support. But let's break down the "robot" part of the issue.  
This solution has a bunch of chat features that can help you achieve any business goals in terms of chatbot communication with users:
Easy, codeless implementation;
A pre-made chatbot templates gallery that you can leverage to create a bot and ignite your customer service automation;
Various message samples you can use in your activities (automated welcome or team-is-away messages);
Chatbot analytics for monitoring performance;
Social media platforms integrations (WhatsApp, Facebook, Line, etc.);
Quick replies for repetitive and common questions.
Plugin's pricing
Kommunicate lets you test its chatbot for 30 days. If you want to upgrade, it will cost you $100/month for the "Lite" plan, $200/month for the "Advanced", and custom pricing for "Enterprise". If you're an enterprise company, the price is set individually.
6. BotPenguin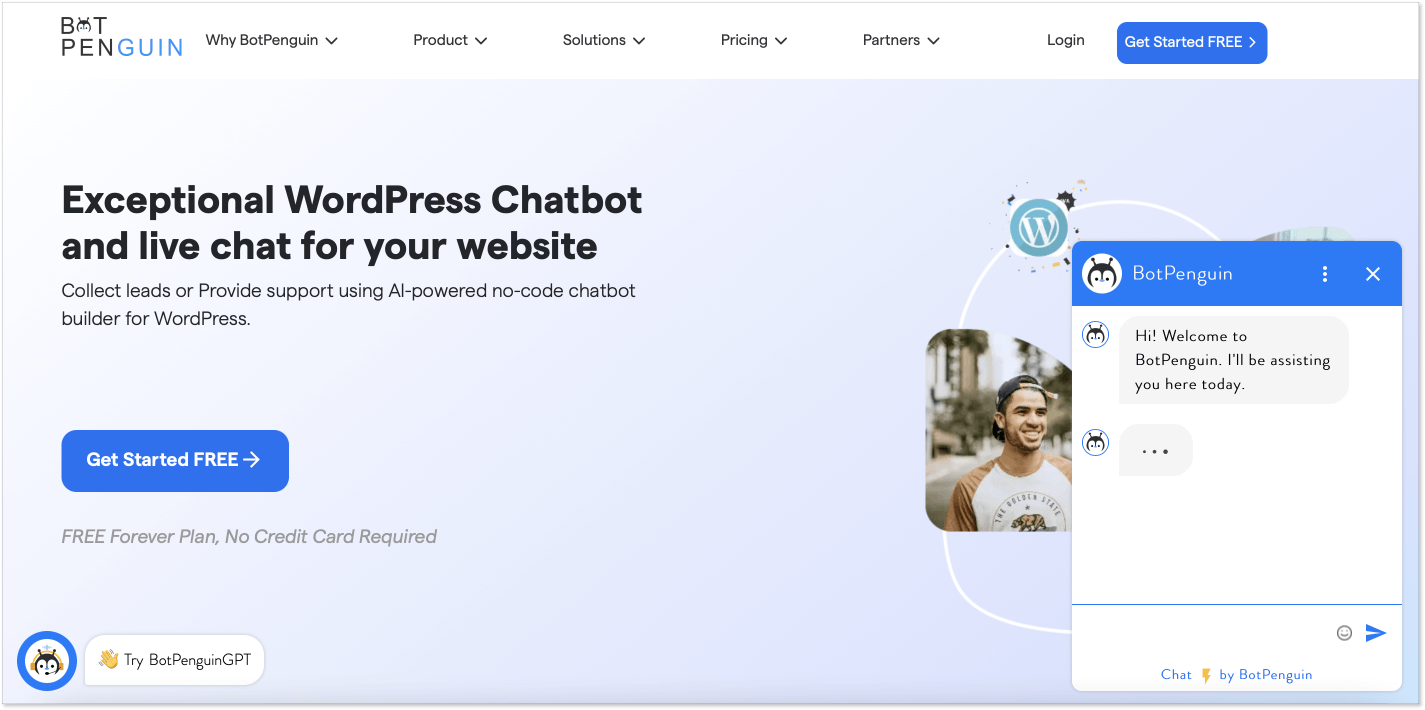 Of all the best WordPress chatbot plugins, this one has conquered my heart with its cute name. All the emotions aside, BotPenguin is a platform that develops a chatbot for your websites, Facebook Messenger, WhatsApp, and other social media. 
How do these chatbot options fit the bill for you?
No coding is needed to shape a chatbot that will help you cater to the needs of your clients;
Pre-built templates that you can take advantage of when building conversation flow and programming your bot to send rich and to-the-point chatbot responses;
The ability to route a conversation to a human agent in case the issue is the darnedest thing;
Guidance through an interactive FAQ base;
Customer data collection for further engagement and re-engagement;
Customizable widget.
Plugin's pricing
That's pretty much it. The pricing is fair, too. There are only three plans: Baby (Free), King – for $5/month, and Emperor – the price is discussed individually.
7. Joonbot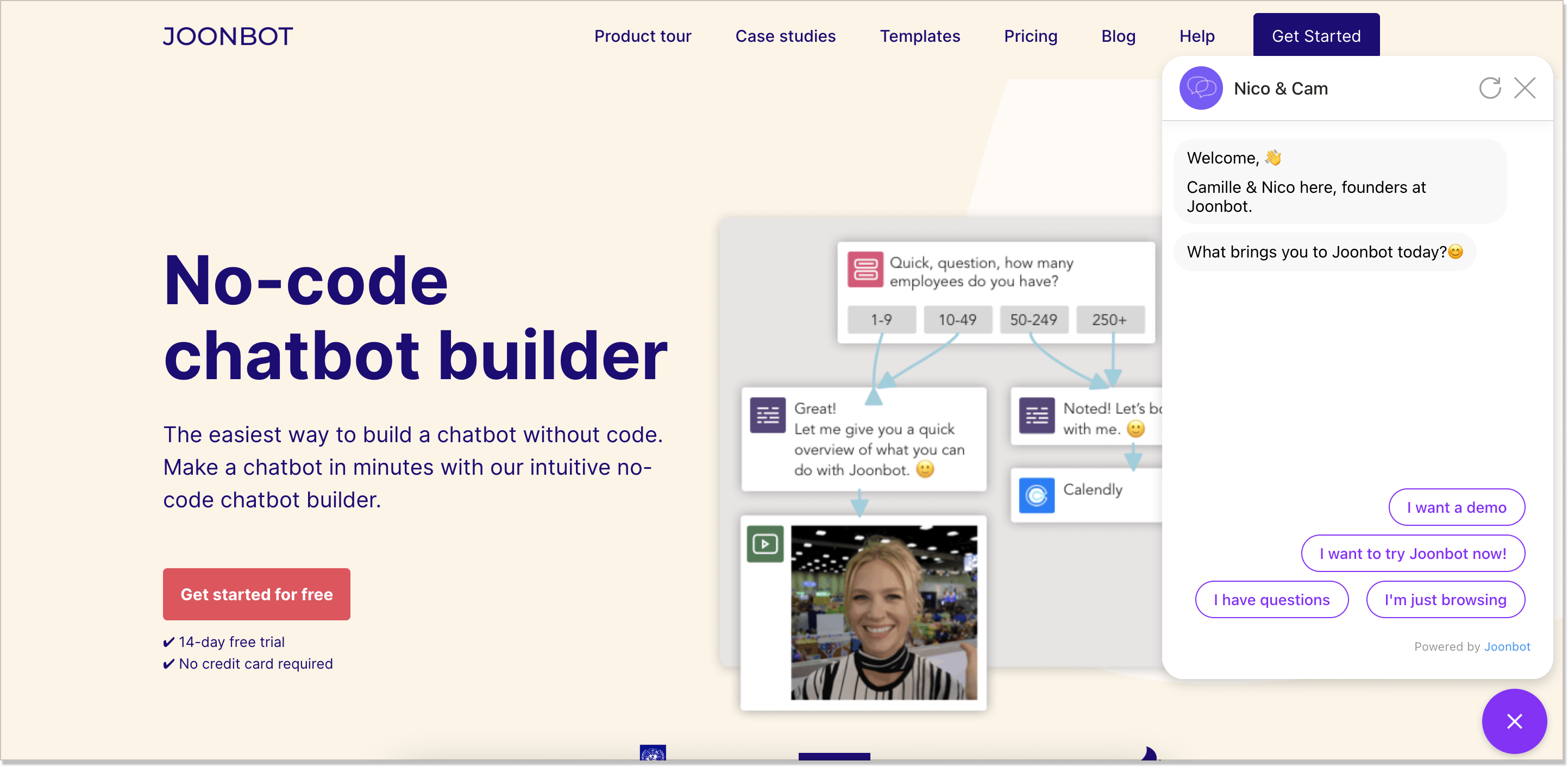 Joonbot is yet another simple chatbot solution that makes creating a WordPress chatbot a snap. Engaging website visitors, qualifying the leads, performing automotive repetitive tasks, giving product recommendations, and increasing conversion rate – this is the basic set of things this website chatbot can do. 
Its main benefit is that you can have a limitless amount of conversations with clients. This is totally a pro point if you're in ecommerce. Other functionalities include:
Personalized chat scenarios;
Various chatbot formats (chatbot widget, embed, full-page);
Appointments booking directly from the bot via Calendly integration;
Target customers with personalized emails when you want them into the conversation;
Powerful integrations via Slack, Airtable, Zapier, or Webhooks.
Plugin's pricing
You can try Joonbot's chatbot for free for 14 days or choose the way to level up. For instance, for a Starter pack, you'll pay $29/a month, and for Plus – $99/month. Sure thing, there is a custom plan that may be ideal for a big organization.
8. Chatbot with IBM Watson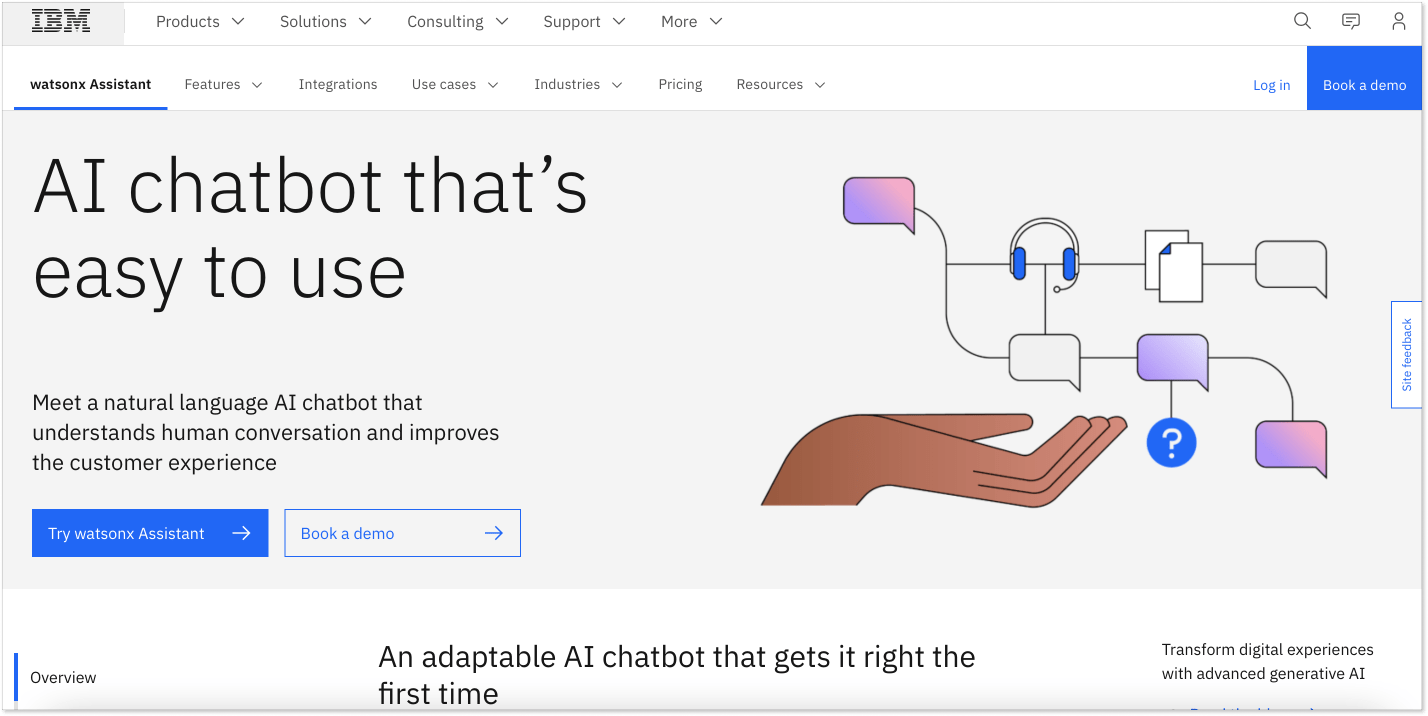 IBM Watson Assistant (formerly Watson Conversation) is one of the best chatbots for WordPress, as it operates with AI. You can easily teach your bot to help website visitors dig into your product or service better. 
Among its supported functionalities, you will find:
Pain-free installation process to get your chatbot up and running in minutes;
Fast answers thanks to NLP (Natural Language Processing), which brings in high conversions;
Full-throated customization options so that your chatbot toes your brand's line;
Rich editor to make your bot in line with your business – you can add images and other visuals;
VoIP (voice over Internet Protocol) calls for users to reach out to a real person if need be.
Plugin's pricing
Speaking of the prices, here you won't be puzzled at all. You can take a Lite package for free, pay $140/a month for the Plus package, or discuss individual conditions with the team.
WordPress chatbot benefits
There are several reasons why WordPress has gained its wide fame. Even though this CMS is not without its setbacks (looking at you, "visual editor"), there are two main reasons to choose WordPress: its pricing of $0 and the vast choice of plugins for just about anything.
But if you want to make your WordPress website a true success, a WP chatbot plugin is absolutely necessary. Here are just a few benefits that highlight how integrating chatbot services into a WordPress website can enhance user experience, streamline customer support, and contribute to business growth.
24/7 availability. Chatbots can provide instant assistance to website visitors at any time, improving user engagement and customer satisfaction.
Time efficiency. Bots can handle multiple conversations simultaneously, reducing the need for users to wait for a human response.
Cost savings. By automating customer interactions, businesses can save on labor costs associated with providing round-the-clock support.
Lead generation. Chatbots can collect user information and guide them through the sales funnel, increasing the chances of lead conversion.
FAQ handling. The software can quickly answer frequently asked questions, saving both users and support teams time and effort.
Language personalization. Chatbots can be programmed to communicate in multiple languages, catering to a diverse user base.
Data and feedback collection on autopilot. Bots can gather insights about user preferences and behaviors, aiding in refining marketing strategies. They can also conduct surveys and gather user feedback, helping businesses improve their products and services.
User engagement. Bots can entertain users, announce sales, and keep visitors engaged, encouraging them to spend more time on the website.
And this is just scratching the surface. As a result, businesses get much more opportunities for the development and growth of their customer base. In short, the long list of benefits can be summarized in these three main points:
Chatbots help make WordPress websites more accessible by providing effective customer support around the clock to those who have difficulty finding the information they need. In other words, it is a simple, cost-effective, and scalable way to increase your website engagement.
If you add a live chat option to the equation, your customer satisfaction will go through the roof. With this combo of quick chatbot assistance and even quicker human support, website visitors will be willing to stay on your WordPress website longer and convert/subscribe/buy from you faster.
Finally, many chatbot platforms offer plugins or integrations specifically designed for WordPress. So, it's easy to add a chatbot to your website without any coding skills required.
Sum it up: what is the best chatbot for WordPress?
Overall, using a chatbot on a WordPress website can provide all the usual benefits of a chatbot, such as better and faster customer support, better website engagement, and more effective lead generation.
But the best WordPress chatbot will combine those advantages with the unique features and capabilities of the WordPress platform – a seamless zero-code installation process being the most important one.
A perfect WordPress chatbot plugin should fit in the price=quality equation, too.
So where does it leave us? Opting out for a full-fledged chatbot solution with a native WP plugin is probably the best decision in the long run. They offer powerful yet intuitive chatbot builders where you can set up even the fanciest scenarios. So when the time comes, it will be easier to scale WordPress chatbots that already have a powerful technology powering them.