8 Best Chatbots for WordPress or How to Change Customer Communication for the Better
Looking for a WordPress chatbot? We've got you covered. Here you will find the list of 8 options that could easily fit the bill. Check out!

Hey! 👋 I am your assistant for today. I dare you to ask me anything – all the answers are around the corner.
I bet you've seen such a message (or alike) at least once in your life. Off the top of my head, it was sent by a customer service chatbot about 50% of the time – an automated system that can cope with clients' queries 24/7 and ease your burden.
But how is that even possible? Broadly speaking, a chatbot is shrewd, fast, and doesn't get tired at all. If you're only dreaming to provide such a means of communication for customers, you're in the right place. After reading this piece, you will find a perfect chatbot for WordPress to help your website visitors like a pro. Let's get going.
1. HelpCrunch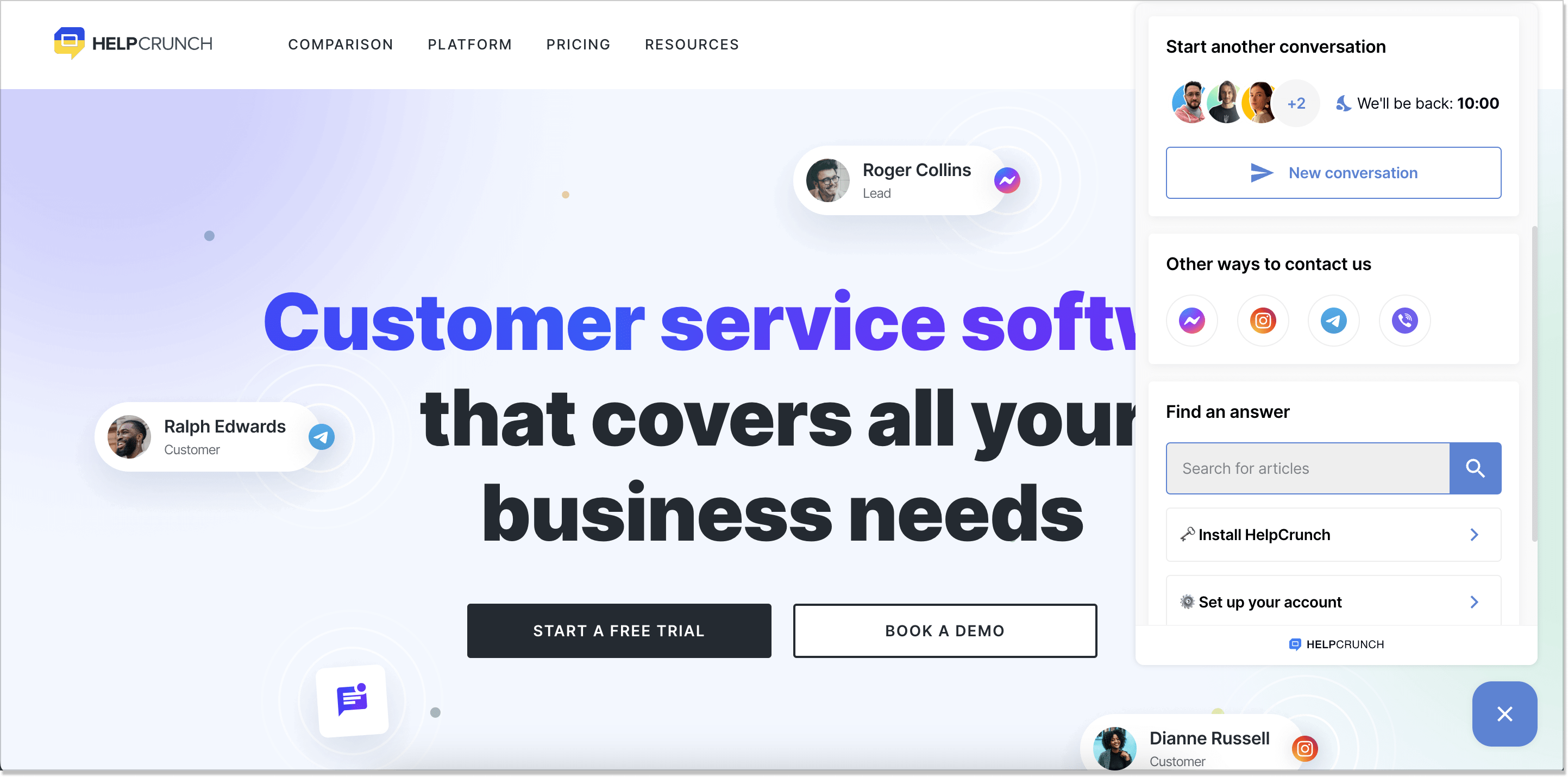 HelpCrunch is a full-cycle customer communication platform where live chat is in the driver's seat. Moreover, the company offers a cool chatbot that you can set up on your WordPress-powered website.
This is the best WordPress chatbot as it's armed with the key functionalities a business might require for seamless communication with customers. Create chatbot flows and decide how the conversation will unfold – with the special editor, you can do that in minutes.
Depending on the template you choose, a chatbot can do the following:
Collect contact details to always know who your audience is;
Promote special offers/discounts to catch the user's attention at the right moment;
Qualify leads (when team is online or offline) so as not to miss out on the most valuable leads even when you're asleep;
Share typical reply time to inform a user what to expect beforehand;
Collect details about typical issues to troubleshoot them as fast as possible;
Route new leads to sales or support rep when the issue takes a new spin;
Route customers to VIP support where they can ask questions in person.
HelpCrunch offers the most transparent pricing – $12/a month for Basic, $20/a month for Pro, and there is also a custom plan available.
Note! As of now, the HelpCrunch free WordPress chatbot plugin is launched in beta version. So, you have a window of opportunity to be among the first who test this new feature. Just create a free account and don't be shy to tell us what you think!
2. Tidio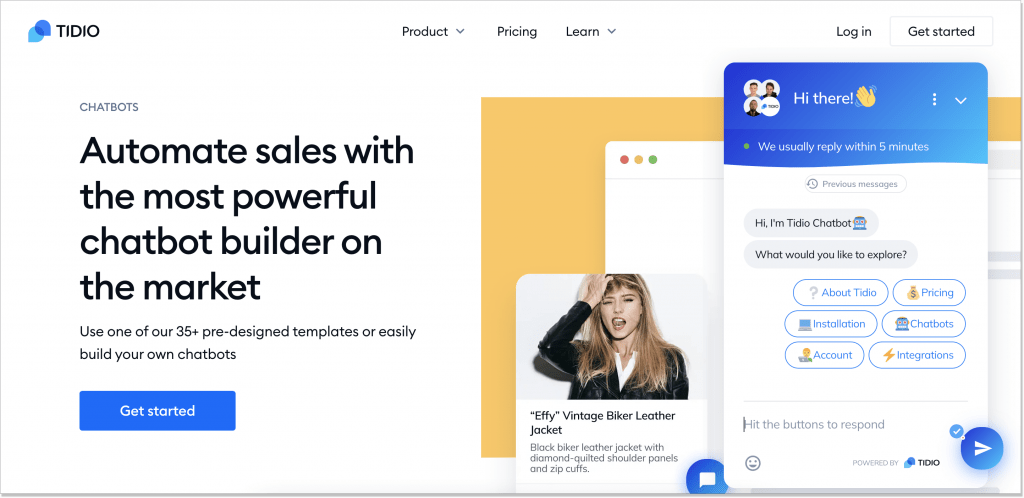 Tidio claims to be one of the feature-packed WordPress chatbot plugins available on the market. Is that really so? Among Tidio's functionalities, you can find:
Simple chatbot templates for lead generation and customer support (e.g. help with order placement, upsell opportunities, FAQ assistance, to name just a few);
Trouble-free installation process;
The intuitive creation process for industry-specific chatbots;
Drag-and-drop editor to create a chatbot from scratch;
Mobile Android and iOS app that keeps you in the loop of the website's visitors conversations.
As for the money matters, Tidio sure offers a free package and three other plans. You'll need to dish out $39/a month for "Starter", $79/a month for "Team", and $399/a month for "Scale". All prices are given if billed monthly. Correct me if I am wrong, but almost $400 for a WordPress chatbot plugin a month is pretty heavy…But the ball's in your court.
3. LeadBooster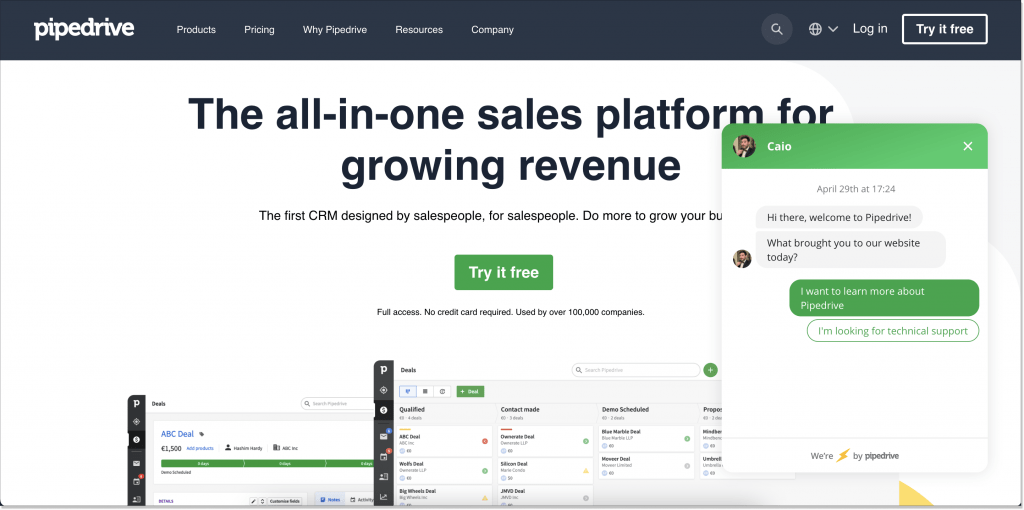 If you have a WordPress-powered website and are in pursuit of an ideal way to convert and communicate with leads, then LeadBooster chatbot from Pipedrive might be just the thing.
This chatbot for WordPress is mainly geared to lead nurturing, as the name suggests. But is this the end? Here are some bullet points of what this candidate is capable of:
Faster qualification of web visitors
Automatic meeting booking thanks to Scheduler, also one of the Pipedrive's products
Routing leads to the right department or an agent
Easy chatbot customization process so that it matches your brand's identity
Pipedrive suggests 4 pricing plans: "Essential" for $14.90/a month, "Advanced" for $24.90/a month, "Professional" for $49.90/a month, and "Enterprise" for $99/a month if billed annually. A 14-day free trial is also in force. That's pretty much it for this chatbot plugin for WordPress. Nothing serious, but it can really skyrocket your sales activities.
4. Collect.chat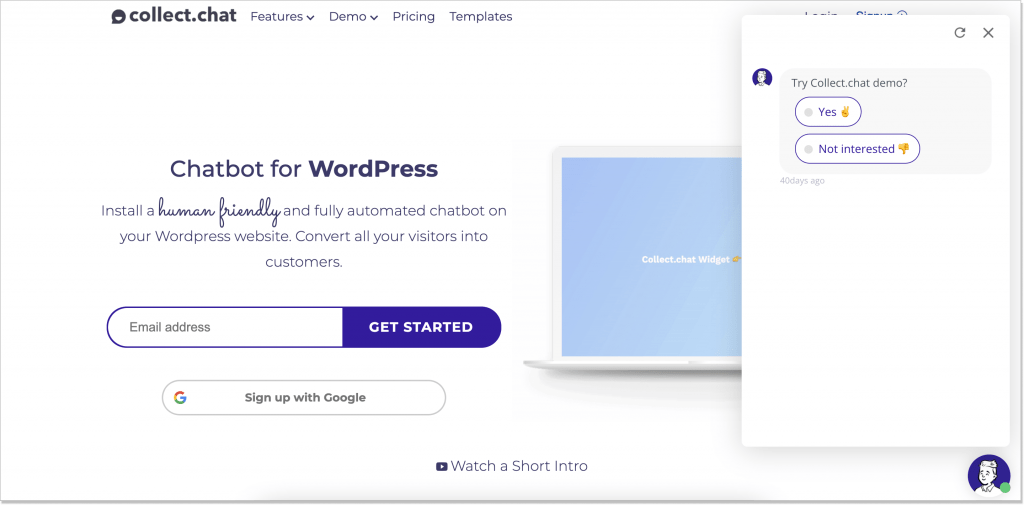 Collect.chat has this fully automated humanly friendly WordPress chatbot that helps you get higher conversions and save heaps of money on acquisition.
Its features might seem a little low-key. However, they are able to perform everything a business needs:
Professional lead generation with a clever chatbot WordPress plugin that routes a conversation the right way;
Appointment booking in the customer's timezone;
Survey and feedback collection;
Automating data collection with integrations (Google Sheet, Hubspot, Mailchimp, Freshdesk).
The company provides a free 30-day trial, but on one condition: it's valid if you only pay annually. Other packages include "Free" – $18/a month, "Standard" – $35/a month, "Plus" – $69/a month. So this is not the worst option among other chatbot plugins for WordPress.
5. Kommunicate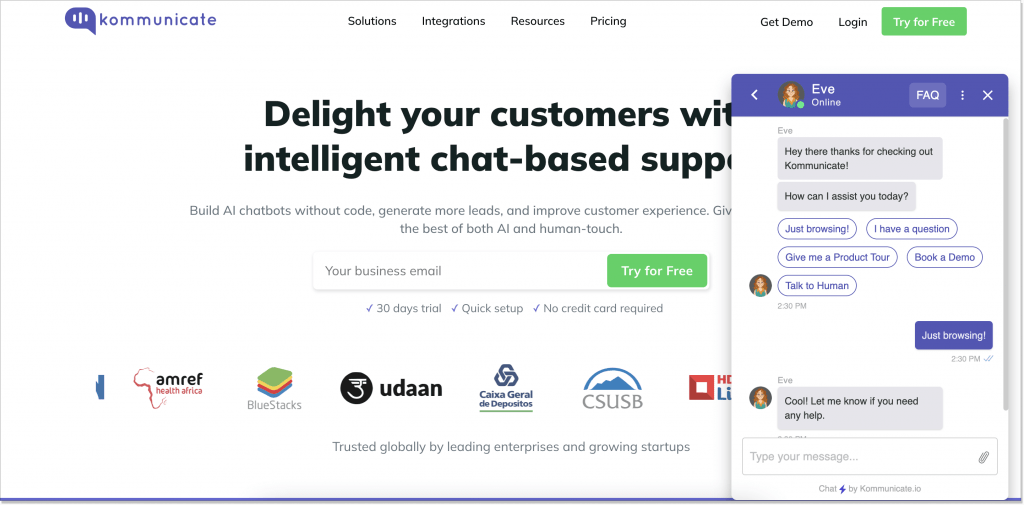 This is the best chatbots for WordPress list, isn't it? Then here's Kommunicate. It provides a codeless WordPress AI chatbot that guarantees troublesome communication with website visitors. Pun, as you can see, is totally intended. This human-like platform also offers a live chat for customer support. But let's break down the "robot" part of the issue.
This solution has a bunch of features any business might find helpful:
Easy, codeless implementation;
A pre-made chatbot templates gallery which you can leverage to create a bot and ignite your customer service automation;
Various message samples you can use in your activities (automated welcome or team-is-away messages);
Chatbot analytics for monitoring performance;
Social media platforms integrations (WhatsApp, Facebook, Line, etc.);
Quick replies for repetitive and common customer questions.
Kommunicate lets you test its chatbot for 30 days. If you want to upgrade, it will cost you $40/a month for the "Start" plan, $100/a month for "Grow", and $400/a month for "Scale". If you're an enterprise company, the price is set individually.
6. BotPenguin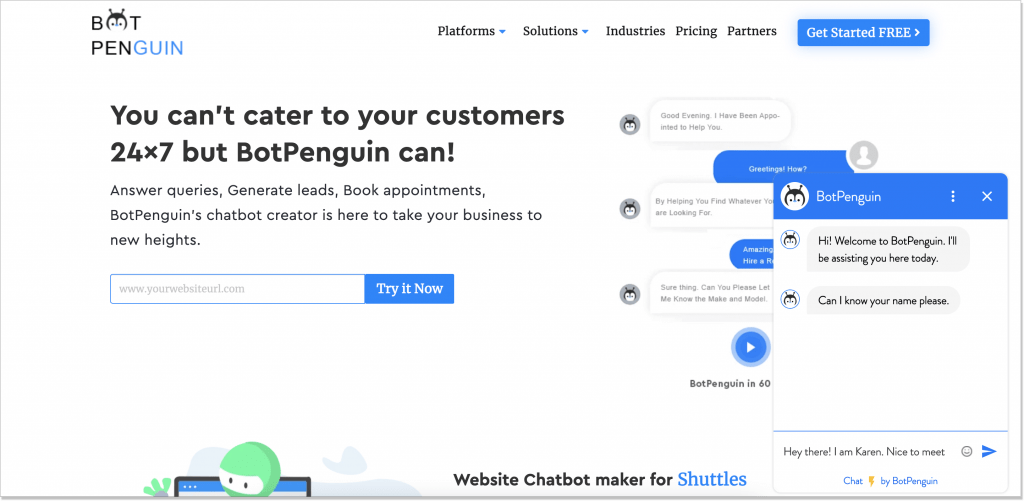 Of all the best WordPress chatbot plugins, this one has conquered my heart with its cute name. All the emotions aside, BotPenguin is a platform that develops a chatbot for your websites, Facebook Messenger, WhatsApp, and other social media.
How is this option may fit the bill for you?
No coding needed to shape a chatbot that will help you cater to the needs of your clients;
Ready-to-use templates that you can take advantage of when building conversation flow;
The ability to route a conversation to a human customer service agent in case the issue is the darnedest thing;
Guidance through an interactive FAQ base;
Customer data collection for further engagement and re-engagement;
That's pretty much it. The pricing is fair, too. There are only 3 plans: Baby (Free), King – for $25/a month, and Emperor – the price is discussed individually.
7. Joonbot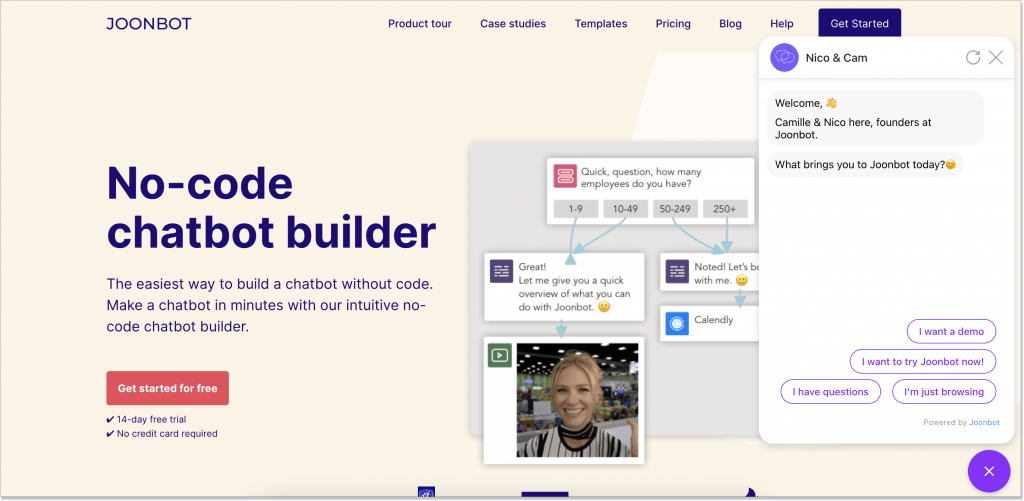 Joonbot is yet another no-coding platform that makes creating a WordPress chatbot a snap. Engaging website visitors, qualifying the leads, performing automotive repetitive tasks, giving product recommendations, and increasing conversion rate – this is the basic set of things this solution can do.
Its main benefit is that you can make a limitless amount of conversations with clients. This is totally a pro point if you're in ecommerce. Other functionalities include:
Personalized chat scenarios;
Various chatbot formats (widget, embed, full-page);
Appointments booking directly from the bot via Calendly integration;
Targeted emails to a user or a team when you want them into the conversation;
Powerful integrations via Slack, Airtable, Zapier, or Webhooks.
You can try Joonbot's chatbot free for 14 days or choose the way to level up. For instance, for a Starter pack, you'll pay $28/a month and for Plus – $99/a month. Sure thing, there is a custom plan that may be ideal for a big organization.
8. Chatbot with IBM Watson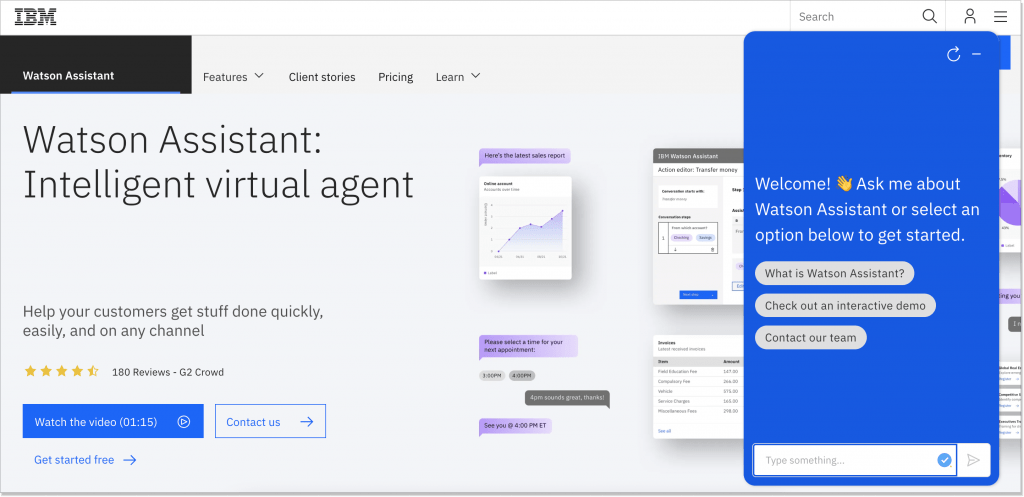 IBM Watson Assistant (formerly Watson Conversation) is one of the best chatbots for WordPress as it operates with AI. You can easily teach your bot to help website visitors dig into your product or service better.
Among its supported functionalities, you will find:
Pain-free installation process to get your chatbot up and running in minutes;
Fast answers thanks to NLP (Natural Language Processing) which brings in high conversions;
Full-throated customization process so that your chatbot toes your brand's line;
Rich editor to make your bot in line with your business – you can add images and other visuals;
VoIP (voice over Internet Protocol) calling for users to reach out to a human agent if need be.
Speaking of the prices, here you won't be puzzled at all. You can take a Lite package for free, pay $140/a month for the Plus package, or discuss individual conditions with the team.
Sum it up
As you can see, a WordPress chatbot can do its part in your online presence. Sure thing, all the options we discussed here today won't suit any business. There is hope that we could ease the burden a little and point in the right direction.
One last thing before I wave goodbye: a chatbot you're about to opt for should fit in the price=quality equation. Besides, it should be able to perform at the very least basic customer service tasks. Choose wisely!