Chatbot Pricing: How Much Does a Chatbot Cost in 2023?
How does one choose an adequate chatbot pricing model when the prices vary between $0 and $500,000? Let's discuss!

Budgeting is tough (coming from a person who's bought four different cardigans just this month).
Business budgeting is even more daunting. You can't just suddenly cut your spendings and order fewer take-outs to make ends meet. People depend on you every day — your clients, your team, their families and your family, too. A business owner always thinks strategically and wants to be a few steps ahead.
What I'm (so gruesomely) trying to say is that if you aren't able to estimate your expenses and strike just the right ROI balance, you can't expect to grow and scale.
But you know this already, right? You've come here because you already know about the benefits of chatbots for a business, have decided to implement this new sparkling technology, and want to know how much money you should put aside.
Am I right? Is the chatbot pricing estimation what brought you here today? Then you're in the right place.
So yeah, how much does a chatbot cost?
We've decided to ask the chatbot itself — ChatGPT. Because whether you want it or not, the chatbots are getting pretty impressive, and ChatGPT is leading the way.
And here's the answer we've got from it: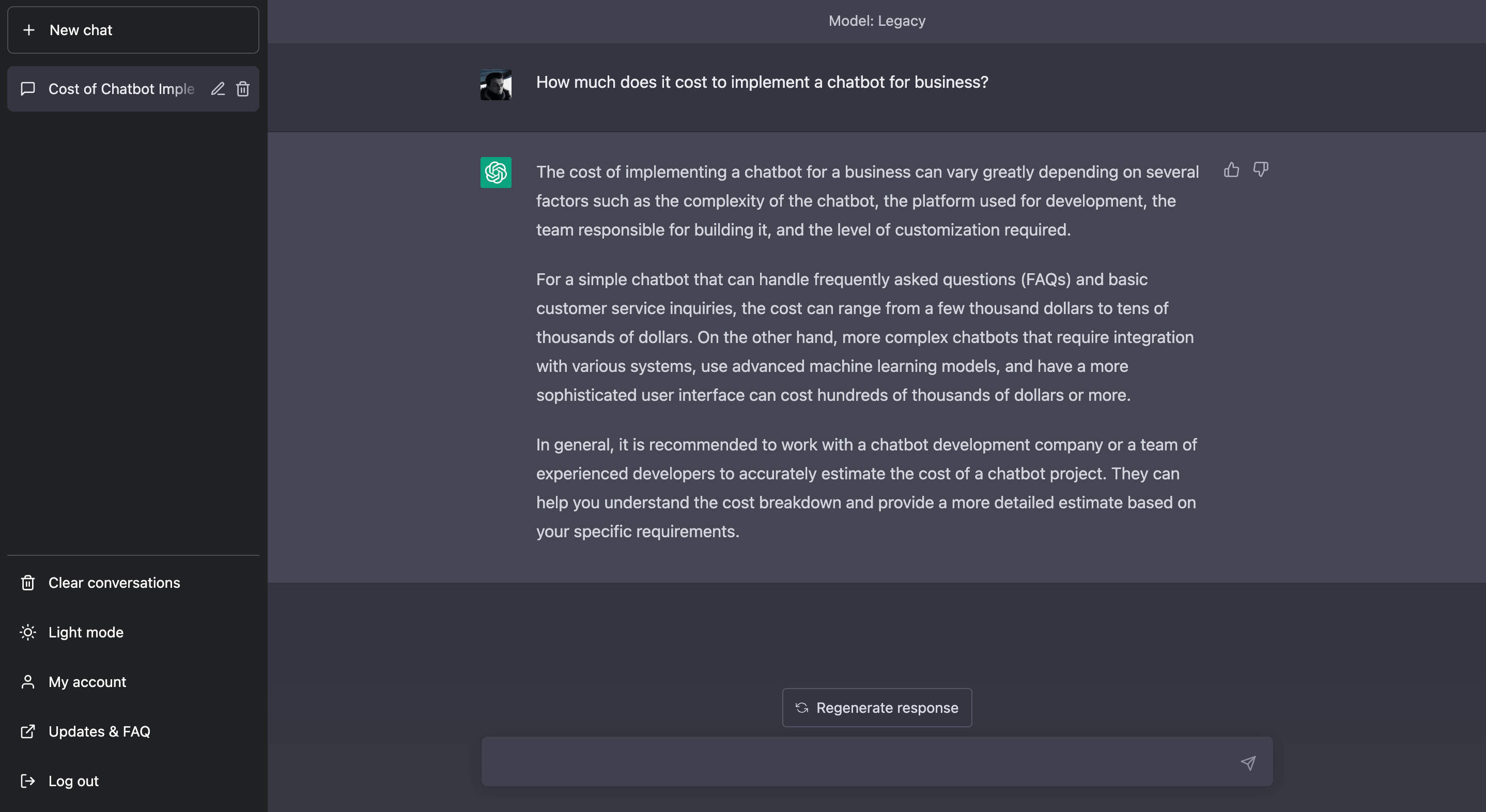 It's all good and well, but it doesn't clarify much, does it?
But seriously, though. What the chatbot here actually understands quite well is that a chatbot cost is rather subjective and depends on your needs. You can implement a chatbot for free or throw away thousands of dollars and get the same results if you don't factor in every little detail first.
Factors that influence the chatbot cost
The most important factor in choosing a chatbot technology and, subsequently, deciding on an optimal chatbot price are your objectives and goals.
Common use cases for a chatbot include prompt 24/7 customer support or an elevated sales process including lead generation and lead qualification automation.
Now, depending on a use case you have in mind, a chatbot pricing comes down to the following factors:
Complexity. Will it be answering simple repetitive questions or should it mimic a real chat and act as if it's a real human being talking to a client?
Technologies. Do you want to use AI and natural language processing (NLP) or just create simpler rule-based scenarios?
Features. Do you want your chatbot to have a sleek dashboard? Do you want it to speak different languages? Should a chatbot be able to route a conversation to a human specialist?
Customization. Do you want your chatbot widget to look natural on your website?
Integrations. Should it be available not only on your website but in WhatsApp, Messenger, and Insta? Should it pass gathered information to your CRM?
Obviously, the more complex a project you have in mind, the more expensive its implementation will be. AI chatbot pricing is traditionally higher than that of a rule-based one. Integrations usually come at additional costs, and so on.
Further you can see two distinct chatbot examples that are on the two opposite sides of the complexity spectrum.
The first one is a simple customer support scenario. It's a rule-based website chatbot by HelpCrunch that collects basic info about leads and answers customer service FAQs based on a pre-set scenario.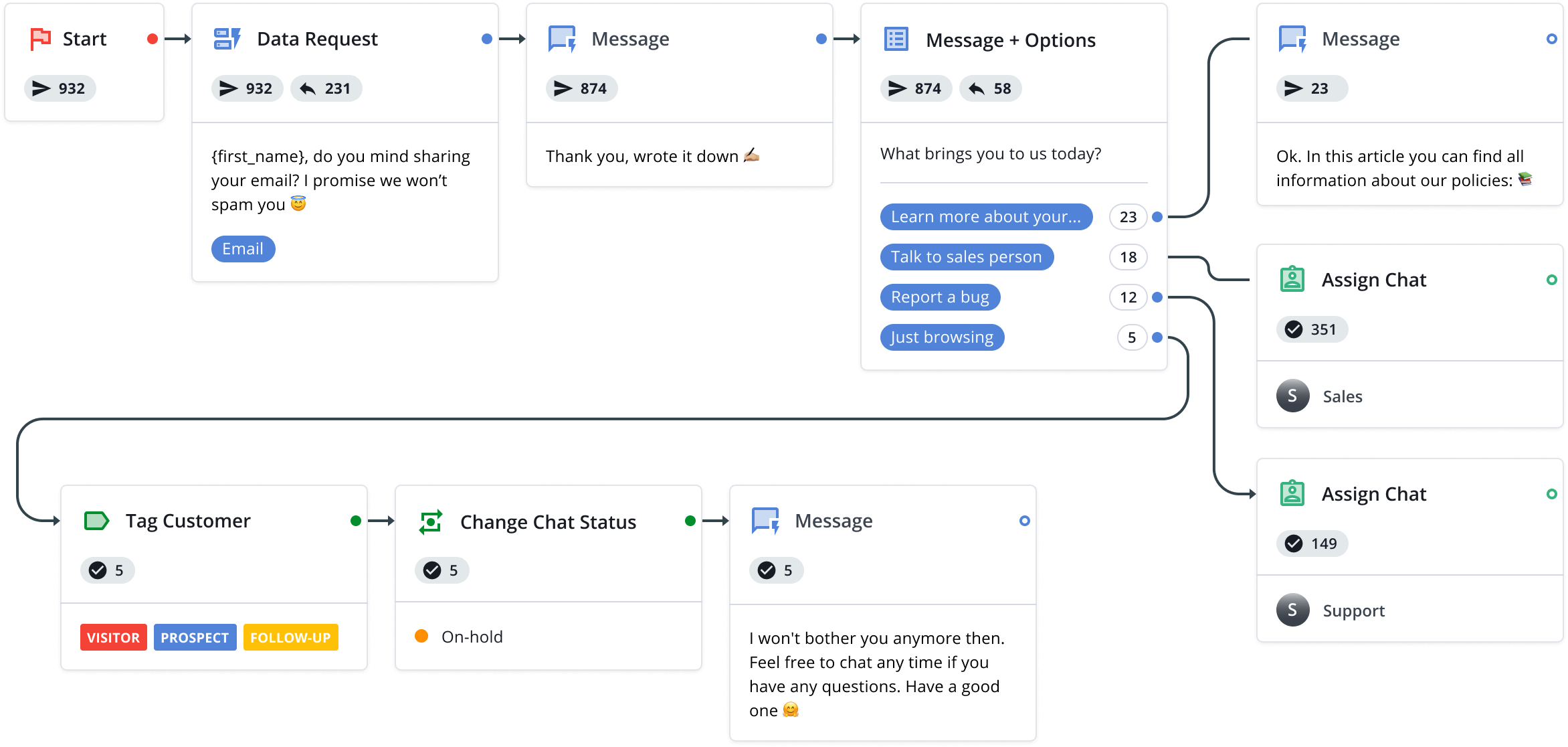 The second chatbot is by Sephora. You can upload your photo, and their personal stylist chatbot will generate personalized makeup recommendations (e.g. a matching lipstick shade).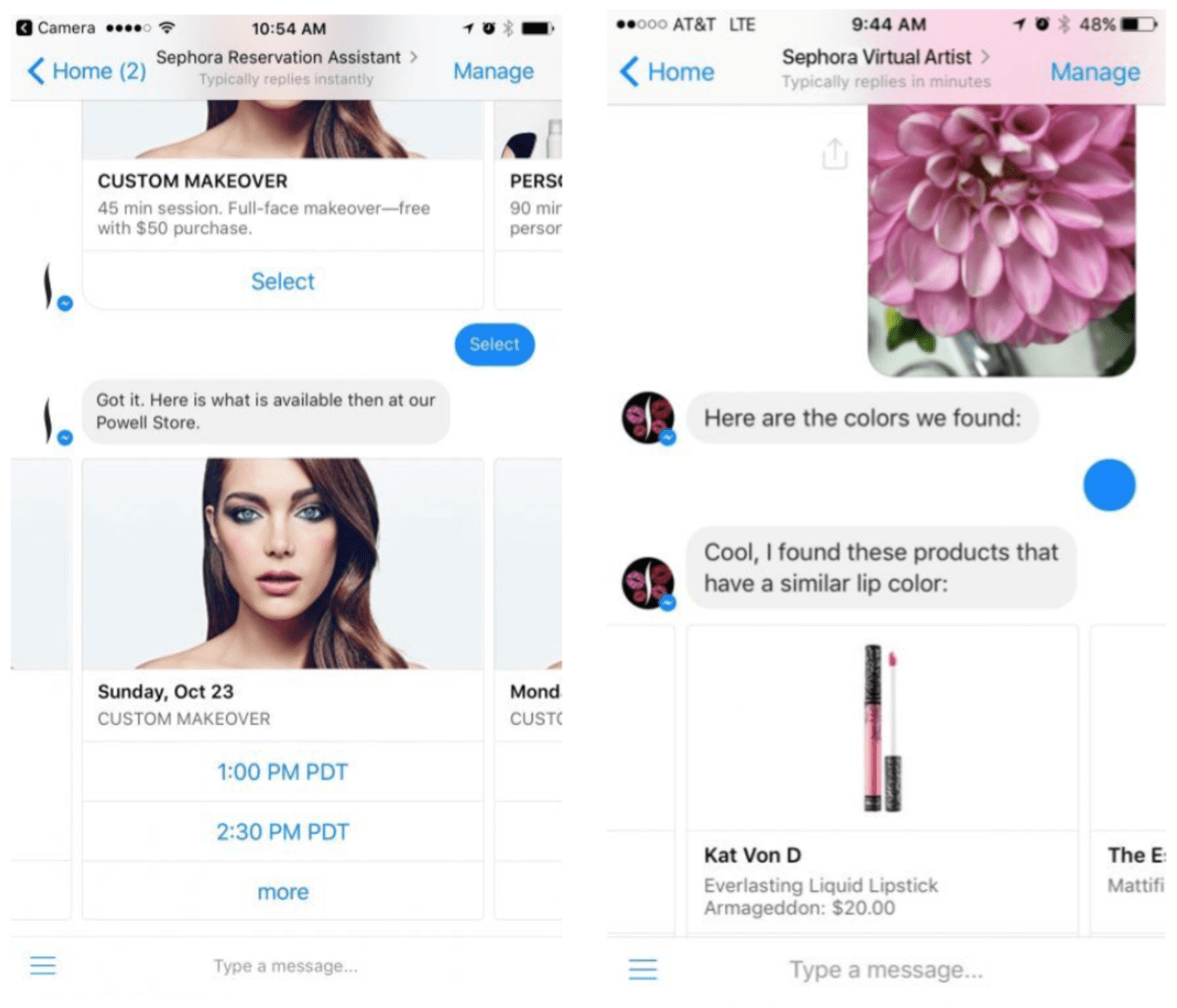 Custom chatbot pricing
So there are two ways you can go when implementing a chatbot – building a custom solution tailored to your business needs or choosing a third-party solution.
Let's first look into the chatbot prices if you want to build your own chatbot from scratch.
In-house chatbot development cost
ChatGPT tells us that in order to build a state-of-the-art, the-turing-test-passing, ex-machina-like chatbot, you will need a team of up to 10 people.
It should include a project manager, a chatbot designer, a chatbot developer specializing in Python, JavaScript, and Node.js, a data scientist, and a quality assurance engineer.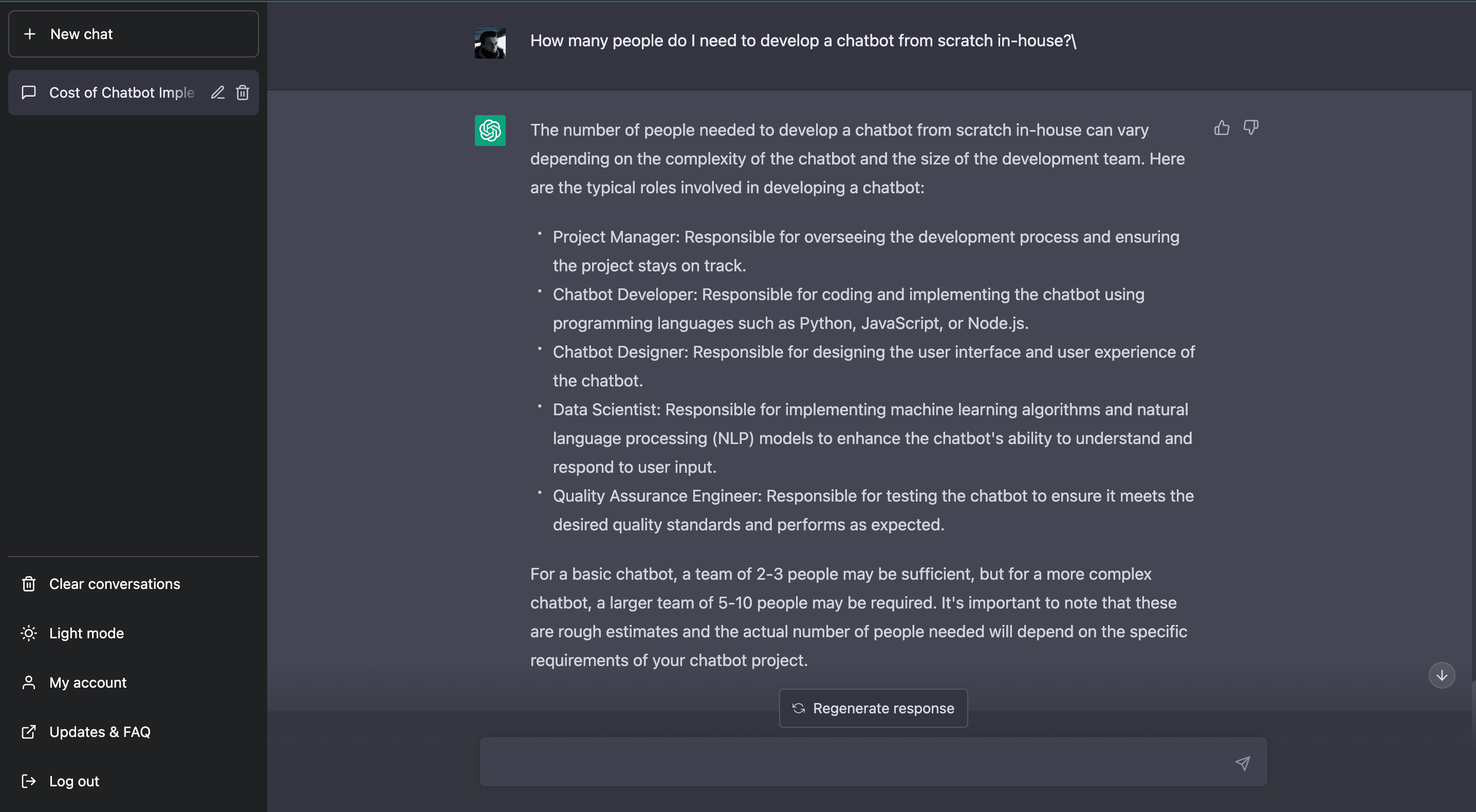 It does sound about right. However, what's described above is a perfect scenario. Not every business can afford a dedicated developer team with a project manager and a QA engineer that will work exclusively on a chatbot.
So let's concentrate on the roles that are key to developing a chatbot in-house:
Chatbot designer's salary: from $38,000 to $91,000 per year with a median salary of $58,792 /year
Chatbot developer's salary: from $45,000 to $112,000 per year with a median salary of $70,554/year
Data scientist's salary: $78,000 to $205,000 per year with a median salary of $126,040/year
Note that these numbers, kindly generated by Glassdoor, are only representative for the US labor market.
Moreover, you don't always need a designated data scientist to train your chatbot from scratch. Since the public release of the ChatGPT API to the masses, more companies are integrating the existing technology into their products. You can also create a knowledge base for chatbot, which will make it much more effective.
NotionAI went this way and so did Intercom. They've incorporated the already existing and fine-tuned chatbot into their products in a matter of a few months. There are also smaller travel agencies or real estate companies that already use the technology to their benefit.
In-house chatbot development comes with certain advantages:
Full control over chatbot functionality, customization, and end result
Flexibility in both creation and further maintenance.
Basically, you get exactly what you want. But the cost to build a chatbot is rather stiff, which is its main downside:
In-house development takes time. You will have to wait approximately a couple of months before you can get a first product version.
Your chatbot cost is high during the first months.
Chatbot agency pricing
After looking at those salaries, a natural question may arise: isn't it cheaper to just outsource it to a chatbot agency? Well, it usually is, that's the whole point of outsourcing.
Chatbot agency can develop custom chatbots for your specific business needs. Consequently, you don't need to hire an entire in-house chatbot department.
But its drawbacks are also there. If you want to go the chatbot agency path, prepare yourself for a limited control over the whole process and lack of consistency and proper dedication.
These agencies typically charge anywhere from $10,000 to $50,000 for a basic chatbot project. However, the chatbot costs for some exceptionally complex projects may be much higher.
Chatbot as a service pricing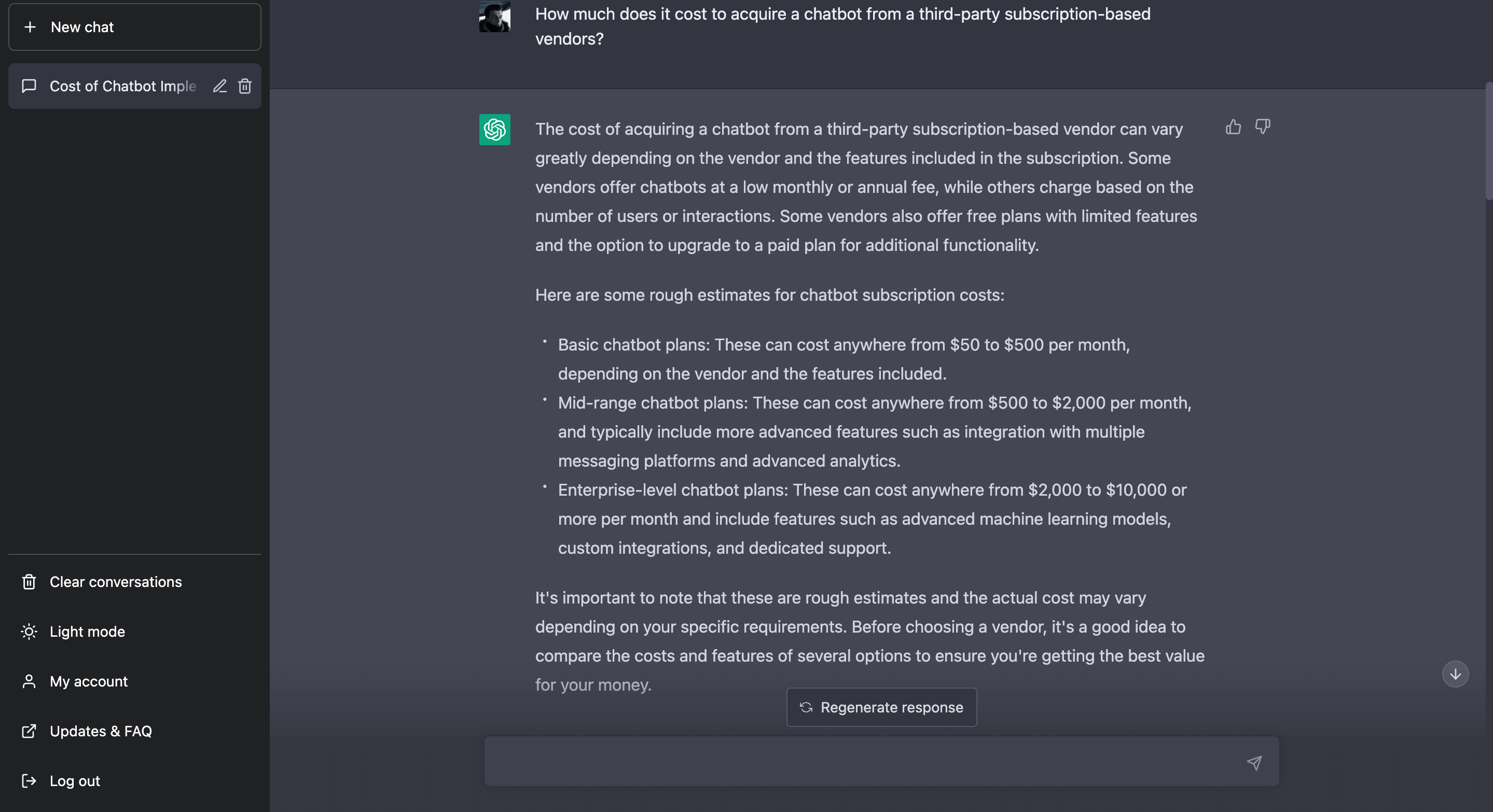 Now, creating your own custom-tailored chatbot sounds great and all. But the majority of businesses don't really need to undertake such a grandiose project to automate their customer service. Or sales. Or both.
Unless you're a world-known makeup brand with a huge IT department and a client base of millions to train your bot on, your needs can be covered by chatbot tools.
They are considerably less expensive while offering all kinds of features, integrations and customization options. And how much do such chatbots cost? Well, the pricing starts from literally $0.
Small business chatbot tools
HelpCrunch offers a scenario-based chatbot builder for $25/mo/team member. The features cover all basic customer service and sales needs across web, Facebook, Instagram, and other messengers. The chatbot can answer common predefined questions, send knowledge base articles and route complicated chats to a support rep.

Chatbot's AI functionality is available from $65/mo. The subscription plan's limitation of 1,000 valid chats/mo should suffice for a small business or a startup.
Enterprise chatbot tools
Drift's pricing starts from $2,500/mo. For this price, the tool offers an advanced chatbot technology and a lot of additional sales- and marketing-oriented features.

Ada is a great Drift chatbot alternative for enterprises, but the tool's price is only revealed by request. Rumor has it that a starting chatbot pricing reaches a few thousands dollars per month.
Free chatbot tools
The HubSpot. The HubSpot chatbot is a part of their Sales Hub subscription. While it's available for free, you will face stiff limitations. The paid subscription plans vary from $50/mo to $1,200/mo

Tidio. Just like HubSpot, Tidio is a freemium tool which offers 100 chatbot triggers for free.
It's worth noting that implementation of a third-party also requires some basic development skills to install a chatbot widget on your website or app. But the process is as straightforward and fast as it gets.
Conclusion: which chatbot pricing model is for you?
Now, you probably have a blurred idea of what your chatbot should look like and do. A custom solution sounds great, but the price bites. Third-party software providers, on the other hand, are so diverse in both price and functionality, that one can easily get lost.
That's why we've prepared this short graph for you — just answer a series of questions, and it will lead you to your perfect chatbot pricing model.
Now that you've established which option is for you, our best estimation of a chatbot pricing will be as follows:
Custom chatbot development: from $10,000/mo to $500,000/project
Outsourced chatbot development: from $1,000 to 5,000/project and more
Small business chatbot software pricing: from $0 to $500/mo
Enterprise chatbot software pricing: from $1,000 to 10,000/mo and more