8 Top-Tier Drift Alternatives to Consider in 2023
Are you looking for an alternative to Drift? We've compiled a list of the best customer communication solutions that won't break the bank. Find just the right tool for you today. Let's get to it!

Have you ever heard the phrase: "There is no such thing as a final idea"? Well, now you have.
What I am suggesting here is that if you've been using one customer communication tool for a while, it doesn't necessarily mean that you have to stick with it till the death do you part. Companies around the world make their best to offer users better, more efficient, smooth-running, and yet affordable options.
So, whether you are here to switch to a Drift alternative, or find a more affordable platform for customer communication, this article will help you a lot.
We will explore some of the best platforms to date, compare them, and choose the best one for you. I know how overwhelming the burden of making a choice can feel. But worry not, you should stay focused on your current business needs.
OK, let's get going!
Why look for a Drift alternative?
Companies use Drift to provide personalized customer service. The brand stresses the word 'conversation' on their website, making it very clear that with their solution you can provide better communication to clients. And it sounds good indeed.
Among Drift key features you can find a live chat, chatbot, email functionality, video tool and other products. If everything is so bright, then why do users look for Drift alternatives?
Maybe it's because of their poor rating: 4.3 (on G2) and 4.5 (on Capterra). Or maybe the platform just lacks some crucial features, like a knowledge base, that users need at the moment.
Let's go quickly through a few things that customers complain the most about Drift on review platforms:
Too expensive compared to competitors
Difficult to use (can't do without some help)
Poor reporting feature
Too sales-oriented – hence, not enough features for customer support
Tricky to use for non-English customer communication.
Whatever reason led you here, keep reading, and you might find some incredible alternative to Drift that is just right for you.
Now, shall we see what Drift competitors can offer?
Top 8 Drift alternatives you should know about
Before we move on, let's have a quick look at the comparison table below that represents a general overview of the best Drift alternatives.
Name
Key feature
Free trial
Prices start from
Rating G2
HelpCrunch
Shared inbox
Live chat
Chatbot
Knowledge base
Email marketing
Popups
14 days
$15/mo
per seat
4.7/5
Olark
–
Live chat
Chatbot
–
–
–
14 days
$29/mo
per seat
4.3/5
Crisp
Shared inbox
Live chat
Chatbot
Knowledge base
Email marketing
–
14 days
$26/mo
for 4 seats
4.4/5
LiveAgent
Shared inbox
Live chat
–
Knowledge base
Email marketing
–
14 days
$15/mo
per seat
4.5/5
Intercom
Shared inbox
Live chat
Chatbot
Knowledge base
Email marketing
–
14 days
$74/mo
for 2 seats, and
1,000 reachable contacts
4.4/5
Tidio
Shared inbox
Live chat
Chatbot
Knowledge base
–
–
7 days
$20/mo
per seat
4.7/5
LiveChat
Shared inbox
Live chat
–
–
–
–
14 days
$19/mo
per agent
4.5/5
tawk.to
–
Live chat
–
Knowledge base
–
–
Forever free
Free
4.6/5
While keeping that info in mind, let's move on to the next part of the article, where we explore each alternative to Drift more precisely.
The best all-in-one Drift alternative with practically the same feature set but more user-friendly UI and affordable prices. (+ native knowledge base in place)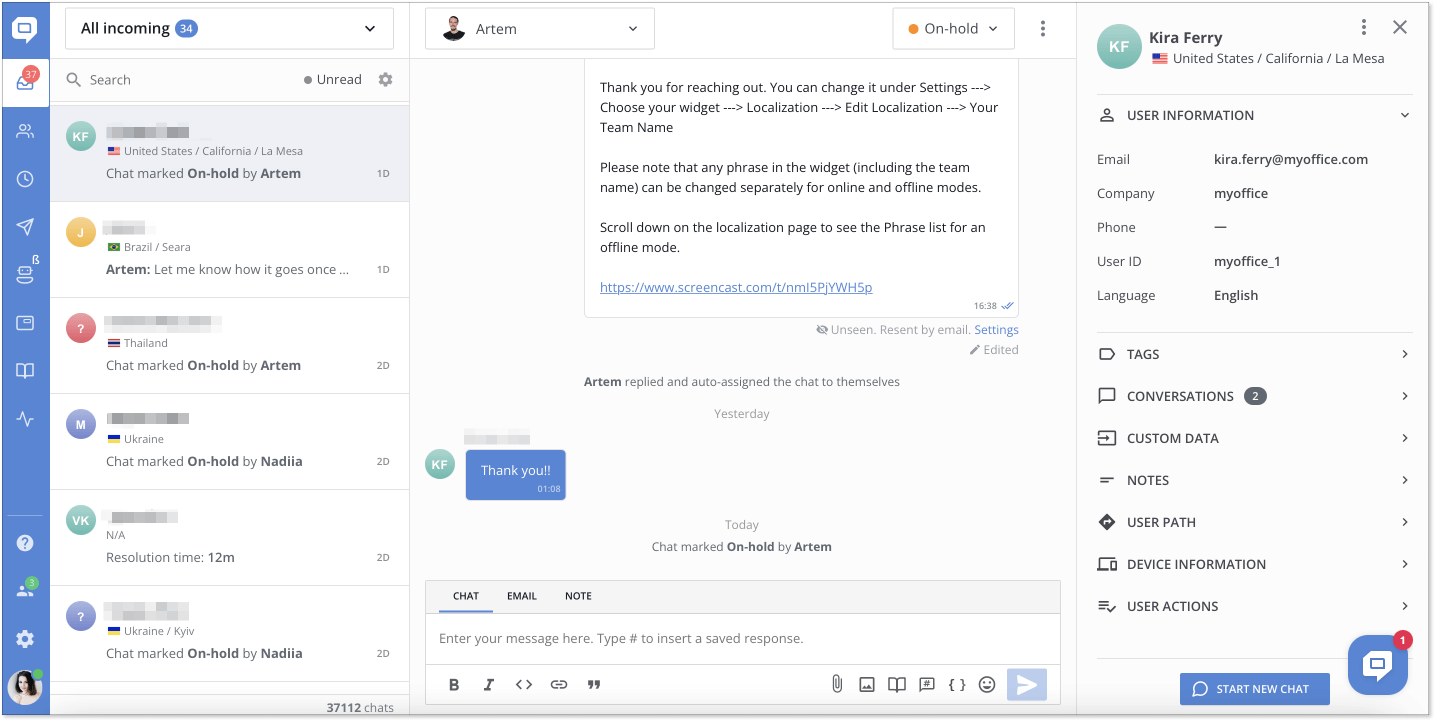 Smoothly running live chat
The whole setup of HelpCrunch tool will take approximately 5 min. After a few simple steps, the live chat button will appear on your website, allowing you to chat with visitors. If you are new to live chat functionality, watch this video, prepared by the team, to introduce you to the opportunities the product embraces.
Chatbot to handle routine tasks
HelpCrunch is a great Drift chatbot alternative as it offers a helpful bot to automate your customer support. The tool can take over the answers to frequently asked questions, the collection of contact data, the qualification of potential customers, and other similar tasks. When the dialogue needs to be transferred to an agent, the chatbot will independently assign the chat to the appropriate department or a rep.
Well-oiled knowledge base for excellent customer self-service
No less than 90% of customers expect brands to offer an online portal for self-service. HelpCrunch offers an easy-to-use knowledge base tool that allows you to write, post and manage helpful materials for your clients. You can SEO-optimize your texts and help people find you in Google searches! On top of that, it's possible to integrate your knowledge base into the live chat widget for more efficient customer support.
Email marketing performance within the same platform
What's great about the tool is that you can handle it all within the same platform. While your support team is dealing with chats across different channels in a shared inbox, your marketing department can craft and share beautiful newsletters thanks to the Manual and Auto messages feature.
Most loved for:
Affordable prices
Easy to set up and use
User-friendly interface
Always helpful and palsy-walsy customer support
Unified solution for all customer communications
Great range of social media integrations (Facebook, Instagram, Viber, Telegram)
Pricing
Basic plan starts from $15/mo per user
Pro plan starts from $25/mo per user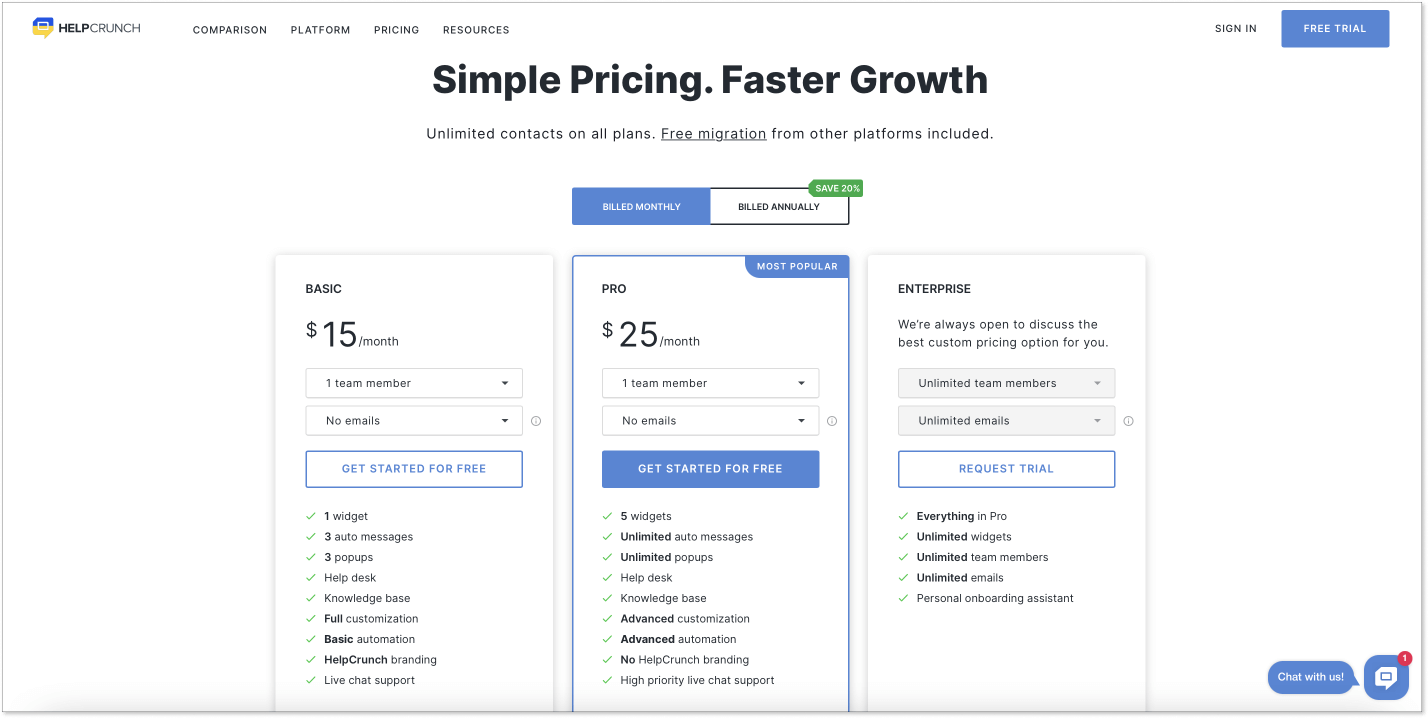 Live chat solution with a few add-ons for online commerce, mostly.
Searchable live chat transcripts
If sometimes you need to find a specific part of the conversation with a client fast, Olark can be a handy tool to do so. Each chat and email with a user is stored in your transcript archive with a great filtering feature. It is stored along with other information you collect — such as customer contact info, profile data, or follow-up action items.
Visitor cobrowsing
The software offers a visitor cobrowsing tool as an add-on (paid separately), which allows visitors to share their screens while chatting. This way your support agents can provide better guidance through payment, purchase process, or help with technical questions.
Live chat translation
This opportunity can be especially helpful to those who serve customers worldwide and need to communicate in different languages. The feature detects your visitor's language and then translates your support reps' and visitor chats right in the chat box. And, yeah, it's also an add-on solution that is purchased separately.
Most love for:
Easy-to-use platform
Auto response feature
Affordable price
Filtering tool
Most hated for:
Lack of the mobile app
Unreasonable pricing for add-ons
Pricing
Starts from $29/mo per seat
Olark Pro – more info upon demo
Visitor cobrowsing – $99/mo
Live chat translation – $29/mo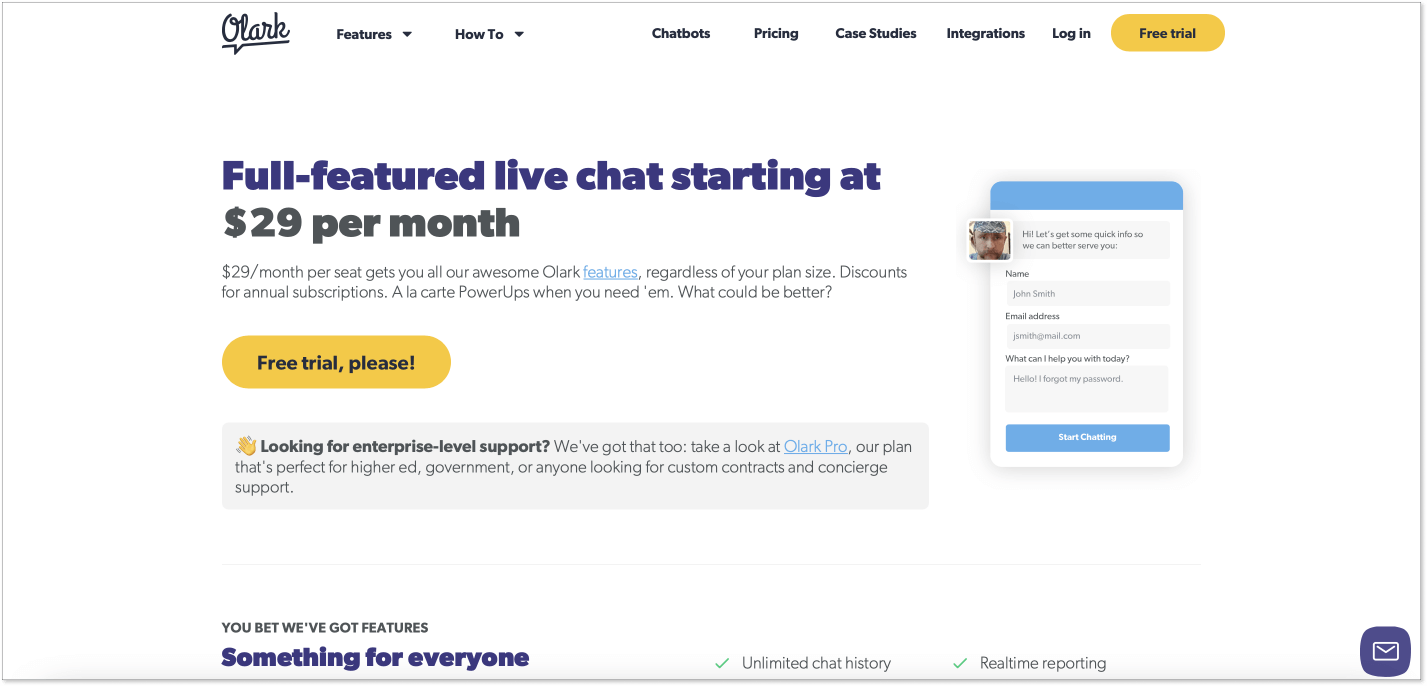 Unified solution with rich opportunities that can help you communicate with users better.
Live chat software
Just like with HelpCrunch, with the Crisp platform, all messages get to a shared inbox, from where support reps can manage them conveniently. What makes the tool stand out is its LiveTranslate feature, which allows you to translate chat messages in real time while talking to clients.
Video calls with customers
Sometimes you might need to have a video call with a customer. And since users are usually required to install a third-party tool for that, the task can be complicated. With Crisp, you can provide the calls within the very same platform. No plug-in or software needs to be installed.
Co-browse to solve users' issues faster
Another cool feature of Crisp is MagicBrowse. In case your customer just gets lost and wants you to fix everything for them, this tool can be a salvation. What it means is that you can co-browse with your website visitor without any other plugin than the live chat software. Pretty cool, ha.
Among other opportunities, there are also chatbot functionality and a knowledge base.
Most loved for:
Responsive support
Intuitive user interface
Affordable price
Good set for small companies
Most hated for:
Lack of customization opportunities
Overall, pretty narrow set of features (ex. doesn't have a satisfaction rating in the chat box)
Pricing
Basic – forever free
Pro – starts from $26/mo per 4 seats
Unlimited – starts from $96/mo per 20 seats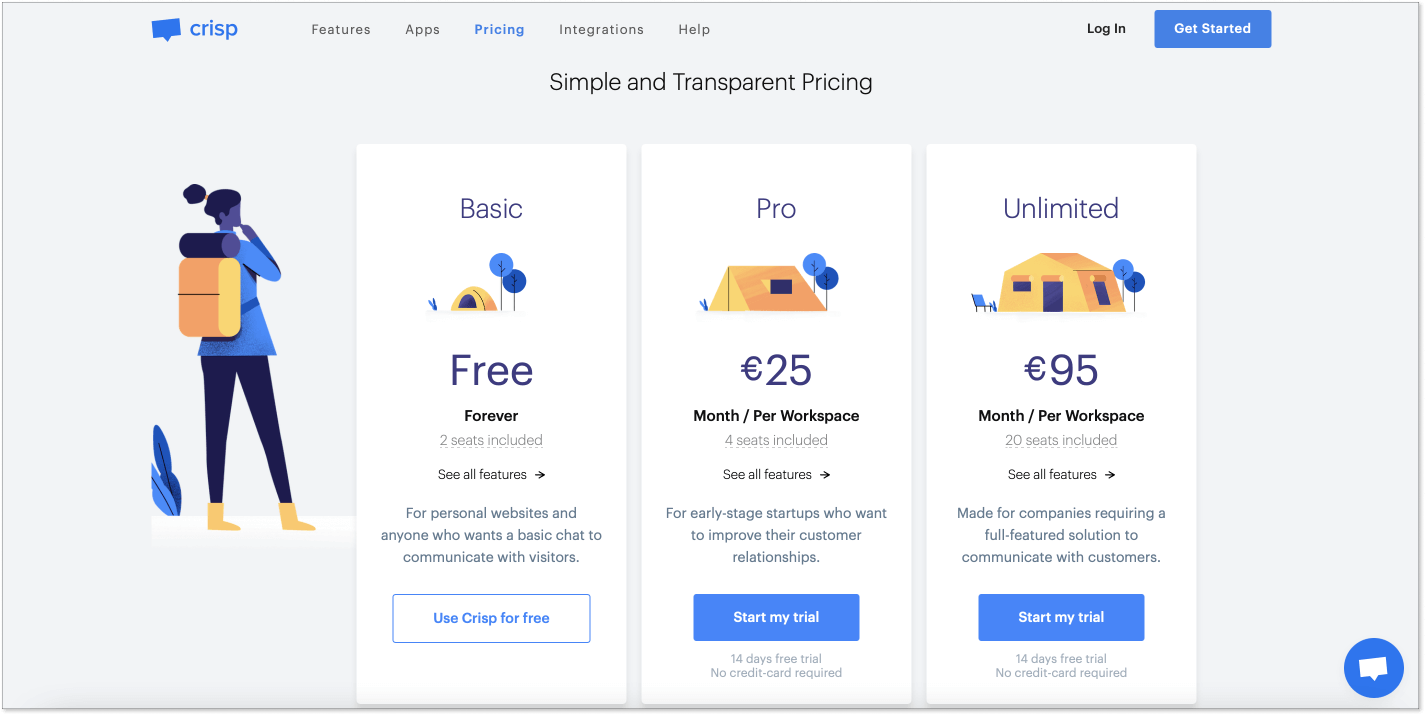 Help desk solution for customer support across numerous channels with a great ticketing system.
Omnichannel support
LiveAgent provides a truly multichannel customer communication tool. Among its integrations, you will find Facebook, Twitter, Viber, Slack, and more. Also, the platform offers cloud-based call-center software for voice support.
Advanced ticketing
If you communicate with lots of clients across different channels daily, all your emails, chats, calls, social media mentions, and other channels will land in a single inbox. With the help of some advanced automation rules and integrations, your support agents will be able to manage the tickets with ease.
Customer portal for self-service
LiveAgent allows you to create a dedicated customer portal where clients can check up on their tickets' status after they log in. Besides, these dedicated support portals also enable users to access a knowledge base, community forums and also submit their feedback.
Most loved for:
Tickets management system
Affordable price
Straightforward platform
Great customization
Most hated for:
UI design is quite dated
Customer service can be unresponsive
Set-up process is pretty complicated (need to reach for support to handle that)
Pricing
Forever free with significant limitations
Ticket plan starts from $15/mp per agent
Ticket+Chat plan starts from $29/mo per agent
All-inclusive plan starts from $40/mo per agent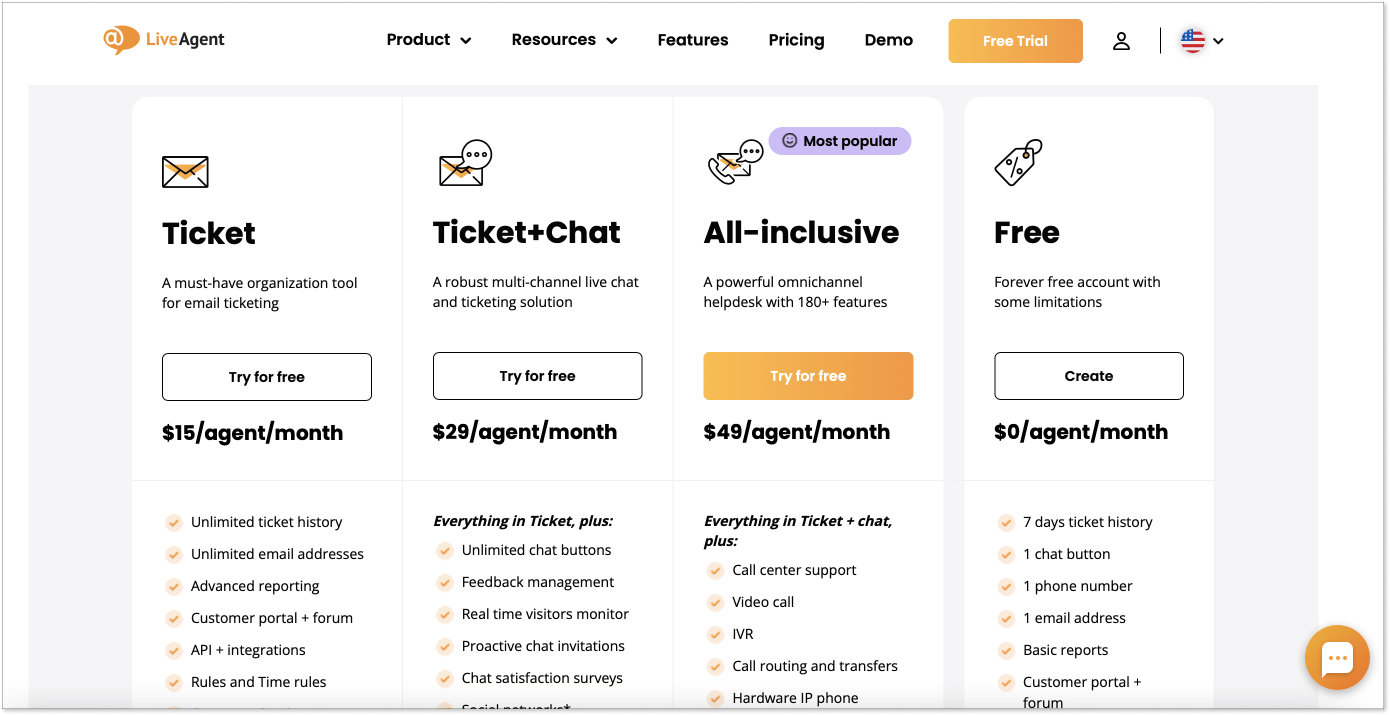 Expensive customer communication software for sales, marketing, and support.
Business Messenger
To begin with, Drift and Intercom share minimum resemblance. The platform offers something called Business Messenger, which is in fact a name for live chat and chatbot features. It goes along with an in-built self-service tool for users and an opportunity to integrate their chat with other apps, like a solution that allows customers to quickly check their order status. 
Configurable shared inbox
Remember, I told you about a unified inbox for all customer inquiries that HelpCrunch offers? Well, Intercom provides something very similar to it, but a bit fancier. You can choose a light or dark mode for the dashboard. It also allows you to zoom through every action of the Inbox to find the required info fast.
Product tours
This feature is built to help you onboard your clients. It can be especially useful for onboarding in the SaaS sector. By following interactive steps, users get to know how your platform works and what it can do for them. The tool is also used to highlight new features and assist clients with the most tricky part of your software. This is something you won't experience often with Intercom alternatives, for that matter.
Most love for:
Clean interface
Easy to set up and use the tool
Just the right set of features for customer service
Variety of app integrations
Most hated for:
Benumbed customer support that can take over 24 hours to get a reply from
Too expensive for SMBs and companies that grow at a fast pace
Unclear pricing model (additional fees for every upgrade)
Pricing
Starter plan starts from $74/mo per 1,000 contacts
Other plans pricing is unknown. Contact their team to get more information. Rumor has it that the cost may reach thousands of dollars per month.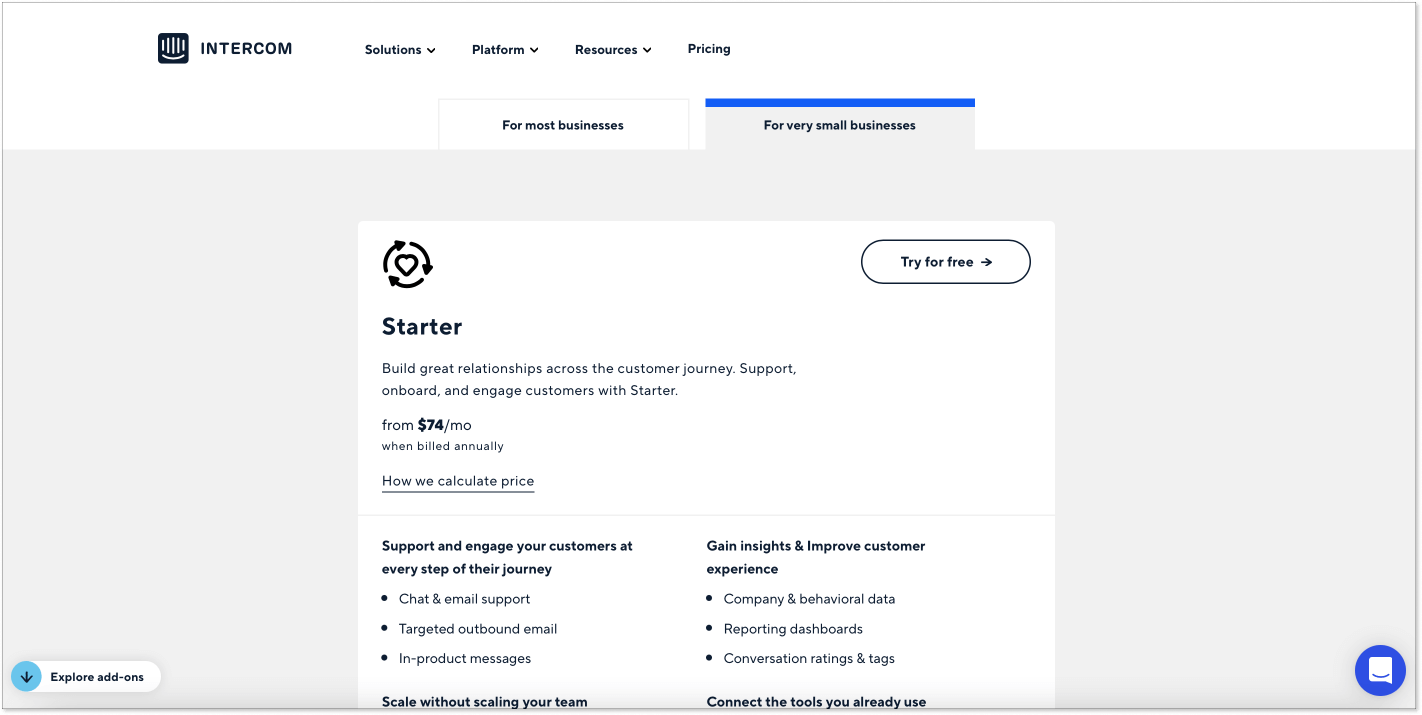 One of the Drift alternatives that provides a simple live chat and chatbot for sales in e-Commerce.
Real-time visitor monitoring
Apart from a live chat, the software allows you to monitor who is viewing your website in real-time. This way you get access to the contact information of your guests (if they introduced themselves earlier), their location browser, operating system, and last visited page info. These data allow you to segment customers to achieve your marketing goals more efficiently.
Chatbot for sales
Tidio designed a chatbot with automated sales in mind. It offers over 35 templates and a visual bot editor to build your own bot flows from scratch. Some pre-built scenarios include discounts for new visitors, product recommendations, and abandoned cart savers.
Most loved for:
Live chat widget design
Simple to use
Real-time view of the visitors
Affordable price
Most hated for:
Trial period is too short (7 days)
Free plan is very limited (just 100 visitors per month)
Lack of Twitter integration
Pricing
Free – 3 operators, and only 100 unique reachable visitors
Chatbots plan starts from $50/mo for 3 users and offers unlimited unique reachable visitors
Communicator plan starts from $20/mo (no chatbots though)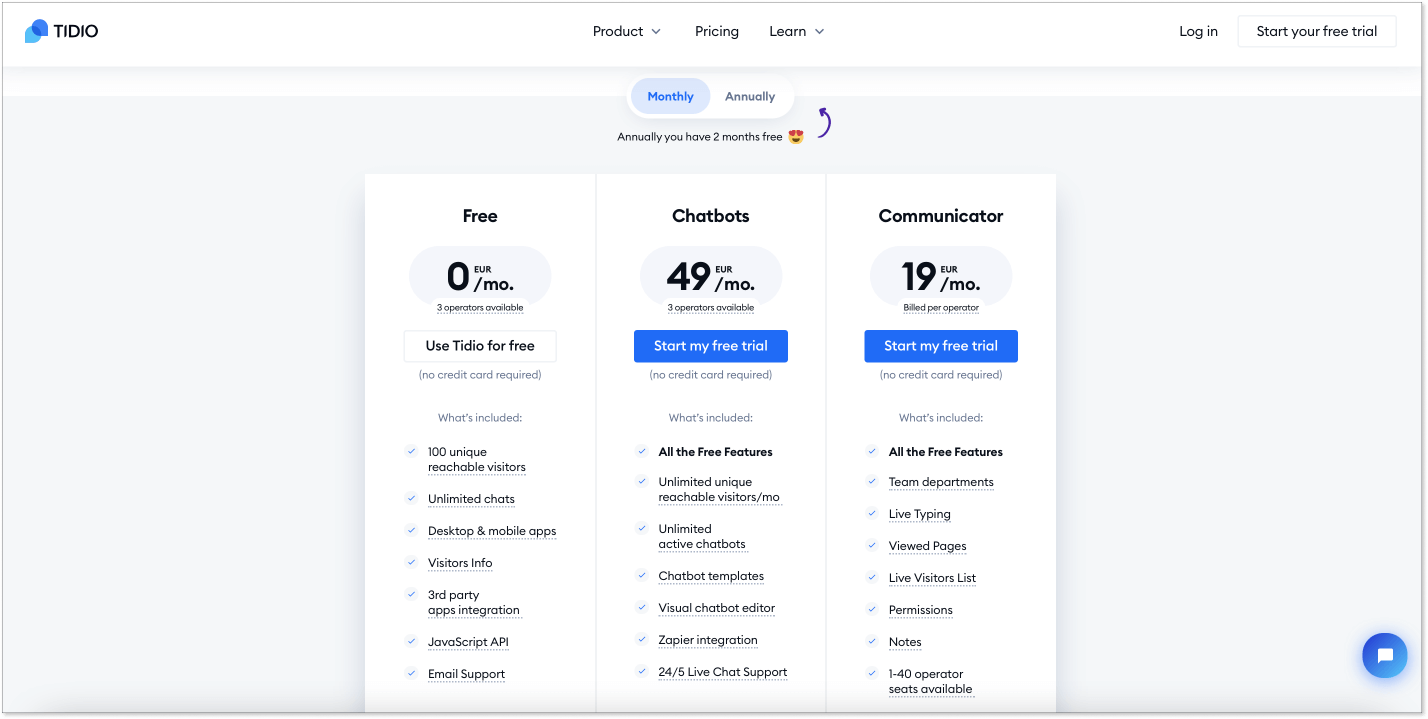 *Keep in mind that to have unlimited unique reachable visitors, live chat, chatbot and other features (like real-time visitor monitoring) you might need to subscribe to a few plans at the same time.
Great solution for live-chat-only communication with customers.
Feature-packed live chat tool
As the name of the platform suggests, it offers a live chat tool. The software provides literally everything you might need for smooth communication with customers. The opportunities include but are not limited to a message sneak-peek, tags, file sharing, chat rating, and canned responses.
Flexible customization
What I really like about LiveChat is their live chat widget live editor. It allows you to customize the design while you are on your website, so there is no need to jump back and forth between LiveChat settings and your website. You can choose a dark or light mode, any color, theme, and position of the widget.
Comprehensive reports and analytics
The software provides many insights into how your support team is doing. Some reports include total chats, missed chats, chat satisfaction, greetings conversion, and more. All data can be saved to a CSV file. To stay on track, you can schedule reports with customer service data right to your email – daily, weekly, or monthly.
Most loved for:
Wide variety of integrations with other software
Useful reports
Easy to install and use
Highly customizable
Most hated for:
Frequent technical glitches
Too little choice of other functions
Pricing
Starter plan starts from $19/mo per seat
Team plan starts from $39/mo per seat
Business plan starts from $59/mo per seat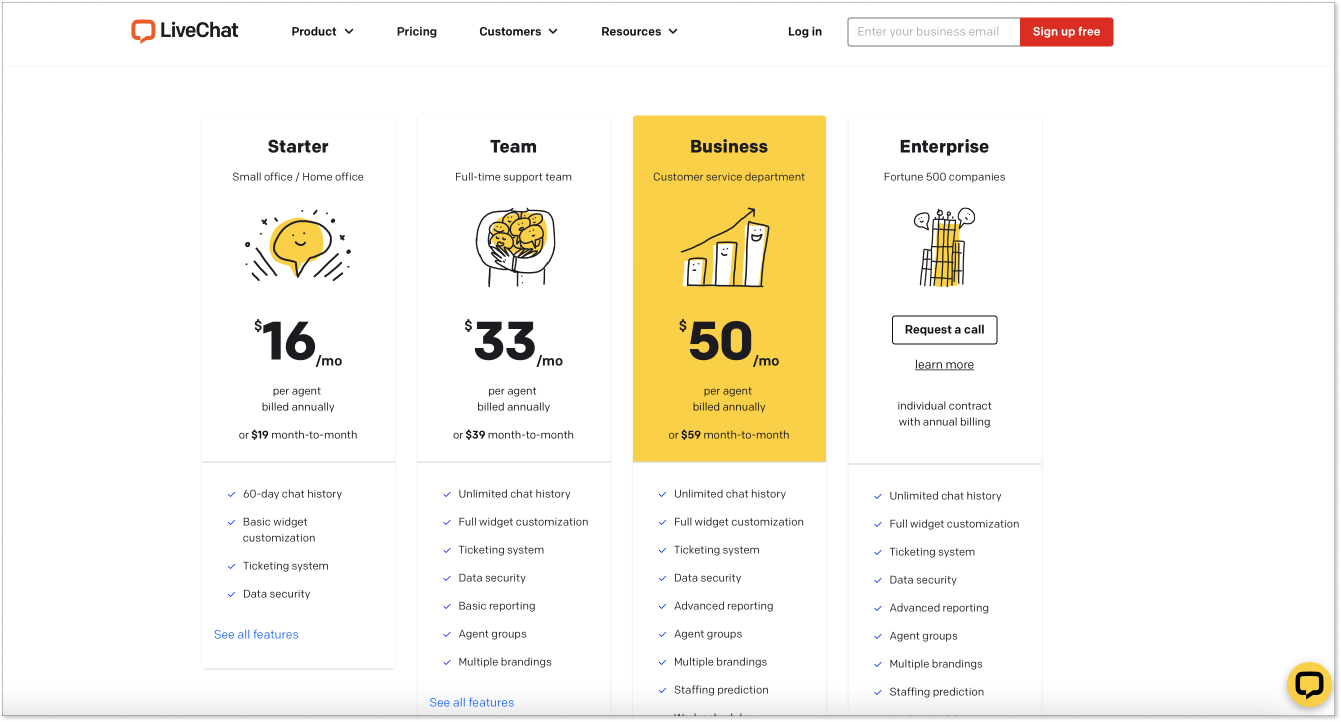 Free live chat solution, which can be a good option for beginners.
Chat pages
Apart from a live chat tool itself, the software offers a chat pages feature. They are tawk.to hosted pages for those users who don't have a website to add a live chat widget on. This way you can create a special conversation link. By clicking on it, customers will be directed to your chat page, where they can talk to you via the live chat widget. One of the ways to use it is to include it in your email signature.
Knowledge base
Tawk.to provides its users with a knowledge base solution for customer self-service. The tool editor is block-based and supports images, GIFs, code snippets, and videos. It also has a built-in translation functionality to assist customers in different languages from one help center.
Agents/virtual assistants hiring
The company doesn't take money for the live chat software, but it does charge you if you wish to hire a support agent or virtual assistant. This offer has a 7-day free trial. You can hire a real person who is a native speaker of the language your customers use and keep in touch with clients 24/7.
Most loved for:
Free access to the live chat software
Extremely simple to install
Intuitive dashboard
Straightforward pricing for paid services
Most hated for:
Outdated UI which can't be compared to other solutions on the market
Lack of automation features
Poor reporting capabilities
Pricing
Free live chat software
Hiring a 24×7 chat agent is $1/hr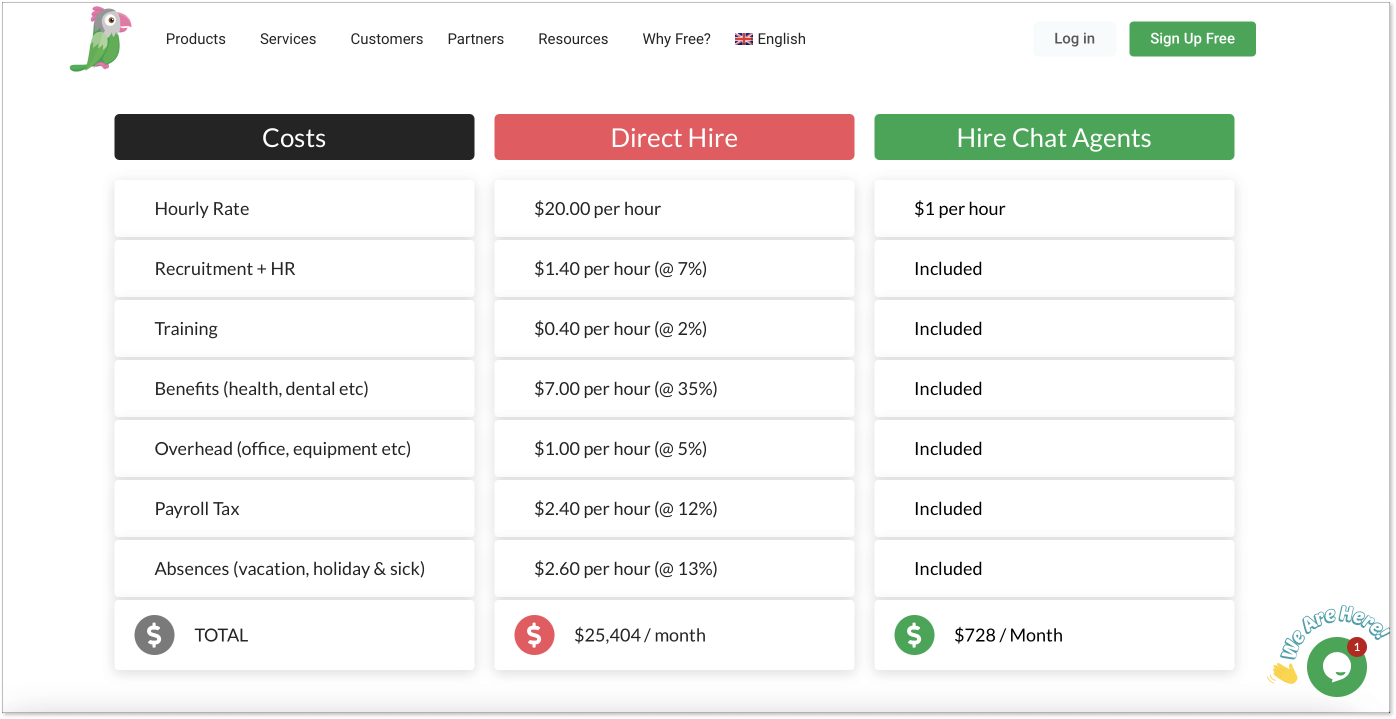 Wrap up: how to choose the best Drift alternative for your business
So, if you're sitting now in front of this article wondering about the best alternative to Drift for you, I have a hint.
As with all questions related to choice, you better be honest with yourself and answer this question: what are the needs of my business now?
Forget about the deceitful method that suggests: the more features, the better. Or, the more expensive, the better. Choose the tool that perfectly suits your current needs.
If you want all-in-one software for communication with customers, then the best choice will be HelpCrunch, Crisp, or Tidio.
If you are looking for live-chat-only solutions, then you might want to consider Olark, LiveChat, or tawk.to.
And if you already have a big company with a constantly growing number of users, then you may want to think of Intercom, or LiveAgent.