10 Prime Chatbot Benefits for Your Business and Customers
What kind of chatbot benefits can your business actually have? In this article, we reveal all the fundamental advantages of bots both for businesses and customers. Jump in to learn more!

Chatbots are not a new thing; they started long ago! In fact, the world's first chatbot software was created in 1966. It was nothing like Alexa or Siri, but it was a tool built to interact with people by simulating human conversation.
Over half a century later, here we are, watching how the market value of chatbots in business is skyrocketing year after year. And this bloody ChatGPT software occupied every news page in every tech magazine. Another disruptor in the field of artificial intelligence.
It's time to ask yourself an important question: what are the real benefits of using chatbots for both businesses and consumers out there today? At first glance, it's such a simple question with an answer right on the surface – automation, tech progress, the future of customer service!
And yet sometimes we struggle to give a firm, structured answer. In this article, we provide a list of the most important advantages of the tool and how to start with a chatbot for a website on HelpCrunch.
But before that, let's quickly refresh the knowledge of chatbot types. Read on!
Types of chatbots
There are three main types of chatbots today. Let's have a closer look at each of them.
Rule-based chatbots. These are simple task-specific bots that operate based on predetermined options. It means that when a customer is interacting with a bot, the program offers a selection of answers to choose from. Depending on the option selected, chatbots follow different scripts prepared in advance.
If you are looking for a customer support chatbot, then a rule-based tool might be your best shot. They are perfect for simple, straightforward conversations and allow users to get quick answers to frequently asked questions. It's easy to create, edit, and train these kinds of bots. Plus, they are usually budget-friendly. 
AI chatbots. These are smart bots created to simulate human-like interactions with customers. They can understand users' language, intent, and non-keyword phrases. AI bots can learn and become even better over time, however, they are much more difficult to build and implement. These chatbots require programming to help them understand the context of interactions. Thus, higher complexity results in higher costs.
You might have interacted with these bots when using Alexa, Siri, or another smart bot that can recognize your speech/writing text and answer random questions. As of now, ChatGPT is considered one of the best AI chatbot software.
Hybrid chatbots. These are a combination of simple and smart chatbots. Hybrid bots can perform rule-based tasks but also understand the context of the conversation if a user asks a question in their own words, or makes typos. I can say it's a perfectly balanced tool for businesses to communicate with customers, yet they also require more time and money to build and integrate with your website than rule-based bots.
Hybrid communication tools are great for online medical help purposes. These bots can ask questions, offer a number of options, request more details, then suggest a diagnosis and provide recommendations.
What are the benefits of chatbots for businesses?
Let's finally talk about the advantages of chatbots. The list is long, but I decided to focus on the most crucial perks you can get if decide to go with the tool. Each paragraph is presented from a perspective of business. Ok, let's get cracking, toots!
Better lead generation
It's one of the main chatbot benefits that businesses appreciate. The tool helps you generate more leads by collecting consumer data, guiding customers through the purchasing process, and qualifying leads. The tool can suggest to users different options of products to explore, provide useful materials like knowledge base articles, and most importantly prevent you from leaving your e-store just like that.
The tool allows you to initiate and create better relationships with customers by being there for them around the clock. It's definitely one of the most important factors among other chatbot advantages for business. Even after hours, the bot will be on duty to assist users.
Let's wrap it up and name a few ways chatbots help generate more leads:
Initiating a conversation or answering a question. Chatbots can welcome customers in accordance with the triggers you set up. Also, they are perfect for answering popular questions about your business across different channels. It means that users don't have to look far for answers or an overview.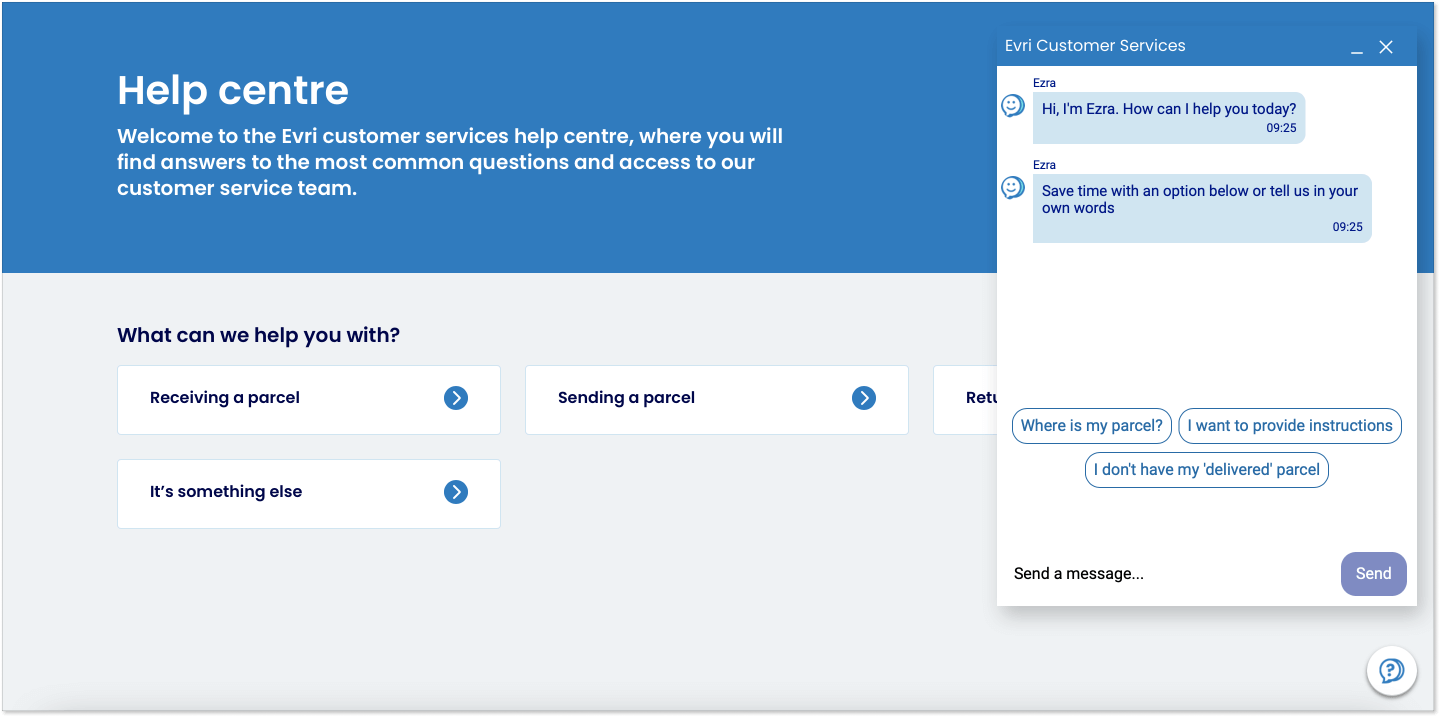 Segmenting the audience. By asking questions, chatbots can learn who the leads are, what they are looking for, and what stage of the sales funnels they are at. Then, the program segments users, adding different tags to each user. First, it takes a load off your support/sales team (they don't have to ask these questions themselves). Second, it helps to retain the lead by providing personalized marketing activities tailored to the specific needs of prospective customers.
Speeding up customer support. Instead of solely waiting for a live agent to provide information about pricing, the main offer, and other basic details about your company/product, chatbots can take care of this monotonous work. Some bots allow users to check the order status, register on the platform, or request returns which speeds up the whole customer service process enormously. Users appreciate it a lot as 82% of them expect immediate responses from brands.
Automatic lead qualification
Chatbots can qualify leads by asking users a series of questions and then taking different actions based on their answers.
So, how to come up with those questions? Usually, you start with building a lead qualification flow, which means putting the right questions and the bot's corresponding actions together. But before asking your website visitors anything, start by asking yourself first and understanding the portrait of your perfect lead. You can ask yourself:
Who is a perfect/bad lead for my business?
What should my ideal lead's profile look like?
Who are the customers who can bring the most profit?
When you have your answers, try to turn them into questions for your visitors so that the chatbot can immediately spot good and bad leads, and provide you with more information on users' intentions (awareness, considering, purchase stage).
When building the questions, think of the best order of sending them to visitors. The main purpose here is to find out if a user is interested/able of buying your product or service.
Here are five questions that your bot can ask users to qualify leads successfully (tested and proved to be effective by Ryan Deiss, co-founder of Digital Marketing).
Are you a business owner/hairdresser/nutritionist/[your option]?
Tell me more (ask for more details about the user's need).
What brought you here today? (might be used instead of the #2 question and offer three options to select from, such as buying/browsing/looking for help).
What do you know about X (product)? (the answer will tell you how many visitors already know about your offer and determine how you should speak to them).
Do you want some help with that? (the answer will reveal the purchase intent or… the lack of it).
Saved costs and time
Let's explore another benefit of a chatbot, and an important one 💸! You can save costs and your support team's time by assigning minor, repetitive tasks to chatbots. Moreover, 49.5% of consumers reach out to a live agent in customer service only if they can't self-serve on a company's website. Your chatbot can become this interactive self-service tool, resolving up to half of the incoming tickets you receive today.
For instance, chatbots can be used to handle the following tasks:
Sharing responses to general FAQ inquiries (product or company details, opening hours, pricing plans, delivery timeline, return policy).
Guide a user through the purchase funnel by answering more specific questions. Usually, a chatbot offers to select a question from a predefined list, and depending on the answer, it leads the user in the right direction to get the required information.
Some bots are capable of handling basic operations, such as suggesting the right product, taking orders, tracking the delivery, processing returns, or offering discounts.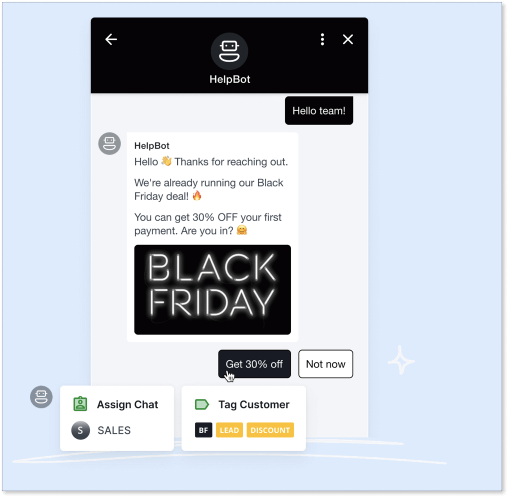 It's hardly a complete list of tasks that a chatbot can perform because, in fact, it can go on and on, but you get a general concept.
It would be a lie to say that a chatbot can entirely replace a human agent at this moment (even though we're moving towards it). They are still not intelligent enough and, to be honest, just recently I was talking to a bot and desperately needed human compassion to help me with my problem, but there was no way to reach a live agent… Furiously mad, I left the website with a firm decision to never use this company's service again.
All in all, if you allow users to easily connect with a live agent, you lose nothing but can gain a lot. Because chatbots can definitely become the first point of contact and in many cases successfully resolve the ticket.
In case the inquiry is more complicated, the bot will transfer the conversation to a human support representative. It's a win-win for you and your clients. You optimize your expenses and time, while users get quick support and human attention in case of need.
Improved customer engagement
The benefits of chatbots don't end here! Depending on their functionality, they can engage users in different ways. Let's go through a few possible scenarios:
Sending welcome messages and follow-ups. Chatbots can greet new visitors on your website, offer more information on specific topics, or try to initiate a conversation with repeat users. Proactive messages from chatbots don't have to limit to welcome notes, you can also assign bots to send follow-up messages to users and engage leads even better.
Quick replies increase user engagement. If visitors get instant replies to their queries, they are more likely to stay on your website and use the services of your company. But make them wait for over 5–10 minutes, and they can just close the tab and look for a better option elsewhere.
Helping users to learn more about your offer in no time. Chatbots can also engage customers by simply providing more details about basically anything the company or your offer related. If a customer fails to understand something, the bot will share a link to a knowledge base article and help the lead in decision-making.
Sending videos, or other graphic materials. It's not always about written text, chatbots can also share audio recordings, videos, images, or GIFs to engage users better. For instance, an infographic can make it easier for visitors to understand your membership scheme or the functionality of your product. Visual content is also nice when comparing your product to other alternatives. Make use of it!
Boosted customer satisfaction
Chatbots improve customer satisfaction thanks to their personal touch and human-like communication compared to basic FAQ pages or knowledge bases.
The latter suggests that a user has to search for the answer themselves, while the former implies a conversation during which the bot directly provides helpful materials that users need. No wonder, 71% of consumers would prefer a virtual assistant over static web pages when it comes to self-service.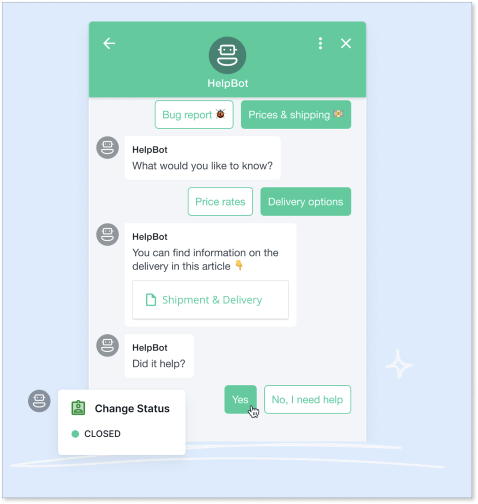 Apart from this, chatbots support customers throughout their journey, helping every step of the way. From being a newbie on the website to a loyal customer, the bot stays there for users 7 days a week, answering questions, providing details, registering complaints, and much more. It's like a handy assistant that customers can always rely on.
On top of that, chatbots can collect users' feedback which always comes in handy when working on customer satisfaction. Set up your bot to send surveys and polls to users and monitor the results. Of course, you can also share polls via email or other channels, but chatbots offer real-time communication which is usually preferred.
What are the benefits of chatbots for customers?
Let's get down to the advantages of chatbots for customers. It's definitely a strong tool to improve user experience in general. If you take proper care of chatbot UI design, create an easy-to-use script, and provide relevant helpful information, customers will absolutely love it.
Instant responses
The benefits of chatbots for users can start with nothing but speedy replies. Online communication in the digital world usually means quick real-time responses. And truth be told, 73% of users love immediate replies since it shows that brands value their customers' time and try to deliver to their needs as soon as possible.
What is considered an immediate response? According to HubSpot's research, about 60% of consumers in the support and sales stage consider an immediate response to be not more than 10 minutes.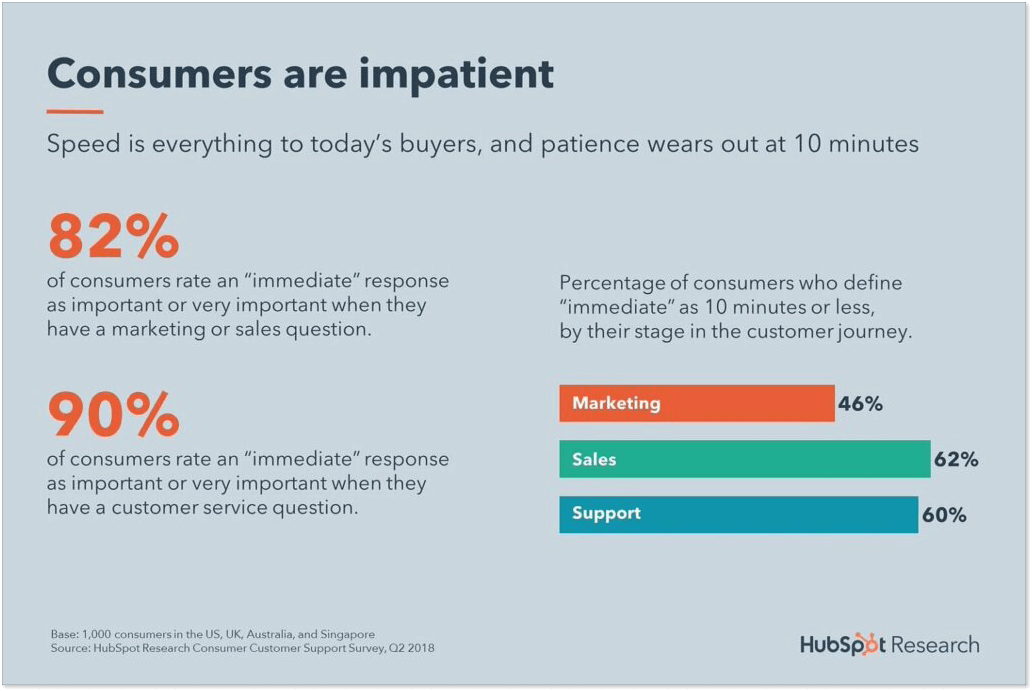 Chatbots can solve this challenge easily by sending quick replies to visitors. In the end, you are the one who sets up the waiting time before responding to users. Keep it to a few seconds, and customers will definitely appreciate it.
This way, visitors no longer have to wait in queues just to speak to a support agent. Chatbot automation ensures that they get immediate answers to their questions, anytime and anywhere.
24/7 availability
One thing that never stops surprising me is the strict 6–8 hours per day availability of the customer support team of some brands. I don't want to reveal the company's name, but just recently I had to request a return of some clothing items, the brand offers neither a chatbot nor a live chat option on their website. So I had to email them (what a joke).
Obviously, as someone who works during the day, I emailed them after hours. Guess when I got the reply? Next day in the afternoon. Sure, it's not a big deal, I can wait, but in the fast-paced world, you expect to be able to deal with such things in a few simple clicks.
If the company had a chatbot, I would be able to raise a query and receive a reassuring note that my request has been accepted, and the team is processing it. And the next day, a quick confirmation email would have closed the deal.
Interestingly, 74% of UK consumers agree that it's frustrating when customer service is only available during business/working hours. I feel ya!
Chatbots can solve the problem because they really don't care what time or day it is, they can simultaneously process high-volume queries without a single coffee break 🙂
This chatbot benefit is particularly valuable for businesses that operate in different time zones. Instead of hiring more agents, add a chatbot and assist users whenever.
Omnichannel support
Another little customer's whim (also known as an expectation) is that good chatbot software can easily deliver consistent support through any communication channel. Yes, I am talking about omnichannel customer service. Users not only expect you to respond to them any time of the day but also be present on the most popular communication channels that they prefer.
On average, a hybrid consumer interacts with brands across about 20 different channels 😱. And the most preferred are as follows:
With a chatbot, it's not an issue, as you can set up your bot on the website, but also on Facebook, WhatsApp, Telegram, Twitter, Instagram, or even your official SMS line. This way, users can easily reach you and get assistance through a variety of channels.
According to Omnisend, marketers using three or more channels in a campaign earned a 494% higher order rate than those using a single-channel campaign. So communicating with clients on different channels definitely pays off. And while it may be a challenge for human agents, the bot can handle any ticket volume simultaneously.
Reliable chatbot platforms provide a shared inbox interface that includes all communication channels under one roof. It makes it easier for the support team to manage conversations with customers where cases are too complicated for chatbots.
Multilingual communication
Another benefit of a chatbot is the multilingual functionality. The bot can help you engage users in their native or preferred language.
How is it possible? In the first scenario, your support team creates bot scripts in a few languages and the tool will speak to users based on specific criteria like browser language or region. In the second scenario, it automatically translates users' questions and provides responses in the language of the visitor.
Why is it important? Speaking in the language of a customer makes their experience more personalized and enjoyable.
Perfect for introverts
Maybe I should have named this paragraph, "Perfect for introverts, millennials, and basically every human being except my grandmother". Yes, millennials also absolutely hate phone calls, in fact, 81% of them get anxious before summoning up the courage to make a call.
Ok, let's deal with every group one by one.
Introverts who made up approximately 51% of the United States general population (numbers can vary, but you got the point), would rather speak to a robot than contact a live agent who can be rude/mad/judgmental/unhelpful/[you name it].
In terms of millennials, 75% of them avoid phone calls as they're time-consuming. So true. Just recently I had to phone my clinic to book a visit, spent 20 min on hold, and wasn't even able to book the appointment afterward.
Speaking of the general population, 59% of consumers are frustrated that they have to reach out to a live agent in customer service to resolve their issue (as opposed to serving themselves online).
A chatbot is exactly the tool to solve all of these problems as it's a modern convenient channel for customer self-service. It feels like talking to a customer representative but only better – no stress, quick replies, personalized approach.
If you are looking for the best customer service chatbot, keep reading to learn more 😉
How to start with a chatbot on HelpCrunch?
I decided to include this little paragraph to give you a hand, in case you are ready to kick off with a chatbot tool in your business.
To save your time on research, I recommend checking out HelpCrunch software and taking it for a 14-day free trial in case you like it. This platform is a customer service tool encompassing live chat, chatbot, knowledge base, shared inbox, and a couple of other perks you can enjoy along the way.
So, how to start with a HelpCrunch chatbot? You will need no more than 15 min to launch your first bot. Off we go!
Sign up for a 14-day free trial. No credit card details are required.
Insert a quick HTML-code to your website to add a live chat widget on your site. Here you can find more details on how to do that easily. No programming is required.
Go to the Chatbot section of the platform.
Pick one of the templates or create your chatbot script from scratch.
Adjust/finalize your bot scenario and launch it!
You can also create bots for social media channels. Read how to do it quickly step-by-step.
Of course, it doesn't mean your bot can be a funny smart companion to visitors right away, but it can already respond to customers, collect their details, segment users, and qualify leads.
With time, you can enrich your script with a selection of frequent questions that customers ask and set up the bot to provide helpful updated information. You should also monitor what scripts work better on which pages of your website and improve the tool's performance over time.
Conclusion
There is a wide range of benefits of chatbots for both businesses and customers. So why not add this tool to boost your performance on all levels? Users will appreciate a speedy assistant while your company can enjoy reduced costs and better lead generation.
However, remember to always include the 'connect to a live agent' button in your options. Users love a chatbot exactly as long as it helps them solve their issues, but as soon as the case is too difficult for the bot, they crave to speak to a real person. Be smart, just like your chatbot 😉