10 Best Chatbots for Customer Service (Both AI and Scenario-Based)
AI technologies and robots have come to our daily lives to stay. How about business? Here is a quick list of the best customer service chatbots we've handpicked - choose the option to your taste.

Come to think of it, automation and robots have invaded our lives well and truly. There is a possibility you face it in every scenario and in a variety of guises: paying for groceries at the supermarket, having your lunch (I am talking about those Japanese robots that serve food in a café), or surfing a website in search of assistance. Today it's all about the third scenario.
Are you a business owner wanting to top the statistics or just curious about what's new in the robotic world and how to adopt this machine? We handpicked the 10 best chatbots for customer service so that you can transform your daily customer support workflow. Which one will you take along to the conversational battlefield? 💪
What is a chatbot?
A chatbot (any chatbot) is a program designed and set up to communicate with people automatically.
As to the technology involved in creation of chatbots, there are two schools of thoughts on the matter. Some believe that a true bot should use artificial intelligence and natural language processing. Others believe that virtually any application that can interact with users following a pre-set scenario can be considered a chatbot.
What can you use chatbots for?
The use cases for chatbots reach far beyond customer support. While it's true that their main purpose is to help people (and what's customer support if not help), such industries as healthcare, real estate, fashion, tourism, education have been employing various bots for quite some time.
In the right hands, they're becoming perfect tools for booking appointments, choosing make-up and clothes, or basically any simple task that doesn't require human agents.
But I suppose it's the customer service teams that benefit from chatbots the most. Let's discuss why.
What is chatbot service?
Chatbot customer service is the kind of service that utilizes chatbots for customer support (duh).
Now let's be honest, the majority of customer conversations don't really pose original existential questions. However easy, answering those mundane questions over and over again can wipe out a human agent's time and energy. At some point, there wouldn't be any left for important complicated cases.
But chatbots don't have any limitations in regards of their time and energy. And they're awesome when it comes to repetitive conversations. As a matter of fact, the more repetitive those conversations are, the better those bots become.
There are some awesome examples of chatbots that can handle any questions from a user's first visit of your website to their conversion and onboarding.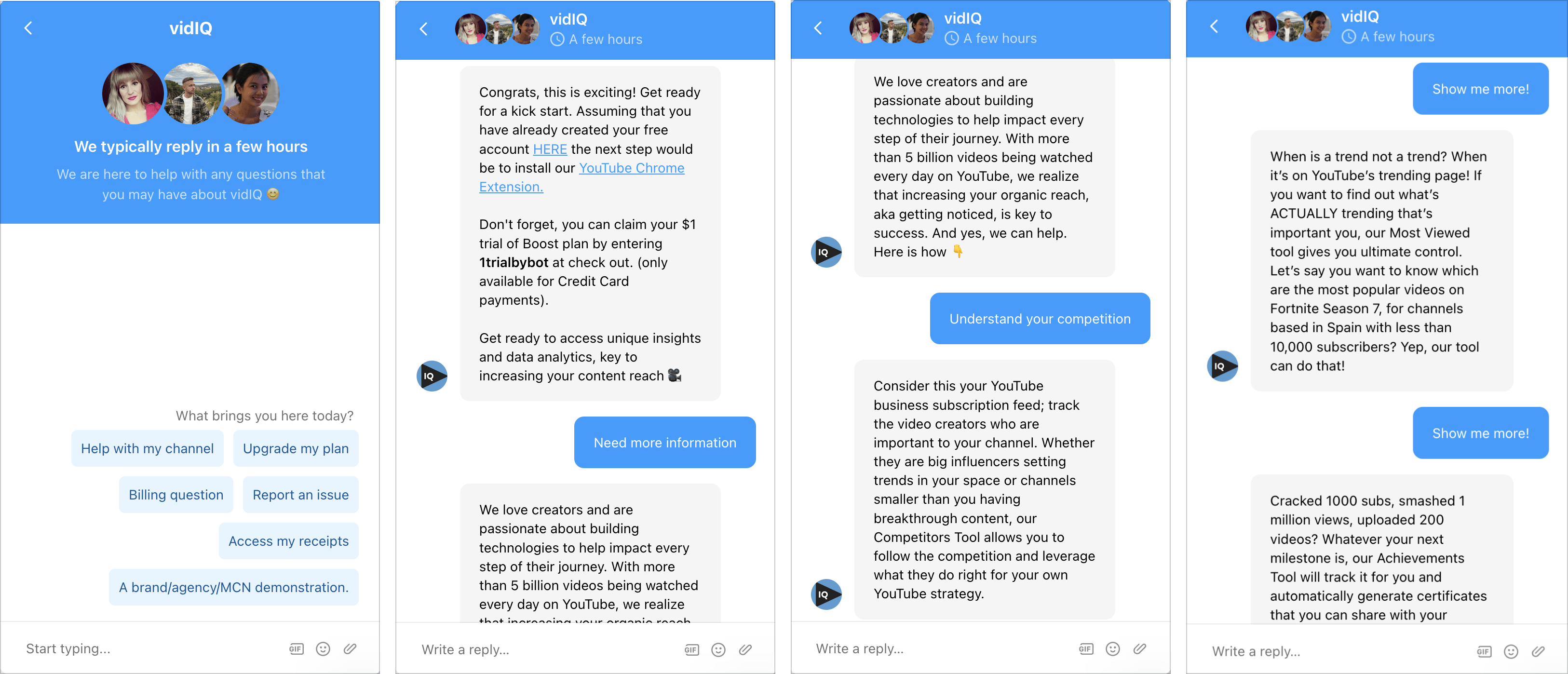 Best customer support chatbots can conjure personalized recommendations based on a few preliminary questions and your taste…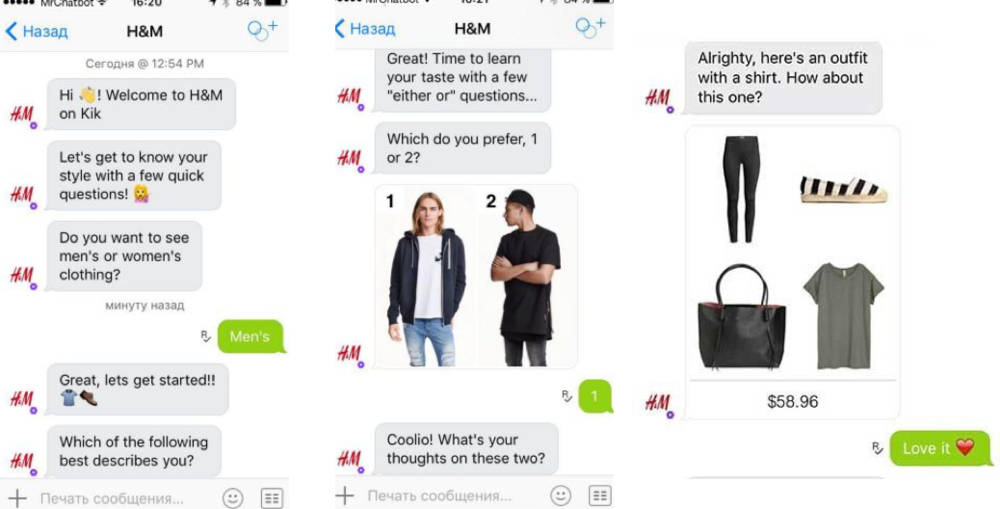 … or even use augmented reality to provide an experience so unique that even support agents aren't capable of.
How can one use AI chatbots for customer service?
So, where does artificial intelligence stand in all these automated chatbot craze? Its role is definitely worth a separate article. But if we're being brief, AI chatbots have become almost unbelievably good in the past couple of years. Machine learning specialists have really put a lot of effort into training modern bots to the point of near-perfection.
As a result, more and more companies turned to AI for customer support. This exciting new technology analyzes tons of data to be able to produce the most relevant answer to any question. A powerful AI chatbot can simulate conversations with customers and conduct even the most sophisticated discussions so naturally that people won't even be able to tell the difference.
ChatGPT is probably the most prominent examples among AI chatbots. It's extremely powerful, convincing (sometimes even scarily so), and can perform tasks of any difficulty – from simple internet search to code review to creating art. While it doesn't exactly provide AI customer service per se, numerous companies have started integrating it into their dashboards as virtual assistants.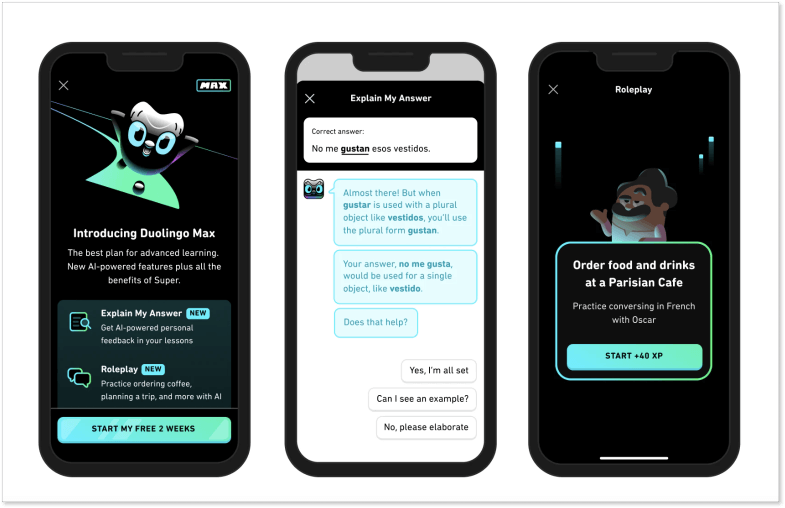 Review of the top 10 customer service chatbots
1. HelpCrunch – a number one chatbot for customer service automation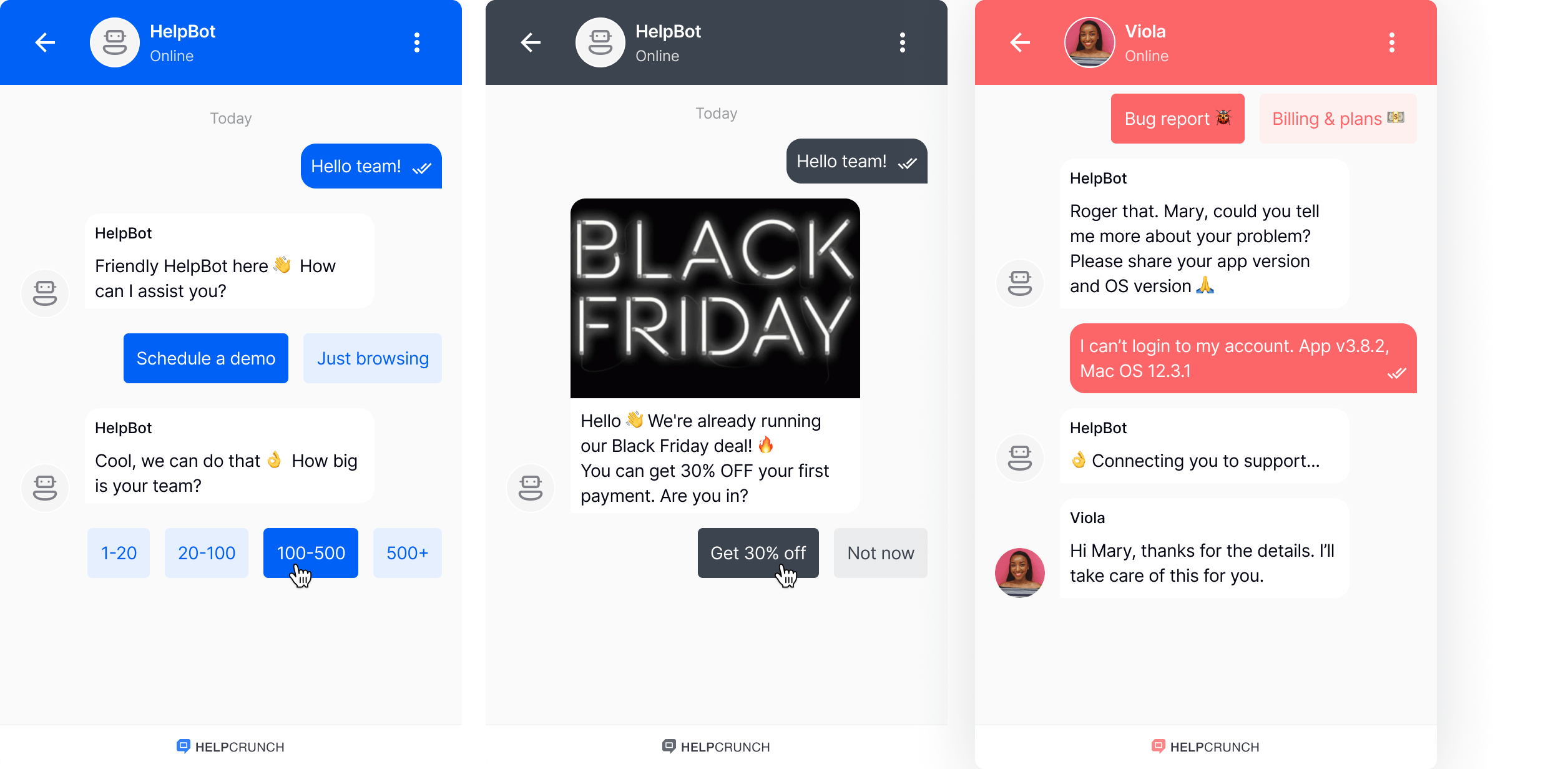 G2 Rating: 4.7/5 ⭐️⭐️⭐️⭐️⭐️
HelpCrunch, a full-fledged customer service platform, provides a sleek customer service chatbot for automating your workflow in sales, marketing, and support. It can take over basic tasks as well as some more complex ones.
Here is what comes with the best customer service chatbot out there:
A code-free advanced chatbot editor that allows you to build flows using our pre-made templates or the one done from scratch;
Agent tagging and assigning to route a query to a necessary agent or department;  
Ability to collect valuable contact information such as email, name, company, and clients' needs;
Knowledge base articles that the chatbot sends based on customer's demands; 
PRICING
In our list of the best chatbots for customer service, HelpCrunch has the most transparent pricing. The Pro subscription plan that allows users to create up to 15 different chatbot scenarios costs $25/mo/team member. If you require more chatbot flows, you can choose the Unlim plan for $495/mo or request a custom pricing quote.
2. Giosg – an easy bot for boosting customer experience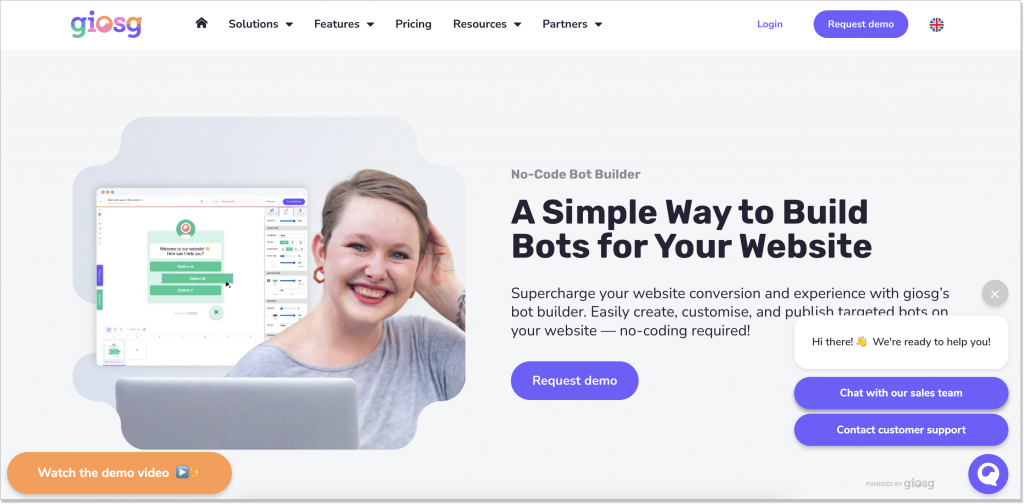 Giosg offers a chatbot for customer service that can help you automate conversions 24/7. Just like HelpCrunch, Giosg's chatbot is a fully customizable and codeless solution:
Use ready-made templates to build chatbot flows quickly and grasp the audience's attention;
Add images to the flows to make messages even more eye-catching and sense-filled;
Connect your chatbot to a CRM tool to integrate conversations seamlessly;
Request a demo call to kill the guessing game and see the chat at work.
PRICING
Are you sitting? Well, you'd better because here come the Giosg's pricing packages (if billed monthly):
Starter – €249/a month
Business – €459/a month
Enterprise – the price is discussed with a sales team individually
If I were you, I would think twice when implementing this solution into your customer service workflow. Is the game worth the candles?
3. Ada – an AI chatbot for next-level customer communication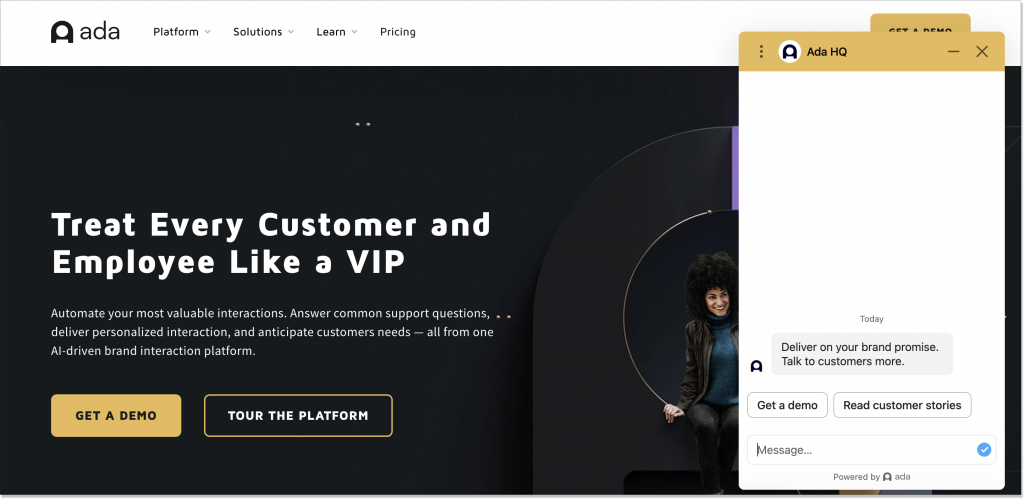 Being a chatbot with an AI brain, Ada allows you to go with the flow and let the machine do the talking. It's trained to answer customer queries with personalization in mind.
To give you a better idea, look at some Ada's major features:
A no-code chatbot builder that lets you develop conversation strings for support, marketing, and sales;
Automated FAQ and smart search capabilities for answering clients' questions in a snap;
Proactive Campaigns and data enrichment functionalities for anticipating all the customers' needs so that everyone receives what they come for.
PRICING
You don't think an AI-powered chatbot wouldn't cost a dime, do you? It's not that simple to get the tariffs out of the Ada's pricing page – you'll have to request a quote. Well, at least you see the package's naming – Core, Advanced, and Pro.
4. Tars – a chatbot platform for improving customer experience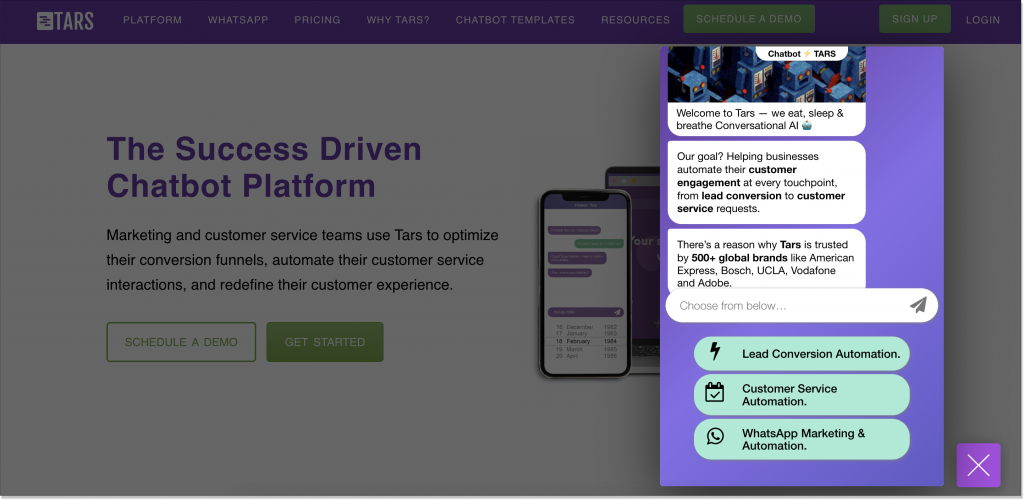 The best customer service chatbot should be fast, smart, and don't ask too many questions (that's a joke, it should do that). Tars showers you with info-packed messages once you land on their website. What's so good about it?
The Tars' features are aimed at capturing leads and boosting conversions. Among them, you will find:
Pre-built chatbot templates to create a flow exactly for your business goals;
Multilingual feature to attract international audiences;
API integration to always keep your database tidy, add contacts to a CRM in time, and nurture them;
Ability to post your bot on a website or on WhatsApp.
PRICING
To find out their pricing, you should request a quote. Well, at least you see what the packages are called and what they offer – Business, Premium, and Enterprise. A 2-week free trial is also available.
5. ChatBot – a decent solution for your automation needs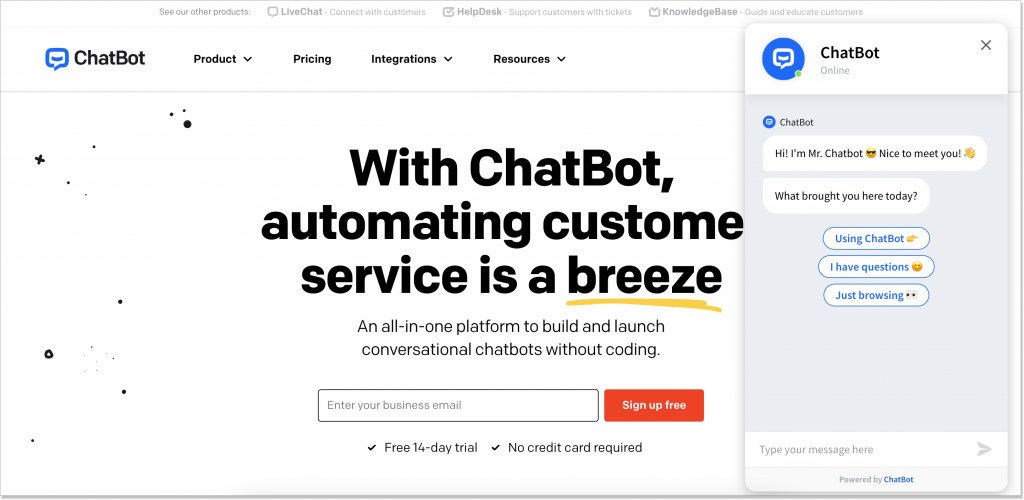 What makes the best customer service chatbot? A couple of things, a trouble-free installation and abundant features, to name a few. ChatBot could really fit in the sentence.
This solution provides chatbot features that could breathe automation into your marketing, customer service, and sales. In proof of this statement, here is the list of goodies the guys suggest:
Easy Virtual Builder to shape a chatbot for customer service you always wanted;
Proactive greetings to engage with customers on autopilot;
Lead nurturing via personalized recommendations and offers;
A round-the-clock assistance clients won't forget.
PRICING
As for the money matters, ChatBot offers 4 pricing packages (if billed monthly) – Starter for $50/a month, Team for $149/a month, Business for $499/a month, and Enterprise (ask the team for a custom plan). You can also enjoy a free 14-day trial to see if the solution ticks all the boxes.
6. Chatfuel – an intuitive platform for building a bot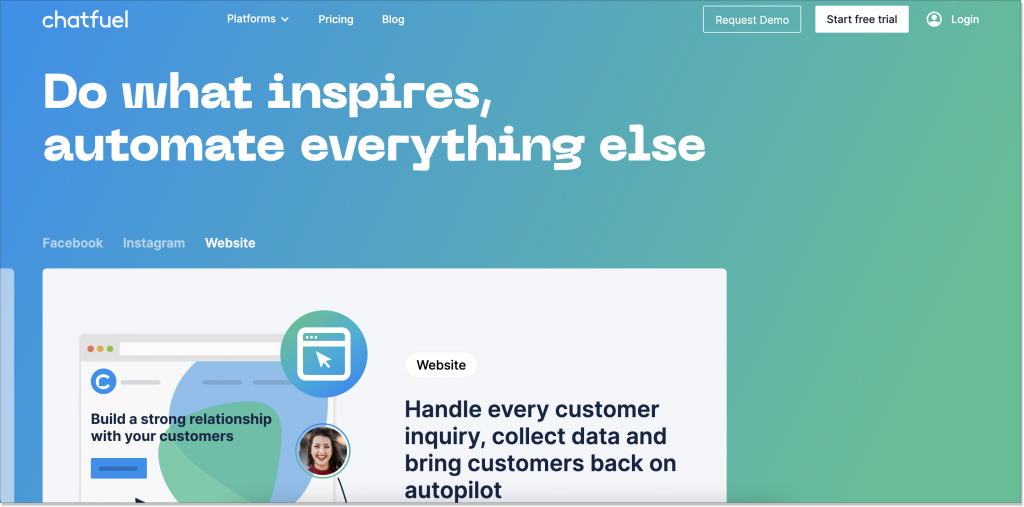 Chatbots for customer service aren't something you will not find in a month of Sundays. Today, you have an ocean of choice. Our next candidate is Chatfuel – an unpretentious platform for creating bots with clear instructions.
Here, you can build a chatbot for Facebook Messenger, Instagram, or your website with no special skills. Speaking of the technical asset, Chatfuel promises:
Pre-made templates to skyrocket lead generation from comments and ads;
x10 increase in organic sales with special leads attraction hacks;
Automatic user feedback collection;
Ability to send FAQs and enhance self-service;
Scheduled reengagement sequences to invite your customers back in conversation.
PRICING
The pricing this chatbot solution provides is pretty simple. There are 3 conversation-based plans to choose from (+1 that is free trial): Entrepreneur for $14.99 – 500 conversations/a month, Startup for $24.99 – 1000 conversations/a month, and Small Business for $59.99 – 3000 conversations/a month.
7. WotNot – a no-code bot builder for solving business challenges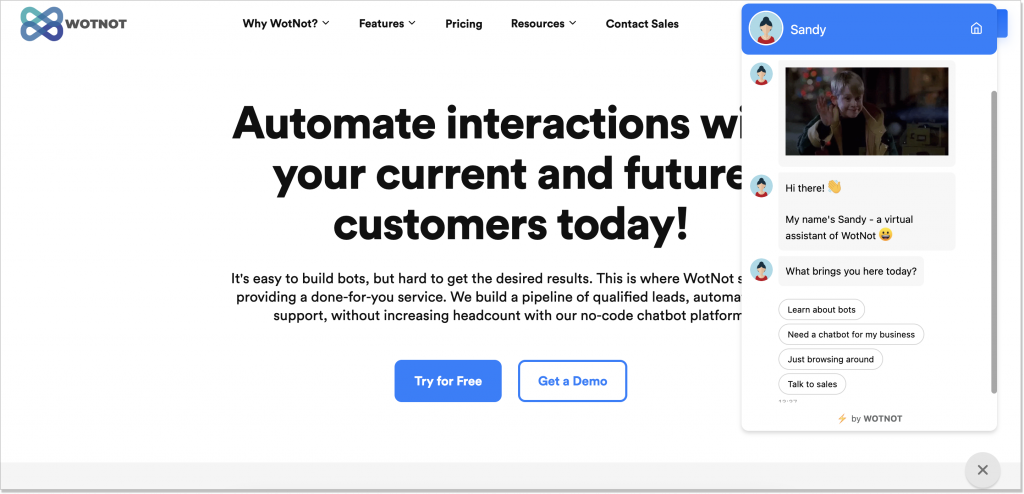 Almost all modern customer service chatbots are alike. However, each of them has its own good and bad sides. WotNot, for that matter, is a code-less chatbot platform that could help you automate customer interactions without much hassle. That's its good side, so let's take a look at the WotNot's best functionalities:
An intuitive chatbot builder to architect well-though-out conversation flows for various channels in marketing, sales, or customer service;
Version control to keep track of all your deployments and return to them if need be;
History retention in the chat widget when moving from one website to another;
Trigger-based messages for sending the right things and the right moment.
PRICING
Moving on to a not-so-great side. There are 3 WotNot's pricing tariffs + 1 Free (if billed monthly): Startup – $99/a year, Business – $499/a year, Enterprise – you can discuss special conditions with the team.
8. Flow XO – a bot for your customer service tasks with a twist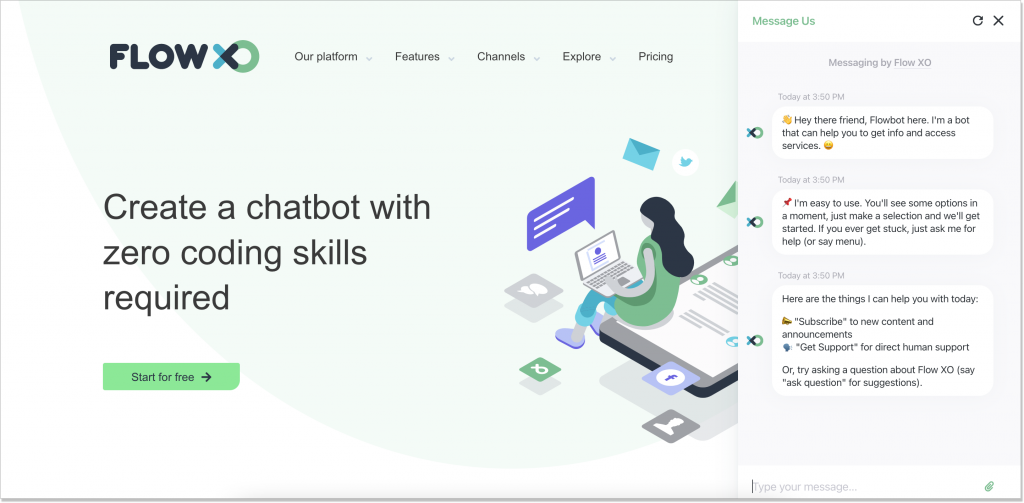 Yet another chatbot for customer service that doesn't require special technical knowledge. Flow XO lets you create a bot both for a website and communication channels of your choice, such as WhatsApp, Facebook Messenger, Telegram, and even Slack.
As for the Flow XO's functionalities, there are almost no big surprises:
Inviting website visitors to chat with proactive greetings;
Answering basic customers' questions and sending knowledge base articles, boosting self-service;
Collecting contact info for future support, marketing, or sales activities;
Pre-filtering leads that help you catch the most valuable audience;
Accepting payments, which is the only difference the Flow XO chatbot has (this one is a surprise, though).
PRICING
Flow XO provides a free version for those who are making first steps in automation. There is also a Standard plan – $19/a month with a few add-ons:
+5 bots – $10/a month
+25,000 interactions – $25/a month
9. ActiveChat – a clever virtual assistant for identifying customers' intents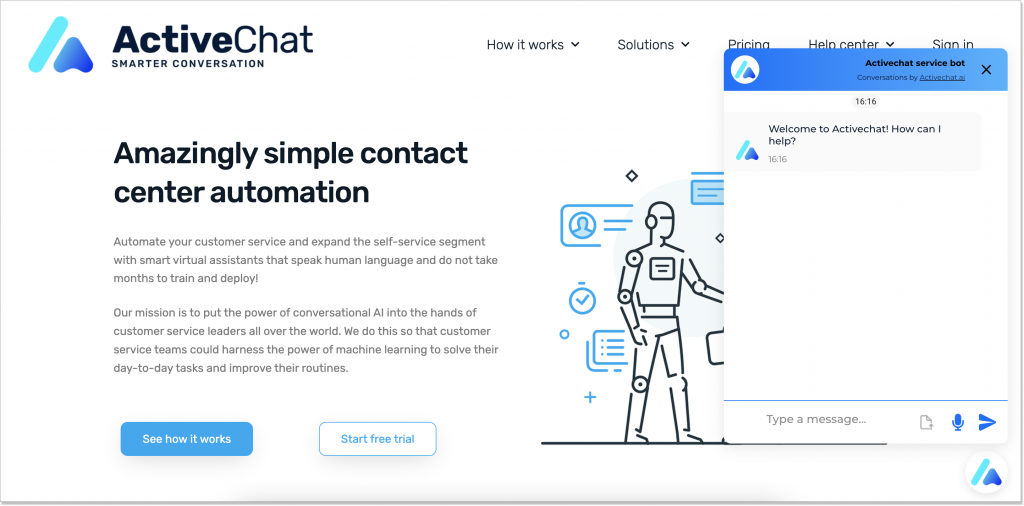 ActiveChat represents a smart virtual assistant that can back you up in your customer service communications. Except for a good old chatbot, there are also live chat CRM and conversational intelligence features. But let's focus on the all too familiar one.
The ActiveChat's bot could be a steady basis for a non-technical team as it's built with a zero-code approach. Look at its specs:
A simple decision-tree chatbot editor for seamless conversational flow with no tech skills;
Multi-channel integration (websites, Telegram, Facebook Messenger, WhatsApp, email, SMS);
Advanced NLP that can detect customers' intents and let you build further workflow accordingly.
PRICING
This solution offers volume-based pricing and a free 14-day trial. However, to know the prices, you have to contact the team first.
10. BotStar – a comprehensive solution for lead gen activities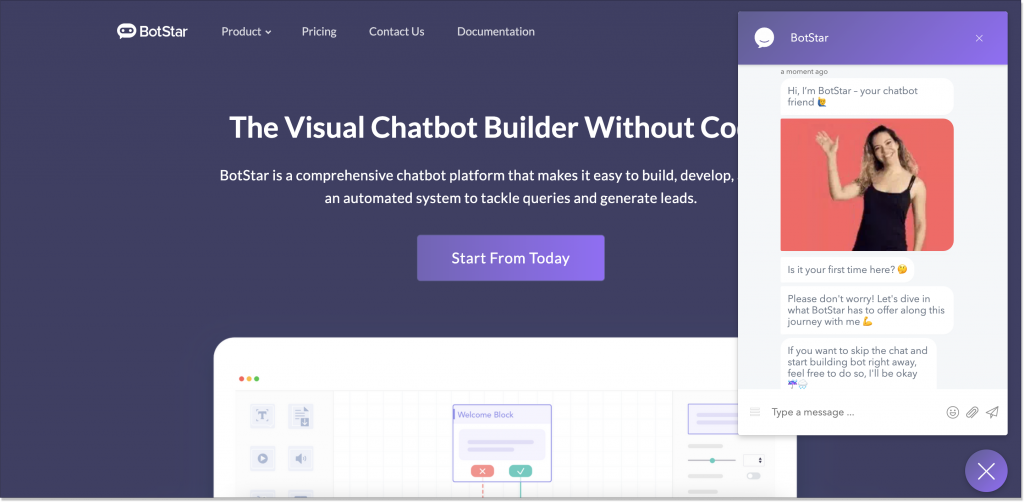 Yay, you made it to the 10th solution in our selection! This one is BotStar – a chatbot builder that can handle clients' requests in a snap and generate the hottest leads.
To be honest, I wouldn't call this bot a feature-packed. However, it still has something worth your attention:
A no-code editor for a quick and painless chatbot flow creation;
Built-in content management systems for even smoother user data collection;
Multi-language feature for blending in with international audiences.
PRICING
You can start for free (Beginner plan), upgrade for something more complex (Pro plan – $15/a month), or discuss custom pricing – Enterprise plan. Anyway, BotStar is, frankly speaking, not the most expensive option available on the market.
Wrap it up
Phew! What an abundant collection of the best customer service chatbots we had this time. Each of them has something a business would want for its automation adventure: from building the flows with no tech background and the opportunity to accept payments to answering customer FAQs in the nick of time and requesting demo calls.
Before you close this tab and walk away in a brown study, there is my finishing tip: think of what your business really needs and what part of it you would like to put on autopilot. Probably, the solution you've always been waiting for is around the corner?