Is ChatGPT Going to Be Your New Customer Service Chatbot? +5 Alternatives
ChatGPT changes the game rules for customer service chatbots. Is it time you benefit from it?

A few times in a century a product comes along that catapults the whole technology market and turns into something that even your nanny knows how to use. Think of the discovery of the internet or, say, the iPod that sparked the digital music revolution back in the time. ChatGPT is the next big thing, and we are only about to explore the full potential and threats it withholds.
It won't sink into the abyss like Clubhouse and Pokémon Go did, or better to say OpenAI might but not the technology it introduced to the world. Just imagine they created one of the world's most powerful large language models (or, LLMs) that takes in more than 175 billion statistical connections and is trained on about one-third of the internet, the whole of Wikipedia, and two large data sets of books. And, it's constantly improving.
So, basically, chatting with ChatGPT now is like talking to an extremely clever and well-read companion. You can ask it any question and get an intelligent reply about anything in the world. Now finally we are starting to discover what an AI chatbot really looks like.
No wonder this technology is taking every industry by storm, making businesses rush to integrate ChatGPT into their platforms or improve their own A.I. systems with the developments of OpenAI.
Healthcare, banking, e-commerce, education, mental well-being, social communications, and obviously customer service – all industries are already experiencing the power of artificial intelligence.
But what we want to focus on today is how the customer service chatbot's niche is changing with the advent of ChatGPT, and whether you should deploy the new technology at your company right away or wait just yet?
Customer service chatbot: the past and the future
A customer service chatbot is automation software that allows performing repetitive customer support tasks such as lead qualification, answering FAQs, and collecting customer contact details. As simple as that, a piece of code that does monotonous work for you.
But was it always the case?
Now it seems natural for us to chat with a bot on a website or app to solve customer support requests. However, it always strikes me to realize that the first chatbot ever invented was basically created for therapy purposes. Yep, the famous ELIZA created by Joseph Weizenbaum, a computer scientist at MIT in the 1960s, was meant to simulate a conversation with a therapist.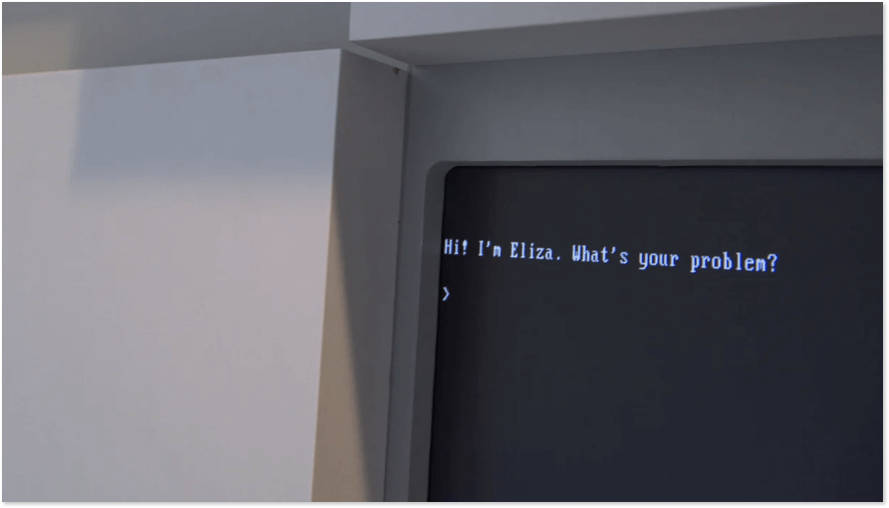 In other words, scientists made an attempt to create a social chatbot, capable of chatting with a human about anything. For good or bad, this idea failed as there wasn't enough data to build such an advanced program. Moreover, the very creator of ELIZA dedicated the end of his career to harsh criticism of artificial intelligence, warning people about the dangers posed by this technology.
"ELIZA shows, if nothing else, how easy it is to create and maintain the illusion of understanding… A certain danger lurks there", Joseph Weizenbaum wrote in 1966, as we read in the CNN article "Chatbots: A long and complicated history".
Thus, the world focused on more simple bots that may not be able to chat like a human but can definitely follow the scripts and perform simple tasks. Such chatbots as Siri, Alexa, or basically any customer service chatbot you see on websites/apps were built as task-focused bots. Some users love them, some users hate them for lacking understanding capabilities, so businesses argue about what's better chatbot vs live chat. And yet many companies note that bots bring them countless benefits.
And here we are today. About 60 years after the invention of the first chatbot, the public is introduced to another attempt of a social bot technology. And this time a much more sophisticated one. It can assist you with task performance and also serve as a chat companion.
At this precise moment, we are standing at the doorway of new possibilities for customer service chatbots that can change the whole customer experience for the better. But just like any invention, it withholds many opportunities to be excited about, and many underwater stones to watch out for.
Let's look more closely…
How is ChatGPT changing customer service?
Some of the customer service platforms are already offering ChatGPT-powered tools, like Intercom, for instance. As for others, believe me, they are already planning to deploy the technology into their software in the nearest future. Yes, HelpCrunch is not an exception.
Duolingo, an educational software, has already integrated ChatGPT to improve customer experience and support.
"Duolingo turned to OpenAI's GPT-4 to advance the product with two new features: Role Play, an AI conversation partner, and Explain my Answer, which breaks down the rules when you make a mistake, in a new subscription tier called Duolingo Max," OpenAI shares on their website.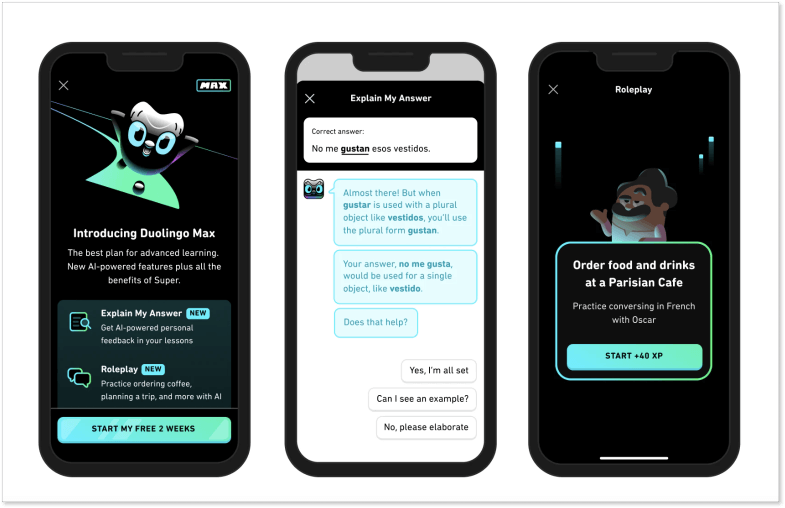 Yabble, a tech company that helps businesses analyze customer data, uses ChatGPT to provide even better insights drawn from users' massive data. Before it used to take much more time for the team to categorize the data and develop conclusions. With new technology, this work is done in minutes and on a more profound level.
Ben Roe, Head of Product at Yabble says, "As our customer base grew, the kinds of questions people had about their data and what they wanted to understand naturally grew more complex. With GPT-3, we were not only able to field more complex, nuanced questions in Yabble Query, but the responses we were providing were more relevant and insightful."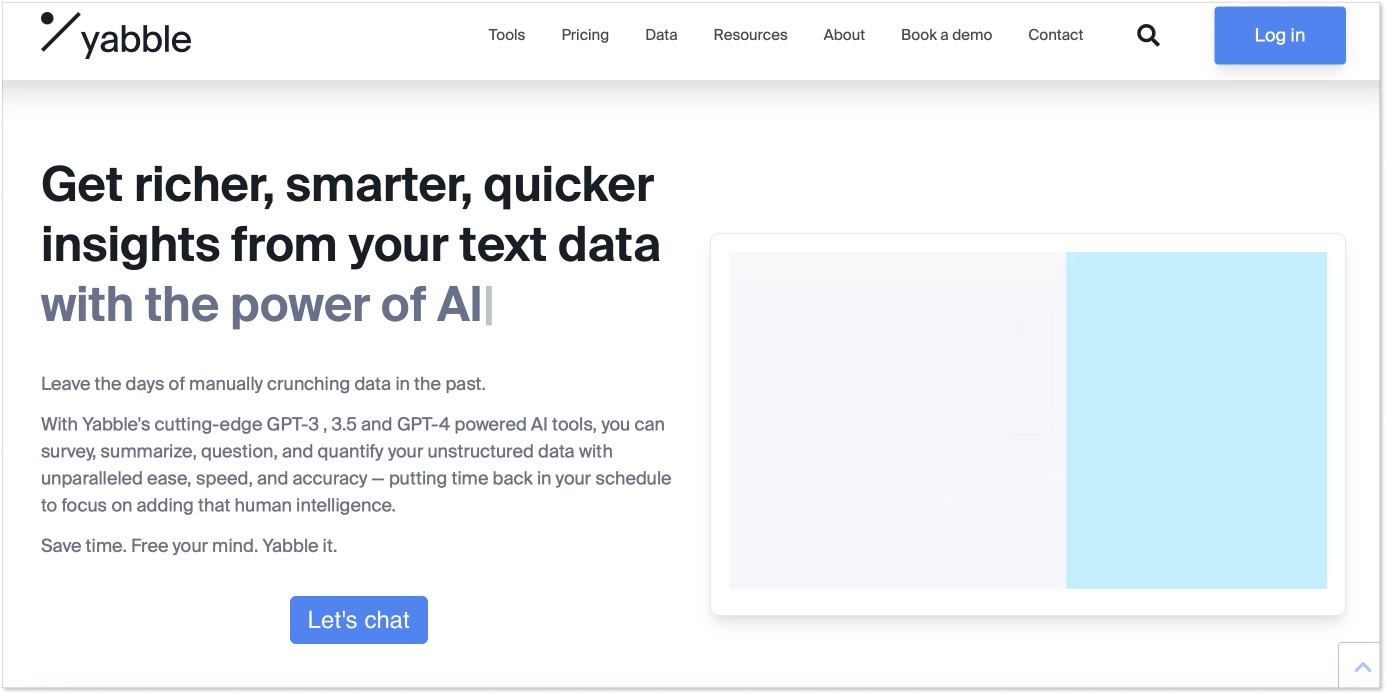 The world of customer service, just like any other industry, is changing under the influence of OpenAI technology allowing businesses to add more features, streamline processes, and draw better insights from a mass of data.
OpenAI for customer support: use cases and drawbacks
There are plenty of benefits of chatbots in customer service, and ChatGPT can offer even more opportunities. Apart from being a siren song to lure customers, it provides some really handy features:
1. Replying to unhappy users
This is one of the most annoying parts of the job for customer representatives, and I must say the most stressful one. AGI can generate answers for you so you don't have to worry about finding the right words and hurting the users' feelings.
Here is an example of the chatGPT-generated answers to a customer complaint about a defective product: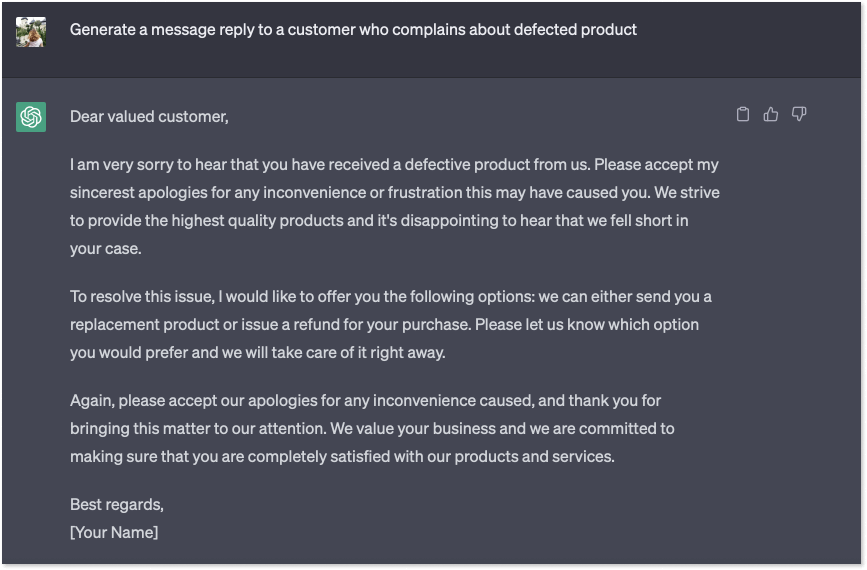 Honestly, I couldn't say it better. So basically, if a customer service platform integrates the technology into their software, support agents can generate replies right in the chat in the blink of an eye.
The possibilities don't end with replies to customer complaints but basically embrace any part of a dialogue between a customer service agent and users.
2. Polishing the answer
Another opportunity that ChatGPT offers to support agents is rephrasing the text, making it more friendly, or making it more official. This is a useful feature when you have to deal with different levels of customers and need to present your answer in different ways.
Here is a funny test of my own. Well, this ChatGPT is doing pretty good 🙂

3. Generating messages for the downtime moment
Pitfalls happen to every company. And let's imagine that the software is not working, the system went down, God forbid, what should we do then? Definitely notify all customers, apologize for the problem, and prepare a standard answer for all users who are flooding the chat with complaints.
ChatGPT on its own or integrated into customer service software can help with that task. So here is the answer that the technology can generate for you to notify users about the problem: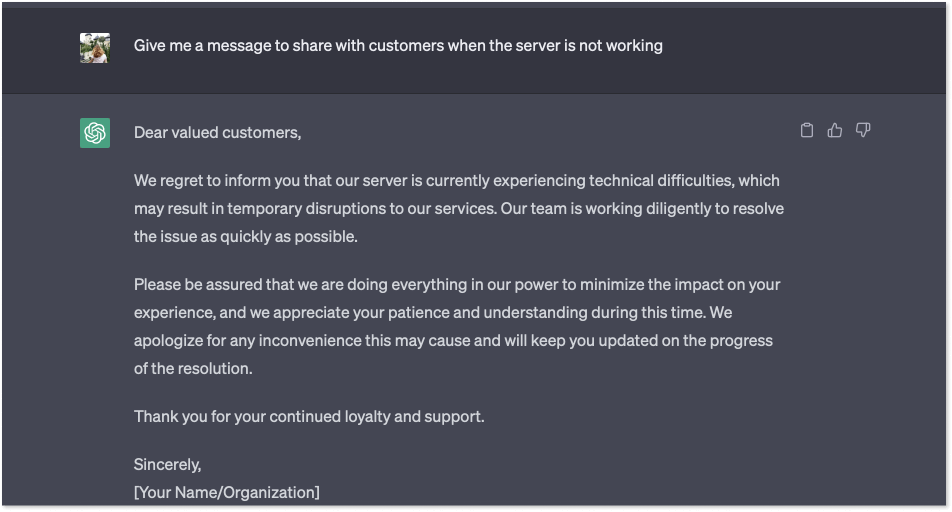 4. Brainstorming ideas to 'WOW' customers
Customer support is good, but excellent customer support is even better. Say, you are looking for new ways to surprise your customers, to make them feel special, valued, and loved by your brand.
Just turn to ChatGPT and ask for ideas on how to impress customers. Here you got the answers: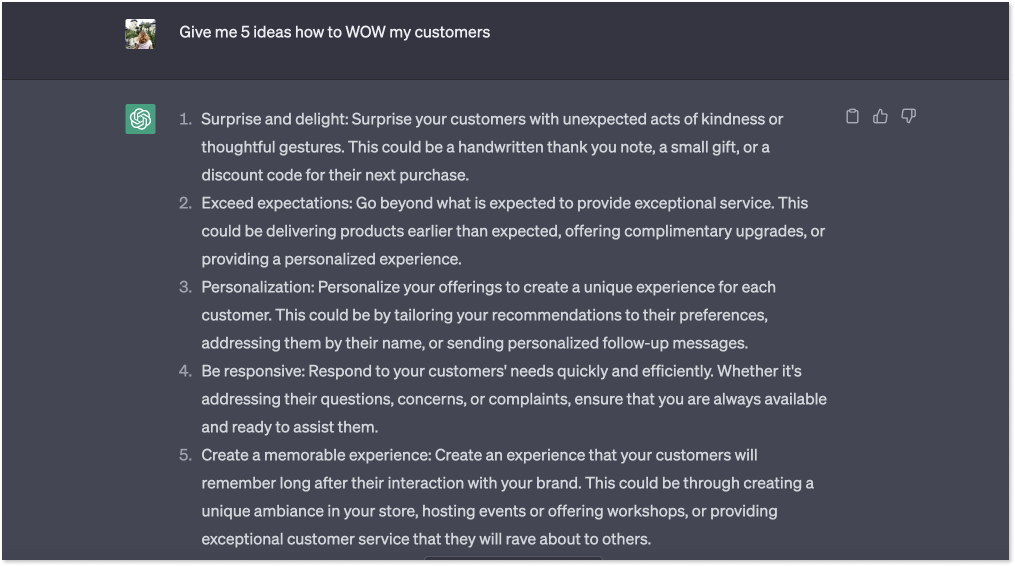 5. Replying to customer reviews pain-free
It's always a pleasure to read good feedback about your product and reply something like, "Thank you so much! We are looking forward to working with you again!" But what if the review is poor, the client is grumbling about the drawbacks and how unreliable your product is, you still have to answer something clever and prove them wrong.
With ChatGPT in customer service, you can just ask the program to generate a reply for a bad review. What I find especially useful is that you can add the text of the actual bad review and get a reply that addresses specific comments in that review.
Look at the example below. I took a bad review about Salesforce and asked the program to create a reply for me: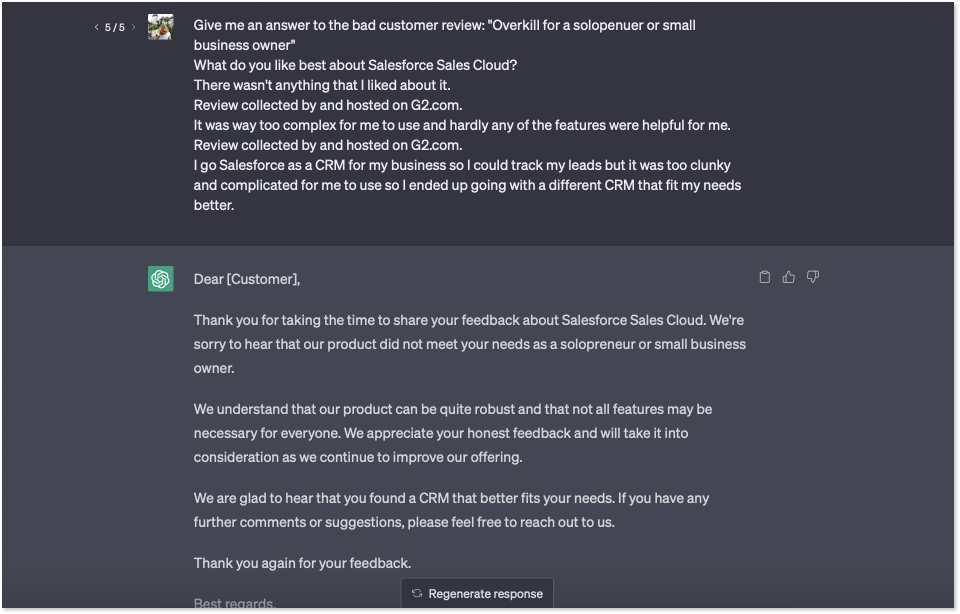 Feel free to be more specific when giving a task to the ChatGPT, like, "generate a reply in 3 sentences", or "generate a reply addressing user's pain points". If you don't like the answer, just regenerate it.
6. Speaking in more languages
Apart from being quite handy in generating content, ChatGPT can support customers in more languages. At this point, the technology offers English, German, Spanish, Chinese, Portuguese, French, and more languages.

To wrap up, ChatGPT in customer service is particularly good for three things:
Generating content (replies, ideas, notifications, knowledge base articles, etc.)
Being multilingual and speaking to users in their native language.
Chatting with clients in a more natural and engaging manner, when a chatbot understands free input and always comes with a nice witty reply.
ChatGPT in customer service: drawbacks
Every day is not Sunday even for such a technology as ChatGPT which seems absolutely fascinating. It's actually far from perfect, so let's look into possible stumbling blocks.
"The results are not always accurate; it can't cite the sources of its information; it has almost no knowledge of anything that happened after 2021. And what it delivers – while often smooth enough to pass muster in a high school class or even a college course – is rarely as polished as what a human expert could produce", Jeremy Kahn writes in his article for the Fortune magazine.
OpenAI is honest about its technology limitations. Even when you just register on the website to give ChatGPT a try, you see these three quick columns: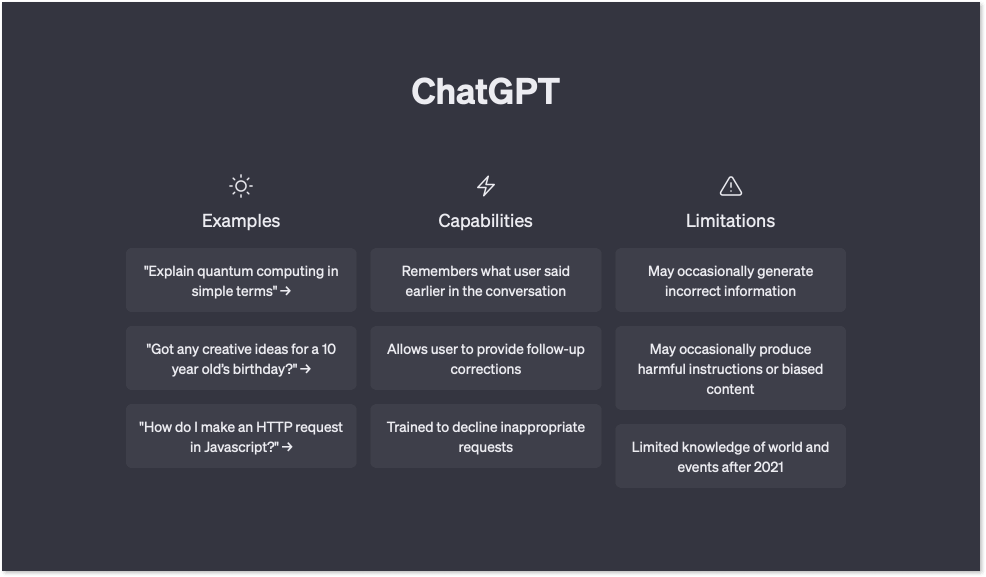 So if you decide to go with the technology today, be ready that it might share incorrect information with users or occasionally produce harmful content. However, I am sure that very soon the developers will improve the program, making it safer for everyone.
Another thing that you should be aware of is a privacy issue. If you use ChatGPT for generating answers to chat with customers, make sure to not share any sensitive information as it can be reviewed by AI trainers.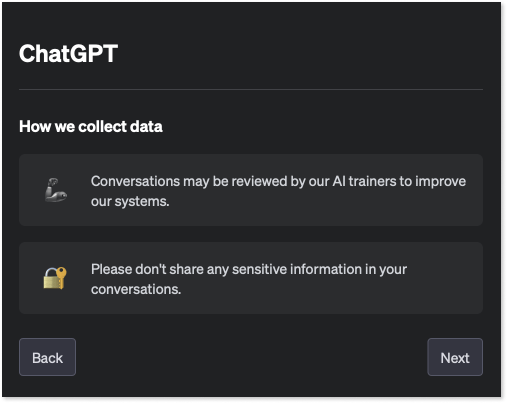 Let's sum up the disadvantages of ChatGPT for customer service in a few bullet points:
Emotional limitations. In support, users often require not just a solution but emotional support and as of now, it's impossible for a robot to really demonstrate how much your company cares about your clients.
Ethical implications. We've already mentioned the misuse of information or occasional harmful content that technology can share. That's why it's important that everything chat generates should be reviewed by humans.
Security issue. OpenAI themselves suggest users to not share sensitive information, as all your input can be used to train the bot and then shown in responses to other users. Let's not forget that Italy banned ChatGPT temporarily over privacy concerns.
Copyright infringement. The program generates answers based on information produced by humans, but it's not giving us the sources of this information. Potentially, sharing the bot's generated replies can be a violation of copyrights.
Generally, when we think about customer service chatbot we prefer a firm predictable software that you can control, adjust, and totally rely on. With ChatGPT, it's not always the case, as it's not acting according to scripts which makes it more human-like but also less predictable.
You never know if the reply it sends will be useful or not, harmful or polite. The program is trained on the internet and, truth be told, it's not the safest space… And while AI trainers try to make it better, too little time has passed to say that the technology has been polished, and you can count on it in every situation.
Top 5 ChatGPT alternatives for customer service
Having received cumulative investments in the amount of $13 billion from Microsoft, no doubt that OpenAI will continue to develop its product, improve it, and grow. Thus, very soon all the drawbacks might be left behind.
But as of now, if you don't want to take risks with brand new and not proven to be reliable software yet, then I suggest having a look at a few customer support chatbots that can perform all daily tasks, and speed up your routine just as great.
HelpCrunch's chatbot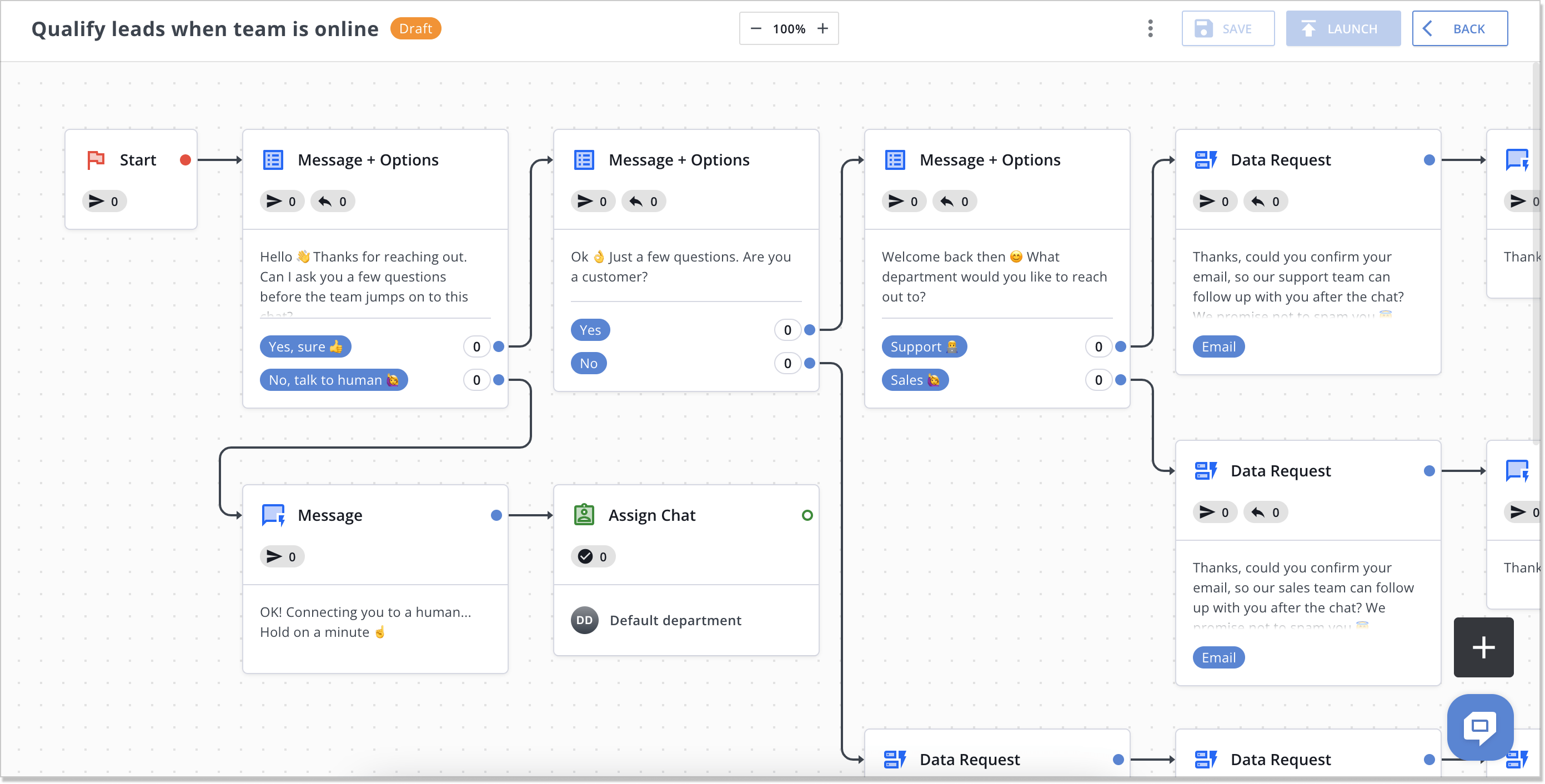 Chatbot made with HelpCrunch is perfect for customer service. It's a rule-based technology that you can rely on in your day-to-day job. The bot can respond to users' messages, suggest a number of possible reply options, provide useful information to solve issues or collect data for further follow-ups.
The best part about the product is its chatbot editor with a simple and minimalistic design. It will take you minutes to learn how to use the program and create your first chatbot sequence.
As a bonus, HelpCrunch is more than just a chatbot software, it's a customer support tool with everything you need to provide effective support, including live chat, shared inbox, social media integrations, knowledge base, and popups.
Main chatbot features:
Code-free chatbot builder
Ready-to-use templates that cover the most popular use cases and an option to create your own chatbot script from scratch
Quickly responding to user messages
Support 24/7
It can collect users' details, offer special discounts, qualify leads, collect details about issues upfront, route chats to the right specialists, share knowledge base articles, etc.
Precise targeting
Analytics feature
Pricing: starting at $25/mo per user
HubSpot's chatbot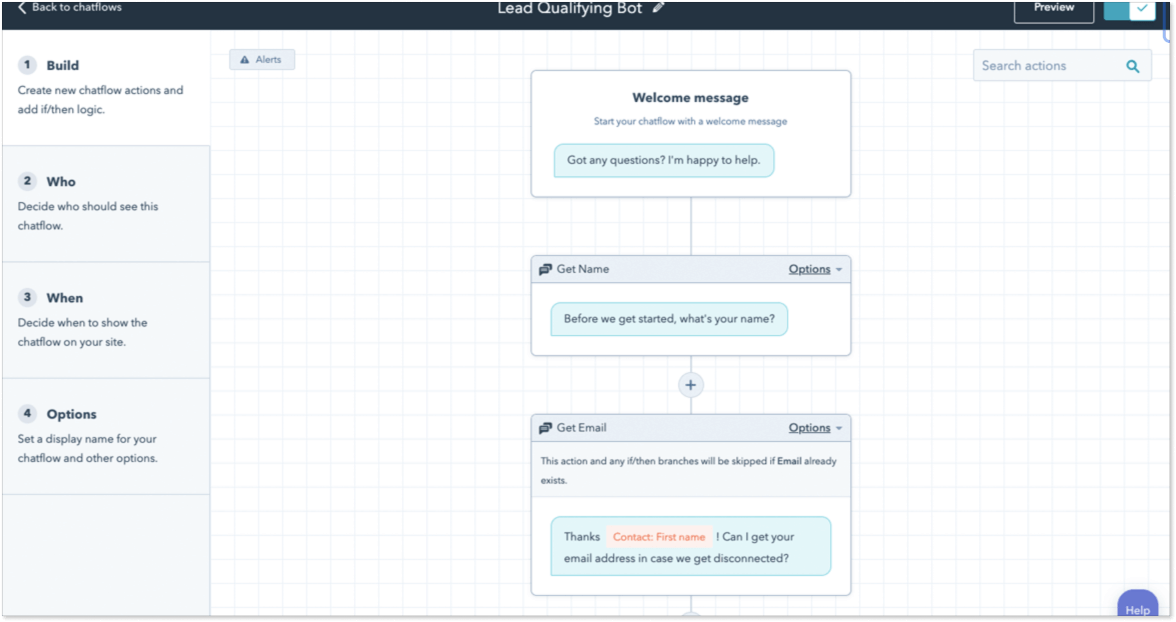 As part of the HubSpot CRM software, the company also offers access to free HubSpot Chatbot Builder. Businesses can use it to automate tasks, such as lead qualification and booking appointments. It's a code-free tool that doesn't require any programming skills. Installation and creating the bot shouldn't take more than a few minutes.
Thanks to the integration with a HubSpot CRM, a chatbot can offer a more personalized approach to communication with customers based on existing data. In turn, the information collected by the bot gets synced back to your CRM, which gives a better view of how engaged your customers are with a bot.
Main chatbot features:
Visual chatbot builder
Answering frequently asked questions
Routing inquiries to the appropriate department for faster resolution
Scheduling appointments
Providing personalized service to customers
Integration with other HubSpot features such as the CRM and marketing automation tools
Pricing: free
Tidio's chatbot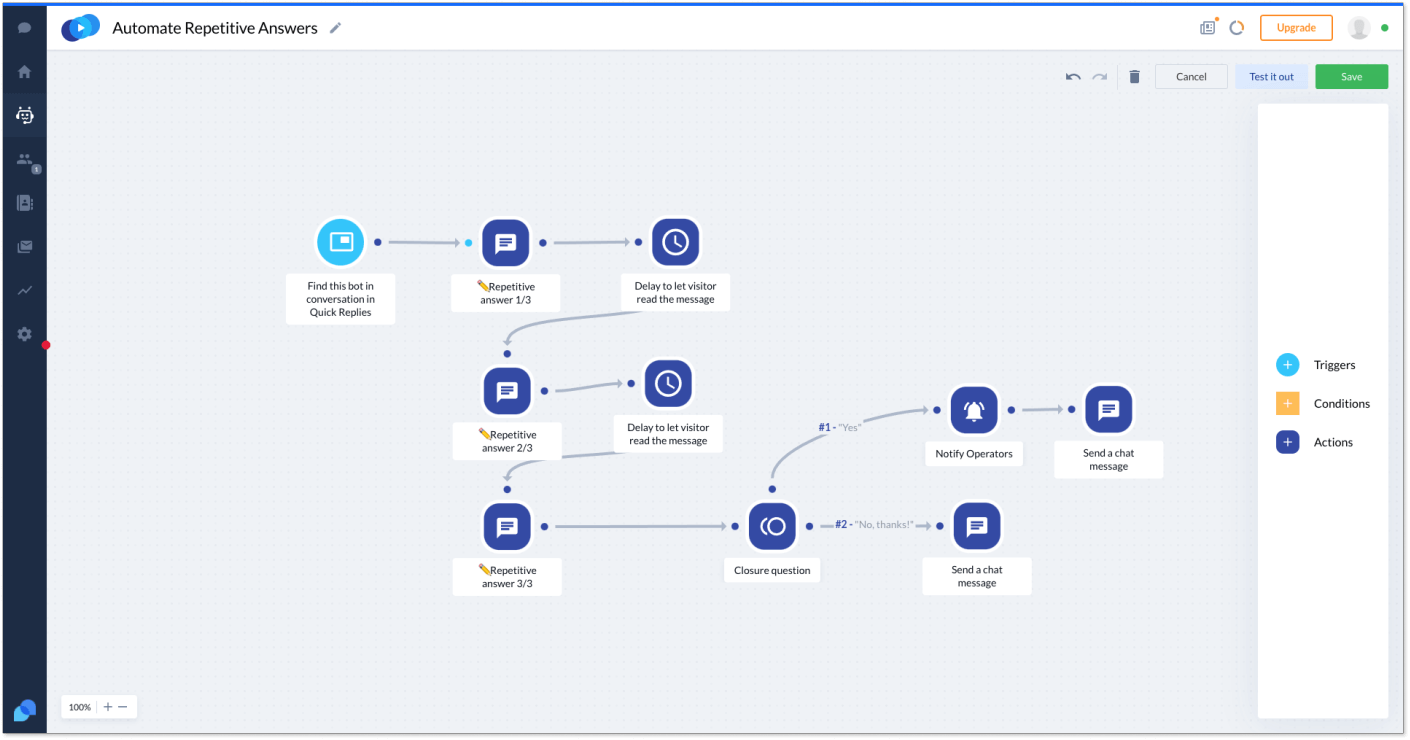 Tidio offers a live chat solution that includes a chatbot feature to improve the customer support experience. The tool is equipped with conversational AI and NLP (Natural Language Processing) capabilities, which means it can provide more human-like conversations with users.
Chatbot editor is also visual and doesn't require any coding knowledge to build or edit your bot flows. If needed, you can use templates and adjust them to meet your business goals.
Main chatbot features:
User-friendly chatbot builder
Customizable chatbot templates
AI capabilities to learn and improve over time
Integration with email marketing platforms and CRM systems
Handling basic customer service inquiries
Pricing: free with limited functions; paid plan is starting at €19/mo per user
Chatfuel's chatbot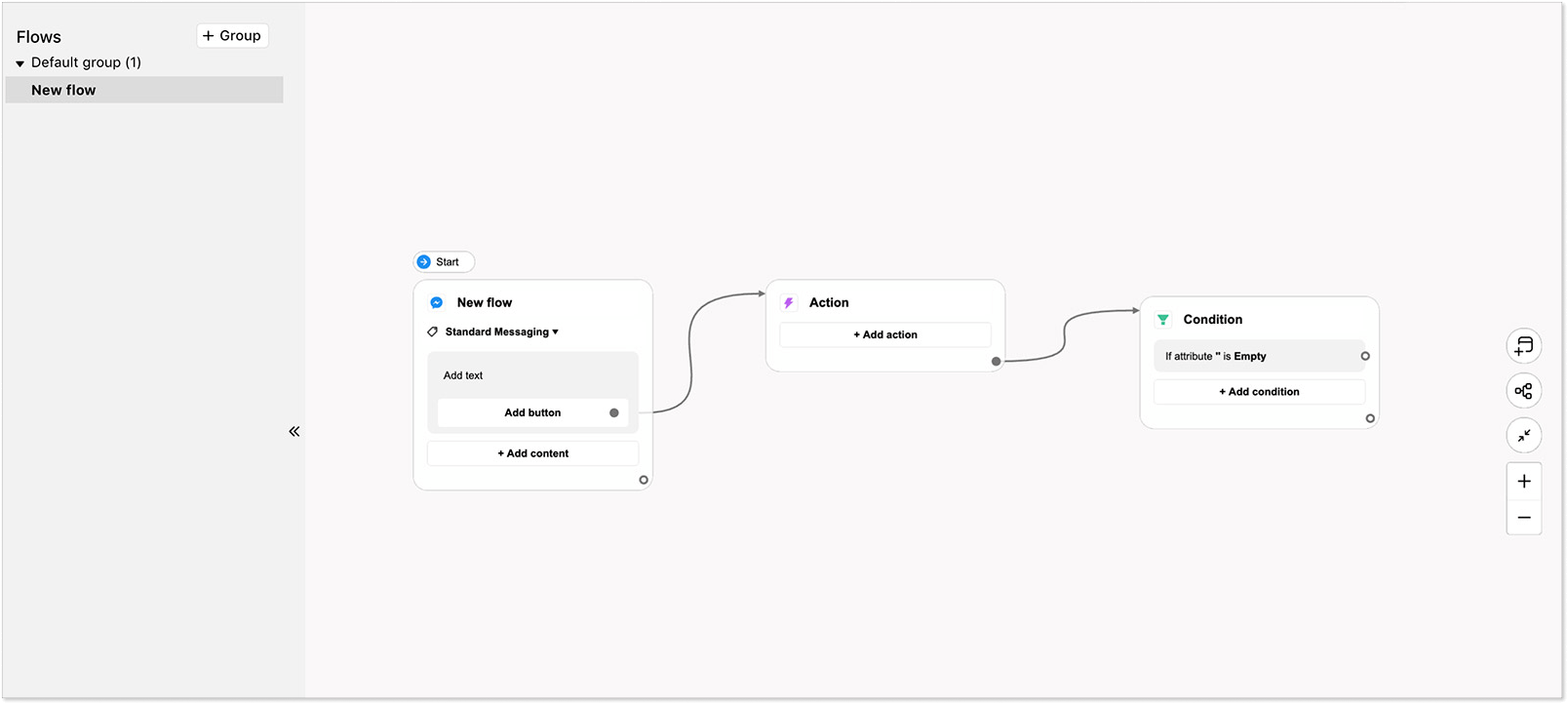 Chatfuel enables users to create customer service chatbots with AI on Facebook Messenger and Instagram accounts. The platform offers an easy-to-use interface and a basic set of features such as lead generation, answering FAQs, etc.
However, the software has one limitation: it is primarily optimized for Meta platforms and lacks optimization for other channels, such as a website. As a result, it is an ideal solution for startups, freelancers, and businesses that primarily interact with clients through social media.
Main chatbot features:
Easy-to-use chatbot builder platform
Integration with popular messaging platforms like Facebook Messenger and Instagram
Ability to create custom chatbot flows and conversations
Access to analytics and data to track chatbot performance
Ability to accept payments and donations directly within the chatbot
Pricing: starting at $14.99/mo
Drift's chatbot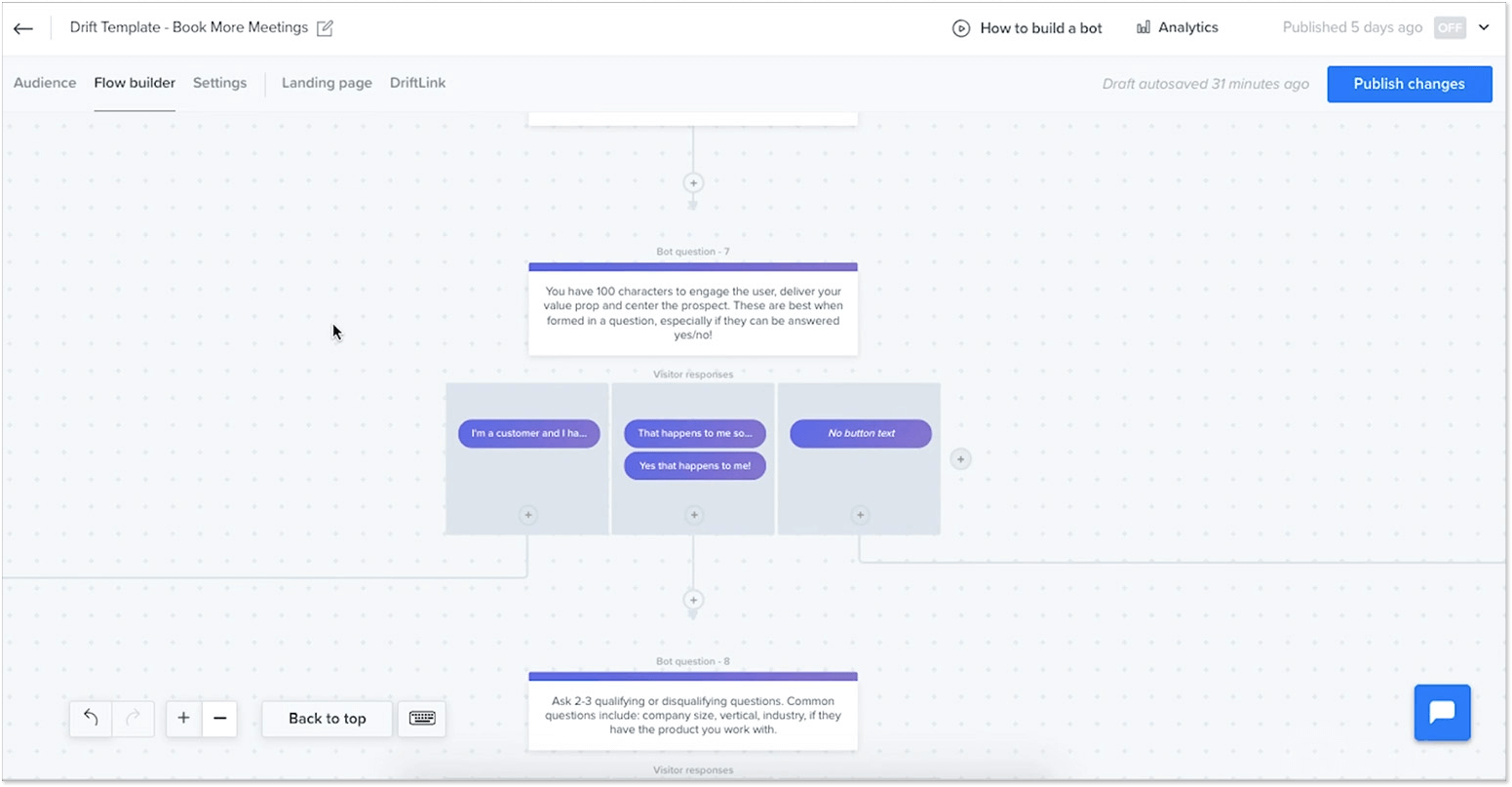 Drift offers one of the best chatbot software solutions to support sales teams. Their AI-powered chatbots enable businesses to personalize the customer service experience for their shoppers and gather customer data to gain insights into their behavior.
In addition to chatbots, the company's platform also includes tools for automating email campaigns. Furthermore, businesses can measure their Net Promoter Score (NPS) more easily using surveys sent directly to the app or via email.
Overall, this chatbot software company is a good choice for businesses looking to streamline their sales processes.
Main chatbot features:
AI-powered chatbot that can handle simple and complex inquiries
Integration with social media platforms
Personalized conversations based on customer data and behavior
Integration with third-party tools like Salesforce and Marketo
Ability to schedule meetings and demos directly within the chatbot
Powerful segmentation capabilities for marketing and sales teams
Pricing: starting at $2,500/month billed annually
How to create your first chatbot with HelpCrunch?
If you can't wait to start creating your first customer service chatbot, consider HelpCrunch platform. Editing and launching a bot there is a simple process that will take just a couple of minutes.
Here's a step-by-step guide on how to create your first chatbot:
Log in to your HelpCrunch account. (If you don't have one, sign up for a 14-day trial period right now to have full access to the chatbot feature).
Click on "Chatbot" and then "Add new chatbot."
Choose a bot template or create one from scratch.
Set up rules and triggers for the bot flow.
Add steps and reply options for your chatbot and launch it!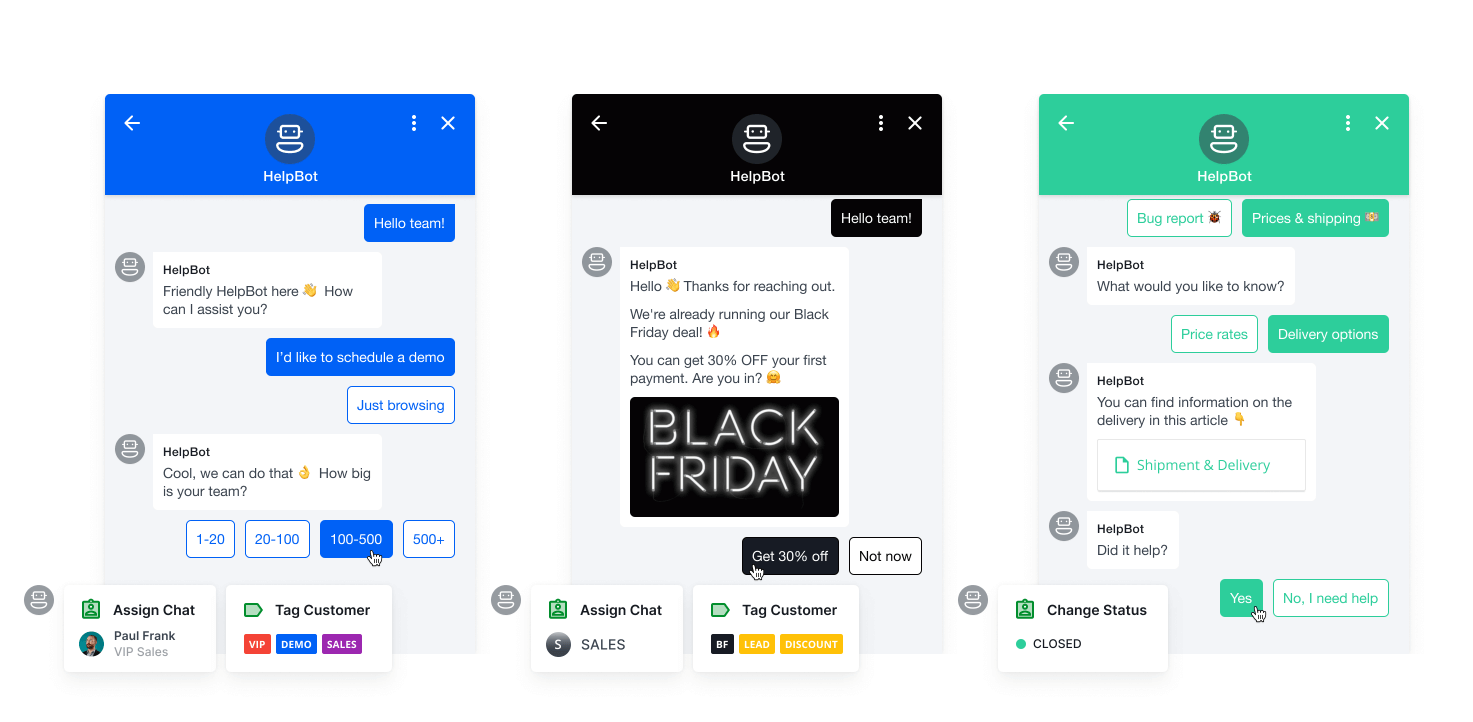 HelpCrunch also offers a range of advanced chatbot features, such as the ability to collect customer information and provide personalized responses. With its help, you can offer better customer service and streamline your support processes.
Best tips for creating a chatbot script
Creating a customer service chatbot script can be a challenging task, so be brave to experiment when looking for the best concept that works for your business.
Here are some of the general tips on how to create an excellent customer service bot:
Define the purpose and scope of your chatbot: Before you start writing your chatbot script, it's essential to define what you want your chatbot to achieve and the specific tasks it will perform. Having a clear understanding of your chatbot's purpose will help you create a script that aligns with your goals.
Use a conversational tone: Chatbots are robots, but even rule-based ones should sound try to sound more natural and human-like. When writing your chatbot script, use a conversational tone that aligns with your brand's voice. Avoid using jargon or technical terms that your customers may not understand. Instead, use simple language and provide clear instructions to guide your customers through the conversation.
Test and iterate your script: After creating your customer service chatbot script, it's crucial to test and iterate your script. Start by testing your chatbot with the easiest and more popular tasks such as routing the conversation to the right specialist or collecting contact information. Collect users' feedback and make adjustments to your script and improve the overall customer experience. Remember, creating an effective chatbot script is an ongoing process, and it's important to continually refine your script to ensure that it meets the needs of your customers.
By following these tips, you can create a chatbot script that provides a seamless and personalized experience for your customers, helping to improve customer satisfaction and drive business growth.
Get grooving with your customer service chatbots
There have been customer service chatbots before, but ChatGPT is definitely changing the game rules. We used to think of bots as boring digital assistants who could speed up customer service but usually failed to impress users. Now, all eyes are on chatbots again and businesses wait for the right moment to implement this new technology in their products.
If you believe that it's not the time just yet and ChatGPT needs more time and training to become the tool you want to introduce to your customers, then don't worry at all. There are more than enough chatbot options for support, and hopefully, our article will help to make you the right choice.