Could our predecessors even think of how customer communication would be today? You just click buttons, ask questions in a small chat window, and a robot answers all your requests. If it isn't magic.
All the payoff goes to a customer service chatbot – a small yet powerful technology that is slowly but surely captivating the whole world. But is this really a force for good? And how can we gain mileage from it?
In this article, we cover all the answers. And given that HelpCrunch is almost ready to present some awesome functionality (guess which one?), we just couldn't stand on the sidelines with this topic. So let's dive right in!
What is a customer service chatbot?
A customer service chatbot is a conversational assistant that uses either machine learning or ready-made scenarios to respond to basic customers' requests. Moreover, it helps them find the information they've been looking for. In other words, they simulate a human-to-human conversation.
Where do bots get the information? Generally, from FAQ pages or knowledge base articles. When you write your question, they recognize certain keywords in it and send you possible options based on what you've got on those resources. More basic and accessible customer support chatbots operate based on scenarios that customer service agents create beforehand. Users choose between options from a flow, and chatbots offer relevant information based on their answers.
What's important is that you can easily pre-write the script, add whatever lines you wish, and train the machine to answer in its own manner. You can find these bots on websites, inside applications, and social media messaging apps.
What place does a conversational assistant take today?
Change is all around us. And the first ones to prove it are the millennials. Why? Well, they surround themselves with gadgets and tech. For them, texting is less disrupting than talking. In fact, 75% of millennials would rather lose their ability to talk rather than text. That's the way the cookie crumbles.
Before we start crunching the topic deeper, it's essential to pin down that this conversational ally isn't here to replace human support. Think of it as a helpful "partner in crime". At the end of the day, they too have their restraints.
However, Casper, an American e-commerce mattress company, has managed to prove the opposite. Their Insomnobot3000 is always there for you when you just can't sleep and need to talk to somebody. It's "extra chatty between 11pm – 5 am". Can you believe those guys and their customer service chatbot? 👏
But not all bots are like this. It may be hard for them to answer tricky, complicated questions, so most of the chatbots are trained to know when to transfer the issue to a human. And those are not just mere words. Some customers claim that chatbots usually lack understanding.
Notwithstanding, Juniper Research predicts e-commerce transactions through chatbots will be $112 billion by 2023. It's closer than you think!

Speaking of money matters, we can say that chatbots are not merely for e-commerce. Users in banking, healthcare, and other industries are already wishing for speedy customer service via bots. In fact, it's projected that their market size is growing from $2.6 billion (in 2019) to $9.4 billion by 2024 as stated on the diagram below.
As you see, chatbots for customer support can be and ARE really a force for good. I mean they're gaining momentum as we speak and are able to answer 80% of routine questions.
Plus, numerous stats say that consumers are likely to shop with the help of these robotic assistants and are happy if a company provides such means of communication.
How is an online customer service chatbot a sidekick for your business?
Of course, customer service chatbots are a power for good. They're like those smart cookies we used to have at school. In a good sense, obviously. Their two killer benefits are lightning-fast support which makes them beat out human assistance and cost-efficiency (they are more affordable than 10 newly hired agents). What are other pros? Check out below.
1. Round-the clock customer support
It's always convenient to have customer support agents work shifts around the clock. That's especially the case for some small- or mid-sized brands that don't sell or offer much and, therefore, don't need to hire multiple support teams. Here is when chatbots for customer service enter the picture.
As I already mentioned, such assistants are here for clients 24/7. If a user tries to dig out info about your company in the middle of the night, a bot gets your back. You just set all the rules and the machine brings things forward so that the client finds a perfect solution.
Besides, a chatbot can prevent possible customer churn and frustration. Everything's simple. Customers don't like waiting for an answer for long hours, and when they have a chance to tie up loose ends right here, right now, they'll stick to a brand.

In this context, I would also highlight these two indispensable benefits:
Proactivity. Such conversational assistants not only answer 24/7 but also send auto messages based on the triggers you set and can help users even if they don't ask for it. For instance, here is the example of a customer support chatbot from Amplitude casually asking a user if they would like to know something cool and promoting the company's upcoming event.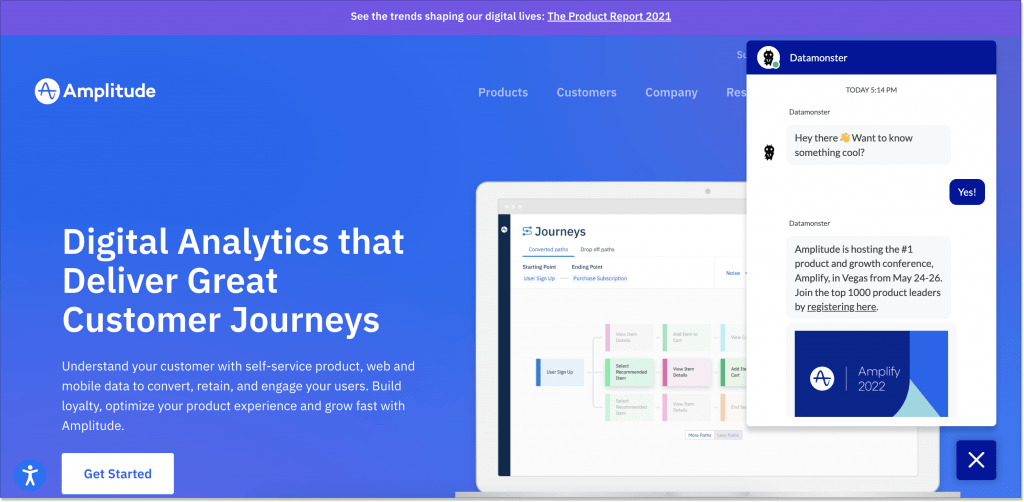 Assistance during off-hours. You can be sure a customer will get timely help even if they reach out to your brand when you're off. A bot will automatically provide the sought-after information.
2. Reduced team workload
As a business owner, you should realize how hard it is to have a chaotic work routine. It concerns every customer service activity in your company: ticket routing, demo scheduling, or KPIs achievement, to name a few.
With a properly groomed customer service bot, you can unburden your staff (and save them a slew of nerve cells) hands down. For instance, a chatbot can automate such basic routine tasks as:
Tagging customers;
Performing smart chat routing and assigning chats to agents (departments);
Gathering customer data before an agent gets involved;
Asking common questions (using a script) a customer service rep usually asks before chat;
Making or canceling reservations (e.g. hotel/restaurant niche);
Taking orders while rush hours/in the middle of the night.
This is how WestJet, a Canadian airline, brings its Facebook Messenger and a customer service chatbot together. They just provide all the major points a user might be interested in, as long as additional season-specific info. A keyword to start a conversation with a digital assistant will do. Smart!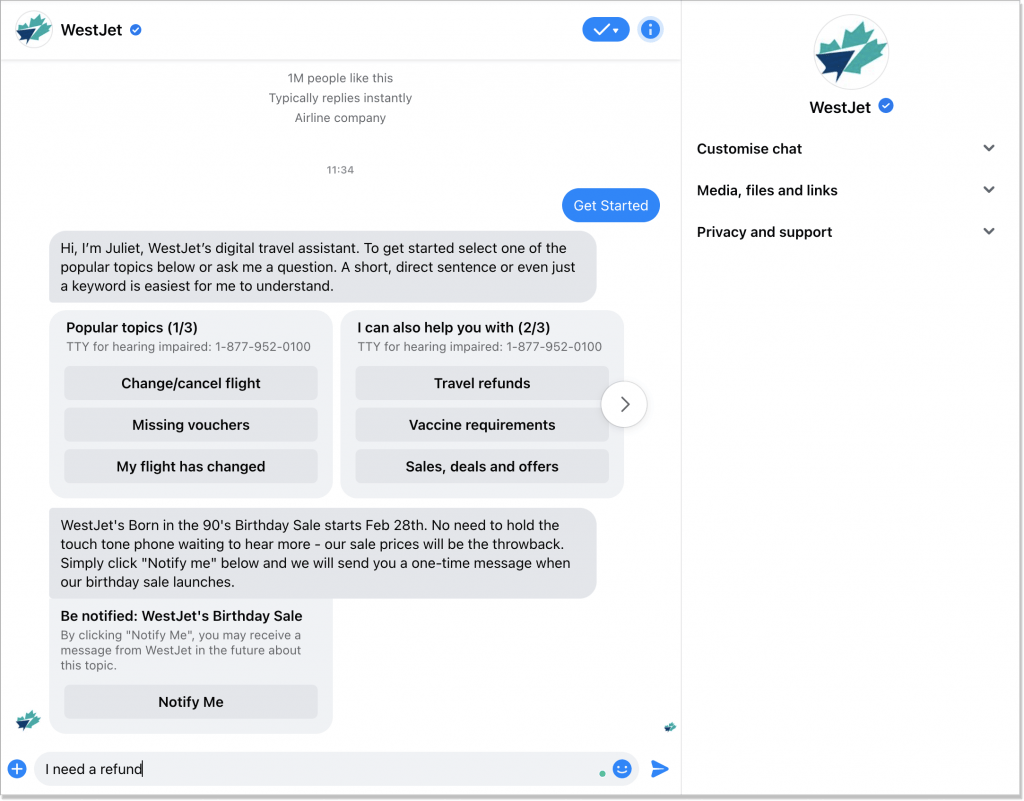 3. Better insights into customer data
A chatbot in customer service offers golden opportunities to learn more about users, and, therefore, deliver personalized customer support.
No matter what channel a customer chooses for reaching out, a chatbot can fix you up with their certain behavior, trends, habits, and possible bottlenecks. It can do just that by simply asking leading questions that you previously set up in its system 👇🏻
During the first interaction, a bot can say Hey! I am HelpBot. And what's your name?, making a customer fill out a form/write their name in the chat;
Asking a person what brought them to your brand (finding out about a pain point) in the first place, providing several options to choose from;
Asking a user about their previous experience with other companies alike, depending on your industry (finding out about habits).
By basing on that intel, you can fine-tune their journey and experience. And that, in turn, helps you dive deeper into their personal needs, preferences, and expectations. Speaking of, 58% of clients claim their customer support expectations have changed for the better thanks to online customer service chatbots.
4. Elevated customer satisfaction
Customers are the prime engine of everything a business does. That's why the equation goes like this: a pleased customer + a smart customer support bot = a happy and thriving business.
I would even say that a human side plays here is due in no small part to the topic. Picture a reaaally washed-out customer care specialist at the end of their day. Bam! There's a client waiting with yet another request. "Gosh, why me!? It's Friday already!!" – rants the specialist. The result: the client churns due to abnormally cranky treatment.
Now, imagine a completely opposite story. Our customer care specialist, still vexed by the Friday workload, leaves the help desk, saying: "Phew, it's Friday already! I'm off for the weekend. Chatty the Chatbot, you're in charge from now". The result: all customers are served during the weekend and satisfied. Chatty the Chatbot did his best.
However, you have to be careful with that. A chatbot might help you boost customer satisfaction. But it doesn't mean you should throw it under the bus. Still, it's better to also provide clients with an instant opportunity to connect with a real human assistant. See what I mean?
5. Promoted customer self-service
The benefit of having a customer service bot by your side is that a higher number of users can serve themselves. Make your team concentrate on some other hardcore tasks. Leave the basics to such an assistant, if you dare.
The logic is simple. You create a certain script and let users choose several options. It can be everything from a delivery problem, bug report, password reset, you name it. By basing on the answers users give to these questions, your bot will provide related knowledge base articles or send a request to human support.
Just a couple of years ago, such assistants were simple as hell. I am not even implicating web self-service here. The latter is, though, nothing new. But once you jazz it up with a modern customer service chatbot, it takes another meaning. 
A client needs to get a friendly welcome like NOW, receive further product recommendations, but your team is sound asleep? A bot got it. A user requires a knowledge base article to clarify their issue? No sweat. There is a need to constantly review the resource center content? You know the answer.
Customer service chatbots aren't a silver bullet, though
Despite all the good things we've discussed here, customer support bots may still be no good for a business. Sure, they are smart enough to communicate with a customer and point them in the right direction. But when it comes to something more complex, here is why your robo-friend may backfire:
1. Chatbots have no soul
It sounds a bit poetic. Though, it's true. As chatbots are to resolve those questions they are already programmed with, it may be a bit hard for them to follow a context once a user comes. Besides, they aren't able to show any emotions if need be. As practice shows, expressing your heartfelt emotions when resolving a customer issue could go a long way, you know.
On the other hand, if your chatbot is AI-based, you can easily teach him how to comfort a user using special words and phrases. There is even a possibility to point a chatbot to certain messages and program it to react in a more empathetic way.
2. Chatbots still need maintenance
Technology is constantly evolving, so are chatbots for customer support. They require regular revision, maintenance, and optimization.
For instance, you updated your knowledge base – make sure your chatbot is aware of these changes to assist users right. Another case here is the company's shifting priorities, plans, roadmaps, etc. All of it should be updated, all previous conversations should be revised. In the worst-case scenario, customer satisfaction may drop significantly.
3. Chatbots can help you lose customers
You read it right. In their recent survey, PwC showed that it doesn't matter how loyal clients are – if they faced a rough experience with a brand, they will wave goodbye (32% of customers).
What I am hinting at is that you have just one chance to make things right. So not to get outplayed, make sure your customer support chat provides at least:
Simple UX, meaning that a user doesn't have to complete a dime a dozen steps, fulfill unnecessary forms, and still get no answer;
A creative "personality" that could be reflected in the chatbot's communication strategy or common decencies. For that, you need to analyze your target audiences, their lifestyle, preferences, and even behavior;
Plain texts so that a customer can save lots of time while solving the issue. You don't want to listen to complaints, do you?;
4. Chatbots tend to bite off more than they can chew
70% of Facebook Messenger bots fail to understand what a user says without having a human step in. It happens just because a chatbot (well, not all of them, but a vast majority) can't keep contextual information for too long. They tend to lose it after several messages.
The way out is simple. When developing a chatbot, narrow down its area of focus to a minimum. Try to provide well-defined solutions, one for each presumable case. To do this, a communication designer should take the field and research not only your audience but also get to the heart of your product's specifics.
Sum it up
Customer support chatbots and AI technologies are constantly altering our view of how support should be. They, of course, are not a cure-all in that realm (well, because they're not humans after all). But they can help your users be more autonomous and generally pleased across the entire journey.
Besides, a bot can boost your sales by nurturing leads, increasing overall customer engagement, and improving automation.
Meanwhile, just look around and start your way to the chatbot tech gradually. As a warm-up, go for something that involves human interaction, such as live chat (with all its goodies).
HelpCrunch articles delivered straight to your inbox 🚀
All the latests posts. One email per month
No strings attached
Read Also
Support
Even a tiny startup faces its clients' wants, pain points, and behavior at some point. Does it ring any bells to you? We explain how to set up customer service for a small business, achieve maximum effectiveness, and boost customer satisfaction.
Support
A post-chat survey can help you get real-time feedback from your customers. Read our guide to ask the right questions that users want to answer and improve your customer experience.
Support
Looking for inspiration? We've put together some of the best tips and examples on how to make your eCommerce FAQ page stand out. Have a look and improve your self-support tool today. Good luck!