10 Chatbot Conversation Flow Examples: How to Develop a Natural Dialogue with Customers
Grab 10 chatbot conversation flow examples to ace your customer communication.

Before pointing my quill and writing this text, I played around with the all-too-familiar ChatGPT. Is it so omnipotent as everybody says? Does it have that unparalleled, almost revolutionary human touch?
As this article has the "three pillars" in its name – chatbot, natural, and conversation – I decided to ask the ChatGPT about what a real dialogue between a chatbot and a customer should look like. Here is the result: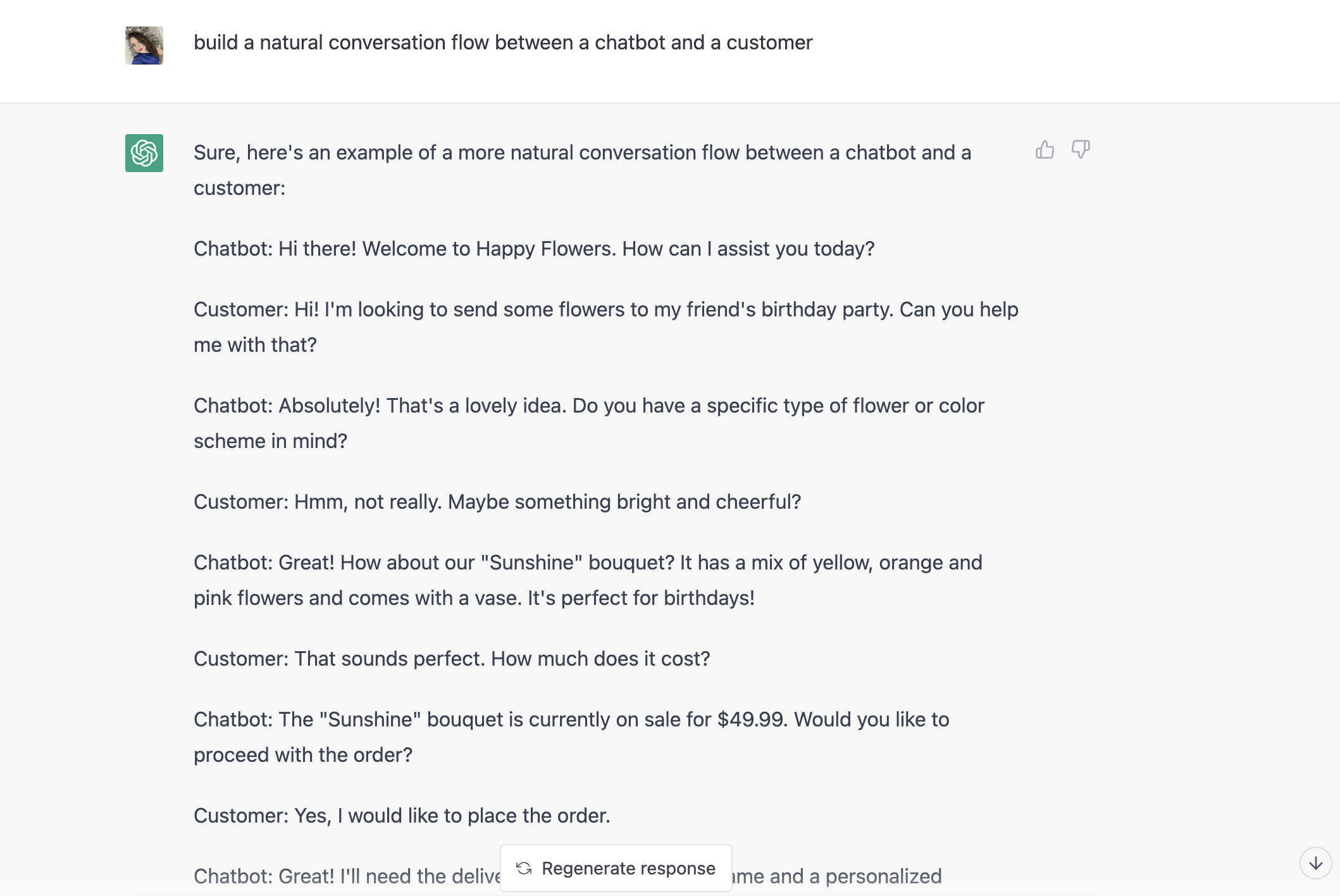 No doubt this conversation has the right to exist. It's polite and built according to the rules. However, it still lacks one main component – flexibility. In this article, we're going to break down 10 chatbot conversation flow examples from a variety of industries. Plus, we share some pro tips on how to architect meaningful dialogues with your customers!
What is a chatbot conversation flow?
A chatbot conversation flow represents a decision tree that guides a user through their journey when they land on a website. Like any other conversation, a chatbot flow has certain logical elements, such as:
Greeting
Asking
Informing
Suggesting
Checking
Apologizing
Error
Goodbye
Generally, flows are based on the "if/then" rule, meaning that if a user chooses an option then a chatbot offers them a related answer. Plus, the overall conversation is thought of as a series of paths that are triggered by the user's choices. These paths are called nodes – they define how a chatbot should react in different scenarios and what happens next.
Picture this. You are searching for dry cleaners and stumble on a pretty good website. And oh, a blessing! They have a customer support chatbot. That's how a chatbot conversation design could look like if those dry cleaners had designed it with a no-code chatbot builder by HelpCrunch: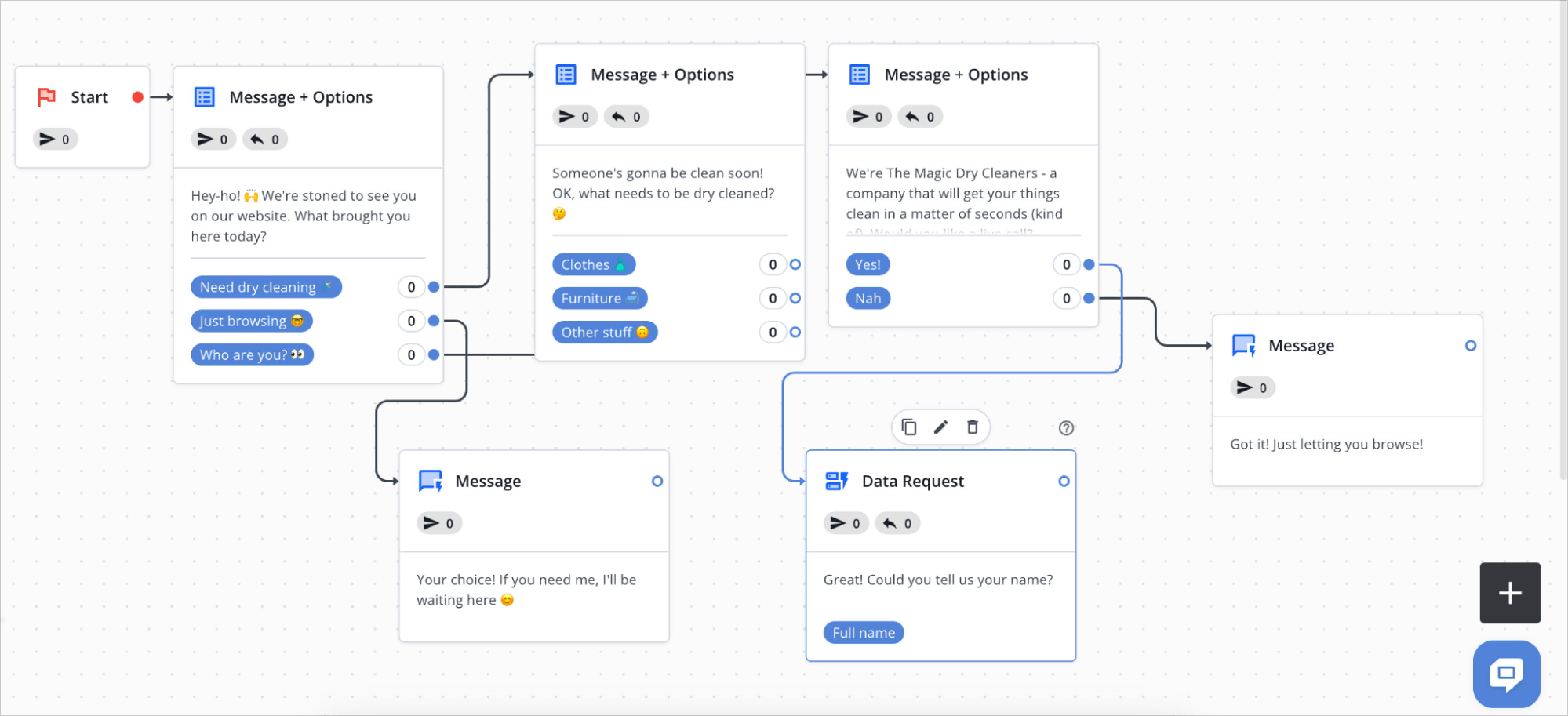 🤓 Quick heads-up! I know you're wondering how to assemble a perfect chatbot flow. Watch our YouTube video where my colleague Tetiana shares all the details, the steps you need to take, as well as some pro tips. Grab the popcorn and enjoy! Spoiler: you just click and drag-and-drop, no sweat.
10 chatbot conversation flow examples to inspire the dialogue with your customers
While the chatbot market is expected to hit $24 billion by 2030, its popularity is kicking into high gear with massive add-ons (ChatGPT, virtual assistants, and whatnot). What does the future hold for us? 🧐
For the time being, businesses have the potential to jump on the hype train and build natural conversations with their customers using chatbots. We've assembled 10 chatbot conversation flow examples – does your company practice some of them already? Pray tell us in the comments below!
1. Start interaction with small talk
Chatbots are second humans! That's right, that's my point. The thing is that when we're involved in human-to-human interaction, we exchange information and show our interest to a person. The same happens with chatbots.
What is the common thing to start a conversation to break the ice? Small talk (or phatics in linguistics) – and you can do that with a chatbot conversational flow.
It's been a long time since chatbots got used to sharing pleasantries before business stuff. We do that to top a machine with human qualities. Thus, you can come across a punny greeting, a funny story, pop culture trivia, a weather forecast for today, or even an anecdote, if you will. Everything is aimed at establishing an invisible bond and getting on the right side with a user.
I prepared some go-to phrases and general guidelines you can copy for your chatbot scripts:
Think of a tone of voice and make sure it's reflected in the small talk;
Brainstorm some alternative ways of saying usual stuff, like Hello → What's up?/What's cooking, good looking?, Hi there → How's life?, Hey → How's it going?;
Try to build grammatically correct sentences so that the conversation doesn't seem off, for instance, I know I am a robot could be the answer to a customer's question Who are you?;
Maintain a straightforward and clear approach, do not stretch yourself too thin from the topics and specifics of your brand;
Insert a CTA at the end of the small talk so that a user doesn't get bored and wander from the subject, like I know I am a robot. Wanna see me in action? I am listening: what brings you here today? Drop me a line.
🤖 Grab these fun phrases and ideas for your chatbot small talk
What's cooking, good looking?
Are you human?
What's the weather like today? Wrong answers only
What's your favorite author?
Turn around! Your back is white
Do you love me? I do love you!
You're a genius! Just like me because I'm AI
How much do you sleep? Well, I never sleep and do not have baggy eyes
The world knows at least several examples of chatbots trained for small talk. There is Insomnobot3000 – a chatbot developed by Casper, a mattress company. It can be your night companion and soothe your spirits by lullabying you. This chatbot conversation design is supposed to keep a user company when they can't sleep.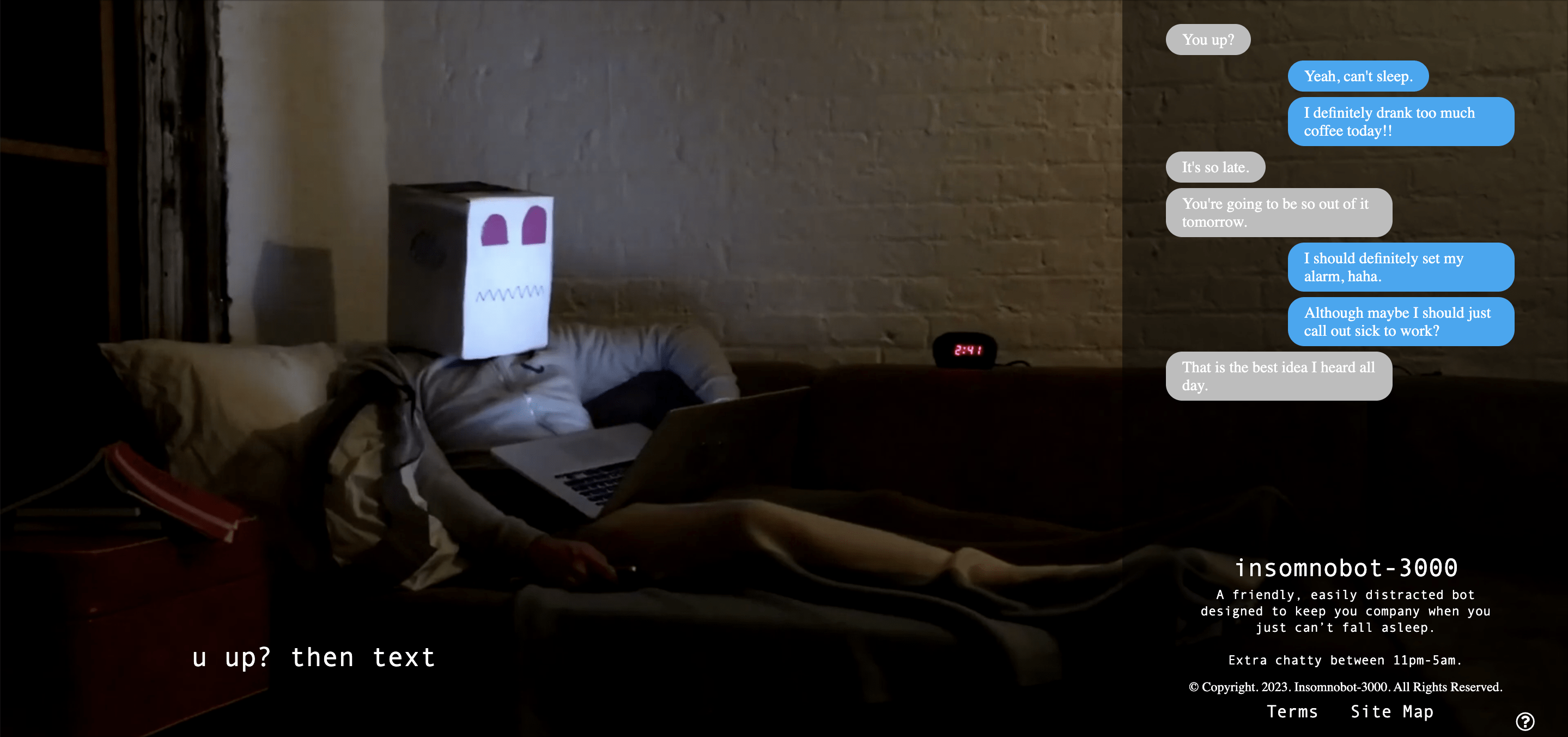 👍 This example is spot-on because…
The AI technology lets a chatbot sound natural and build a dialogue more thoughtfully;
Small talk helps you lighten the mood before getting serious.
2. Qualify leads offline and online
An indispensable chunk of work that a chatbot does is lead qualification. Believe it or not but architecting a conversational flow correctly, in this case, is of utmost importance. How you are going to do that is completely up to your business goals and its type. So let's break that down.
For starters, think of the basic things a chatbot should ask website visitors. Check these questions to self-test:
What makes a great lead for business?
Who are my leads?
Who are my most profitable customers?
After that, ponder over the contrary: what makes a bad lead for your brand, or what stops your leads from registering on your website? Off the top of my head, these ideas could be a nice fit for any business. But if you have other gatekeeping questions, add them to your chatbot conversation flow!
Are you a customer?
What brings you here today?
Are you a decision maker at your company?
What is your company's area of focus?
Can I have your email and full name?
Below you will find the chatbot conversation flow example by FullOrbit Agency – performance marketing & creativity specialists. Once you land on their website, you see the HelpCrunch chatbot. Sure thing, I couldn't stay on the sidelines and interacted with it. I would call this a classic lead qualification flow for several reasons:
1) The chatbot is triggered when the team is offline which is a wise move (no one will slip through the cracks);
2) It opens with a logical line Do you have a question?;
3) It contains Are you a client? question which helps the company identify me as one (or not);
4) The chatbot asks for my full name and email. Plus, it pays me a compliment by saying my name is beautiful! This earns my attention and loyalty.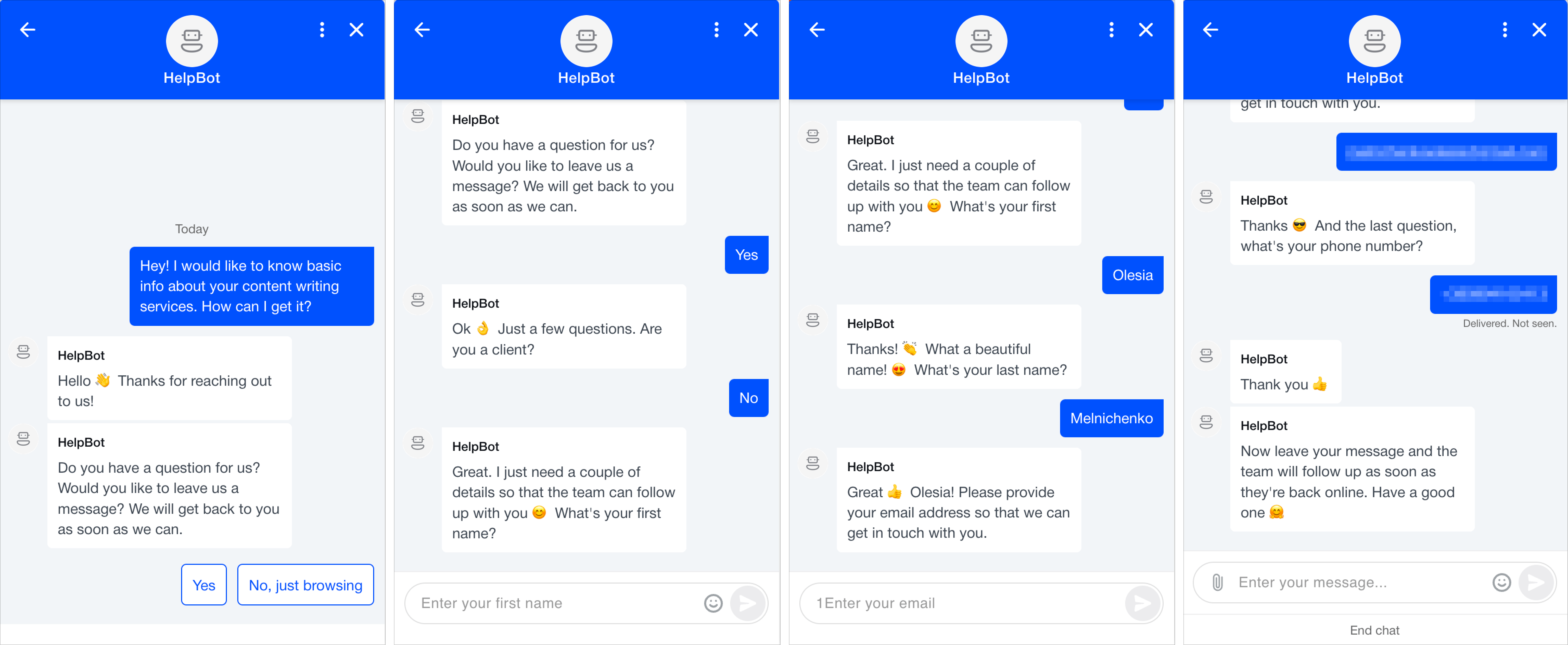 👍 This example is spot-on because…
The chatbot conversational flow has courtesies and does not sound too robotic;
All the general lead qualification elements such as full name and email are paid attention to.
Would you like to qualify leads both when online and offline with the same chatbot the FullOrbit Agency has? Register for a free 2-week trial with HelpCrunch and architect chatbot conversations for your marketing, support, and sales in a matter of minutes 👏
3. Walk a user through your product's potential
Let's assume you have already provoked the user's interest and they registered with you. Or you notice that people check your website and engage with the chatbot. Sure, the robot can fire back their questions. But why not let it talk more? It's your cue to develop a flow where you can highlight all your prominent product features/tools.
The following chatbot conversational flow is presented by VidIQ – an online education company that offers video tutorials on YouTube channel growth. Its chatbot does showcase the brand's tool right in the conversation.
Our chat starts with a standard question What brings you here today? As the dialogue unfolds, the bot suggests creating a free account (which is a shrewd move and an extra CTA) and walks me through some major VidIQ features. Besides, it offers me valuable pro tips on how I can use VidIQ and boost my channel performance.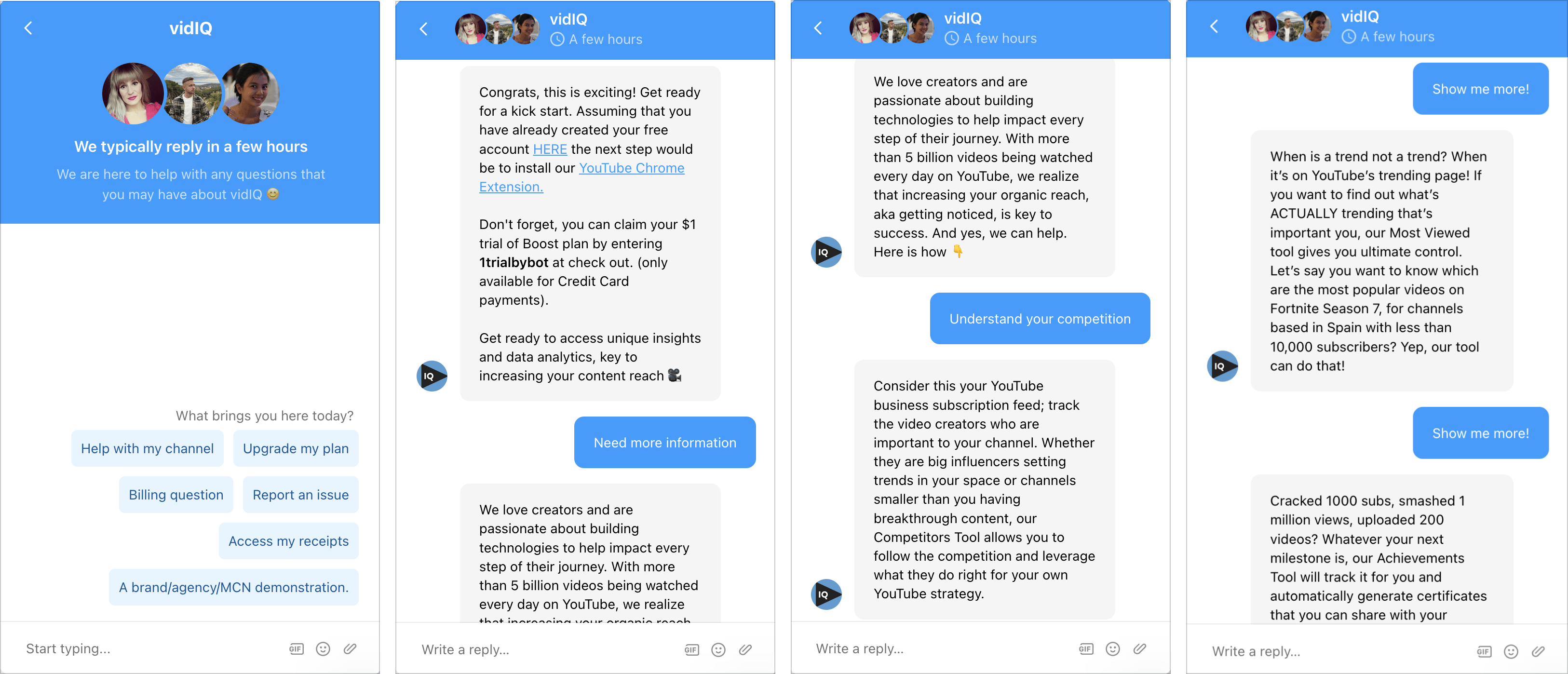 👍 This example is spot-on because…
The chatbot not only guides a user through the company's features but also shares the pro hacks on how to better the overall experience;
The chatbot's replies are comprehensive with CTAs for additional engagement.
4. Engage users on the pricing page immediately
How do you usually guide people through your pricing? One website page doesn't count. I mean when a user lands on it, they're obviously curious and are considering your company. But this is when most brands make a fatal mistake: they let those users go.
Luckily, there is a much more lucrative way to draw prospective customers to communication: a proactive chatbot. Think of a possible scenario that your bot can follow, set it on your website's pricing page, and welcome the newcomers! This is exactly what Gong did.
When you enter their pricing page, you can't help but notice BrunoBot and the message. There are three options you can choose from: skip the question, watch a product overview, and talk money. I went for the latter.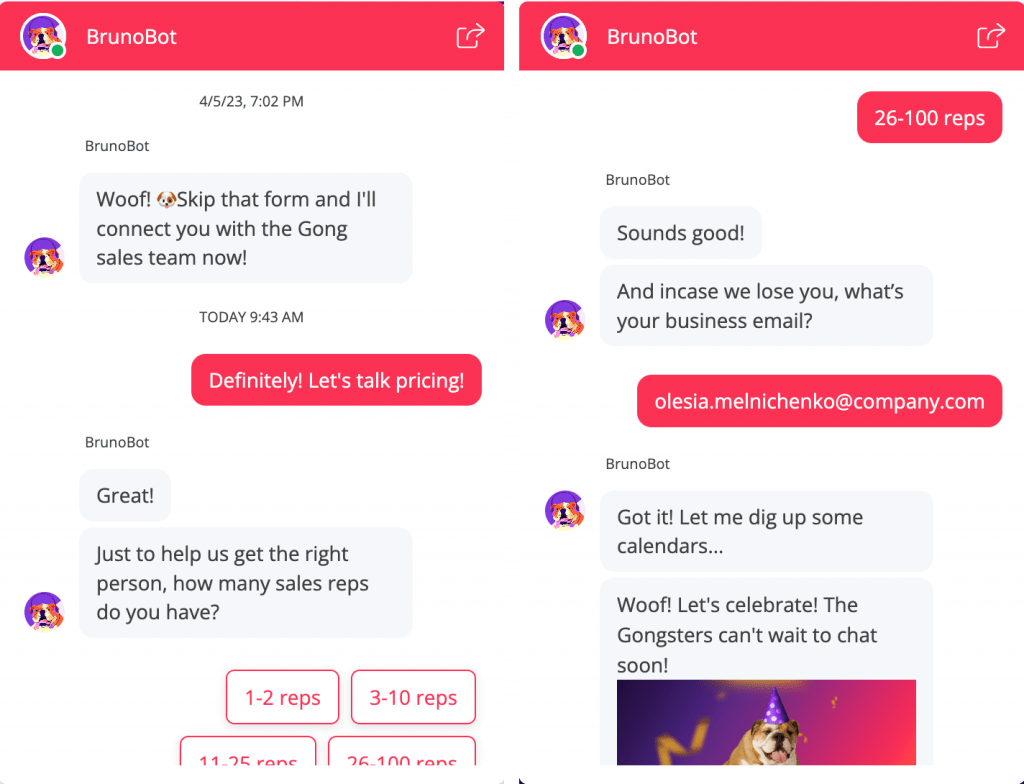 A remarkable thing is that Gong doesn't show its pricing so easily. You have to talk to the chatbot first. Alrighty! So BrunoBot doesn't shoot numbers at me right away – it behaves like a trained sales professional. There are questions about the size of my company and my business email. This is when Gong bets the ranch: I am offered a demo call with a human rep. Choosing the time slot according to your zone is something, so you'd better remember that!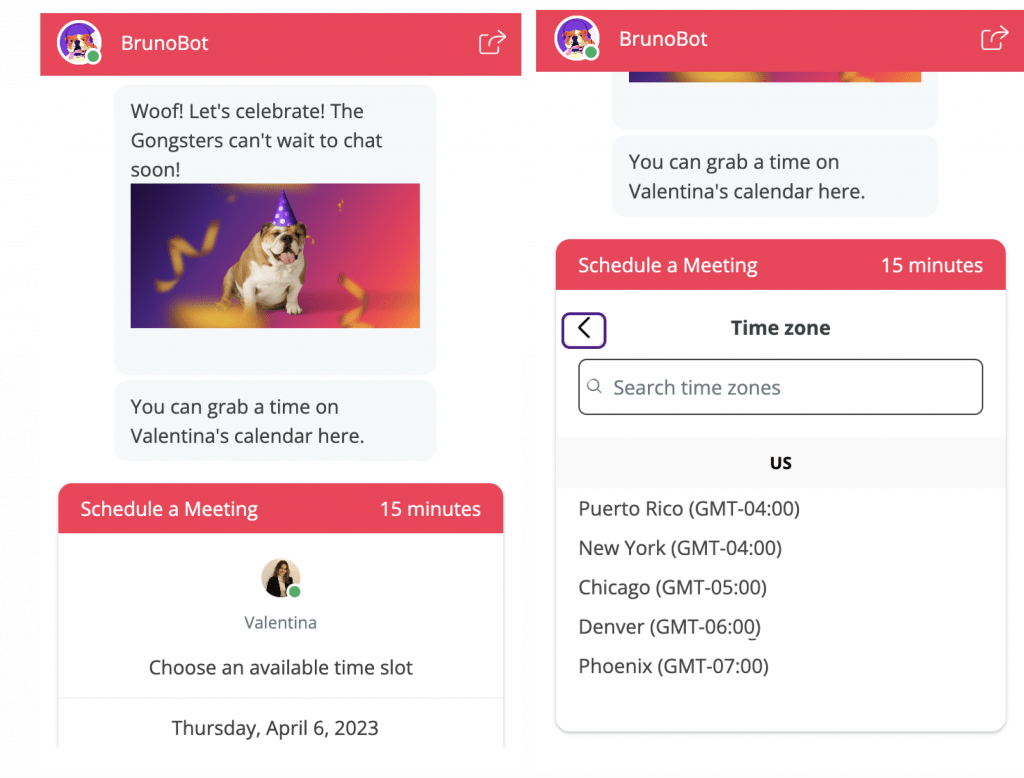 👍 This example is spot-on because…
The chatbot's first message is proactive – such a geeky style attracts attention (especially on the pricing page!);
BrunoBot does the first screening and collects important data for a demo call – name and email;
There is a chance to select a time slot and schedule a meeting – it's convenient and flexible.
5. Make customers adore ticket booking with your chatbot
Do you love traveling by plane? Oh, I'm crazy about it! Those clouds floating through, mountains and seas beneath you…
Let me get off the topic a little and share one of my brightest memories from this March with you – this is my way to Portugal and, presumably, the majestic Alps 🏔
That was a lyrical digression! Anyway, when I am planning my travels and booking tickets, I usually lack proper online customer service. What if I need to change seats or destination? Or there's an account issue?
Since I have never talked to an airline chatbot before, I thought this was the moment to do that. So I guess my next holiday venue will be Auckland, New Zealand 🌿
The next chatbot conversation flow example is powered by Air New Zealand and its smart bot – Oscar. From my perspective, it involves all the elements we've talked about before: a local greeting (Kia ora is "be healthy, have a good life" in the Māori language), asking, informing, etc.

More importantly, the chatbot warns me that all the COVID-19 restrictions are canceled in New Zealand so I am free to fly in. During our chit-chat, Oscar provides me with all the info I ask it for about my flight from Sydney to Auckland – the most precise schedule, pricing, and even the airline's refund program.
First, I chose April 16 as my departure date. In the middle of the dialogue, however, I got picky and checked if there were other slots available. Oscar nailed my request! It showed all the flights available for this summer and also consulted me on carry-ons.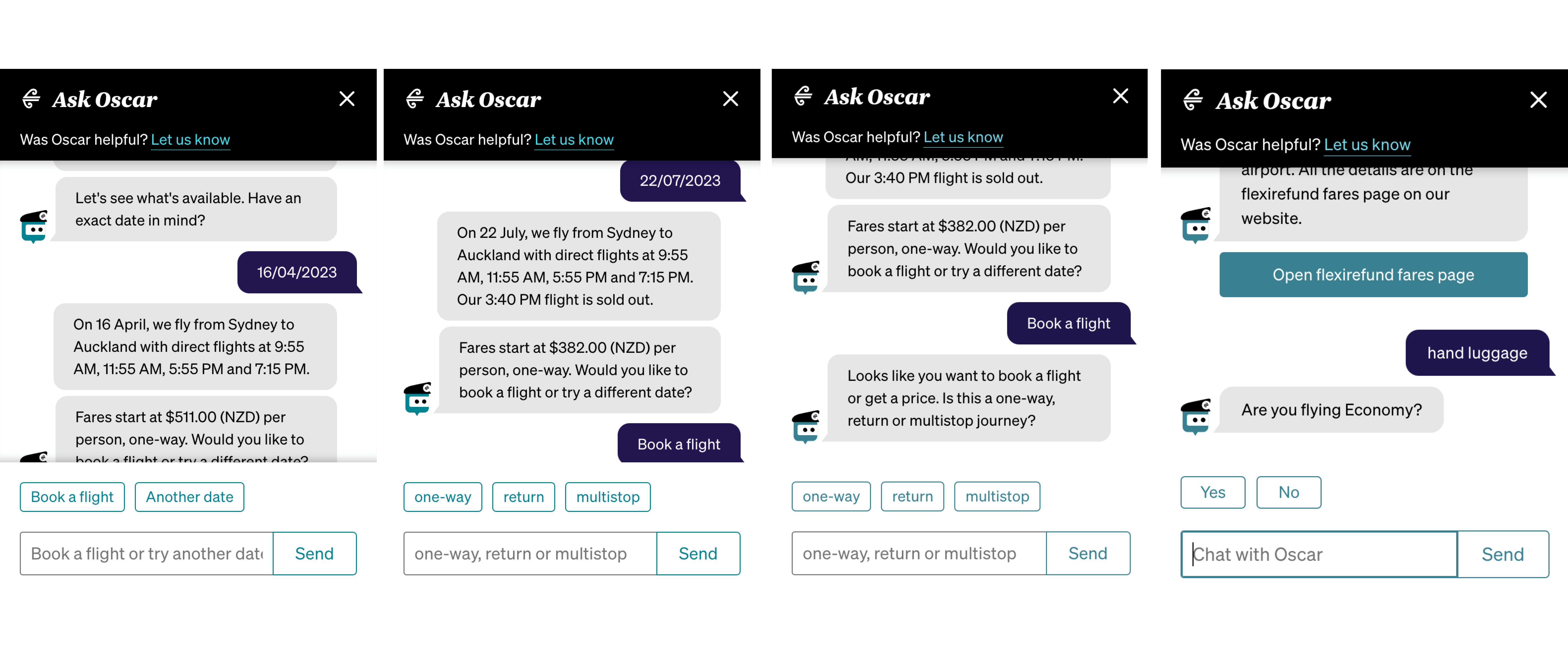 All in all, my booking experience with Air New Zealand was superb. Our dialogue flow was as natural as it could be, Oscar is qualified and professional. While this example is not the only one you can follow, teach your chatbot some other use cases: check the mileage balance, loyalty program tiers, baggage tracking, etc.
👍 This example is spot-on because…
Chatbot is in tune with its country of origin (the greeting);
The chatbot replies are precise, thought-out, and info-packed;
The booking process resembles the offline experience a lot.
6. Integrate a knowledge base to complement self-service
Without steady reinforcement and data, a chatbot is just a pretty face. So a key step in developing a powerful conversation flow is connecting your bot to a knowledge base.
Gone are the days when a help center was solely a website page thing. Today, many solutions offer FAQ chatbots that can deliver contextual self-service to your customers 24/7. And you don't have to worry at all! Like HelpCrunch, for that matter. Our HelpBot the chatbot can send your customers relevant articles from the integrated knowledge base: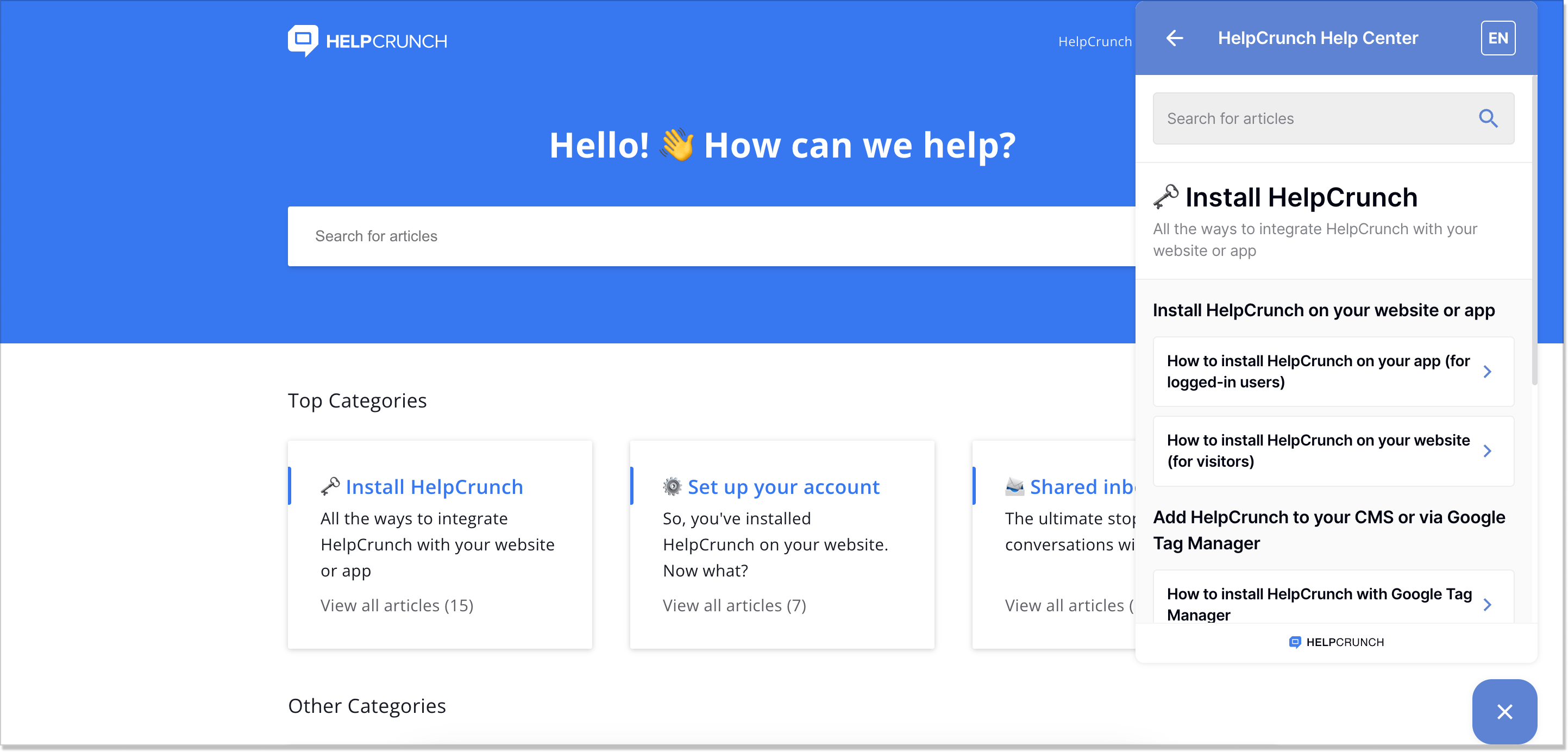 On my search for some stunning chatbot flows with knowledge base articles, I stumbled on Lusha – a sales intelligence solution. They embedded a help center right into the widget so you can converse with the chatbot and get abundant data on Lusha's community, technical support, privacy, integrations, etc.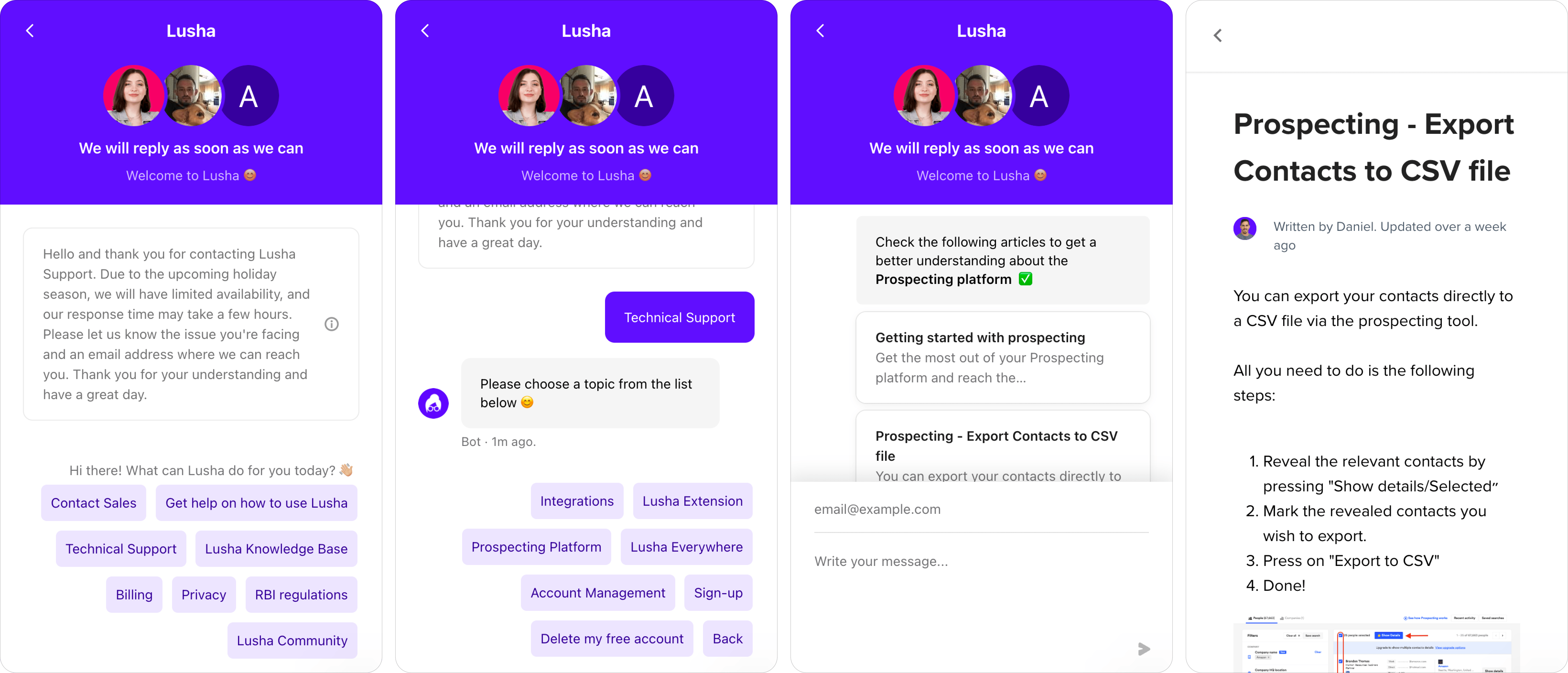 What I liked the most about this flow is that you don't have to spread yourself too thin to read an article. The chatbot lists all the options, you pick, and the article appears right in the widget.
But the integrated knowledge base is half the battle. Lusha's chatbot is also trained for the perfect lines. For instance, I wanted to dive deeper into the company's community. Not only did the robot provide me with explanatory info about the topic but it also sent me additional articles. This is what I call being in the context!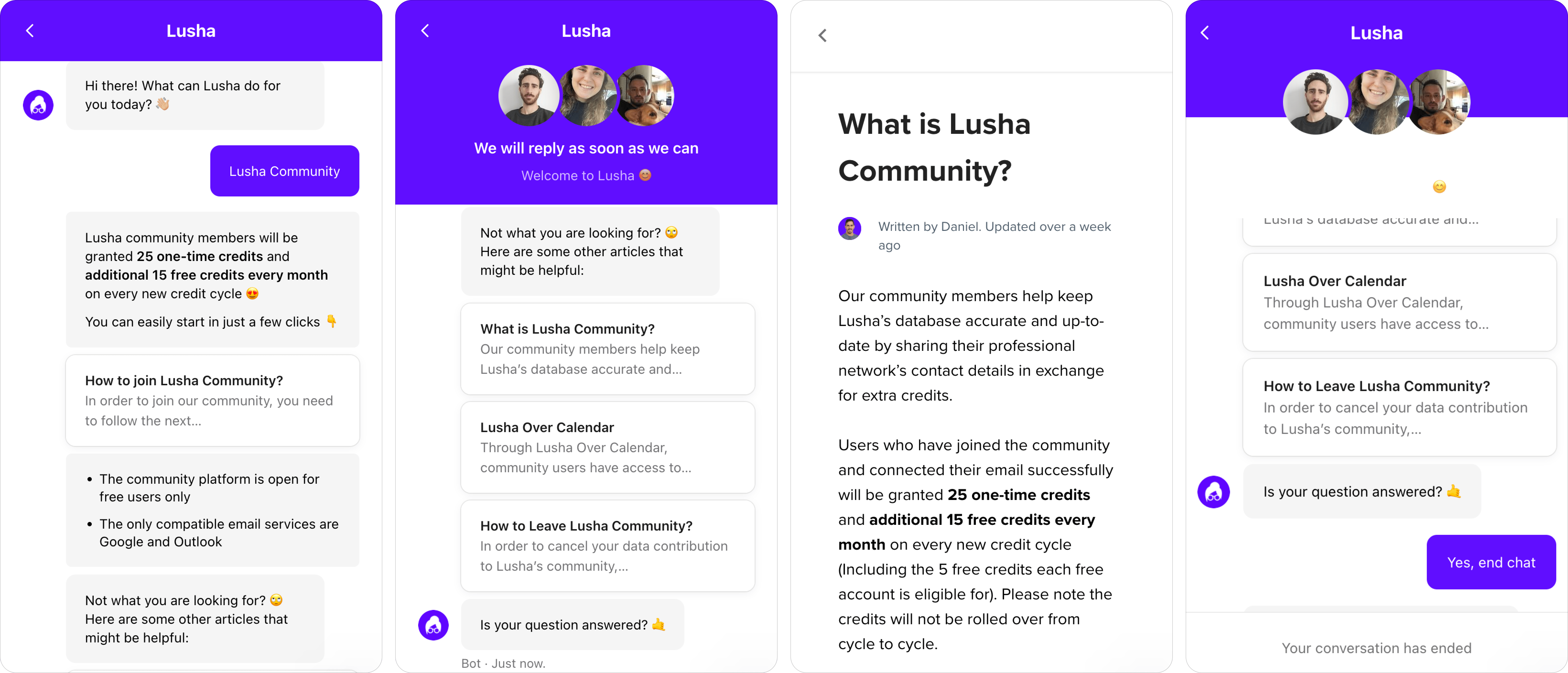 👍 This example is spot-on because…
The knowledge base is integrated into the chat widget so you don't have to switch between the tabs;
Lusha's chatbot offers the information as a self-dependent unit (customer service rep), and articles are extra.
7. Think AI when it comes to health
We live in the 21st century! Robots are all but laying their hands on the world and aliens are waving at us from space 👽 Seriously, though, let's face it: technology made our lives much easier. And healthcare is not an exception.
Sure thing, there are simple, ruled-based chatbots that medical institutions use all across the globe. But if it's symptoms check, therapy, guidance regarding treatment, or personal assistance for health insurance, AI conversationalists take up the torch.
If you own a medical business and want to build a chatbot conversation flow with your patients in mind, follow this example. This is Ada Health – an application that helps people manage their condition using natural language processing (NLP) and AI.
To maintain the experimental integrity, I checked how Ada Health would deal with my pseudo symptoms – a headache and a runny nose. This is one of the most meticulous chatbot conversation flow examples I've ever seen!
Remember those logical elements each chatbot conversation flow usually has? Ada Health has them all. So, it started with basic questions about my lifestyle, current state, and symptom.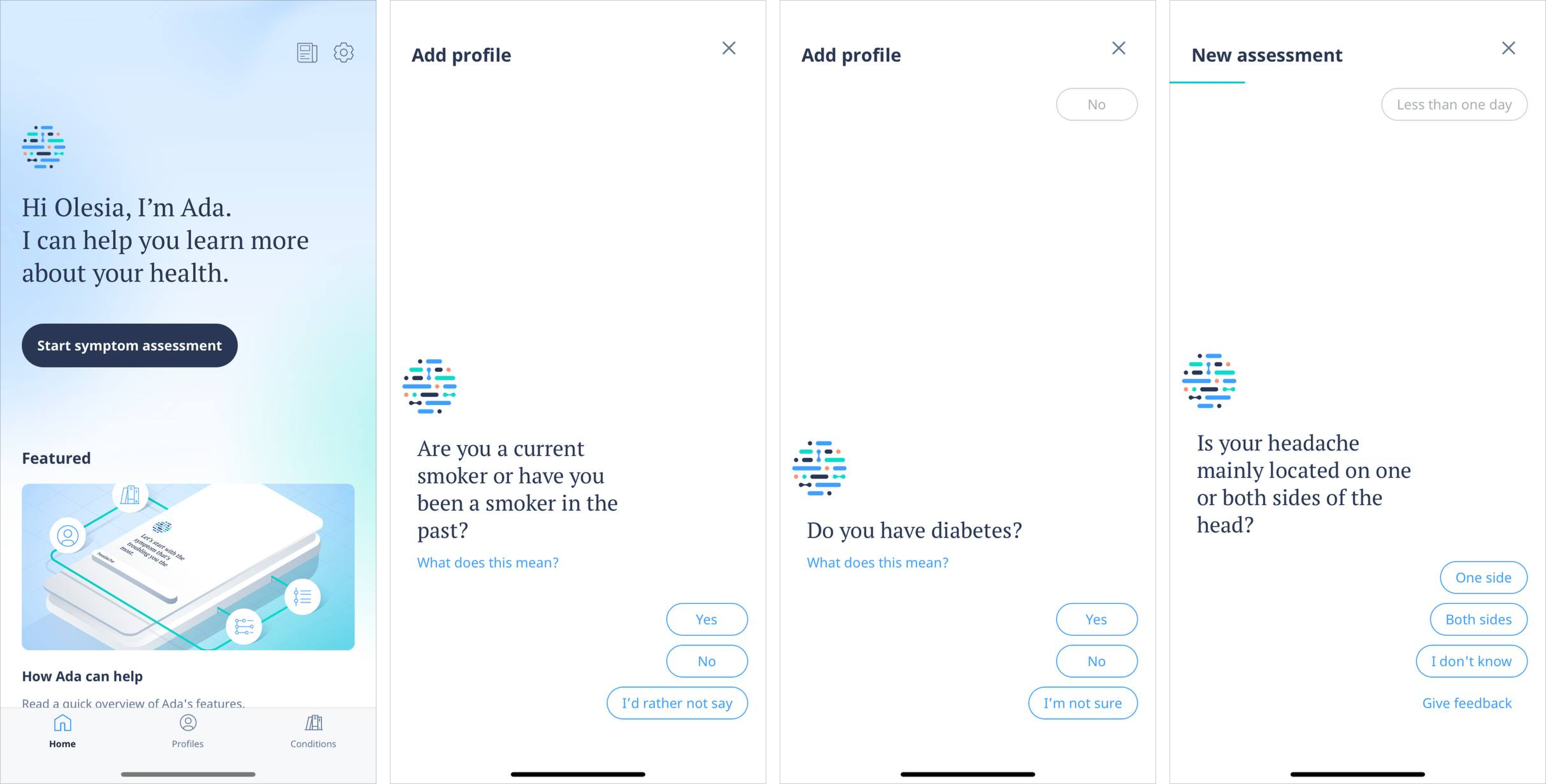 Unlike an ordinary chatbot dialogue, Ada Health provides additional side notes about symptoms you may not know. In my case, it offered me extra knowledge about the types of headaches and sinuses. What jumped out is the graphic picture explaining what the latter is about.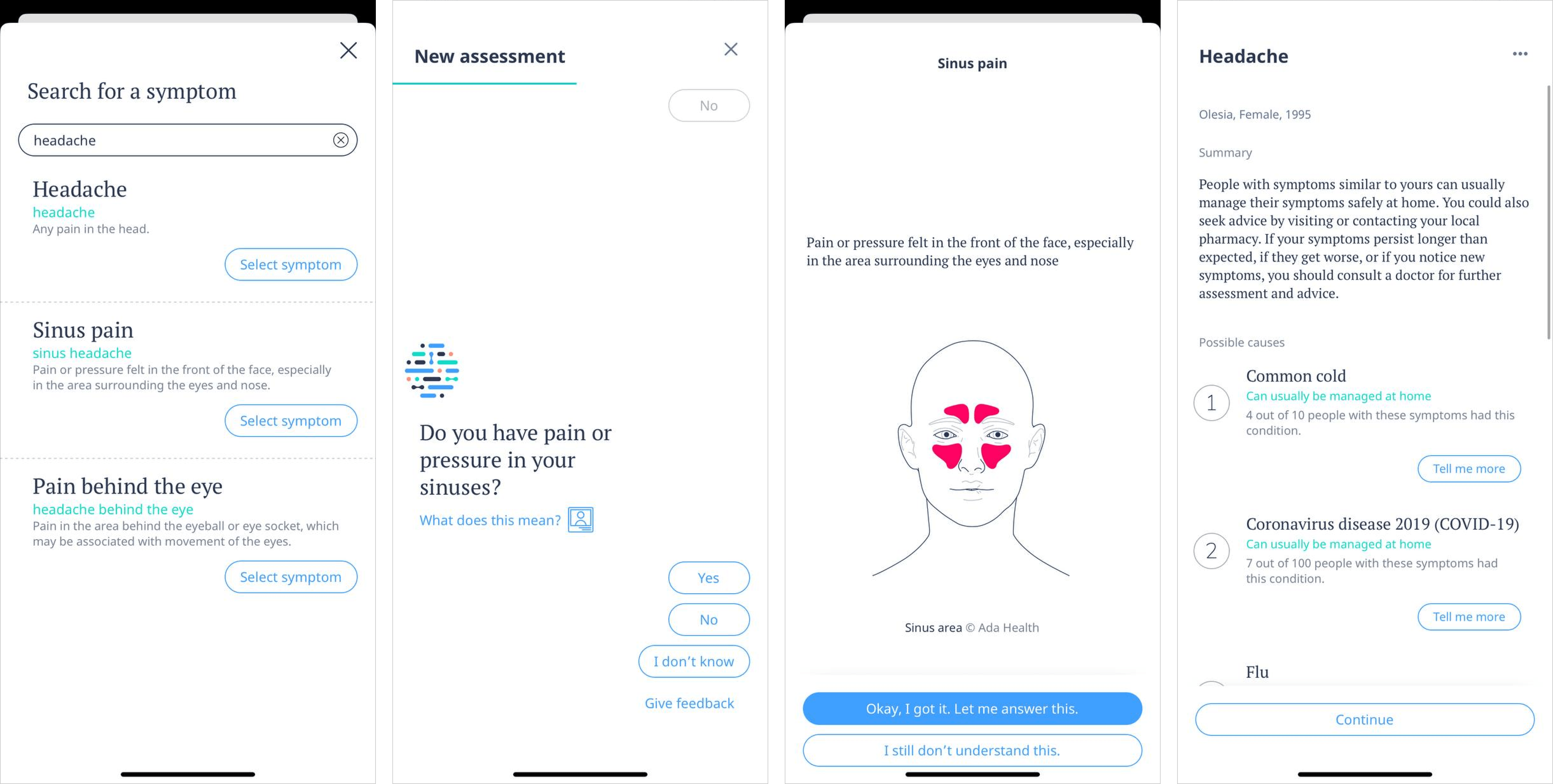 After the check-up was complete, I got the overall summary accompanied by possible causes. But before showing the report, Ada Health warned me that this isn't a medical diagnosis and I should consult a real doctor if needed.
👍 This example is spot-on because…
It's based on AI technology;
It suggests extra materials (symptom explanation).
8. Teach your chatbot to transfer the conversation to a real agent
I could go into rhapsodies over the chatbot's investment in customer conversations but still, there are situations when your little robo-friend should step back. This is when a well-managed chatbot-to-human takeoff enters the picture.
Unfortunately, chatbots aren't omniscient. They may not know complex terms, specific client queries, or just get puzzled by what they are saying. When it comes to such scenarios, your bot can simply ask to clarify the issue and rephrase it.
International House Helsinki – the government office portal of Finland – provides the chatbot conversation flow example you would want to memorize. At first, Into introduces itself with a slightly different approach. From the get-go, it informs a user that it's still learning and it will be better if they ask about one topic at a time. Got that!
My first queries were about pre-arrival support and medical services in Helsinki. Into coped with the task and our chatbot conversation flow was well-advised and info-packed, with links to some additional resources. However, the moment I decided to extend my question by adding more keywords, Into gracefully asked to reword it. Actually, I did that twice and the second time was critical. Thus, Into gave up and suggested I switched to a live chat: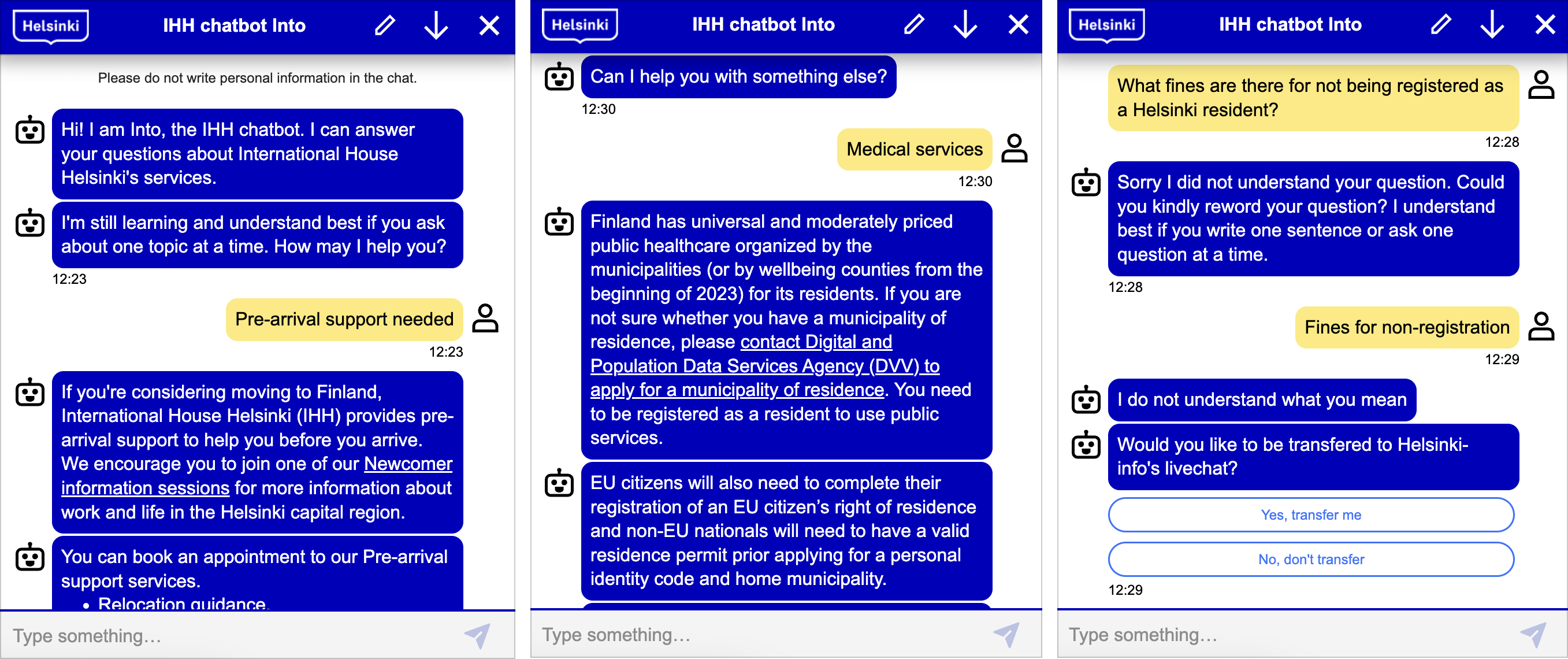 👍 This example is spot-on because…
The chatbot is trained to detect unknown phrases and offers an alternative option right away;
The chatbot doesn't get stuck out of the blue, the conversation goes on.
The bottom line is that you should anticipate such patterns when your chatbot should fall by the wayside.
For instance, a user comes up with completely irrelevant questions (to mess up with you), you failed to include relevant topics into your chatbot flow, or a client has an emergency (train/plane/bus departure, health condition, etc). Or just let a user decide when they want to talk to a real person!
To construct the chatbot conversation flow following these instructions is no sweat. If you're a HelpCrunch user, you can do that simply by adding the Assign Chat option while creating your flow: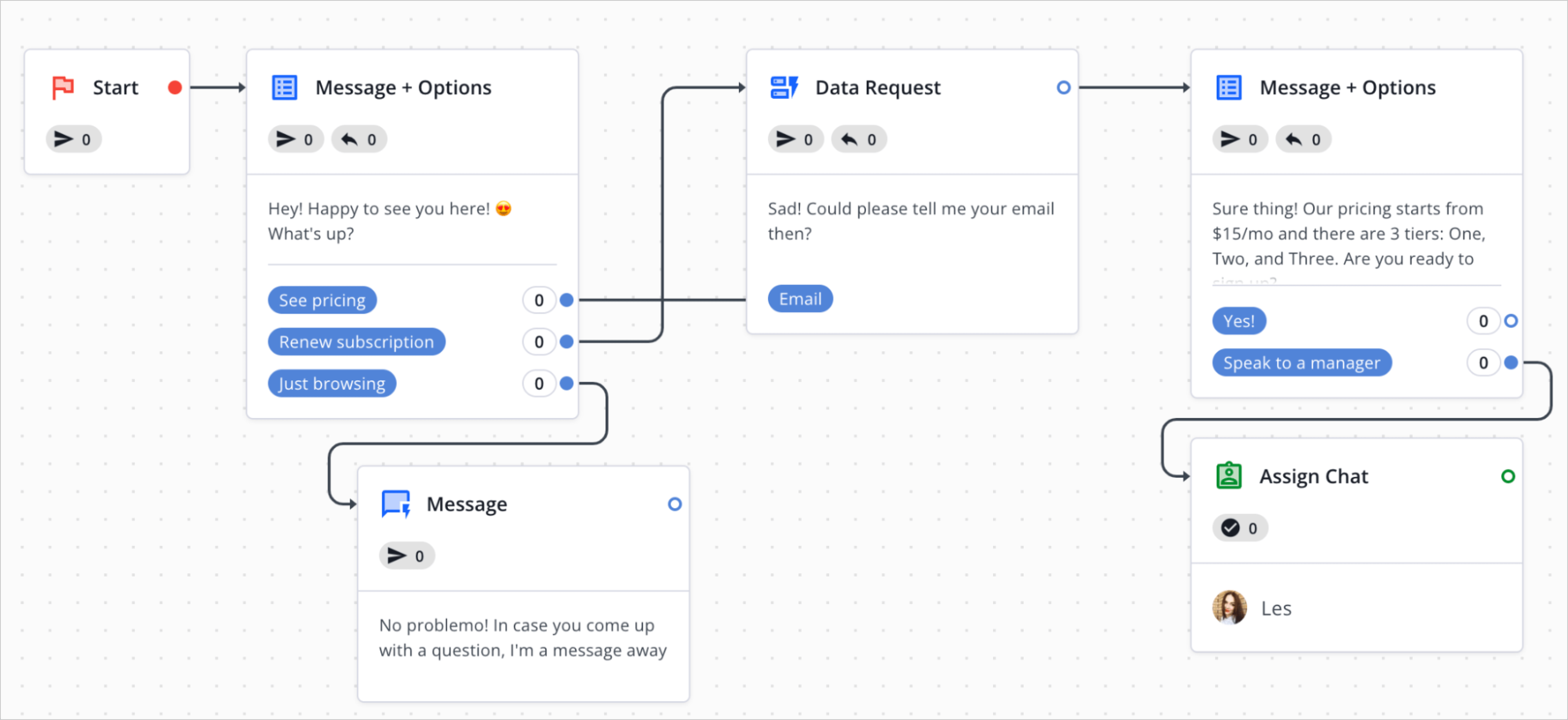 9. Bring a chatbot and AI together for upscaling real estate
While having only a chatbot up your sleeve is already a step further, walking a much greater distance could be your winning line. For that, you need to club it with AI tech. Especially if you work in real estate. Yes, as companies in healthcare do.
If done right, chatbots and AI can work wonders in the realty business. And it's not just about convenience. The greater benefits of such a combination are:
Proactive engagement – reach out to your prospects and gather qualification data, and update them on your current listings;
Enhanced customer experience – your website visitors will see the units you offer for themselves and won't buy a cat in the sack;
Boosted customer service – depending on the chatbot flow and your conditions, users can solve their issues fast, without having to wait for a human rep to answer;
Do you need specific ideas? Among the chatbot and AI use cases in the real estate industry, there are automated follow-ups and feedback, and mortgage options offers, to name a few. But there is one that I wanted to share with you ASAP – virtual tours.
After spending 10 days in Spain last year and some time in Portugal just last month, it gave me serious thinking: what is the real estate market out there? Yeah, this is my love for the countries speaking…And so, here is Home Boutique – a Spanish agency that enhanced their bot with AI (and has done it masterfully!).
This is how my virtual tour around a property in Elvas, Portugal, started. The chatbot has a human name – Ines Ramos – and I love the hack! This way, you build an instant connection with users and they don't think they communicate with a heartless robot. After introducing, the bot showed me the options of what I wanted to see or do. As if I were there in person! So here is our chatbot conversation flow example for you to get a bird-eye-view: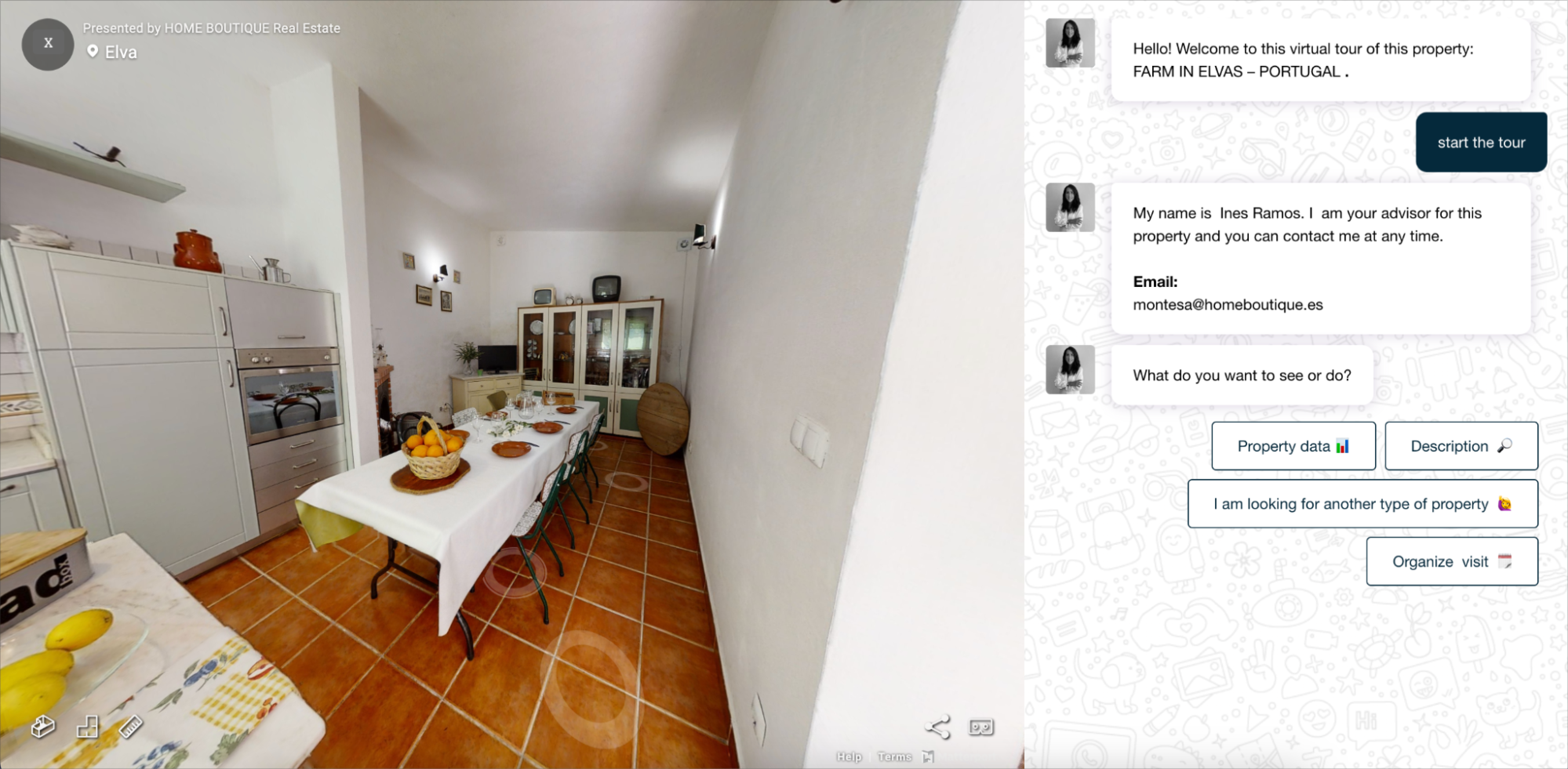 What I liked the most about this flow is that the chatbot provided explicit answers, to the point, and even allowed me to book a visit to the property. Besides, I got the chance to stroll around a wonderful 1921 farm 🤩 The virtual tour went with flying colors!
After that, I said that I would like to check a different listing. So the chatbot kindly asked me if I needed a real human to chime in. Of course, it provided the agency's contact details in case.
P.S. Ines Ramos texted me later via WhatsApp to clarify further details. That's when impeccable customer service and engagement run into one!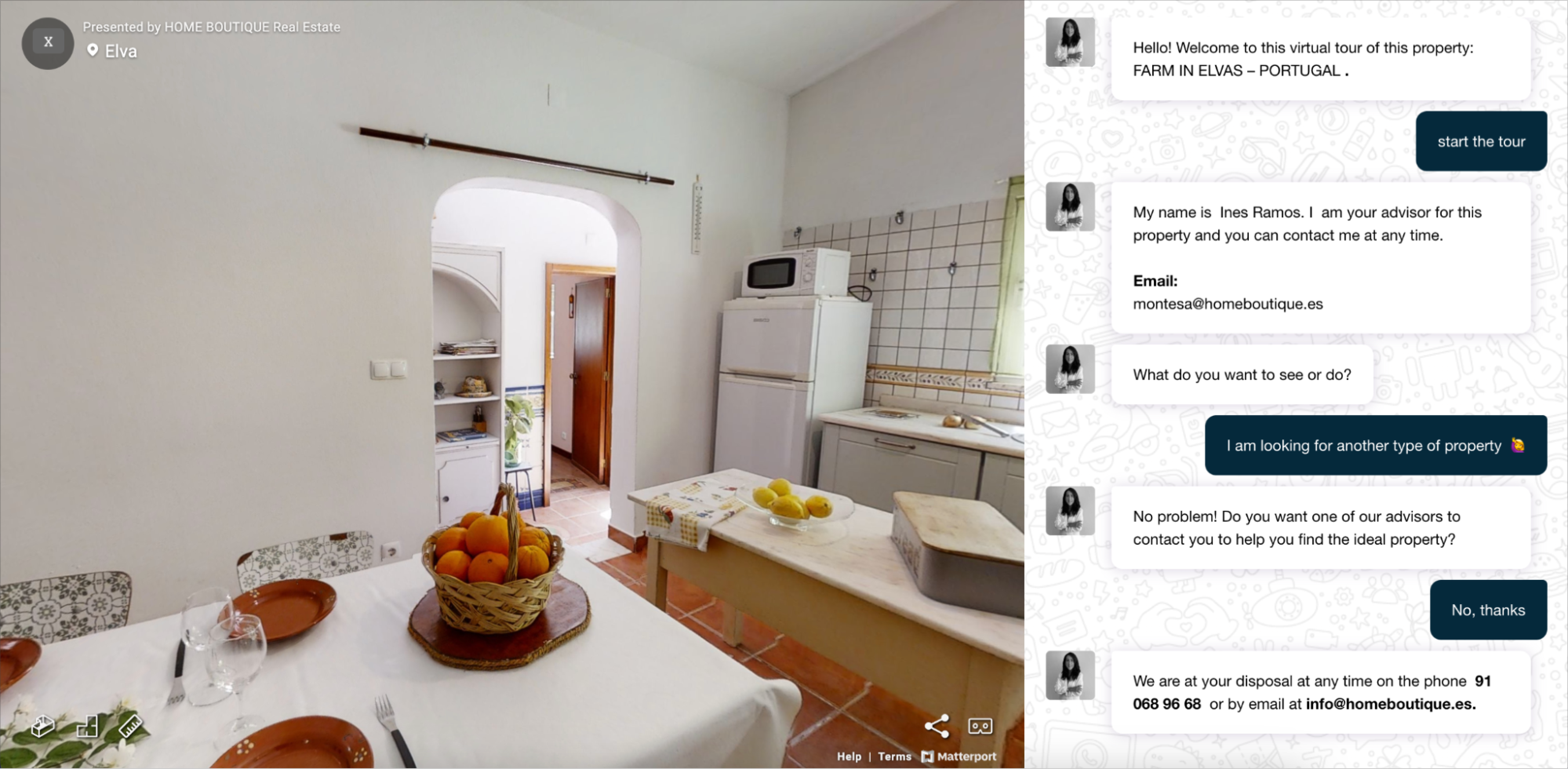 👍 This example is spot-on because…
The chatbot has a real face which only adds up to a life-like conversation
The conversation comes amid the virtual tour so that a user experiences a property in all its glory
The dialogue closes with the agency's phone and email in case a user needs additional help
10. Collect user feedback after chatting
After a user had a nice talk with your chatbot, time to wrap it up. However, just putting that mundane "The conversation is closed" label is a lose-lose situation. You don't know the users' feelings and whether you need to Are there any other options?
The rule of thumb is that customer feedback is worth gold and can provide you with valuable insights, positive progression, and change. That is why you'd better choose the software which allows you to add a feedback loop to the chatbot conversation flow.
According to Gartner, chatbots will serve as a primary customer service channel by 2027. So why not unravel its potential now? Gathering feedback via chatbot may take many forms and scenarios, like multiple choice answers, open-ended questions, and a star rating, to name a few. Pick one for your company or mix them up to see better results and compare!
There are a dime a dozen chatbot conversation flow examples when the machine suggests a user leave their sincere feedback. The one that you see below was just around the corner.
I had a pleasant discourse with Sandi – the Santander Bank chatbot. To be honest, this flow is next to impeccable: perfectly built sentences, personalization, and a human touch. Sometimes, I even forgot I talked to a robot!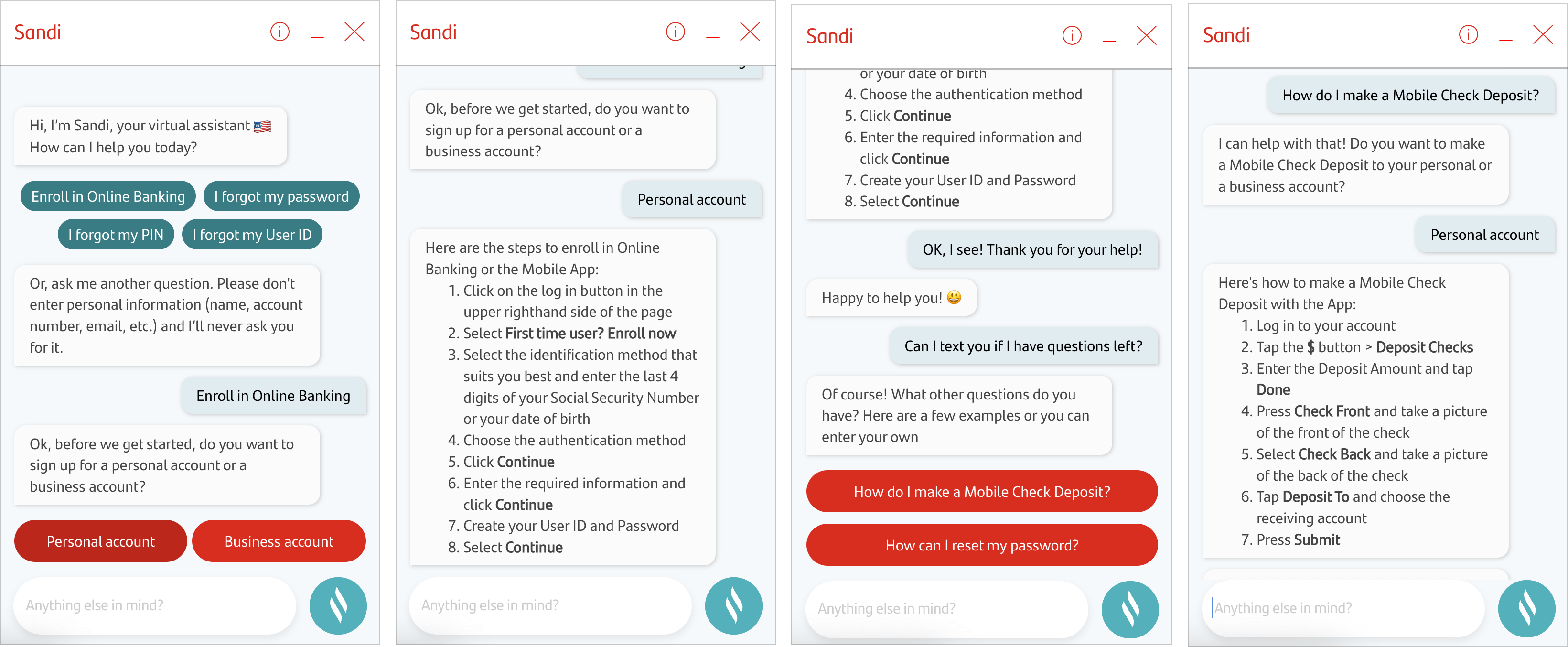 When the dialogue came to its logical conclusion, I ended it and saw a carefully crafted star-based feedback form. The team decided to divide it into two possible paths: the first one – if a user rates the chat with up to 3 stars, they can choose the reasons why the dialogue was rough, and the second one – if a user gives 4 or 5 stars, they can write their thoughts and impression in detail. Which I did!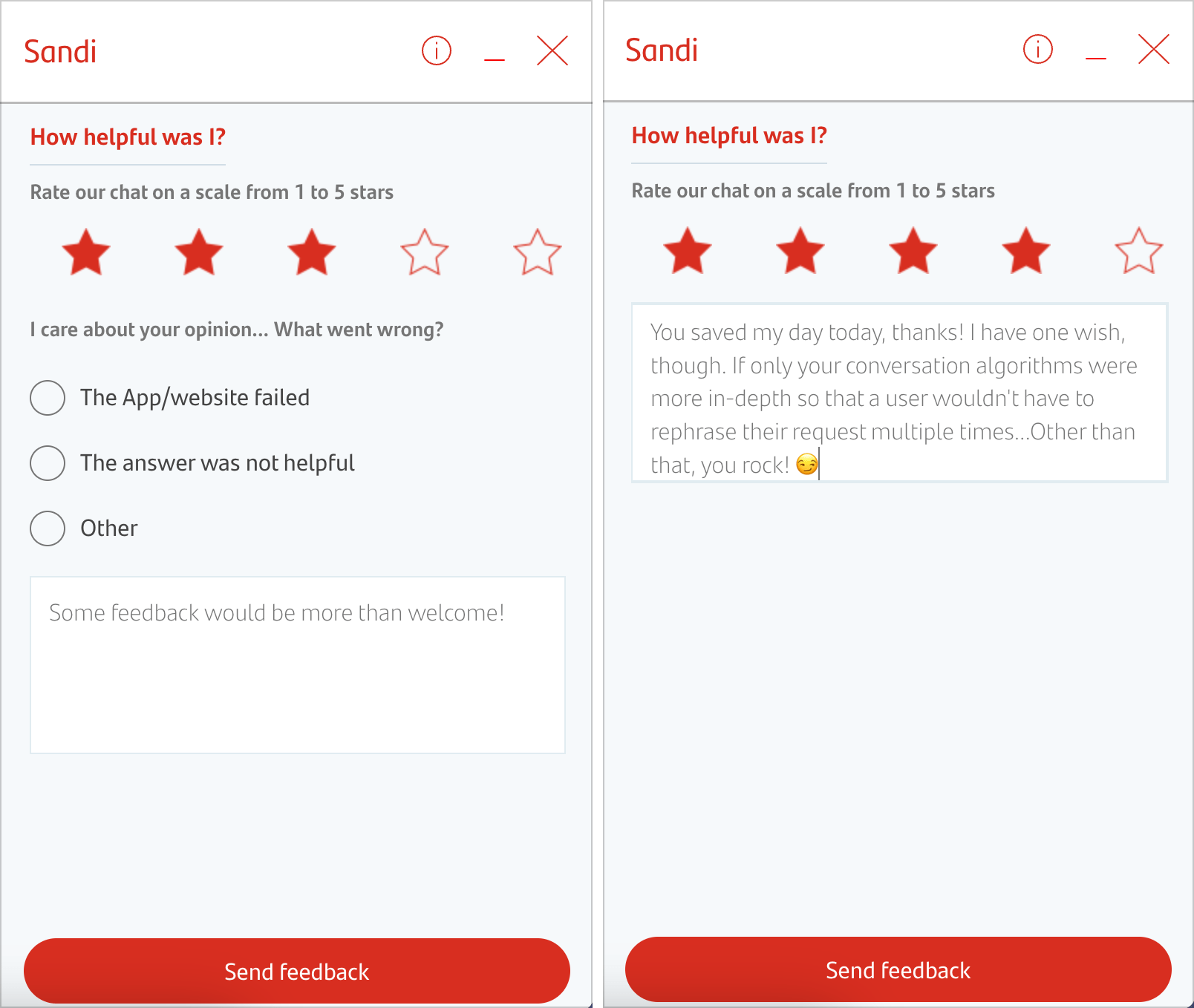 👍 This example is spot-on because…
A user can't go without leaving their feedback – make your feedback field obligatory;
There is certain feedback "grading" – you can build as many as you want, too.
Finish reading – start chatting!
In poetry or music, a good flow is the one where words are interconnected and create an unforgettable journey for a listener or a reader. You might be in awe now when I tell you that a REALLY natural and perfect flow is entertaining and unexpected at times. It's energetic, dynamic, and surprising.
While I expect you to follow the chatbot conversation flow examples we brought down today, you should also think outside the box in order to compose a perfect dialogue with your audience. Yes, it should contain all the elements we talked about. But it should also depict your business' culture, goals, specifics, tone of voice, or distinctive features.
Do you want chatbot flows to be comical? Do that. Do you like to just book a table for your customers? Well, it's your choice. You can always rely on HelpCrunch and build the codeless chatbot flow your clients will love!