6 Exciting New Chatbot Ideas for Businesses in 2023
How to take advantage of a chatbot? Here we share 6 chatbot ideas that will help you do just that.

With the rapid development of AI and machine learning, chatbots are an exciting new technology by their essence. What with ChatGPT and its unbelievable wit and helpfulness. Yeah, yeah, chatbots are cool, interesting, and have lightning response time, there's no denying it. That is in theory at least.
Then why is it that when businesses try to put this technology into practice, customers end up frustrated and unsatisfied if not outraged? Why does no one want to talk to a chatbot when in need of quick assistance? Why are customer service bots so universally hated? "Wow, I just opened a live chat and got an answer from a chatbot instead of a human agent", said almost no one in the history of the internet.
Well, that's because good chatbot ideas are what the web lacks. Business owners somehow think that it's enough to just acquire chatbot software and call it a day. In reality, it takes months of setting up, testing, and fine-tuning chatbot scenarios before you come up with a perfect conversation formula for your customers.
This is when a chatbot is at its best – when you come up with untapped interesting ideas that will make automated interactions fun.
So, how do chatbots help businesses, and how do you understand what your exact needs are? We've got several interesting chatbot ideas you might find quite useful, so take a look!
6 interesting chatbot ideas to experiment with
Before we cut to the chase, remember that not every idea from our compilation is going to match your business goals, but you will definitely find useful examples to spark your creativity.
In general, there are many types of chatbots that can perform various tasks from easing customer support agents' lives to generating more sales to booking appointments with a doctor.
That's why we've broken our ideas into several categories by the types of chatbots. Choose wisely!
1. Customer service bots
As you might guess, it can take many forms. From where I am standing, the most widely spread would be an FAQ bot. Its name is self-evident: you create responses to frequently asked questions users might come up with and teach them your bot. One of the main benefits, bots can usually speak in the language of your users, which contributes greatly to personalization.
FAQ bots. They can initiate a conversation with some standard phrases and questions, such as What can I assist you with today? or What are you looking for? These bots are capable of sending predefined responses and tackling simple issues. Though, a tad of creativity would never get in the way. Use your sense of humor, add personalization, and let users know your chatbot cares about them.
Welcome bots. One of the other interesting chatbot ideas that could ignite automation is welcoming your users with a chatbot proactively. As many people might be humble to start a chat on their own, taking initiative here is a winning strategy. Set up some nice opening lines, such as Hey! I am your assistant for today. Drop me a line and we'll discuss the issue or any other to your liking.
Social media bots. It's been established long ago that being available for your customers across different channels, including social media platforms, is an important differentiator. People don't want to stay on your website for hours chatting with your support agents. They want to use Facebook Messenger or Instagram to get accurate responses to their questions. That's why it's important to set up social media chatbots to automate conversations there, too.
Bonus ideas for your customer service chatbots
Here and further, we'll share with you some pre-made scenarios and bot responses that are up for grabs. This one is designed specifically for a customer service bot. Feel free to copy and use these opening lines in your communications:
Surprise! I am the chatbot you've been waiting for. Looking for something specific? Please choose!
Hey there! You might not have seen this coming, but I am willing to help you today. Tell me what's on your mind and I'll consult you.
Hi! I see that you're here for a reason. I know virtually everything about XX product. What about some assistance?
Hello! This is not a test alert: your personal chatbot assistance is here. What has brought you to our company today? Ask me anything.
Knock-knock! Who's there? Your Helper the Chatbot! Seriously though, I am happy to the max to support you. Just drop me a line and we'll talk stuff.
2. Lead generation bots
There is an ocean of tools to generate leads (email marketing, prospect outreach, advertising, and sales tools, etc.) but a fair share of brands use only chatbots for that purpose. They do that for a reason. When you leverage a chatbot to pump up your lead generation activities, you instantly get:
Automated sales conversions. It's possible to prequalify leads by asking specific questions and directing them to a department or team for future nurture based on their answers.
24/7 activity. Thanks to the chatbot's ability to send automated responses around the clock, you can resolve repetitive questions, find out the intent of website visitors, what they seek, or what goals they pursue, and use the intel for lead nurturing down the road.
Reduced bounce rate. Delivering on-the-fly assistance when a user lands on your website nudges them to make quicker buying decisions and feel happier with the customer experience. And that, in turn, minimizes bounce rate: they want to get to know your brand better and stay for long.
Enhanced conversion rate. Make sure your chatbot engages with potential clients in the first minute (and in the right way). Provide it not only with useful information but also additional materials – everything that could make a user click the Sign up or Buy it now button and convert.
There are numerous ideas for chatbot we are going to scrutinize, so let me present you with this one. This is an example of the Marla bot from RapidMiner. The team taught it to ask rather sales-y questions and react to them based on users' answers. After the bot receives the reply, it loops a salesperson into a chat for future nurturing. Not too pushy, not too zoned out. That's an idea to steal.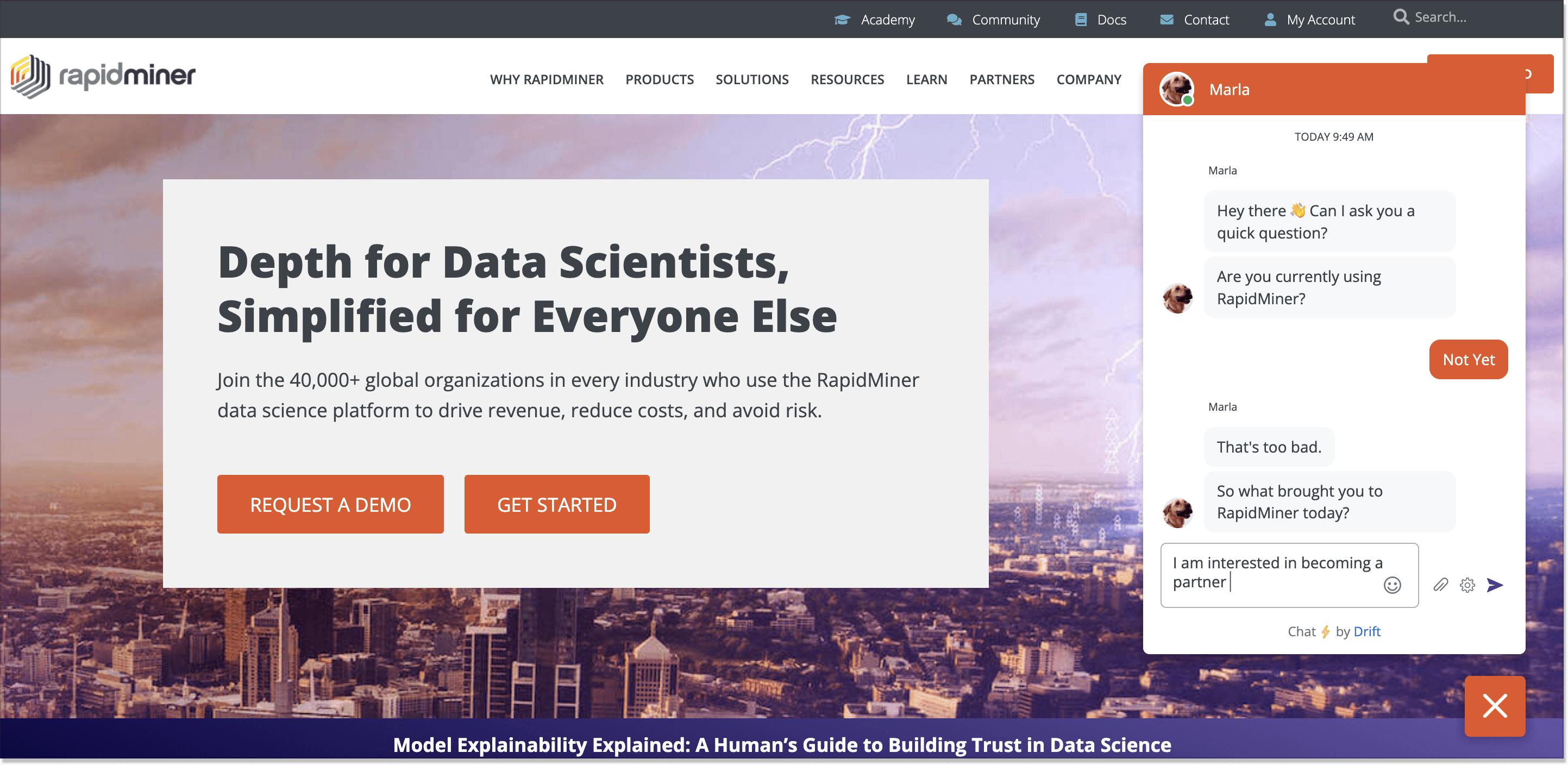 Bonus idea for your lead generation chatbot
Look at this possible scenario for a lead generation chatbot and use it in your own workflow. It contains possible chatbot answer options as things unfold. You're welcome to change and jog them as you wish:
Hey there! I am here to help you today. Why don't we meet each other closer? What's your name? →
[customer types their name] → Nice. Tell me about your company. How many employees do you have → 1-10, 11-20, 21-50, more. →
[1-10] Congrats on developing a startup! Just a few more details. What goals does your business pursue? → Customer support → Better sales → Customer engagement →
[Better sales] → OK! Then something in the list must be your thing → Book more demos for the sales team → Convert more traffic → Automate the sales process…
3. Survey or feedback collection bot
Feedback is the bread and butter of customer support, as everything your business does, it does for the audience. Knowing (and processing) what they think of your product or service should become the top priority before you even start off.
As a matter of fact, only 10-30% will bother to fill out a survey after they deal with a service. The rule of thumb is that businesses often offer lackluster questionnaires with a simple Please rate us question. Cross my heart, I would also skip out on something of that kind. That is why an out-of-the-box feedback collection bot could be one of the most creative chatbot ideas for you.
Here is a witty and health-essential survey chatbot idea: a sugar test. That's right, this bot asks you different questions to find out if you have a sweet tooth. After that, your results are calculated and the system tells you whether you're predisposed to a sugar addiction or not. Plus, it will provide you with a detox plan. I mean, how convenient is that?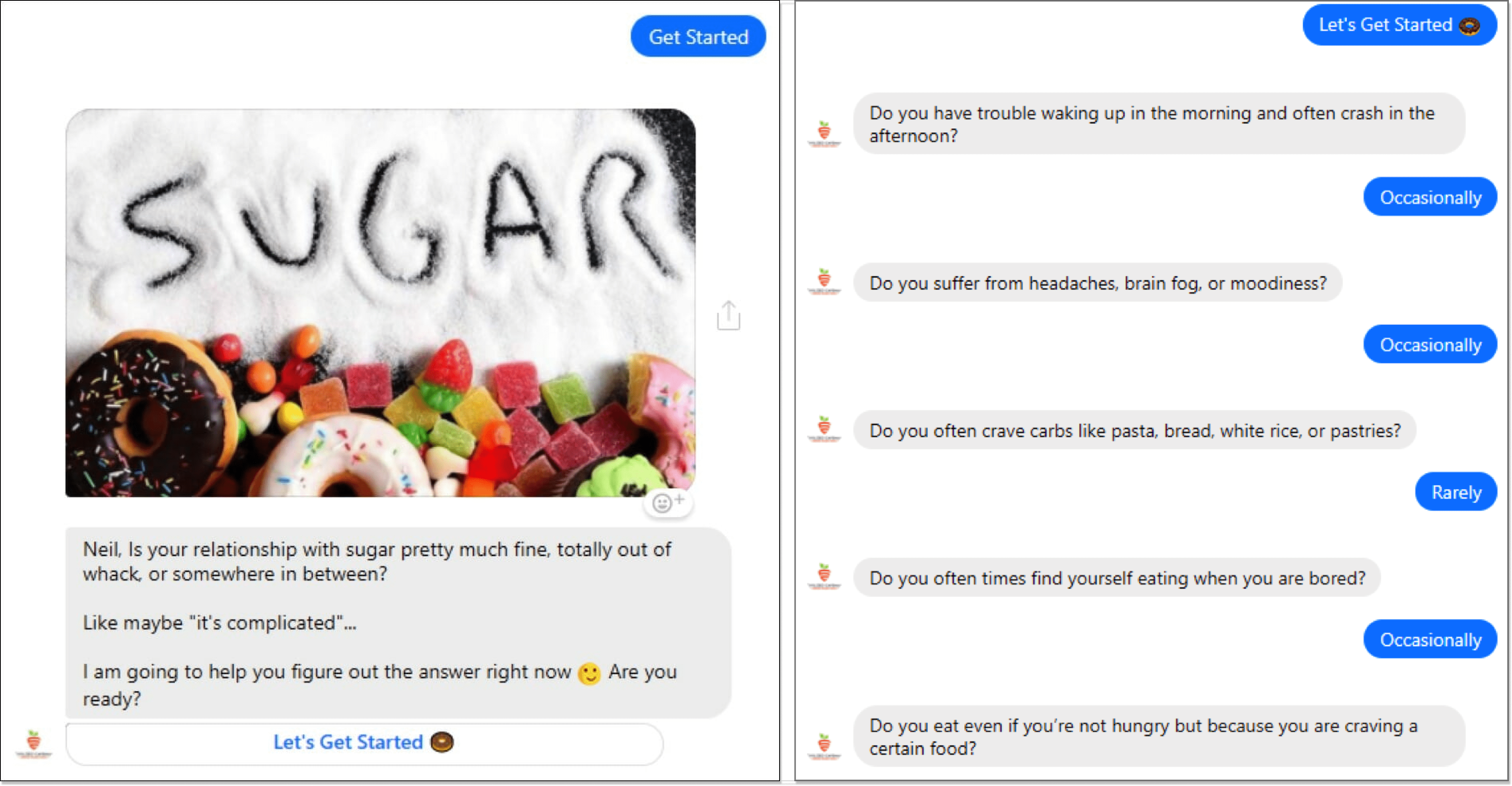 If your brand voice allows, make a smart move and insert GIFs, emojis, images, videos, or even a team salutation clip. It would only be nice for personalization and add a hundred points to your karma. You can trigger such a bot after the chat is finished, set it up on your knowledge base page, or, as shown in the example above, just create a Facebook Messenger bot.
Besides, think of an unorthodox copy. Here are some feedback bot lines that crossed my mind first:
Congrats on reading your first article! How did you find it? Hopefully, you didn't fall asleep while reading 🤞🏻
It was nice to help you! Please, tell us about your experience with our team (btw, we have an Employee of the Month board, so your words would mean the world)
Hey! Before you go for good, do you mind filling out this quick form about our service? We appreciate your honest feedback! 😉
Bonus ideas for your feedback chatbots
Let us provide you with some refreshing survey bot questions you can take advantage of:
1) Hey! Thank you for shopping with us. We'd love to know what you think about your experience. Please choose 👍 or 😡 → 👍 → Wow! We'll be happy to see you next time.
or
→ 😡 → Ugh! What a pickle! Do you mind elaborating? Tell us how we should become better for the sake of our clients.
2) Oh! One more thing. How well does our company satisfy your needs? → [1-10, with 10 being the highest] →
[5] → That's OK too. We admit our mistakes and are ready to make it up to you. Please do share with us what is it that's bothering you.
4. E-commerce bots
34% of online retail store customers have the greatest acceptance of chatbots, more than in any other industry. Compare this number to 20% in banking and 15% in insurance. The bottom line is that when you grab a chatbot for your online store, you can engage with website visitors and prospects throughout their entire journey.
As eCommerce is a multi-faceted niche, your bot can take many forms. Here are some chatbot ideas for sales:
A common "sales-like" bot to assist with customer shopping decisions;
A billing bot to help your team streamline all customer financial activities;
An order processing bot that easily processes all customer packages, billing info, delivery issues, etc.
All of them can automate the whole sales process, both on a website and inside an app. They can offer users better products, prevent them from cart abandonment, and show current price packages, to name just a few.
To give you an even better idea, here is an example of a chatbot flow that serves as a real shopping assistant. You tell it what you would like to buy – and it picks the product of your dreams.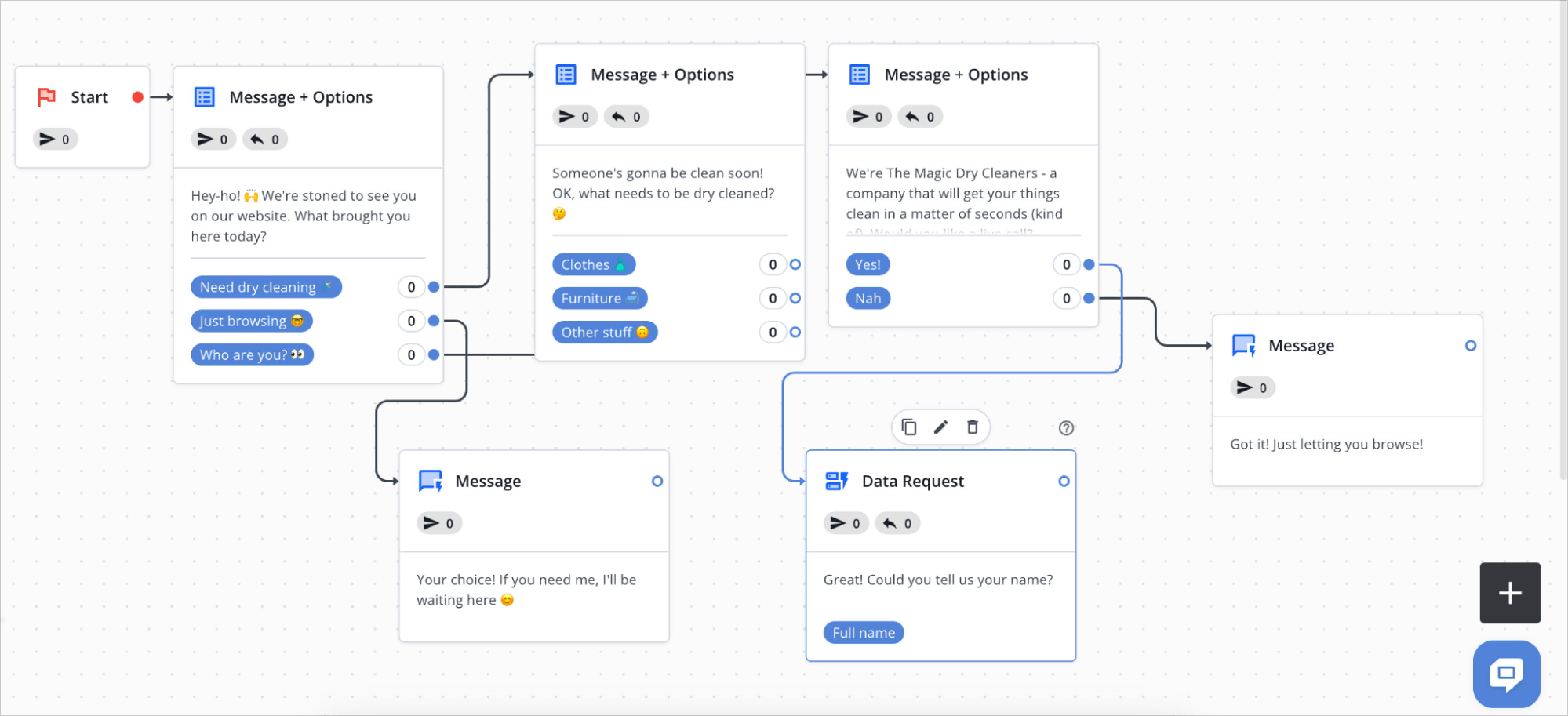 Bonus idea for your ecommerce chatbot
Here is a likely situation a user might face in an online food delivery store. Could you lay it over your brand?
Hi! Welcome to the Healthy food delivery store. Please choose one option from the list: Vitamins & Supplements/Female diet/Male diet/Detox/Sport nutrition →
[customer chooses Sports nutrition] → Good! What product are you looking for? Protein bars/Vitamins/Oils/Drinks → [Drinks] → OK, we have a wide range of sports drinks that could help you humidify your organism before or after training → [chatbot offers all the products available]…→
[customer chooses a drink] → Nice choice! Would you try these supplementary products? → [No] → Great! Tell us your billing details and shipping address →
You're almost there! How would you like to pay: by card now or as received? → [as received] → OK! Your package is almost ready. We will email you the details as soon as it's shipped. Thanks for shopping with us!
5. Healthcare and booking bots
Thanks to modern tech, patients don't have to wait in cumbersome queues for hours feeling unwell. Especially in the COVID-19 era. Today, many healthcare providers and pharmaceutical companies have adopted AI-fueled chatbots to automate medical routines and improve the patient experience. Among them, there are Pfizer, the UK NHC (the United Kingdom National Healthcare Service), Mayo Clinic, and others.
With such an assistant, the stakes are higher. In addition to being available 24/7, it can run such industry-specific tasks as:
Booking doctor appointments, consultations
Prescripting drugs
Educating patients on a diagnosis
Providing medical advice based on medical staff advice
Sharing local healthcare facilities' contact data
Collecting patient feedback
The world knows (and successfully uses) a dozen of innovative chatbot ideas. But today I would like to put the following vital example into the picture.
Here is the Cancer Chatbot – a Facebook Messenger assistant created by a non-profit organization. It guides users through multiple disease-related resources, offers a full-throated database with chemo Q&As, and provides donation services so that anyone can participate.
I would also say that this chatbot can be thought of as a therapist – it can comfort both a user and their caregivers in the most dreadful time of their lives.
Bonus idea for your healthcare chatbot
This healthcare chatbot can comfort users, assist patients, and put booking on autopilot to let customer care representatives focus on more important tasks. These texts can give you a hand when dealing with patients:
1) Good day! What is it that's bothering you? Please choose a symptom: bad cough/runny nose/fever/headache/sore throat/other →
[customer opt for runny nose] → How long are you suffering from it? →
[3 days] → I see. Then an ideal option for you would be [chatbot is offering medicine]…
2) Hey there! Welcome to the XX clinic. Would you like to arrange a doctor's appointment? →
[Yes] → What time of day would be the most convenient for you? Morning/Afternoon/Evening →
[Morning] → Alright. Available time slots in the morning are 8:20/8:45/10:45. Please choose one. →
[8:45] → Great. Please insert your name and email address. →
[customer inserts their contact data] → Thank you! The doctor will be waiting for you at 8:45.
6. Chatbots for education
Just like healthcare chatbots, education bots have already done their bit. As a matter of fact, this sector proves to be in the TOP 5 business industries where chatbots are widely used and make huge profits. Therefore, universities in the USA have implemented chatbots in their systems and experienced ultimate benefits.
The chatbot idea in education may involve many use cases. They can be at least as follows:
Student support to sort out issues before or after classes, problems with enrollment, and other related questions;
Student engagement to help them find and then share information about school projects, assignments, deadlines, presentations, events, and other activities;
Feedback collection to always keep your finger on the pulse and be aware of what students think of teachers, how the institution can improve the teaching process, what courses need to be canceled or, vice versa, added to the program, etc.
Loyola University of Chicago's digital assistant LUie was first launched in 2019. It mostly covers students' questions about campus life and provides advice on the enrollment process, thus automating the whole staff routine and reducing its workload.
Plus, Loyola University has developed a chatbot with its mascot's voice, Iggy, to help students better immerse themselves into campus life and encourage a sense of community. Nice move! So, if you're a scholar looking for new options to automate customer support in your facility, you know what to do.
Bonus ideas for your educational chatbots
We've come up with some likely scenarios your education chatbot might face:
1) Hi! I am your college chatbot. What are you looking for today? Class schedule/Teacher board/Campus map/Education materials →
→ [Campus map] → OK! Please enter your email and I will send you the map →
→ Done! Hopefully, you won't get lost!
2) Hey there! Your study chatbot is here. Do you like to get additional materials for your finals period? Here is what you might need to get straight A's [chatbot offers extra materials]..
3) Hello there! We are glad you're a student of XX University. That is why we'd like to hear what you think about: your timetable, teaching methods, class, campus. Go ahead! [student chooses an option and gives their answer].
Wrap it up
This was the list of some cool chatbot ideas for beginners that we wanted to share with you. Each of them involves a different niche but they all share the same bottom line – to streamline and automate customer interactions significantly. Glance it through once again and answer the following questions in your head (ticking a "mental box"):
What industry does my business operate in?
What goals do I have with what I do?
What audience does my brand target?
Does my support team manage to handle all customer requests or do they need a little help?
*If you already have a chatbot* Does my chatbot cope with customer support automation or do I need to switch to a competitor?
And don't forget that fun chatbots can sometimes do for your brand even more than professional human agents. Creative bot names, meta jokes, self-awareness, and a goofy bot persona can stay in customers' memory even longer than quality customer service. They are what differentiates good customer service from great one. So don't forget to goof around with your chatbot business ideas.