Help Scout vs Zendesk: Which Tool is Better for Support?
Help Scout vs Zendesk: the choice is tough as both are nice. But to deliver unrivaled support, you have to give full consideration to all the options. Look at our detailed showdown and take your balanced decision.

Where would a business end if its customer service left much to be desired? To give you an idea, it wouldn't have much appreciation among users, decent profit, and general demand. That's why choosing an immaculate provider with all the essentials for providing top-notch customer service is high-stakes.
As long as you landed on this blog post, you probably have two options in mind: Help Scout vs Zendesk. Both are impressive with their own good parts. But you can't have your foot in both camps.
To ease the burden of deciding for you, we've brought together these two solutions and shown their strong points (and a few weak ones, too). So, grab a pen cause, you know, it wouldn't hurt to make a pros and cons list.
TL;DR
Help Scout is a good soldier in the world of customer service with all those essentials for support and marketing without frills. Startups and small businesses usually rely on them.
Zendesk is like an old-time friend for mid-sized and big brands – everyone is familiar with the name since year one which makes the tool more reputable. The latter boasts about its ticketing feature and numerous add-ons.
Here is the third option though – HelpCrunch – a one-stop solution for companies of all sizes. Being a platform for enhancing customer relations, HelpCrunch has everything you have ever wished for support, marketing, and sales: powerful live chat, an SEO-friendly knowledge base, a shared inbox, and a popup builder for more effective user engagement. Probably, this is your lucky strike?
NOTE! Want to see if it's real? All it takes is to sign up for a free 14-day trial with HelpCrunch: neither hidden fees nor paying through the nose. Just the robust toolset for your sales, marketing, and support that is a click away.
Help Scout
Zendesk
Main functionalities
Chat widget (Beacon)
Knowledge base (Docs)
Shared inbox (Mailboxes)
Live chat
Help desk
Help center (Zendesk Guide)
Out-of-the-box functionalities
None
Community forums
Trial period
a 15-day free trial
a 14-day free trial
Quick installation guide for each feature
Yes, a 5-step guide
Yes, but too long
G2 rating
4.3 out of 5 ⭐️⭐️⭐️⭐️ (238 reviews)
4.2 out of 5 ⭐️⭐️⭐️⭐️ (2,780 reviews)
General impression
A budget-friendly option, perfect for early-stage and startup businesses
Expensive solution with an advanced toolset, ideal for mid-sized and big enterprises
Help Scout vs Zendesk: History
Help Scout was created back in 2011 and is headquartered in the USA, Boston. It was formerly a web design consultancy – Brightwurks. Three tech entrepreneurs Nick Francis, Jared McDaniel, and Denny Swindle ran it in Nashville. Help Scout as we know it today was launched thanks to a startup accelerator program Techstars Boston and raised $800k in angel funding.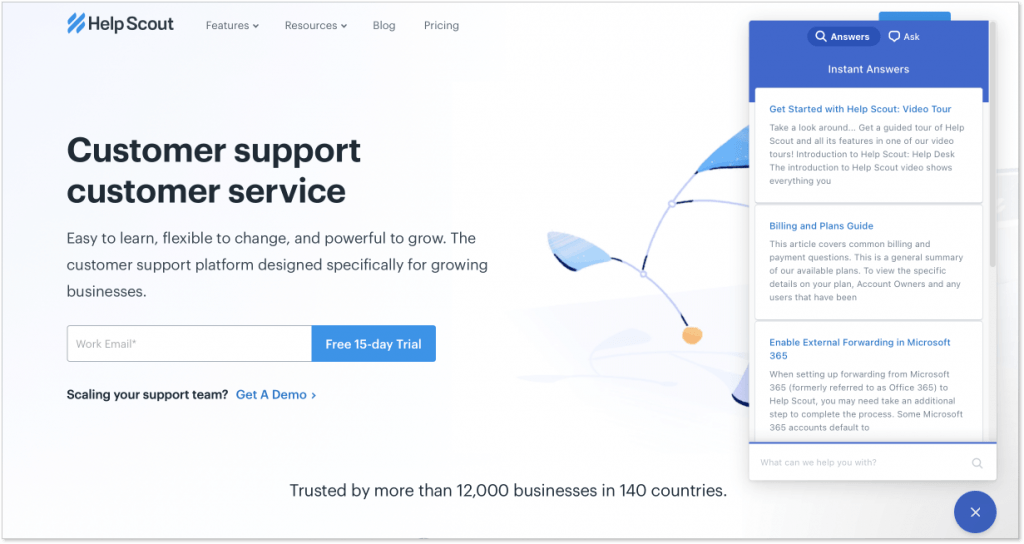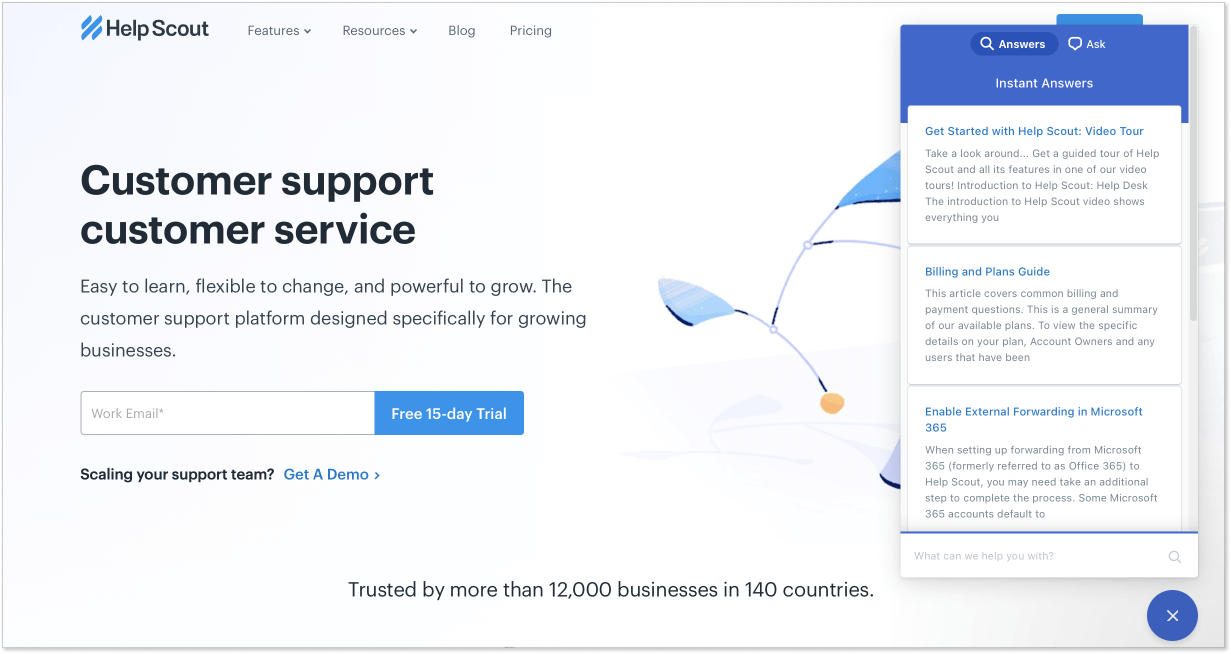 At first, Help Scout saw the primary need for a user-friendly product that would feel like an ordinary email conversation, which is why their initial solution was a shared inbox.
Focusing on one area allows us to do that one thing really well, and be versatile there, as opposed to offering 50 different features that just lead to a complicated and mediocre overall user experience.

Nick Francis, co-founder @ Help Scout
Long after, Help Scout has topped up its feature arsenal with something more versatile. Today, it offers everything from live chat and knowledge base to reporting. Though the core positioning of a help desk remains the same.
In the Help Scout vs Zendesk fight, the latter is the oldest. Being founded in 2007 by Mikkel Svane, Morten Primdahl, and Alex Aghassipour, Zendesk has a rather unorthodox origin: Copenhagen, Denmark (and not Silicon Valley as one might think).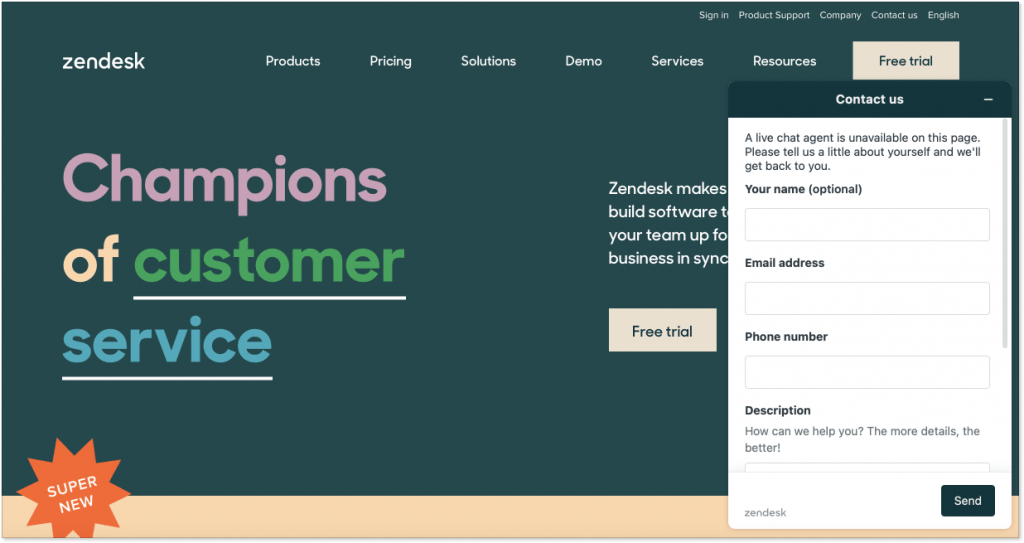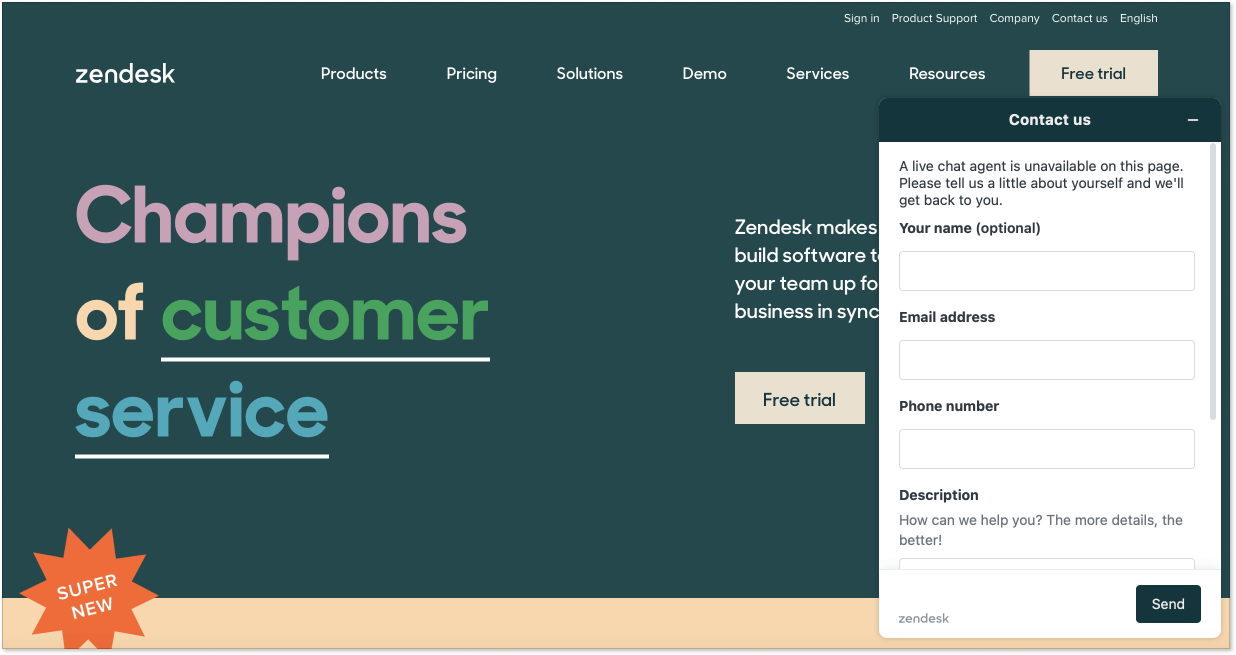 In contrast to some other Zendesk alternatives, the company didn't have explosive growth. It was a simple alternative to some tricky customer service tasks that offered a web-based, SaaS-delivered help desk and support ticketing application. So, everything was happening gradually, with its ups and downs. It was the voice of customers that got the ball rolling.
After plenty of investment rounds, Zendesk was turning into not just a nice-to-have help desk solution but a solid customer service brand. As of today, the San Francisco-based company provides tools for sales and support together with powerups suited to every fancy and branch organizations scattered across the globe.
Help Scout vs Zendesk: Pricing
You can guess with the naked eye that in the Help Scout vs Zendesk comparison, the former is a more affordable option. This comes as no surprise: Zendesk does offer a multi-tier intricate pricing system as compared to Help Scout. So, let's dwell on the financial sides in more detail.
Help Scout pricing
From the moment you land on the Help Scout's pricing page, it becomes loud and clear: the prices are transparent and you won't have any headaches in the long run. It's quite a good sign.
Other than that, there are four packages available:
Basic – $15/month per user for 1 mailbox, 1 Docs site, perfect for early-stage businesses (comes as an additional package);
Standard – $25/month per user for reporting, automations, integrations, etc;
Plus – $40/month per user for 10 mailboxes, 1 Docs site, advanced permissions, etc;
Company – the price is available upon request; the package is ideal for teams of 25+ members.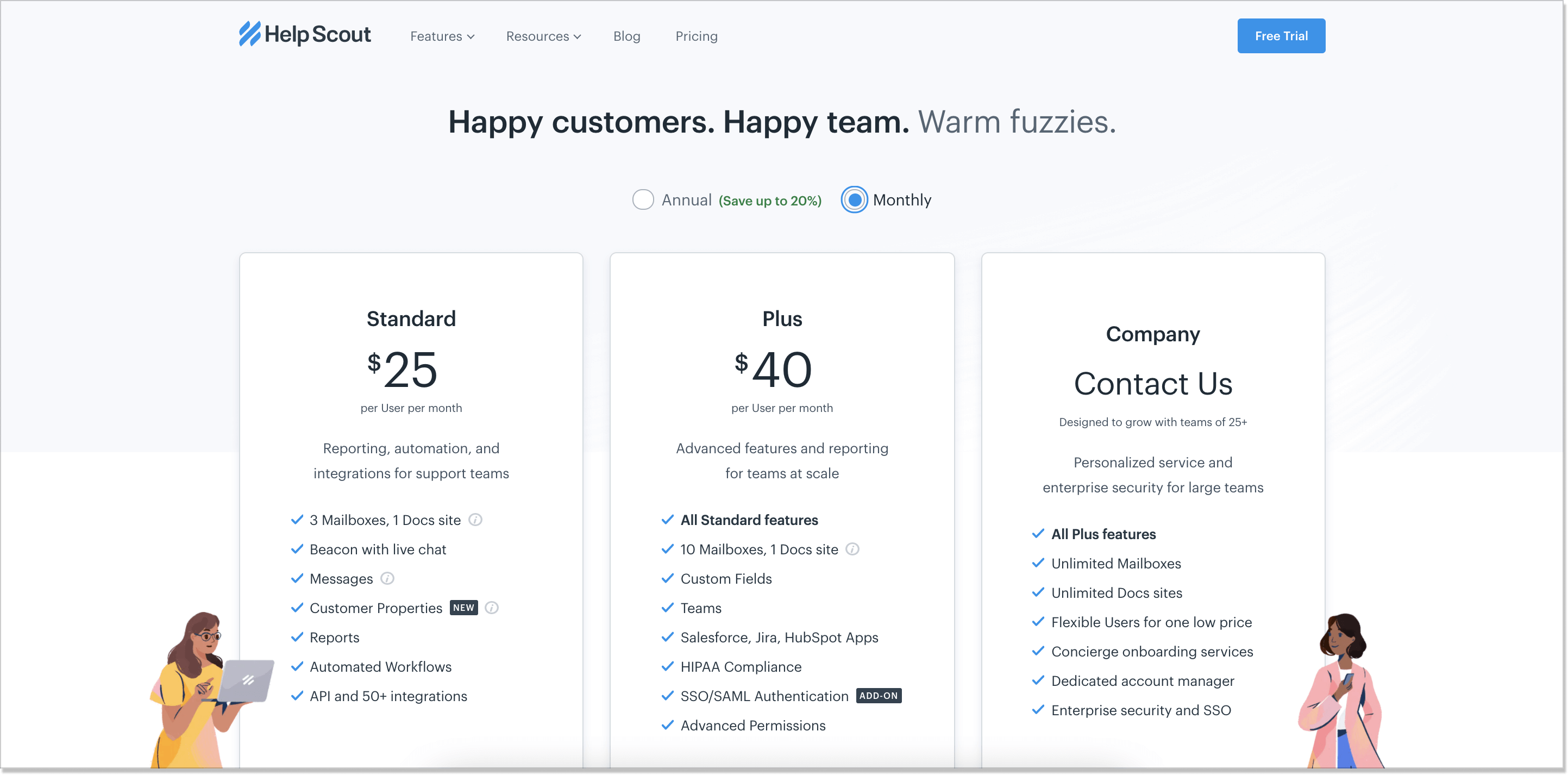 Like the majority of other solutions in the industry, Help Scout suggests a free 15-day trial. This way, you have a basic view of how it all operates. What struck a chord with me is the company's flexible trial period. If you were time-crunched and didn't manage to get to the bottom of the product, Help Scout offers a 15-day trial extension. Just like that!
Zendesk pricing
Take your time and have a closer look at Zendesk's pricing page before we jump into any numbers: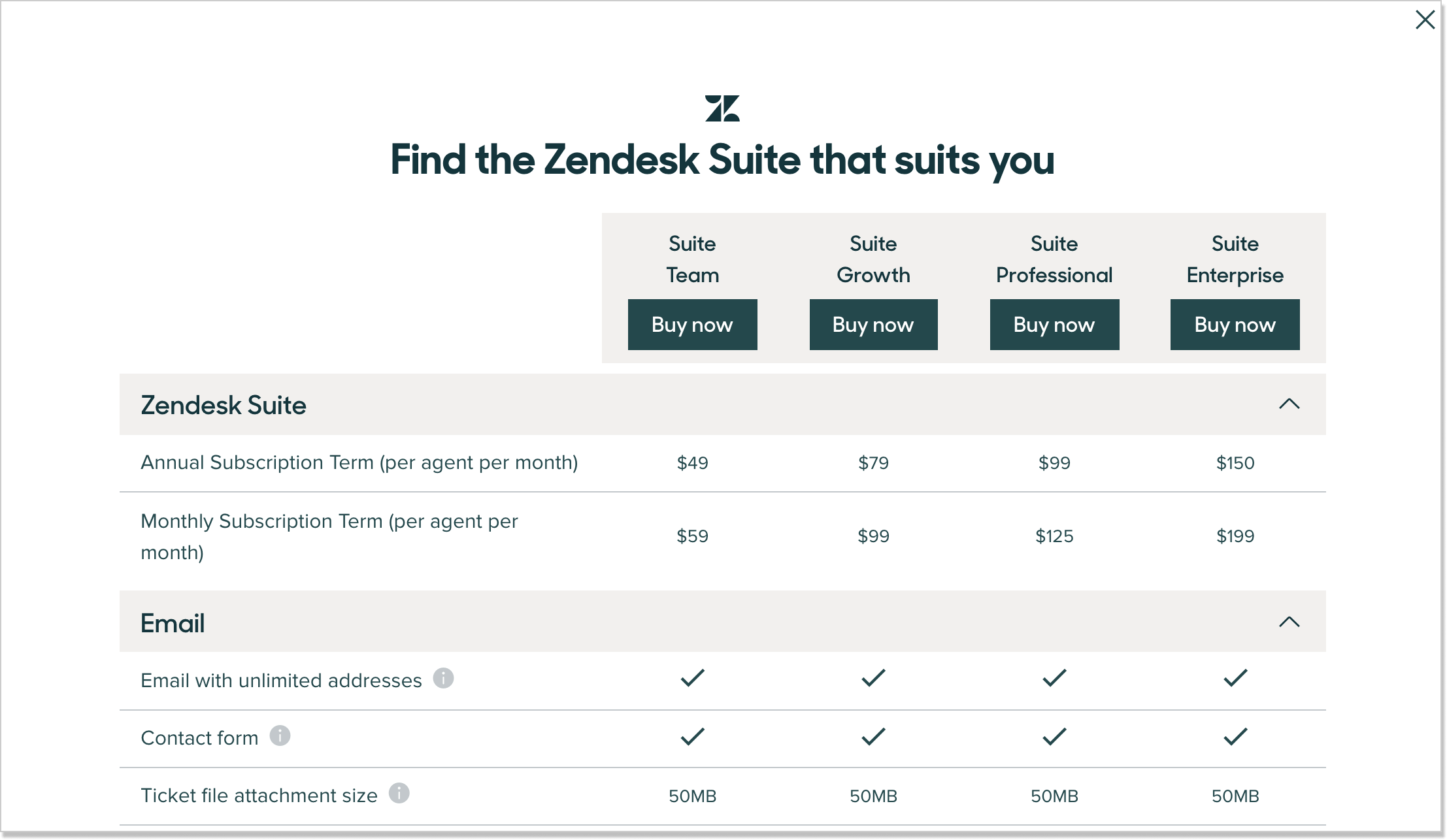 Do you feel the difference between Help Scout's and Zendesk's approaches? Cause I do, and it's like day and night!
First, the page layout itself is messy enough. Lots of words, price tags, and superfluous info. On the one hand, Zendesk is more flexible when it comes to options. On the other hand, it's way less affordable compared to Help Scout.
In the "Plans for everyone" package, there are:
Suite Team – $59/month per agent for ticketing, multiple-channel messaging, email, voice, SMS, and live chat support, etc;
Suite Growth – $99/month per agent + multiple help center, intermediate data storage, out-of-the-box reporting, etc;
Suite Professional – $125/month per agent + AI-powered knowledge management, integrated community forums, conversation routing based on agent skill, etc.
The "Plans for enterprises" involves:
Suite Enterprise – $199/month per user for real-time reporting, sandboxes, APIs, etc.
Additional enterprise-ready plans – $215/month per agent, features are available upon request.
Do you think this is it? Not a bit of it! Zendesk vs Help Scout pricing plans are like apples and oranges. There are two more tariffs for sales teams and "foundational support":
Foundational support prices range from $19/month per agent to $99/month per agent 
Zendesk for sales has the same price range + the Sell Elite ($199/month per user) 
If you think the tool's pricing policy is confusing, try checking our Intercom vs Zendesk comparison article.
Help Scout vs Zendesk: Features
Now, let's discuss the real deal – functionalities. On the face of it, you might think that Help Scout is inferior to Zendesk. Well, not at all. One of them has more customization possibilities, however, the other one offers better ticketing which makes the solution no-nonsense. Who is who here? 👇
Help Scout features
Beacon chat widget
I will be honest: Help Scout's Beacon (aka live chat widget) is more modern, clean, and good-looking than that of Zendesk. Let me elaborate.
Beacon lets you provide quicker support to your clients, encourage convenient customer self-service thanks to a help center integrated into the widget, and tailor user experience to meet your goals with special modes (Self service, Neutral, Ask first).
Help Scout has improved the proactive chat messages option just recently. What can you do with it? Now you can add images to your messages to make them more appealing.
Among other Beacon's peculiarities, there are:
Ability to send instant answers with relevant articles right from the widget
Easy escalation when a customer fails to find the answer – they can start a live chat whenever they are on the website
Ability to choose the channel when users want to contact you (chat, email)
No false expectations – Help Scout never shows the chat widget unless there's a human support rep on the other end to help you out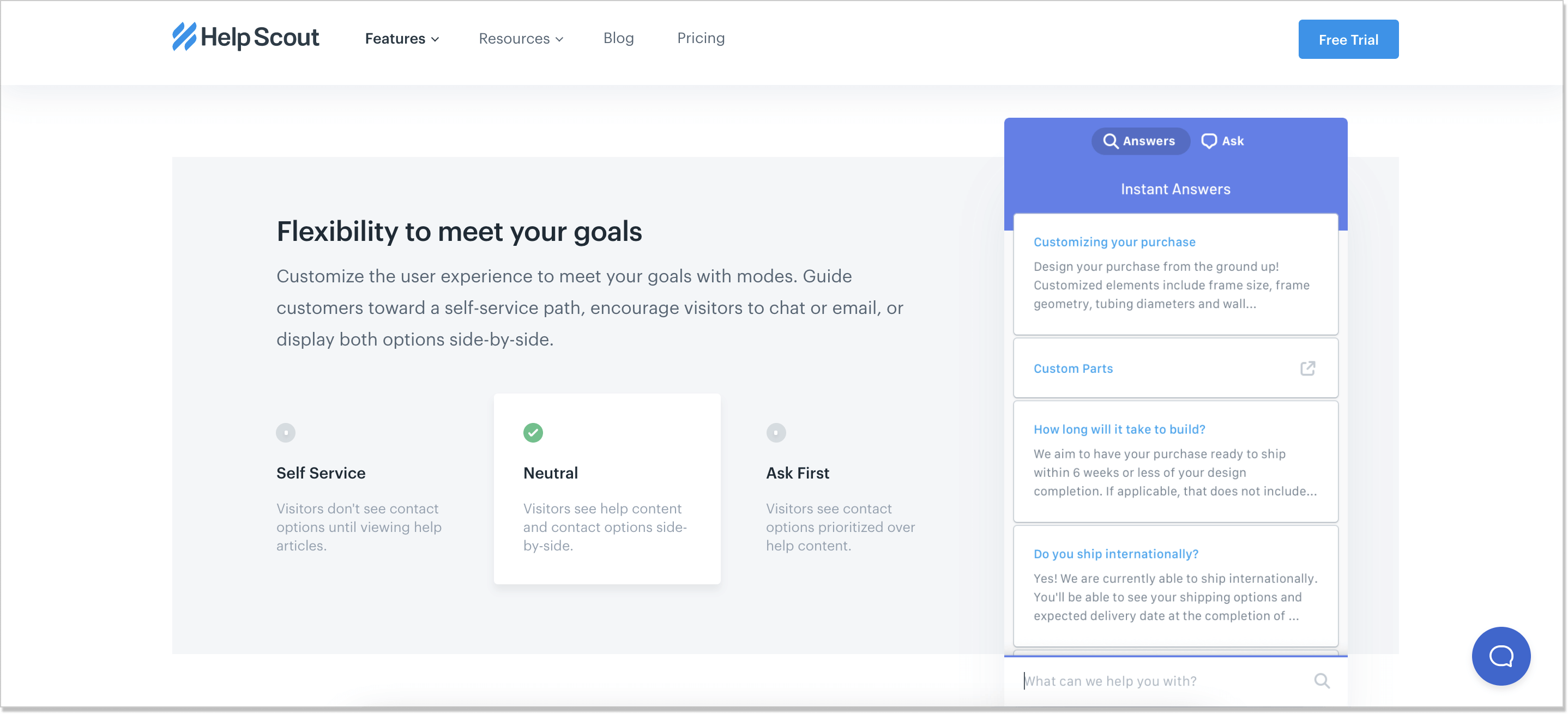 Shared inbox
The Help Scout's shared inbox is called Mailbox. What I like about it is that the UI is so simple and easy to use that every conversation is always at your fingertips. It helps you organize your dialogues, toggle between chat, email, or phone conversations in a second and in real time, or even create multiple mailboxes for various teams.
The list doesn't end up here. Mailbox can also help you:
Create and send pre-defined saved responses to customers whenever they need
Leave private notes to your teammates to sync with them and collaborate on the users' issues
Tag conversations to automate workflows and categorize requests to omit chaos in your dashboard
Store and process customer data in the Mailbox's sidebar for more effective support
Set up powerful automations to take care of repetitive tasks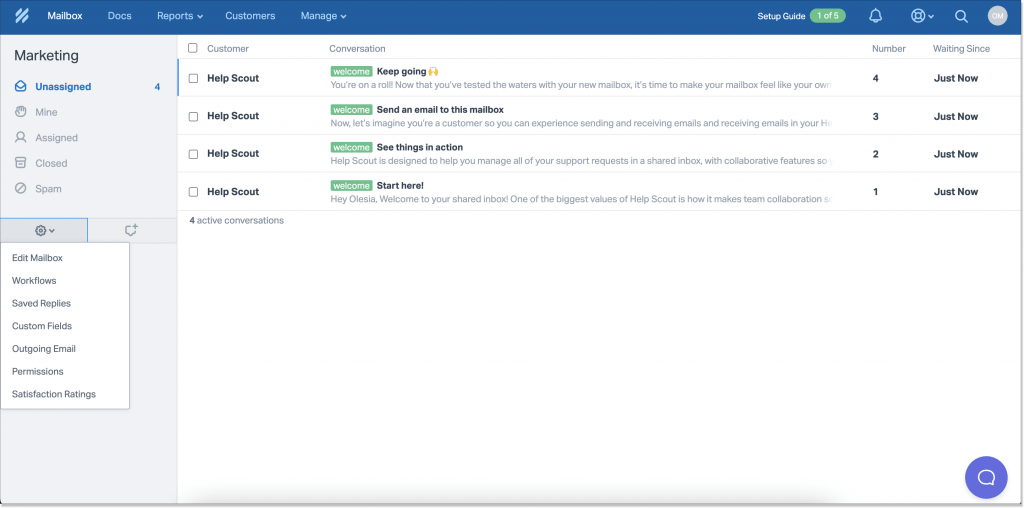 Knowledge base
This feature Help Scout calls Docs. And the most important functionality here is…you guessed it right, a text editor. Drawing a parallel between Help Scout and Zendesk, I would say that both are pretty much alike (with slight differences). Judge by yourself:
Plain information hierarchy: create solo articles, build categories, and form collections;
Standard WYSIWYG text editor: add visuals such as images, gifs, videos;
SEO-friendliness: specify the keywords so that your article ranks better;
Different knowledge base locations: when you embed articles on your website, choose how they will be shown – in Beacon, Popover, Modal, or Sidebar;
Actionable data: understand what customers are searching for and what percentage of users still reach out to your support team.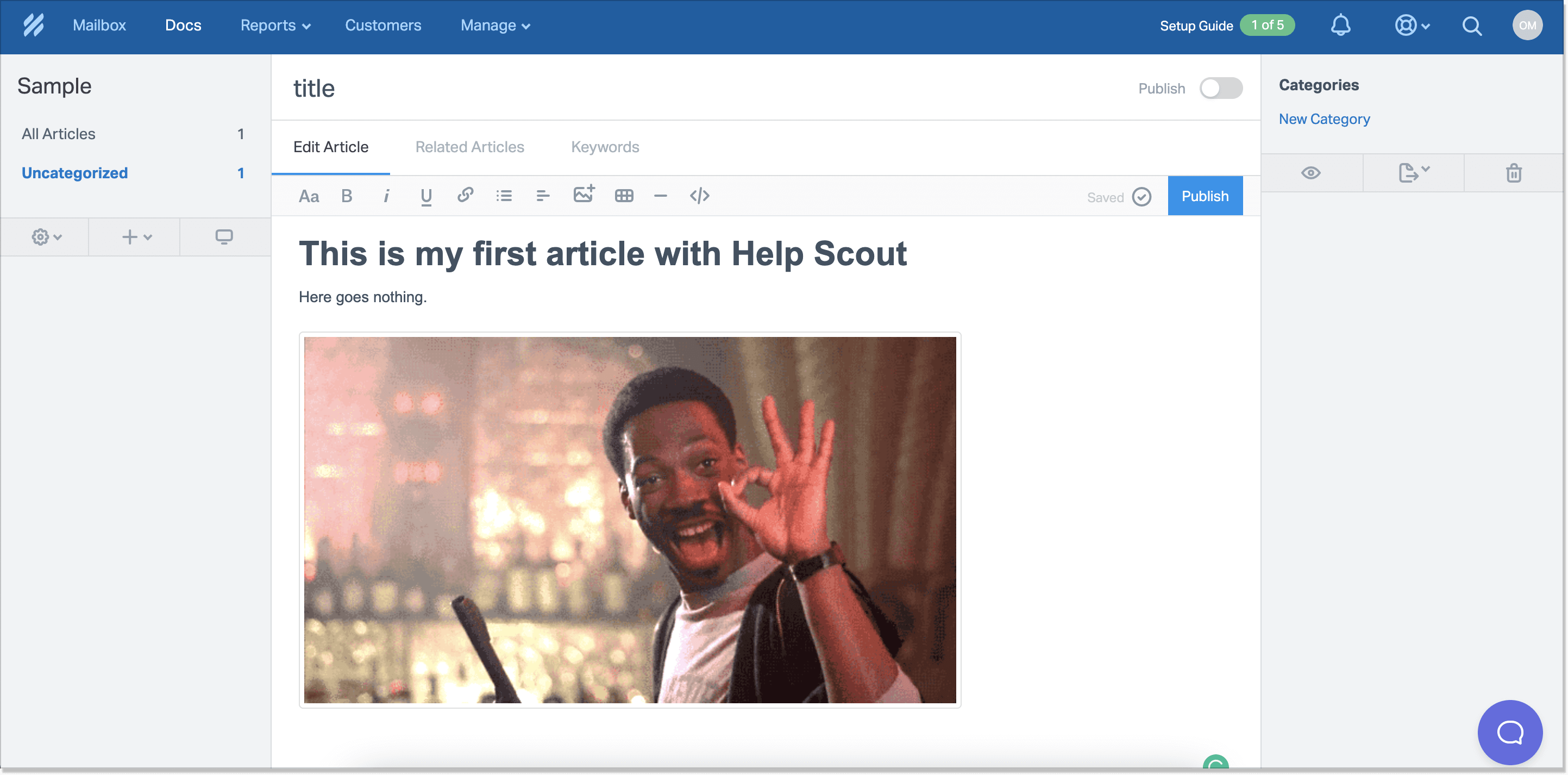 Zendesk features
Live chat, social media, and messengers
Zendesk's messaging and live chat solution is a bit more solid. You can add a web widget on your website or mobile app with one snippet of code. But as if I were to ask, I would add a bit more soul to this widget.
You can have integrations with such messengers as WhatsApp and Facebook deliver support virtually on the go. The dialogues remain unchanged no matter the channel and clients don't have to repeat themselves.
Moreover, customer service reps have a consistent workspace at their disposal:
Proactive messaging for getting ahead of customers
Third-party integrations such as live location maps or custom bots
Group messaging for connecting all parties
Help desk system
Just like Help Scout, Zendesk makes it possible to keep and manage all your conversations from chat, emails, social media, and phone under the same roof. All of them will appear in the dashboard in the form of tickets. Why hide the truth – Zendesk's ticketing system is one of the richest in the niche.
The company has both support agents and clients in mind. Their help desk tool lets service reps select the best way for responding on the customer's preferred channel, and clients, in their turn, choose any channel to reach out to them. Plus, you can leave internal notes for your team members to collaborate, monitor the client's "Essentials card" with contact information, and a lot more.
Don't even get me started on Zendesk's reporting. These guys have in-depth reports on everything from the average response time to total callback calls and voicemail.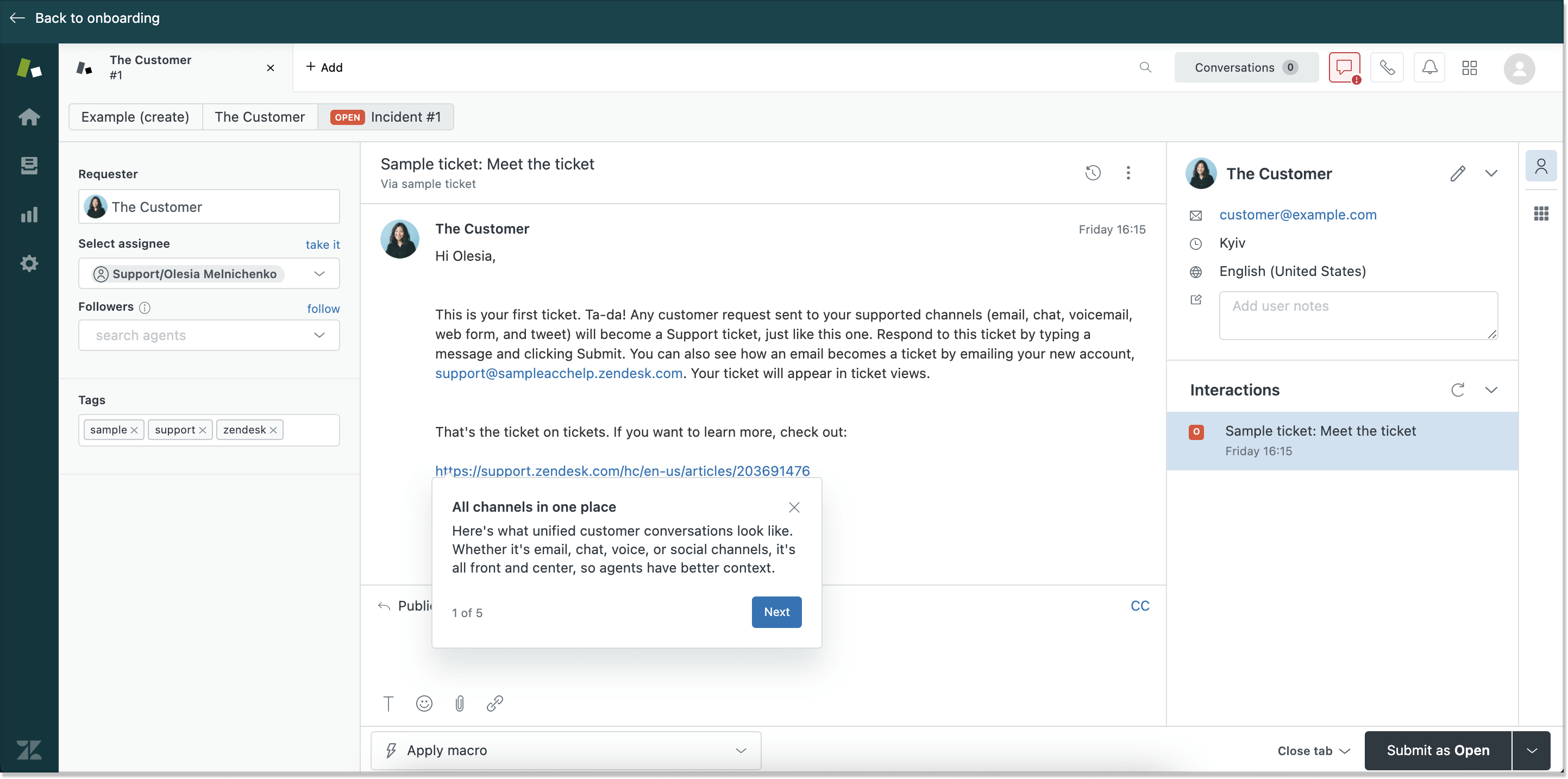 Another winning point in the Zendesk vs Help Scout battle is Zendesk's agent productivity tools. They involve:
Views for grouping and organizing customer conversations
Triggers that take action even when a ticket is created or updated and are designed to free agents from recurring tasks
Automations for modifying ticket properties at a certain time
Macros for performing common actions or answering FAQs (the same as canned responses)
Well, that's all very well, but don't you want a whiff of fresh air? In my subjective opinion, Zendesk has too many ink-horn terms that could be replaced with much simpler ones (hold the Help Scout's beer).
Help center
Known as Zendesk Guide, knowledge base software here is a perfect match for customer self-service and solid leg-up for service agents.
Zendesk Guide comes together with Zendesk Gather – a tailor-made community forum feature. This duo implies a help center where you can write your articles, answer FAQs, and offer topics for clients to discuss.
The logic and the whole behind-the-scenes is easy:
A modern text editor for convenient publishing
AI-powered instant answer with Answer Bot
Full customization
Multilingual content possibilities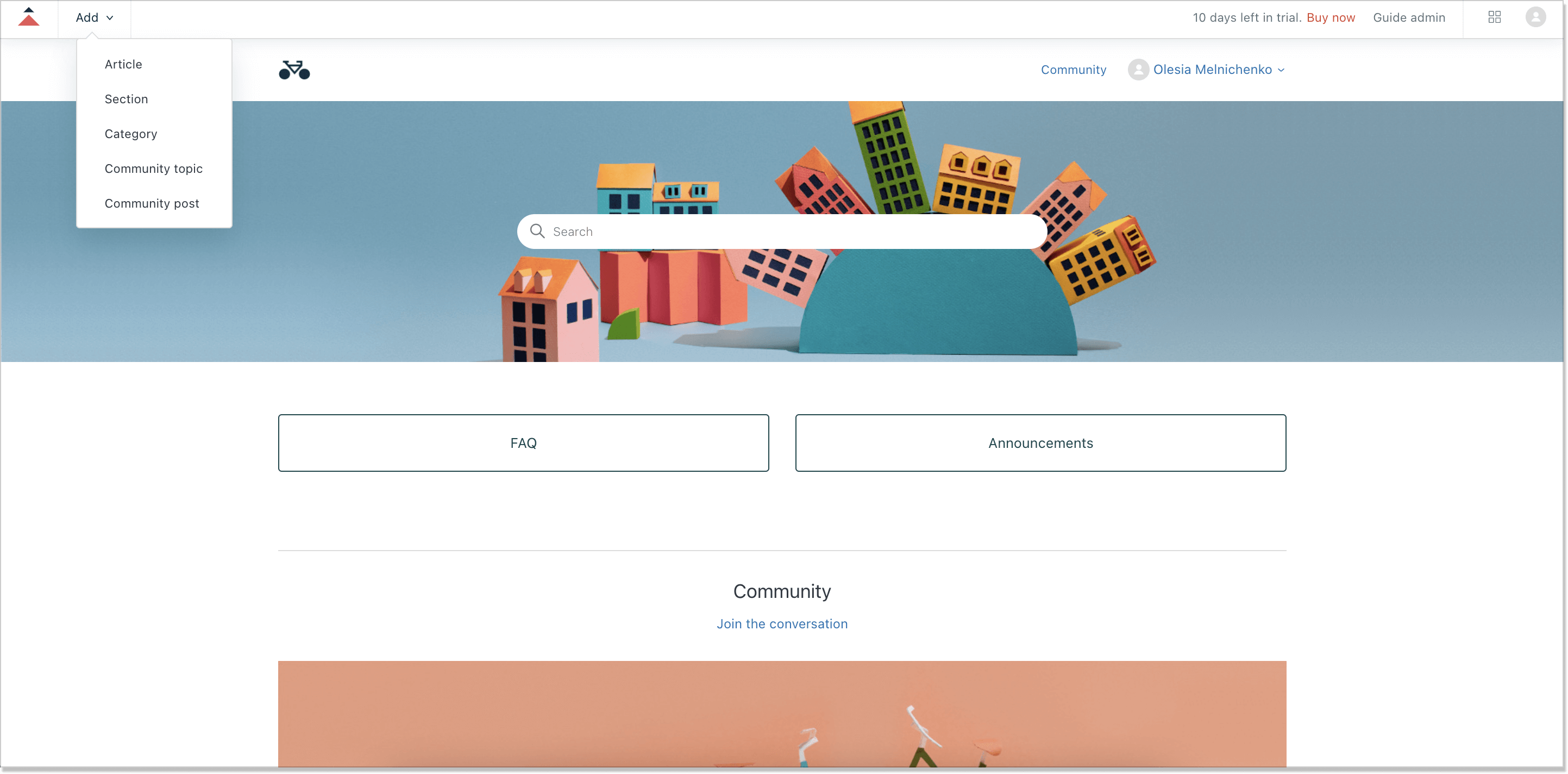 Help Scout vs Zendesk: Installation routines
Before we jump into what users say about Zendesk vs Help Scout, I would like to stop at their installations.
Help Scout comes first. Everything from the customization routine to the moment your chat bubble goes live is pretty simple. There is a fool-proof 5-step setup process where all of the steps are shown and minimum movements.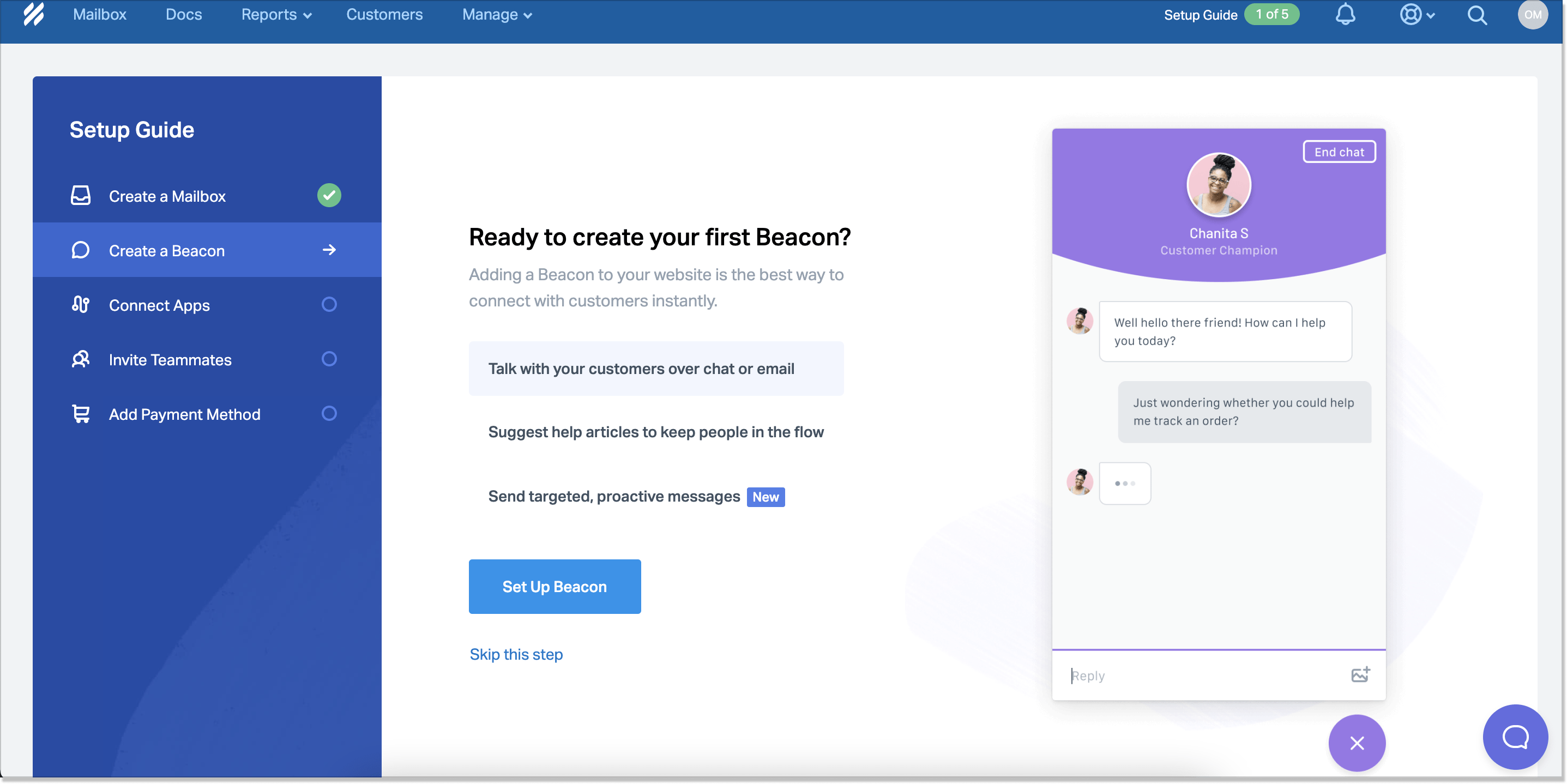 When you log into the Zendesk dashboard, quite a long guidance is waiting for you. To get started in full swing, you need to watch explanatory videos about each block which takes at least half an hour. What's nice is that you can easily skip this part and proceed straight to business.
As for the web widget customization, I'd say it could have been better. The majority of Zendesk competitors do their best so that you can customize your chat window the way you like it. Here you have limited style options, (well, one) but a quick installation. It cuts both ways.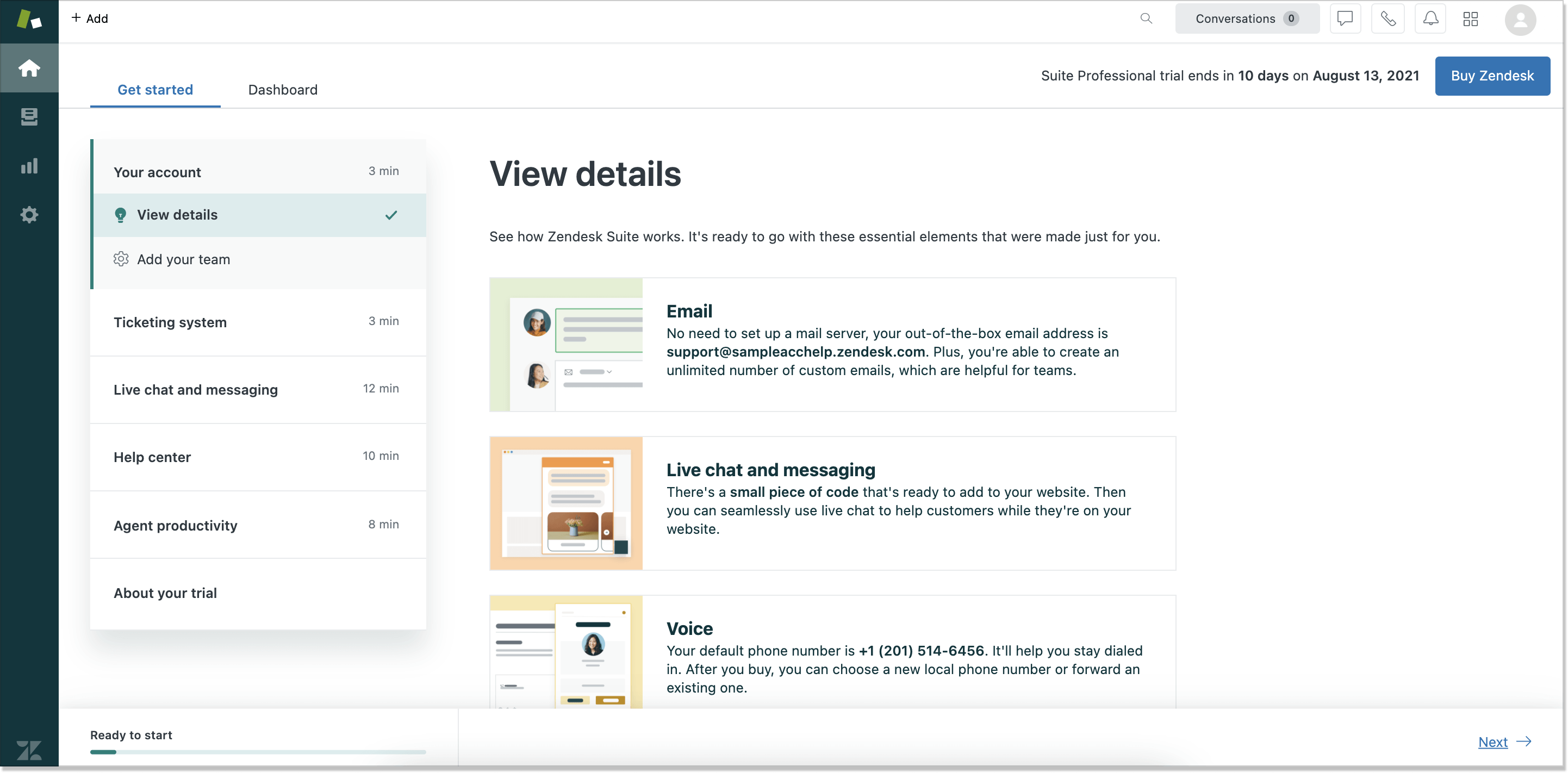 Zendesk vs Help Scout: Customer feedback
The G2 platform states that Zendesk has 4.2 out of 5 stars and record-breaking 2,780 reviews while Help Scout is still the winner with 4.3 out of 5 stars but only 238 reviews.
Users note that Help Scout has "great support from the team", an easy-to-use interface, and perfect help desk collaboration tools:
We did a thorough evaluation of alternatives to our previous help desk (Zendesk)…and I cannot stress enough how much the HelpScout team has been helpful and easy to communicate with, answering all my questions…It is straightforward to set up and use. The UX is excellent, with helpful keyboard shortcuts and workflows to make our team more efficient. However, I wanted an all-in-one solution of live chat + a knowledge base. Help Scout has both available within their platform and it's super simple to setup.

One of Help Scout's customers
Speaking of Zendesk, most customers find its all-round functionalities a pro point:
I like the number of channels that you are able to access and manage in one place.

One of Zendesk's clients
Overall it was pretty good since the product is so feature/function-rich. Getting the support to understand how to best use the product was a challenge sometimes.

One of Zendesk's customers
However, there's this huge fly in the ointment. Help Scout and Zendesk customer reviews quite often go with the words "horrible support", "buggy software", "poor service", "lack of understanding", and "limited software" which could be a serious wake-up call:
The support staff is very disappointing. Pre-sales is non-existent. So if you have questions good luck trying to get them actually answered.

Help Scout's customer
To be honest, there is nothing here I like best. Every part I have used so far is inferior to past experiences with platforms such as Freshdesk and Salesforce.

Anonymous Zendesk client
Final words
Both Help Scout and Zendesk have helpful features as can be. On the one hand, Help Scout is definitely a winning solution for an early-stage or small business. It has all the basics for customer support such as live chat, knowledge base, and help desk. Besides, the company has reasonable pricing which can be a decisive point.
On the other hand, Zendesk provides even richer functionalities for ultimate customer service and sales but the price tags are much higher. Consider also those fierce customer reviews: is this solution worth the shot? It's up to you.
So, my answer would be: everything depends on your company's size, business goals, and budget. If I were to choose, I would opt for Help Scout. Minimal fees and a normal toolset.
How about a one-stop solution for delivering professional support with live chat, a well-oiled knowledge base, and a shared inbox? You can have it all with HelpCrunch. Hurry up to sign up for a free 14-day trial and enjoy!