Choosing a customer support tool is like looking for a new apartment: once you go with one option, you hope you don't have to move any time soon. You want to stick to it for as long as possible.
The same principle applies to customer service tools. Choosing one is quite a commitment: once you have it all set up and ready to go, it'll be hard to change anything. All your communication with customers, their data, chat history together with all the reports will be stored in a single place. Migrating this stuff from tool to tool isn't just a long and painful process, it's also quite risky as you can lose a lot of valuable information along the way.
What I'm driving at is that businesses want to choose the most known and reliable solution is right from the start. That's where Zendesk comes into play. It's been on the customer service market for over a decade now, and people like it very much for a wide range of features and numerous integrations. When someone thinks of a support tool, they immediately associate it with Zendesk.
However, the tool has some huge flaws, too. That is why this article focuses on the Zendesk competition and their benefits in comparison to the godfather of all help desk tools.
Are you about to switch from Zendesk to another customer support solution? If you choose HelpCrunch, you'll get access to a shared inbox, live chat, knowledge base, email automation, and popups in one package. Just sign up for a free 14-day trial (we also help with migration).
What is Zendesk?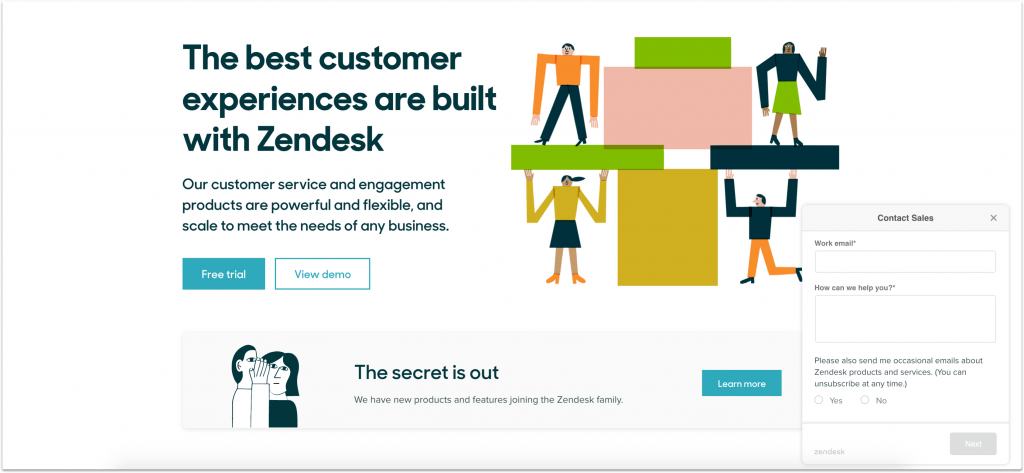 Zendesk is indeed the most famous help desk tool out there. It was founded back in 2007 as an alternative to old school semi-support tools that were overloaded and uncomfortable (just like everything else in 2007).
From the very beginning, the tool positioned itself as a high-end help desk system for gathering, prioritizing, and solving customers' requests in one place. Or, in other words, a unified tool for everything customer relationships.
Help desk is great, but have you tried real-time communication? That's what the company thought in 2014 and acquired Zopim, a third-party live chat software. These days, Zendesk offers a wide variety of customer support tools on top of its help desk. The following products can be used both together and separately:
Support (Suite) — for ticketing, prioritizing, and solving customer requests via email, live chat, social media, call, and help centers.
Support (Foundation) — for email and social media support
Sales — for selling via email and calls, includes CRM and custom pipelines
Zendesk also offers the 'Answer bot' for automatically suggesting relevant knowledge base articles to visitors on the go. And even though the company doesn't have their own custom chatbot as, say, Intercom or Drift, they released the Chat Conversation API which allows integration with third-party chatbots.
Their pricing starts at $25/agent/month for the Support subscription plan or at least $59 for the whole Zendesk Suite.
But if you're reading this article, you probably know all this already. So, why don't we move to the Zendesk competition now?
Why look into Zendesk competitors?
Because like anything else in this world, Zendesk isn't flawless and has its cons. Based on 1,860 reviews, the tool scores 4.2 out of 5 stars on G2 with numerous users mentioning the following flaws:
Too many features that are usually poorly integrated with each other;
The whole Zendesk Suite costs at least $109/agent monthly, which is rather expensive;
Outdated live chat widget;
No in-app messages for SaaS products;
No email marketing functionality;
No chatbot of their own.
With all its mightiness, Zendesk can be a little overwhelming, to say the least. It does offer an awful lot of tools and features, but in most cases, you wouldn't need even half of them. At the same time, Zendesk competitors have figured these things out a long time ago and can become a great substitute for the tool.
I'd even go as far as saying Zendesk may be a great choice for huge enterprises with many customer service departments, but smaller companies will feel much better choosing a Zendesk competitor.
On the plus side, Zendesk does offer free versions for some of their tools. But so do Zendesk competitors, so why don't we look into them more closely?
Who are Zendesk competitors?
To qualify for this list, a Zendesk competitor should cover live chat, ticketing, and knowledge base features. Those are must-haves. Such add-ons as cloud center and social media integration are nice bonuses.
There are 8 main Zendesk competitors on the market today:
HelpCrunch – affordable Zendesk competitor for support, sales & marketing
Help Scout – simple Zendesk competitor
Freshdesk – powerful Zendesk competitor
LiveAgent – Zendesk competitor for SMB
Groove – Zendesk competitor for small teams
HappyFox – adjustable Zendesk competitor
Kayako – full-suite Zendesk competitor
Intercom – messaging-oriented Zendesk competitor
Short description: affordable Zendesk competitor for support, sales & marketing
Pricing starts at: $15/agent/month
Free trial: 14 days on any plan
Core features: live chat, help desk, auto messages, pop-ups, integrated knowledge base, for additional cost – email automation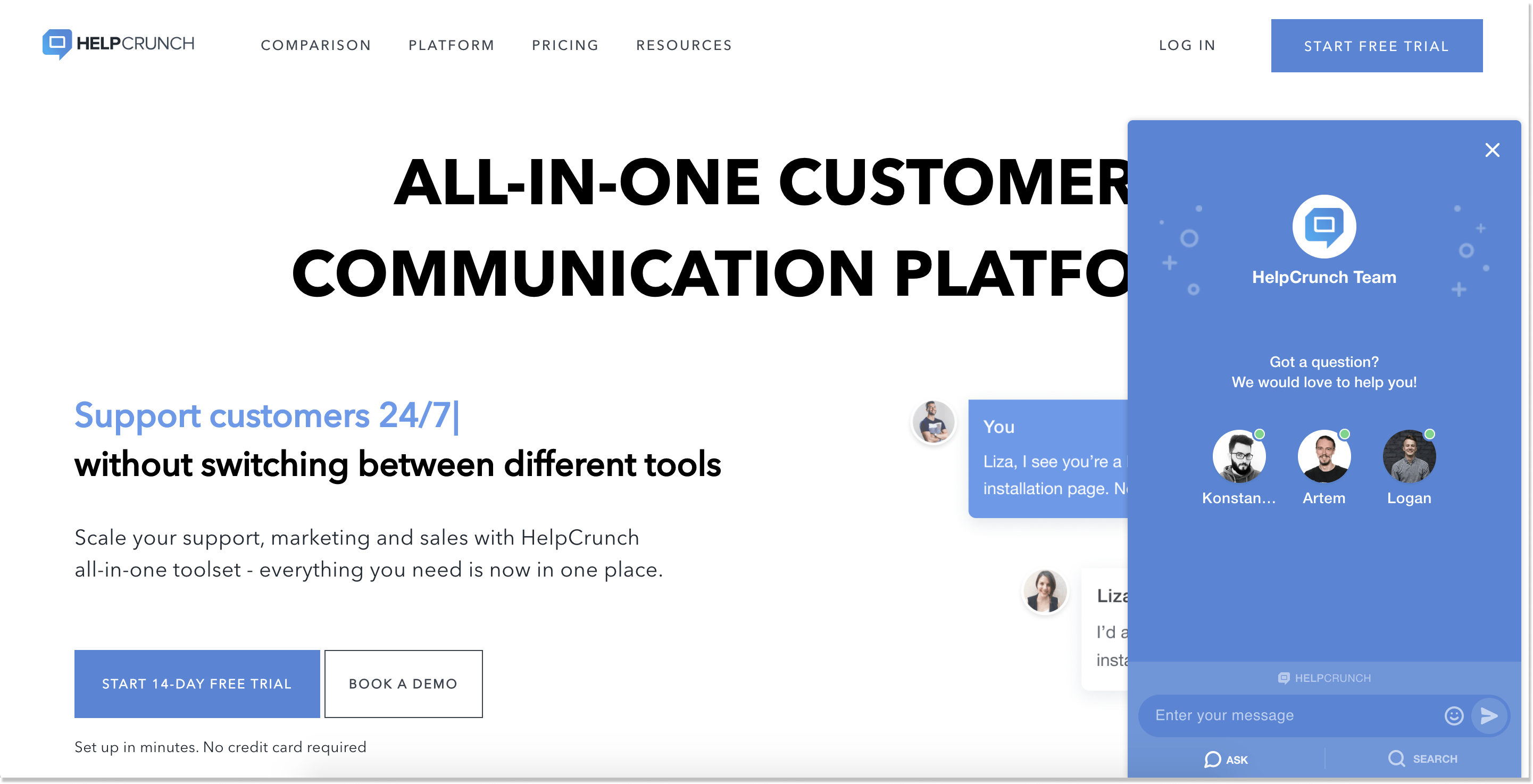 HelpCrunch is an all-in-one tool with its robust toolset covering everything from live chat to email marketing to in-app messaging. From the very beginning, HelpCrunch had very similar objectives to those of Zendesk. It was striving to be the ultimate place for all customer connections. People come to your website, see the HelpCrunch chat right away and use it to communicate with you in real time.
If fast customer support isn't really their thing, they can shoot your customer support an email. If they're not feeling like talking with you at all, you can encourage them with the help of auto messages. And you can manage all these channels and features in one simple dashboard, no disconnected tabs.
Even though HelpCrunch is mostly famous for its live chat (which is totally awesome, you should try it), its admin panel is organized in a way to make your work with customers' requests as seamless as possible.
The HelpCrunch interface is organized like a shared inbox, where you can receive all email and chat requests and manage them accordingly. You can send emails to your customers right from an agent chat – just switch between two tabs. Mark your incoming requests with tags, assign them various status like open, resolved, pending, etc – and prioritize them accordingly.
Each chat window has a sidebar with all the customer data available for customer support agents.
Real-time customer data. Your customer support agents can access any piece of information they need right in their agent chat: country, time zone, language, subscription, and unlimited chat history.
Custom data. You can upload any custom data about your users into the HelpCrunch dashboard – like types of subscription, registration data, account balance, purchases' value, etc.
If someone wrote you a chat message and left the chat before you could answer them, there's the 'Resend if unseen' feature offered by HelpCrunch. Just specify the time after which unread messages should get resent via email, and that's it.
Moreover, you can customize your HelpCrunch Inbox to your taste by specifying which attributes you want to display in your chat list and which to hide.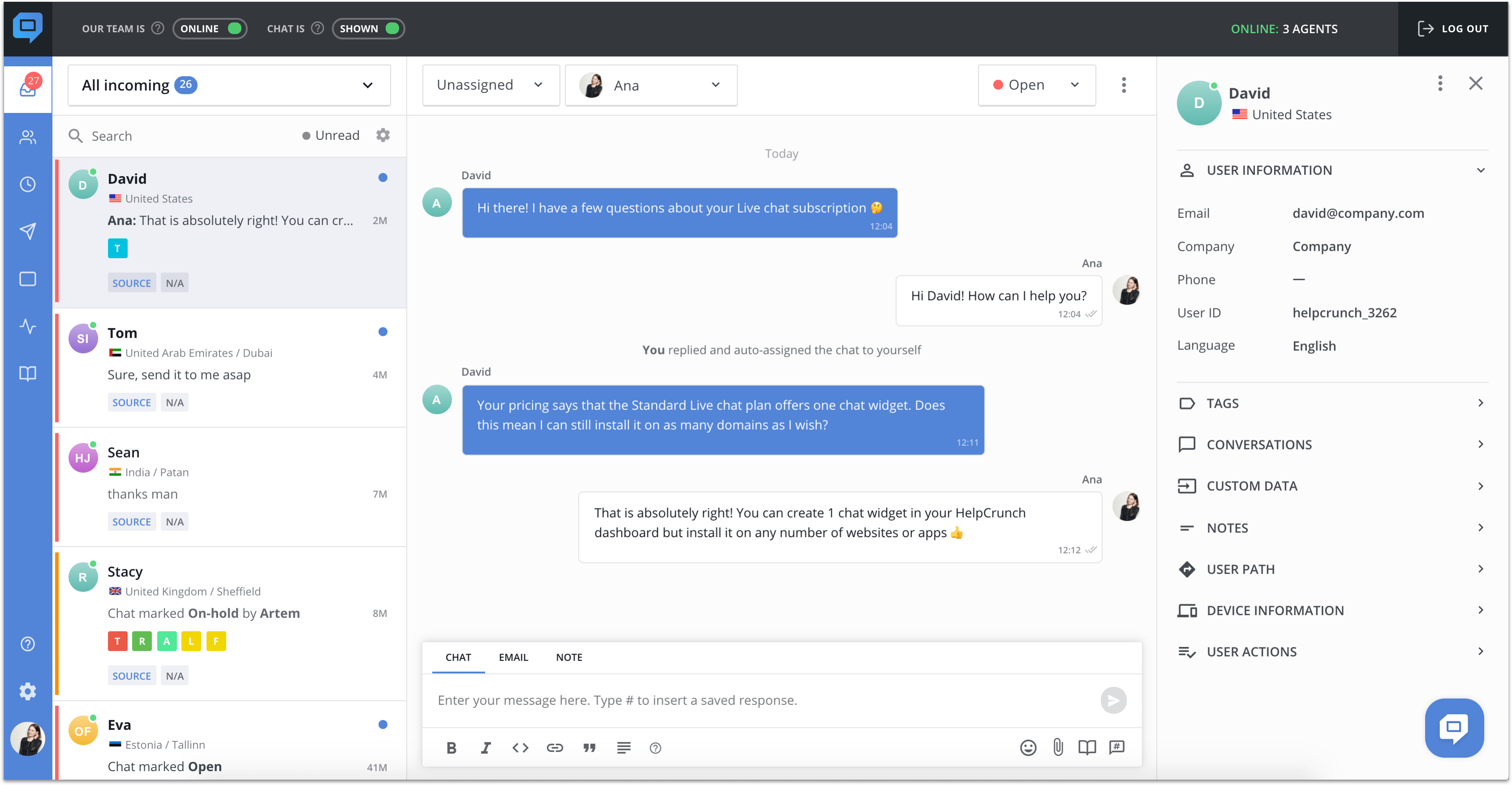 As to self-service functionality, HelpCrunch offers a sleek and intuitive knowledge base platform. Create self-help articles, organize them with categories and sections, and share with your visitors and customers on the go. Each article has customizable SEO settings, where you can specify meta descriptions and target keywords for better indexation.
The knowledge base feature is integrated with the chat window. Support agents will be able to find any pre-made article and send it to a customer immediately. Or customers can find any article right in the widget to save a lot of time.
Looking for all-in-one customer
communication tool?
Short description: simple Zendesk competitor
Pricing starts at: $25/user/month, starts with 2 users
Free trial: 15 days
Core features: help desk, knowledge base, live chat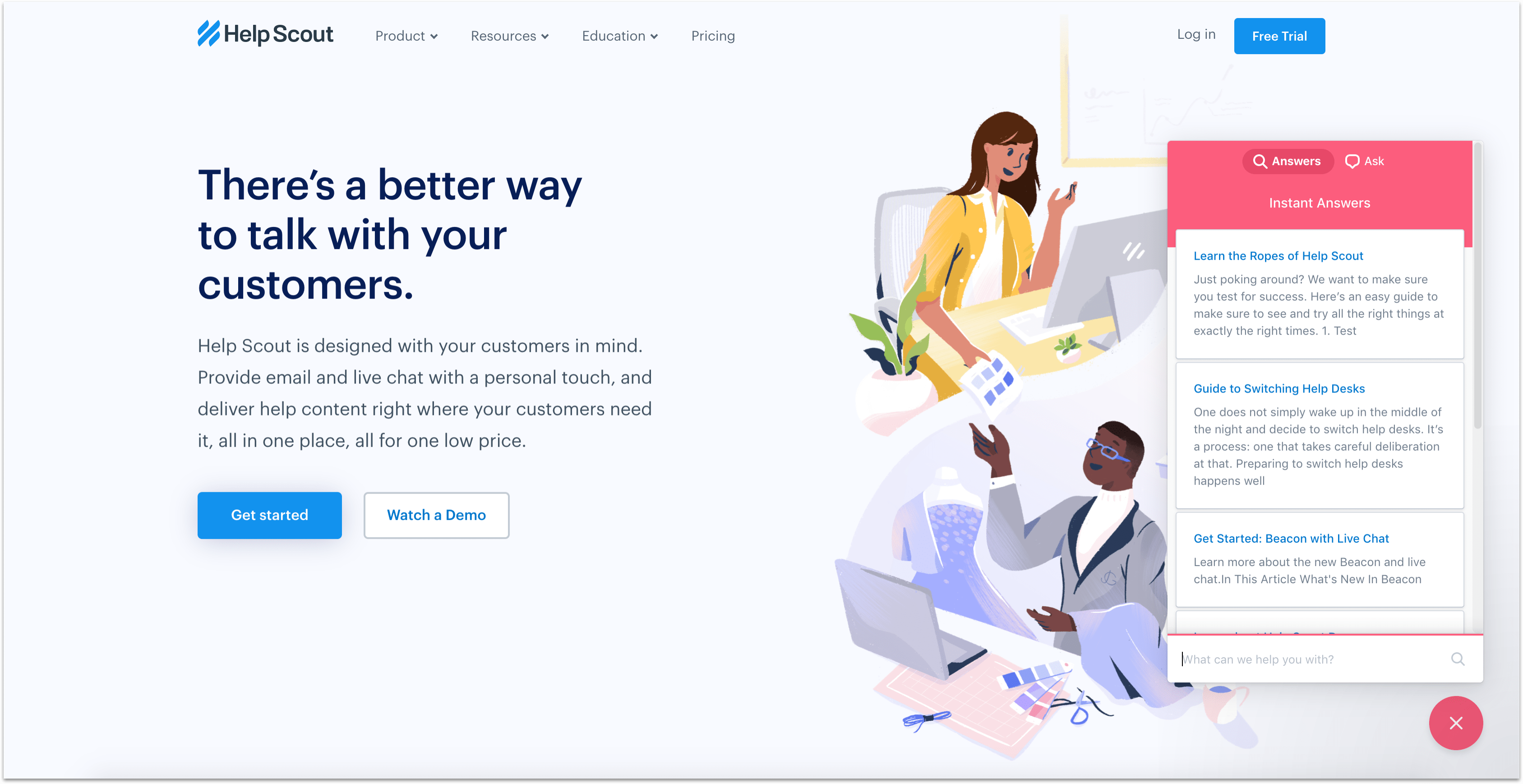 There are three main features to Help Scout:
Help desk. In a nutshell, it's a shared inbox with necessary tools to organize incoming chats and email and manage them effectively.
Docs. A knowledge base tool with a simple editor, categories and built-in SEO features.
Beacon. I'd say it's something that looks like a live chat window but mostly functions as a knowledge base assistant. It suggests relevant articles based on pages customers are viewing. Also, the 'Beacon' tool can include live chat.
Help Scout is somewhat similar to HelpCrunch in terms of help desk functionality. It allows all the same things like a shared inbox for all incoming requests, private notes, tags and saved responses. The tool also shows you a real-time view into who's handling a particular request at a moment.
What's cool about Help Scout though are their Workflows. They function as advanced filters and allow customer service automation. Basically, you can set a condition (what you're looking for) and an action (what you want to happen based on this condition), and the system will do the job.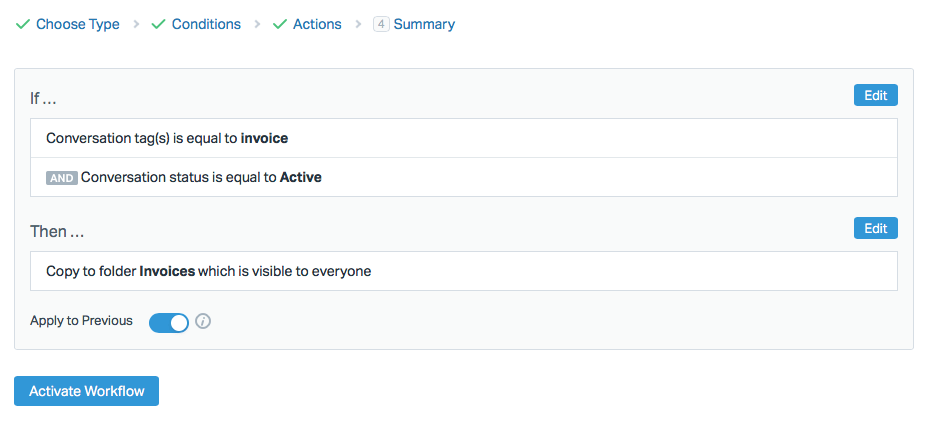 Zendesk vs HelpScout
Help Scout's main selling point is that they are simpler. And indeed they are. Their interface and features are much easier to understand and get used to. There's nothing confusing about their dashboard. But if you're looking for something as advanced as Zendesk, Help Scout may be a bad choice for you.
Overall, is not the most comprehensive help desk tool which is also confirmed by Help Scout's reviews. Some report that the tool is poor in features while others say it's overall very buggy. But they're not trying to hide their simplicity, too.
Short description: powerful Zendesk competitor
Pricing starts at: $19/user/month
Free trial: 21 days
Core features: help desk, knowledge base, social support, live chat, call center software
Freshdesk is probably the closest competitor to Zendesk in terms of full-scale help desk functionality. But it's worth noting that Freshdesk is only one part of many tools offered by Freshworks. We won't delve into their cloud-based call center, live chat, sales and marketing tools, etc. For one thing, we're talking about help desk tools here, but also because you would have to pay for all of them separately. On the other hand, their free plan includes basic Freshchat integration, which is nice.
In terms of help desk functionality, Freshdesk offers the following features:
Ticketing features
Basically, with ticketing tools by Freshdesk you get a shared inbox (or rather multiple shared inboxes starting from the basic paid plan). The system will convert all your incoming support emails into tickets and allow you to merge, split, monitor them and get automatic notifications about any event you need.
Freshdesk offers a great variety of help desk features to make your work with tickets more effective – from private notes and canned responses to collision detection and rich reports.
As many other robust help desk tools, it also has automations which are automatic actions that are performed based on time and event triggers. Overall, a very decent package of features for a help desk tool. Not bad, not bad at all.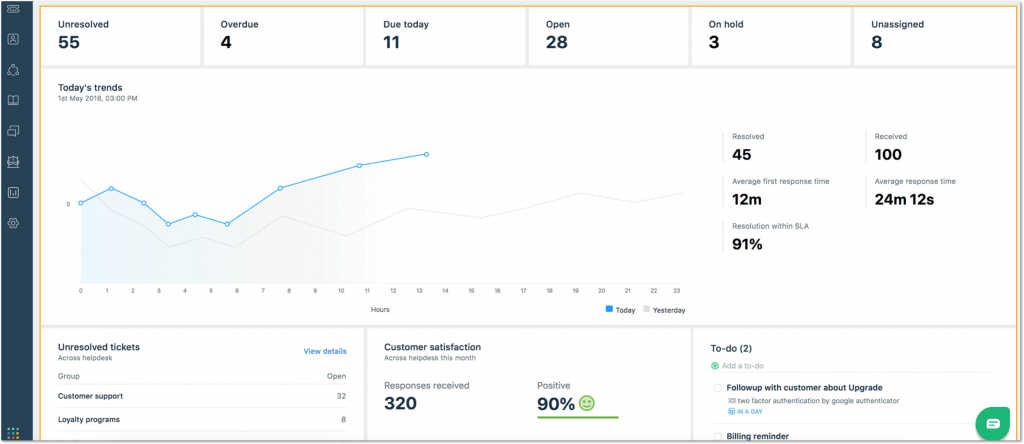 Self-service features
Freshdesk offers a multilingual knowledge base tool, where you can create self-service articles, divide them by categories. For additional money, you can enhance it with their native Answer Bot that will automatically suggest relevant articles to your customers.
Social support features
Starting from the 'Basic' subscription plan, you can curate your Twitter and Facebook requests via Freshdesk. Just note that their free subscription only includes basic social media tools.
Zendesk vs Freshdesk
Comparing Freshdesk and Zendesk is the easier part of this article. Freshdesk offers almost as many help desk features as Zendesk does, which makes the two tools equal. So there are basically only two factors making Freshdesk a better choice for me personally:
a) to me its overall design and functionality felt more intuitive and understandable;
b) its support subscriptions for email and social media communication is a little bit cheaper and includes knowledge base features (unlike the Zendesk Support Foundation).
So, if you're looking for something as powerful as Zendesk, but not so expensive and overwhelming, Freshdesk is perfect for you.
Short description: Zendesk competitor for small businesses
Pricing starts at: $9/agent/month
Free trial: 14 days
Core features: ticketing, knowledge base, forum, for additional cost – live chat, cloud call center, video calls, social support.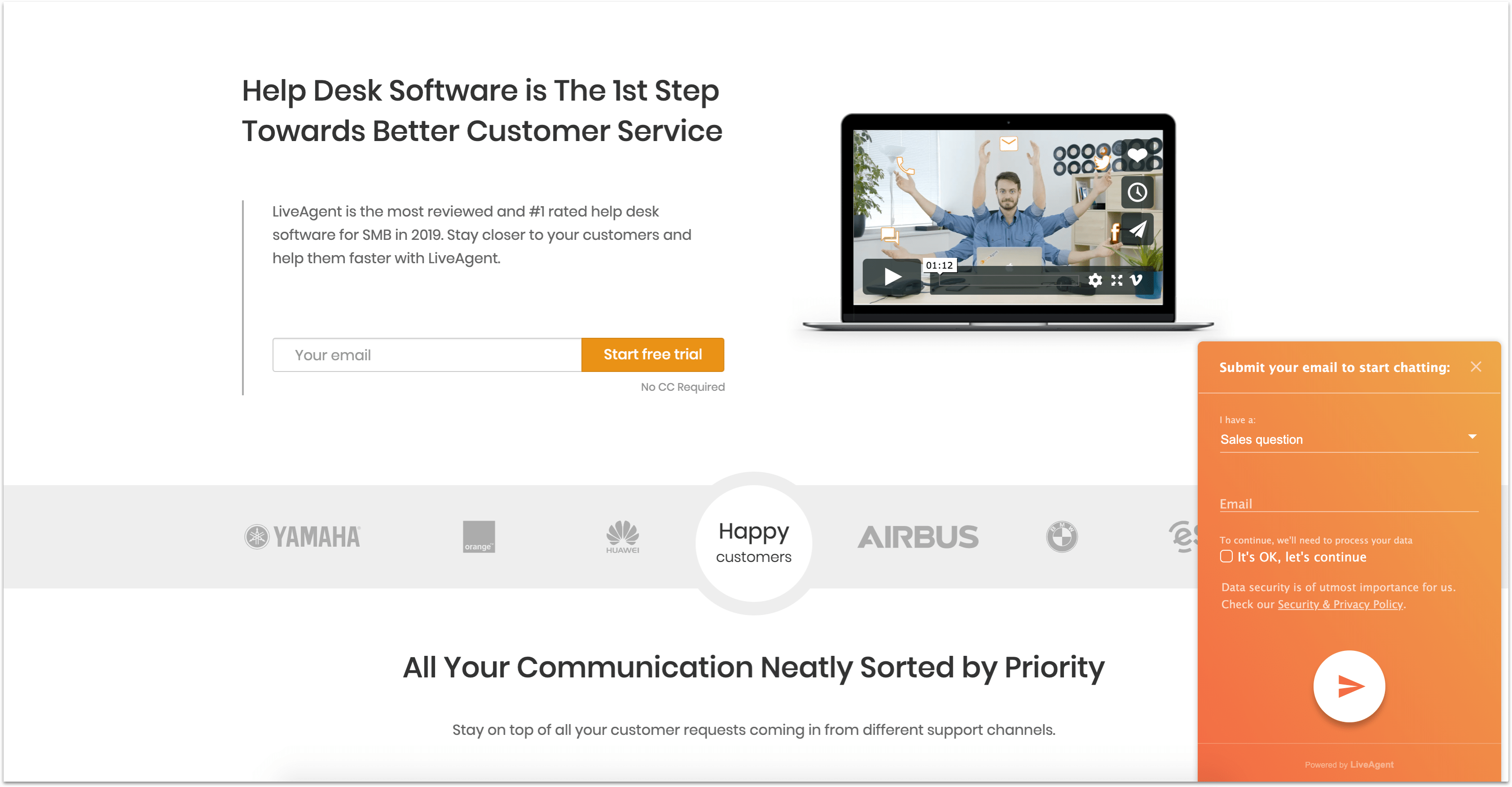 Among allLiveAgent positions itself as a help desk tool for small businesses – that is literally what they say in the header of their homepage.
Ticketing features
As a ticketing tool, LiveAgent looks neat and clear. All your communications with customers including (or rather especially) emails land into LiveAgent dashboard where they are converted into tickets and can be managed accordingly. All standard ticketing events are available – merging, splitting, exporting, bulk resolving, etc.
Just like with HelpScout's workflows, you can automate many common ticketing tasks with the help of LiveAgent's rules. LiveAgent offers action-triggered and time rules which can be assigned to certain types of tickets automatically and perform corresponding actions with them. All you need to do is to set a specific 'condition' that will evoke a certain 'action'.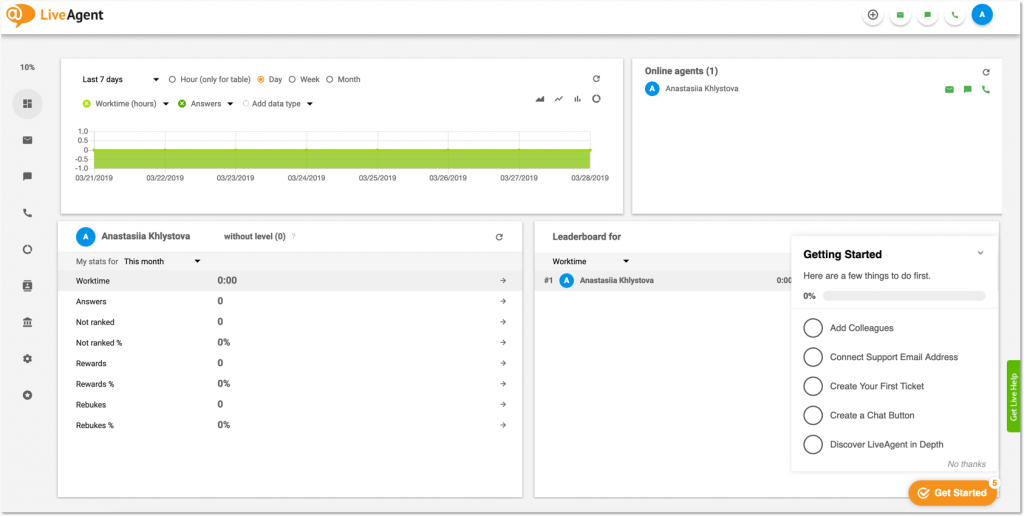 For instance, you can choose to automatically assign all the tickets with the word 'payment' in them to your sales department or set a reply to be sent after a certain period of time.
Self-service features
In terms of self-service tools, LiveAgent offers Knowledge Base and Forum tools. While the latter is (obviously) for public discussions, the knowledge base can be either public or internal (for your team's use only). The fact is, it's easily customizable if you want to make it fit your website's design.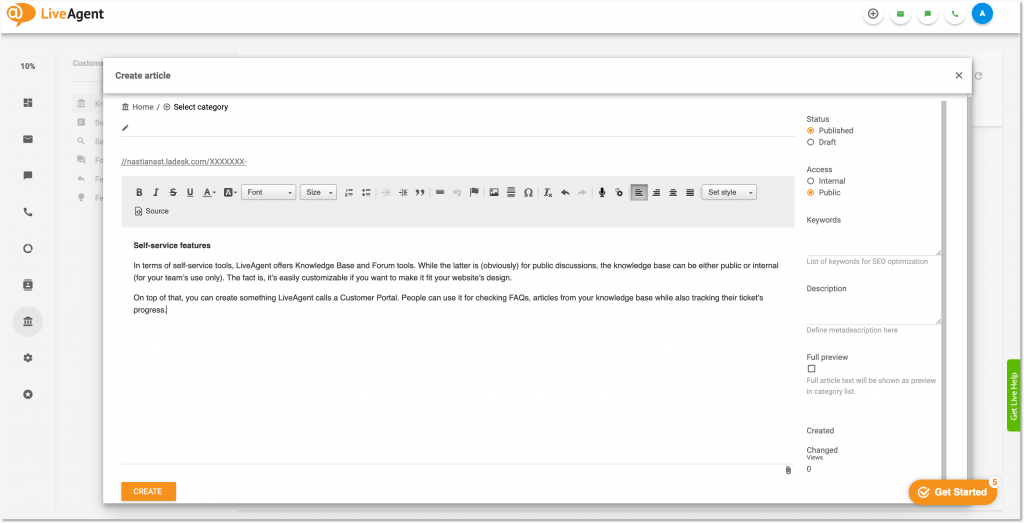 On top of that, you can create something LiveAgent calls a Customer Portal. People can use it for checking FAQs, articles from your knowledge base while also tracking their ticket's progress.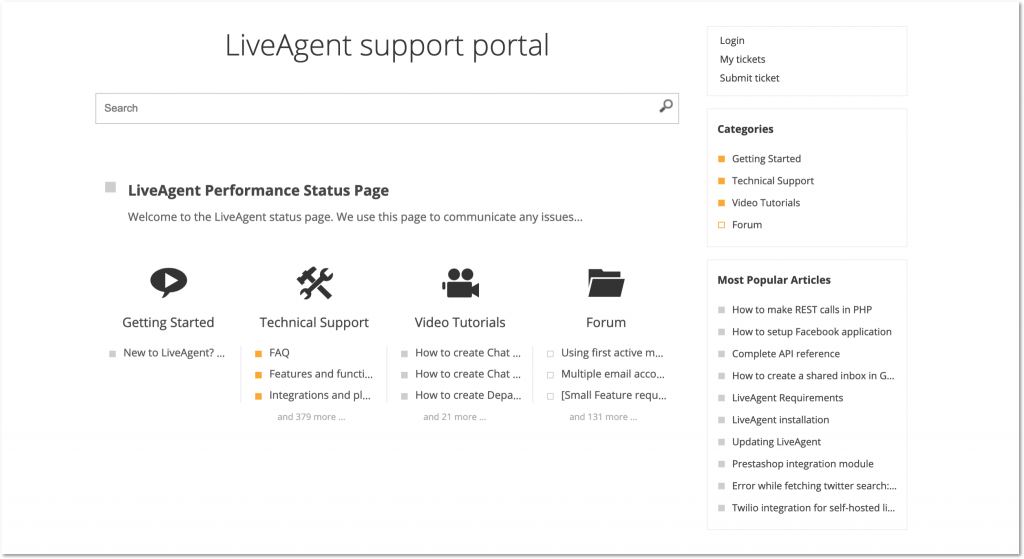 A great addition to everything that LiveAgent has to offer is the fact that they provide 24/7 customer support for all of their users, but only via email. Live chat support is available during business hours.
Zendesk vs LiveAgent
If you go with the 'Ticket + Chat' pricing plan by LiveAgent, you will have to pay $29/month. For this price you'll get live chat, ticketing, and knowledge base tools. All of them are fully functional – no limitations and stripped down features.
If you'd need all the same tools by Zendesk, you would have to go with either the Zendesk Suite for at least $179/month, or try to combine them one by one. For instance, if you go with their 'Support' (aka help desk) plan for $9/month, it will include free versions of a knowledge base and live chat. But they will be very limited and you'll have to pay additionally for every additional feature.
In addition, LiveAgent's self-service tools are extremely customizable and they offer this Customer Portal tool – something that no other help desk tools don't really offer.
Short description: Zendesk competitor for small teams
Pricing starts at: $15/user/month, starts with 2 users
Free trial: 14 days
Core features: help desk, knowledge base, reports
What immediately drew my attention after I signed up for Groove's free trial is their clean and simple dashboard. And I mean it in the best possible way. It's not overloaded with redundant tools and features – everything is within a few clicks.
On the 'Starter' subscription plan which costs $15/agent/month, you get access to one Shared Inbox, standard Knowledge Base tool, and 30-day Reports.
Shared inbox is basically how Groove calls their help desk tool and the package is rather standard here: you can assign tickets, tag your colleagues and leave private notes for them. There are canned responses, tags, statuses available at your disposal. And if you go with the 'Business' subscription for $25/month, you'll get workflow automation rules.
An additional goodie to Groove is that their inbox is real time. You won't have to update your page to see new information in it.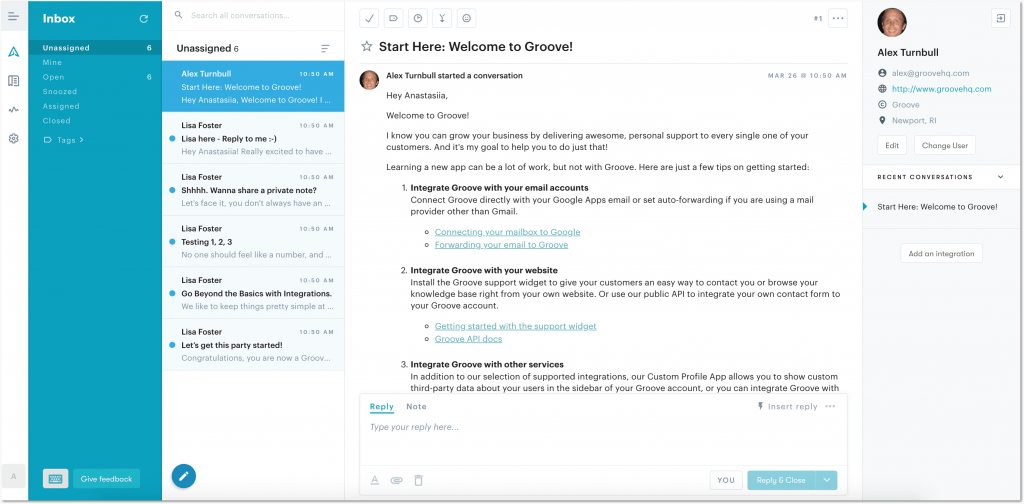 With any Groove's subscription, you get a basic (aka limited) knowledge base for free. Alternatively, you can purchase its more advanced version for $29 and get access to all of the features.
In my honest opinion, the toolset is rather basic. For one thing, Groove doesn't offer any version of a live chat tool at all (aka 'coming soon'). But it makes it way more intuitive than any other Zendesk competitors. So yeah, it is indeed a great help desk tool for SMB.
Zendesk vs Groove
Obviously, Groove is easier than Zendesk as it doesn't offer as many features and offers and easier admin panel. But then again, almost every help desk tool is easier than Zendesk.
There are two things that make Groove stand out from other Zendesk competitors:
Groove inbox updates in real time so you won't need to refresh it to see new changes;
Groove is easier for smaller team, while Zendesk is crafted for big teams with many departments.
Short description: adjustable Zendesk competitor
Pricing starts at: $39/agent/month, starts with 3 agents
Free trial: not available
Core features: help desk, social support, knowledge base
The most peculiar thing about HappyFox is that you can't really just sign up for their trial or create yourself an account. Their pricing is also nowhere to be found. All you see on their website is the button 'See a demo' and that's it. In all honesty, their website is a mess. *Gasp* So I couldn't sign up for HappyFox free trial, so the following is what I was able to learn from their website.
From what I understood, all HappyFox' subscription plans offer unlimited tickets, automation rules, and knowledge base tools. That's a good thing.
On the downside, you won't really be able to pay $39/month, because that is the cost of one agent while HappyFox requires you to purchase at least 3 agent seats to get started.
HappyFox offers the following products:
Email ticketing;
Self-service tools including a knowledge base and community forums;
Social support tools;
Call center and live chat integrations.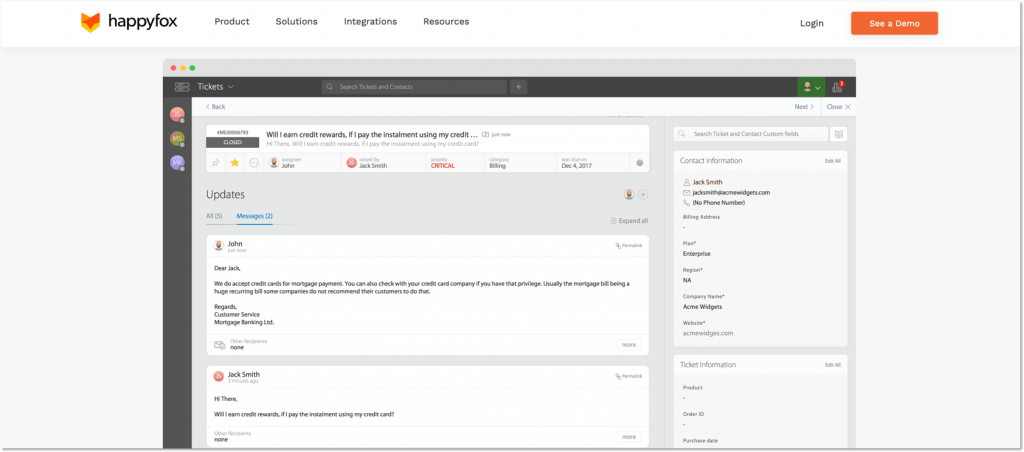 Zendesk vs HappyFox
I'll tell you this: HappyFox is not my favorite Zendesk competitor in this list. Their website is too confusing for me and I wasn't even able to test their tool as per standard free trial. Additionally, HappyFox' pricing policy is not tailored for startups and SMBs – you can't subscribe to their software unless you have 3 agents. Given that you pay on the 'per agent' basis, your costs will be quite high.
On the plus side, HappyFox' customers report that HappyFox is extremely flexible and easy to adjust in accordance with your customer support needs. Zendesk, being a huge feature-packed tool, may lack this flexibility in many cases.
Short description: full-suite Zendesk competitor
Pricing starts at: $25/agent/month
Free trial: 15 days
Core features: help desk, live chat, help center, social support
What's really nice about Kayako is that their live chat and help center are included in all of the subscription plans. It makes the whole customer support process more all-encompassing and universal.
Kayako is an omni-channel help desk tool which means that all email, chat and social media requests will land into its unified dashboard. It also gives you a full view into your customers' journey. Visits, purchases, shipping history – every interaction they had with your website or product is displayed in a single window.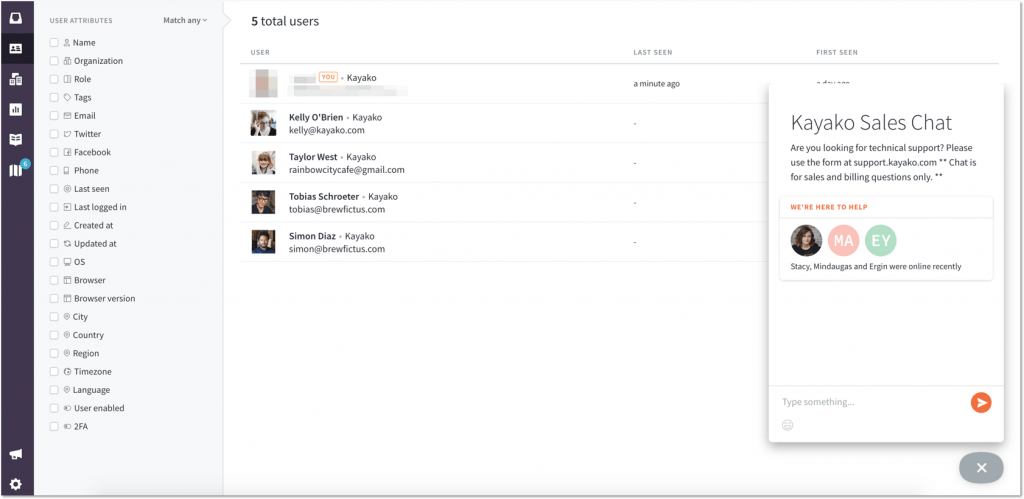 There are automations and standard team collaboration tools at your disposal to assist your agents with their work.
Zendesk vs Kayako
According to some of Kayako's reviews on G2Crowd, it's not your most robust help desk tool out there. It's rather limited in features in comparison to other Zendesk competitors. Also, many users report that Kayako's customer support has always been a huge downside for them. And yeah I left a request in their live chat myself trying to find their monthly prices. For no luck.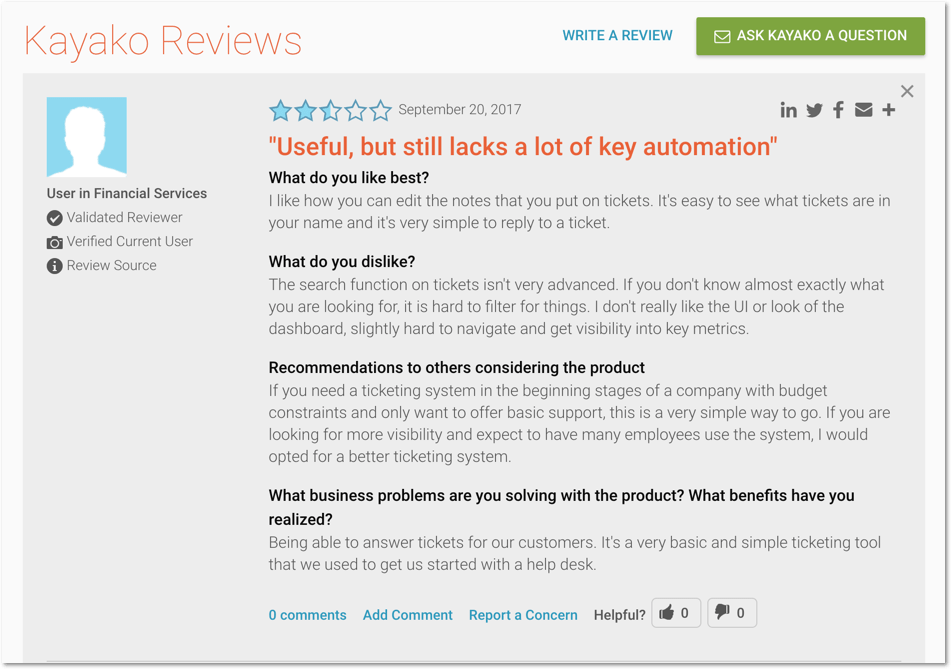 Short description: messaging-oriented Zendesk competitor
Pricing starts at: $38/agent/month + additional payment for contacts
Free trial: 14 days
Core features: live chat, in-app messenger, email automation, ticketing, for additional cost – knowledge base, bots
Intercom is also rather an all-in-one tool which offers live chat, in-app messenger, email marketing tools and a knowledge base. As in other universal customer support tools, help desk features are rather complementary in their toolset.
It does have one thing that Zendesk's seriously missing and that thing is their in-app messenger.
In terms of help desk tools, the package is rather standard: a shared inbox for chats and emails, customer data and activities, tags, notes, mentions.
Intercom also has a very decent knowledge base tool and the 'Operator' bot for it. At the very last, Intercom offers their own native chatbot, which is a very popular and high-demand feature these days.
All in all, Intercom is not your most comprehensive help desk tool if you're looking for a pure ticketing system. But as an all-in-one tool, it has lots of tools and features to offer. On the other hand, everything in Intercom costs a lot. Like, if you want to get yourself their 'Articles' tool (aka knowledge base), be ready to pay at least $49/month additionally. Bots are even more expensive. Moreover, Intercom pricing is more complicated and includes charges for active contacts.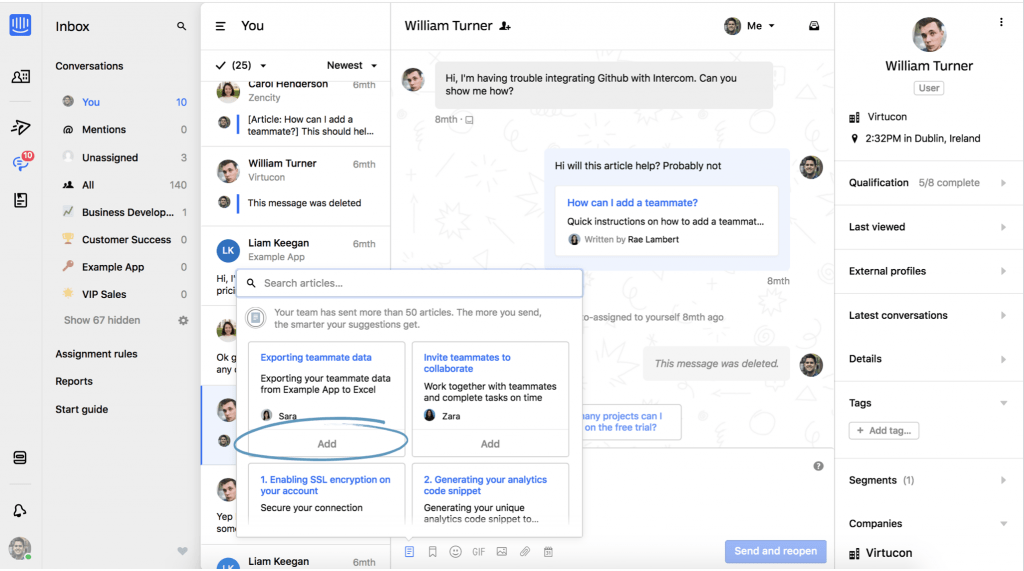 Its main downside is its pricing, which is not fixed and hard to predict. You would have to pay not only for agents, but also for contacts in your database.
Zendesk vs Intercom
If we compare Zendesk and Intercom side by side, Intercom seems to be way more universal in terms of customer service tasks. It has great features for everything from support to marketing to sales. Which can also be a downside for some users. If you're looking for a help desk and don't need all the fancy bots and apps, Intercom may easily overwhelm you.
But then again, customer service is changing and evolving, so I don't see a single reason why companies would stick to old school tickets and outdated systems. And in my opinion, Intercom beats Zendesk in the usability department, both on agents and customers' side.
Final words
Though Zendesk is indeed a great help desk tool, it has many excellent yet more affordable alternatives worth your attention.
If you're a small business and looking for a more condensed set of features, you definitely should look into software like Groove or LiveAgent, while HelpCrunch and Intercom are more universal in terms of customer service tasks.
If your goal is having more help desk features, you'd probably be satisfied with Freshdesk and Kayako.
Help Scout and HappyFox made an impression of rather simple and not overly complicated tools. The choice is yours.
HelpCrunch articles delivered straight to your inbox 🚀
All the latests posts. One email per month.
No strings attached.
Read also
Tools
Do you want to build your own well-orchestrated messaging hub? This list of the best chat APIs and SDKs available on the market is what you need to do just that without much hassle.
Tools
Intercom pricing is super confusing with its high prices, additional fees, and unpredictable invoices. We decided to figure it out once and for all.
Tools
Even if your business is just on its way to success, it still needs a helpful tool to be the best. Check out 15 low-budget customer service software for a small business and choose something that fits the bill.