Customers love chatting. At least, chat is their channel of choice when they do need to contact support. Chatting is fast, it allows to multi-task, and a chat conversation can be saved for later reference.
For businesses, having a live customer service chat also brings heaps of benefits increasing customer satisfaction and retention.
At the same time, not all live chats are equally effective and customer-friendly. However, there are simple techniques that can turn your support live chat into a welcoming space where your customers can always expect to get assistance.
Let's see how you can improve your live chat performance with the commonly adopted best practices.
8 best practices for live chat customer service
This checklist contains simple recommendations that can boost your live chat performance tremendously. Of course, feel free to adapt and fine-tune them to your business requirements as you see fit.
#1 Get personal
For all its convenience, live chat still creates that sensation of detachment – the customer never knows who is on the other side. However, there are simple things you can do to make your chats more personalized.
Start with showing your face in the chat. In other words, upload your photo to your profile. Customers like it much better when they see a real person behind the chat.
By making your chat conversation as personalized as you can, you will bridge that gap between the focused face-to-face offline service and the comfort of remote communication.
Another good practice in the same context is calling your customer by name. Either pull up their name from the account if they have one or just ask them how they prefer to be called. Of course, introduce yourself, too, ideally by using your real name as your support account name.
#2 Be proactive in offering help via chat
Don't let your live chat button just sit there in the corner of your website page. Use it to reach out to your visitors offering help or additional information. Here, you will need to do some smart targeting to make your automated chat prompts natural and helpful.
Set up your automated chat messages to show your customers that you are there to help them if they do need your help. The important thing, though, is to have the chat always monitored by a support representative to answer quickly whenever customers ask for assistance.
Most customer support and communication tools have the option of creating and configuring automated chat messages. Use a template or write your own – it's totally up to you, just make sure your message is clear, helpful, and non-intrusive.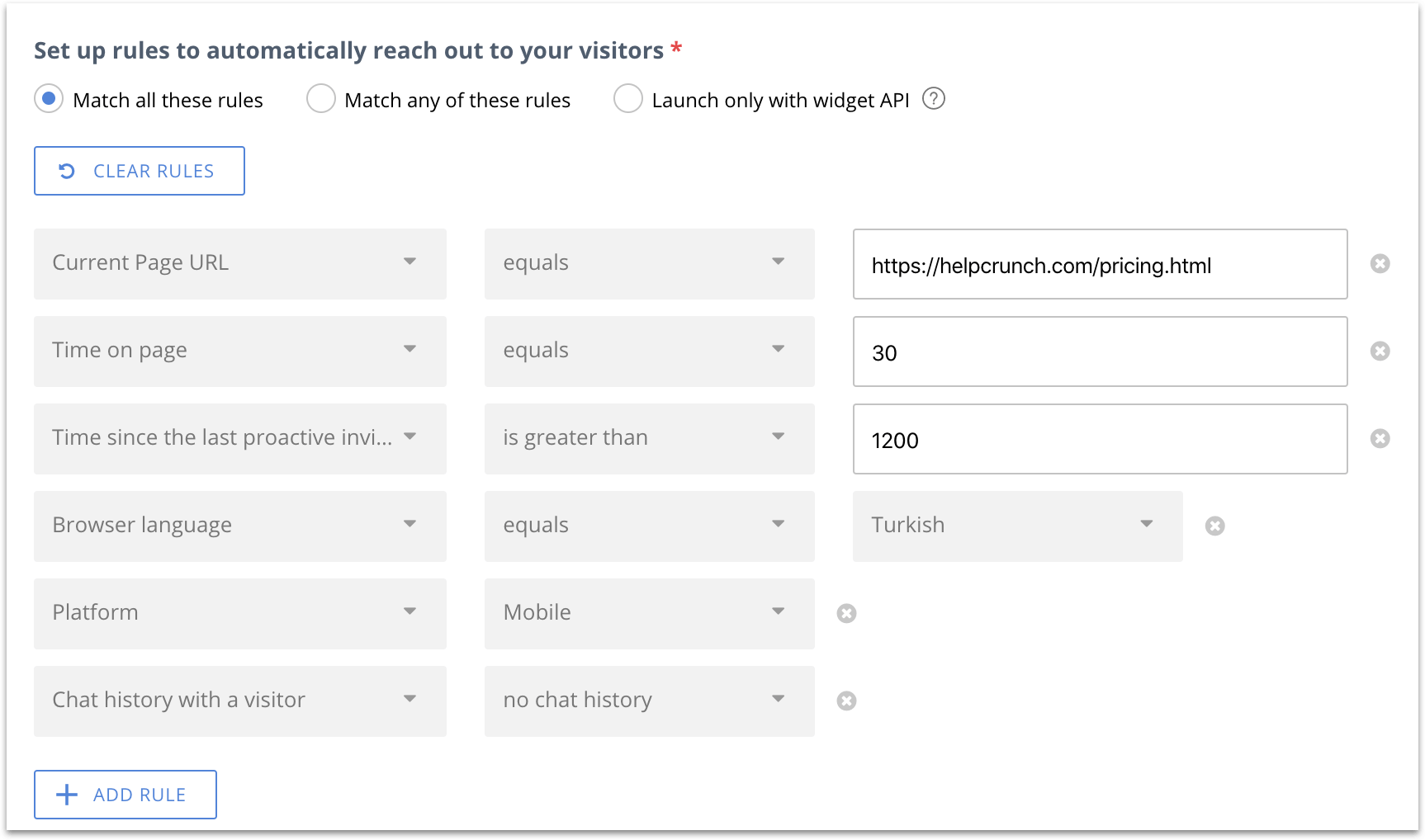 #3 Use canned responses
One of the reasons customers prefer chatting over other communication channels is the speed of response. Make it even faster by using pre-drafted messages in response to the most frequently asked questions.
In addition to making your conversation quick and efficient, canned responses have another advantage – you prepare them outside the chat with no pressure that is inevitably present in real-time communication.
You can verify the information you include in a canned message, make sure it conforms with the brand style and is free of typos or other errors.
In addition, think of adding links to your knowledge base to a pre-drafted message. This way, you will have them ready immediately instead of frantically searching for the relevant article in the middle of a chat conversation.
#4 Tailor your responses using customer data
This is another aspect of providing personalized service to your customers. By the way, personalized service is no longer just something "nice to have", it is in the category of "must-have". 84% of customers find being treated "like a person and not a number" important.
One of the sources that you can use to make your client communication more personal is customer data. The data in question means the data the customers provide when creating their account with you (name, location, language, etc.), the data of their business with you (pricing plan, past activity, duration of service, etc.) and the analytical data on their website behavior you gather using special tools.
You can use all these details to tailor your conversation when customers contact you for assistance. For example, instead of asking about the pricing plan the customer is using you can look it up and start with "I see that you have subscribed to the Premium Plan…"
If your service allows contacting you without an account, you can collect the basic customer data in a simple pre-chat form. Just a couple of fields – name, email address, area where assistance is required.
When you connect to the customer, you can immediately start calling them by name and have an idea why they reached out to you in the first place.
#5 Ask customers to rate their service experience
Set up your chat software to offer the customer to rate their experience as the last step after closing the current chat conversation.
Nothing fancy, just three options – "Great", "Average", "Poor" that the customer can choose from by clicking the icon. Such a rating will take less than a second for the customer but for you it is going to be a wealth of information about your support agents' performance.
Many customer service tools, such as HelpCrunch, offer the Chat Rating feature as an option that you can enable or disable when necessary. We recommend that you use it not to miss this opportunity to get one more insight into how your business is doing.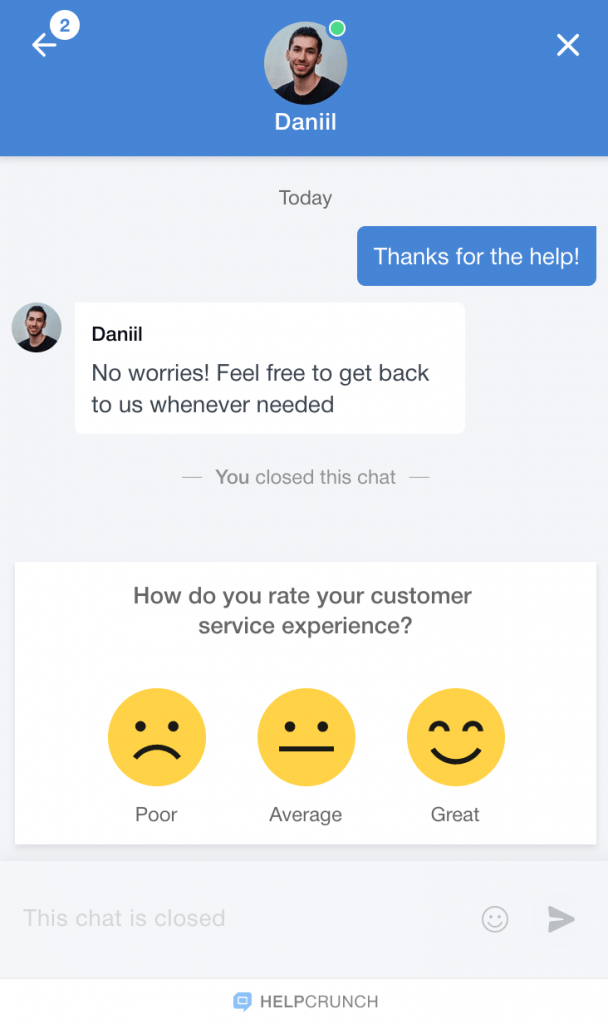 The ratings are gathered in the Satisfaction Report showing the total number of responses in each category. By studying the report, you will see if any improvement is required.
#6 Leave notes for your team
Even if it seems that the issue is completely resolved, note down what it was and which solution was chosen.
There is a chance that the same customer returns with a similar issue and your colleague handling the request will immediately know that the problem is recurring. This knowledge may save time for both the rep and the customer and suggest a way of resolving the issue.
If the issue is not resolved and you expect the customer to contact you again after testing the suggested solution or discussing it with their colleagues, logging the communication becomes mandatory.
You can never guarantee that on their next contact the customer will "meet" the same rep, thus the person who picks up the chat should know what has already been done.
There are many ways to save the chat notes for the next rep. You can either use a collaboration tool or, if your software allows, keep the log directly in your customer's support account. Save the entire chat, add your comments, mention whether any follow-up is required. When the customer contacts your team next time, they will be much more satisfied that they can pick up where they left off instead of telling the whole story all over again.
#7 Follow up on the issues via email
By the end of your customer service chat, you should have the customer's email address from their account or the pre-chat form or by asking the customer directly. Use it to follow up on the issue.
You can use email to send the chat summary with the proposed resolution. Alternatively, if your chat was interrupted, send any important details that you have not managed to discuss in a follow-up message.
You can also set up your live chat customer service software to forward any chat messages that the customer missed to their email, too. Email should become your backup communication channel to make sure that your customer has all the information they need.
In HelpCrunch, you have an option that enables automatic resending of chat messages that remain unseen for a few minutes to a customer's email.
#8 Be helpful even when offline
Customers should be able to find answers to the most frequently asked questions even when the support team is offline. For that purpose, maintain a comprehensive knowledge base walking the user through all the steps of using your product and suggesting ways to troubleshoot the most common issues.
A good knowledge base will reduce the pressure on your support reps, as many customers will be able to resolve issues on their own.
In addition, the availability of a knowledge base raises the overall customer satisfaction, as most of them prefer self-service to contacting an agent in whatever format.
Choose a suitable customer service chat
The market is full of customer service tools, and you may feel a bit overwhelmed when choosing the one that will suit you best. To make your decision easier, consider the following factors when selecting the live chat tool for your team:
An all-in-one solution. It is always more efficient to have a tool that does more than one function. In the context of customer service, you should be looking for tools that include several communication channels – real-time chat, email, Slack.
Having everything in a single package makes agents' onboarding easier and allows effective synchronization of various activities.
Support of proactive measures. Pick a tool that allows setting up various automated messages that engage customers.
Availability of analytical features. Analytics is as important as the main service functionality. By gathering and studying analytical data, you will see the overall performance of your customer support service and be able to take prompt measures when required.
Free trial. With the abundance of various customer service tools, it may very well happen that the first one you choose turns out not to suit all your requirements. You should be able to try and test the tool before buying a subscription.
Integrations. Your customer service software should be able to integrate with other tools, such as an internal messenger or a team communication solution, such as Slack or Chanty. In this context, prefer tools that support integrations to those that are completely standalone.
All these features can be found in HelpCrunch, a comprehensive customer support product that includes a highly customizable live chat. If you are looking for a tool for your online chat customer service, HelpCrunch might be exactly what you wanted. And it has a 14-day free trial, too – try it and see how effective customer service can be.
HelpCrunch articles delivered straight to your inbox 🚀
All the latests posts. One email per month.
No strings attached.
Read also
Support
Follow this customer service checklist template to build a flawless clock-work process. Not a single detail will slip out of sight!
Support
Customer service standards exist so that you can check if you meet the bar on the market. Find out what standards are there and how to measure them to be sure you make everything right.
Support
Creating a knowledge base usually takes quite some time. In this article we explain how to build a knowledge base that's helpful for your customers, step-by-step.