16 Excellent Customer Service Apps to Supercharge Your Support
Excellent support is unthinkable without the right customer service apps. Choose from these 16 options to provide a seamless omnichannel experience and improve key business metrics.

Сustomers couldn't care less about your choice of customer service apps.
Your software can cost thousands of dollars just as well as be available for free. All your clients desire is timely help with the human touch.
The paradox of the situation is that you can't really give them what they need unless you do pick a reliable customer service application with a rich set of features, excellent performance, and high operation speed.
So, how does one choose a piece of software like this? Let's find out!
Essential customer service apps
It's not that customer service apps are in scarce supply. On the contrary! You'll soon see the choice is so vast that picking a customer support app became a question with too many right answers.
It's just that selecting the right one depends on too many factors. Like, what are the primary communication channels that you want to cover with your support? How many third-party integrations do you need? At last, what are your business needs?
The best service apps can be so much more than just a place to exchange messages with clients. You can use it to raise their engagement, improve retention, and build trusting relationships that last for decades. Sounds like something worth extra consideration, doesn't it?
Let's take a look at the top players on the market of customer service applications and their strong sides: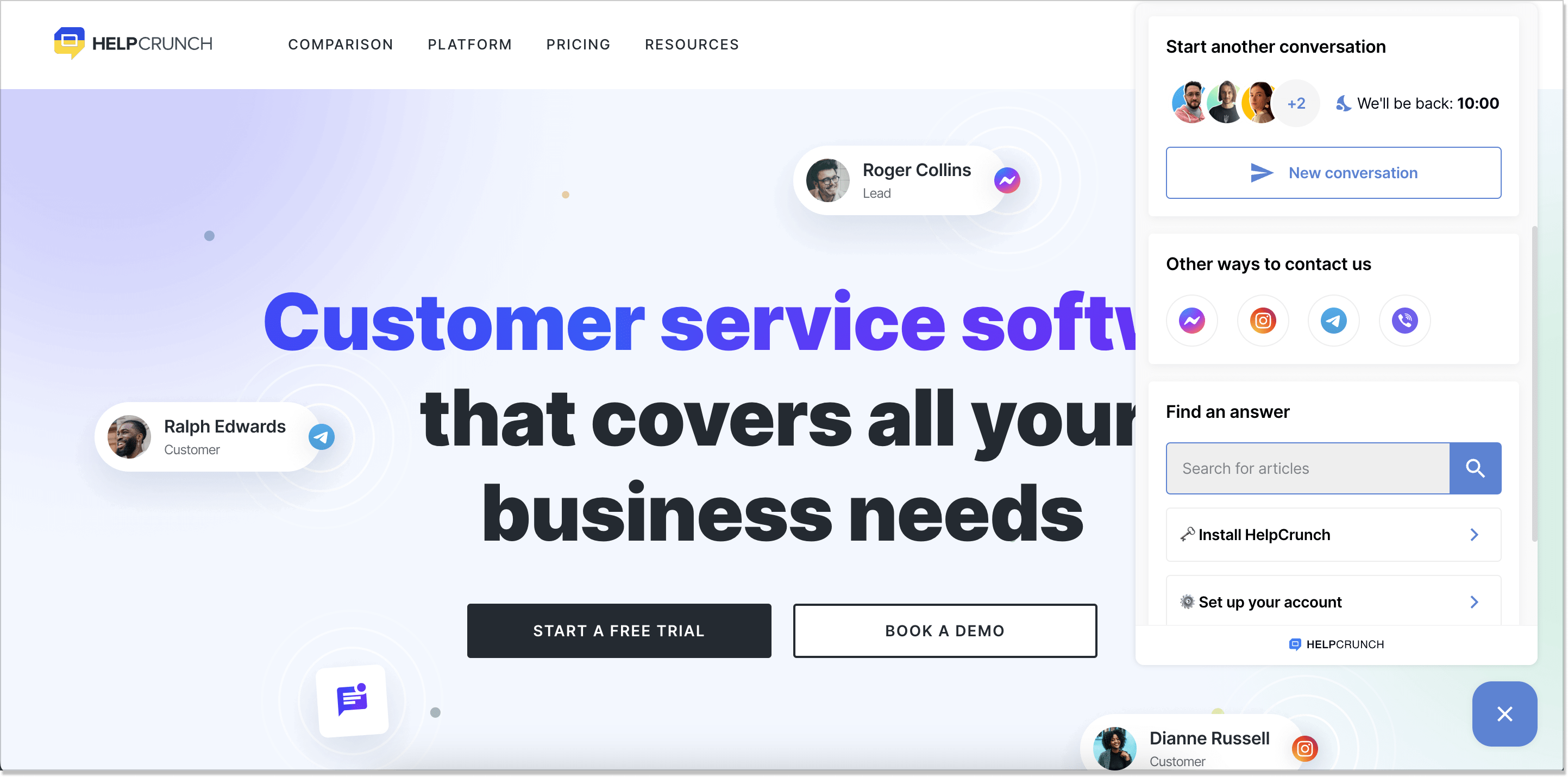 HelpCrunch is an all-in-one customer service application offering live chat for websites as well as web and mobile apps. But the live chat feature is just the tip of it. The full functionality covers a chatbot, knowledge base, email marketing, and popups.
You can use the tool for virtually any customer service activity — provide all-around omnichannel support, reach out to website visitors via trigger-based chats, follow up on important leads via automated emails, etc. The chatbot is a perfect tool to automate your customer support and sales. Just use one of the pre-written templates or create your own chatbot scenario from scratch to handle FAQs, qualify leads, collect contact details, and much more.
Popups are great for targeting cold leads with timely relevant information and catching their interest. And the knowledge base is just always there to assist anyone at any time. Especially since it's integrated into the chat widget.
The pricing starts from $15/mo per team member for a live chat, knowledge base, and popups. Email automation and chatbot features are worth $25/mo for each team member.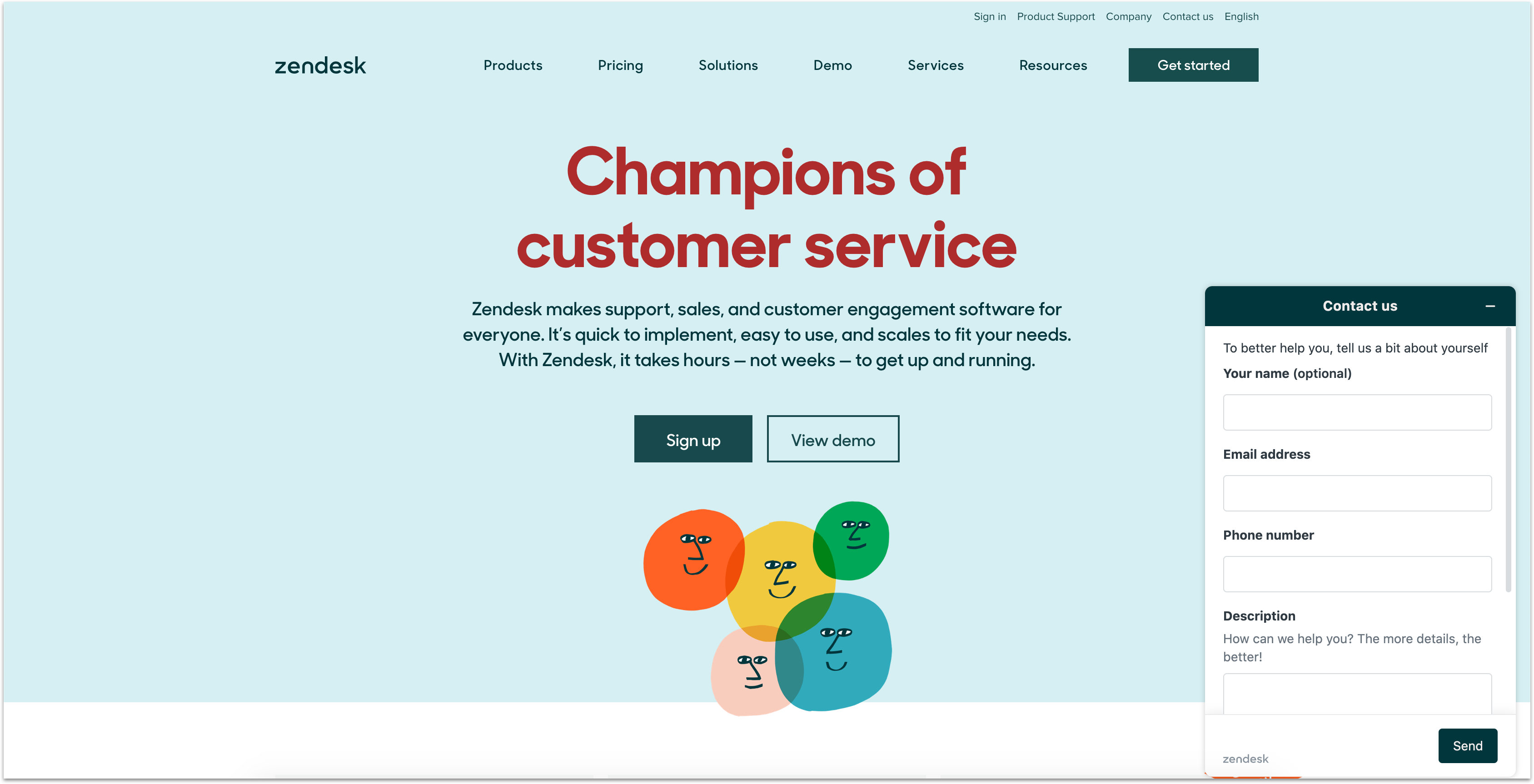 Zendesk also offers vast customer support features, which include ticketing, live chat, knowledge base, and call center. Given its long history and undeniable success on the market, it can become a robust and rich solution for any business.
However, their main focus has always been on the ticketing part of the toolset. (Meaning: live chat might seem out of touch and archaic.) All the elements in it function like clockwork, and the app's users appreciate it for its reliability.
In terms of prices, Zendesk offers numerous options for any business size. The most basic package for email support will cost you $9/mo/agent. The more support features you need, the more expensive the application becomes. For instance, CSAT surveys are only included in the $49/mo plan, while the end price can even reach $199/mo/agent. And if you want a chat that allows you to have more than one concurrent conversation, it will cost you additional fees.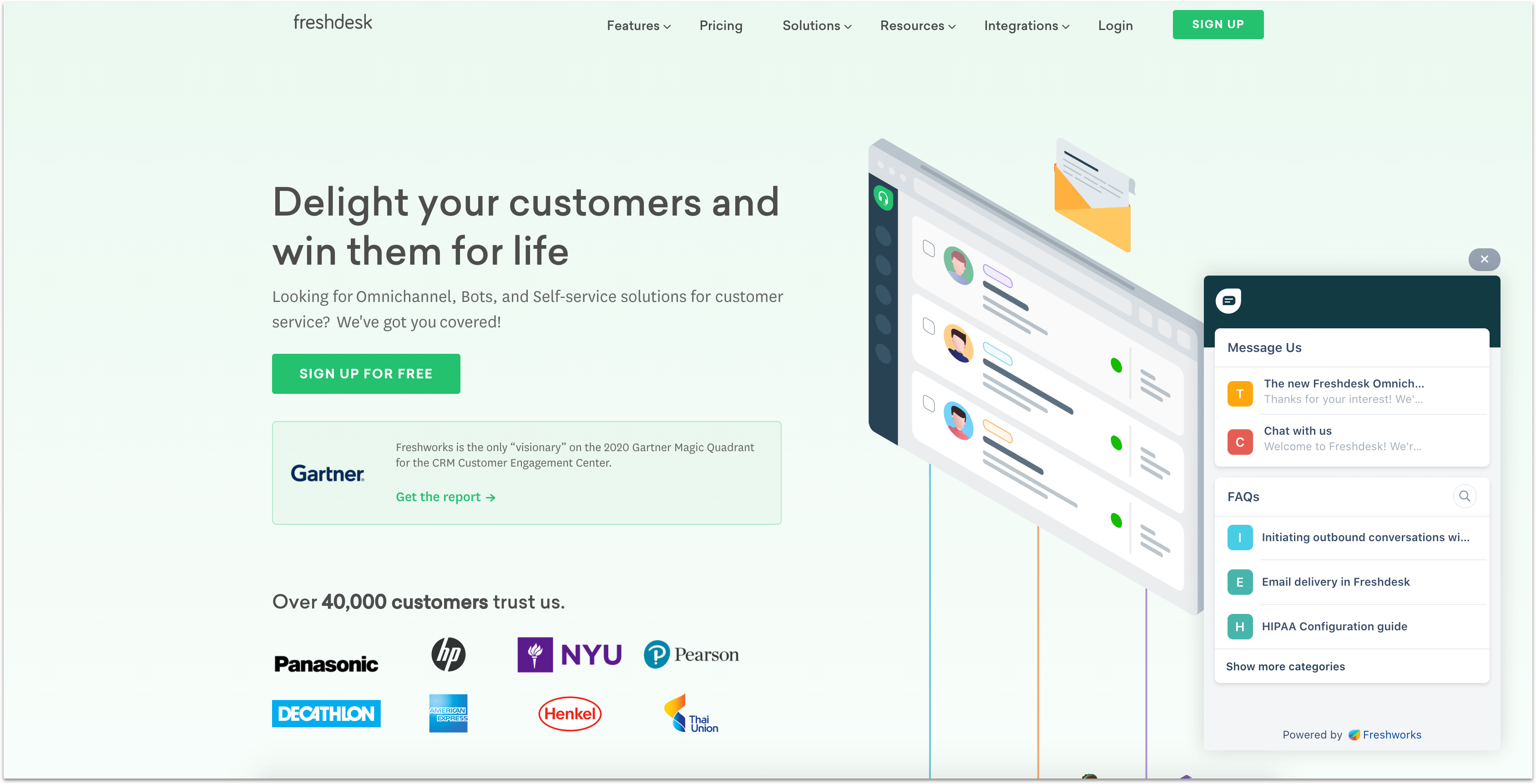 In simple terms, Freshdesk is a more democratic Zendesk alternative. As a customer support tool, it offers rock-solid ticketing features, including a knowledge base. If email and social media support are what you're looking for in your solution, then even a free subscription can be more than enough. In many cases, Freshdesk is more seamless and intuitive than its older counterpart.
However, as it usually goes, many vital features like CSAT surveys, business hours, or advanced routing can cost you something from $19/mo to $125/mo for each support agent. A live chat widget isn't included in any Freshdesk's subscriptions. Hence, you'll have to purchase it as a separate product called Freshchat.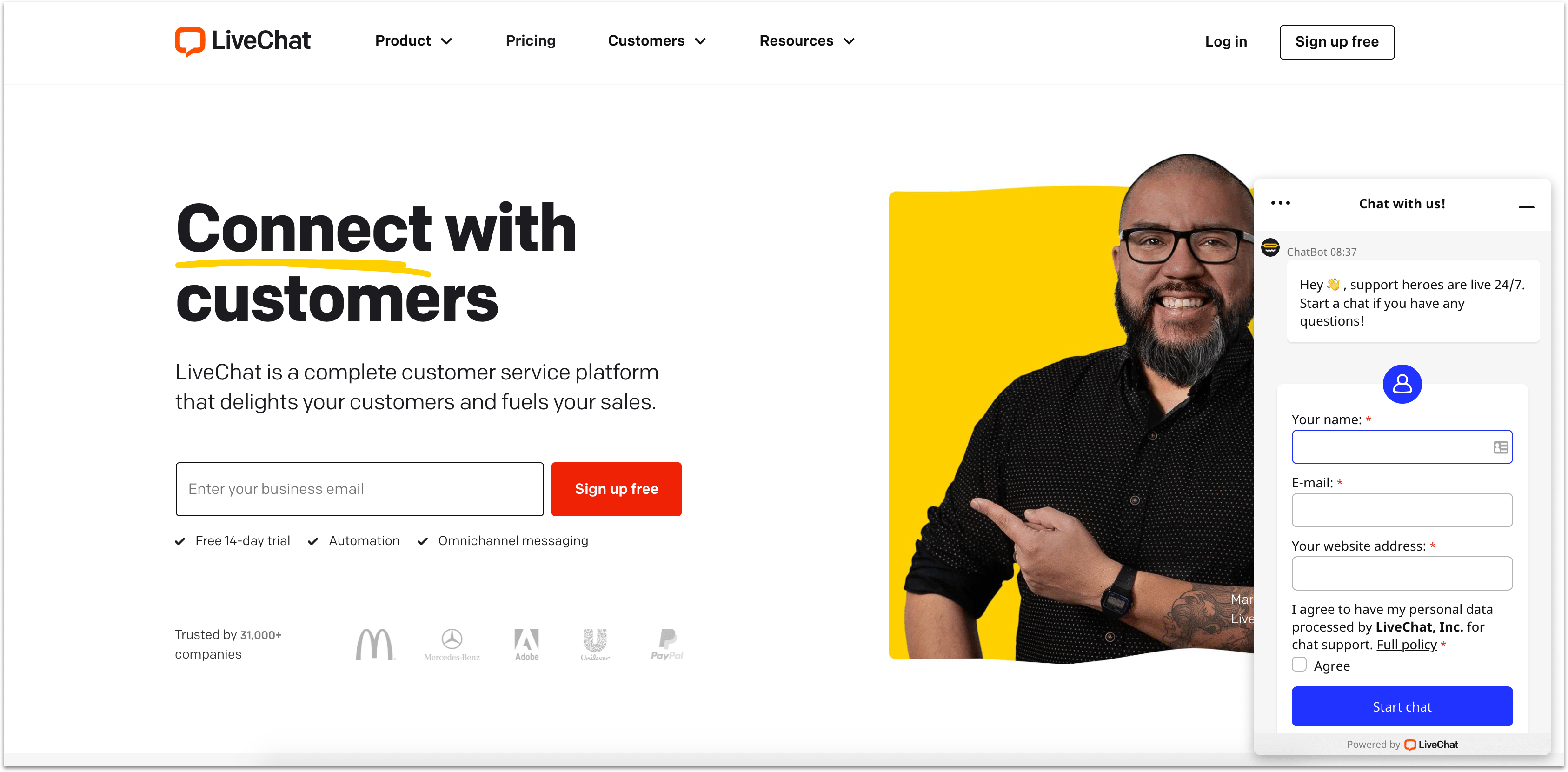 As the name suggests, LiveChat is 100% about live chat features and nothing more. If all you need from your customer service application is the ability to communicate with your clients in real time, it may be a worthwhile solution.
The team has perfected the tool's numerous features. Support agents will enjoy things like message sneak peeks, rich messages, and targeted messages. Chat customization options allow you not only to adjust the chat window to your branding style but also decorate it with additional elements like eye-catchers, clickable responses, and 45 languages.
The pricing for the app is rather high (given that it doesn't offer any knowledge base or email automation whatsoever). The basic subscription plan with the 60-day limitation on the chat history costs $19/mo/agent. The prices for more advanced packages vary from $39/mo to $59/mo for each support agent.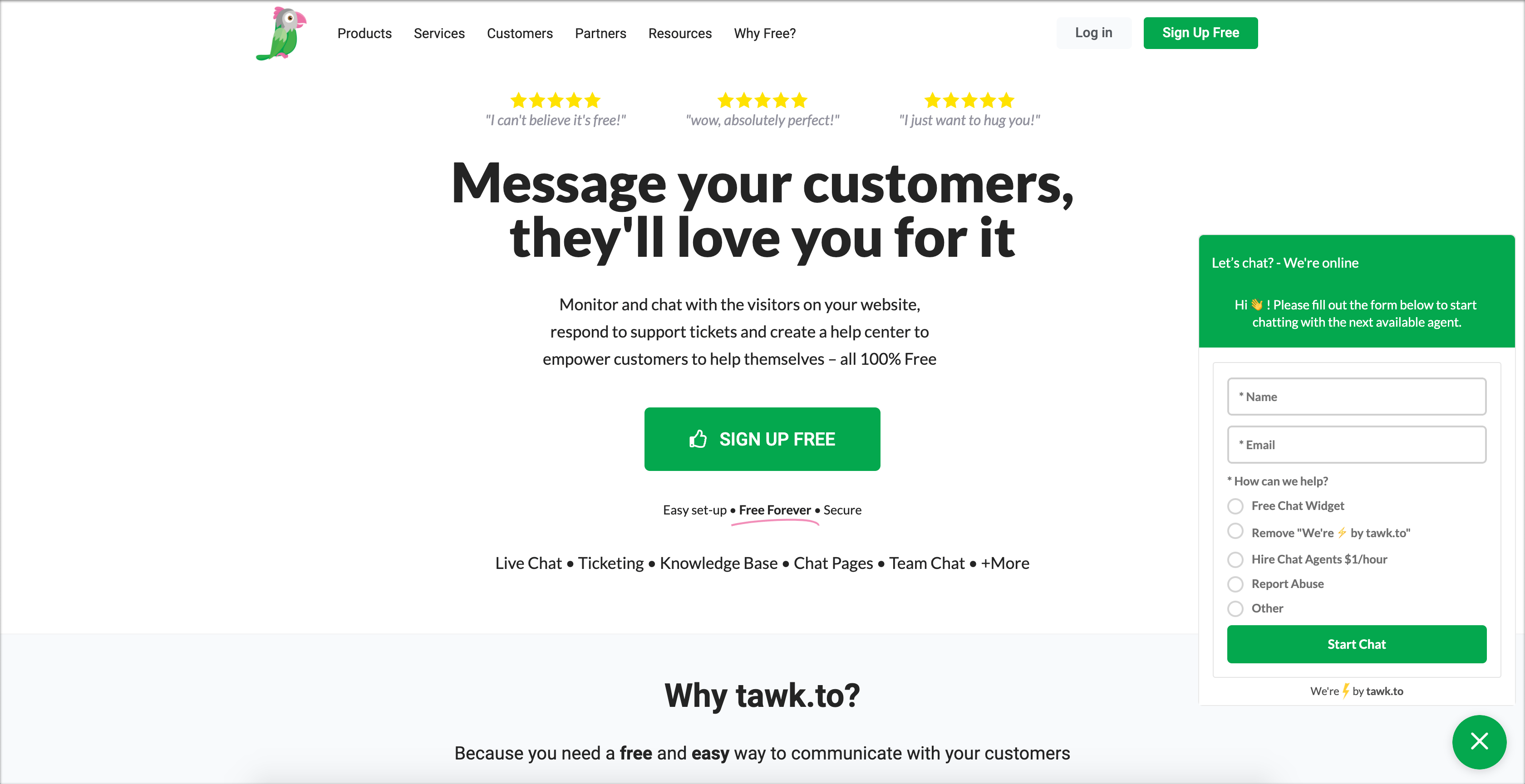 If you're looking for a free customer care app, Tawk is the most known option out there. On top of offering software, the company also allows businesses to hire support agents.
All in all, you can get their live chat and knowledge base features completely free of charge. Your account will include unlimited agents and real-time visitor monitoring. Not only can you answer questions from your clients but also see who's browsing your website in real time and reach out to them. There are also 27 languages available for chat localization as well as group messaging.
All in all, it's not the most comprehensive customer service app, but it's definitely a decent free alternative to more expensive solutions.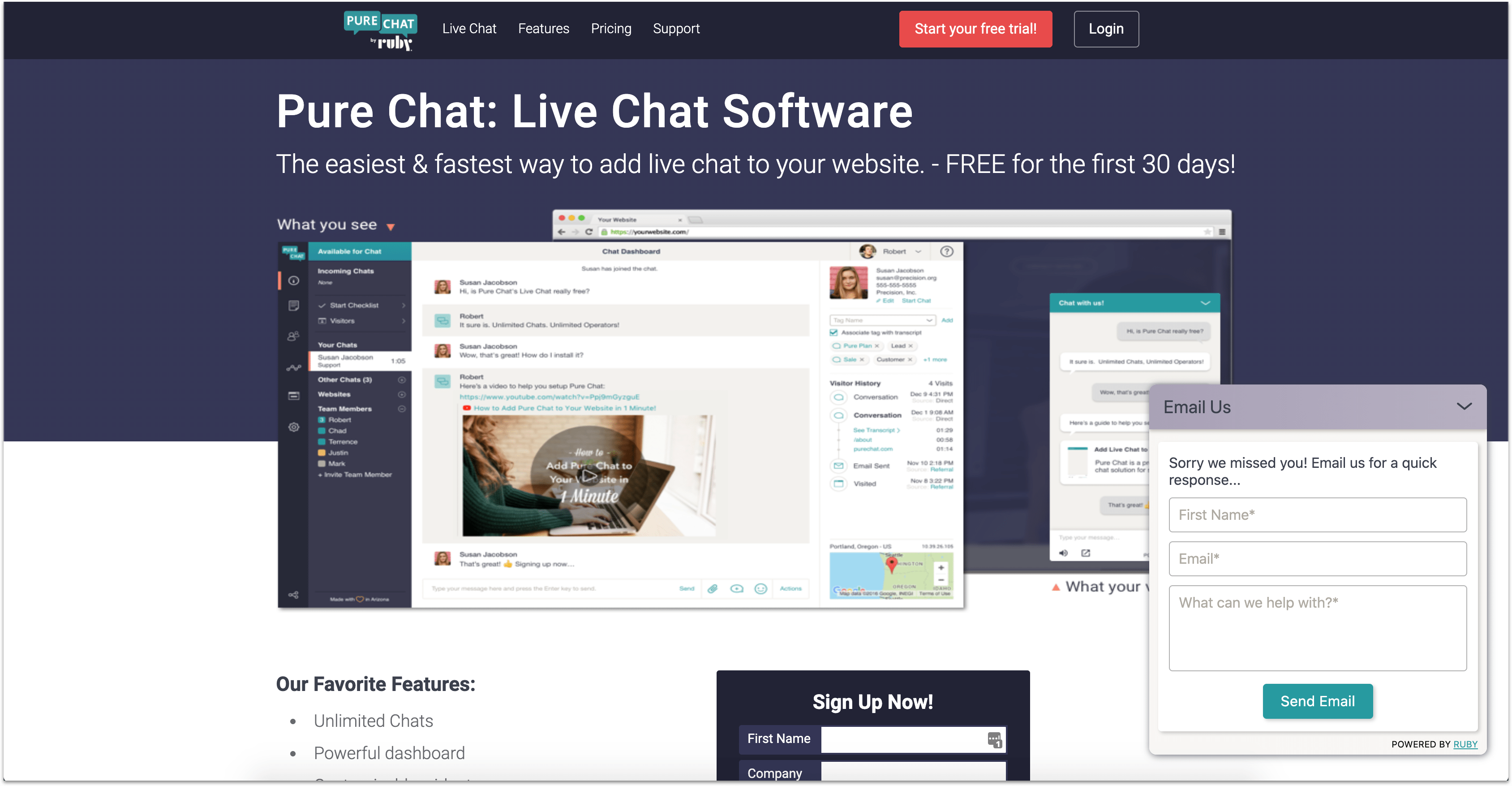 Pure Chat is a basic live chat tool with a very standard set of features, nothing exceptional.
The application offers all the necessary live chat features divided into two pricing tiers. The Growth package costs $49/mo for 4 support agents, with each additional seat costing $15/mo. The Pro plan is a bit more expensive with its $99 monthly charge. It includes 10 seats right away, while extra seats will cost $10/mo each.
In terms of their functionality, the difference between the two subscription plans is not that striking. They both have unlimited chats and chat history transcripts, canned responses, visitor tracking among other features.
It's just that the Pro plan covers an unlimited number of websites and allows you to remove the company's branding from your live chat widget.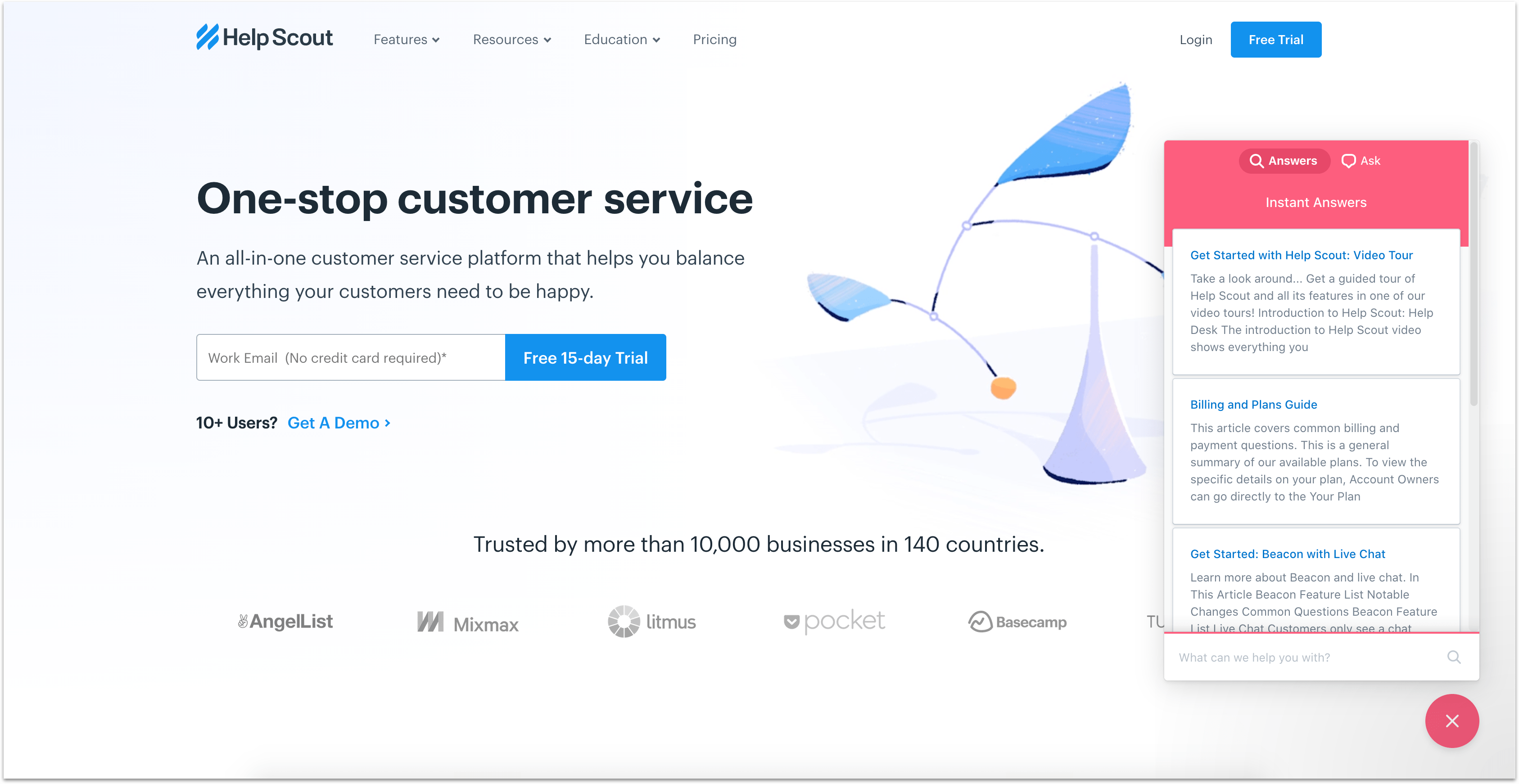 Help Scout is a simple and elegant customer service app with ticketing, live chat, and knowledge base functionality (what more could one ask for).
The app makes omnichannel support a bit easier. The shared inbox contains all support requests from various channels that can be easily managed with such features as collision detection, private notes, and tags. It's also convenient that the live chat widget has a built-in knowledge base section where clients can find answers on the go.
The Standard subscription plan costs $25/mo per user for 3 mailboxes and 10K trigger-based messages.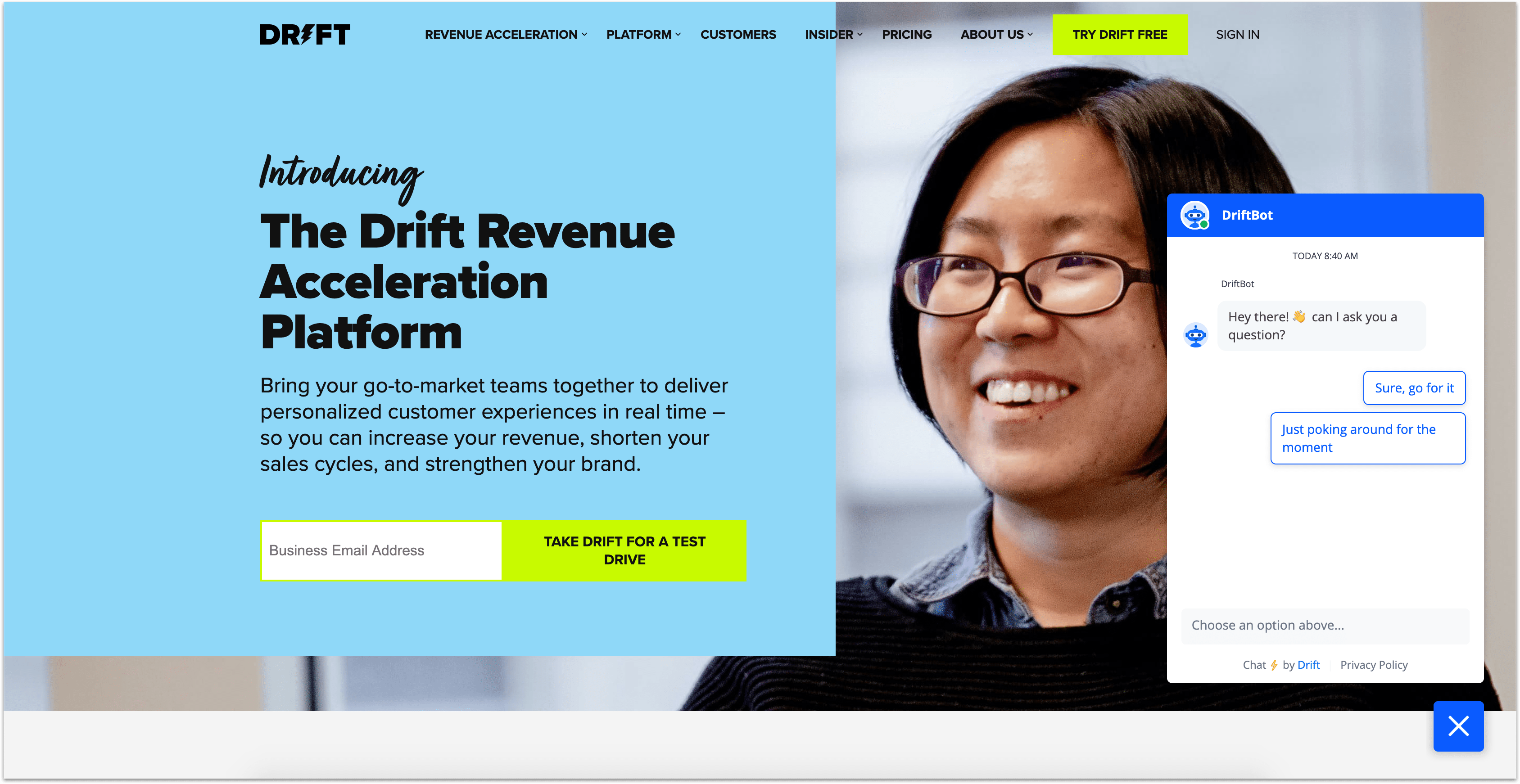 Among all the solutions on this list, Drift is a premium advanced customer service app focused on sales and marketing before anything else. Features like customer chatbots or account-based targeting look quite advanced if compared to simple live chat tools. However, you should also be aware that they cost quite a lot. And in most cases, a customer support team doesn't even need them that much.
The good news is that the Drift Live chat is available for free. The rest of the pricing plans are only disclosed by request.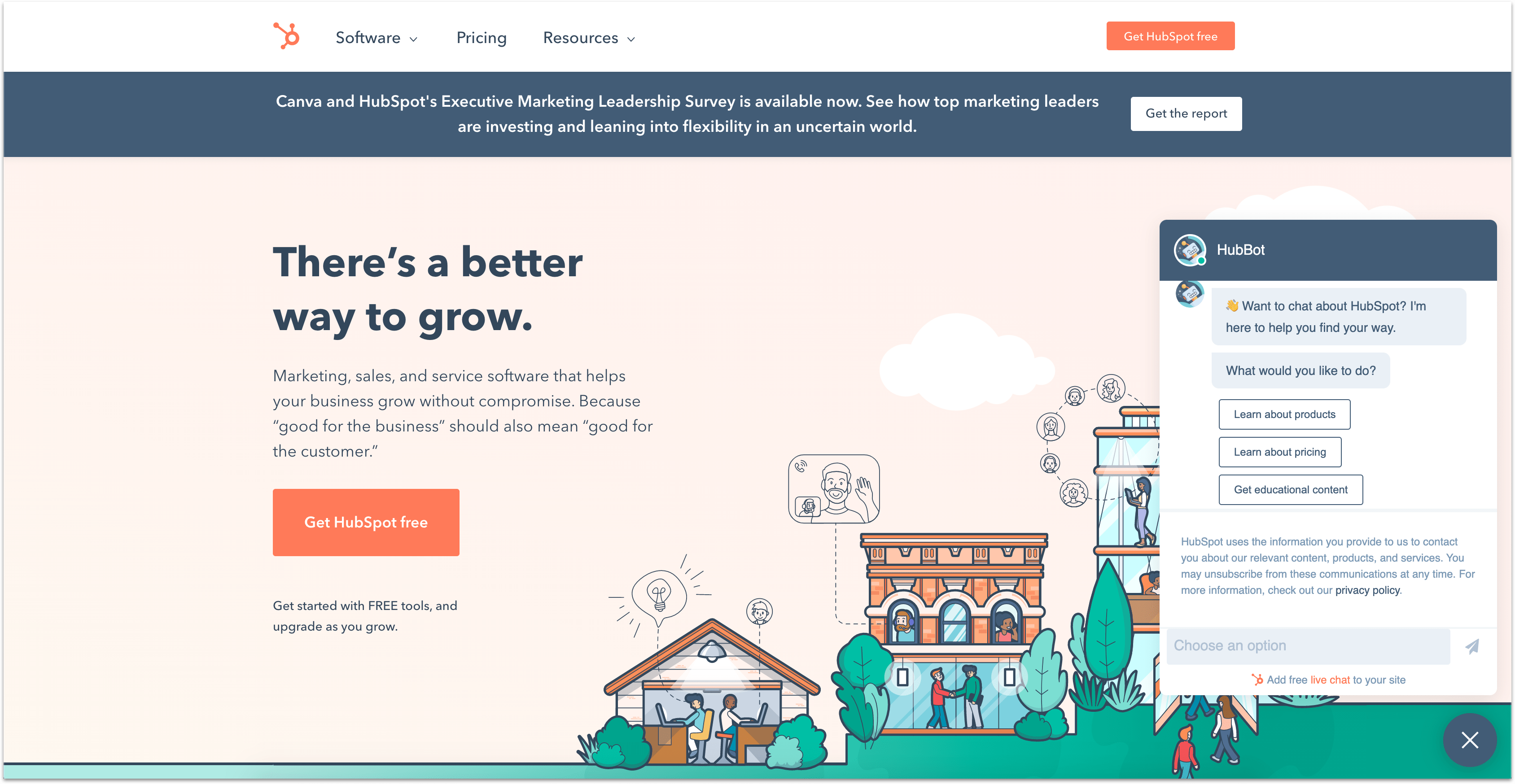 Hubspot is a versatile support, marketing, and sales app, probably best known for its CRM system. They have packages (aka "hubs") for different use cases: marketing, sales, service, and content management. It's only natural that they are all easily integrated with each other. However, Hubspot has also gained a great reputation because of its endless third-party integrations.
The Service Hub includes such features as live chat, ticketing, and knowledge base. But the latter is only offered as part of the Professional subscription that costs $360/mo. On the other hand, conversational bots are available in all plans.
It's also quite convenient that the famous Hubspot CRM is actually free of charge and includes live chat functionality. So, it can be something worth considering, too.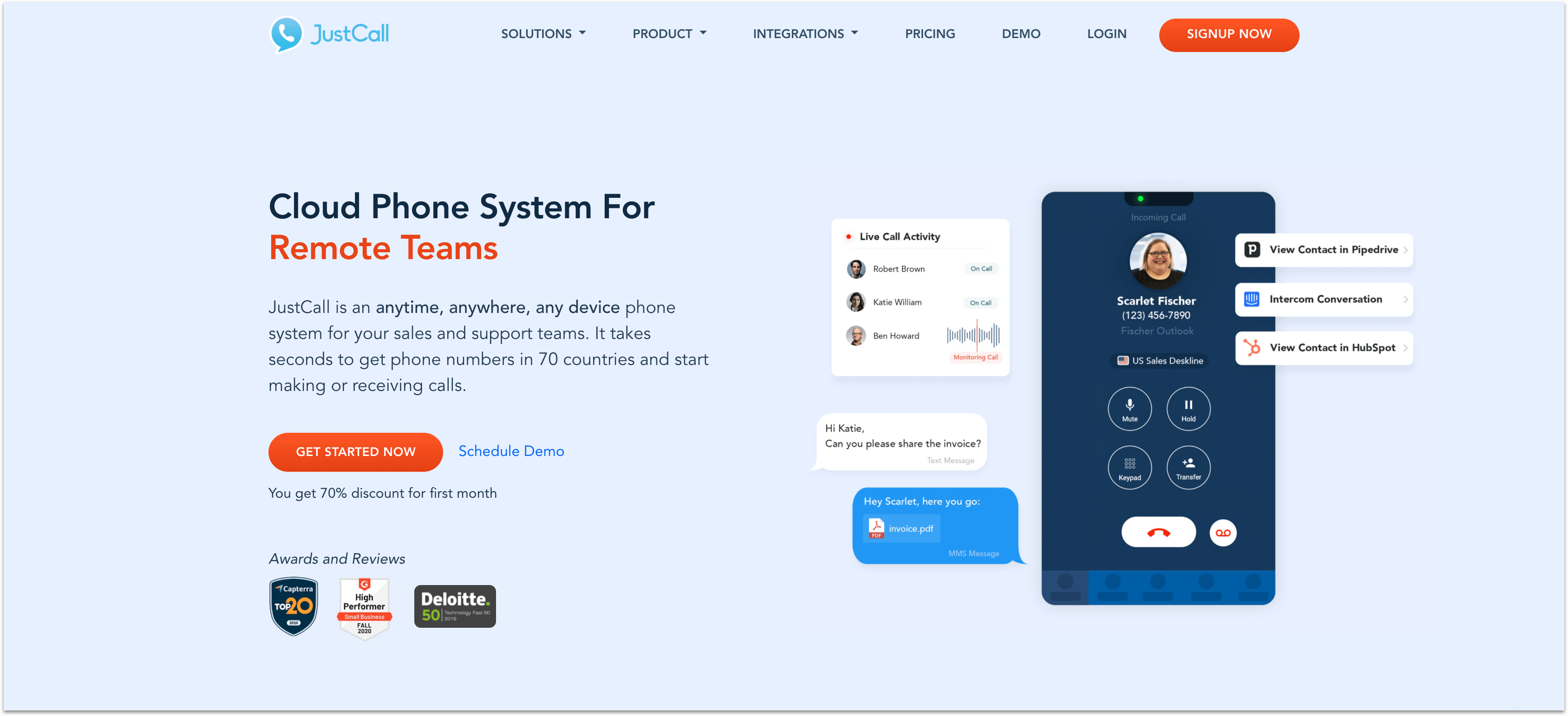 JustCall is a cloud system for call centers. If what you need is a system to manage phone calls and SMS from your clients, then this customer support application might be just the right choice.
For $25/mo per user, you get a local phone number and forward all calls not only to the unified dashboard but also to your personal phone. Features like business hours, call recording, collaboration, and call distribution are available in all subscription plans. However, if you want to enjoy more advanced functionality, then the Premium plan will be more suitable. It costs $50/mo per user and offers SMS bots, call monitoring, and advanced integrations.
Complementary customer service apps
As I said, customer service can have many faces. That's why many support managers find themselves in a position when a customer support app is simply not enough and needs some additional third-party auxiliaries.
Such second pilots are not necessarily customer service applications in the narrow sense. They're just there to help you manage all the processes more efficiently and give a boost where it's needed.
Here are the top 6 complementary customer service applications that you'll inevitably fall in love with: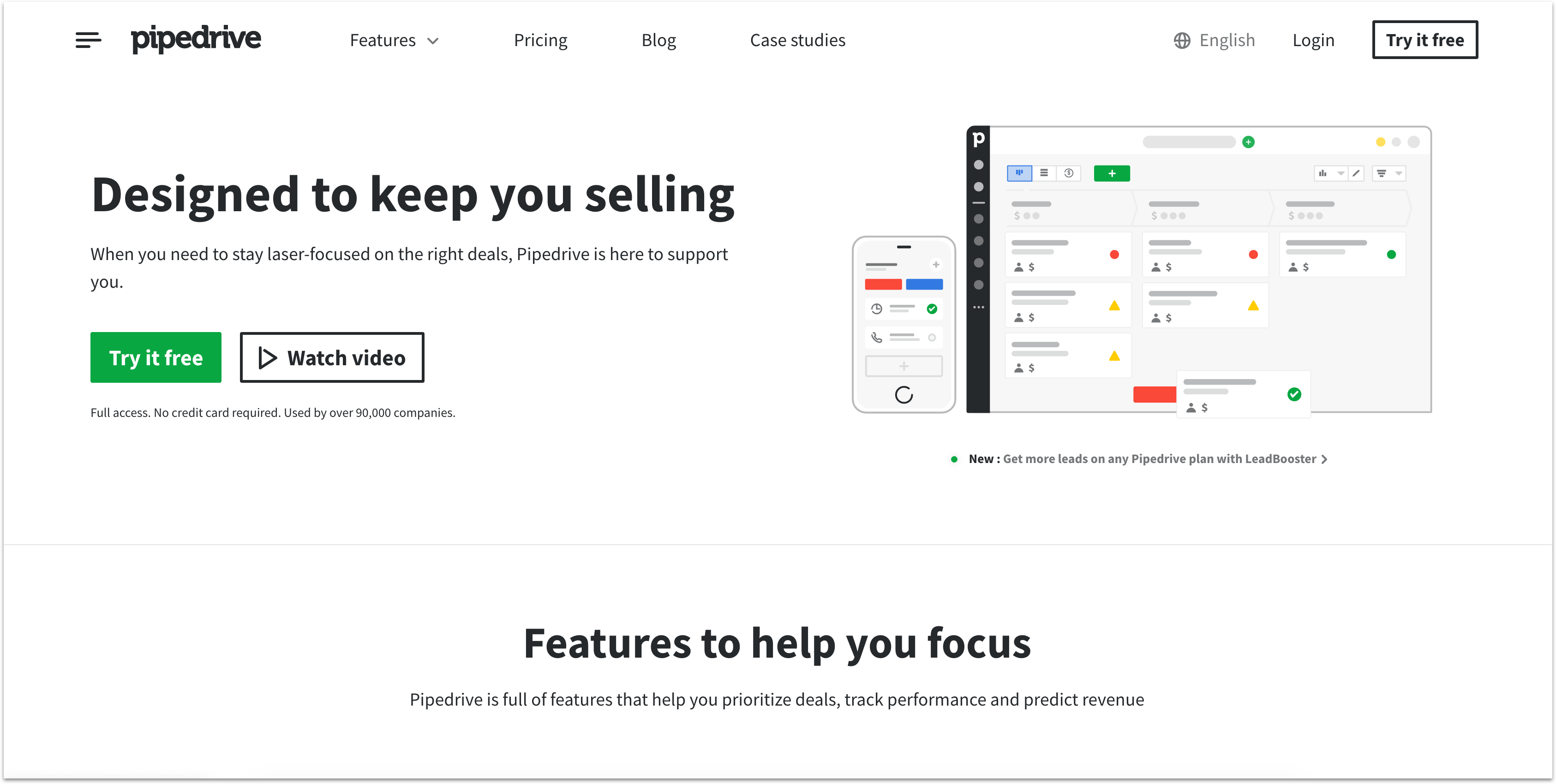 All customer service applications usually include basic built-in CRM systems where all the contacts are stored and can be easily accessible whenever needed. But if you need something more complex, then Pipedrive can be a great choice for a dedicated CRM tool.
On top of having such vital features as a demo scheduler and communication tracking, it will allow your customer support team to effectively collaborate with the marketing and sales departments.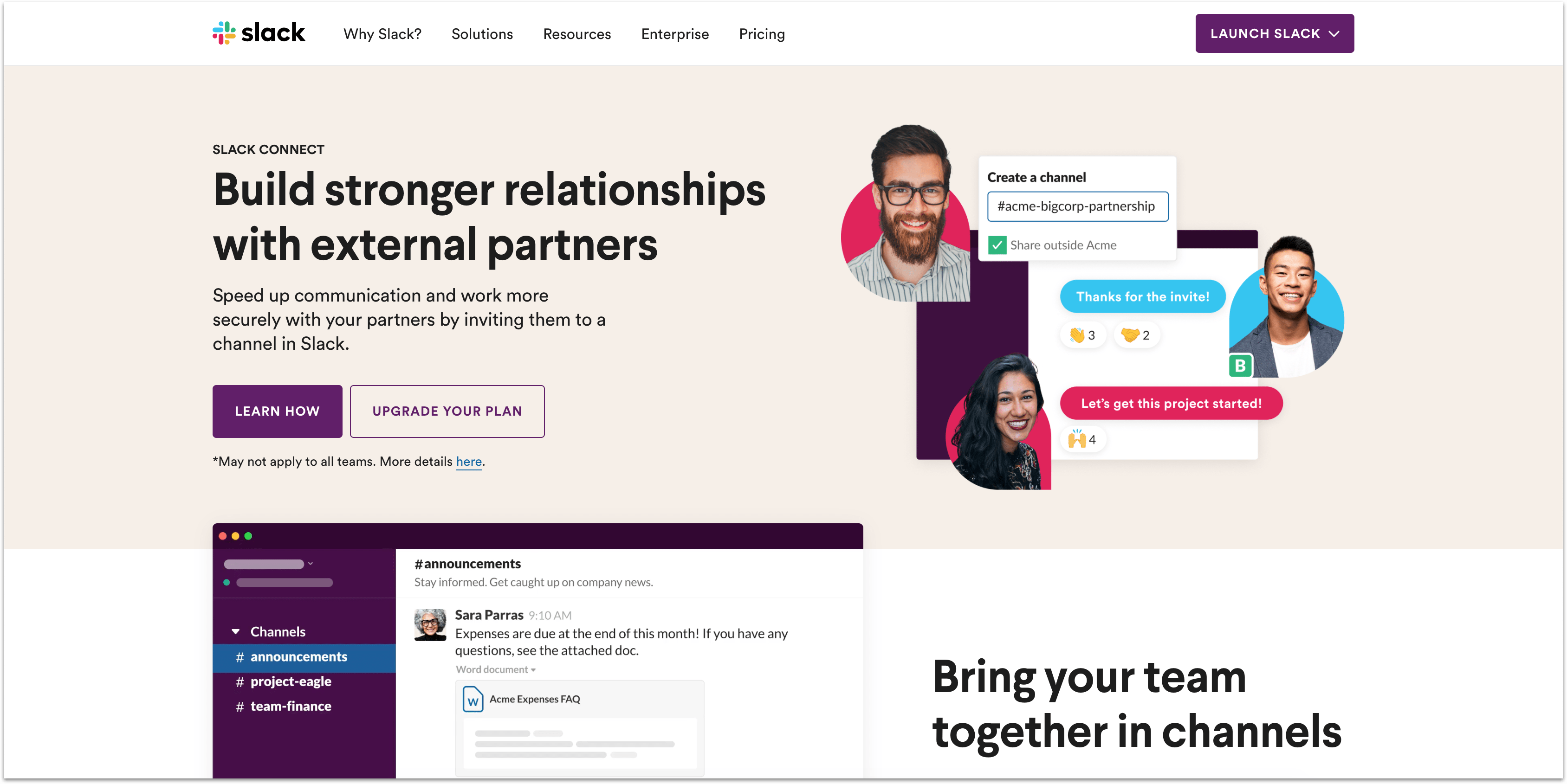 Customer support is unthinkable without well-oiled communication within your team. Slack is one of the most known and convenient team communication tools out there. Not only should your customer support team have a designated channel for support-related discussions, but they also can participate in other channels with marketers, developers, product managers, and the rest of the team.
It will allow them to resolve all the most pressing issues on the go by tagging responsible departments and discussing details in attached threads. Moreover, integrating your customer service app with Slack will provide yet another notification channel and present an unfailing source of first-hand feedback.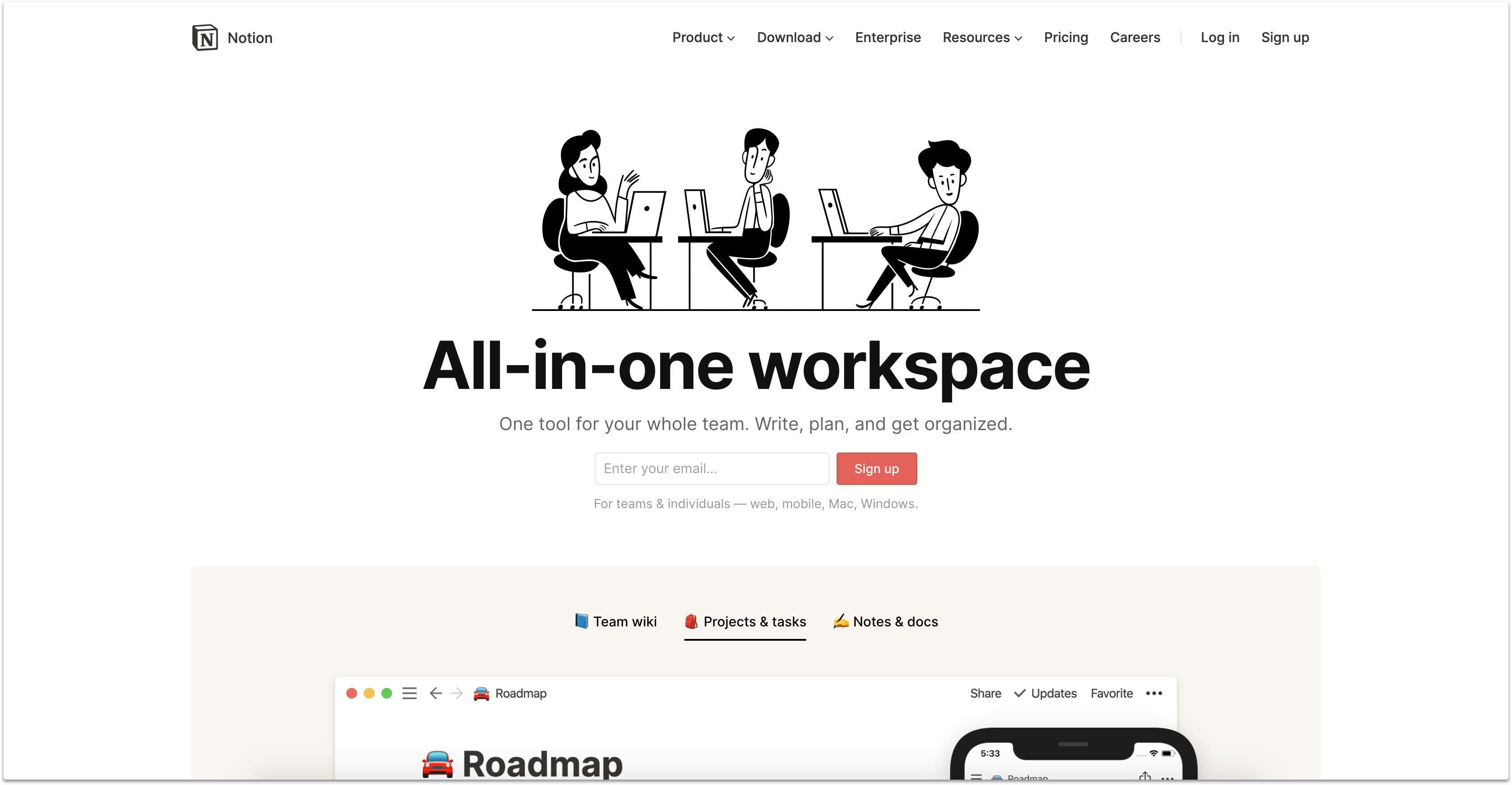 Keeping track of all feature requests, bug reports, and general complaints is also a part of customer support's daily routine. That's why you need a reliable project management tool. Notion offers a great variety of templates for all kinds of tasks. Create checklists, boards, roadmaps, and bundle them together in a simple dashboard.
It's also easy to collaborate with your colleagues on any project you create in Notion. The app lets you comment, start conversations, mention colleagues, and track who's viewed any document and when.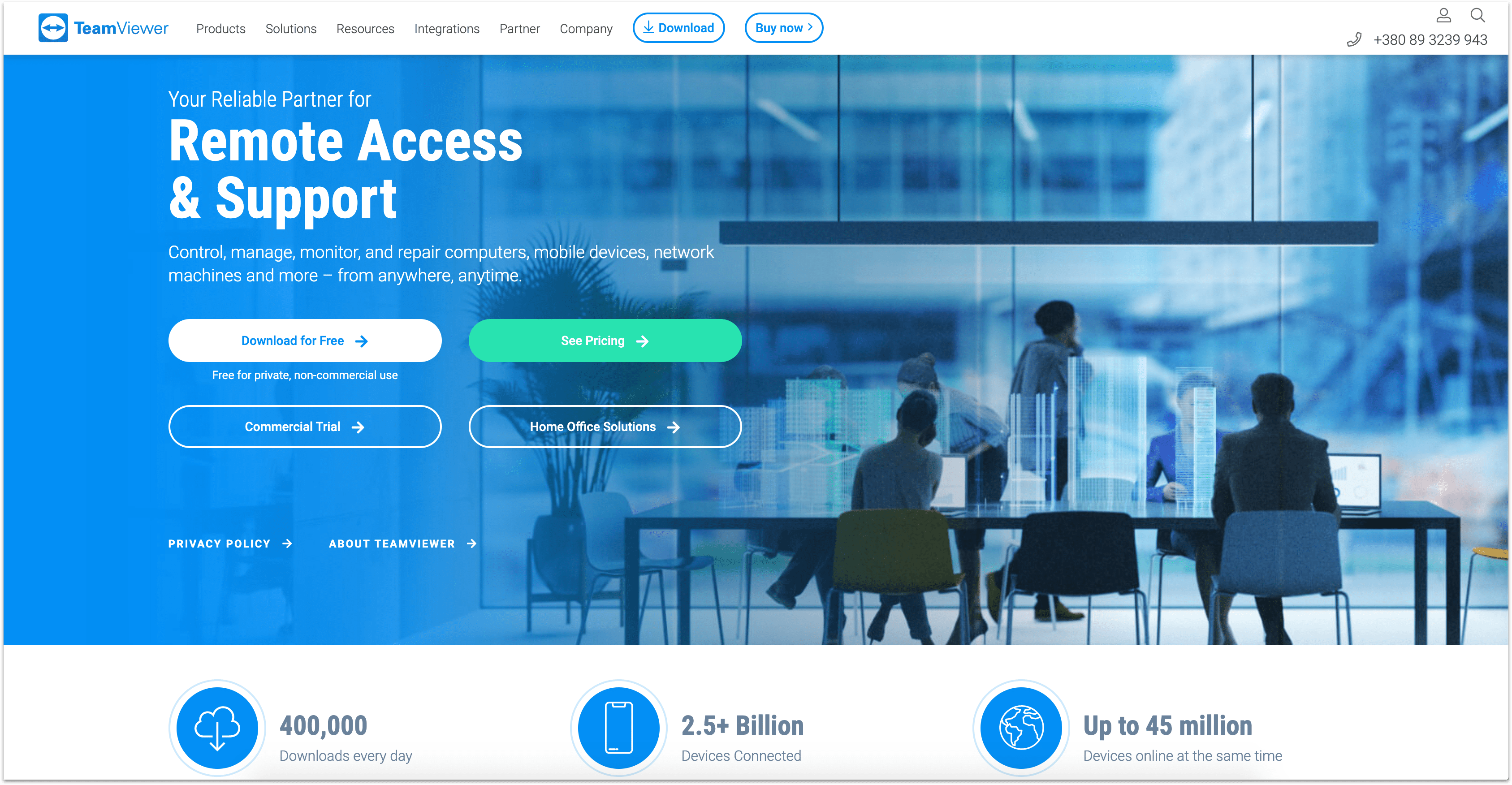 TeamViewer is a remote access and support app that allows you to monitor and fix customers' problems virtually. After installing the tool, just send your clients a link to connect to their computers. Once done, you can see their desktop screens and take control of their mouse and keyboard. What it basically means is that you can fix any issue for your clients without them having to do anything at all.
The tool is 100% free for private non-commercial use. But if you want to utilize it for your business, the pricing starts from $650/mo.
Calendly is a free scheduling tool that can be used for booking product demos on the go.
Just create a personal calendar with the tool and specify your demo schedule. Once you share the link to your Calendly with clients, they'll instantly see all the available spots and be able to book a demo with any support representative.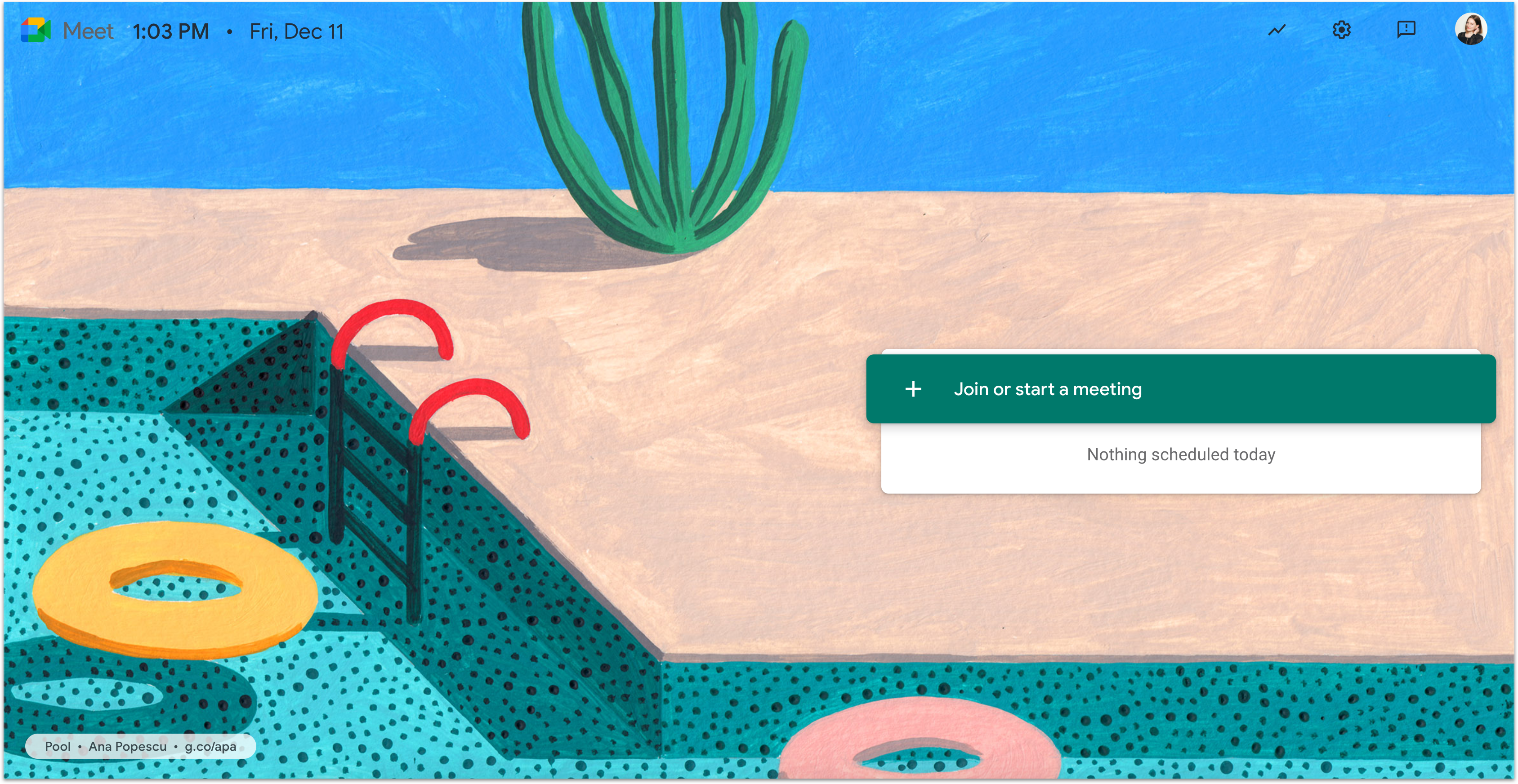 Providing live demos requires a reliable video conferencing application, too. Google Meet strikes a perfect balance between pricing and functionality. For one thing, the tool is 100% free. What's even more important is that the interface is quite intuitive and doesn't require any complicated setup.
The screen sharing feature allows you to present an entire screen, its particular area, or just a tab of your choice. You can invite as many participants as you will and collect questions via the built-in chat.
Final words
The best service apps are those that cover as many communication channels as possible while staying practical and intuitive for your support agents. Live chat, knowledge management, social media, product demos, even team communication are all parts of a bigger picture.
You can never go wrong with an omnichannel all-in-one solution that covers all these needs and even more. Create your free HelpCrunch trial today to see increased satisfaction and retention in the immediate future.