Knowledge management is the process of creating, sharing, using and managing the knowledge and information of an organization. And that's exactly what knowledge management software does — it gives businesses all the necessary tools to effectively manage their knowledge for both internal and external use.

In this article, we've collected 5 best tools for knowledge management. The list contains all-in-one customer service tools as well as stand-alone solutions.

Basic subscription costs
from $15/mo per team member
from $0/mo per user
from $0/mo per user
from $0/mo per user
from $120/mo
Premium subscription costs
$49/mo per team member
$79/mo per user
$10/mo per user
$0.60/mo per page
$660/mo, unlimited users
Free trial
14 days
30 days
7 days
15 days
14 days
G2 rating
4.8/5
⭐⭐⭐⭐⭐
4.2/5
⭐⭐⭐⭐
4.0/5
⭐⭐⭐⭐
4.4/5
⭐⭐⭐⭐
4.4/5
⭐⭐⭐⭐
Best for
external knowledge base
external knowledge base
internal knowledge base
both external and internal knowledge bases
both external and internal knowledge bases
Pros
– Affordable all-in-one solution
– SEO settings
– Overall appearance customization.
– Free subscription
– Google Docs importing
– Answer Bot
– Integrations
– Best internal knowledge base solution
– Free subscription
– Numerous appearance templates
– Rich text editor
– Free subscription
– Numerous appearance templates
– Integrations
– Rich functionality
– Rich appearance customization
– Insightful reports
Cons
– No role-based access control
– Not multilingual.
– Gets expensive
– Not customizable SEO settings
– Limited customization
– Can get expensive for big teams
– Outdated text editor
– Can get expensive for big knowledge bases
– Very expensive
– No integrations
1. HelpCrunch — all-in-one customer service tool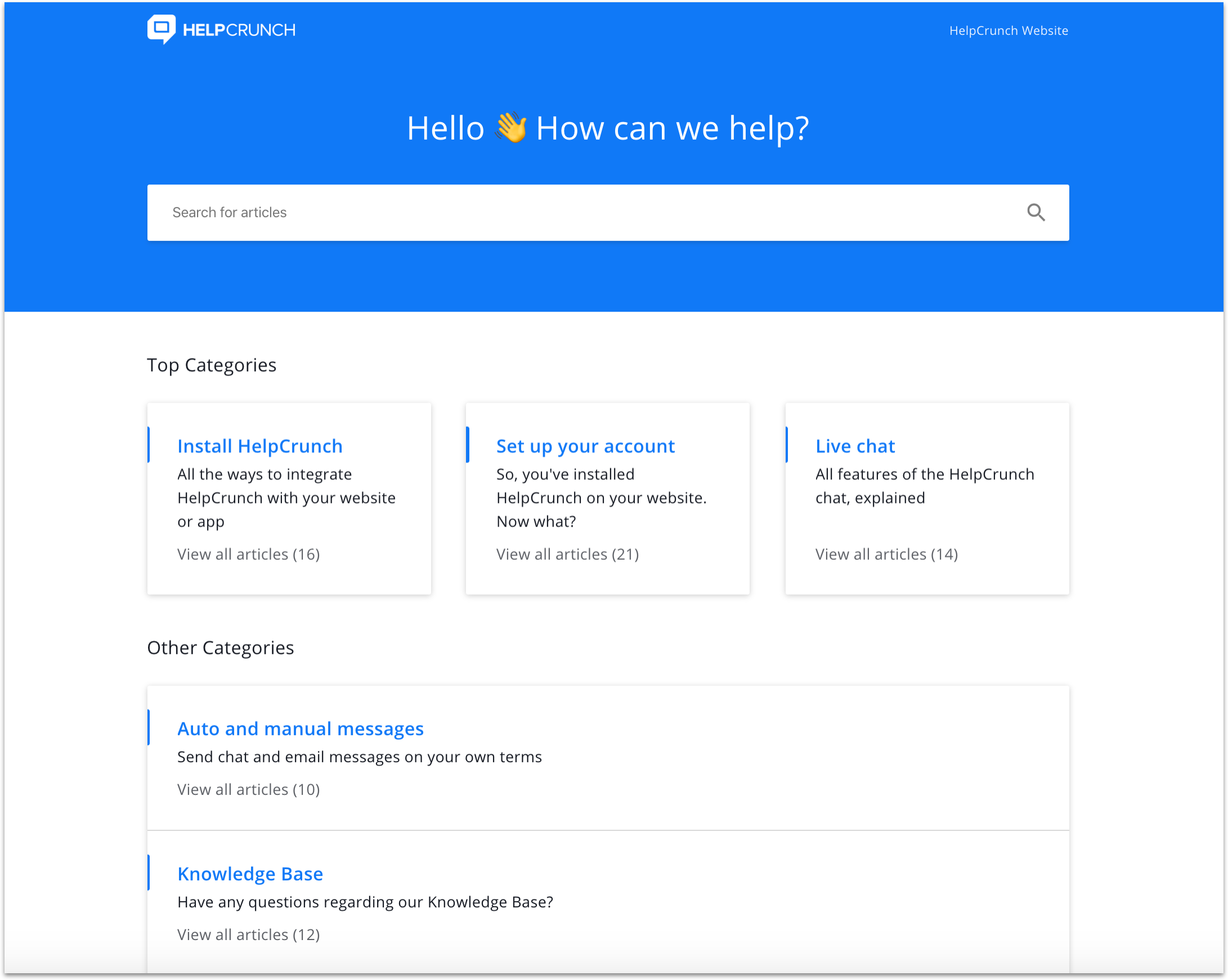 HelpCrunch is an all-in-one customer service tool that covers live chat, help desk, email automation, and knowledge base functionality. The basic subscription plan starts from $15/mo per team member and includes knowledge management functionality right there.
As knowledge management software, HelpCrunch offers all basic features for creating an external knowledge portal for your customers: modern text editor, categories and sections for structuring information, and detailed reports.
You can choose whether you want to make articles public and visible to everybody or just keep them private. This way you can create a simple internal knowledge portal that your team can access when they're logged into HelpCrunch.
It's possible to customize it in any way — change colors, logos, header and footer so that it looks like an integral part of your website. The knowledge base comes with a built-in search with auto suggestions.
Moreover, HelpCrunch has all the necessary SEO features and they're fully customizable. You can manually enter metadata for your articles so that they're better indexed by search engines.
Pros:
Affordable all-in-one solution
Can be powered by live chat for continuous customer experience
'Failed searches' report that shows some knowledge gaps of your help center
Customizable SEO settings for articles and an entire knowledge base
Overall appearance customization.
Cons:
No role-based access control
Not suitable for internal knowledge bases
Not multilingual.
Conclusion:
HelpCrunch is a great knowledge management system for SMBs and startups who want to create a nice and modern help center for their customers. Users will enjoy its simple design, convenient editor and live chat integration for better customer communication.

If you're an enterprise looking for something big, multi-level and multilingual, you'll probably be disappointed. However, HelpCrunch is planning to add these features in the future. So, if you're willing to wait, you can still try it.

2. Zendesk — all-in-one customer service tool #2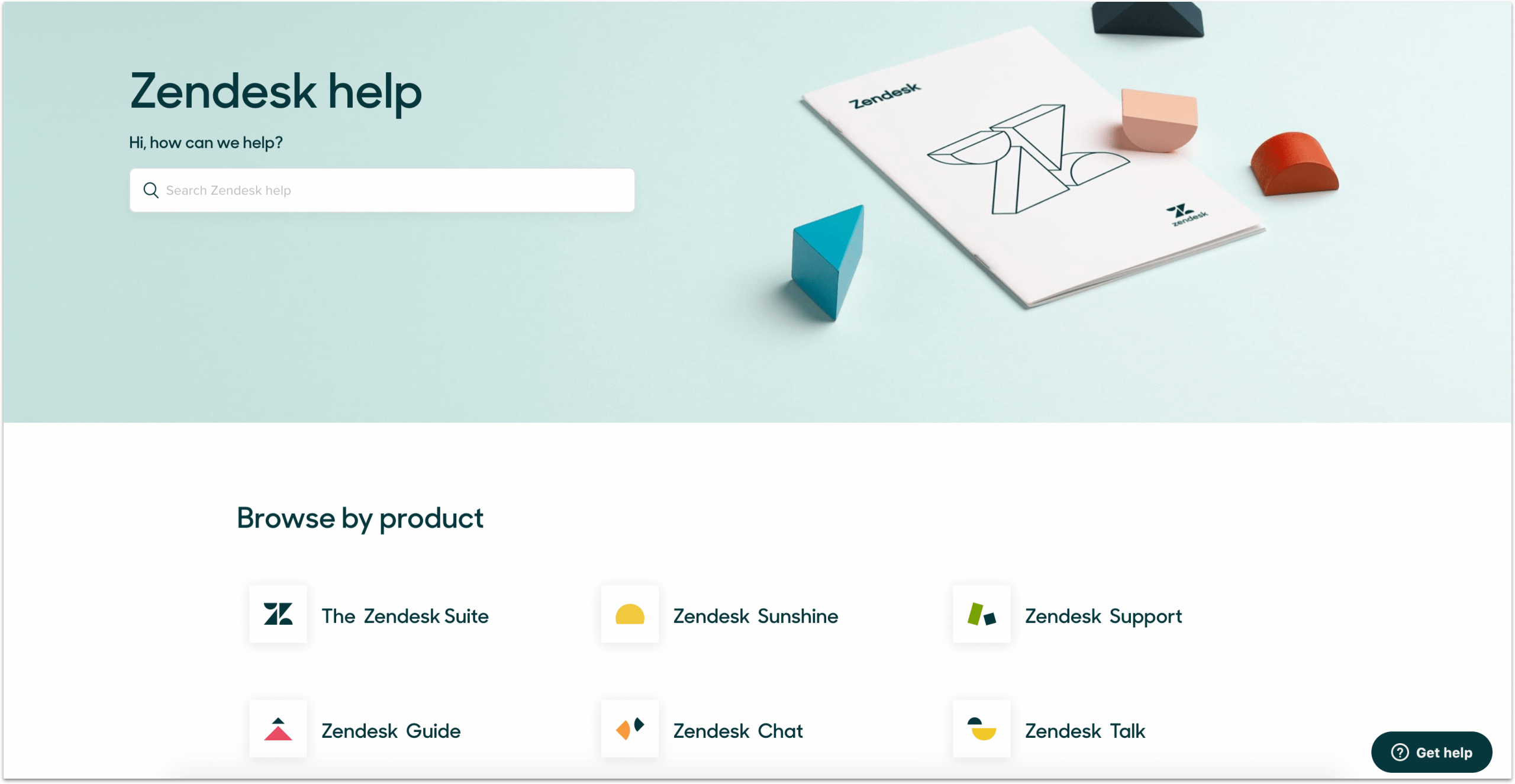 Zendesk is one of the oldest customer service solutions on the market. You can find virtually any support feature in their toolset — and knowledge management system is no exception. The pricing for the Zendesk Guide varies from $0 to $50 per agent per month.

In terms of knowledge management features, Zendesk offers help center and community forums functionality. You can create articles in a rich text editor and customize your help center with custom themes — you know, the usual stuff.

There are also some useful out-of-the-box features such as content history and restoring, access control, or publishing permissions.

All in all, the Zendesk Guide looks like any other knowledge management software unless you integrate it with the Zendesk Support (aka ticketing). And if you do, you'll be able to enjoy the Knowledge Capture app. It auto suggests relevant content based on customers' questions and allows you to create new knowledge base articles right from a ticket.
Pros:
Has a free version
Multilingual content
Article import from Google Docs
AI-powered Answer Bot that automatically responds to emails (costs at least $50/mo)
Content history and restoring
Integration with Zendesk's ticketing system
Cons:
Can get expensive once you want more features and live chat integration
Not suitable for internal knowledge bases
Not customizable SEO settings
Conclusion:
If you're a big enterprise managing hundreds of customer requests every day, you would enjoy Zendesk's knowledge base powered by their ticketing functionality.
Otherwise, the Zendesk Guide has a subscription plan for every need and business size, so you will probably find the option for you. So, it's a decent choice all around.

3. Atlassian — internal knowledge base software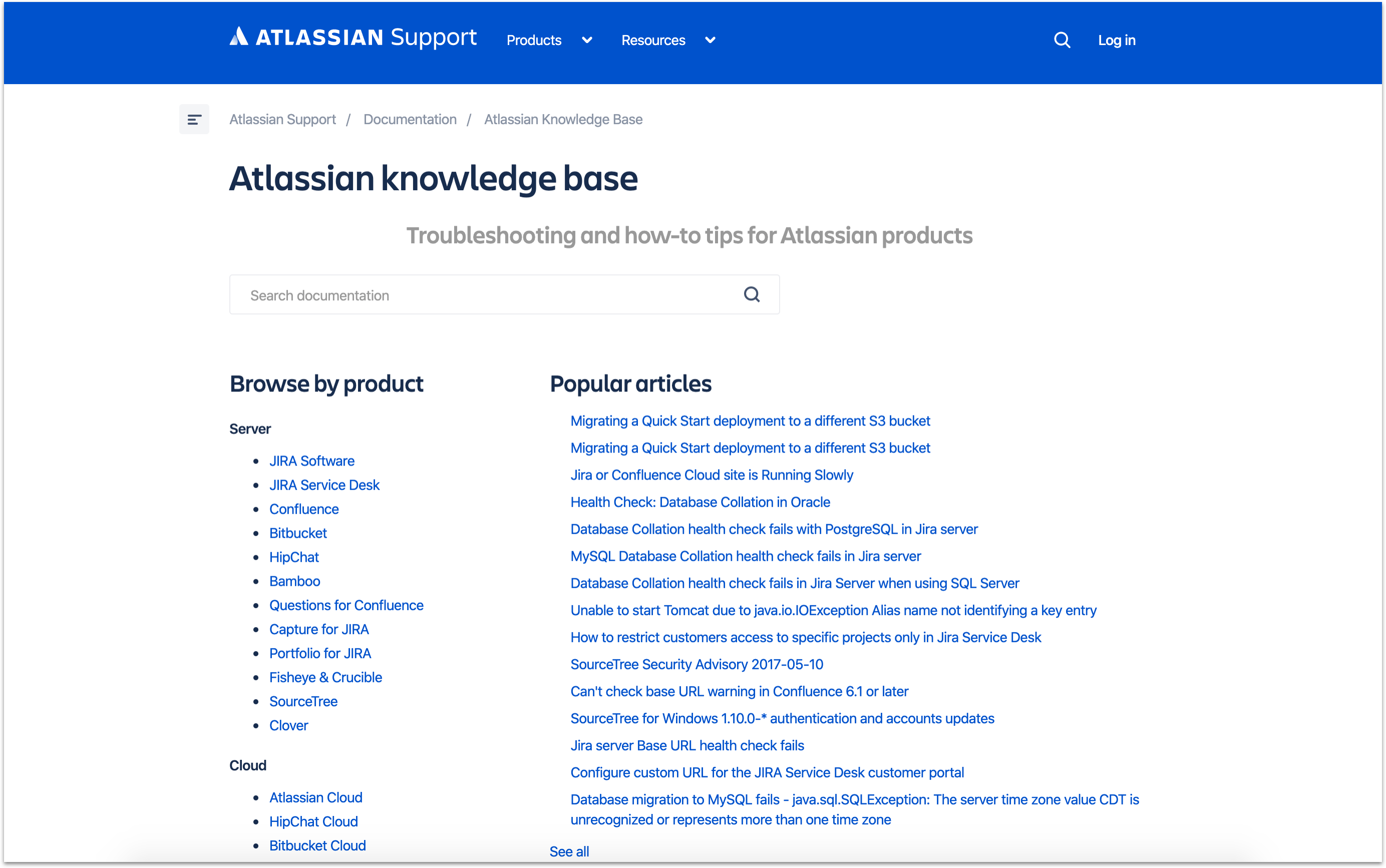 I think the name 'Atlassian' is familiar to every project manager or virtually anybody who works by agile methodology. They're the company behind Jira, one of the most famous issue tracking software.
Atlassian also has their knowledge management software for internal knowledge portals called Confluence, where you can store your company's information, notes, plans and whatnot. Its prices vary from $5/mo per user to $10/mo per user while there's also a free version for up to 10 users.
The Confluence knowledge management software comes with templates for all kinds of needs — from project plans to competitive analysis to how-to articles.
On all subscription plans, you have unlimited pages and can see the changes history of each page. If needed, you can roll back to a previous version at any time.
Such features as analytics and user permissions are only available on paid subscription plans. Moreover, if you decide to pay for Confluence, you'll get access to the 'anonymous access' feature which will allow you to make your knowledge base public.
Pros:
Has a free version for up to 10 people
Handy templates for different tasks and purposes
Cons:
Limited appearance customization
Not the best choice for a public knowledge base
Can get expensive for big teams
Conclusion:
Confluence is a great choice for small businesses that only need knowledge management software for internal use. You can create a simple and nice private knowledge base for free and call it a day.

The price can get a little unpleasant if your team consists of more than 10-20 people. So, you decide whether you're ready to pay a few hundred bucks for your internal knowledge base. Or maybe it makes more sense to keep it in your customer support software.

4. ProProfs — one-size-fits-all knowledge management software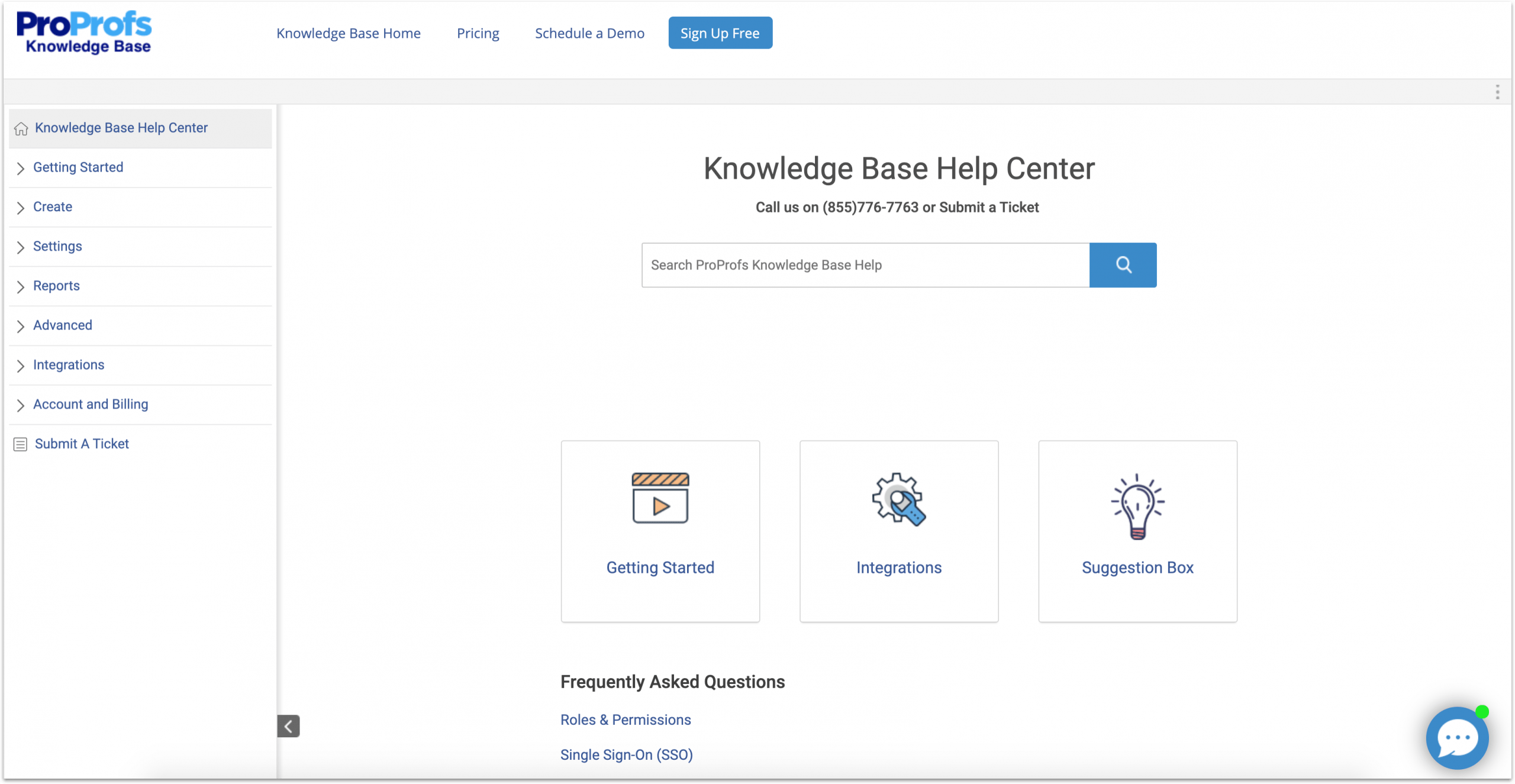 ProProfs offers a set of different tools for all kinds of purposes — from live chat to training maker to even brain games. And yes, it includes knowledge management software

The ProProfs Knowledge Base has a different pricing system. They charge per page, not per user. So, each knowledge base page will cost you from $0.40 to $0.60 per month. However, you can create up to 20 pages for free.

It offers a rich text editor which, by their own description, looks like Microsoft Word. It has numerous editing tools for styling and formatting, but can feel a little outdated compared. You can make your knowledge base crawlable and available for search engines and specify meta descriptions for each page.

If you choose the Premium subscription, you'll be able to assign roles and permissions for effective collaboration. Also, ProProfs allows importing files or docs and track up to 30 page revisions.

In terms of appearance customization, you can choose any of the default knowledge base themes and customize it with your brand logo and color scheme. There are templates for all kinds of purposes like user manuals, wikis, technical documentation, or private knowledge bases. However, the last option is accessible only on the Premium subscription which costs $0.60/page per month.

Pros:
Rich text editor
Has a free version for up to 20 pages
Unusual pricing system, where you pay for pages
Numerous themes to choose how your knowledge base will look like
Some useful integrations
Cons:
The text editor can feel a little outdated at times
Can get expensive for big knowledge bases
Conclusion:
It seems like ProProfs offers some great solutions for any kind of business.
Have a small knowledge base that consists of 20 pages? Go with the free version. Want more? Pay $0.40 for each page you want. Need advanced features or private access? Cash up $0.60 per page and enjoy full functionality.

The other downside that I see is that ProProfs' text editor is an acquired taste. It does have all the necessary formatting features and even more, but looks and feels a little bit outdated.

5. HelpJuice — comprehensive knowledge management software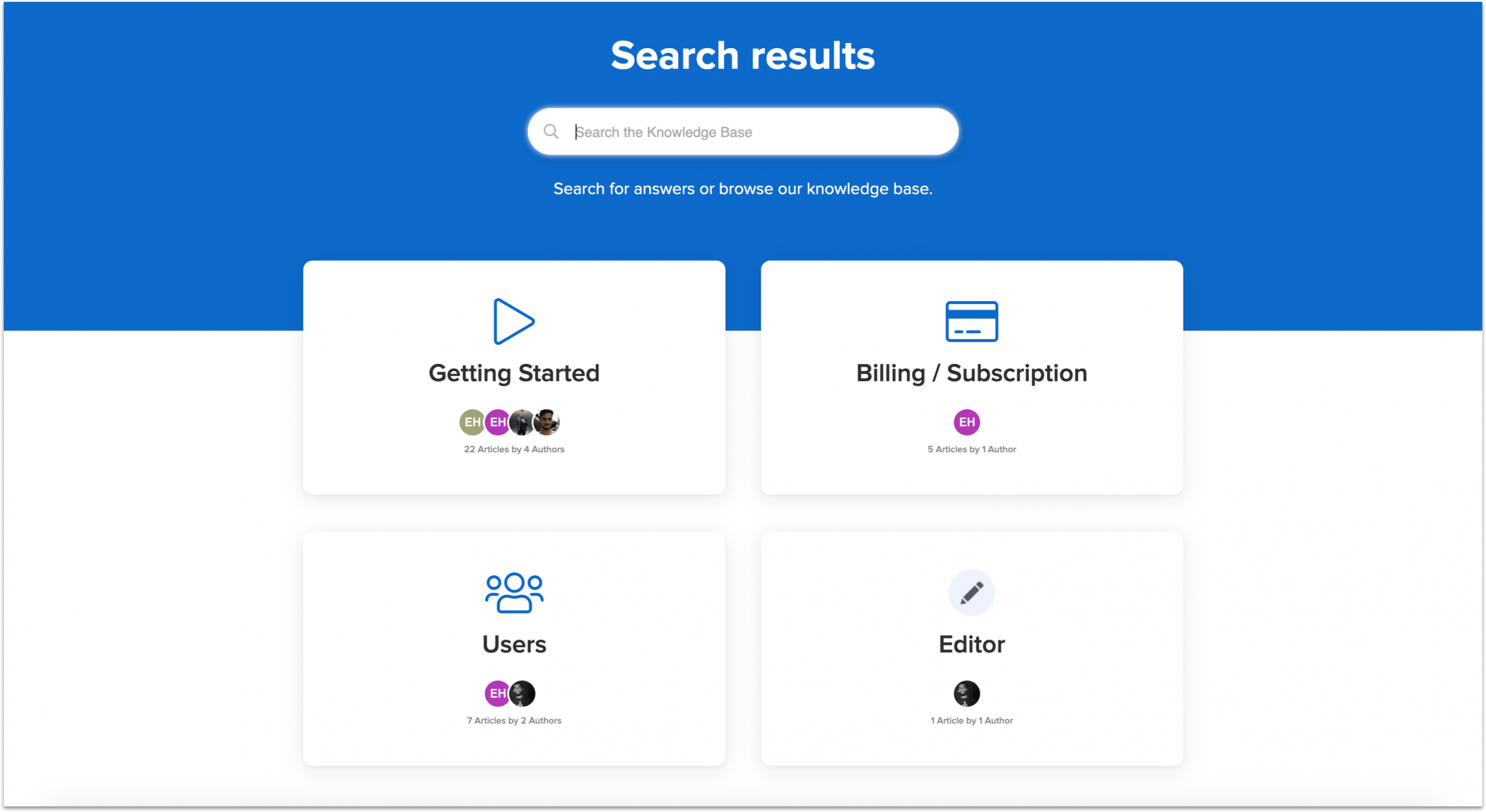 HelpJuice is an undeniable leader in the world of stand-alone knowledge management software, which shows in their pricing. The cheapest subscription plan costs $120/mo for 4 users while the Premium account with unlimited seats goes for $660/mo. (*Small businesses and startups left the chat*)

On the plus side, they all have the same full feature pack and the only difference is in the number of users. So, what are those amazing features that cost so much?

The text editor by HelpJuice is rich in features and, what's also important, feels modern and intuitive. It has all the necessary collaboration features so that multiple authors can work on one article and not bother each other.

There are several levels of access that you can set for your knowledge base — public, URL-based, internal, and for specific users. In terms of customization, there are several pre-made templates that you can choose from. They're fully customizable.

HelpJuice offers some powerful knowledge base analytics — articles' performance in all kinds of numbers and graphs, search terms people use, authors' activity, etc. It's really insightful and can help you improve constantly.

Pros:
Rich functionality
Rich appearance customization
Suitable for internal and external knowledge bases
Insightful reports
Conclusion:
If you're the kind of startup that can spend a couple of hundreds of dollars on knowledge management software each month, then HelpJuice can be great for you. Otherwise, this is the product for big companies and enterprises.

Sure, it has the widest set of knowledge base features and very detailed analytics, but you won't be able to integrate it with other customer service tools if you have any. So, be aware that you might end up running several disconnected tools.
Bottom line
If you're looking for knowledge management software that has tons of out-of-the-box features, then stand-alone solutions like HelpJuice or ProProfs are an obvious choice.
But if you ask me, I would choose an all-in-one solution like HelpCrunch or Zendesk any day of the week. It's just that as feature-rich as those dedicated tools are, you will inevitably end up running tons of them separately and get overwhelmed.
Read also
Comparison
Zendesk is one of the most widely known help desk tools out there. But it has its flaws, too. Check these 5 Zendesk alternatives that will help you improve your customer support, sales, and marketing.
Comparison
The best customer service software must be affordable and offer much for its price. We've collected 5 equally great options that meet these two simple requirements.
Comparison
Check this ultimate Intercom vs Drift comparison to choose the best messaging platform for your customer support, marketing, and sales.