With Time naming 2020 the worst year and all the uncertainty awaiting us in 2021, the last thing you want to hear right now is how bad it has been. Yes, it has been a difficult year in many unprecedented ways. But let's not go there.
I'd much rather talk about our actual achievements and make plans for the upcoming year. Despite all the difficulties and mishaps, we at HelpCrunch have been steadily improving your experience and delivering new features.
Our team consists of 27 people right now. This year, we hired a lot of new people and also learned to cooperate remotely. This is just the new normal.
In 2019, our revenue grew threefold, but you know what? There's no doubt that our team is going to excel this result in 2021, because nothing can stop us after what we've overpassed this year ?
Moreover, our developers were swamped with work taking care of the HelpCrunch infrastructure. They've acquired some new, more powerful servers and reinforced the entire system.
Now, please allow us to brag a little bit about our main achievements.
New features we delivered in 2020
There's so much more we want to do for you in 2021. But there are many features and improvements that we've already implemented for you, and we'd love to wrap up this year by talking about them once again.
Here are some of our much-loved highlights from the past year:
WIDGET 3.0
Our widget has changed a lot this year. Starting from the new interface update, it's been evolving and acquiring the new look and capabilities. It's something completely new if you ask me!
For instance, you can now add a knowledge base section to your widget, turn on the 'department' selector, customize other elements in any way you need, and much more. So, let's talk about this in detail.
KNOWLEDGE BASE INTEGRATION
Long gone are the days when people used a chat widget for chatting with businesses. This little window has completely changed to become the ultimate stop for getting any necessary information at all times.
With a knowledge base section integrated into your chat widget, customers can quickly find relevant guides and how-tos without even talking to your support reps. All it takes to switch between two sections is one click.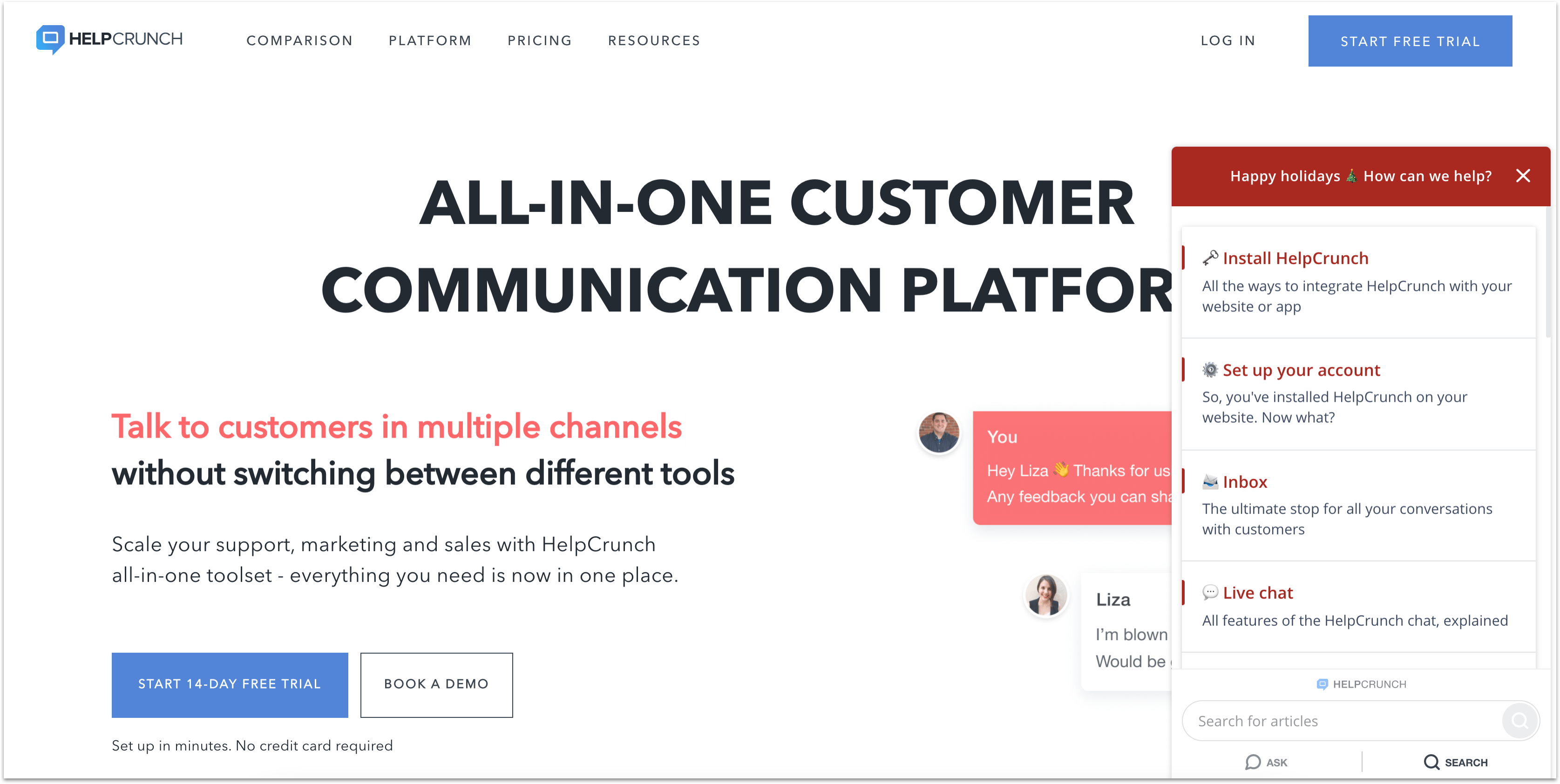 MULTI-CONVERSATIONAL WIDGET (aka CHAT AS A TICKET)
Before our huge interface update (we're going to talk A LOT about it later), each person could have an infinite conversation with your support team. Now, every closed conversation stays actually closed, and new requests will appear as separate conversations.
This setting allows your team to distribute new chats and prioritize them more effectively. Different types of requests belong to different tickets, so why keep them in one thread?
Moreover, website visitors and clients can hide closed chats from a chat widget so that they don't distract.
Think of your chats as tickets. Everybody is using messengers these days, and businesses should jump on this bandwagon, too. No more waiting for email replies for hours (if not days), all tickets are right here in the customer's account, available 24/7.
DEPARTMENTS SELECTOR
If you have several departments in your HelpCrunch account (e.g. support, sales, marketing), it only makes sense to allow visitors to choose between them. Before starting a conversation, they can select from the available options in the dropdown menu. This way, the chat will be automatically assigned to the selected department, and your team can focus on relevant requests.
WIDGET REFACTORING
This still remains a work in progress, but the first phase of widget refactoring has been already implemented. What does it mean for your business? Well, your customers can notice faster load speed and smoother work already, and it's going to be even better after the next iterations.
Our goal for 2021 is to make the HelpCrunch widget as fast as possible, and we've already completed the first steps in this direction.
New Inbox section
It's hard to believe that the Inbox update happened this year, but it did. And it's the biggest one ever. Basically, the section with all incoming chats is a single most important place in HelpCrunch. Our customers spend most of their time there managing requests and trying to keep everyone happy and satisfied. So their shared inbox should be powerful and fully-featured.
Our designers and developers have invested a lot of time into this update, getting their inspiration from all the most popular messengers. So, the support representatives should feel as if they're just using WhatsApp or Facebook Messenger.
Things like a convenient interface, shared and custom inboxes, statuses, assignees (both people and departments), user profiles are bound to align everyone's work and take efficiency to a whole new level.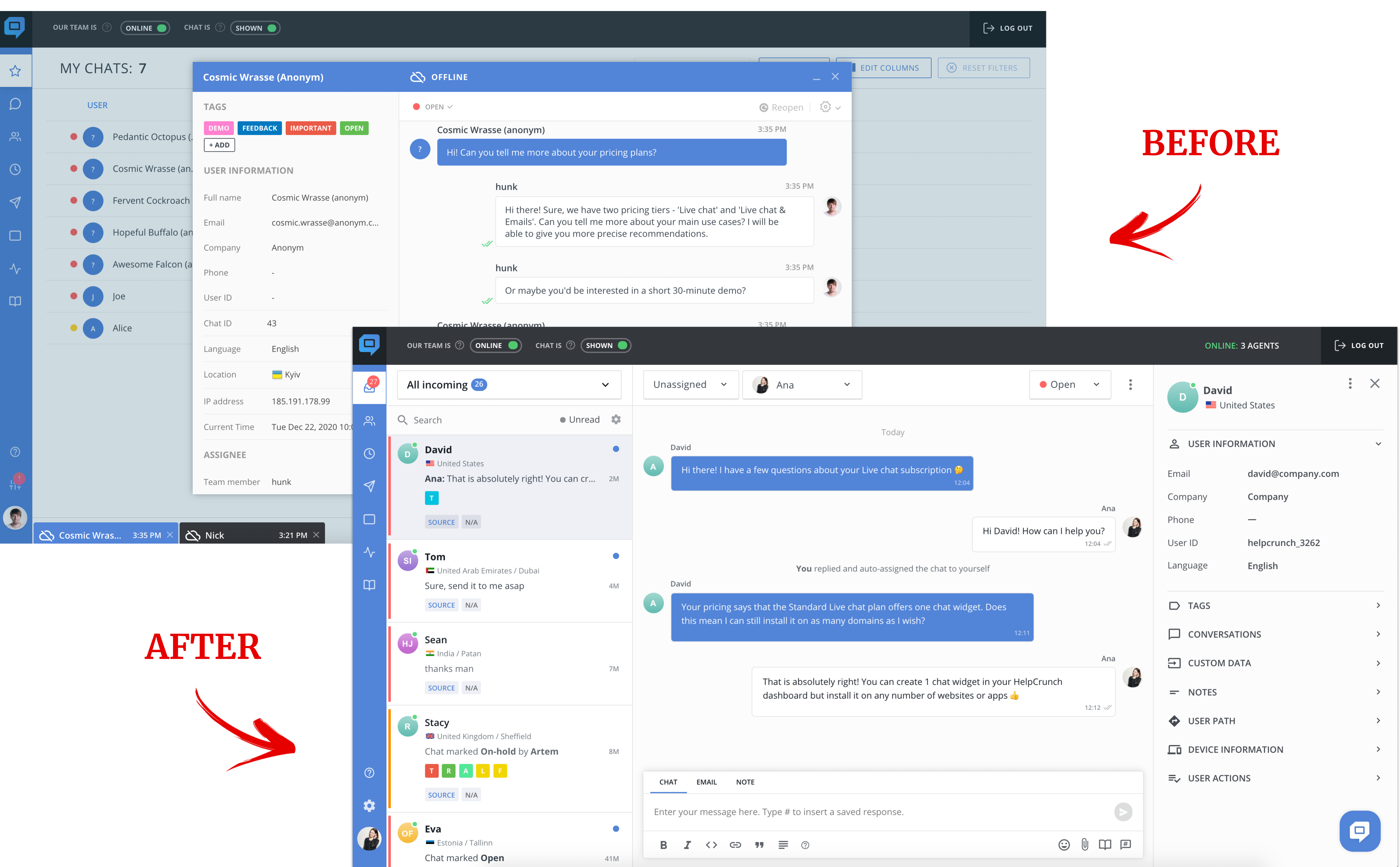 CUSTOM INBOXES
On top of the default inboxes available to every team member, it's possible to create custom inboxes, both shared and private. The latter ones will only be visible to their creators.
Each custom inbox is based on the criteria that you choose for it. So, all new conversations are filtered by them and delivered to a suitable folder. This way, the sales reps, billing team, marketers, and any other departments can have their separate spaces filled with relevant chats only.
Better prioritization means less time wasted on routine tasks and more attention to each case.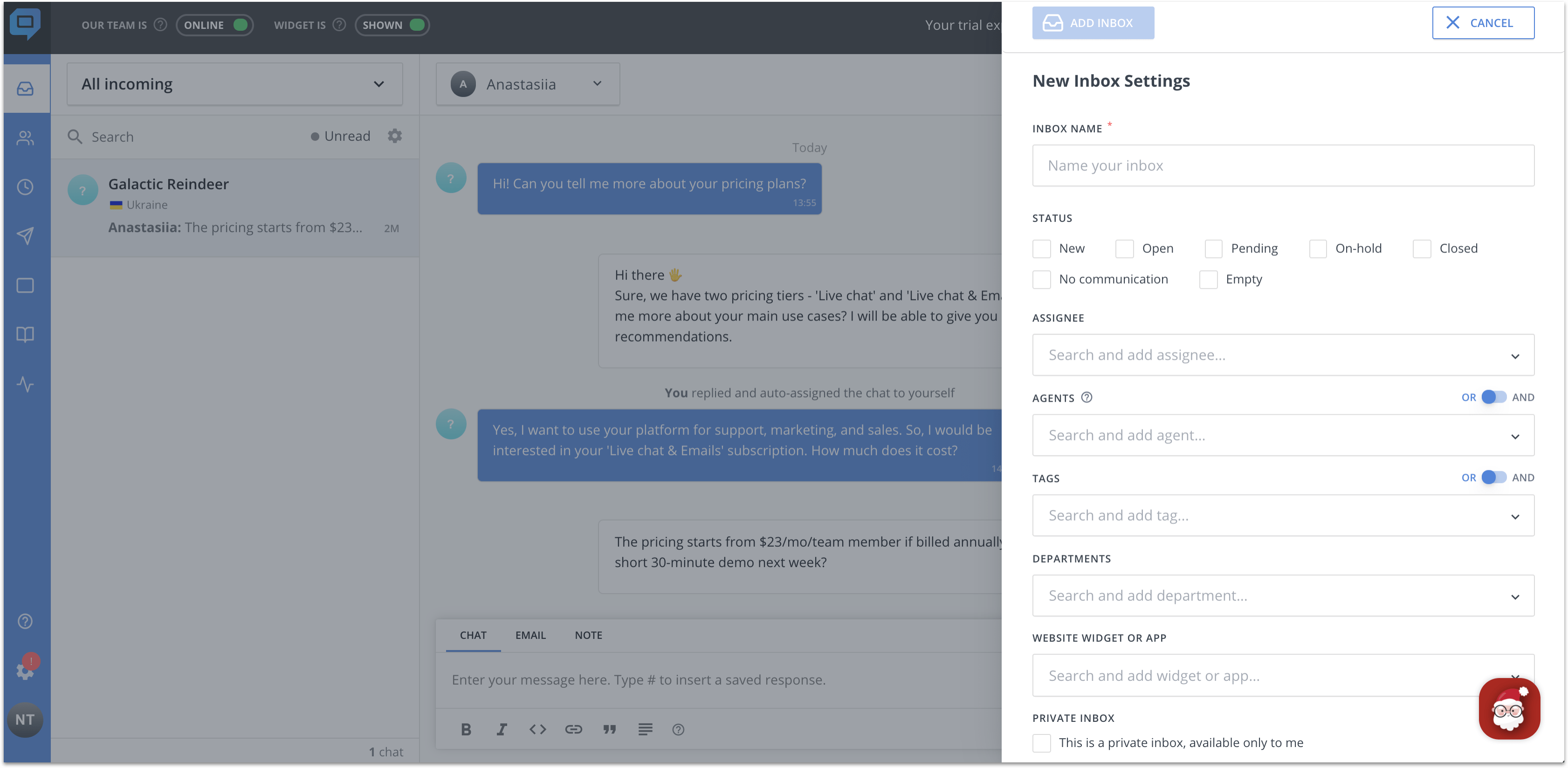 CHAT LIST SETTINGS
We brought even more flexibility into the Inbox section by adding the Chat List settings. Every team member can configure HelpCrunch to their tastes and needs. Just specify which attributes and information you want to see in your list of chats, and it will be visible near each new conversation.
This helps to get all the important information about customers and their chats even before you open and read the chat history.
CHAT SNOOZING
You can now snooze your chats and get back to them later once some new information or solution emerges. When a chat gets unsnoozed, it marks as unread. Basically, it works like a reminder so that you don't forget to follow up on unresolved issues.
Knowledge Base access control
If you want to have more control over your knowledge base visibility, it's now possible to restrict who can access your public knowledge base. As of today, there are two available options:
By password. Just indicate a password — and all visitors will be required to enter it before accessing your knowledge base.
By IP address. You can close your knowledge base from all IPs except for those whitelisted.
It comes in handy when you want to create an internal Knowledge Base for your team without sharing all your articles with the rest of the world.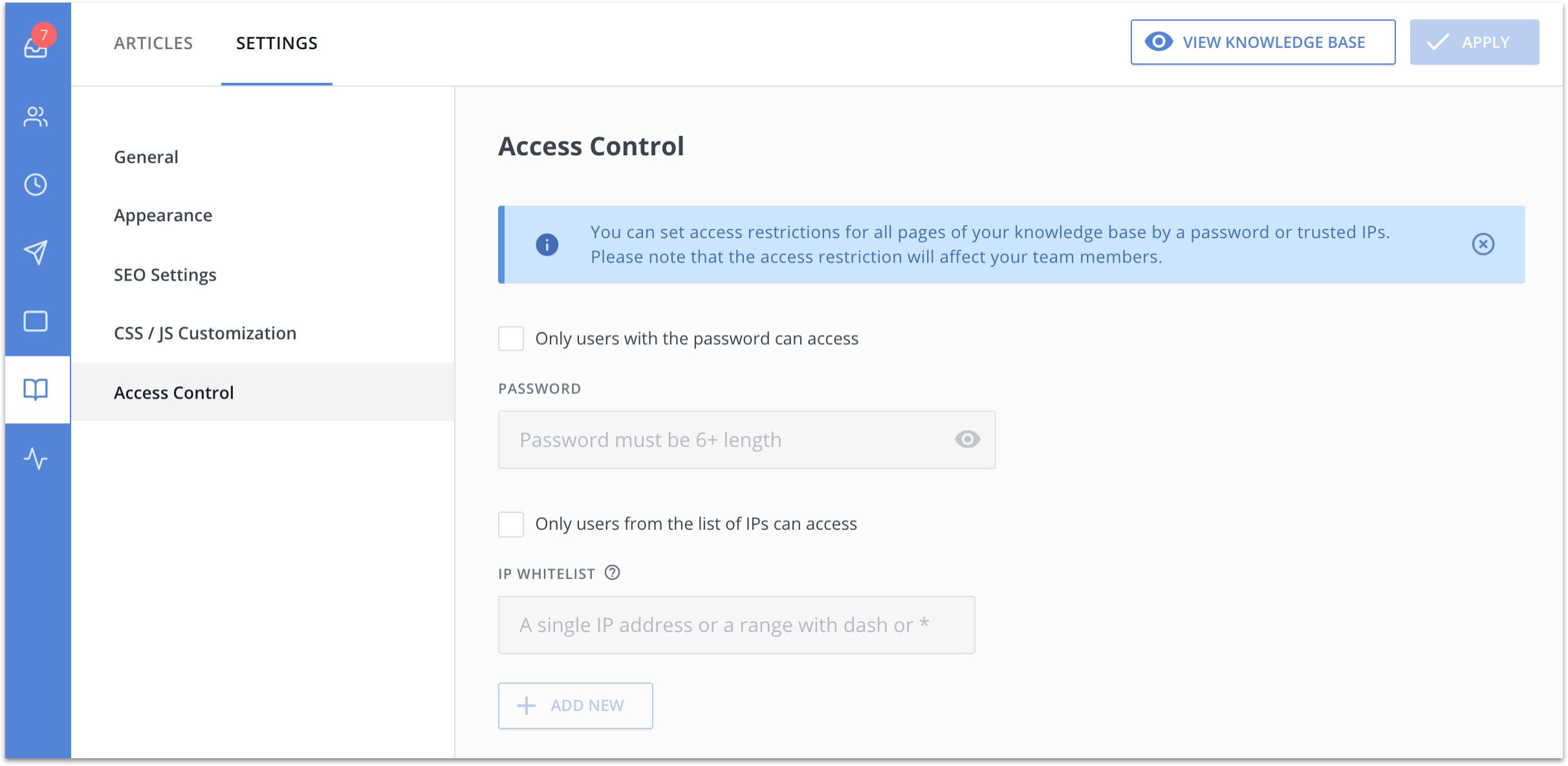 Our huge plans for 2021 include drip campaigns among other things (so, stay tuned!). But while we're working on it, the current sections of Popups, Manual and Auto Messages have been upgraded for better convenience.
New filters and refreshed design for Popups, Manual & Auto Messages
Marketers and sales representatives will enjoy the new filters and sorting. Specify keywords to do the search by campaigns' names or filter all messages by their types, statuses, or sender.

New API & Webhooks
New public API and Webhooks were among our most frequently requested features. So, it was a great pleasure to roll it out last week. Due to their new extended possibilities, you can now adjust many things inside HelpCrunch and pull any data from it whenever you want.
Right now, our new API allows you to access and tweak your customers, chats, messages, agents, departments, application, and organization data (it's a lot, isn't it?).
It also means that you can integrate our platform with any third-party solutions and update the data in real-time with the help of the webhooks.
Updated system of notifications
New chat sounds and separate, more enhanced settings for different notification channels are now available in the 'Notifications & Insights' section of the Account settings. That's on top of its overall refreshed UX.
Each agent can set up their preferences separately and enjoy their own system of alerts. It's now possible to assign different sounds to separate events and activate browser, mobile, and email notifications. And if at some point there's a need to cut off all distractions completely, just turn on the 'do not disturb' mode. BTW the most popular sound has been made by our PM, kudos to Nick ?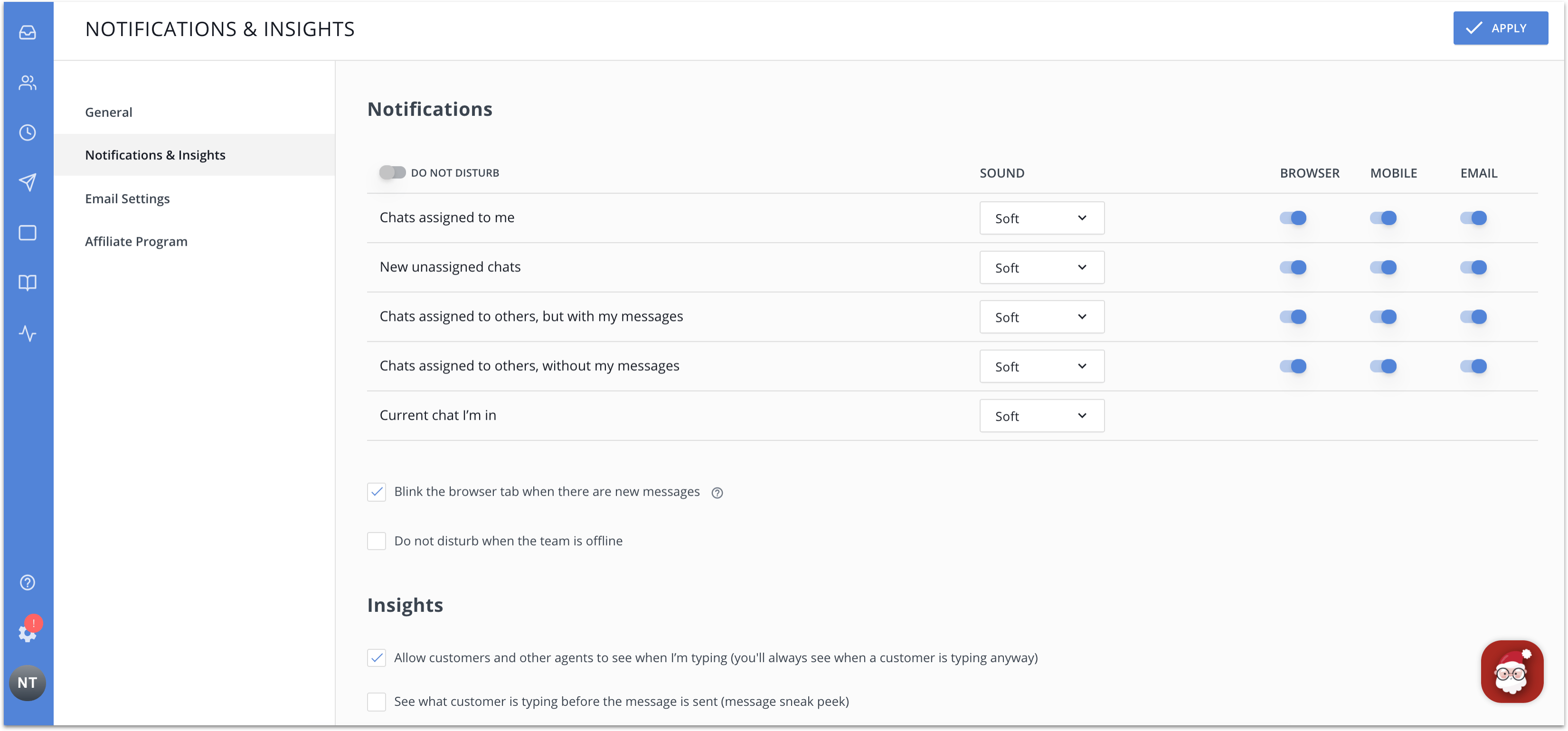 Start conversations from user profiles
All your customers and contacts with their default and custom data are stored in HelpCrunch. If you need to reach out to someone, just open their profile and press the 'Start new chat' button at its bottom. The option is available in both Inbox and Contacts sections as well as in Auto and Manual messages' reports.
This way, you can drop a personal chat or email message to anyone at any time.
New mobile SDKs
We've also completely redesigned our Android and iOS SDKs for customers that have our chat widget integrated into their mobile apps. The main goal for us was to make the chat look the same way as the web version while also being aligned with the iOS and Android guidelines.
Among many other improvements, our mobile developers have improved SDK customization and events tracking. The mobile widget now has waiting and offline messages and the ability to make basic interface changes from your HelpCrunch account. (No need to involve developers.)
All in all, the new version has brought more stability and flexibility.
In other news
We've always taken our online reputation seriously. Maybe because of our customer-first approach, HelpCrunch has scored 4.7/5 on G2 and 4.8/5 on Capterra based on 300+ user reviews.
This year has brought more spotlight to our features and their benefits for all kinds of businesses. In 2020, GetApp has placed us in the Top 5 knowledge management software. Their reports are based on real user reviews and recommendations, so we're very proud of this ranking.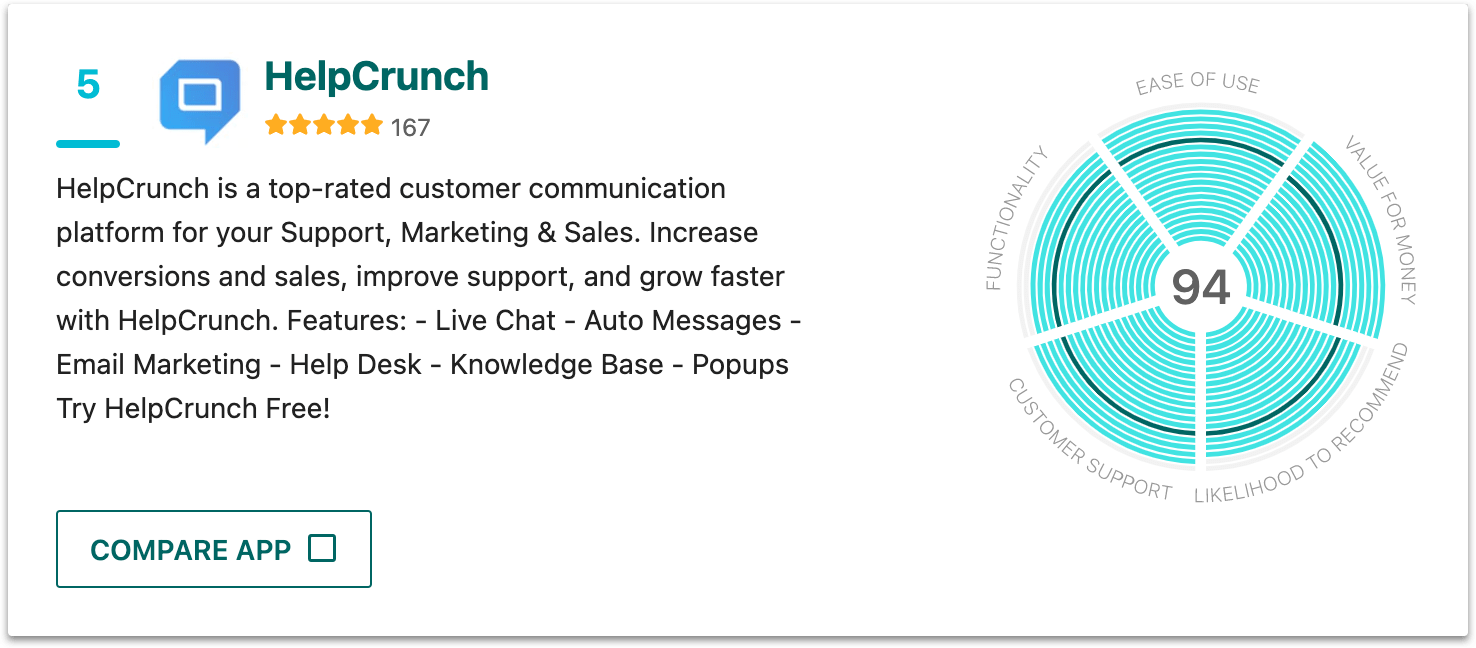 Moreover, our tool has been named the single best CRM tool for the education industry and the best customer service CRM for the automotive industry.
We can talk all we want about our awesome new features, but getting acknowledged for what we do is probably the best part of our work. We'll try to keep up with your requests even more thoroughly in 2021.
What we're working on at the moment
2021 is right around the corner, but we're not the kind of people to lay down and relax. There are three main features in development right now:
Workflow automations. We're about to release the new chat assignments rules, including the round-robin algorithm that will help you automate customer service and the entire work routine. New chats and tickets will be distributed between all teammates based on the criteria you set.
Zapier integration. The much anticipated Zapier integration is also not far away from us. Our new APIs and Webhooks will help us deliver this feature pretty soon.
Chatbot. You asked A LOT about our plans for the HelpCrunch chatbot, and we can finally say that its designs are ready. And our development team takes over the task as we speak.
Here's just a little sneak peek of our soon-to-be-released assignment rules: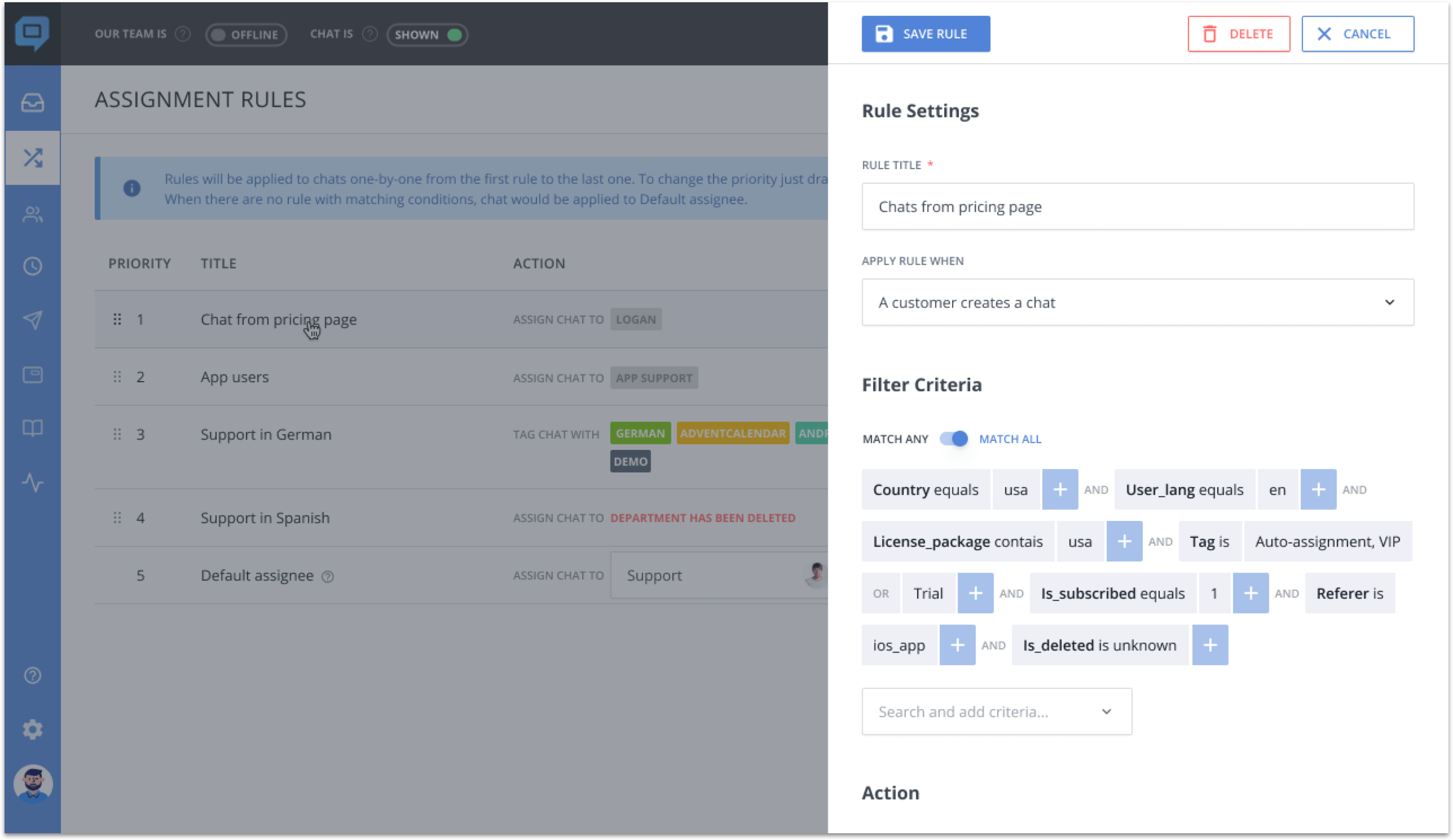 The next big thing that we plan on releasing soon is the ability to add multiple languages to your knowledge base and manage them efficiently. You will be able to translate your self-service guides and articles to any language you need.
This is how our future multilingual knowledge base will look like: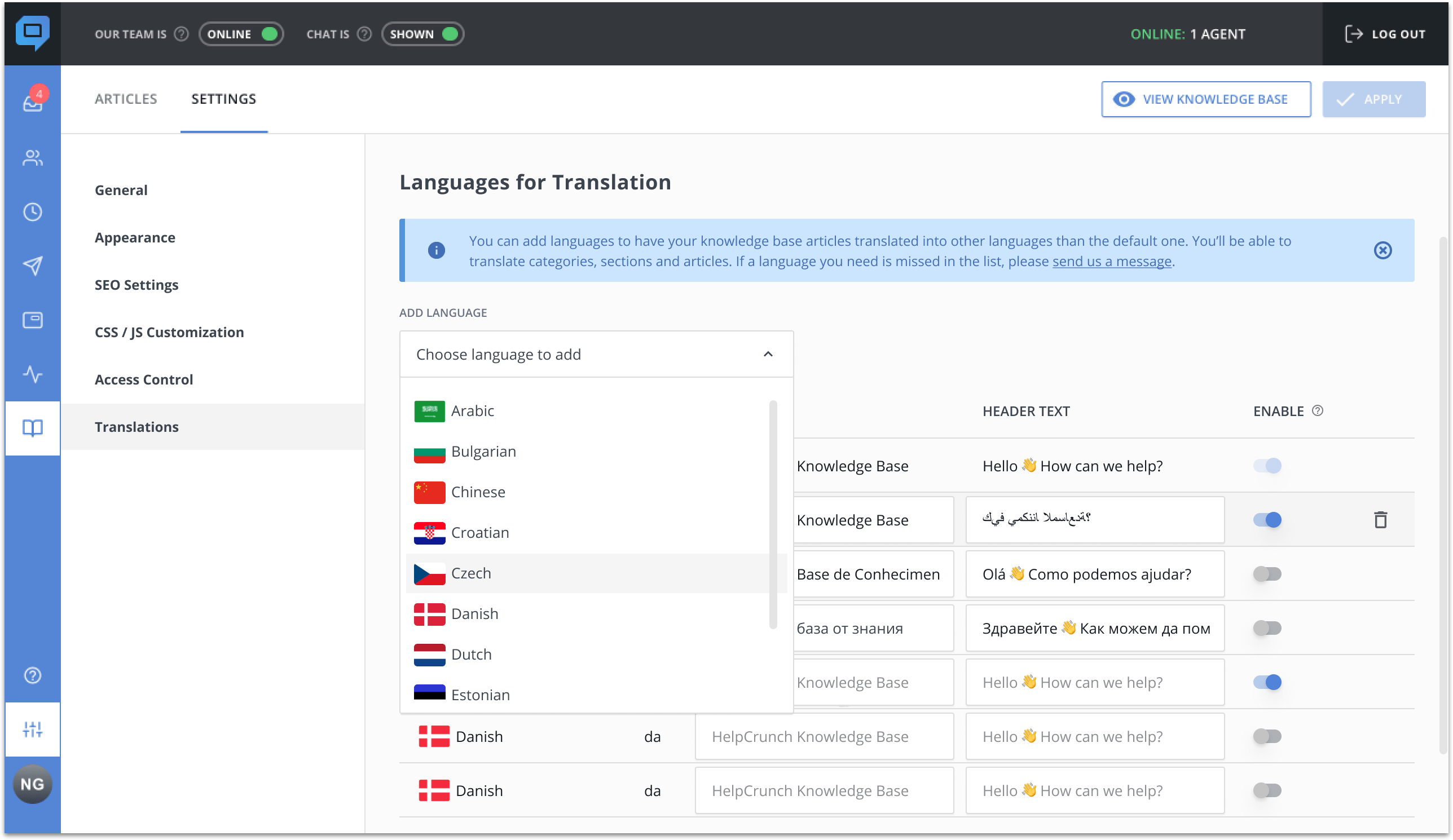 There are also big plans for such features as new extended reports, live visitor monitoring, and drip email campaigns. Yes, we're ambitious like that 🙂
It's not like we only care about delivering new features. Another important mission for 2021 will be to improve your experience with existing functionality. For instance, we are already finishing the new Settings update. All settings pages will get a new design, and the widget customization section will get a cool new UX that will allow you to change the appearance of your widget more easily.
And those of you waiting for a Facebook integration can rest assured that our team is on it, too. Facebook has ceased approving new integrations at the moment. But as soon as the embargo lifts, our team will be the first in line there.
Is there anything else you wish we'd add in 2021? Leave your wishes via chat and stay tuned!
Read Also
HelpCrunch and Viber integration is finally up and running! See how to set everything up and provide your clients with yet another communication channel they enjoy.
Learn how to create a custom email domain with HelpCrunch and start communicating with customers showing your one-of-a-kind brand's voice.
Create your own HelpCrunch chatbot to improve automation, boost sales, and speed up customer support. Use a simple code-free editor and start enjoying the benefits of a chatbot today.