13 Top Intercom Competitors You Might Want to Give a Try
There are dozens of Intercom competitors for every business size and goal. But only one will be perfect for you. Let us help you choose.

Intercom is one of the market's most well-known customer support tools. But what makes it so popular? Many people have heard somewhere that Intercom offers one of the most comprehensive sets of tools for a modern business to cover its customer service needs.
At the same time, people know Intercom for its complex and heavy prices. This brings us to the question of Intercom alternatives. Does a similar tool with a different, more relaxed pricing even exist? Let's find out.
Who are Intercom competitors?
To not torture you for too long, the answer is Yes. Actually, there are lots of great competitors to Intercom. Here is our list of the top tools you might want to give a try:
Intercom competitors for support, marketing, and sales:
HelpCrunch,
Crisp,
Help Scout.
Intercom competitors for live chat:
Olark,
LiveChat,
Smartsupp,
GoSquared.
Support-oriented Intercom competitors:
Zendesk,
Freshworks,
LiveAgent,
Lemtalk.
Marketing- and sales-oriented Intercom competitors:
Why look for Intercom competitors?
Intercom is a great comprehensive tool offering live chat, help desk, knowledge base, and email automation features. It's also quite famous for its well-developed chatbots and convenient product tours for customer onboarding.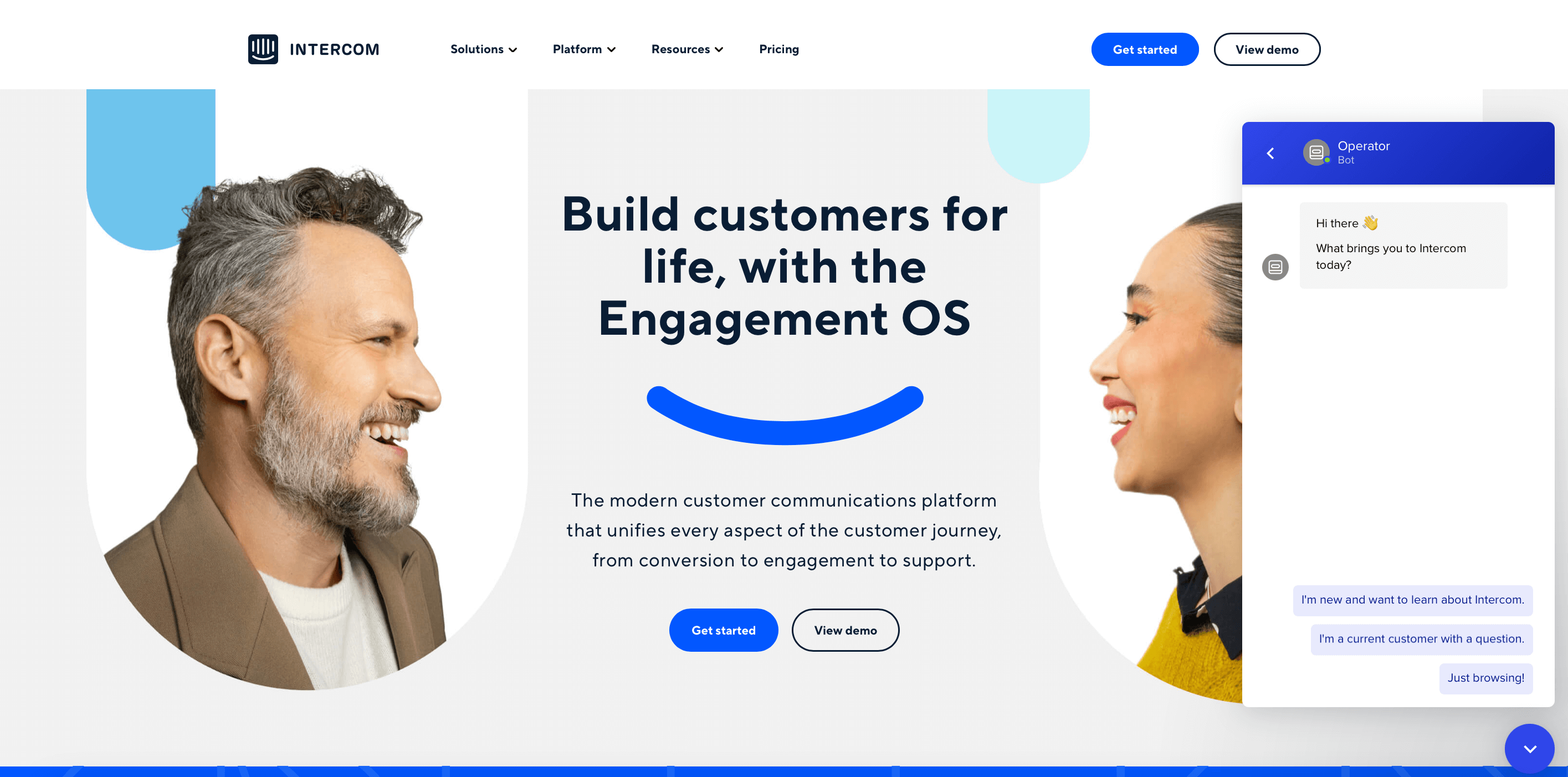 What makes talking about Intercom competitors so difficult is that there are TONS of them. For email marketing, there are heavy-hitters like MailChimp and Drip. HelpJuice and ProProfs are good for knowledge bases. People have used the HubSpot CRM since forever. And your live chat needs can be covered by a free platform like Tawk. Also, HelpCrunch as Intercom alternative would the best choice if you want to handle all these tasks within the same software.
And let's be honest, how much do you want to switch between all those tools to manage your customer communication channels and campaigns? It can hardly help in providing a stellar experience to your clients. That's what makes Intercom so great. They have it all in one dashboard, and they know how to sell it.
But not everyone's happy with Intercom. The toolset definitely has its quite overwhelming cons. If you used Intercom at least once, the following statements will definitely ring a bell for you:
The pricing system is way too complex to predict. Intercom pricing consists of several elements. On top of paying for agent seats, users also pay for reached contacts. It gets worse. Recently, the company has hidden the prices of some of its plans, which is never a good sign for small businesses. To find out how much a conversational marketing plan costs, you need to get a demo first.

On-again, off-again customer support of their own. If what you do is selling customer support software, you better make yours awesome, right? Not exactly. You can spend hours chatting with Intercom agents, getting generic pre-made answers, and achieving nothing. It's far from perfect — and probably not what you'd want for the price you pay.
Numerous complaints about their email automation tools. I'll be honest, I haven't experienced this myself — but I've seen many reviews mentioning that Intercom is a decent support tool that sucks at email marketing.
Smaller issues like no easy way to merge conversations, limited customization, minor bugs, crashes, or a subpar mobile app. I mean, all of these things are probably not that crucial, and they happen to everyone… But if you're going to pay a few hundred or thousands of bucks every month, you won't be in the mood for forgiveness.
Now that we know what makes Intercom great and what makes it bad, let's define a worthy Intercom competitor.
How did we choose the tools that qualified for this list?
It should be an omni-purpose set of tools that will cover customer support needs from cover to cover;
It should have a clear and transparent pricing policy that is easy to predict and scale;
It should cater to small businesses and startups;
It should provide a stable and reliable experience, with a customer support team that's always happy to help.
With that said, let's dig deeper into the most popular (and budget-friendly!) Intercom competitors:
1. HelpCrunch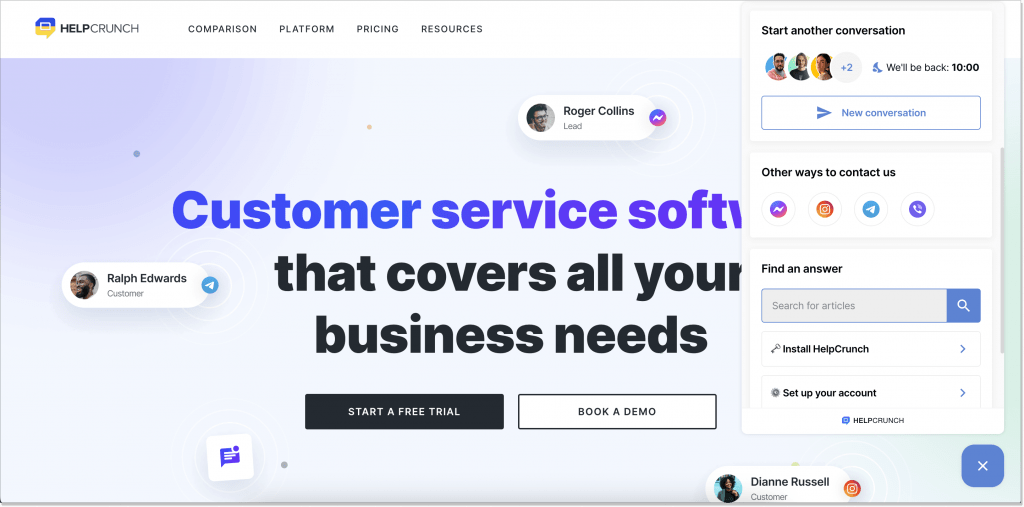 Short description: affordable Intercom competitor for support, marketing, and sales
Pricing: $15-25/agent/month
Features: shared inbox, live chat, chatbot, in-app messenger, email automation, knowledge base, popups, social media integrations
Free trial: 14-day free access, no credit card required
G2 rating: 4.7 out of 5 ⭐⭐⭐⭐⭐
HelpCrunch stands out from all the other Intercom competitors because of its versatility and affordable prices. But the tool also offers some extra features that you won't find in Intercom.
With the 'Basic' subscription plan, you get a fully customizable live chat, help desk, and knowledge base for your customer support. By the way, the latter is available right from the chat widget. So the visitors will be able to find some answers themselves without any bustle from your side.
It also includes something that is not offered by other tools — a popup builder which allows you to set triggered popups for your website with any gifs, images, or forms for better engagement. All this costs only $15/agent/month.
For $25/agent/month, you get all the features that I've mentioned above, plus a chatbot and unlimited auto messages and popups. If you are looking for email marketing functionality, then consider buying a specific number of emails. You can do it within any plan.
HelpCrunch live chat is feature-packed. It can be integrated with your app and used as an in-app messenger. This means that you can add a live chat widget as well as other tools to your mobile app to serve clients where they are. On top of that, it allows you to manage conversations with customers from your smartphone.
Want to automate the process? Just set up a bunch of auto messages that will be triggered by user behavior. Or, launch a chatbot to deal with customers' repetitive questions and qualify leads on autopilot. With its visual no-code chatbot builder, you can create any bot scenarios and edit them in a blink of an eye.
What also makes HelpCrunch one of the best competitors to Intercom is its customer support team. It's among the most well-reviewed teams on Capterra.
Feeling intrigued? Take HelpCrunch for a 14-day test drive completely free of charge and see its perks for yourself.
2. Crisp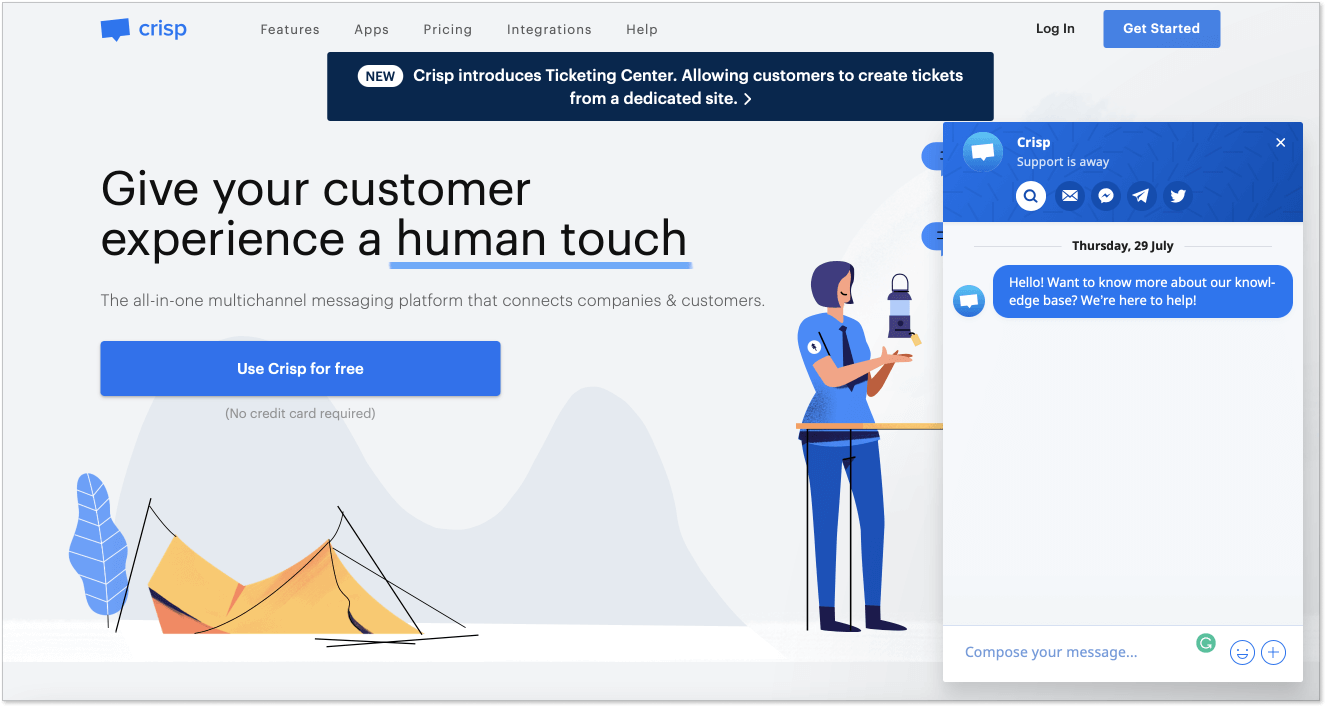 Short description: affordable Intercom competitor
Pricing: $0-95/website/month
Features: live chat, in-app messenger, email automation, knowledge base, chatbot
Free trial: 14-day free access on paid plans
G2 rating: 4.5 out of 5 ⭐⭐⭐⭐⭐
Crisp is a nice option for multichannel support when it comes to Intercom alternatives. The tool offers integration with all the main communication channels including Twitter, Messenger, and WhatsApp.
As its user, you will also get access to the newly launched ticketing center, which actually doesn't offer anything special: status monitoring and data synchronization with your database.
Crisp also provides a chatbot and chatbot builder. It allows you to create any scenarios for your bot through a no-coding editor. Using the bot, you can also automatically book meetings with clients and reroute visitors to the right customer representatives.
If you decide to go with the 'Pro' plan for $25/month, you will get a nice live chat tool with triggered auto messages, audio messages, social media, and messengers' integrations.
The Crisp team built nice out-of-the-box additions to their live chat, like video calls or 'MagicBrowse' where you can browse your customers' webpage for them (it's quite magical, I agree).
But these features are only offered in the 'Unlimited' subscription plan, which costs $95/month. It will also get you access to things like knowledge base, email automation, analytics, and chatbot, which aren't available in cheaper plans.
3. Olark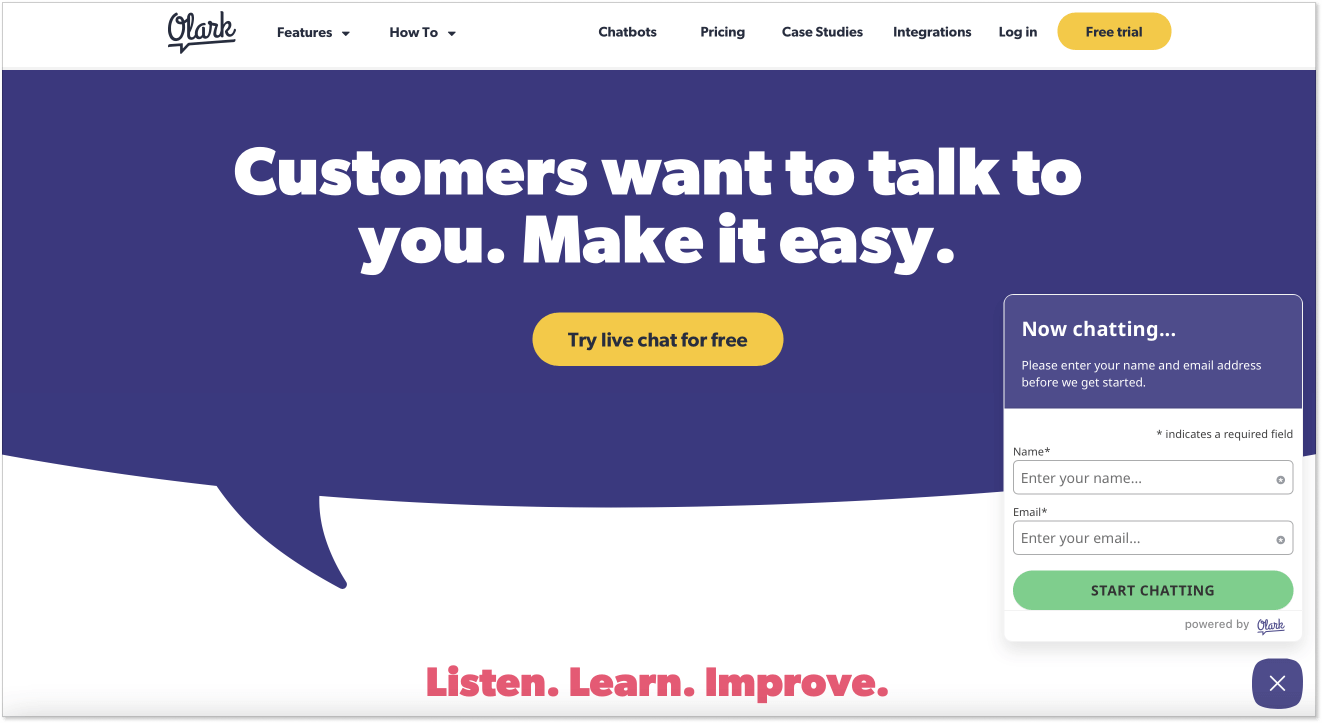 Short description: Intercom competitor for live chat
Pricing: starts at $29/agent/month
Features: live chat, the chatbot in beta
Trial period: 14-day free access
G2 rating: 4.3 out of 5 ⭐⭐⭐⭐
Olark is not a full Intercom competitor. It offers a nice little live chat widget, chatbot, and that's it. No email automation, no knowledge base — just live chat. Is this live chat great? Your mileage may vary, but if you're a small business, you might find Olark's offer tempting enough.
It's a popular affordable option for those who need a customizable live chat with auto messages, chat forms, and performance reports. When comparing Intercom vs Olark, you can see that Olark has been on the market for quite a long time, hence it's considered stable and well-established. They also offer a great variety of integrations with all the popular tools.
Their chatbot feature is called CoPilot. It's in the beta version now, and only Pro plan users can access the tool. Unfortunately, the company doesn't provide prices for the Pro package openly. They are disclosed after an introductory call.
4. LiveChat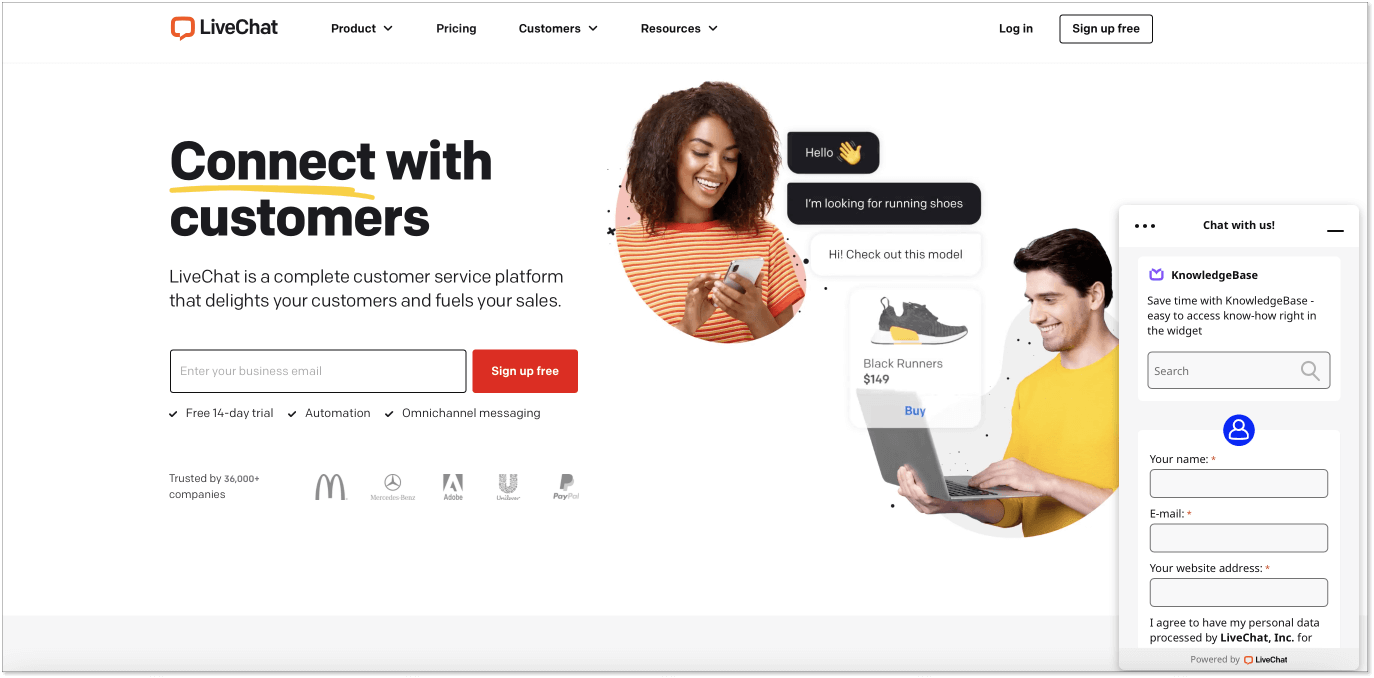 Short description: another Intercom competitor for live chat
Pricing: $24-69/agent/month
Features: live chat, basic ticketing system
Trial period: 14-day free access
G2 rating: 4.5 out of 5 ⭐⭐⭐⭐⭐
LiveChat is similar to Olark in terms of functionality — it's also just a live chat tool (the hint is in the name). All the standard features are included: auto messages, basic customization, reports, and integrations.
One little feature that sets LiveChat apart is the ability to see what a customer is typing in real-time before they send a message. It's pretty cool and can fasten your service (want to hear a little secret? HelpCrunch can also do that 🤫).
The team behind LiveChat has also created tools for a knowledge base, help desk, and bots. But they are all presented as separate stand-alone functionalities on separate websites, requiring a separate purchase. It makes the whole experience pretty painful if you're looking for an integrated all-in-one solution.
One of the coolest ways about LiveChat is that they offer 24/7 customer support of their own.
Basically, LiveChat is a great Intercom alternative, if you need a tool to talk with customers on your website.
5. Smartsupp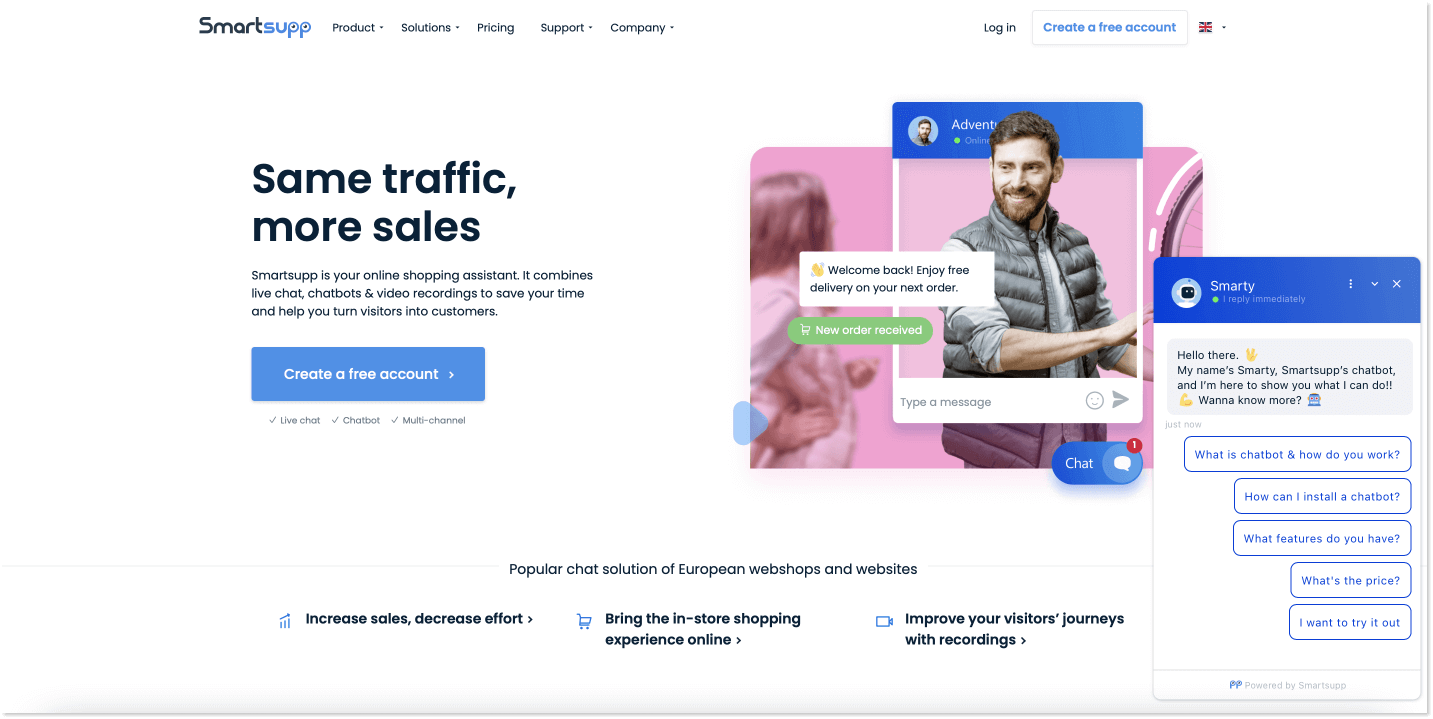 Short description: yet another live chat Intercom competitor
Pricing: $0-60/month
Features: live chat, chatbot, video recording
Trial period: 14-day access on paid plans
G2 rating: 4.5 out of 5 ⭐⭐⭐⭐⭐
Smartsupp is yet another spartan Intercom competitor, offering a live chat as its main feature. You get a simple dashboard, where you can manage all the incoming chats and see visitor data like their location or activity history. Smartsupp live chat also has automatic messages and video recording.
The chatbot allows you to send personalized messages to visitors and engage them proactively, as bots usually do. It's not fancy, but it gets the job done.
In terms of pricing, the monthly cost for 'Free' plan includes 1 agent, 100 conversations per month and 14-day chat history. The 'Standard' ($25.5) plan includes 3 agents and an unlimited number of conversations. On the contrary, the price for the 'Pro' plan is $60/month and also includes 3 agents.
The offer might sound tempting, considering the free plan, but I'd be careful with the tool. Users complain about the plainness of the application, lack of functionality, and problems with the iOS application.
6. Drift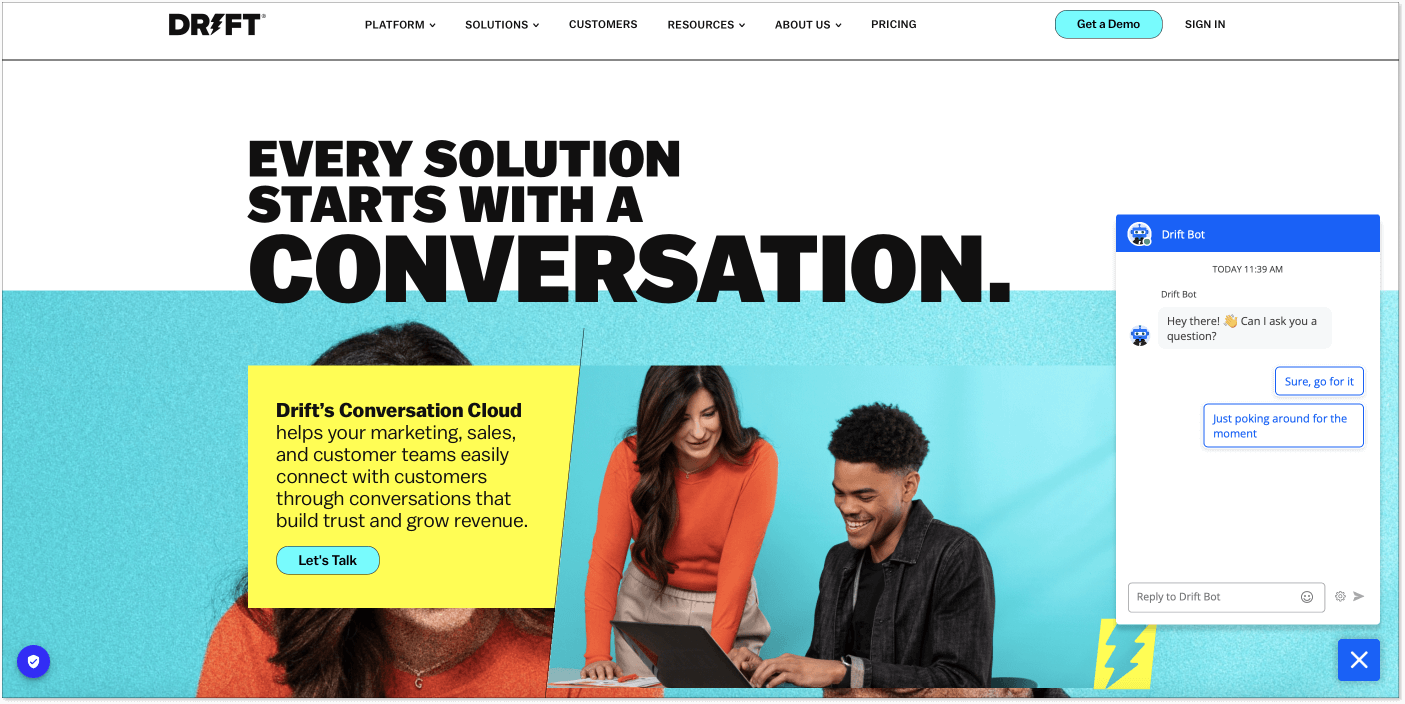 Short description: Intercom competitor for marketing and sales
Pricing: quotation based
Features: live chat, chatbot, knowledge base, help desk, email automation, conversational landing pages
Trial period: 10-day free access on paid plans
G2 rating: 4.3 out of 5 ⭐⭐⭐⭐
Drift is a great Intercom competitor in terms of functionality… but not in terms of pricing. Their pricing model is every bit as convoluted as Intercom's and unrevealed to the public. However, some users say that the most expensive plan will cost you $1,500/mo.
Drift is all about marketing and sales, not customer support. They even came up with the term 'conversational marketing' and pushed it as their main selling point. The tool does have support tools but doesn't market them as aggressively as, say, chatbots and landing pages. At the same time, Drift vs Intercom chat is a fair battle, both tools work well when it comes to customer communication.
Even though it's considered a premium tool, Drift does offer you a decent free subscription plan if the only thing you need is basic live chat software.
7. Zendesk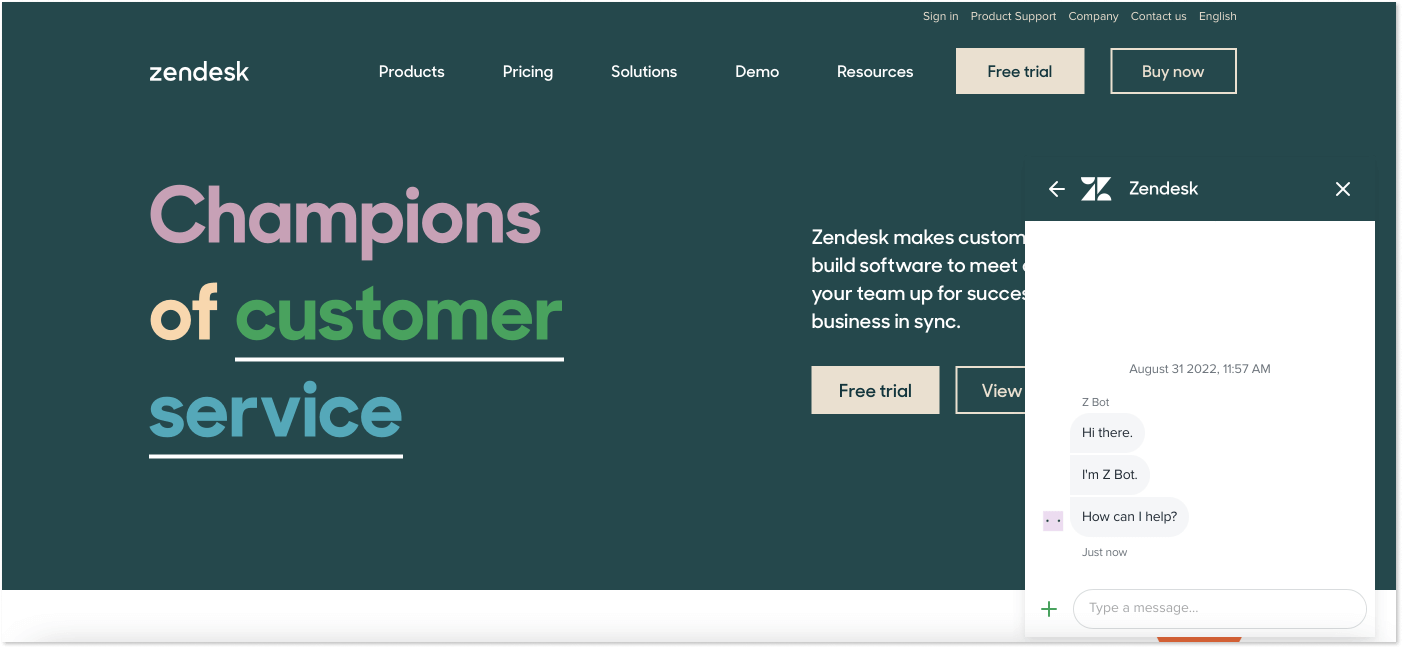 Short description: reliable Intercom competitor for old-school technical support
Pricing: $25-215/agent/month depending on the set of tools you choose
Features: help desk, live chat, knowledge base, call center, sales CRM
Trial period: 14-day free access
G2 rating: 4.3 out of 5 ⭐⭐⭐⭐
Zendesk is one of the oldest support tools on the market. It's been with us since the dawn of customer service itself, long before Intercom became so well-known. If we compare Zendesk against Intercom, the former offers a much wider choice of tools for customer support.
The first thing that comes to mind when we talk about Zendesk is their help desk. They started developing it as a ticketing system in 2007, and it stays their top feature to this day.
Its help desk is powerful and offers tons of features, from multichannel communication to custom roles and permissions to workflow triggers based on the ticket status change. So, if you're looking for an old-school technical support tool without all the fancy modern inventions, Zendesk for Service will be the best Intercom competitor for your needs.
Live chat may feel somewhat outdated in terms of design. On the bright side, it has all the necessary features like triggers and chat forms. However, there's a huge downside to Zendesk chat — it can't be effectively used as an in-app messenger. Moreover, Zendesk for service doesn't offer email automation tools.
As of now, the company offers three main pricing plans and a fixed set of features within them:
Zendesk foundational support for email and social media support.
Zendesk for service for email, social media, live chat, voice, SMS, and help center (aka knowledge base) for self-service.
Zendesk for sales for email marketing and that's it.
Before going into anything with Zendesk, be ready that the tool may feel overwhelming and disconnected in usage. At some point, you'll definitely end up managing separate features in separate browser tabs.
8. Freshworks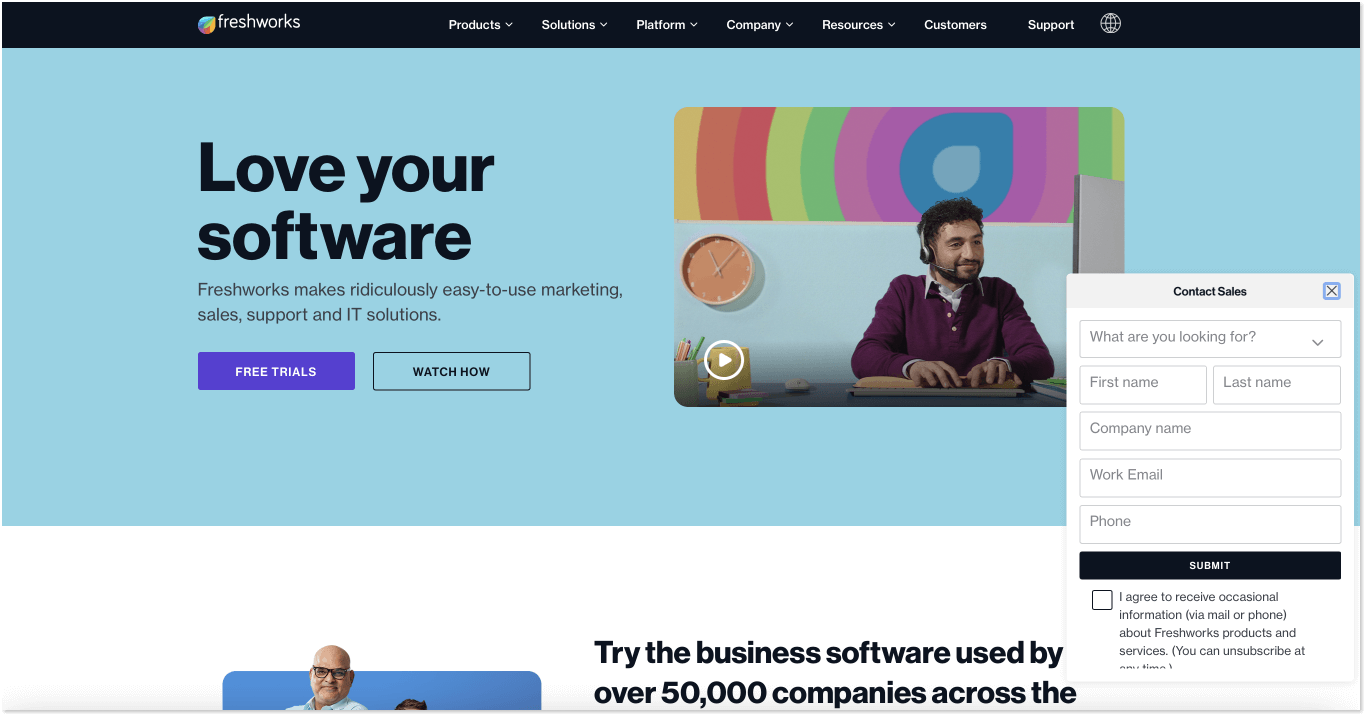 Short description: Intercom competitor for technical support
Pricing: Freshdesk ($0-119/agent/month)
Features: live chat, knowledge base, call center, chatbot
Trial period: 21-day free trial on paid plans
G2 rating: 4.5 out of 5 ⭐⭐⭐⭐⭐
Freshworks is more similar to Zendesk than to Intercom, but it's a relevant Intercom competitor nevertheless. If I had to sum Freshworks in a few words, I'd say it's like Zendesk, but more intuitive and comprehensible.
Their most popular product is Freshdesk, a help desk system for managing customer support tickets. Recently, the given plan also supports live chat as a channel, which makes it a nice support-oriented Intercom competitor.
But if you want things like email automation and all the marketing enhancements, you would also need to add the Freshmarketer (Freshdesk CRM) subscription to it. So, for a more comprehensive solution, you might need to pay around $238/month. This price can be challenging for smaller teams.
9. LiveAgent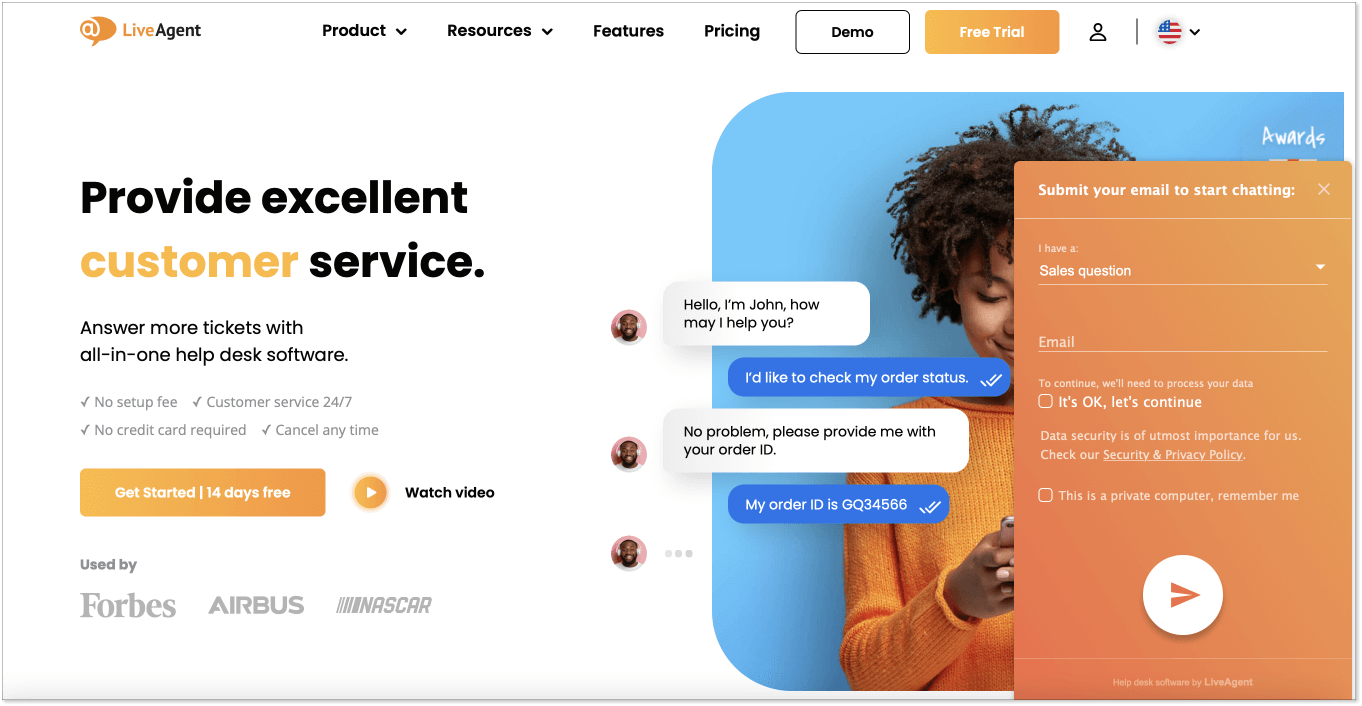 Short description: simple Intercom competitor for customer support
Pricing: $0-49/agent/month
Features: help desk, live chat, knowledge base, call center
Trial period: 14-day free access
G2 rating: 4.5 out of 5 ⭐⭐⭐⭐⭐
On the free plan, LiveAgent will get you one chat button, one phone number, one email address, and just a 7-day ticket history. This solution can hardly be a good match even for small and medium companies.
For the cheapest plan, you will have a fully functional ticketing system with forum and knowledge base software. This will cost you exactly $15/month for one user.
If you need a live chat, then you should go with the 'Ticket + Chat' subscription plan for $29/month. It offers a chat widget with chat invitations, real-time visitor monitoring, and feedback management.
For $49/month, you get everything mentioned above plus video calls and social media channels. Call center features are also offered in this plan, but via Twilio integration.
All in all, LiveAgent is a simple support tool with no sales and marketing features. So if you are looking for a more full-scale solution, this might be not the best option.
10. Help Scout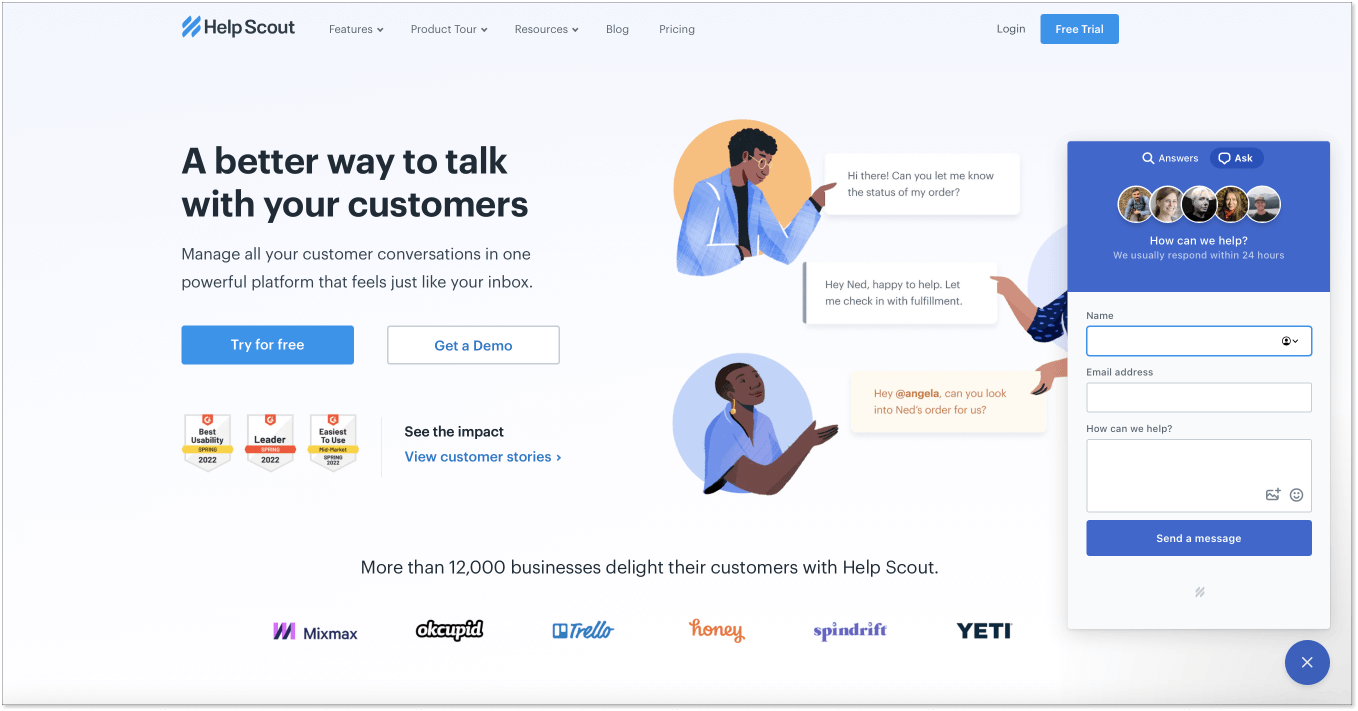 Short description: straightforward Intercom competitor for customer support
Pricing: $25-50/month/user
Features: help desk, knowledge base, live chat (aka Beacon)
Trial period: 15-day free access
G2 rating: 4.4 out of 5 ⭐⭐⭐⭐
Help Scout offers a simplified help desk tool for managing all customer conversations in one place. You get a clean dashboard (that looks a lot like an email client) and manage 'tickets' with the help of collaboration features like private notes or collision detection. You can add some 'if/then' automation rules called Workflows to enhance your team's productivity.
With the 'Standard' subscription plan, you get all these features, reports, live chat, and a knowledge base, which will cost you $25 per user per month. Pay more, and you'll get more mailboxes, knowledge base sites, and a few third-party integrations.
The software also offers a 'Pro' plan at quotation-based prices. It implies concierge onboarding services as well as unlimited mailboxes and Docs sites.
11. GoSquared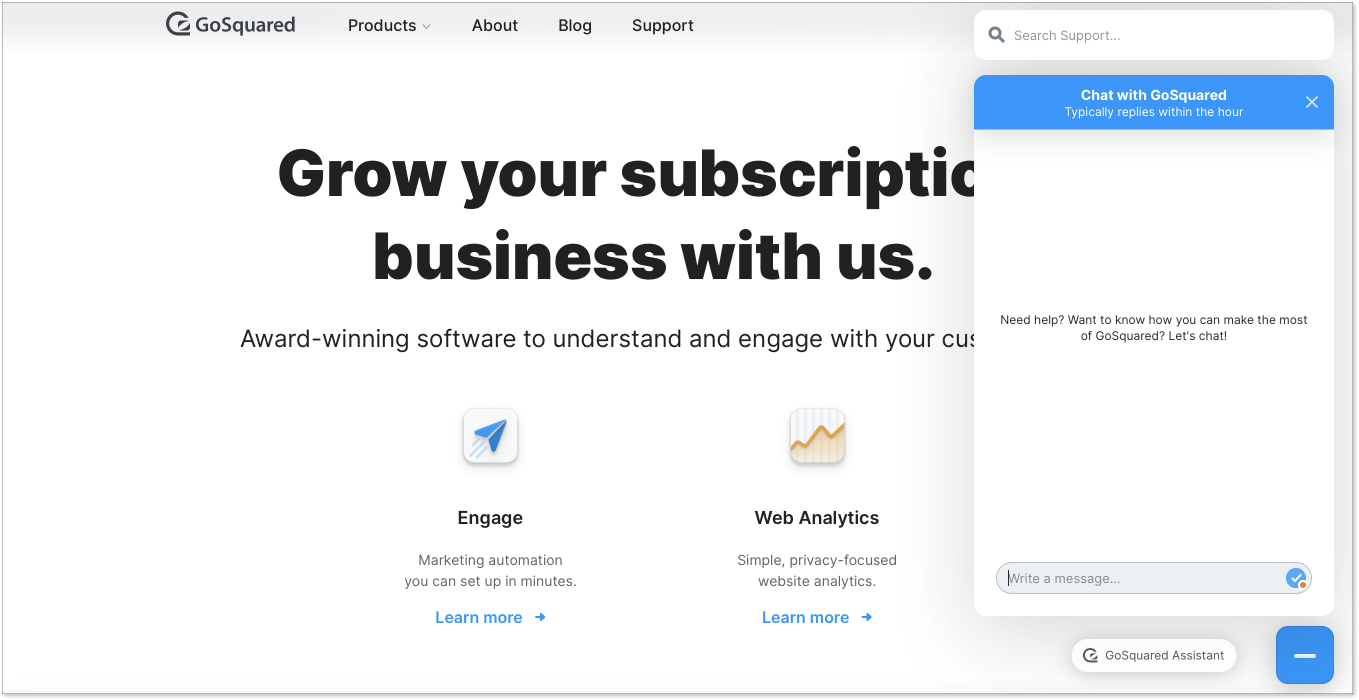 Short description: Intercom competitor for marketing and sales
Pricing: $33-208/month
Features: live chat, email automation, profound analytics
Trial period: 7-day free access
G2 rating: 4.6 out of 5 ⭐⭐⭐⭐⭐
GoSquared is also one of the most interesting competitors to Intercom if you need email automation or a strong website analytics feature. Leveraging the latter, you can get a dashboard with real-time metrics and smart predictions. It estimates your traffic level based on historical data, which is cool. Also, the feature allows you to see the top content and engaged time per visitor.
In case you need just a live chat, you can go with a 'Live chat for Sales' plan for at least $33/mo per seat. For email automation, there is the 'Engage Starter'' package at $92/month. But keep in mind that for this price you won't get a team inbox or mobile apps. To get the out-and-out live chat solution and email automation, you are required to buy the 'Live for Sales' subscription plan plus at least the 'Engage Starter' plan, which gives a total of $125/mo per seat.
If on top of that, your firm needs a profound web analytics feature, you must pay an additional $10-115/month depending on the number of your page views. Early-stage startups might end up with the short end of the stick.
Besides, the software definitely misses its native knowledge base feature, which customers expect to get when visiting your website.
12. Customerly
Short description: Intercom competitor for marketing automation
Pricing: $0–159/month
Features: live chat, in-app messenger, knowledge base, marketing automation
Trial period: 14-day free access
G2 rating: 4.3 out of 5 ⭐⭐⭐⭐
There are three most important tools that Customerly includes in all the subscription plans — live chat, knowledge base, and shared inbox. Their basic versions are available for free, but email automation is a paid feature.
For the price of $29/month, you get 5 agent seats, basic email and in-app message campaigns, and automated funnels based on your customers' tags, events, and attributes. The more expensive plan you choose, the more sophisticated campaigns and funnels you get. The 'Pro' subscription also offers video calls and in-app surveys.
13. Lemtalk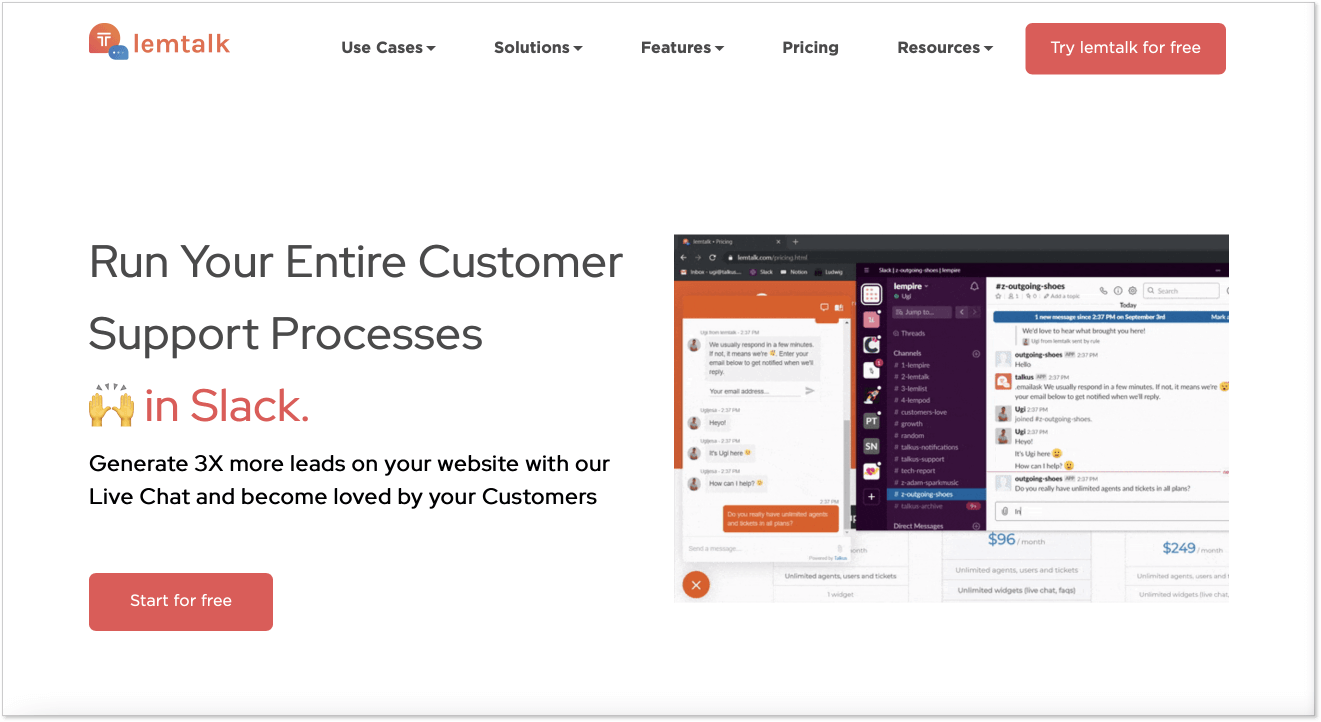 Short description: Intercom competitor for customer service via Slack
Pricing: $48-249/month, unlimited seats
Features: live chat, help desk, knowledge base, call center
Trial period: 14-day free access
G2 rating: 4.2 out of 5 ⭐⭐⭐⭐
After you've signed up and set everything up, Lemtalk will move your entire customer service to Slack. All emails, chats, SMS, and social media messages will end up in your Slack account, and you can manage them from Slack as well.
So for the people who are looking for a simple customer support tool and are using Slack on a daily basis, it could be a great option.
You can also use Lemtalk as a live chat on your website and set various automated messages in it for greeting customers proactively. Their knowledge base tool is included in all subscription plans.
Note! You might have also heard of Jivochat as an alternative to Intercom. Even though it's indeed strong customer communication software, it has some drawbacks you must know about before jumping into anything with this tool.
Jivo is a Russian company owned by Sberbank which belongs to the National Welfare Fund of RF and is managed directly by the Russian authorities. In the light of the cruel war, this state launched against a sovereign country of Ukraine, choosing Russian software equals giving money to the aggressor. On top of that, Visa and Mastercard suspended operations in Russia, which may cause issues with the payment process.
Conclusion
Choosing an Intercom competitor is like planning a week-long trip to another country. You can easily overpay for something you don't really want to see — or get the bare minimum and feel disappointed.
Hopefully, this list will set you on the right track. The most important thing to remember is that you can always find a tool that gives you everything you need but isn't as expensive — e.g. HelpCrunch. Don't pay for the hype, and start with a trial period of the tool you like the most 🙂