Intercom is one of the most well-known customer support tools on the market. But what makes it so popular? Well, most people have heard somewhere that Intercom offers one of the most comprehensive set of tools for a modern business to cover its customer service needs.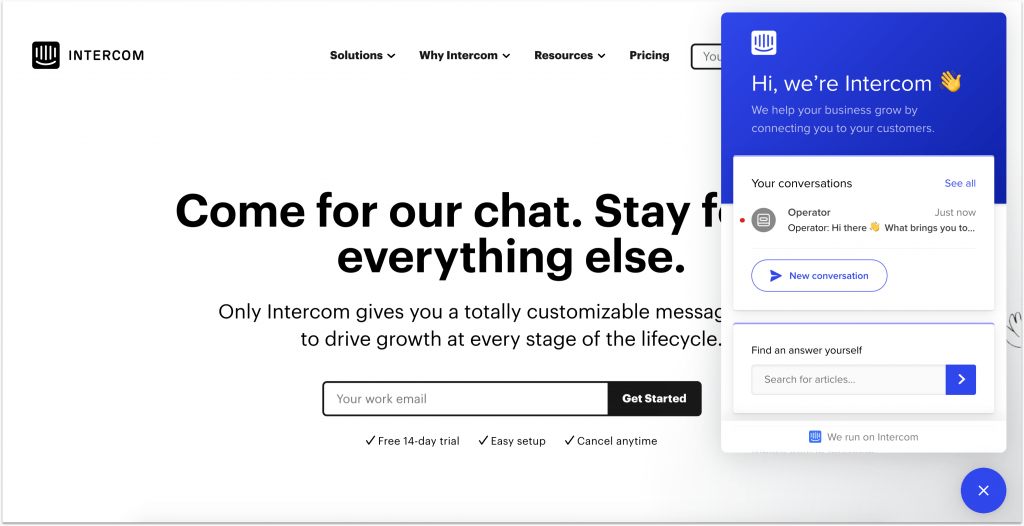 Also, people know Intercom because of their complex and heavy prices. Which brings us to the question of Intercom alternatives. Does a similar tool with a different, more relaxed pricing even exist? Let's find out.
TL;DR
Intercom competitors for support, marketing, and sales: HelpCrunch, Crisp, Help Scout.
Intercom competitors for live chat: Olark, LiveChat, Smartsupp.
Support-oriented Intercom competitors: Zendesk, Freshworks, LiveAgent, Lemtalk.
Marketing- and sales-oriented Intercom competitors: Drift, User.com, Customerly.
Why look for Intercom competitors?
Intercom is a great comprehensive tool offering live chat, help desk, knowledge base, and email automation features. It's also quite famous for its well-developed chatbots and convenient product tours for customer onboarding.
What makes talking about Intercom competitors so difficult is that there are tons of them. For email marketing, there are heavy-hitters like MailChimp and Drip. HelpJuice and ProProfs are good for knowledge bases. People have used HubSpot for CRM since forever. And your live chat needs can be covered by a free platform like Tawk.
But honestly, how much do you want to manage all these channels and campaigns in a dozen of disconnected tools switching from tab to tab while also trying to give your customers a stellar experience?
That's what makes Intercom so great. They have it all in one dashboard, and they know how to sell it. But not everyone's happy with Intercom. The toolset definitely has its quite overwhelming cons.
If you used Intercom at least once, the following statements will definitely ring a bell for you:
Pricing system is way too complex to predict what you're going to pay for. Intercom pricing consists of several elements. On top of paying for agent seats, users pay for contacts in their database. But Intercom doesn't charge for active contacts, they charge for those who have contacted you at least once over the last 90 days. So, you end up paying for all those people who got in touch with you by mistake, or wrote a simple 'hi' and left for good.
On-again, off-again customer support of their own. If what you do is selling customer support software, you better make yours awesome, right? Opinions are divided on Intercom's support team. Some people say Intercom's representatives are helpful and attentive, while others mention their extremely negative experience. You can spend hours chatting with their support team, getting generic pre-made answers and achieving nothing. It's far from perfect — and probably not what you'd want for the price you pay.
Numerous complaints about their email automation tools. I'll be honest, I haven't experienced this myself — but I've seen many reviews mentioning that Intercom is a decent support tool that sucks at email marketing.
Smaller issues like no easy way to merge conversations, limited customization, minor bugs and crashes, or a subpar mobile app. I mean all of these things are probably not that crucial and they happen to everyone… But if you're going to pay a few hundreds or thousands of bucks every month, you won't be in the mood for forgiveness.

Now that we know what makes Intercom great, and what makes it bad, let's define a great Intercom competitor. How did we choose the tools that qualified for this list?
It should be an omni-purpose set of tools that will cover customer support needs from cover to cover;
It should have a clear and transparent pricing policy that is easy to predict and scale;
It should cater to small businesses and startups;
It should provide a stable and reliable experience, with a customer support team that's always happy to help.
With that said, let's dig deeper into most popular (and budget-friendly!) Intercom competitors: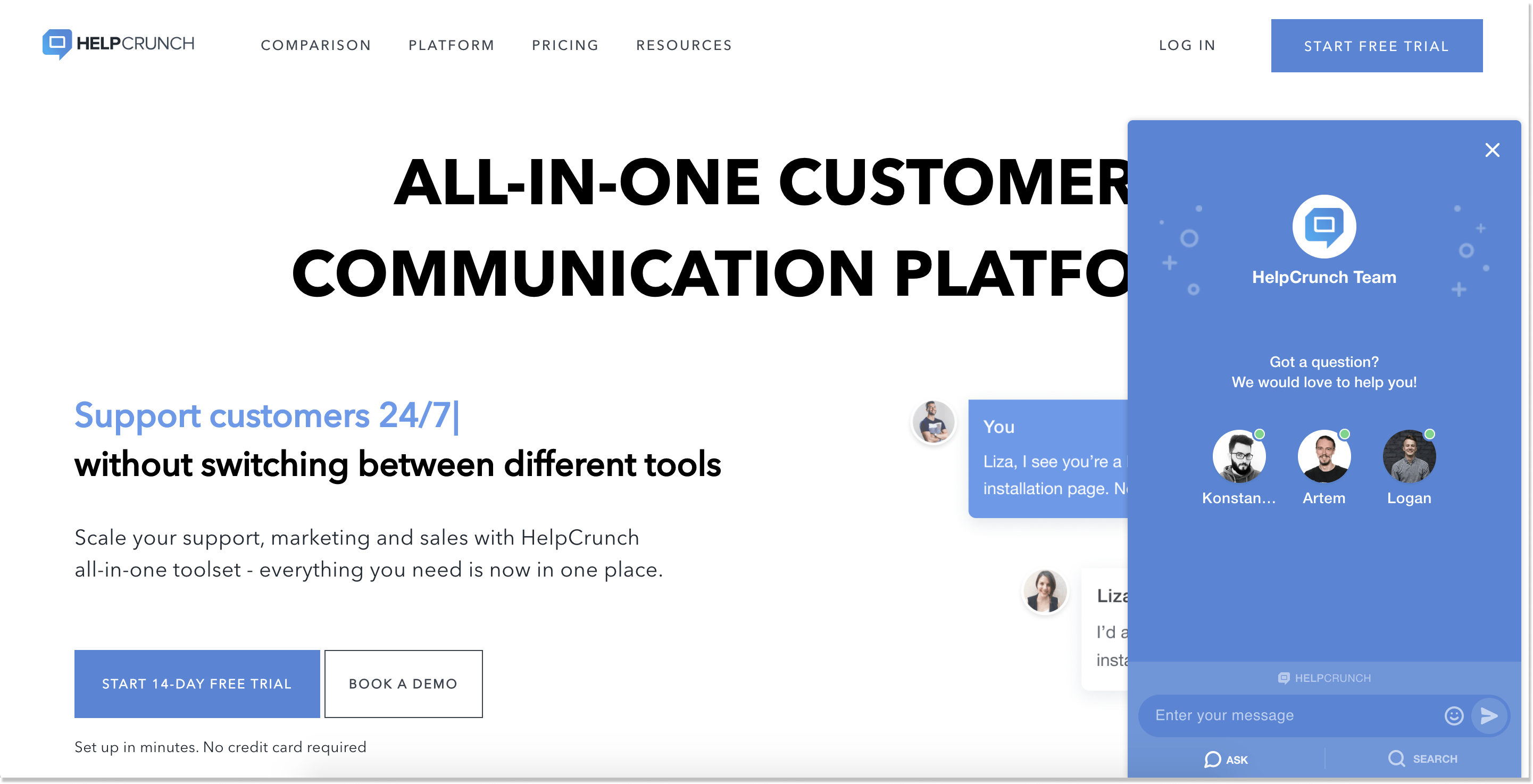 Short description: affordable Intercom competitor for support, marketing, and sales
Pricing:
$15-25/agent/month for the 'Live chat' plan
$29-49/agent/month for the 'Live chat + Emails' plan
Features:
live chat
in-app messenger
email automation
integrated knowledge base
popups
help desk
CRM
HelpCrunch stands out from all the other Intercom competitors because of its versatility and affordable price. But the tool also offers some extra features, that you won't find in Intercom.
With the Standard subscription plan, you get a fully customizable live chat, help desk, and integrated knowledge base for your customer support. By the way, the latter is available right from the chat widget. So you won't make customers wait for the answers too long.
It also includes something that is not offered by other tools — a popup builder which allows you to set triggered popups for your website. All this costs only $15/agent/month.
For $29/agent/month, you get all the features that I've mentioned above plus email automation for both automated and manual campaigns.
HelpCrunch live chat is especially feature-packed and it can be integrated with your app and used as an in-app messenger. This means that you can send targeted chat messages to your users based on relevant criteria. Want to automate this process? Just set up a bunch of auto messages that will be triggered by certain patterns or user behavior. And yeah, our customer support team is one of the most well-reviewed teams on Capterra.
Feel free to check this comprehensive Intercom vs HelpCrunch showdown for more information.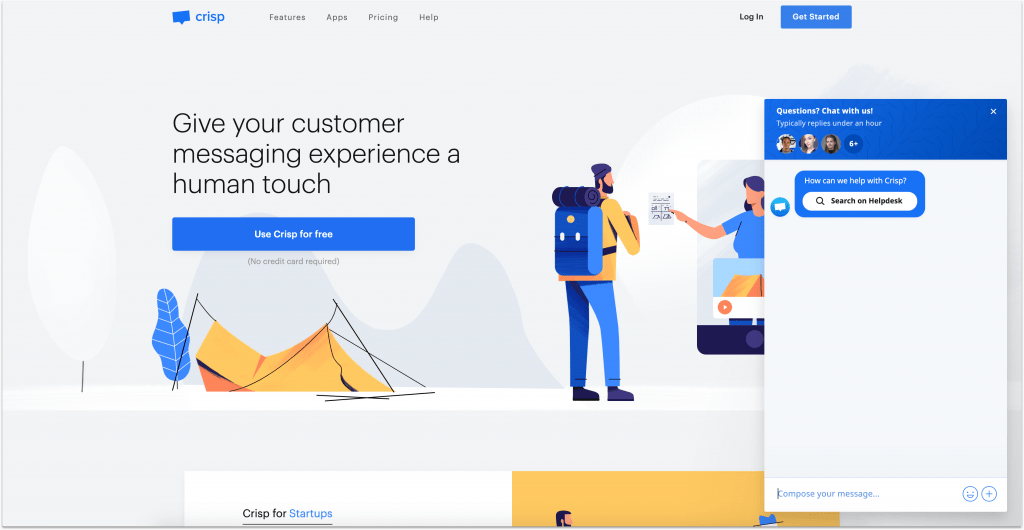 Short description: affordable Intercom competitor
Pricing: $0-95 per month per website
Features:
live chat
in-app messenger
email automation
knowledge base
CRM
Crisp is a nice option for multi-channel support if you want an Intercom alternative. They even present their features the same way Intercom does — by dividing them by support, marketing, and sales needs.
If you decide to go with the 'Pro' plan for $25/month, you will get a nice live chat tool with triggered auto messages, audio messages, social media and messengers' integrations.
Crisp team built nice out-of-the-box additions to their live chat, like video calls or 'magic co-browsing' where you can browse your customers' webpage for them (it's quite magic, I agree).
But these features are only offered in the 'Unlimited' subscription plan which costs $95/month. It will also get you access to things like knowledge base, email automation, analytics, and chatbot, which aren't available in cheaper plans.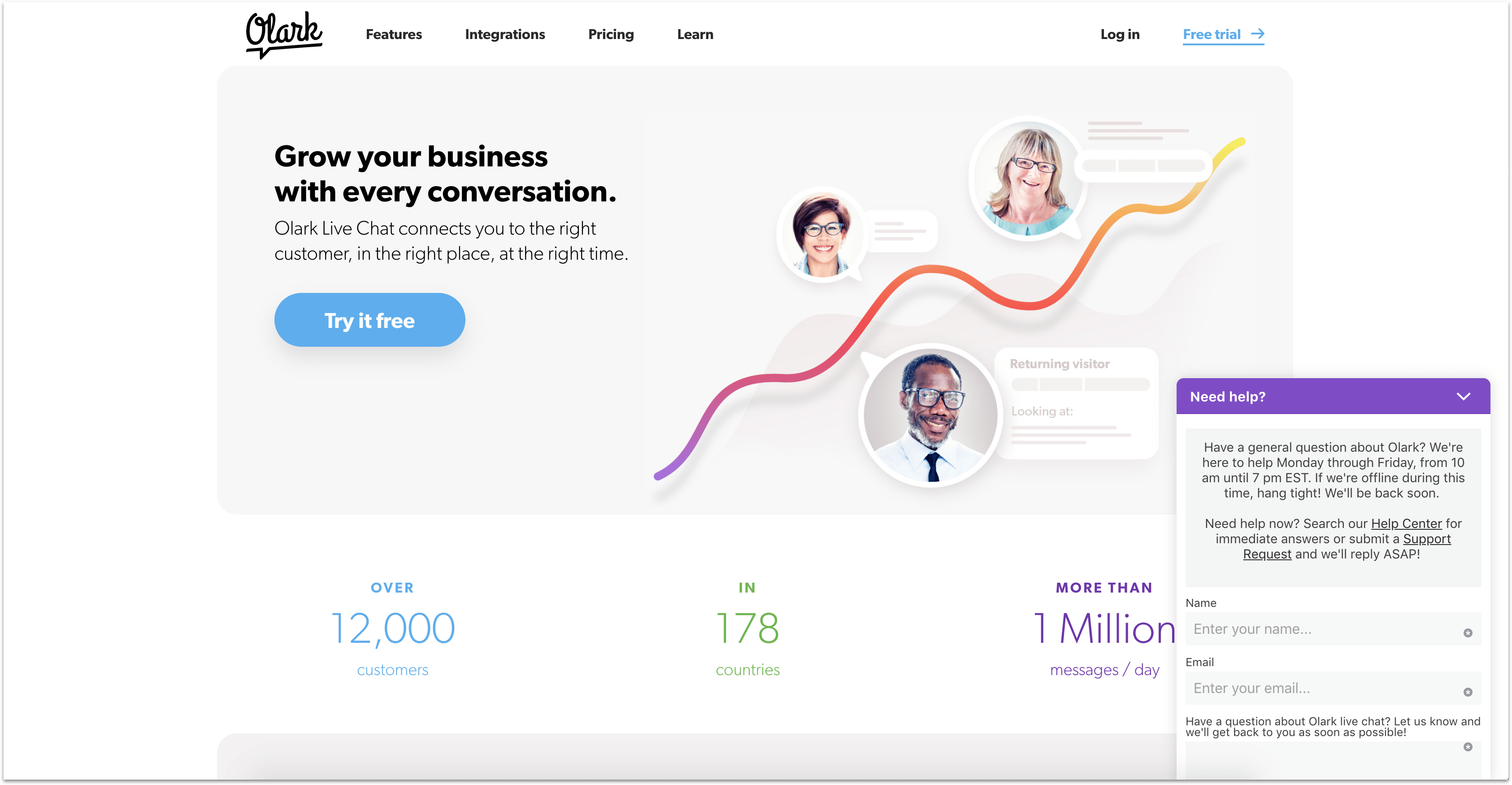 Short description: Intercom competitor for live chat
Pricing: $17 per agent per month
Features: live chat
Olark is not a full Intercom competitor. It offers a nice little live chat widget and that's it. No email automation, no knowledge base — just live chat. Is it a great live chat? Your mileage may vary but if you're a small business you might find Olark's offer intriguing.
It's a popular affordable option for those who need something customizable with auto messages, chat forms, and performance reports. Since Olark has been on the market for quite a long time, it's considered stable and well-established. They also offer a great variety of integrations with all the popular tools.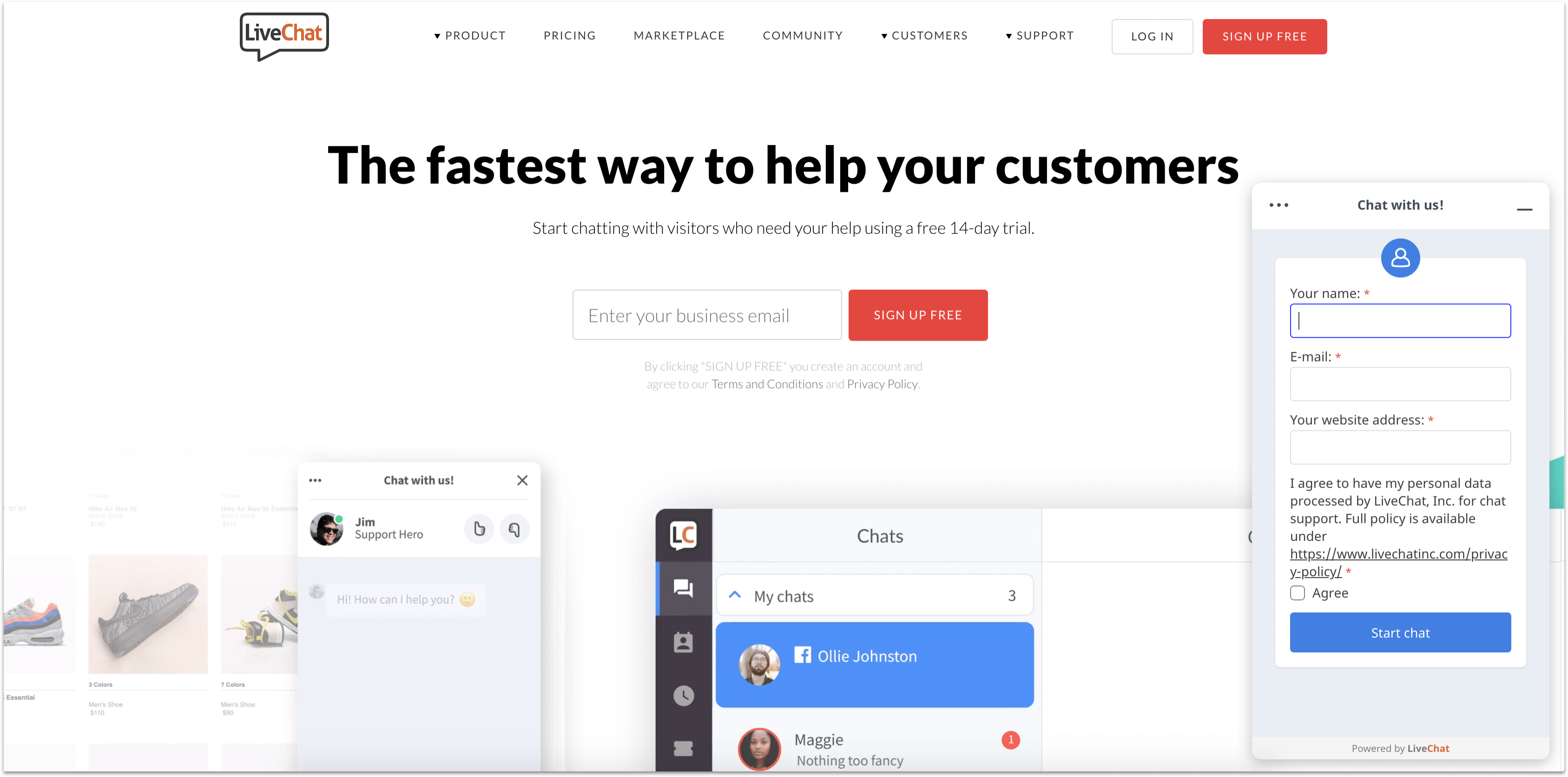 Short description: another Intercom competitor for live chat
Pricing: $19-59 per agent per month
Features:
live chat
basic ticketing system
LiveChat is similar to Olark in terms of functionality — it's also just a live chat tool (the hint is in the name). All the standard features are included: auto messages, basic customization, reports, integrations. Nothing special, just a basic live chat tool.
One little feature that sets LiveChat apart is an ability to see what a customer is typing in real time before they send a message. It's pretty cool but it won't change your world.
As I've found out while collecting information for this article, the LiveChat team also has tools for knowledge base, help desk and even bots. But they are all presented as separate stand-alone tools on separate websites, requiring a separate purchase. It makes the whole experience pretty painful if you're looking for an integrated all-in-one solution.
One of the coolest ways about LiveChat is that they offer 24/7 customer support of their own.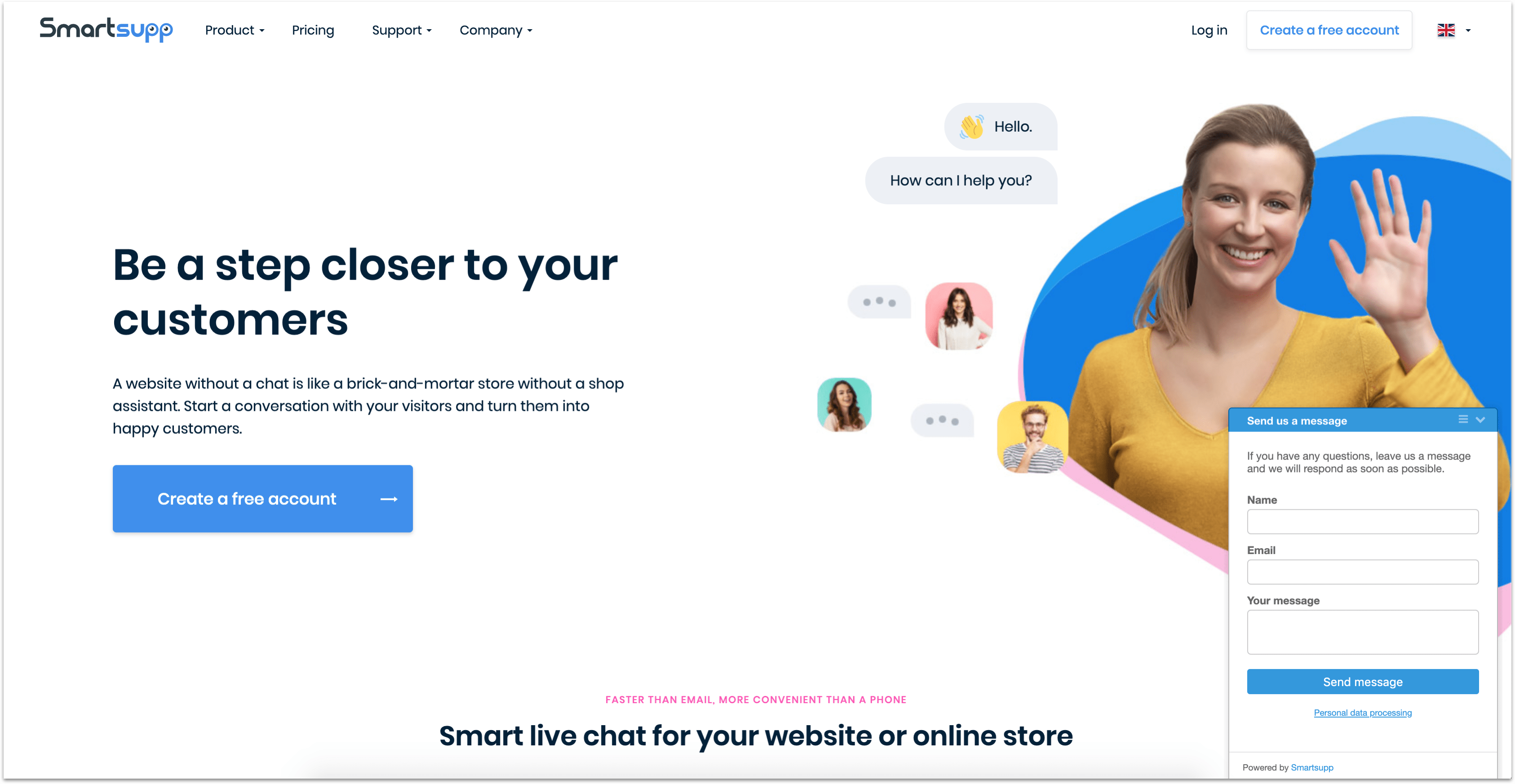 Short description: yet another live chat Intercom competitor
Pricing: $0-29 per agent per month
Features: live chat
Smartsupp is yet another spartan Intercom competitor offering just a live chat. You get a simple dashboard, where you can manage all the incoming chats and see visitor data like their location or activity history. Smartsupp live chat also has automatic messages and video recording. It's not fancy but it gets the job done.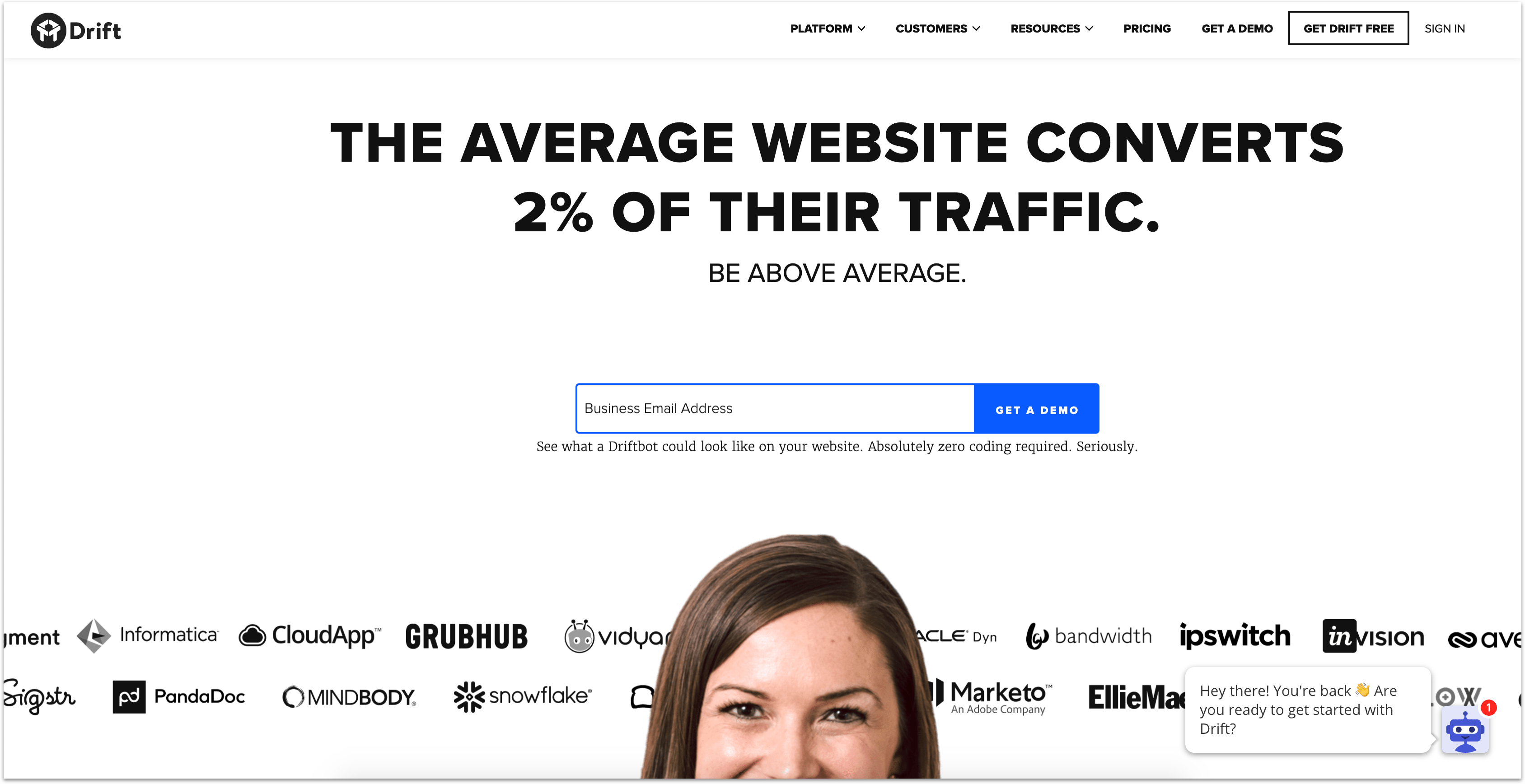 Short description: Intercom competitor for marketing and sales
Pricing: $0-1500 per agent per month is billed annually
Features:
live chat
chatbot
knowledge base
help desk
email automation
conversational landing pages
Drift is a great Intercom competitor in terms of functionality… but not in terms of pricing. Their pricing model is every bit as convoluted as Intercom's, and the most expensive plan will set you back $1500/mo for one agent.
Drift is all about marketing and sales, not customer support. They even came up with the term 'conversational marketing' and pushes it as their main selling point. The tool does have support tools, but don't develop them as aggressively as, say, chatbots and landing pages. Check this detailed Intercom vs Drift showdown to learn more.
Even though it's considered a premium tool, Drift does offer you a decent free subscription plan if the only thing you need is a basic live chat software.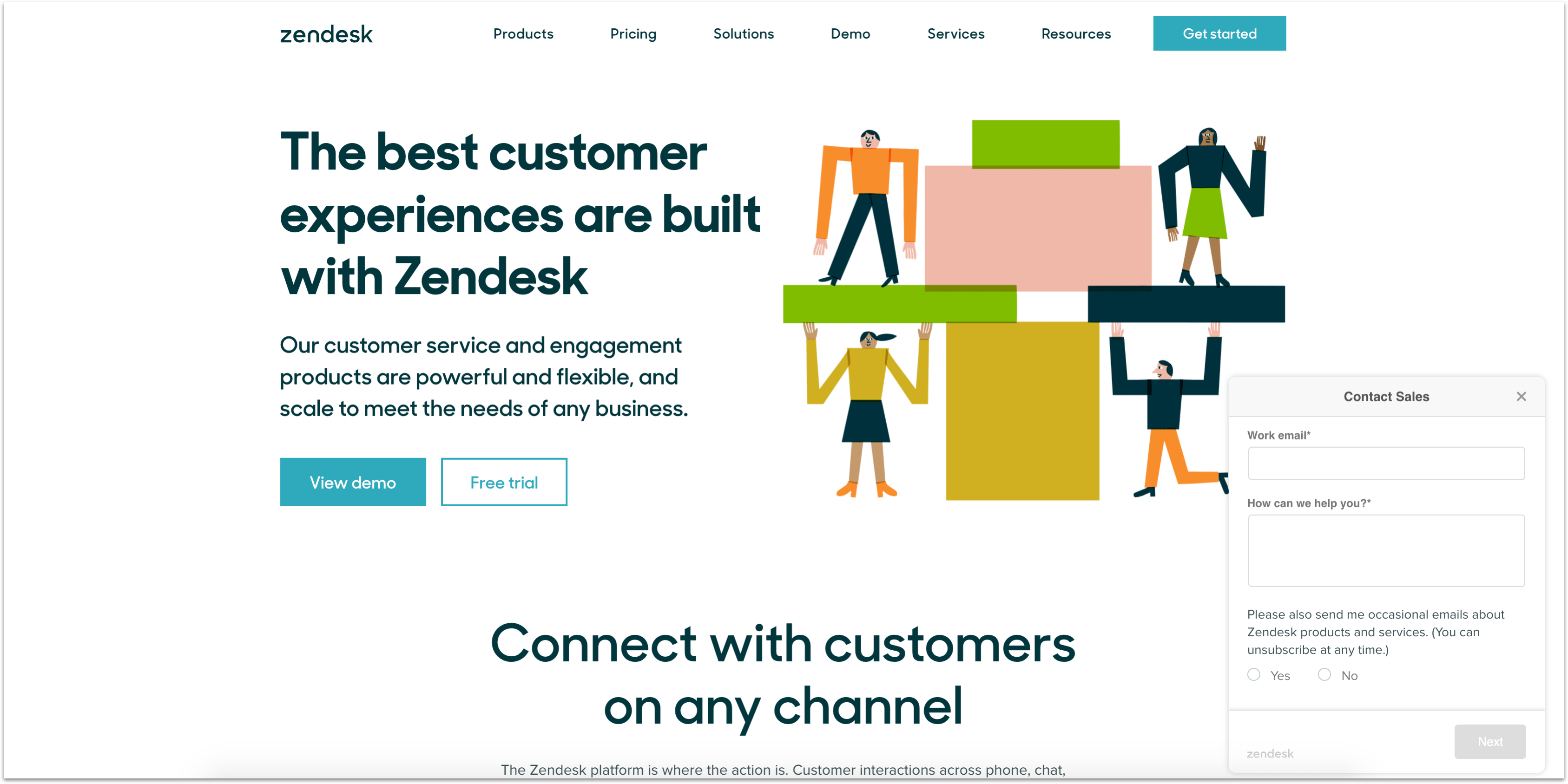 Short description: reliable Intercom competitor for old-school technical support
Pricing: $25-215 per agent per month depending on a set of tools you choose
Features:
help desk
live chat
knowledge base
call center
sales CRM
Zendesk is one of the oldest support tools on the market. It's been with us since the dawn of customer service itself, long before Intercom became so well-known. If we compare Zendesk against Intercom, we'll see that it offers a much wider choice of tools for customer support.
The first thing that comes to mind when we talk about Zendesk is their help desk. They started developing it as a ticketing system in 2007, and Zendesk's help desk stays their top feature to this day.
It's powerful and offers tons of features, from multi-channel communication to custom roles and permissions to workflow triggers based on ticket status change. So, if you're looking for an old-school technical support tool without all the fancy modern inventions, Zendesk Support will be the best Intercom competitor for your needs.
Live chat may feel somewhat outdated in terms of design. It has all the necessary features like triggers and chat forms, but nothing extra. However, there's a huge downside to Zendesk chat — it can't be effectively used as an in-app messenger. Moreover, Zendesk doesn't offer email automation tools.
The good thing about Zendesk is that you can purchase their tools separately (God knows they have A LOT of those tools). If you only need a ticketing system powered by a knowledge base, you pay only for that and nothing more. Here for live chat software? It's yours. This way, you'll be able to construct a customer service platform that will fit your needs perfectly and not overpay for what you don't use.
But there are two sides of the same coin. It's awesome that you can purchase tools separately, but be ready that working with Zendesk may feel overwhelming and disconnected. At some point you'll definitely end up managing separate tools in separate browser tabs. Moreover, it can be really expensive for bigger teams.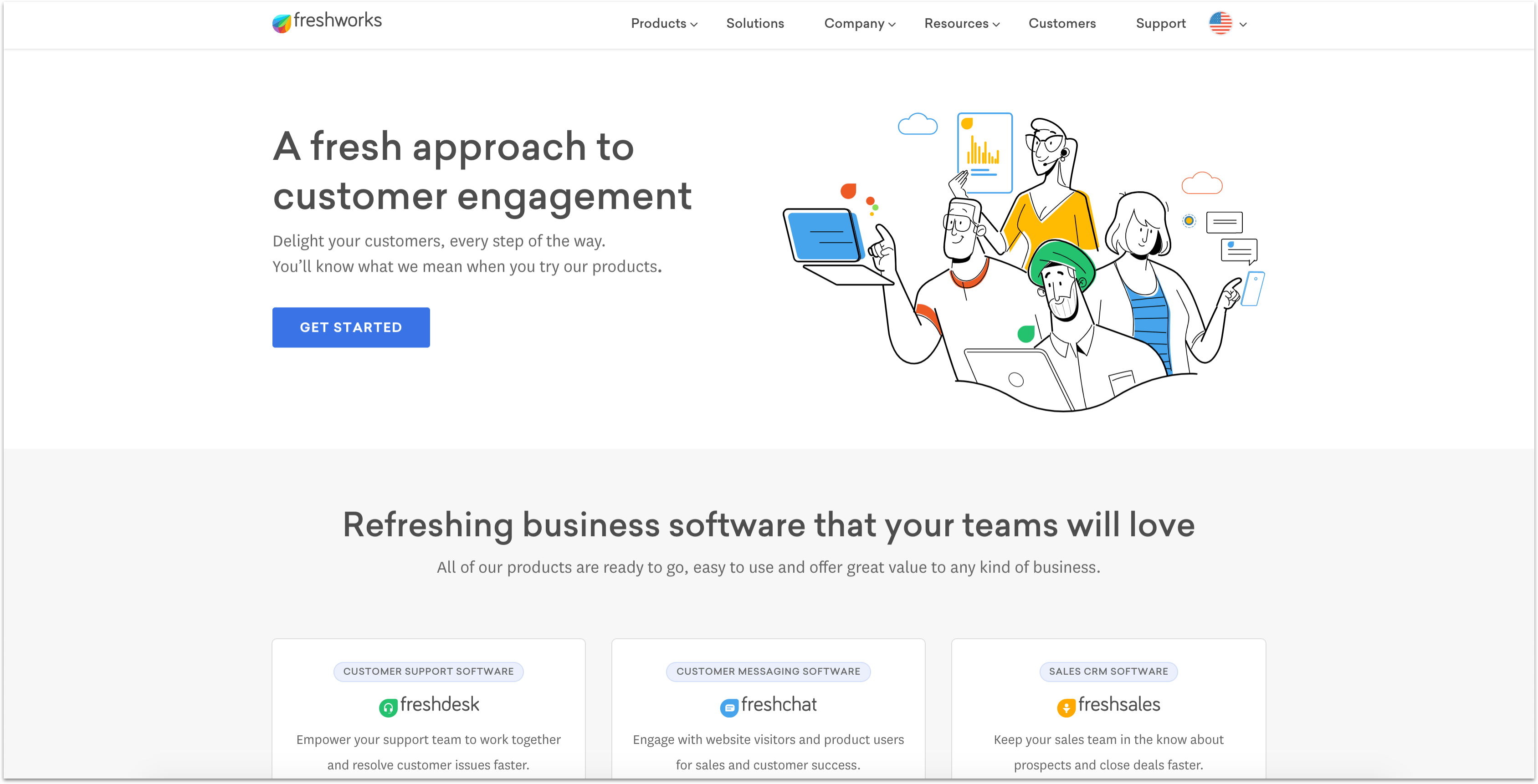 Short description: Intercom competitor for technical support
Pricing:
$0-125 per agent per month for Freshdesk
$0-99 per agent per month for Freshchat
$0-79 per user per month for Freshsales
Features:
help desk with knowledge base
live chat
sales CRM
call center
Freshworks is more similar to Zendesk than to Intercom, but it's a relevant Intercom competitor nevertheless. If I had to sum Freshworks in a few words, I'd say it's like Zendesk, but more intuitive and comprehensible.
Like Zendesk, Freshworks offers its core tools separately. Their most popular product is Freshdesk, a help desk system for managing customer support tickets. Once you connect their Freshchat with it, you get a nice support-oriented Intercom competitor.
But if you want things like email automation and all the marketing enhancements, you would also need to add the Freshsales subscription to it. Every product is purchased separately in Freshworks, which also can be challenging for smaller teams.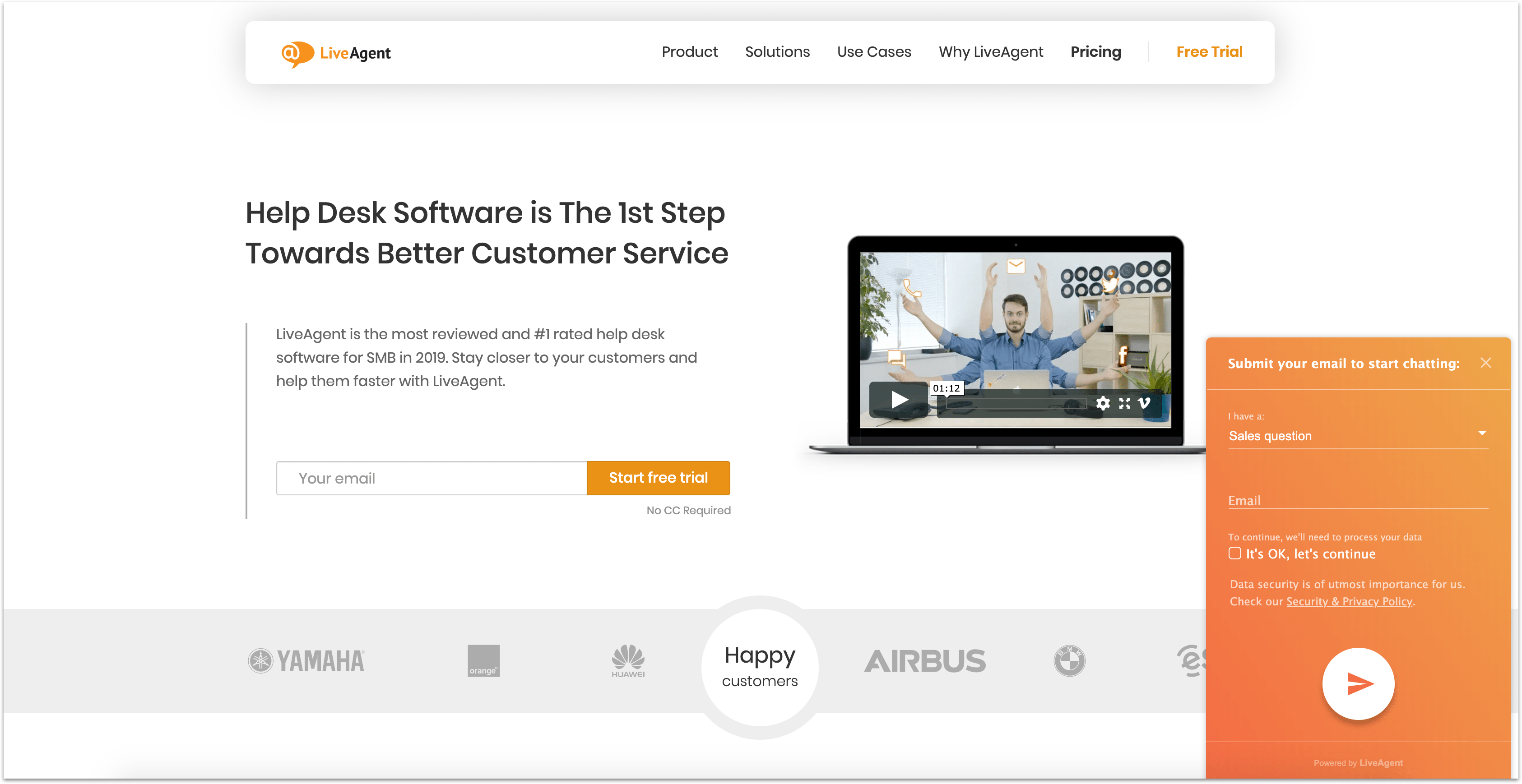 Short description: simple Intercom competitor for customer support
Pricing: $15-39 per agent per month
Features:
help desk
live chat
knowledge base
call center
On the cheapest plan, LiveAgent will get you a fully functional ticketing system with forum and knowledge base software. This will cost you exactly $15/month for one user.
If you need live chat, then you need to go with the 'Ticket + Chat' subscription plan for $29/month. It offers a chat widget with chat invitations, real-time visitor monitoring, and feedback management.
For $39/month, you get everything mentioned above plus video calls and social media channels. Call center features are also offered in this plan, but with the help of Twilio integration.
All in all, LiveAgent is a simple support tool with no sales and marketing features. It does its job, but it's not very exciting.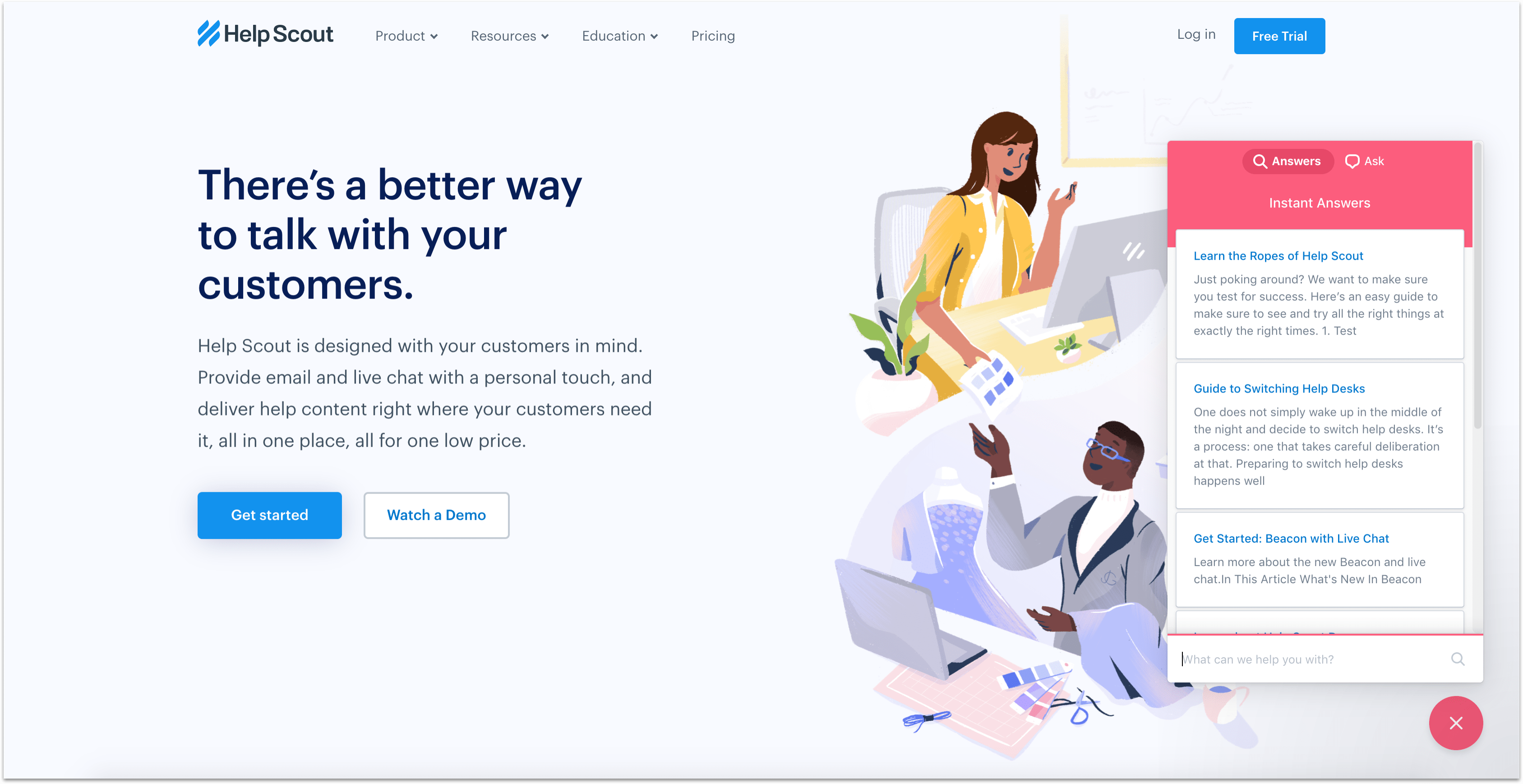 Short description: straightforward Intercom competitor for customer support
Pricing: $15-40 per user per month
Features:
help desk
knowledge base
live chat (aka Beacon)

Help Scout offers a simplified help desk tool for managing all customer conversations in one place. You get a clean dashboard (that looks a lot like an email client) and manage 'tickets' with the help of collaboration features like private notes or collision detection. You can even add some 'if/then' automation called Workflows to enhance your team's productivity.

With the 'Standard' subscription plan, you get all these features, reports, live chat and a knowledge base, which will cost you $25 per user per month. Pay more, and you'll get more mailboxes, knowledge base sites and a few third-party integrations.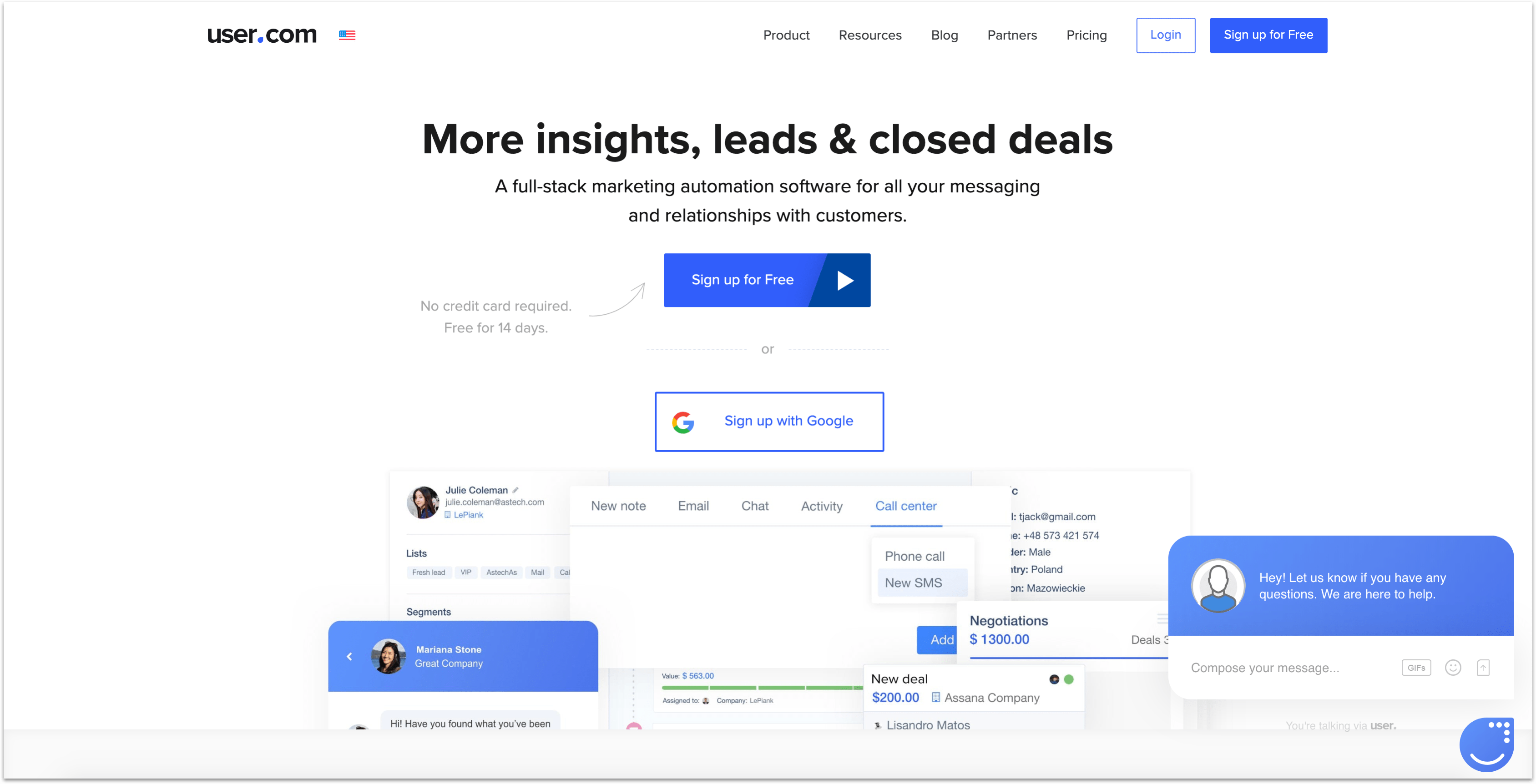 Short description: marketing-oriented Intercom competitor
Pricing:
$60-108 per month for a toolset
$1107 per month for a toolset plus Premium Assistance.
Features:
marketing automation
live chat
chatbot
email automation
call center
popups

While there are too many customer service oriented Intercom competitors, you won't find a lot of marketing focused tools in this list. User.com is a rare exception. They do offer live chat, chatbot, and call center tools. But their key point of selling is marketing automation.

On the downside, their pricing model is similar to the one of Intercom's which means you're going to pay for contacts in your database and feel pretty confused about everything. According to their pricing page, 'contact is a user with an email address, user_id, phone number or a visitor who contacted you via chat.'

The nice thing about User.com is that if you feel completely lost, you can just go ahead and purchase their Premium Assistance package… for $999. I'm not sure how this premium support works like, but for this price it should be damn good.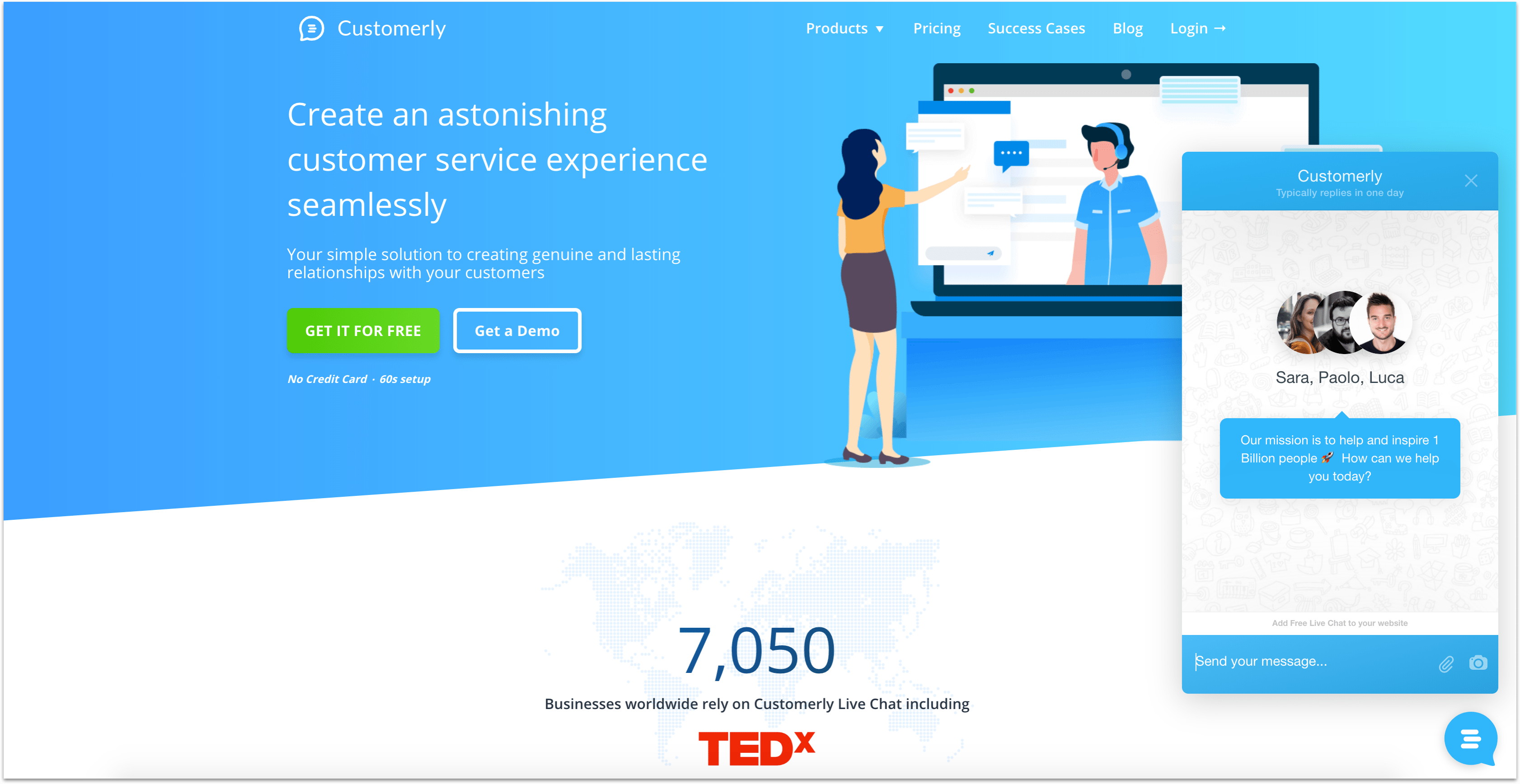 Short description: Intercom competitor for marketing automation
Pricing: $0 — 159 per month
Features:
live chat
in-app messenger
knowledge base
marketing automation
There are three most important tools included in all the subscription plans — live chat, knowledge base, and shared inbox. Their basic versions are available for free, but email automation is a paid feature.

For the price of $29/month, you get 5 agent seats, basic email and in-app message campaigns, and automated funnels based on your customers' tags, events and attributes. The more expensive plan you choose, the more sophisticated campaigns and funnels you get. The 'Pro' subscription also offers video calls and in-app surveys.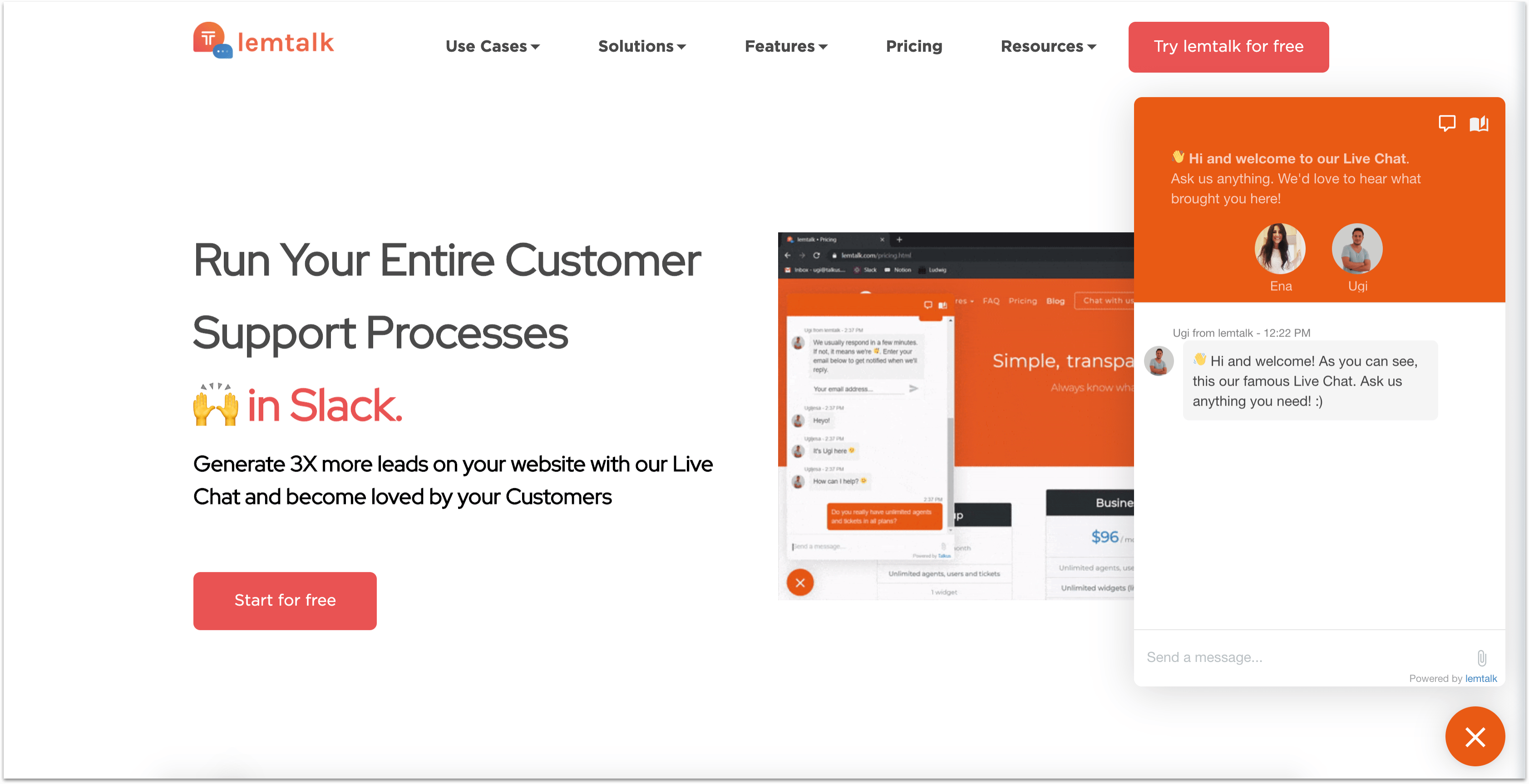 Short description: Intercom competitor for customer service via Slack
Pricing: $48 — 249 per month, unlimited seats
Features:
Live chat
Help desk
Knowledge base
Call center
After you've signed up and set everything up, Lemtalk will move your entire customer service to Slack. All emails, chats, SMS, social media messages will end up in your Slack account and you can manage them from Slack as well.
So for the people who are looking for a simple customer support tool and are using Slack on a daily basis, it could be a great option.
You can also use Lemtalk as a live chat on your website and set various automated messages in it for greeting customers proactively. And their knowledge base tool is included in all subscription plans.
Conclusion
Choosing an Intercom competitor is like planning a week-long trip to another country. You can easily overpay for something you don't really want to see — or get the bare minimum and feel disappointed.

Hopefully this list will set you on the right track. The most important thing to remember is that you can always find a tool that gives you everything you'll need but won't be as expensive — e.g. HelpCrunch. Don't pay for the hype, better sign up for a free 14-day trial and see everything yourself.

HelpCrunch articles delivered straight to your inbox 🚀
All the latests posts. One email per month.
No strings attached.
Read also
Tools
Zendesk is one of the most widely known help desk tools out there. But it has its flaws, too. Check these 7 Zendesk alternatives that will help you improve your customer support, sales, and marketing.
Tools
Choosing the best live chat software for your business is as crucial as ever. Discover which factors to weigh in and compare these 15 options.
Tools
Check this ultimate Intercom vs Drift comparison to choose the best messaging platform for your customer support, marketing, and sales.